If you fly Virgin Australia to anywhere except Tokyo or Los Angeles, chances are you will end up on one of their Boeing 737s, which make up the majority of their fleet.
These smaller narrow-body planes fly nearly all domestic and short-haul international routes, such as New Zealand, Fiji and even Denpasar-Bali.
You can book Virgin Australia Economy with cash or frequent flyer points, such as from Velocity Frequent Flyer, Singapore Airlines KrisFlyer and Etihad Guest. Remember though, Business and First Class redemptions usually fetch you far more value than Economy.
This overview takes you through a standard Virgin Australia short domestic flight.
Fleet & routes
Virgin Australia has 73 of these Boeing 737-800 aircraft in their fleet. There are also two smaller Boeing 737-700s.
Here is a snapshot of their mainline domestic routes. Although this is from their cargo website, it is still a fairly accurate representation of their vast passenger domestic network. The only main new route missing from this diagram is Perth-Hobart direct.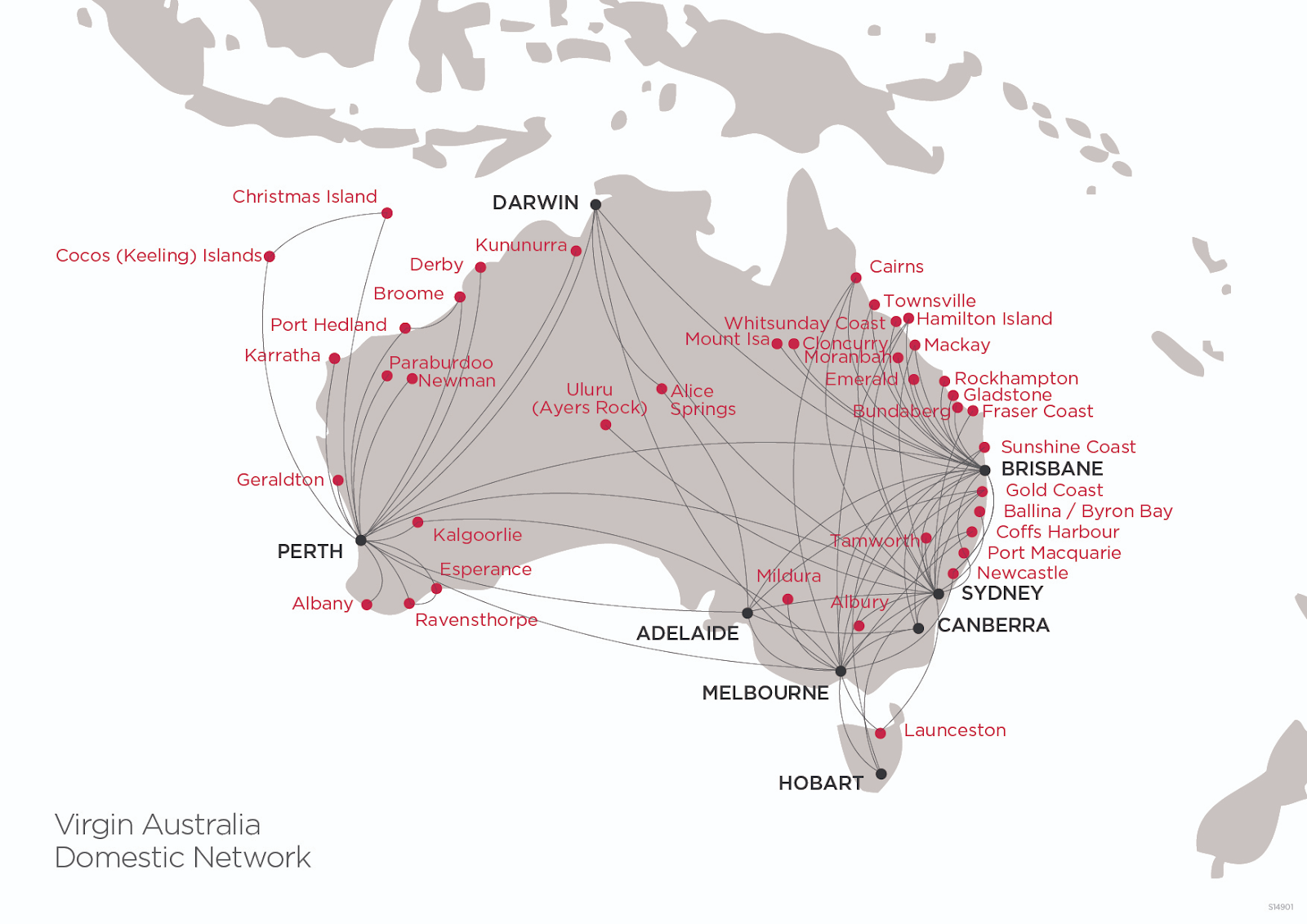 Internationally, the 737s fly to five main cities in New Zealand, Papua New Guinea, Samoa, Solomon Islands, Tonga, Cook Islands, Vanuatu, Fiji and Bali-Denpasar.

The cabin & seats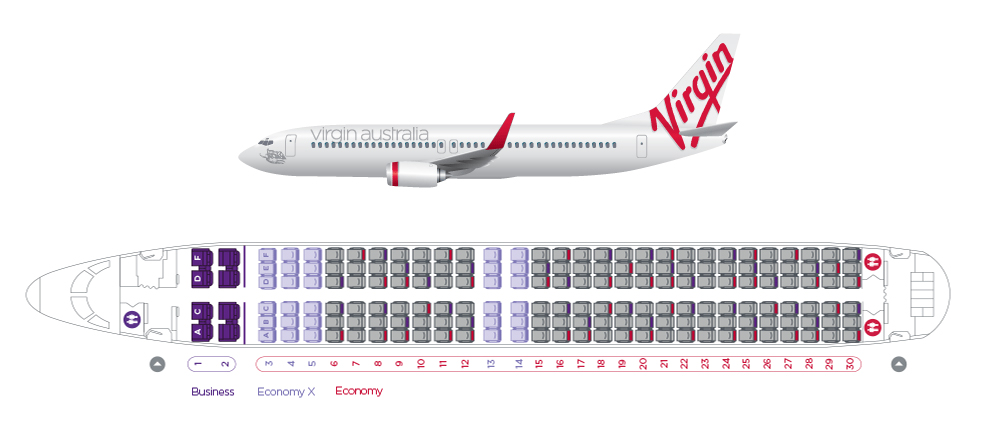 There are 28 rows of Economy seats in a 3-3 layout. Standard seats have a pitch of 31 inches, which is industry standard. The seat width is 17 inches and the recline is just 4 inches.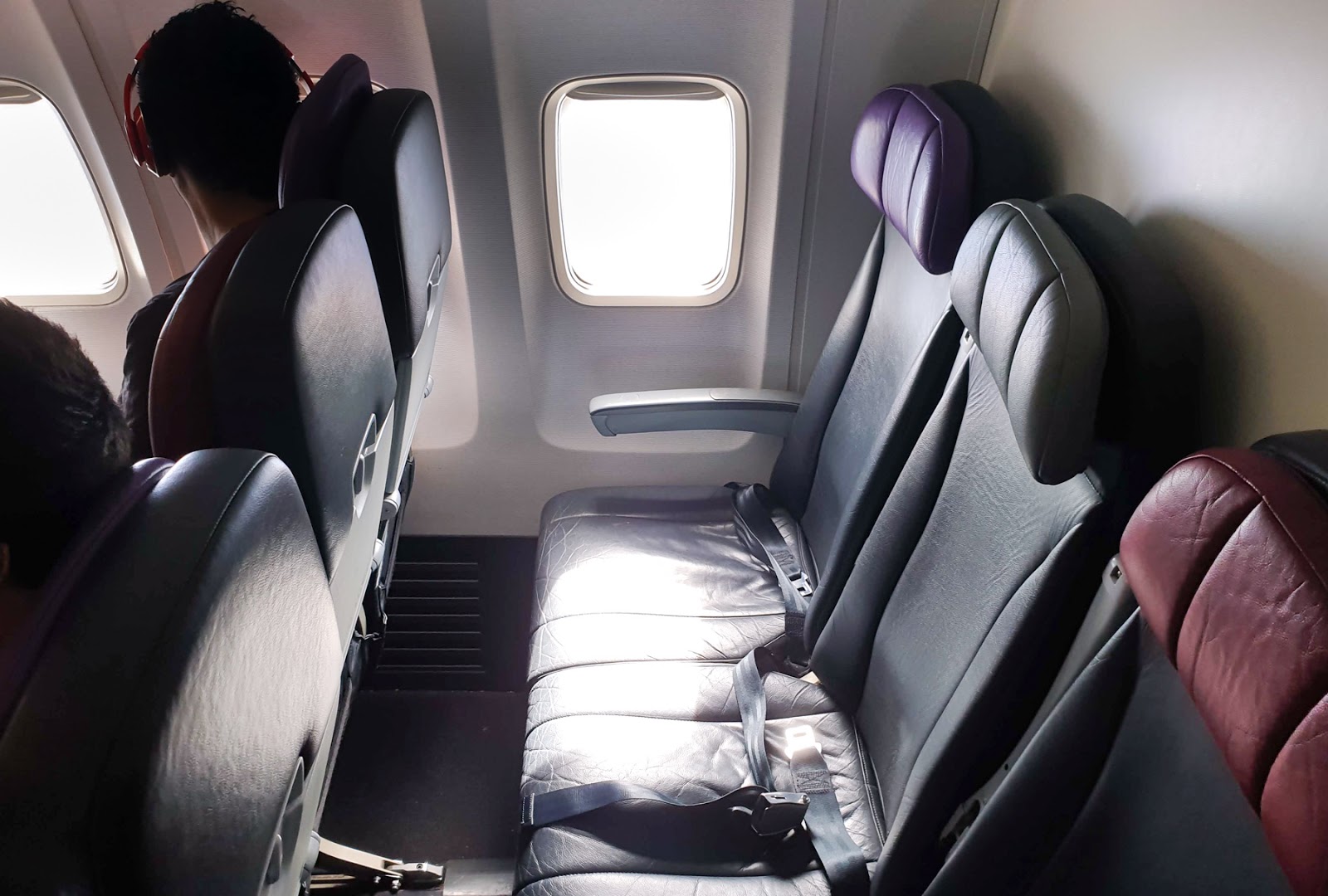 The armrests in standard rows can go fully up, which is great for people travelling together and makes it seem more spacious overall.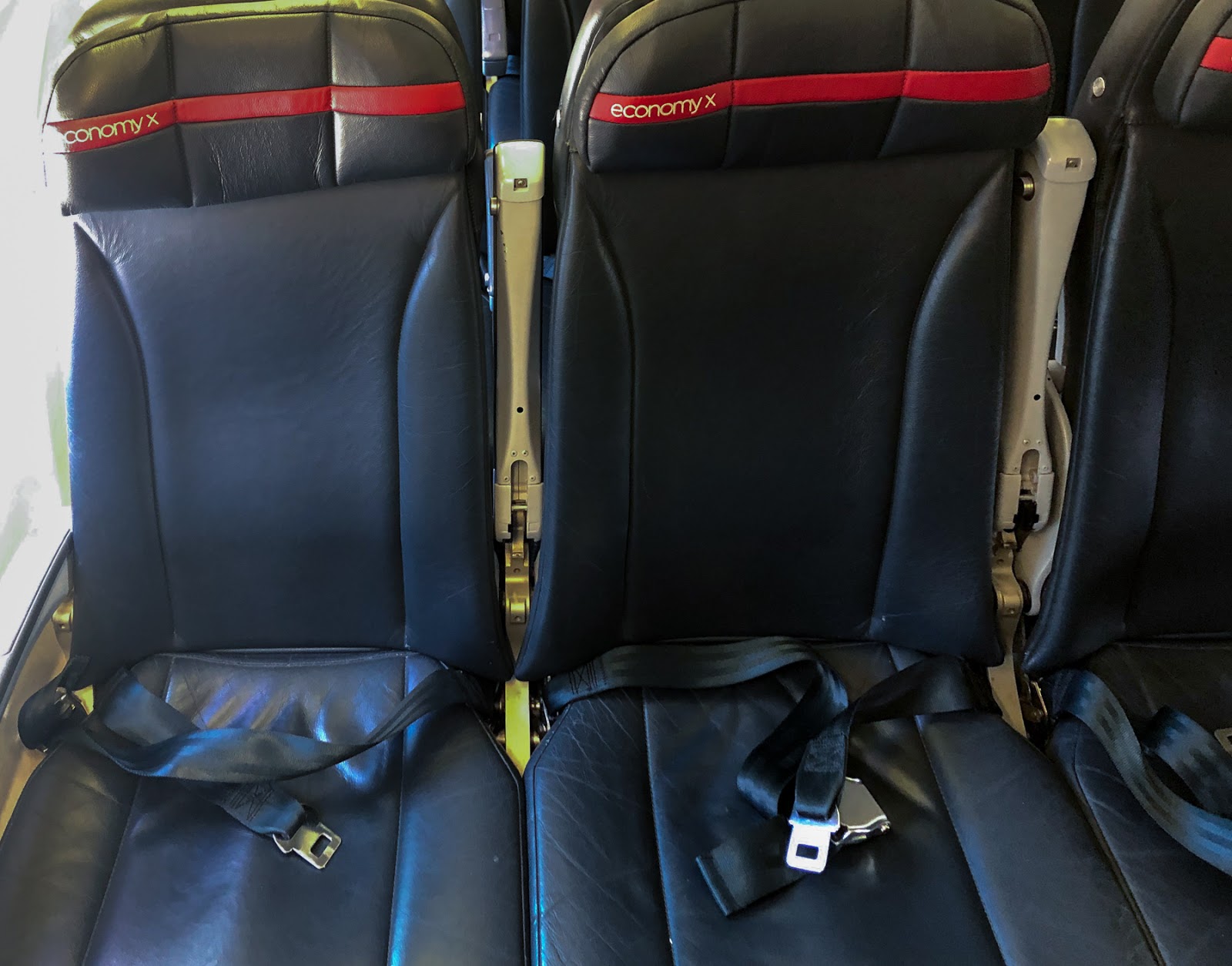 The first three rows of Economy plus the emergency exit rows are designated as Economy X, which offers extra legroom and priority boarding. There is usually an extra charge to select these.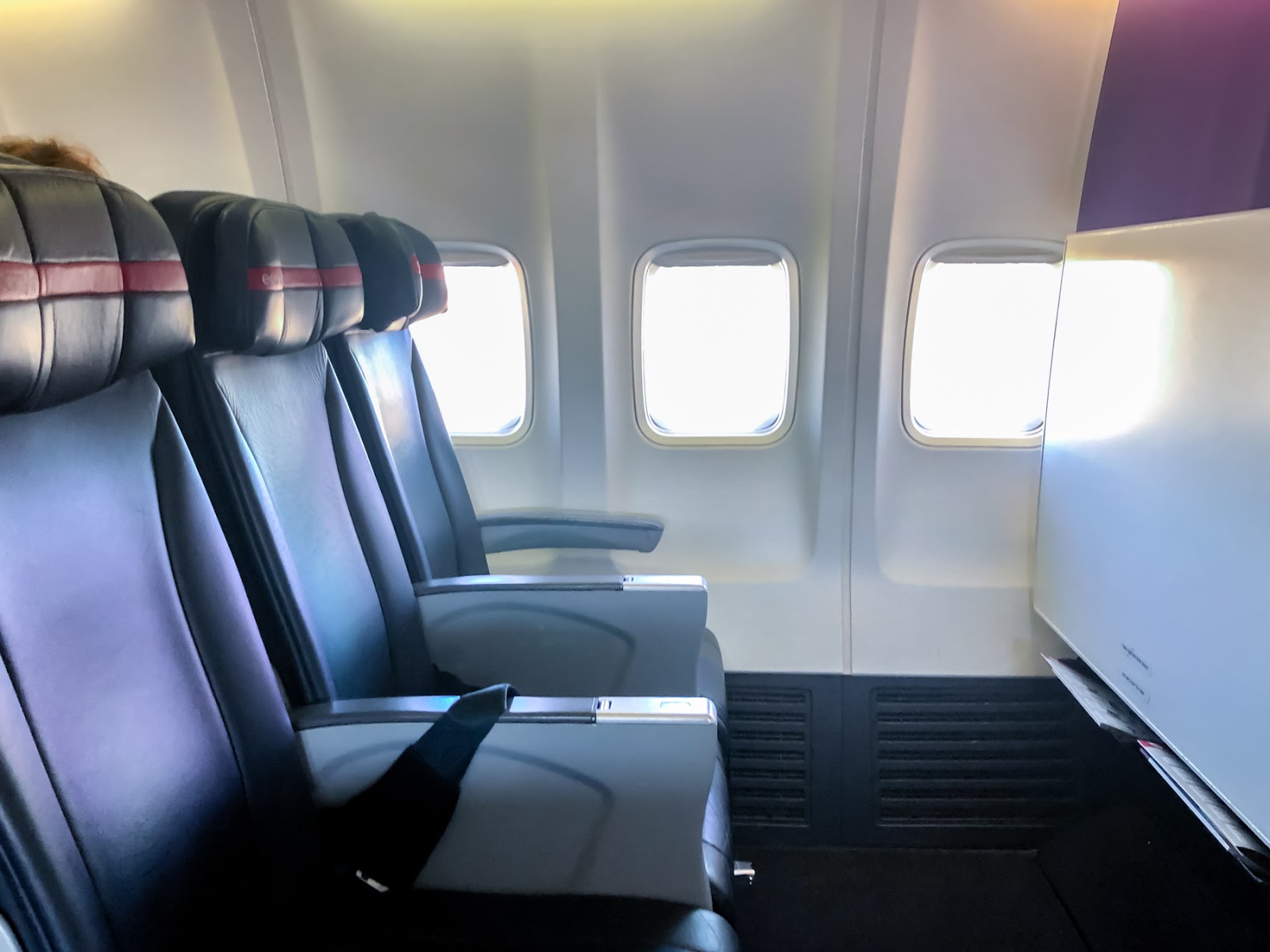 As I usually travel with a Velocity Platinum frequent flyer, we are able to choose Economy X seats for free. This is the legroom in Row 4, which is also similar in the emergency exit row seats (34 inches pitch).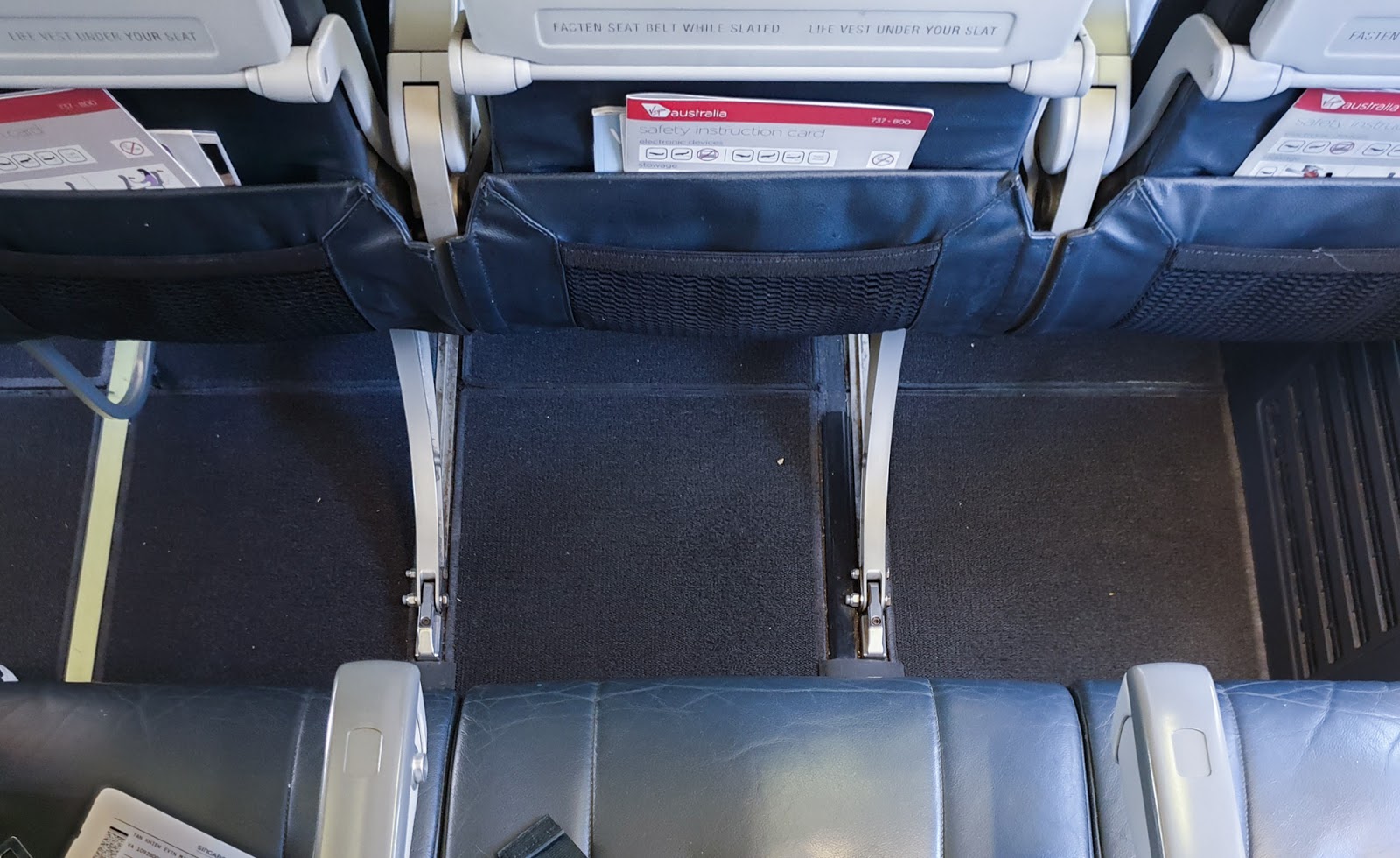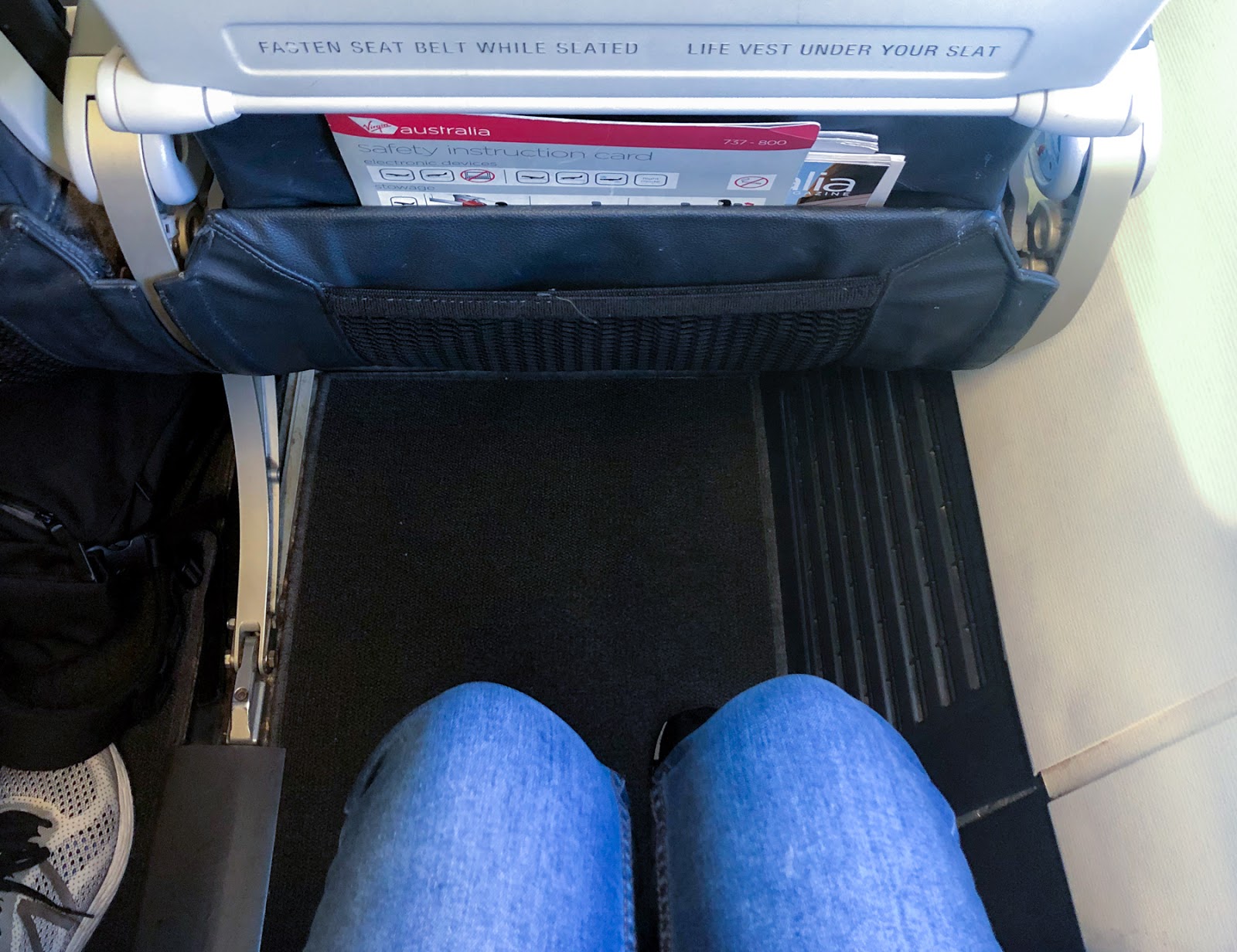 I couldn't get a shot of the emergency exit rows on this full flight, but here is a media image. I would avoid Row 13, the first exit row, since those seats can't recline (could potentially block the exit behind).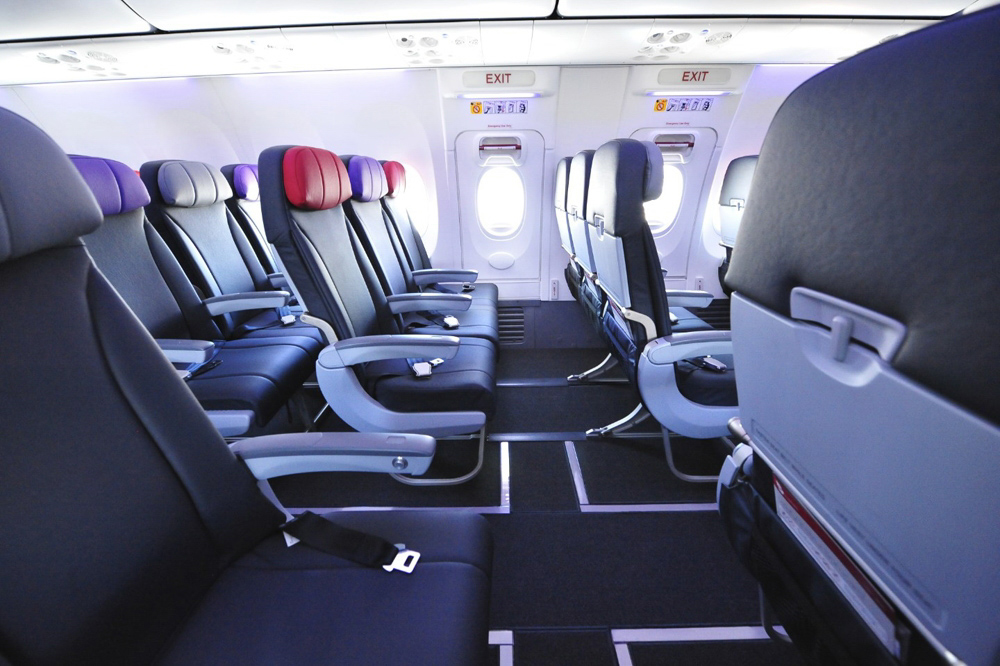 Altogether, there are 168 Economy seats and 8 Business Class. In comparison, Qantas have 162 Economy seats and 12 Business Class in the same space, which means Economy seats are a bit more tighter on Qantas (30 inch pitch) than Virgin Australia.
Each seat is upholstered in leather, well-padded and has an adjustable four-way headrest.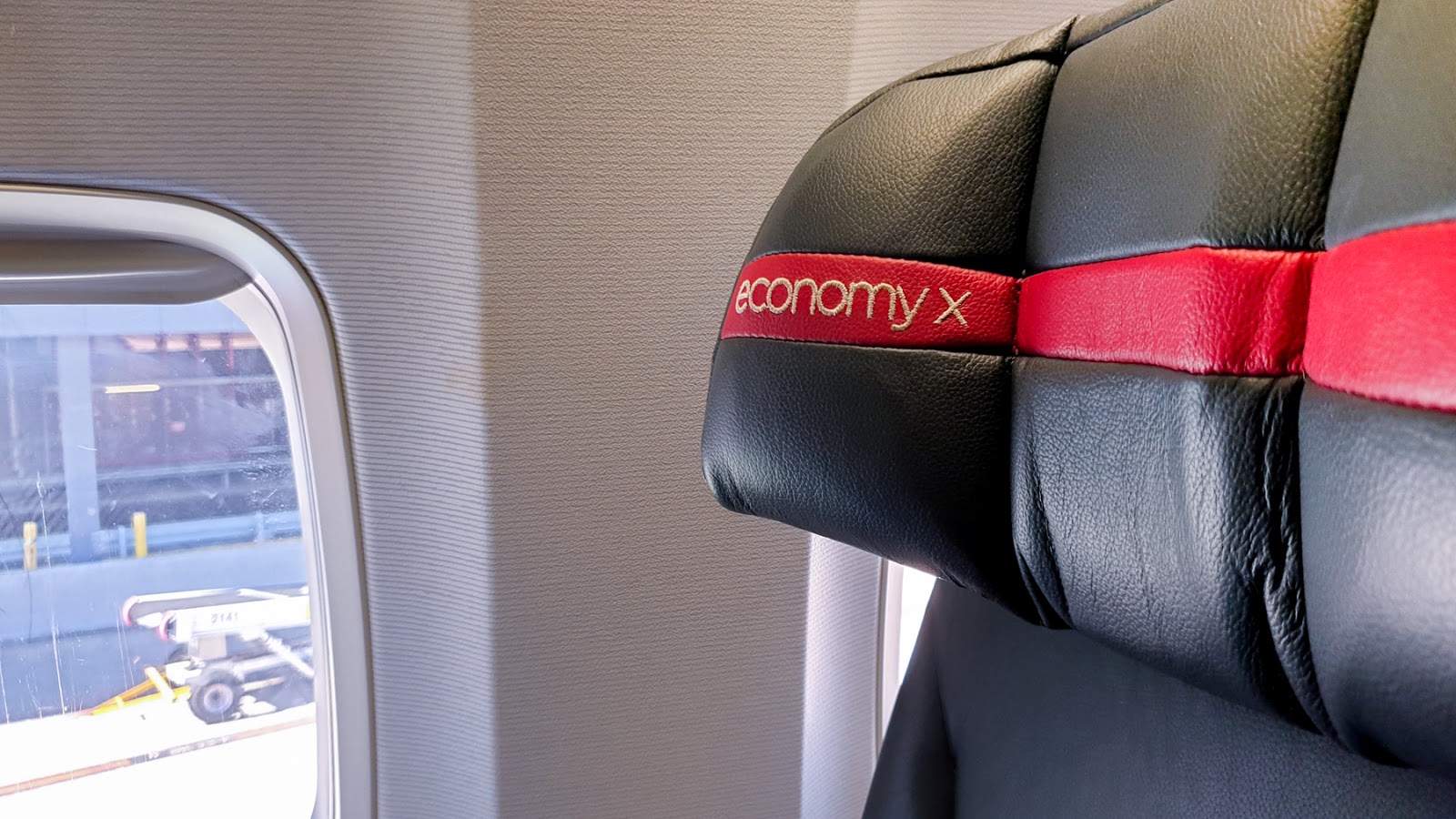 Seat choice
The seat choices available depend on your status and how busy the flight is at the time of booking. Standard seat selection is free for all passengers, but only from Row 15 onwards initially.
Any unallocated standard seat at the front of the plane becomes available to all guests at 48 hours before the flight. Economy X seats are always selectable by anyone who is willing to pay.
Here is a comparison between what a Velocity Platinum member sees (left) and a Velocity Red/non-status passenger sees (right), for the exact same flight. The main difference is Economy X pricing and the blocking of Rows 6-12 from free seat selection.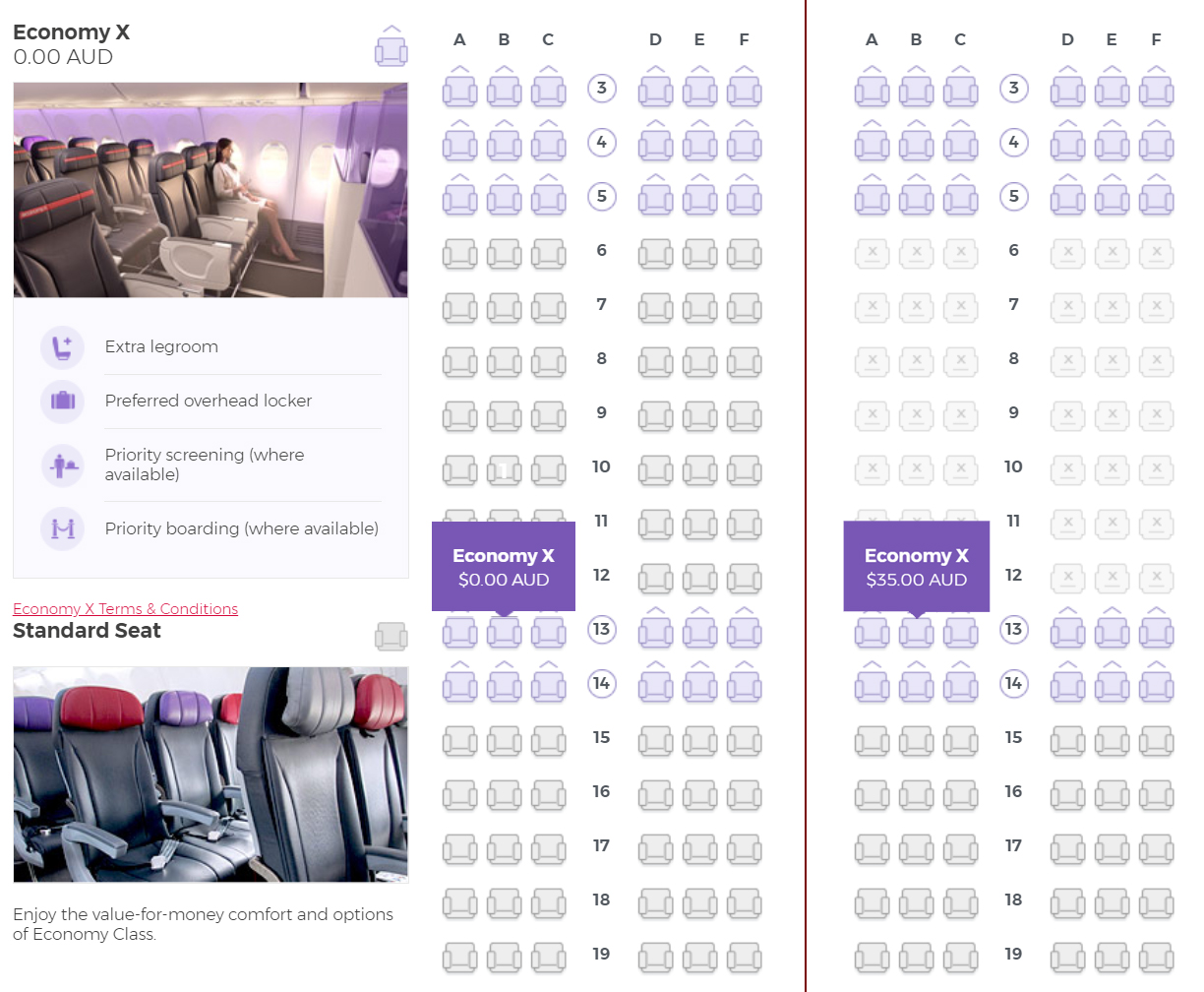 With such an uninspiring seating layout, there's not much variation or choice. Sitting in the rear half of the plane has its benefits, as it's closer to the lavatories and you might actually get out quicker through the rear exits, if they are used.
Passengers with higher status will probably prefer to sit up front, where there is generally a bit more space and easier access with priority boarding. However, the Business Class lavatory technically can't be used by Economy passengers, even those in Economy X seating.
I would only recommend avoiding Row 30 if possible, as the seats are against a wall and can't recline.
Food & drink
Virgin Australia has a different approach to Qantas when it comes to catering on domestic flights. Shorter flights only get a snack, regardless of meal times (Qantas has hot meals on most flights during breakfast, lunch and dinner hours).
Water, tea, coffee and juice are complimentary on flights. Soft drinks and alcohol are only free during Happy Hour, which is flights with a scheduled departure from 5-7pm, Monday to Friday.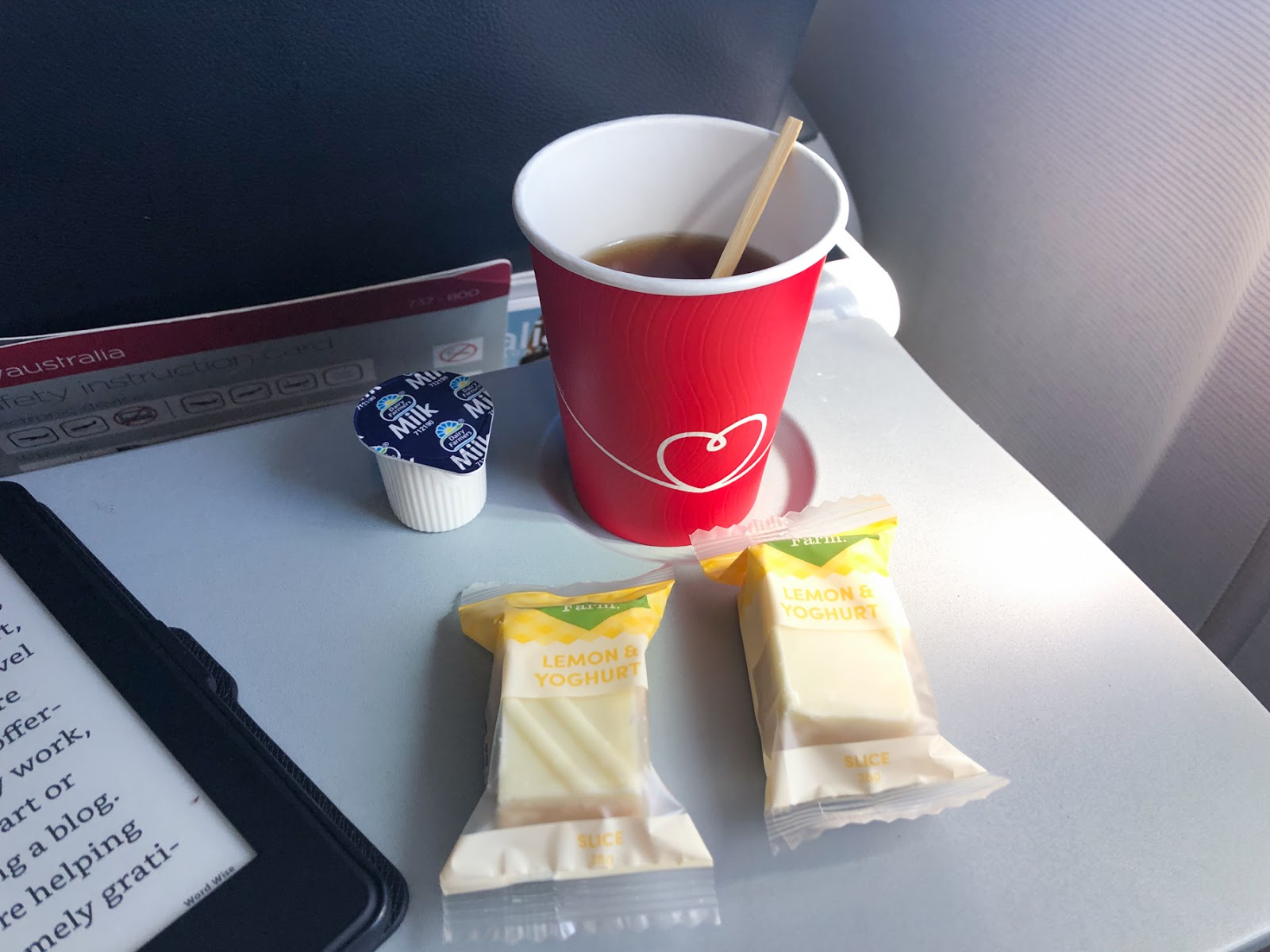 The free snacks are usually sourced from Australian producers. Over many flights, I've had roasted chickpeas, soy crisps, cookies and lemon yoghurt bars. Unfortunately, you don't normally get a choice between sweet or savoury – they normally only have one or the other.
One thing that Virgin does better than Qantas is its buy-on-board menu, which has a great variety of drinks, salads, sandwiches and snacks. There isn't any hot food, presumably to cut costs.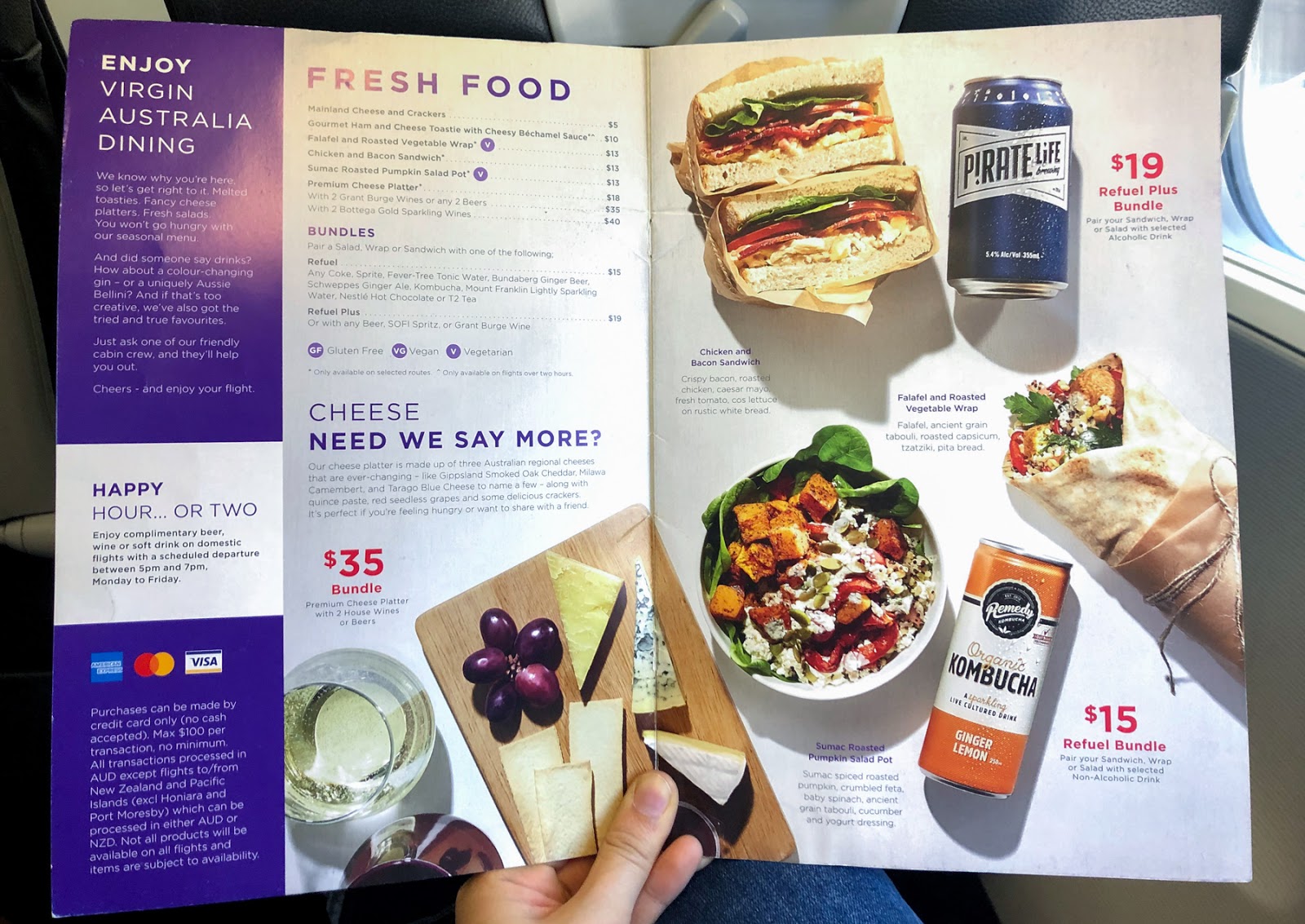 I can vouch for the quality of the sandwiches, having ordered one off the menu when I was travelling in Business Class before. This Chicken Waldorf sandwich was fresh, soft and delicious, although I'm not sure I would have paid $13 for it in Economy.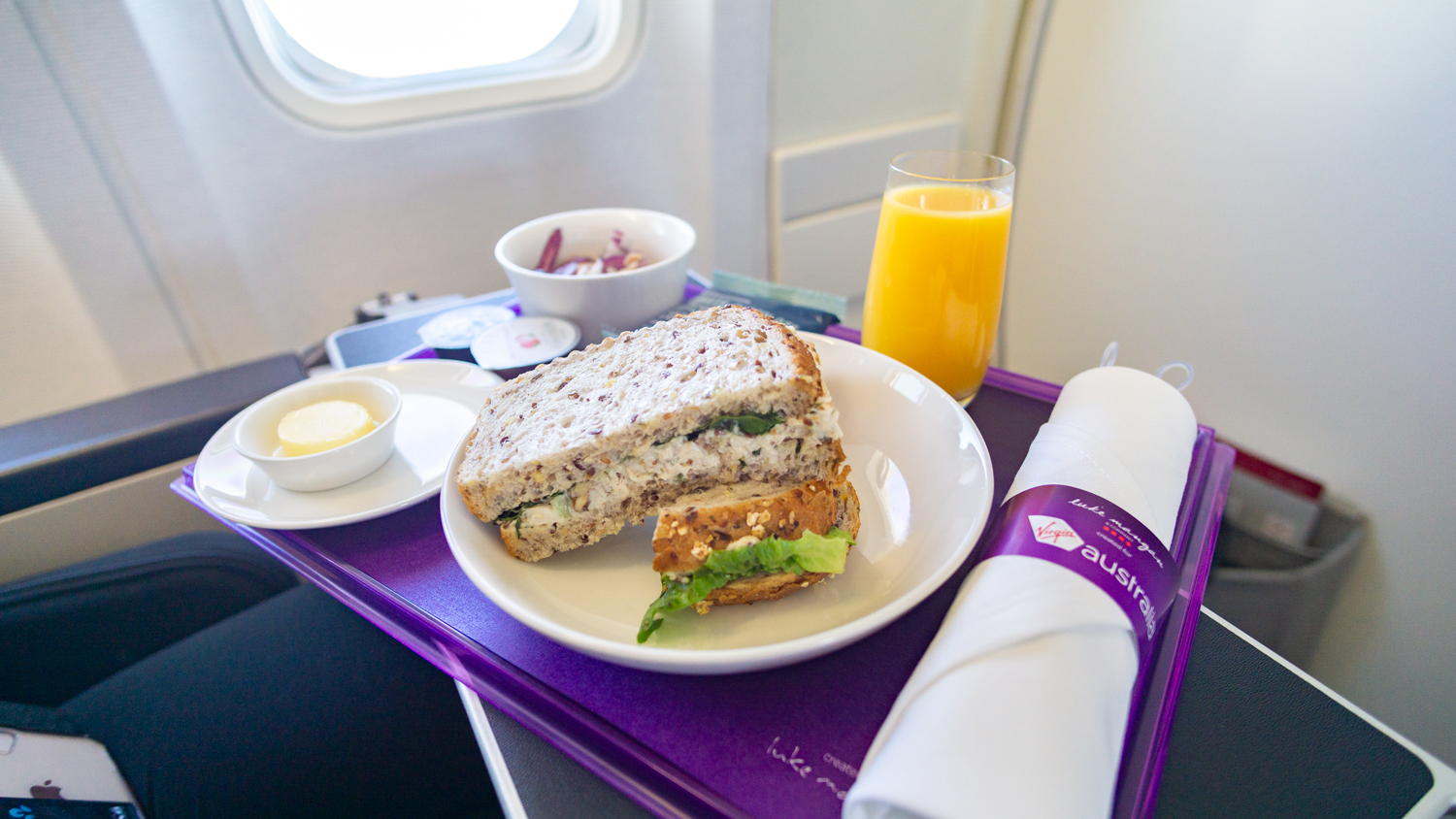 Customer service
Virgin Australia's cabin crew are generally quite warm and friendly. There isn't much cabin interaction on a short domestic flight, but I've never had or witnessed any problems with them.
Back in the terminal, Economy X, Velocity Gold ad Velocity Platinum members flying in Economy Class can use the purple Priority Boarding lanes to board at the same time as Business Class.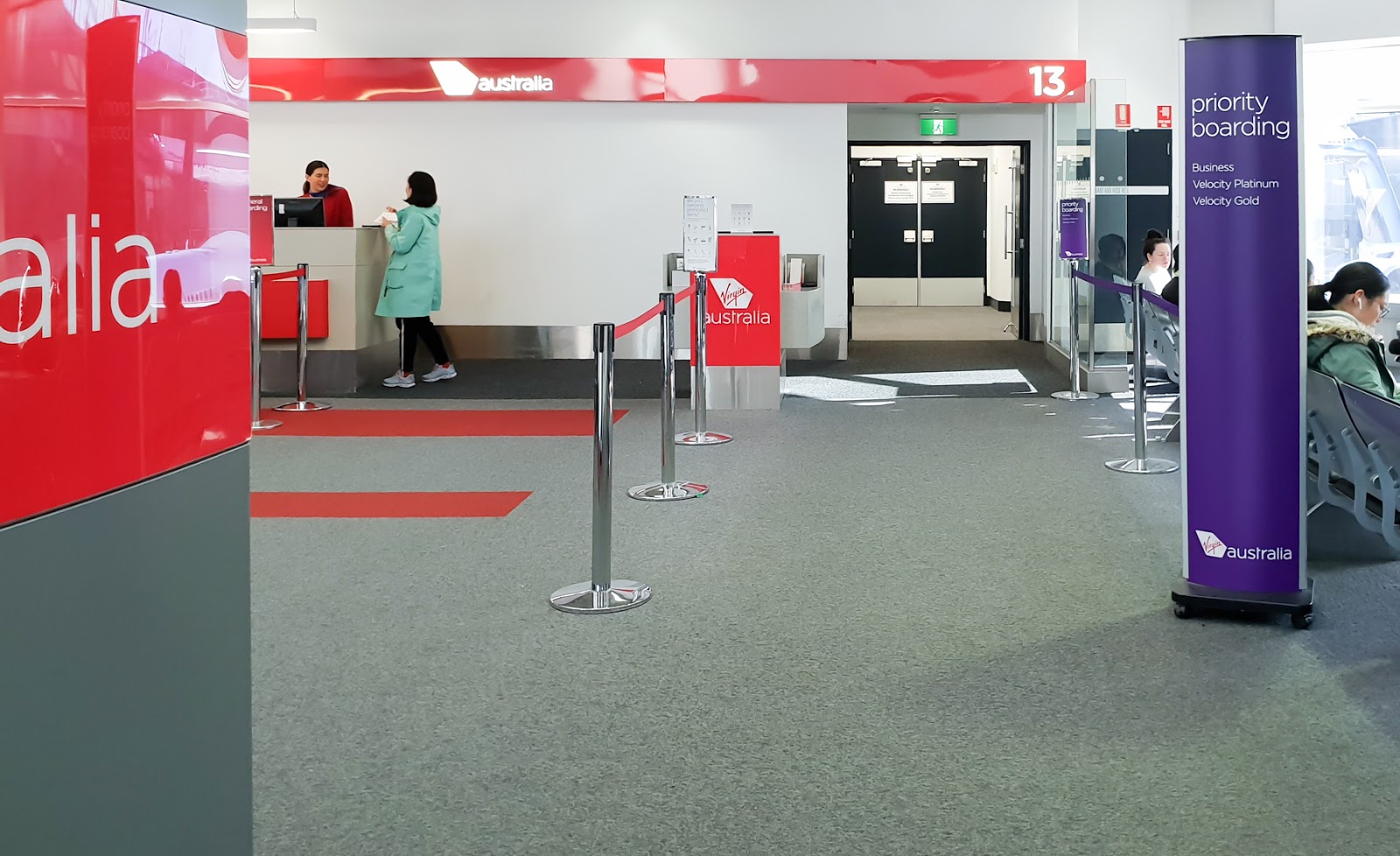 Virgin Australia is moving to a self-check in and bag-tag model at major domestic airports, but there are plenty of staff to help out if you get stuck.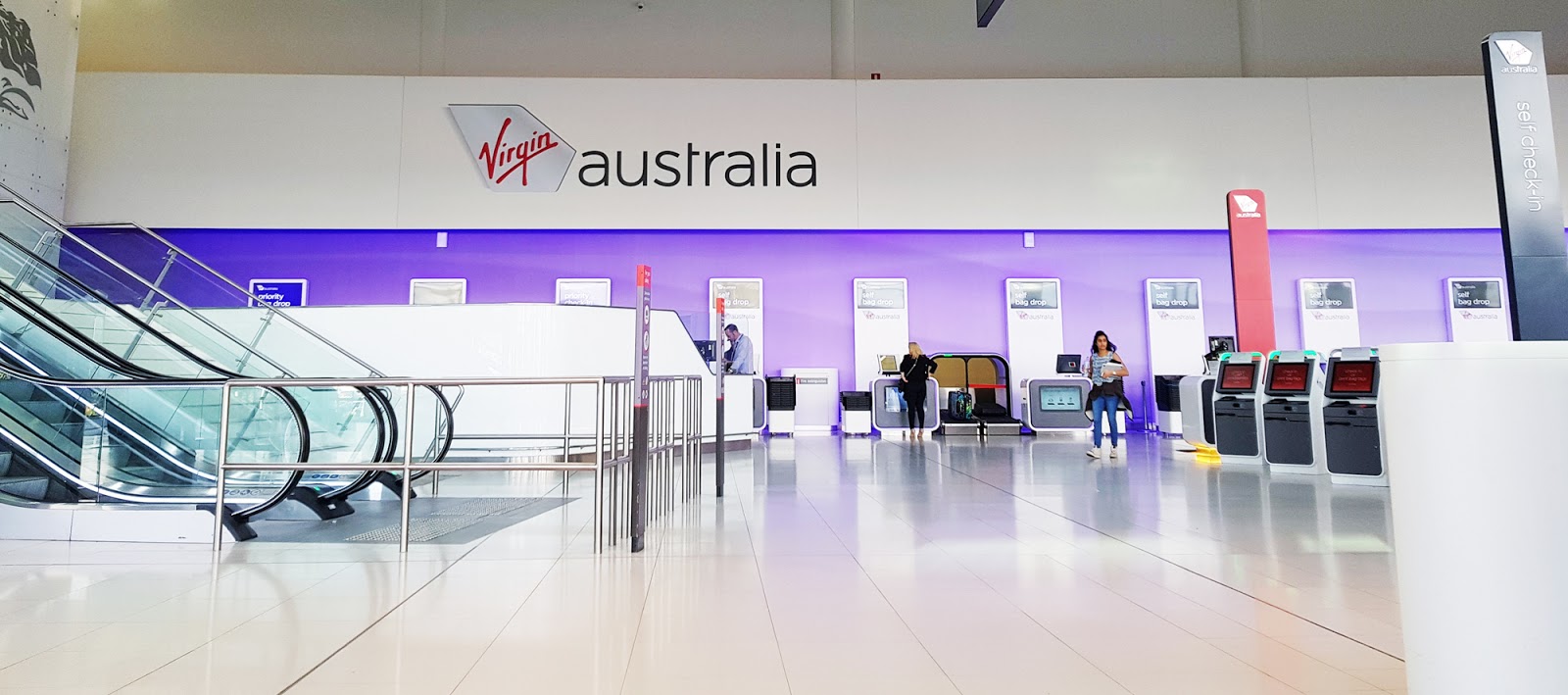 Inflight entertainment
A weak point of Virgin Australia compared to Qantas – none of their Boeing 737s have inflight entertainment screens. Fortunately, they do have wireless streaming entertainment.
For that, you need to bring your own device, and make sure it has plenty of battery and the Virgin Australia Entertainment App. Once connected onboard, you have access to a decent library of movies, TV shows, news bulletins and a moving map of sorts.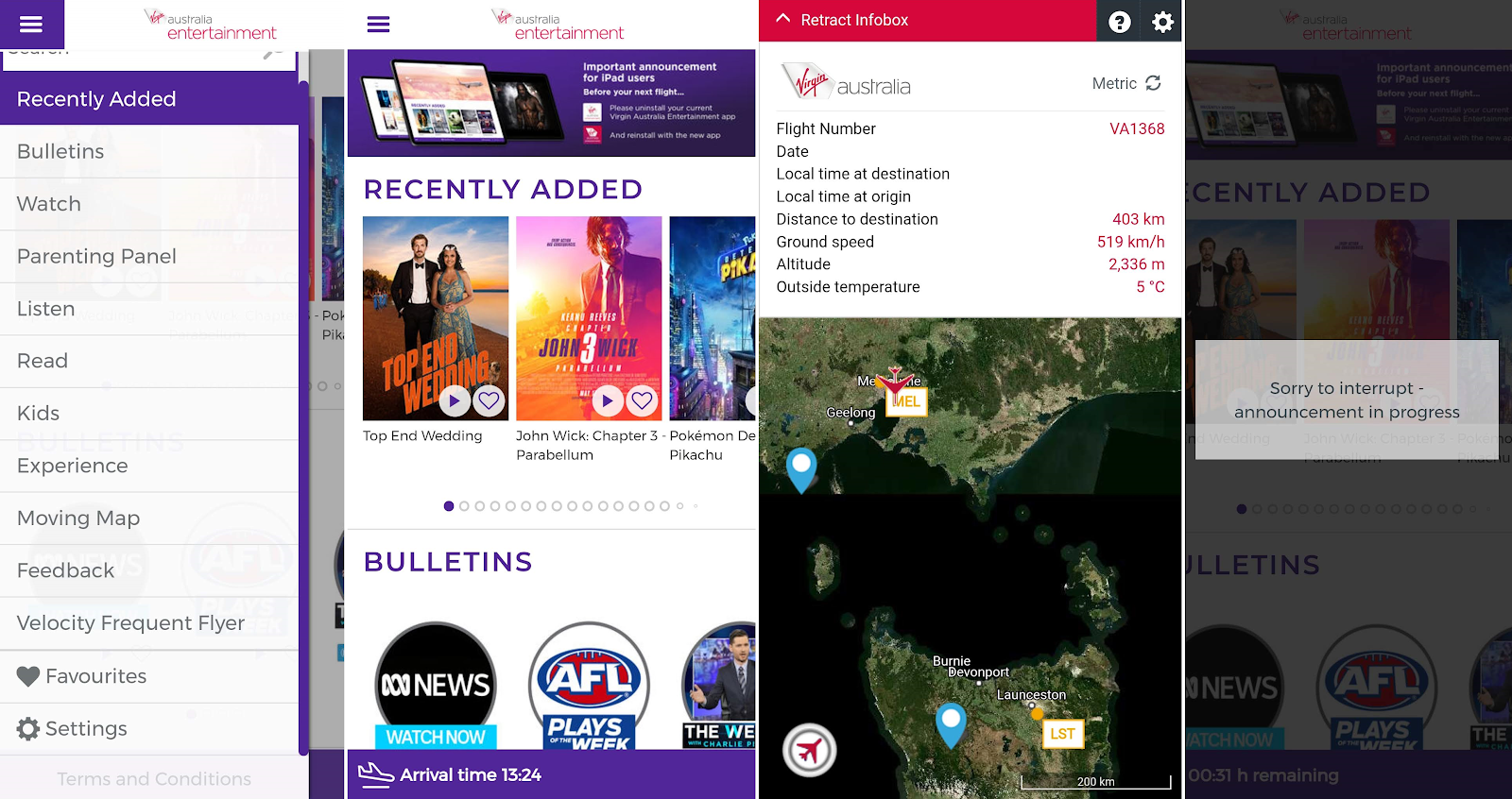 Most of Virgin Australia's Boeing 737 have WiFi on board, which is free for domestic flights. It was easy to connect and reasonably fast. I measured it at 8/4 Mbps download/upload, roughly.
Finally, the seat pockets have the Virgin Australia magazine, which is usually quite interesting and easy reading for a short flight.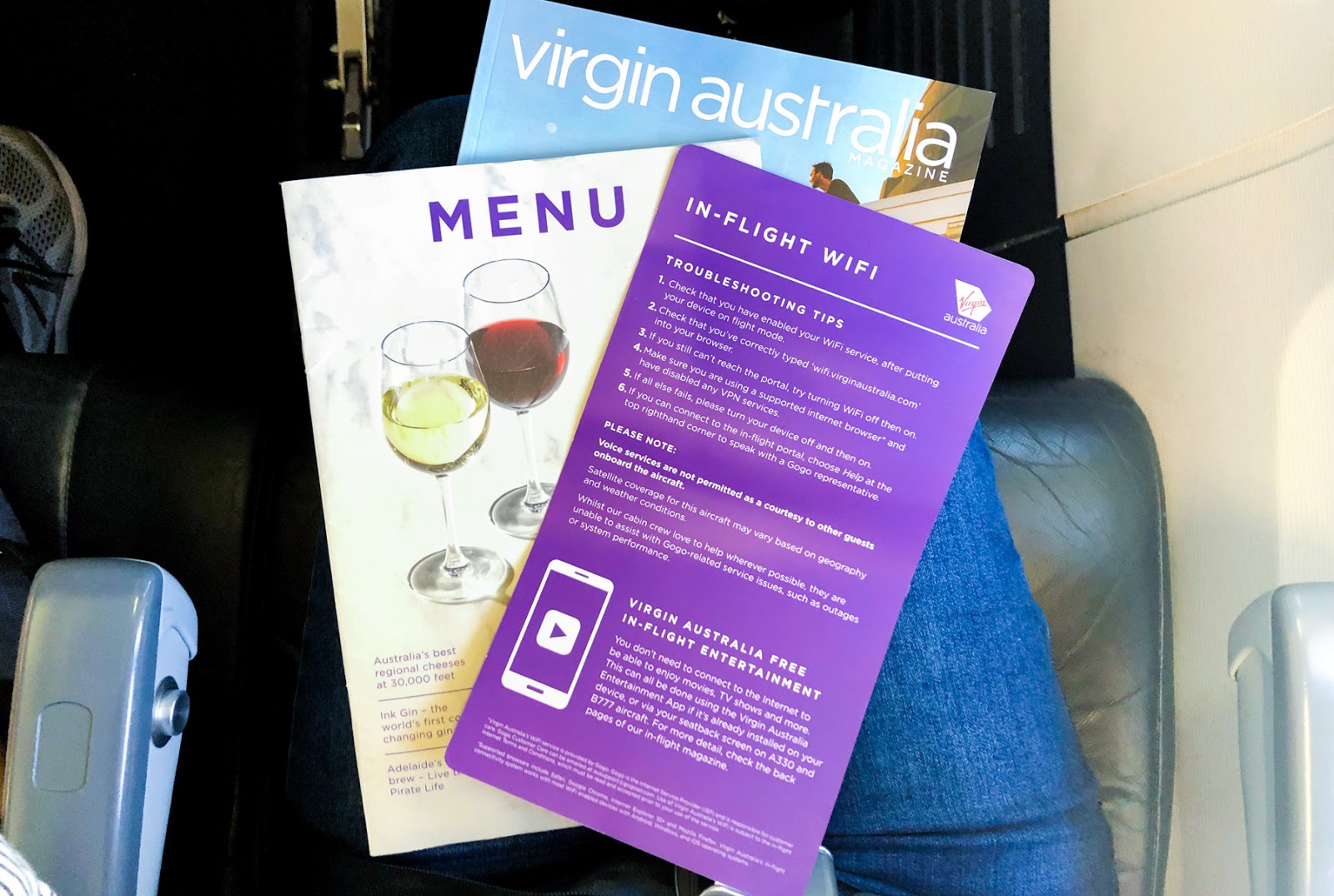 Amenities
There are no power ports in Economy class, unfortunately. Make sure you bring a power bank if you plan on watching lots of video during the flight.
There are two standard lavatories towards the back of the plane. Luckily, these aren't the 'slimline' versions that other airlines are installing, so it is reasonably roomy.
Each Virgin Australia Economy ticket includes one 23kg bag, seat selection and a snack.
How to redeem points for this flight
As another reminder, points are rarely a good use for Economy flights unless cash fares are very expensive, or you just don't care about flying in premium cabins (and that's fair enough!).
It's quite easy to use Velocity Points to book Virgin Australia domestic flights. Just type in your dates, city pairs and click on the 'Use Points + Pay' box (left side). On the right side below, you'll see the options show up.
Just pay attention to the first column (Economy Reward) and second column (Business Reward) for proper reward seats. The third column, 'Any Seat', lets you pay a standard cash fare with points which is hardly great value.
Once you've picked a flight, entered passenger details and selected seats, it's time to pay. I always recommend moving the slider to the far left, so you pay with minimum points and cover taxes with cash. The alternative is to pay the taxes in points as well, but that's never great value.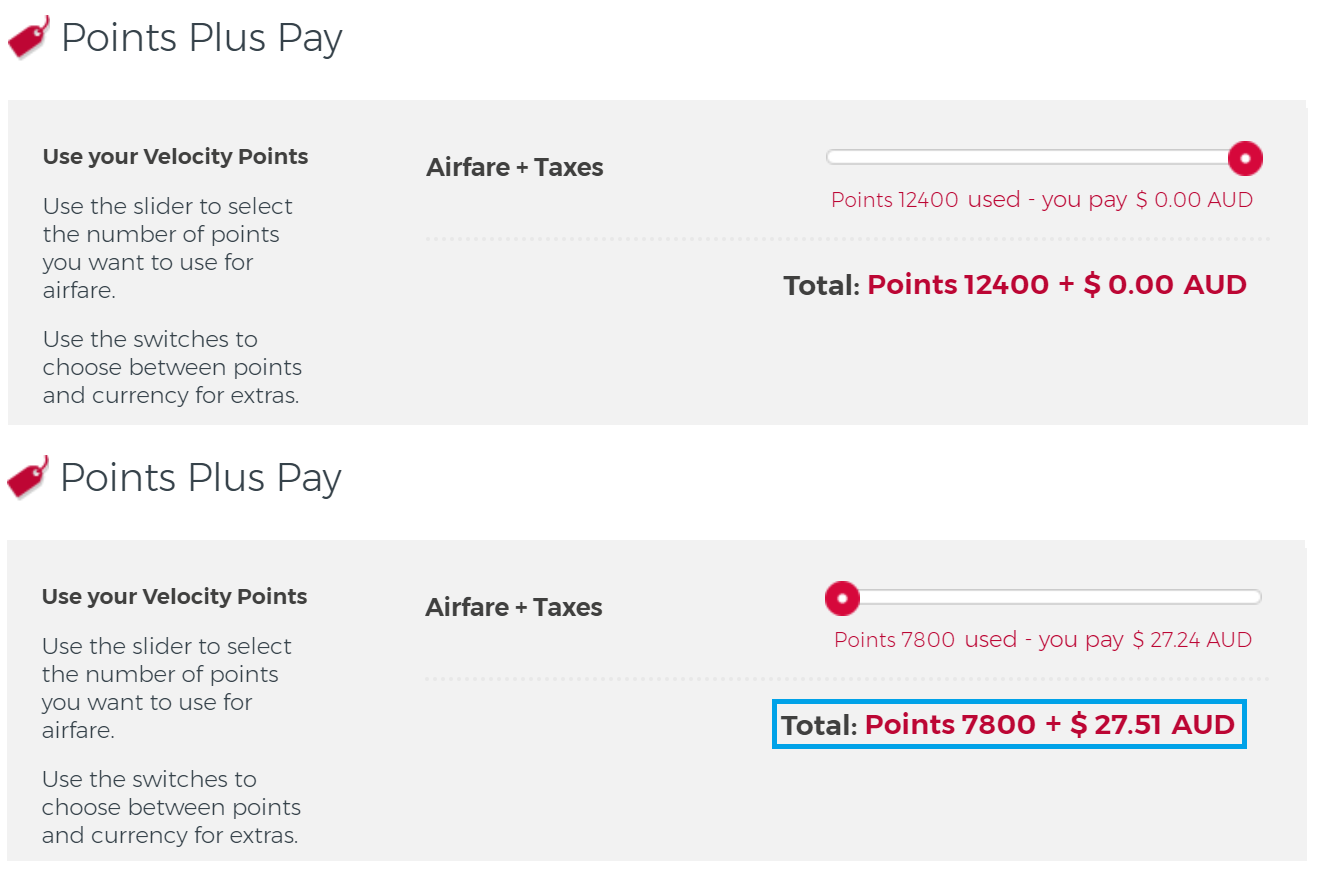 Some other popular currencies you can use for Virgin Australia flights include Etihad Guest miles and Singapore Airlines KrisFlyer miles, but we won't cover those in this guide as people with those miles usually use them for Business Class redemptions.
Bear in mind that points and Status Credits are only earned on paid, cash Virgin Australia fares. Seats redeemed with points won't earn anything.
Lounge access
Virgin Australia Economy Class doesn't usually come with lounge access, and neither does an Economy X ticket. Velocity Gold and Platinum members have access along with other partner airline elite members.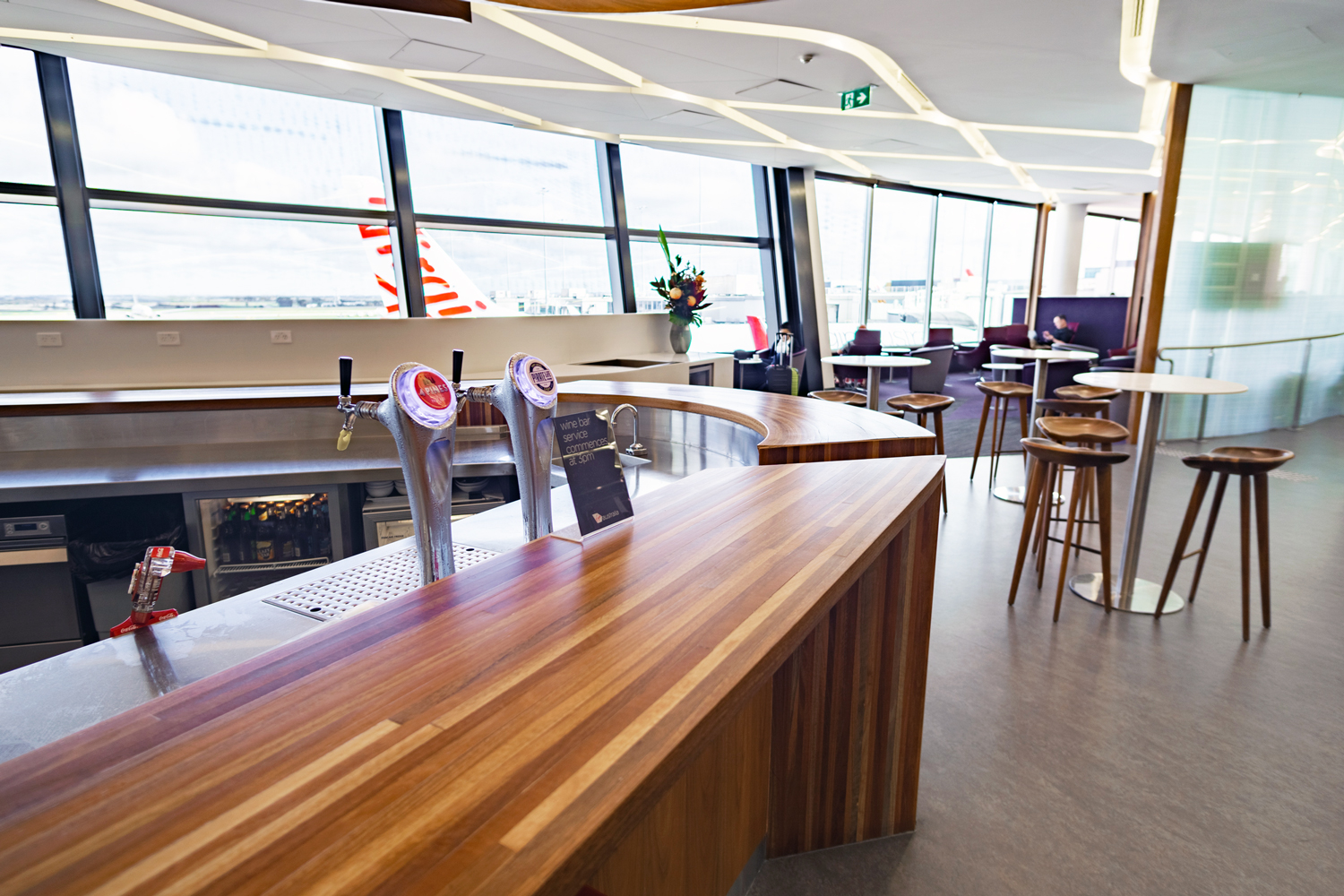 Velocity Silver members and certain credit card holders also receive two lounge passes a year, which is valid for Virgin Australia domestic lounges.

Summing up: why choose this flight?
Virgin Australia Boeing 737 Economy class is a solid contender to Qantas. Not only are Virgin Australia's fares usually cheaper (both in cash and points), but there is slightly more legroom per seat.
The main compromises are the lack of hot meals on shorter domestic flights, and lack of inflight entertainment screens. But their streaming entertainment and WiFi service makes up for it, so at least you've got options for being entertained.
Of course, taller passengers will still probably feel cramped in a standard 737 economy seat across any airline, and that's the main factor in the 3 out of 5 star rating for this product. I would recommend choosing an Economy X seat where possible, as you'll be far more comfortable.
Overall, I've never had a bad experience in Virgin Australia Boeing 737 domestic Economy and won't hesitate to continue flying them on shorter journeys, although I would consider upgrading to Business Class (or choosing an airline with bigger planes) on longer flights New Zealand and Bali.
If I was flying to Perth, I would aim for Virgin Australia's widebody Airbus A330 which has more space for everyone, entertainment screens at every Economy seat and if you upgraded, a fabulous Business Class experience.
What is great
High number of extra-legroom Economy X seats in the cabin to choose from
Inflight WiFi and content on the wireless entertainment system
Friendly ground staff and crew
Free seat selection
Fare includes luggage, seat selection and a snack
What is not great
No inflight entertainment screens
No power ports at seats
No hot meals on shorter domestic flights
Supplementary images courtesy Virgin Australia

Virgin Australia Economy Class, Boeing 737
was last modified:
April 4th, 2021
by