Brisbane's bustling domestic terminal is home to one of Virgin Australia's former flagship lounges. There's a lot to like, including Premium Entry (when it's open) and a hosted coffee bar for that morning caffeine hit.
Although at the time of review, the lounge was still serving a slimmed-down menu, this is expected to change in the coming weeks as Virgin rolls out the new and improved offering which debuted in its Adelaide lounge.
Lounge details & locations
You'll find the Virgin Australia Brisbane lounge opposite Gate 41 in the domestic terminal – turn right after security and walk to the junction past the food court. You'll see the main lounge entrance on the right, and a smaller 'overflow' lounge directly in front of you which is no longer in use.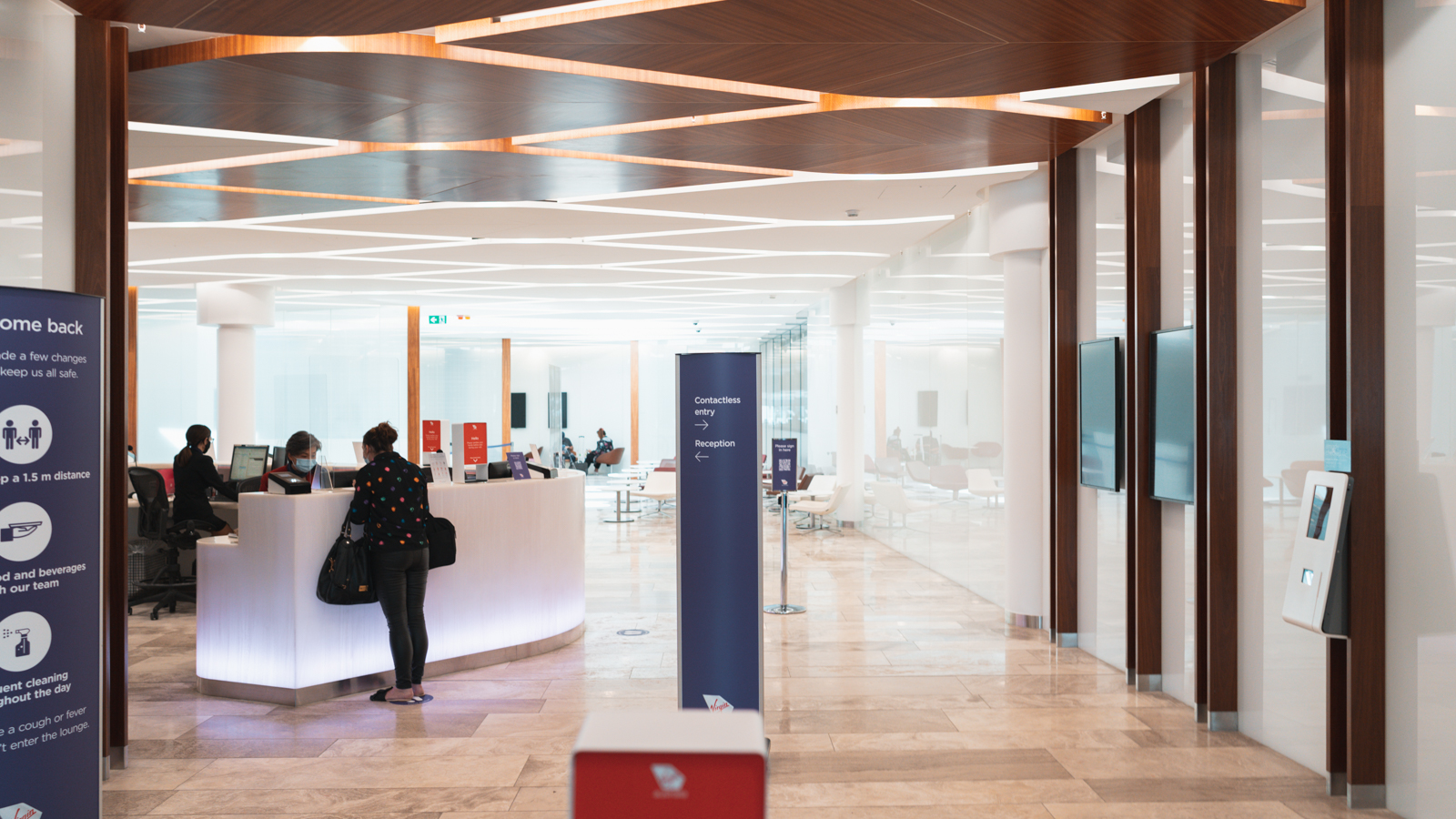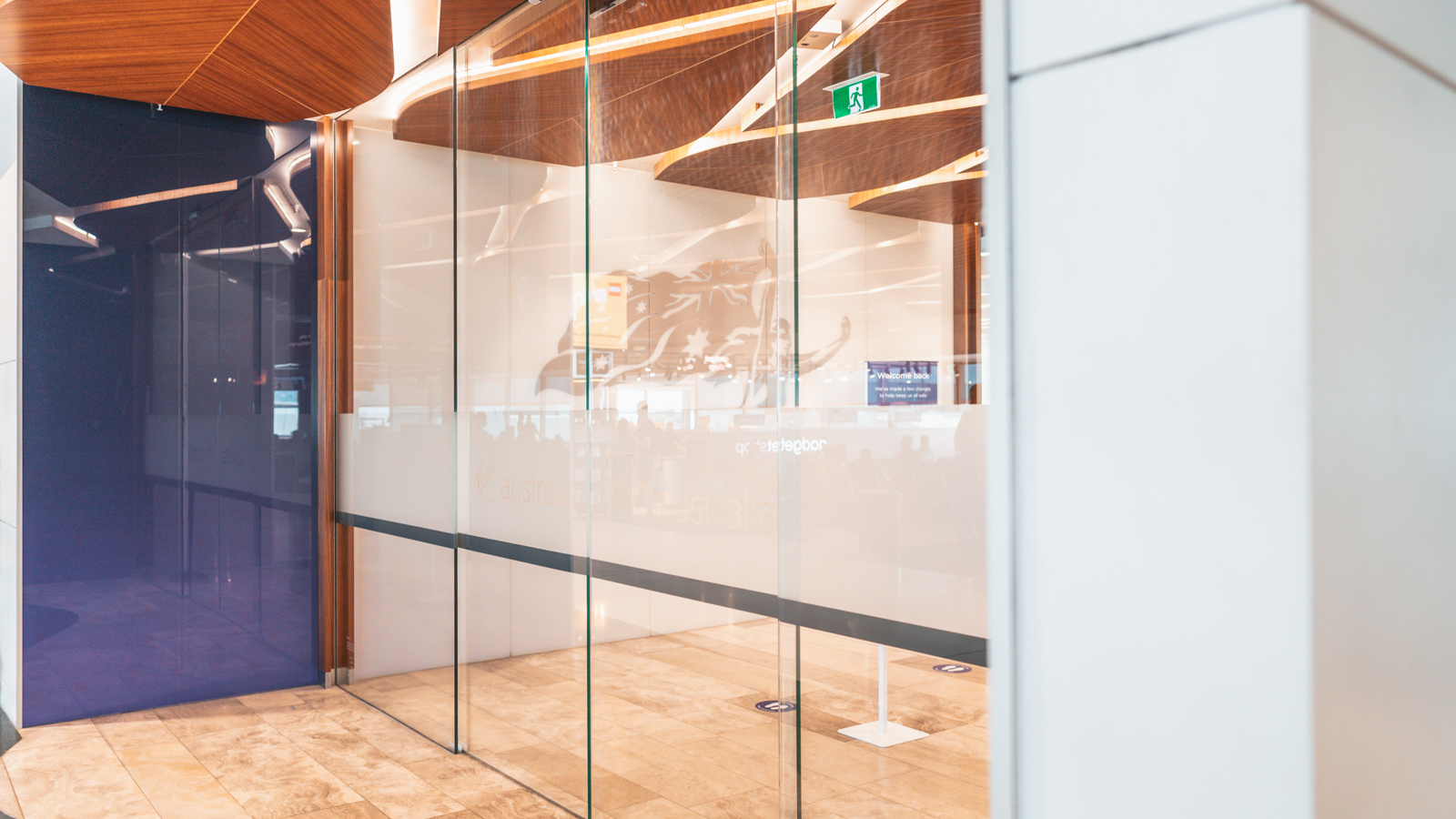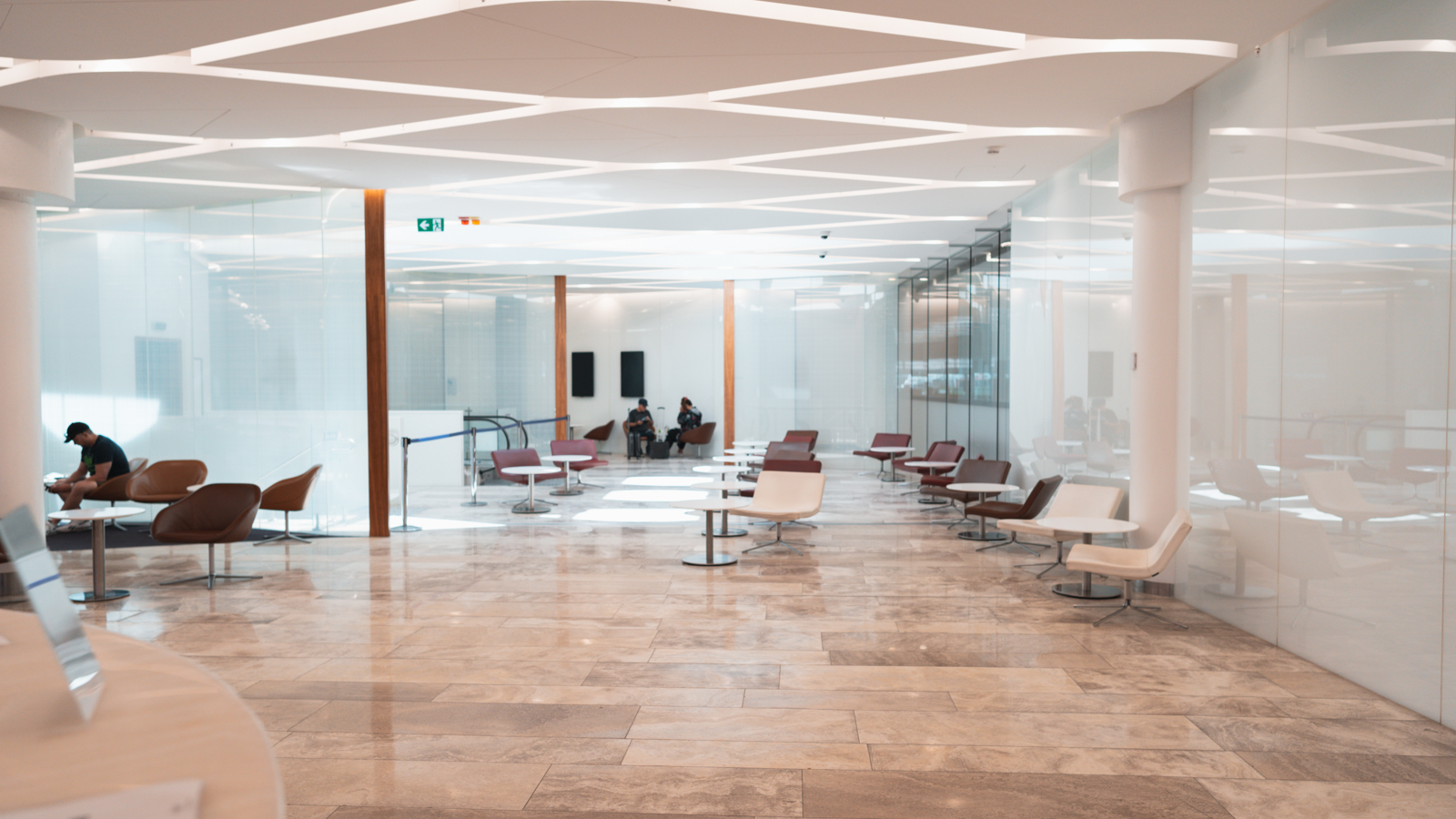 Want to strut in like a VIP? If you have Velocity Gold, Platinum, Virgin lifetime lounge membership or a Business Class ticket, then you would be eligible for Premium Entry from outside the airport as long as you only have hand-carry bags.
It's a dedicated security and lounge check-in area that sends you straight up to the lounge interior once you're cleared – but at the time of writing, it hasn't yet reopened for passengers. Watch this space.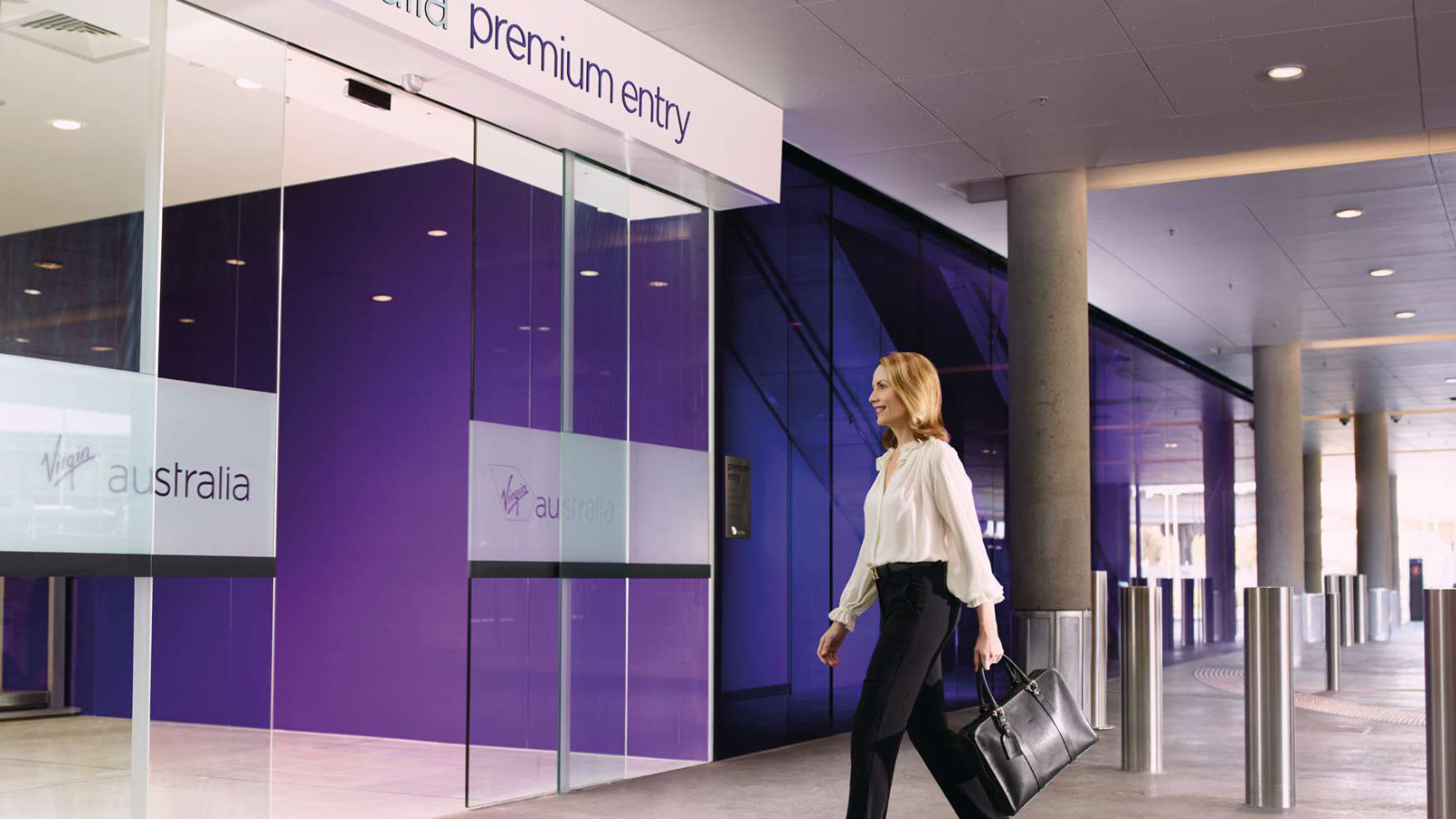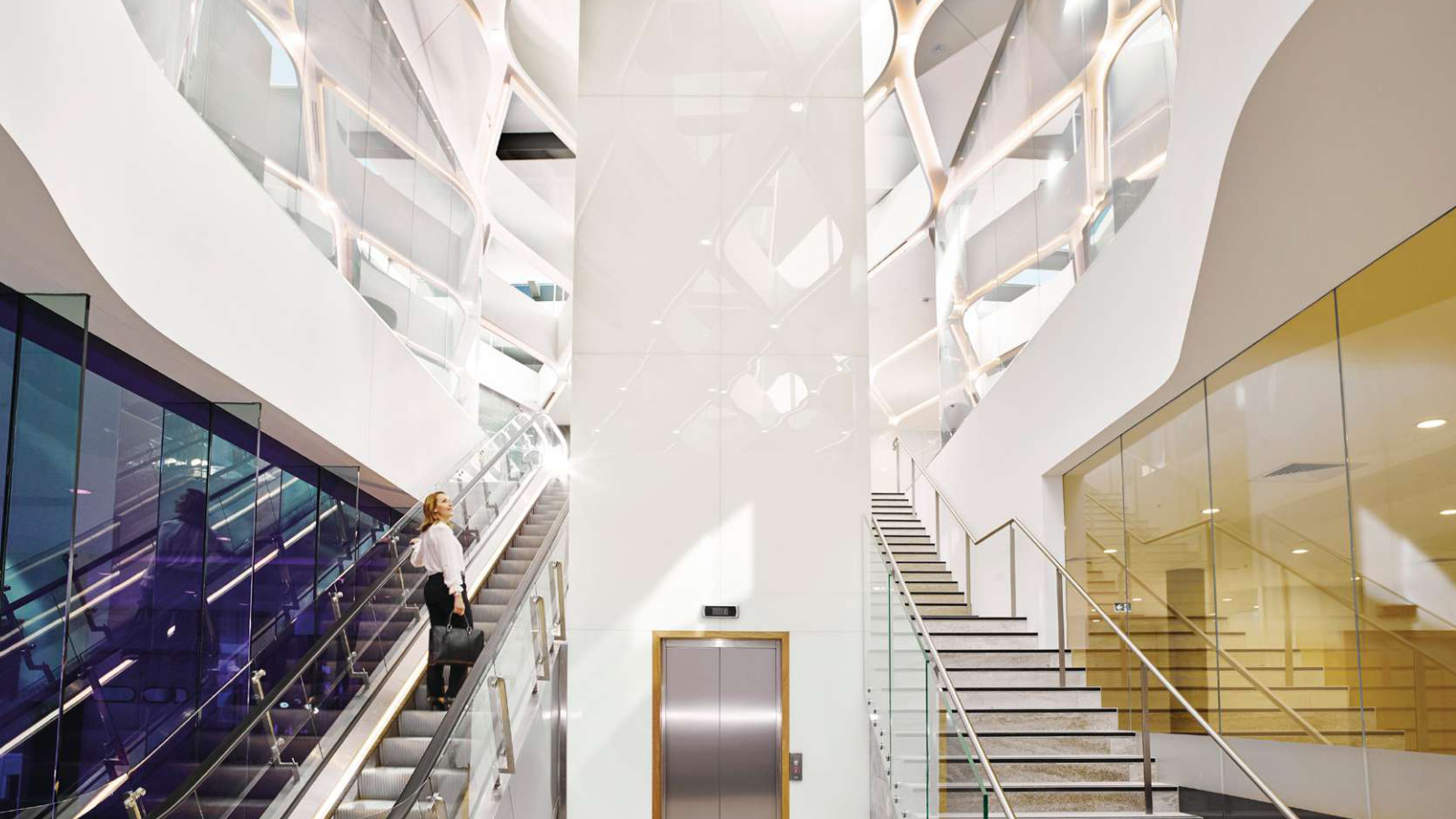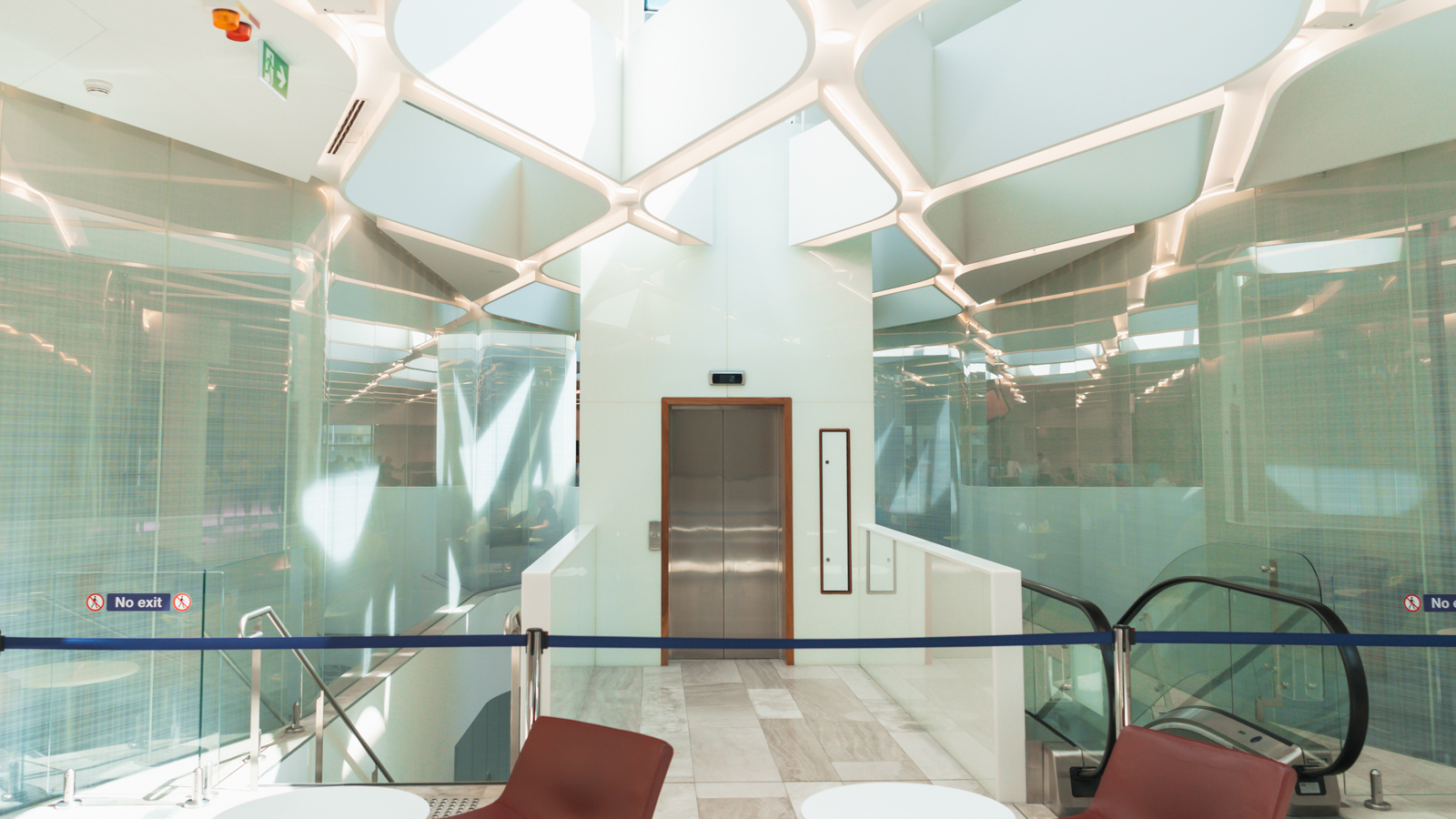 The Virgin Australia Brisbane lounge is open from 60 minutes before the first flight departure, until the last Virgin Australia flight departure.
Lounge seating
The Virgin Australia Brisbane lounge has a range of seating types that are very similar to its other siblings across Australia. In keeping with some semblance of physical distancing, most areas have one or two seats around a table. Some windows offer views of Brisbane Airport's forecourt.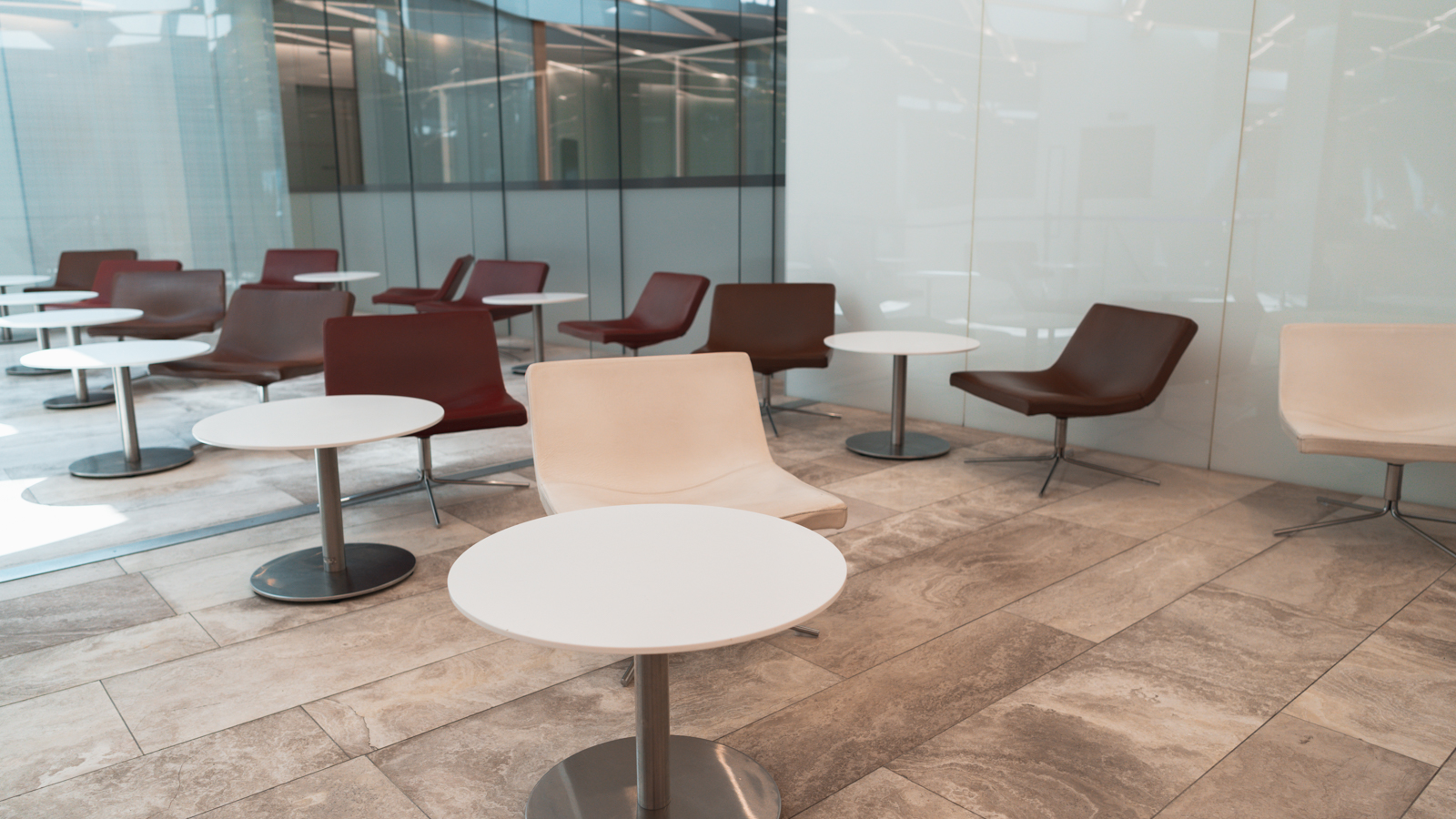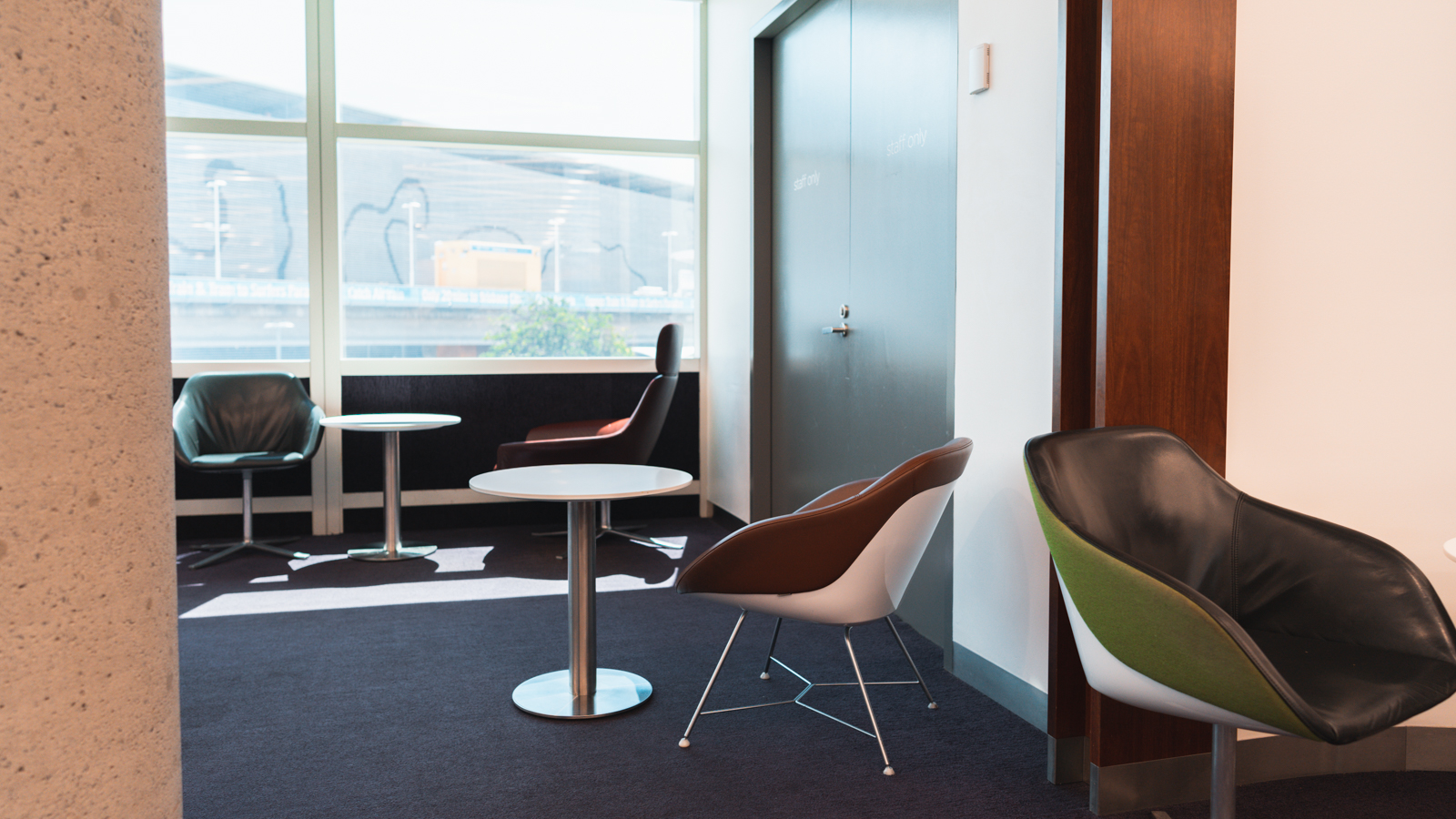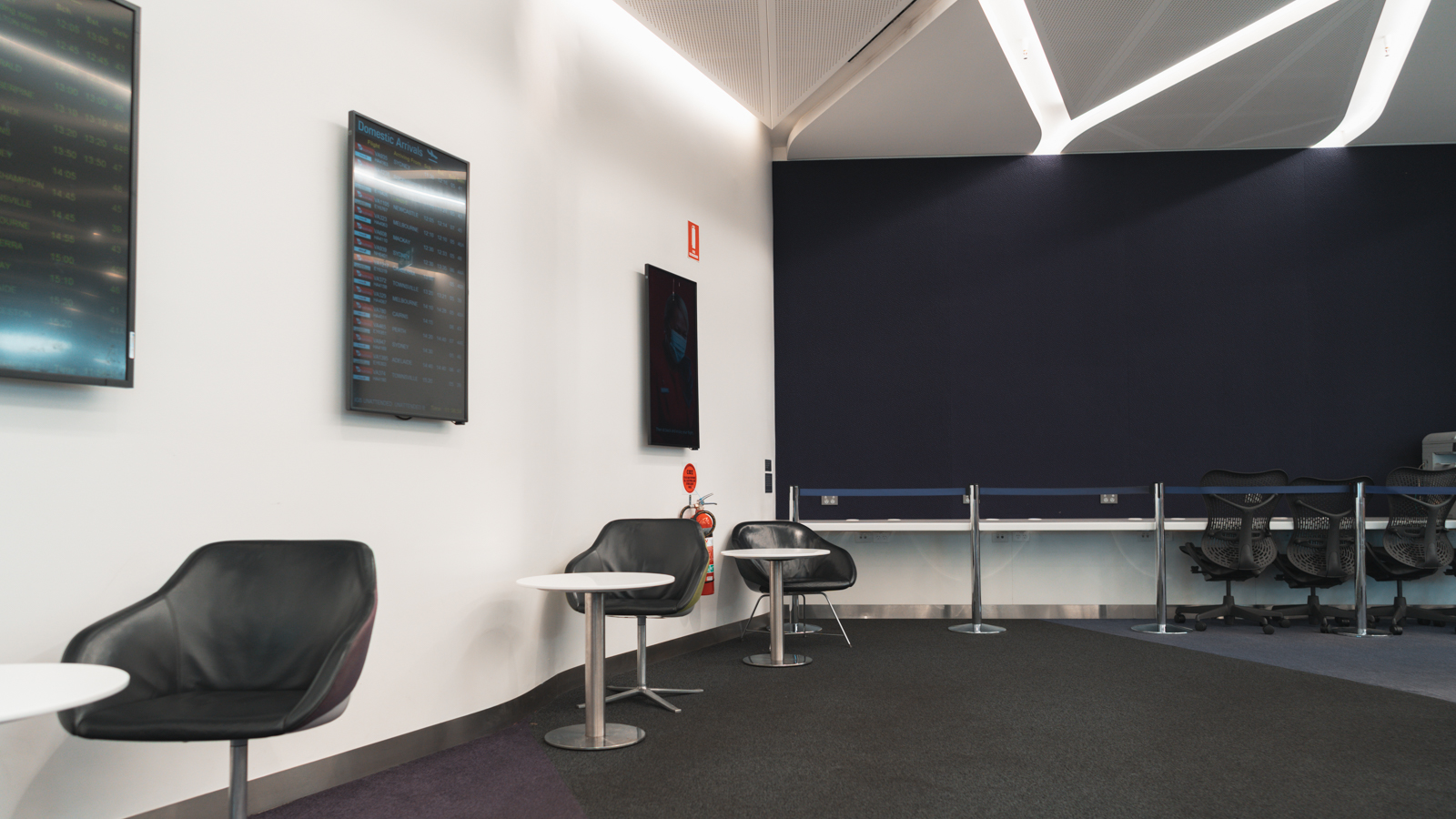 The focus of these older-style Virgin lounges is definitely on maximising capacity rather than creating different 'zones', which is understandable given how high-traffic Brisbane Airport is domestically. In that sense, the lounge seating isn't particularly 'exciting', but it works.
At this time, the business centre is closed off with barriers, so computer and printing facilities are temporarily unavailable.
Food & drink
It's worth noting (again) that the food and beverage in this review are only temporary, and an enhanced menu is definitely in the works, particularly when domestic travel picks up in the long term.
Right now, as of April 2021, the hosted food bar predominantly offers pre-packaged retail sandwiches and light snacks during the day. The breakfast menu usually includes yoghurts, muffins and cereals.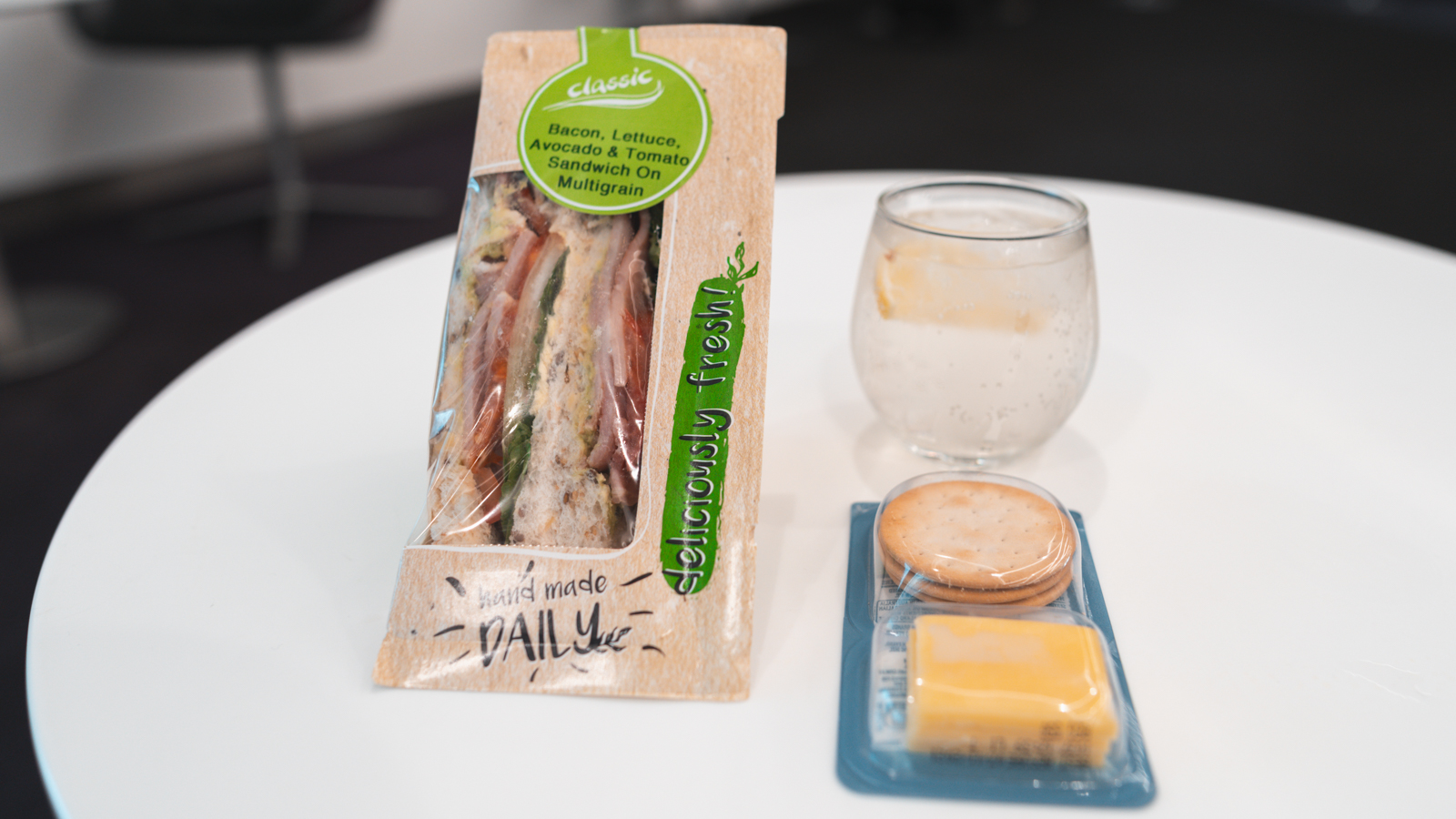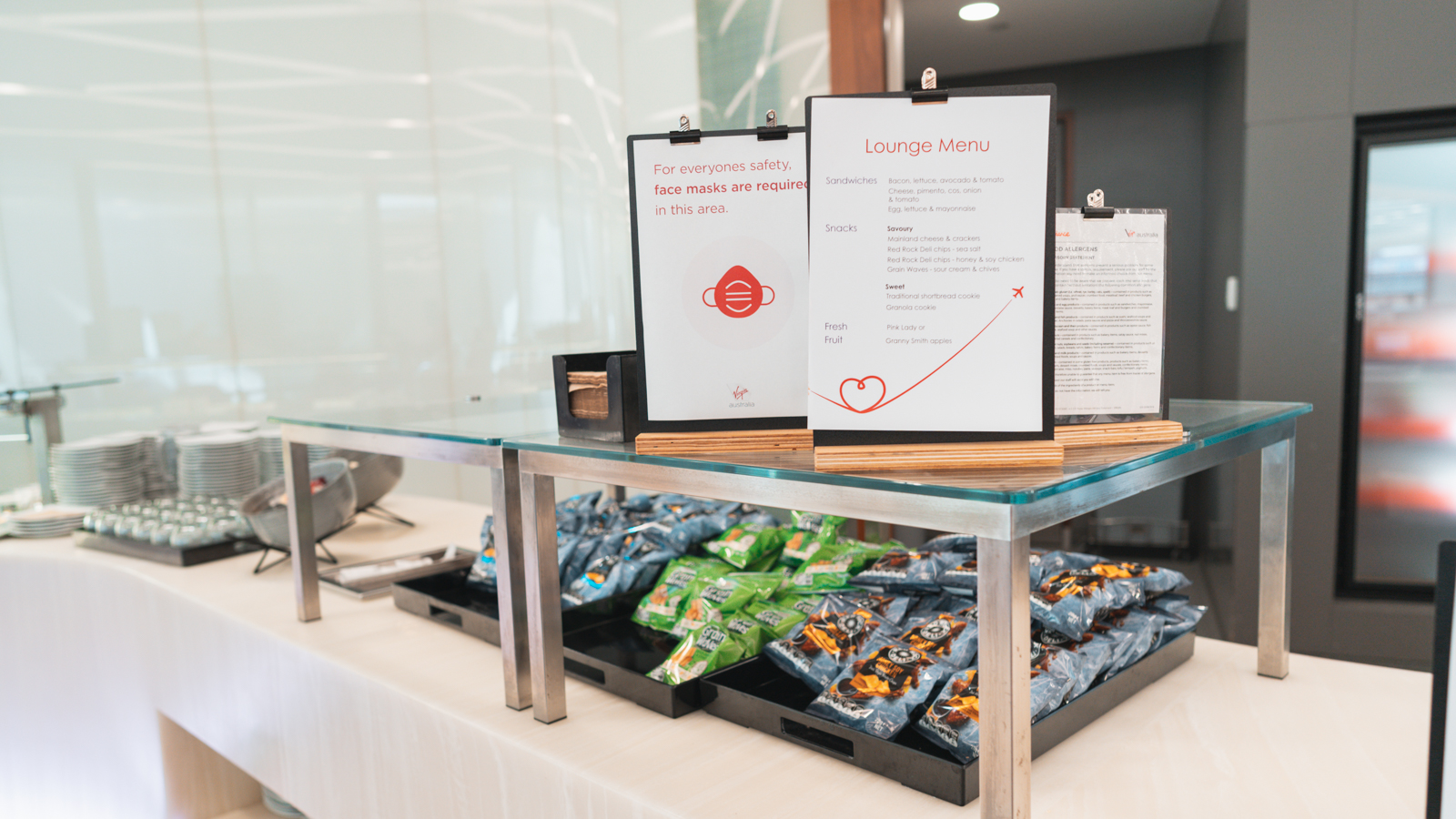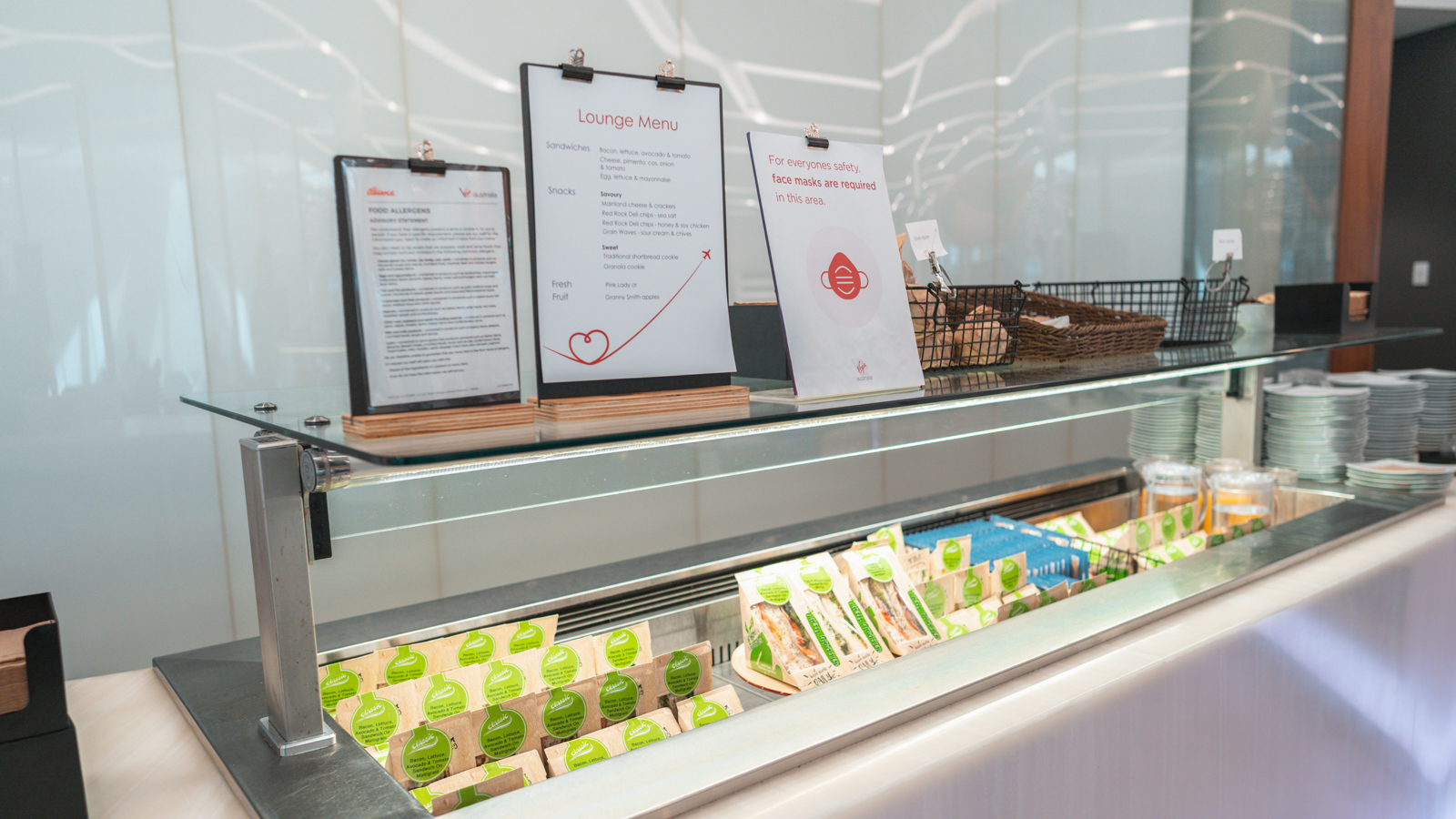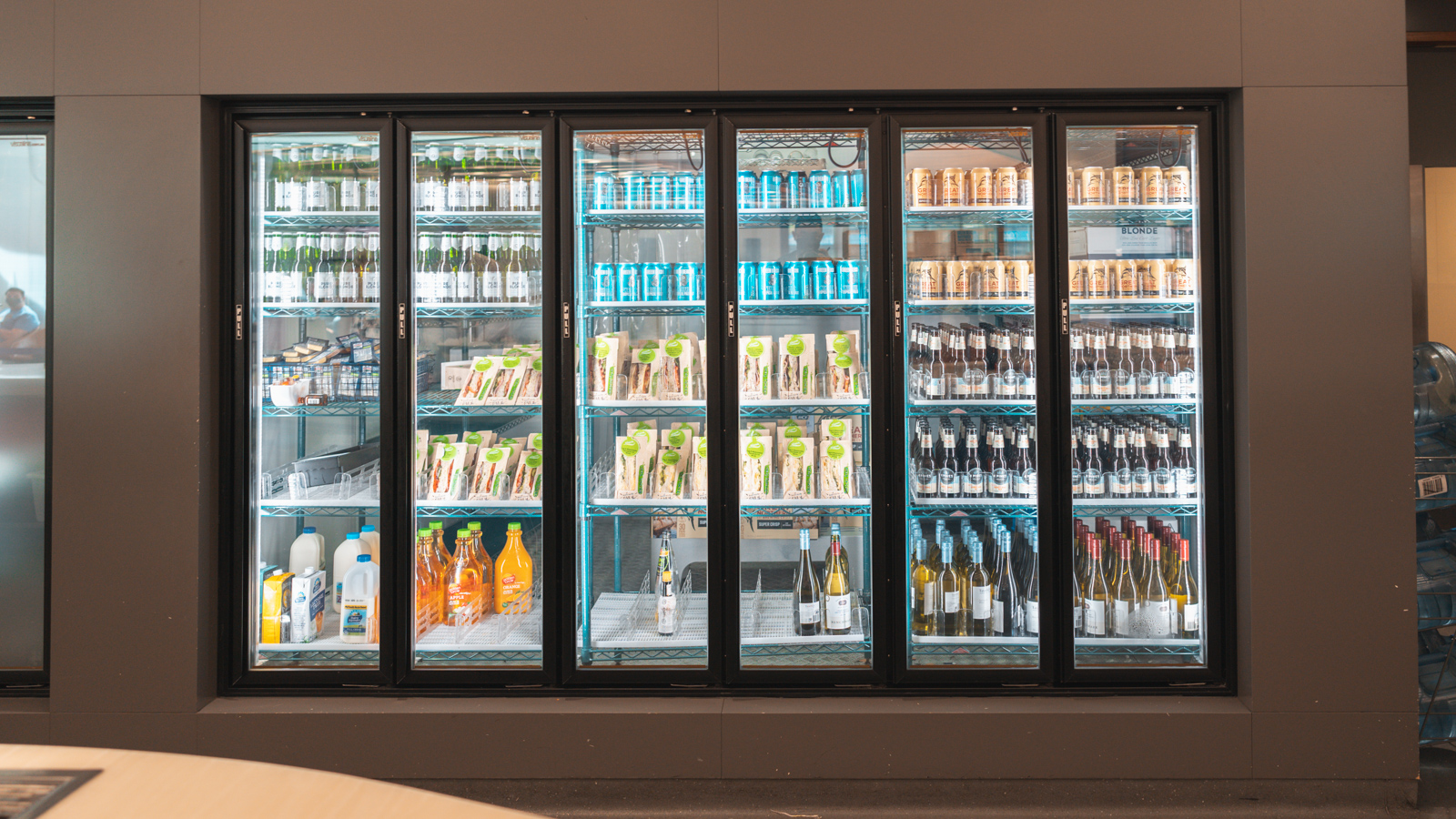 Thankfully, the beverage selection is more 'business as usual' with a range of beers, wines, soft drinks and even spirits on offer (pictured above is a simple gin and soda with Beefeater gin). For a local touch, the lounge offers Green Beacon Wayfarer Tropical Pale Ale, which has a fruity aftertaste.
Alcoholic beverage service kicks off from midday, a slight delay from the previous 11am opening. Fancy a coffee? Head to the wooden coffee bar area any time to get your usual barista-pulled beverage of choice, which is as good as ever.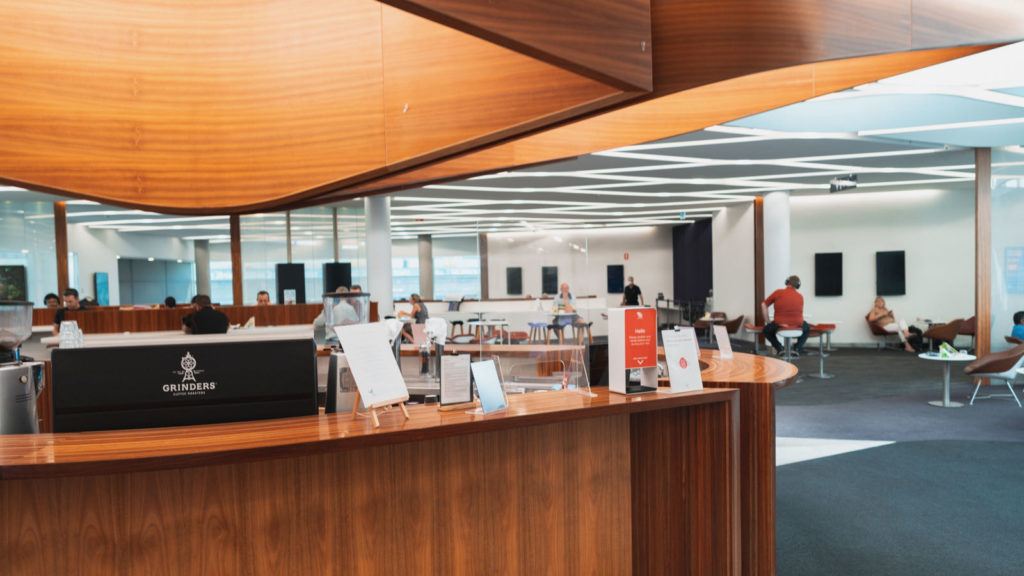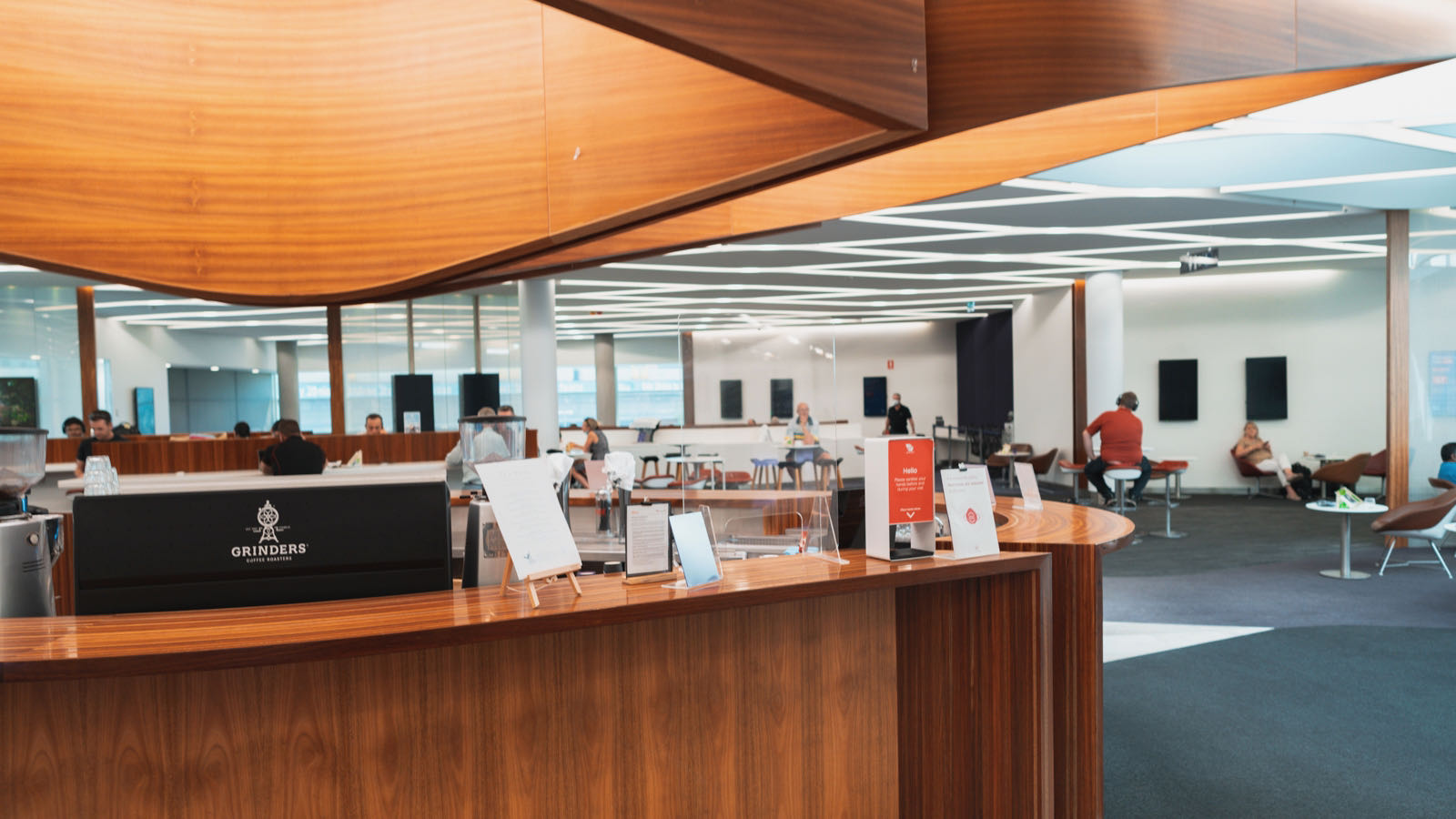 Lounge amenities
Complimentary WiFi is beamed throughout the lounge – during our midday test, we clocked it at 5.82 Mbps down and 2.11 Mbps up which isn't exactly trail-blazing, but more than sufficient for most passengers.
Should you need assistance with upgrades or flight bookings, the lounge still features a service desk in noticeable contrast to Qantas.
As mentioned earlier, the Business Centre is temporarily unavailable due to COVID-19 protocols. As part of that directive, other high-touch amenities such as newspapers, magazines and showers are also out of action for now.
The bathrooms are as clean as ever, with premium Hunter Lab hand washes and creams on offer.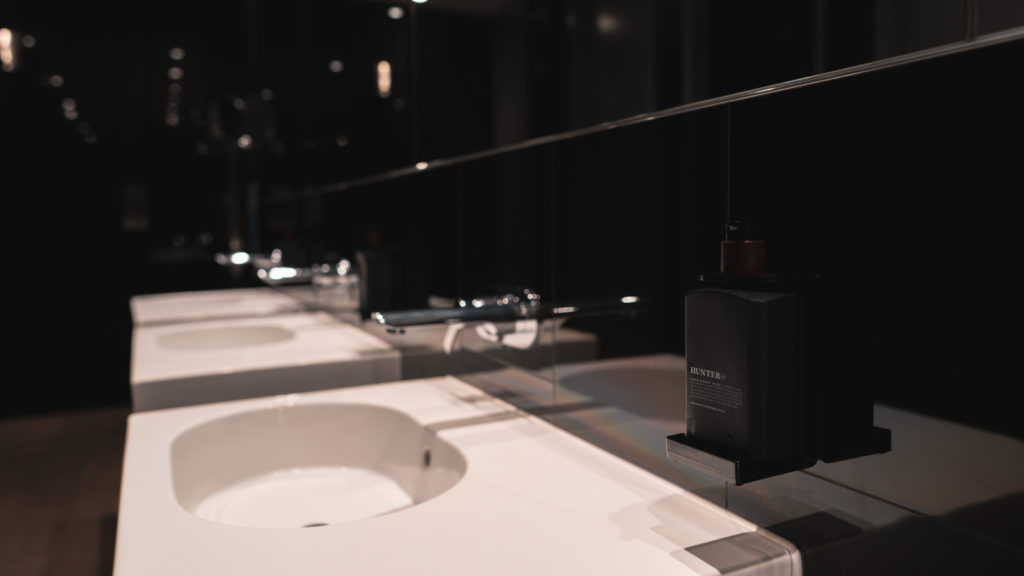 Lounge access options
Class of travel: Virgin Australia Business Class passengers before or after their flight
Frequent flyer status: Velocity Platinum (+3 guests) and Gold (+1 guest) frequent flyer members with a same-day Virgin Australia flight with on-arrival access possible. Also includes eligible elite status members of partner airlines.
Lounge membership: Paid members of Virgin Australia Lounge
Single entry pass: Velocity Silver members (2 passes) and other credit-card holders including the American Express Velocity Platinum Card, before a Virgin Australia-operated flight
Credit card: American Express Platinum, Business Platinum and Centurion cardholders, before a Virgin Australia flight.
Read more about Virgin Australia lounge access here →
The verdict
Virgin Australia's Brisbane lounge is certainly no slouch or eyesore – its predominantly white palette is offset with dark splashes of wood grain detailing and plenty of natural light through the ceiling's net pattern.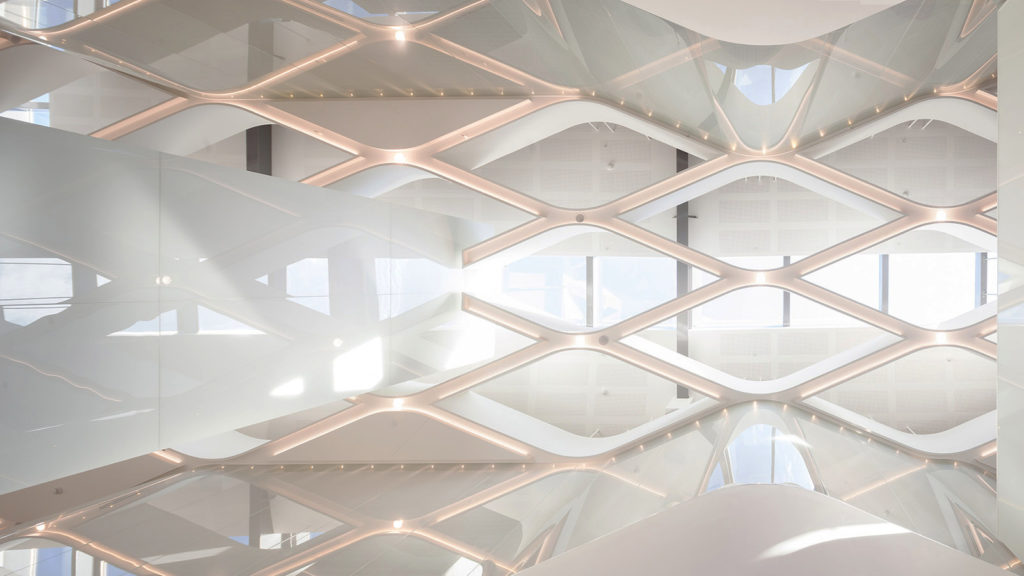 It copes well enough with current passenger loads, but it will be interesting to see how well the space will manage once domestic travel heats up even more, now that the adjacent overflow lounge isn't in use anymore.
Right now, the Brisbane lounge is hindered by a variety of restrictions which all stem from the COVID-19 shutdowns and associated economic setbacks to the carrier.
Once the improved lounge menu is implemented – and services such as Premium Entry, printing and showers are reinstated – then Virgin's Brisbane lounge will still be one of the airline's best by far.
Virgin Australia Lounge, Brisbane
was last modified:
April 13th, 2021
by