At almost 5.5 hours from gate to gate, Qantas' flights between Brisbane and Perth are among the longest in domestic skies. And it's on these lengthier routes that the benefits of flying a full-service airline come into their own.
Regardless of your fare type, you're guaranteed free checked baggage, an inflight meal and streaming or seatback entertainment, for starters. Add to that, free inflight Wi-Fi on most Qantas aircraft, as well as Qantas Points and Status Credits on every commercial fare.
Following Western Australia reopening its borders to interstate travellers, we hopped from coast to coast to bring you this review.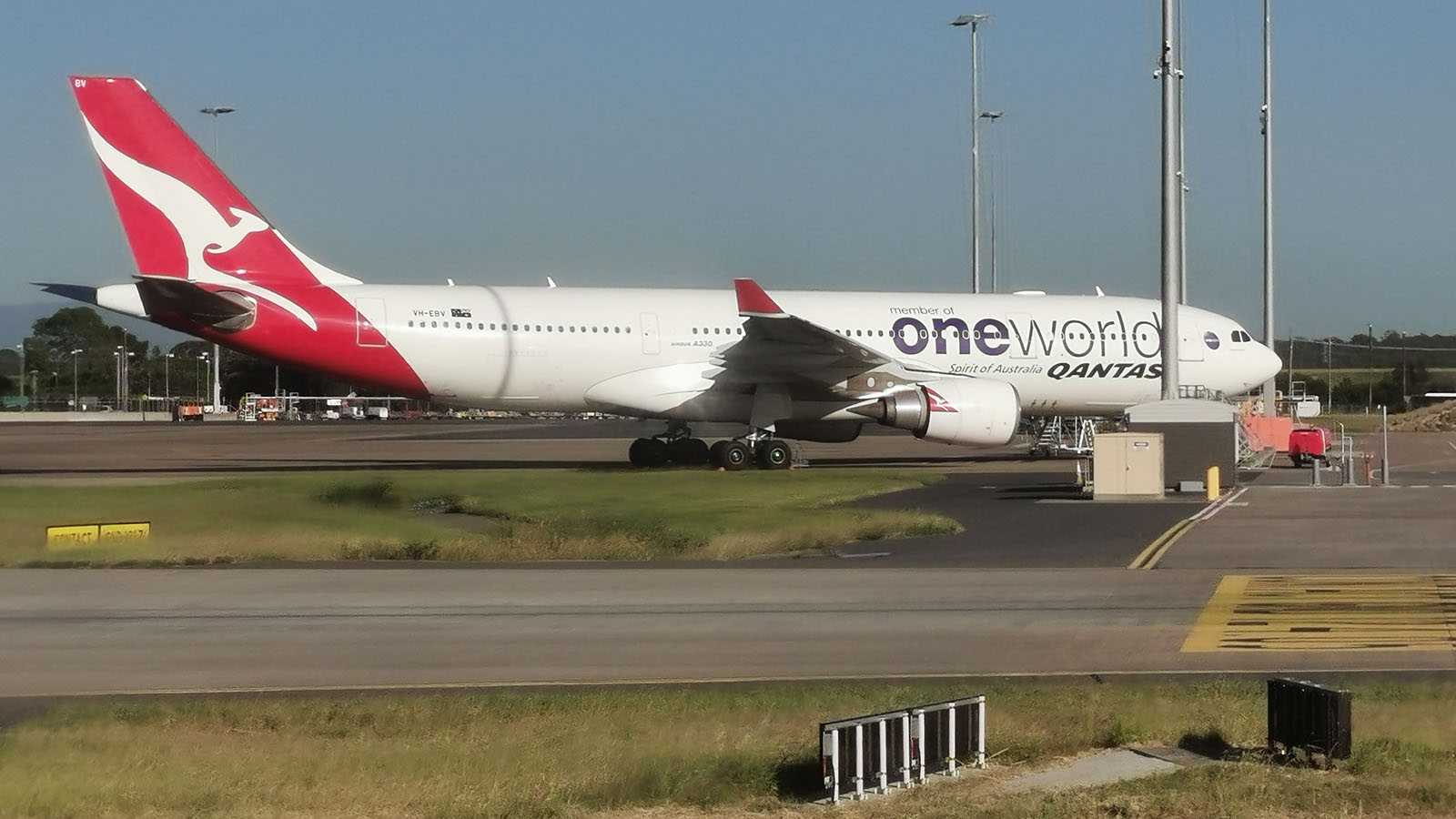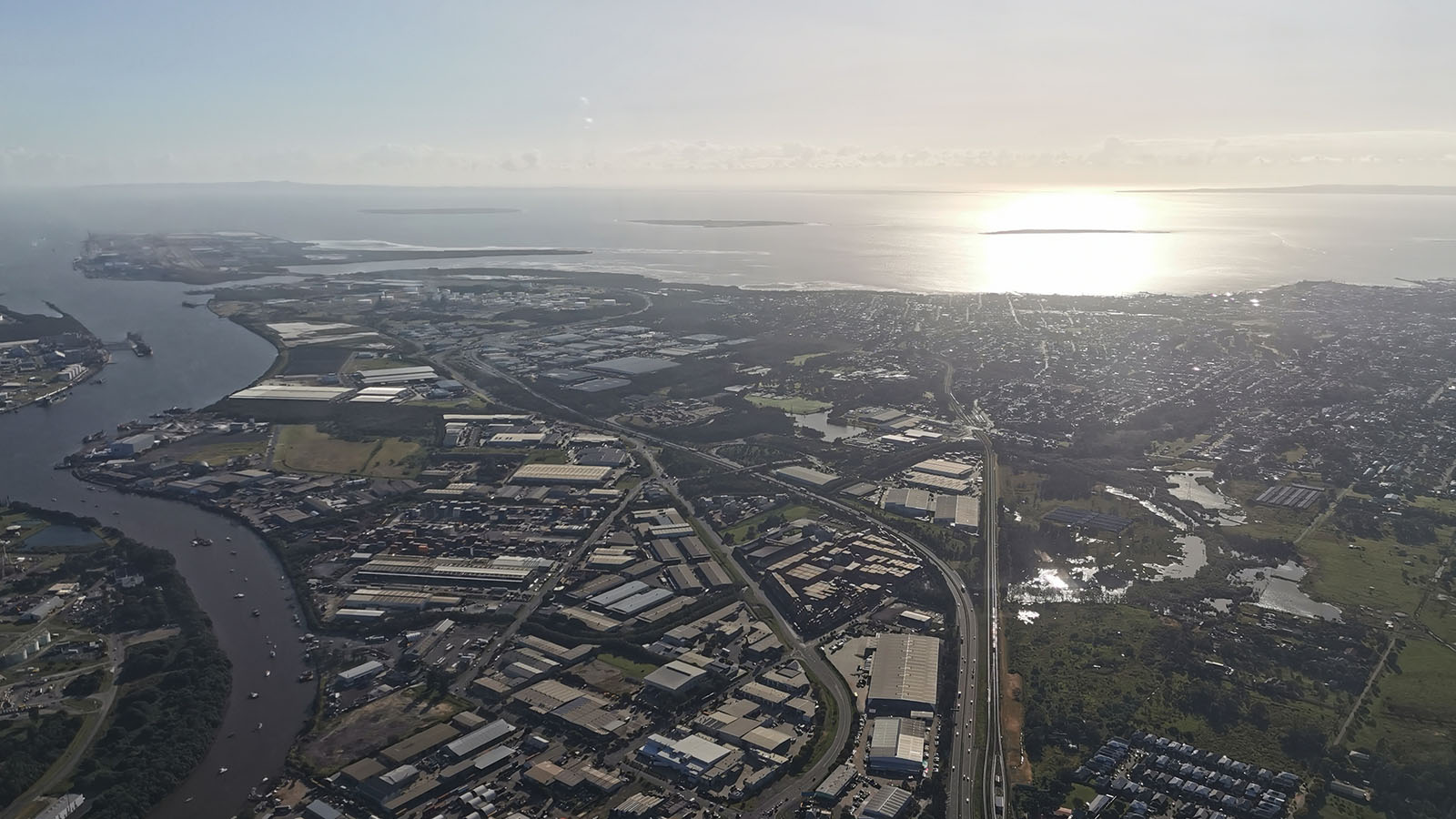 Check-in, lounge and boarding
A 7 am departure from Brisbane makes for a very early arrival at Brisbane Airport – especially on a busy Monday morning.
Using Qantas' self-serve baggage drop, it took only moments to bid farewell to my suitcase. But that was counterbalanced by a long line at security. For those in the regular queue, it stretched right back to the far side of the check-in area, almost down to baggage claim.
With access to the separate Premium Lounge Entry channel courtesy of my Qantas Frequent Flyer status, that meant a shorter line – but one that still took 25 minutes. Even though Premium Lounge Entry has a dedicated bag drop area, it was easier (and faster) to use the general check-in zone this time.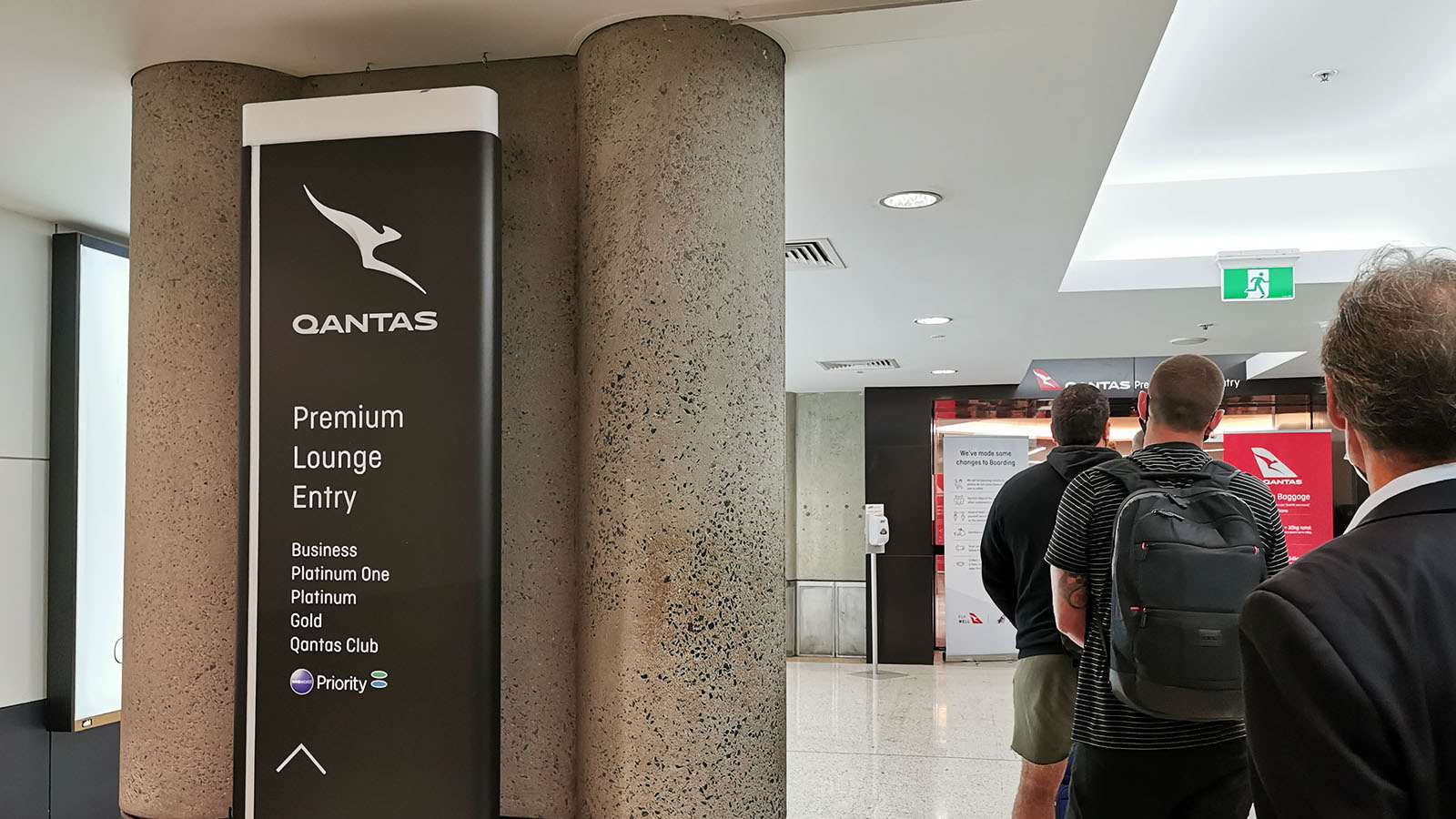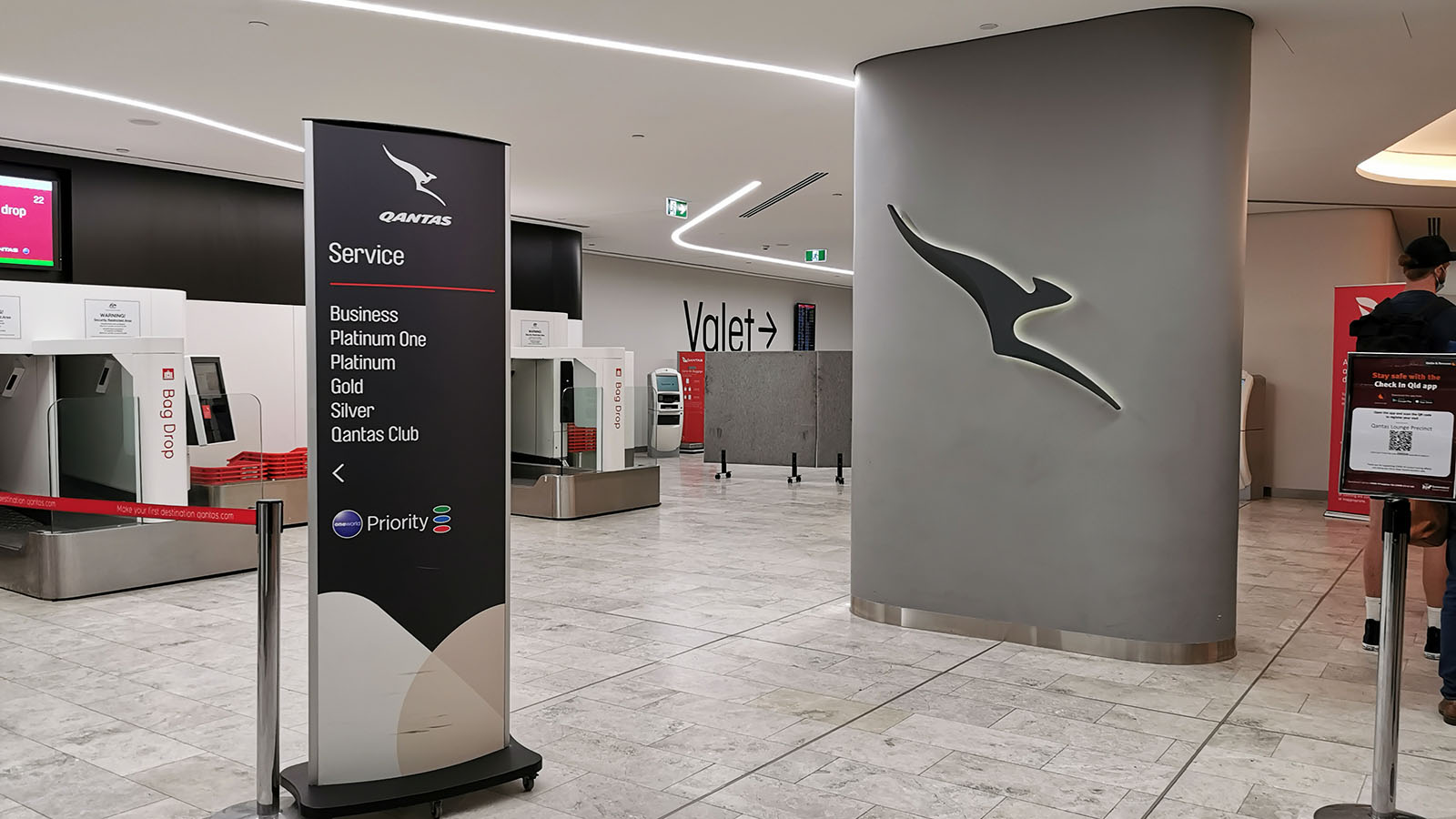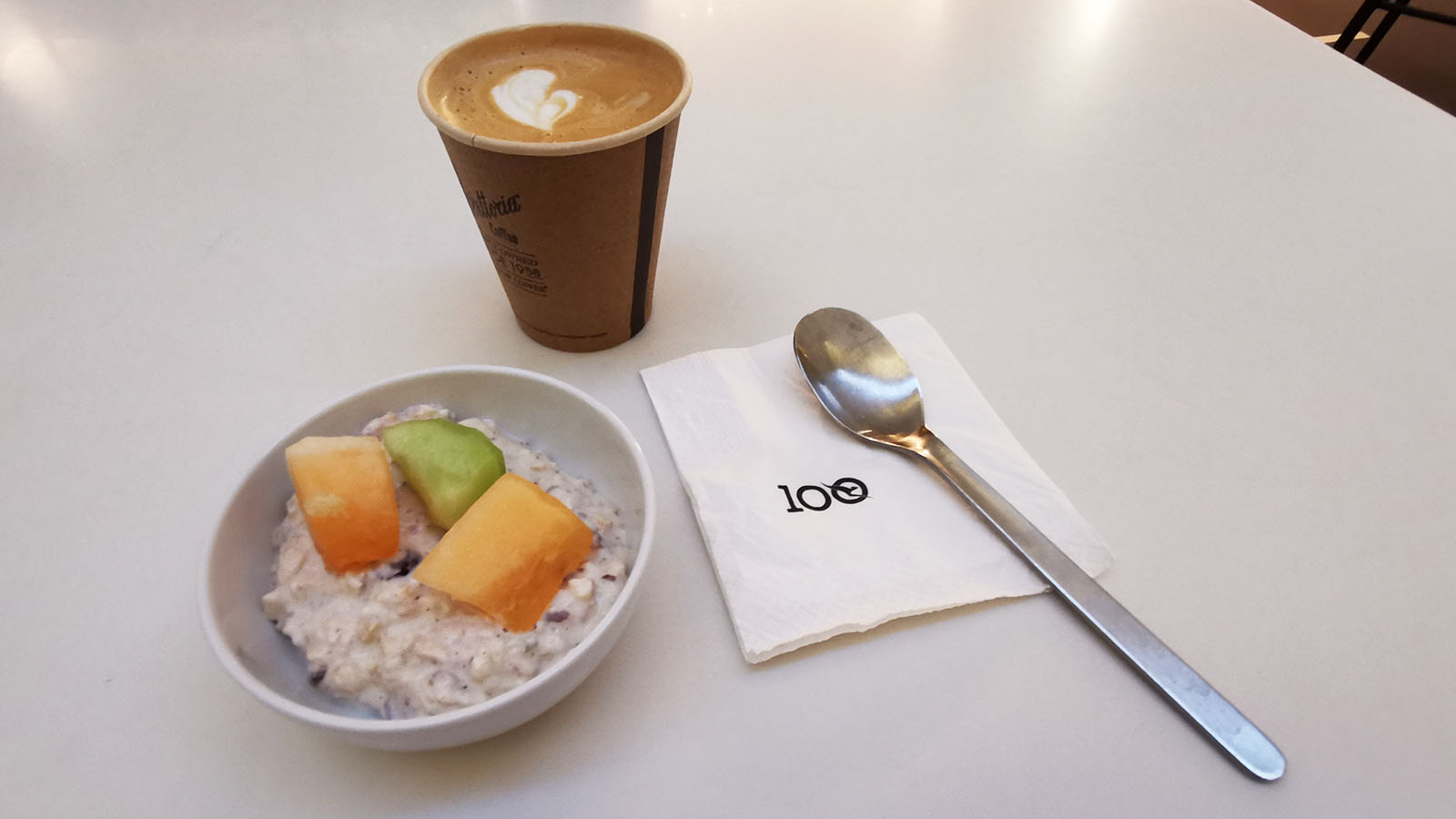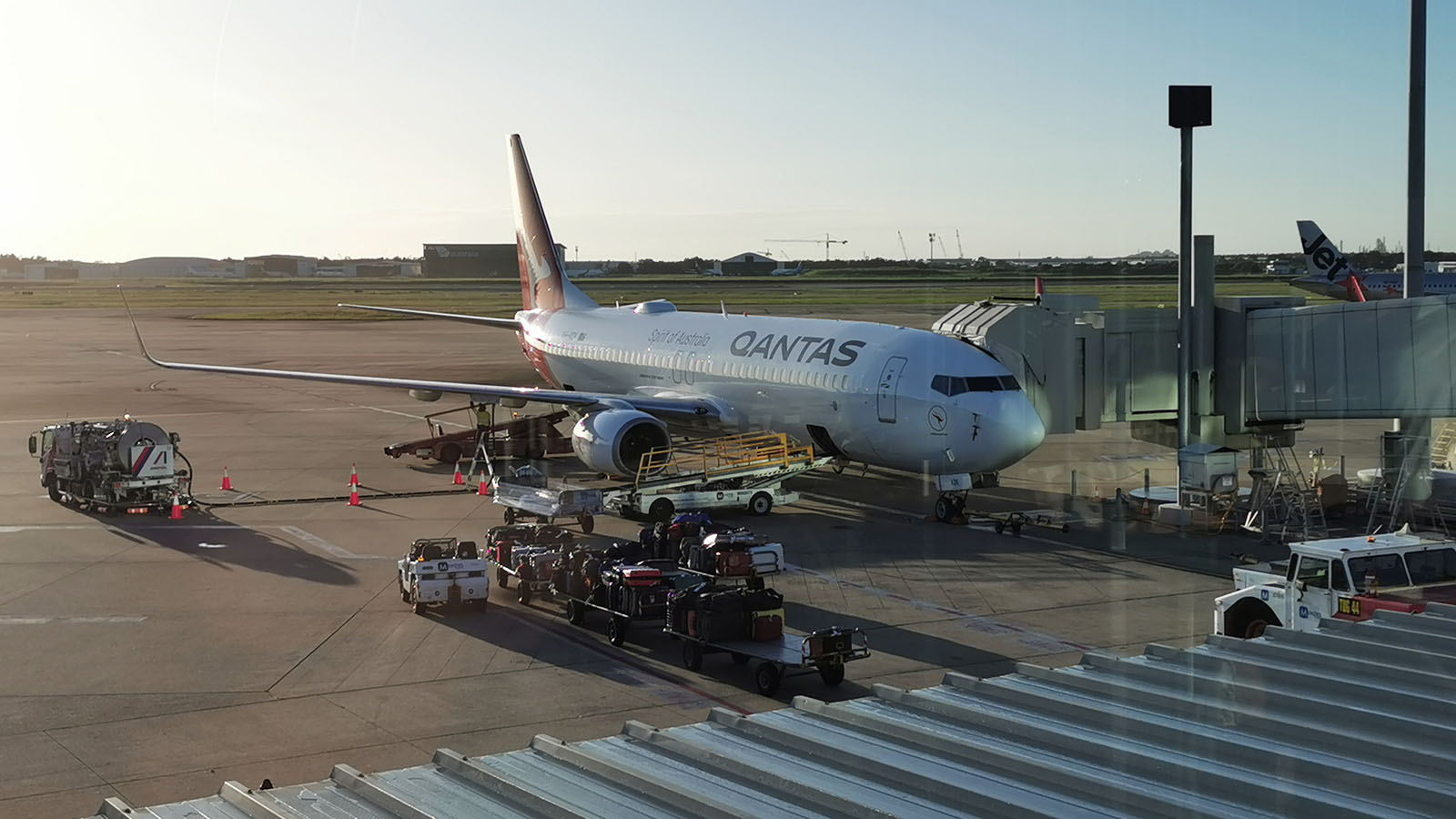 Once you're through security, Brisbane Airport has three Qantas lounges. None is included by default with an Economy ticket, but you may have access based on your membership or frequent flyer status. There's:
Knowing there'd be food on board, a quick pit stop for a coffee and light breakfast was enough to tide me over until boarding.
At the gate, clear announcements called for premium travellers to use the fast-track lane. Before long, I'm on board – and for what will be my longest flight since the start of the pandemic. Qantas' Brisbane-Perth service clocks in at just under 5.5 hours. It's also over 3,600km flown, making it one of Australia's lengthiest domestic routes.
Qantas Boeing 737 Economy seating
Qantas Economy comes in a standard 3-3 layout aboard the Boeing 737. Unlike the Airbus A330s that also ply the Perth route, these Qantas jets only have a single aisle.

For most passengers in Economy, there's a standard 30-inch (76cm) pitch. Seats measure up at 17.2 inches (about 44cm) wide, and offer a five-inch (~13cm) recline. Practically speaking, it can be a tight squeeze in a full row, especially if you're flying in the dreaded middle seat.
But a little strategy can reward you with a lot of extra legroom. The front of the cabin (row four) is always my choice pick. Even if you're unable to select these seats when you book (a perk reserved for Platinum One and above), you may be able to nab a perch here within 80 hours of your flight's scheduled departure time.
Failing that, you can also pre-purchase an extra legroom seat in rows 13 and 14 from the moment you book. Those seats are always gratis for Platinum One members and above, but are also complimentary to all travellers if selected during online check-in.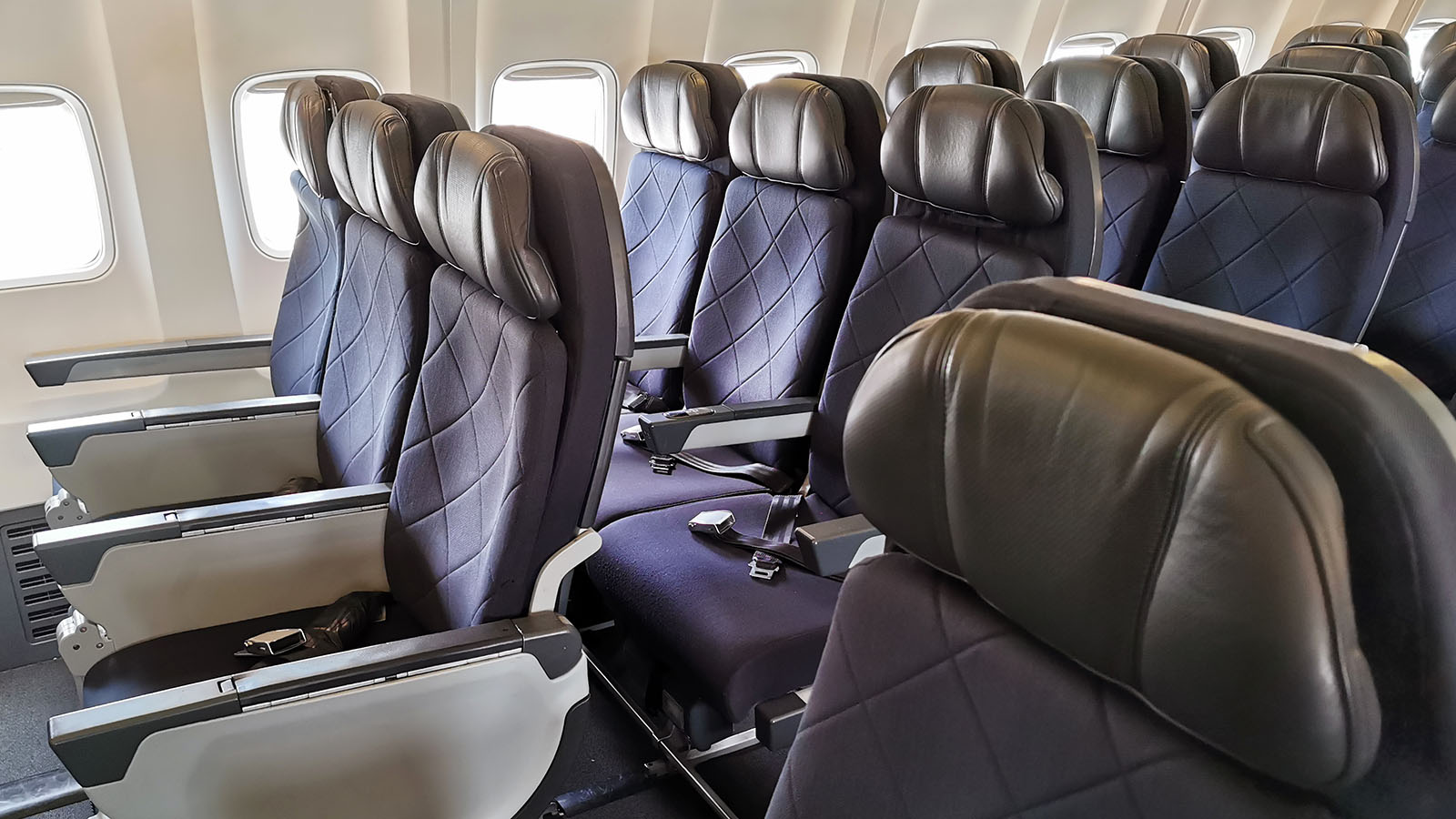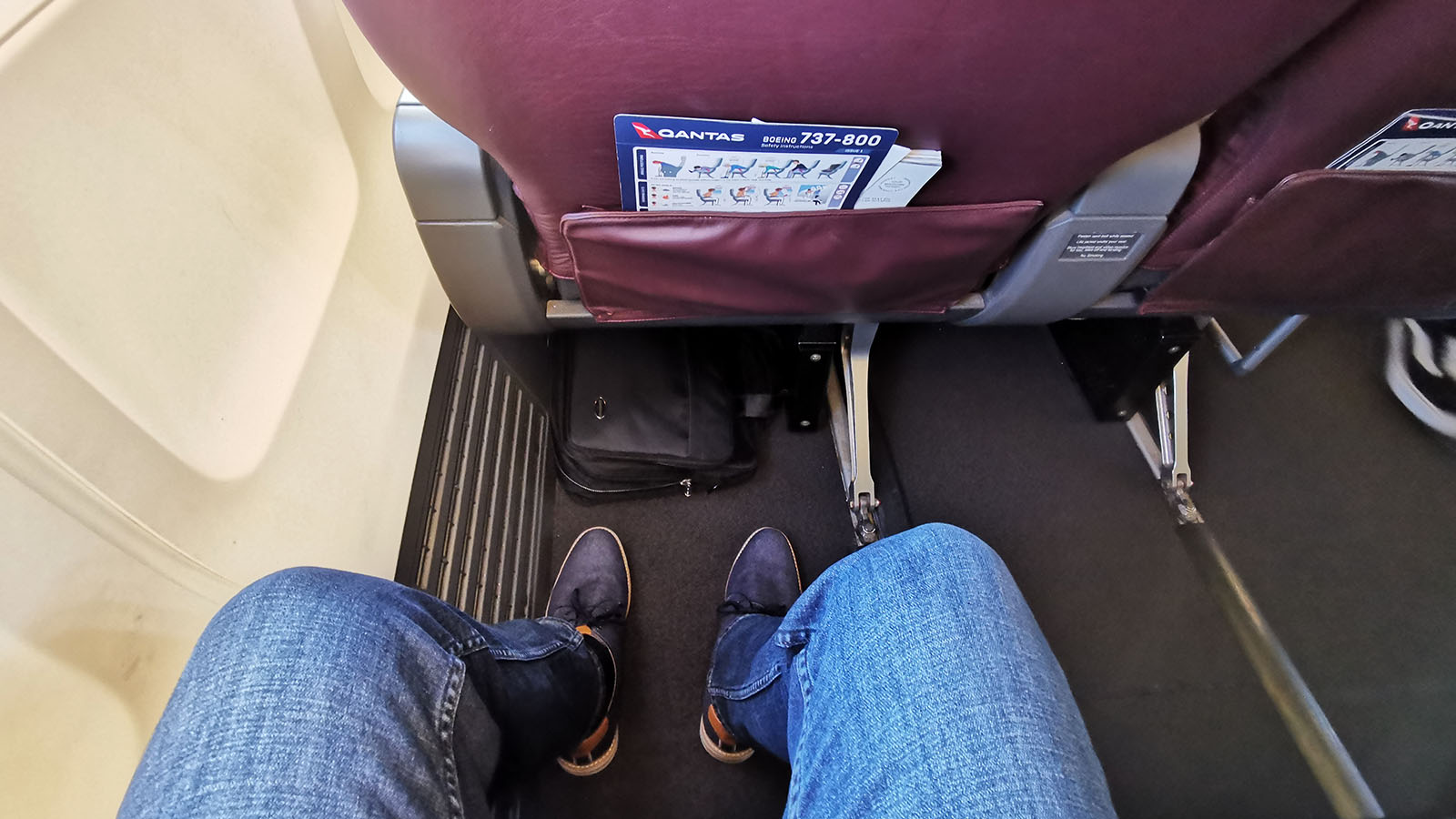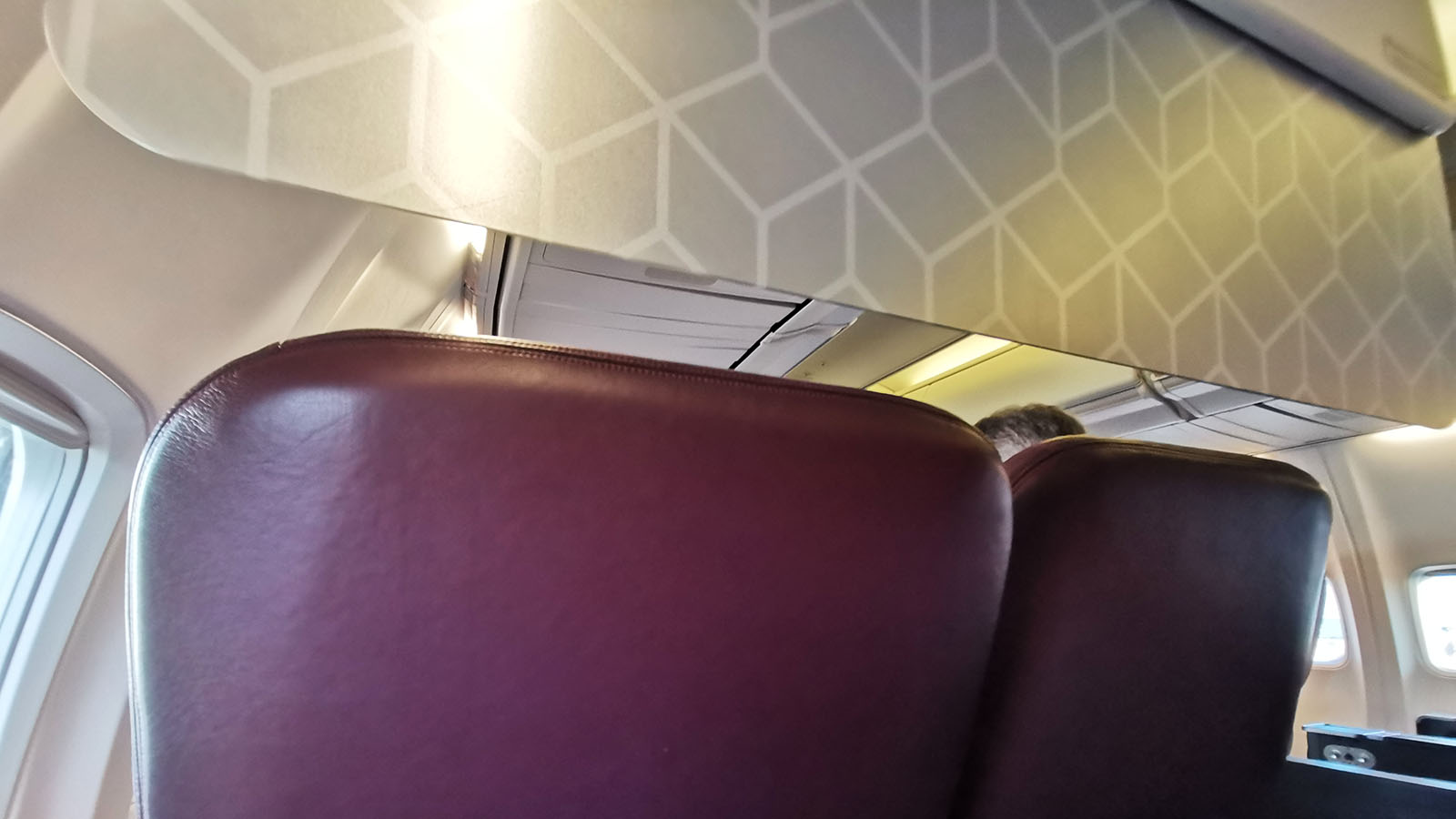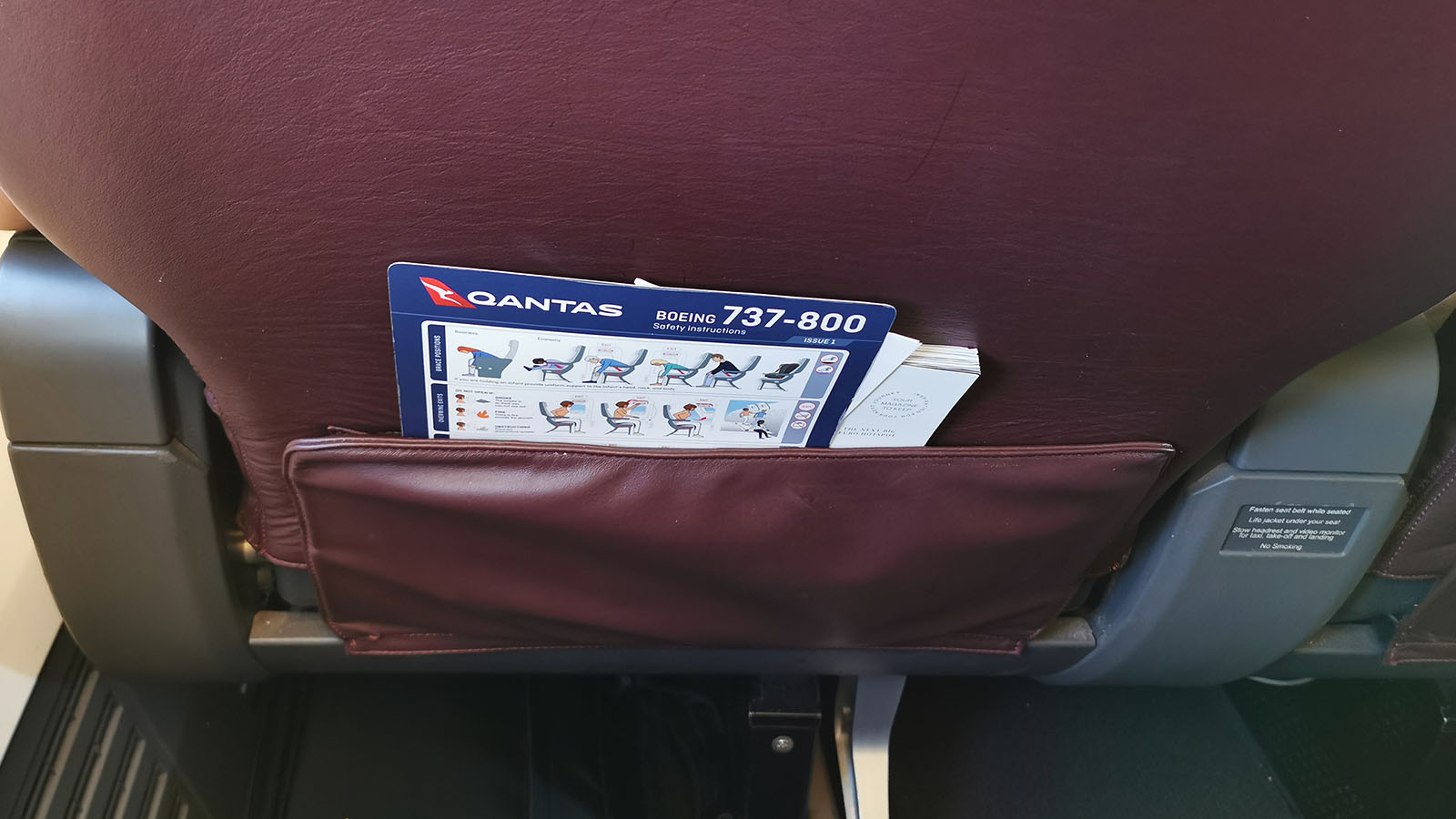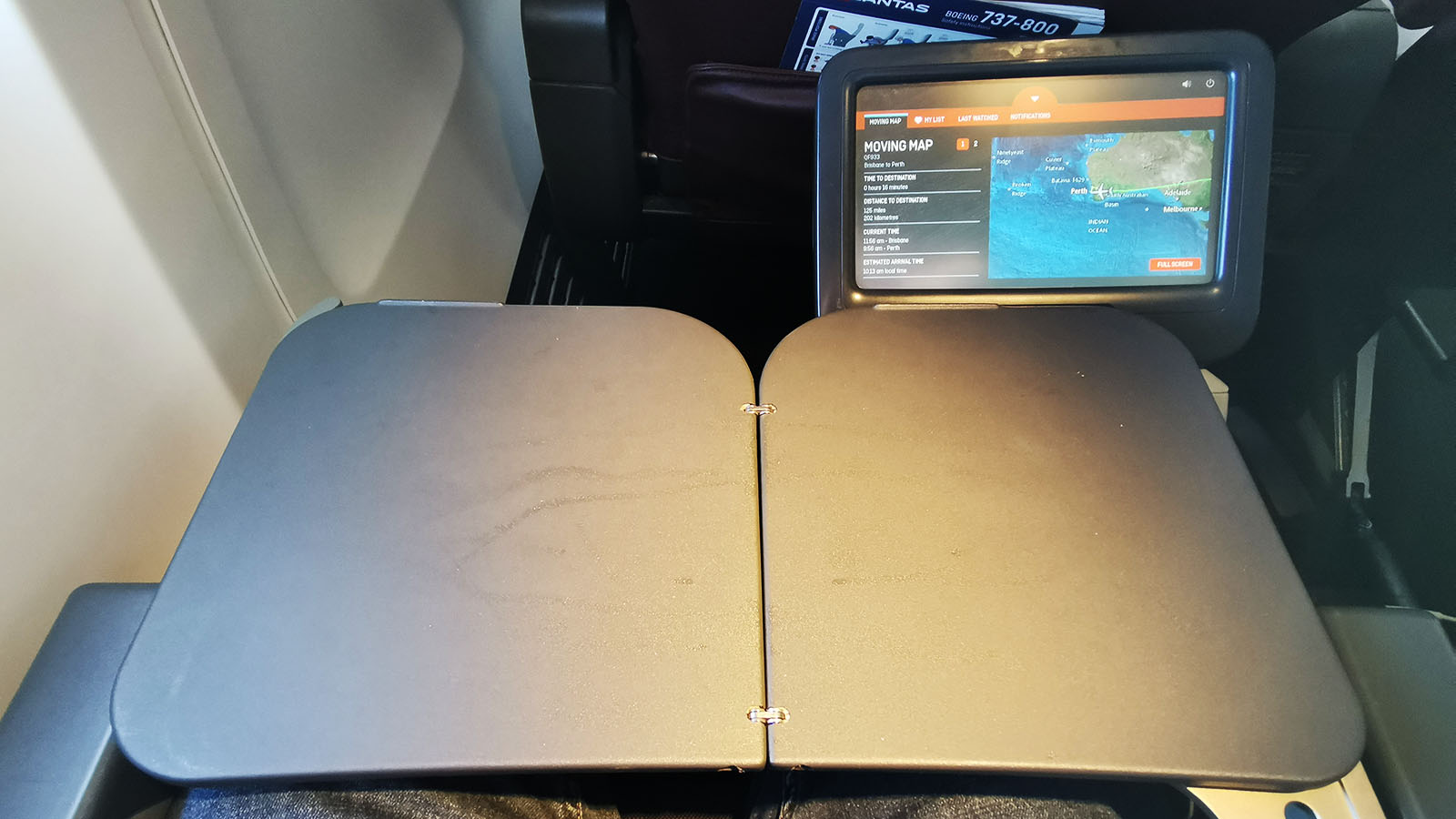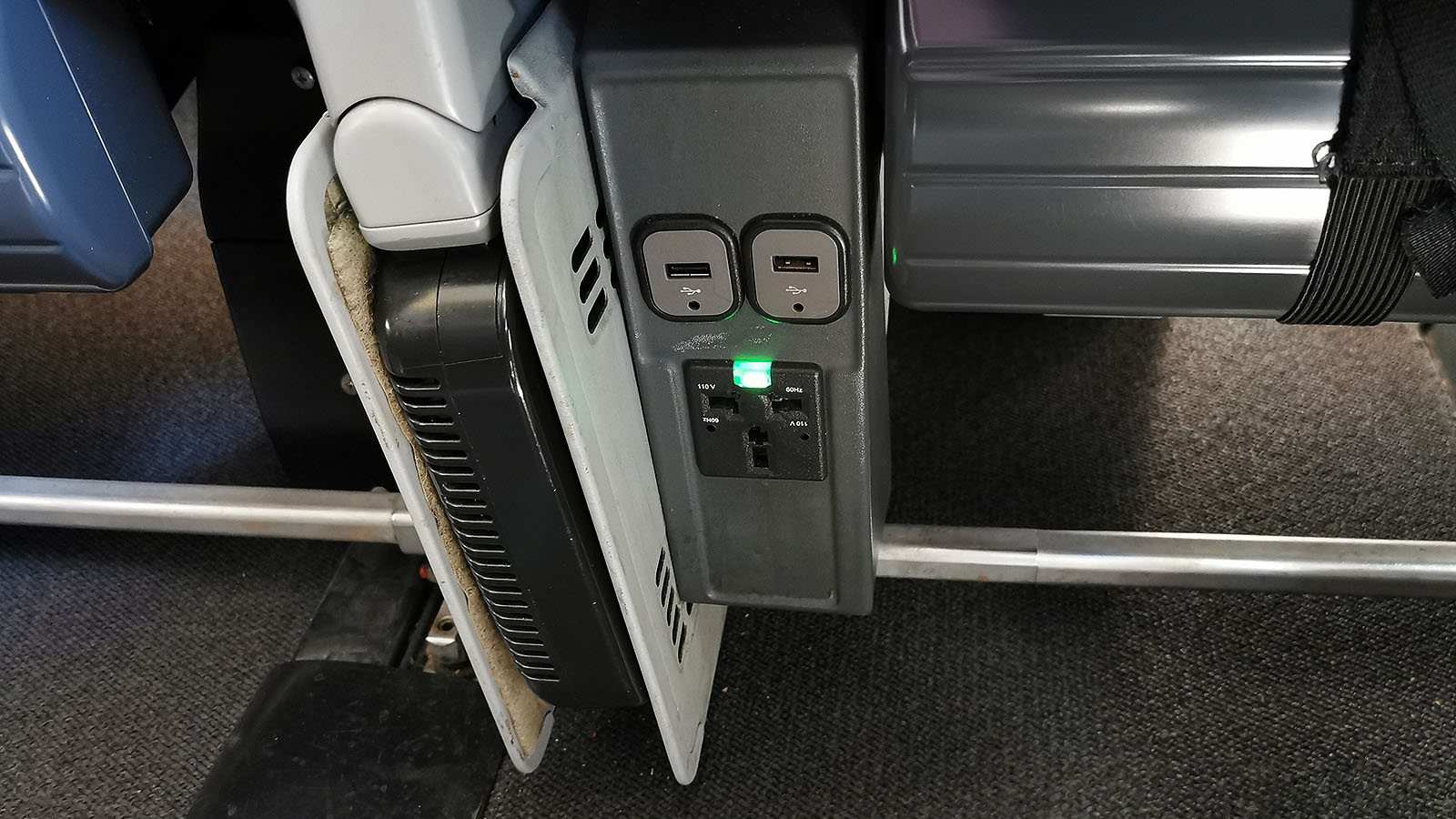 On this marathon domestic flight, I snagged the prized 4A – and even had an empty seat next to me. I could see through ExpertFlyer that 4B wasn't merely vacant, but had been 'blocked' from selection by others. One of those much appreciated but technically unpublished perks of frequent flyer status, working its magic behind the scenes when a flight isn't full.
Strategy aside, seats in row four are a little different to those elsewhere. Your tray table lives in the armrest, and folds open. Deployed halfway, it's great for snacks or just a drink, without boxing you in. But opening it fully is better at meal times, or when working.
Qantas Boeing 737 Economy food and beverage
Qantas' east-west flights to Perth include a hot meal in Economy. But you do have options, with the following being the choices on this morning departure:
Mushroom frittata with bacon, baked beans and a hash brown.
A continental breakfast served with yoghurt.
After eating the latter in the lounge, I went for the hot option. As with most Economy meals, it was fine, without being a standout. And having said that, after cutting the fat off the bacon, there wasn't a great deal left. Special dietary meals are also available via pre-order.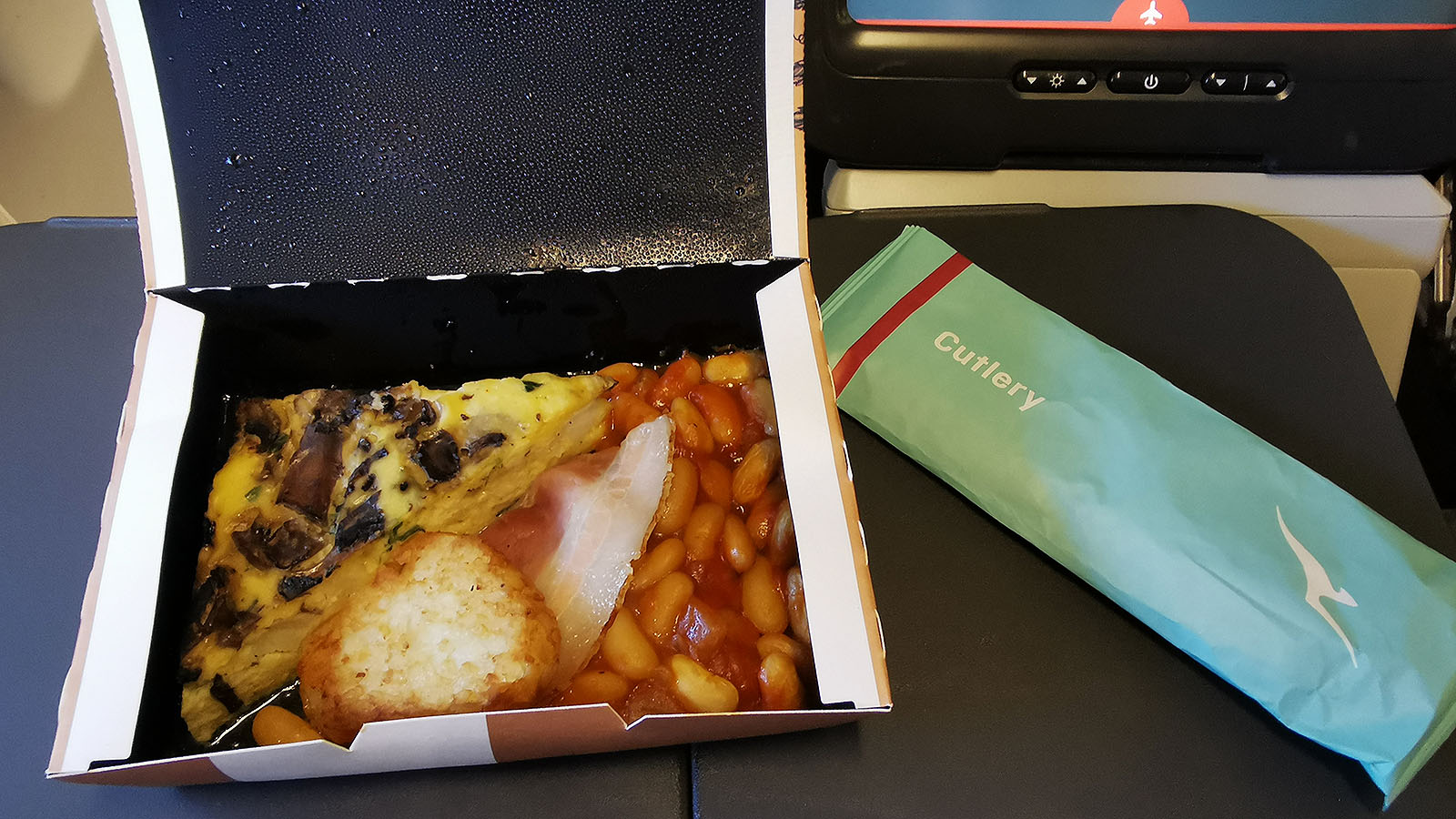 A range of beverages are complimentary during breakfast and throughout the flight. These include coffee, tea, still and sparkling water, juice and soft drinks. Alcohol is also available on this route on departures after 9 am.
I opted for a juice with the meal, and the cup was handed to me first. Thanks to the incline of the tray table, that managed to slide off and splash all over my lap within seconds – yippee. I later measured that incline at eight degrees, which is clearly unsuitable for an airline meal table.
It seems like quite an oversight that this 'full' version of the tray table doesn't have an indent for beverages. You only get that when the tray is opened halfway, where there isn't space for both a meal and drink.
But hey, I'm just glad I didn't order coffee this time!
Qantas Boeing 737 Economy service and entertainment
On the service front, the nearest cabin crew member promptly fetched me a wad of paper towels to dry up the juice spill. Being in row four, the meal also arrived quickly. But having said that, it took the better part of an hour for the crew to return and collect the service items.
With an empty seat beside me, that didn't matter so much as I could move my meal box there. But had the row been full, it would have meant less time available to tackle work during the flight.
Speaking of work, these jets offer free inflight Wi-Fi. It ran problem-free on this Perth-bound service, with no dropouts or disconnections to Qantas' network. And when you work in a time-sensitive industry like publishing, keeping up-to-date with happenings on the ground reduces the workload when you land.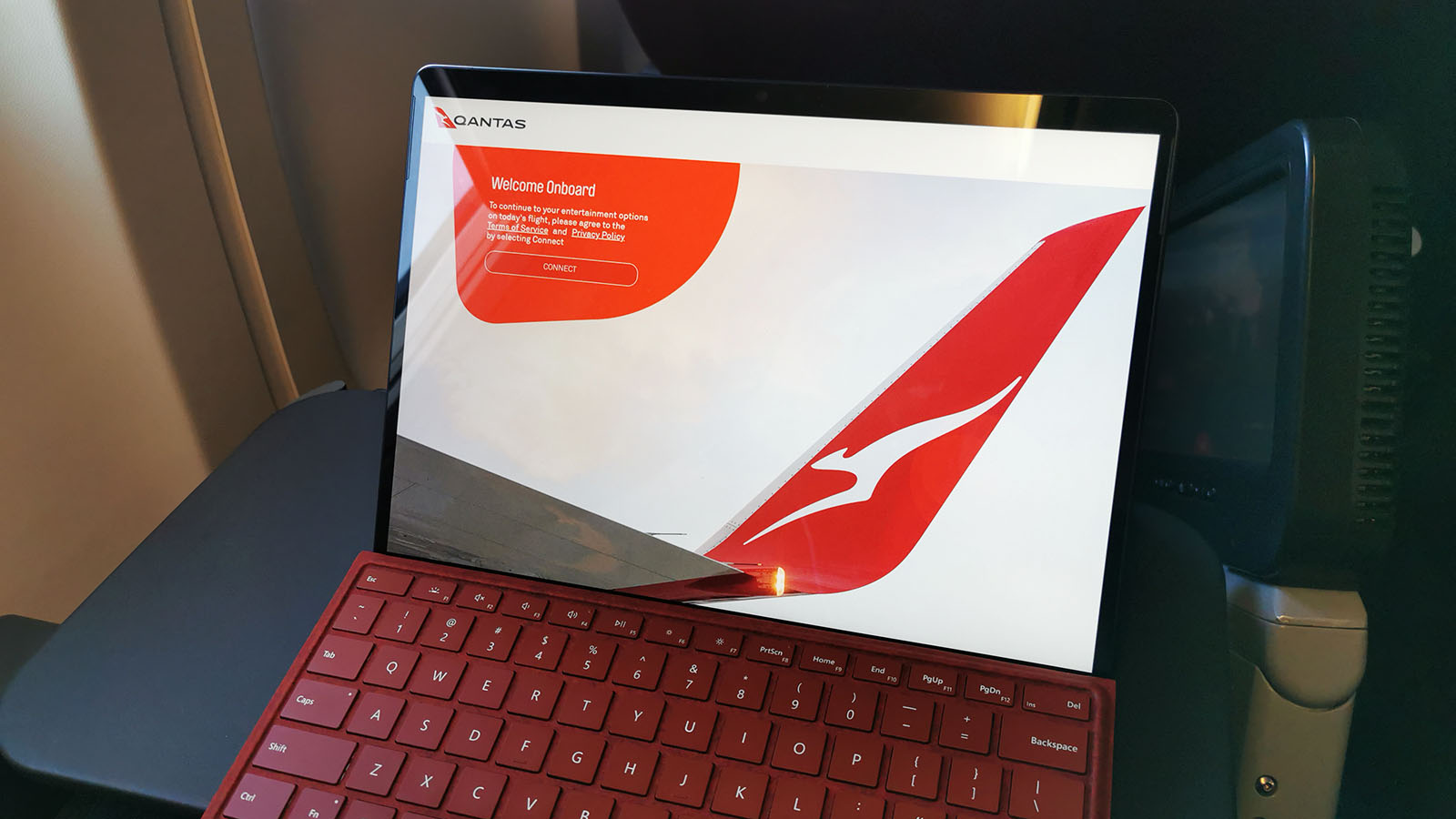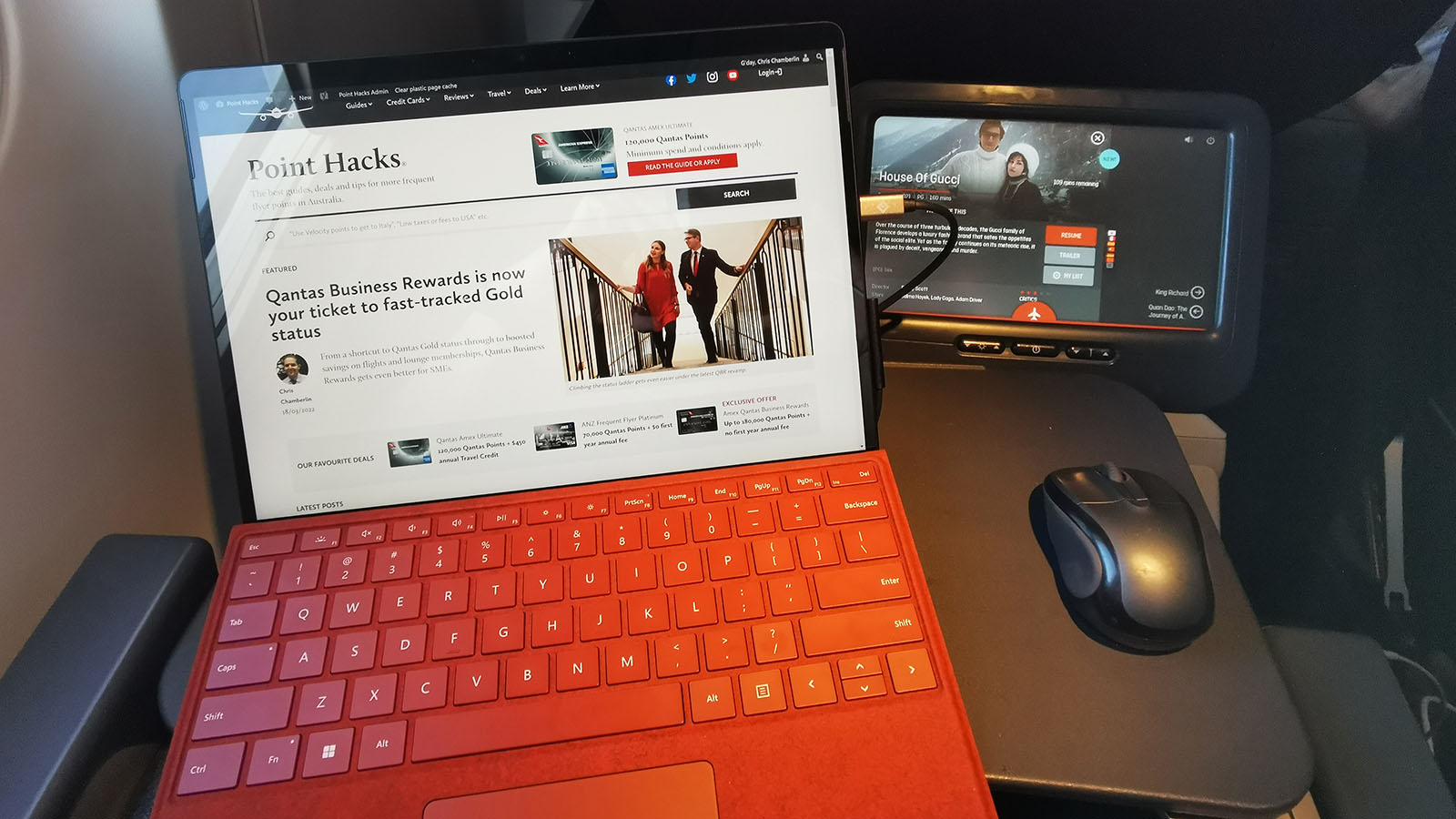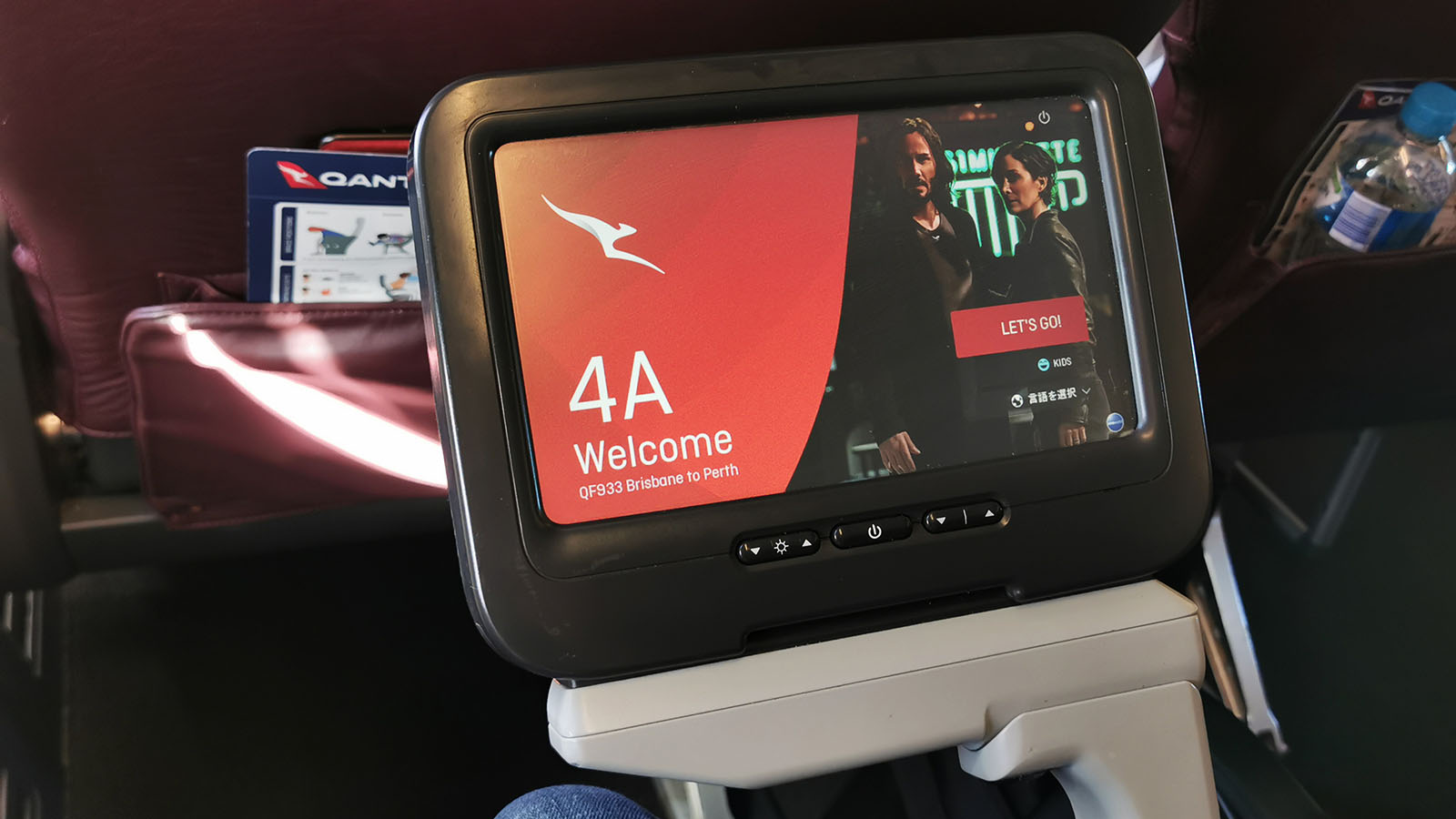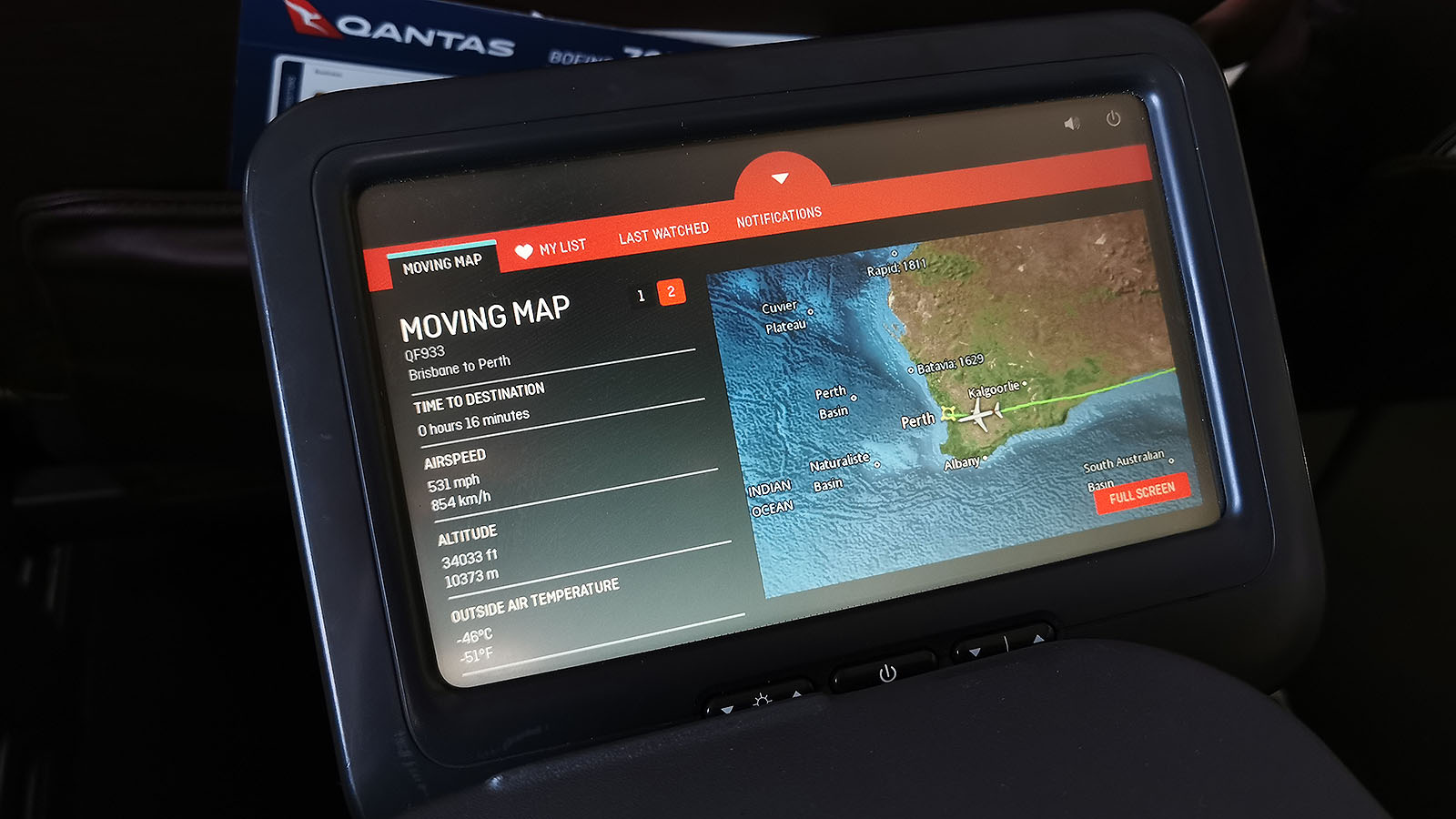 Inflight entertainment is available too. On some Qantas Boeing 737s, this is offered via overhead screen and streaming to your own device. On these newer Boeing 737s, you'll instead find a seatback TV – or in row four, a fold-up screen.
It's preloaded with an array of movies and TV shows, including some content normally exclusive to Stan. During the meal and in between work tasks, I caught most of House of Gucci – which I finished on the flight home.
There's even more to look at from the window seats
As goes without saying, window seats are always great for the view. But on this Qantas flight to Perth, the vistas are more stunning than on my usual east coast capital city treks.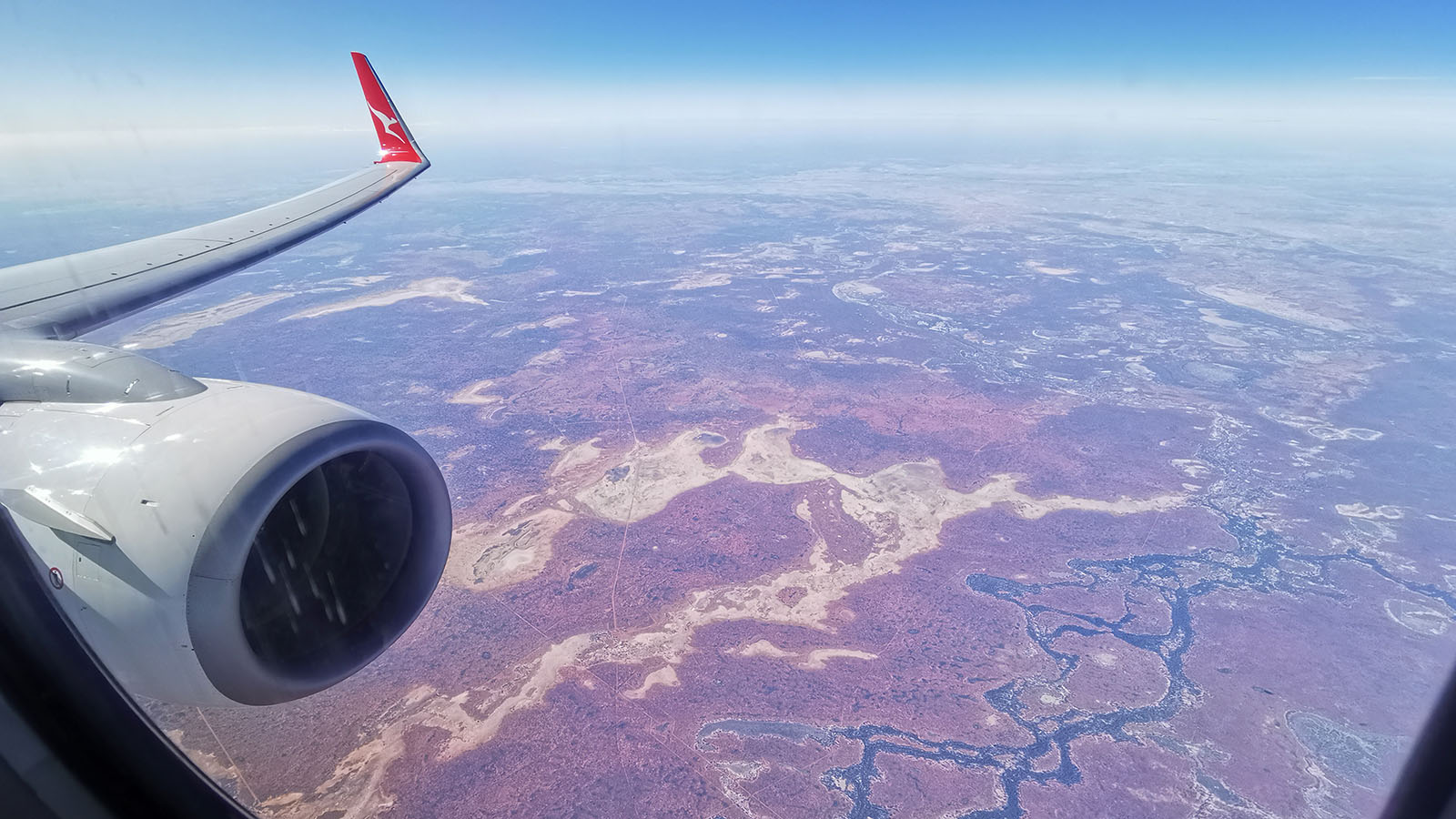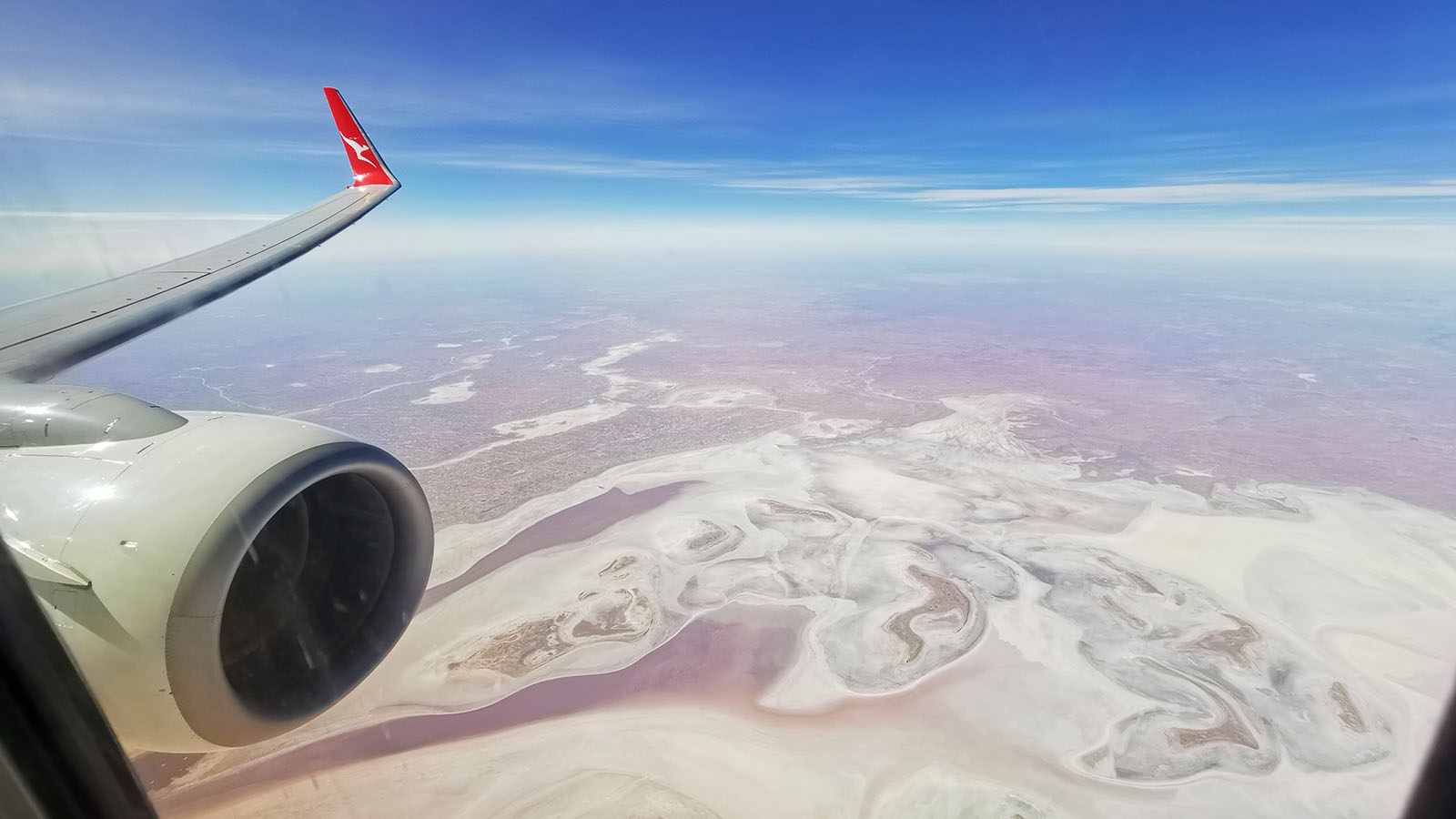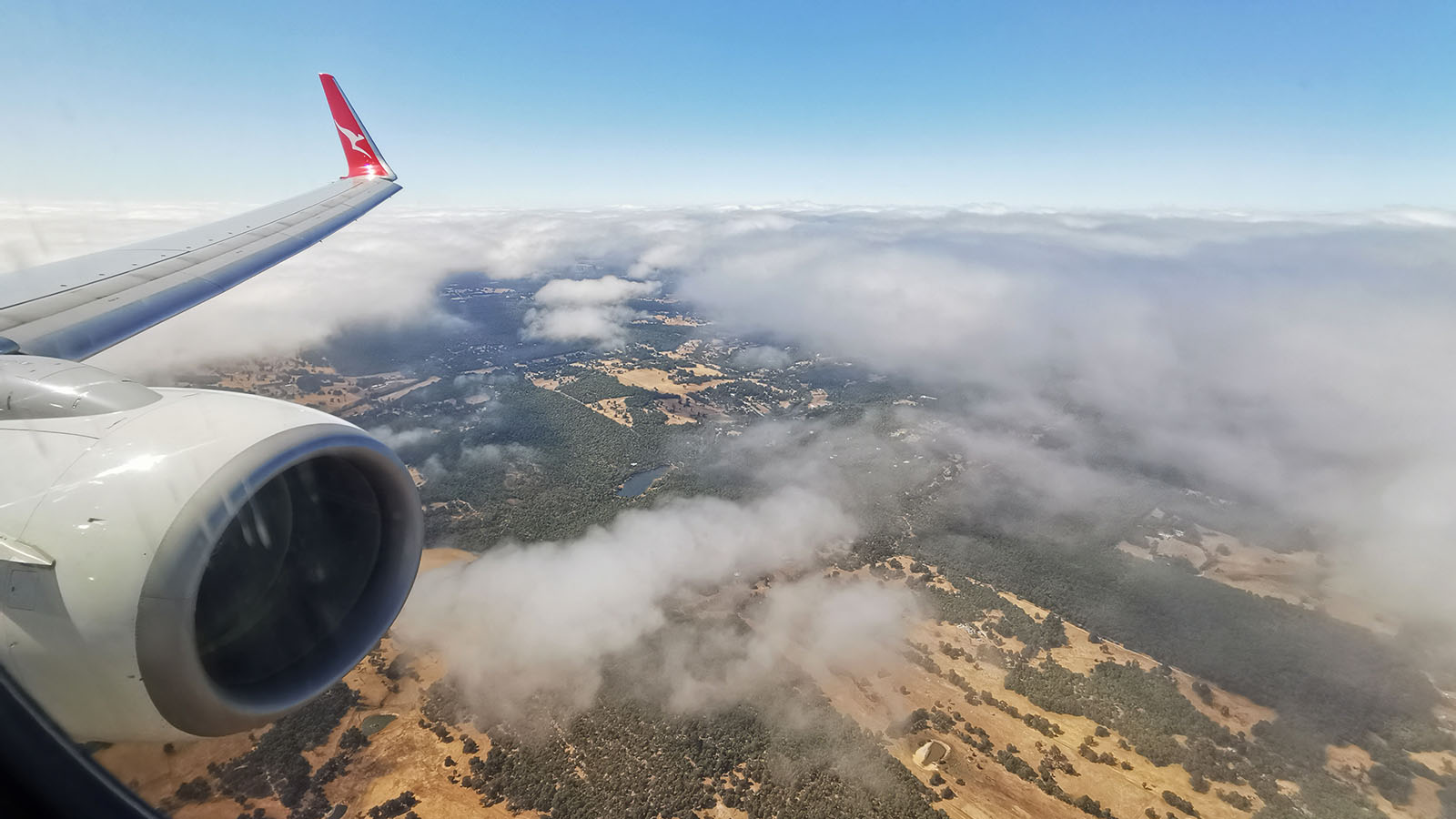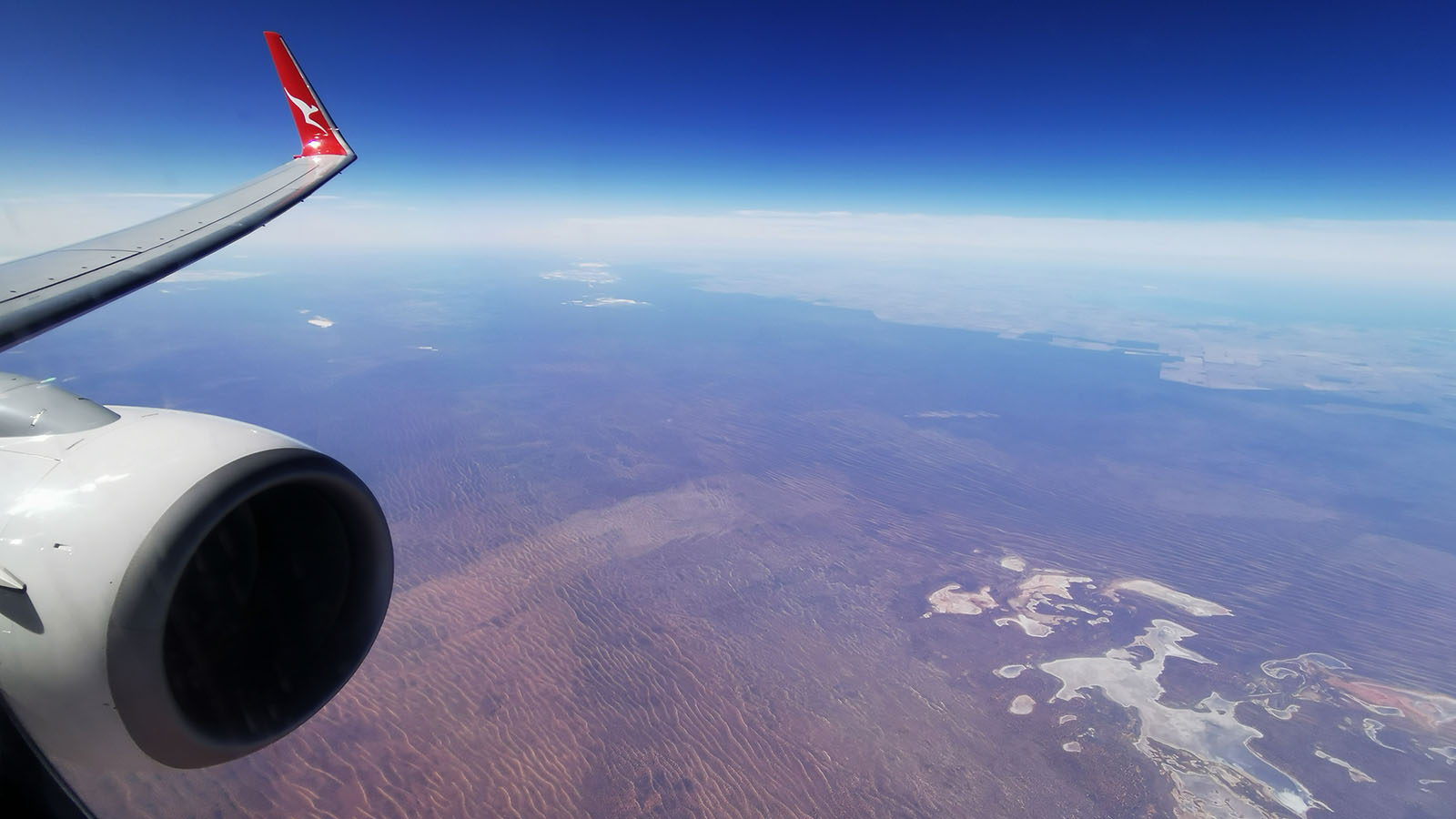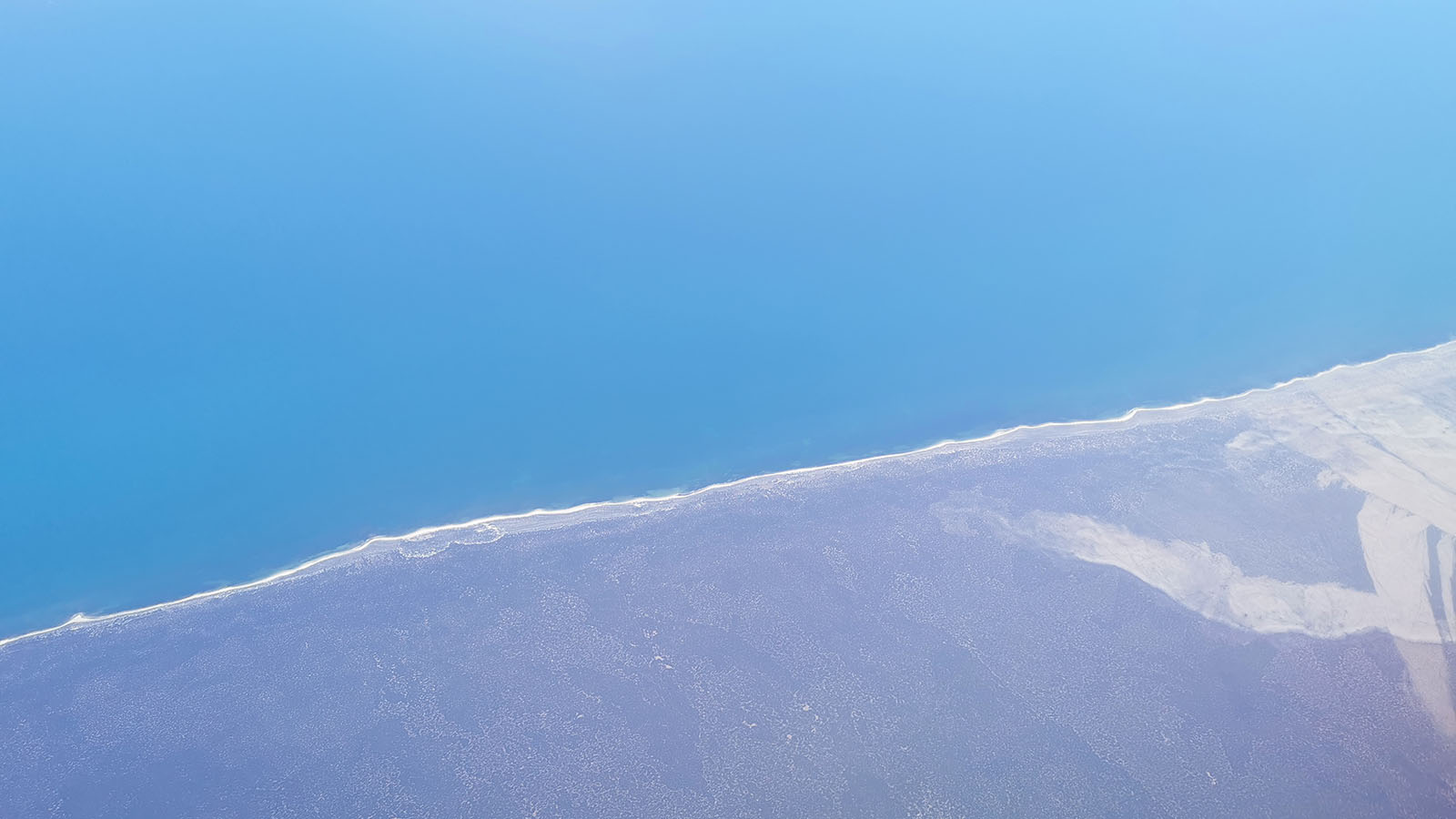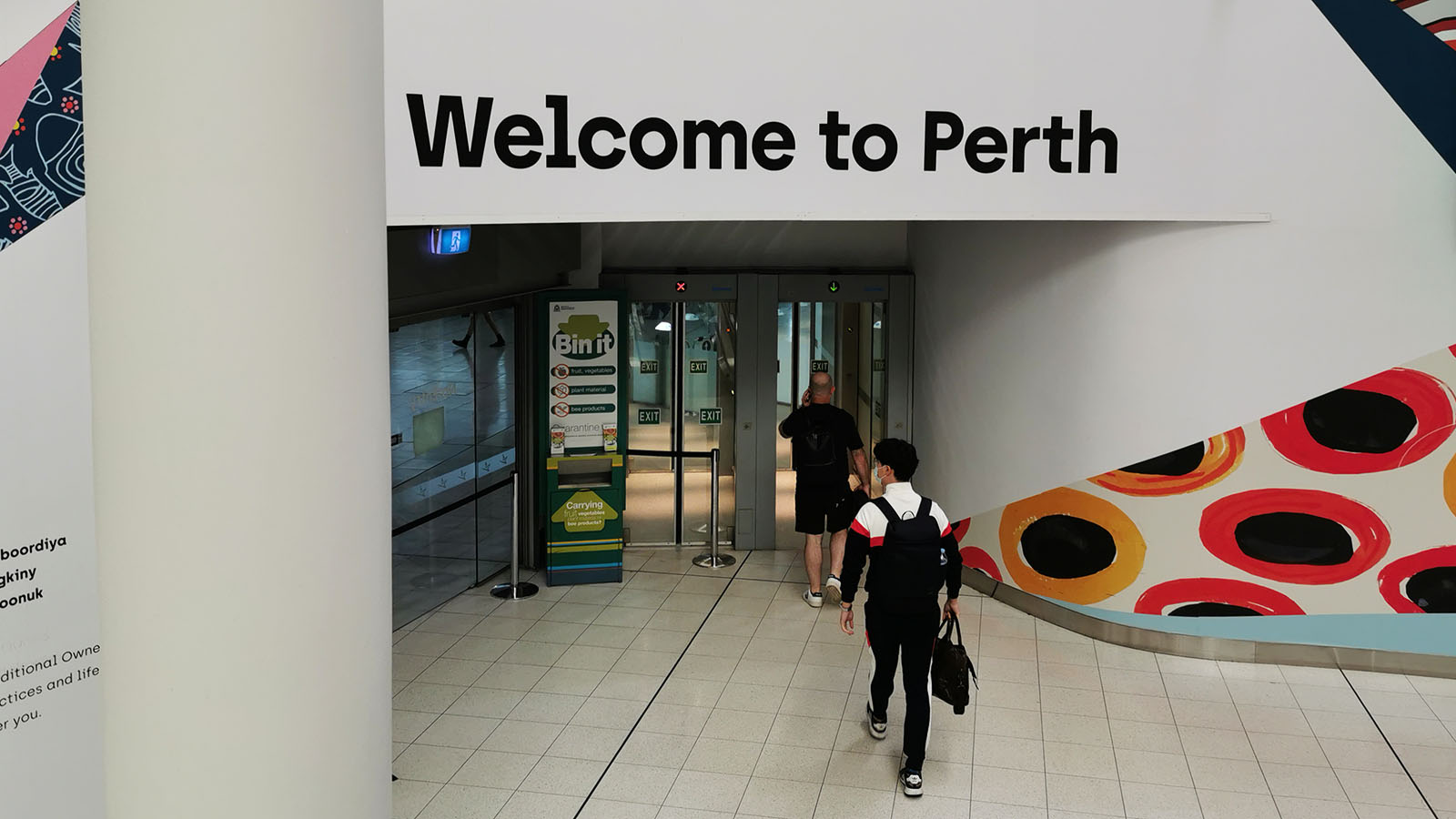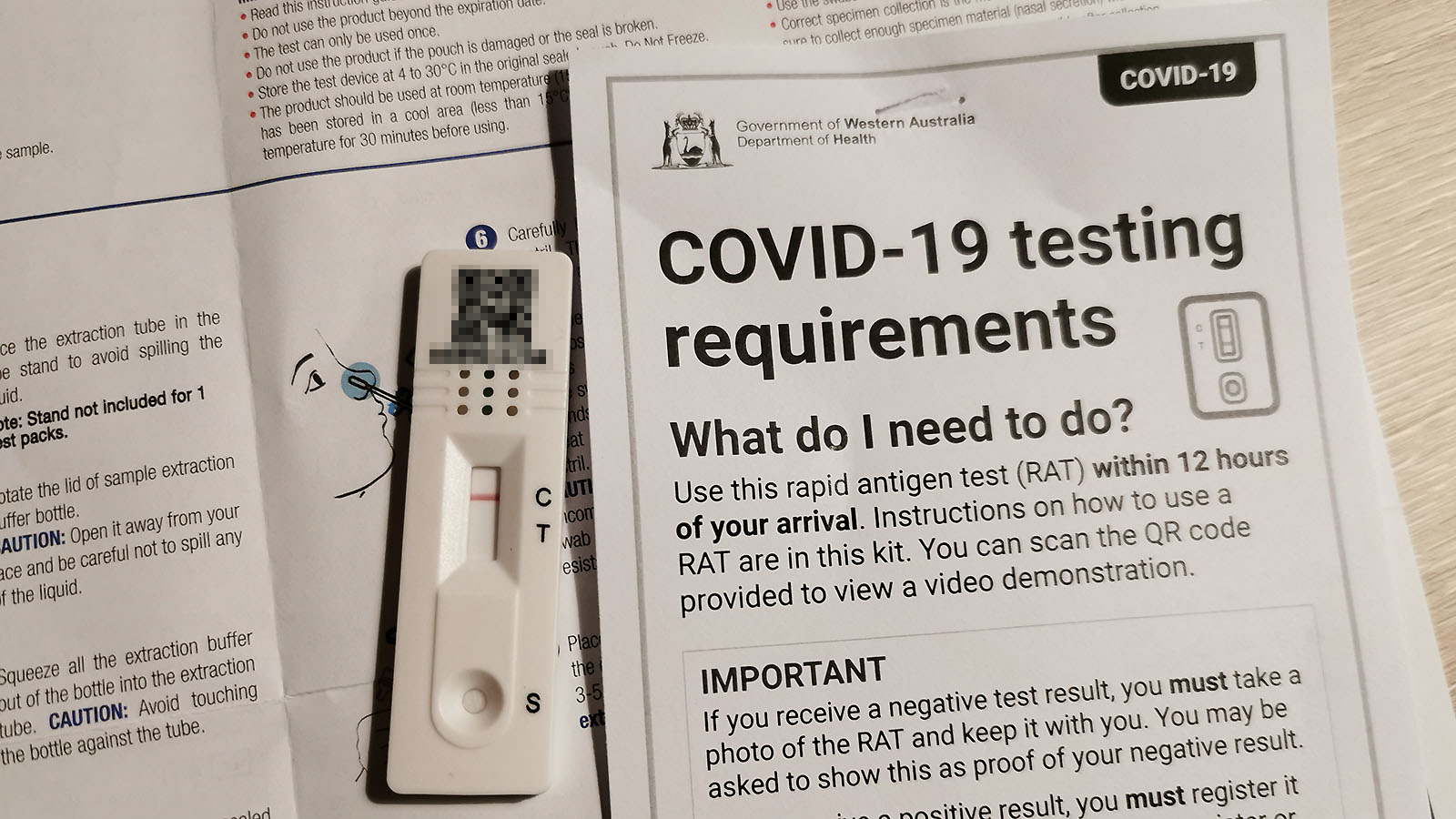 Today's route tracks over Lake Torrens National Park and the Great Australian Bight for an interesting contrast. And before long, we're landing in Perth. Luggage unfortunately takes half an hour to arrive on the belt, even with my bag being priority-tagged.
From there, it's past the WA Health counter for a free takeaway COVID test. That's currently mandatory for all interstate arrivals to Western Australia, which you'll need to complete within 12 hours of touching down. With a negative result confirmed, I'm free to relax and enjoy the visit.
Summing up
As far as Economy goes, Qantas is the only airline serving meals on flights between Brisbane and Perth. Book Virgin Australia or Jetstar instead, and you'll need to reach for a credit card for the same onboard.
That said, Qantas is also the only carrier offering widebody (twin-aisle) flights between the same cities. On longer routes like this one, many passengers find those larger planes more comfortable – although from Brisbane, Qantas' Boeing 737s do still operate on many of the flights.
If a Boeing 737 is operating your flight, be sure to follow our tips above to maximise your chances of getting an extra legroom seat. Even if you're not a taller traveller, having extra space to work or stretch out on your coast-to-coast jaunt makes the standard Economy experience much more palatable.
Photography by Chris Chamberlin, who travelled on a paid ticket. Feature image courtesy of Qantas.
---
Stay up to date with the latest news, reviews and guides by subscribing to Point Hacks' email newsletter.
Qantas Boeing 737 Economy (Brisbane – Perth)
was last modified:
April 12th, 2022
by