Major Gulf carrier Emirates is flaunting the introduction of its lavish new Premium Economy cabin, which is nestled on the main deck of the airline's latest factory-fresh Airbus A380 superjumbo jet.
While only one aircraft sports the new cabin currently, Emirates is planning to continue the Premium Economy rollout on its five remaining Airbus A380s on order over the next two years, plus on some of its forthcoming Boeing 777X fleet which lands from 2023 onwards.
These latest Airbus A380s will also benefit from a tip-to-tail refresh in First, Business and Economy classes, bringing more of the airline's famed 'dazzle factor' to the skies.
Revealed: Emirates' new Premium Economy cabin and seats
On the Airbus A380s, there are 56 Premium Economy seats in a standard 2-4-2 layout, located at the front of the main deck. The seat pitch is noted to be 'up to' 40 inches by Emirates, although in practice most seats will average around 38 inches (96.5 cm), which is about 15cm more than Economy.
The 19.5 in (49.5 cm) wide seat also reclines a deep 8 in (20.3 cm) — both of which are slightly more than standard Economy. The airline describes the recline as a 'comfortable cradle position with ample room to stretch out'.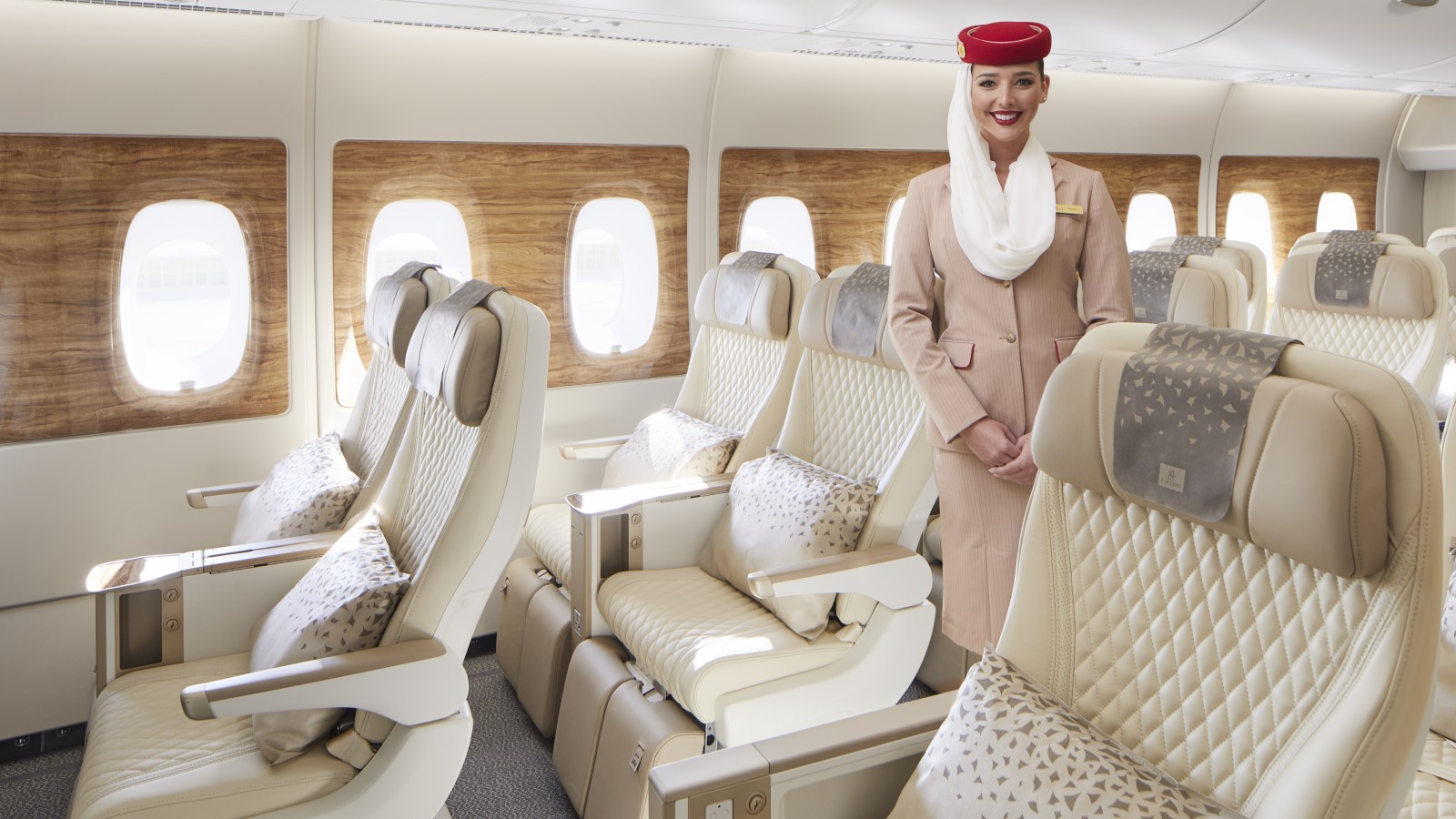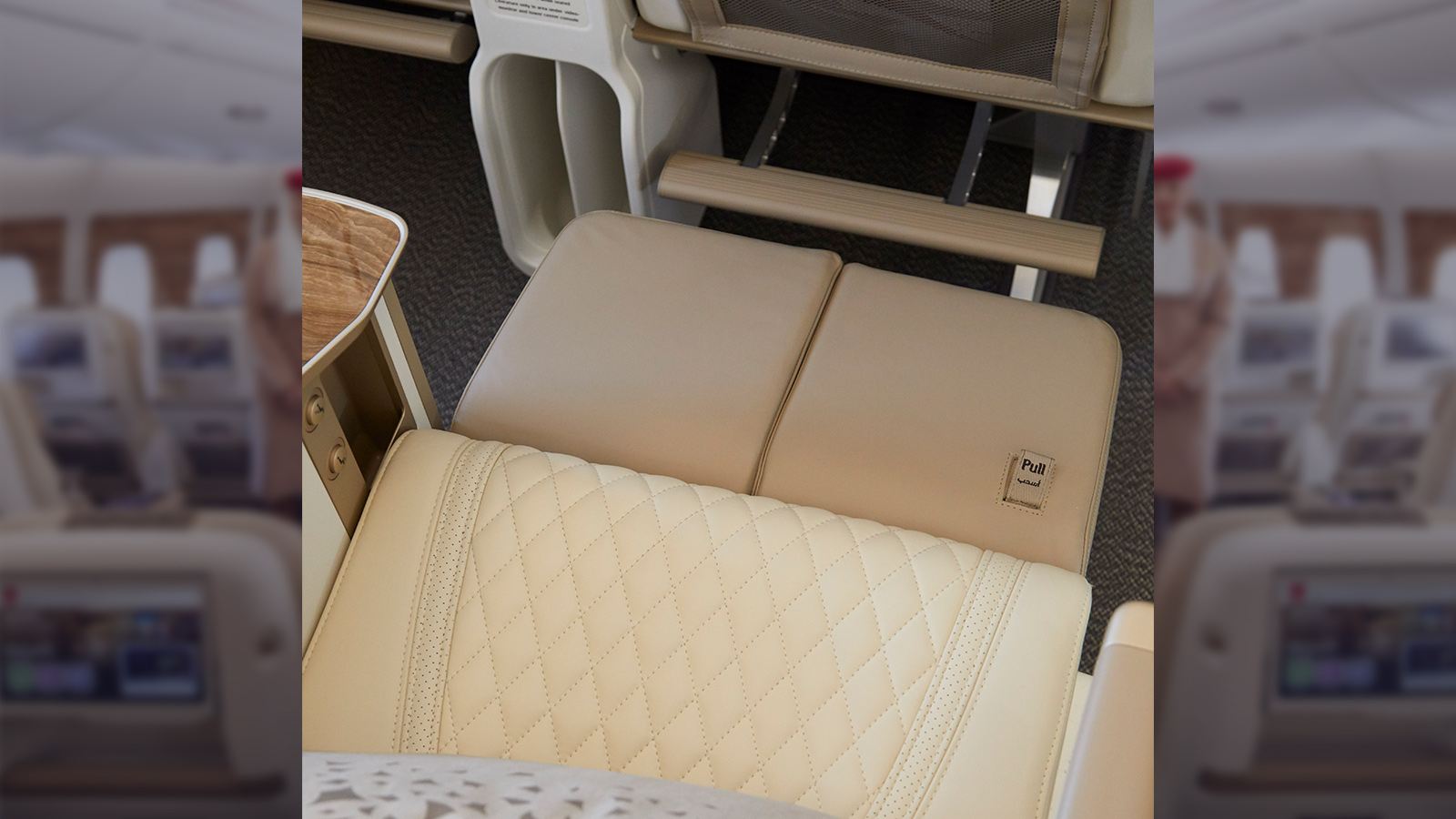 In that regard, each seat features a 6-way adjustable headrest, plus a calf rest and footrest. It's not yet known whether the calf rest will be suitable for long-legged individuals or not, as noted with most other airline Premium Economy seats.
Passengers can enjoy a 13.3-inch in-flight entertainment screen filled with Emirates' generous entertainment catalogue of movies, TV shows and more. When it comes time to dine, there's both a wide fold-out tray table, plus a side cocktail table for beverages.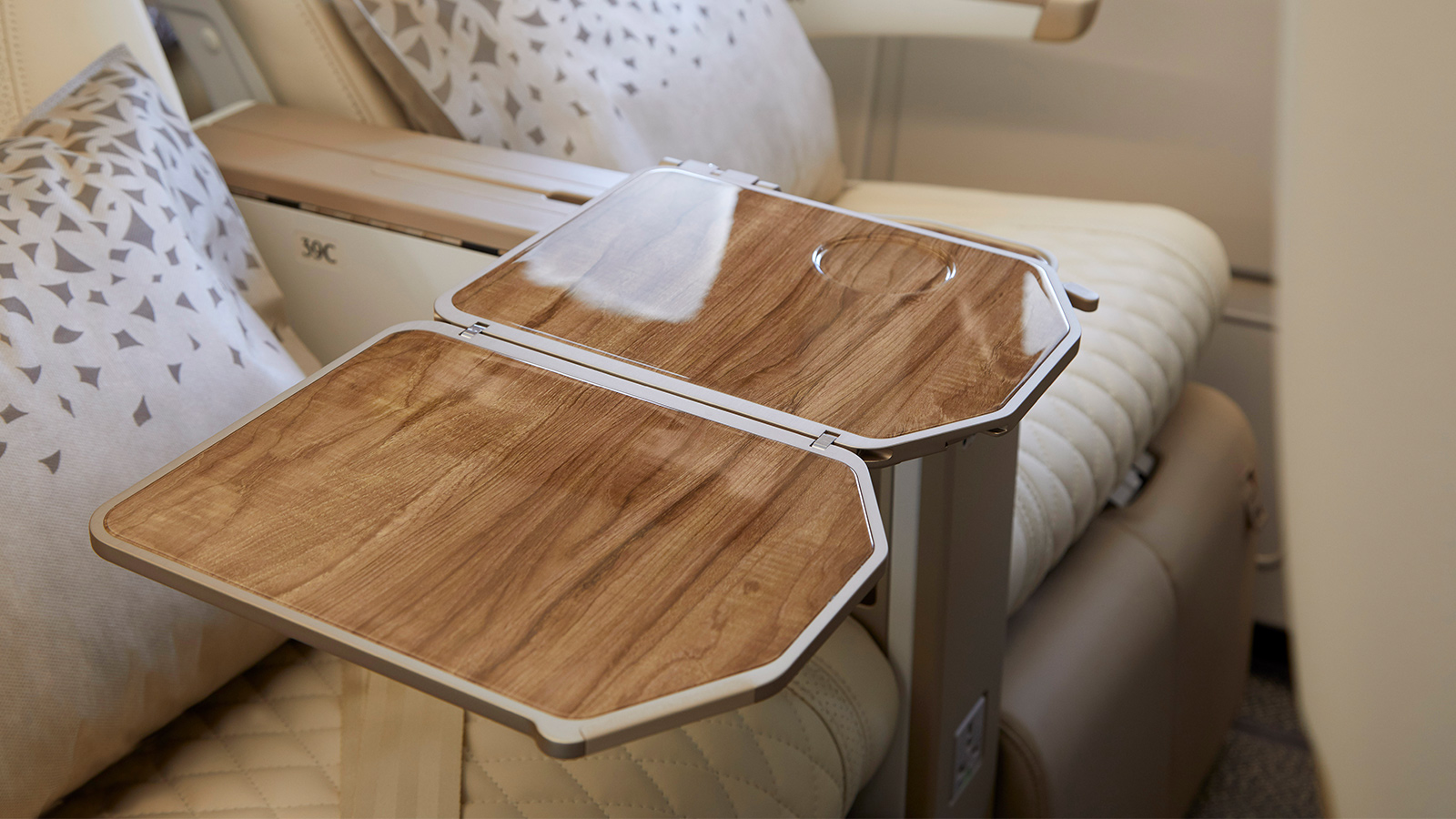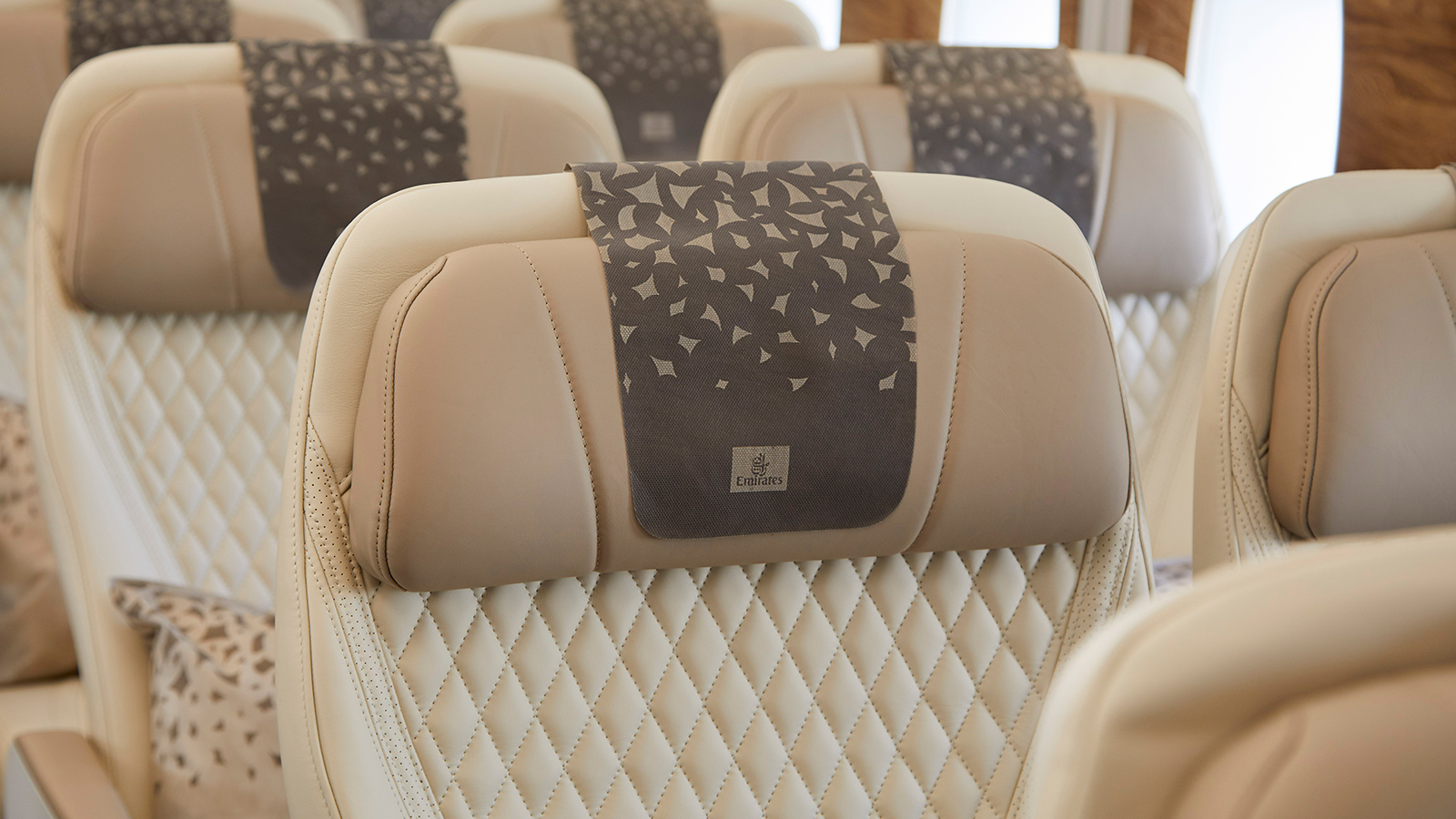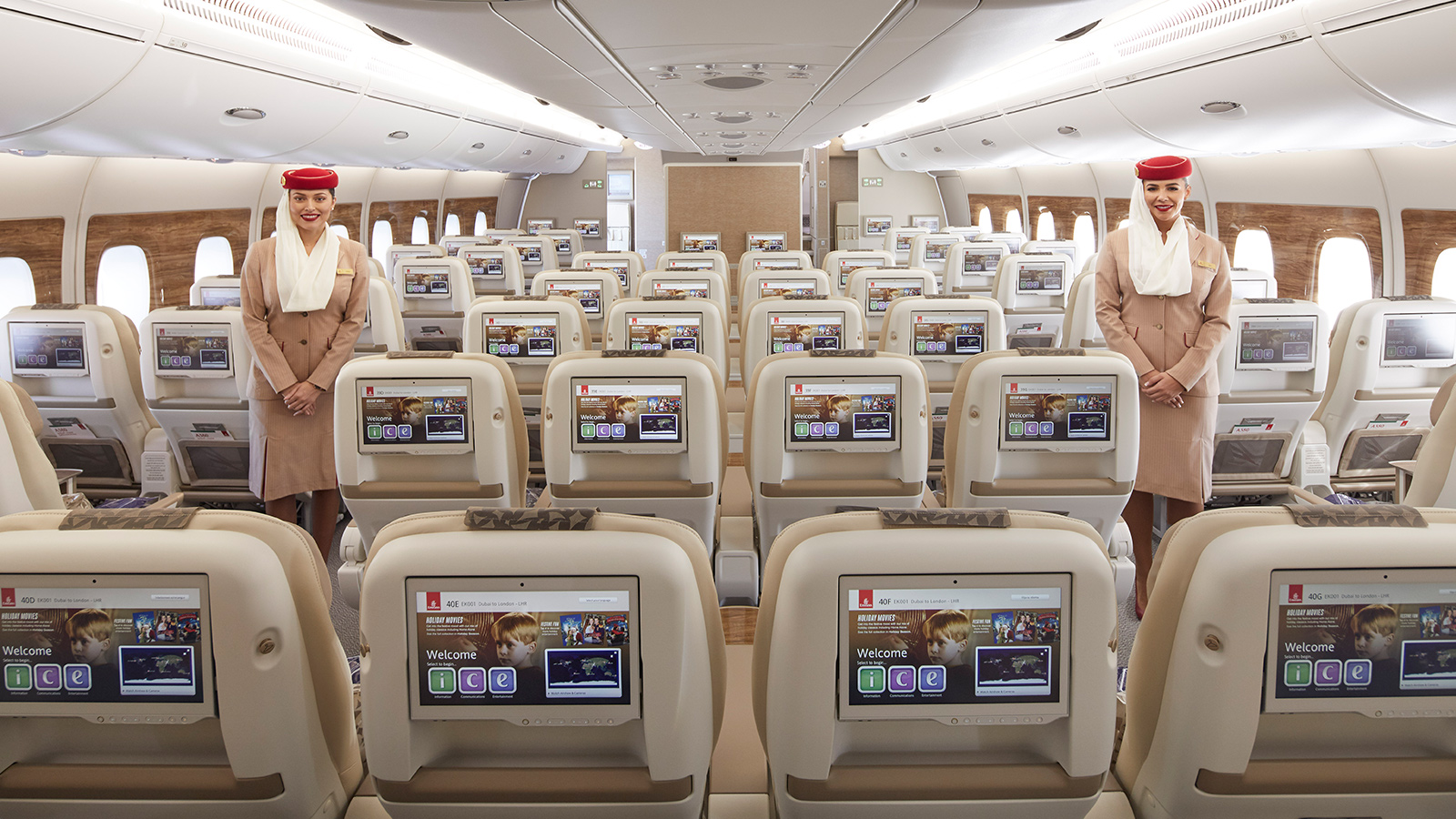 Finally, the seat is upholstered in cream-coloured anti-stain leather, with a similar stitching and wooden panel detail as seen in Business Class.
Our Premium Economy product was carefully developed in keeping with Emirates' brand positioning as a full-service airline of the highest quality. Our First, Business and Economy experiences reset industry standards when they were introduced, and we are confident that our Premium Economy will also make its mark as a distinct premium offering.

– Tim Clark, President of Emirates
Refreshed: First, Business and Economy Class
On this particular new Airbus A380, and the five more that are yet to come, you'll also notice some minor cosmetic differences across the rest of the plane, across all classes.
Notably, Business Class now receives the same cream leather treatment (below left), which is a big improvement from the previous drab grey seats and dark wood grain (below right).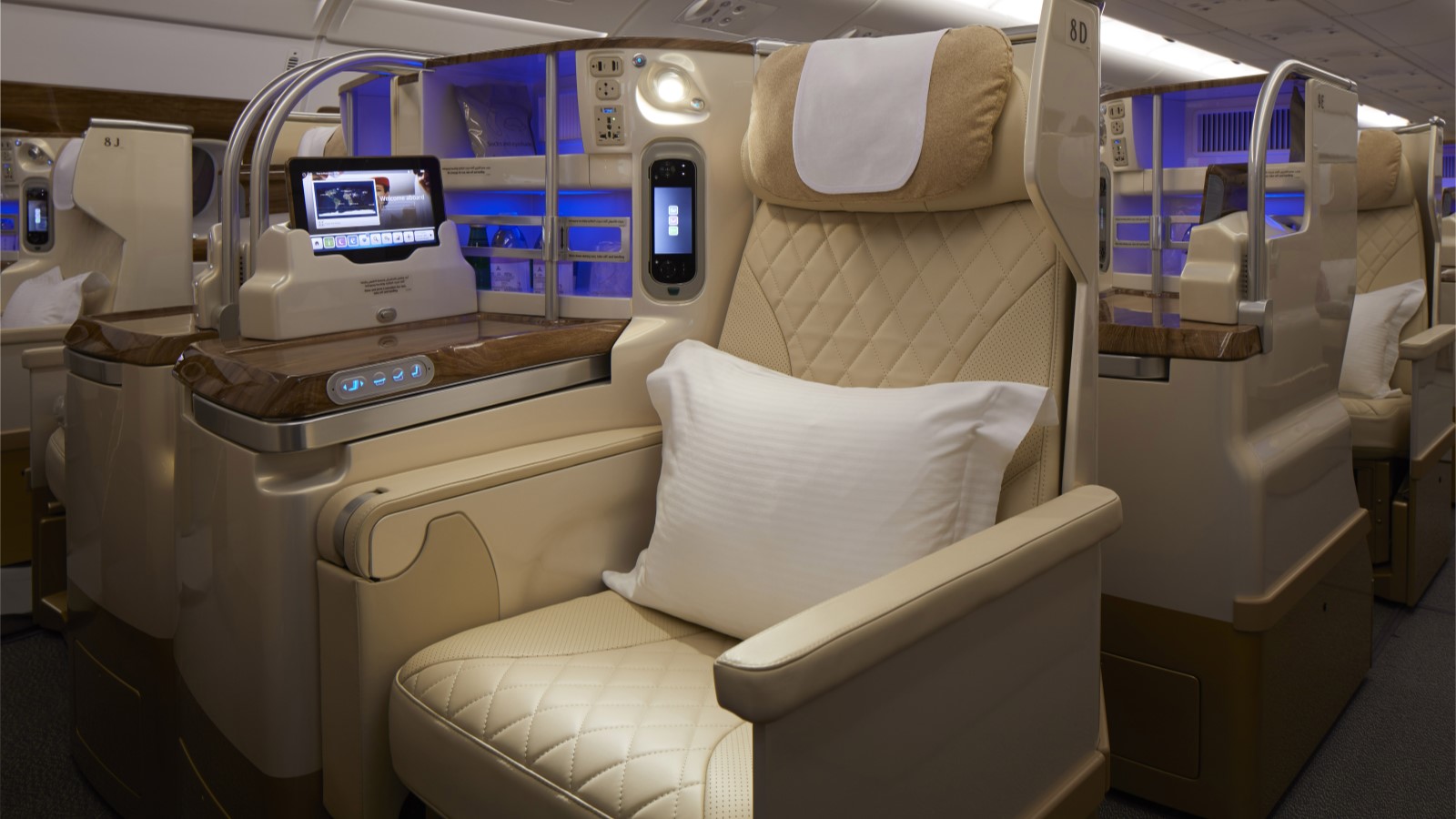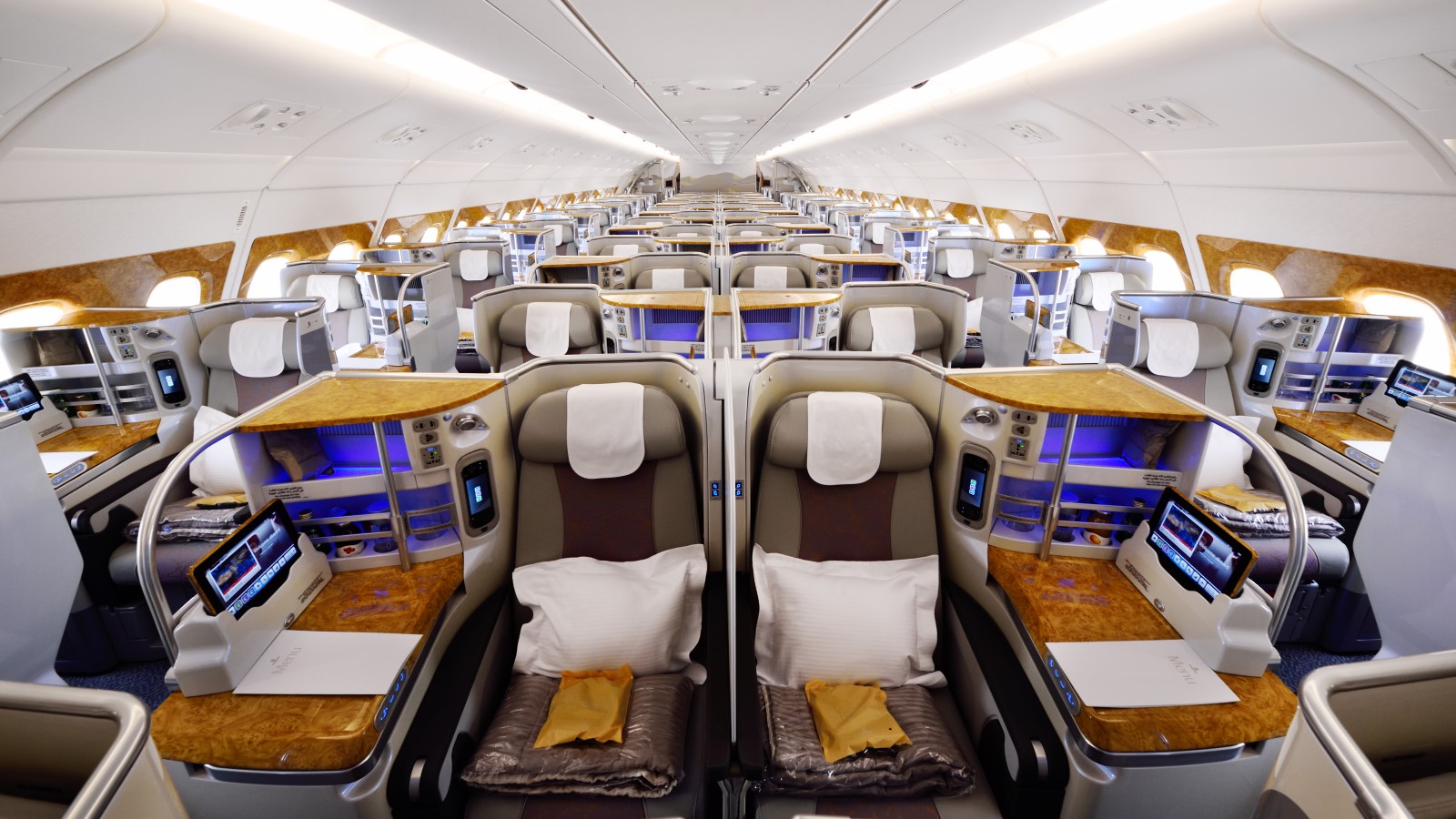 The onboard bar, shared exclusively by Business and First Class passengers, also features updated trims and flooring.
Meanwhile, First Class boasts slightly wider suites with taller doors for privacy, while the Shower Spa now proudly displays the Ghaf tree motif — an indigenous evergreen plant with deep cultural significance.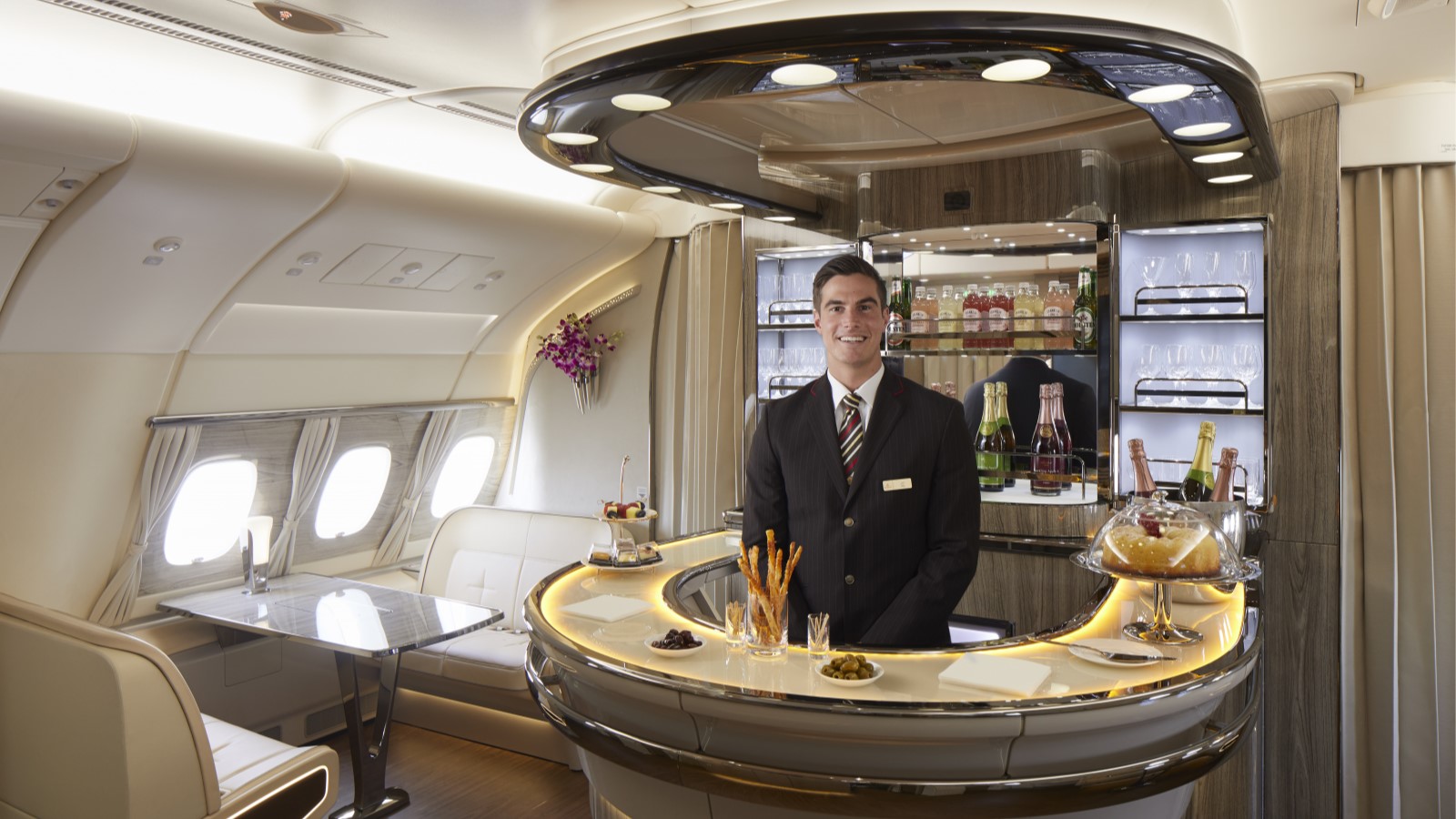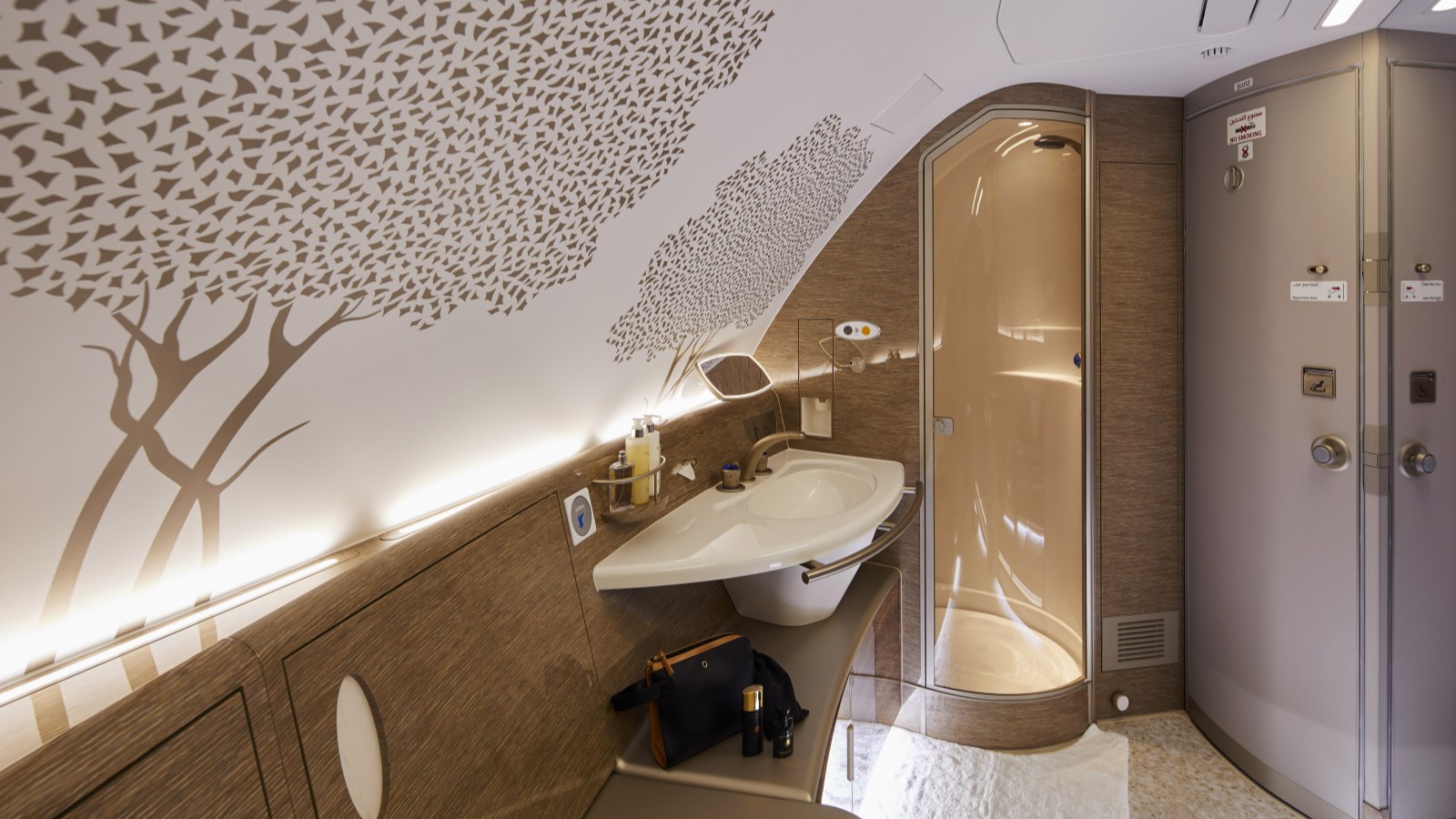 Using points and miles to book Emirates Premium Economy
It's unclear how Emirates will price Premium Economy in relation to Economy Class and Business Class cash fares, but you can expect it to be on the more premium end of the scale when prices are released.
As of early January 2021, it's not yet possible to use Qantas Points, Emirates Skywards miles or other partner programs to book Emirates Premium Economy just yet. However, we can use the Qantas Classic Flight Rewards table to work out the cost when Premium Economy does become available.
| | | |
| --- | --- | --- |
| Example routes | Qantas Points needed for Emirates Premium Economy | Qantas Points needed for Emirates Business Class |
| Dubai-London | 48,500 points | 61,200 points |
| Perth-Dubai | 70,800 points | 90,000 points |
| Sydney-Dubai | 93,500 points | 119,200 points |
| Melbourne-Dubai-London | 124,800 points | 159,000 points |
Remember that taxes and carrier surcharges will be payable on top of the points or miles cost. Also, note that Qantas prices Premium Economy reward seats very close to Business Class, so you might be better off splurging more points for lounge access and a fully-flat bed instead.
Summing up
While the first Emirates flight with Premium Economy flight kicked off on 4 January 2021, the airline notes that "until more Premium Economy seats enter its inventory, Emirates intends to offer these as spot upgrades for its valued customers on a discretionary basis."
This hints that high-tiered Emirates Skywards members travelling in Economy are likely to be first in the upgrade pecking list, followed by those with partner status such as with Qantas Frequent Flyer.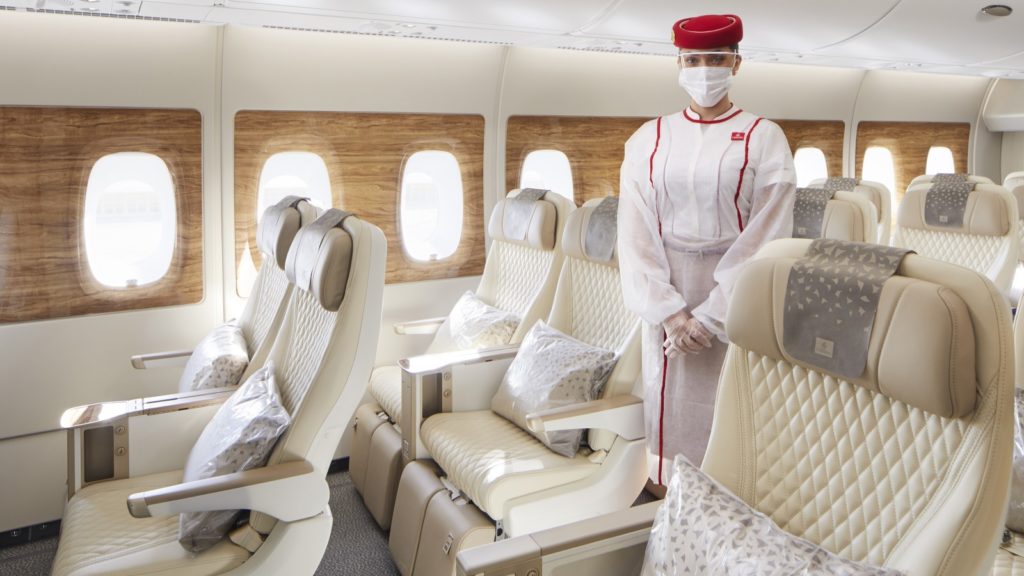 Emirates' newest Airbus A380 with Premium Economy currently flies between Dubai and London Heathrow until further notice, where it'll be then deployed on various routes as a surprise for customers.
There's no denying that Emirates' Premium Economy seats appear elegant and comfortable. However, it does fall short of the 'sleeperette'-like style that was touted to the media in the past.
The common issue with this style of Premium Economy is that only the first row boasts the most comfort, with all the remaining rows impacted when the seat in front reclines deeply. Time will tell whether Emirates has hit the mark with Premium Economy or not.
Would you book Premium Economy, or stick to Economy and Business Class? Let us know in the comments below.
Emirates unveils sleek new Premium Economy cabin on its Airbus A380
was last modified:
January 5th, 2021
by