With Qantas' partnership with Emirates, an ongoing and useful provider of benefits to points-collectors, redeemers and frequent flyers, Emirates First Class has become one of the most useful and unique ways to use your Qantas Points.
I've had the chance to sample Emirates top premium cabin a few times in the last year, so here is my take on how to get the most from your trip.
Later in this overview, we cover off the various ways to redeem your points to travel in Emirates First Class, with the key opportunity for Australian travellers being their Qantas Points balances.
Fleet & Routes
Emirates is by far the largest operator of Airbus A380 (as well as Boeing 777) aircraft in the world, with 104 in service and another 58 on order (as of September 2018).
About 40% of all Emirates planes are A380s, so there is a good chance that you will be travelling on one of these if you are flying long-haul and/or to or from a major airport.
As of September 2019, the following routes from Australia are serviced by the A380:
Sydney/Melbourne/Brisbane/Perth – Dubai
Sydney – Christchurch
and these routes are flown by the smaller Boeing 777-300ER:
Melbourne – Singapore
Brisbane – Singapore (ends 29 March 2020)
Adelaide – Dubai
You can also expect the A380 on (most or some) flight to major airports from Dubai such as:
London Heathrow
London Gatwick
Paris
Madrid
Barcelona
Rome
New York
San Francisco
Los Angeles
Toronto
You can check if your flight is on an A380 or different aircraft through Google Flights or SeatGuru.
There are three versions of the A380: two have 14 First Class Suites and are the most common but on some routes, First Class is cut to make room for more Economy seats (557 to be exact!).
Know which airlines fly the Airbus A380 to Australia here.
How do the First Class products on the A380 and 777 differ?
If you are flying on the A380, you'll get to access the onboard shower and bar—explored later on—but with almost double the number of suites, service will probably be less attentive.
By contrast, having eight suites instead of 14 means that service on the 777 is generally more attentive. Also, each individual suite on the 777 is more spacious than on the A380 due to the wider cabin cross-section. The smaller cabin feels more intimate.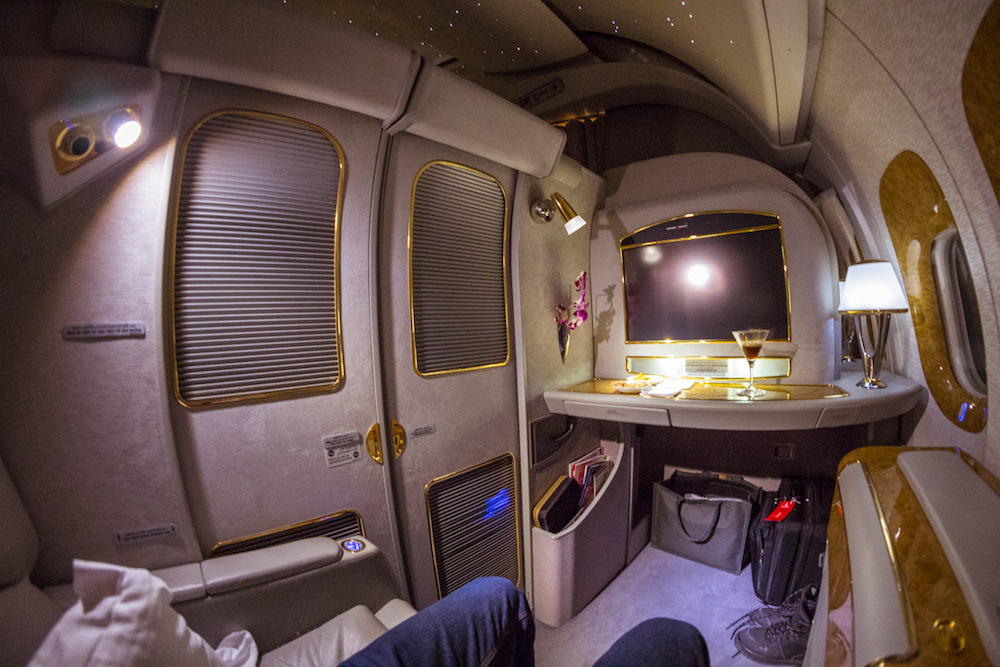 The Cabin & Seat
The First Class cabin is located on the upper deck at the front of the plane, with 14 closed suites in a 1-2-1 configuration and no overhead bins.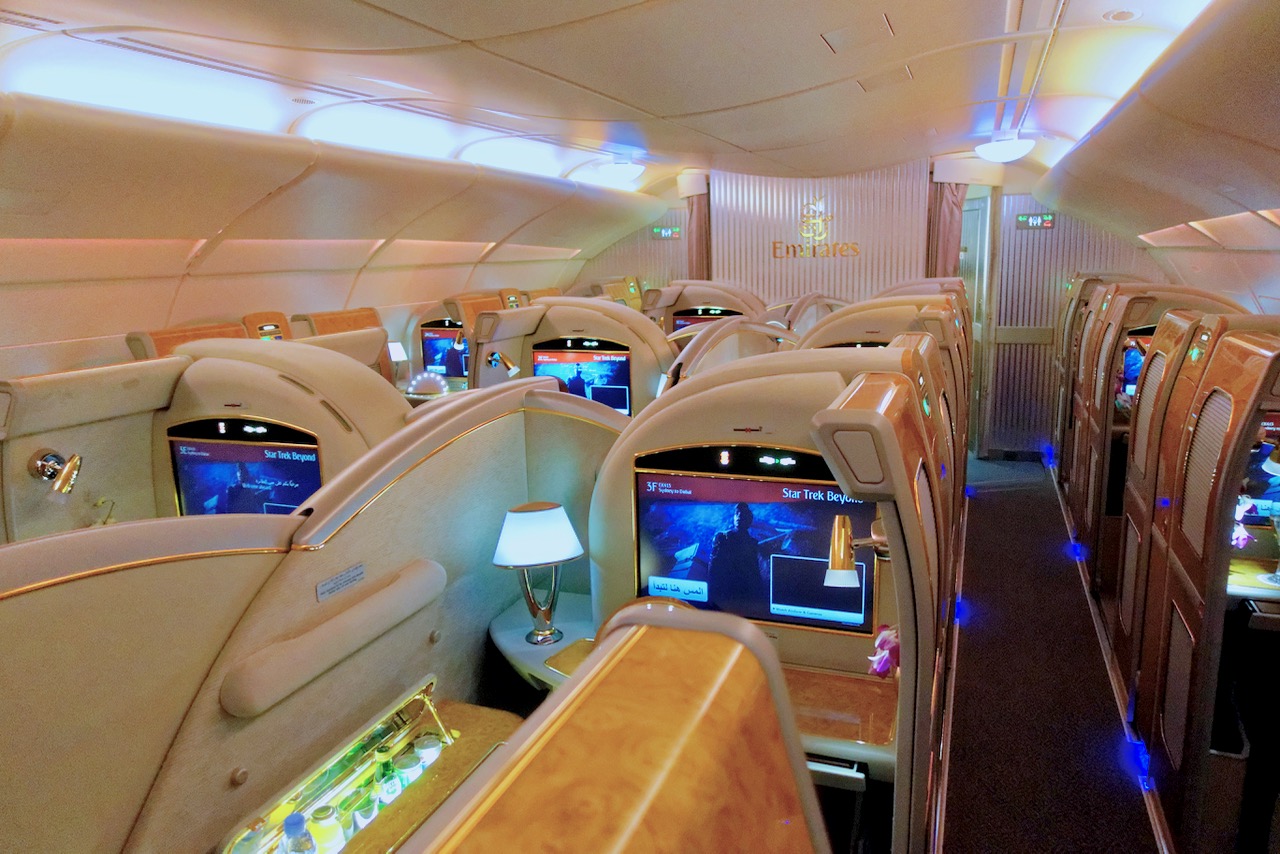 Emirates delivers on the promise of 'bling' in their First Cabin, trimmed in wood, gold accents and orchids at every seat. Each suite has closing doors and its own lighting surrounding your seat/bed.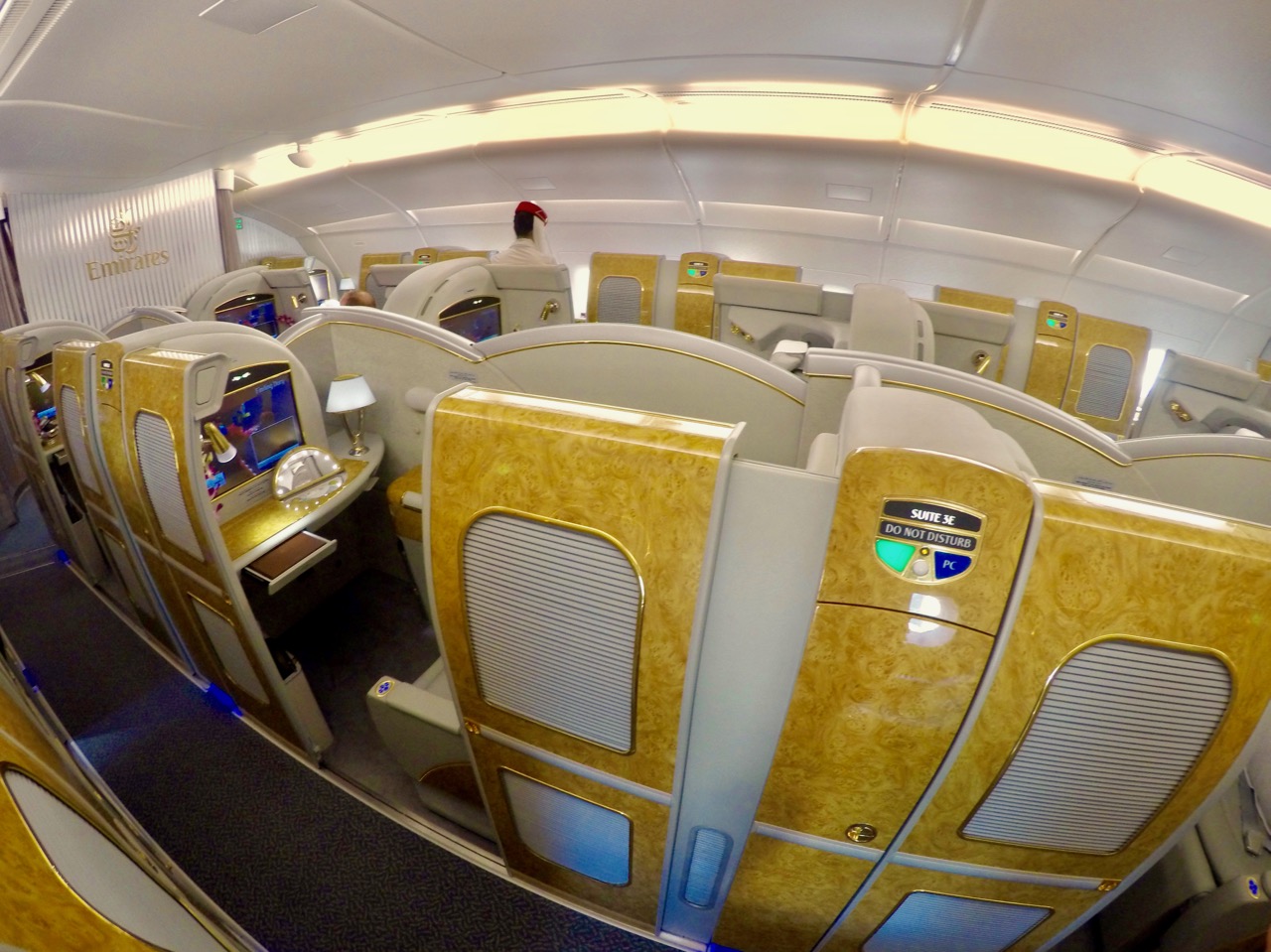 There's also a small mini-bar (which is relatively pointless, in my opinion!) and lit vanity mirror: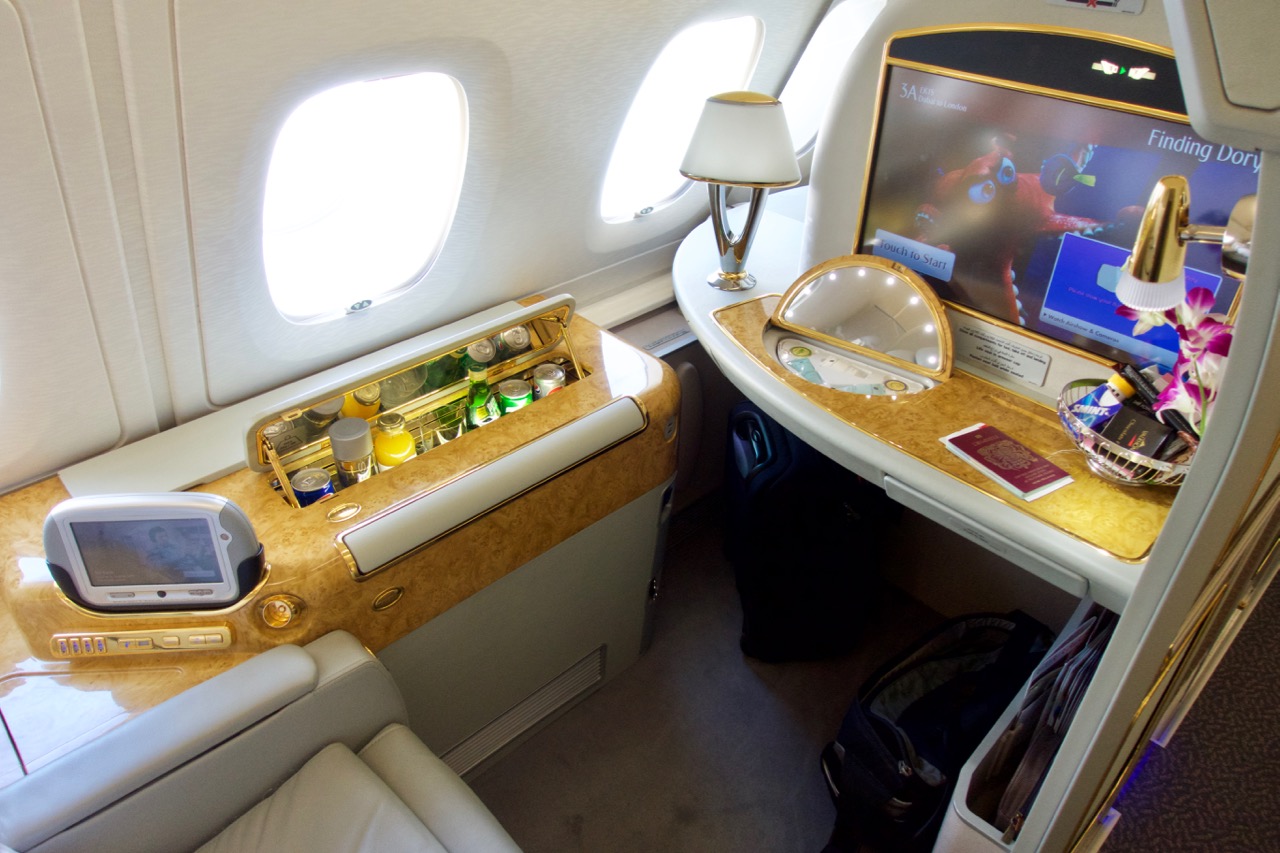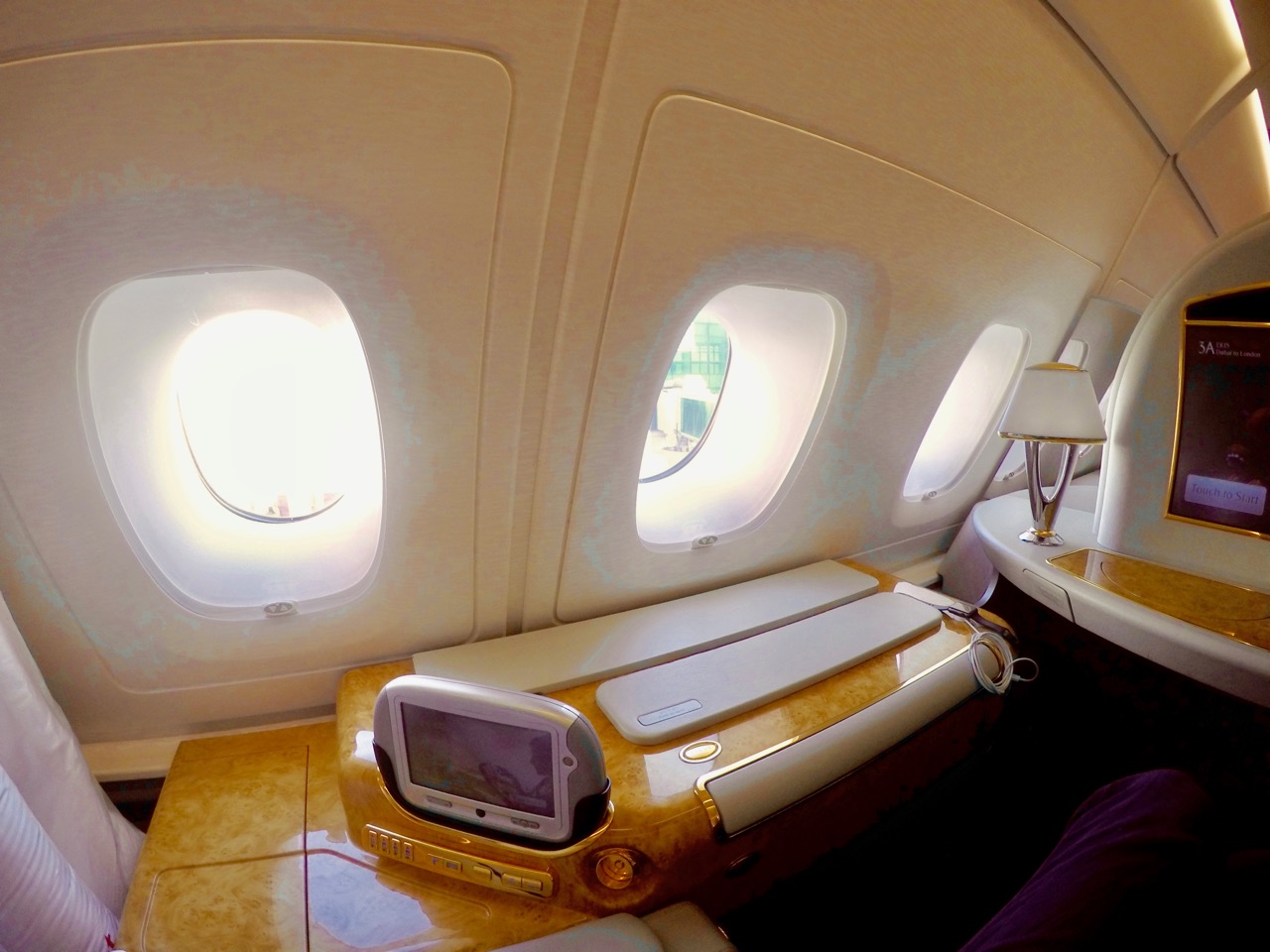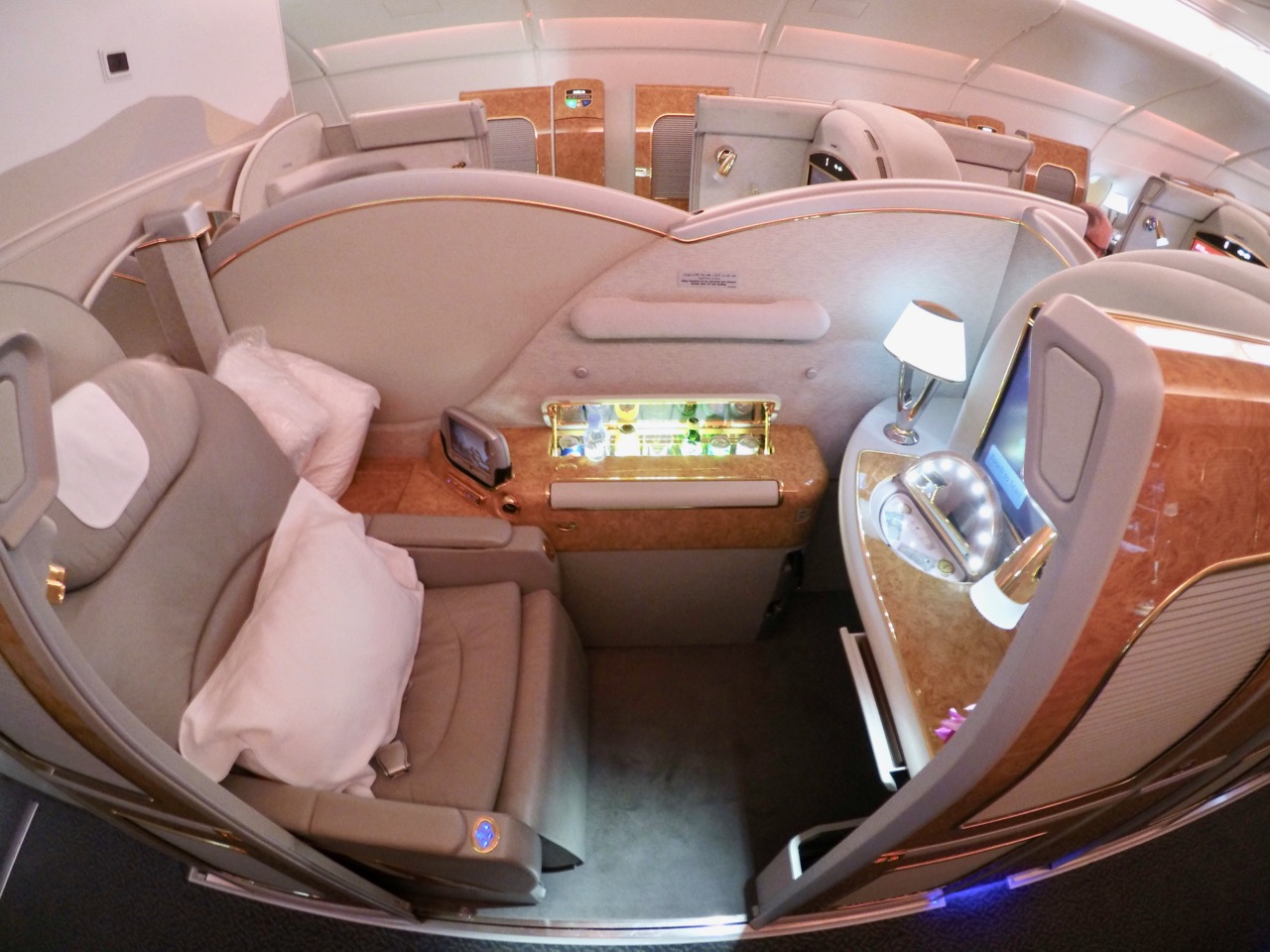 When you're ready, just ask the crew to turn down your seat into a bed and you'll find a mattress pad, quilt and sheets laid out on your return ready for rest: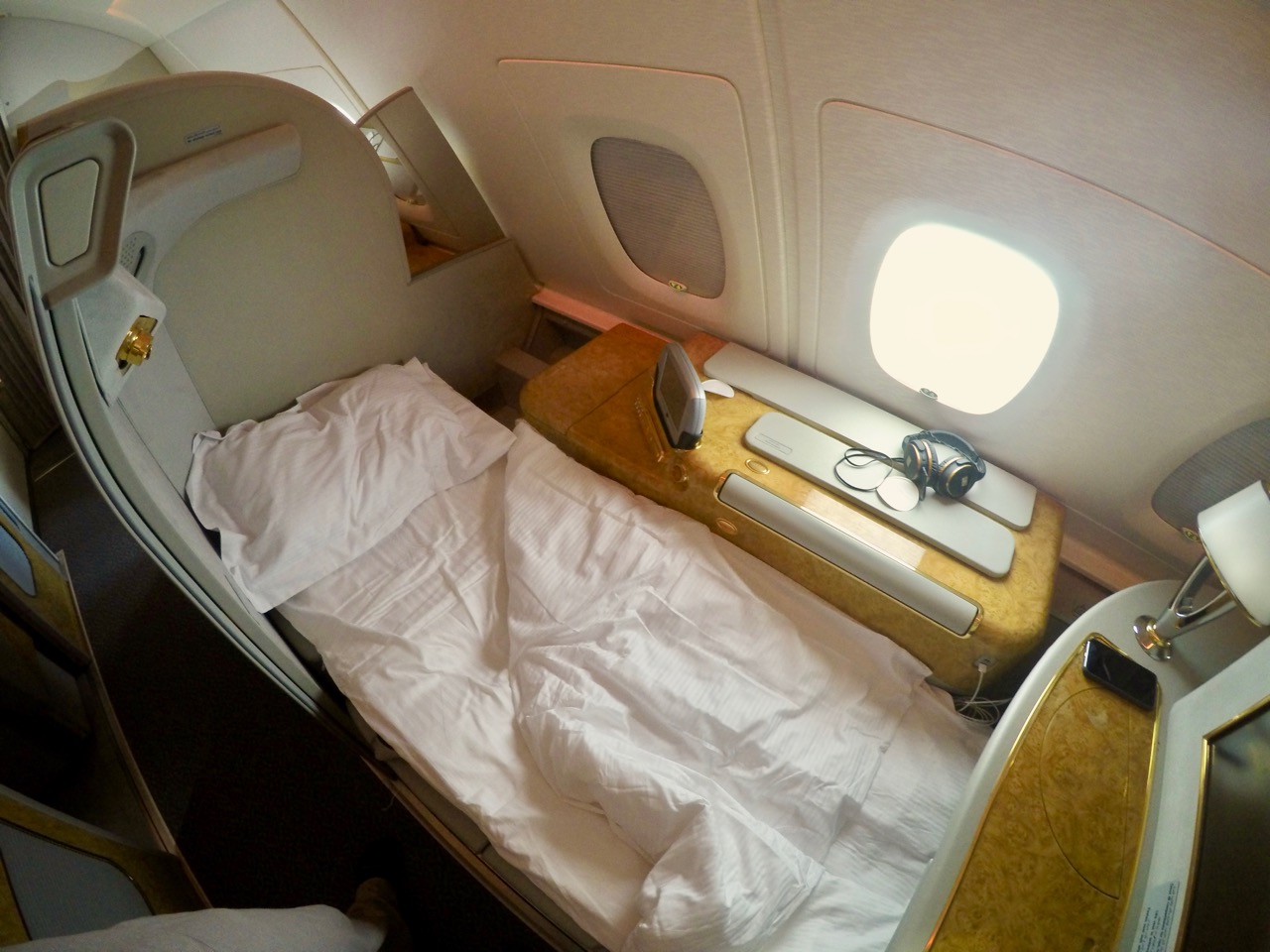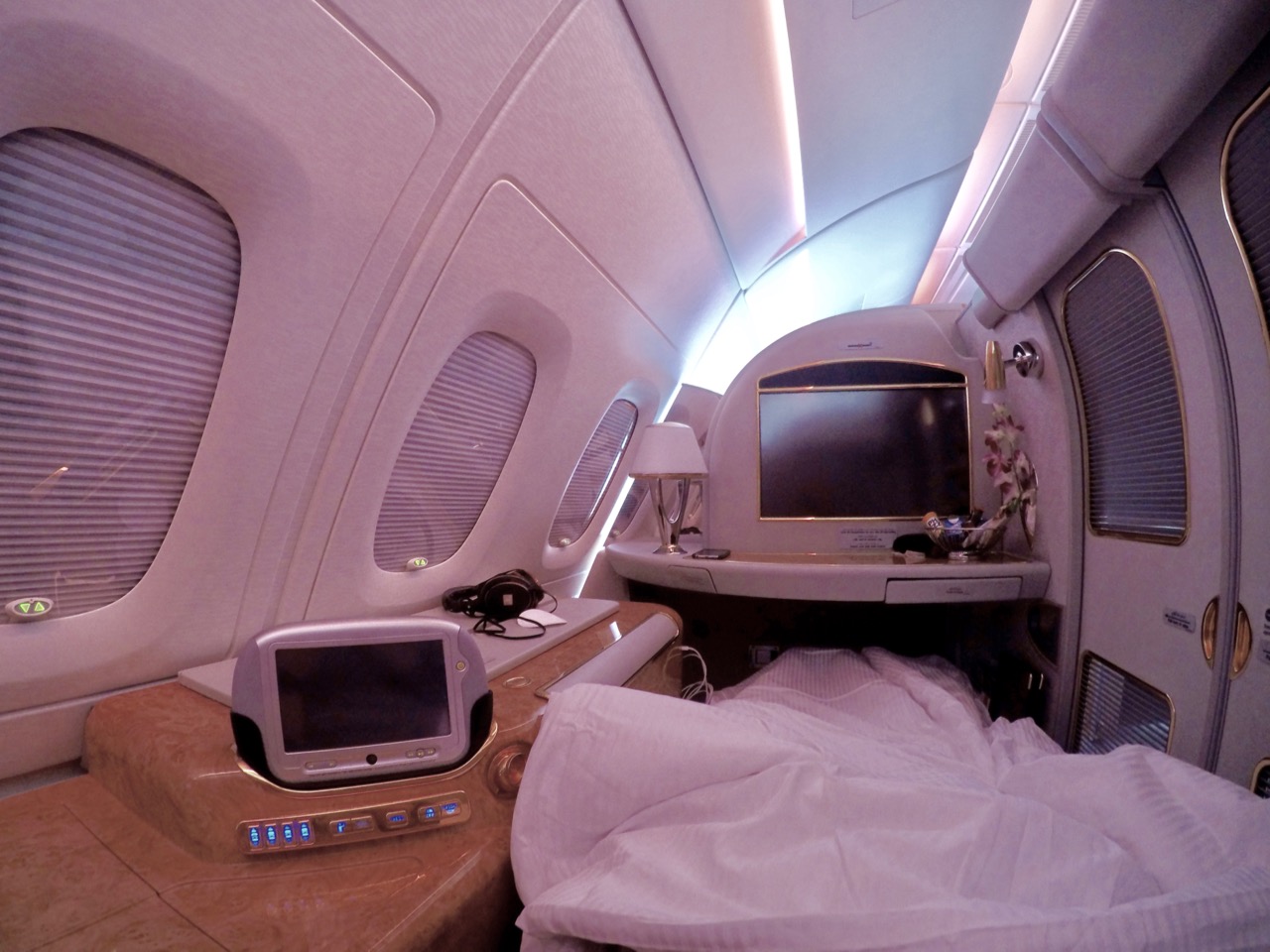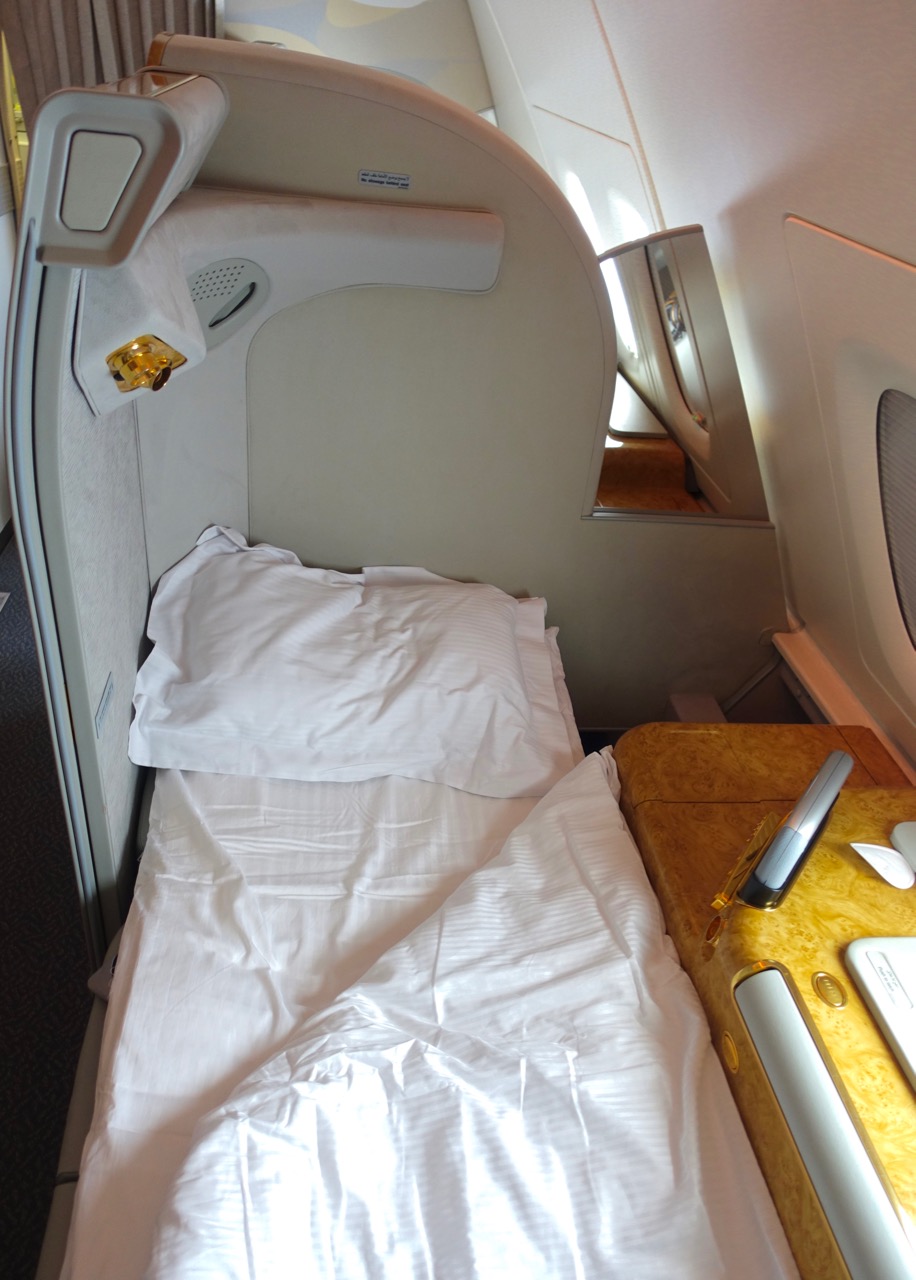 Seat Choice
Passengers travelling with a companion may prefer the centre seats (1E and 1F, 2E and 2F, or 3E and 3F) with the retractable privacy divider, whilst solo travellers will probably want to opt for the window seats (A and K in any row).
If you had the choice, I'd recommend avoiding rows 1 and 4 to cushion against noise and foot traffic from the two shower suites/bathrooms in front and one bathroom and galley behind.
Get more first-hand seat and flight tips from Natasha's case study.
Seat Features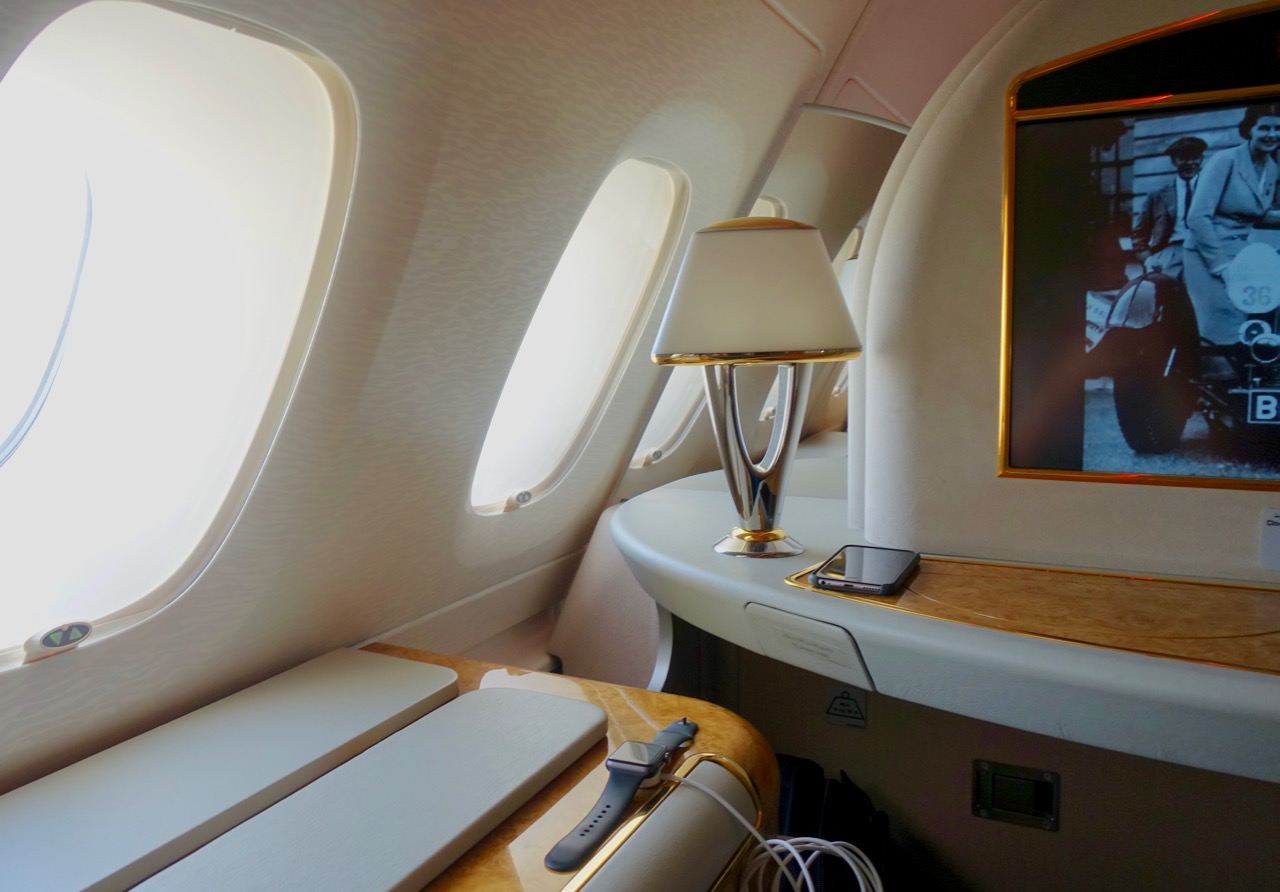 Each seat offers charging for your USB devices, copious amounts of storage for your belongings, and many ways to customise the lighting and seat recline for your own taste.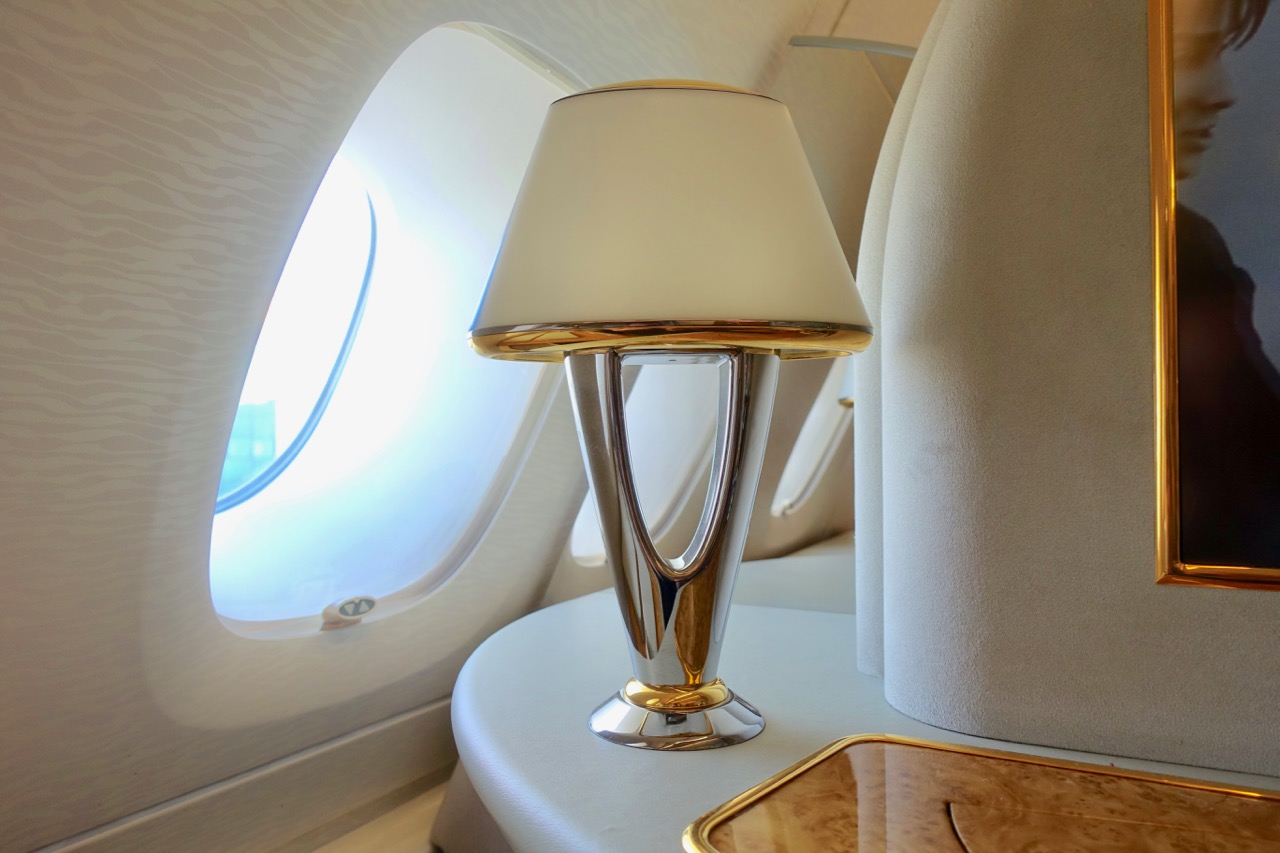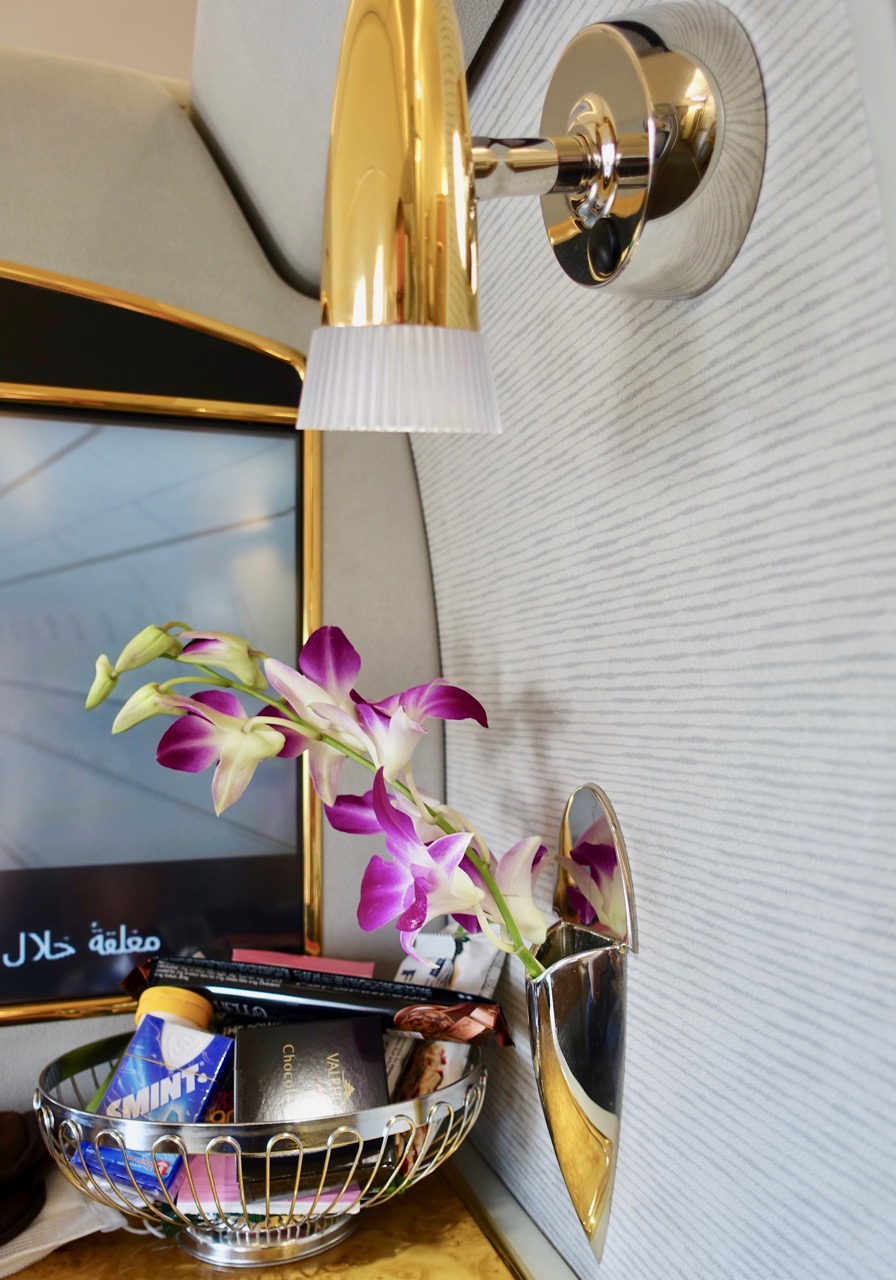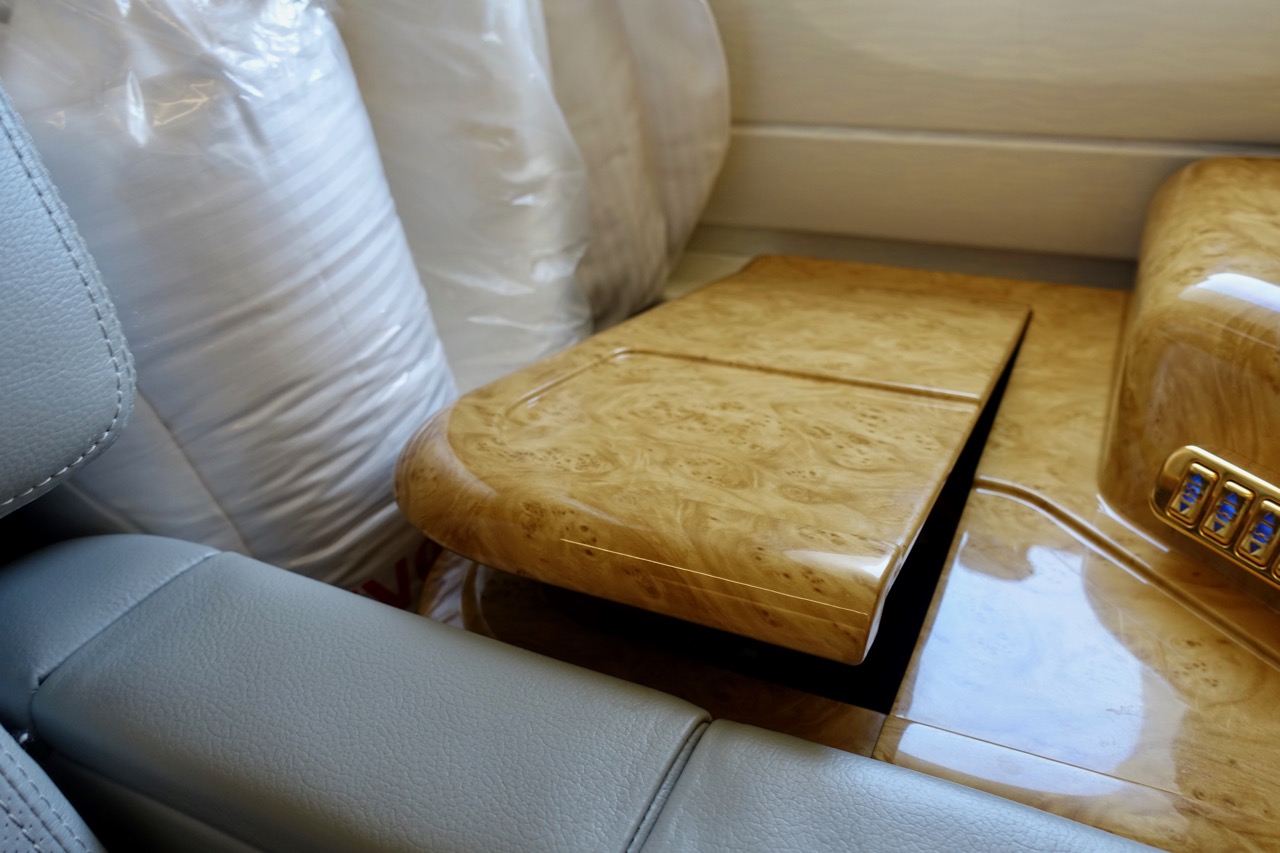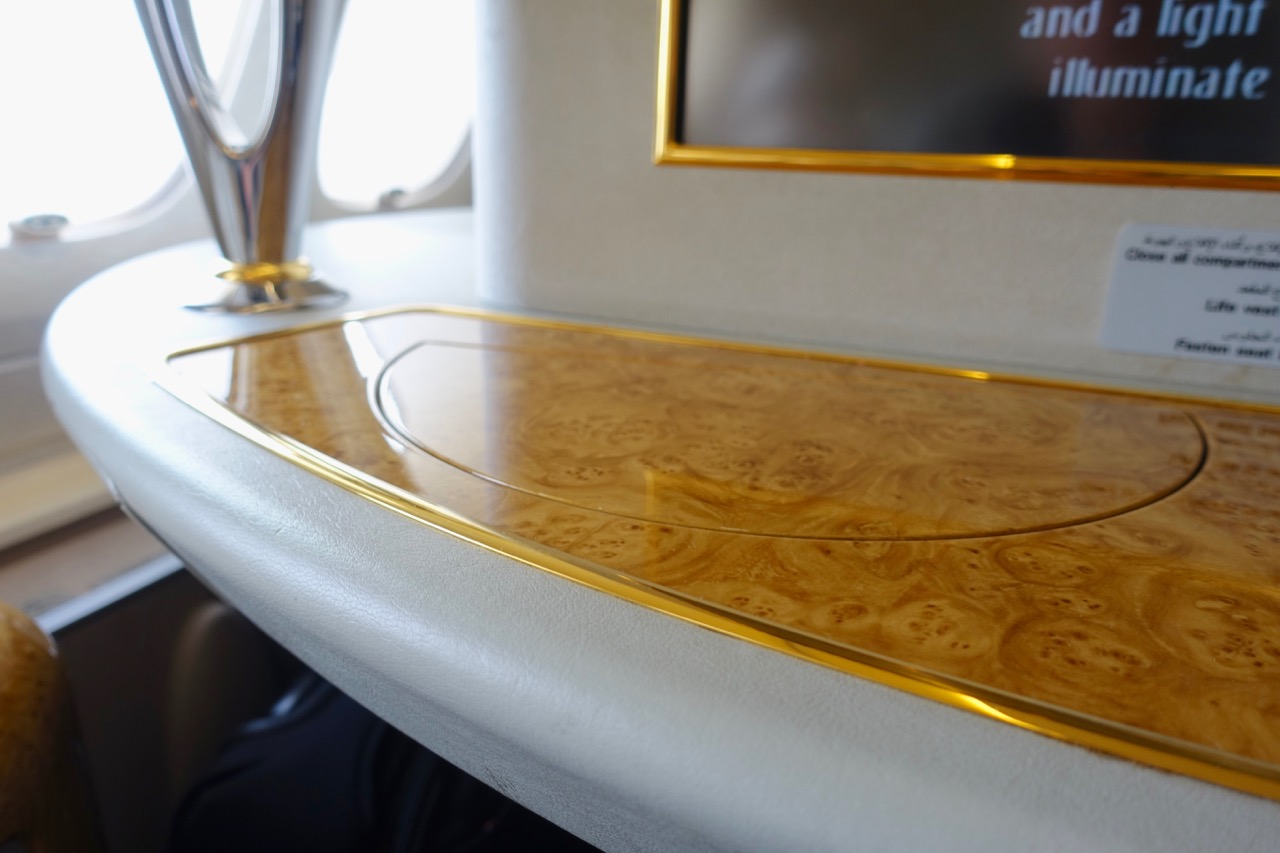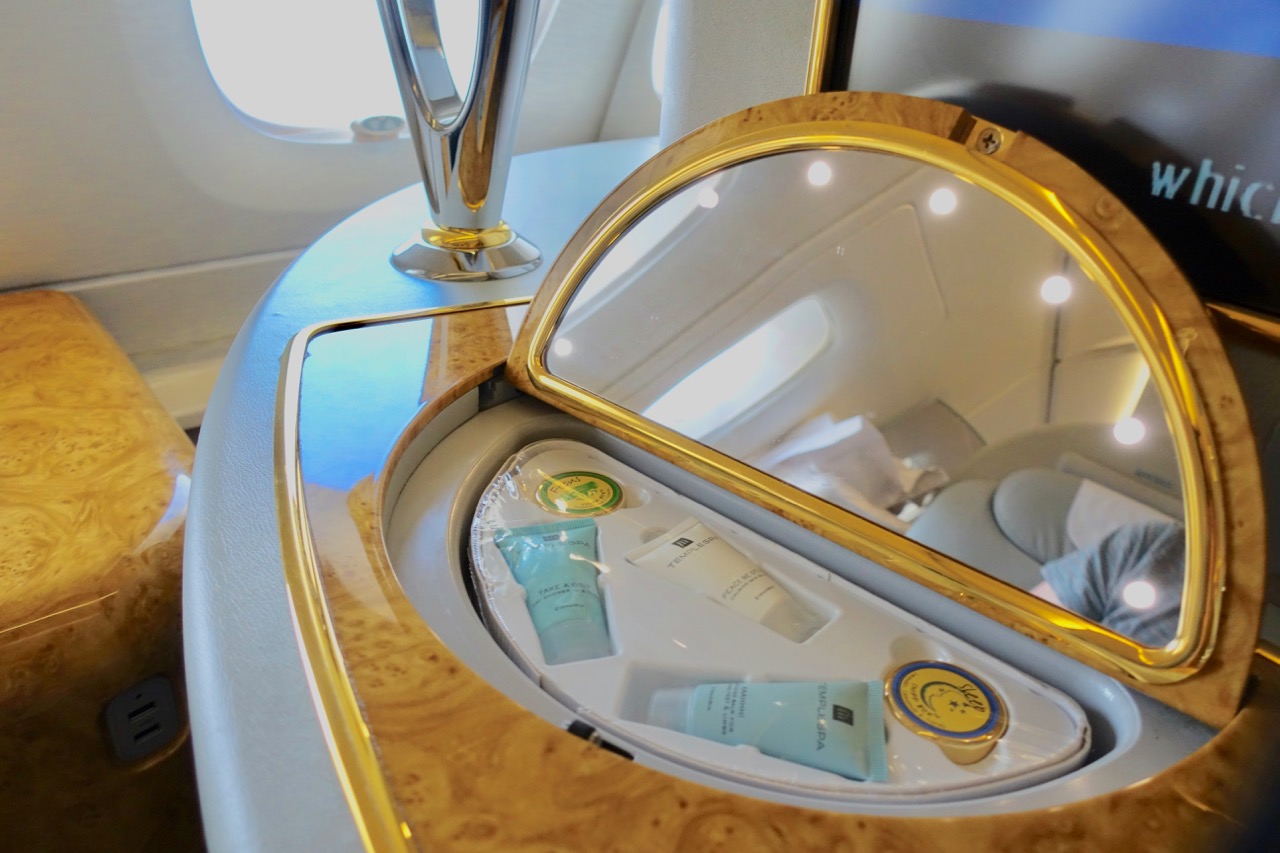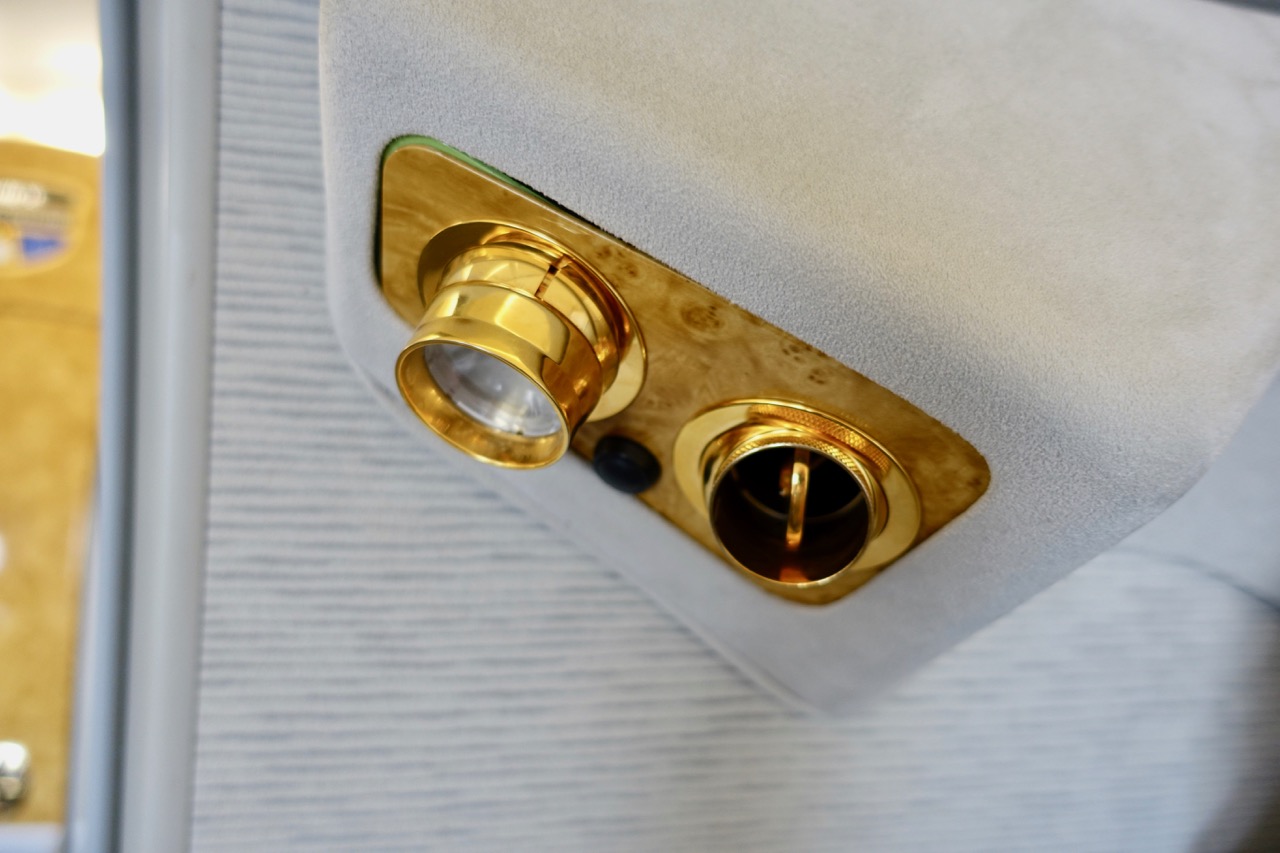 There are no overhead lockers in the cabin, which maximises headroom, so your carry-on luggage fits under the small bench seat/footrest in front of you.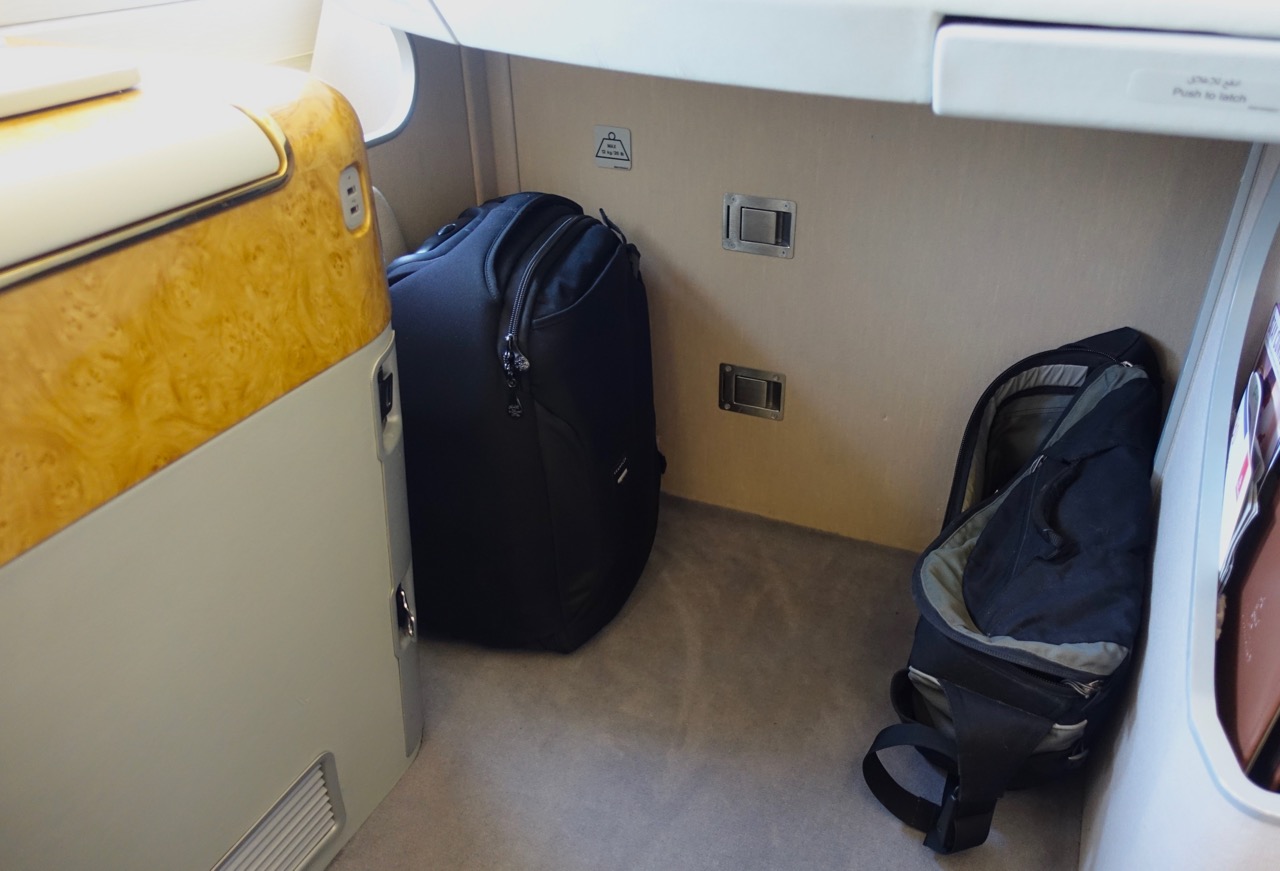 And just in case you need to channel your inner Hemingway in flight, there's a dedicated writing kit in each seat.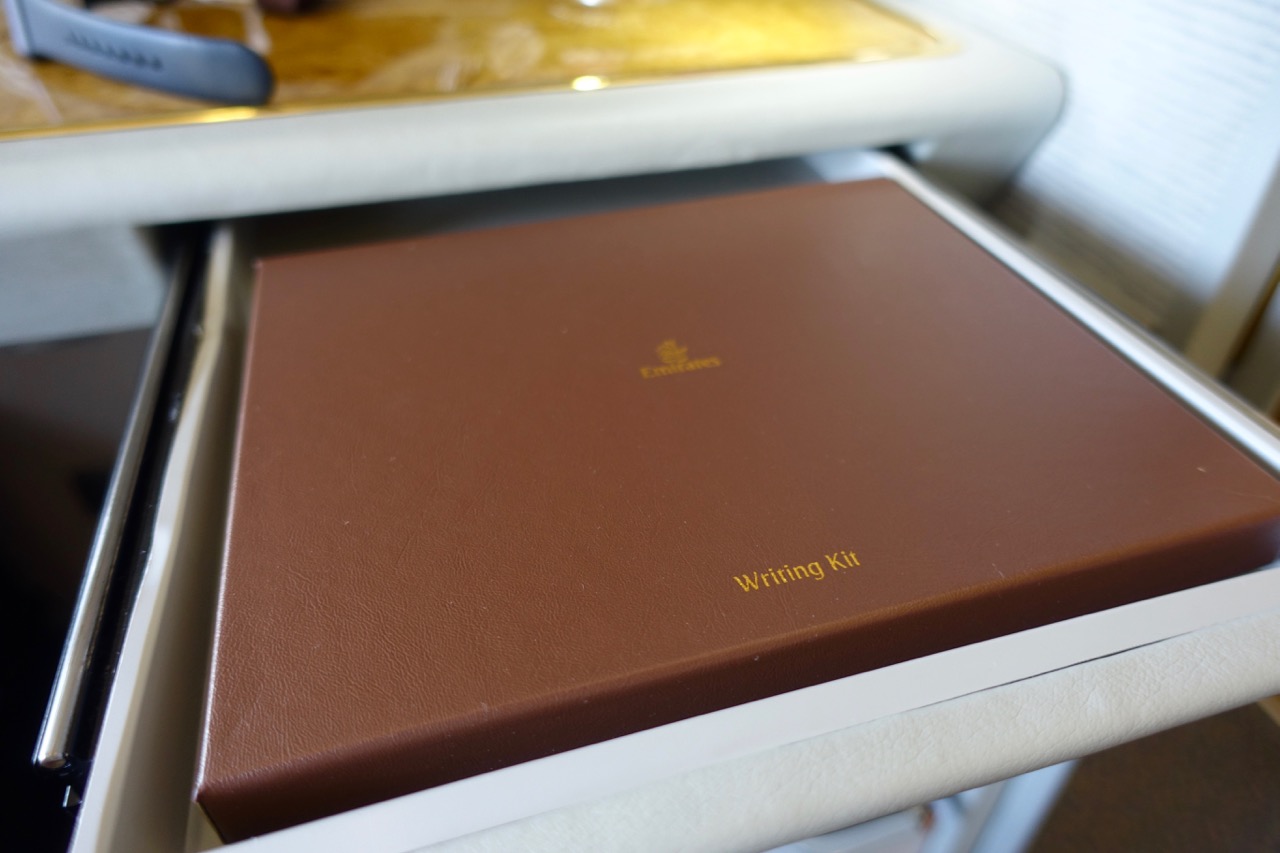 Read our guide on how to choose the best seat for your flight here.
Inflight Entertainment
Emirates ICE inflight entertainment system is excellent, with the same content as you'll find in all cabins on the A380 and the same seat-side controller as you'll find in Business Class.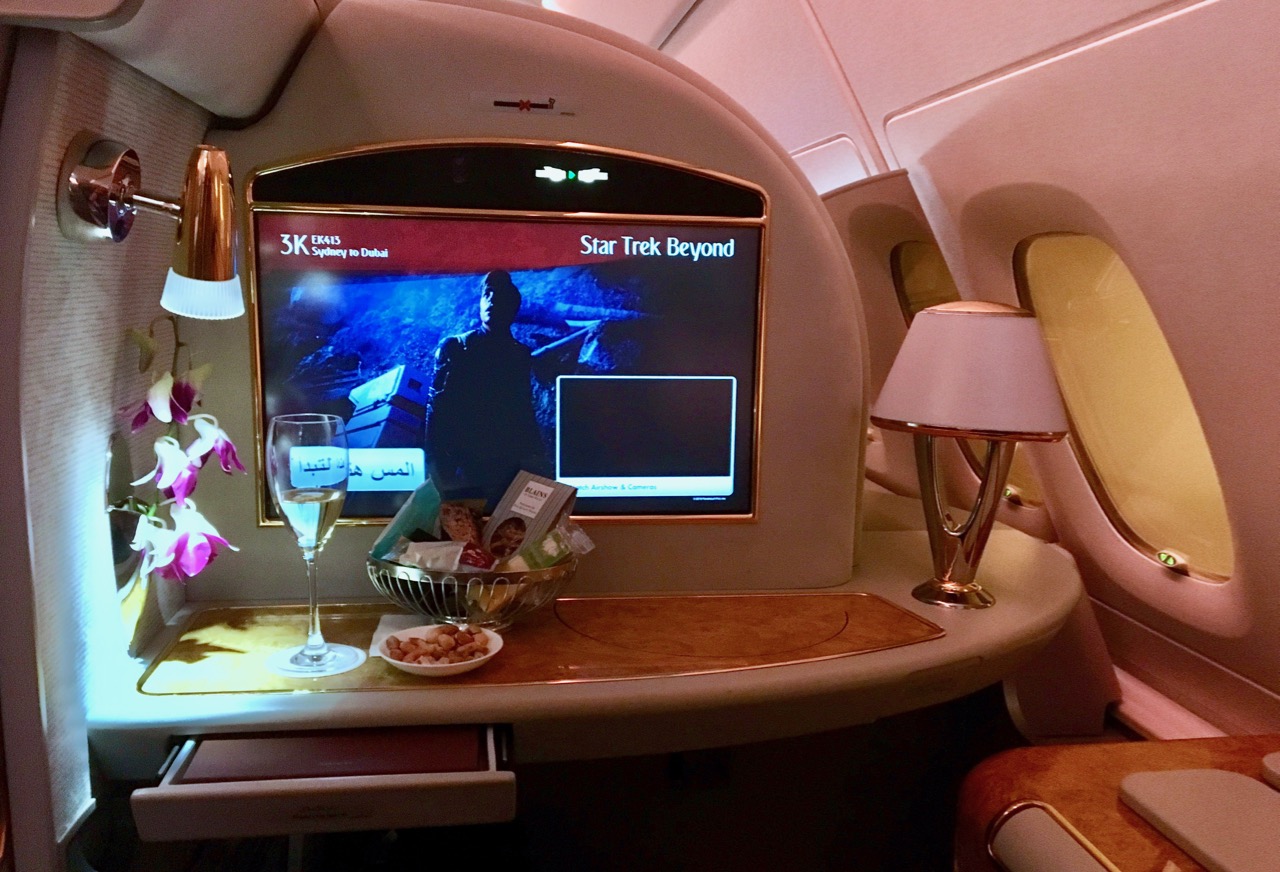 The main difference to Business Class (and especially Economy) is the vast screen you get in First, which is so far away from your seat it's almost impossible to reach. This is where the small touch screen controller next to your seat helps.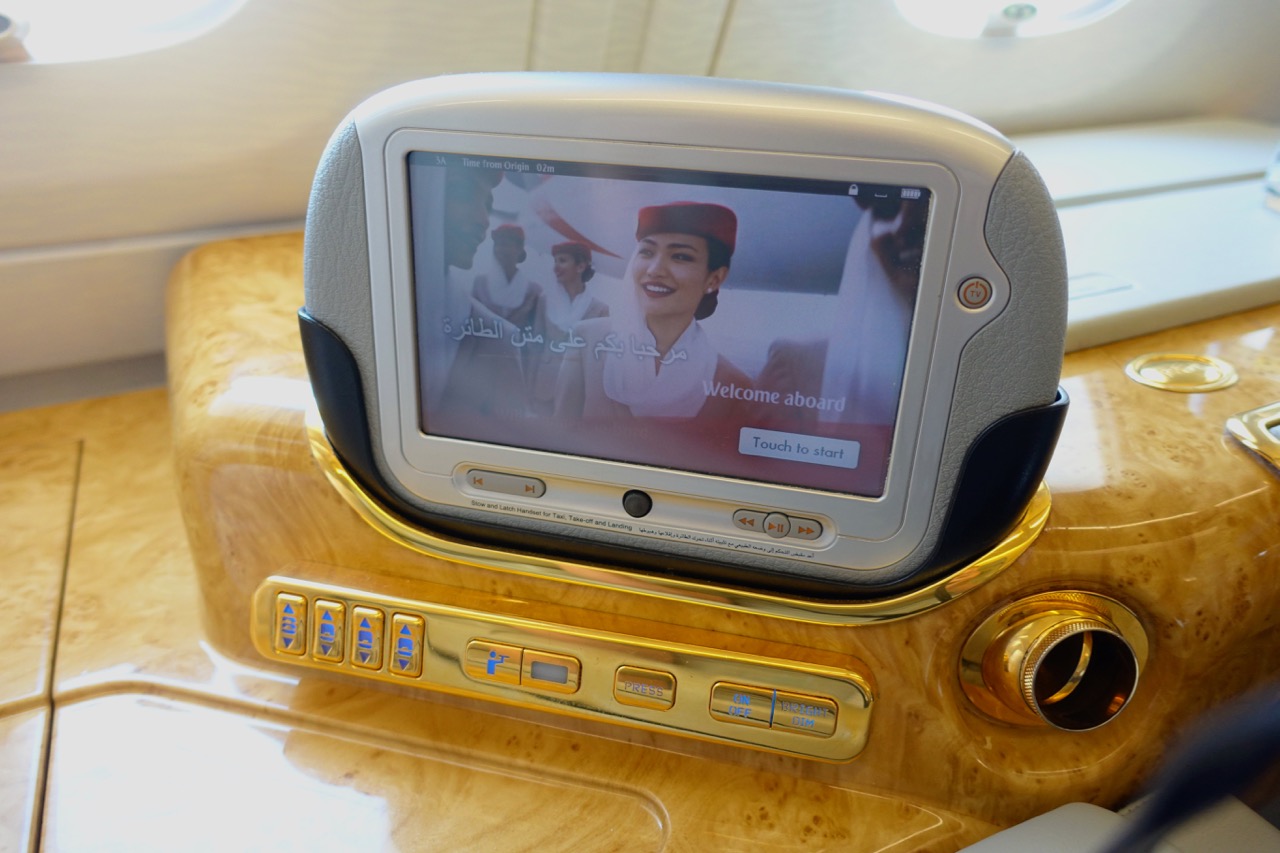 There are two USB chargers and a range of air vents you can tweak to keep yourself cool.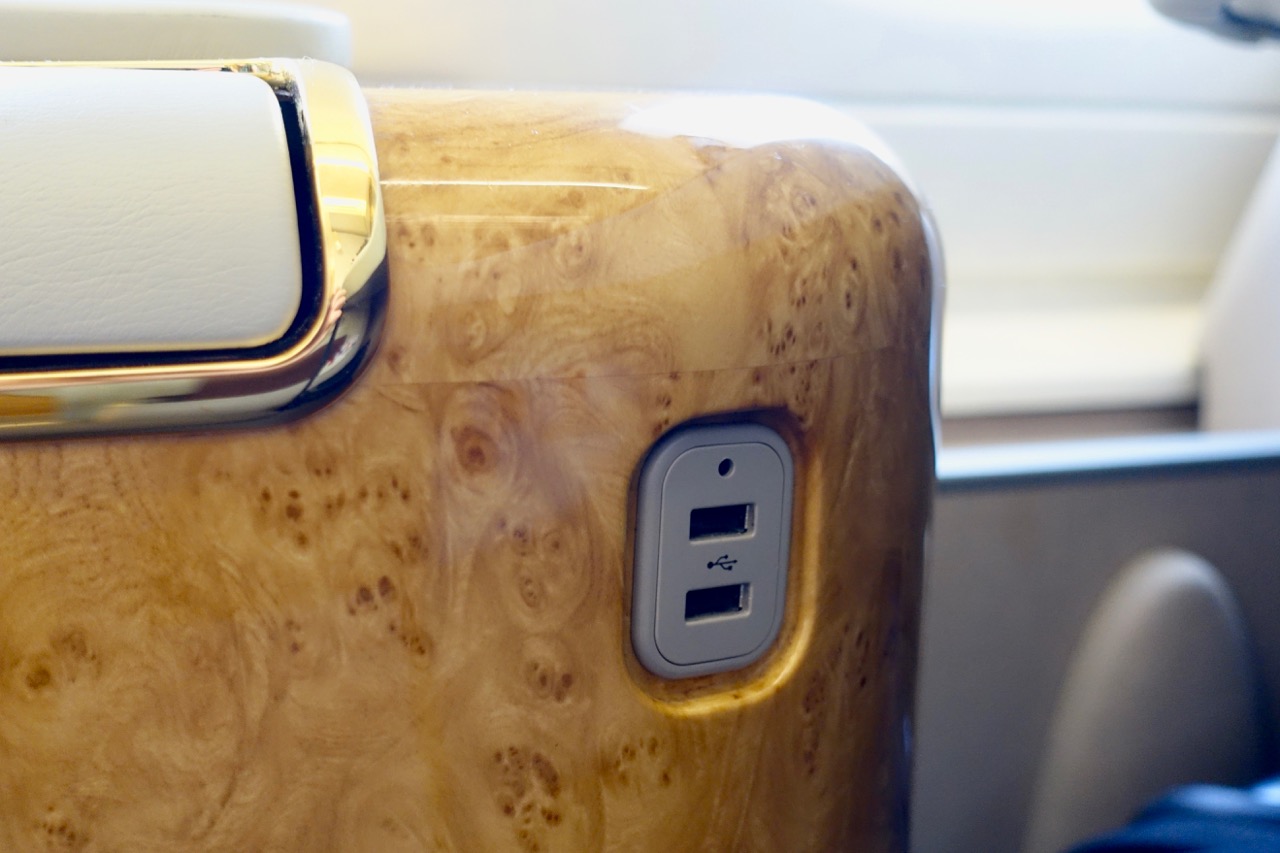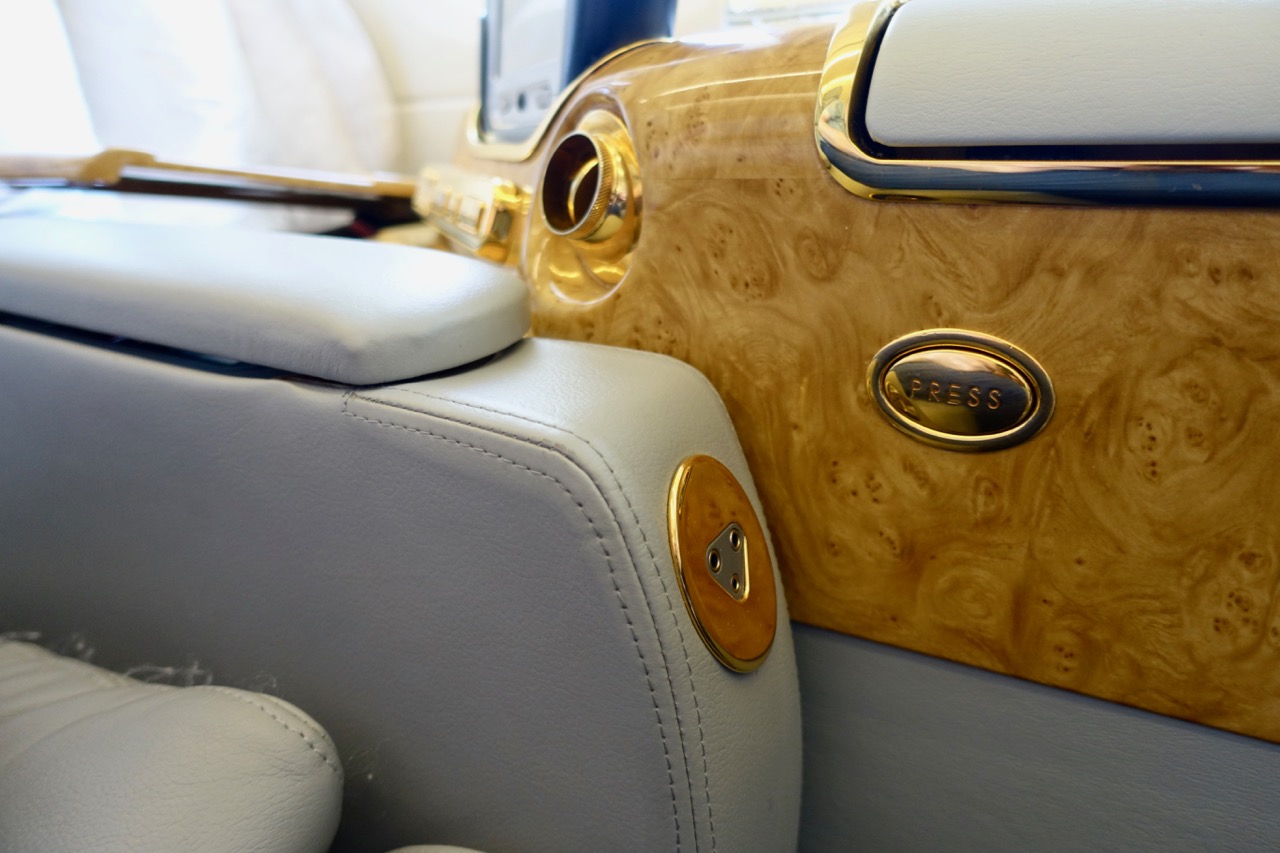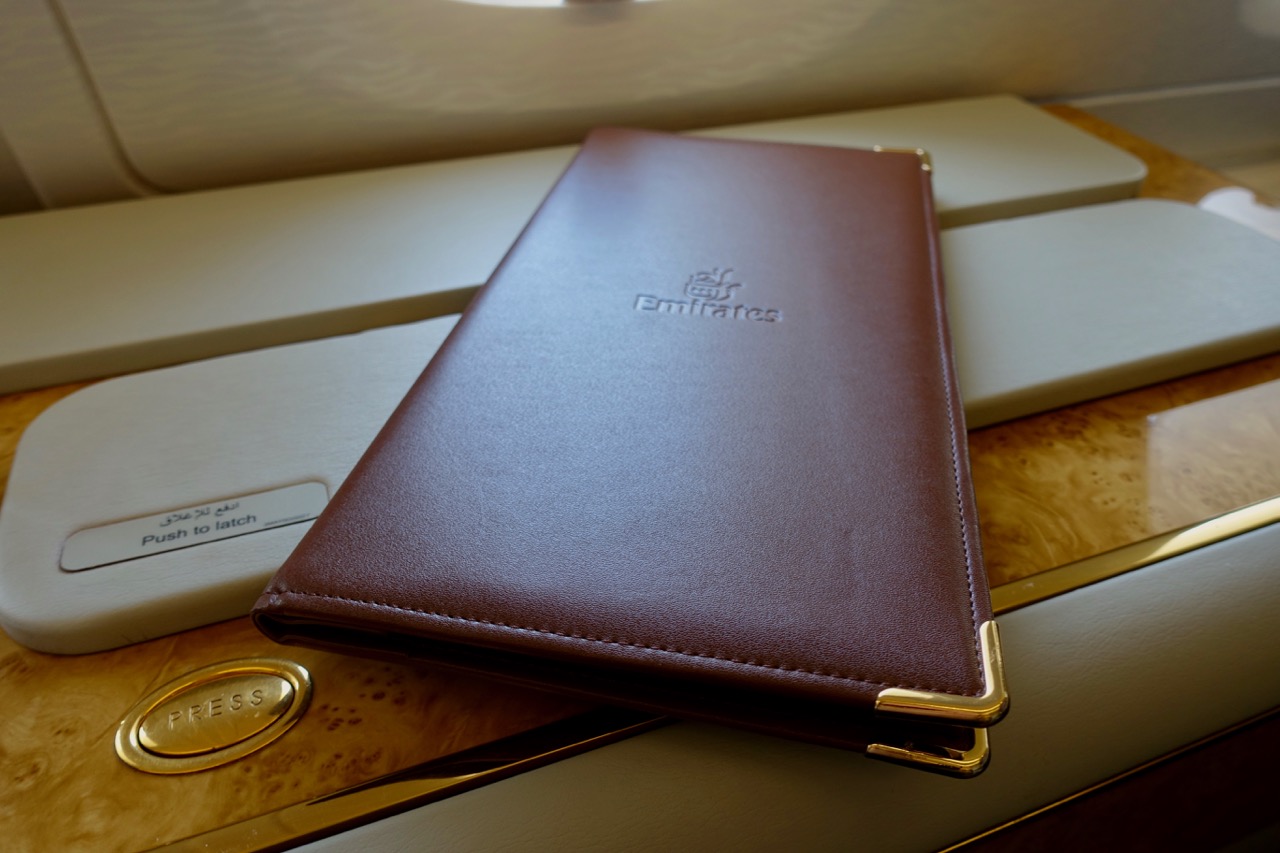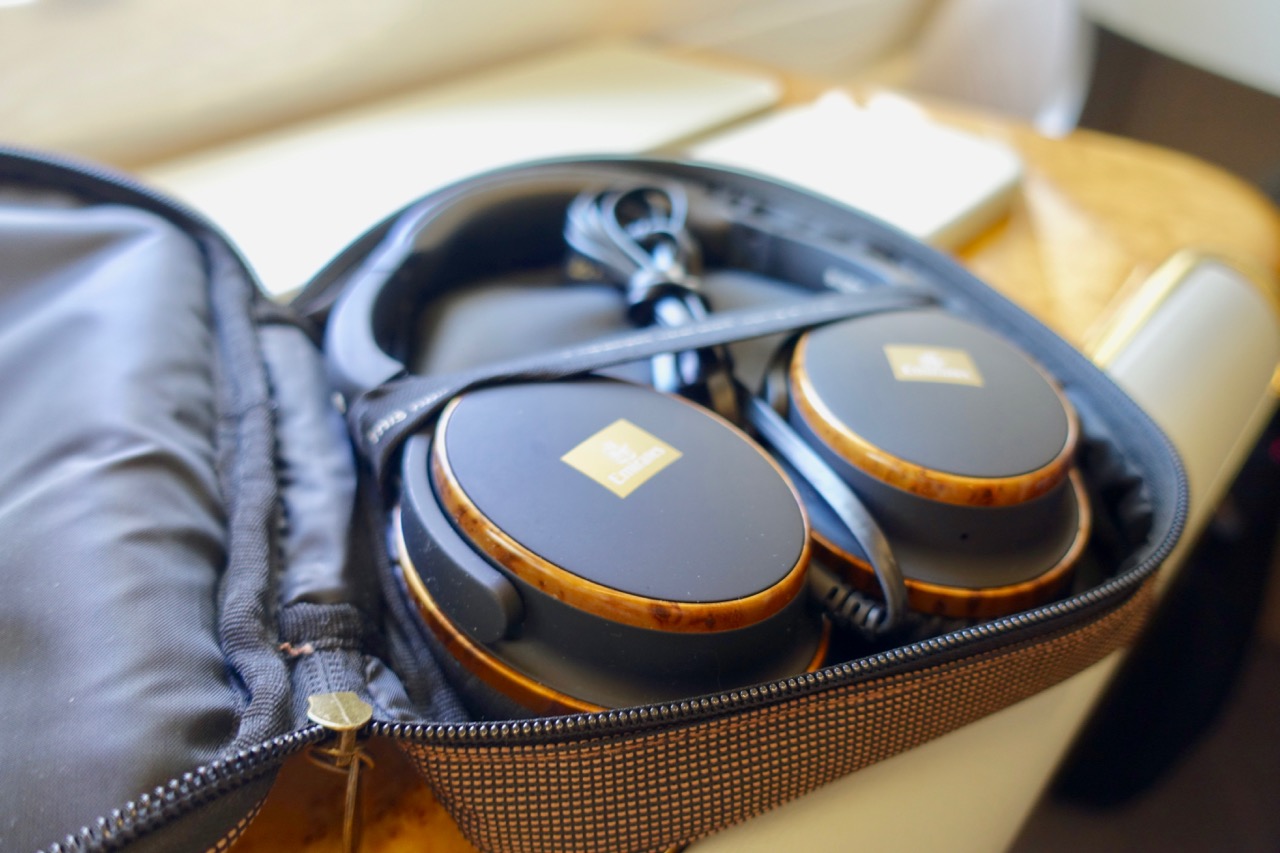 Each seat comes with a full plug you can use to charge your laptop, camera or other devices that USB can't handle.
Service: Food & Drink
Of course, the dining and drinking is where Emirates First Class really differentiates itself to travelling in Business Class. First, there's the snack basket which remains by your side for the whole flight (except duringtake-off and landing.)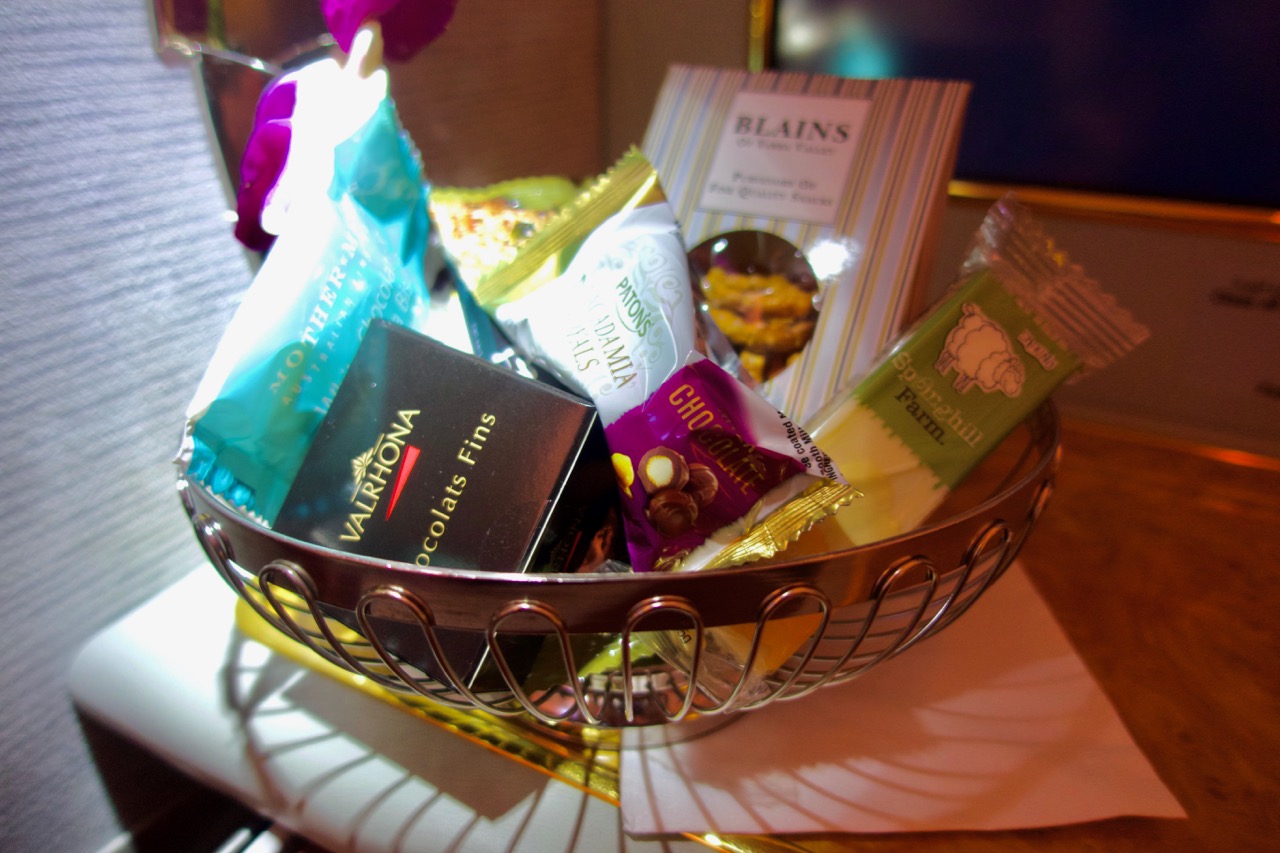 Then it is full à-la-carte, on-demand dining.
Choose any dish, any time you like. This is actually part of the challenge of travelling in First – you need to think about what you'd like to eat, and when, and plan accordingly. It is otherwise tempting to either eat at the wrong time or order too much or too little.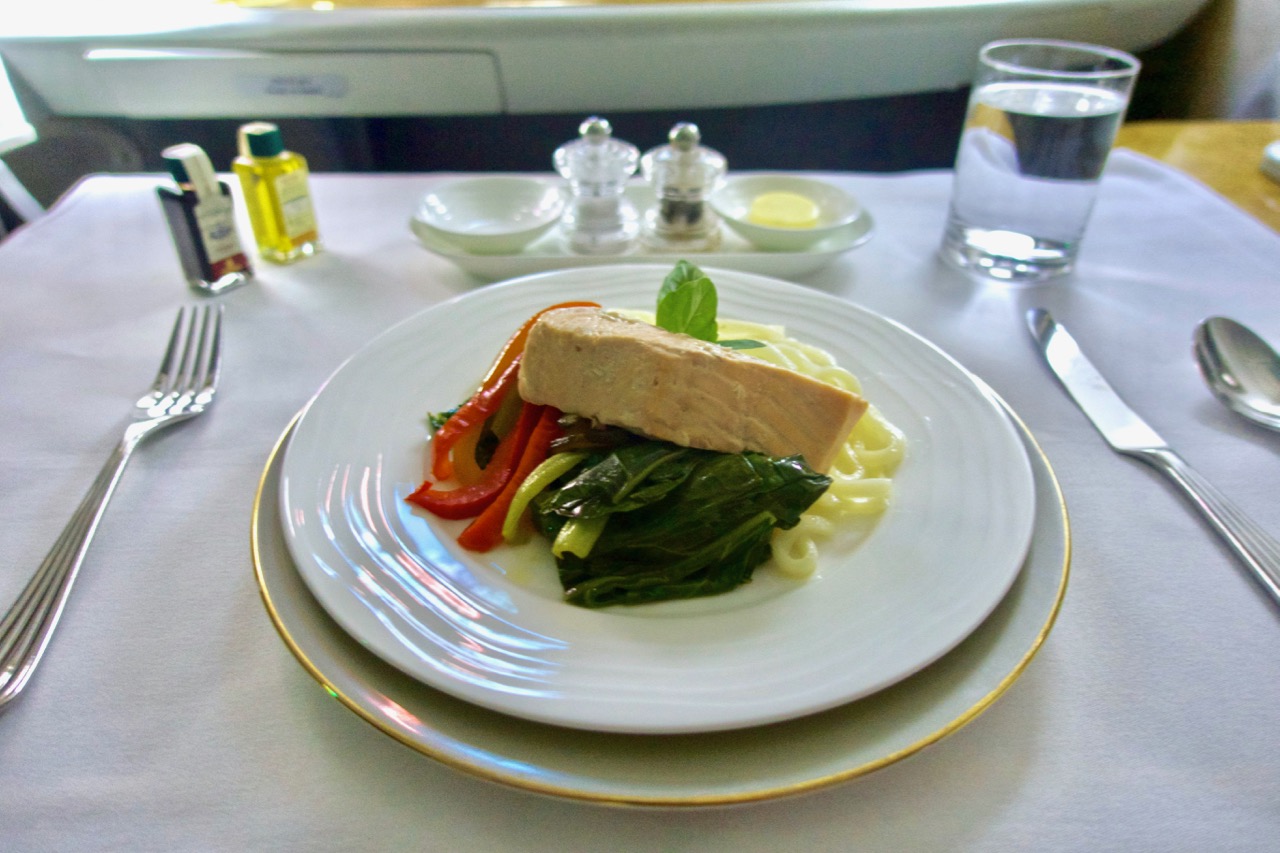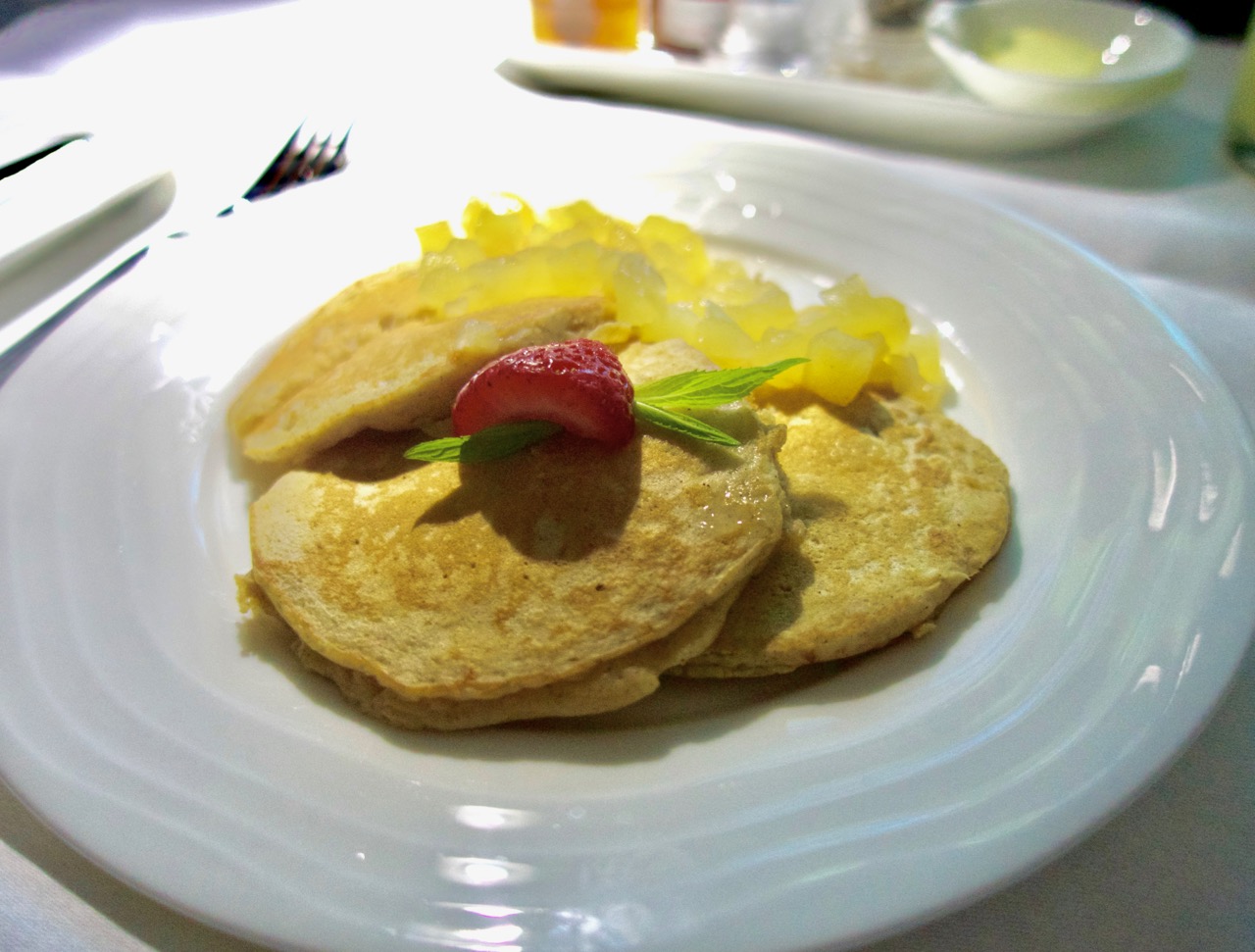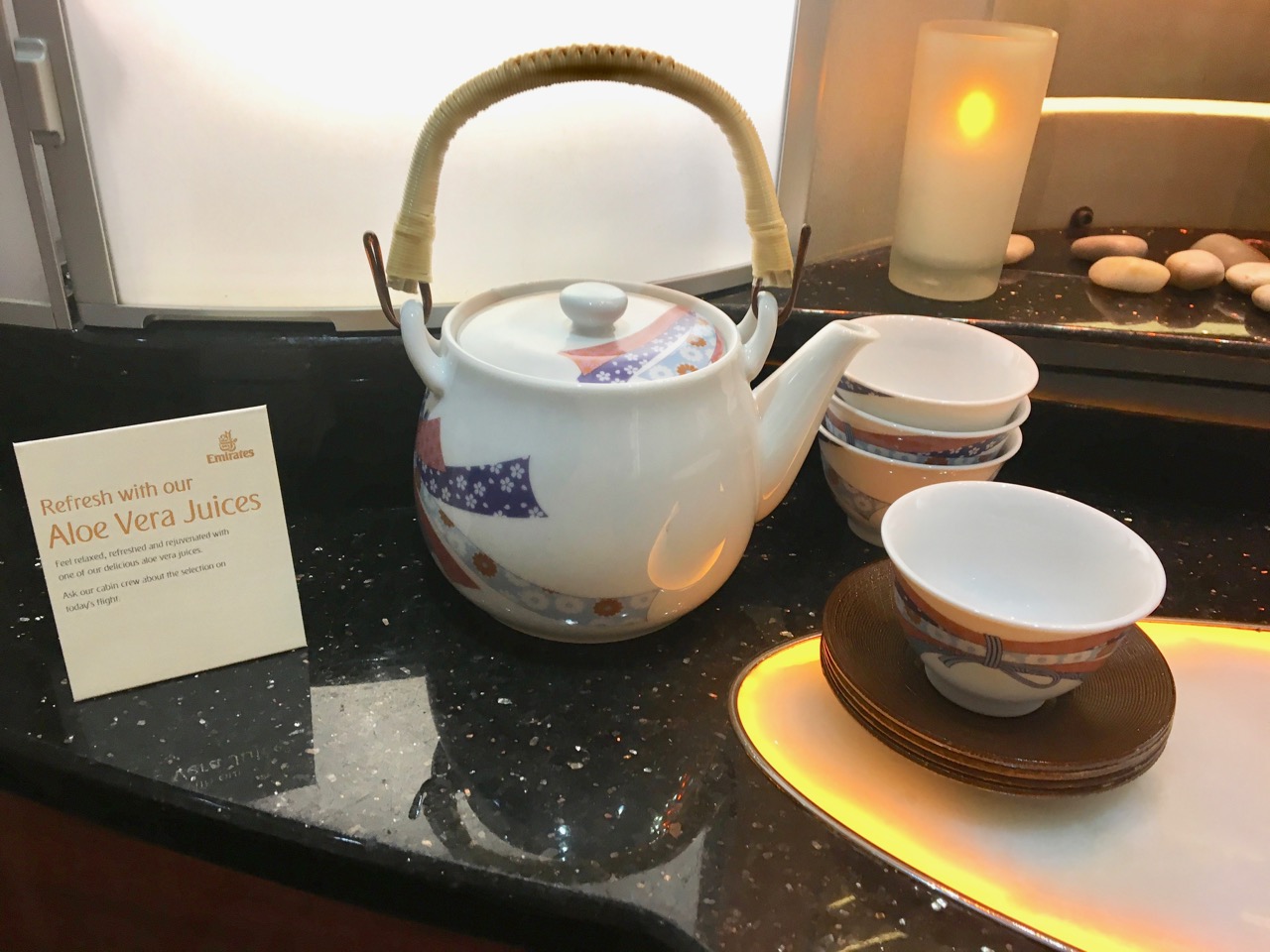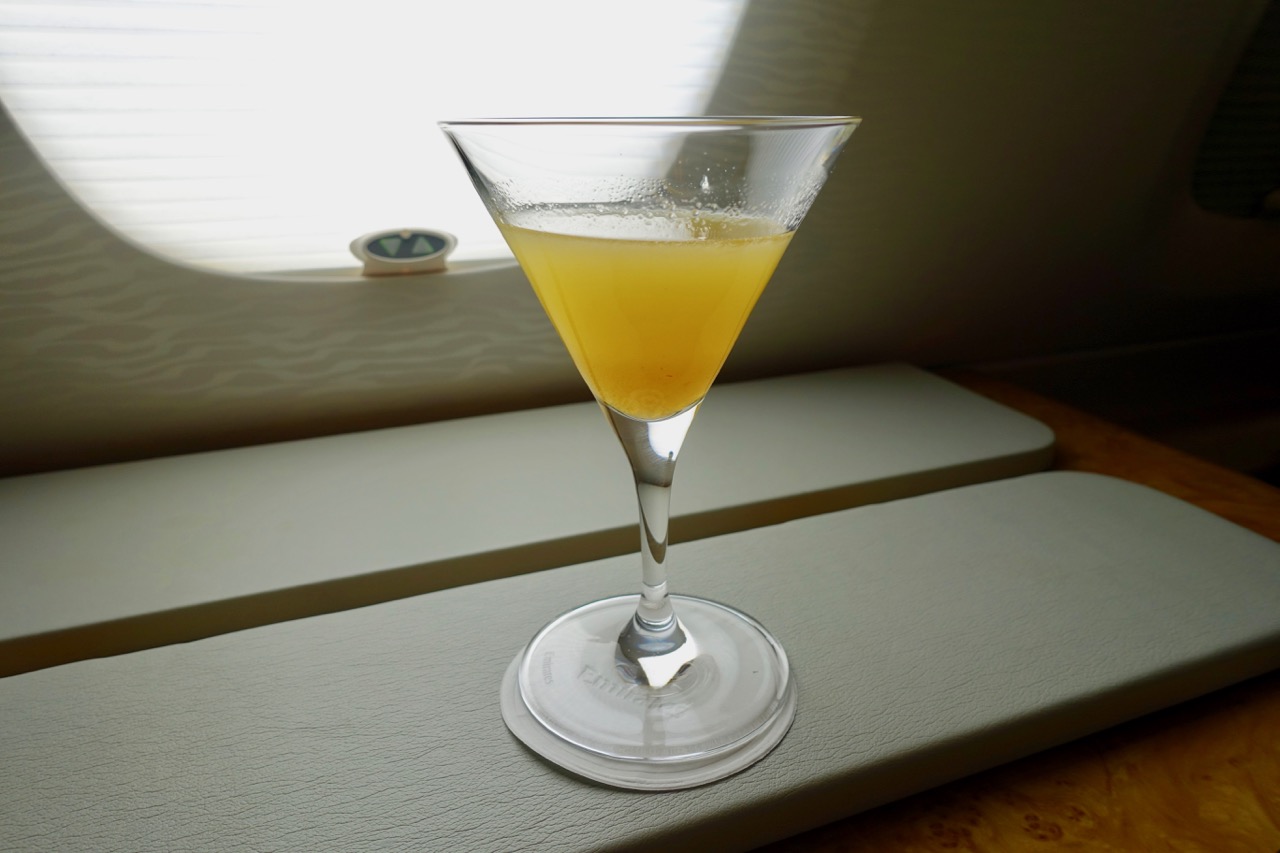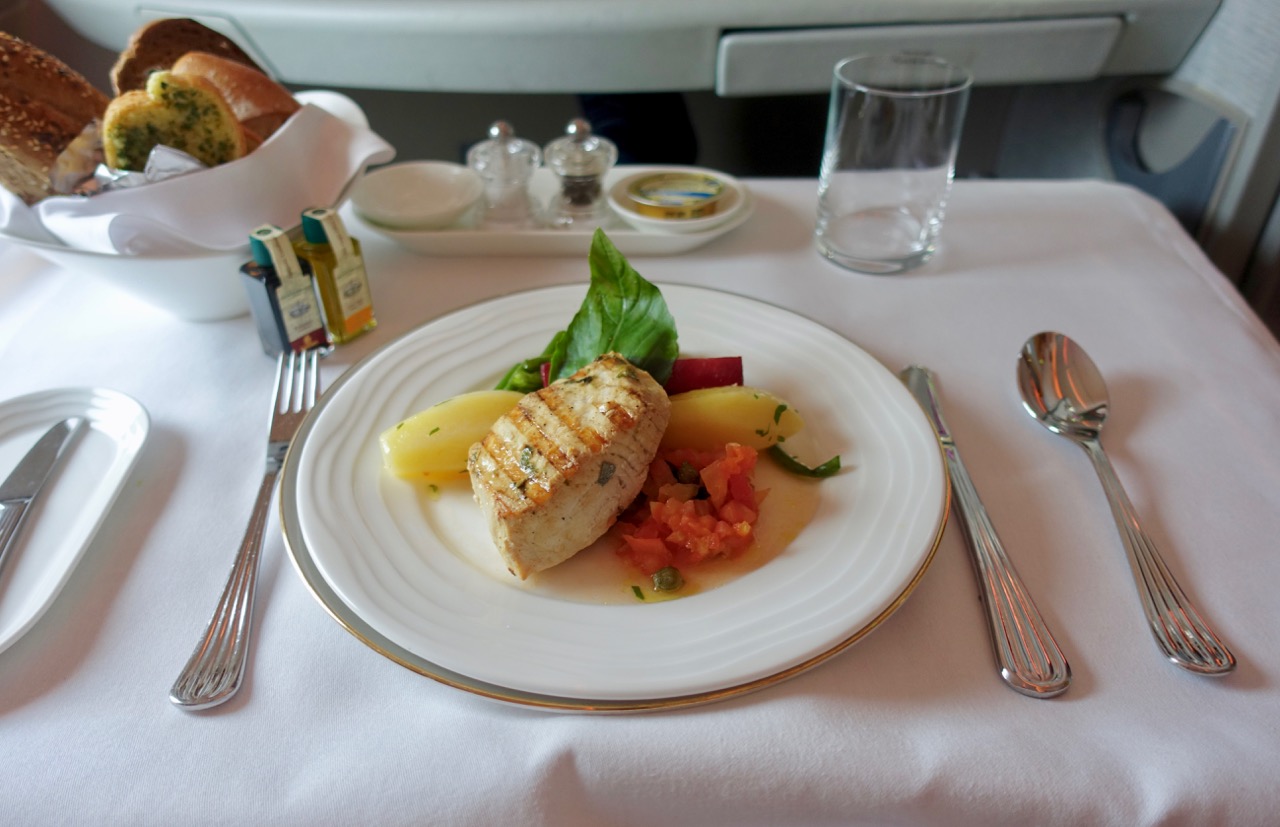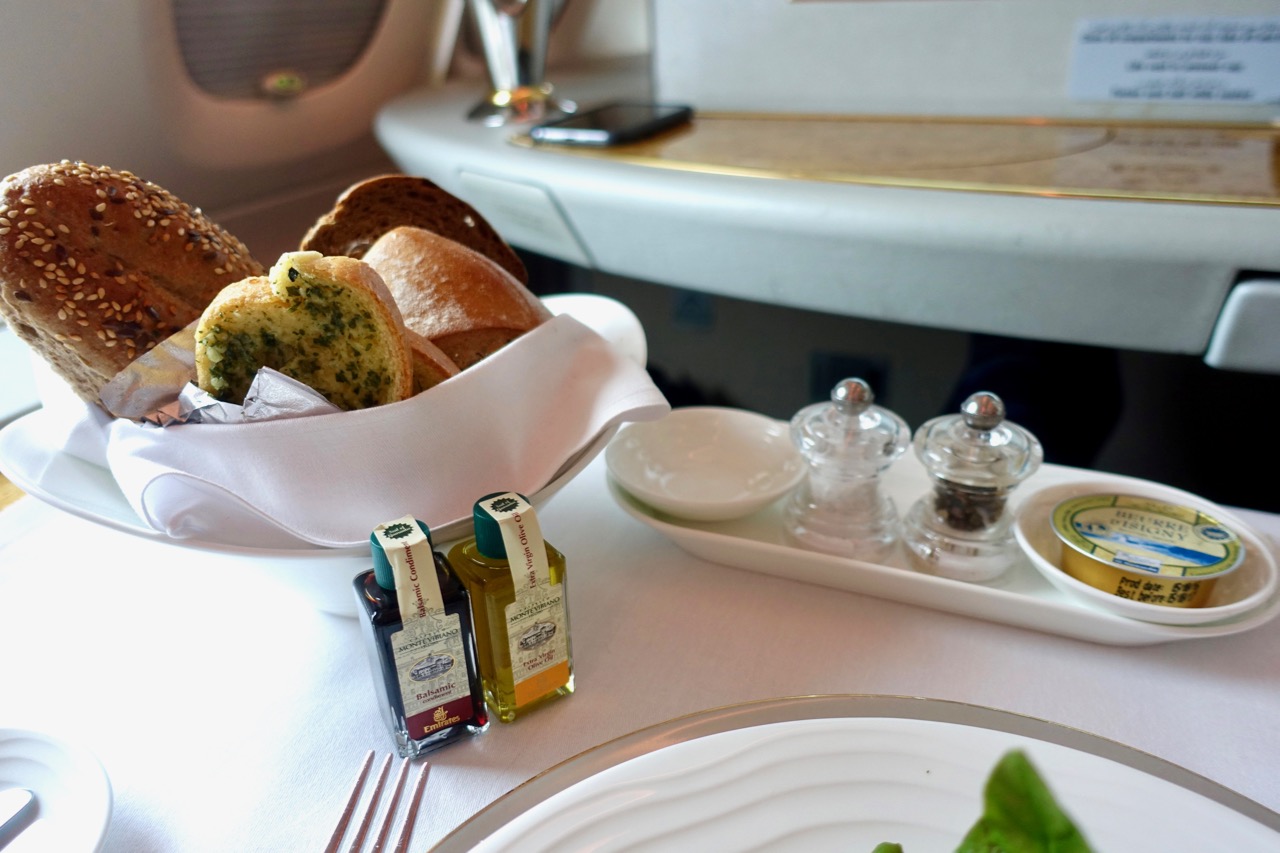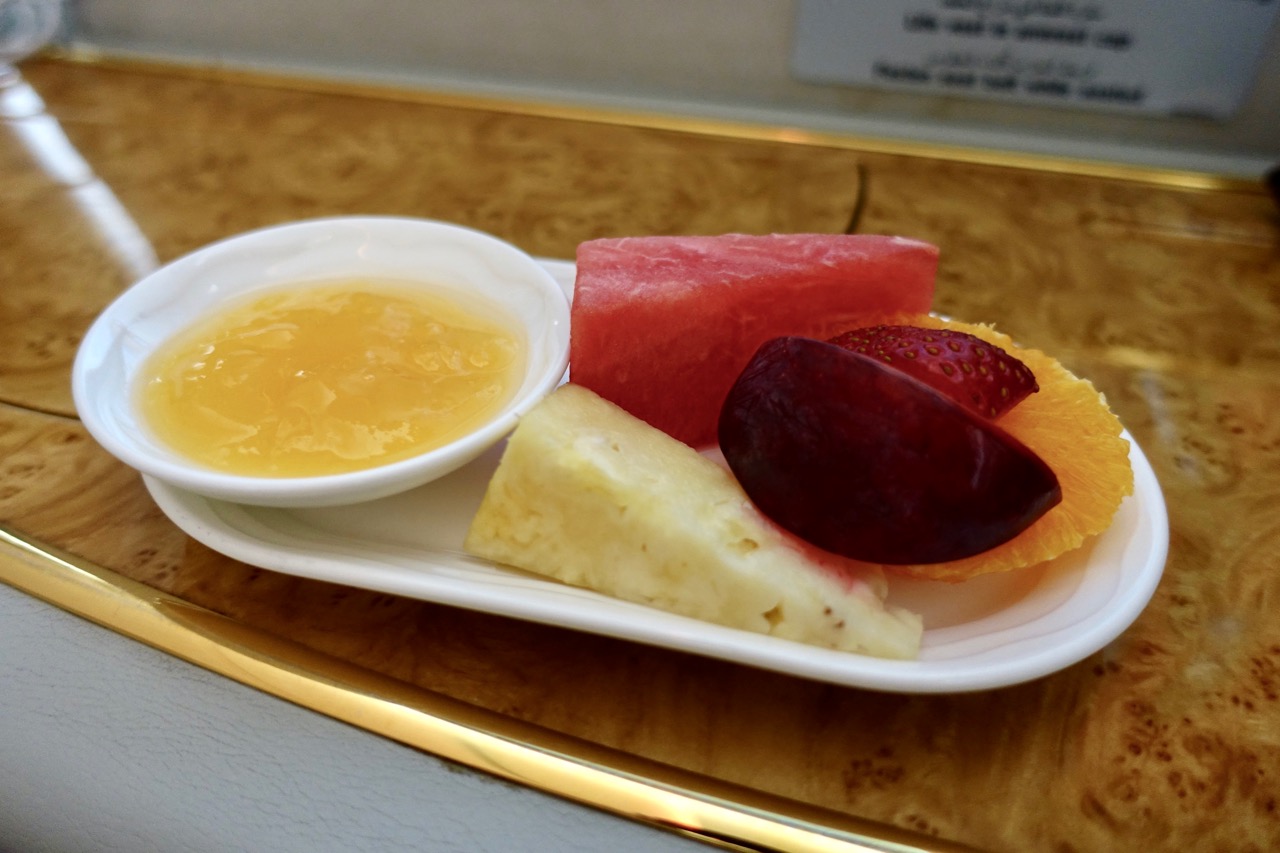 Onboard Bar
Located at the back end of the upper deck behind the Business Class cabin is the bar, which is a great 'escape' – or change, at least – from the privacy and relative isolation of your First Class seat. Here you can chat with fellow passengers from Business or First Class and order a drink or collect a couple of canapés.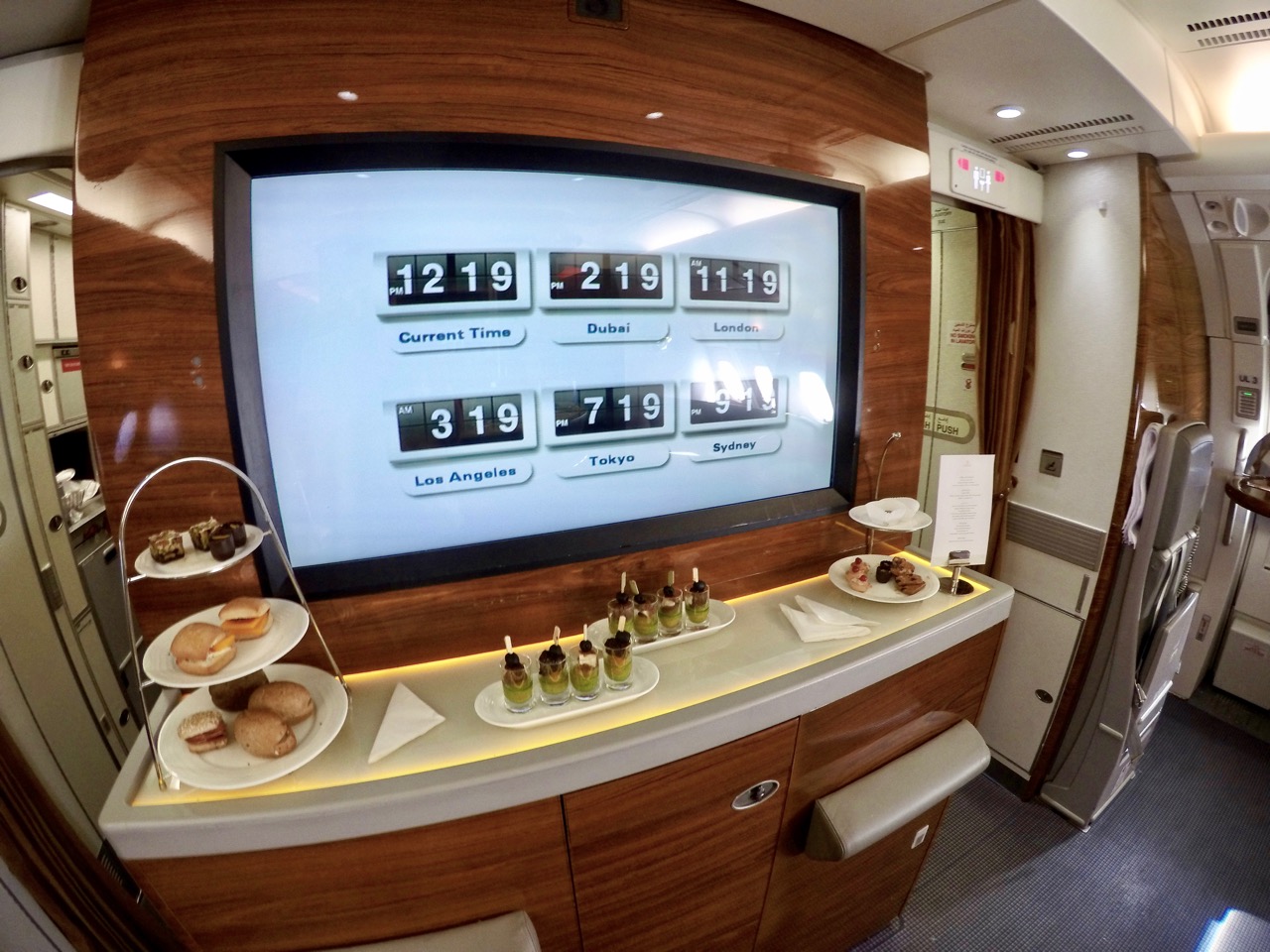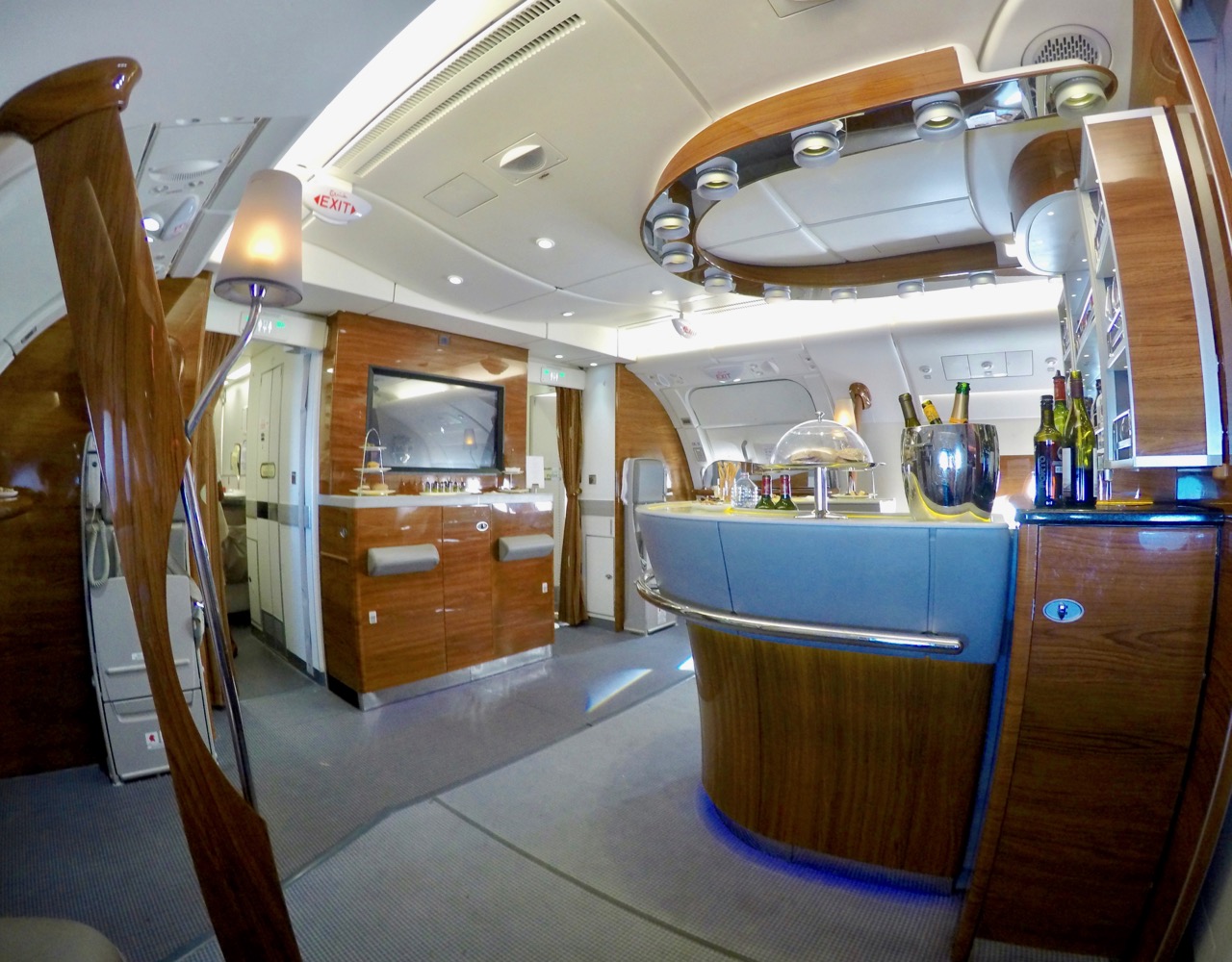 Read here to know which airlines have the best onboard bars.
Onboard Shower Suite & Bathroom
The most unique aspect of the Emirates A380, in my opinion, is the ability to have a shower on-board as a First Class passenger. It is an amazing way to refresh yourself mid-flight or upon waking.
Each passenger receives five minutes of hot water, which you can stop and start as you see fit, and up to about 30 minutes in the shower/bathroom, which is so vast that you could take lay down and take a nap (not advisable though.)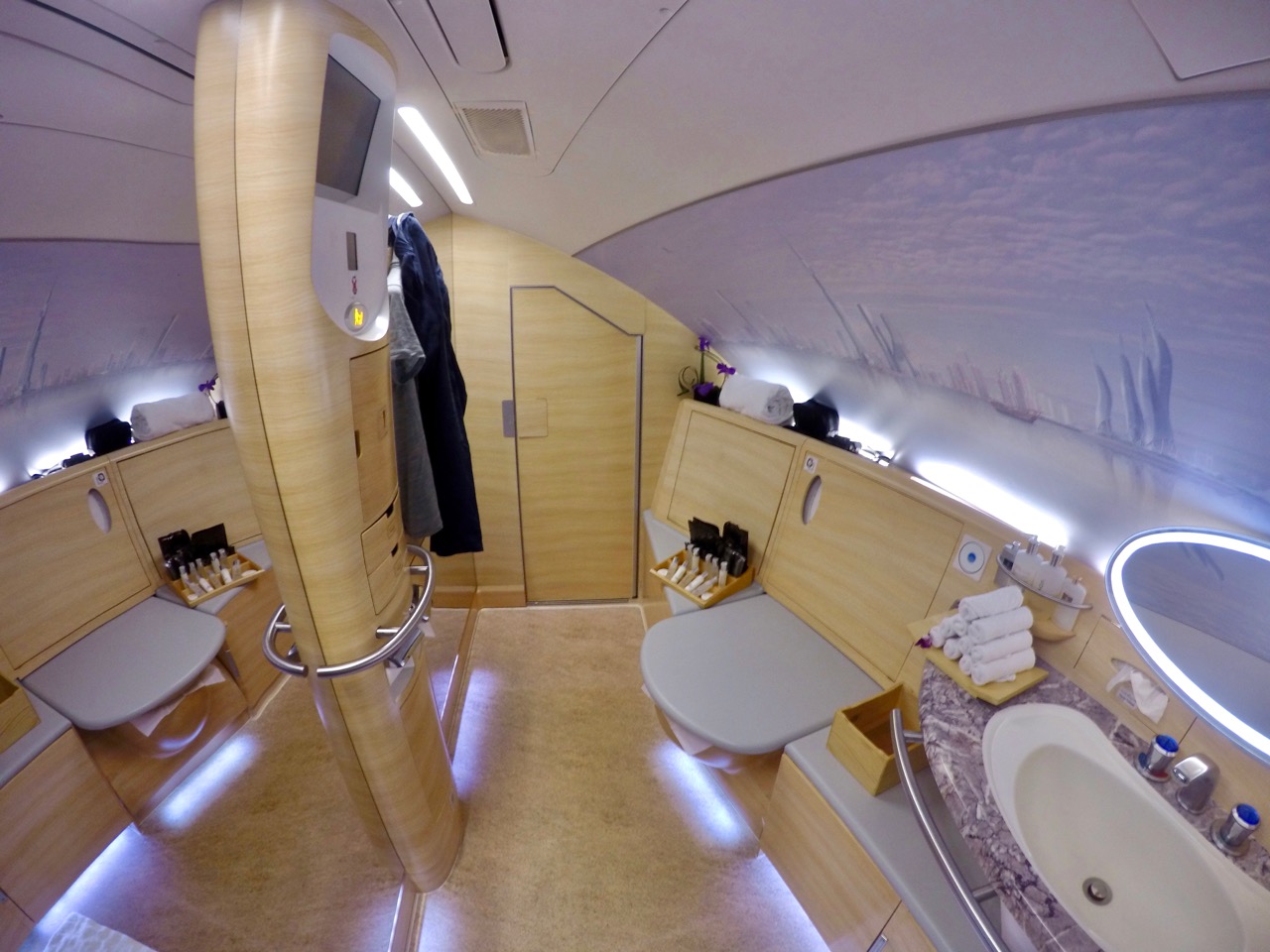 There are two shower suites at front of cabin and it is advisable to make an appointment with the cabin crew if you know when you'd like a shower and the cabin is relatively full. If not, don't stress and just go when it makes most sense for your journey.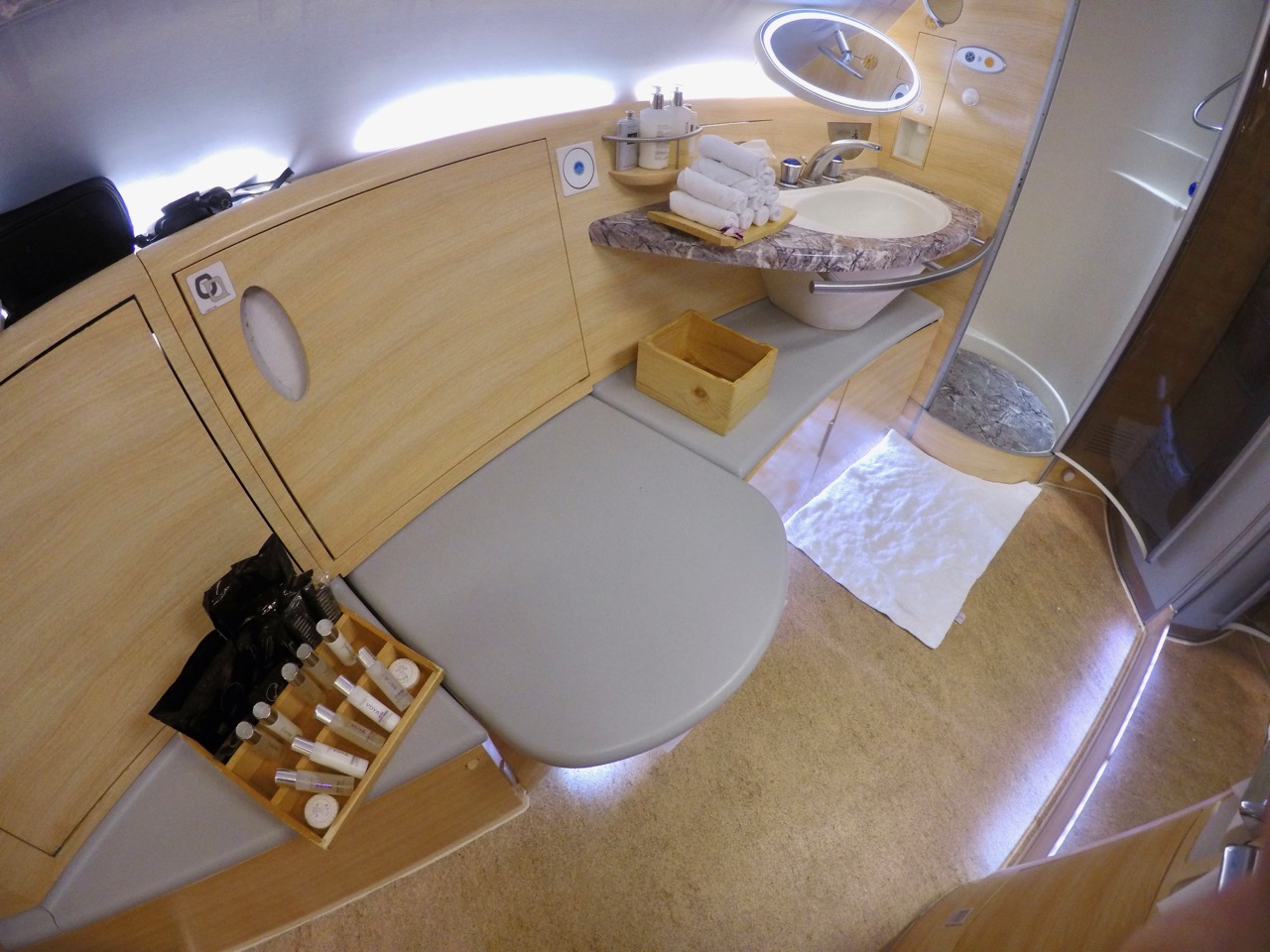 If you're on a one-stop flight to somewhere via Dubai, then that means two showers, one for each flight. I don't think I've ever arrived at a destination so clean, to be honest.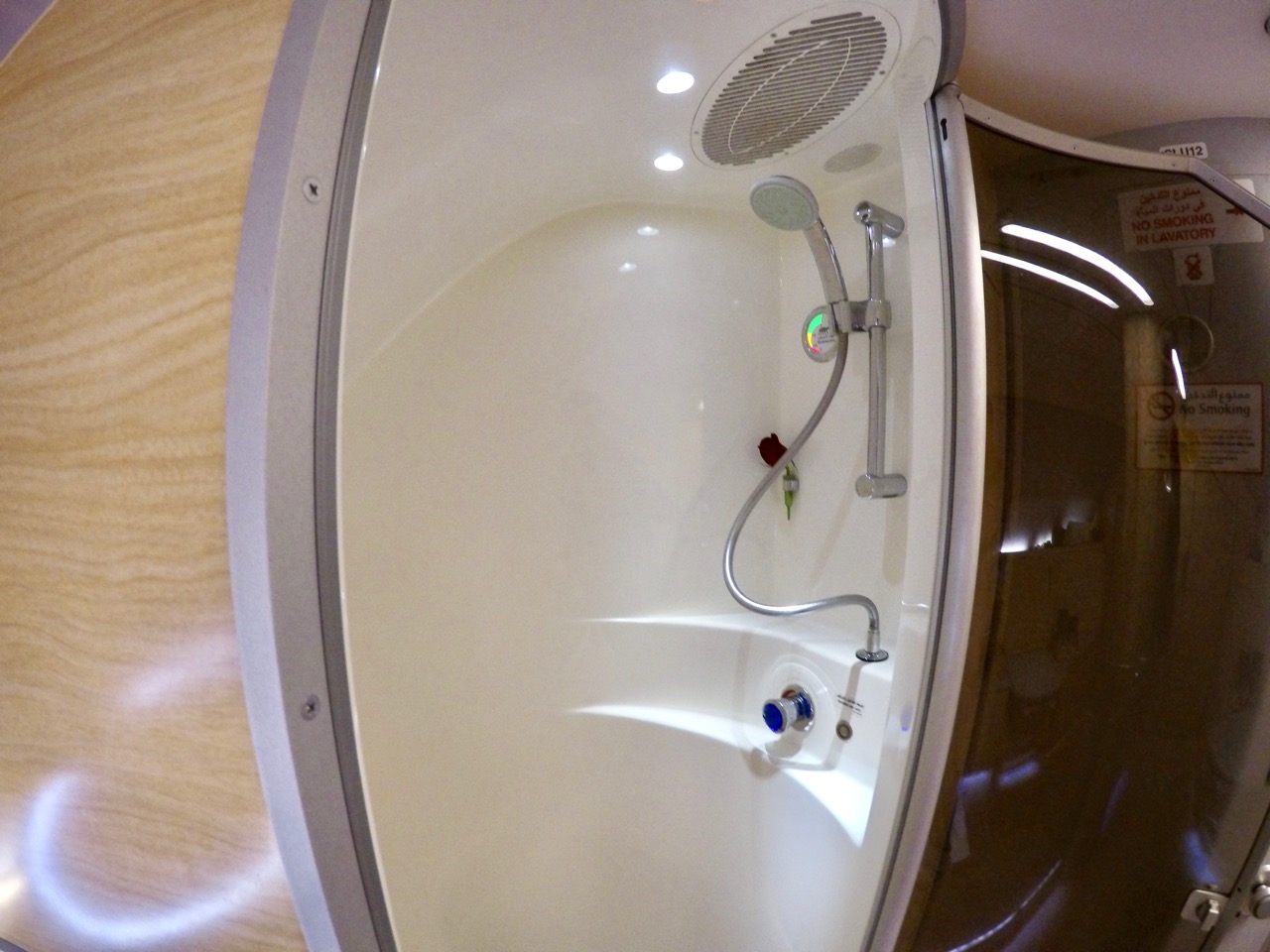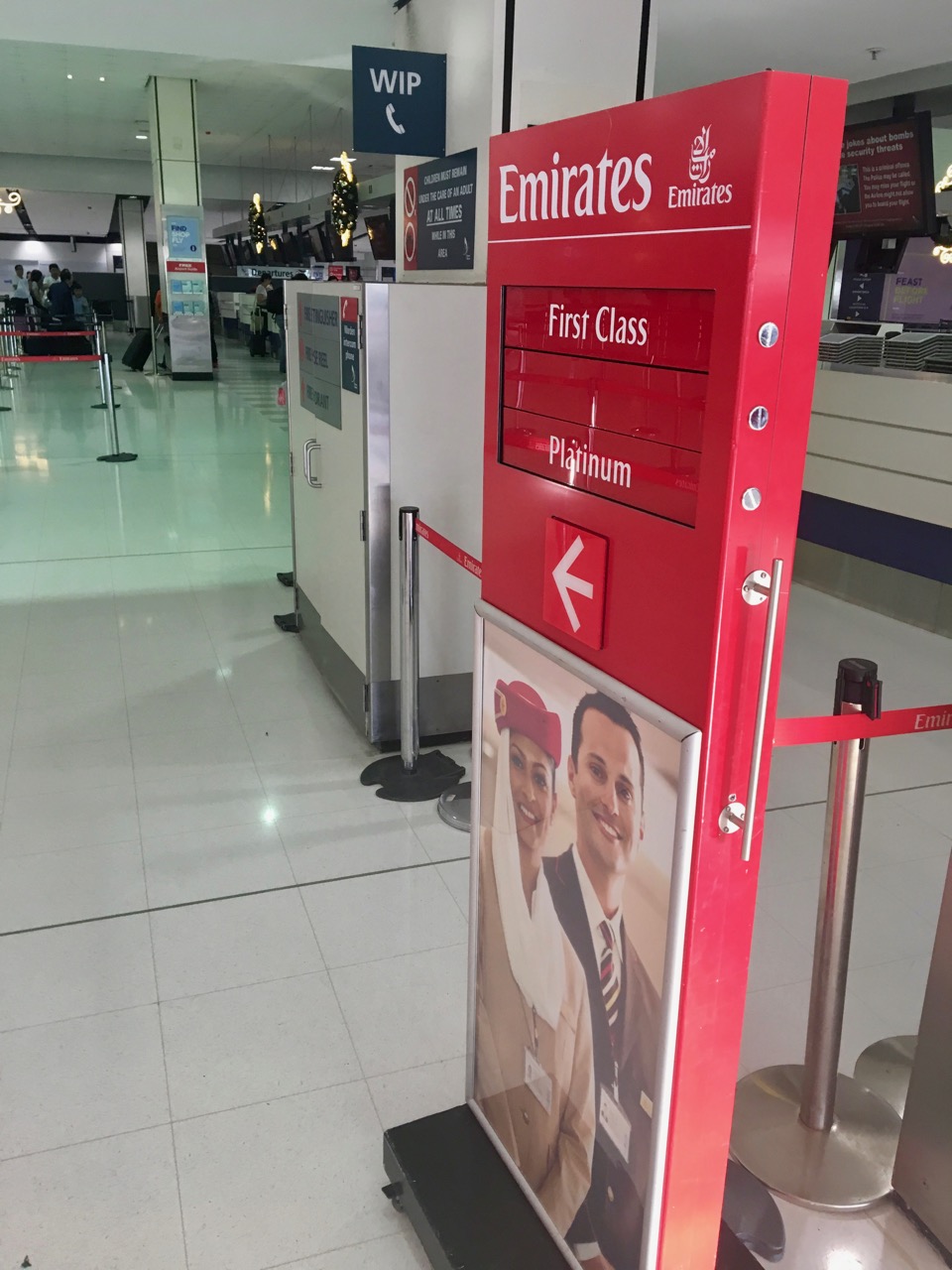 How to redeem points for this flight
By collecting Qantas Points, you get access to redeem them for one of the less 'available' redemptions out there.
Emirates don't partner with many frequent flyer programs and are not part of a formal alliance like oneworld, so Qantas Points are one of the key currencies with which you can book Emirates flights.
Note that redemptions on Emirates (a 'preferred' Qantas partner) are cheaper than on airlines like Qatar Airways, Cathay Pacific and British Airways.
Also note that due to the changes to the Qantas Frequent Flyer program on June 2019, Qantas Points requirement for this redemption increased from 18 September 2019 onwards.
Here is a sample of the points required for common routes:
From
To
Qantas Points
(until 17 Sept. 2019)
Qantas Points
(From 18 Sept. 2019)
Sydney
Christchurch
54,000
62,200
Bangkok
Dubai
75,000
85,500
Melbourne
Singapore
90,000
102,600
New York
Milan
90,000
102,600
Sydney
Bangkok
90,000
102,600
Perth
Dubai
108,000
123,100
Perth
Moscow
144,000
162,800
Brisbane
London
192,000
216,900
Melbourne
Barcelona
192,000
216,900
Perth
New York
192,000
216,900
Brisbane
Johannesburg
192,000
216,900
You can also experience the A380 First Class on some of the cheapest First Class flights to redeem Qantas Points for when flying from Riyadh to a number of cities in the Middle East.
If you are wanting a stopover of 24 hours or more, perhaps in Dubai or a transit city like Singapore, you'll have to make two separate award redemptions.
Qantas calculates distance based on the sum of each individual segment, e.g. Brisbane – Dubai – Johannesburg, rather than simply origin-to-destination, e.g. Brisbane – Johannesburg.
You can search and book easily on qantas.com, with full instructions in the guide below:
A less-common but good-value way to make an Emirates redemption is by buying Marriott Bonvoy Points and transferring them to Japan Airlines Mileage Bank.
Lounge Access
As an Emirates First Class passenger, you'll get access to any Emirates Lounge in Dubai or around the world.
Through their partnership, you can also access the Qantas International First Lounges in Sydney and Melbourne, and the Qantas International Lounge in Brisbane, Singapore and Hong Kong. Emirates First Class passengers cannot access the Qantas International First Lounges in Auckland or Los Angeles.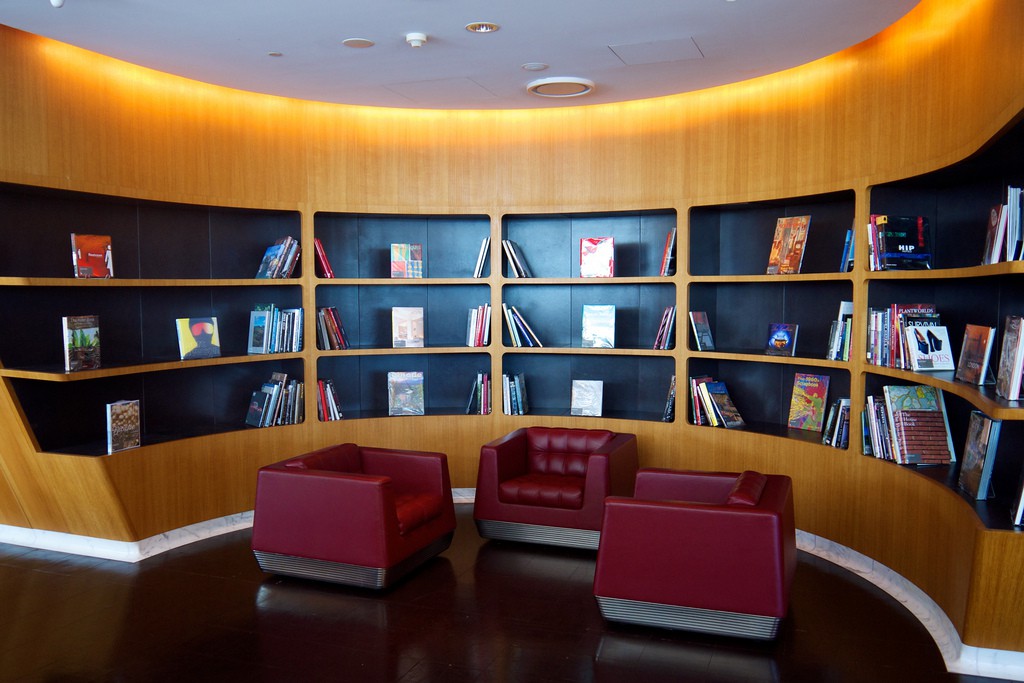 Qantas International First Lounge Sydney
Here are our recommendations for common airports: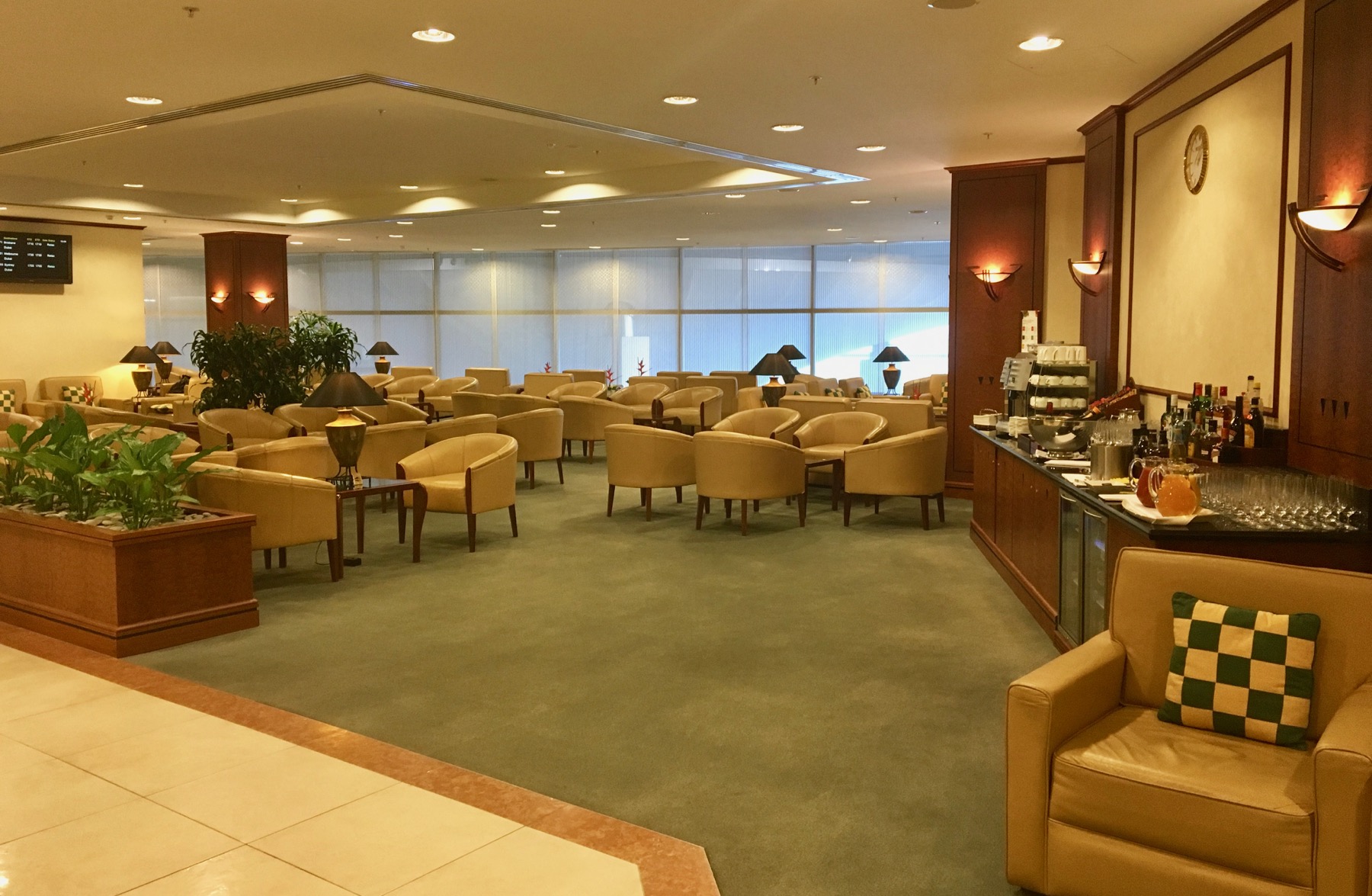 Emirates Lounge Auckland
Here is a full list of Emirates, Qantas and other partner lounges.
Other Reviews
Here are our reviews of Emirates flights:
and competing products from other airlines to Middle East and Europe:
Summing up: why choose this flight?
Emirates First Class is ideal for anyone with a growing Qantas Point balance who spies points redemption availability and can justify spending more points on the First Class experience.
I'd argue it's a totally luxurious, but unnecessary way to travel vs Business with everything else about your itinerary being equal. For most people, Emirates Business Class would be a great experience, with thousands of points saved.
However, sometimes only First Class is available for points redemptions, or if your points balances need using up, then why not?
There is nothing I would criticise about Emirates A380 First Class. The cabin is not necessarily to my (and many others') taste but you can't argue with the comfort, dining and service on offer, and the fact that we can redeem Qantas Points for Emirates flights – one of the few currencies that make this possible – makes it a key way to use up your Qantas Points balances.
Read our comparison of Emirates and Etihad A380 First Class cabins here.
Emirates A380 First Class overview: one of the better and most unique uses of Qantas Points
was last modified:
February 16th, 2022
by