Emirates is betting big on Premium Economy Class, with plans to introduce the cabin aboard over 100 aircraft by 2024. That's yet another way to jet across the globe in style using your Qantas Points or Skywards Miles!
Emirates will bring its better-than-Economy experience to 53 Boeing 777 jets. It'll also install Premium Economy Class on a further 52 Airbus A380s.
This swarm of 105 jets joins six superjumbos sporting Premium Economy Class by the end of 2021. Works to install these new seats across that broader fleet will begin in late 2022. That's when Australian travellers may first get to experience Emirates' Premium Economy Class.
Emirates is investing in this retrofit programme to ensure that we continue to serve our customers' needs, and provide the best experiences in the sky. Since we introduced our Premium Economy seats a year back, we've received a hugely positive response. Customers have been amazed by the quality and comfort.

As Emirates has done with our signature First, Business and full-service Economy travel experiences, we intend to further develop our Premium Economy into a distinctive Emirates experience that is unmatched in the industry. We are also considering a brand new Business Class product. More details will be revealed in due course.

– Sir Tim Clark, President Emirates Airline, 16 November 2021
Which Emirates flights will offer Premium Economy Class?
Initially, with just six Airbus A380s carrying Premium Economy Class, getting into the new cabin isn't easy. At first, Emirates is prioritising flights from Dubai to London Heathrow, Frankfurt, New York JFK and Paris. These destinations will all see Emirates' Premium Economy Class by the end of December 2021.
After that, expect to find Premium Economy Class available across more of Emirates' routes. This list should grow as its cabin refurbishments continue across the fleet. By mid-2024, Premium Economy Class should be available across a large chunk of Emirates' global route network. This includes flights between Australia and Dubai.
Emirates is the first of the 'big three' Middle Eastern carriers to offer Premium Economy Class. Here's a quick teaser to whet your appetite!
Emirates' Premium Economy Class seat
Adopting elements of the carrier's new Business Class style, its Premium Economy Class seat is certainly on-brand. Covered in tanned anti-stain leather, the cabin's wood panel finish is distinctly 'Emirates'.
On Boeing 777s, there'll be 24 Premium Economy Class seats across three rows. With a 2-4-2 layout, passengers are only ever one seat away from the aisle at most. The cabin will sit directly behind Business Class, and in front of Economy Class.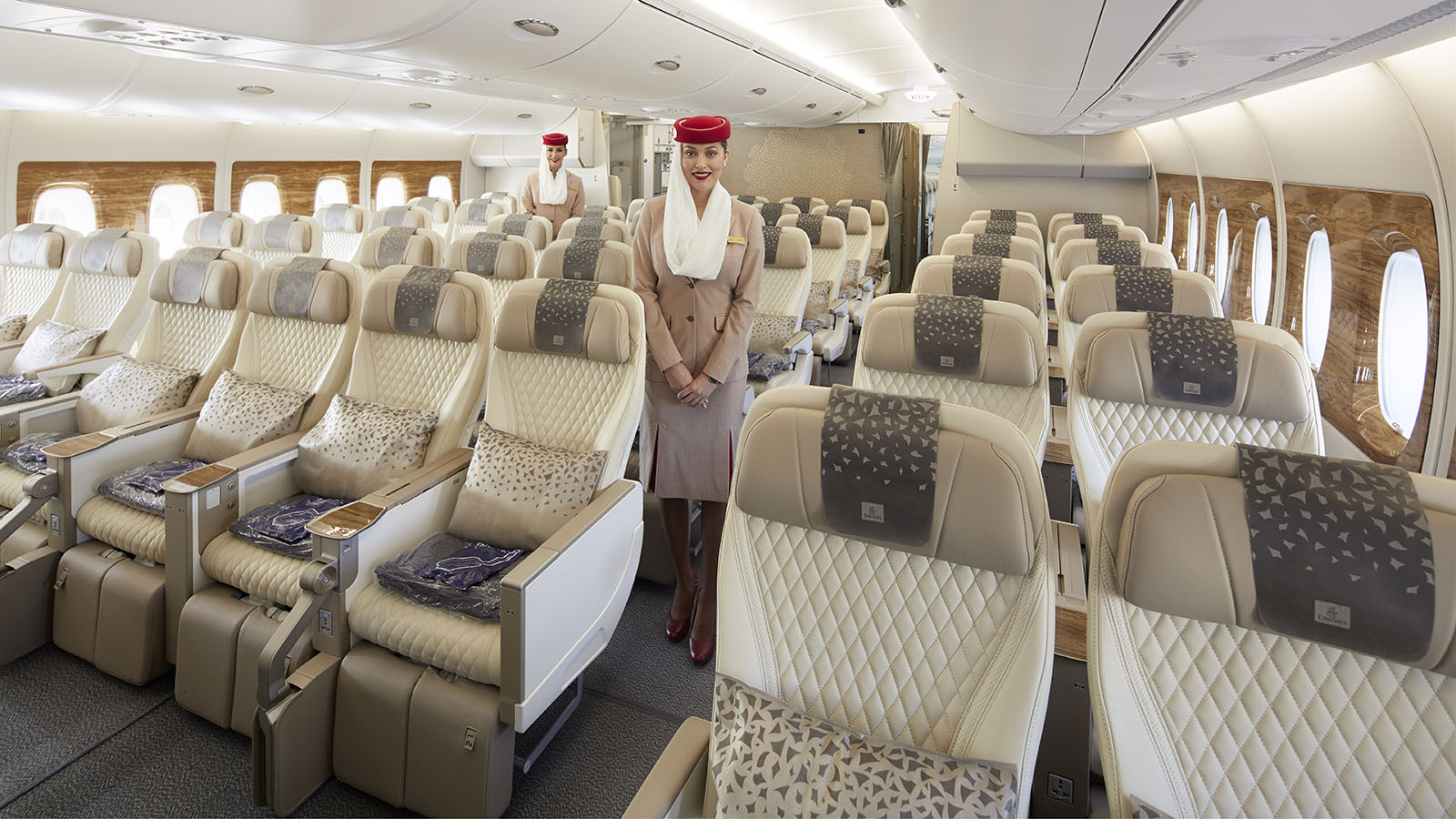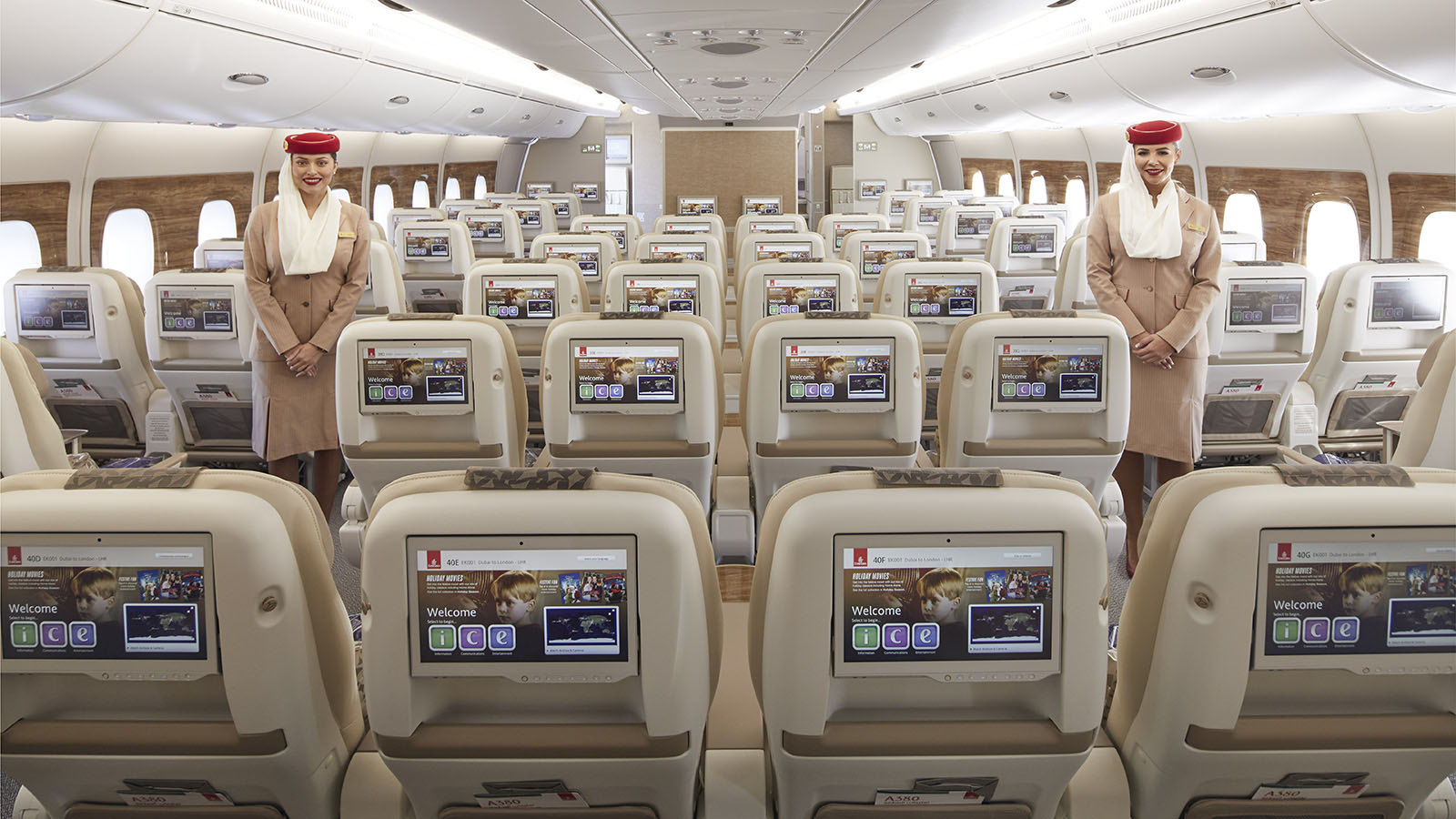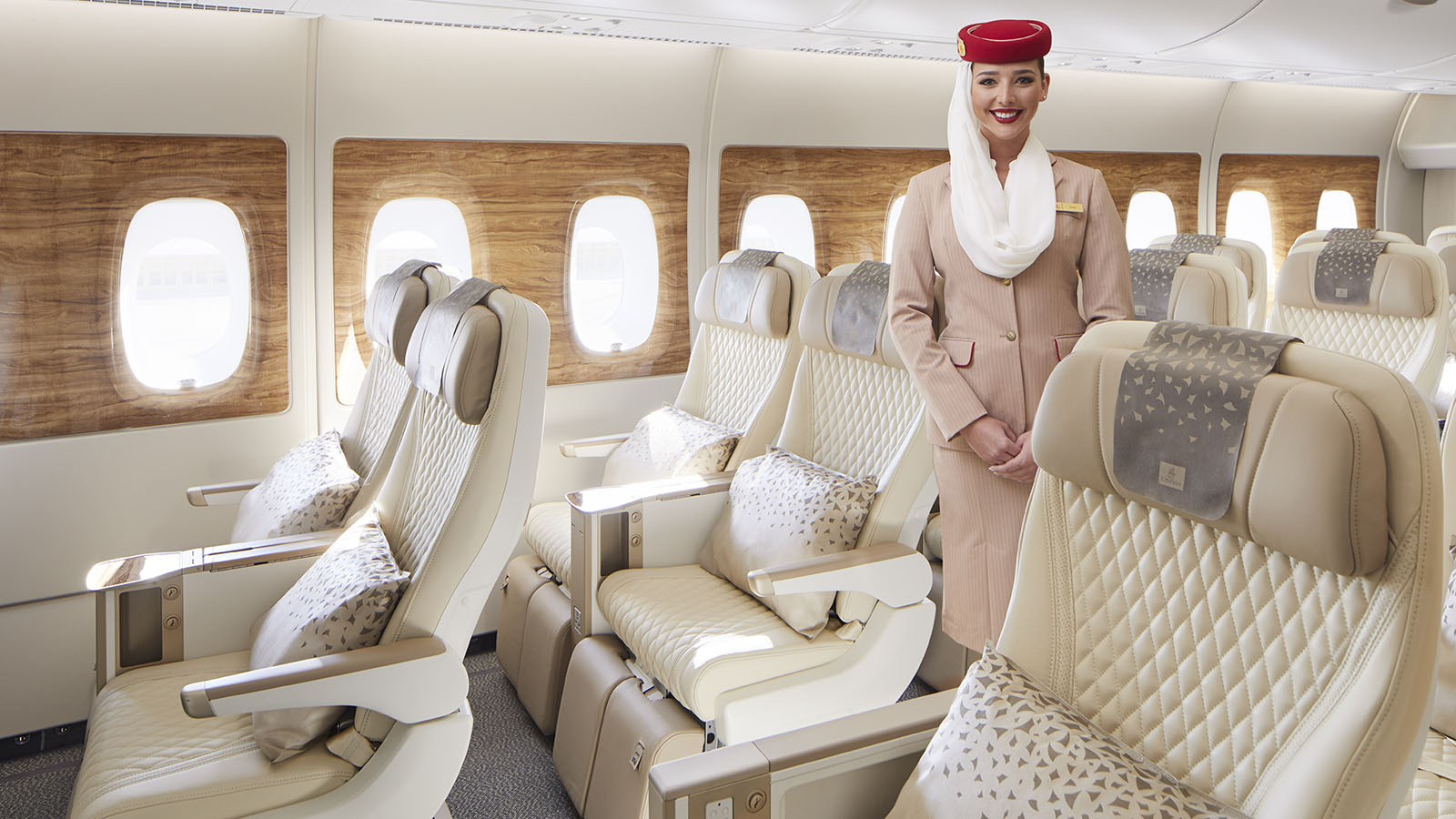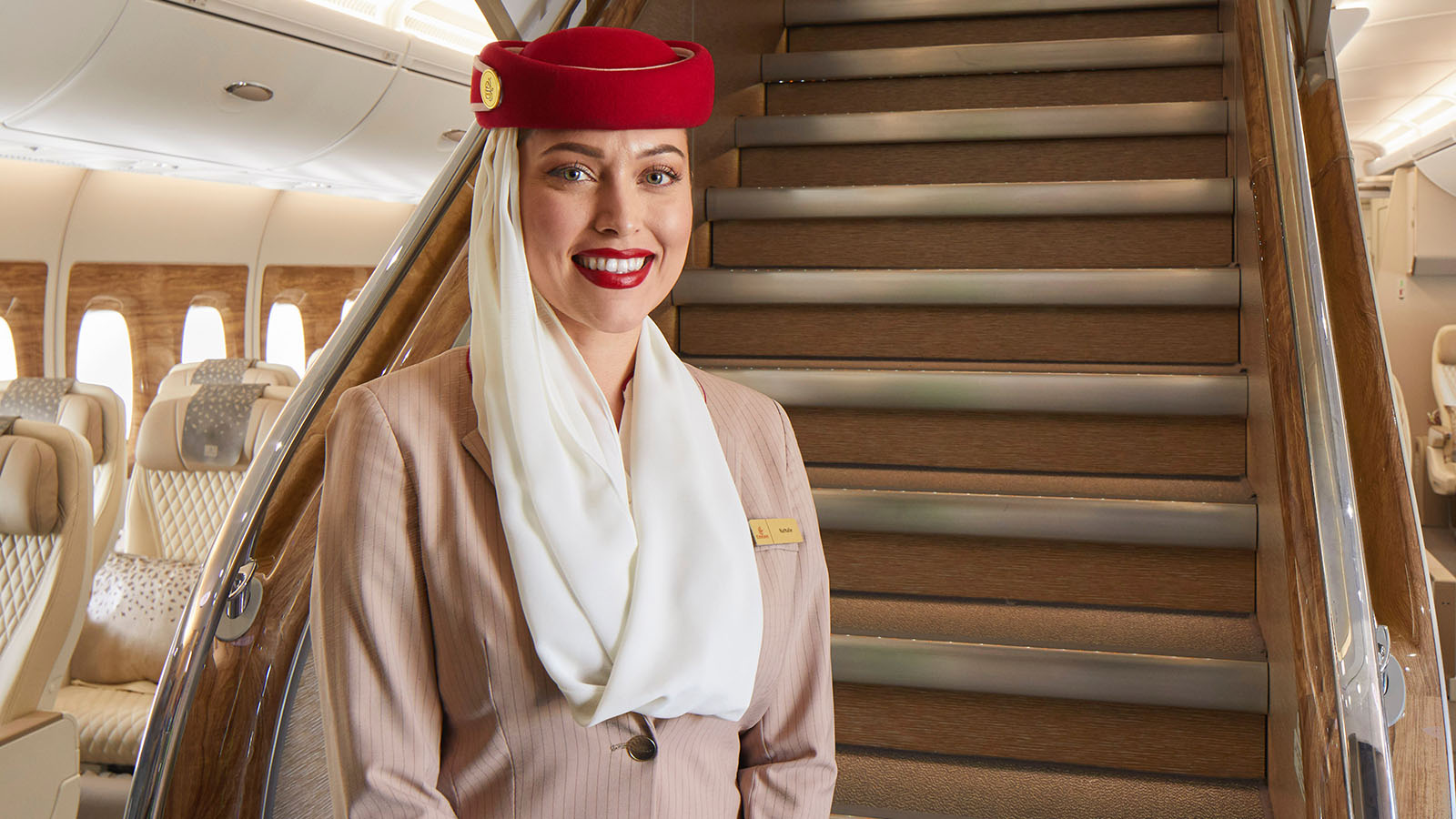 Speaking of the Boeing 777, Emirates is also considering a new Business Class seat for these planes, in a 1-2-1 layout. This would bring them into line with the larger Airbus A380s. It'd also replace the existing 2-2-2 and 2-3-2 configurations seen on these jets, which are less favourably designed.
Aboard the Airbus A380, Premium Economy Class comes in a larger cohort. At the front of the superjumbo's main deck, 56 seats adopt a similar 2-4-2 configuration. Of course, First Class remains on the A380's upper deck. This puts Premium Economy Class at the base of the stairs, in front of standard Economy Class.
At each seat, there's a 13.3-inch personal TV screen. As in Emirates' other classes, passengers can access movies, TV shows, music, games, live broadcasts and more.
Up close with Emirates' Premium Economy Class seat
On both the Airbus A380 and Boeing 777, Premium Economy Class will offer a seat pitch of up to 40 inches (about 101.5cm). That's on the generous side for Premium Economy Class, with many other airlines relying on a tighter 38-inch pitch.
Translation: there'll be more room around your knees. And if the passenger in front of you reclines, their seat won't get as close to you as on some other airlines.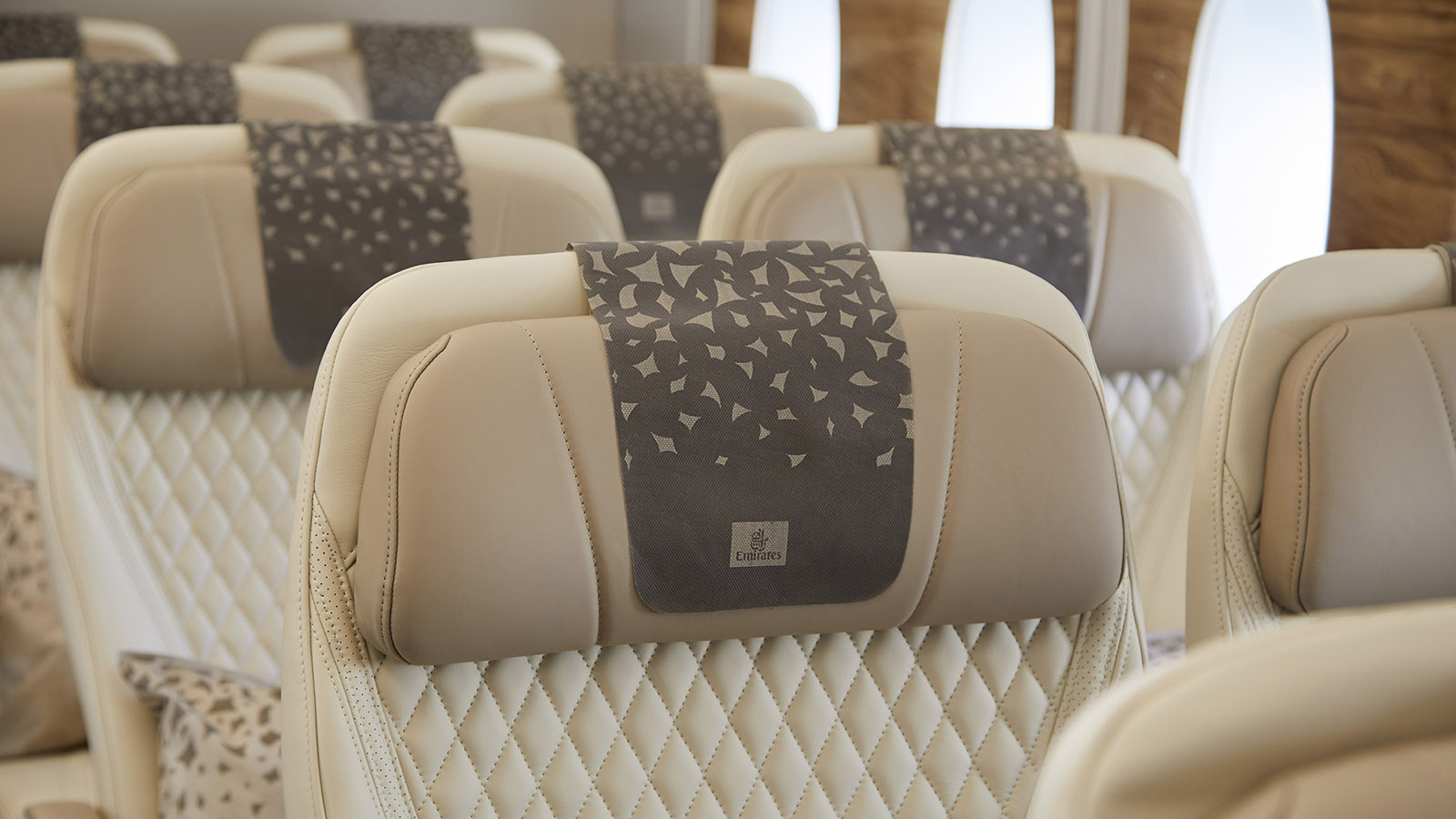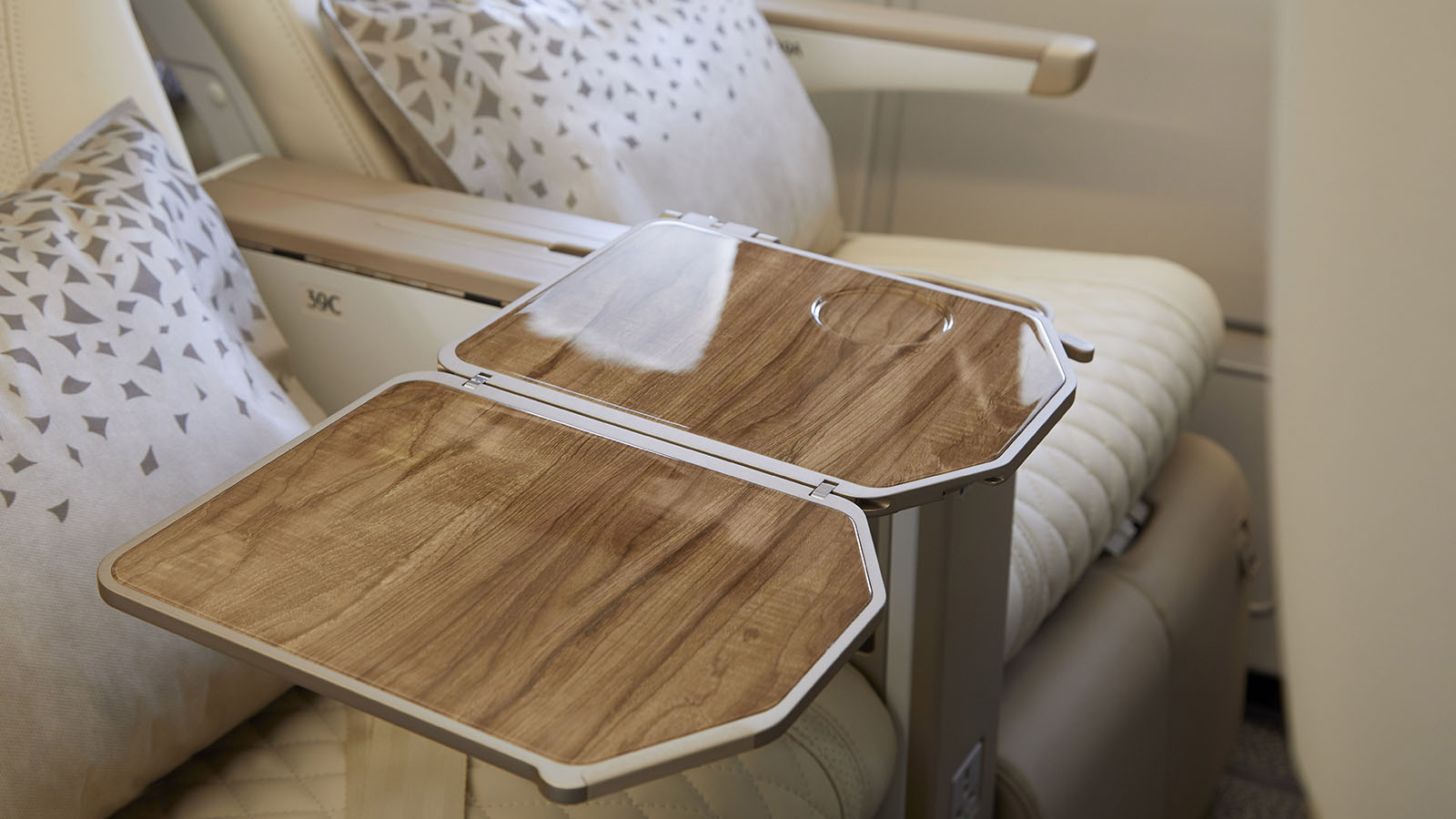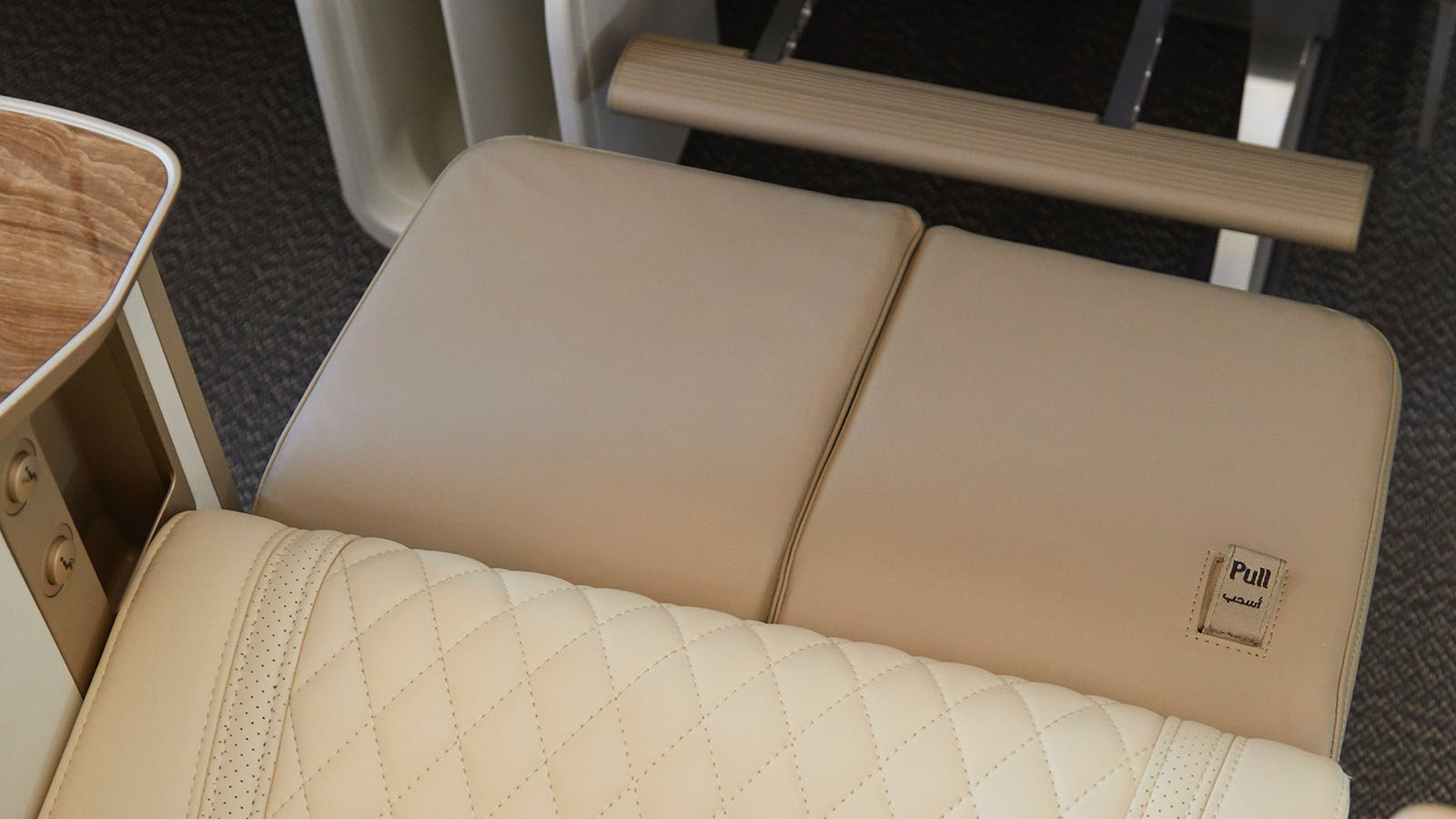 For the comfort-conscious, these seats also measure up at 19.5 inches (49.5cm) wide, and offer an eight-inch (20cm) recline. There's also at-seat power, a wide dining table, and a separate side cocktail table.
But the most interesting feature has to be the seat's 'cradle position'. While not quite a bed, the footrest's design will help keep your legs elevated, as though you were indeed lying down. A valuable addition indeed.
Summing up
Emirates' Premium Economy Class seats look fantastic. They'll be a welcome enhancement to the airline's flights around the world, and a great option for spending your hard-earned Qantas Points or Skywards Miles.
The cabin also strikes a good balance between Economy Class and Business Class. You can expect better meals, beverages and service in Premium Economy Class. But of course, for a fully-flat bed (and an inflight bar!), it's hard to beat Business Class.
Emirates goes big on Premium Economy Class in a global rollout
was last modified:
November 29th, 2021
by