Having a hot shower whilst flying 35,000 feet in the air surely has to be one of the most luxurious travel experiences possible. And arriving at your destination feeling more refreshed and 'human' is a huge plus.
In this guide, I take a look at which airlines and aircraft feature this perk and how to book an award flight using frequent flyer points.
Which planes have onboard showers?
The only commercial aircraft that features a shower onboard is the Airbus A380 superjumbo. Shower suites are located on the upper deck in front of the First Class cabin. The shower suites also include a toilet, sink and ample space to change clothes.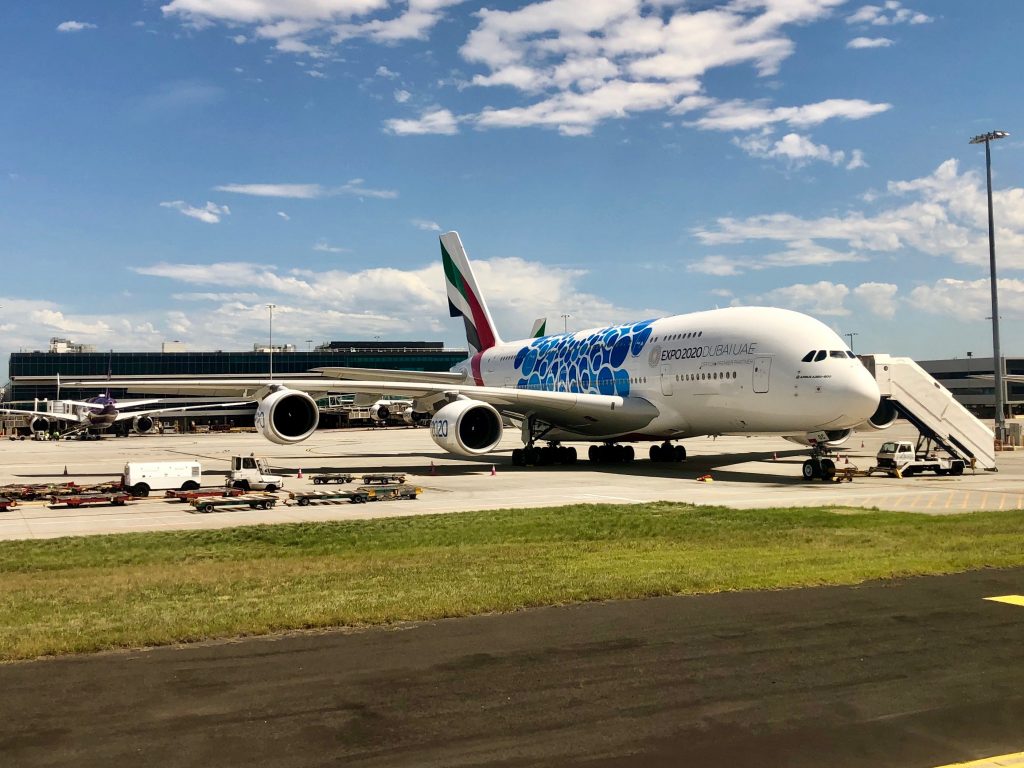 Which airlines have onboard showers?
The two airlines that feature onboard showers are Emirates and Etihad, both carriers from the United Arab Emirates. Showers are found solely on their Airbus A380 aircraft. They are reserved for passengers travelling in First Class (on both Emirates and Etihad) and The Residence (on Etihad only).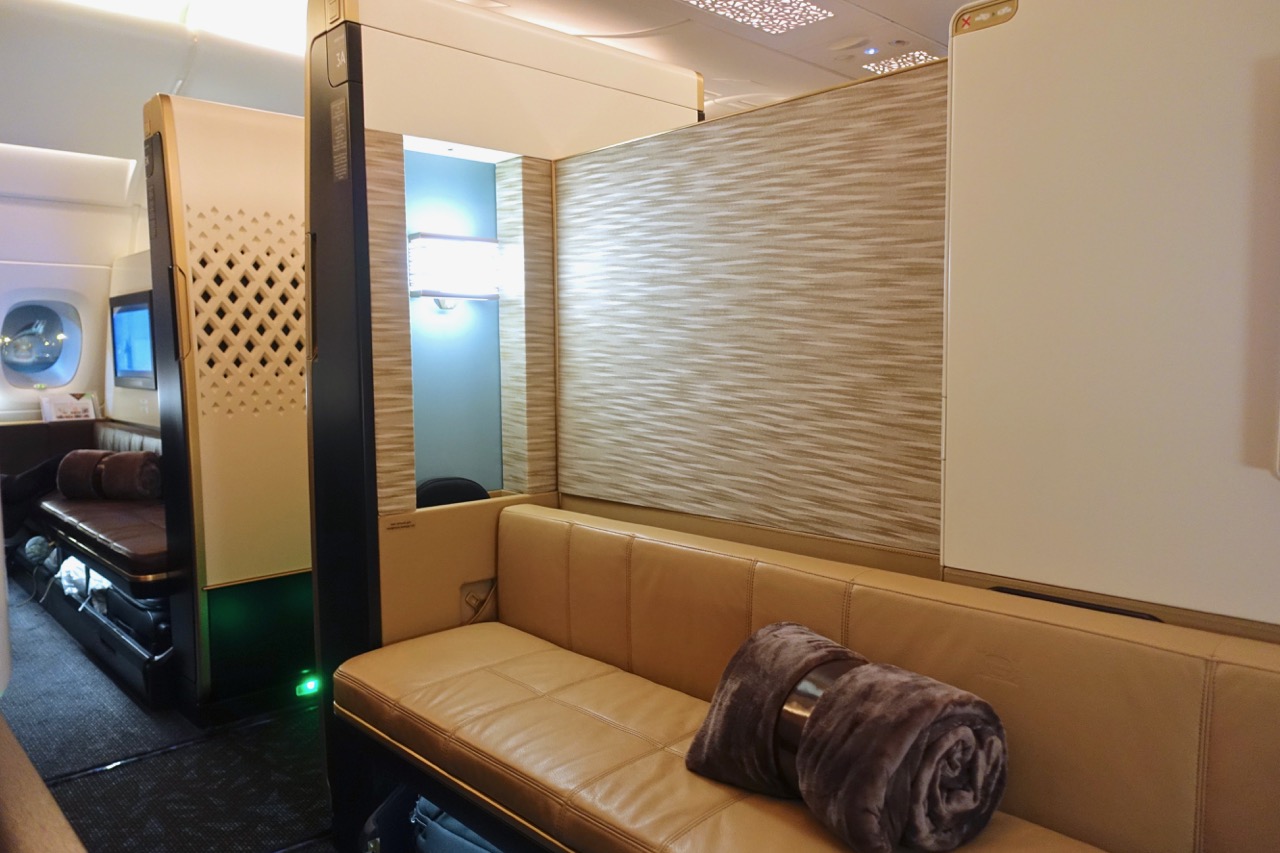 Ad – Scroll down to continue reading.Minimum spend, terms & conditions apply.
Emirates vs Etihad: which has the better onboard shower?
Abu Dhabi's flag carrier has two showers on its Airbus A380 aircraft. One of them is exclusively reserved for passengers travelling in The Residence and, unfortunately, is not made available even if that cabin is empty.
That leaves the other (larger) shower suite to be shared by the nine passengers travelling in First Apartments. The shower is minimalist and darker than its Emirates counterpart.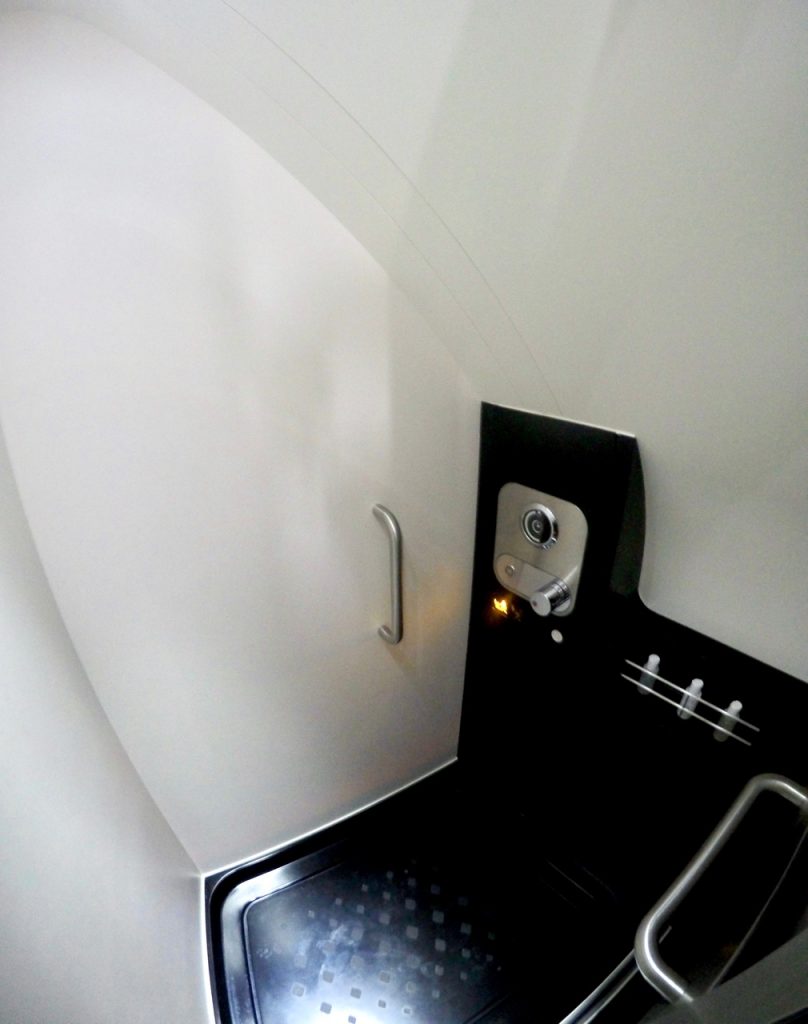 Whilst you can adjust the angle of the faucet, it is built into the ceiling, meaning it cannot be detached.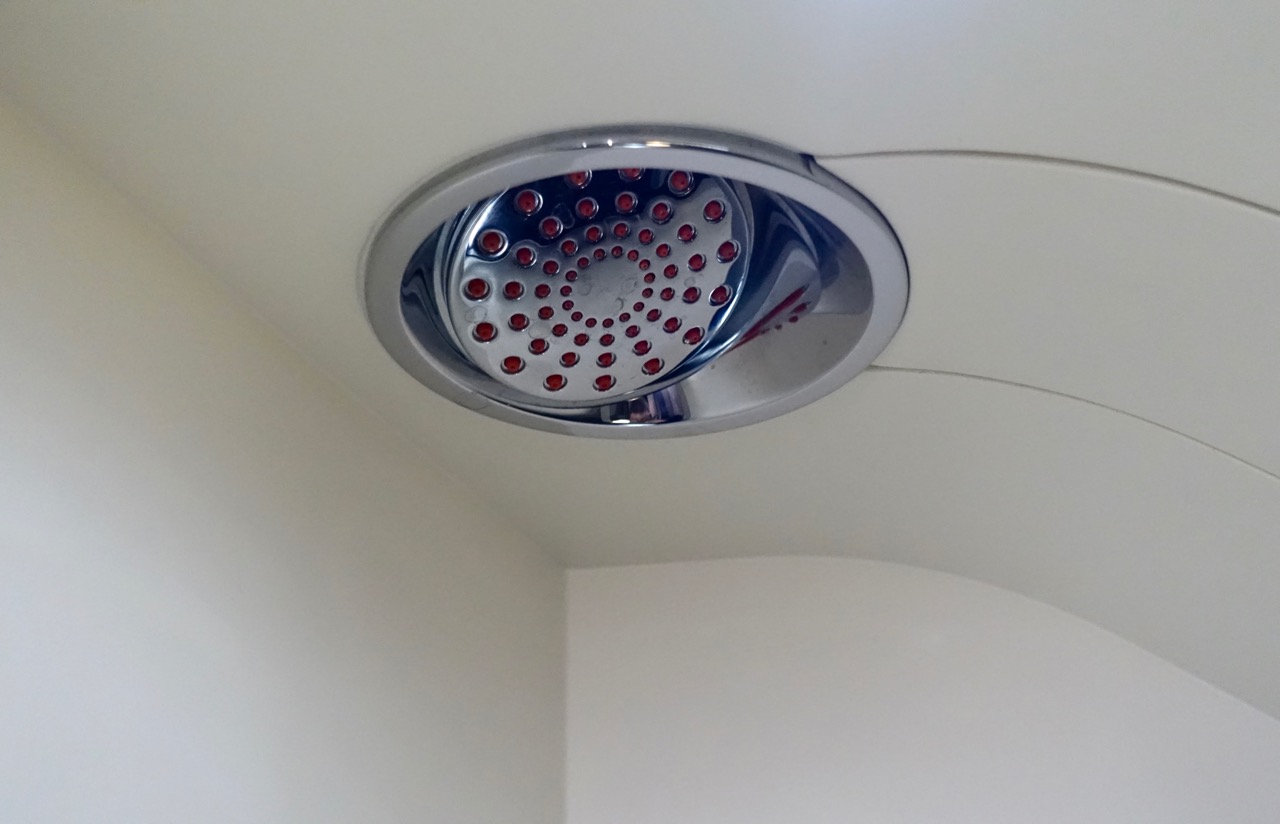 Having said that, the water comes out hot and strong.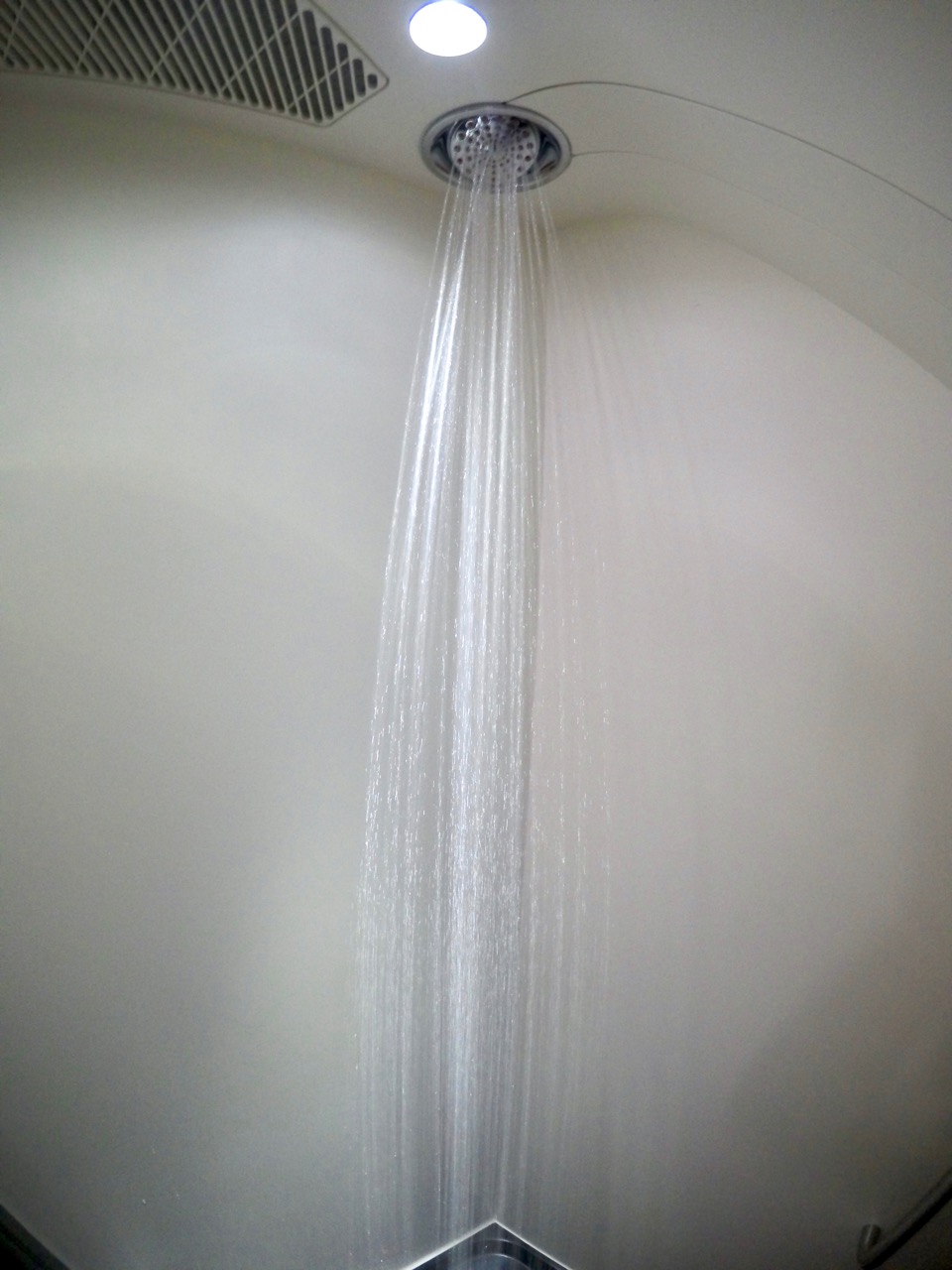 Dubai's flag carrier also has two showers onboard its aircraft to be shared between up to 14 First Class passengers. This means that Emirates has a more generous ratio of 7 passengers to 1 shower than Etihad's 9 to 1.
The shower facilities are decorated with lighter tones than Etihad's. You can even control the temperature of the heated floors.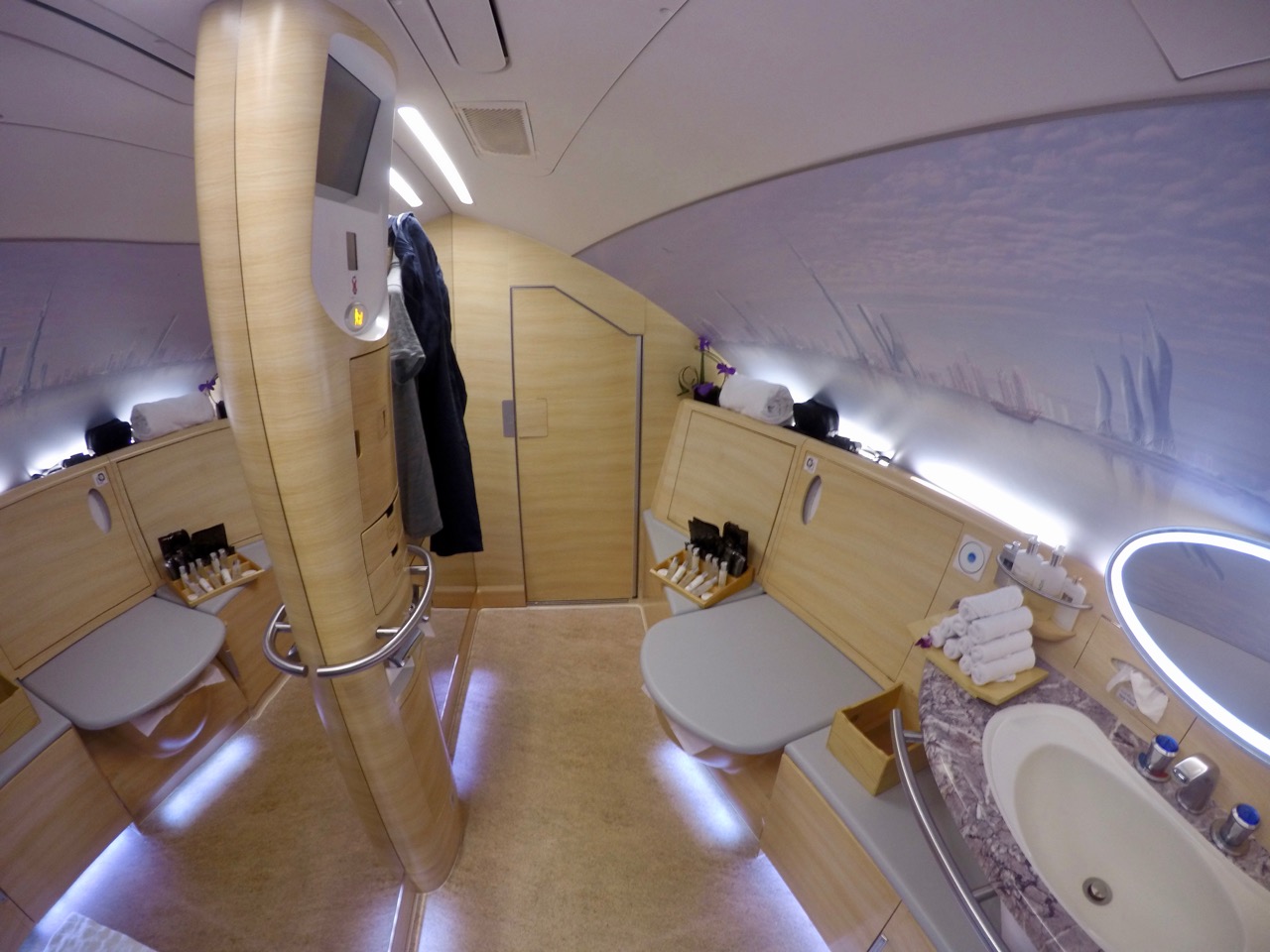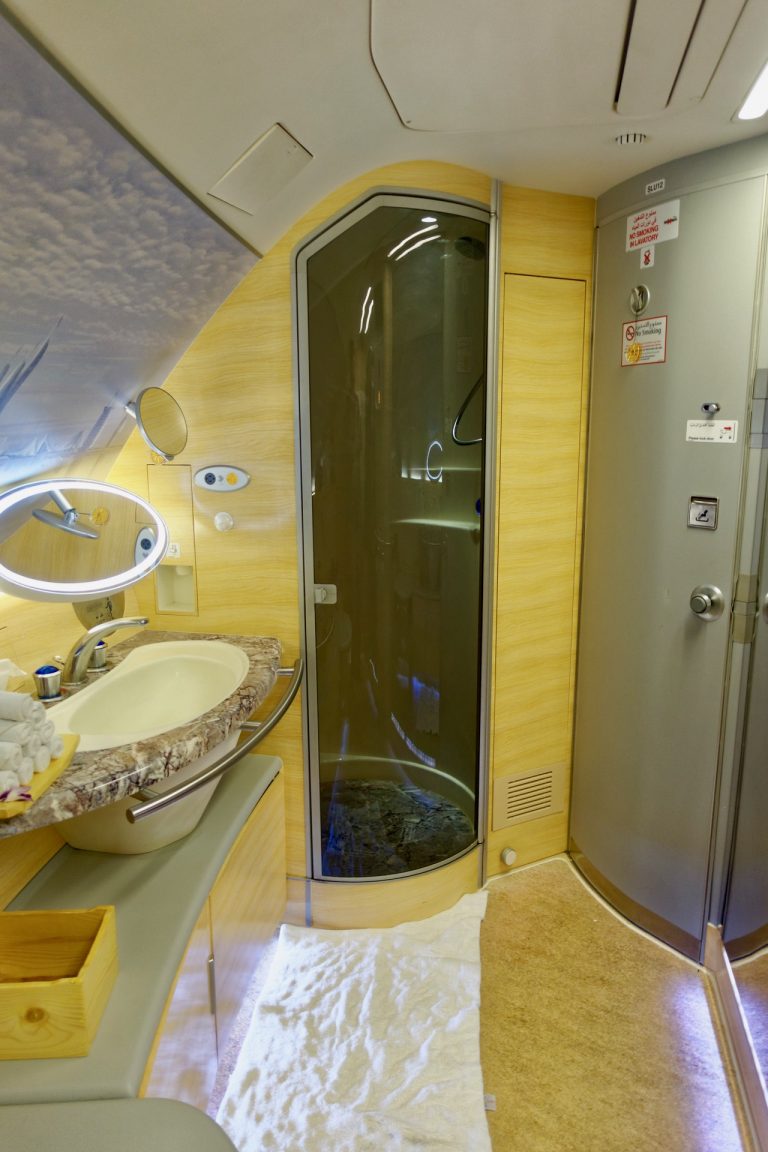 The showerhead is detachable, meaning you can move it around as you wish.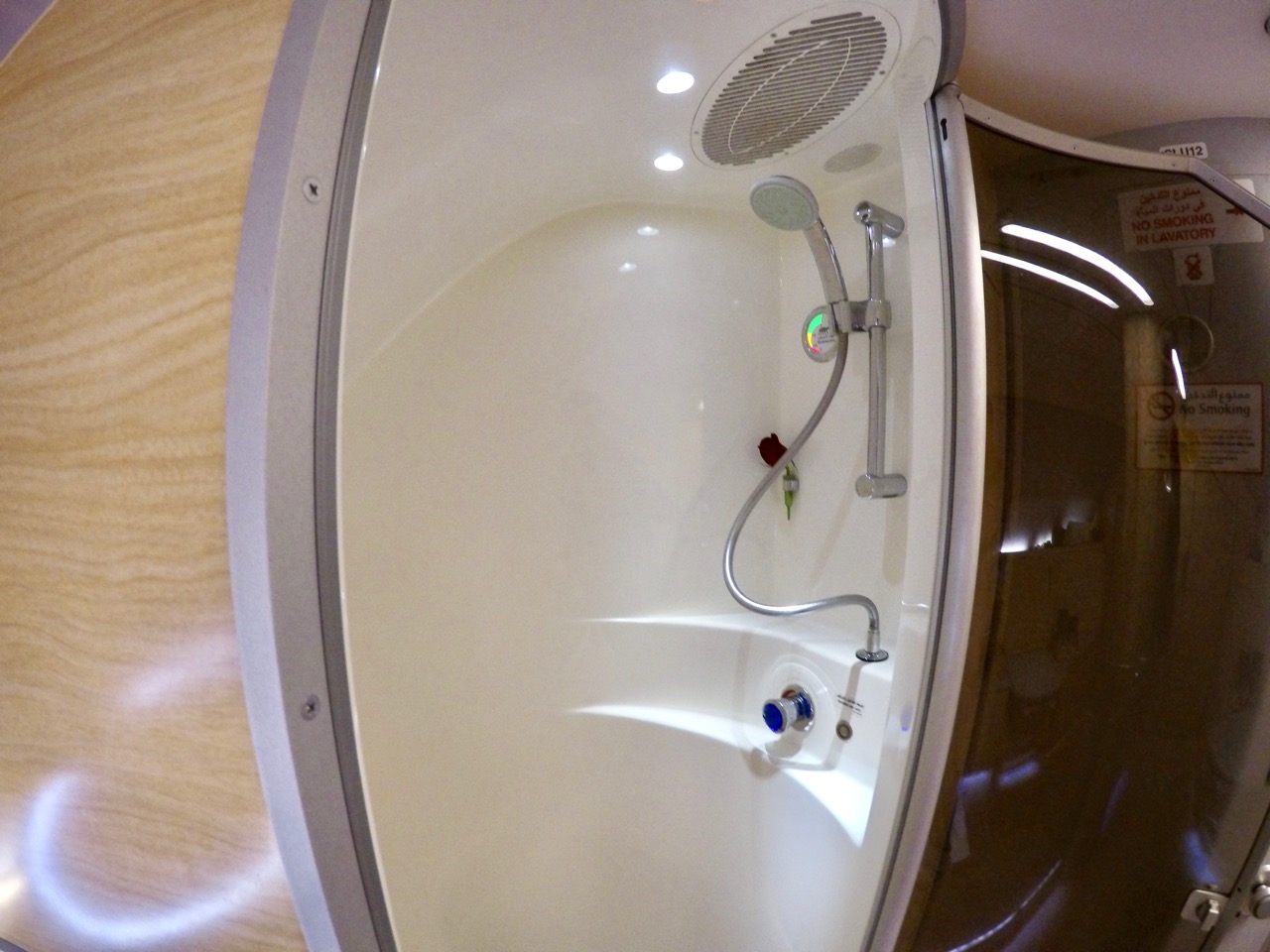 Upon returning to your seat, you'll have a plate of fresh fruit drizzled with honey waiting for you.
What can I expect from the onboard showering experience?
The most popular time to shower is in the two hours prior to landing, so make sure to book your preferred shower appointment time with the cabin crew as soon as you board
If you don't know when you want to shower, don't stress—just go when it makes the most sense for your journey
The water will not run until you step inside and close the shower door—just be prepared for a potential initial burst of cold water
You'll get five minutes of hot water in total, which is actually more than sufficient—however, if you would like to extend it, you can turn the tap on and off between latherings, i.e. the five minutes of water can be broken up into smaller segments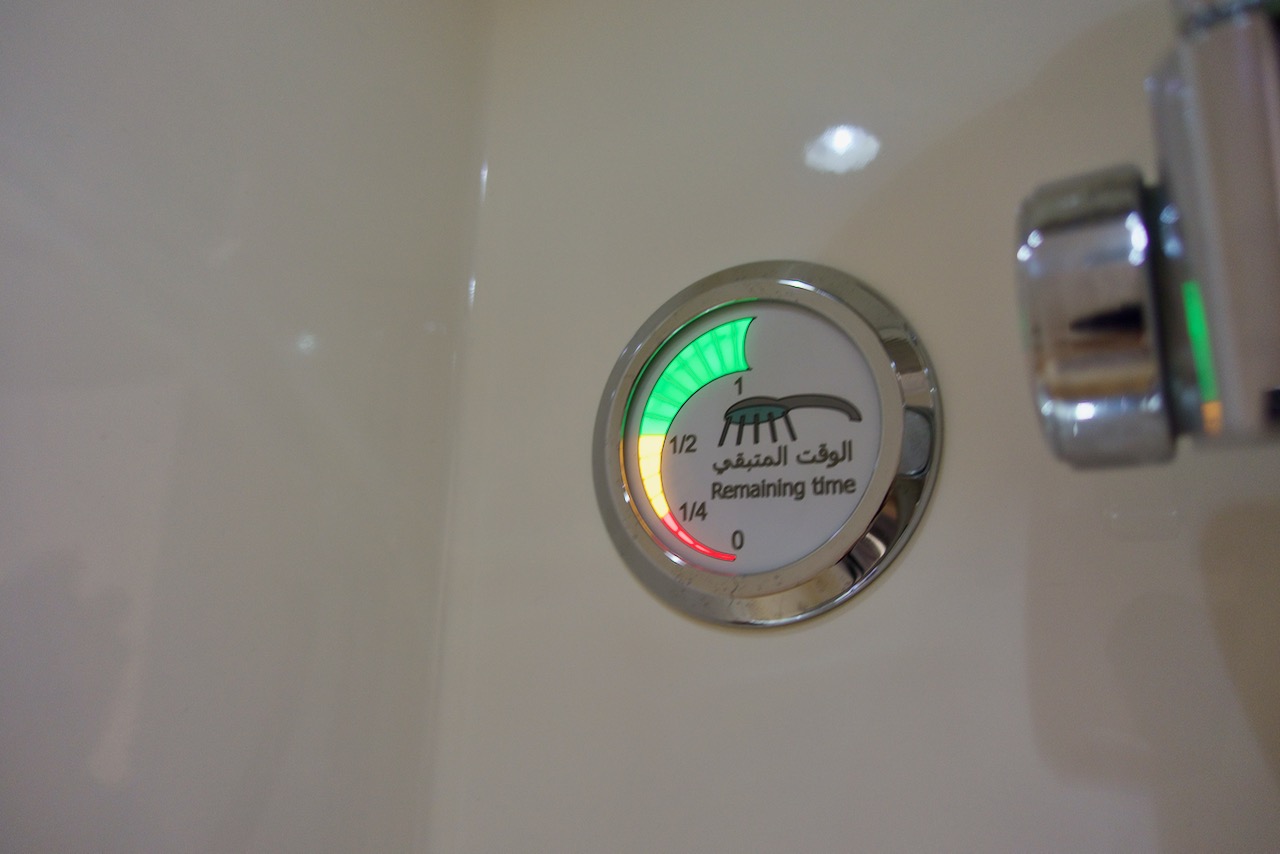 Passengers usually spend 20-30 minutes in the shower suite, between de-robing, showering and getting ready again—however, if the cabin is not full, you may be able to spend more time in there
You'll get access to a hairdryer, fluffy towels and upscale bath products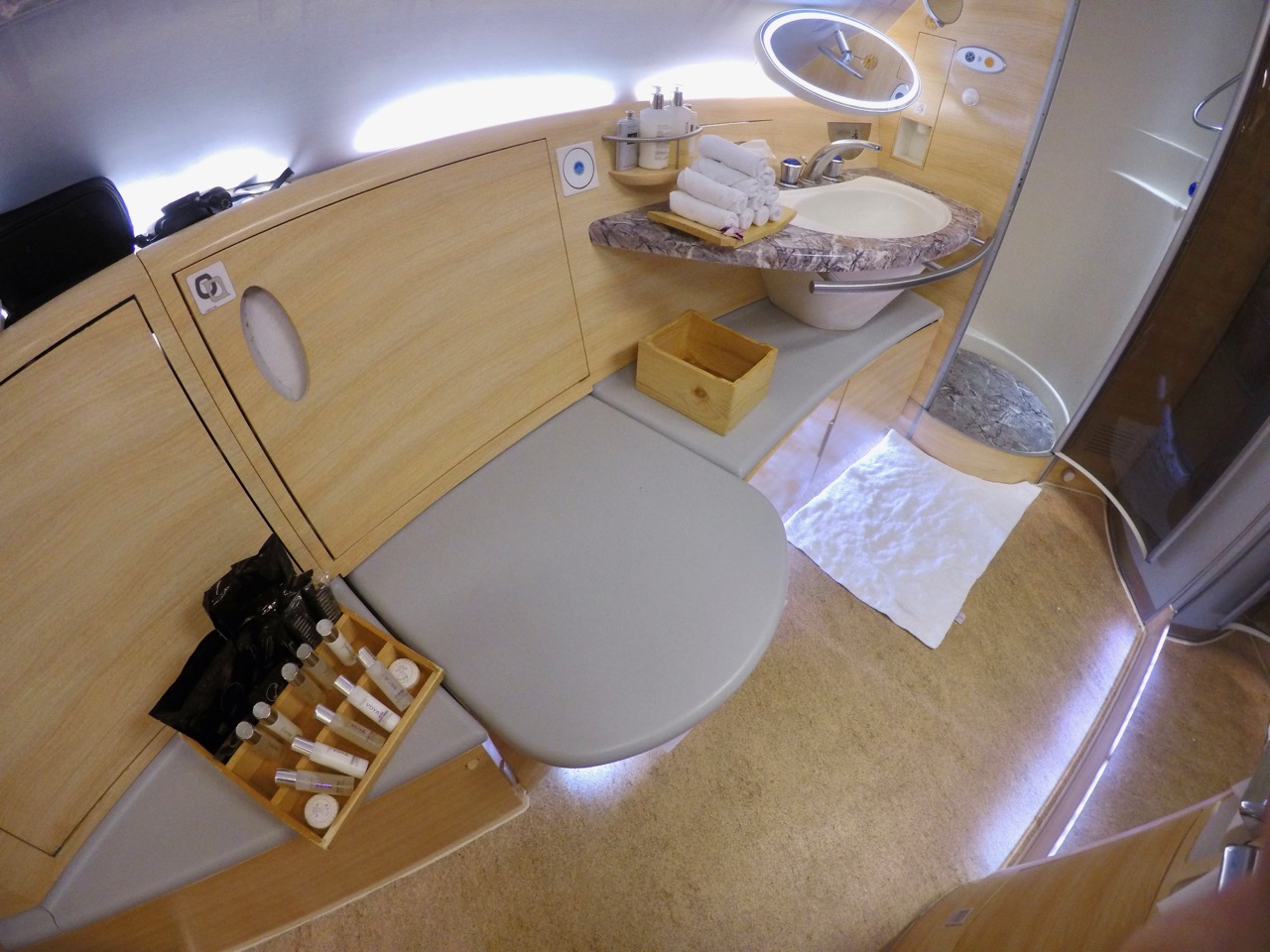 You can shower once per flight
Shower facilities are generally not available on flights under three hours in length
How can I use frequent flyer points to access the onboard shower?
On Emirates
The cheapest way to use your points to fly on an Emirates A380 is between Dubai and Muscat. However, on this one-hour flight, you won't have enough time to shower.
Therefore, for travellers in Australia, I would suggest using 54,000/62,200 Qantas Points (before/after 18 September 2019) to book a First Class flight from Sydney to Christchurch, which is one of Emirates' fifth freedom routes.
Flying Emirates First Class from Sydney, Melbourne, Brisbane, Perth or Adelaide to Dubai will set you back between 108,000 and 162,800 Qantas Points depending on your departure airport.
If you already find yourself in the Middle East, then you can use as few as 36,000/41,500 Qantas Points to book a three-hour flight from Dubai to Mumbai or Jeddah. Both of these flights are serviced by the A380 and are long enough to have a shower.
On Etihad
Etihad has a much smaller fleet of A380s than Emirates, which reduces the number of opportunities to experience a flight on one.
The cheapest way to experience Etihad First Apartments is to fly from Abu Dhabi to London or Paris. That will set you back 78,000 Velocity Points, ~86,000 Etihad Guest miles or only 62,500 American Airlines AAdvantage miles.
You can also fly this product from Abu Dhabi to Seoul, New York and Sydney. The Sydney flight costs 152,500 Velocity Points, ~136,000 Etihad Guest miles or only 100,000 AAdvantage miles.
Note that you must add on a US$300 Etihad Airways Carrier Charge to the cost of each Etihad First Class flight you take using Velocity Points.
Summing up
A hot shower is an amazing way to feel more human while inflight. It can be used to refresh yourself mid-flight or upon waking to spruce you up before landing at your destination.
Having a shower onboard your next trip is possible if you target your points redemption to a First Class flight on an Emirates or Etihad Airbus A380.
You can use your Qantas Points or Emirates Skywards miles to book an Emirates flight. Conversely, your Velocity Points, Etihad Guest miles or AAdvantage miles can get you flying First Class with Etihad.
Just remember to book your shower appointment with the cabin crew as soon as you board so that you can lock in a time that works for you.
Have you had a shower onboard with Emirates or Etihad? What was your experience like?
Which airlines have onboard showers?
was last modified:
March 2nd, 2021
by