Air New Zealand reopened its new NZ$13 million Business Class lounge at Sydney International Airport in May 2015, after six months of temporary facilities – and hot dogs – while the re-fit program took place.
During a recent visit to Sydney from Auckland, I was able to spend some time in the lounge, take a few photos, and let you know how it stacks up.

The new look lounge was the first milestone in Air NZ's NZ$40 million vision of transforming a number of the airline's key lounges into relaxing, ultra-modern Kiwi-inspired spaces.
After being impressed with my experiences of the Gensler-designed Air NZ flagship lounge in Auckland, and the award-winning Air NZ operated LAX Star Alliance lounge, I was keen to see how the Sydney version compared.
I'd also been fortunate to check out a number Qantas' new International lounges, and recently their impressive Sydney International Business Lounge during my Easter weekend visit thanks to one of LATAM's great value trans-tasman Dreamliner business class fares.
Given the increased competition in their regional battle with Qantas, I was also more than a little intrigued to see if what Air NZ had created for their Sydney departing passengers stacked up with the quality of Qantas' International Business Lounge.
Lounge Location & Opening Hours
After passing through customs and immigration I veered right, and despite feeling like a mouse being tested in a maze from all the work going on in the Sydney International Terminal, I was eventually able to find the Air NZ lounge, located on the second-floor mezzanine overlooking Gate 56.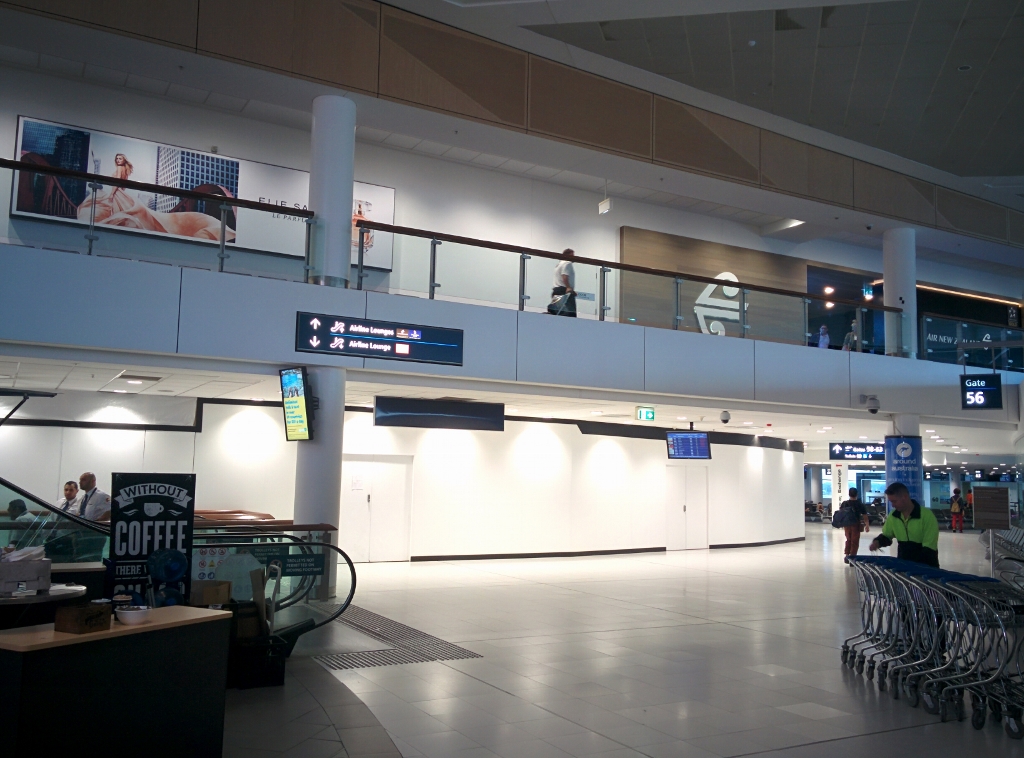 The lounge is open 7 days a week, from 6.00am until last departing flight, and similar to the Auckland lounge boasts an impressive entry area utilising large scale digital screens to showcase stunning images of the New Zealand native landscape.
Lounge Seating & Views
Inside, the 1,500 sqm lounge is narrow but very long, with the near floor to ceiling windows down the entire length bathing the room with natural light and offering an expansive view of the outside terminal and runway.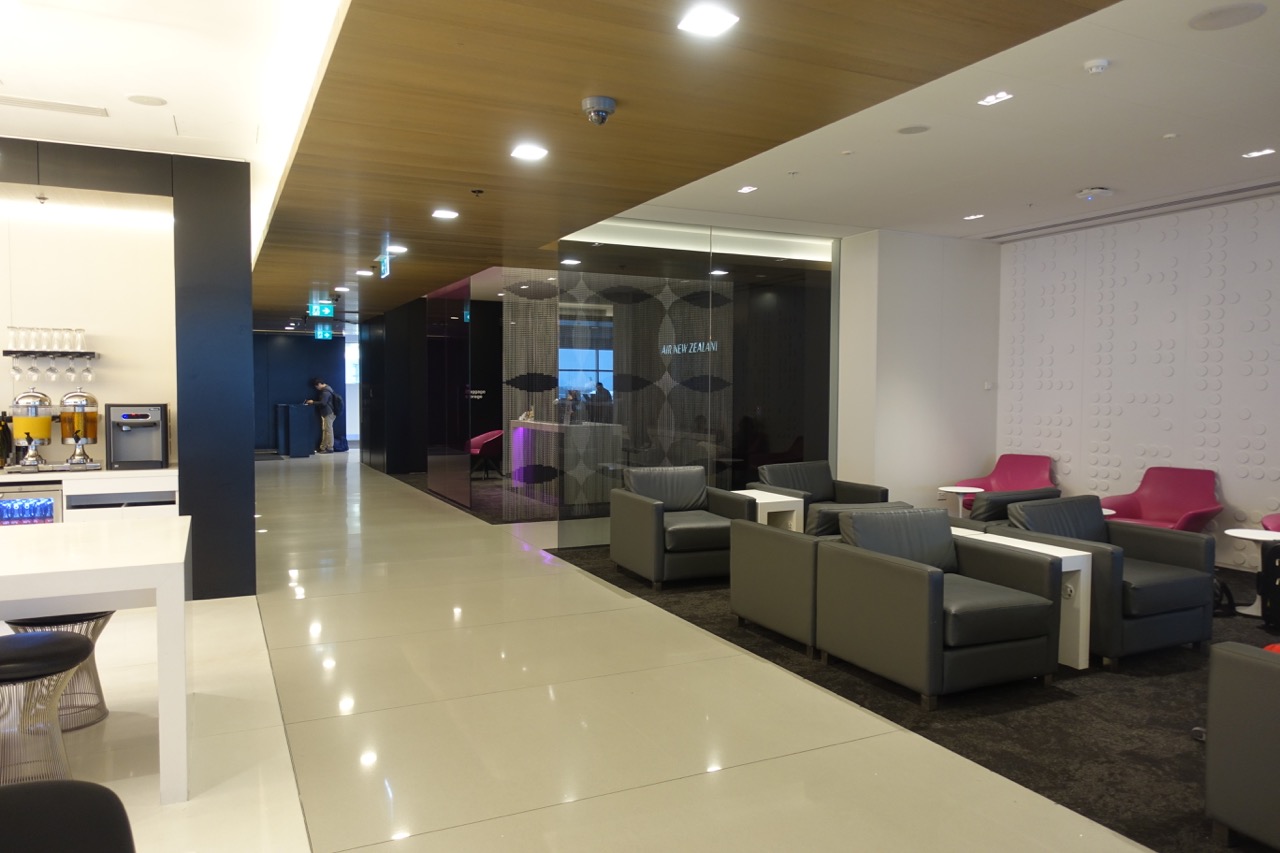 A staffed cocktail bar sports an envious wine wall and offers a wide range of New Zealand wines along with local and imported beers.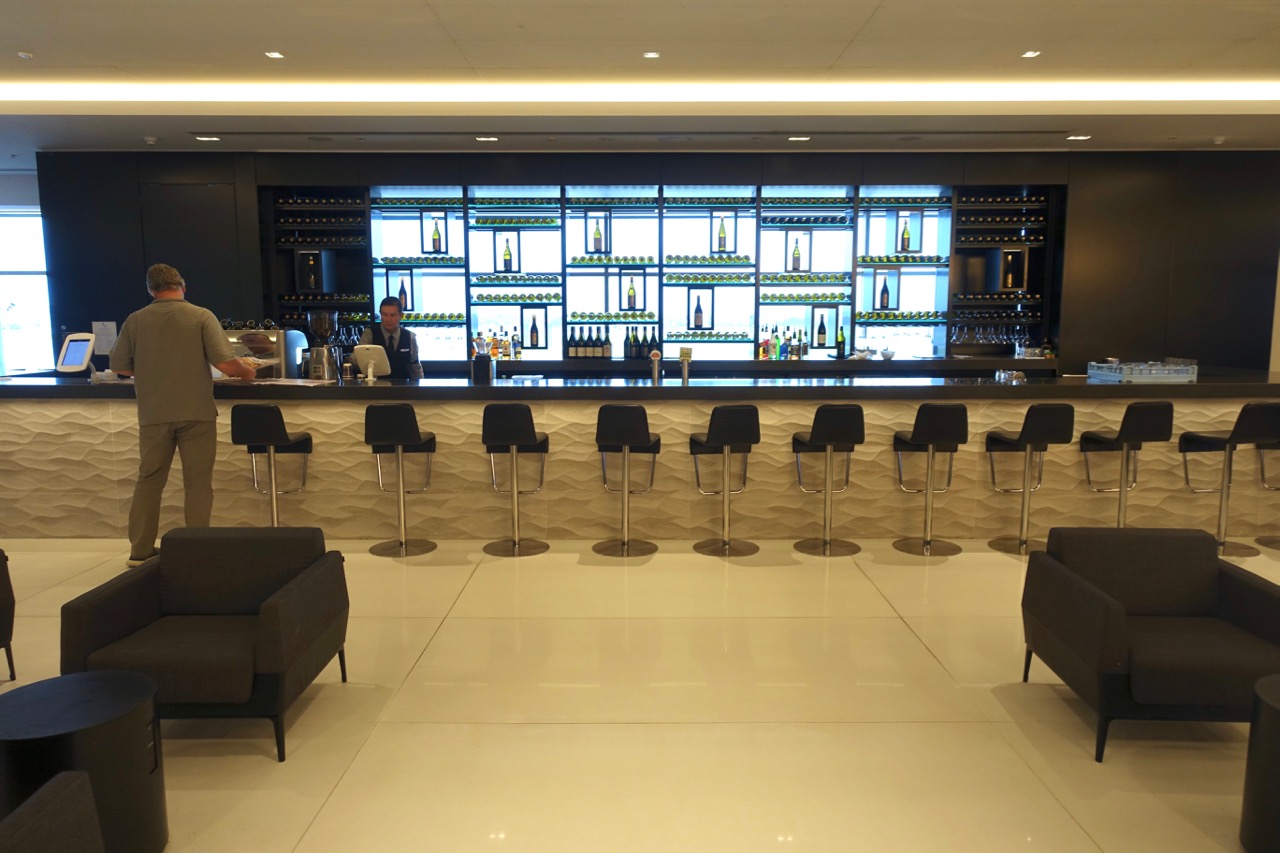 Along with the alcoholic refreshments, the main bar also holds the lounges in-house barista pouring out personalised espressos, made to order either direct from an iPad at the bar, or even your own device operating the Air NZ App.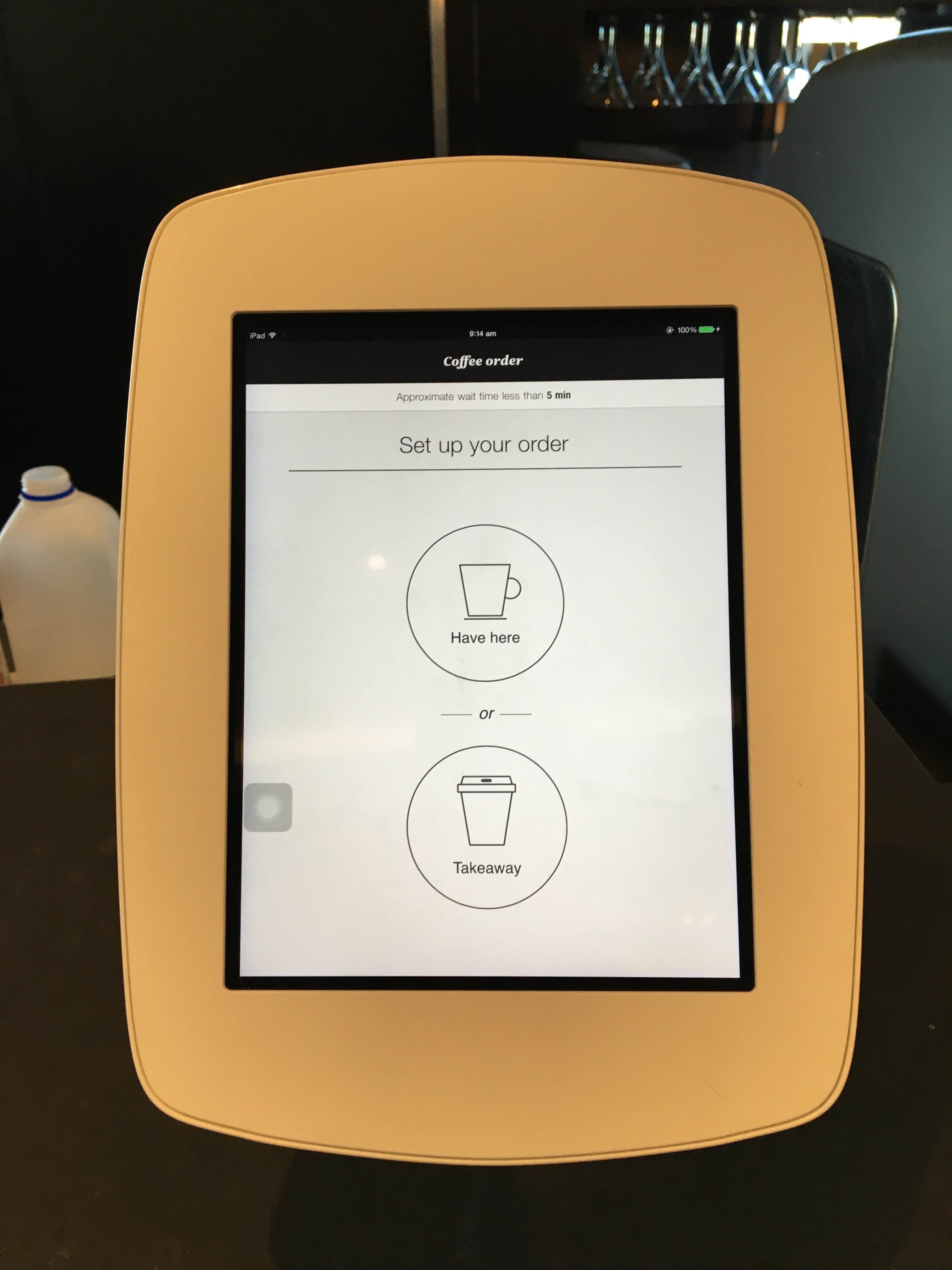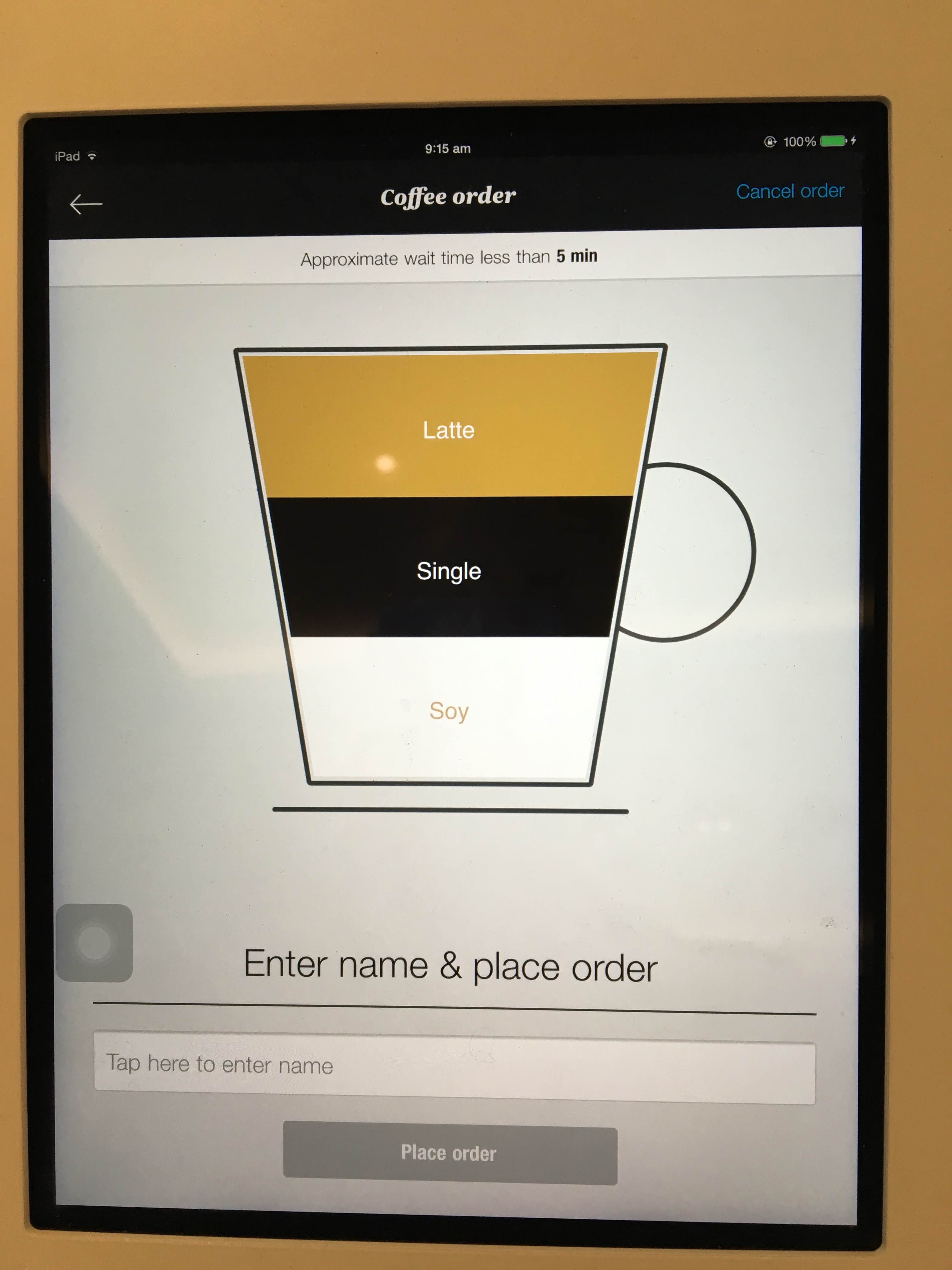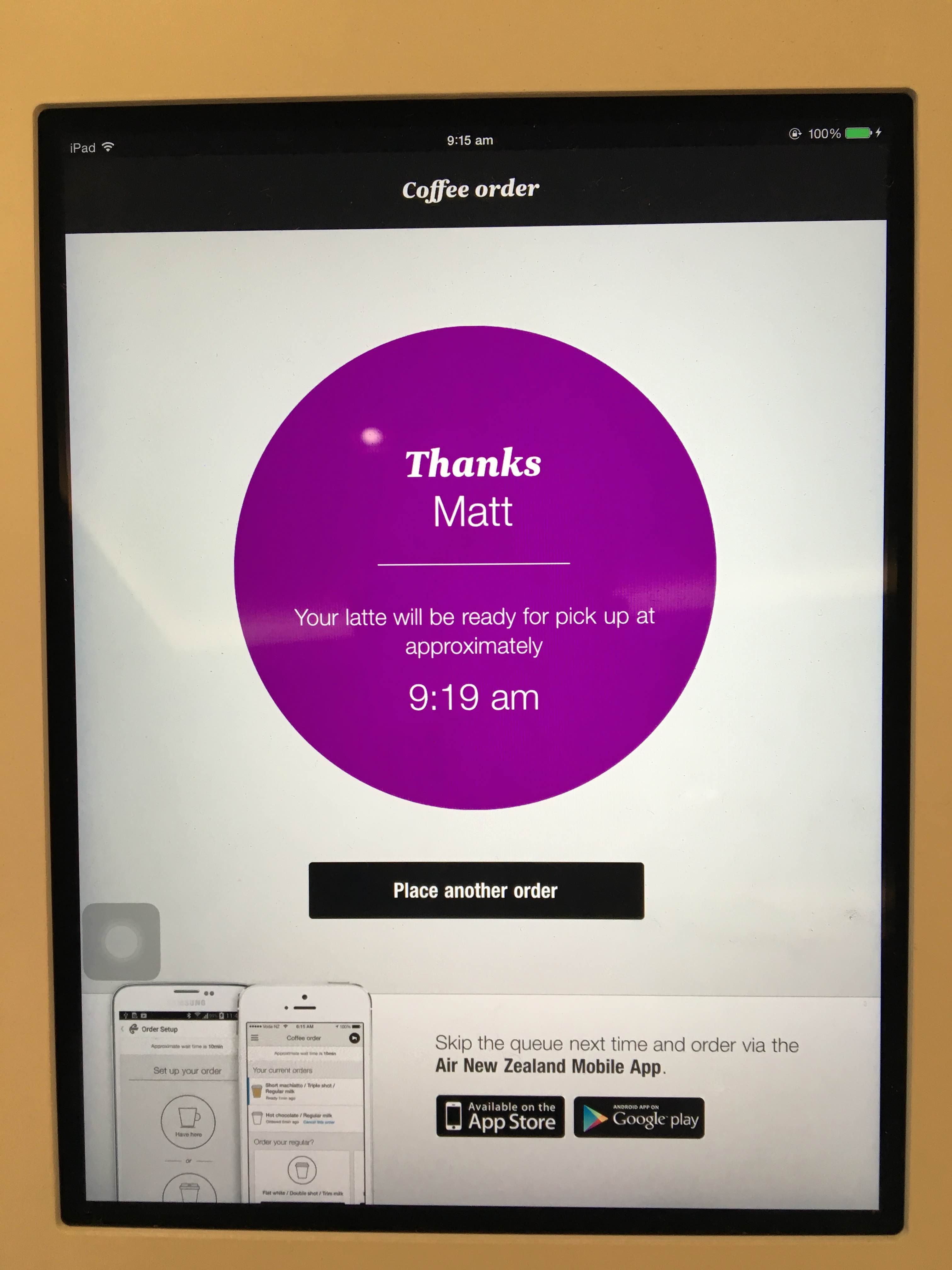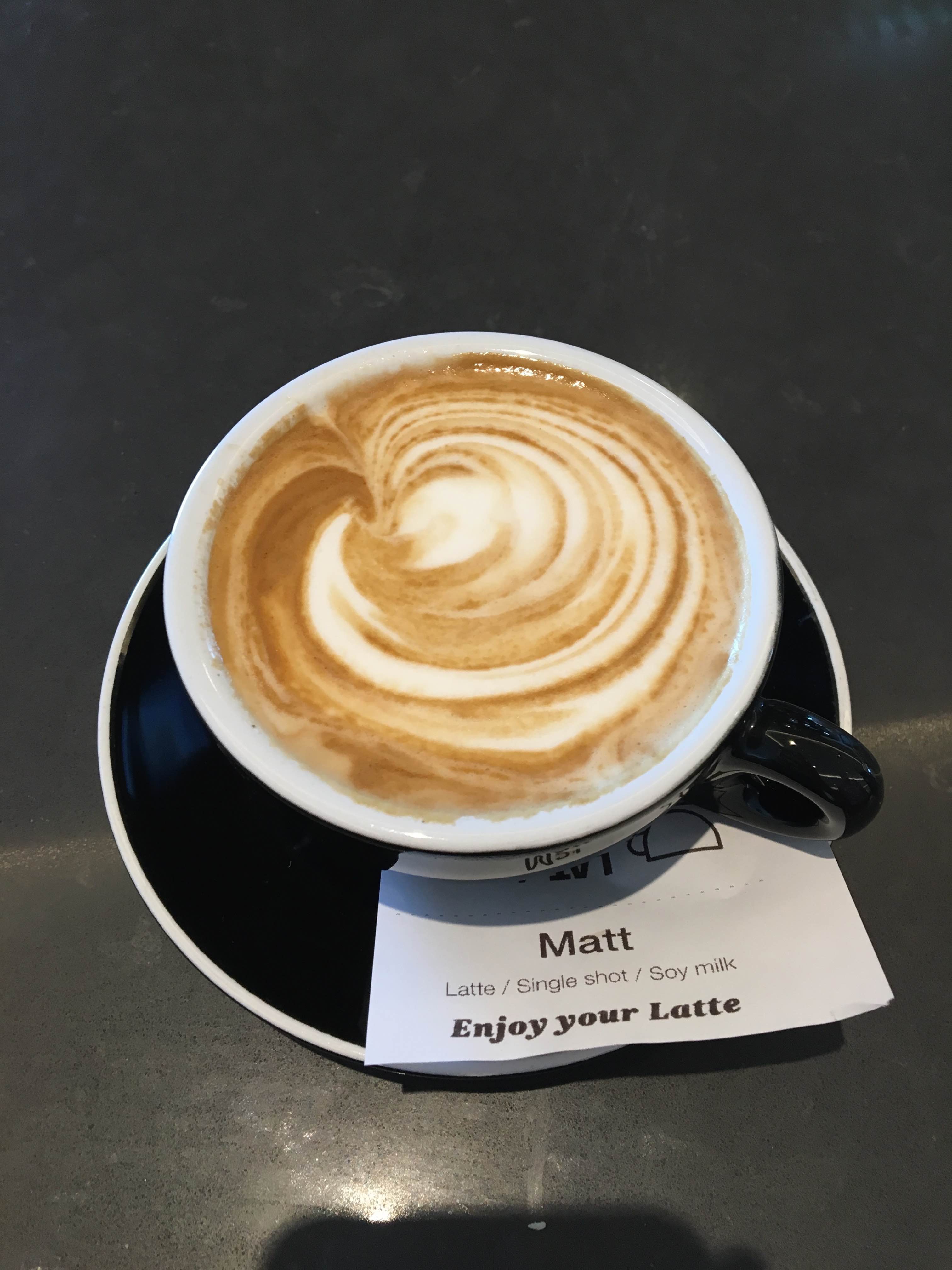 Once inside an area with comfortable seating options to the left of the lounge offers reading material options and a great spot to meet up with others, or just a place to hang out with a good coffee and enjoy the views while making use of the abundance of USB charging ports.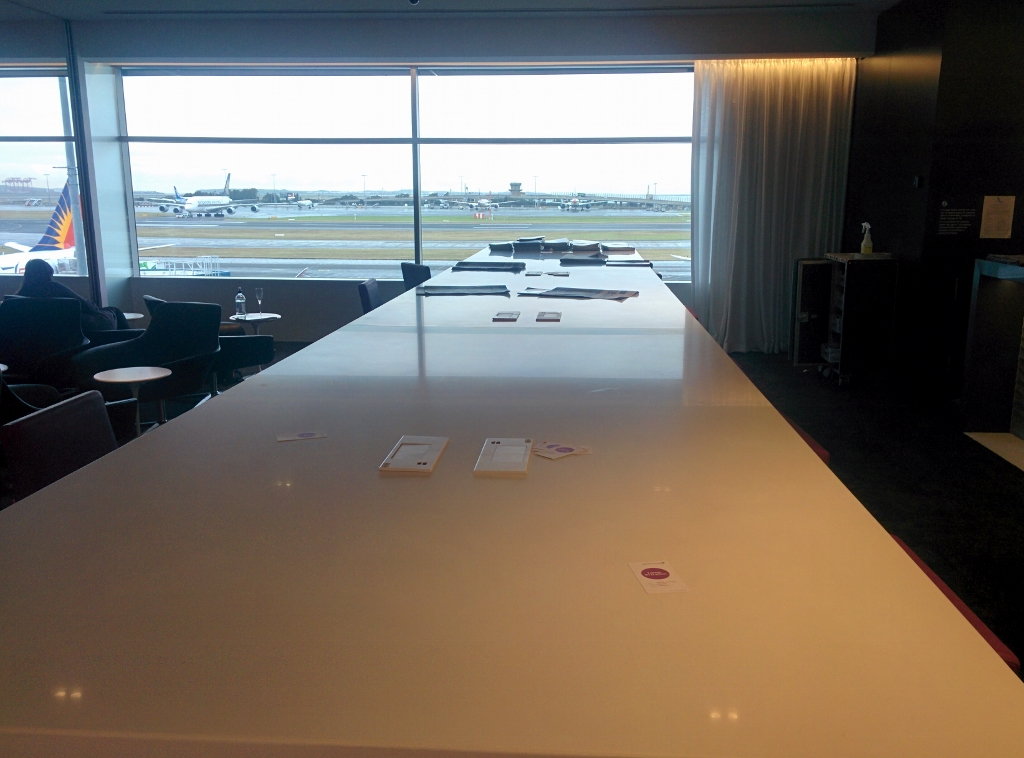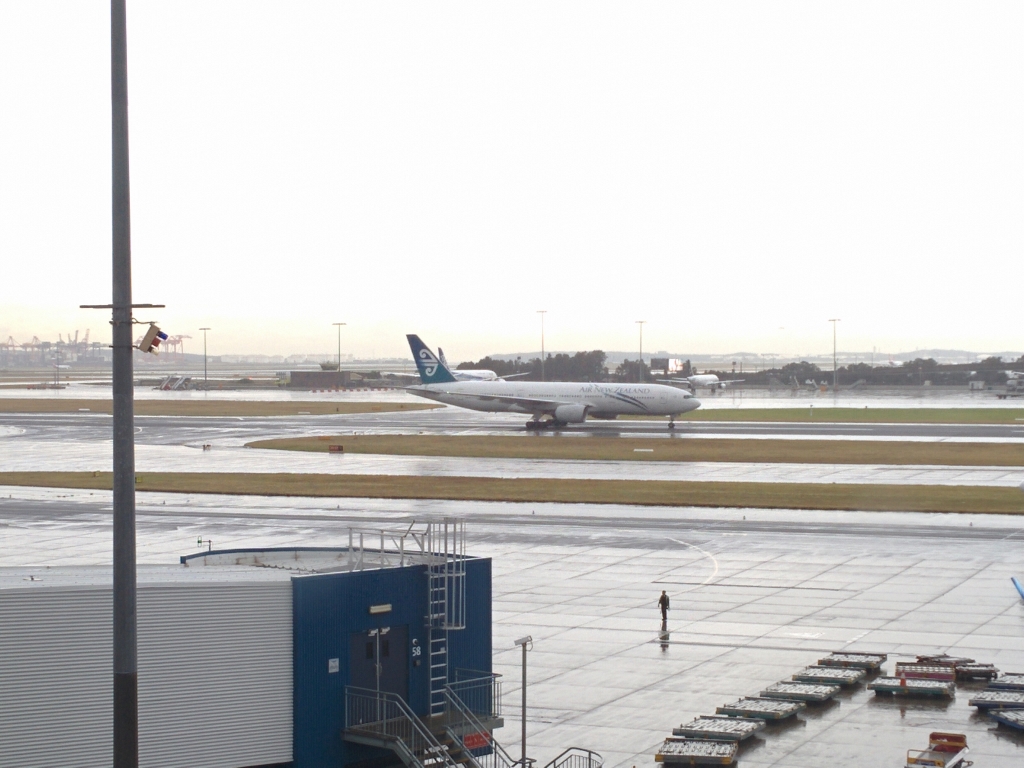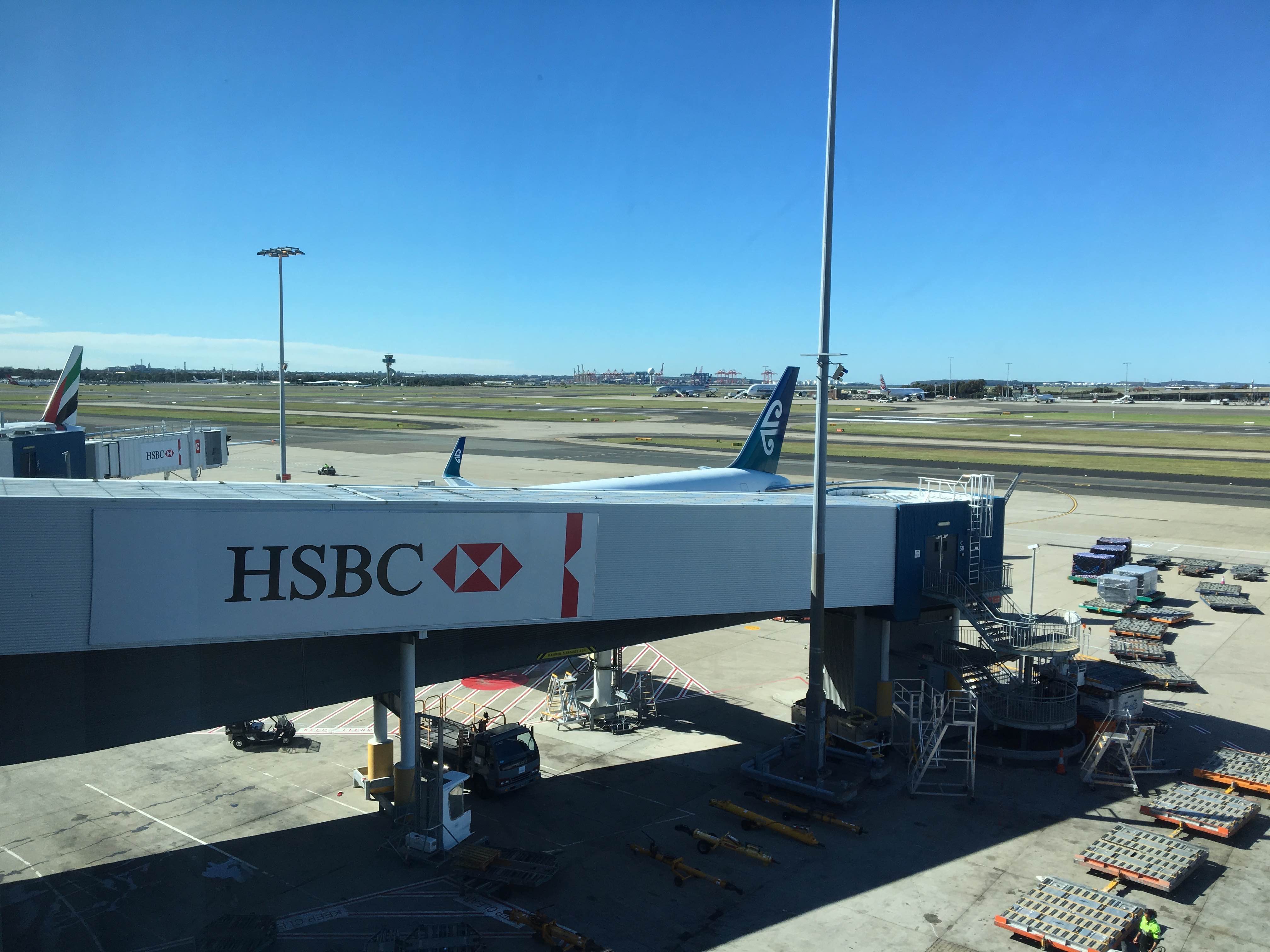 The majority of the lounges seating options are located along the right side upon entry, where the space has been creatively divided into multi-use zones to cater for the individual requirements of a range of Air NZ's lounge guests.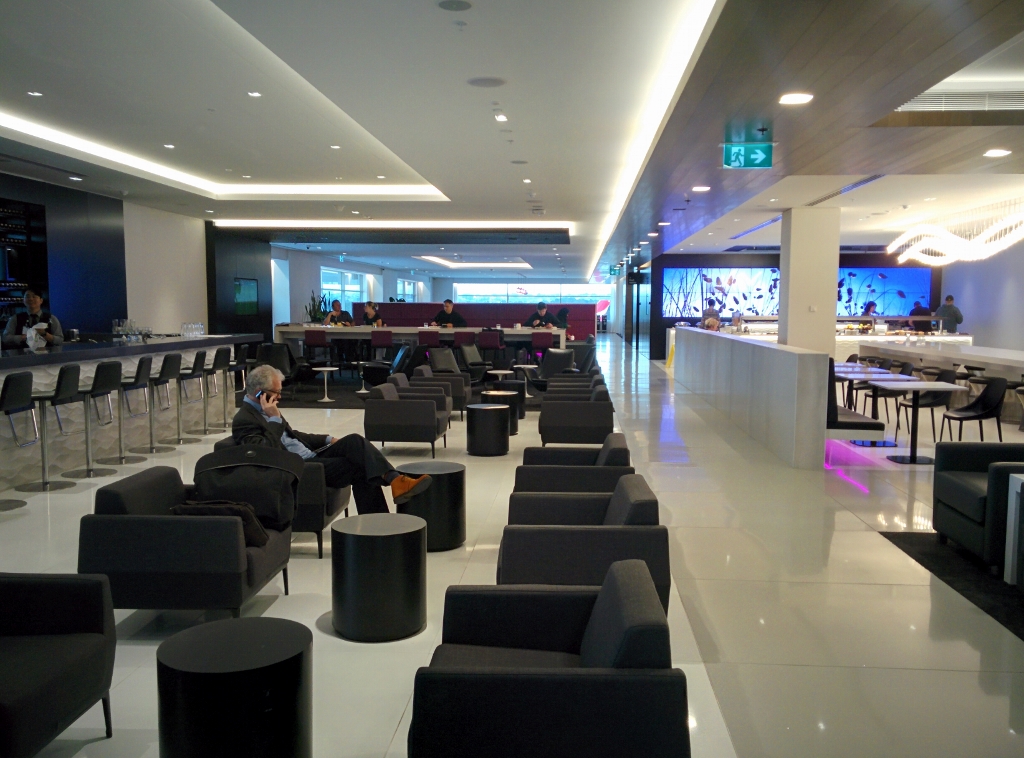 Toward the right end of the room, a low partition wall separates off a well lit and functional business zone from the self-service bar and casual dining zone.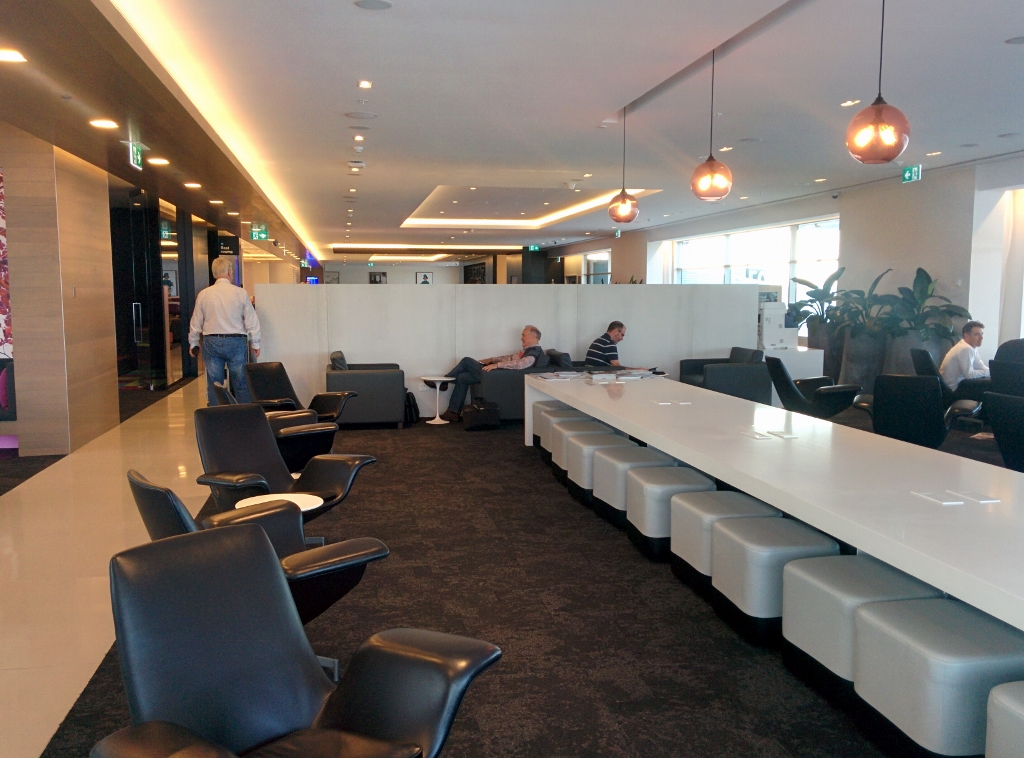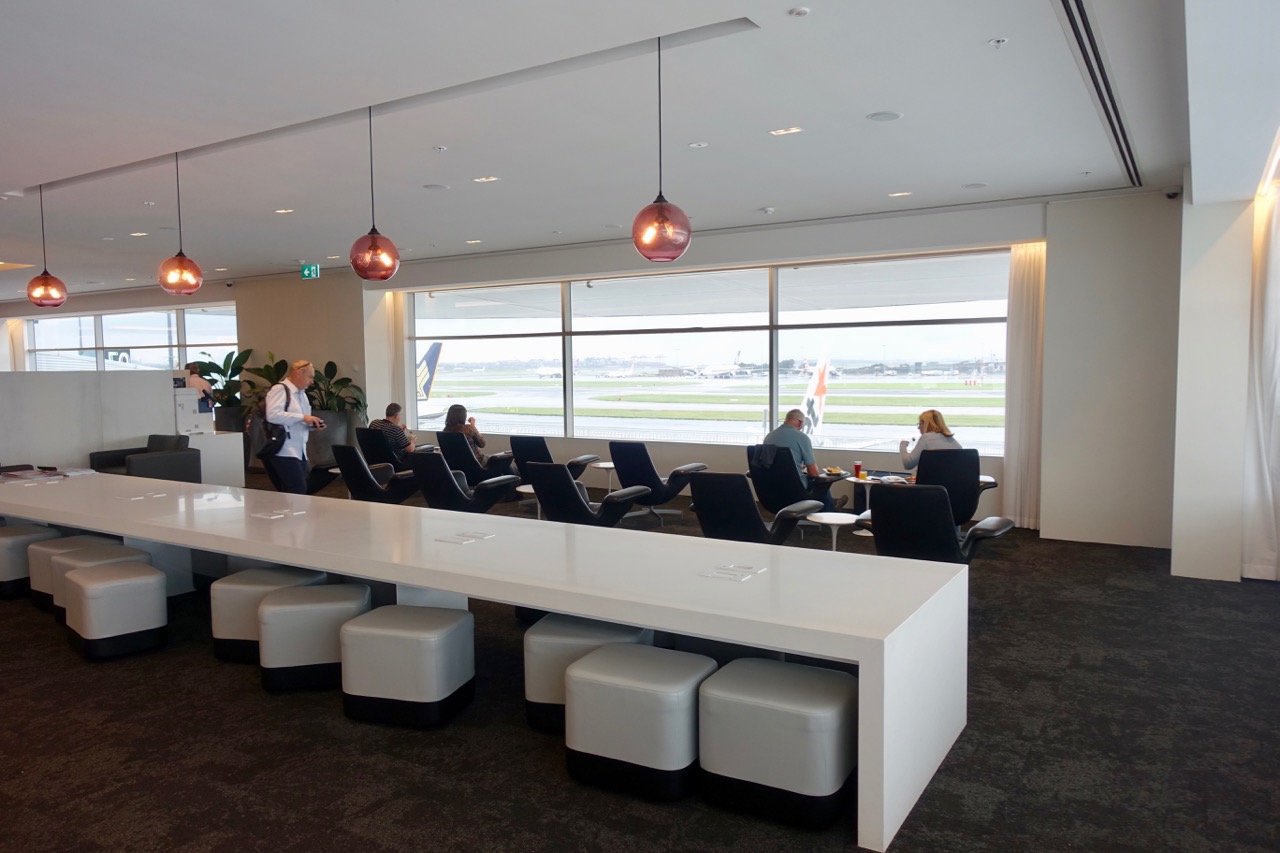 This area also has great wrap-around views of the outside terminal and provides ample USB and power points for those needing to take care of last minute business or in a need of a quiet area to conduct a casual meeting or take an important call.
The lounges chilled out quiet zone is also located at this end, just away from the business zone, and is a great spot for those with a long transit or just wanting somewhere quiet to relax with a book or catch a snooze away from all the main activity.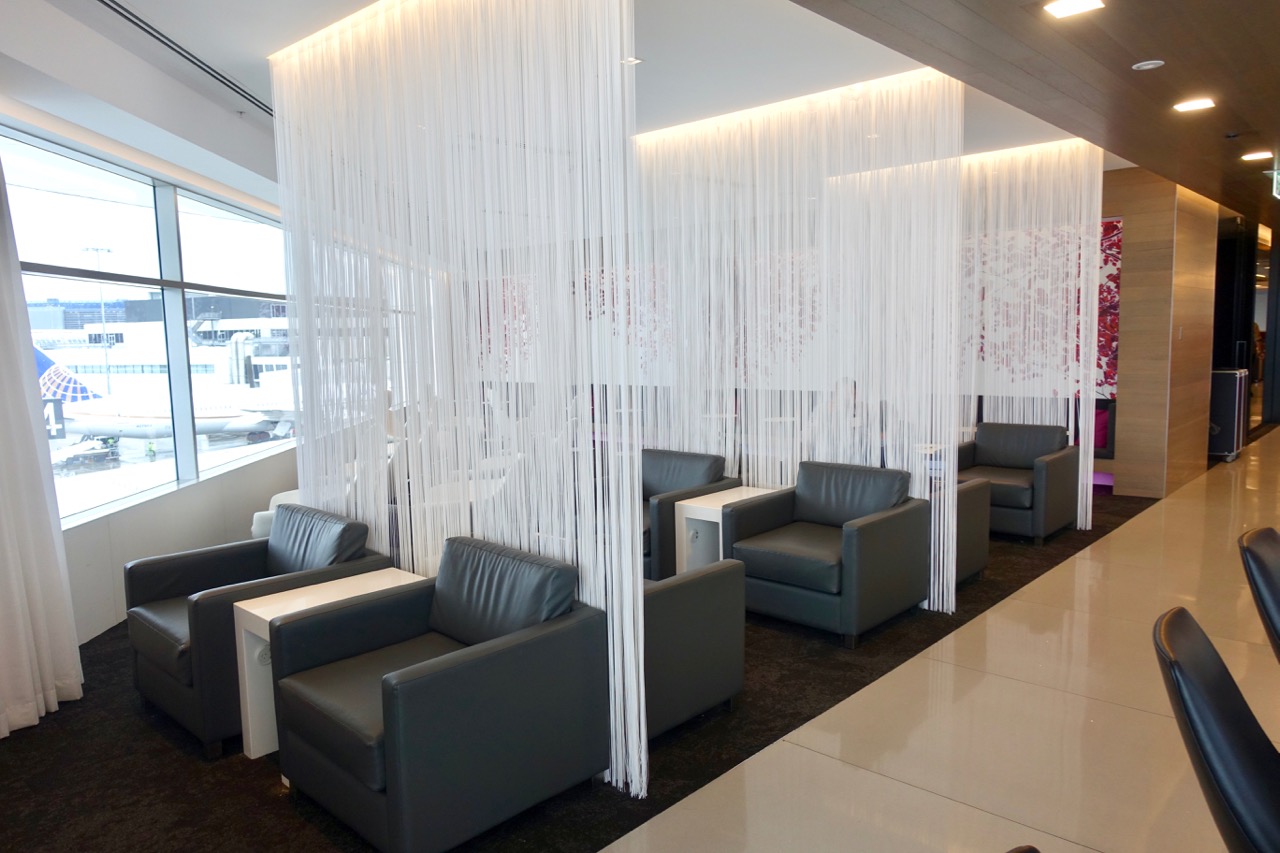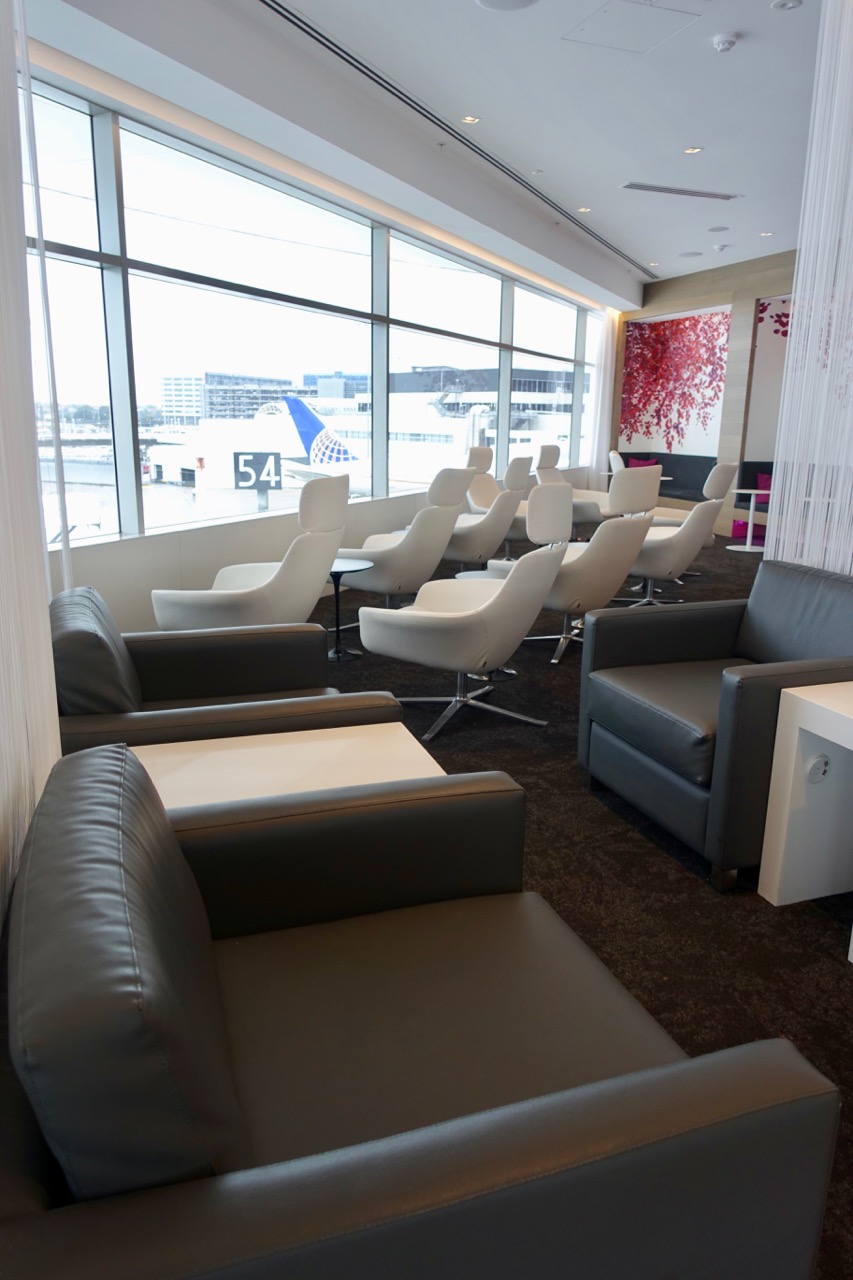 Air New Zealand Sydney Lounge Dining
Along with the various guest friendly seating options and the Australian coastline inspired 228 glass sphere chandelier, the lounge's dining zone provides guest with options catering to most tastes.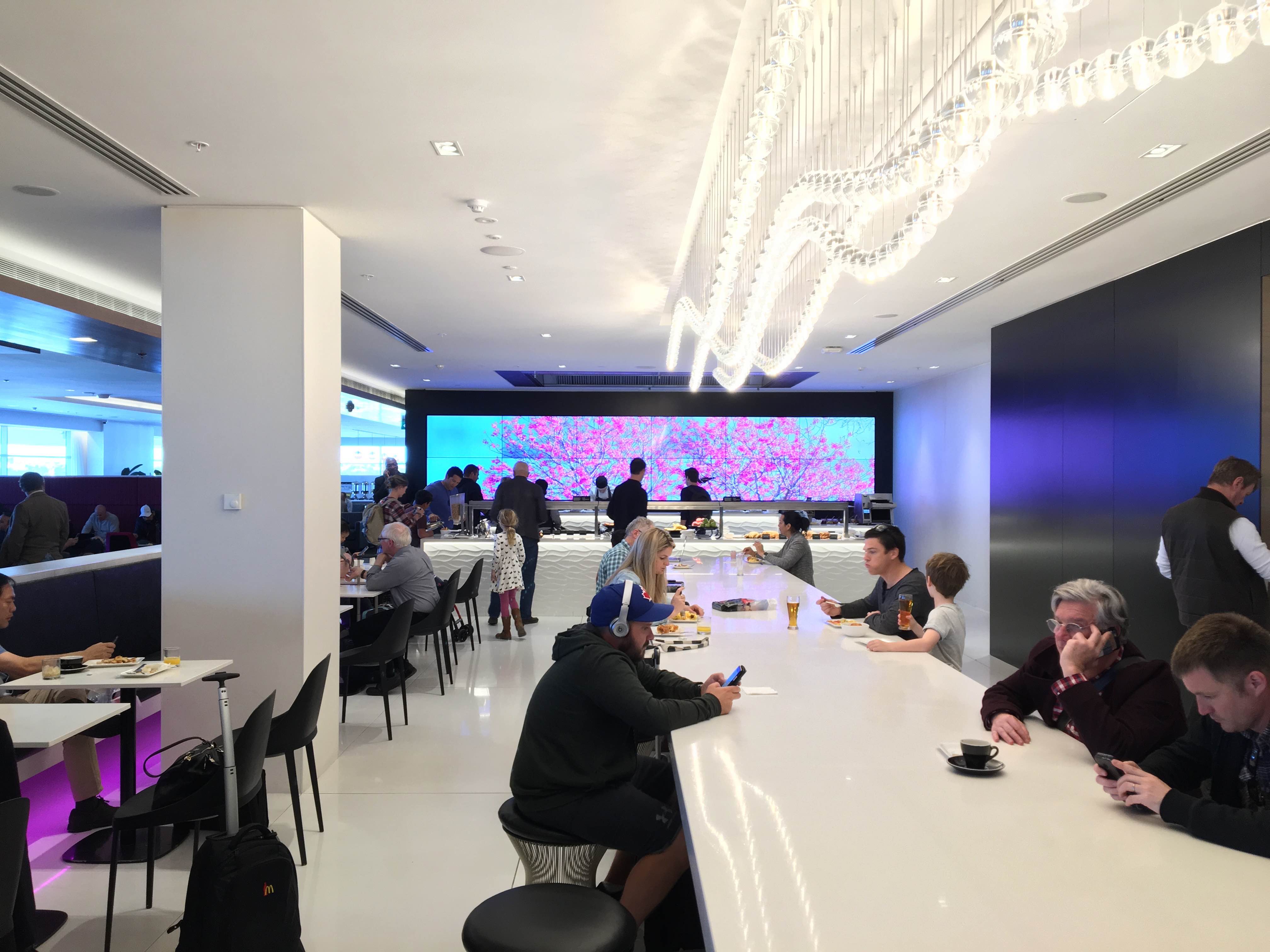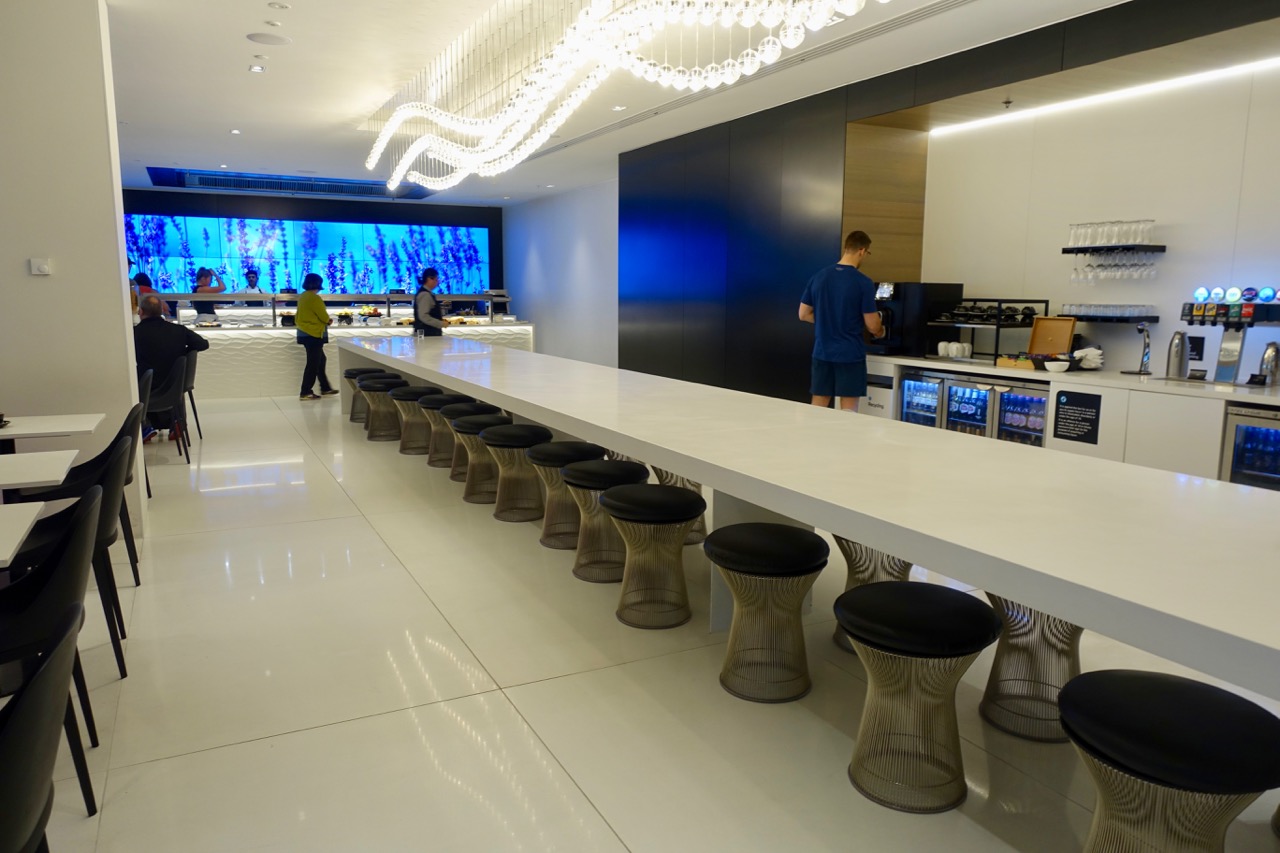 Along with the great continental and hot buffet breakfast options available, the Sydney lounge was the first to introduce Air NZ's new 'Food Theatre' where the resident chef prepares a range of freshly inspired cuisine dishes throughout the day.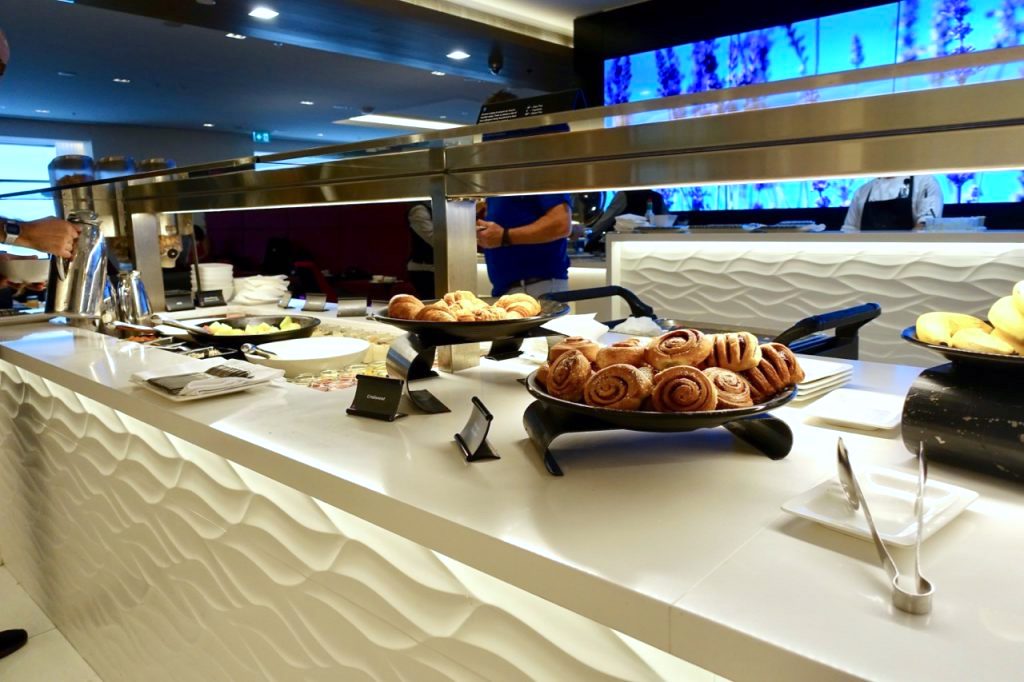 Having missed out on being able to sample the offerings of the food theatre during my recent visit to Air NZ's flagship Auckland lounge, I was pleased to make the most of one the chefs breakfast dishes, along with yet another espresso.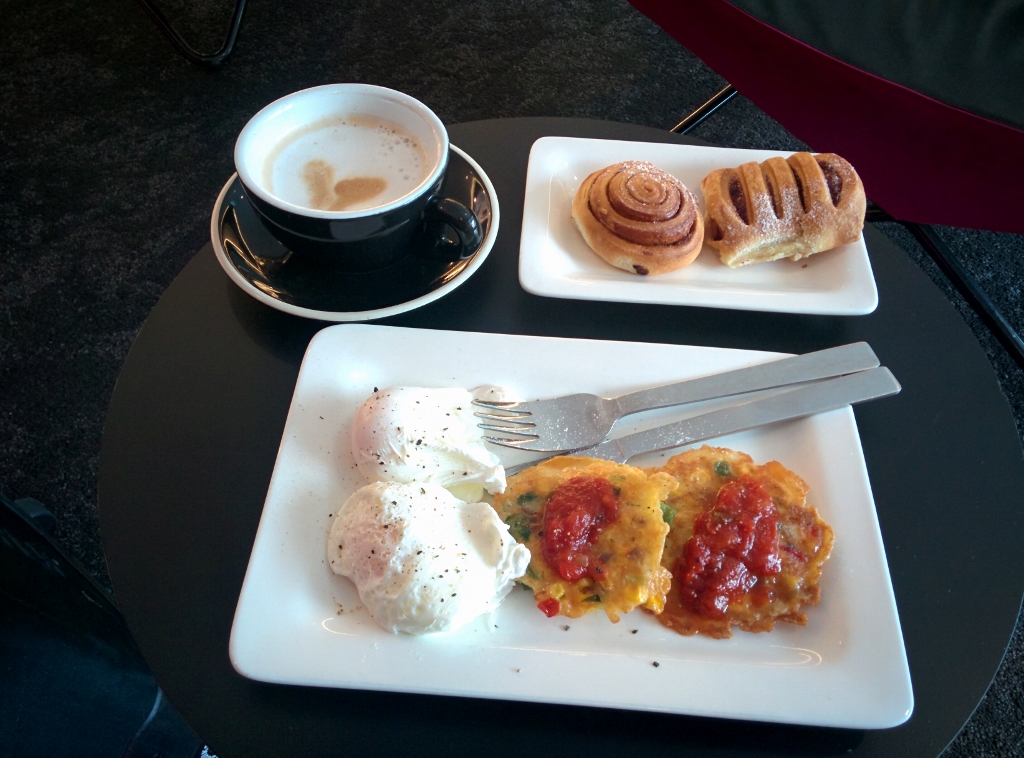 The cafe and casual dining area also offer its own self-service bar, where guests can help themselves to a fresh chilled juice with breakfast or top up a glass of one of the many top quality New Zealand wines or beers on offer.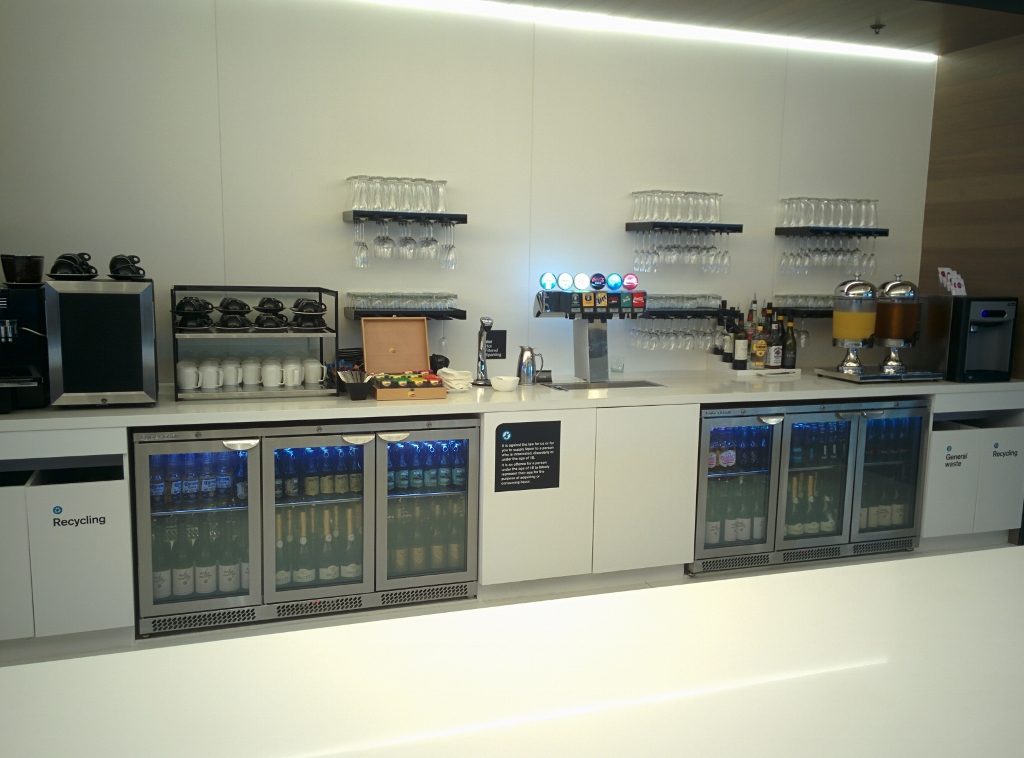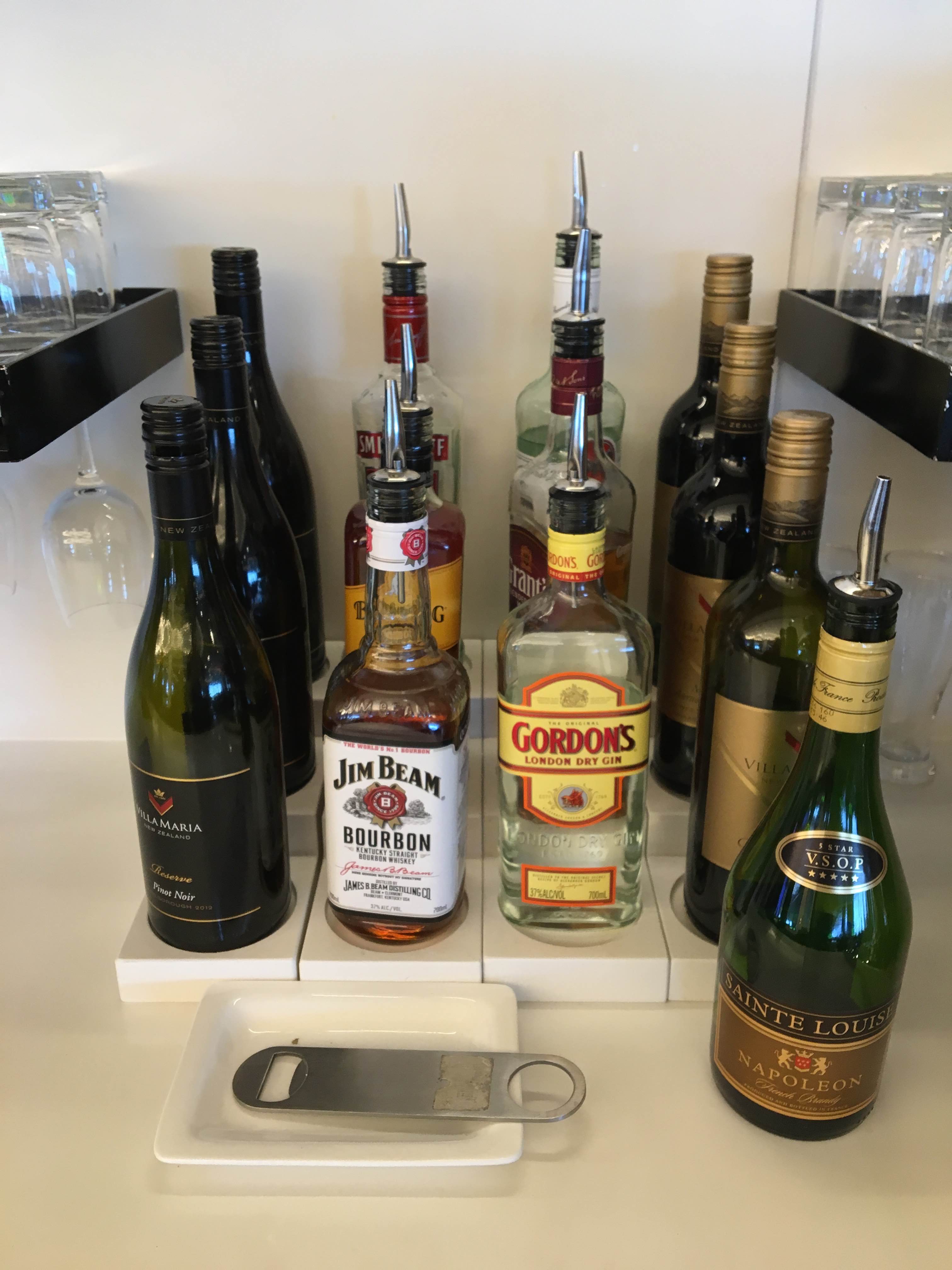 Other lounge facilities
Along with the range of seating options, great food catering, and well thought out zone design, Air NZ has also catered for their youngest guests with a colourful & interactive kids' zone, packed with the latest games, books and blockbuster movies.
The lounges shower facilities are also impressive, with a number of individual shower rooms, catering for those needing to freshen up while in transit or wanting to shower and change out of their suit on their way home from a long business day.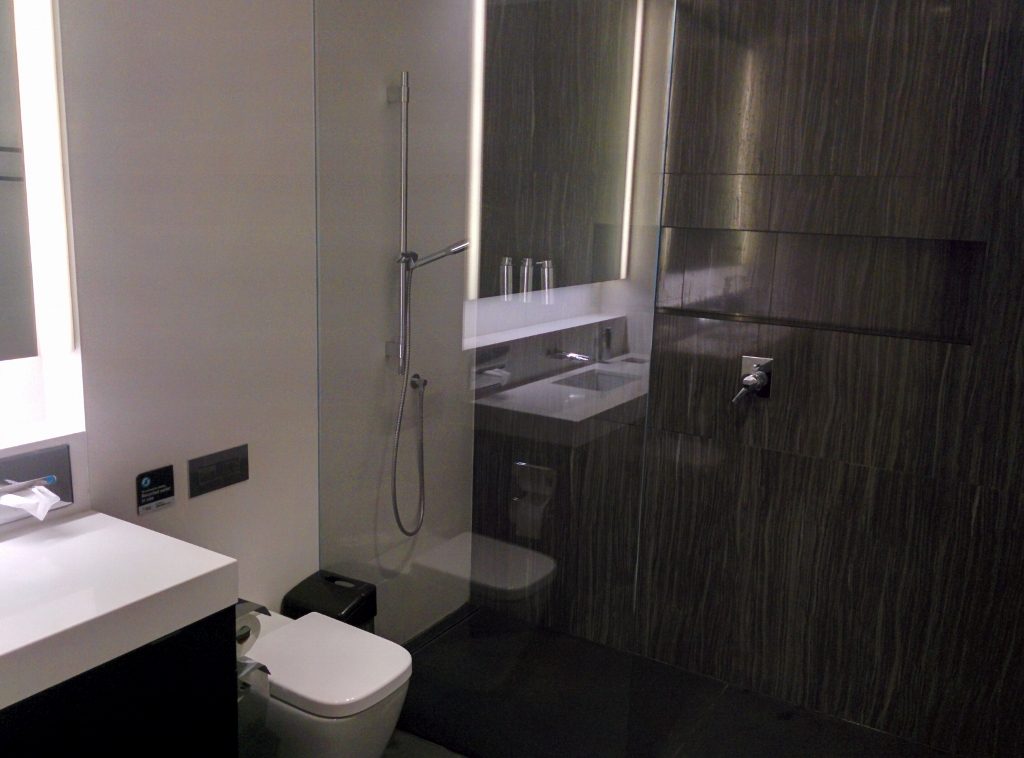 The general bathroom design provides a fresh, light and inviting experience, and the inclusion of the complimentary Antipodes' skincare products was a nice touch.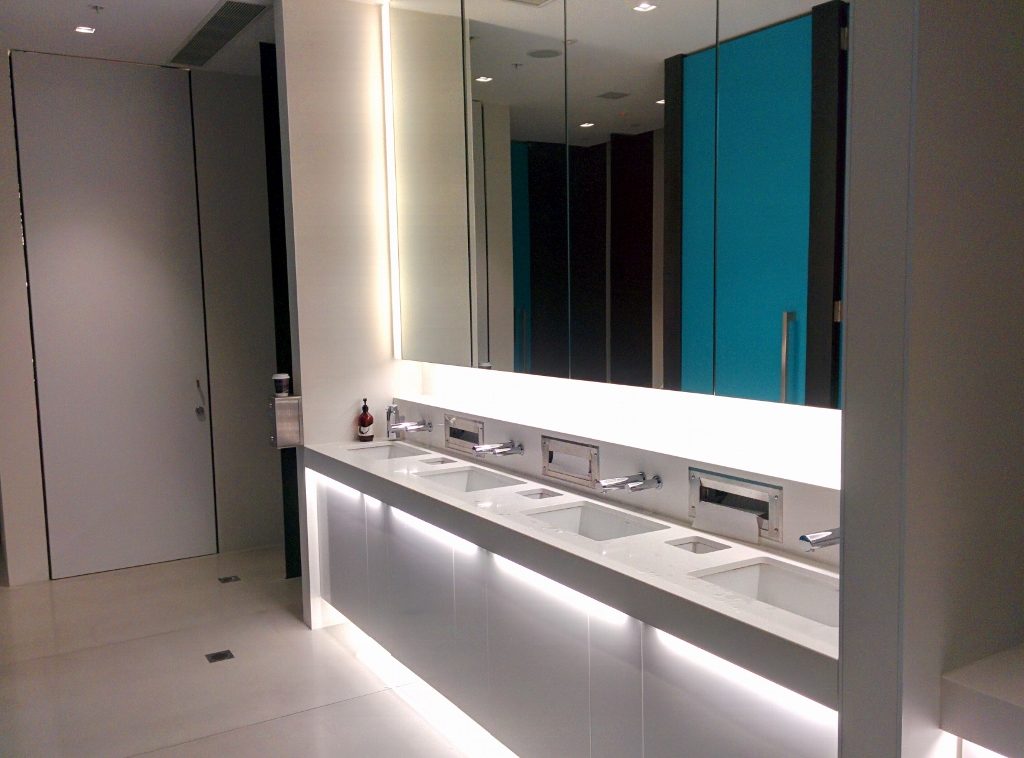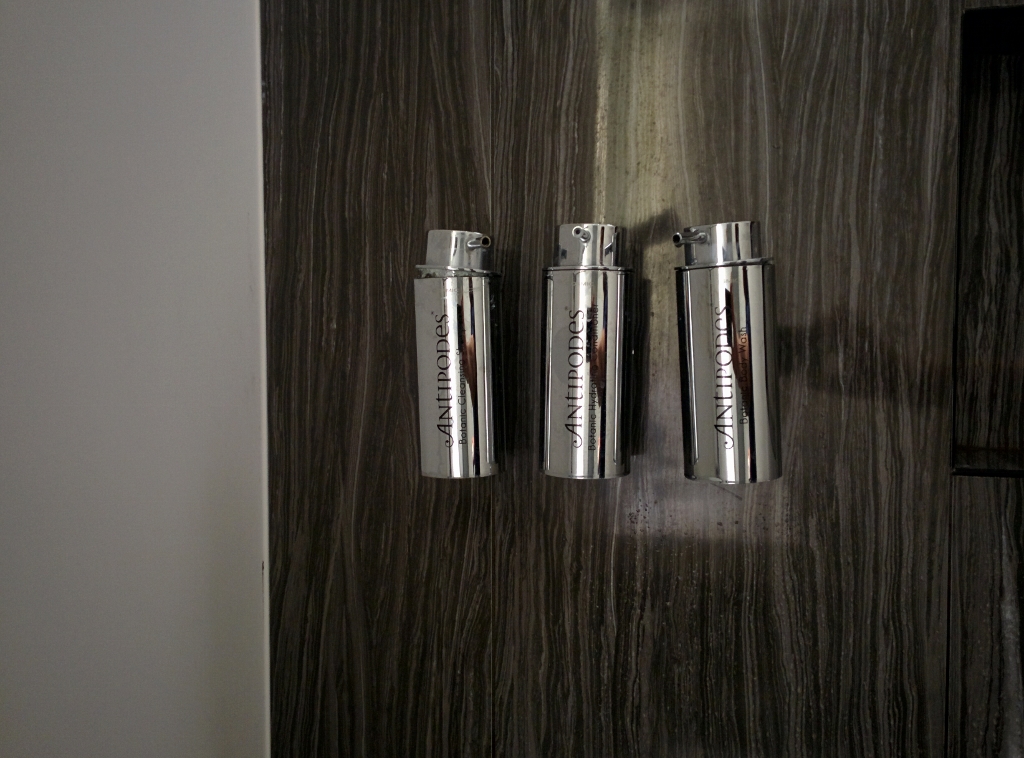 Lounge Access Options
With Air New Zealand being a member of the Star Alliance along with having many direct strategic airline partnerships, not to mention their Koru Club lounge programme, there is a myriad of both obvious and more complicated methods of accessing the Air NZ Sydney International Lounge.
Air New Zealand & Star Alliance Business or First Class ticket holders or elite status holders
Access is complimentary to any passenger holding a ticket with a same day Air NZ Business Premier, Star Alliance airline Business or First Class flight departing Sydney.

Air NZ Gold, Gold Elite, and Star Alliance Gold members* are entitled to access the lounge prior to a same-day flight in any cabin class departing Sydney with Air NZ or any Star Alliance airline.
*Effective 1 January 2020, United MileagePlus Gold and above elite status members cannot enter partner lounges like this one unless they are flying Business or First Class.
Koru Club members
Access to the Sydney lounge is available to Koru club members prior to the specific flights mentioned below:
Air New Zealand – prior to any same day Air NZ ticketed and operated flight departing Sydney, in any cabin class.
Virgin Australia – prior to any same day Virgin Australia ticketed and operated Trans-Tasman flight departing Sydney, in any cabin class.
As Koru Club is not a Star Alliance membership, Koru Club members are unable to access the lounge when onward travel (excluding elite cabin and status passengers) from Sydney involves a Star Alliance carrier.
If interested you can find out more about the Air NZ Koru Club programme here, along with various Air NZ credit cards that provide free joining and discounted Koru club membership here.
Single-entry passes
Those passengers who have received one-off passes, such as the 2 complimentary passes received for reaching Air NZ Air Points silver status, or those provided by Air NZ credit card partners, are eligible to access the lounge prior to flights meeting the same requirements as a full Koru Club member above.
Guest allowances
The following guests are entitled to have one extra guest accompany them into the lounge, provided they are traveling on the same onward flight as the primary guest.
Air NZ Gold status holders
Star Alliance Gold status holders
Air NZ Koru Club members
Air NZ Silver single entry pass holders
In addition, Velocity Platinum status guests are entitled to have three extra guests accompany them into the lounge, provided they are traveling on the same onward flight as the primary guest.
Finally Air NZ Gold elite guests are entitled to have five extra guests accompany them into the lounge, provided they are traveling on the same onward flight as the primary guest.
Child allowances
The following guests are entitled to have outside of normal guest allowances, two children under 12 years old accompany them into the lounge, provided they are traveling on the same onward flight as the primary guest.
Air NZ Gold or Gold Elite status holders
Virgin Australia Gold and Platinum status holders
Air NZ Koru Club members
For all other guests, children over the age of 2 will be counted as part of their normal guest allowance, if any.
Check here for more information on the Air NZ Sydney Lounge, and other Air NZ lounges, including access and guest qualifications.
If you would like to share your own experiences with the Sydney Air New Zealand International lounge or have experience of an alternative access option not provided above, let us know in the comments.
Our Take – Air New Zealand Sydney Lounge at Sydney International
Given my previous experiences with the Air NZ International Auckland lounge and LAX Star Alliance lounge left me really impressed, I was keen to see how the Sydney option compared.
The lounge is well designed and I think the way that Air NZ and the design team at Gensler have created the different zone areas is an inspired way to cater for the needs of all guests, not just those in business.
The food was some of the best I've had in any airline lounge and easily competes with the high standards of the Qantas lounge catering.
I enjoyed the abundance of natural light streaming in through all the windows, and the great view of the outside terminal and runway can provide entertaining viewing for those plane spotters out there.
With all the potential access options the lounge can get busy occasionally, but for the most part the 1,500 sqm floor area and well-structured layout provides ample room and facilities for the 300 or so guests that it caters for.
All in all, I think Air NZ is providing an impressive product with their new lounge program and the Sydney lounge is no exception.
Additional images courtesy Air New Zealand.
Air New Zealand Sydney Lounge Overview
was last modified:
April 22nd, 2022
by