Priority Pass is an airport lounge membership program, offering travellers access to more than 1,000 independent and airline-affiliated lounges around the world. Memberships can be purchased, but do also come included with certain high-end credit cards such as the American Express Platinum Card.
There are different membership options available: the most expensive options include unlimited yearly visits, while the cheapest one is merely access to the Priority Pass network, with each visit being chargeable at US$32 a pop. But not only does your membership unlock lounges, but it can also be used for access to certain specialty locations (such as spas), and even for a A$36 credit at participating restaurants (although this credit is not offered through the American Express Platinum Card).
Unfortunately, at least 57 Plaza Premium lounges (a separate chain of independent lounges) will be leaving the Priority Pass program from 1 July 2021 onwards – including those in Melbourne and Brisbane.
Still, after taking into account the exit, Priority Pass has gone from having one location in Australia many years ago, to more than twenty lounges and restaurants across Adelaide, Sydney, Melbourne, Brisbane, Canberra and the Gold Coast as of June 2021.
Background on Priority Pass
Since its launch in 1992, Collision Group's Priority Pass has grown to be the biggest independent airport lounge access plan. The idea behind Priority Pass is that it doesn't matter what class your ticket is or what airline you fly: you can still enjoy premium facilities during your journey.
So, whether you're flying Scoot, Jetstar or Qantas, even in Economy, you can enjoy the same comforts of having lounge access when you travel. It's handy for those travellers who fly on a range of airlines, primarily in Economy or Premium Economy, and are not (or can't be) especially loyal to a particular alliance.
Some of the benefits of lounge access might include:
Free WiFi
Snacks, soft drinks, and complimentary alcoholic beverages
Access to power or charging stations
TV and comfortable seating (ideally!)
Showers and spa facilities (often with an additional fee)
Priority Pass does not operate the lounges themselves. The program negotiates access for their members to use lounges around the world, so amenities do vary across airports. Some can be very good, and some (particularly in places such as Bali) can be decidedly… subpar.
You can get a feel for what each lounge has to offer at the Priority Pass Lounges index.
Where can I use Priority Pass in Australia and NZ?
Last checked: 24 June 2021
Most Priority Pass facilities in Australia (and all three lounges in NZ) are located in international terminals – and hence, may not be open or will have limited opening hours. However, some eateries, as well as the Rex Lounges, are located in domestic terminals.
Perth is slated to get its first two independent lounges, the Aspire Lounges in T2 Regional and T1 International, in July 2021 and the end of 2021, respectively. Priority Pass members may get access to those lounges but is yet to be confirmed.
How do I use Priority Pass at eateries?
Note that American Express Card Members do not have access to eateries anymore — only lounges. (Citi Prestige cardholders and those with single-use passes, as well as those who purchase memberships from Priority Pass directly still do have access to eateries.)
If you have an eligible Priority Pass membership, simply show up at the eatery with your membership card and boarding pass. The restaurant will swipe your card and you will receive A$36 per person to use on food and drinks. Each $36 credit is charged as a visit to your Priority Pass card. For example, if you and a guest turn up at the eatery, you could get a combined $72 credit to spend.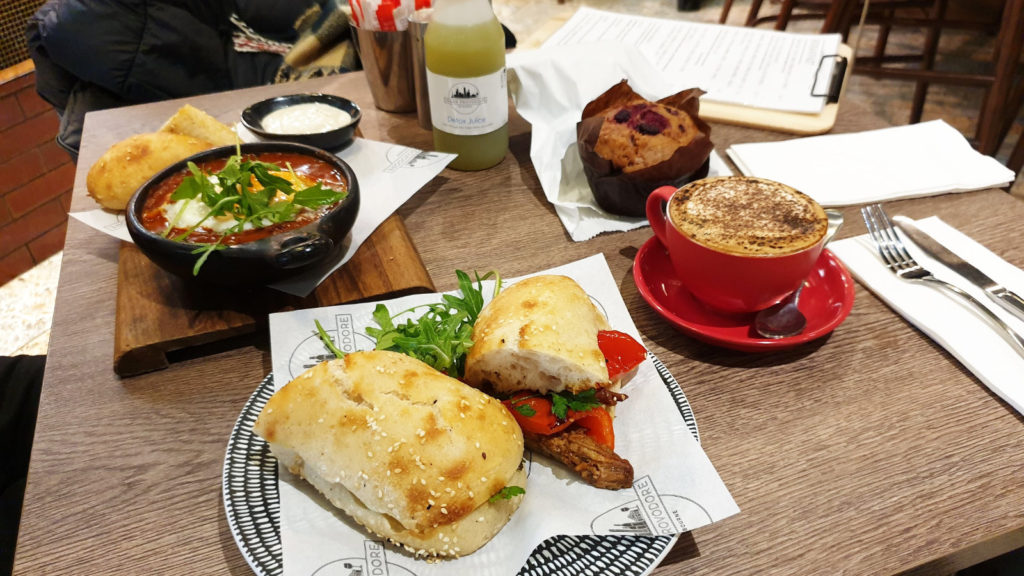 But your Priority Pass account will reflect your visit as well as your guests'. If you have unlimited visits and a guest allowance, that's all fine. But if you pay for guest visits, then you'll be charged US$32 for that, which is A$42. So you're essentially over-paying for the eatery credit then.
Rex Lounges
Rex operates three small but relaxing lounges at Sydney, Melbourne and Adelaide Airports. Those locations are set to be refurbished and expanded in 2021 as Rex focuses on domestic city flights.
These regional lounges offer complimentary WiFi, snacks and the usual hot and cold drinks, with beer and wine served from 3pm, plus massage chairs. A private meeting room can be arranged at the lounges in Sydney and Melbourne.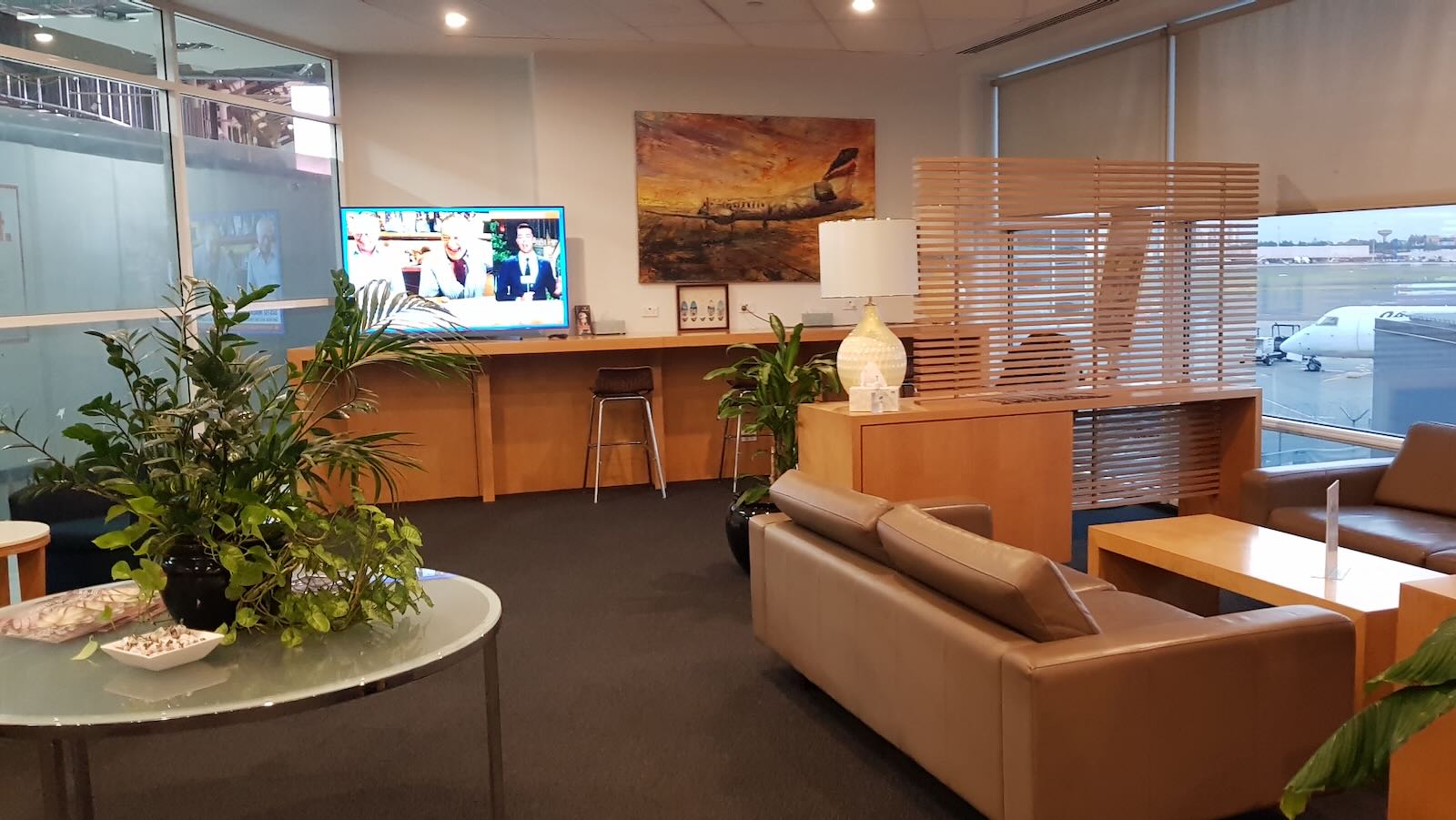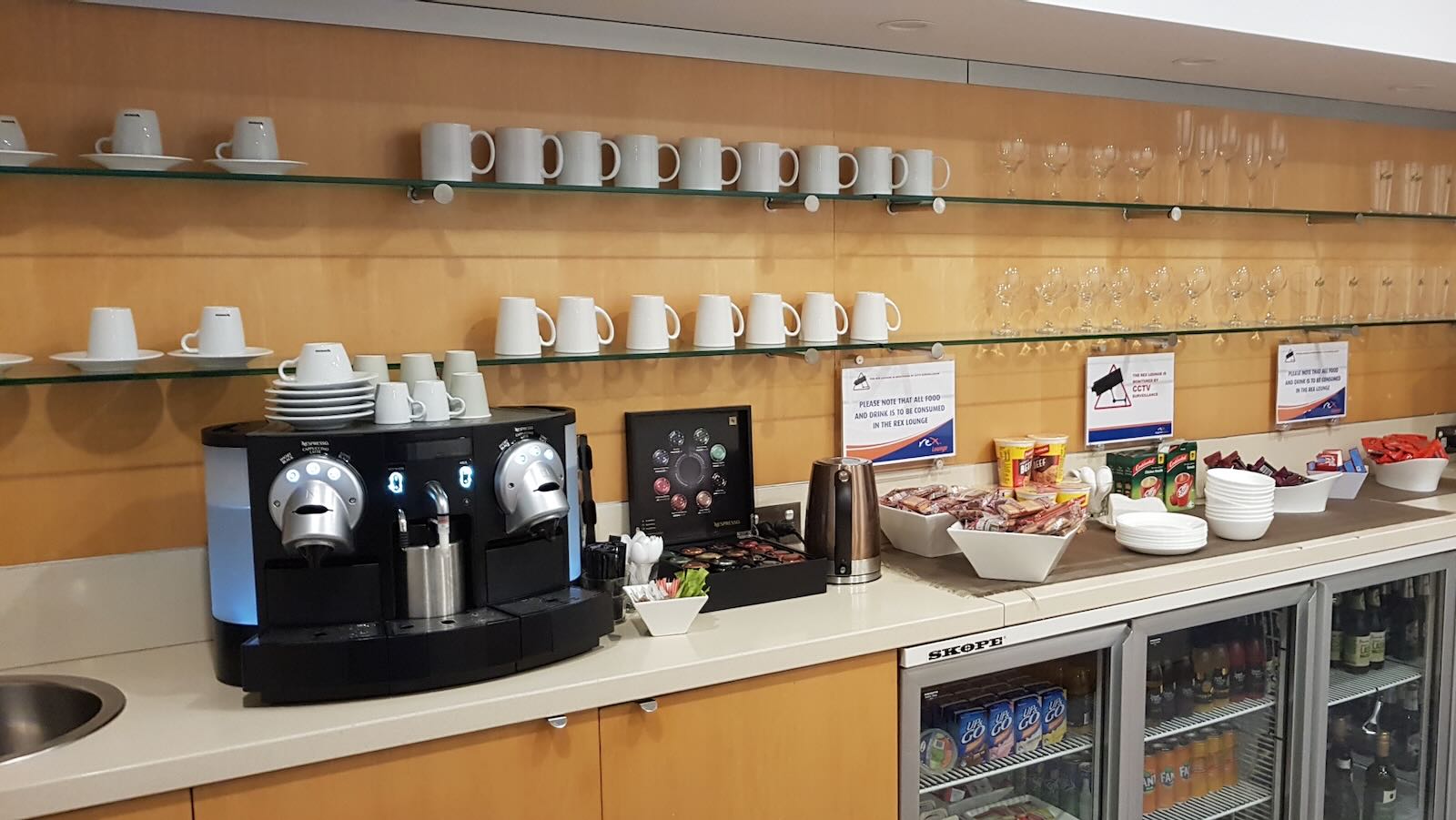 In Sydney, the lounge is located in T2 Domestic, which is used by all airlines except Qantas. Qantas passengers departing from T3 can also use this lounge but as you will have to re-clear security for your flight, you are probably best just dining at one of the two Priority Pass eateries in T3. Note that there are also three eateries in T2.
In Melbourne, the lounge is located in Terminal 4, used by Jetstar, Tiger, Rex and some Virgin Australia passengers.
And, in Adelaide, the lounge is located in the domestic section of the airport — international passengers should leave enough time after visiting the lounge to clear passport control and a liquid security check.
If you have the Amex Platinum Card and are flying Virgin Australia, you'll also have access to the Virgin Australia Lounges at all three airports, in addition to your Priority Pass benefits.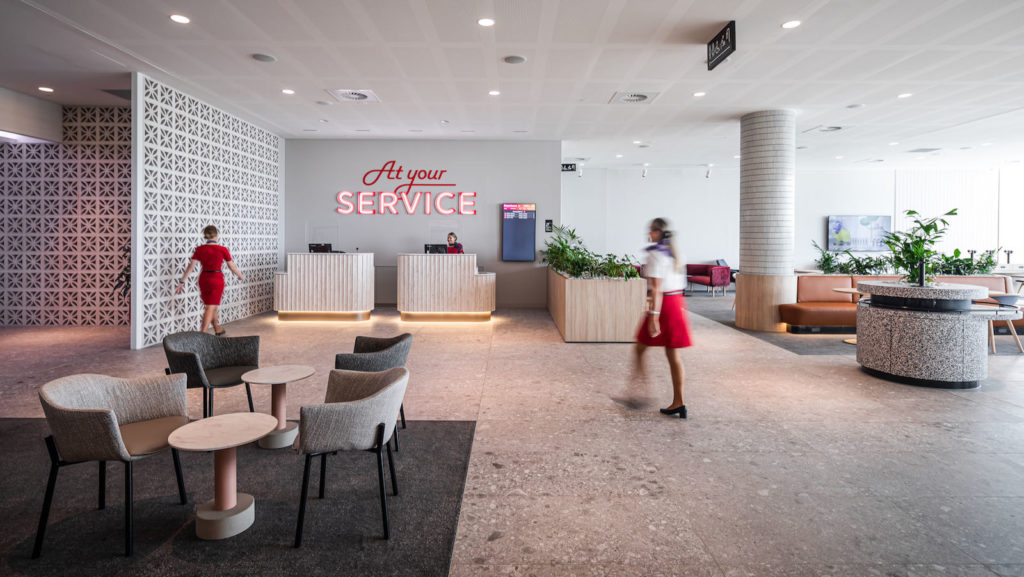 Note that eligible American Express Card Members also have access to the American Express Lounges in the international terminals at Sydney and Melbourne.
Plaza Premium Lounges
Unfortunately, the Plaza Premium Lounges in Melbourne and Brisbane are leaving Priority Pass from 1 July 2021 onwards. The newer Sydney Plaza Premium lounge will also be unavailable for Priority Pass members.
Ad – Scroll down to continue reading.Minimum spend, terms & conditions apply.
Credit cards that offer unlimited access
Unlimited access is the way to go, especially if eateries are included. One neat thing about the unlimited access with the Amex Platinum Card, Citi Prestige Mastercard and BOQ Specialist Signature Visa is that in an airport with multiple lounges, you can just walk out of a lounge if you don't like it and go find another.
Using the American Express Platinum Card
The American Express Platinum Card comes with a full membership with unlimited visits for the Card Member themselves, and one supplementary cardholder per account. Note that American Express Card Members do not have access to eateries — only lounges.
One complimentary guest is also permitted per enrolled Platinum Card Member, with additional guests charged at US$32 per visit. The Business version of the card also provides for unlimited entries but there are no complimentary guesting privileges, with each guest charged the guest fee.
Using the Citi Prestige Mastercard
The Citi Prestige Mastercard has a complimentary Priority Pass membership for the primary cardholder. You are entitled to unlimited visits to Priority Pass lounges and may bring one guest per visit. Additional guests will be charged for. Eateries are included, so graze away to your heart's content.
Using the BOQ Specialist Signature Visa
The BOQ Specialist Signature Visa also includes a complimentary Priority Pass membership for the primary cardholder, with four free entries into the network's lounges every year.
Credit cards that offer single-use passes
These credit cards offer two complimentary Priority Pass visits a year. It can be used for lounges or eateries, but bringing a guest will use up one of those passes.
Buying access through a membership
There are some paid membership plans if you don't have access to Priority Pass through your credit card. You can get a 10% discount for being a Point Hacks reader.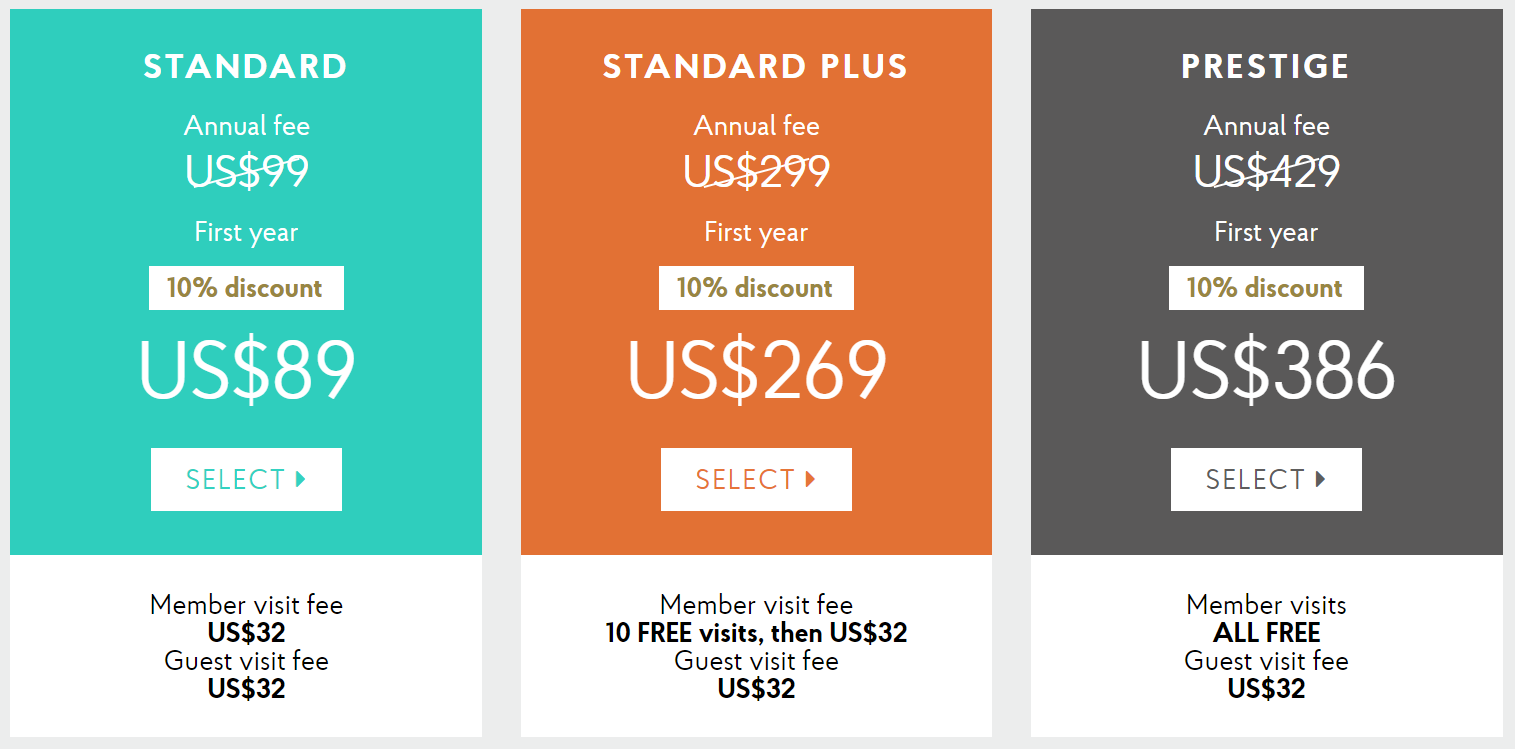 Standard membership: US$99 annual fee
Included visits: None
Per visit member fee: US$32
Per visit guest fee: US$32
This is best for those who may travel up to six times per year.
Standard Plus: US$299 annual fee
Included visits: 10 visits
Per visit member fee: US$32 for each additional visit
Per visit guest visit fee: US$32
This is best for those who will use the membership between seven and fourteen times per year.
Prestige: US$429 annual fee
Included visits: Unlimited
Per visit member fee: N/A
Per visit guest visit fee: US$32
This is best for those who will use the membership more than 15 times per year.
Summing up
It's probably not worth paying for a Priority Pass membership against the backdrop of COVID-19 at this time. But if you do have it included for free with a credit card, then it's good to know where you can use it domestically and overseas.
Remember that not all lounges are created equal – some Priority Pass lounges may be better than others. One way to get around this is to research lounges before you visit using the free LoungeBuddy app, TripAdvisor or Google, and choose carefully where you use your access if it is limited.
If you have an unlimited paid (Prestige) membership, or one from the Citi Prestige or BOQ Specialist, then you can certainly make use of it by hitting up different lounges and/or eateries as time permits.
Supplementary images courtesy Priority Pass and respective lounges.
This guide was previously written by Matt Moffitt.
This content contains affiliate links from which Point Hacks may earn commissions from transactions generated from new customers, bookings and general enquiries. Find out more here.
Guide to the Priority Pass lounge program
was last modified:
April 26th, 2022
by