As New Zealand welcomes the world back to its shores, Auckland Airport is buzzing again. A wealth of travellers are stopping by, being greeted with open arms – and no quarantine. So it's not surprising that Air New Zealand's home hub lounge in Auckland is buzzing with excitement.
Open not just for Air New Zealand's own flyers, but those booked on Qantas and a host of other carriers as well, it's a popular space for premium travellers. Here's how it fares in 2022 as international travel is taking off.
Location
Air New Zealand's lounge enjoys a prime position for international travellers at Auckland Airport. Once you're through passport control and security, following the clear signs to 'premium lounges' is easy enough.
As you progress through the duty-free maze, an 'Air New Zealand Lounge' sign then pops into view. The route traverses an incredibly quiet food court – and you'd be forgiven for thinking you were the only one flying.
But continue wandering, take the escalator upstairs, and you're in! After a 45-minute wait at security alone, the space is certainly a sight for sore eyes.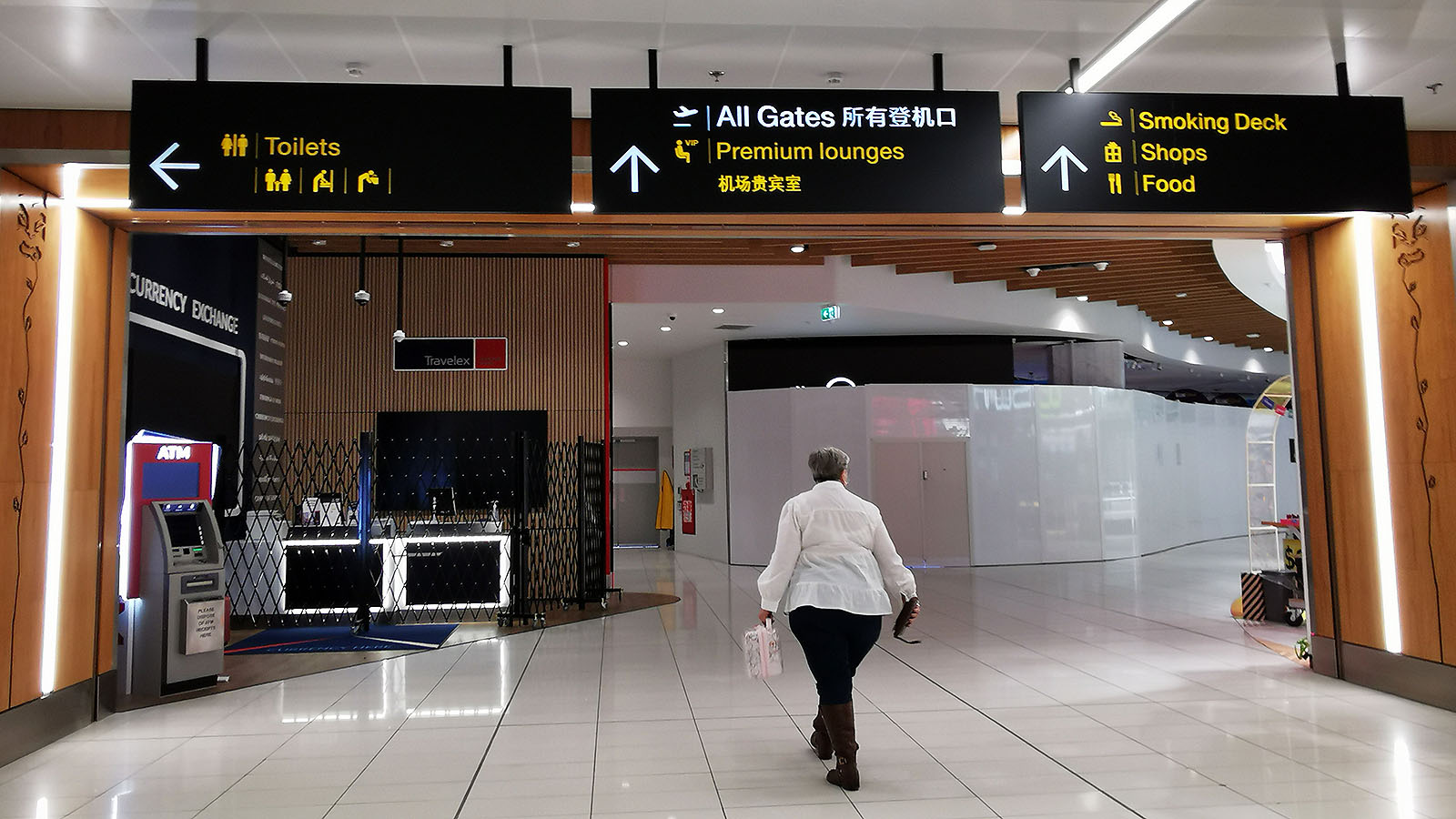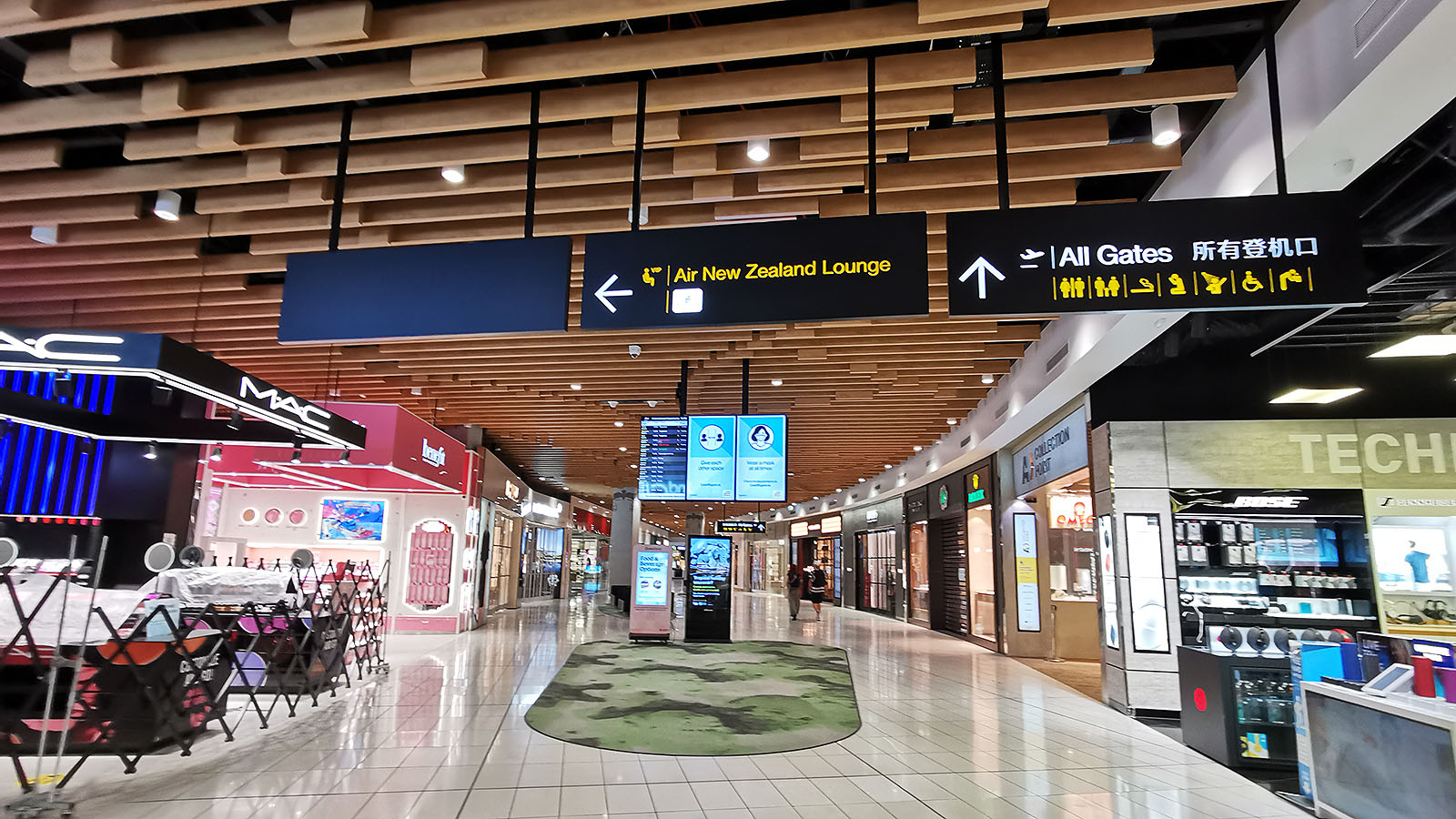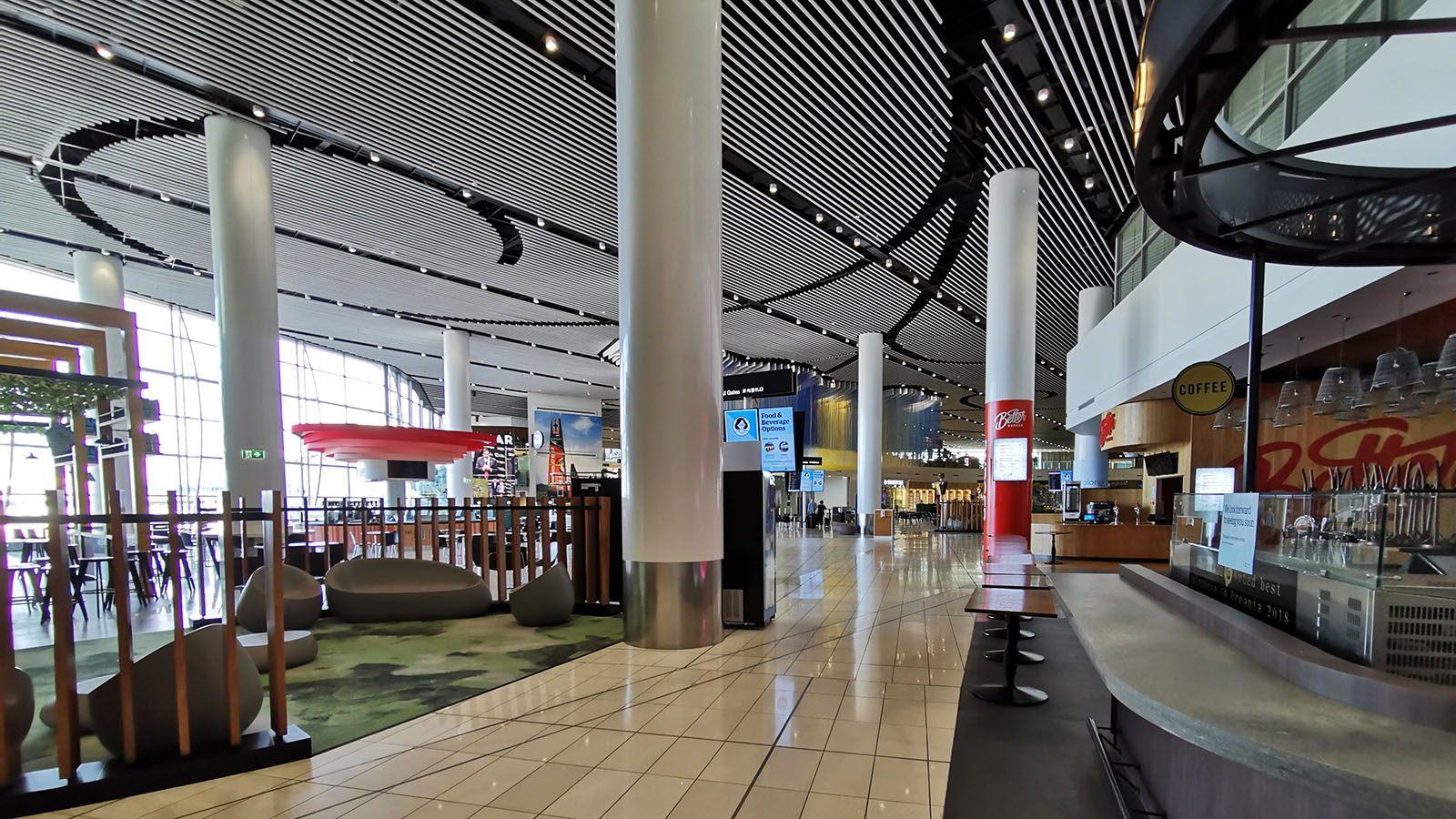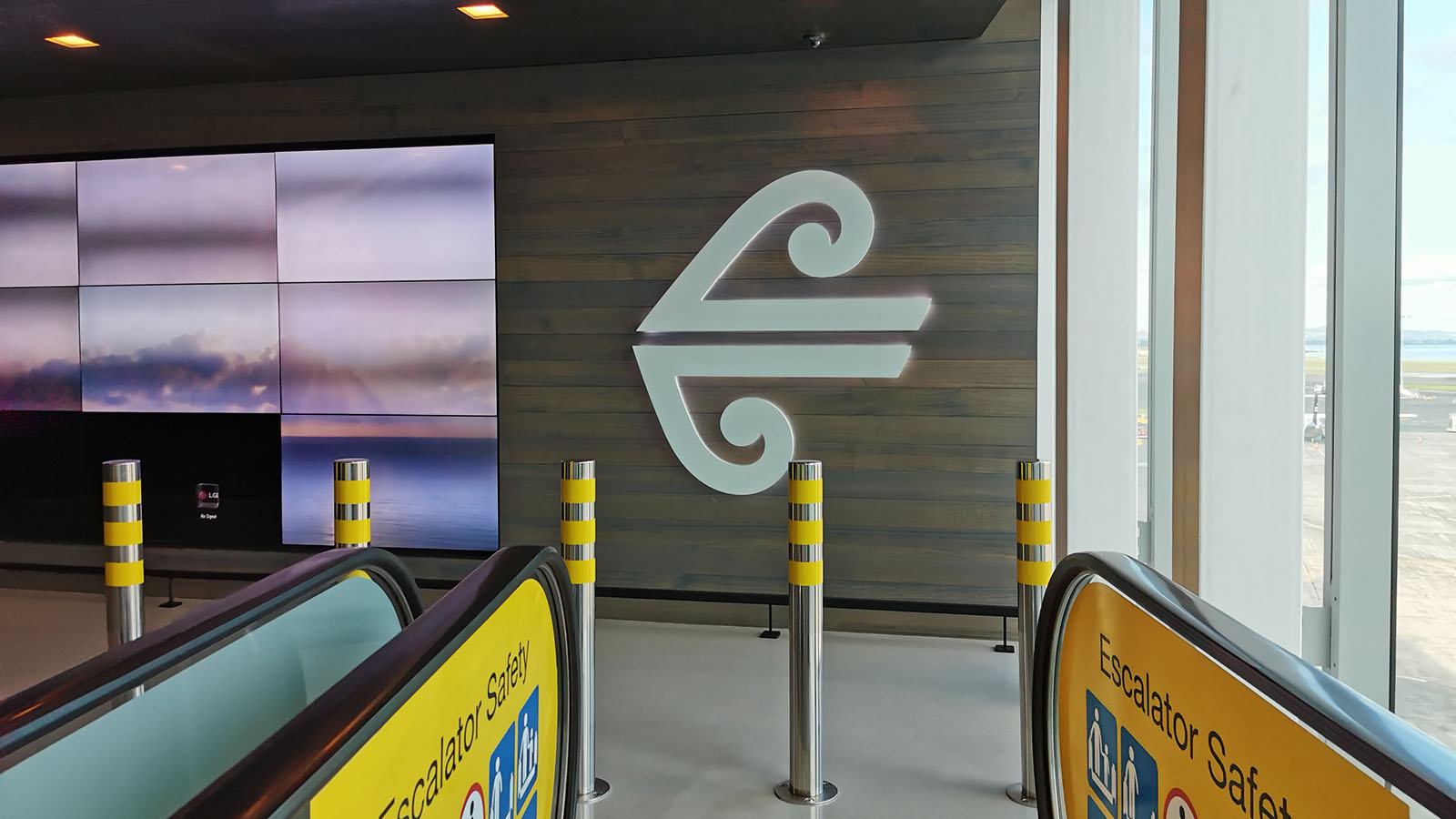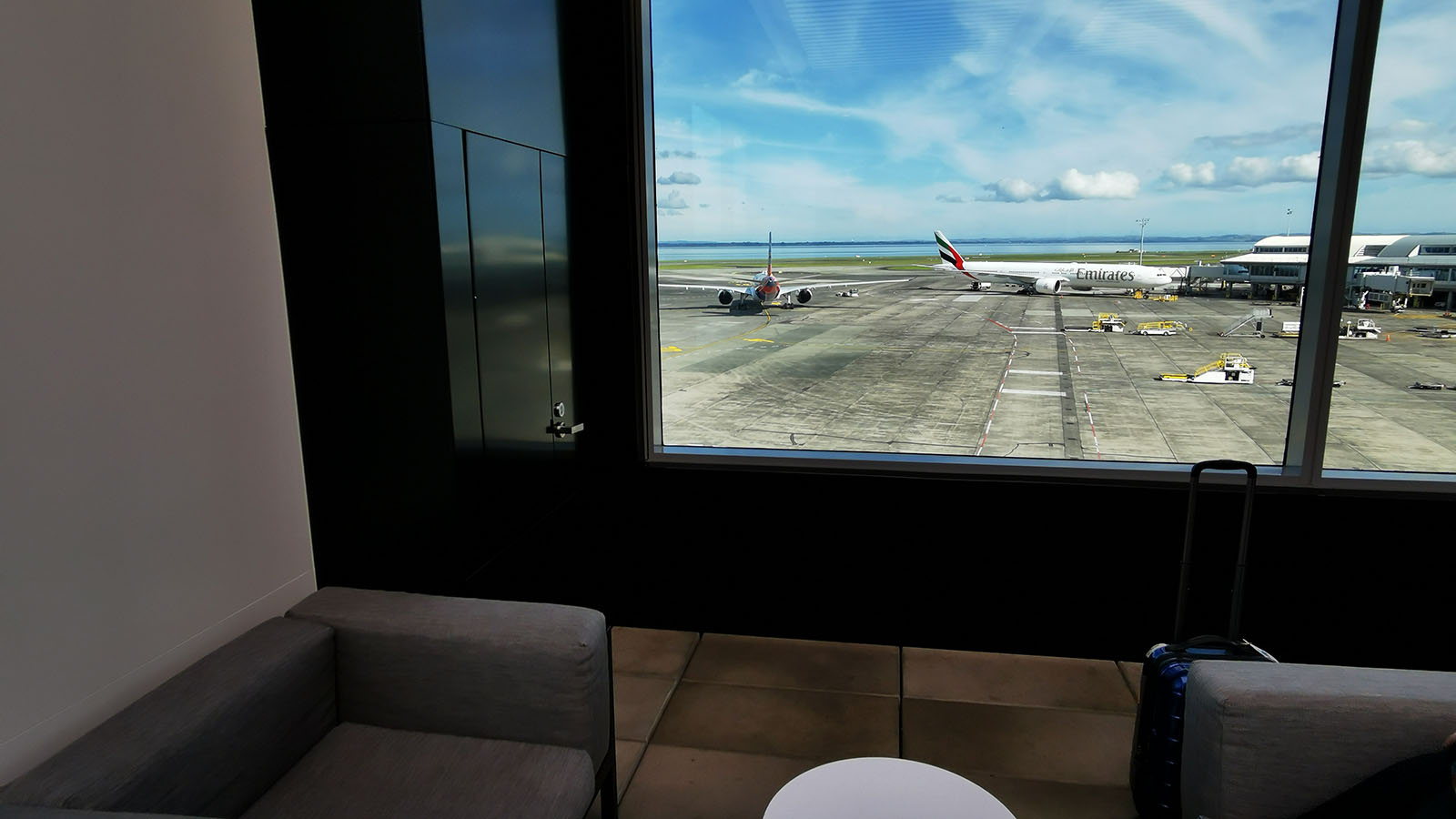 With the lounge sitting one level above the airport's main shopping and screening level, you'll enjoy great views from one end to the other. This lounge opens two hours prior to the first 'lounge eligible' departure until the last flight is called for boarding.
Given this lounge caters for travellers of so many different airlines – not merely Air NZ – it's safe to assume it'll be open and waiting for you when flying throughout the day.
Layout and seating in Air New Zealand's Auckland International Lounge
International travellers from Auckland Airport are a little spoiled with Air New Zealand's lounge. It's a light, bright and funkily-designed space with plenty to explore. Even though its style first debuted back in 2015 – some seven years ago – it's still looking fab.
Bursts of fuchsia and magenta bring a stark contrast to your typical 'business lounge'. Splashes of greenery – and the unapologetic use of contrasting yet complementary textures – make the lounge stand out even more. And in a good way.
This thoughtful design offers something for everyone. There's a dedicated dining area, clumps of seats for guests travelling in groups, and others better-suited to those in pairs.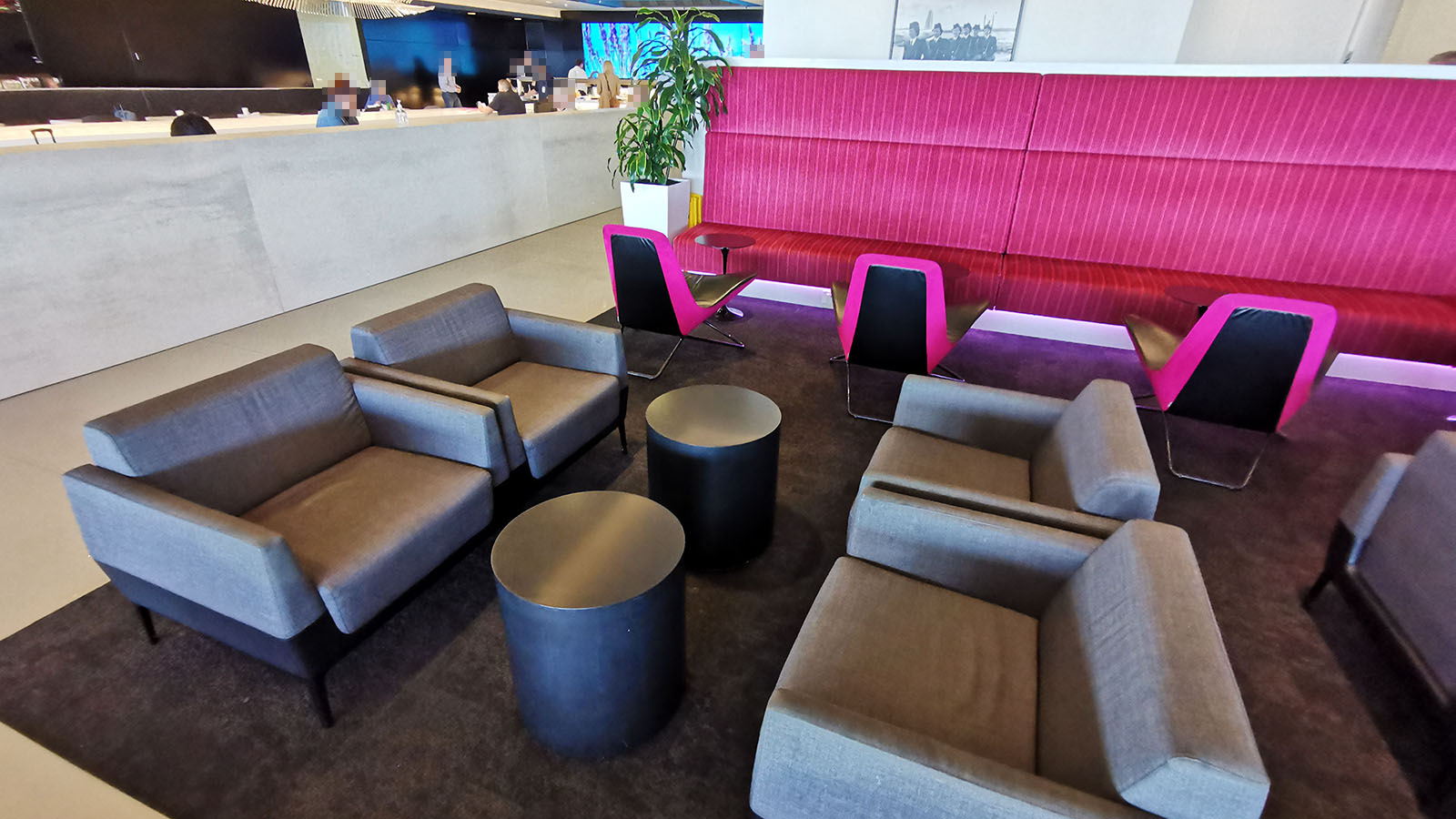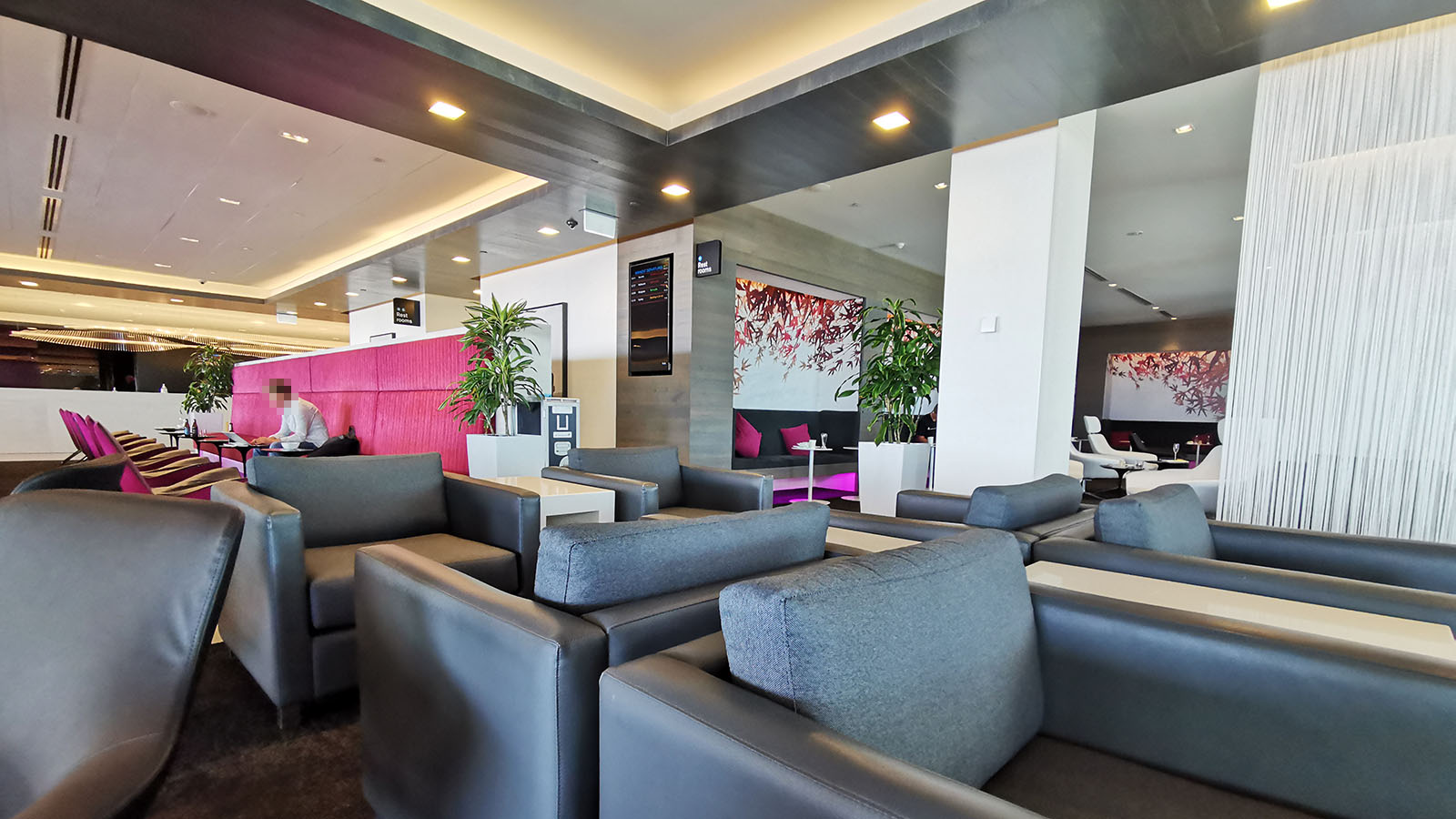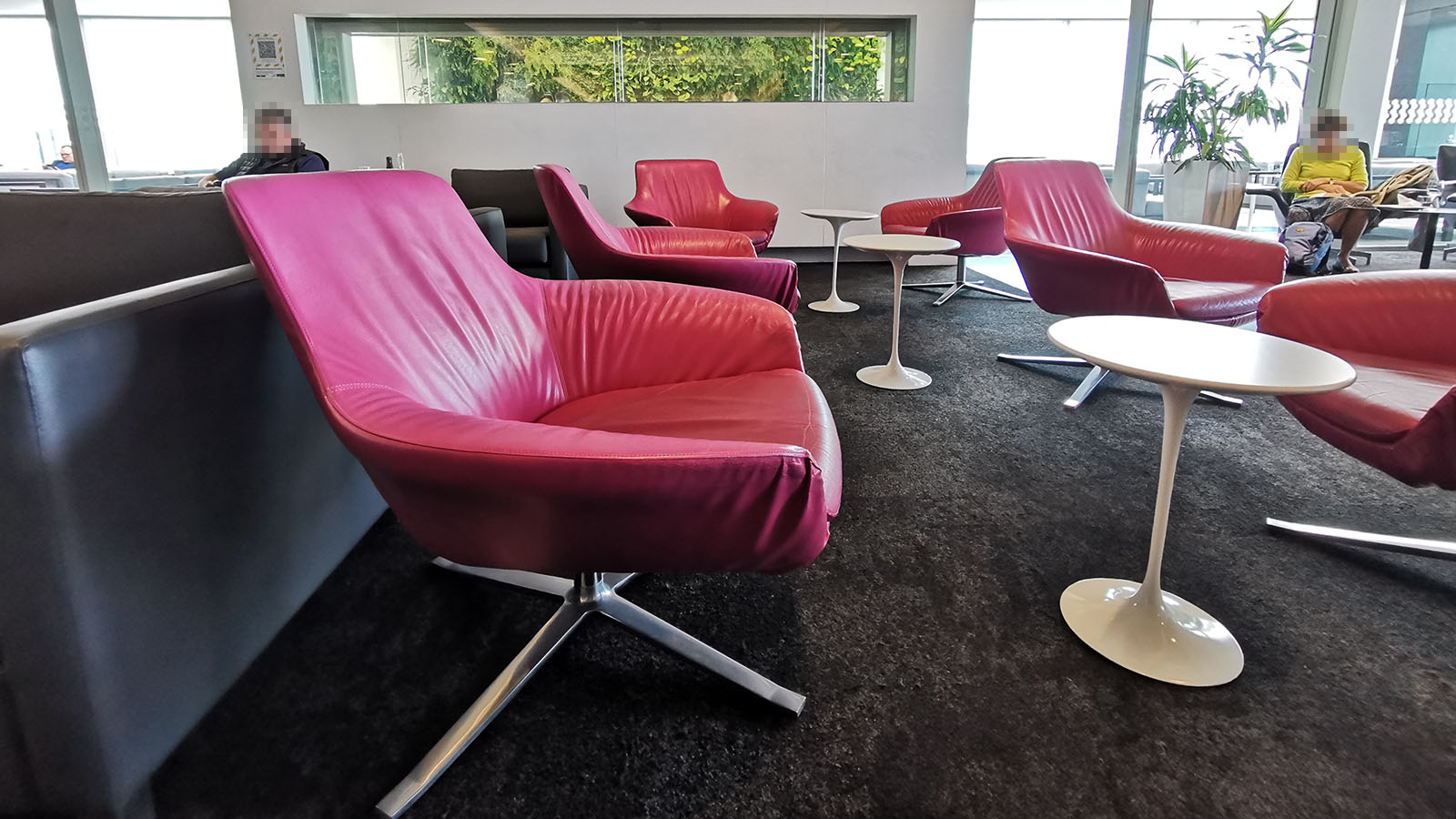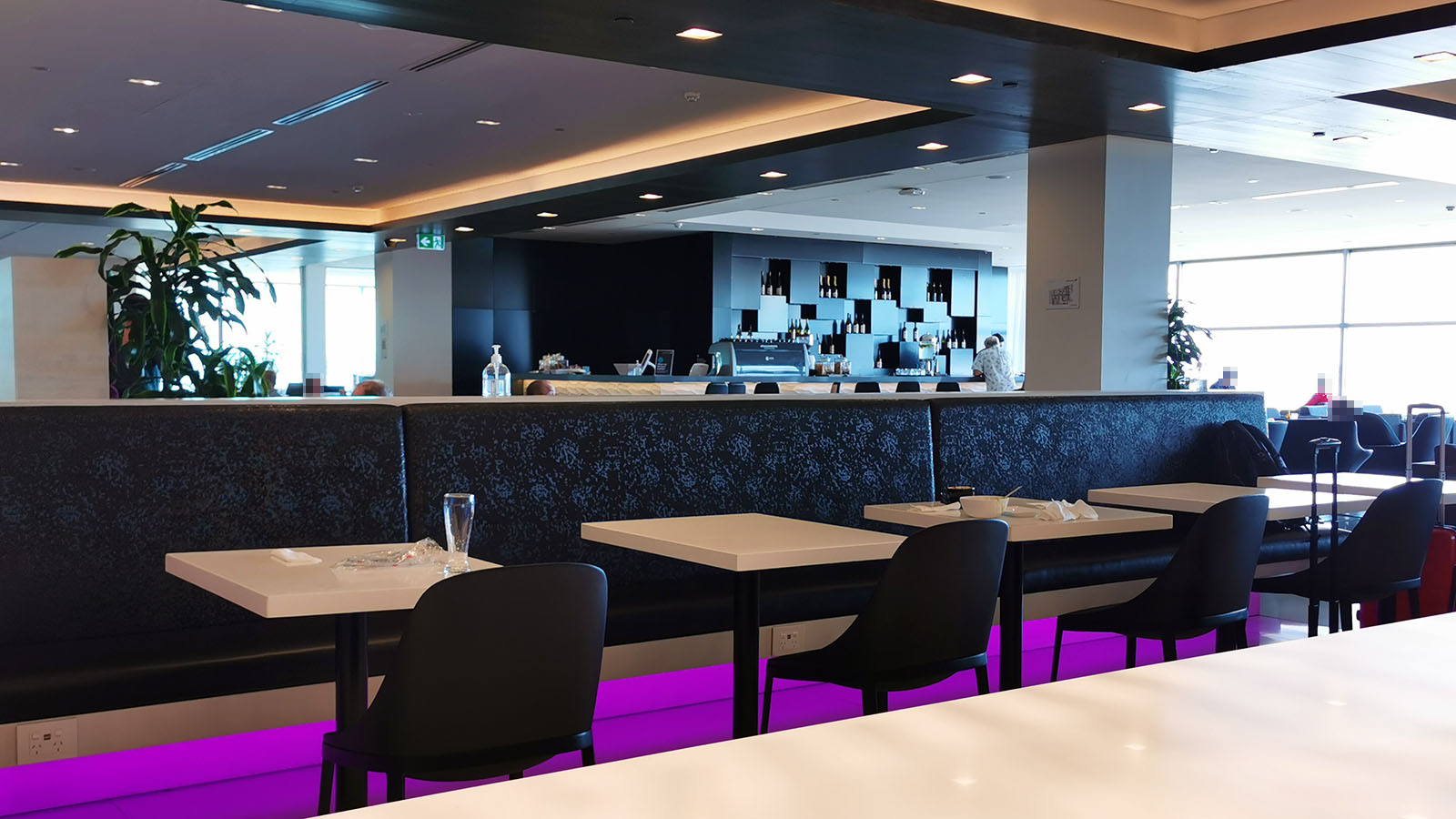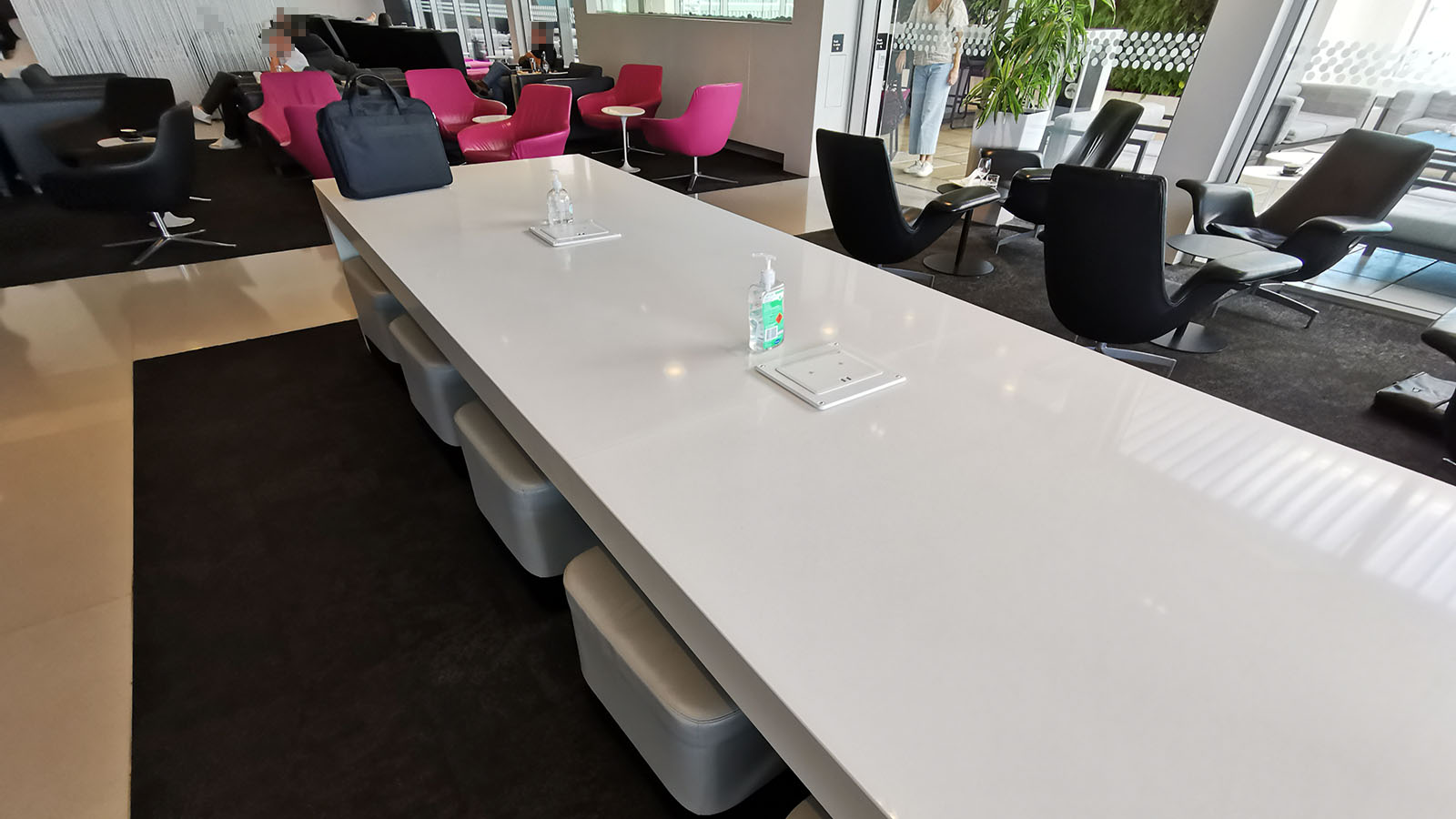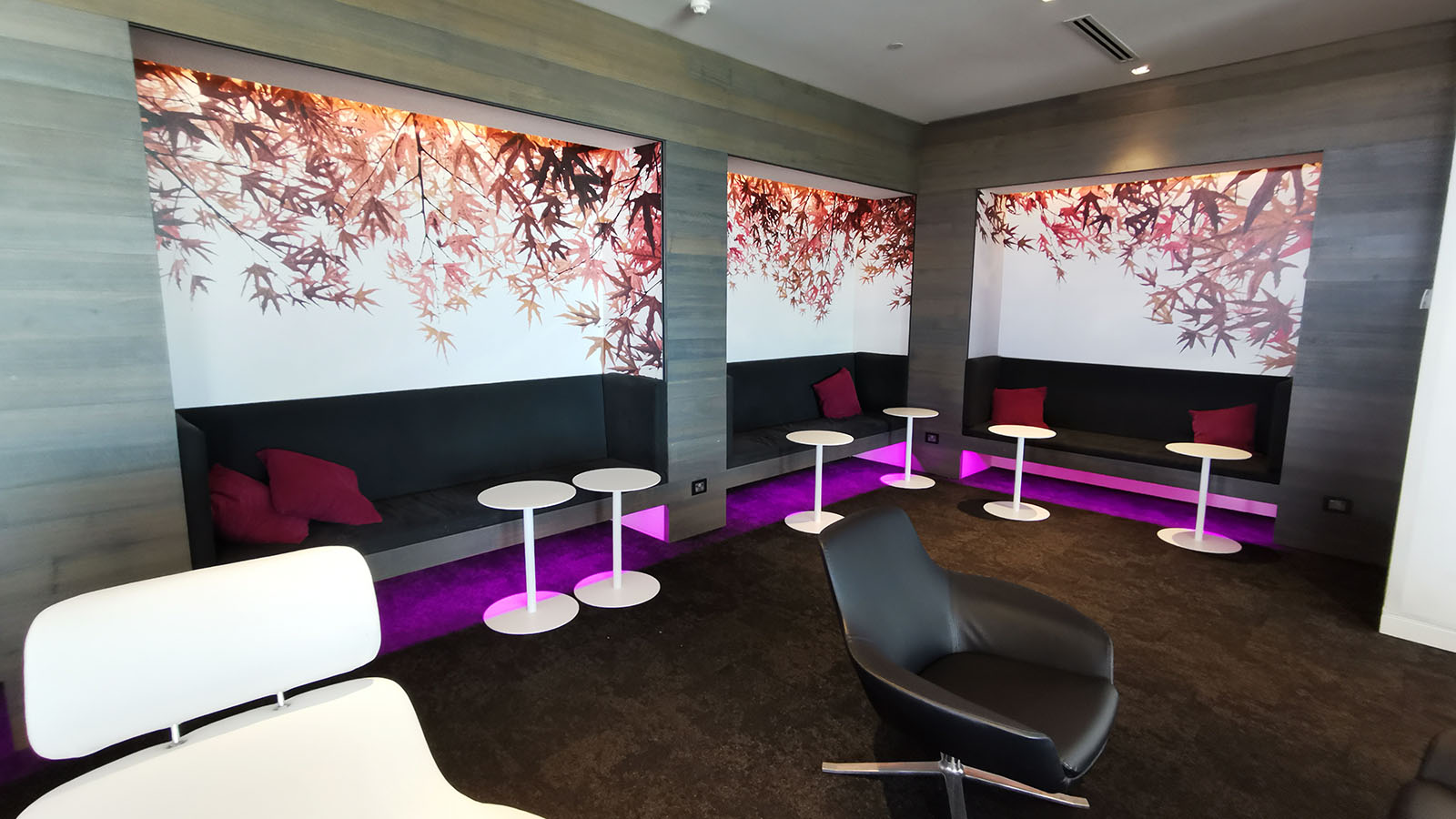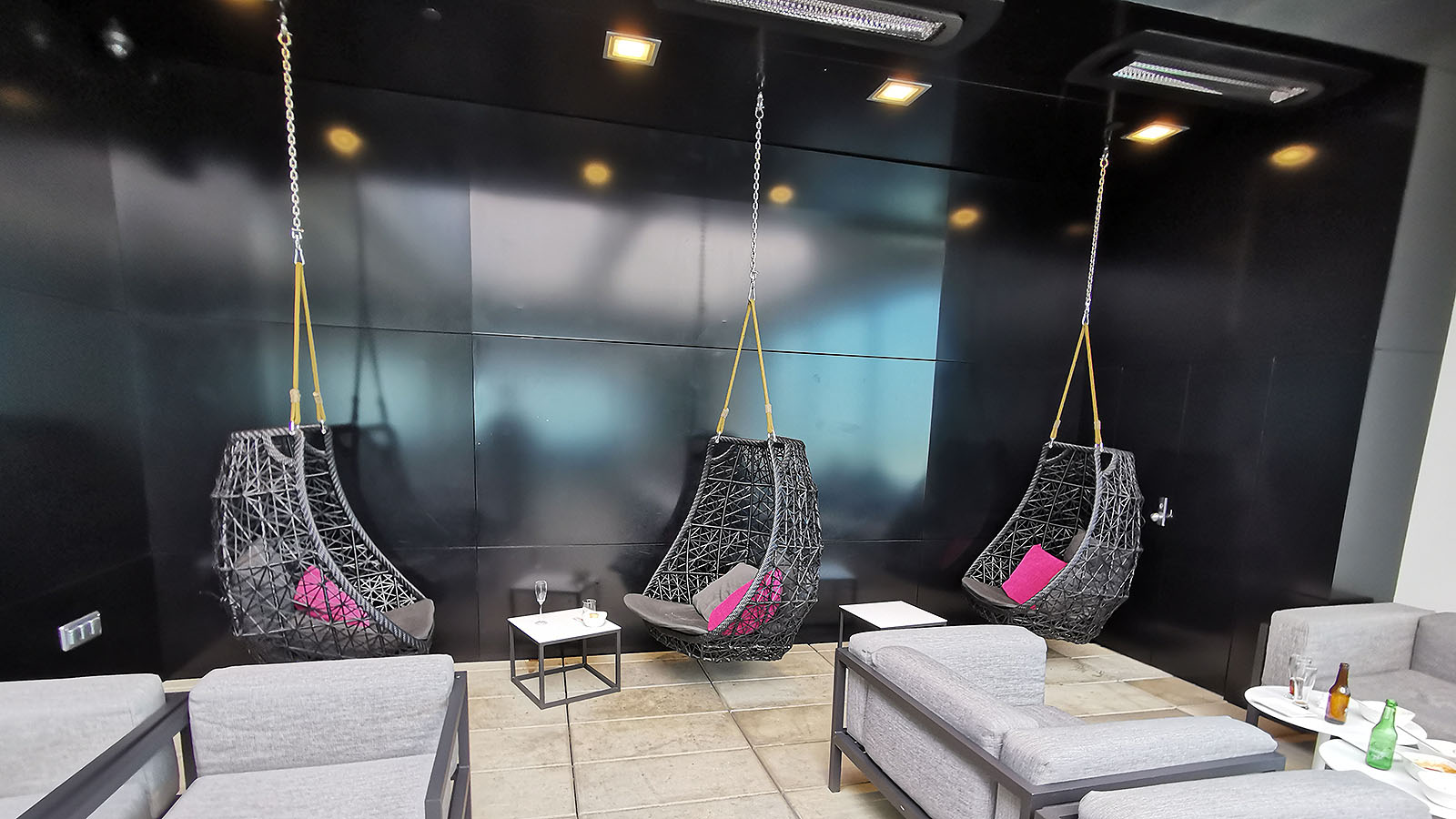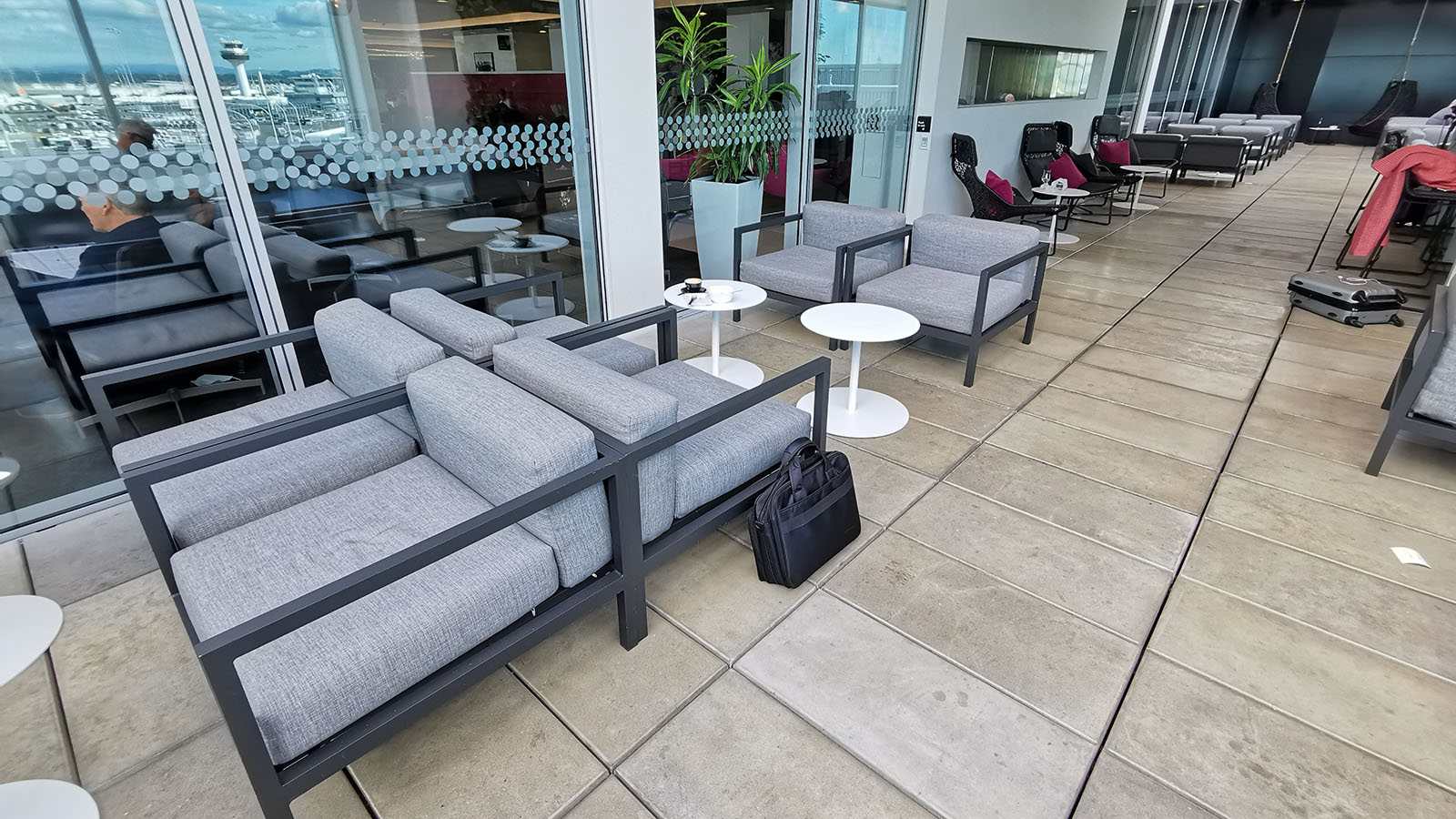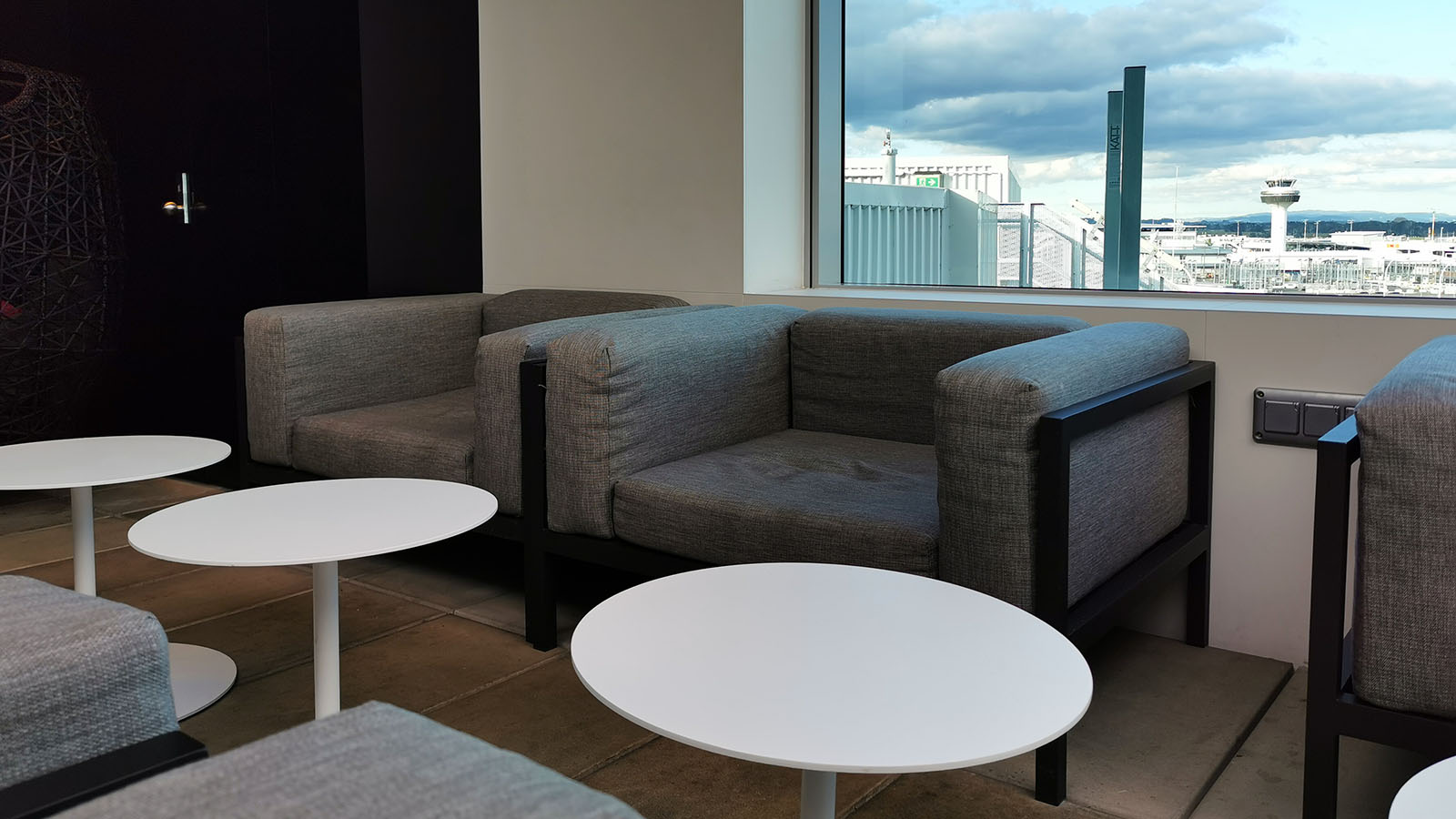 There's also a business nook, a quiet corner, and even a refreshing terrace to escape the hustle and bustle of the main space. What better way to enjoy a holiday than perched in one of the groovy hanging chairs with a cocktail in hand!
On another note, just about every seat throughout this lounge is conveniently close to a power point. You'll find them built into all sorts of places – cocktail tables, skirting boards, walls, atop and below benches – even under little waterproof hatches on the terrace.
I really liked that after a busy morning, I could give my phone a quick juice-up wherever my whims took me, rather than being tied to a particular zone or style of seat just to be near a power point.
Food and beverage in Air New Zealand's Auckland International Lounge
My first stop at Air New Zealand's Auckland lounge is always the coffee counter. After all, who doesn't need a pick-me-up after successfully navigating all the airport formalities? A skim latte (or as the Kiwis would say, 'trim') quickly appears.
Just around the corner sits a cocktail bar. The staff here make a mean Kiwi Martini. But with a Business Class flight ahead of me, I stick to a single glass of bubbles with lunch. The house drop is still a local one: Dulcét Sparkling Brut (NV). With subtle tones of apple, it's a nice pairing to my salad and finger sandwiches.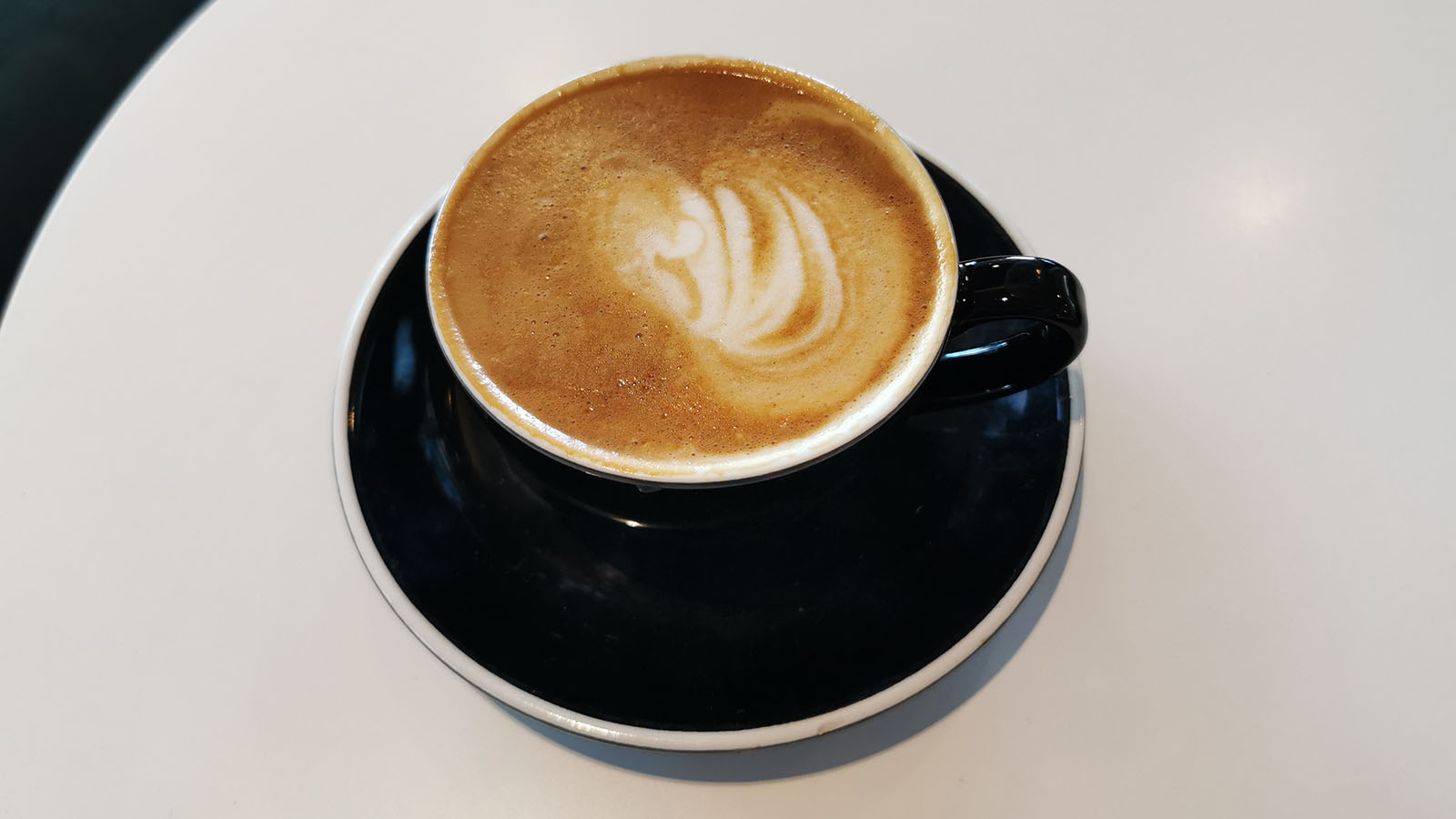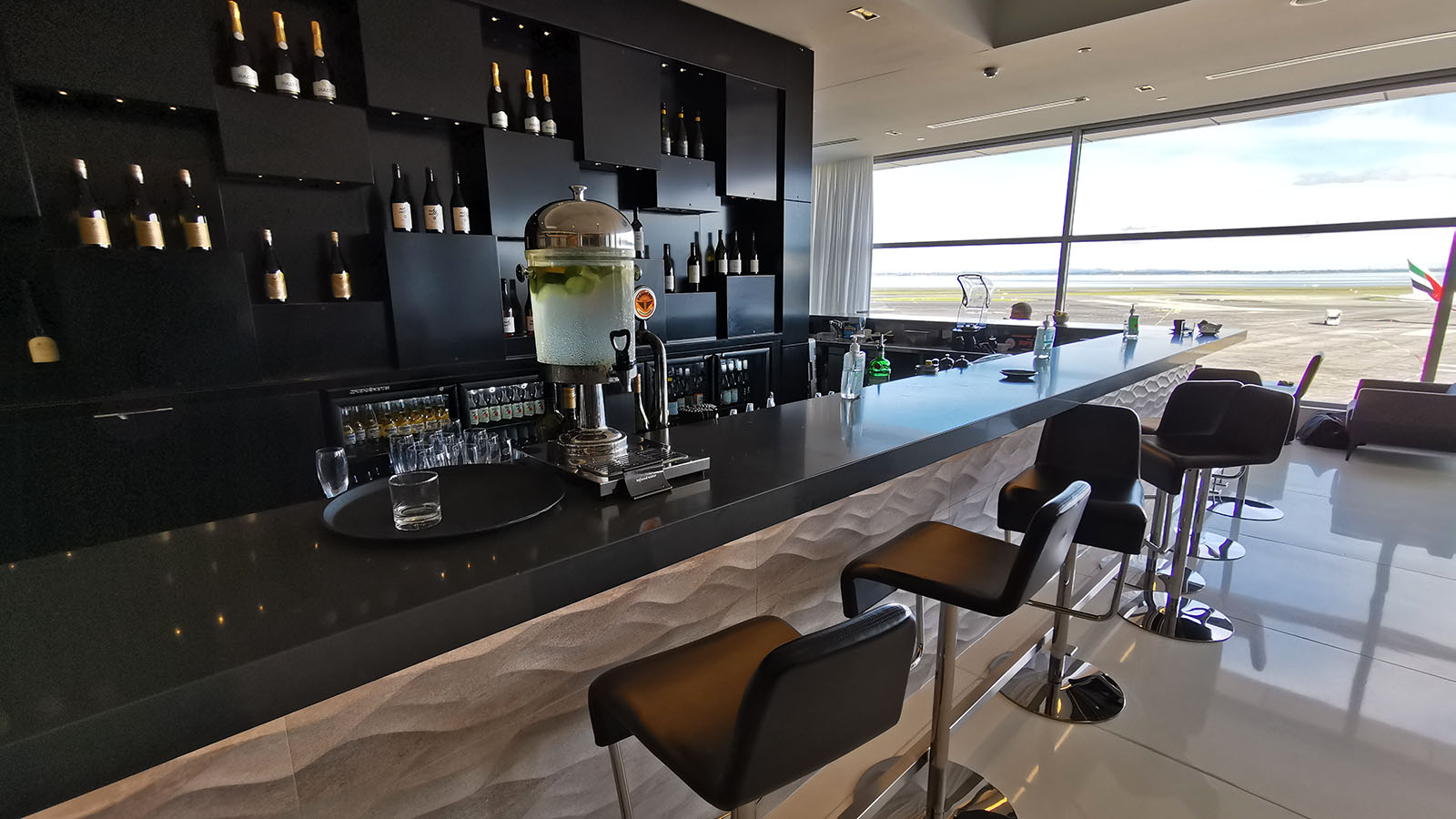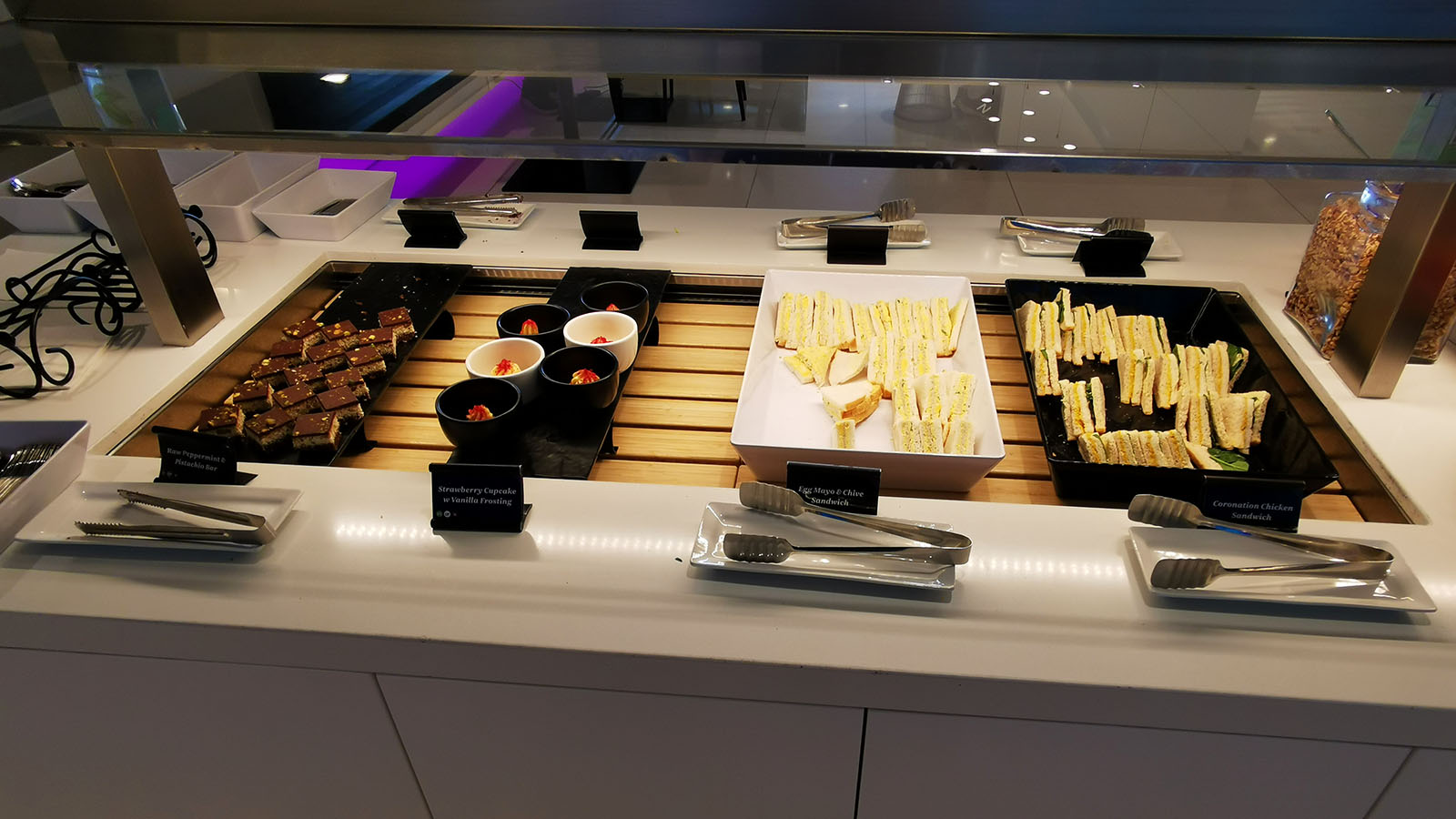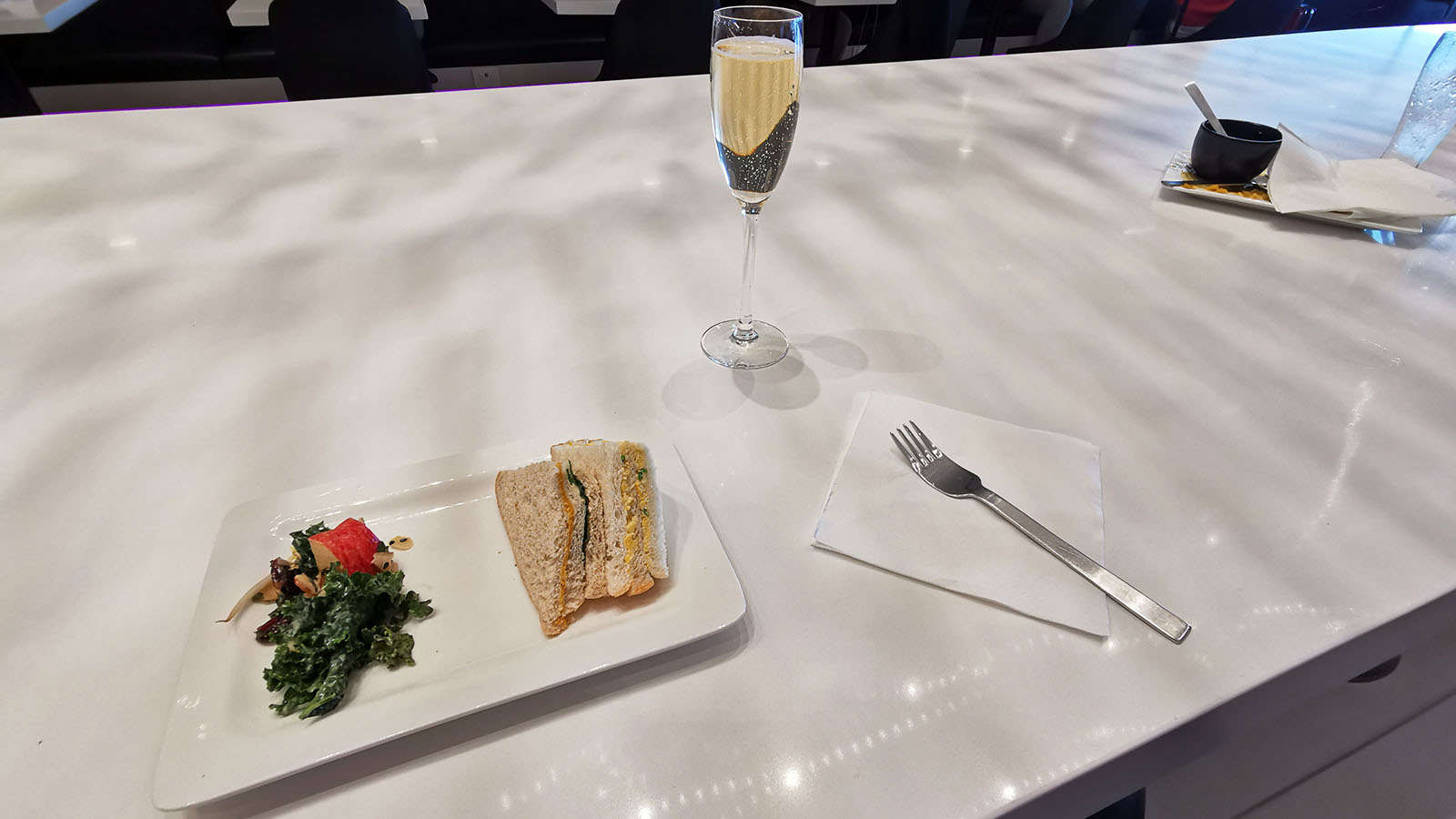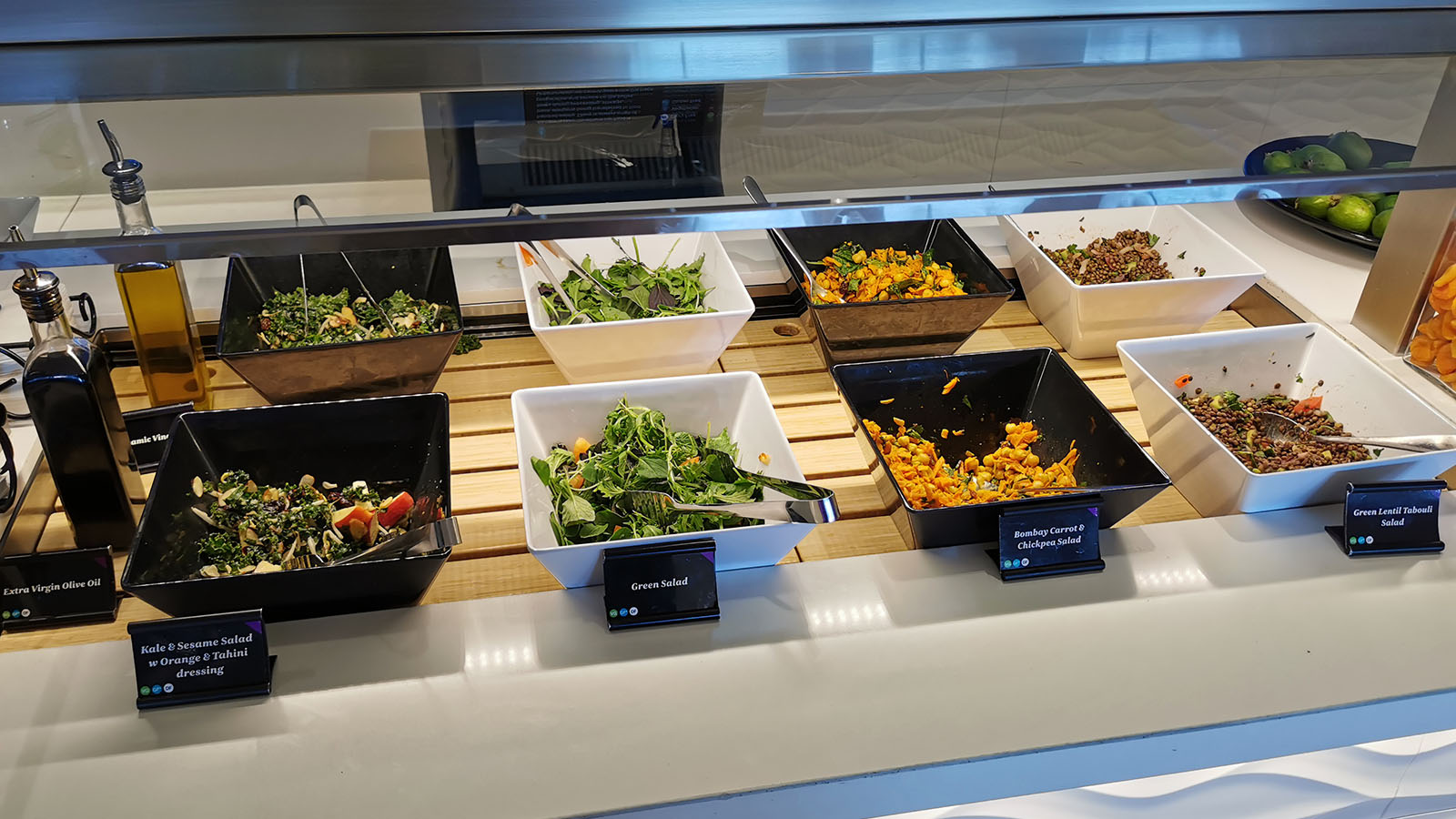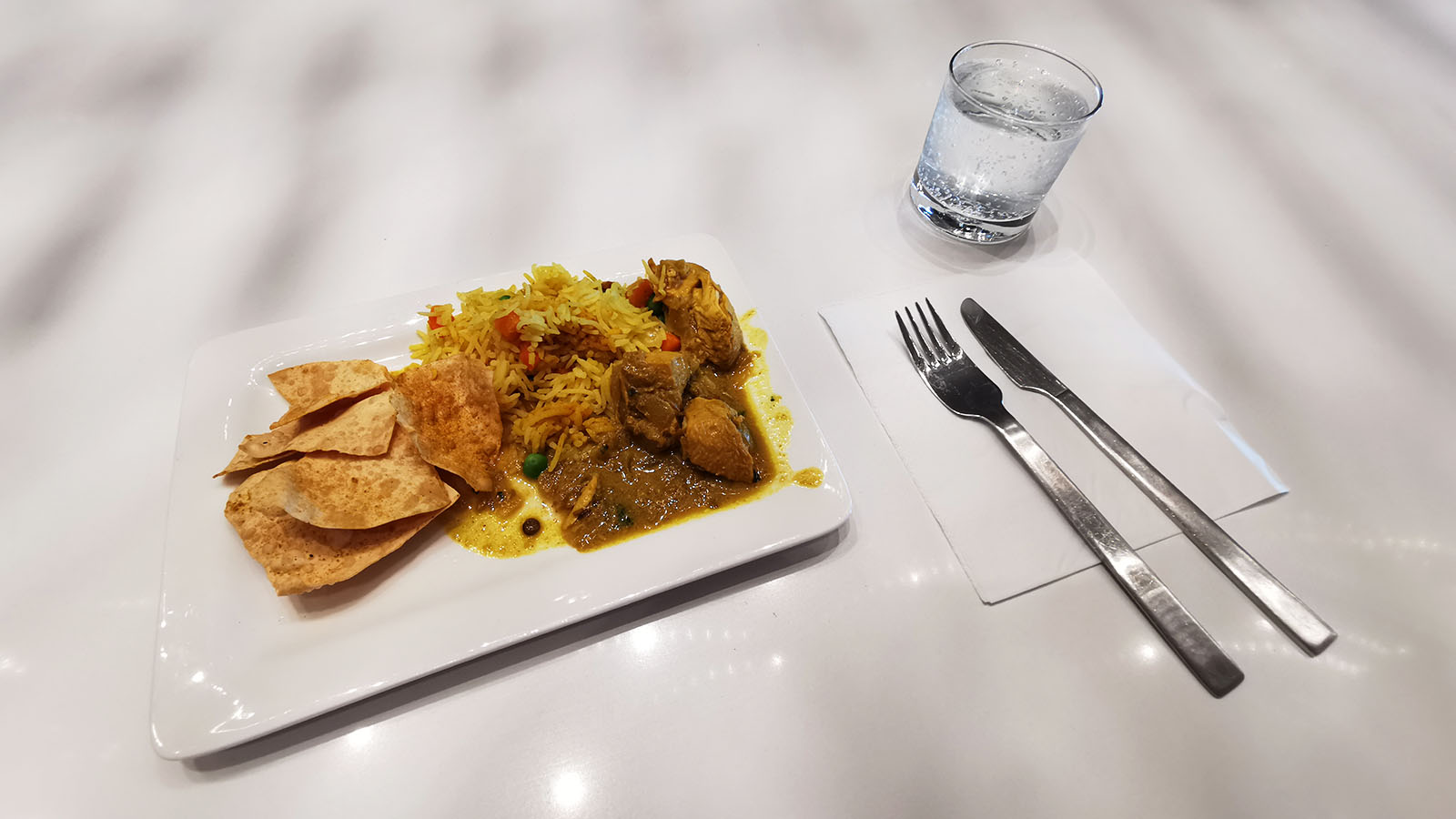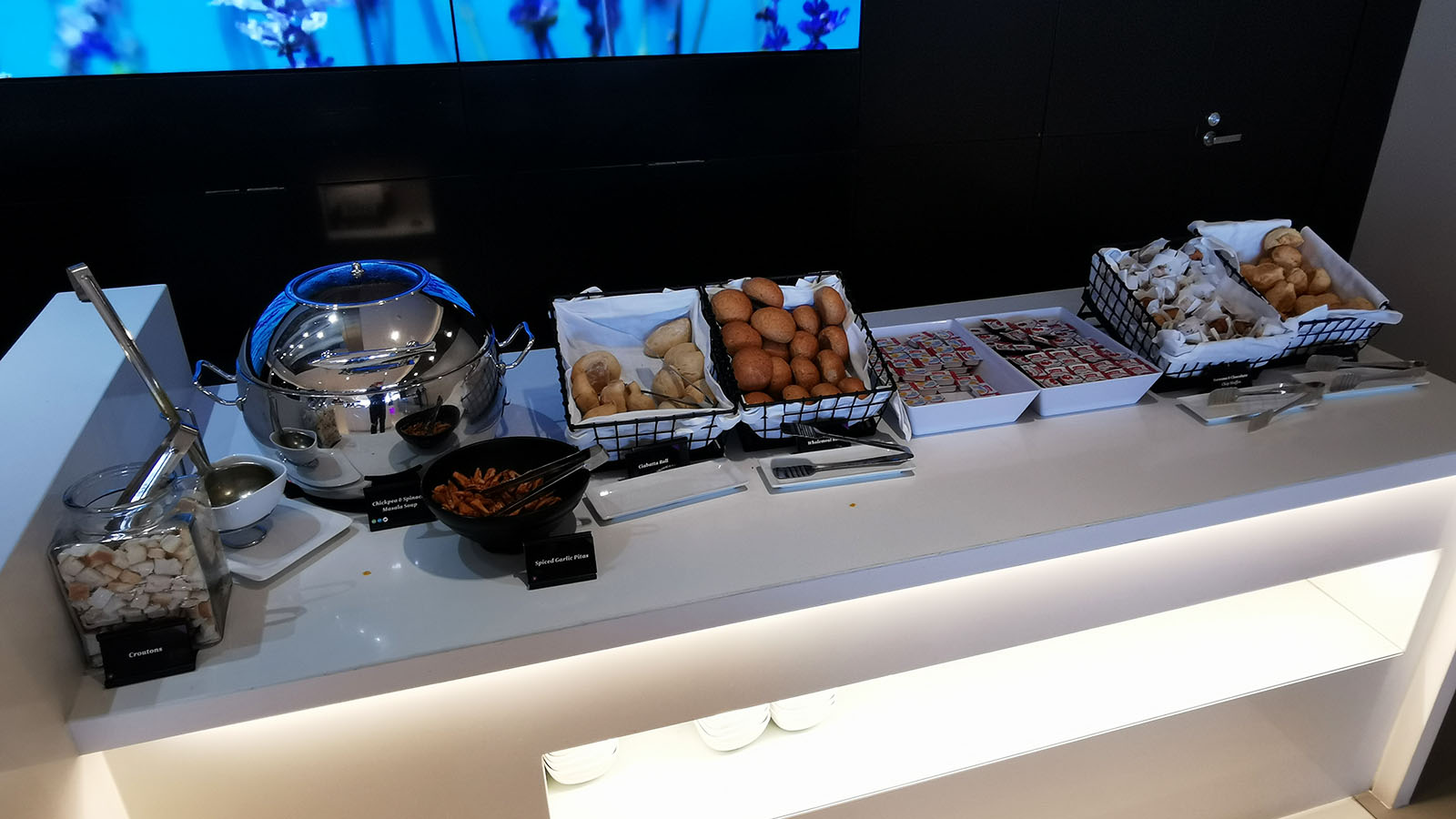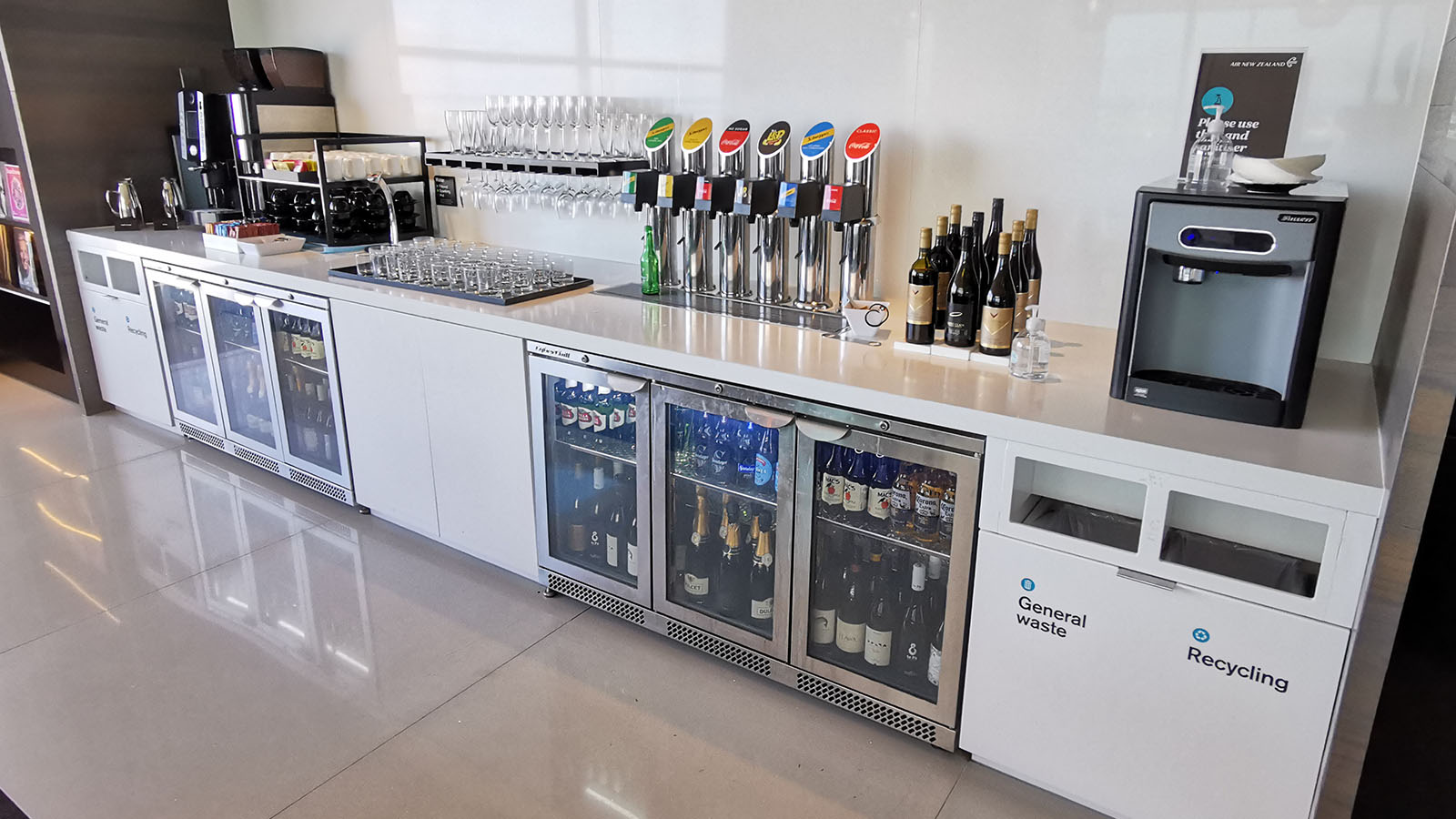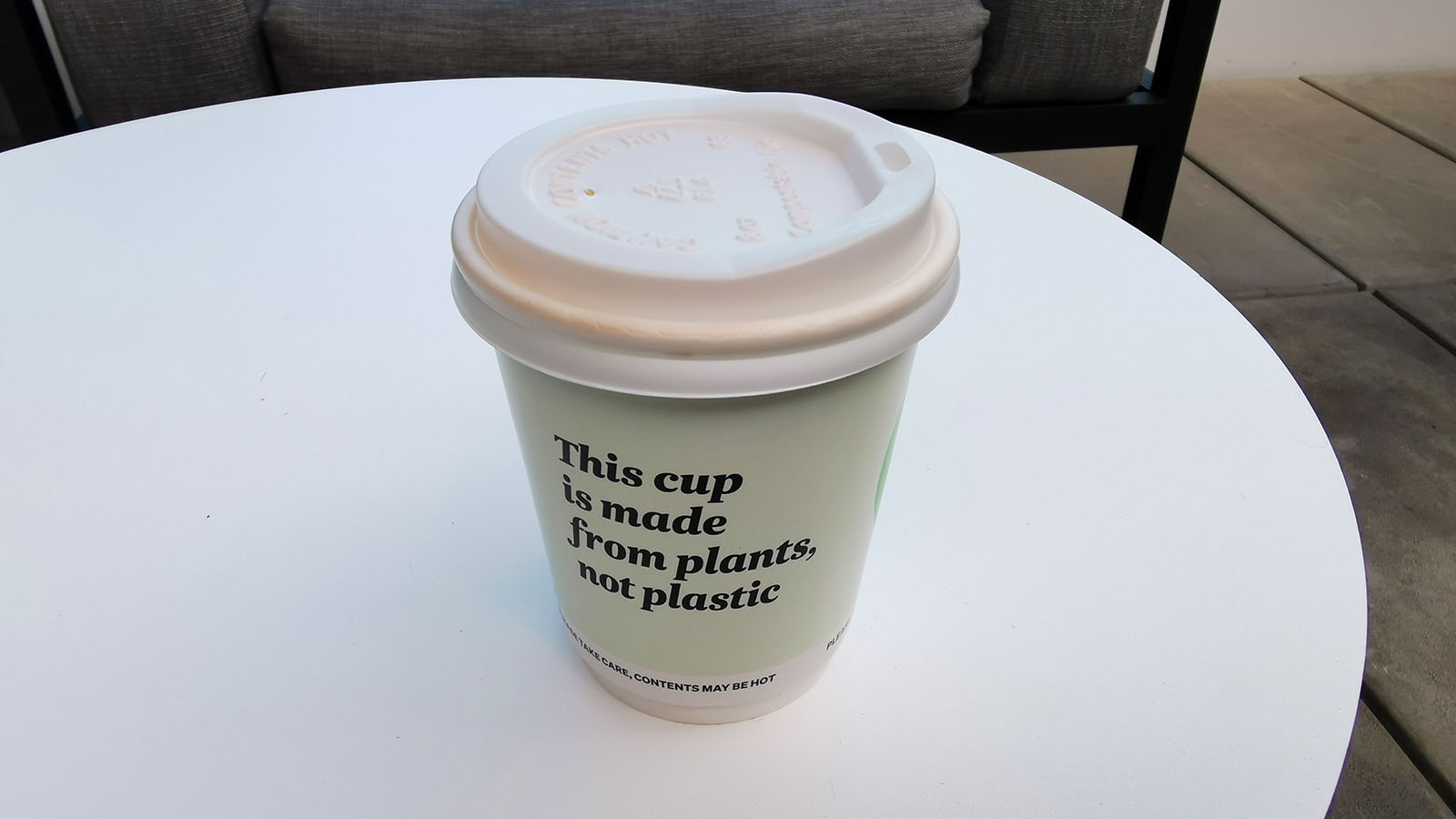 For something more substantial, the hot counter serves up a trio of tasty bites that I combine to complete lunch. There's a spiced vegetable biryani, chicken curry, as well as curry salt papadums. After a light breakfast, it's the perfect amount of food before the flight ahead.
Exploring the buffet further finds soup and breads too. Many drinks are also available by self-service. This was a swift way to get my bubbles, without waiting behind those ordering cocktails at the main bar.
With a fair walk to the gate, I swing by the coffee counter once more for a takeaway latte, and I'm all set for my journey back to Australia.
Lounge amenities
Beyond the expected bathrooms and showers, the Air New Zealand International Lounge has some other surprises in store.
There's a cinema-style media room just beyond the dining space. It's always been deserted whenever I've flown through, but it's surely the place to be on game days and the like.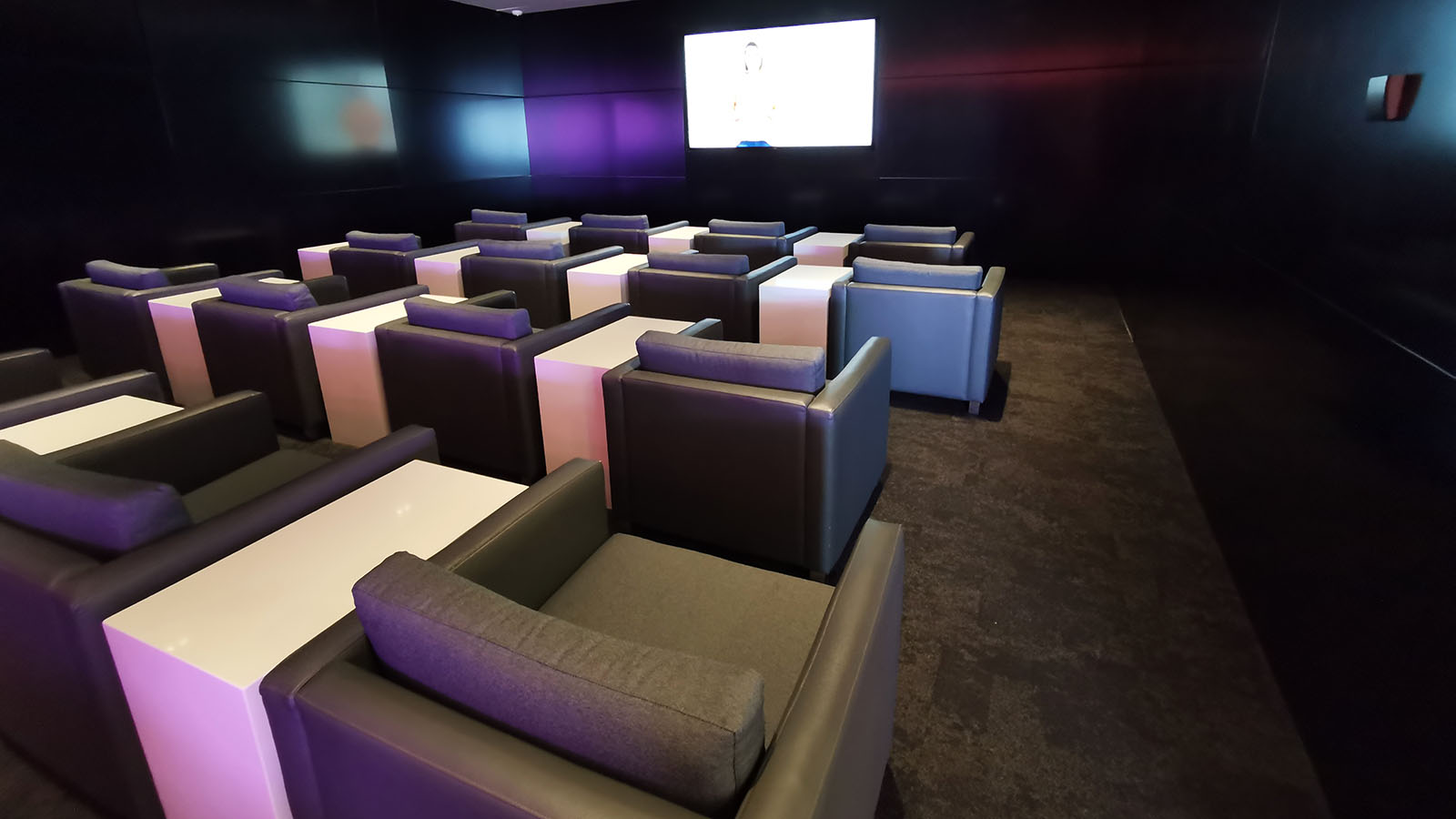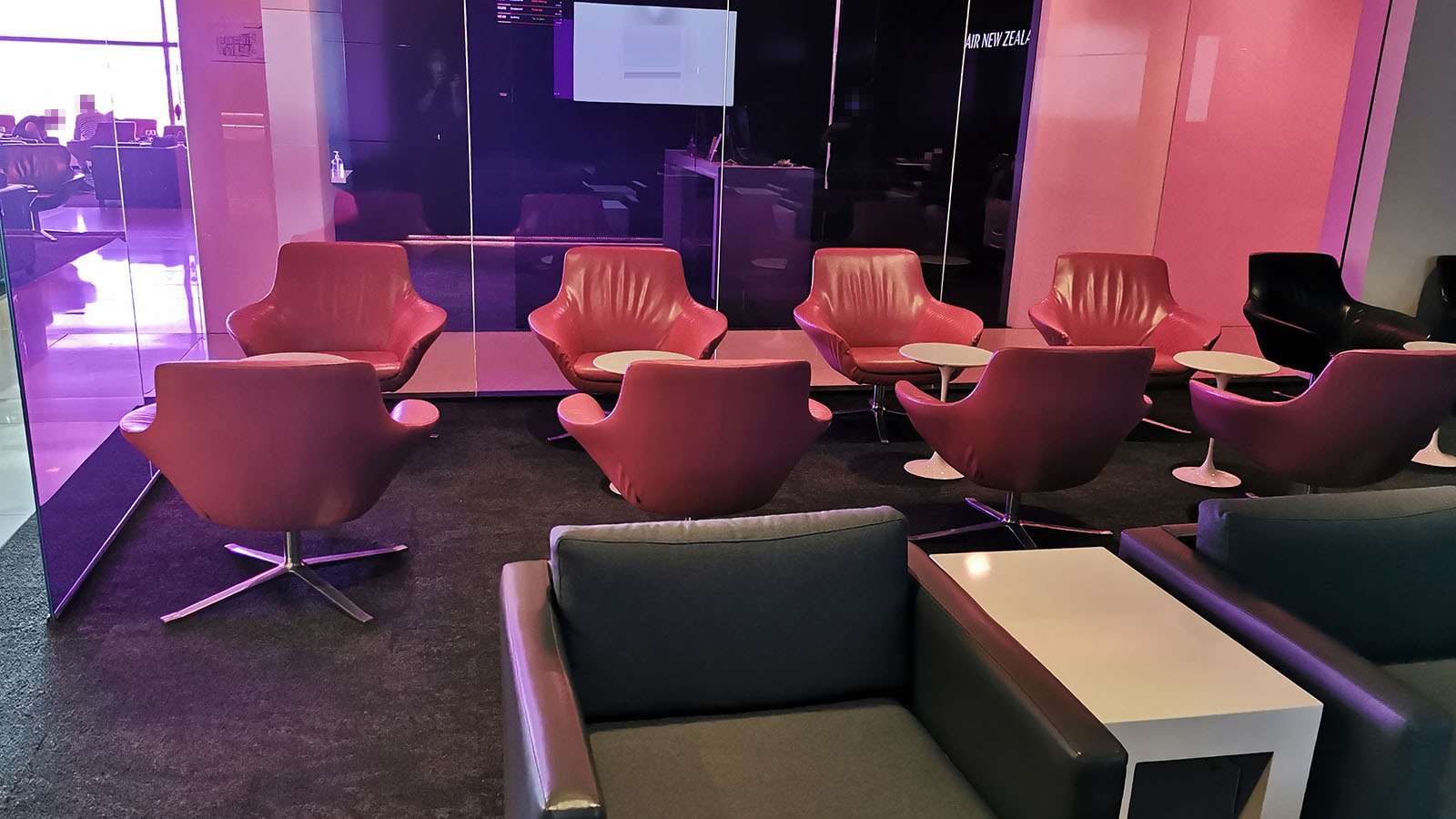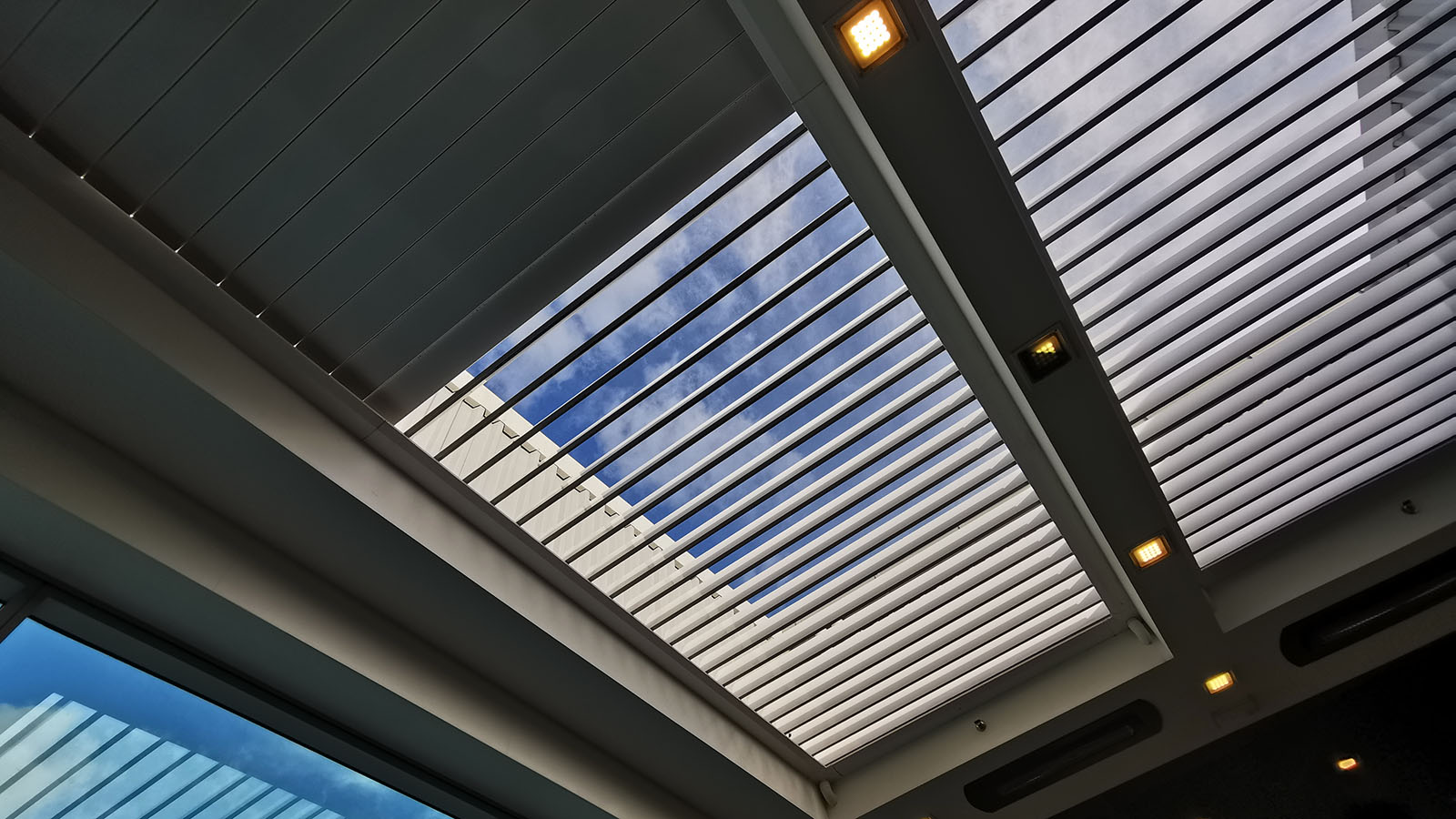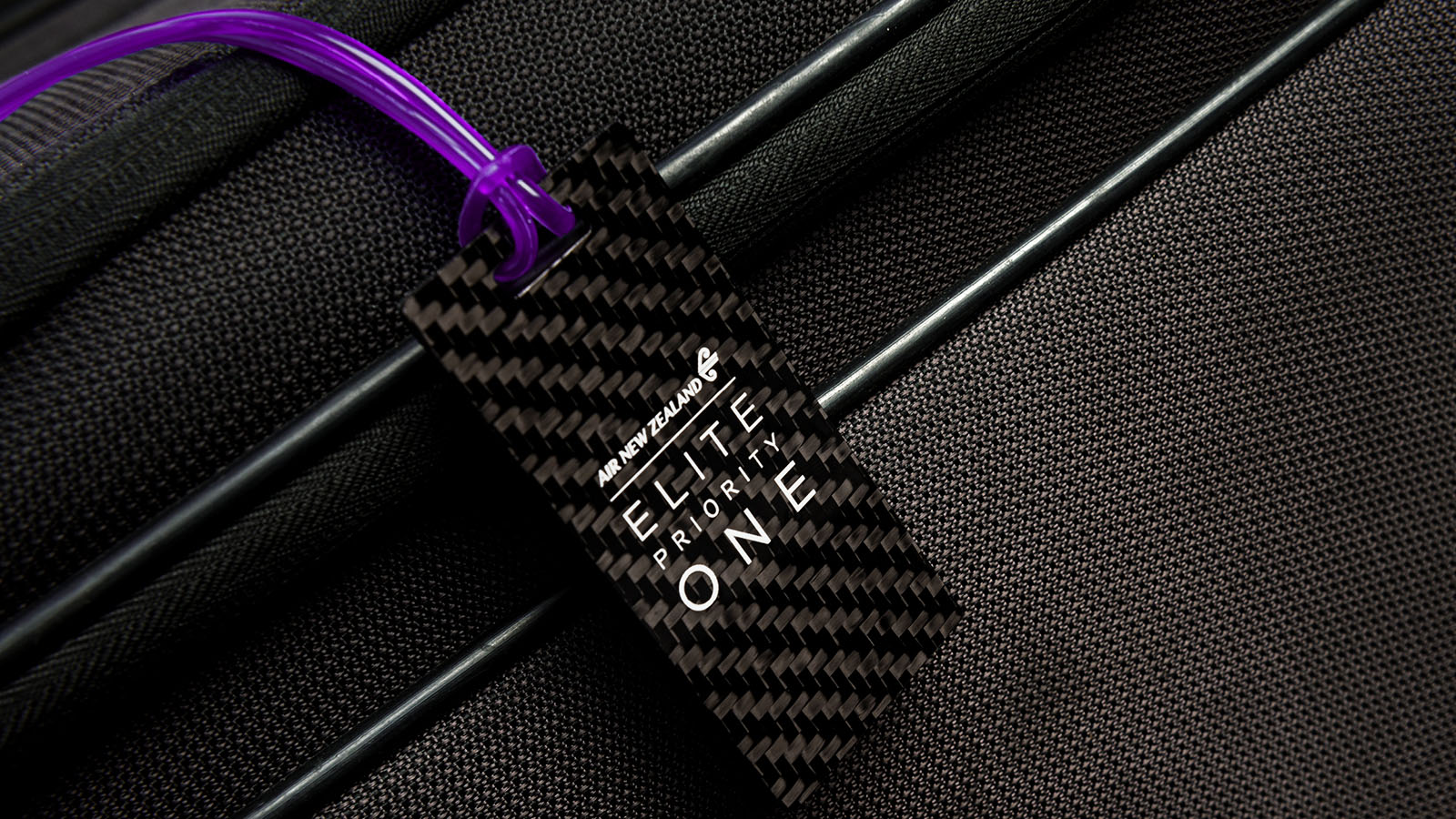 The terrace also isn't just a place to relax with nice airport views. The roof here opens up to bring fresh air into the space. This indoor/outdoor vibe is certainly a refreshing change to the more typical airport lounge experience. Early check-in definitely recommended to soak this up.
Finally, there's a hidden 'lounge within a lounge' here. Reserved exclusively for Air New Zealand's own Elite Priority One cardholders, the by-invitation space is the Kiwi equivalent of the Qantas Chairman's Lounge and Virgin Australia Beyond. We can't show you what's inside – and in fact, shhhh, it's meant to be secret!
Accessing Air New Zealand's Auckland International Lounge
As the only lounge open at Auckland Airport's international terminal, the Air New Zealand lounge is currently a catch-all. Along with Air NZ's own passengers, it also caters to those flying on all Star Alliance carriers.
And the list goes on, with Aircalin using the space too, along with passengers on Qantas by temporary arrangement.
Given the complexity of the rules which vary by airline, as well as ongoing adjustments due to the changing travel landscape, we can't detail every policy for every carrier. But here are the rules that currently govern access with the most relevance to Australian travellers.
By class of travel: Those flying Business Class on Air New Zealand, Qantas and Aircalin. Plus, travellers in Business Class or First Class on any Star Alliance member airline (e.g. Singapore Airlines).
By Air New Zealand status and membership: Airpoints Gold, Elite and Elite Priority One prior to Air New Zealand, NZ codeshare and Star Alliance flights. Airpoints Elite Partner and Koru Club members also get access, but only prior to Air New Zealand and NZ codeshare flights.
By Qantas status and membership: Qantas Frequent Flyer Gold, Platinum, Platinum One and Chairman's Lounge guests, plus Qantas Club members, prior to Qantas flights.
By Star Alliance status and membership: Star Alliance Gold cardholders, along with Air Canada Maple Leaf Club (Worldwide) and United Club members, prior to Air New Zealand and other Star Alliance flights.
I entered the lounge using an eligible Qantas boarding pass, and had no real difficulty. Except that the scanner at reception initially turned red, and displayed 'access denied'. I'm told this happens to every Qantas passenger, as under normal circumstances, travellers on Qantas don't make the cut. But I was promptly welcomed inside.
Summing up
This is Air New Zealand's flagship lounge, and it really shows. Thoughtfully designed, the space caters well to holidaymakers, business travellers, and everything in between.
Access for Qantas passengers is also a nice treat – particularly as the Roo's Auckland lounges are overdue for a refurbishment. Qantas has already committed to that overhaul: it's just a question of when that takes place.
But whichever airline you're departing on, the Air NZ lounge is a comfortable and vibrant place to await your flight. The terrace with a view is a real go-to. I'll be arriving earlier next time to truly enjoy it.
Photography by Chris Chamberlin, who travelled at Point Hacks' expense.
---
Stay up to date with the latest news, reviews and guides by subscribing to Point Hacks' email newsletter.
Air New Zealand International Lounge, Auckland
was last modified:
December 9th, 2022
by