Emirates eyes all-new Sydney Airport lounge
Whether it's a renovation or a complete move, there's a fresh lounge planned for Sydney.
Posted:
March 17, 2023 - 11:23 am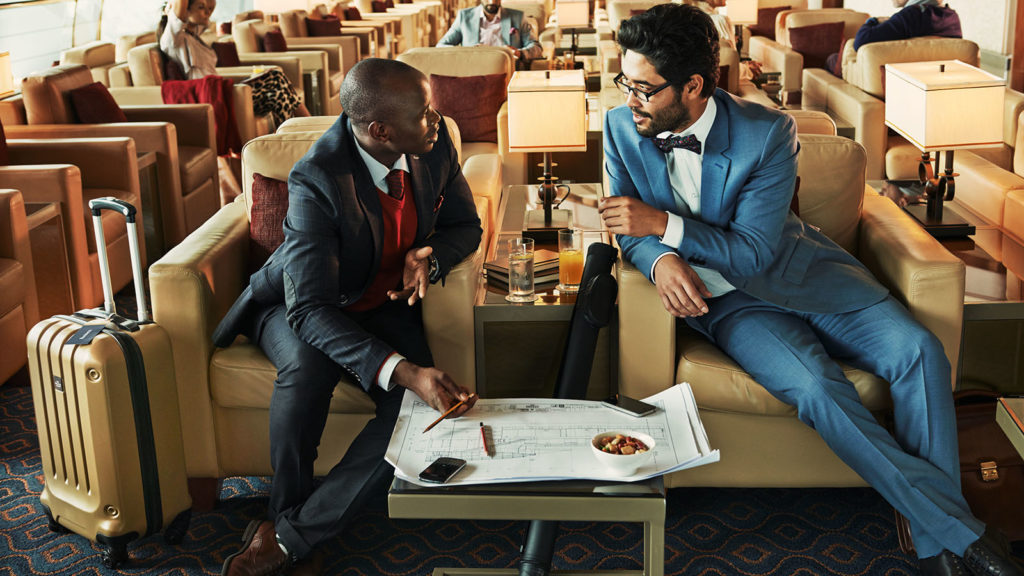 What we'll be covering
Emirates has its eyes on a brand new lounge at Sydney Airport, replacing its longstanding lounge near gate 58. The new facility for the carrier would be part of a broader revamp of Sydney's Terminal 1. A freshly constructed 'Pier A' concourse would add numerous departure gates at Australia's busiest airport – and new lounges.
But planning for the airport's expansion is still underway. In the meantime, Emirates' existing lounge is due for refurbishment. This presents a conundrum for the airline.
Should the current lounge be refurbished – even though there'll be a new lounge to move to, sooner or later? Or can the existing lounge remain in its current state long enough to not disappoint passengers, before moving straight into a new space on the other side of the terminal?
For this Point Hacks exclusive, I sat down with Barry Brown, Emirates' Divisional Vice President for Australasia, to find out.
Ad – Scroll down to continue reading.Minimum spend, terms & conditions apply.
Emirates' new Sydney Airport lounge
Sydney Airport's expansion plans have been public for some time. But Brown shares how they're weighing into Emirates' decision-making.
'Sydney Airport wants to create a "one access" premium biosecurity entry,' he shares. 'So no passports, no nothing. That would be at the eastern side of the entry to the international terminal. They've asked us would we be interested in having that? Well, yes, of course we want to have a seamless entry to the airport. That would mean moving our lounge from the current pier into the Pier A side.'
Pier A would place Emirates' Sydney lounge closer to the existing lounges of its Joint Venture partner, Qantas.
The development of Pier A 'would mean probably putting another floor on top of the terminal as well. So do we spend the money and really refurbish (the existing lounge) into the new look and feel? Or how advanced is Sydney Airport gonna be? So that's two things at play at the moment.'
'The current Sydney lounge is still fine … (but) spending money refurbishing lounges is worthwhile money spent. But it would make sense for us to move down that side of the terminal (Pier A).'
'We're in dialogue with Sydney Airport. We're keeping on top of it, but if it's more than three years out, we'll have to do our lounge.'
In other words, expect a fresh Emirates lounge experience in Sydney by 2026, if not sooner.
Emirates isn't the only airline readily awaiting a final decision by Sydney Airport. Qantas recently announced plans for a full rebuild of its International Business Lounge here. But Qantas is also yet to formally commit.
'I think their lounge needs a refurbishment more than ours,' Brown quips, while noting that the Qantas 'First Class Lounge is superb out there.' I'd agree on both fronts!
Emirates' ongoing Brisbane lounge refurbishments
Beyond Sydney, works continue on renovations to Emirates' lounge at Brisbane Airport. The redevelopment had been flagged for quite some time – and this was, of course, the first lounge that Emirates ever opened outside of Dubai. It was also the first Emirates lounge beyond Dubai to offer direct boarding onto the aircraft.
But there's been a snag during the redesign that's holding things up.
'I want it open as soon as possible, our customers want it open as soon as possible. There's an issue in the ceiling with air conditioning, which is sort of prolonging us,' Brown shares.
'I'm watching it almost weekly now, and trying to get things up and running. (But) it's a supply chain issue. Getting people to come in and work on things these days is different.'
'We're pushing everything we can to get the lounge open. But probably … towards later in the year, we'll have the Brisbane lounge open. That's the current plan.'
These renovations will elevate Emirates' Brisbane lounge into the more modern style already seen in Melbourne and Perth. Once developments are also complete in Sydney, this will find every Emirates lounge across Australia at the same standard.
For now though, eligible Emirates passengers departing Brisbane are provided with access to the Plaza Premium Lounge. Travellers can check the Emirates website for the latest information.
Also read: Ultimate Emirates First Class luxury to Europe with Qantas Points
Feature image courtesy of Emirates.
---
Stay up to date with the latest news, reviews and guides by subscribing to Point Hacks' email newsletter.
Emirates eyes all-new Sydney Airport lounge
was last modified:
August 24th, 2023
by