Using your points for a flight upgrade is one of the best ways to maximise their value.
The downside? Not every ticket can be upgraded. Even if you have the points you won't be able to upgrade unless you've also purchased the right fare class, and there's upgrade availability on your chosen flight.
You need to be particularly aware of this if you book your base flight through a travel agent since they will often place you in a discount class of fare that is not upgradeable.
In this guide we explain which fare classes you can and cannot upgrade for Qantas and Virgin Australia. This is one to reference if you're making a booking which you're planning to try and upgrade using your points.
Using Qantas points to upgrade
You can use Qantas points to book award tickets with a number of different partner airlines, including Jetstar and Emirates – but upgrades are only possible on Qantas-operated and marketed flights. You will need to have booked and paid for a ticket on a Qantas plane, with a QF flight number on your ticket, to be able to upgrade.
Qantas has two upgrade schemes, Classic Upgrade Rewards and Bid Now Upgrades.
Bid Now Upgrades are relatively new, and in my opinion, not fantastic. No-one is eligible for a Bid Now upgrade until they have been invited to make an offer, and Qantas will invite people "in its sole discretion".
So there is no guide as to which fare classes will or won't get invited. But if you are eligible you will be told, and you should never bank on getting an invitation.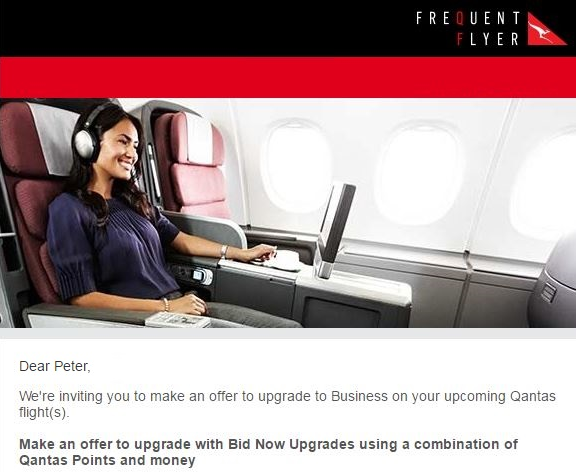 To be eligible for a Bid Now Upgrade you need to be invited.
As for Classic Upgrade Rewards, well they are much more available, but still not guaranteed. If you plan on upgrading, check out our article on how Classic Upgrades get given out.
Qantas Domestic Upgrades
Qantas recently changed their policy to allow passengers to upgrade from Reward flights (flights that you booked with points).
This change means that all Qantas domestic flights are now eligible for an upgrade to business class as long as they have a QF flight number.
This includes:
Discount Economy classes L, V, S, N, Q, O and E (often referred to as 'Red e-Deal'),
Flexible Economy classes Y, B, H, K, M, L and V,
Group fares in class G
If you want to be extra sure that your flight is upgradeable, click the '(i)' underneath the fare column. A new window will open and tell you whether the fare is upgradeable.

Click the (i) near each fare type.

A new window will tell you whether the fare can be upgraded.
Even though all fares are upgradeable, it will cost you double the points to upgrade from a discount fare as opposed to a flexible one. You can see how many points you need to upgrade here.
If your booking has both domestic and international flights on it, the whole thing will be treated like an international upgrade.
International Upgrades
Not all international fare classes can be upgraded.
Fares in the E, N, O, P, Q class cannot be upgraded using points. These are discount economy fares which can include Red e-Deal fares as well as Points Plus Pay fares.
If you are booking through a travel agent and you want to be able to upgrade you must double check your fare class since you are likely to be placed in one of these ineligible fare classes.
If you are in an eligible fare class, you can request the following upgrades.
Upgrade from
Eligible upgrade classes
Upgrade to
Classic Reward Economy
Economy
Flexible Economy
G,K,L,M,S, V, B, H, and Y
Premium Economy
Business
Classic Reward Premium Economy
Premium Economy
Flexible Premium Economy
T, R, and W
Business
Business and Flexible Business
First
You can see how many points you will need to upgrade to/from each class here.
From time to time Qantas may allow upgrades from ineligible fare classes, but it's up to them.
Using points to upgrade with Virgin
If you're thinking of using your Velocity points for an upgrade, be sure to check out our guide for Virgin Australia upgrades.
In addition to making sure your ticket is in the right fare class, your flight also needs to be operated by Virgin with a VA flight number to be upgradeable.
You will also need to make sure you have put your Velocity Frequent Flyer number on the booking to be able to request any upgrades.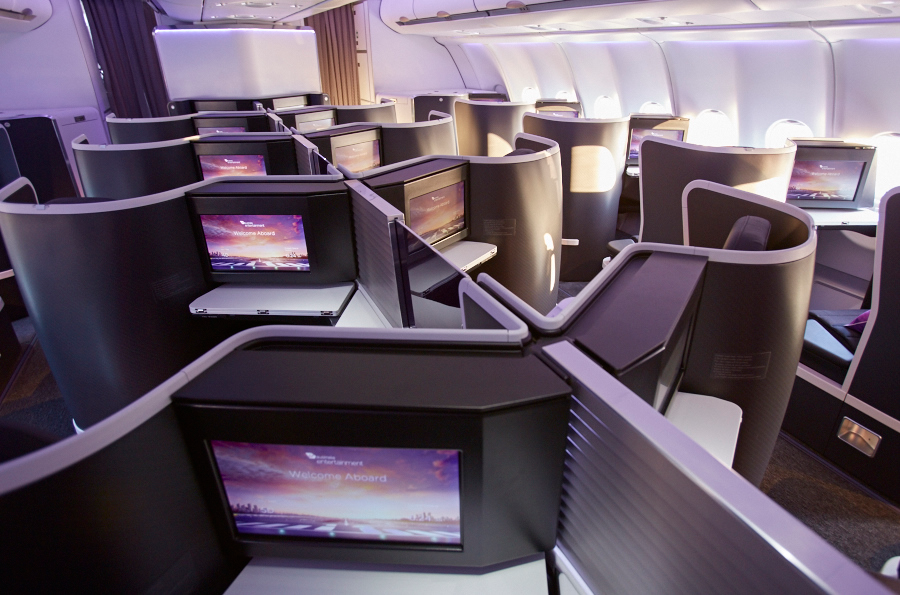 New Fare Structure
Virgin recently overhauled their fare structure, and the new structure has been in place since the start of September 2016. The new 'fare brands' are Go, Go+, Getaway, Elevate, Freedom, Premium Saver, Premium, Business Saver, and Business.
However, the fare classes (indicated by letters) don't fit neatly into each of these new 'fare brands'. A fare class can fall under different 'fare brands' depending on whether your flight is domestic, trans tasman or international.
We've simplified the upgradeability of each fare class and brand in the tables below.
If you're not sure and you want to know what class the ticket you're about to book is, follow these instructions.
Domestic Flights
All domestic flights are upgradeable. See what it will cost you here.
| Fare Brand | Includes fare classes | Upgradeable? |
| --- | --- | --- |
| Getaway | M,S,T | Yes |
| Elevate | Q,V,N,E | Yes |
| Freedom | L,K,H,B,Y | Yes |
Trans Tasman Flights
Not all trans tasman fare classes are upgradeable.
| Fare Brand | Included fare classes | Upgradeable? |
| --- | --- | --- |
| Go | M, U | No |
| Go+ | T, Q, V,N, E | Yes |
| Getaway | T, Q, V,N, E | Yes |
| Freedom | L, K, H, B, Y | Yes |
| Premium Economy | O, R, W | No |
International Short Haul Flights
Not all international short haul flights are upgradeable. Short haul flights are international flights departing to or arriving from countries within South East Asia and the Pacific.
| Fare brand | Included fare classes | Upgradeable? |
| --- | --- | --- |
| Go | M, U | No |
| Go+ | T, Q, V, N, E | Yes |
| Getaway | T, Q, V, N, E | Yes |
| Freedom | L, K, H, B, Y | Yes |
International Long Haul Flights
Virgin long haul international flights have the biggest restriction on upgrading with points. Unless you are a Gold or Platinum Velocity member, you will not be able to upgrade ANY flights with points.
Fare Brand
Included fare classes
Upgradeable?
Getaway
S, T, Q
No
Elevate
U, N, E, L
No
Freedom
K, H, B, Y
Gold and Platinum members only
Premium Economy
O, R, W
Summing Up
Using points to upgrade is a great way to make use of points, but if that is your plan you need to make sure your base ticket is in the right fare class.
Although most fares are upgradeable, many discount fares are not. If you book through a travel agent, it is likely that you might get placed in one of these fares unless you ask not to be.
Qantas' recent change of policy means all of their domestic flights are upgradeable, but not all international flights are.
Virgin long haul flights have the most restrictive upgrade policy, only allowing Gold and Platinum members to upgrade some limited fares.
Which fare class NOT to book with Qantas & Virgin Australia to upgrade using points
was last modified:
March 28th, 2019
by