It's no secret that Business Class is a great way to spend your hard-earned frequent flyer points. But when booking Economy Class leaves a much smaller dent in your points balance, which should you choose?
On the one hand, Economy Class isn't just 'cheaper' on the points front. It's also usually much easier to secure a seat on the flights you want, at the times you'd prefer to travel. And of course, when you spend fewer points on each trip, you'll have more points left over for your next adventure.
But then there's Business Class. Sure, Business costs more points than Economy – but as the old saying goes, you get what you pay for. That starts with a bigger seat, or even a bed. Then there's access to the lounge, even when you don't have status. Upgraded inflight meals and drinks also add to the allure of the aptly-named 'pointy end'.
So, which is best? As it turns out, the answer can be different for every trip.
When it makes sense to use points for Economy Class
Sure, a ticket in Economy Class doesn't have quite the same appeal as a journey in Business Class. But if you are going to book Economy, here are some of the better times to do it.
When cash airfares are expensive
Sometimes, Economy Class is your only option. And sometimes, the price of that Economy Class ticket can be tremendous.
Take QantasLink's flights between Sydney and Lord Howe Island, for instance. On dates in March 2022, a one-way ticket could cost you up to $807. But booking that same seat requires just 8,000 Qantas Points, plus a payment of $90.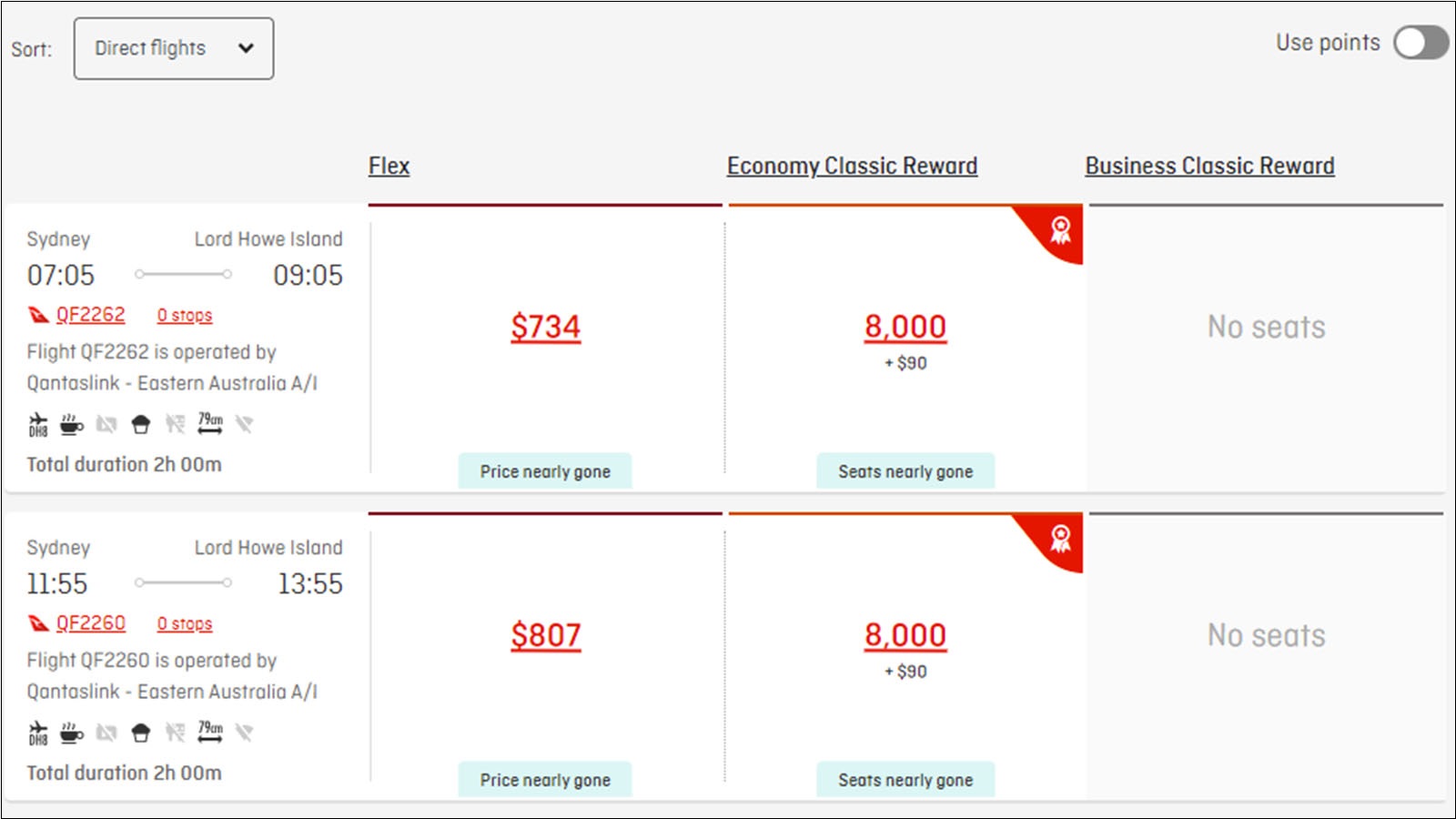 In effect, those 8,000 Qantas Points would save you up to $717. That figure is the difference between what the cash fare costs ($807), and the amount you need to pay as part of a frequent flyer reward booking ($90).
To look at it another way, for every Qantas Point you spend under that scenario, you're saving an incredible 8.96 cents. That's well above what we at Point Hacks value each Qantas Point, being 1.80 cents.
This could, in fact, be one of the very best ways to spend your Qantas Points: even though you're travelling in Qantas Economy. Many regional routes within Australia can also offer outsized savings when booked on points.
When you're travelling at a peak time
Not every seat on every flight can be booked using frequent flyer points. Airlines generally prioritise fare-paying customers over those spending reward points. That's especially true in premium cabins like Business Class, where missing out on a cash sale could mean forgoing thousands of dollars in new revenue.
But airlines are less protective of Economy Class, even during busy travel periods like school holidays.
Taking a seat in Economy could be the difference between enjoying a holiday with the family, or sitting at home.
Here's a real-world example. Let's say you wanted even just one ticket from Sydney to Los Angeles in the week surrounding Good Friday. On Qantas, you could book an Economy Class seat using points on any day that week, except Wednesday.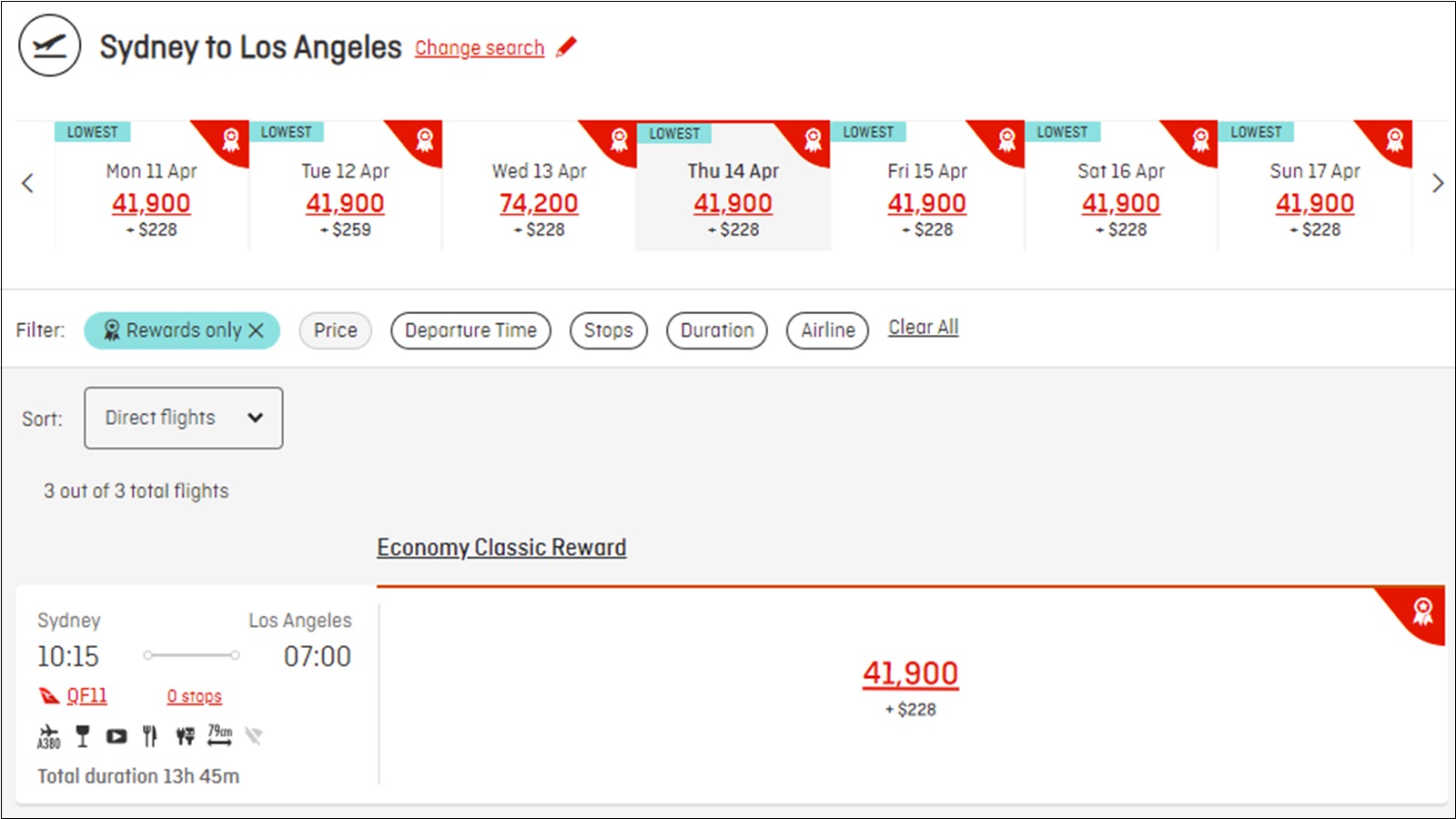 But if you wanted something better than Qantas Economy on a direct flight, you could instead only fly Wednesday, based on current availability. Even then, you're limited to Qantas Premium Economy.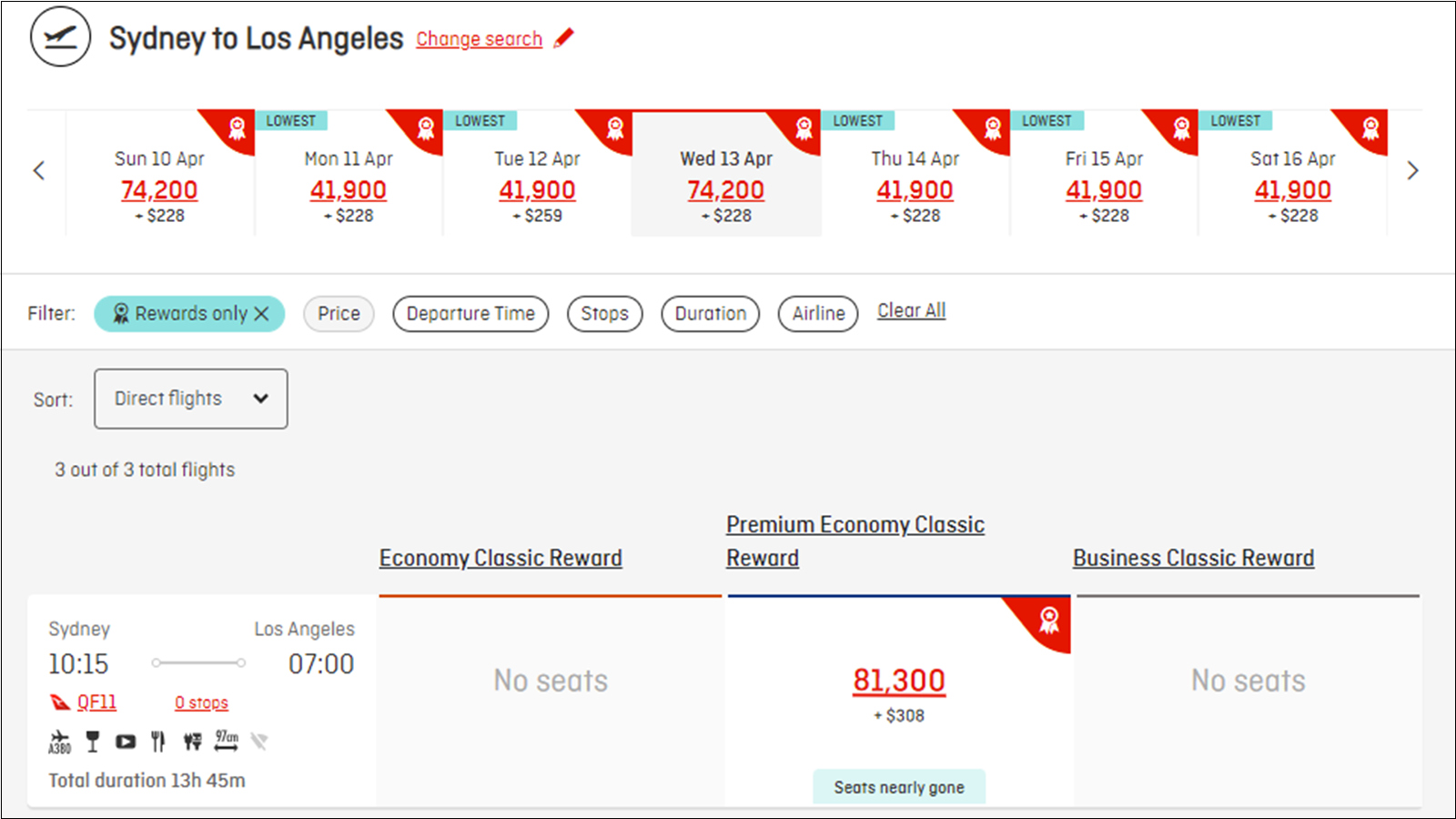 This highlights the biggest advantage of using frequent flyer points for Economy Class: the greater flexibility in when you can travel.
When you already have frequent flyer status
If your travel wallet sports a Gold or Platinum frequent flyer card, then you may already qualify for the key perks of Business Class.
Think priority check-in, additional checked baggage, and a fast-track through the airport queues. Plus, of course, there's access to the lounge. Quite often, that can even be the same lounge as offered to those flying Business Class.
When you have these perks at your disposal, booking Business Class makes less of a difference. Particularly on short flights, Business Class can mean a little extra legroom, and a better meal on board. But eating in the lounge and selecting an extra legroom seat in Economy could be said to give much the same outcome, for far fewer points.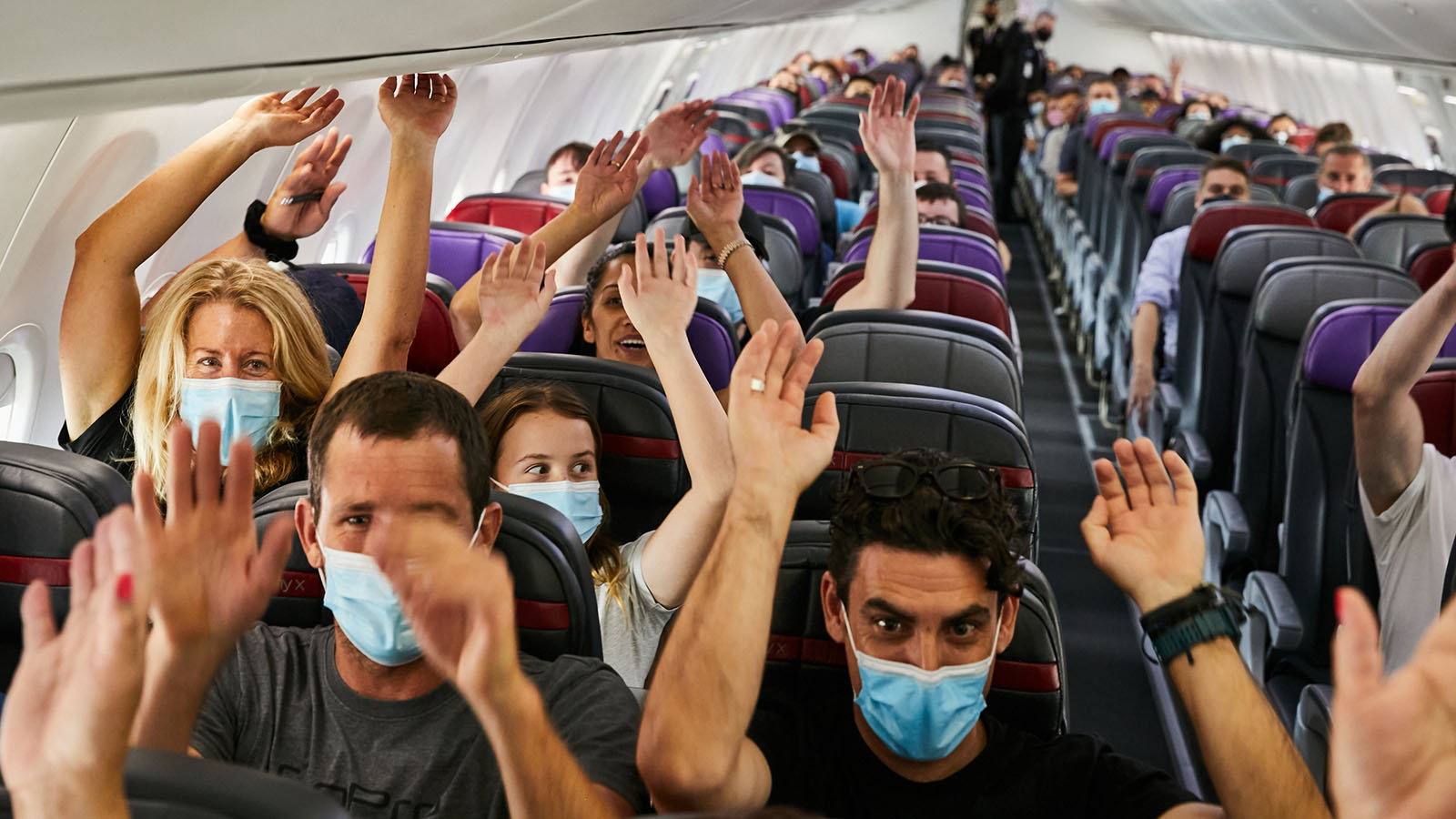 That's not to say you should never book Business Class as a Gold or Platinum frequent flyer. It's just that it makes less of a difference to your overall travel experience, versus somebody without the same shiny card.
Ad – Scroll down to continue reading.Minimum spend, terms & conditions apply.
When Business Class is a better use for your frequent flyer points
Now for the real fun – flying Business Class using your hard-earned points! It's certainly a pleasant way to travel, but here are the times where Business Class gets even more appealing.
When you don't have frequent flyer status
Booking Business Class using points is significantly more appealing for those who don't regularly travel.
All those perks frequent flyers take for granted are suddenly unlocked with a Business Class ticket – and that's before stepping on board. Compared to the standard, lounge-less Economy Class experience, Business Class makes a night and day difference on journeys like this.
After all, if you're not doing much travel anyway, why not make the most of the experience when you do venture skywards?
When you're taking a long or overnight flight
Extra space on board is always nice. But you're sure to appreciate it more when you'll be spending hours in the air. That's even truer on overnight flights, where Business Class can mean a bed and a comfortable night's sleep.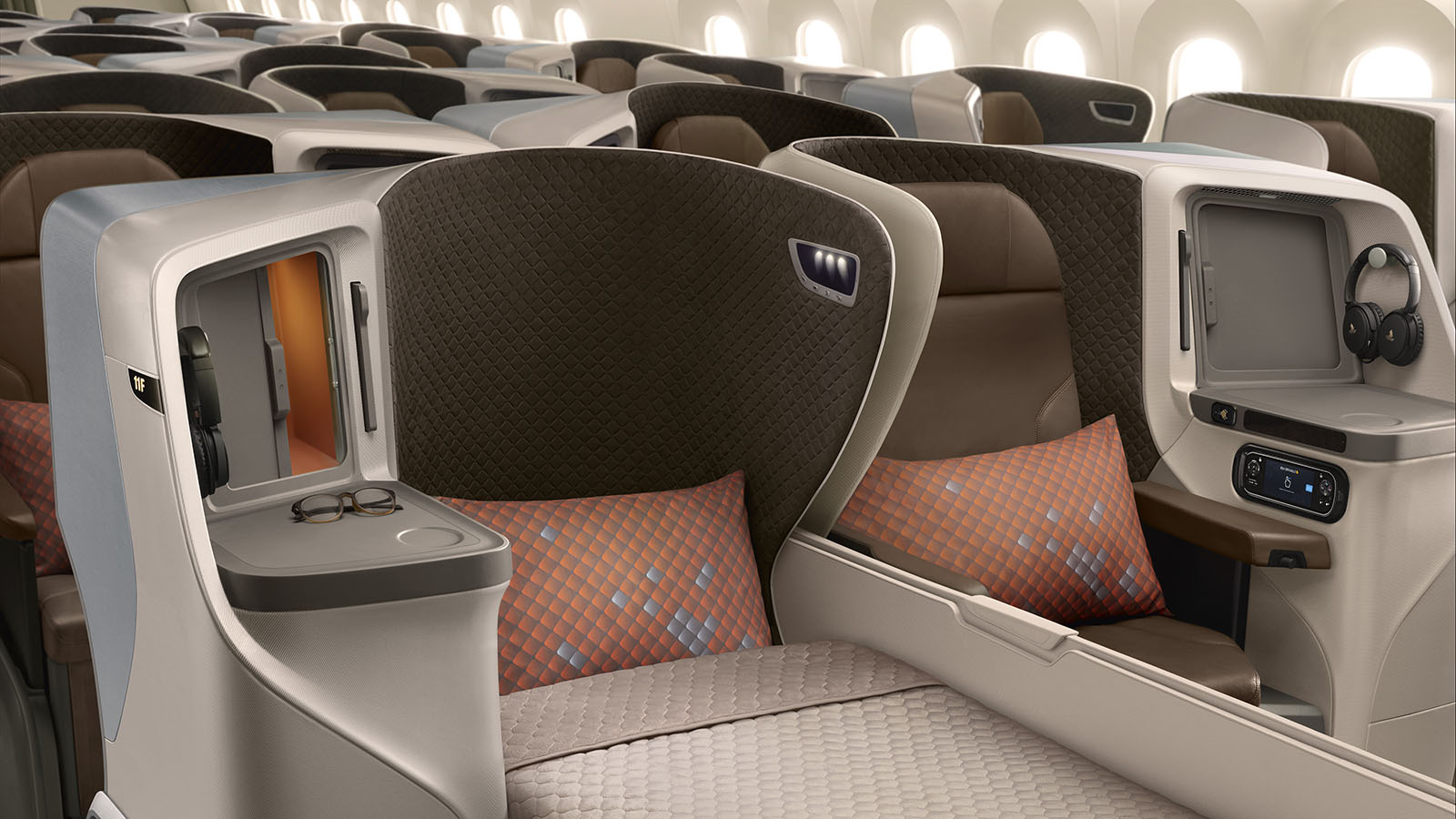 After all, an Economy Class seat looks very different when stepping on board at 9 am, versus 9 pm. Book Business Class on these flights, and you'll be glad you saved your points.
That's the other real advantage of frequent flyer points: not having to front the very high cost of a full-fare Business Class (or First Class) ticket. Certainly, these cabins cost more points to book than Economy. But the overall experience – especially on international flights – is many magnitudes better.
Economy Class vs Business Class: summing up
Economy is often seen as a 'bad' use of frequent flyer points. But that's not always the case. At times, Economy Class bookings can provide some terrific value – and aren't to be sniffed at.
But the reason many people collect frequent flyer points is to avoid travelling Economy. And who can blame them: particularly on flights where Business Class means a bed, rather than an ordinary seat.
If you can't decide, ask yourself this. Would you rather travel more often, but in less comfort – or fly less regularly, but in nicer surroundings? There's no 'wrong' answer here: the opportunities your points can unlock are entirely up to you.
---
Stay up to date with the latest news, reviews and guides by subscribing to Point Hacks' email newsletter.
Should you book Economy Class using points, or save them for Business Class?
was last modified:
August 30th, 2022
by