Using your points for a flight upgrade is one of the best ways to maximise its value. Nothing beats swapping your paid Economy seat for a comfortable Business Class upgrade, using the frequent flyer points that you slowly earned along the way.
The downside? Not every ticket can be upgraded. Even if you have the points you won't be able to upgrade unless you've also purchased the right fare class, and there's upgrade availability on your chosen flight.
You need to be particularly aware of this if you book your base flight through a travel agent since they will often place you in a discount class of fare that is not upgradeable.
In this guide, we explain which fare classes you can and cannot upgrade for Qantas flights. If you're not even sure what we're talking about, be sure to read our comprehensive guide to fare classes first.
Ad – Scroll down to continue reading.Minimum spend, terms & conditions apply.
How do I use Qantas Points for upgrades?
We've got a more general guide to how Qantas upgrades work, which should be your starting point if you're new to upgrading.
In the vast majority of cases, you'll need to have a valid ticket for a Qantas-operated and marketed flight in order to upgrade. This means your ticket should have a QF flight number and be flown by Qantas.
Down the track, you'll be able to upgrade other oneworld partner airline flights with Qantas Points, but this is still a work in progress.
Qantas Domestic Upgrades and fare classes
It's relatively simple to get an upgrade from Economy to Business Class on a Qantas domestic flight. A few years back, the airline changed its policy to also allow upgrades from reward flights (those booked with points).
This change means that essentially all Qantas domestic fares are eligible for an upgrade to Business Class with points, as long as the flight meets all the other requirements discussed previously.
If your booking has both domestic and international flights on it, the domestic leg will usually be upgradeable even if the international leg isn't.
But even though all fares are upgradeable, the actual cost of an upgrade will vary depending on which fare you get. Here are the points needed for a one-way upgrade from domestic Economy to Business Class:
Zone
One-way miles flown
From Classic Reward
(X)
From Red e-Deal
(E, G, L, M, N, O, Q, S, V)
From Flex
(B, H, K, Y)
1
0-600
(e.g. Sydney to Melbourne)
13,000
10,900
5,400
2
601-1,200
(e.g. Brisbane to Cairns)
19,600
19,000
8,100
3
1,201-2,400
(e.g. Perth to Sydney)
28,300
27,200
10,900
4
2,401-3,600
38,100
37,000
24,500
(We've simplified things by excluding Premium Economy from the table, as it's not readily available on domestic flights).
As you can see, buying the more expensive Economy Flex fares (B, H, K, Y) means you'll need 2-3 times fewer points compared to the cheaper Red e-Deal fares (E, G, L, M, N, O, Q, S, V).
While you don't need to know those letter fare codes above when booking on the Qantas website, we've included them in case you book through a travel agent and want to confirm which fare you're getting.
Remember that if there is a Business reward seat available on a domestic flight, you can confirm an upgrade instantly. Otherwise, you'll go onto a waitlist which clears according to the usual rules.
Qantas International Upgrades and fare classes
COVID-19 DISCLAIMER: The situation regarding COVID-19 is constantly changing, and the impacts on travel remain quite fluid. We endeavour to keep our content as up to date as possible in this dynamic environment.
The rules start to become more complex for international flights, including trans-Tasman hops to New Zealand. The most important rule is that you can't upgrade Qantas international Economy Sale fares — those are E, N, O and Q, and quite often booked by travellers looking for cheap flights.
As with domestic flights, the green ticks on the Qantas website will clearly show whether a fare is upgradeable or not.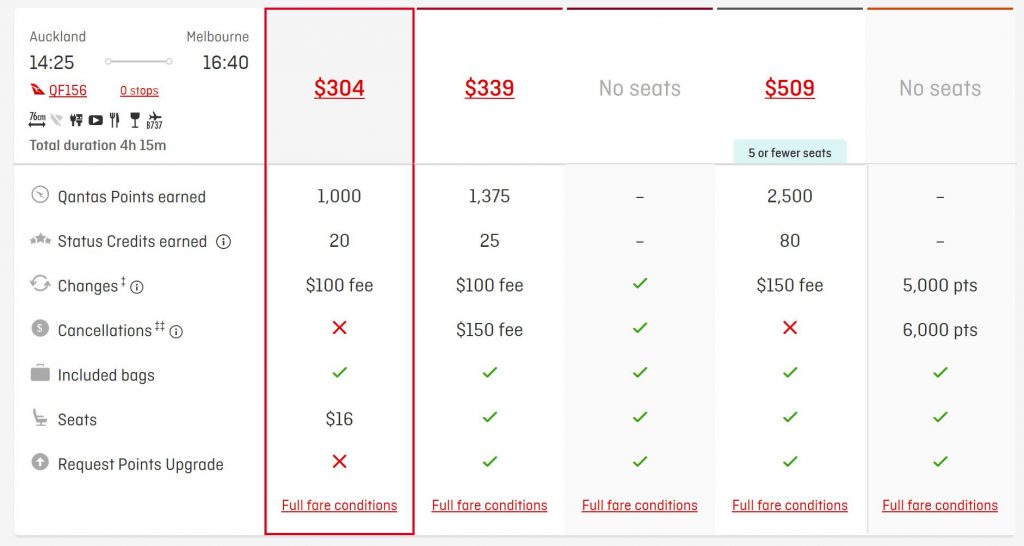 If you are in an eligible fare class, you can request the following upgrades. Note that Business reward seats can't be further upgraded to First Class, so you should try to redeem it outright or book a cash Business Class ticket.
Upgrade from
Eligible upgrade classes
Upgrade to
Classic Reward Economy
Economy Saver
Economy Flex
X
G, K, L, M, S, V
B, H, Y
Premium Economy (Z)
Business (U)
Classic Reward Premium Economy
Premium Economy Sale
Premium Economy Saver
Premium Economy Flex
Z
T
R
W
Business (U)
Business Sale
Business Saver
Business Flex
I
D
C, J
First (P)
We can't show you the upgrade tables here because of its complexity, but you can browse the figures on the Qantas website, or simply use the Qantas Points Calculator to figure out what your upgrade cost will be.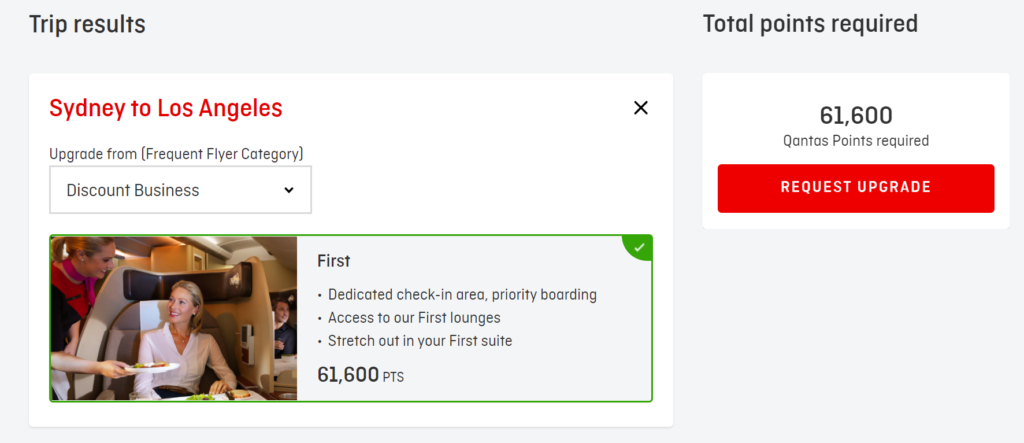 From time to time Qantas may allow upgrades from usually-ineligible fare classes, but these promotions are very rare. Interested in a real-life case study? Read how Natasha used Qantas Points to upgrade to Business Class on a flight to the US.
Summing up
Using points to upgrade is a great way to make use of points, but you need to make sure that your base ticket is in the right fare class, which we've shown in the earlier sections for reference.
Although most fares are upgradeable, some discount fares are not. If you book through a travel agent looking for the cheapest fare, it's likely that you'll end up with an un-upgradeable ticket unless you ask not to be.
Hopefully, this guide will empower you to know which fare classes you should aim for, and know how to request for it specifically if you're not booking with Qantas directly.
This article was originally written by Daniel Kinnoch.
What Qantas fare classes to book if you want to upgrade with Qantas Points
was last modified:
February 22nd, 2022
by