If you've ever had a passing interest in frequent flyer programs, then you've probably dreamt about kicking back in Business or First Class, using your points to upgrade. The idea of getting upgraded can be exciting, but it's actually quite a complex process. And we don't want to beat around the bush – it can also be quite difficult to secure one, especially since premium travel demand is so high right now.
For example, if there are three people vying for a single upgrade – one who purchased an expensive last-minute fare, one flying on a discount ticket but with Gold status, and one who requested the upgrade months ago on a discount ticket – then who gets the prized upgrade? We'll get to that answer later, but it could also be 'no-one' if the higher cabin is already sold out.
Here's how to use Qantas Points to upgrade a Qantas-operated and marketed flight.
What are Qantas Classic Upgrade Rewards?
The most common way to upgrade your Qantas ticket using points is through Classic Upgrade Rewards. This involves putting in a request for an upgrade and paying the number of points relevant to your upgrade should it be successful.
However, not all requests will get approved. Whether or not you make the cut depends on a variety of factors. The way Qantas determines who gets an upgrade is not simple and is the source of much confusion and frustration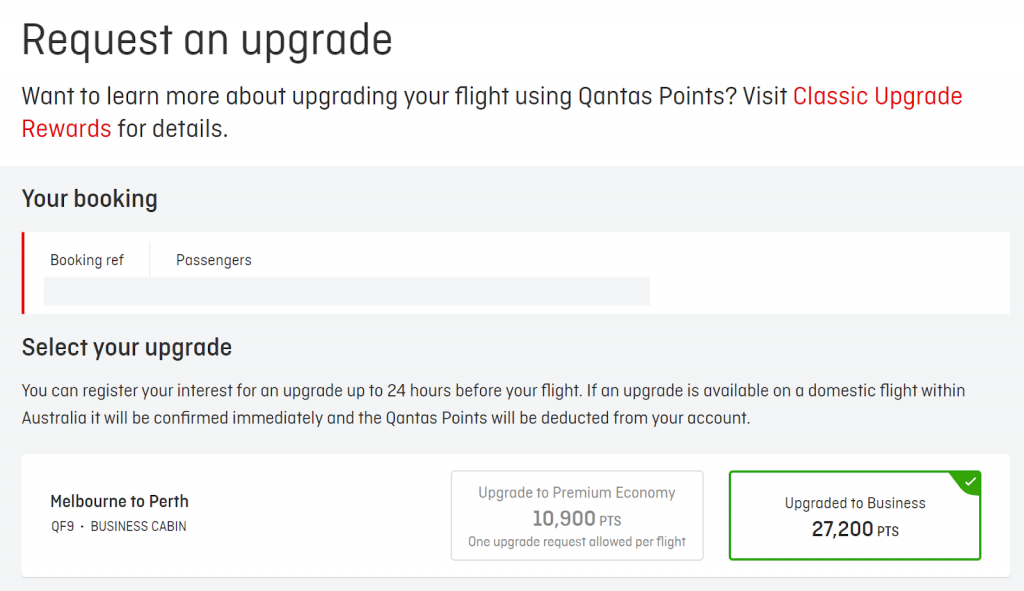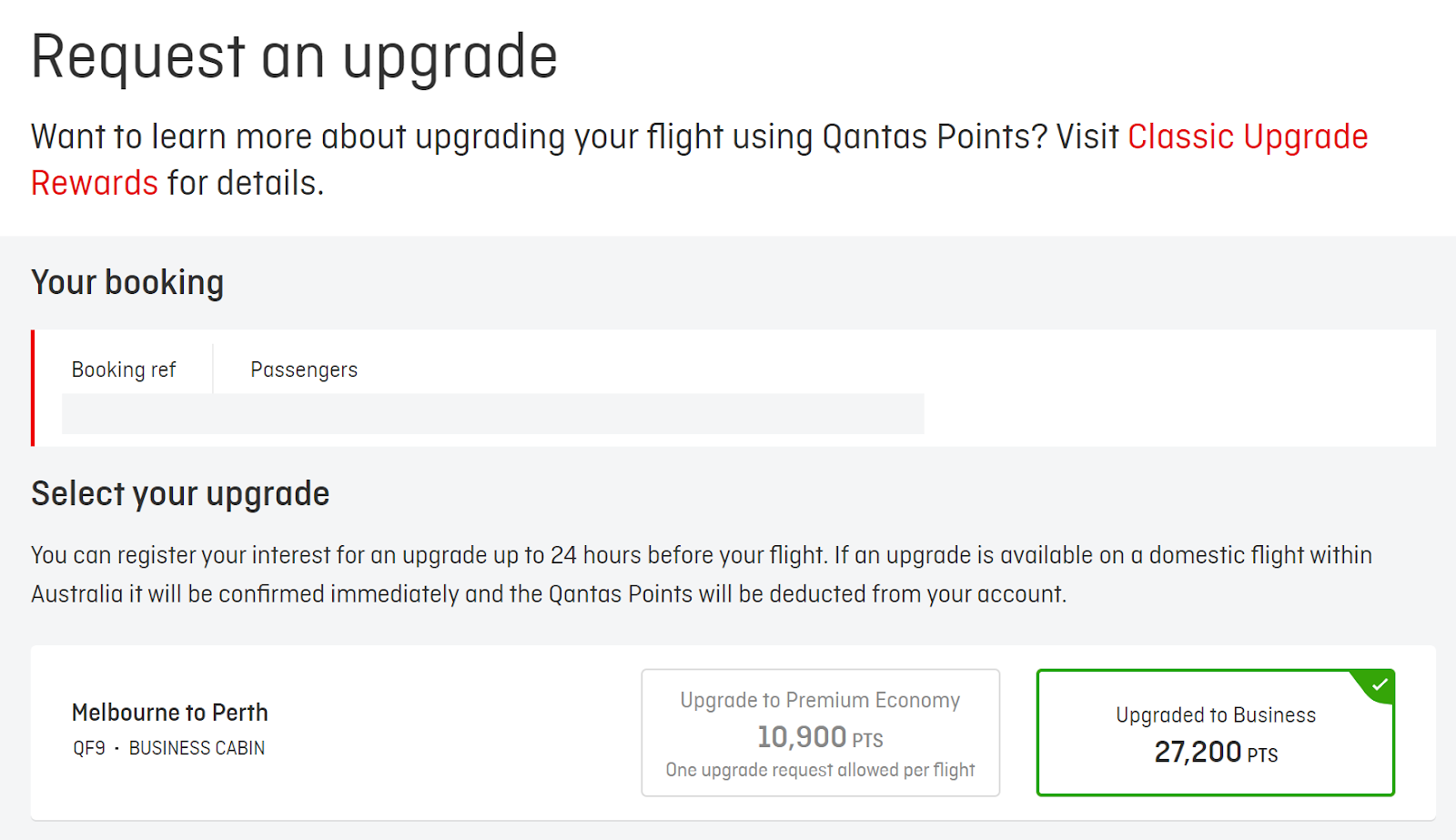 Upgrades are worth seeking out and are a great use of Qantas Points if you (or perhaps, your employer) have already bought a ticket with cash.
Important points to note with Qantas Classic Upgrade Rewards
These rules only apply for Qantas-operated flights with a QF flight number on the ticket (so not booked through a partner airline) and for upgrades using Qantas Points only.
If you buy a Discount Economy sale fare – called 'Red e-Deal' or 'Economy Sale' – then you can only upgrade that ticket using points on domestic flights, not international flights. Learn more in our guide on what Qantas fares to book for upgrades.
You can upgrade both from commercial fares and Classic Reward Seats (specific fares paid wholly with points). The upgrade rates vary depending on what ticket is purchased.
Classic Upgrade Rewards are not the only way to upgrade your flight with points — Qantas also has On-Departure Upgrades and Bid Now Upgrades with cash. Classic Upgrade Rewards are the most common, though, and they take priority over the other methods.
How much do Qantas Classic Upgrade Rewards cost?
Your upgrade cost depends on the type of ticket you have purchased, the distance, the cabin you want to upgrade to and whether it's a domestic or international flight. You can check the upgrade reward table or do a quick calculation for a specific route.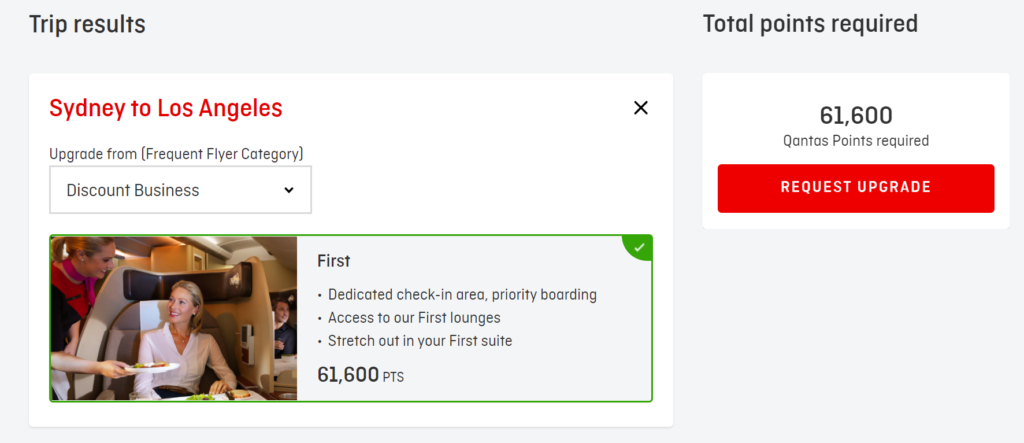 You can upgrade a Discount Economy ticket (Red e-Deal) between Sydney/Melbourne/Brisbane and Perth for 27,200 points one-way. For comparison, an outright Business Class reward booking on the same route costs 41,500 Qantas Points + taxes.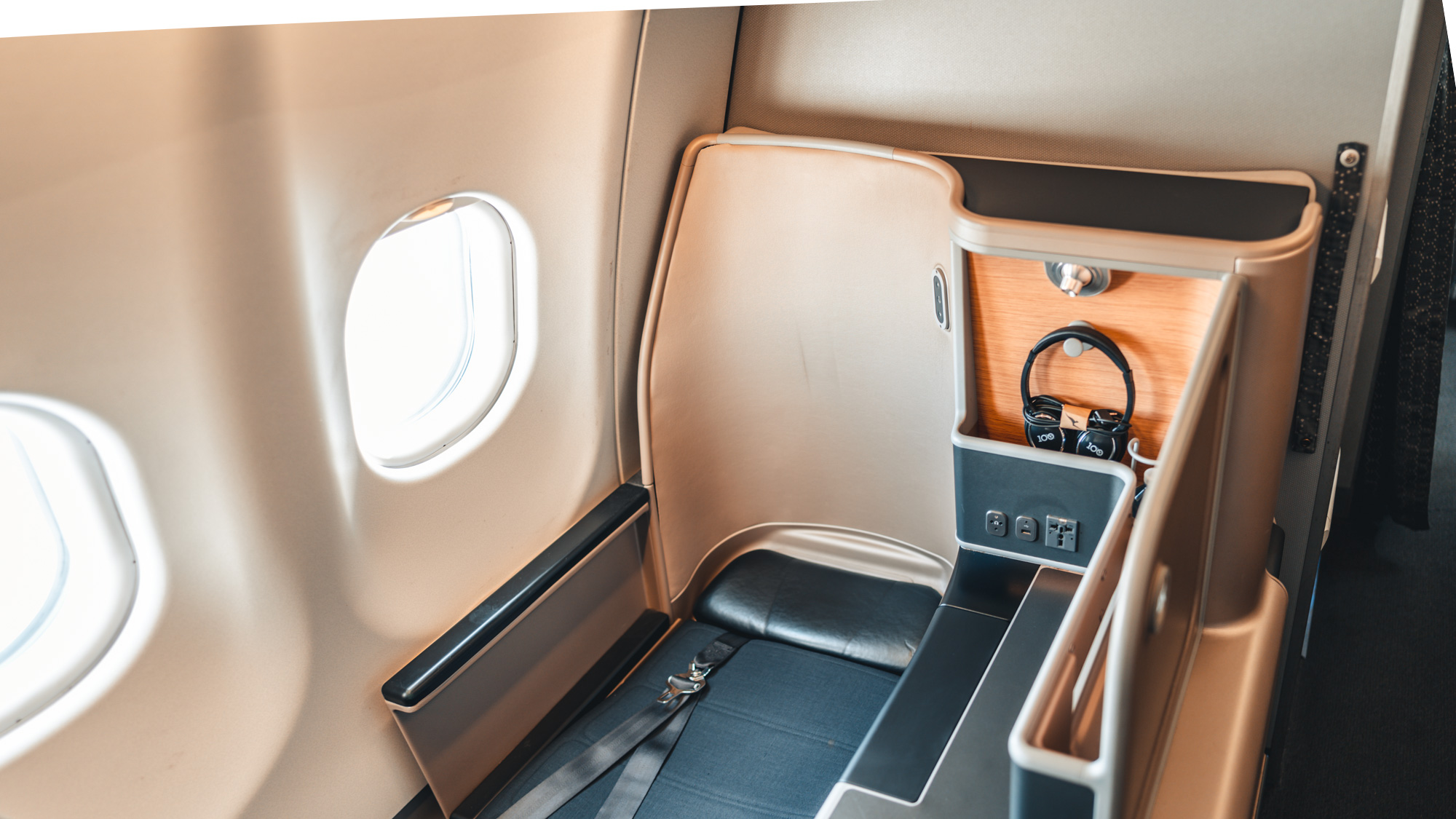 On the other hand, you can make the 17-hour trek between Perth and London more comfortable. Upgrading from a regular Economy Class ticket to Premium Economy costs 68,100 points, whereas an outright redemption is 94,900 points + taxes.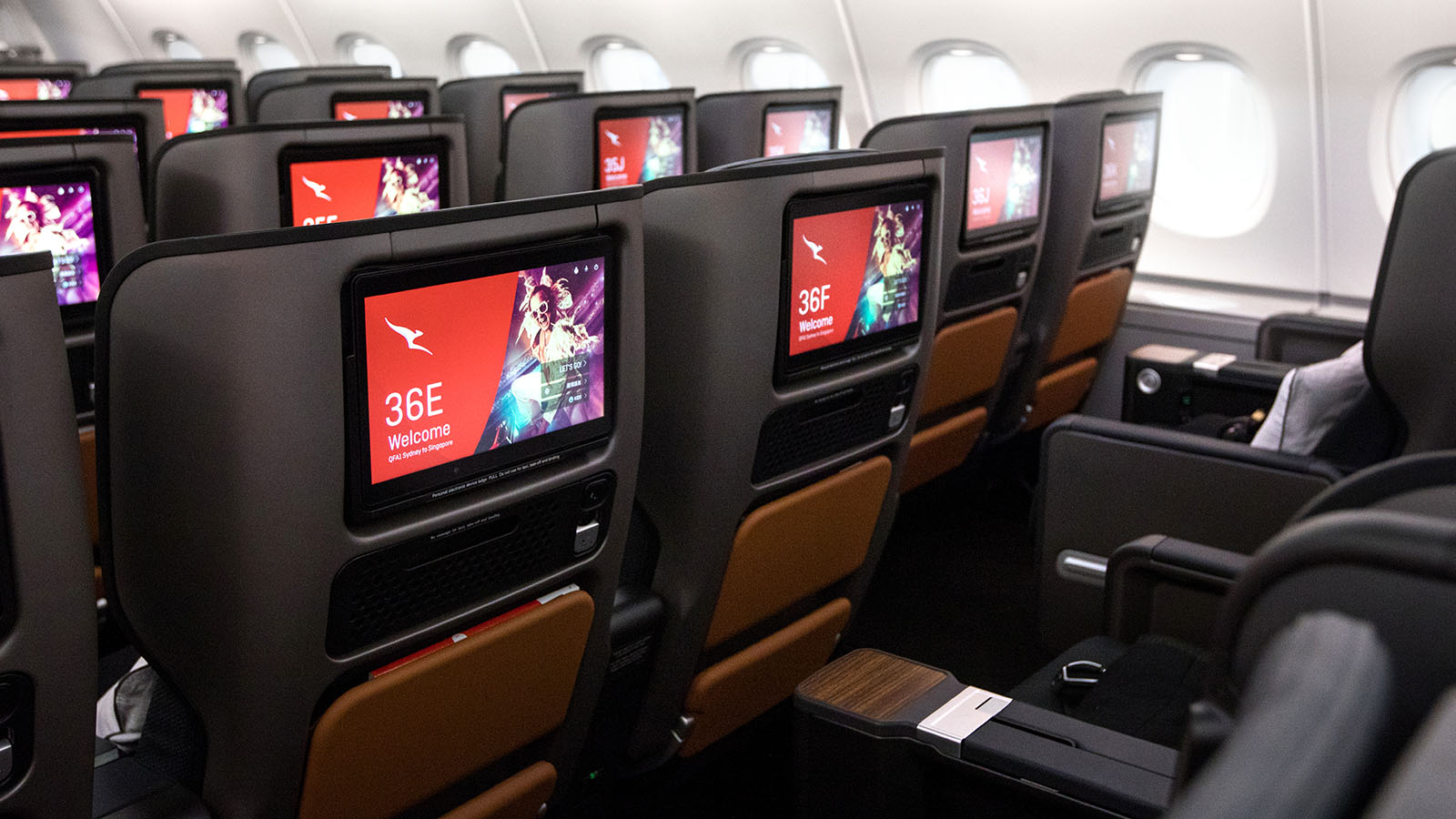 Finally, if your company (or deep pockets) has bought you a flexible Business Class ticket from the East Coast to Los Angeles and you want to upgrade to First Class, that will set you back just 49,100 points. An equivalent ticket would cost you 162,800 points + taxes from scratch.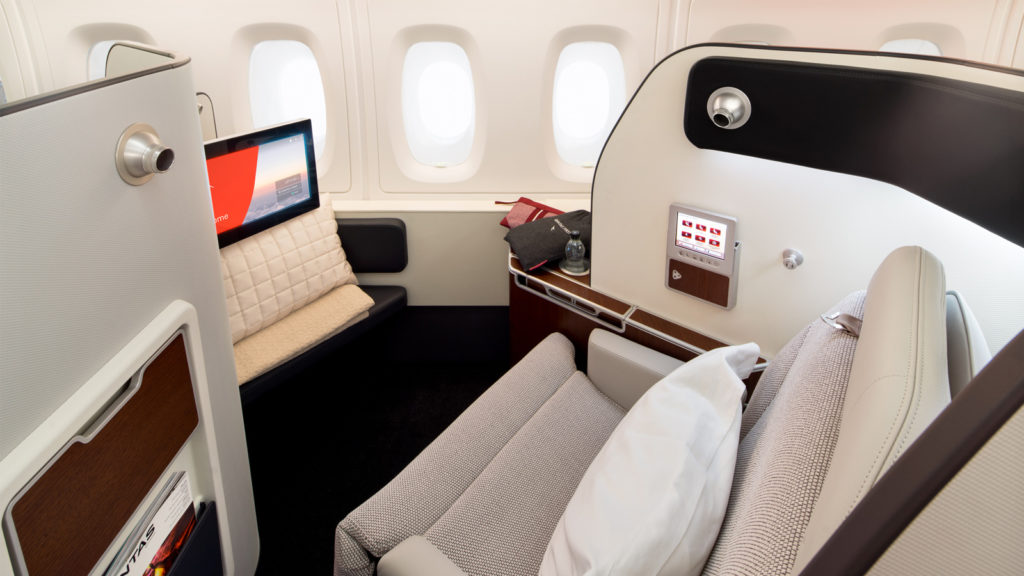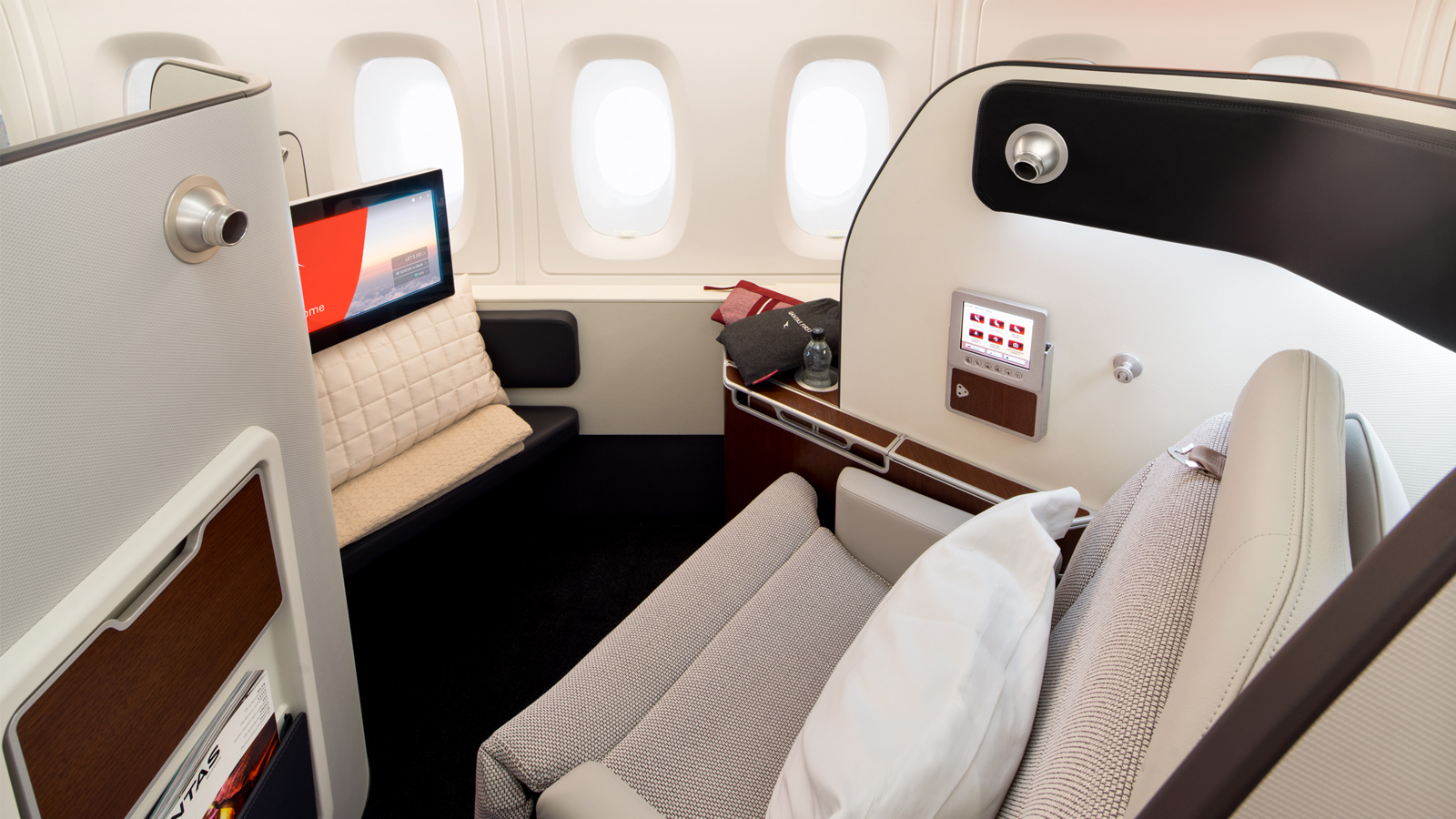 Are Qantas Classic Upgrade Rewards worth it?
As a general rule of thumb, the answer is usually 'yes'. Upgrades are considered one of the most efficient uses of points if you can snag one.
Other factors to consider include how much you've already paid for your current ticket, the length of the flight, the comfort of the upgraded seat, lounge access and your points balance.
In general, we still think you'll get better value by booking a reward seat outright in the cabin you want to travel in. The cost isn't too much higher than upgrading. But if there aren't reward seats available, then upgrading is your next best shot for travelling in luxury.
Are Qantas domestic flight upgrades different to international upgrades?
Yes, there are some major differences between Qantas domestic and international upgrades.
Domestic flight upgrades can be immediately confirmed by any Qantas Frequent Flyer member, regardless of fare or status, if a reward seat in the higher cabin is available (otherwise standard waitlist rules apply).
Discount Economy fares on domestic flights can be upgraded. However, this is not the case for international flights including those to New Zealand.
So if you want to find out whether or not you will be able to secure an upgrade before you purchase a domestic flight, you can search for Classic Flight Rewards on that flight. If seats in the higher cabin are available, your upgrade request should be approved as soon as you put it in.
When it comes to domestic flights, booking early and looking for Business reward availability is key to getting a confirmed upgrade.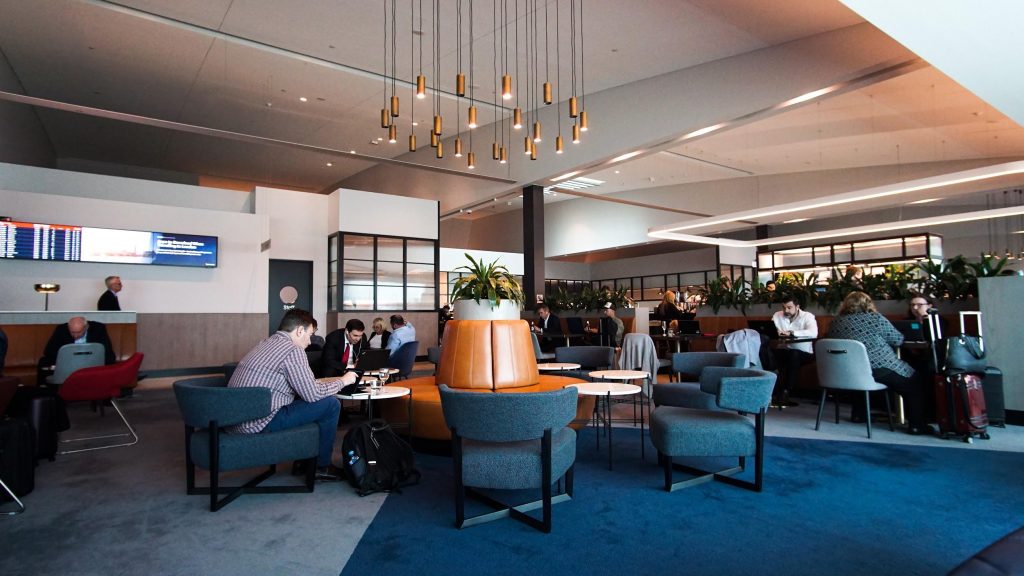 Ad – Scroll down to continue reading.Minimum spend, terms & conditions apply.
How does the Qantas upgrade waitlist work?
For all international flights and for domestic requests that cannot be approved immediately, the following rules will usually be applied in order when deciding who gets a flight upgrade.
1. Elite frequent flyer status
Your frequent flyer status is the most important factor. Regardless of when Platinum members put in their requests, all Platinum requests will always be approved ahead of Gold members. Similarly, all Gold members will be approved ahead of Silver members, and so on.
Here are the waitlist timelines that apply, depending on your status. Note that during peak periods, higher-tiered members may still not get confirmation until closer to the flight.
| | | |
| --- | --- | --- |
| Membership tier | Domestic Upgrades | International Upgrades |
| Platinum One | Within 3 days of flight departure | Within 7 days of flight departure |
| Platinum | Within 3 days of flight departure | Within 3 days of flight departure |
| Gold, Silver, Bronze | Within 24 hrs of flight departure | Within 24 hrs of flight departure |
2. Qantas Club Membership
If you are a Qantas Club member, you will be given priority over non-Qantas Club members in your class. For example, a normal Silver member will lose to another Silver member who is a Qantas Club member, all other factors being equal.
But holding a Qantas Club membership will not let you trump someone in a higher frequent flyer tier. So Bronze Qantas Club members will not be given priority over ordinary non-Club Silver members.
Note that this factor is not relevant with Gold, Platinum and Platinum One flyers, since those frequent flyer tiers automatically come with Qantas Club membership.
3. Fare bucket of your ticket
The higher the price of your ticket, the more likely you are to get upgraded compared to someone else of equal status or membership. So, a traveller holding a fully-flexible Economy Class ticket will be prioritised for an upgrade over someone with a discounted Economy ticket.
Although you can request upgrades from Classic Flight Rewards (seats booked wholly with points), those are prioritised last after all cash fares, even Discount Economy.
4. Timing of your upgrade request
Finally, if there's a tie with frequent flyer status, Qantas Club membership and fare buckets, the time you lodge your request will come into play. Of course, that means someone who lodges their request earlier will win over someone who booked last minute.
What are my chances of getting a Qantas points upgrade?
To re-cap the previous section, here is the general pecking order for Qantas flight upgrades using points, and the earliest you could be notified:
Chairman's Lounge
Platinum One | 3 days domestic | 7 days international
Platinum | 3 days domestic | 3 days international
Gold | 24 hrs domestic | 24 hrs international
Silver with Qantas Club | 24 hrs domestic | 24 hrs international
Silver | 24 hrs domestic | 24 hrs international
Bronze with Qantas Club | 24 hrs domestic | 24 hrs international
Bronze | 24 hrs domestic | 24 hrs international
If you are at the lower end of the hierarchy, you might think that these rules will mean that you never get an upgrade. It is true that Bronze and Silver members will usually have worse odds of snagging an upgrade. But don't be disheartened – it does happen. You need to be in it to win it.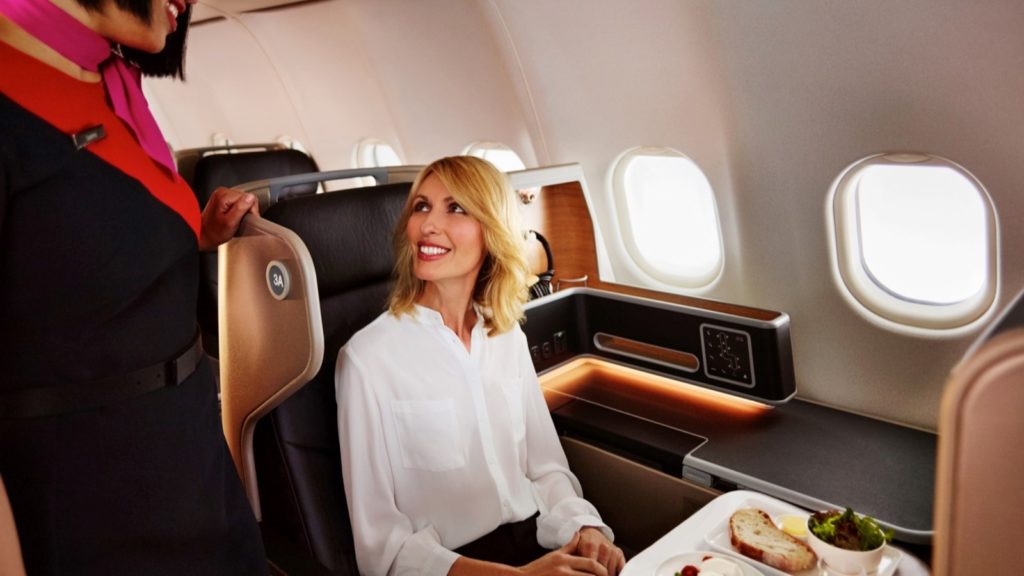 Tips for improving your chance of an upgrade
Sometimes, you could have a stroke of luck and still be picked for an upgrade if there aren't many people in front of you. Here are some tips to make it happen:
Try to fly off-peak: mid-week, during the middle of the day, away from school and public holiday periods.
Request your upgrade as early as possible: this puts you at an advantage against others in a similar situation.
Pick flights operated by bigger planes: you'll have a better chance when there are more Business Class seats to go around. For example, prioritise an Airbus A330 flight over a Boeing 737 for domestic and short-range international routes.
Qantas also tends not to confirm all upgrades immediately and will leave several seats unsold in premium cabins for last-minute travel. You may find that you'll get an upgrade at the airport, or even at the gate. The flight might even go out with a few seats empty in that cabin – airlines aren't obligated to fill every remaining seat with upgrades.
A Qantas Points upgrade case study
We've put together a (fictional) case study to show how the priority rules would apply. Imagine four people put in an upgrade request for the same flights in this order, one international and one domestic:
Monday: Bronze member Michael puts in the first request.
Tuesday: Bronze member Nicole with Qantas Club membership follows with her request.
Wednesday: Gold member Joanna makes her request.
Thursday: Platinum member Jamie makes the last request.
(For both flights, there is one Business reward seat available to all. There's also an additional Business reward seat available for Gold frequent flyers and higher, only).
| | |
| --- | --- |
| International flight upgrade outcome | Domestic flight upgrade outcome |
| 1. Jamie with Platinum status will get considered first, despite requesting it last. Her upgrade could clear within 3 days of the flight. | 1. Michael gets an immediate confirmed upgrade, despite being Bronze. |
| 2. Joanna with Gold status will get considered second, within 24 hours of the flight. | 2. Joanna gets an immediate confirmed upgrade from the seat available to Gold frequent flyers and higher. |
| 3. Nicole with Qantas Club membership comes in third, despite booking after Michael. | 3. Jamie with Platinum status will now be first in line to be considered for later upgrades. Her upgrade could be cleared within 3 days of the flight. |
| 4. Michael is last on the list as a Bronze member. | 4. Nicole with Qantas Club membership will now be second in line to be considered for later upgrades, within 24 hours of the flight. |
Different outcomes for domestic and international upgrade requests
From this case study, you can see how the availability of instant upgrades on domestic flights can really throw the pecking order into disarray. Because Michael and Joanna scored instant upgrades, Platinum member Jamie will have to wait her turn on the list, despite having higher status.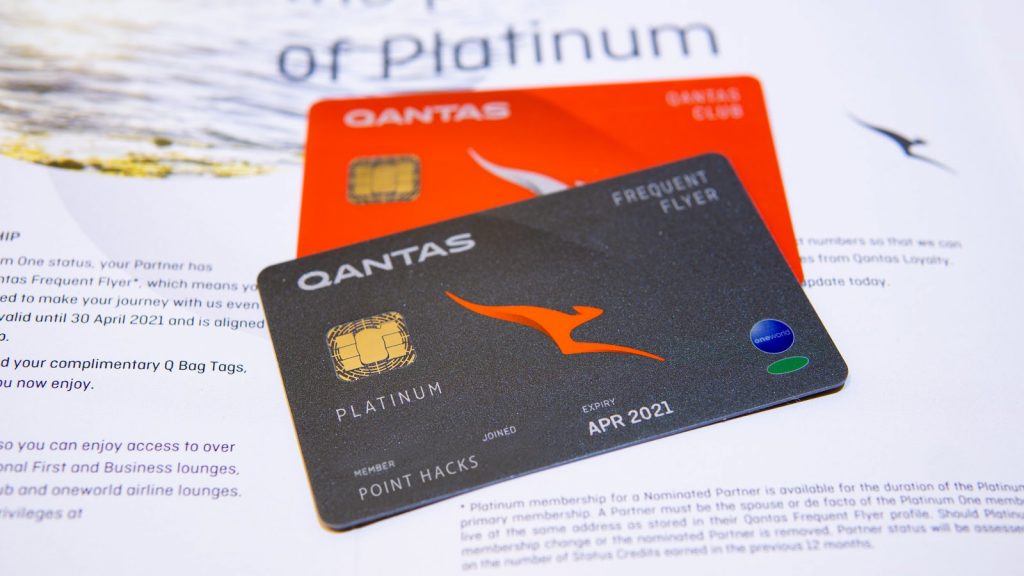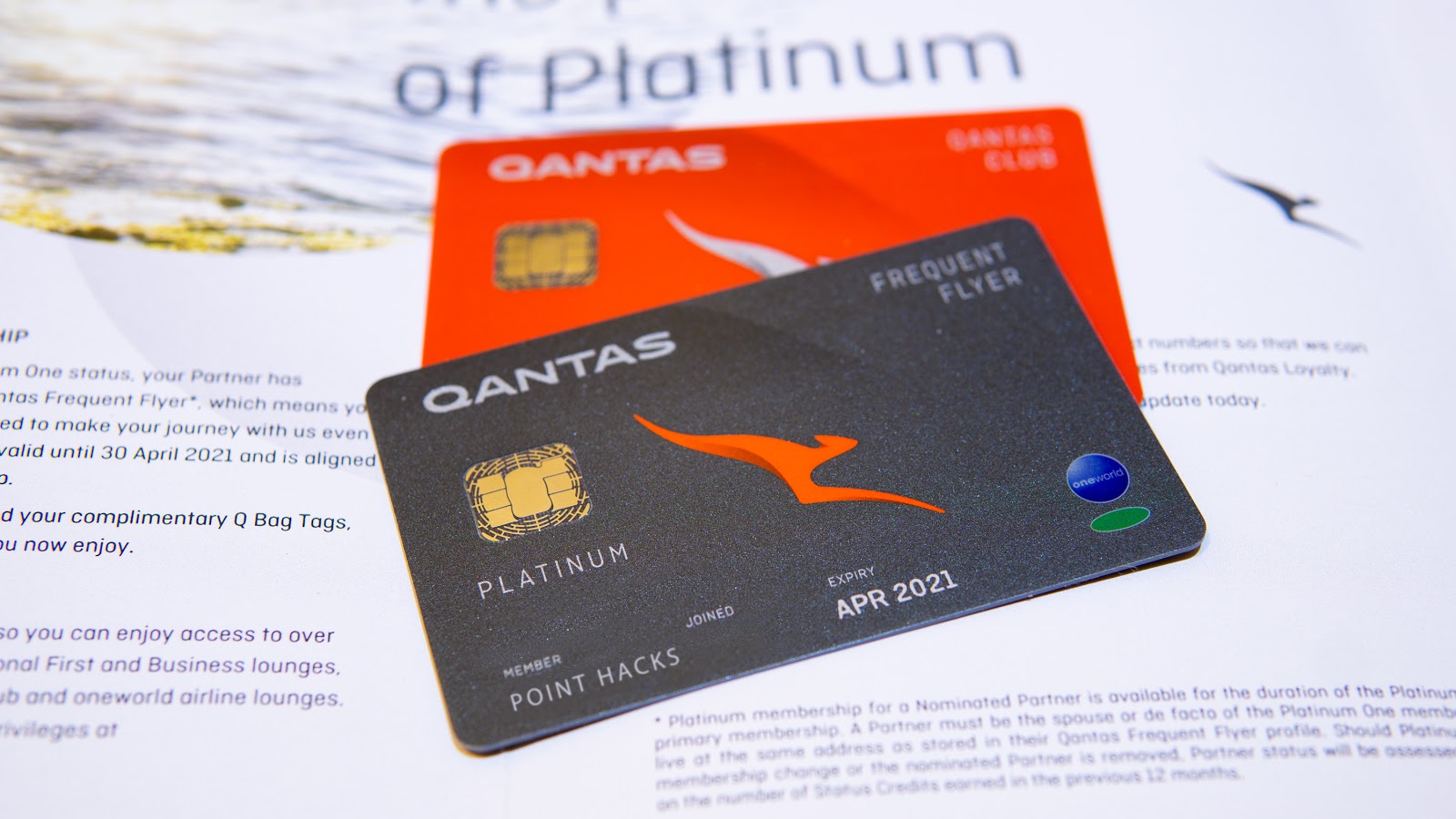 Conversely, Jamie's status is the trump card for international upgrades, where everyone is on the waitlist initially. But had Michael used his points to book the available Business reward seat, he would be holding a confirmed ticket and not be subject to the waitlist.
Want to learn more about this but in a real case study? Read how Gold member Natasha used Qantas Points to upgrade to Business Class to the US.
Summing up
If you want to guarantee a Business or First Class seat, then you are best off searching for reward seat availability. Booking an outright redemption in the cabin of your choice is much easier than playing the upgrade game!
But if that's not an option, then consider putting in a points upgrade request. You never know – it could pan out and you could be relaxing in Business or First Class with fewer points.
Frequently asked questions
Can I use my Qantas Points to upgrade a flight on Emirates or another partner airline?
Generally, no. Qantas states that 'from time to time Classic Upgrade Rewards may be requested on eligible paid and confirmed tickets on codeshare flights operated by another airline with a Qantas (QF) flight number on the ticket'. But these cases are rare.
If I am a Platinum One member and request an upgrade on my partner's behalf through family eligibility, how will they be prioritised?
If they are an eligible family member and they are travelling on a booking made by you as a higher tier member, their request will be given the priority belonging to your higher tier — whether you are travelling with them or not. This is a perk of Platinum One.

However, for all other status levels (Platinum and below), if that person is travelling by themself, then it will be their status tier that determines eligibility, not yours.
I know someone who has Silver status and was upgraded on an Emirates flight to First Class without having requested an upgrade. Why did that happen?
Emirates has a different upgrade system and, most probably, they had spare First Class seats and/or Business Class was overbooked and they gave an upgrade to a passenger/s who had status with a partner frequent flyer program, i.e. Qantas Frequent Flyer.
This guide was originally written by Peter R. Recent updates by Brandon Loo
The Ultimate Guide to Qantas Upgrades using Points
was last modified:
August 23rd, 2023
by