After a 2½-year absence from the route, Japan Airlines' excellent First Class product is returning to its Sydney – Tokyo Haneda flights later this year. It will become the only First Class product flying nonstop between Australia and Japan.
The schedule is already showing a switch from the current Boeing 787 Dreamliner to the larger Boeing 777-300ER from 1 September 2020.
The Japan Airlines First Class product
First Class is set up in a 1-2-1 configuration, with eight open suites across two rows. It's an older-style product but still shines with fantastic service and comfortable bedding.
The food is incredible and you can dine with a travel companion in the same suite, like on Cathay Pacific.
You can read more about Japan Airlines First Class in our review.
How to book an award seat
The cheapest way to book an award seat is by using 50,000 Japan Airlines Mileage Bank miles one-way. Not many people have access to these miles but if you have Marriott Bonvoy points, you can transfer them over.
The second-cheapest option is to use 60,000 American Airlines AAdvantage miles, which you can purchase or transfer from Marriott Bonvoy too.
Amongst the more accessible currencies, you can use 87,000 Asia Miles or 129,300 Qantas Points for the one-way flight to Tokyo. Another good option is to use 135,000 Asia Miles to fly all the way to the US or Europe with a free stopover in Tokyo (which you'll have to book over the phone).
This is also a great opportunity to book a round-the-world redemption in First Class using 455,000 Qantas Points.
Tickets and award availability were released on 31 January at 1pm AEDT for award flights from 1 September.
A quick search conducted just after seats were released showed wide-open availability in both directions through to the end of November 2020.
Below are some examples for travel in September and November. However, note that availability is also open on other dates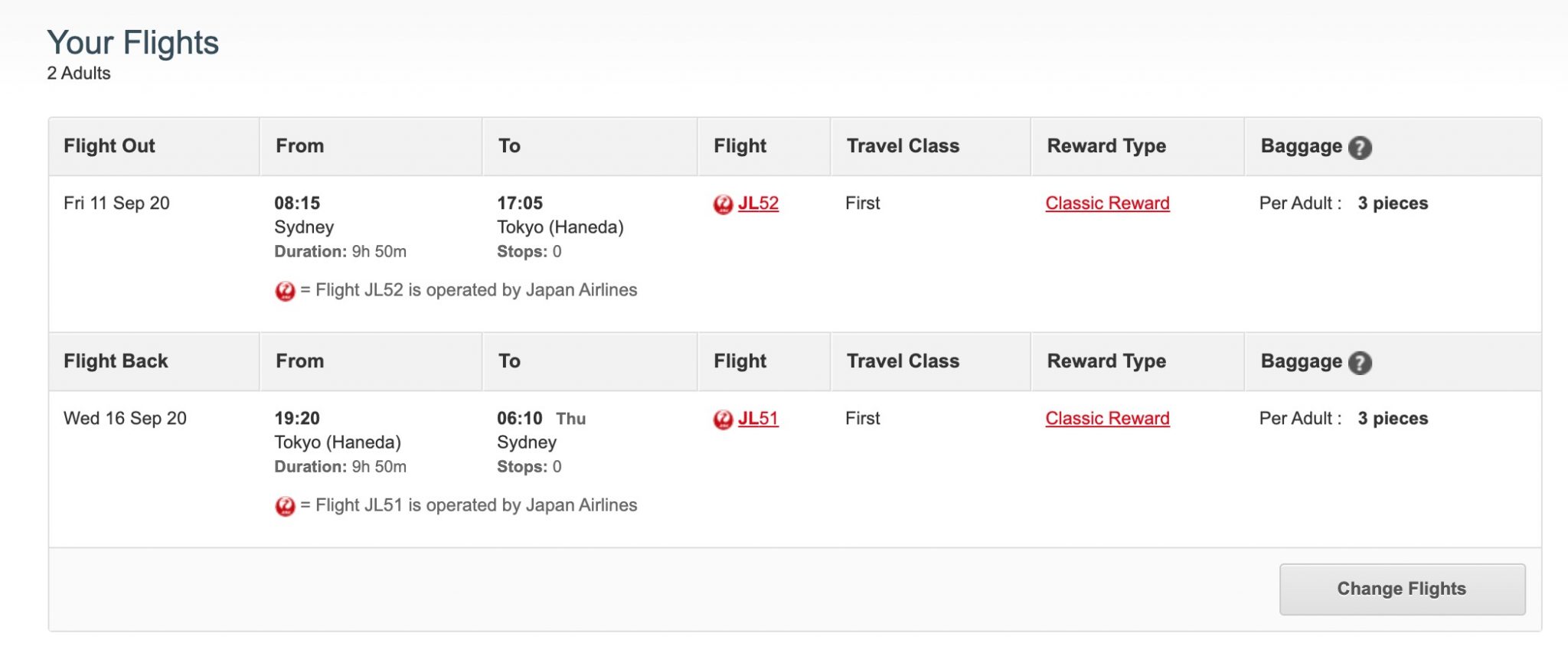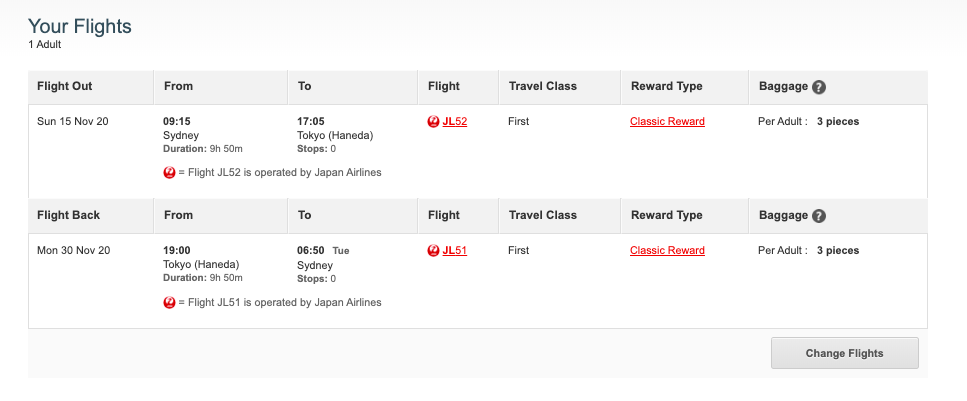 The availability was present using both a Gold and Bronze frequent flyer account.
Other cabins on the 777-300ER
With the switch from the 787 to 777, there are slight changes to the other classes of travel.
Those travelling in Business Class will still have the excellent Apex Suite but there will be an extra seat squeezed into the middle. It will therefore go to a 2-3-2 configuration albeit the middle seat still gets direct aisle access through a little walkway.
However, given middle-seat passengers will be surrounded by privacy walls on both sides, I'd recommend opting for any other seat.
Premium Economy also squeezes in an extra middle seat, expanding to a 2-4-2 layout. Same premise: try to avoid the middle seats.
Given both cabins will get an extra five seats each, you can expect slightly more award availability on this flight moving forward.
Finally, those in Economy Class will get an extra inch of legroom (34 vs 33 inches) on the 777.
---
How to use your points on Japan Airlines flights from Australia
This Tokyo-based carrier and oneworld member is a great option to use your Qantas Points on. This is because of its excellent Business Class product and reputation for warm and professional customer service.
Including Japan Airlines in a oneworld round-the-world trip in Business Class for 318,000 Qantas Points is a popular redemption.
In this guide, I outline the routes, aircraft and cabins that Japan Airlines operates. I also do a comparison of points pricing and give award availability tips. Finally, I provide links to reviews and other guides.
Japan Airlines routes, aircraft and cabins
Japan Airlines flies daily from Sydney and Melbourne to Tokyo Narita. However, the flight from Sydney will switch to the more convenient Tokyo Haneda from 29 March 2020.
The flight from Sydney to Tokyo is daytime on the way there and overnight on the way back. The Melbourne service is the opposite.
The Sydney flight is currently serviced by the larger Boeing 787-9 but will upgrade to the Boeing 777-300ER from 1 September 2020. The Melbourne flight is on the smaller Boeing 787-8 aircraft. The only real difference in the 787 variants is the number of seats.
Qantas, ANA and Jetstar also operate nonstop flights to Japan. Virgin Australia will too from March 2020.
Japan Airlines' First Class product is set up in a 1-2-1 configuration, with eight open suites across two rows. It's an older-style product but still shines with fantastic service, comfortable bedding and incredible food.
The lie-flat 'Sky Suites' Business seats are in a 2-2-2 configuration. However, they do offer direct aisle access to all passengers with its staggered layout.
I rank this product as the second-best Business Class seat flying from Australia.
The Premium Economy section is set up in 2-3-2 on the 787 and 2-4-2 on the 777. There is a quite generous 42 inches of seat pitch between you and the person in front of you. Plus, you'll sit in a hard shell so you are not bothered by other passengers' movements.
Unlike other airlines, you'll get lounge access when flying Japan Airlines Premium Economy from most airports, including Sydney, Melbourne and Tokyo.
The Economy section is in 2-4-2 with 33/34 inches of seat pitch on the 787/777. Try to snag a seat on the edges for more privacy if you can.
The food on Japan Airlines tends to be healthy and of high quality.
A comparison of points pricing for Japan Airlines flights
The five main points currencies Australia-based travellers can use on Japan Airlines flights are:
Mileage Bank offers the lowest redemption pricing across the board. You can transfer American Express Membership Rewards points to Marriott Bonvoy. From there, they can be transferred to Mileage Bank or AAdvantage. You can also get hold of the latter through buy miles promotions.
Asia Miles and British Airways Avios offer good value for Premium Economy and Economy redemptions. Avios are also a great option for domestic flights within Japan, which can tend to be quite expensive.
Qantas Points offer the poorest value of the five options.
Here is a comparison of one-way pricing from Sydney or Melbourne to Tokyo:
| Class | Japan Airlines Mileage Bank | AAdvantage | Asia Miles | British Airways Avios | Qantas Frequent Flyer |
| --- | --- | --- | --- | --- | --- |
| First | 50,000 | 60,000 | 87,000 | 103,000 | 129,300 |
| Business | 30,000-40,000 | 40,000 | 61,000/70,000 (Sydney/Melbourne) | 77,250 | 90,000 |
| Premium Economy | 25,000 | 35,000 | N/A | 51,500 | 70,800 |
| Economy | 20,000 | 30,000 | 27,000 (Sydney/Melbourne) | 25,750 | 37,800 |
Important notes:
Alaska Mileage Plan does not allow routings from Australia to Japan
Taxes and surcharges are $170-180 in both directions.
How to search for and book Japan Airlines award seats
Japan Airlines award space is best searched through the Qantas or American Airlines website. I especially like the AA website as it provides an easy-to-understand monthly view.
Reward seats in Economy Class are generally easier to find than those in premium cabins.
If you are not able to book online, you will need to call the frequent flyer program to book. You may be able to argue the point and avoid the booking fee given that it is not showing online.
For more information, check out our guide on how to search for frequent flyer award space most efficiently.
Where to credit Japan Airlines flights
If you are purchasing a cash ticket on one of these flights and want the most value out of the points you'll get out of it, check out our guide on how to choose which program to credit your frequent flyer points to.
Links to Japan Airlines reviews
Summing up
Japan Airlines is renowned for friendly, efficient customer service and great onboard food.
This represents a great-value points redemption opportunity for flying in comfort to Japan and beyond.
Check out all opportunities to use points to get to Japan in this master guide.
Related guides
Japan Airlines First Class coming back to Sydney: plenty of award availability!
was last modified:
June 18th, 2020
by