Australians love Japan, and four airlines are ready to fly you straight to Tokyo. As the country starts to open up – and international tourism gets closer – there's no time like the present to plan your next visit.
As with most destinations, COVID-19 testing is obligatory, and there's a little paperwork to complete. There are still some requirements on the quarantine front, but those restrictions are beginning to soften.
So whether you're flying for business or leisure, here's what to expect when taking off for Tokyo. We've included the airlines and routes available to travellers by late April 2022, as planes and passengers jet back into the skies.
Paperwork and pre-flight COVID testing
While Japan is currently off-limits to international tourists, it has begun reopening to business travellers. The country's usual 14-day quarantine requirement on arrival has also been shortened to just three days for those business visitors.
These entry and quarantine requirements were eased on 8 November 2021, and pave the way for a broader return of tourists in the near future. As you start planning your holiday, here's a taste of what to expect, based on the revised rules for business travellers.
You must be fully vaccinated against COVID-19, with a vaccine recognised by Japan. At the time of writing, AstraZenica, Moderna and Pfizer make the cut, but others like Johnson & Johnson currently don't.
You must get a COVID-19 test within 72 hours of your flight's scheduled departure time. (This typically costs around $150.)
At airline check-in, you'll need to present both your vaccination certificate, and your negative test result. (Japan calls the test result an "inspection certificate").
On arrival in Japan, get an additional COVID-19 test at the airport.
After leaving the airport, self-quarantine for three days in a hotel or private residence.
Once you have spent three days in self-isolation – and provided you've again tested negative for COVID – you're then free to roam!
Depending on your length of stay, you may be required to undergo additional COVID tests within the first 14 days. But after day three, you can leave isolation and explore the delights of Tokyo or beyond. See the Japanese Government website for further details and requirements.
Returning to Australia from Japan
Ahead of your return home, don't forget to complete the Australia Travel Declaration. This online form must be submitted at least 72 hours before you fly. But keep in mind, you can only fill it out within seven days of your journey back. Setting a reminder on your phone is a great way to avoid getting stuck at check-in!
Speaking of check-in, Australia also requires that you get a COVID-19 PCR test within 72 hours of departure from Japan. You'll need to present your negative test result at check-in.
Costs for this test can vary between locations. But expect to pay roughly ¥22,000 (AU$261) for a PCR test for travel. The United States Embassy in Japan maintains a good list of local locations that undertake testing for general international travel.
The Australian Government – and many airlines – also require that most travellers be fully vaccinated. Those who are unvaccinated are subjected to restrictions, passenger caps and mandatory hotel quarantine.
Haneda Airport vs Narita Airport: which is better for Tokyo?
Tokyo is served by two major international airports: Haneda and Narita. The airport you use will depend on the airline you fly – and sometimes even the route you take.
For example, departing Melbourne, you could fly straight to Haneda Airport on Qantas. Alternatively, you could jet to Narita Airport on Japan Airlines. But which is best?
Many travellers prefer Haneda Airport for its proximity to the city itself. It's less than 22km from Shinjuku, versus Narita Airport which sits some 76km away. Ultimately though, both airports are well-connected to central Tokyo. It's just a matter of how long it takes to get there!
Ad – Scroll down to continue reading.Minimum spend, terms & conditions apply.
Flying to Tokyo with Qantas
Prior to COVID, Qantas was operating flights out of both Haneda and Narita Airports. Its current schedules show only Haneda flights, as Melbourne and Brisbane are sharing one daily pair of airport slots.
| | | | |
| --- | --- | --- | --- |
| Route | Frequency | Aircraft type(s) | Cabins |
| Sydney-Tokyo (Haneda) | Daily | Airbus A330-300 | Business, Economy |
| Melbourne-Tokyo (Haneda) | Four times a week | Airbus A330-300 | Business, Economy |
| Brisbane-Tokyo (Haneda) | Three times a week | Airbus A330-300 | Business, Economy |
Qantas' lounges in Australia and Tokyo
Qantas offers its own lounges for international passengers in Sydney, Melbourne and Brisbane. At Tokyo's Haneda Airport, access is instead provided to the lounges of the Roo's partner, Japan Airlines.
Those departing Sydney and Melbourne are the most spoiled, thanks to the excellent Qantas First Lounges there. Trust us – if you make the cut, you'll want to arrive early for your flight! Squeeze in a spa treatment and dine in the excellent restaurant, where you'll want to sample favourites like the succulent salt and pepper squid.
That's a pleasure reserved for Qantas Platinum members and above, as well as other oneworld Emerald frequent flyers. If you're flying Business Class, the Qantas Business Lounges await instead. That's also where you'll venture with a Qantas Club membership, or via Qantas Gold or other oneworld Sapphire status.
Qantas' Business Lounges serve buffet fare, along with all-day drinks and barista coffee. Without a First lounge in Brisbane, all eligible travellers are accommodated in a single, renovated lounge.
In the short term, however, you may find the Qantas Business lounges closed. But don't stress: you'll be invited into the Qantas First lounge instead. Think of it as a terrific 'upgrade', but on the ground rather than in the air.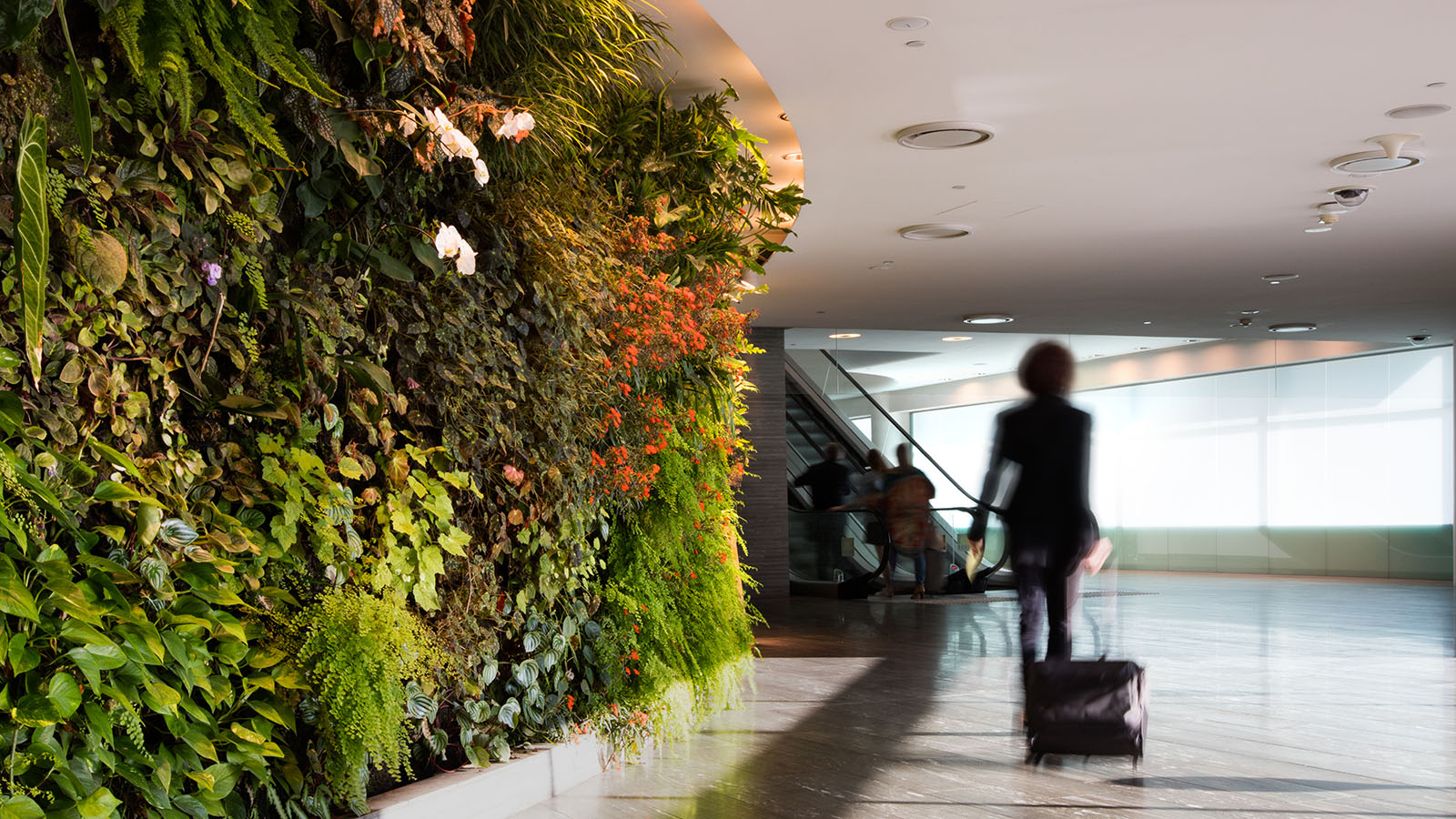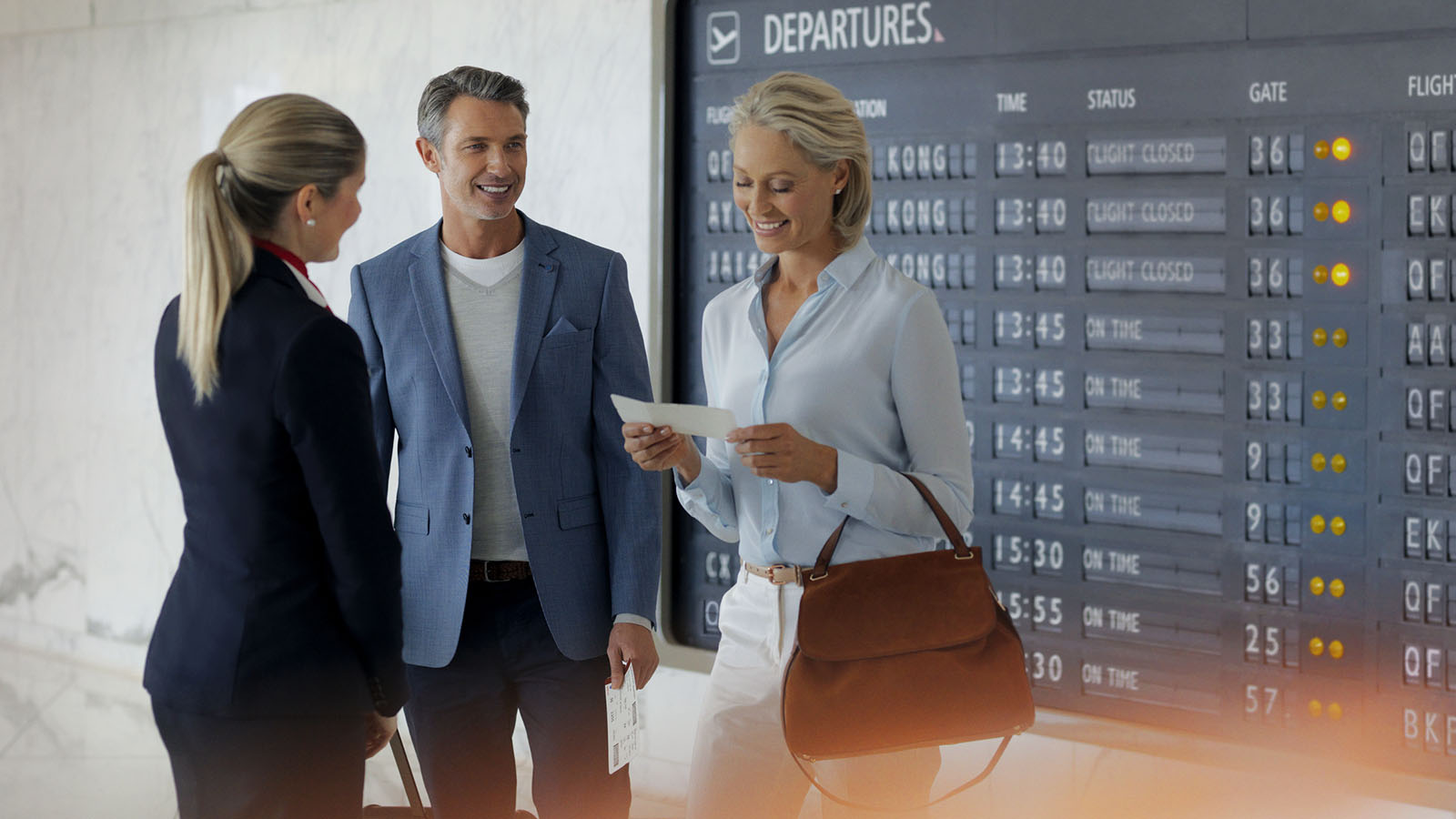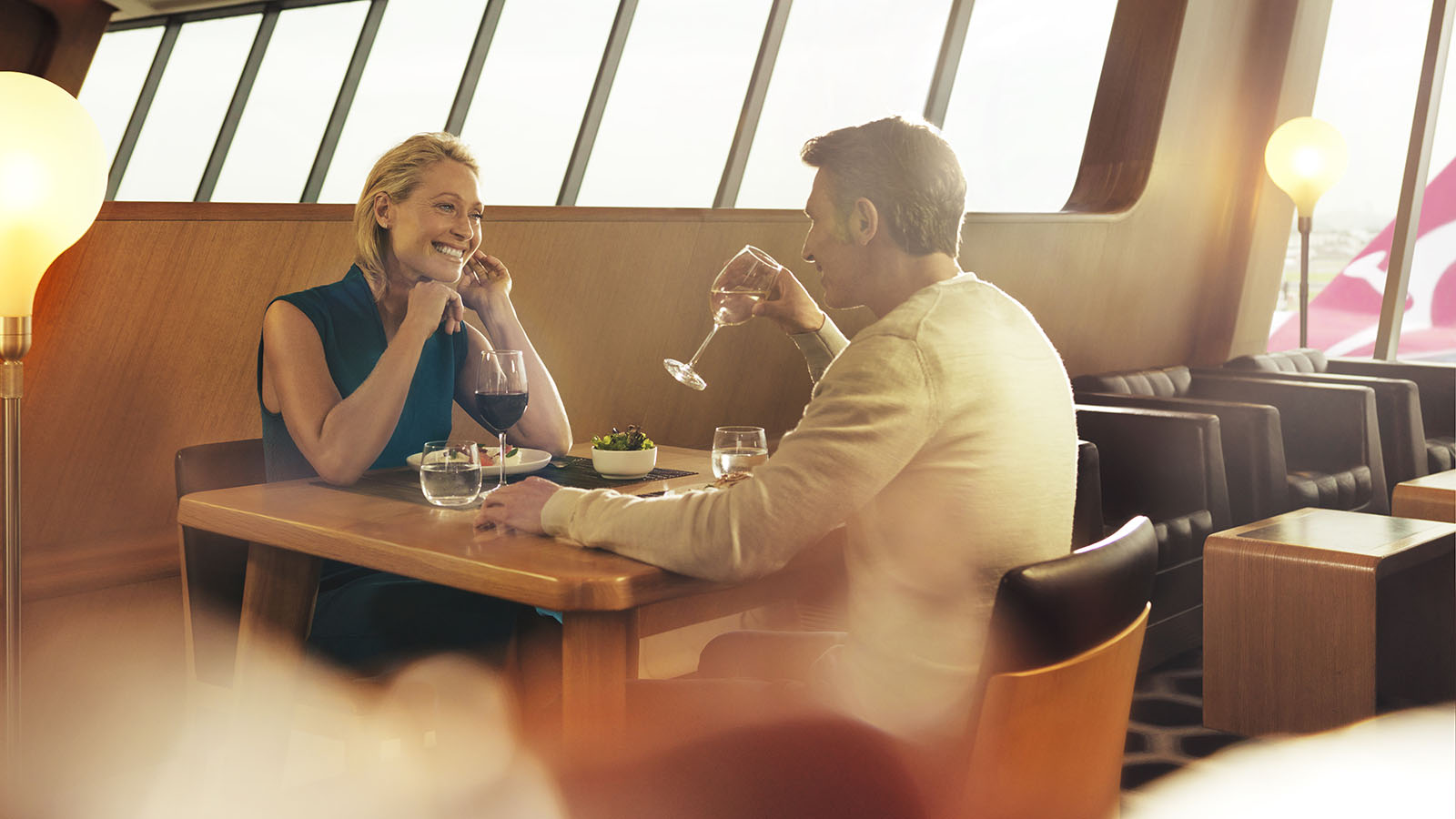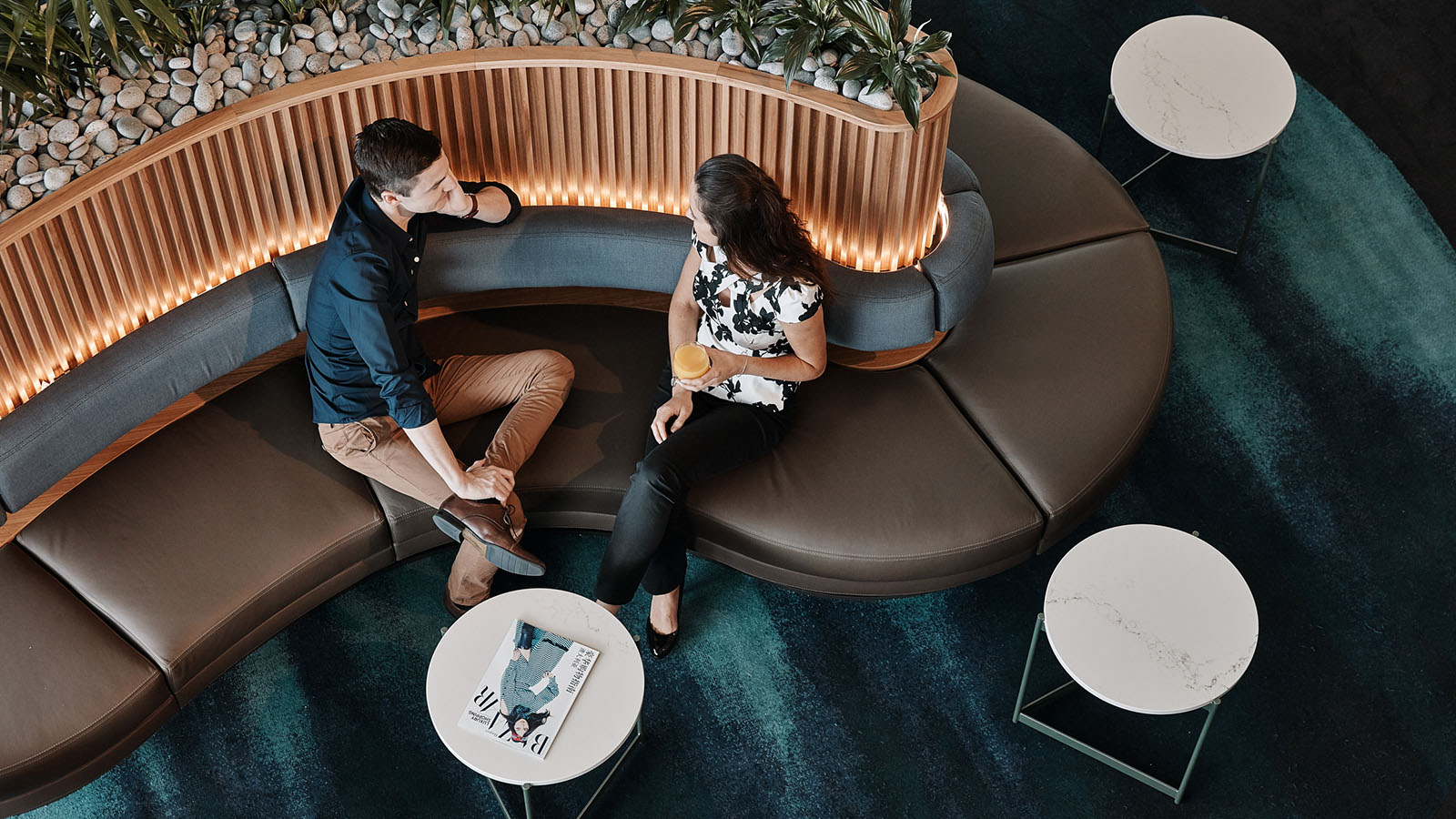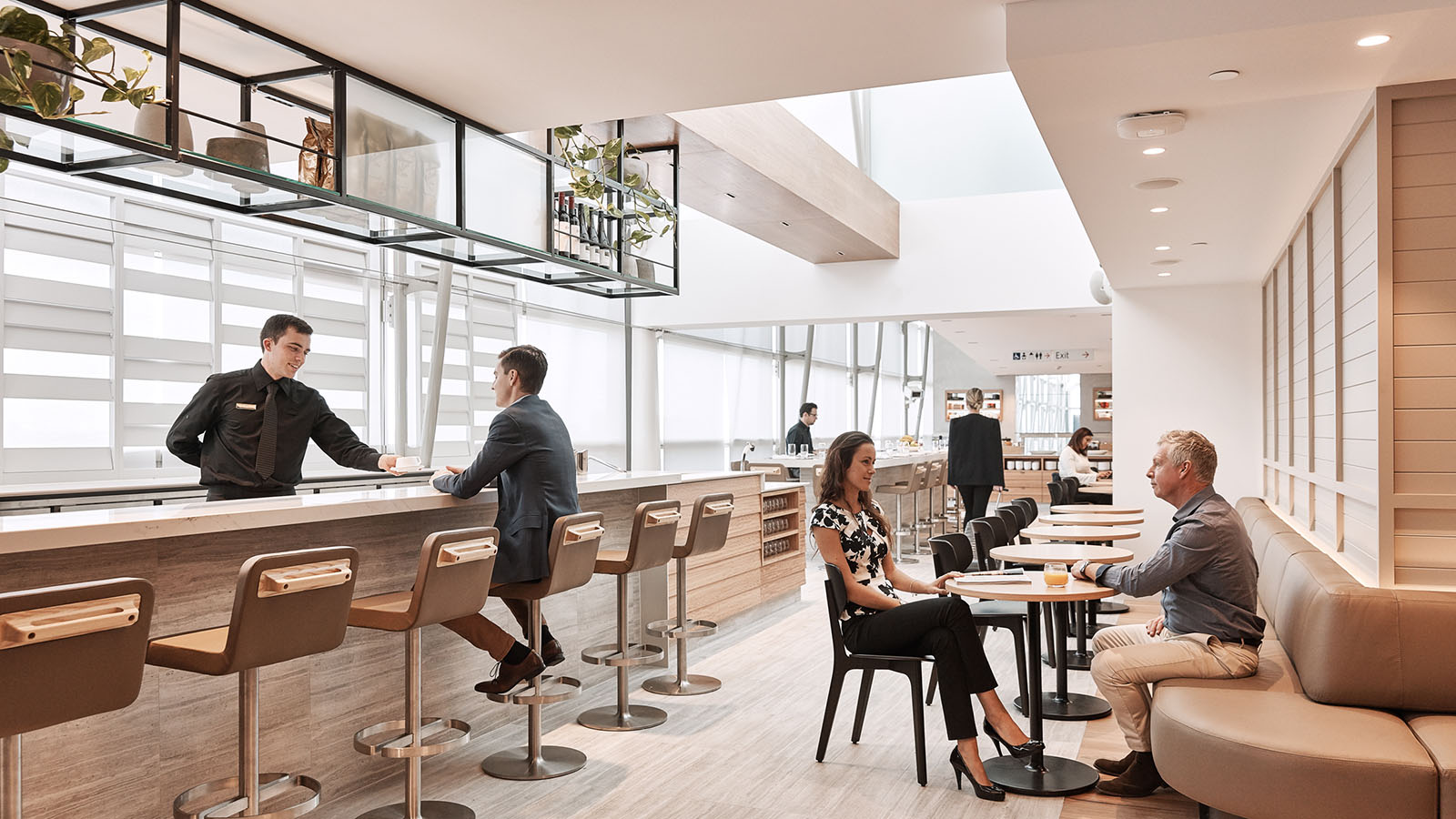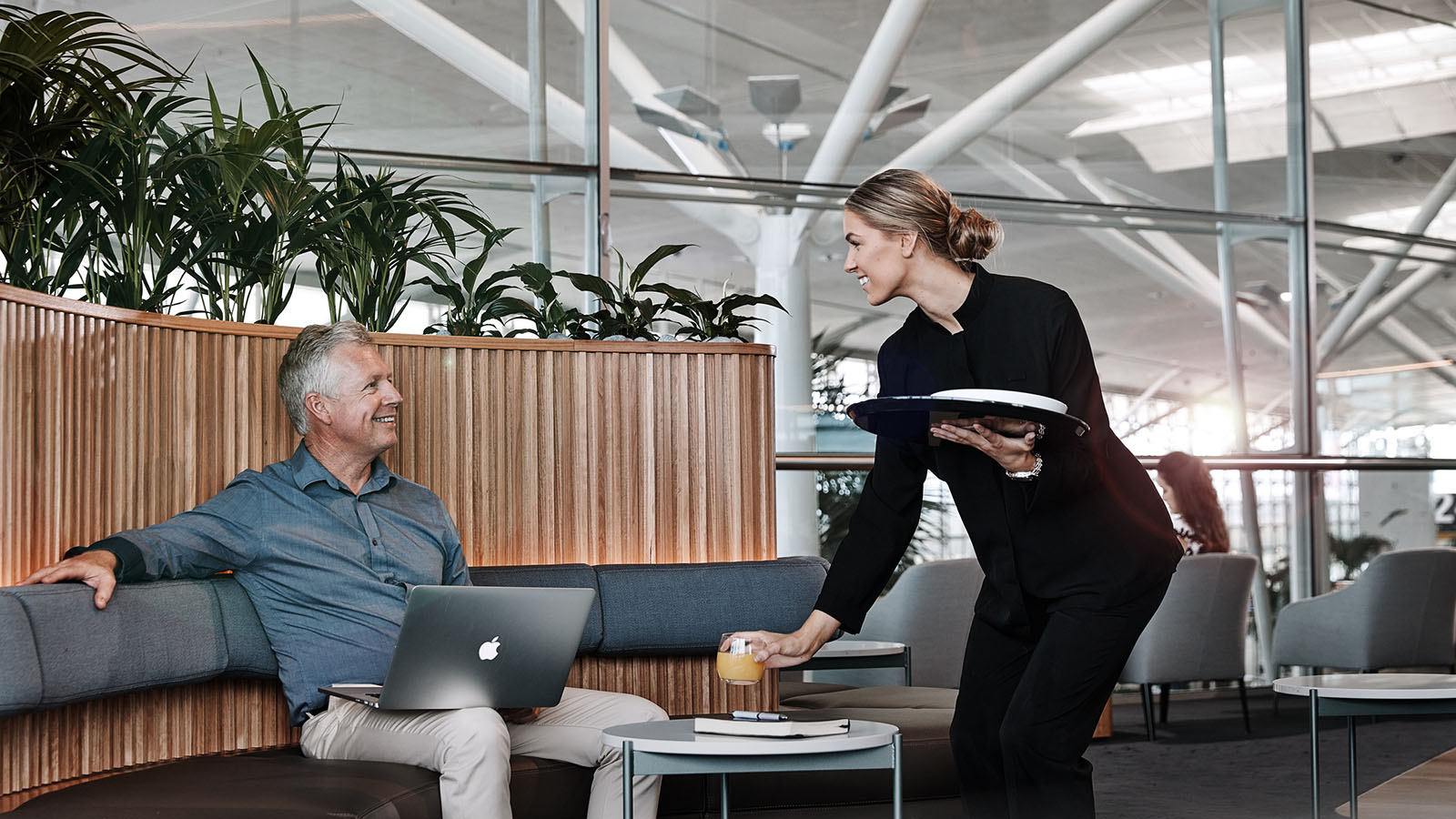 At Haneda Airport, there's a similar split between First and Business lounges. These facilities are operated by oneworld Alliance member Japan Airlines (JAL), which Qantas passengers can access.
A oneworld Emerald frequent flyer card is your ticket to JAL's First Class Lounge. Here, there's a big focus on dining, with a dedicated zone for sushi and sake. Separately, the JAL's Table section serves up other à la carte delights, including the airline's signature beef curry.
The JAL Sakura Lounge is the Business Class alternative. Expect great airport views, buffet dining and plenty of space to relax.
The Qantas experience flying to Tokyo
For the time being, Qantas is keeping things simple for Tokyo, with the Airbus A330-300 scheduled on every flight. These planes come with Business and Economy – no First or Premium Economy, unfortunately.
Upfront, settle into Qantas Business with a glass of sake. It's a great way to begin the journey, and in my experience, the crew will happily serve your beverage warmed or chilled to suit. Then slip on your complimentary pyjamas, glide your seat back, and relax in the airline's flagship Business seat.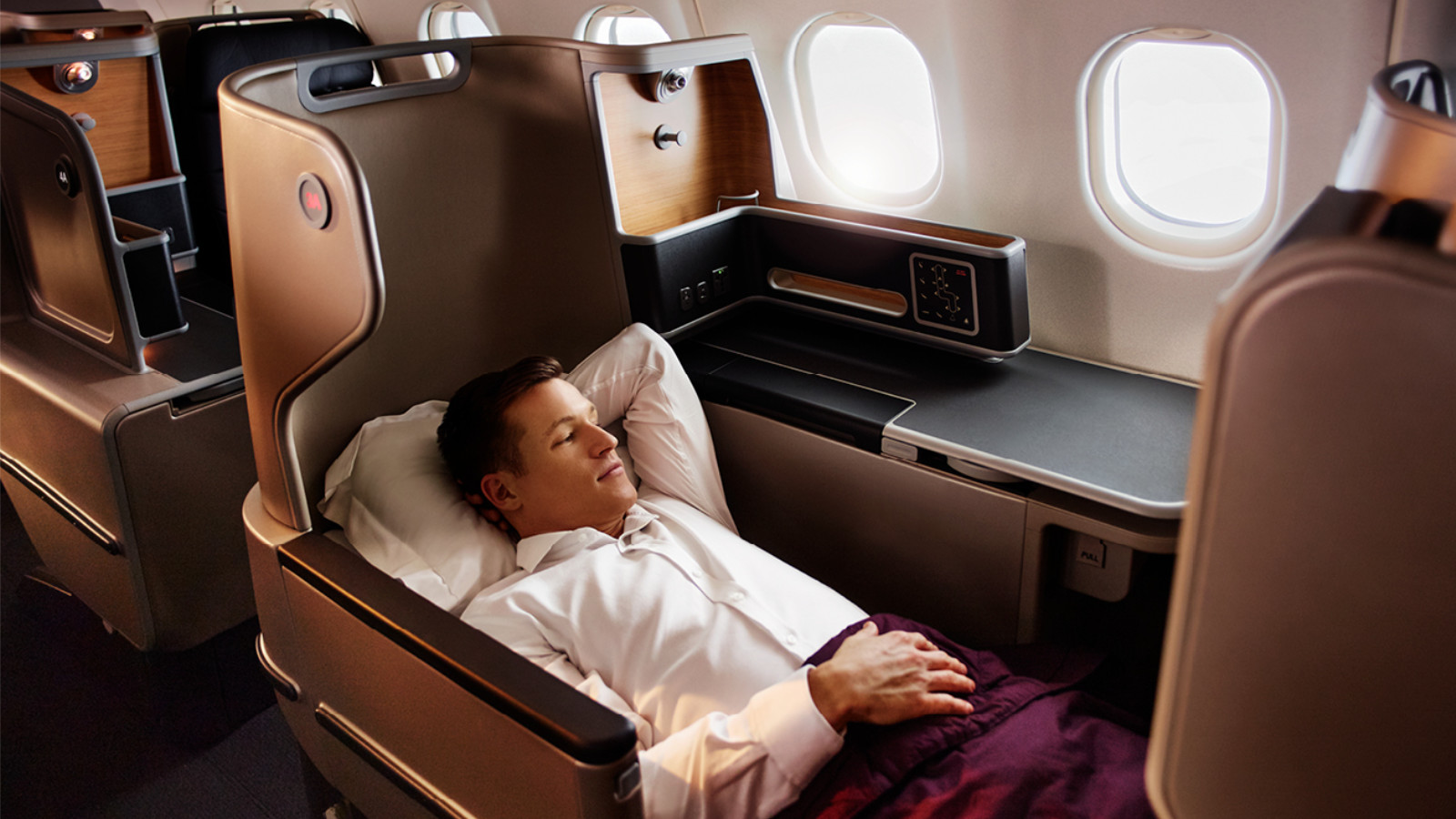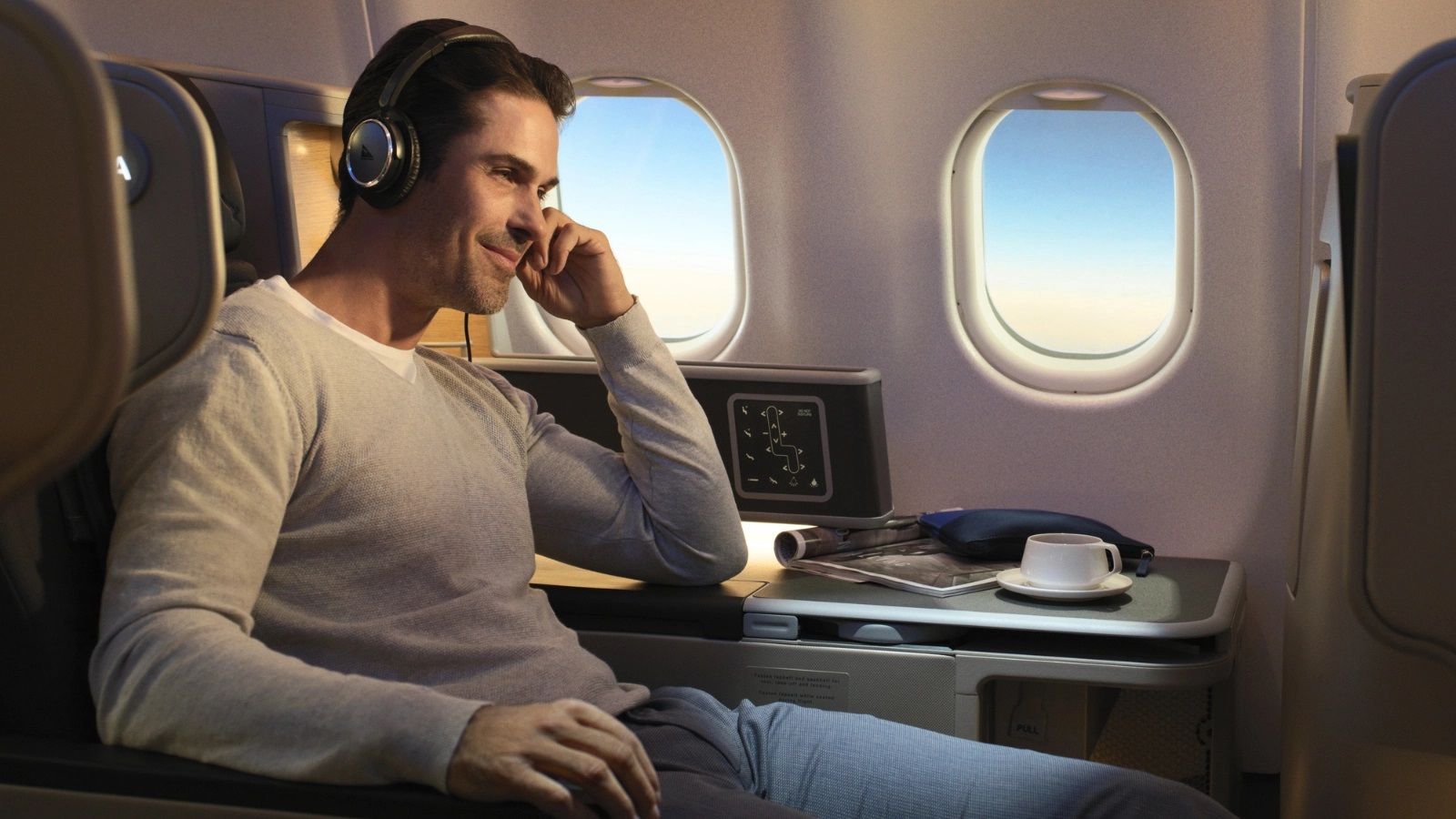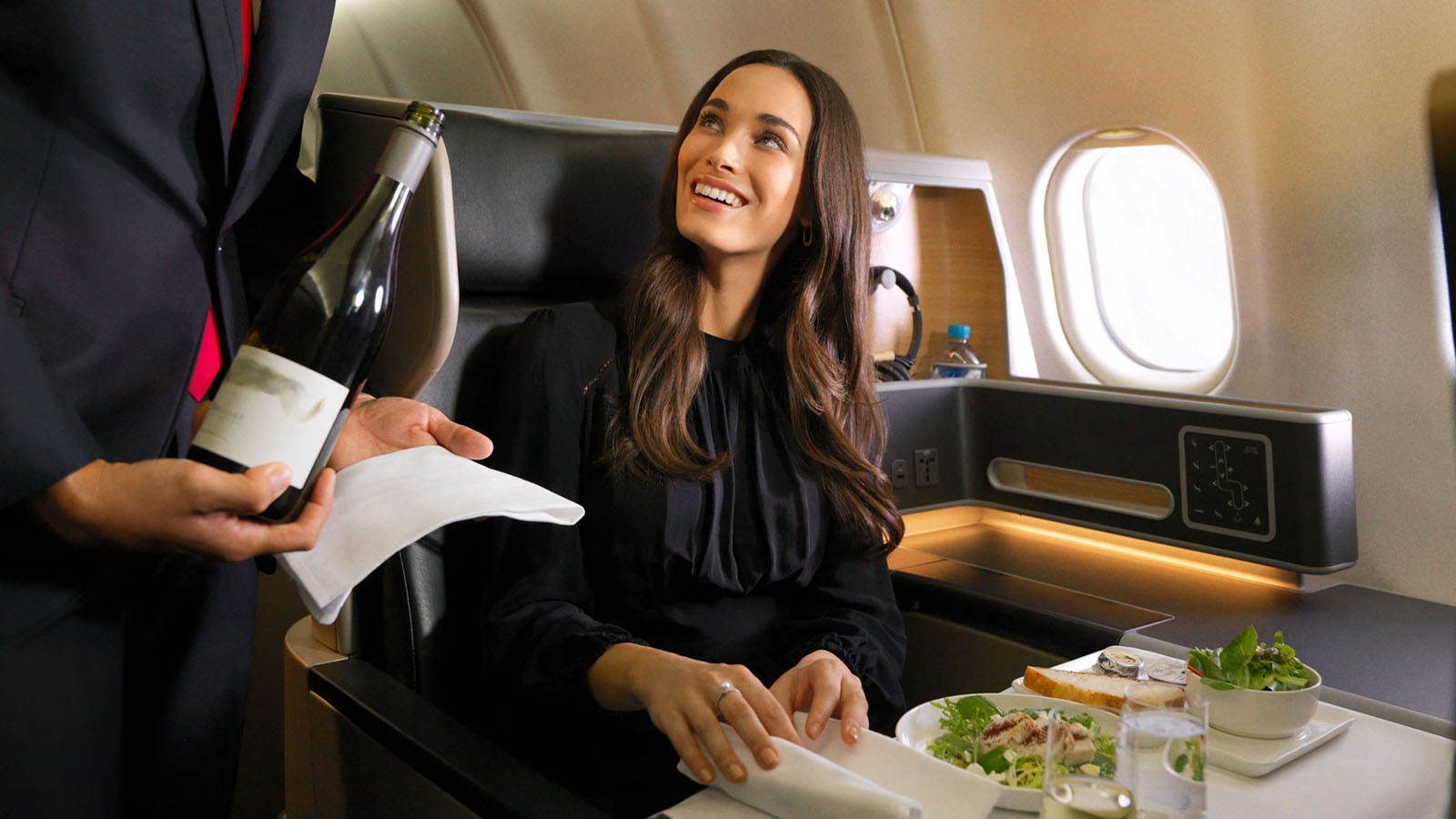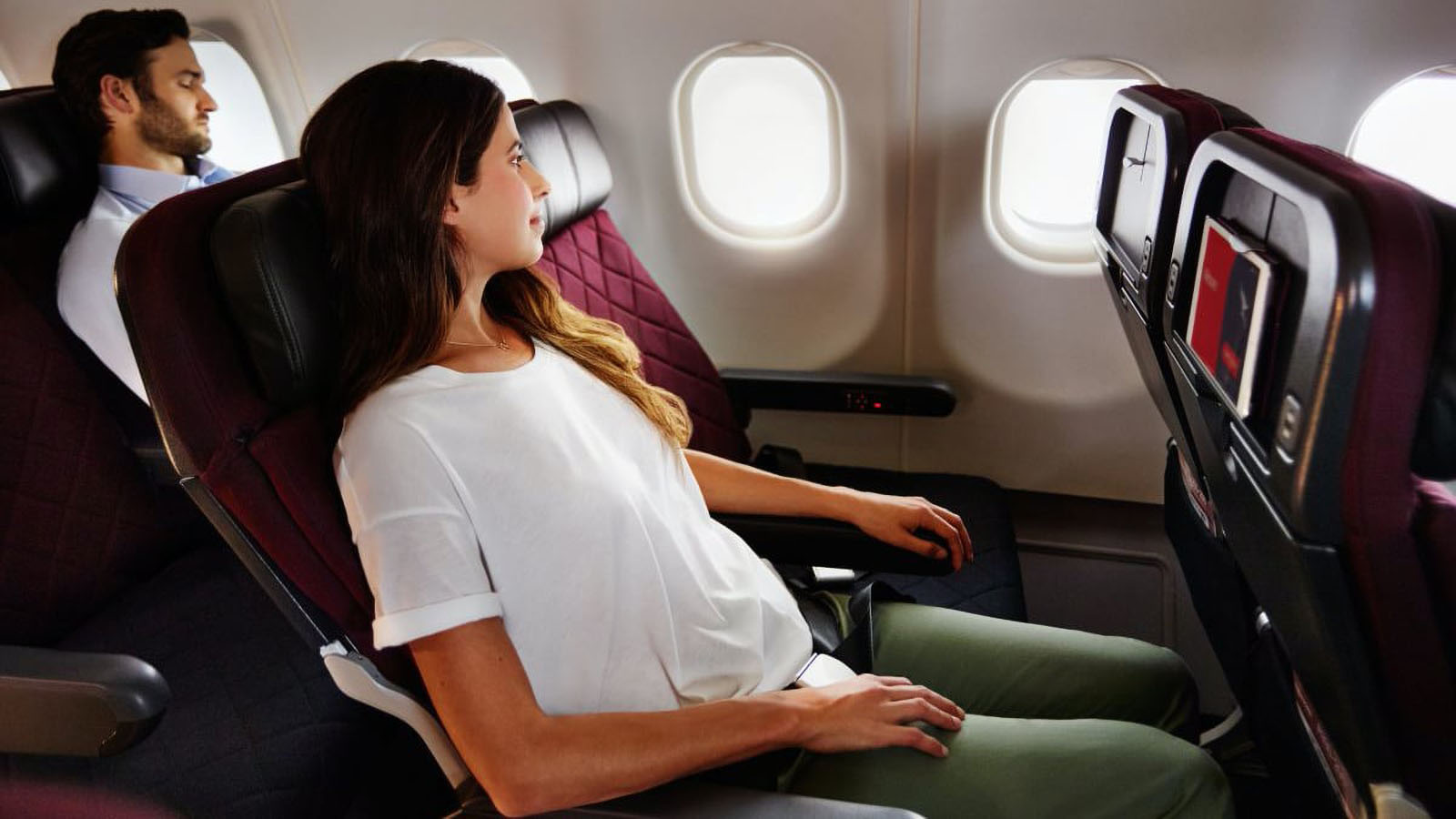 Back in Economy, the 2-4-2 seating layout has its advantages over other aircraft. Under this design, 50% of passengers are only one seat away from an aisle. Of course, the other 50% enjoy direct aisle access. Couples travelling together will also appreciate the pairs of seats down each side. These come sans a middle seat, which means greater comfort for you – and no stranger for a neighbour.
Flying to Tokyo with All Nippon Airways (ANA)
Star Alliance member All Nippon Airways (ANA) isn't to be overlooked. It offers more Sydney-Tokyo flights than any other airline, while also being the only carrier to fly Perth to Tokyo non-stop.
| | | | |
| --- | --- | --- | --- |
| Route | Frequency | Aircraft type(s) | Cabins |
| Sydney-Tokyo (Haneda) | Twice daily | Boeing 787-9 | Business Class, Premium Economy Class, Economy Class |
| Perth-Tokyo (Narita) | Daily | Boeing 787-9 | Business Class, Premium Economy Class, Economy Class |
ANA's lounges in Australia and Tokyo
With its home base being in Japan, ANA relies on partnered lounge facilities in Australia. In both Sydney and Perth, passengers are invited to visit the lounges of Air New Zealand and Singapore Airlines.
The specific lounge available to you may vary in line with those other airlines' flight schedules. But a Business Class ticket or a Star Alliance Gold card is all you need, when these lounges are open. In Sydney and Perth, Air New Zealand's lounges tend to be more bright and bustling, while Singapore Airlines' spaces are more in the 'traditional luxury' camp. If both are open prior to your flight, why not visit each one and decide which you prefer?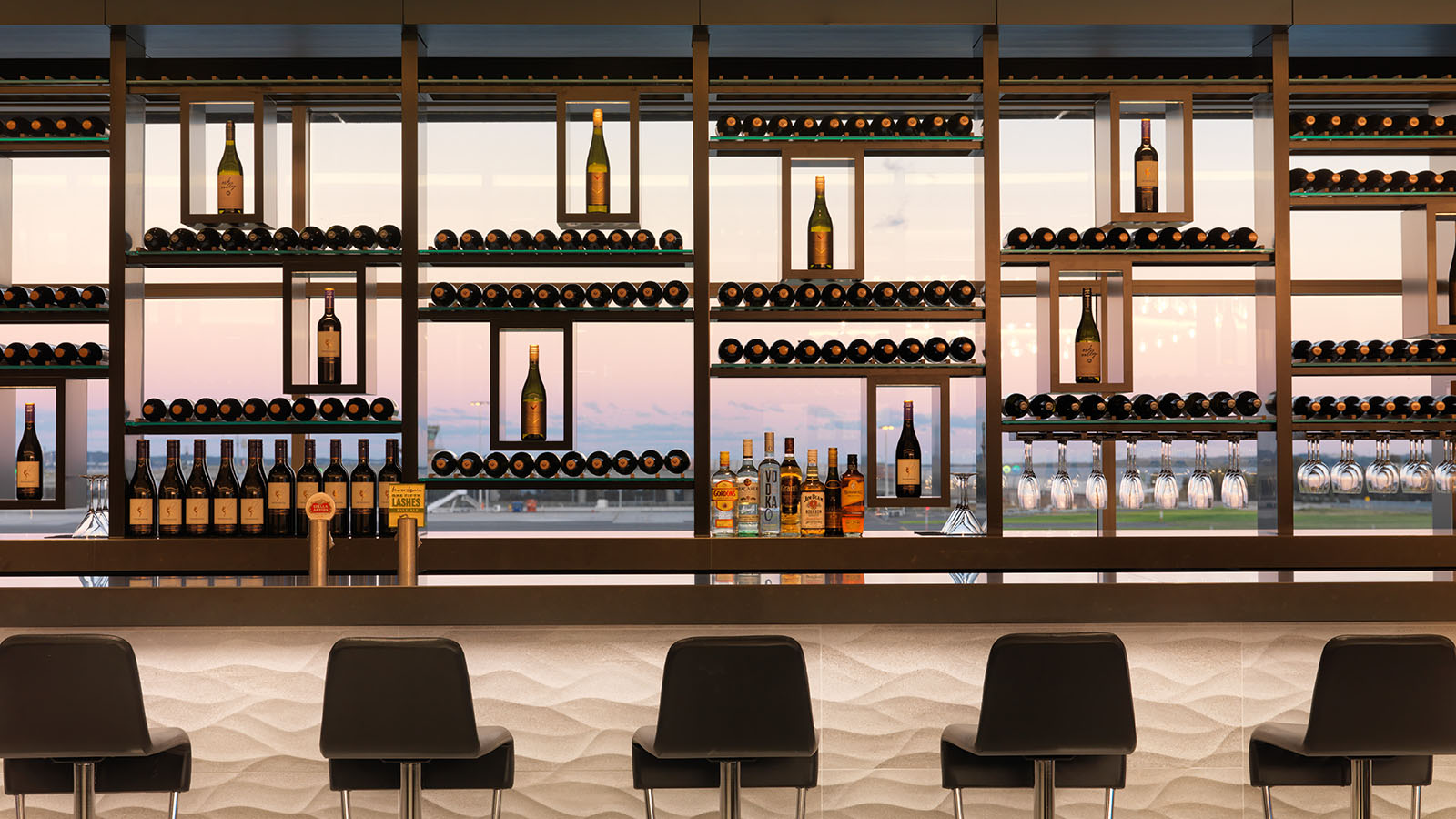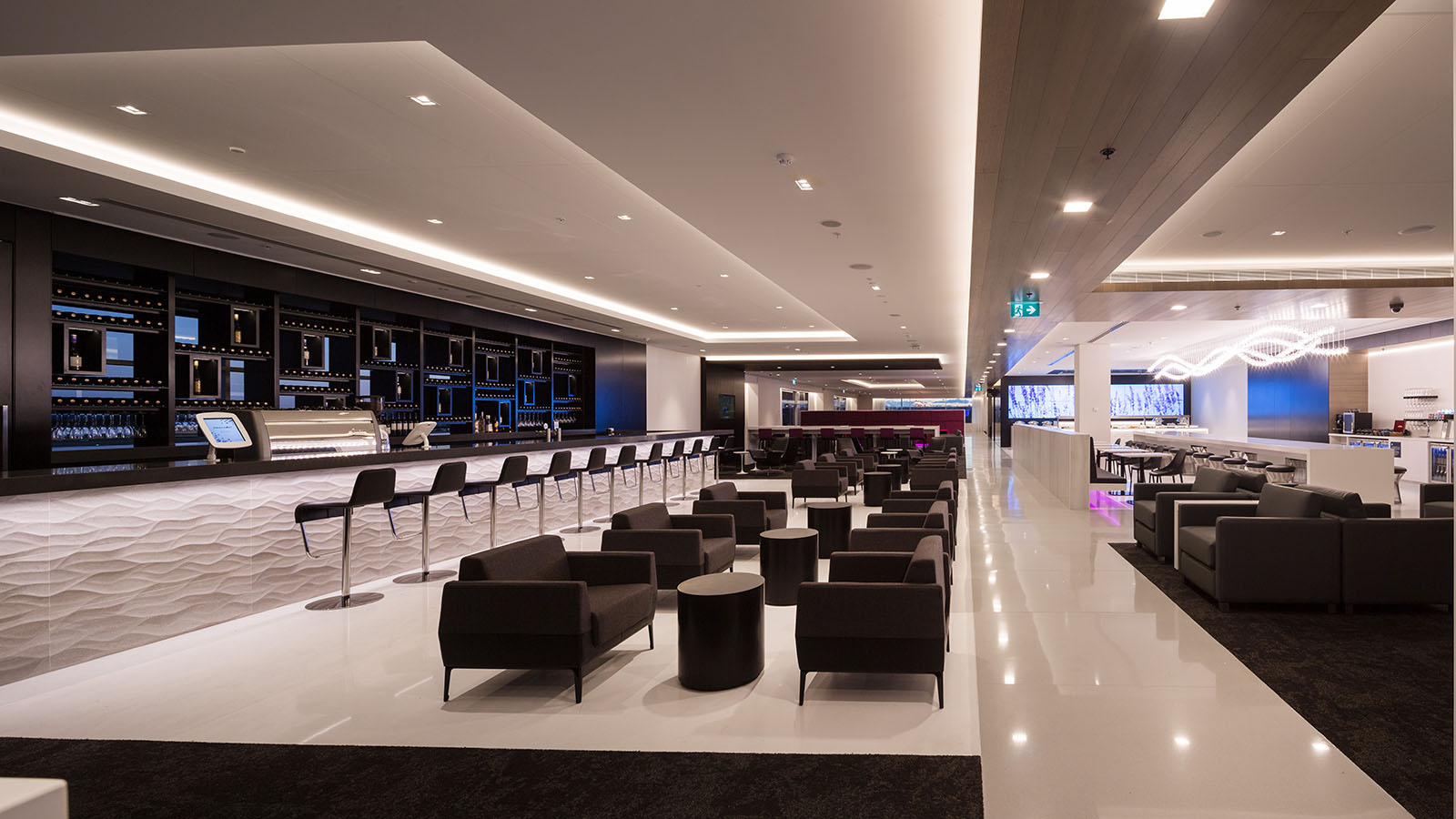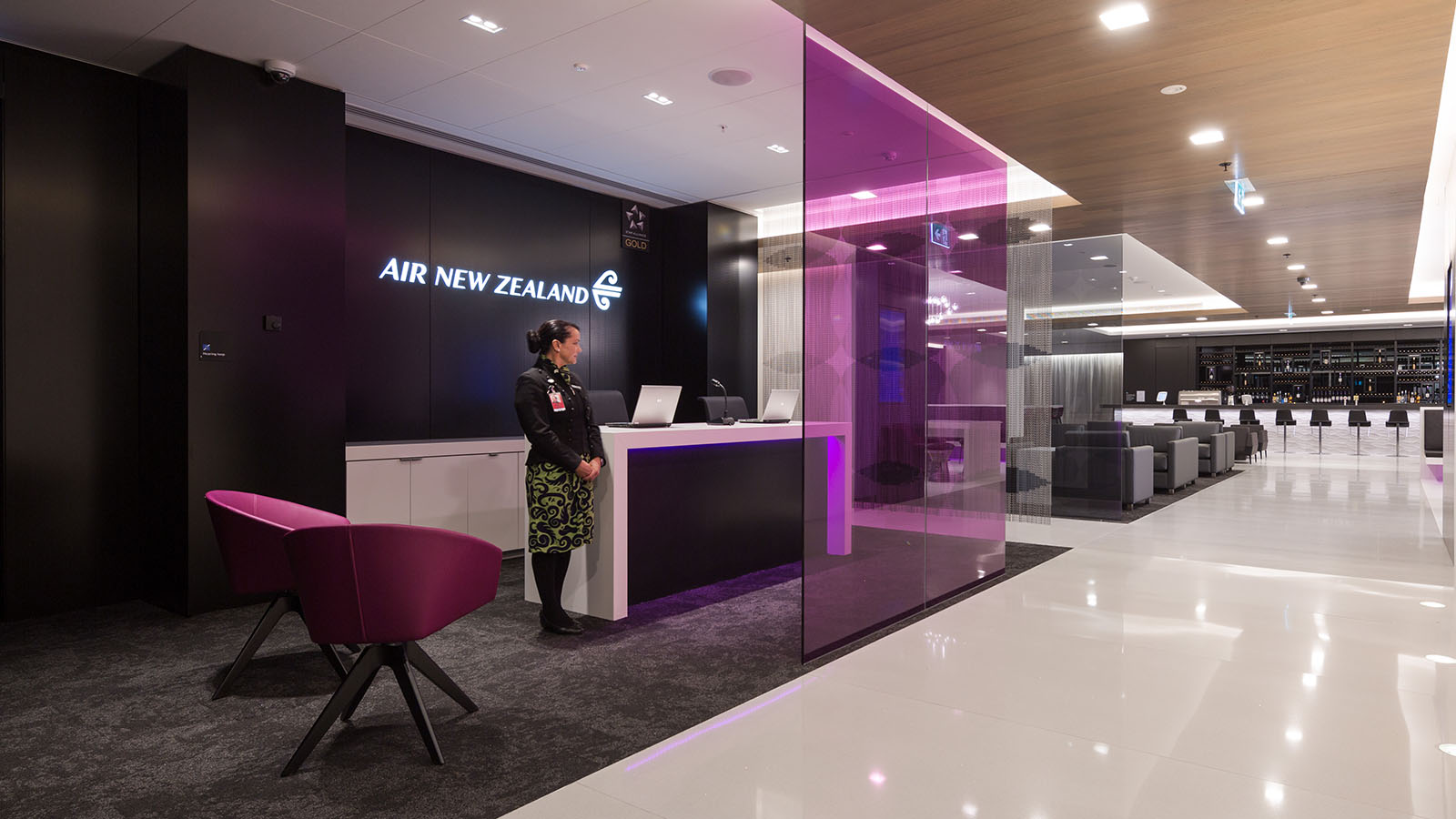 In Tokyo, be careful to note the airport your flight is departing from. Sydney services run from Haneda, while Perth passengers must head to Narita.
At both airports, the ANA Lounge awaits Business Class guests and most eligible frequent flyers. Enjoy dishes from the Noodle Bar, freshen up in the shower rooms, or make use of the massage chairs before it's time to board. As an added extra, ANA Premium Economy Class guests also receive lounge access. As this is outside of normal Star Alliance rules, access is only permitted to the specific lounge noted on the traveller's boarding pass.
The ANA experience flying to Tokyo
ANA uses the Boeing 787-9 on all Australian flights. This means passengers can expect the same experience regardless of where they're departing from, and which ANA flight they book.
In Business Class, a staggered 1-2-1 layout affords direct aisle access for all. There's also plenty of storage space. A shelf right next to you is great for keeping large gadgets close.
Just behind, Premium Economy Class is a cosy two rows, with just 14 seats. A 2-3-2 layout is great for couples on the sides, and families in the centre. As a solo flyer, you might consider choosing an aisle seat in that centre block. Given middle seats are always the least popular, sitting here improves your chances of having a spare seat beside you. Unless of course the cabin is completely full.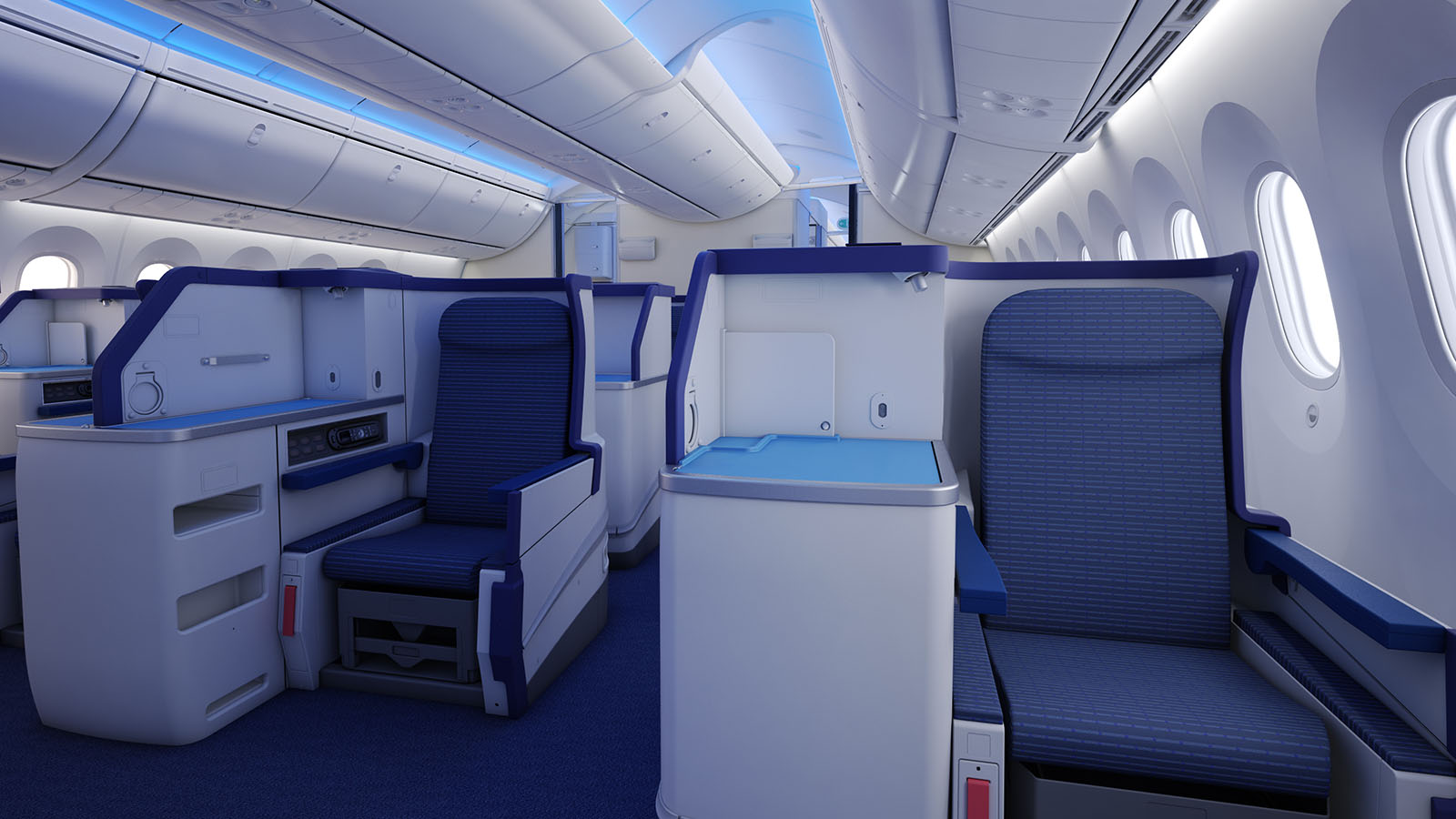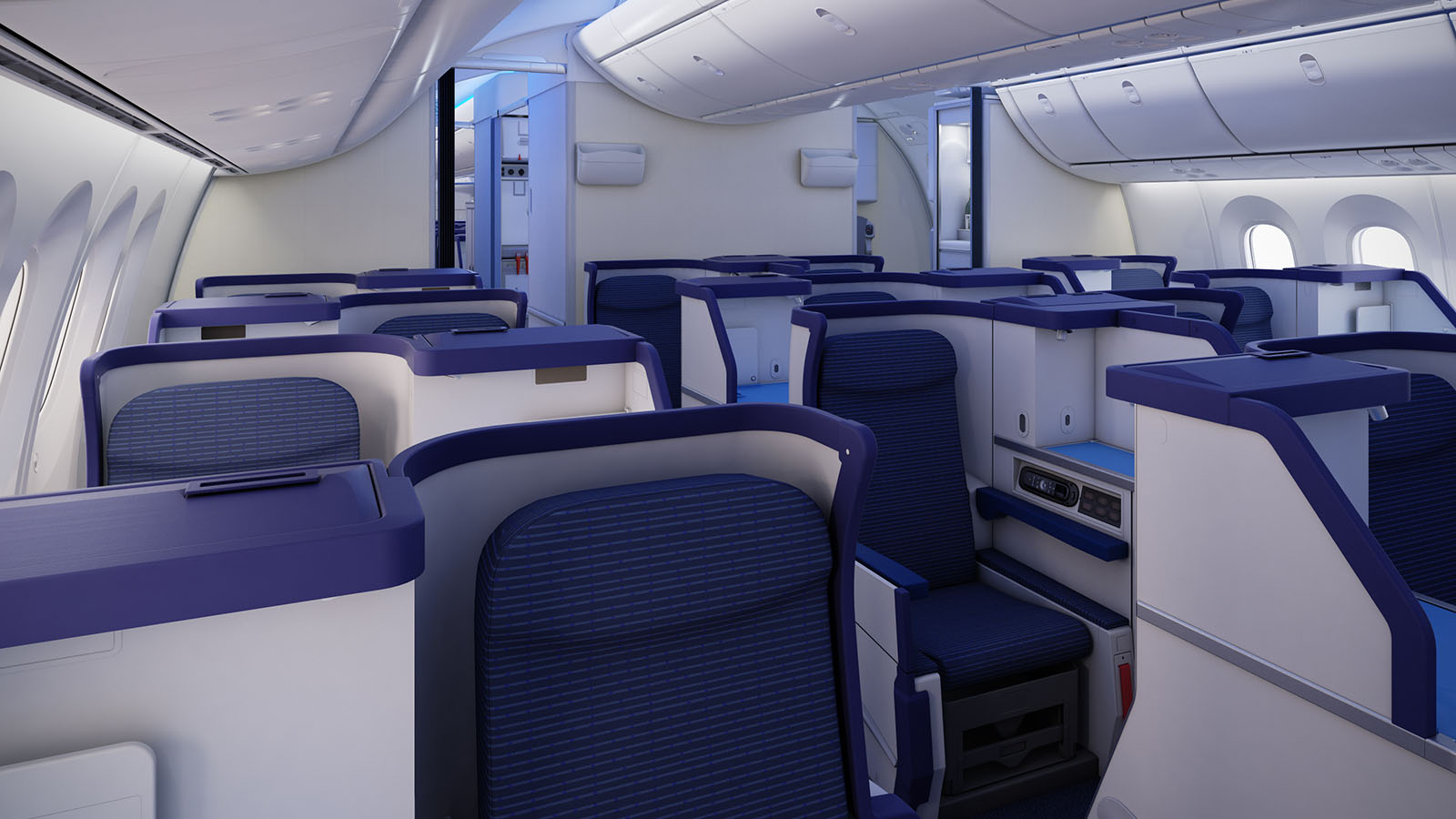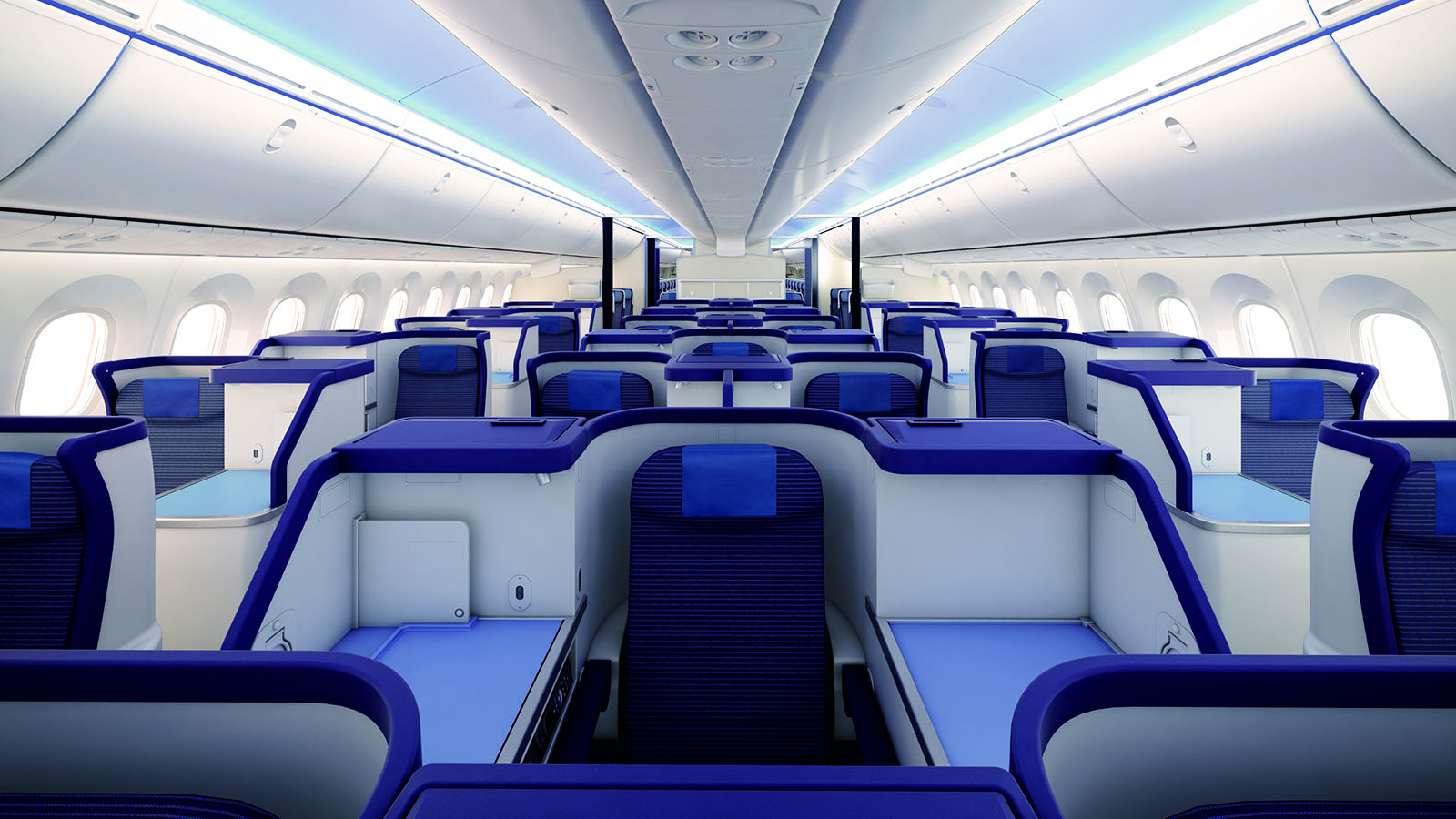 Economy Class then comes in a standard 3-3-3 configuration. As ANA is a full-service airline, an Economy Class ticket still includes meals, movies, baggage and more.
Flying to Tokyo with Japan Airlines (JAL)
| | | | |
| --- | --- | --- | --- |
| Route | Frequency | Aircraft type(s) | Cabins |
| Sydney-Tokyo (Haneda) | Daily | Boeing 787-9 | Business Class, Premium Economy Class, Economy Class |
| Melbourne-Tokyo (Narita) | Daily | Boeing 787-8 | Business Class, Economy Class |
JAL's lounges in Australia and Tokyo
For Japan Airlines' passengers, lounge access mirrors Qantas on these routes. That means the Qantas First lounges and Qantas Business lounges await in Australia. From both Tokyo airports, there's the JAL First Class lounges and JAL Sakura lounges, as above.
Travellers from Melbourne have an additional option in the Marhaba Lounge, by special arrangement. As JAL's flights depart after midnight, this may indeed be the only option available to you, depending on how early you check-in. Most importantly for these flights, the Marhaba Lounge offers shower facilities.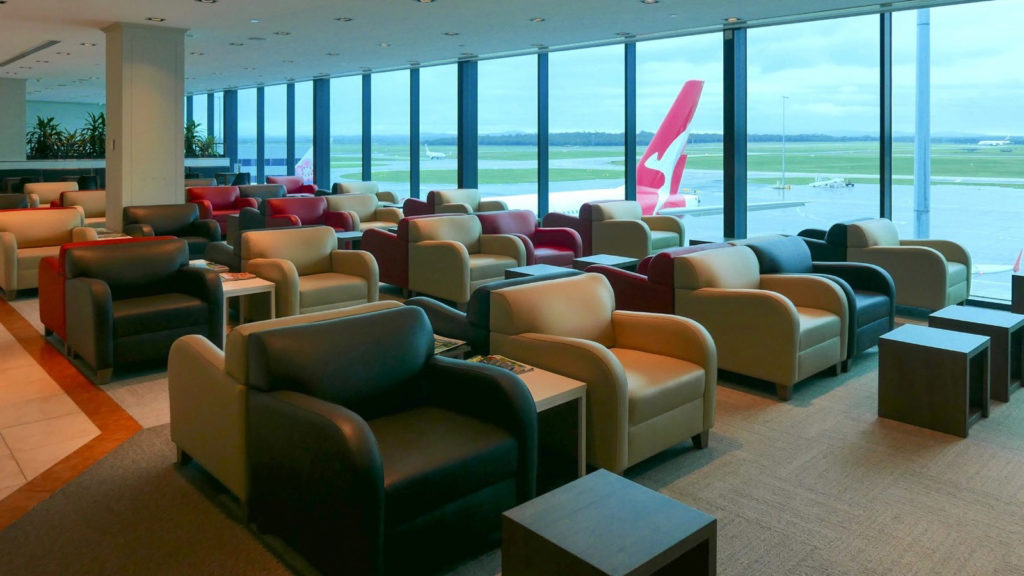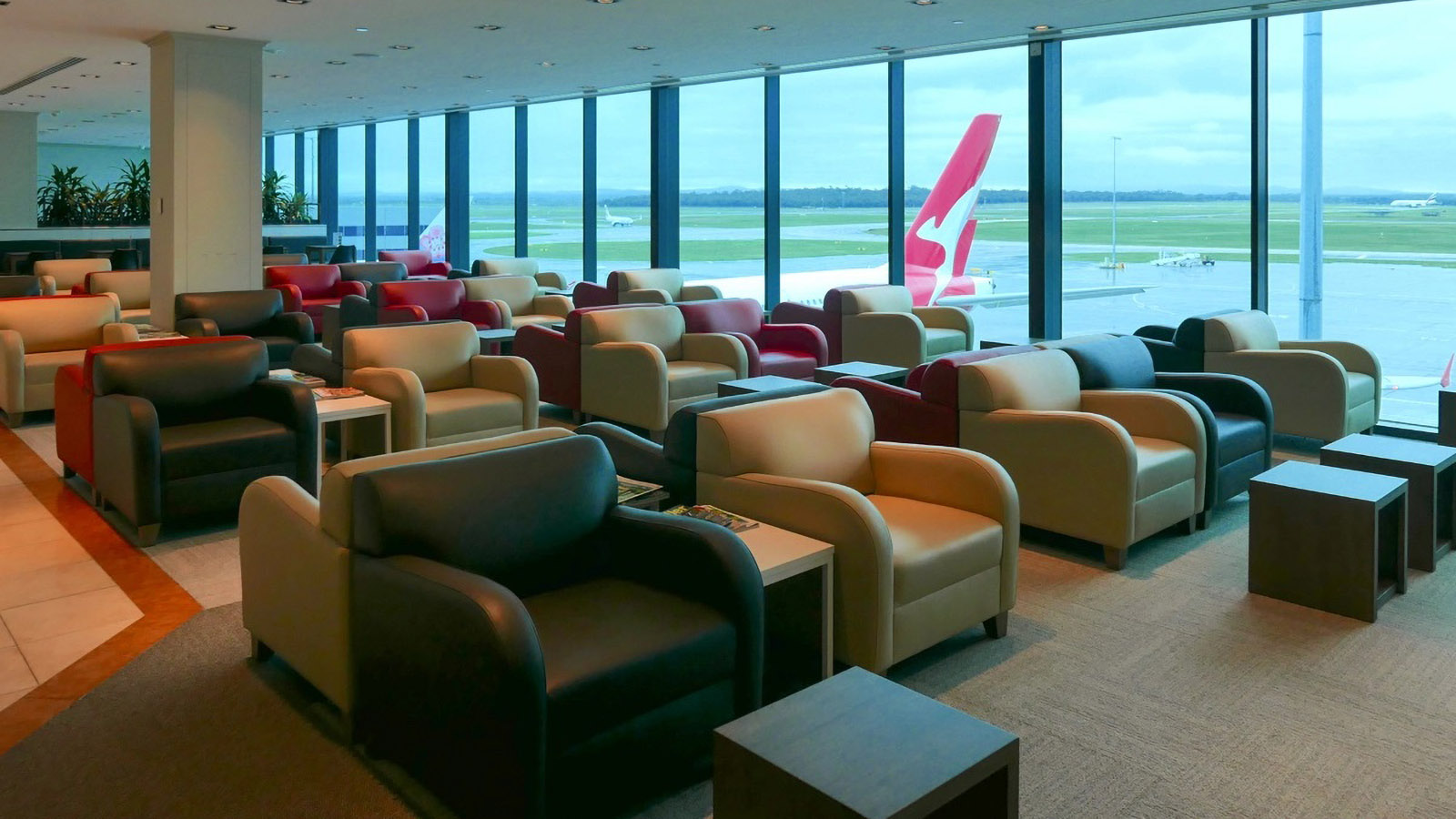 Mirroring its local competitor, guests flying JAL Premium Economy Class receive access to the same lounges as JAL Business Class.
The JAL experience flying to Tokyo
While the Dreamliner is a staple of Japan Airlines' Australian routes, the experience differs slightly from Sydney and Melbourne.
Sydney gets JAL's Boeing 787-9. It's equipped with the carrier's latest Business Class seats in a 1-2-1 layout. There's also Premium Economy Class, spread across five rows.
Melbourne, on the other hand, gets the smaller Boeing 787-8. These planes come without Premium Economy Class, and with a 2-2-2 layout in Business Class. Despite that design, there's still direct aisle access for all. That's because travellers by the window seats have a small, dedicated path between their seat and the aisle. It's a similar seating layout as used by Korean Air on many Australian flights.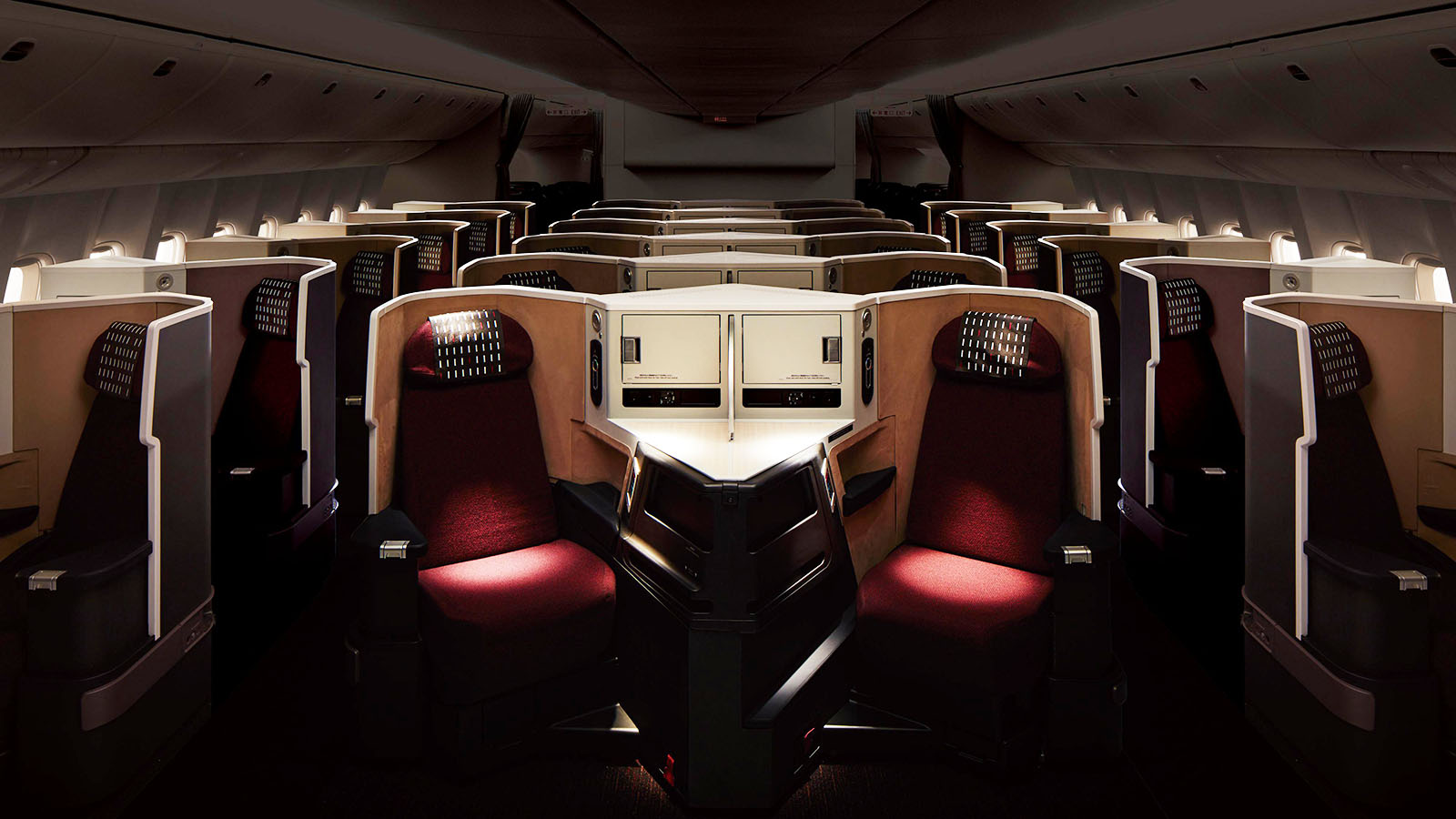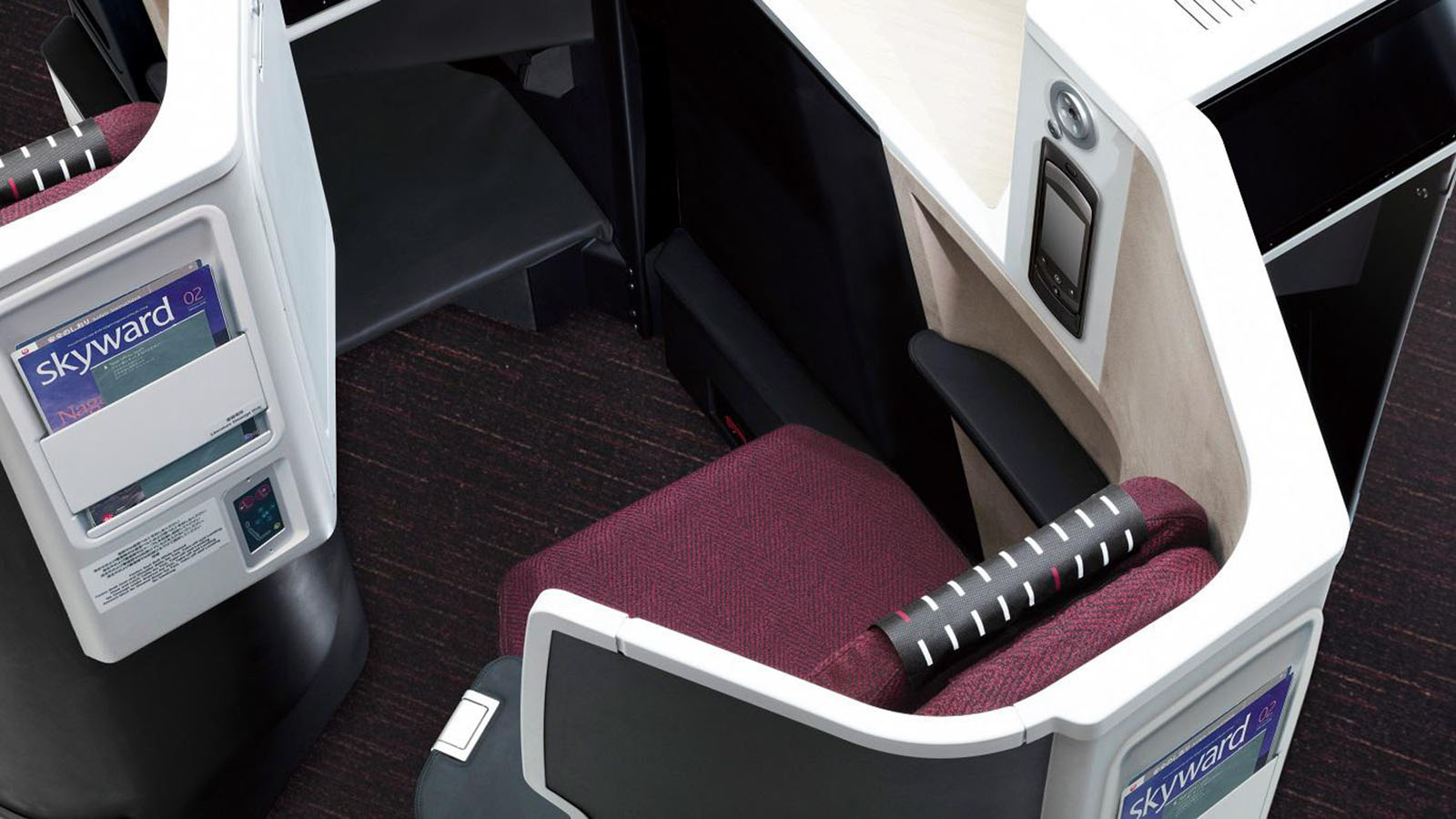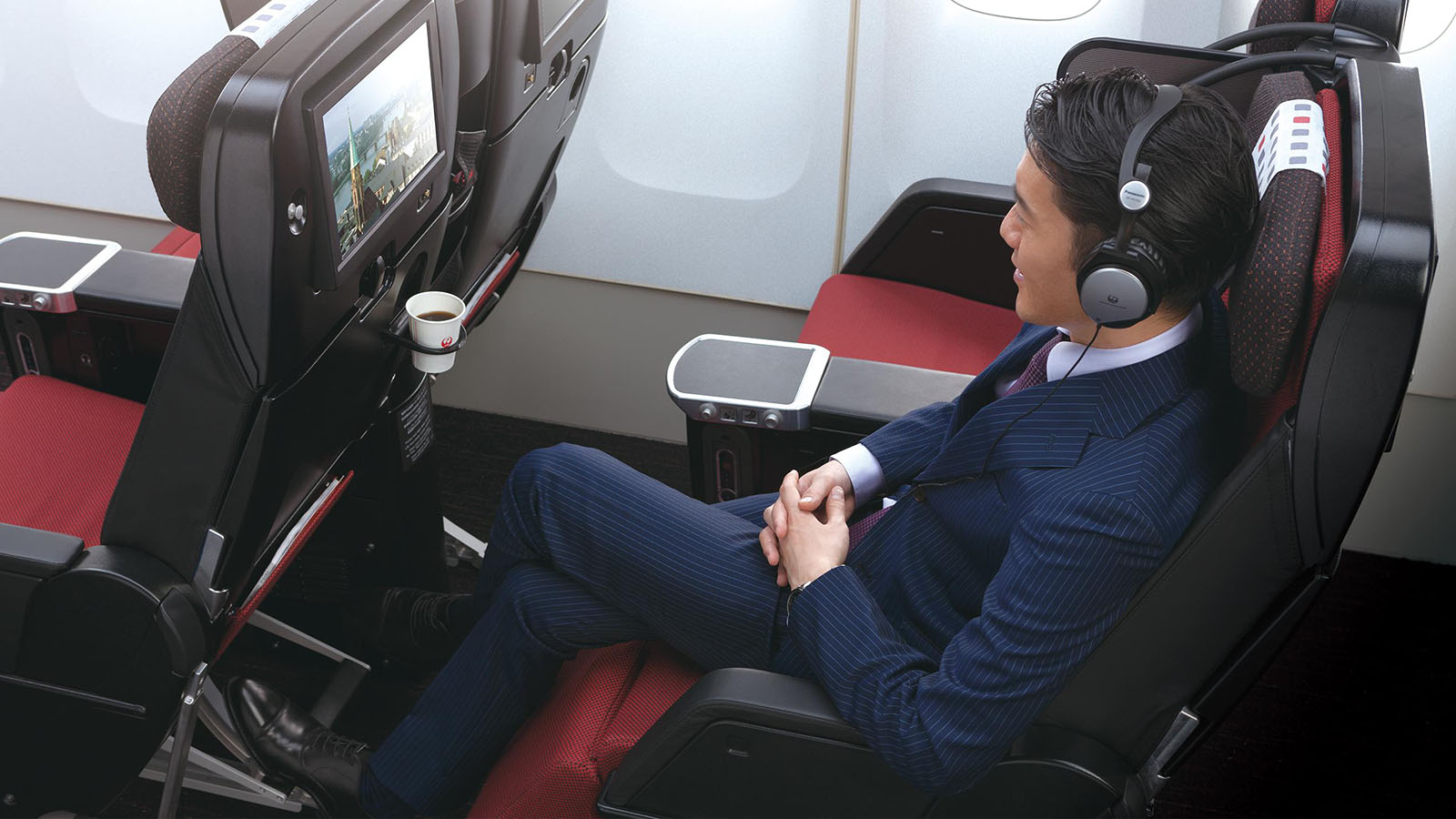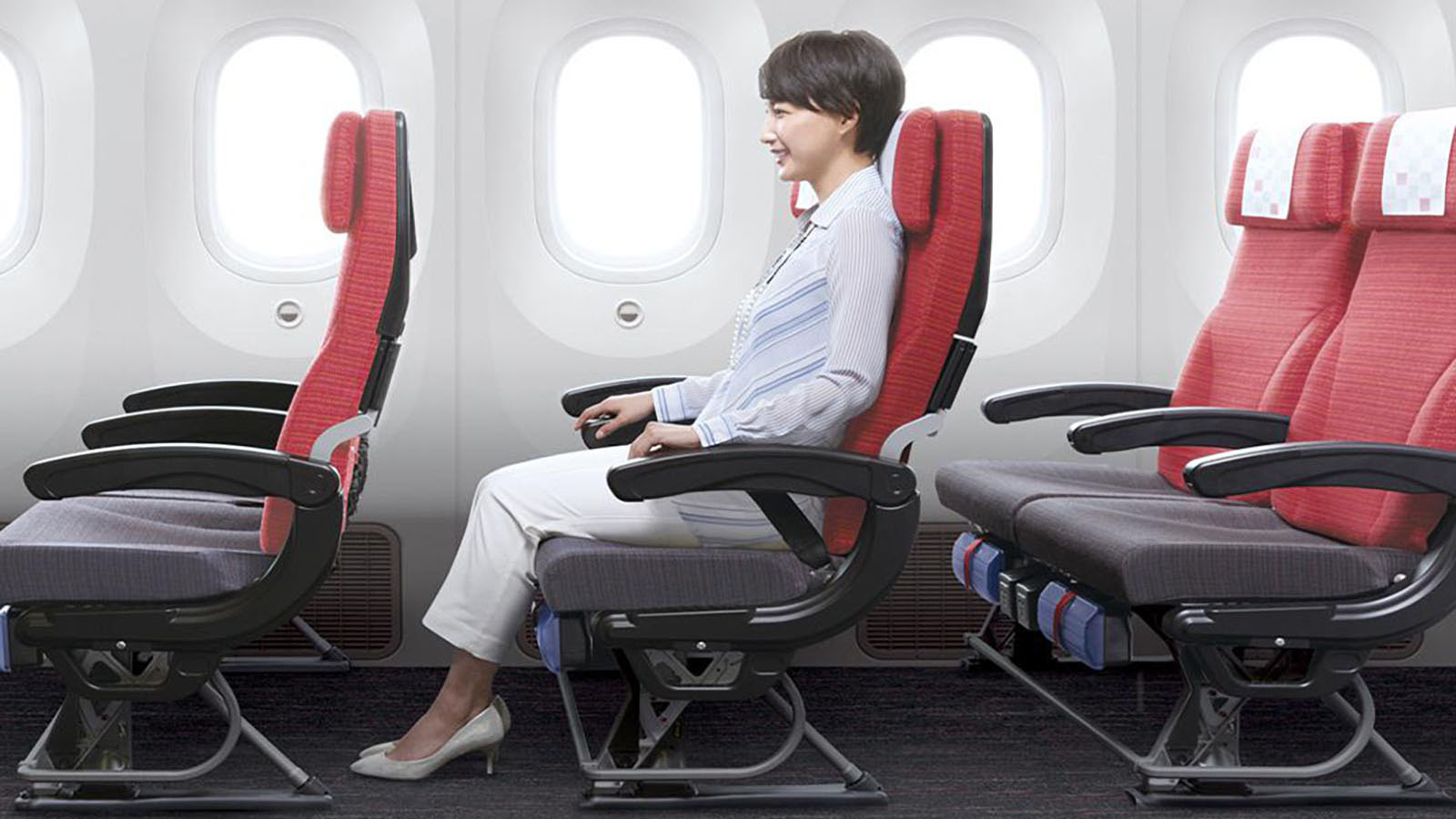 Back in Economy Class, there's some surprisingly good news. Here, JAL adopts a generous 2-4-2 seating layout – the same as you'd expect on a narrower Airbus A330, but on the wider Boeing 787. This design maximises space around your shoulders and elbows.
Most airlines instead use a 3-3-3 configuration on these same planes. This allows carriers to squeeze nine passengers into every row rather than eight, at the expense of seat width and comfort. Fortunately, JAL has chartered its own territory here, rather than copying the competition.
Flying to Tokyo with Jetstar
Low-cost airline Jetstar brings non-stop options for those departing the Gold Coast and Cairns.
| | | | |
| --- | --- | --- | --- |
| Route | Frequency | Aircraft type(s) | Cabins |
| Gold Coast-Tokyo (Narita) | Daily | Boeing 787-8 | Business Class, Economy Class |
| Cairns-Tokyo (Narita) | Daily* | Boeing 787-8 | Business Class, Economy Class |
* Cairns is scheduled as a daily flight, but in April 2022, tickets are only being sold on four days per week. This should switch back to daily as travel demand ramps back up, and border restrictions come down.
Jetstar's lounges in Australia and Tokyo
Even with a Business Class cabin, Jetstar doesn't operate its own airport lounges. However, you may have access to other lounges based on your ticket class or relevant memberships.
At Gold Coast Airport, the domestic Qantas Club may be available to you. That's because domestic and international flights depart from the same terminal here. You'll have access with a Jetstar Business Max or Economy Starter Max fare. While it's unusual to have lounge access included with an Economy Class ticket, Starter Max is Jetstar's highest-priced bundle. So you're still paying for it one way or another.
The Gold Coast Qantas Club can also be accessed by other travellers on these Jetstar flights. This includes Qantas Club members booked on any Jetstar fare and flight. The same is true of Qantas Gold, Platinum, Platinum One and Chairman's Lounge members. Keep in mind, though, that other oneworld Sapphire and Emerald cards don't unlock the lounge when flying Jetstar.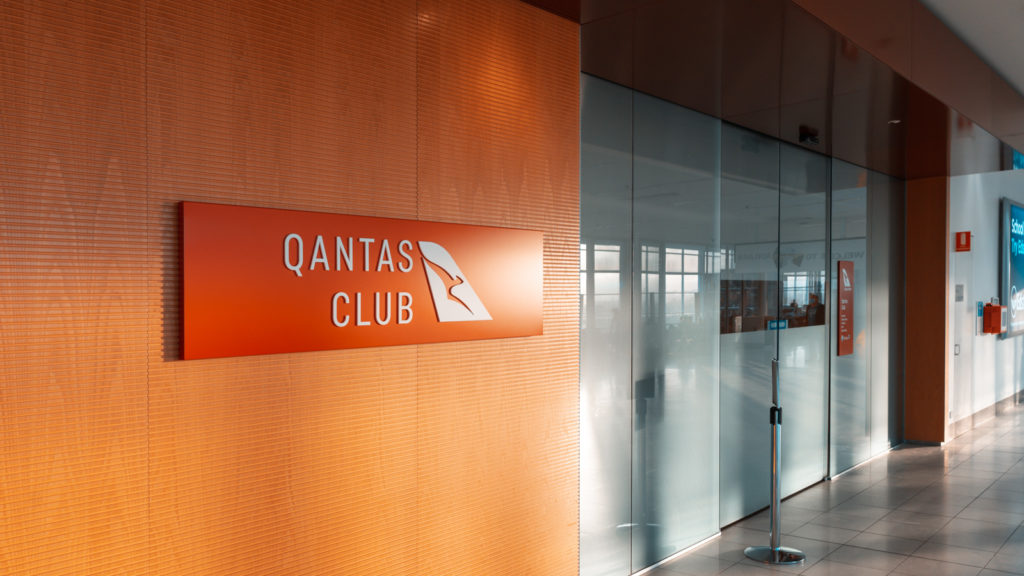 In Cairns, lounge access is sadly unavailable. Being a small airport, there are currently no independent lounges available here either. Cairns' Reef Lounge was previously available to Priority Pass members, but is no longer listed in the program's lounge directory.
Before your flight home from Tokyo, there aren't any lounges to visit in the departures hall. Jetstar flies from Terminal 3 at Narita, which is 'low-cost carrier' territory. This means Jetstar flights aren't departing from the same terminal as the Qantas Business Lounge at Tokyo Narita.
The Jetstar experience flying to Tokyo
Jetstar's Dreamliners offer both Business Class and Economy Class, so take your pick. But it's fair to say that Jetstar's long-haul Business Class more closely resembles the domestic Business Class of other airlines like Qantas.
Rather than a flatbed, you'll travel in a reclining seat, but can still settle in for comfort. Your ticket also includes a meal with wine, inflight entertainment, 30kg of checked baggage, priority boarding and more.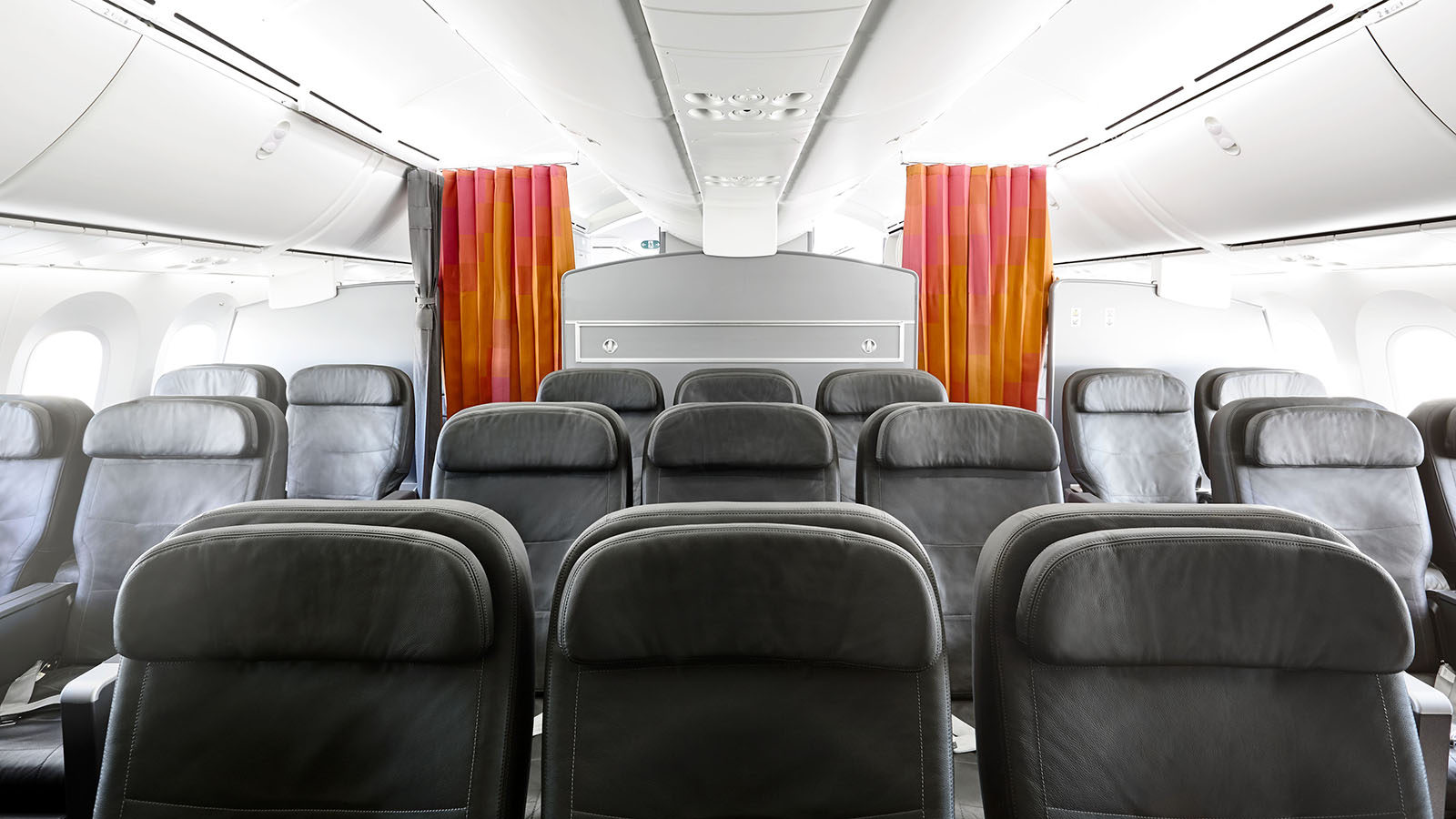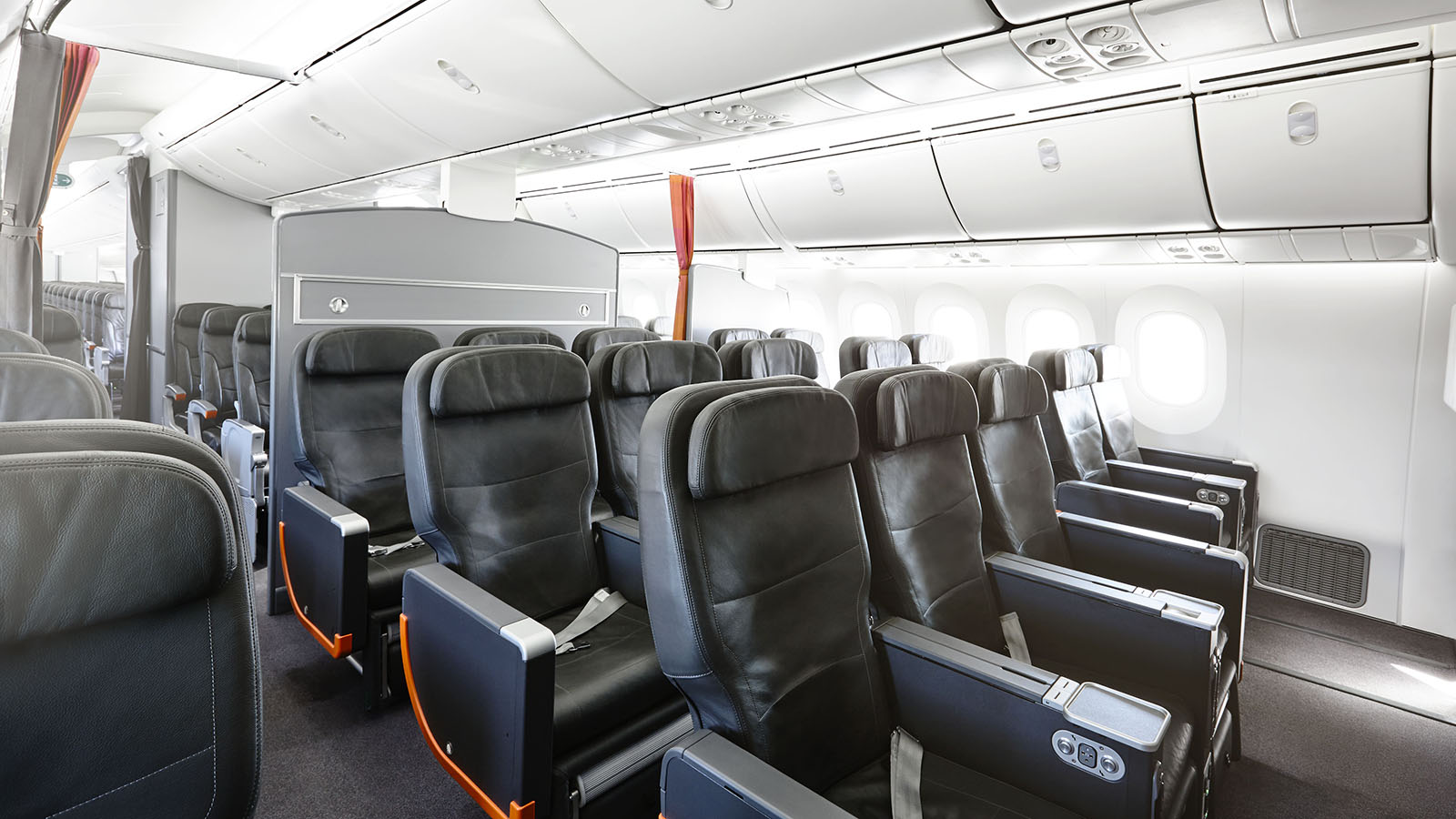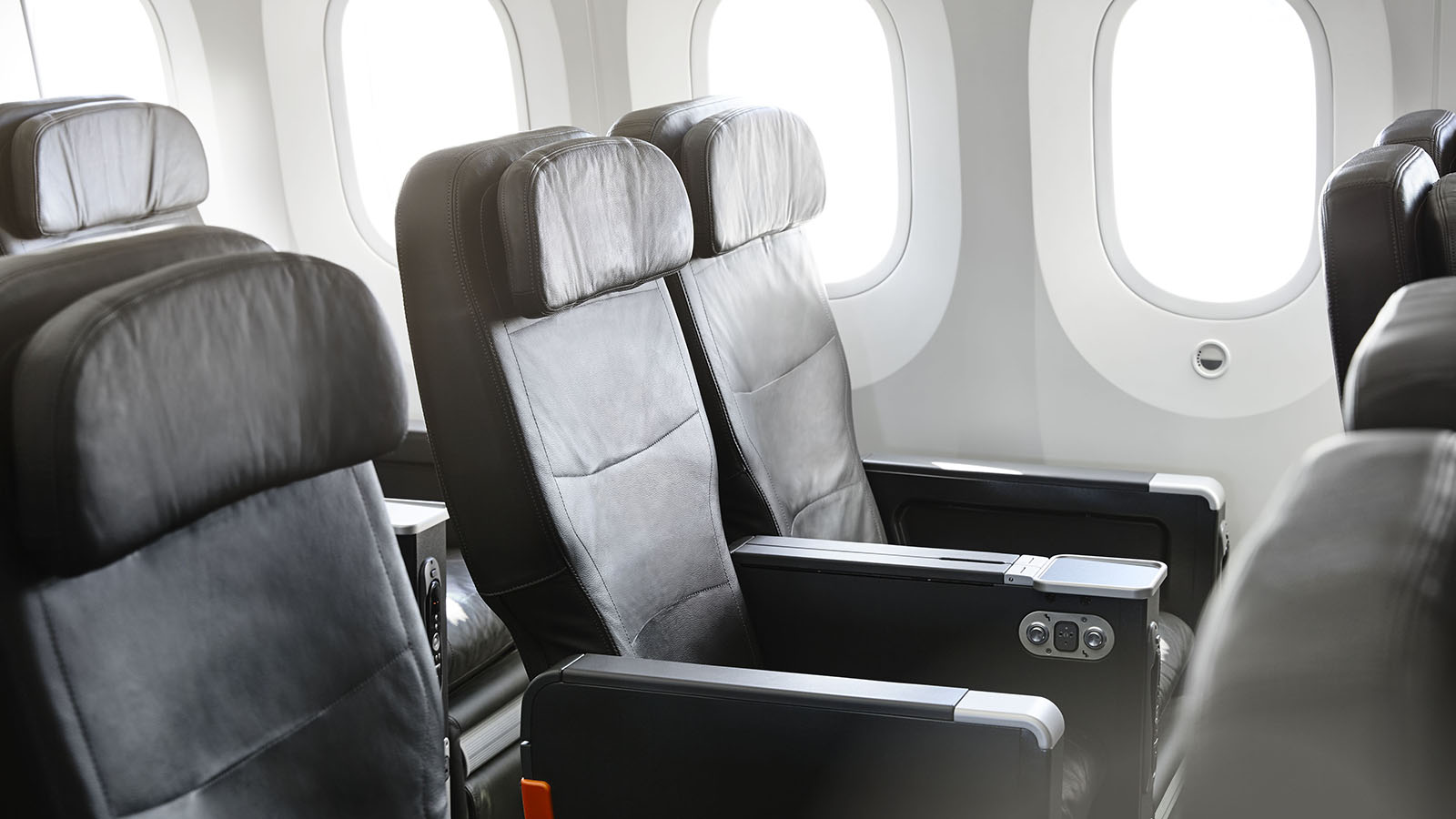 In Economy Class, what's included depends on the fare and bundle you buy. Still, keep your credit card handy for any additional purchases. It's a long flight, after all!
Summing up
With Japan now open to business travellers once again, we're hoping it won't be long before tourists can follow suit.
Certainly, quarantine requirements will deter some travellers, even with the shortened self-isolation period of just three days for eligible fully-vaccinated flyers. Still, that's not quite the same barrier as 14 days locked in a government-arranged hotel. Three days of isolation also allows business travellers to fly in on a Monday, before attending meetings in the same working week.
Whatever your reasons for travel, Japan has much to offer. We can't wait to be jetting back to Japan – and hopefully, neither can you!
What to expect when flying to Tokyo
was last modified:
December 9th, 2022
by