Velocity Frequent Flyer's Velocity eStore is one of the handiest sites out there for increasing your Velocity point balance.
They have a wide range of partner online retailers, none of them are especially worth looking at as a means of specifically earning points – but if you have plans to shop online for gifts for family and friends, then figuring out what you can earn in return either by using the Velocity estore or as cashback through CashRewards is worth a couple of minutes of your time.

Online Malls?
Online Malls, like the Velocity estore, work by ensuring you log in with your Frequent Flyer program credentials before then being referred out (with a click) once logged in to make a transaction over on the retailer's website.
The Velocity eStore is here, and you'll typically earn at least 2 Velocity points per $ spent with any of the partners within the estore – on top of the usual points you'd earn from your credit card.
How to earn Velocity points by shopping online through the Velocity eStore
was last modified:
July 14th, 2017
by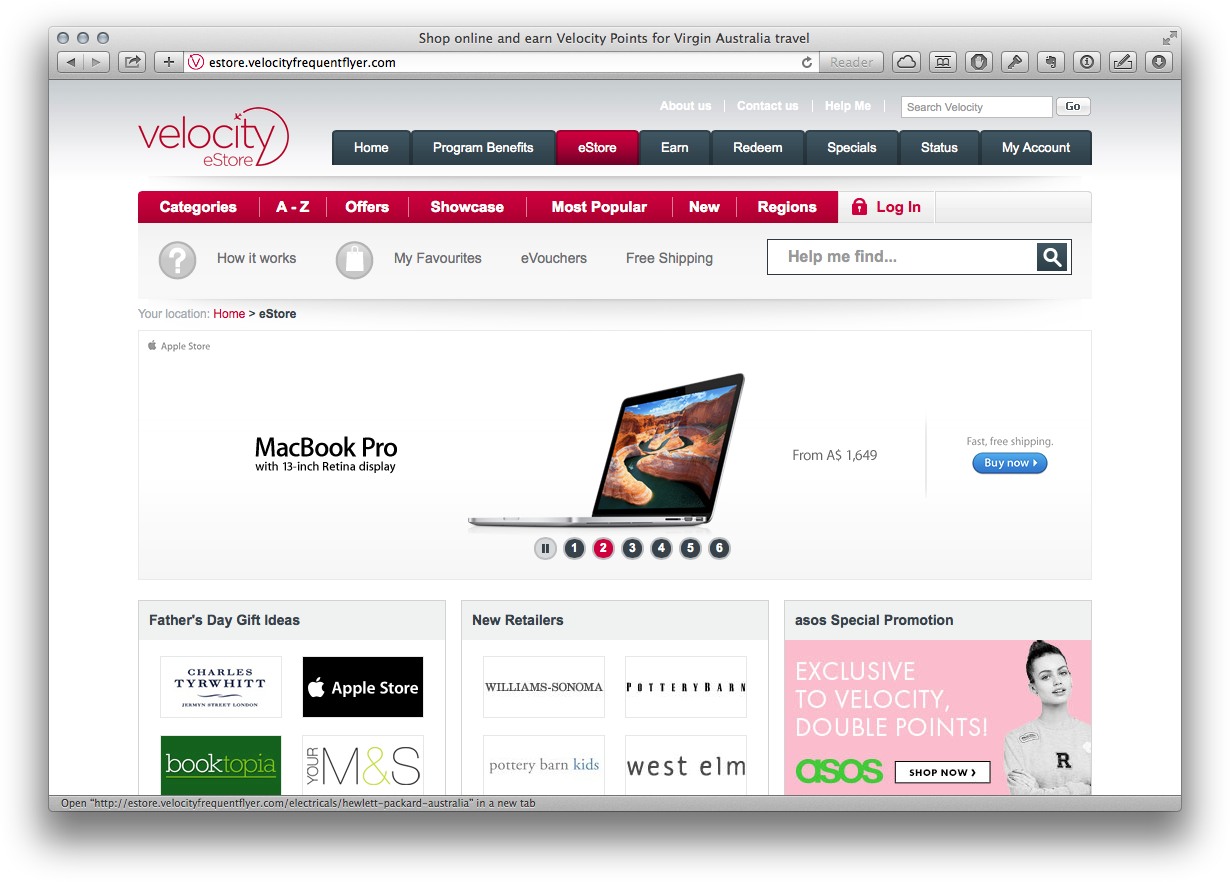 The Velocity 'eStore' Online Mall is more mature than Qantas' Online Mall offering, with a much wider range of retailers on board.
They have brought on partners in a range of categories, containing a wide number of local and international merchants, and this has been my 'go-to' Online Mall for the last few years to earn points – from eBay, primarily.
You can also pick up dedicated coupons and vouchers to use from the Velocity eStore at this page,
The Velocity eStore just works too – it's very functional and stable, and gets you out to your destination online store fast, even though it's not mobile optimised.
While it's earn rates are a little lower than Qantas' on, say, iTunes for example – the pure variety of retail partners still, in my view, make it the best destination for Australian's who are frequent flyer program neutral to start earning points online.
How to earn Velocity points by shopping online through the Velocity eStore
was last modified:
July 14th, 2017
by