Online shopping is more popular than ever before, especially during periods of lockdown or being grounded. At Point Hacks, we're all about maximising the returns from your purchase, whether that be bonus point offers or using the right rewards credit card for payment.
But sometimes, the stores you want to shop at aren't on Qantas Shopping, the Velocity e-Store, or rather online malls run by ANZ, KrisFlyer or Asia Miles. Sometimes, you're looking for more cash savings instead.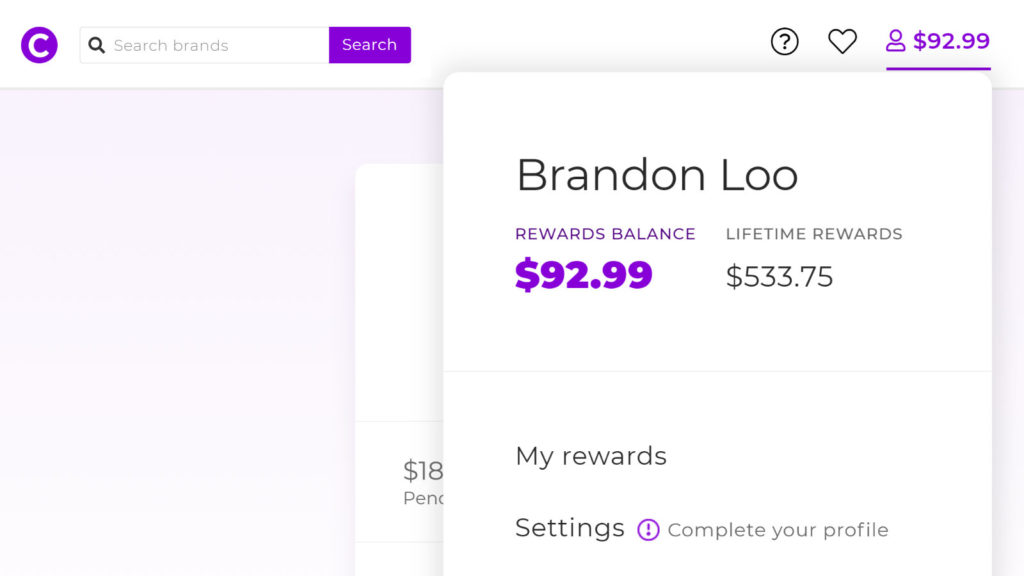 Enter Cashrewards, an online shopping portal that provides cashback on your online (and some in-store) purchases at hundreds of partner retailers. By signing up for a free Cashrewards account and clicking through their links, you can easily save money on your next online purchase.
Cashrewards seems to be the most effective cashback option in Australia, with the highest number of partners and the most aggressive promotions. However, the principle in this guide also applies to similar programs such as Shopback.
How does Cashrewards work?
Cashrewards gives you cashback on purchases. Once you've accumulated more than A$10.01 in cash back, you can withdraw it to your bank account, all with no fees or other strings attached. Here's how it works.
Sign in to your Cashrewards account
Search for the participating retailer you want to shop at
Confirm the cashback offer and click through to start shopping
Check-out with the retailer as usual.
Your cashback is tracked and awarded to you within a certain timeframe (usually a few months)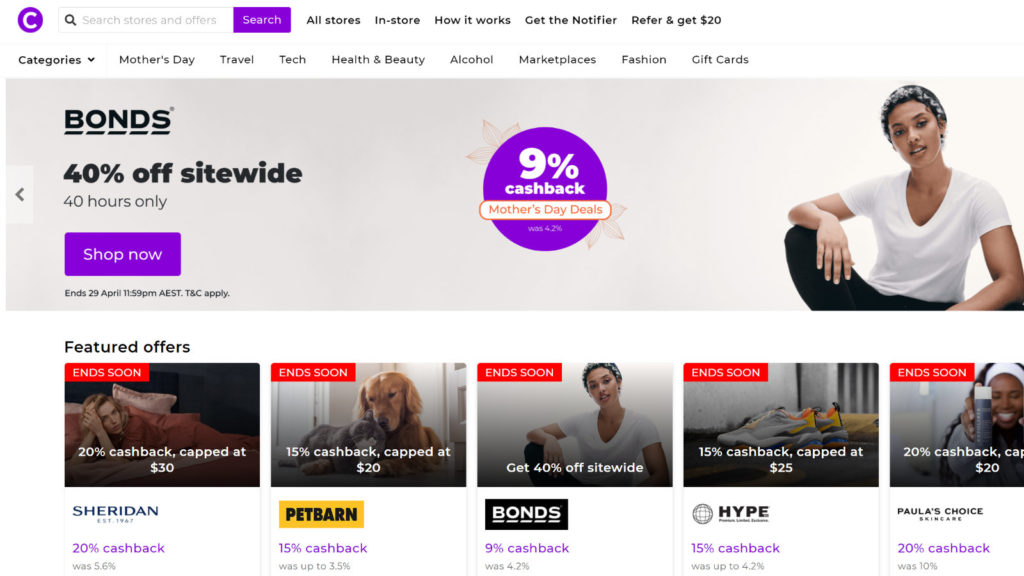 The best part is that given you are making the final purchase directly from the retailer — there's usually no difference to your cart or booking pricing if you have clicked through from Cashrewards.
There are some caveats:
You need to have cookies enabled in your browser, as the retailer can track your purchase that way
Generally, you must not use any promo codes or coupons that aren't explicitly listed on the Cashrewards website
Generally, you can't buy or use gift cards as part of the purchase if you also want to earn cashback
Finally, returns or refunds on the order can invalidate the cashback
Cashrewards has a video that explains the process, or read more about how Cashrewards works.
What if I don't shop online?
This is where Cashrewards differs from other providers – and in a way that benefits you. A joint partnership with Visa and MasterCard means Cashrewards users are able to earn cash back by shopping in-store at hundreds of locations across the country.
To utilise this function, simply login to your account, click the "link your card" option and add your card number.
Each eligible transaction is confirmed by email almost immediately and shortly after there'll be a small saving sitting in your account ready to be withdrawn.
This perk is available across several different industries from automotive retailers like Repco, hundreds of restaurants and takeaway stores including the Kowloon Cafe in Sydney Chinatown as well as the Chat Thai empire, Mrs Fields, Top Juice and even mobile phone manufacturers such as Huawei.
Check the in-store list on the website to find other participating brands.
Points online malls vs. cashback
Both are essentially similar business models, but with different branding and rewards back to the consumer — cash vs. points. For example, the Qantas Online Mall and the Velocity e-Store offer bonus points on purchases. Cashrewards offers a cashback instead.
The bad news is that you can't use both a point-earning online mall and a cashback site — using one will cancel out the other and your last click-out will be the one that's tracked. You'll need to choose one and stick with it for a particular transaction.

Therefore you might be asking, which should I use, an online mall or Cashrewards? The general rule would be to compare the value of a point with the percentage saving that you will receive from Cashback Rewards.
Going for bonus points is a good idea if you're saving up for a reward seat or upgrade. Conversely, if having money back in your pocket is important to you, then perhaps choose the cashback pathway.
See our guide on the most popular online shopping malls.
Ad – Scroll down to continue reading.Minimum spend, terms & conditions apply.
How can you integrate this into your loyalty strategy
Receiving cashback on purchases can integrate well into your strategy and be another layer that you stack with your rewards programs.
As an example, you book a hotel through Hotels.com to take advantage of the Hotels.com Rewards program, which offers an effective 10% bonus by using their rewards program towards a free night.
By using Cashrewards, you can also receive up to 6% cashback on anything you spend in addition to the above saving at Hotels.com, giving you an effective 16.6% total benefit. This also doesn't include the frequent flyer points earned from using a credit card, which gets added on top.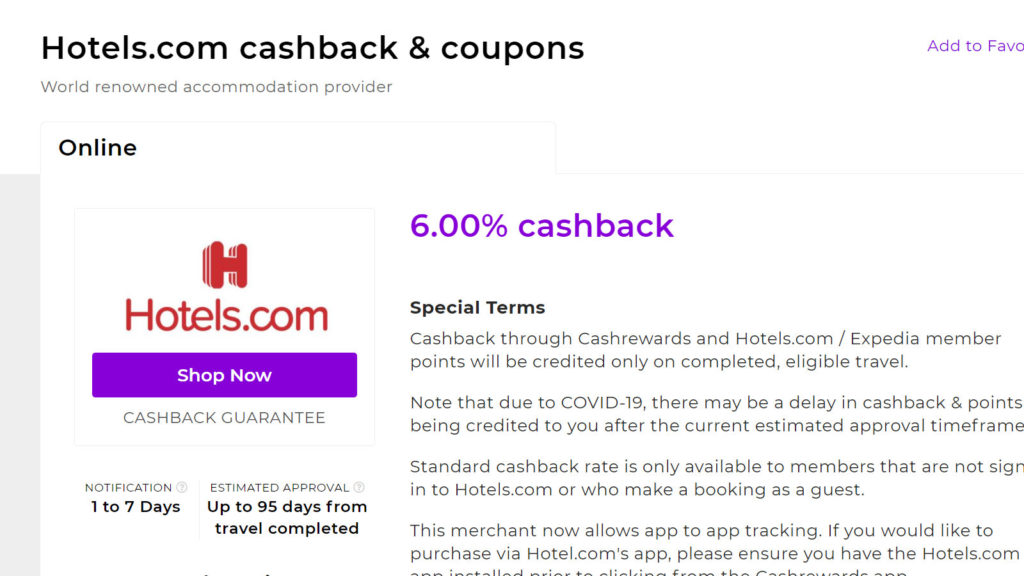 For travel, there are many online retailers you can receive cashback on, including hotel aggregators, hotels where you can book directly, airlines, online travel agents, car rental, travel insurance and more.
The best part is, after you have logged in to the Cashrewards website and clicked through to the retailer in question, you book as you normally would using the retailer's website, at the usual advertised price.
Getting cashback just takes one extra step!
How to use your rewards benefits
Your rewards come in the best rewards currency: cash. When you cash out, the money reaches your nominated bank account or PayPal account within five business days, though it's usually sooner.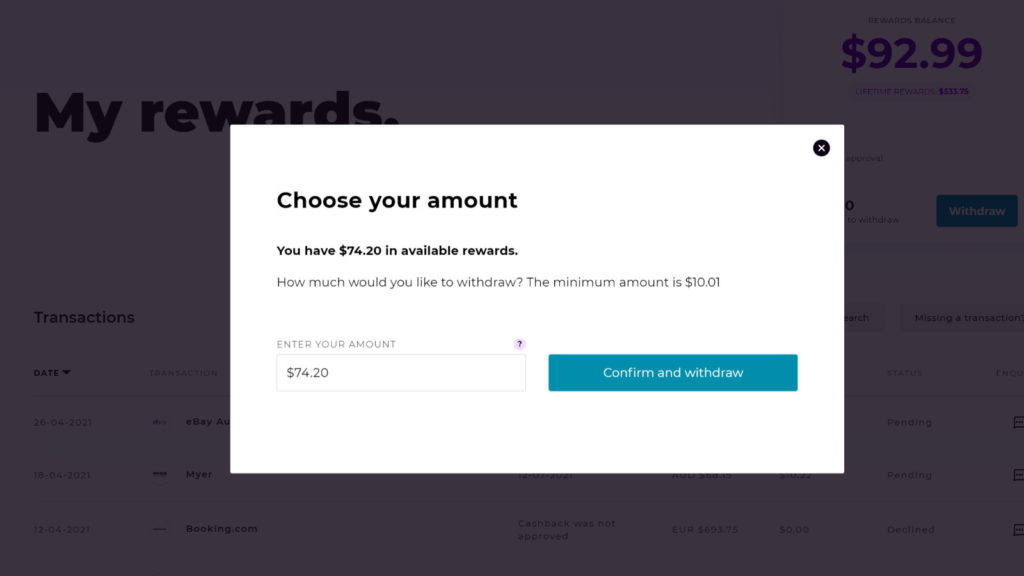 Some things to be aware of
Be sure to read the store T&Cs on the Cashrewards website for actions that may invalidate cashback, including using unlisted promo codes and so on. At some retailers, certain items might not be eligible for cashback either.
Also, Cashrewards uses cookies to track your purchase, and some ad-blocking software breaks these. It's worth testing and turning any of these off before shopping to make sure you get your cashback.
Many sites (Hotels.com for example) push you to use their mobile app as well, which often won't earn you any cashback because when you load it you're not clicking through Cashrewards. Again, check the individual Cashrewards partner terms for each partner if this is a concern.
Summing up
It is super simple to join Cashrewards and look around the site to see what retailers are supported. With regular promotional cashback increases frequently occurring, check the site or subscribe to the newsletter to get the latest cashback offers.
And remember to come back to the Cashrewards site and click through next time you make any purchase online, and start collecting cashback.
Frequently asked questions
How do I join Cashrewards?
You can join Cashrewards by clicking on this link.
Can you earn Cashback Rewards and earn points through online shopping malls, like Qantas Shopping and Velocity eStore?
No. You will have to choose one or the other, with the last selection chosen to be the one that is used.
Can I double-dip and get cashback rewards as well as earn frequent flyer or frequent guest points when making airline or hotel bookings?
Yes, you can get cashback through Cashrewards as well as earn frequent flyer or guest points. As an example, if you click through to Virgin Australia, you will receive 0.7% cashback in addition to earning Velocity Points by entering your Velocity number during your booking.
This guide was previously written by Daniel Sciberras.
Make the most of your shopping with Cashrewards
was last modified:
August 13th, 2021
by