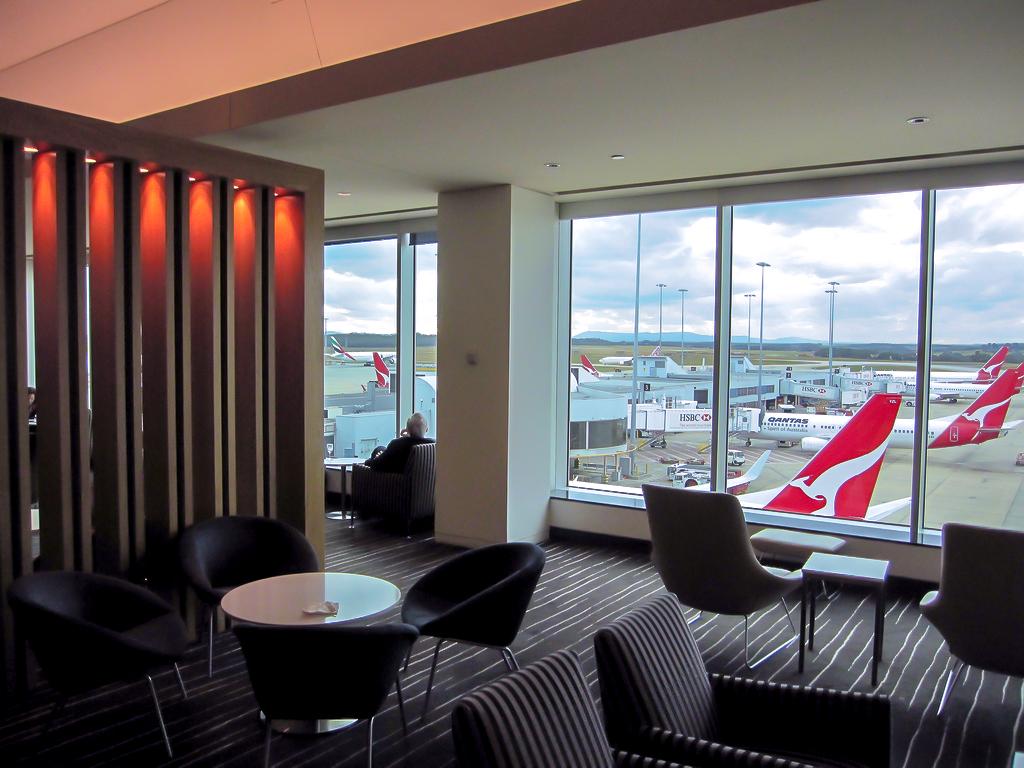 The Qantas Domestic Business Lounge is an exclusive area which caters to Business Class guests, Platinum frequent flyers and higher. We take a look at its main points of difference compared to the adjacent Qantas Club.
Note: This lounge underwent renovations and re-opened on 24 August 2018. We plan to update our review during a visit by late November.
Lounge Location and Details
The Business Lounge is nestled within the Qantas Club, which is located in Qantas' T1 domestic terminal at Melbourne Tullamarine Airport. After clearing security, head right until you come across the combined lounge entrance.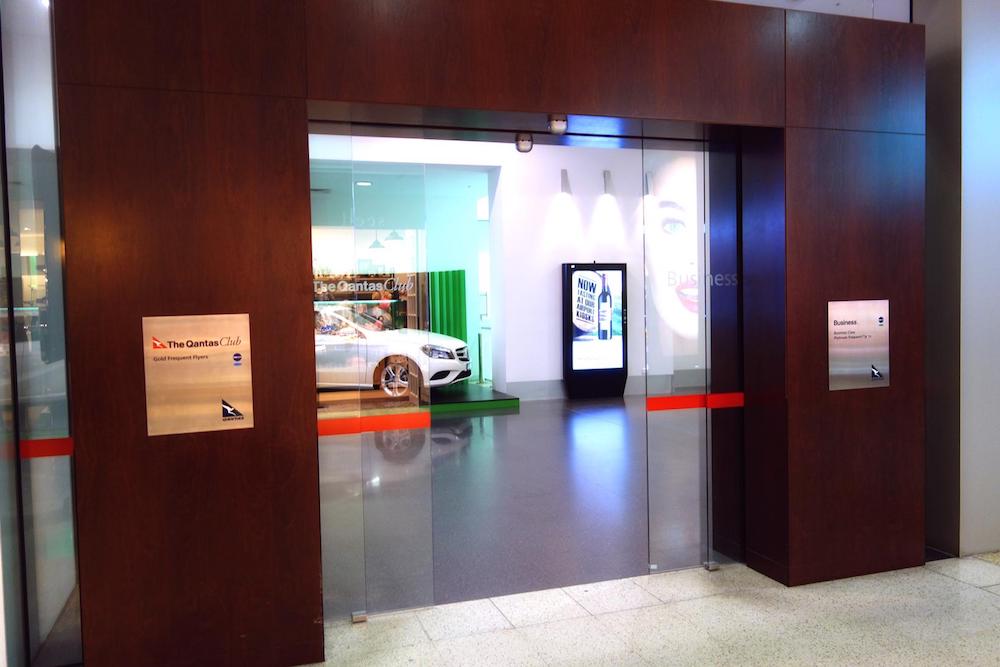 Head into the Qantas Club and keep on walking until you see the doors marked 'Business'.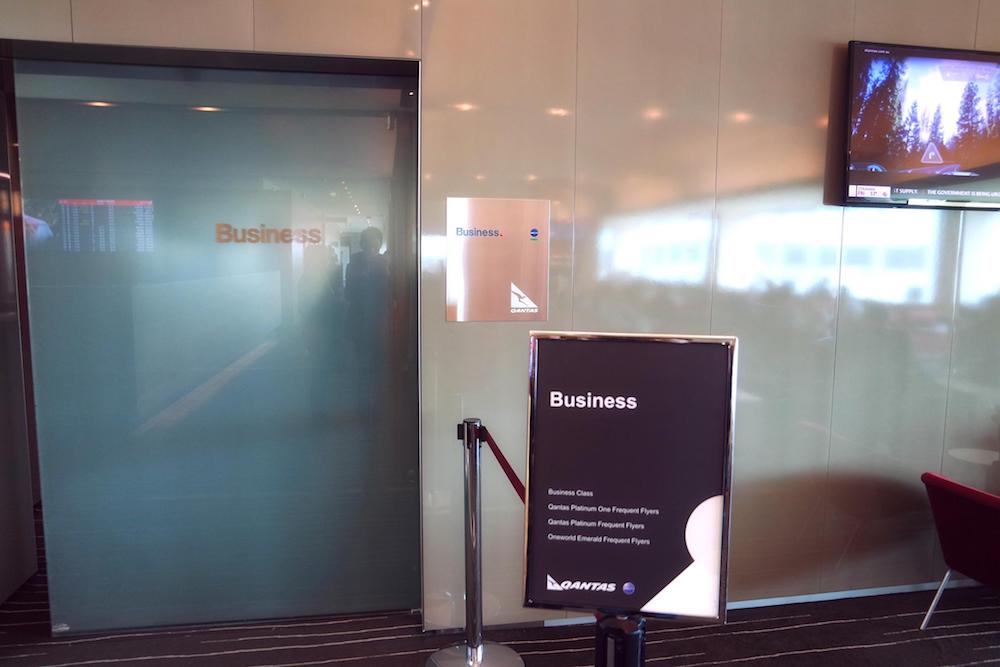 Lounge Layout
Immediately as you walk in is the secondary reception area, where your access will be verified.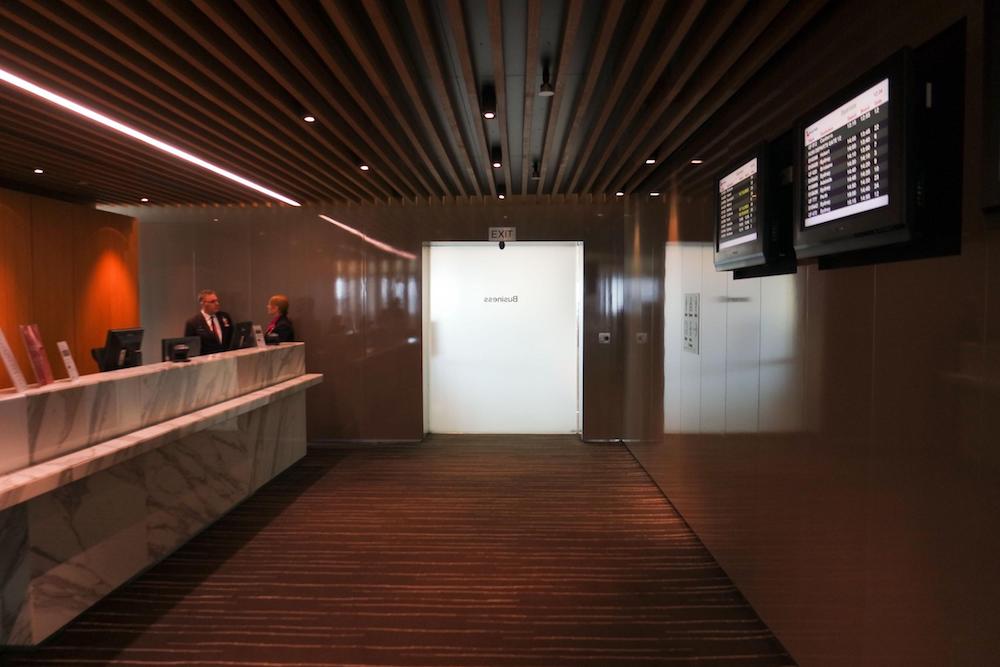 Further along is the casual seating area of the lounge. Comfortable solo chairs are located throughout this area, and along the windows.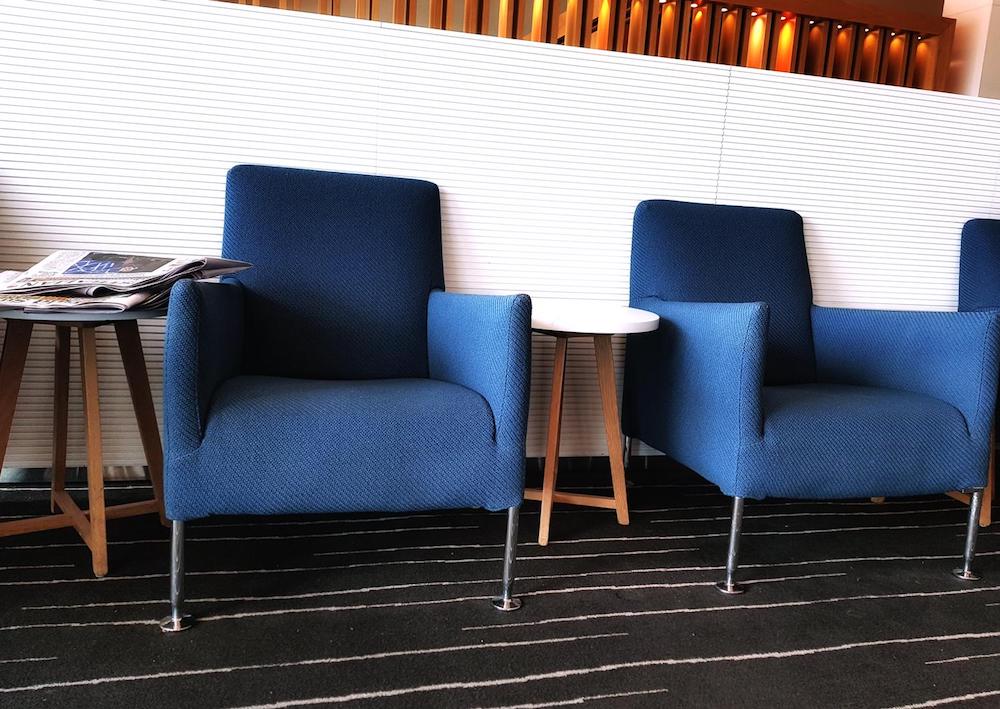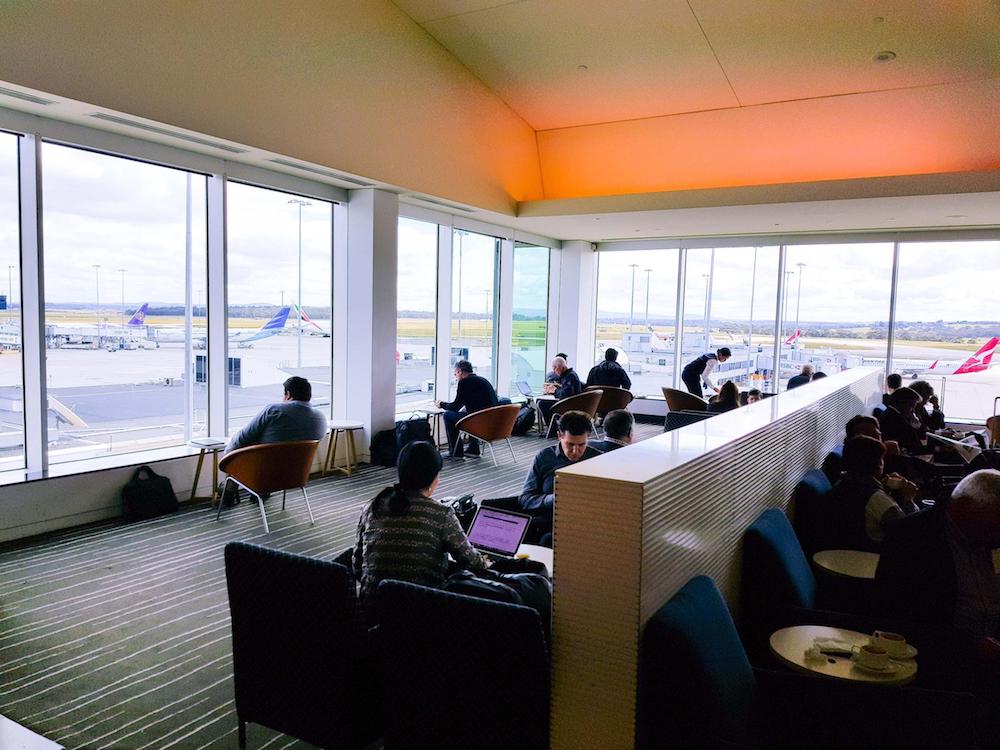 Three sides of the lounge are lined with windows, allowing plenty of natural sunlight to stream through—although the window tinting gives a distinctive green tinge to photos.
The rest of this casual area contains groups of chairs around a table, for a more social experience. There are not many power outlets in this area—the few that exist are located along the edges of the lounge.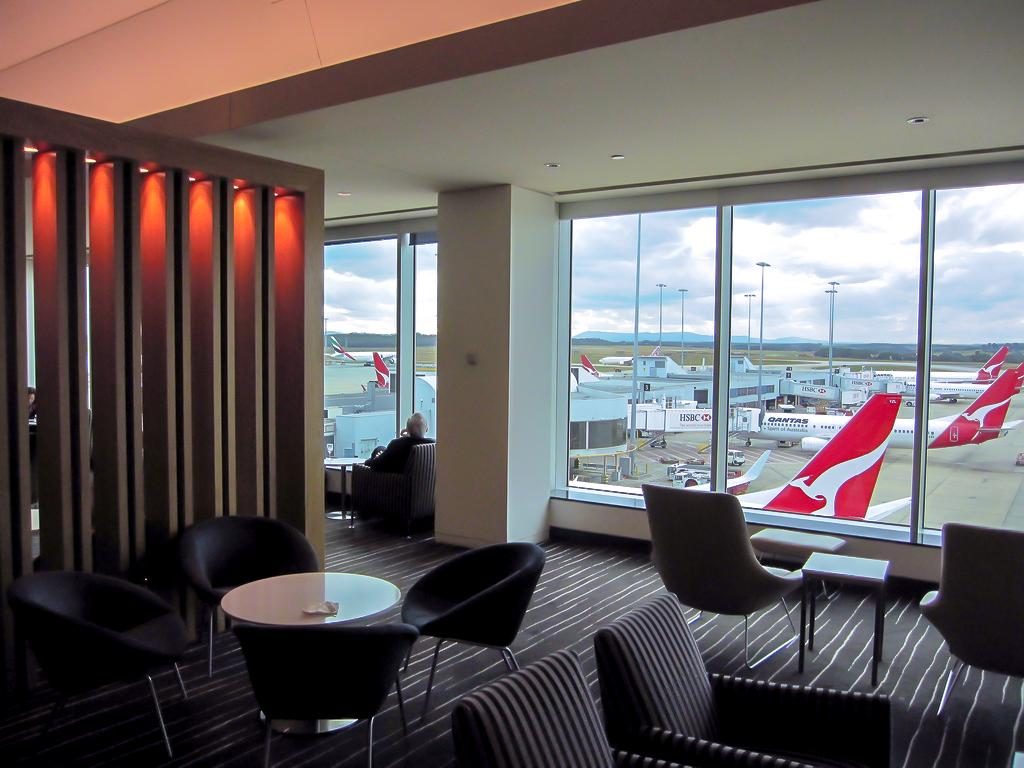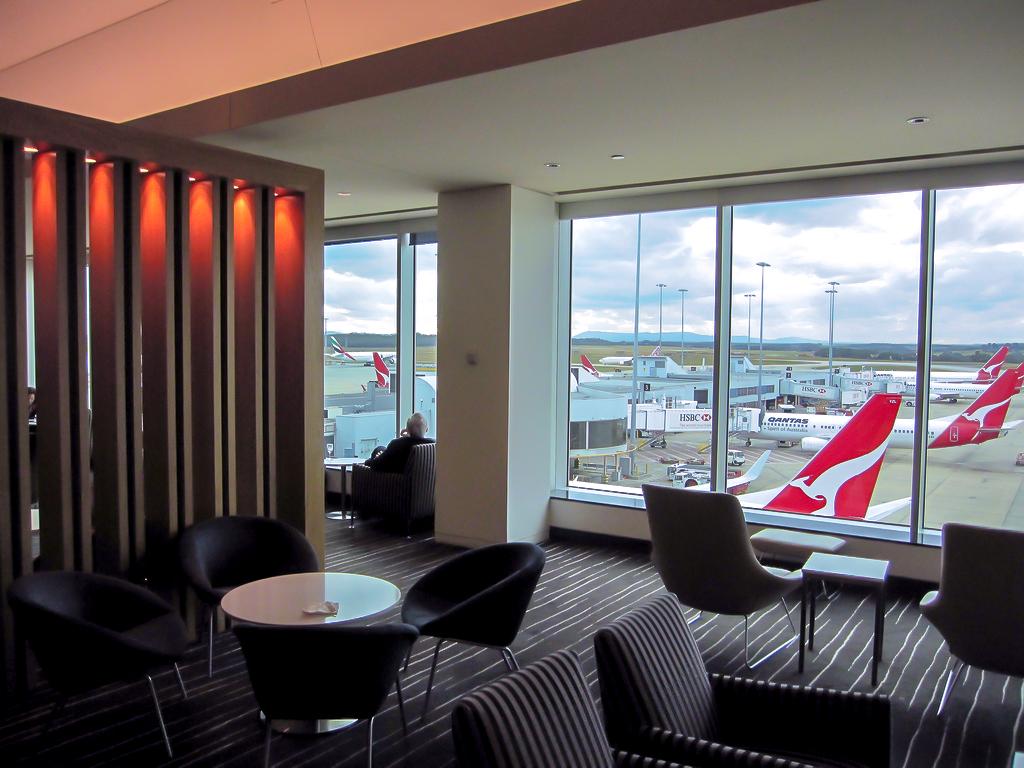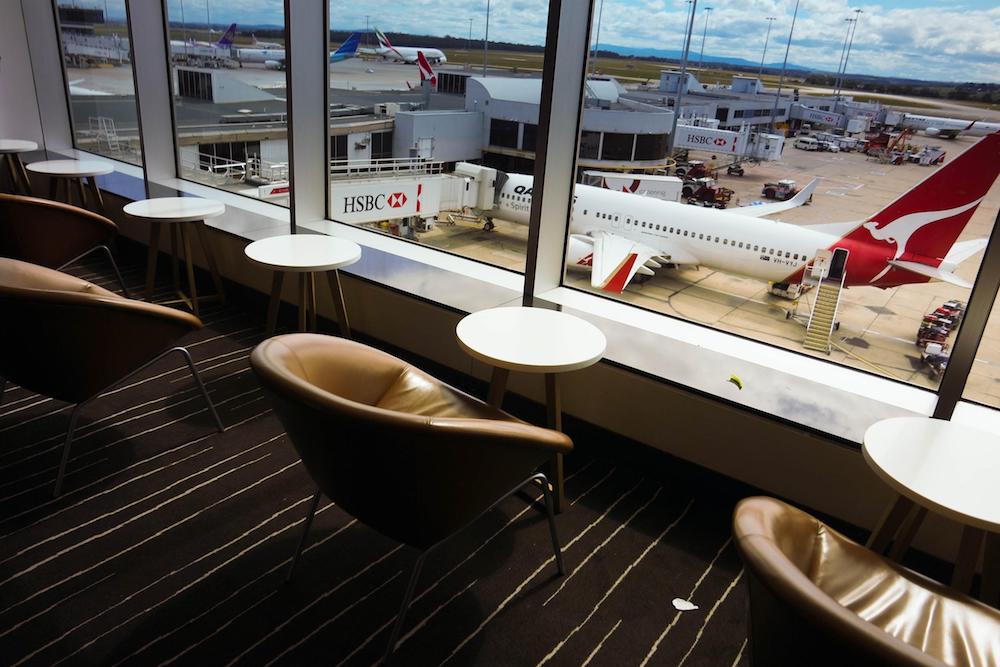 Adjacent to this area is the food and beverage area, complete with bar tables and stools. These contain power ports under the benchtop.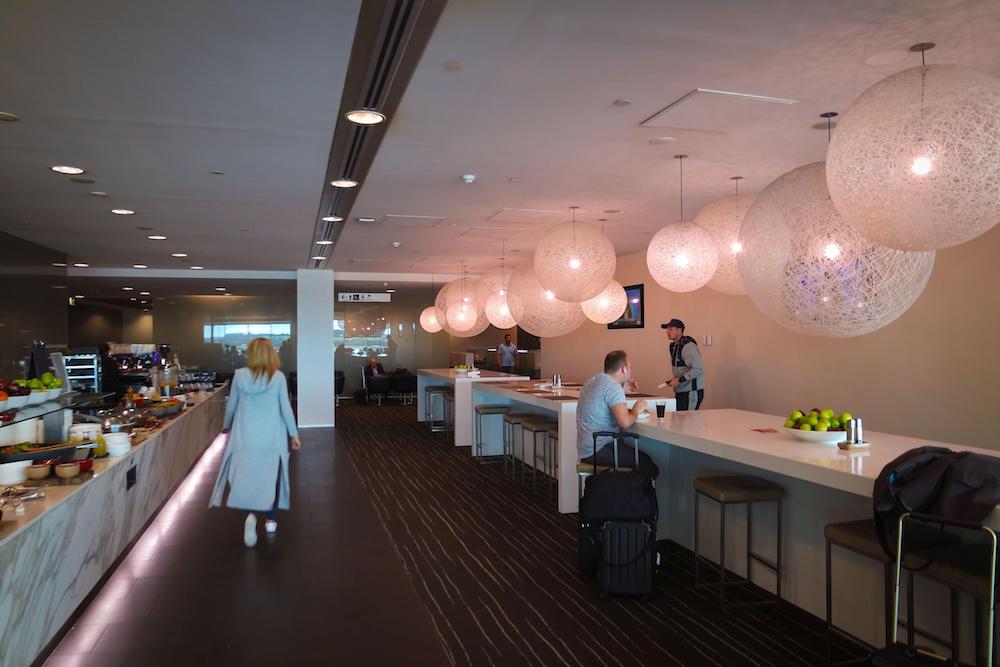 Around to the left of the buffet is the final space of the lounge, which contains shared desks for quiet work and a business centre, magazine rack, charging station and automatic coffee machine.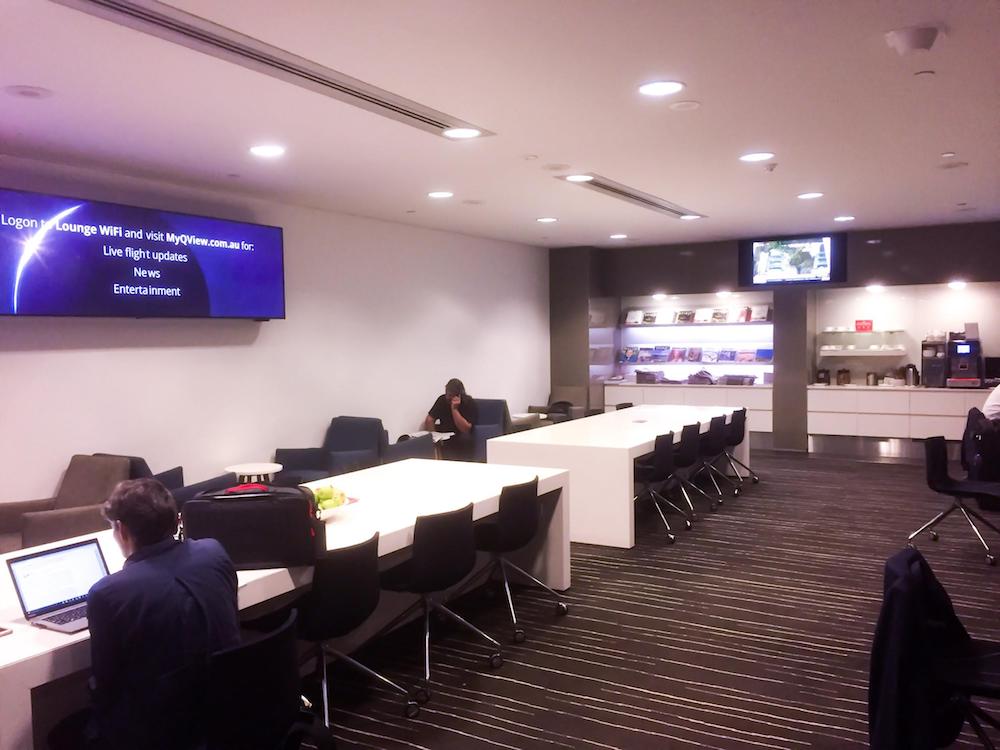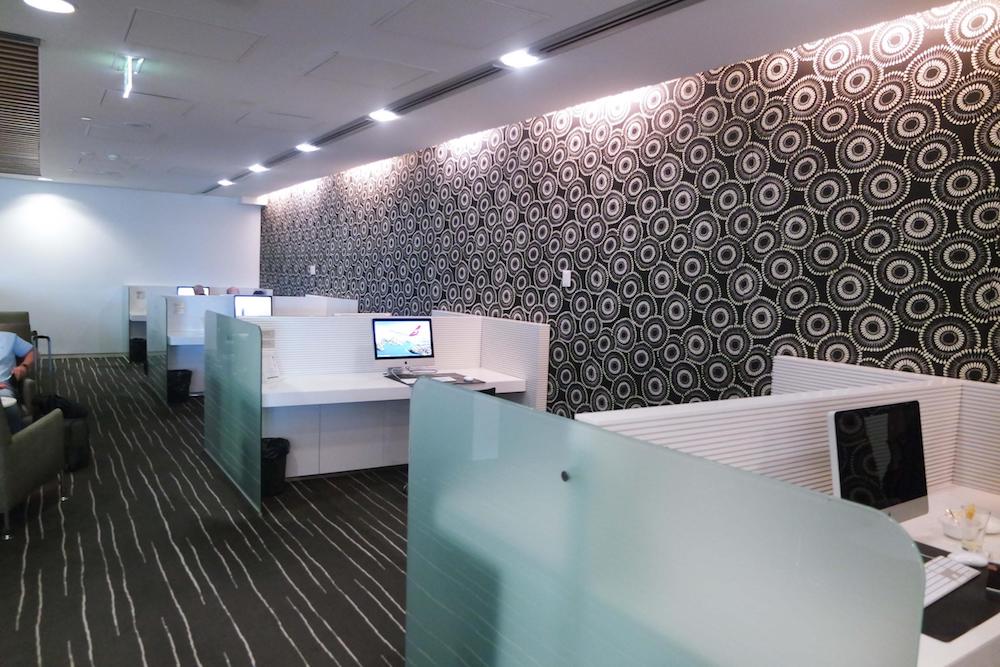 Food & Drink
A major differentiator of the Business Lounge compared to the Qantas Club is the improved food and beverage options.
While Qantas Clubs have simple 'all-day dining', Business Lounges usually also have dedicated hot dishes tailored to the time of day.

The morning options: there's also a fresh fruit juicer during breakfast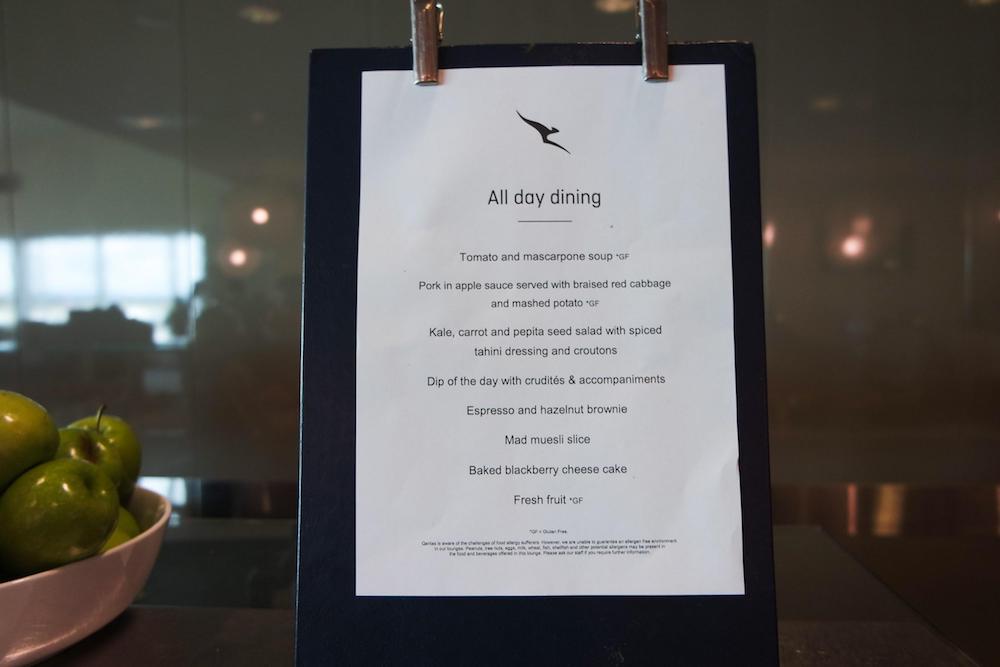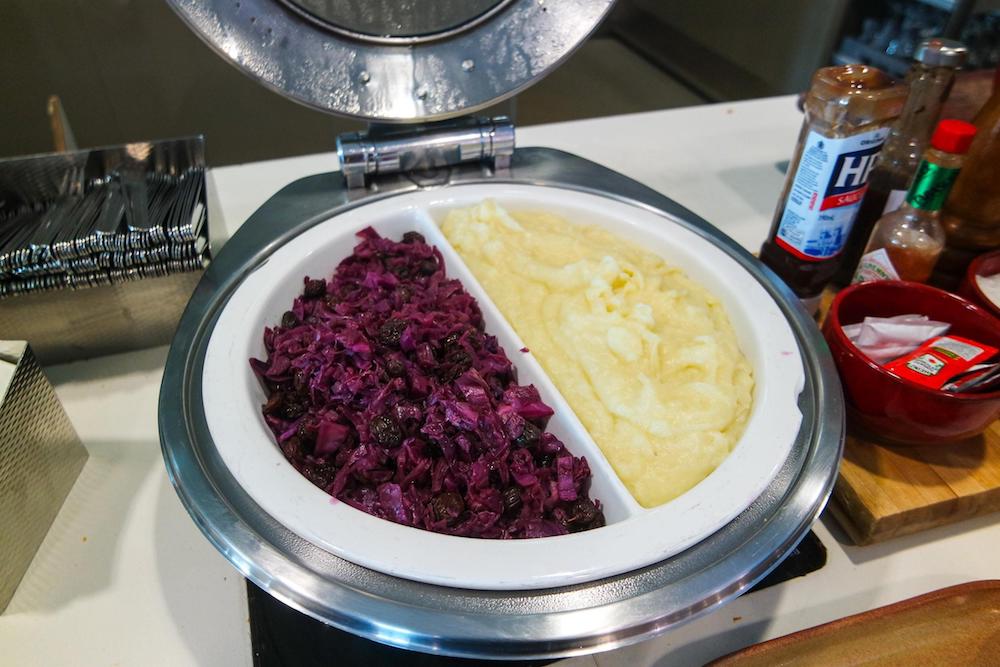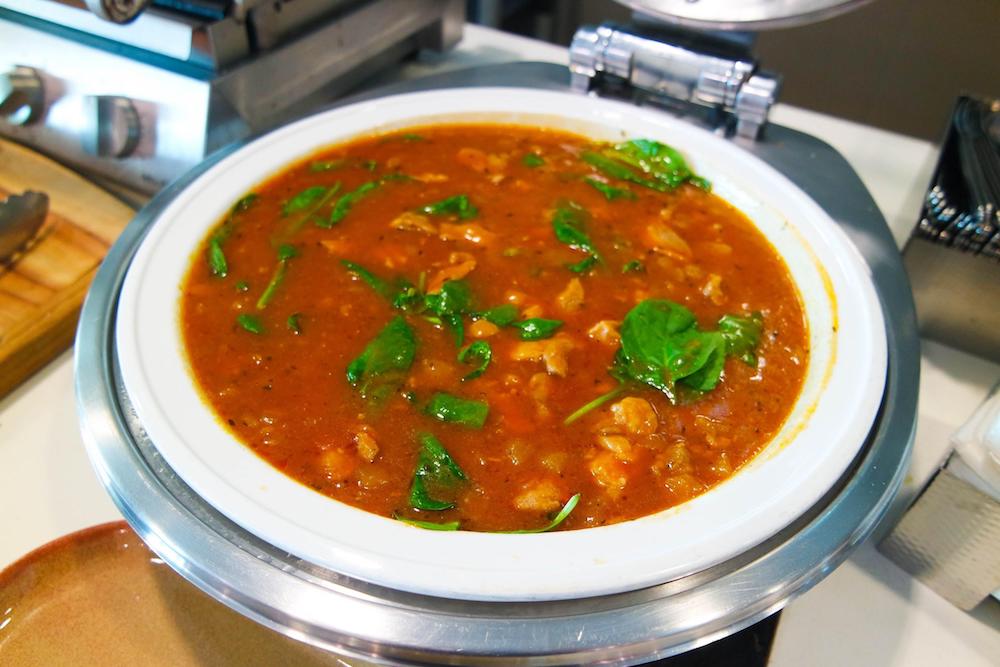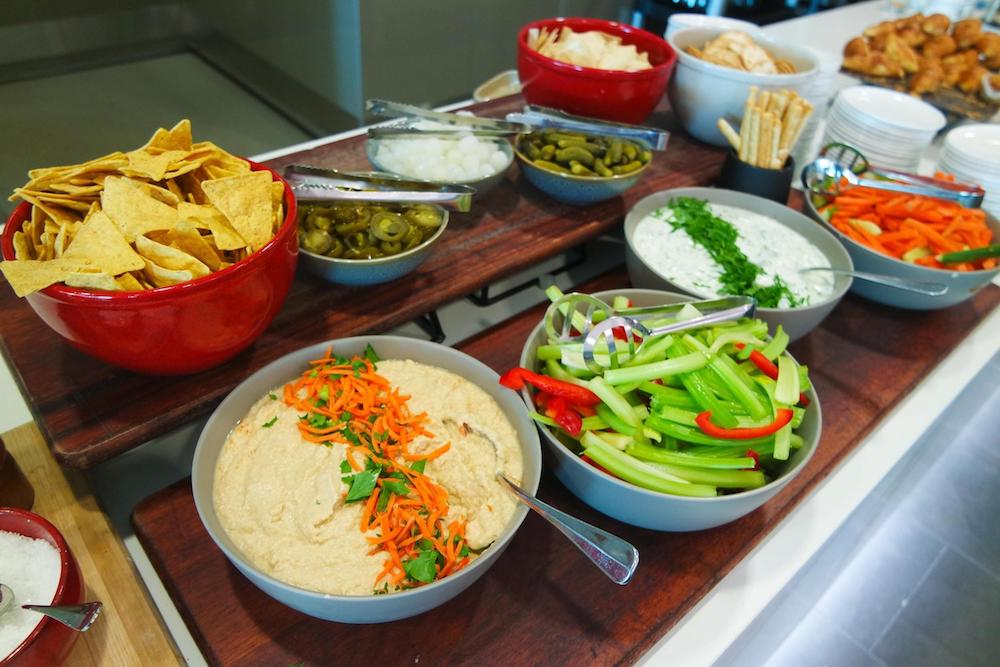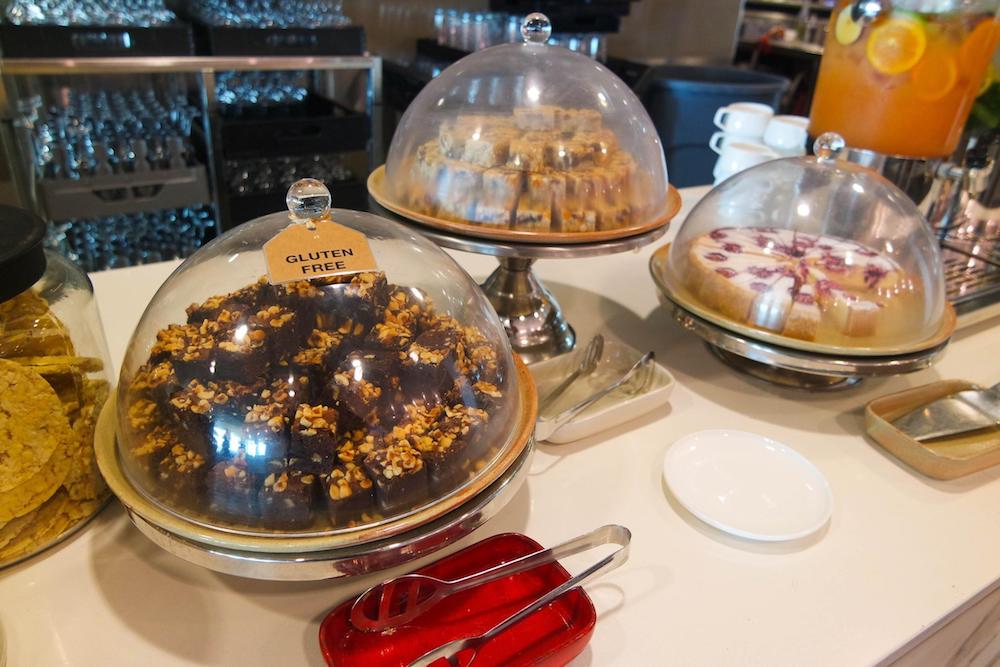 Some of the afternoon snack options
There's a pleasing selection of drinks at the bar, which opens at midday.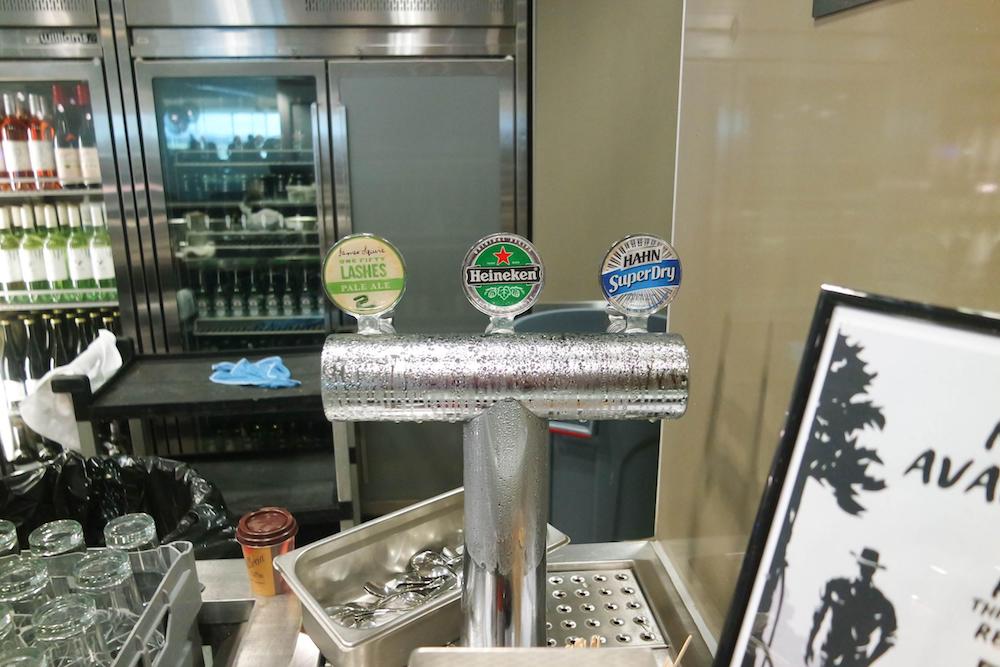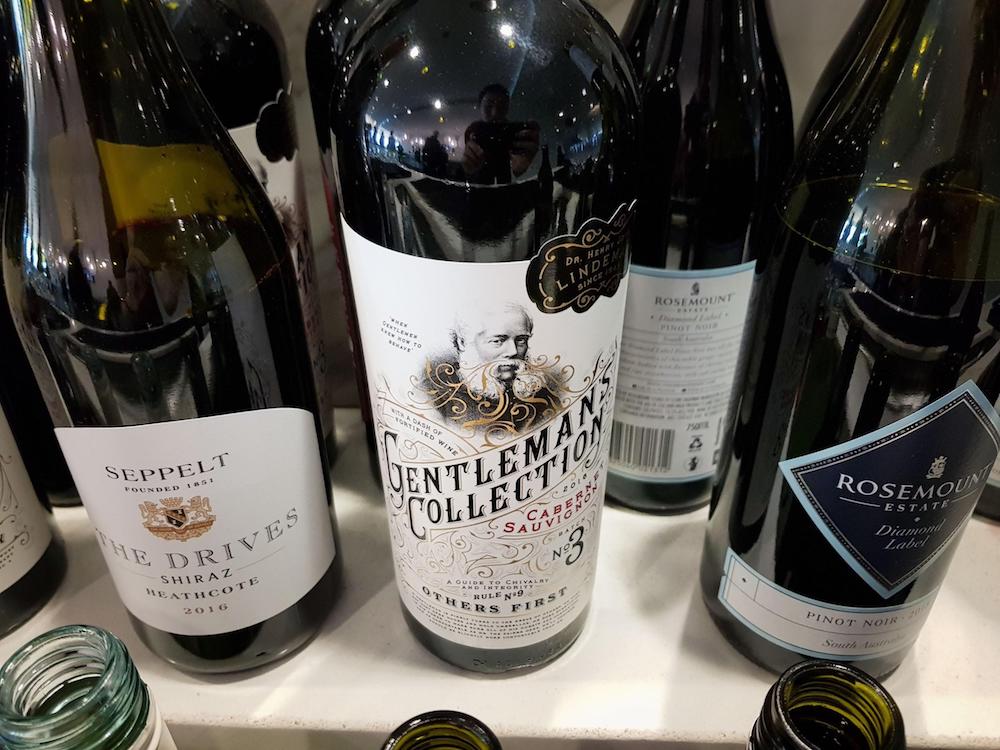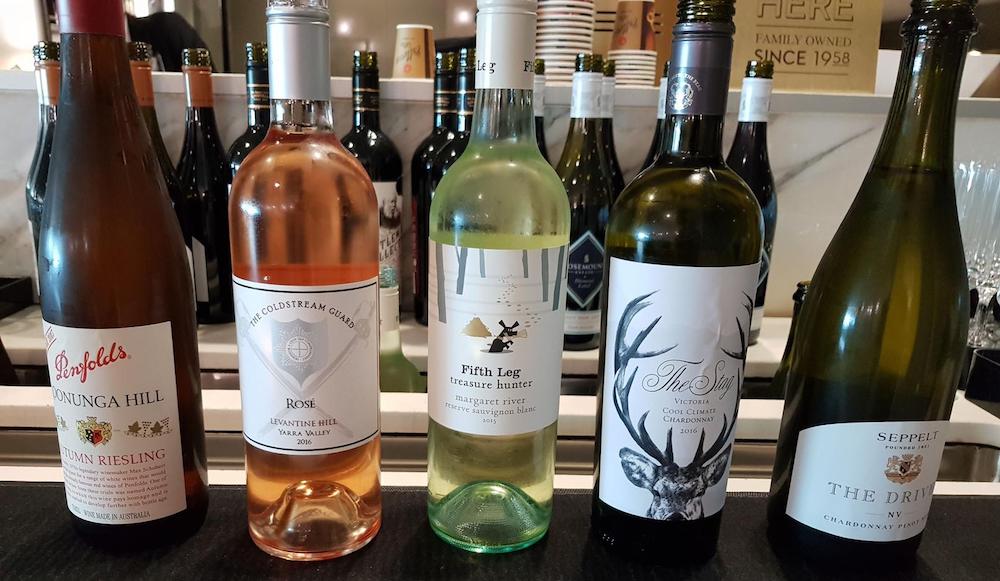 And there are also some fruit-infused waters, which are a great alternative to soft drinks. Coffees are made at the bar and are served in takeaway cups by default, although you can ask for a mug if you prefer.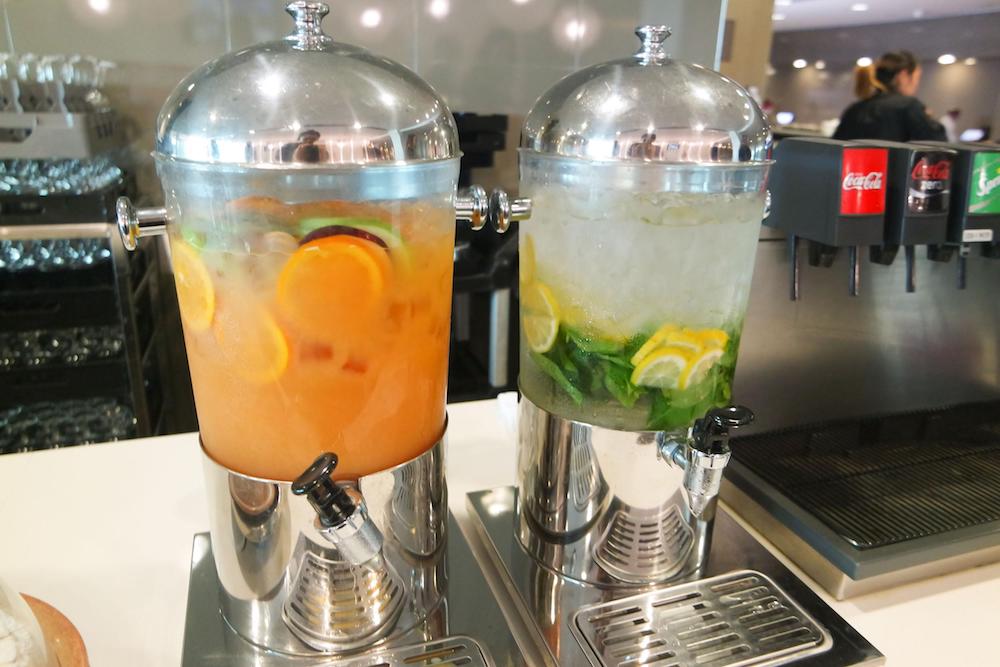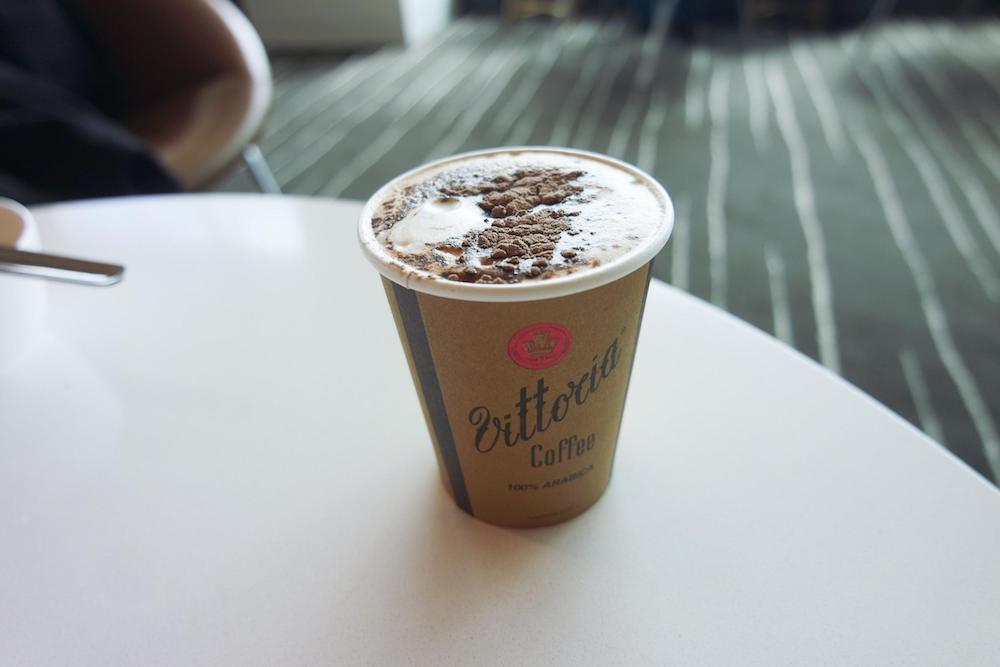 Shower and Bathroom Amenities
The bathrooms are slightly better appointed than their counterparts in the Qantas Club. You'll find quality handtowels, ASPAR skincare products, and separate shampoo, conditioner and body wash rather than the 3-in-1 combo.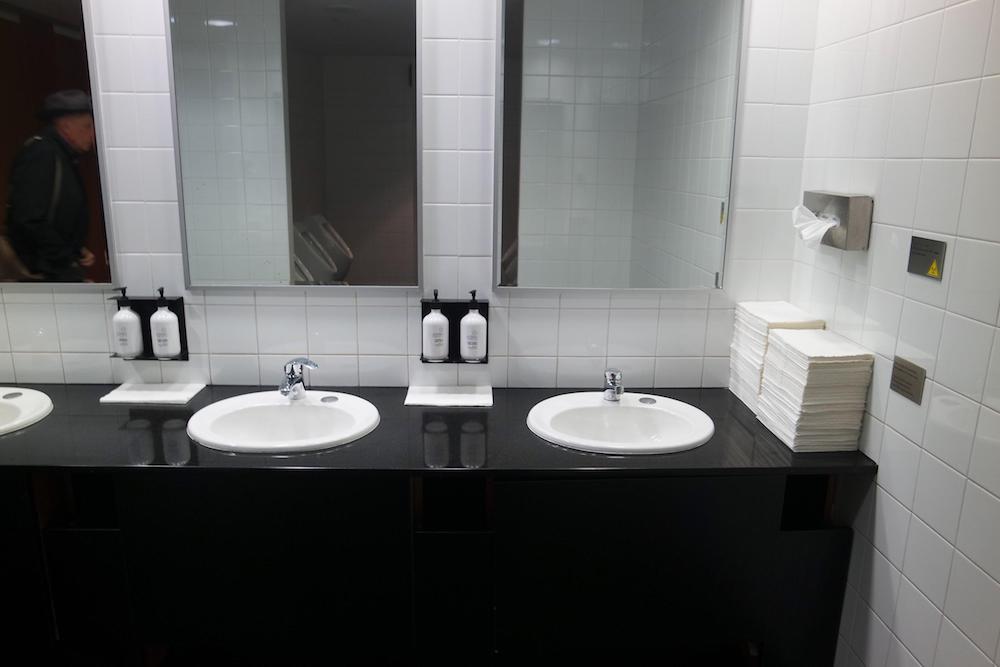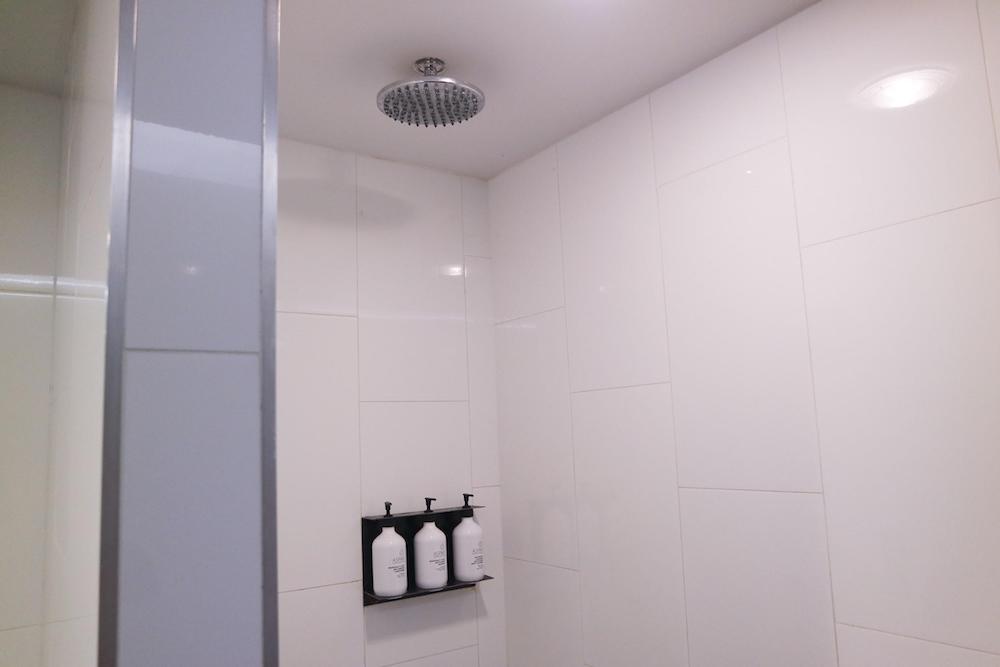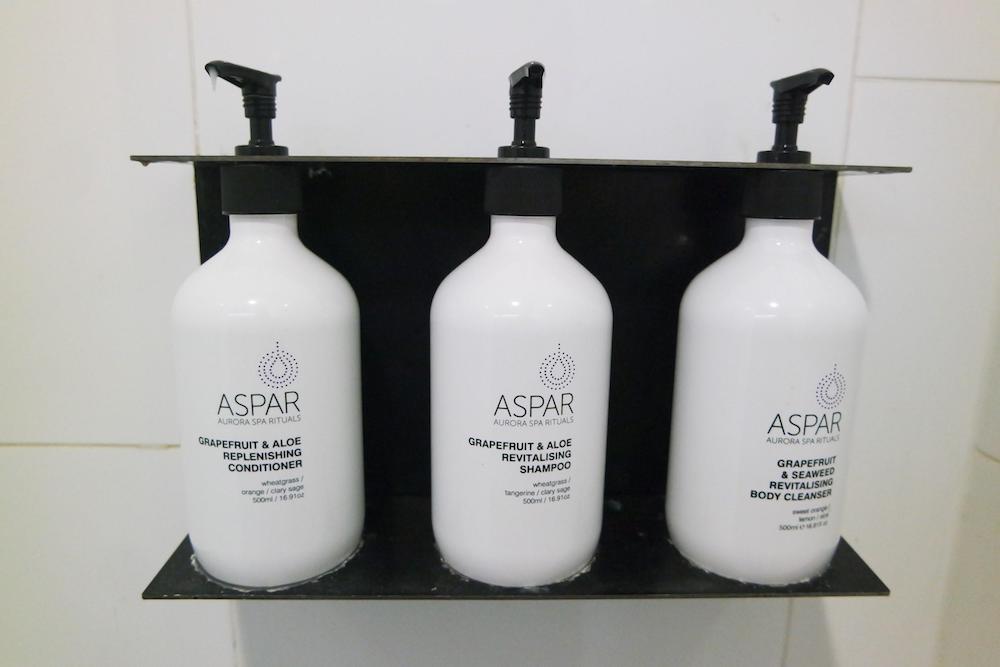 Lounge Access Options
You can access this lounge:
By class of travel: Business Class travellers on a Qantas flight, and/or connecting to/from a Qantas or Emirates international flight on the same day (+1 guest who does not need to be travelling)
By Qantas Frequent Flyer status: Platinum and Platinum One members travelling on any flight the same day that shows Qantas, Emirates, Jetstar Airlines or a oneworld operated and marketed flight (+2 guests who do not need to be travelling)
By Emirates Skywards status: Platinum members where next onward flight must be operated by Qantas or Emirates with a QF or EK flight number (+1 guest who must be travelling with the member on the same flight)
By oneworld status: Emerald, International First and International Business members/passengers connecting to or from a domestic Qantas flight (+1 guest who does not need to be travelling, excluding International Business)
Credit cards aren't an option when visiting Qantas Business Class lounges—there are a handful of credit cards that each offer two entries per calendar year to Qantas Clubs as a perk, but the Qantas Domestic Business Lounges are limited to status holders and travellers in Business Class only.
Access to this lounge is granted even on the shortest Business Class flights out of Melbourne, so if you have some spare change, redeeming 16,000 points is all it takes to book a Business ticket to Sydney or another nearby destination. If you have Platinum status or higher, you can access this lounge even when on a cheap domestic Jetstar flight.
Our take
The Qantas Melbourne Domestic Business Lounge is definitely showing its age, although it does a good job of creating a product differentiation to the Qantas Club. Business Class guests and Platinum frequent flyers will no doubt enjoy the higher quality catering and amenities before their domestic flight.
The planned 2018 renovation of this lounge will completely redesign the space currently occupied by the Qantas Club and Business Lounge. The Qantas Newsroom has confirmed the following details:
An increase in capacity to approximately 350 people
The addition of a 'unique dining option' similar to the pizza bar in Perth and Mexican cantina in Brisbane—Melbourne is tipped to have an Asian-influenced noodle bar
The Business Lounge will occupy the whole window side of the space, allowing better views and natural light
We look forward to checking out the new Business lounge and will bring you an updated review when it opens in late 2018.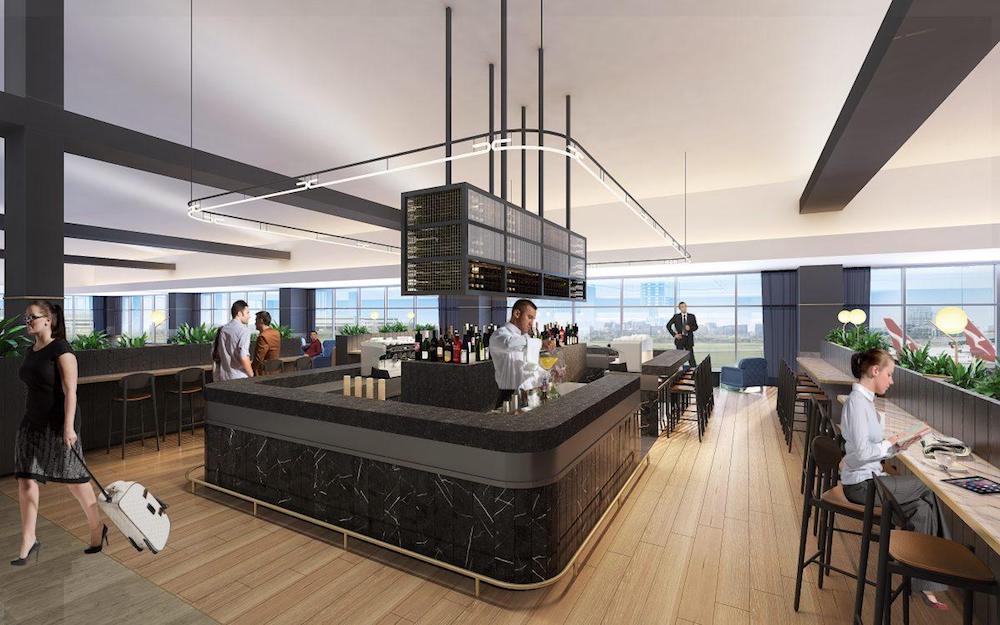 Image courtesy Qantas Newsroom
Related reviews
Qantas Domestic Business Lounge Melbourne overview
was last modified:
September 18th, 2018
by