Nothing says 'South Australia' like wine – and at Penfolds Wine Bar and Kitchen, that's exactly what you'll find.
Situated within Adelaide Airport, it's Penfolds' first ever airport venue. It's also distinctly different to the brand's more traditional Cellar Door experiences. Operated in partnership with Emirates Leisure Retail, here's what you'll find when flying from the SA capital.
Location and layout
With domestic and international flights under the one roof, it's easy for any passenger to stop by Penfolds when departing Adelaide. Located after domestic security screening – but just before the international checkpoints – it's the perfect excuse to arrive early and skip the lounge.
Whether it's a last taste of South Australia, or Australia itself, you'll spot Penfolds Wine Bar and Kitchen near gate 14.
There's a decent vibe here: a typical airport buzz, blended with the relaxing knowledge that you've got time to spare. That said, it's easy to feel too relaxed here, so don't forget where you're headed, or when.
A fellow guest finds that tricky, announcing to staff that they're "flying to Adelaide"… from Adelaide Airport. Fortunately, there's barista-made coffee to help the gent get his day back on track!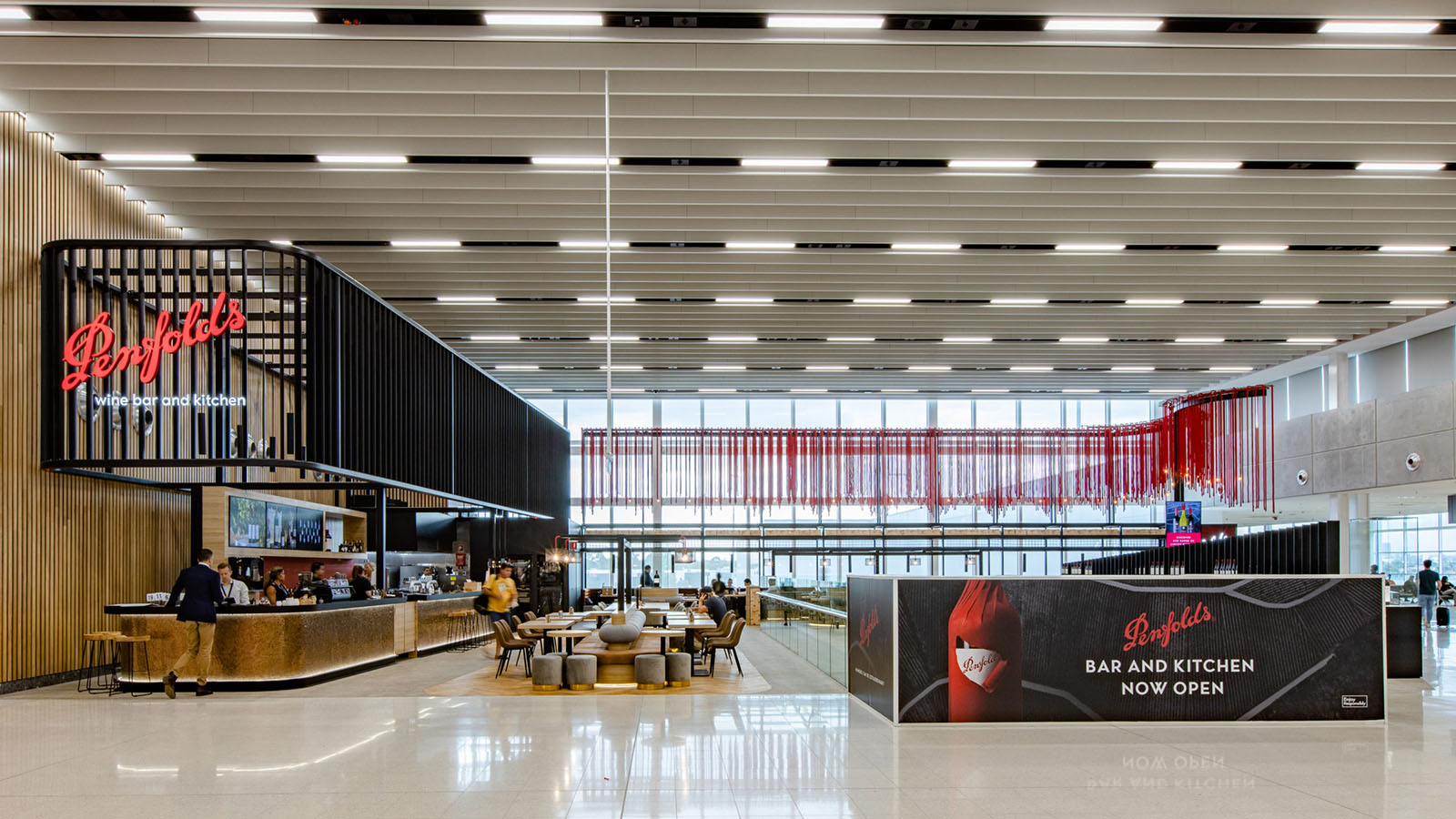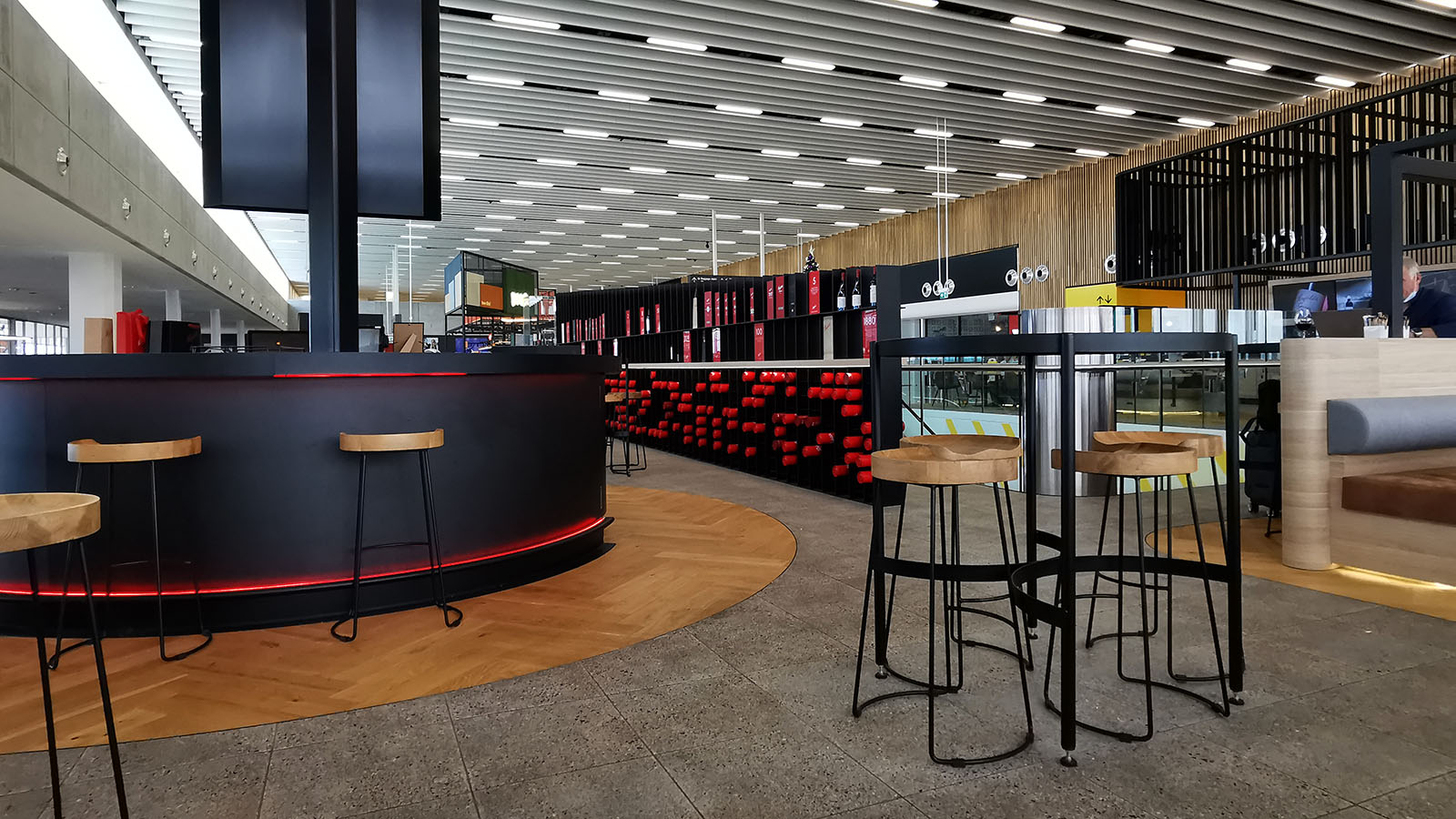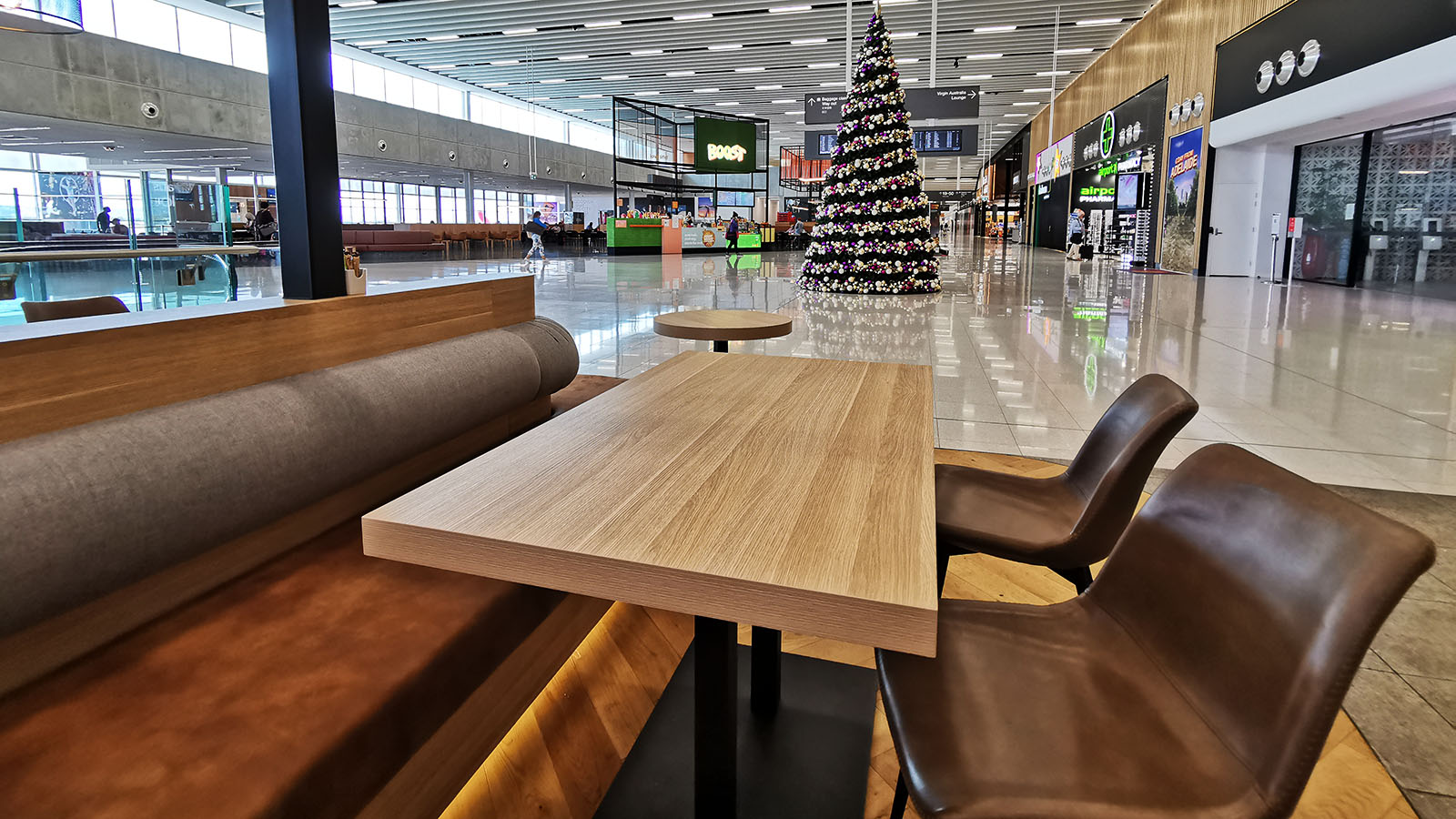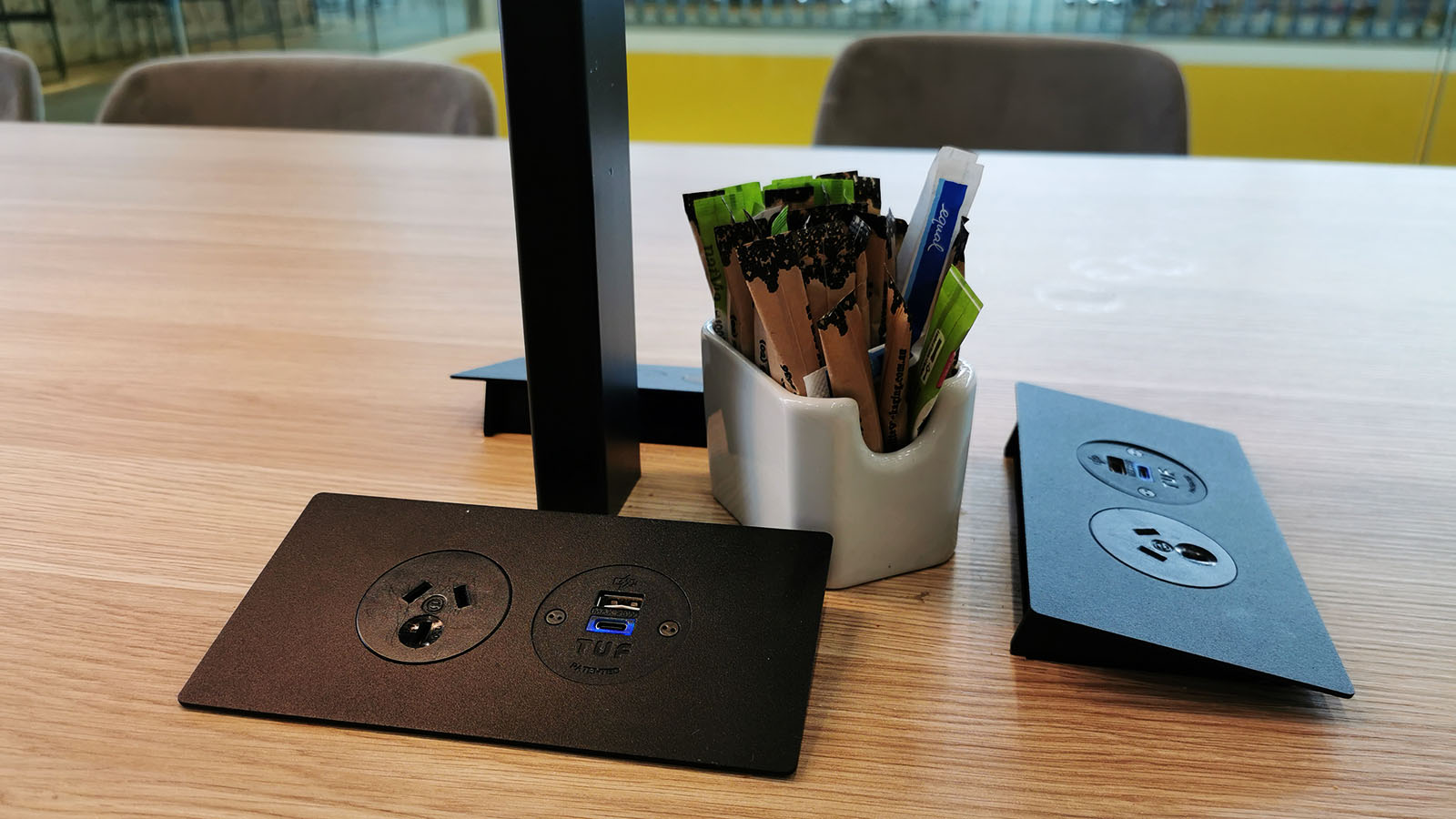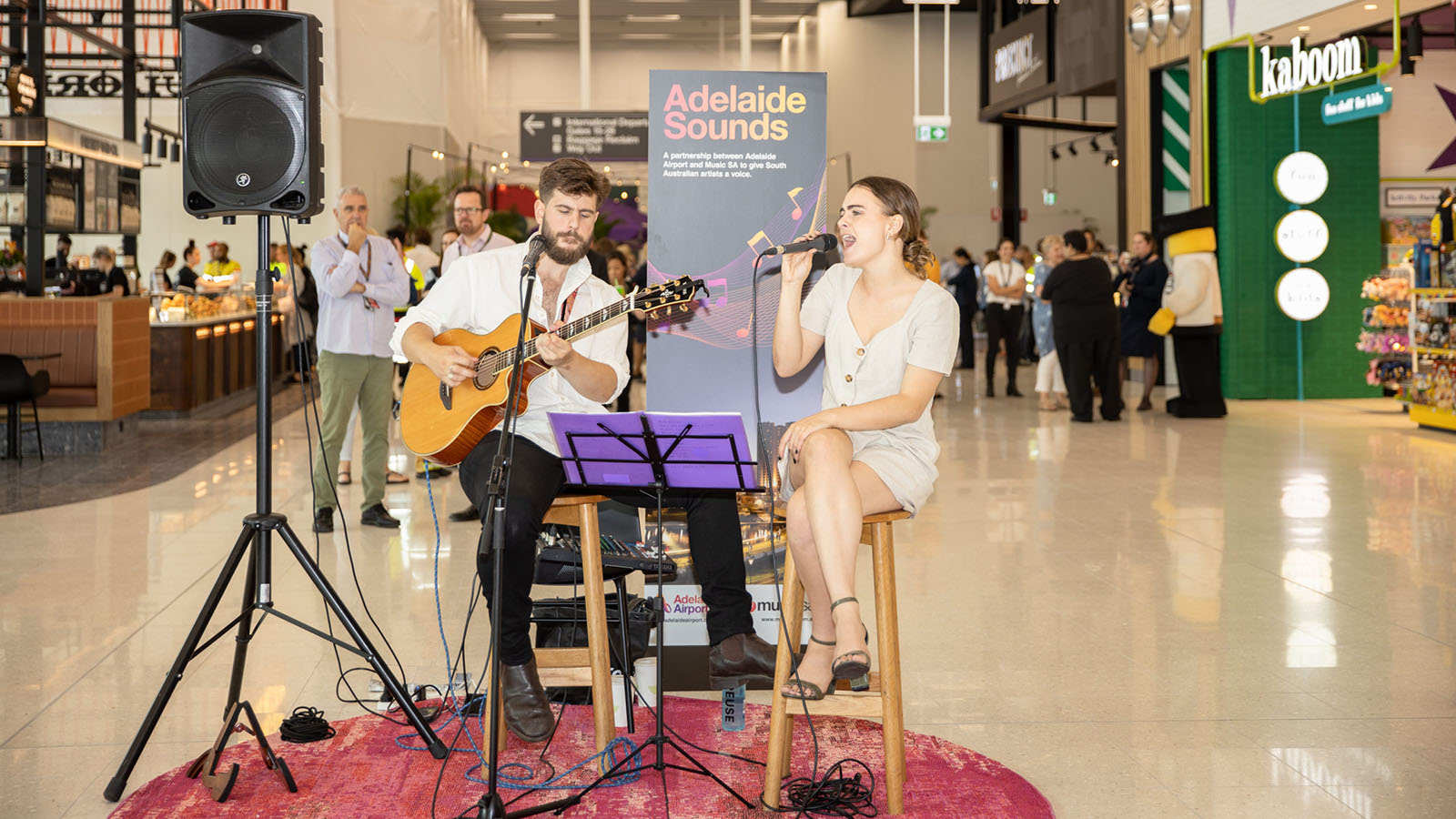 To the venue itself, there's a great sense of space with high ceilings, but secluded enough in the corner of the terminal.
Take your pick between semi-private booths, café-style tables or longer – and more collaborative – work-themed spaces. Many of the seats also grant access to power, if you're mixing business with vino.
As travel demands continue to rebound, Penfolds Wine Bar and Kitchen opens six days a week. While closed on Saturdays, it's generally open between 10 am and 8 pm other days, subject to flight schedules. Check the Adelaide Airport website for the latest times.
No doubt, the timing of your visit comes down to that of your flight. But if you can swing it, aim to visit on Friday afternoons between 2:30 pm and 4:30 pm. You'll be able to hear music from the nearby Adelaide Sounds pop-up, which certainly pairs well with a glass in-hand.
Dining at Penfolds Wine Bar and Kitchen
As the name suggests, Penfolds Wine Bar and Kitchen is primarily about wine. Food is more of a bolt-on, so don't expect a grand menu.
Instead, the choices here are mainly geared towards snacking and sharing. Think antipasto or salt and pepper squid, but with two burgers and one main-sized salad for something more substantial.
The joy of a menu featuring many small dishes, of course, is that you can nibble on several different things. I took the chance to mix and match – ordering up the Hamilton Brie, Prosciutto di Parma and green olives.
Starting with the 18-month aged prosciutto, it was beautifully fresh, and went particularly well with the green apple. As it did the brilliant Brie. Being warmed and slightly spicy, the olives are best enjoyed as a standalone.
As for the bread with the Brie? It's handiest to help soak up the wine – the Penfolds Father Grand Tawny 10 Year in this case, but more on that later.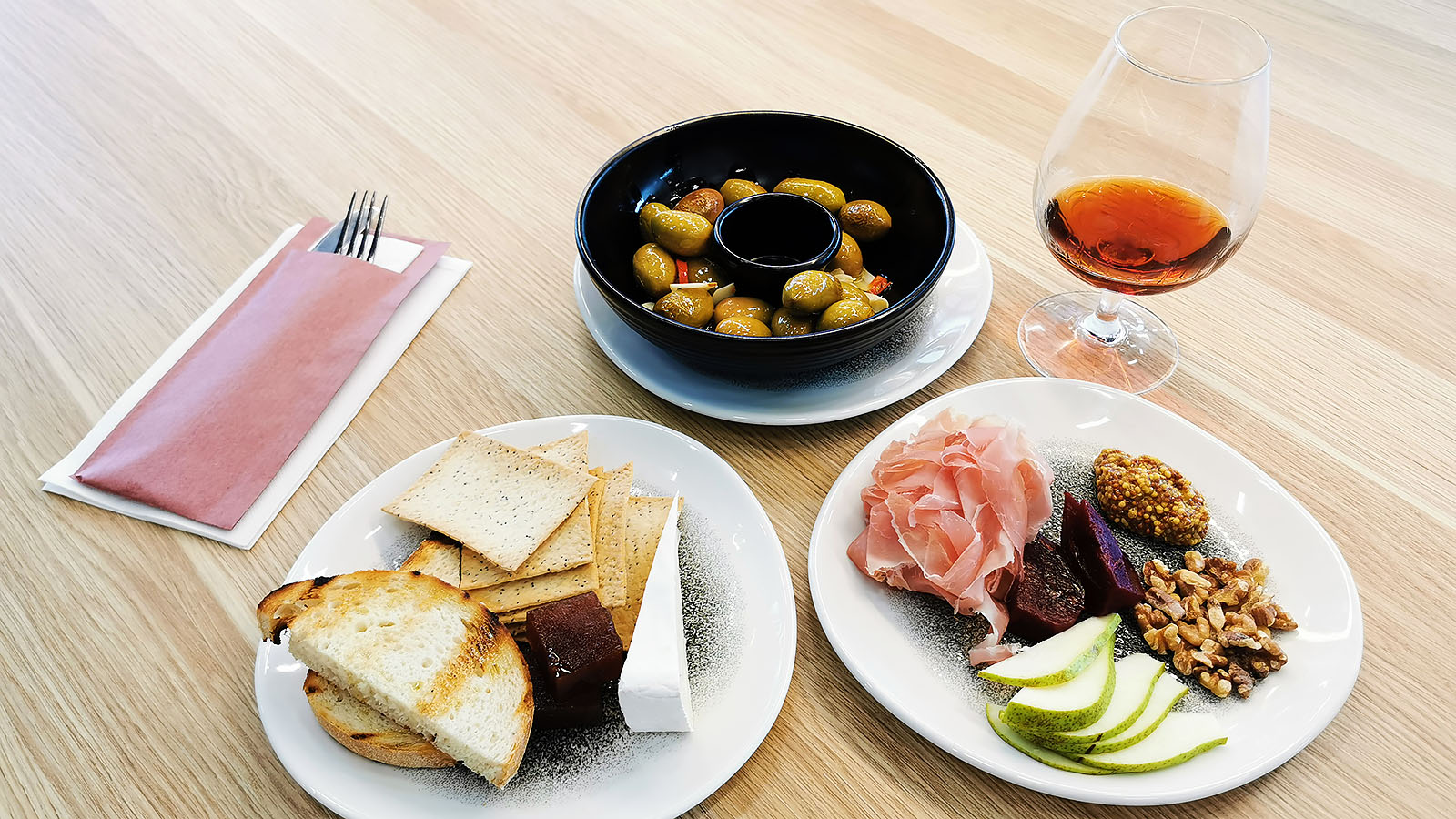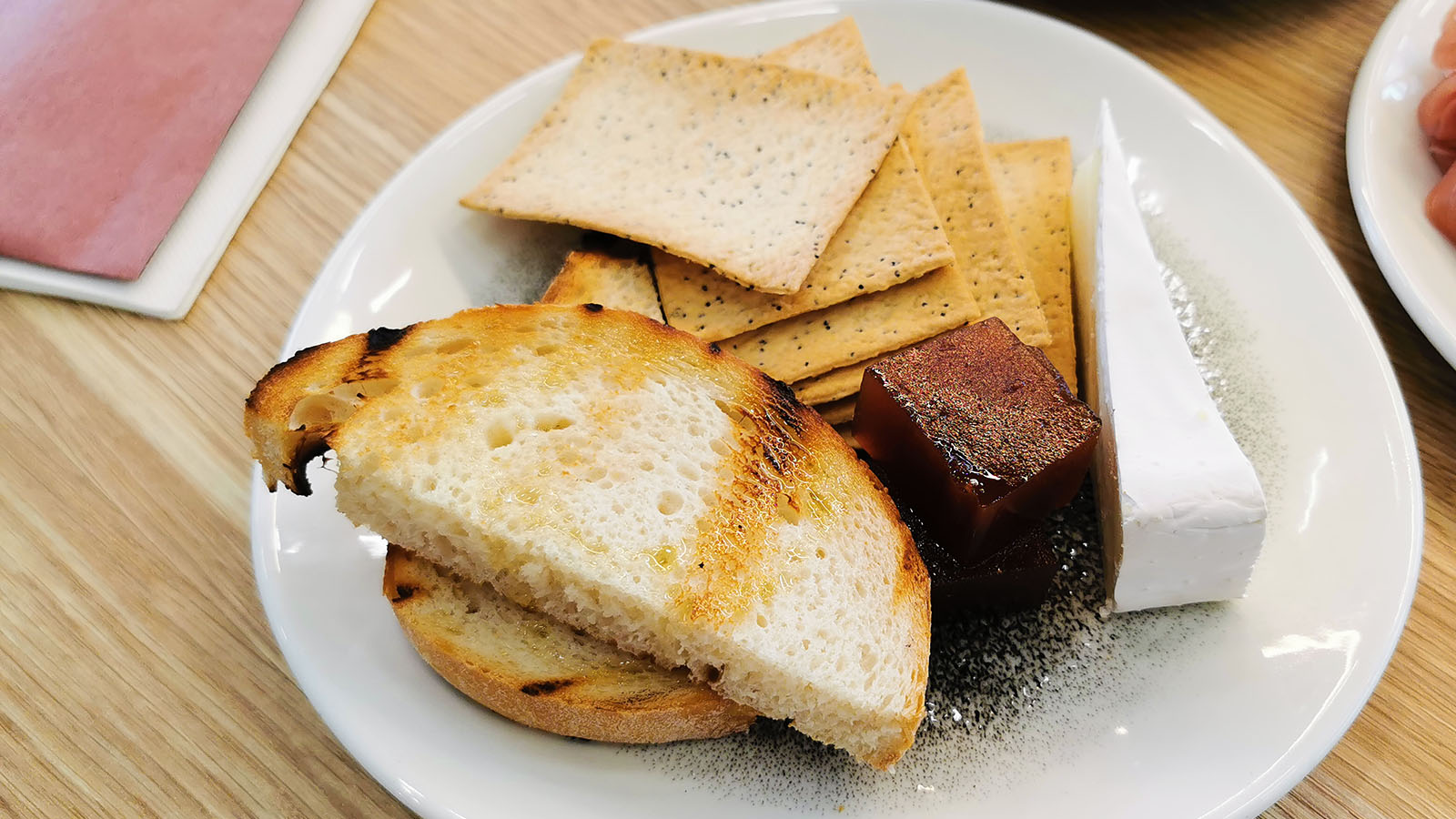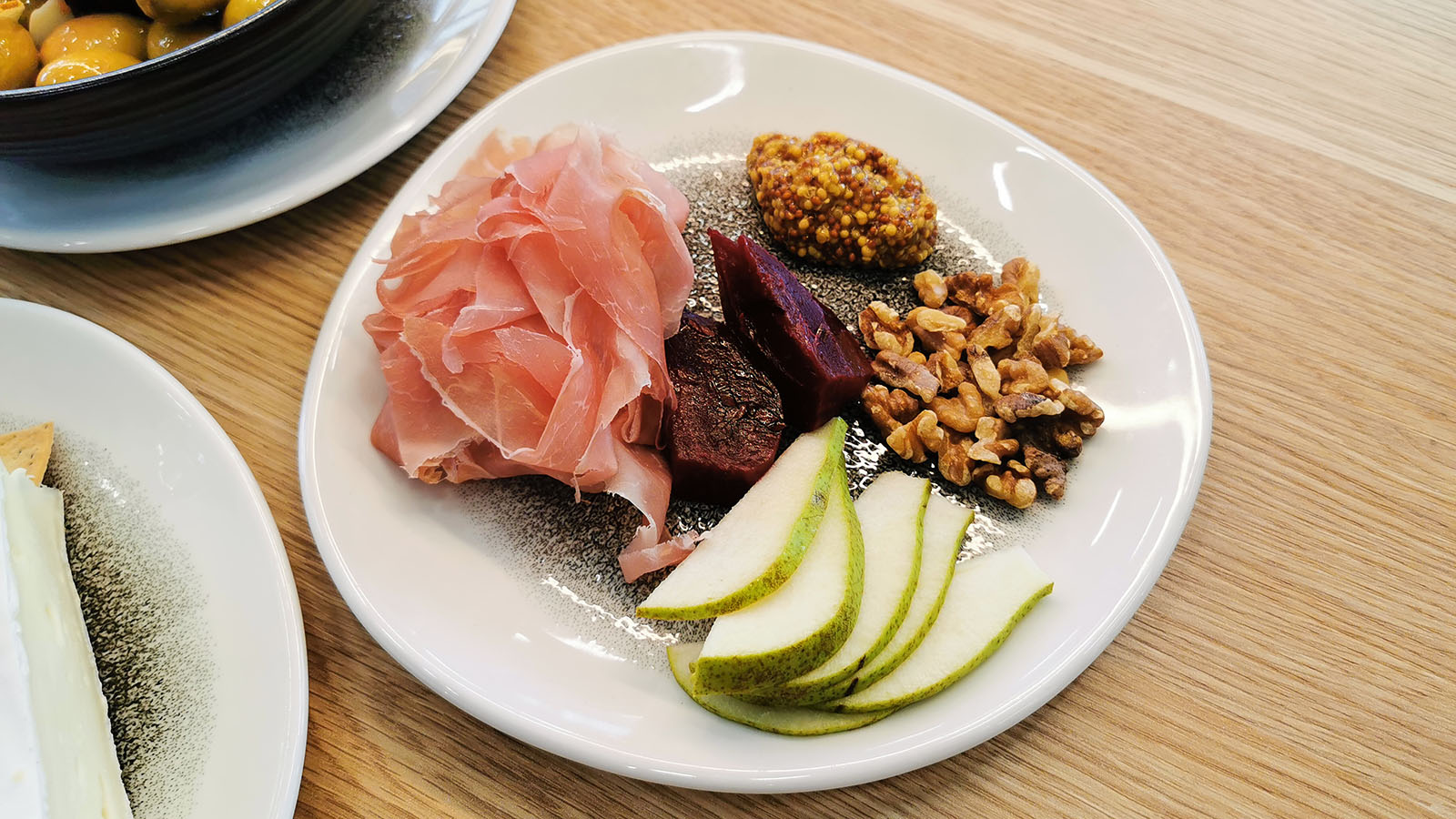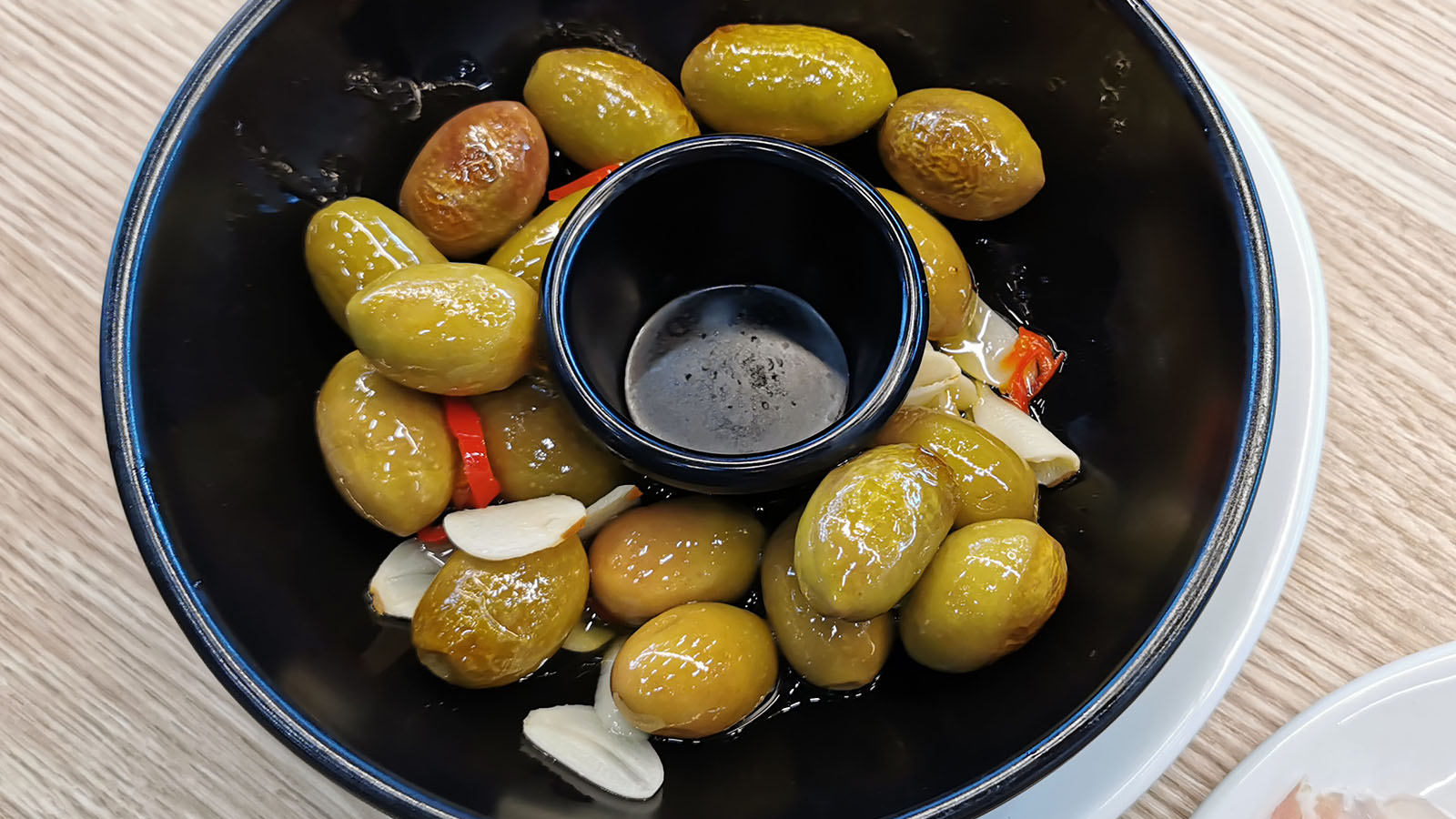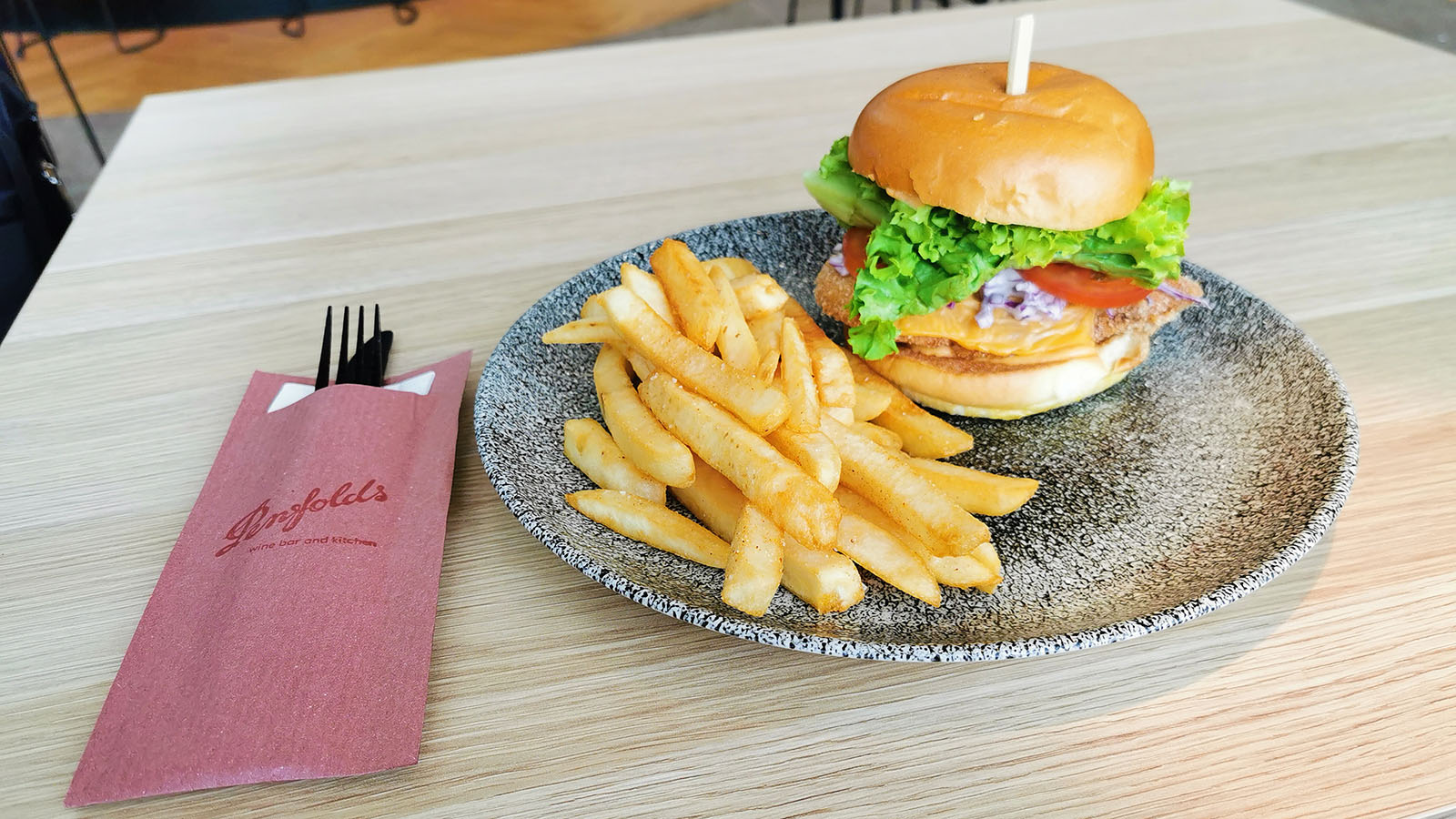 A second visit to Penfolds Wine Bar and Kitchen the same week was a great chance to try something simpler in the crispy chicken burger.
Served on brioche with aioli, cheese, tomato, lettuce and a crunchy slaw, it was exactly as a burger should be. A spicy chilli and garlic kick keeps things interesting. Hot chips on the side are faultless – and working on a laptop when the meal arrives, I'm also pleased to see cutlery, making dining easier while I multitask.
Still, with such a focus on wine, it's a shame the menu doesn't feature a hero pasta dish to pair with a red.
Sampling wine at Penfolds
Let's be honest – with a name like 'Penfolds', it's the wine that gets you in the door, right?
At Penfolds Wine Bar and Kitchen, you can savour a variety of vinos. Many are from Penfolds, with other labels filling out the menu. From time to time, the venue also offers special and limited release wines by the glass – but on the days I stopped by, the regular menu was in play.
Except for fortified wine, there's the hard choice between a 150ml pour ('small glass'), 250ml ('large glass') or a bottle with each order.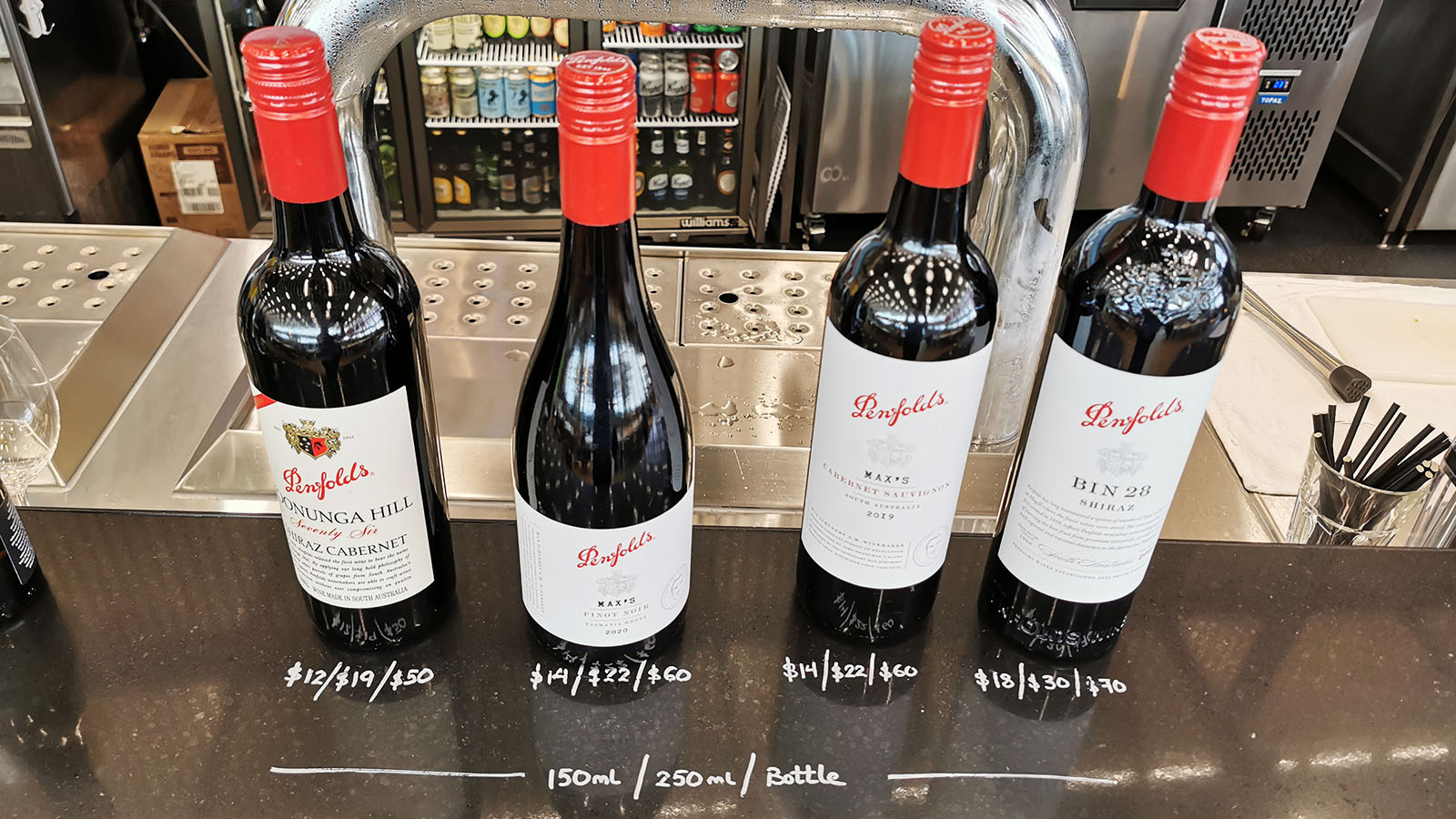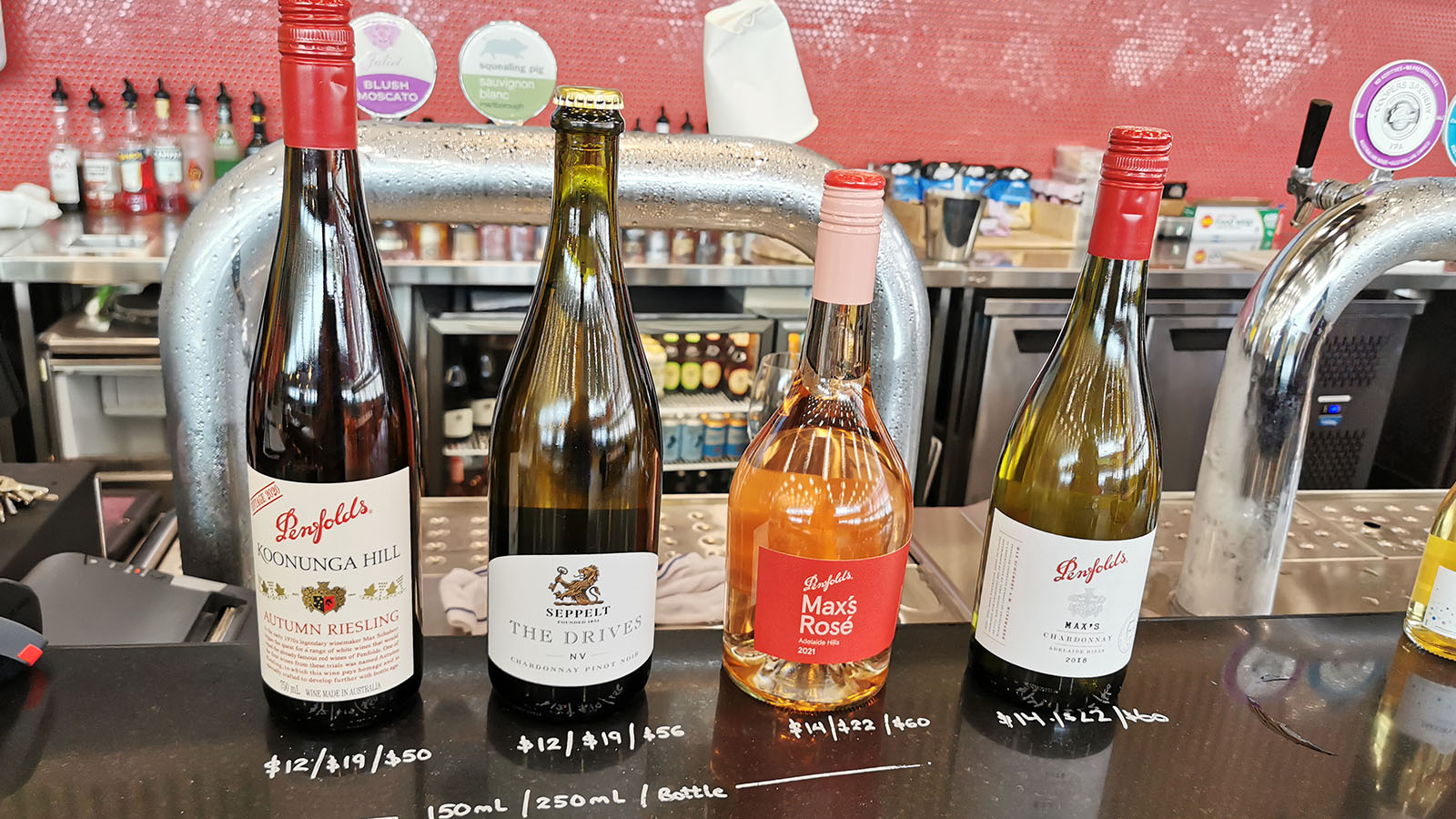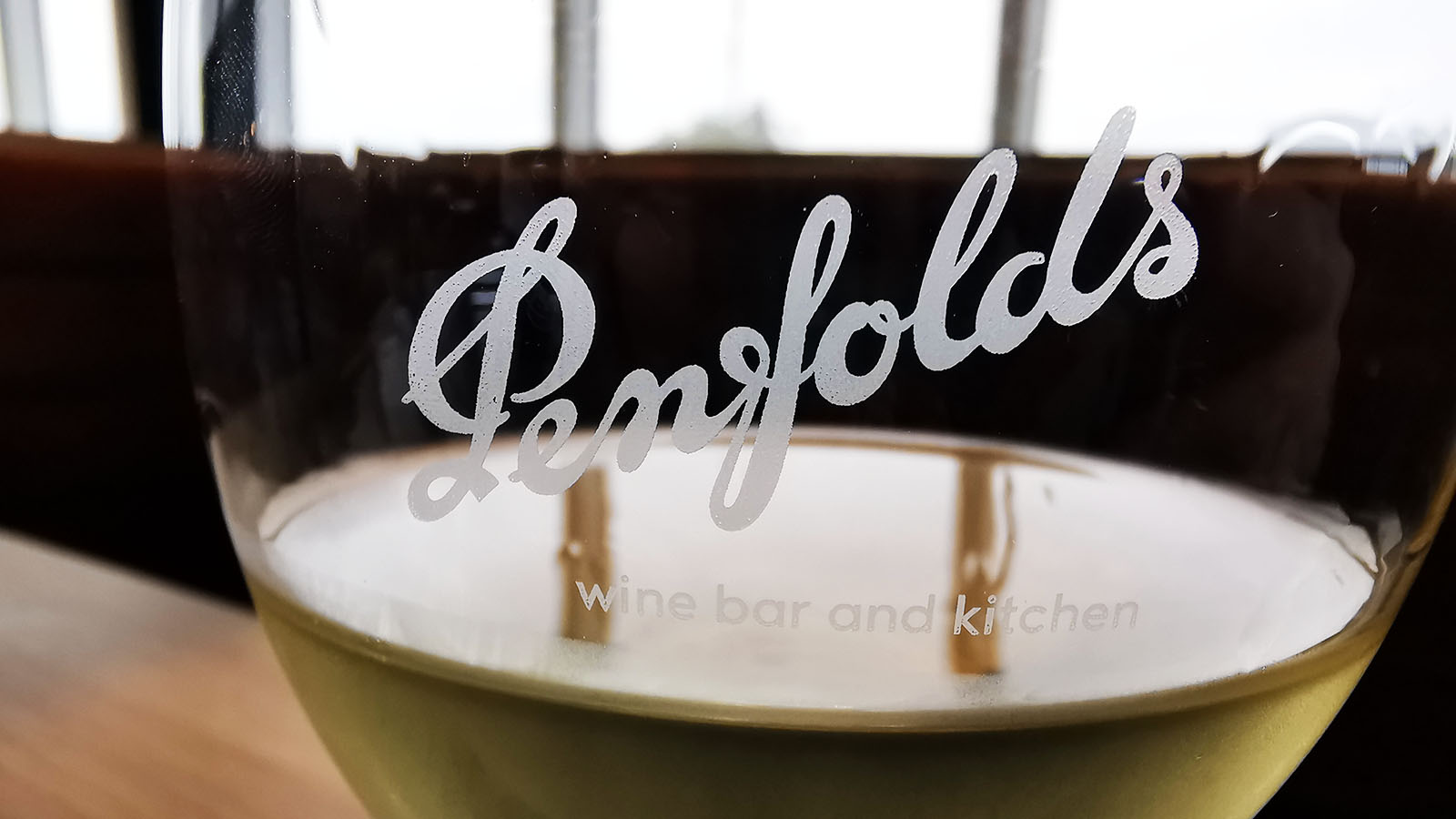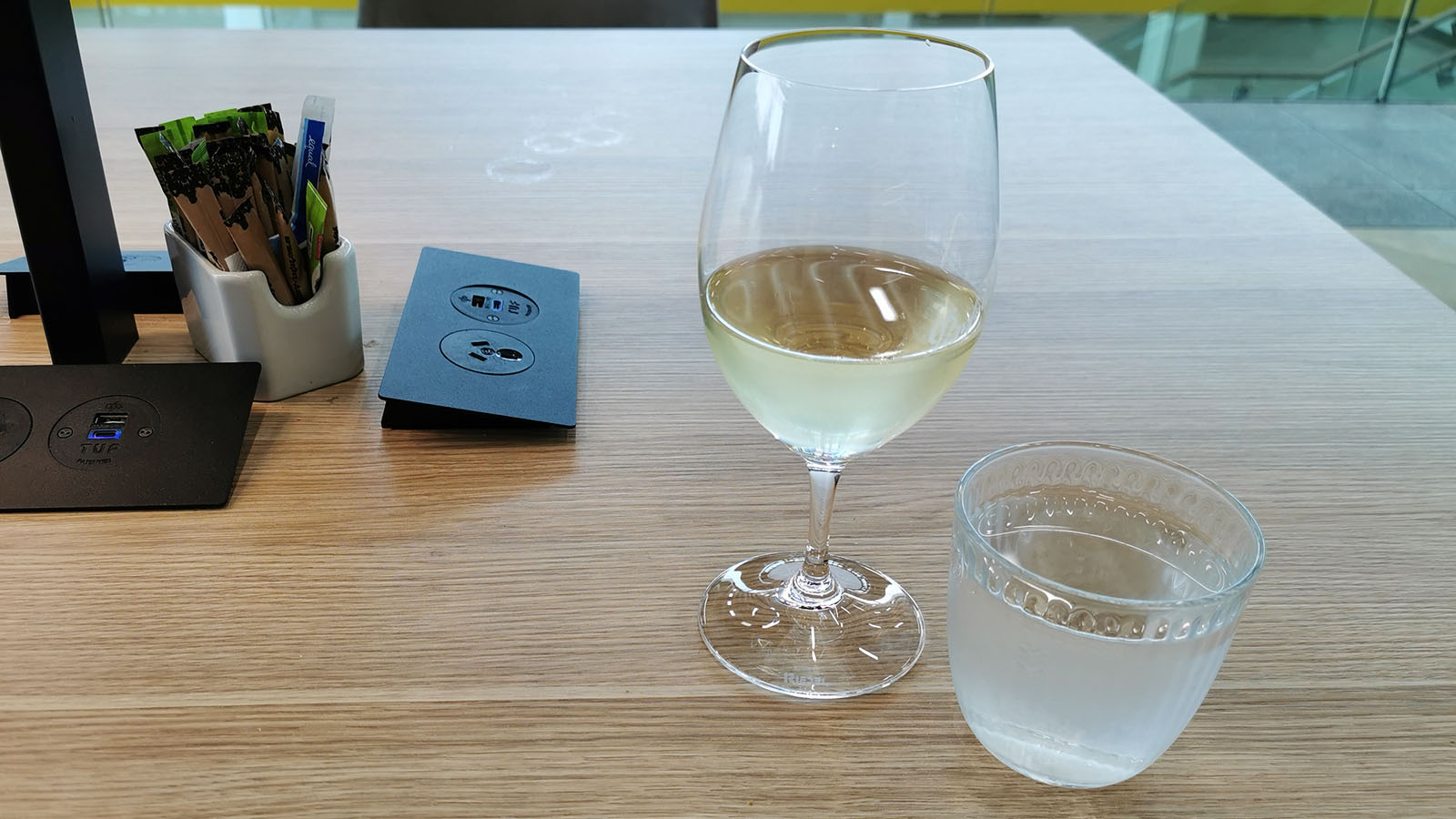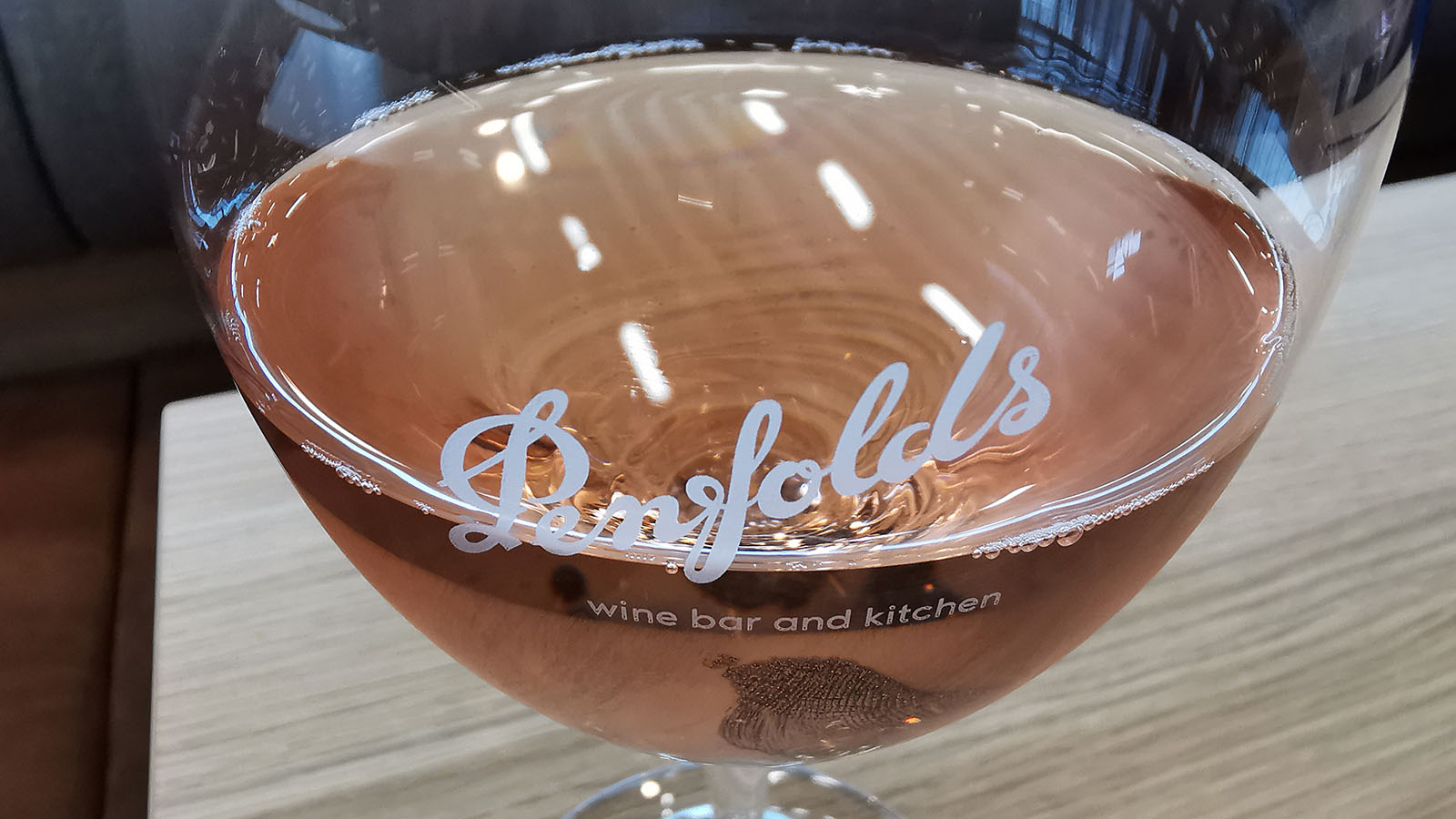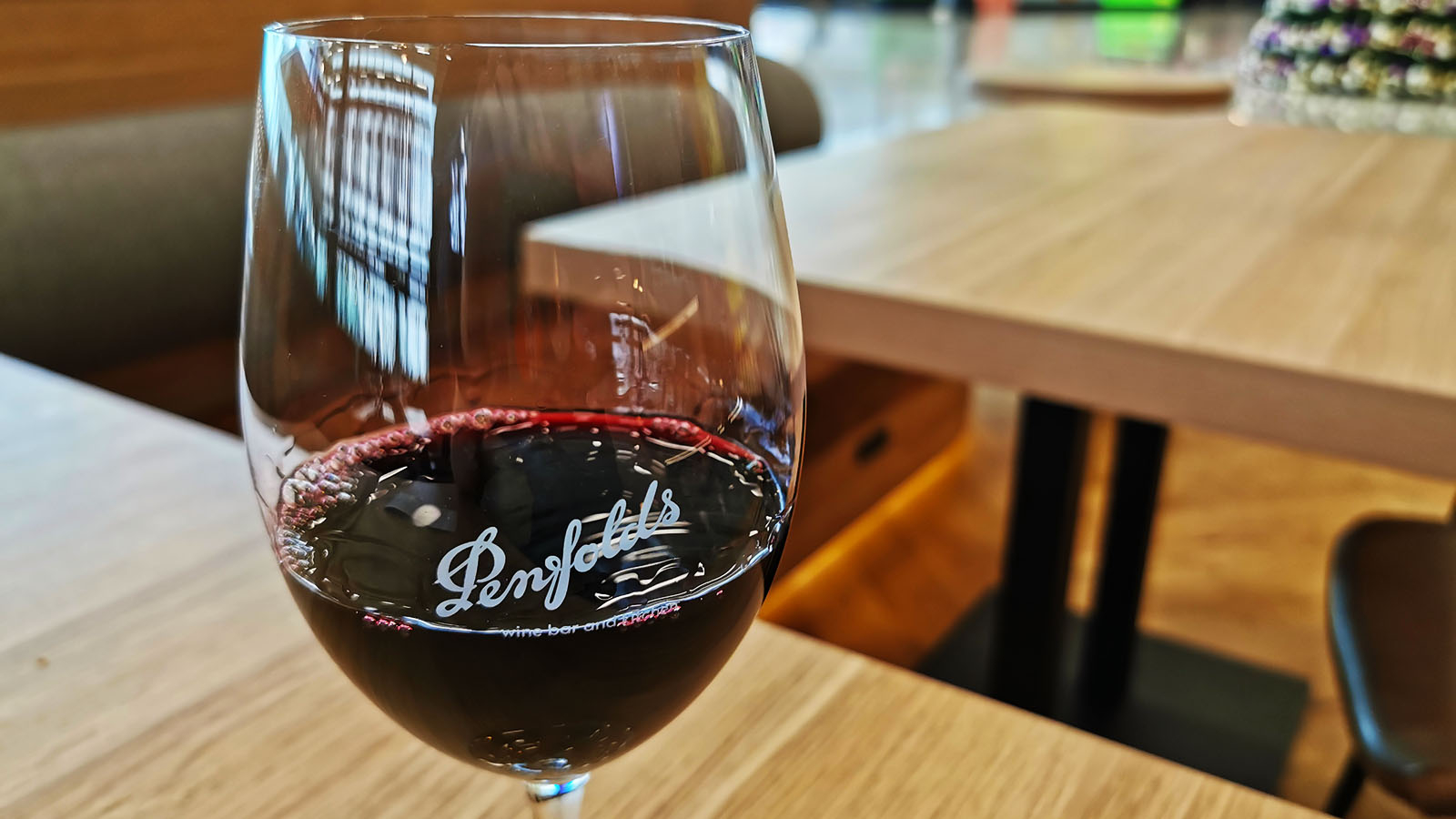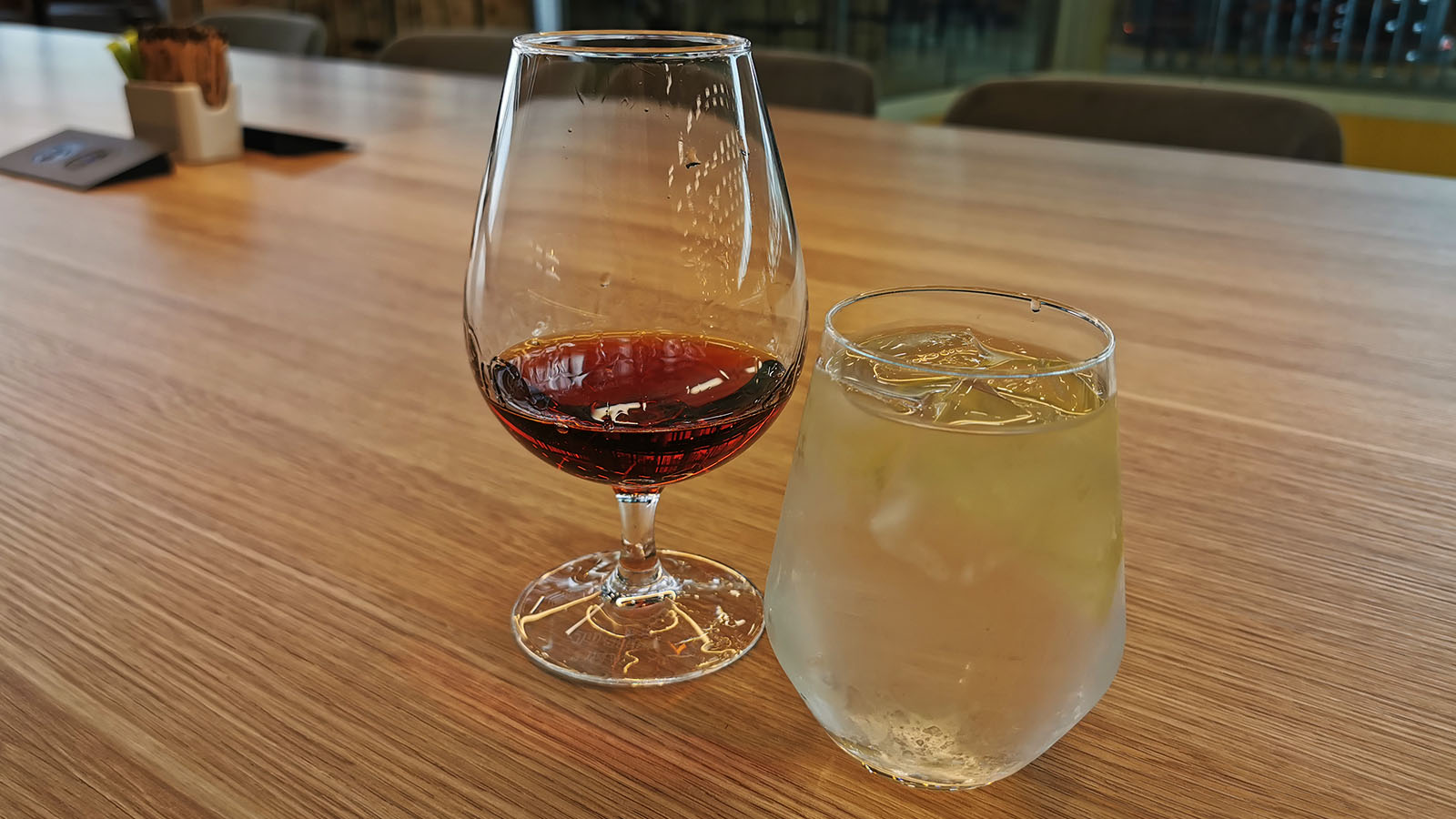 Two visits to the venue in the same week gave the opportunity to try five drops – two whites, a rosé, a red and a fortified.
Penfolds' white wines
This journey begins with a glass of the Penfolds Max's Chardonnay 2018.
Named as a tribute to the company's former Chief Winemaker Max Schubert, this Chardonnay strays more sophisticated than typically oaky. Think hints of lime and lemon, but balanced to avoid being bitter.
Next up, the Penfolds Koonunga Hill Autumn Riesling 2020.
Rieslings generally have a reputation for being sweet – and this beauty is no exception. It's firmly in 'apple' territory, with an undertone of mild citrus. The Riesling is great on its own, but would also pair well with the venue's salt and pepper squid.
Penfolds' Rosé wine
Also on my tasting list, Penfolds Max's Rosé 2021.
Not to be confused with a sparking Rosé, this rose gold tipple brings about an interesting sweetness. More subdued than the Riesling, subtle yet pleasant hints of berries carry through the nose and palate.
Penfolds' red and fortified wines
Moving onto the darker drops finds the Penfolds Bin 28 Shiraz 2019 next up.
As I begin to savour the Shiraz, the first note I make is "very, very drinkable". Tones of blackberry emerge, as does a whiff of coffee. This is a wine to drink if you like black jelly beans, as it's very much in that ballpark.
Finishing the series, the Penfolds Father Grand Tawny 10 Year.
Great to enjoy with the Hamilton Brie, this Grand Tawny is strong on the nose. At first, toffee, caramel and coffee take hold – but as you look closer, it moves more towards chocolate and aniseed.
Still, being a Penfolds venue, it's a shame that the Grandfather Rare Tawny isn't available by the glass – ditto the Grange.
Penfolds Wine Bar and Kitchen: summing up
For one last taste of South Australian wine before you depart, it's worth making time for Penfolds Wine Bar and Kitchen. If you're in a group and others don't enjoy wine, there's also a comprehensive list of beers, ciders, spirits and cocktails – and espresso coffee – to keep everybody happy.
It's certainly a different setup to tasting at Penfolds' Cellar Door. But when you've arrived early for your flight, it's a nice change of scenery from the lounges: and undoubtedly, with much better wine.
Photography by Chris Chamberlin, who travelled to Adelaide and dined at Point Hacks' expense. Selected images courtesy of Emirates Leisure Retail.
Planning a South Australian adventure? Also read:
Penfolds Wine Bar and Kitchen, Adelaide Airport
was last modified:
January 7th, 2022
by