As the only lounge at Melbourne Airport's Terminal 4, the Rex Lounge is one to keep in your back pocket.
Conveniently positioned for Rex's own flights, it's also in a handy spot for Priority Pass members. That card can get you through the door when flying with other airlines, too – including Jetstar, which is also under the same roof in T4.
Point Hacks stopped by on a recent journey through Melbourne Airport to bring you this review.
Location
Melbourne's Rex Lounge is tucked away from the crowds. But that's exactly what you want, right? Begin by zipping through security at Melbourne Airport's Terminal 4. With the latest CT baggage scanners, security is quick and easy given your laptop and aerosols stay inside your bags.
As well, you can pass Terminal 4 security to access the lounge even if you're flying from a different terminal. You'll just need to exit T4, make your way to that 'other' terminal and clear security again to reach your departure gate.
In any case, follow the signs through T4 and towards the departure gates. When the pathways split, take the escalator downstairs towards gates 30-33.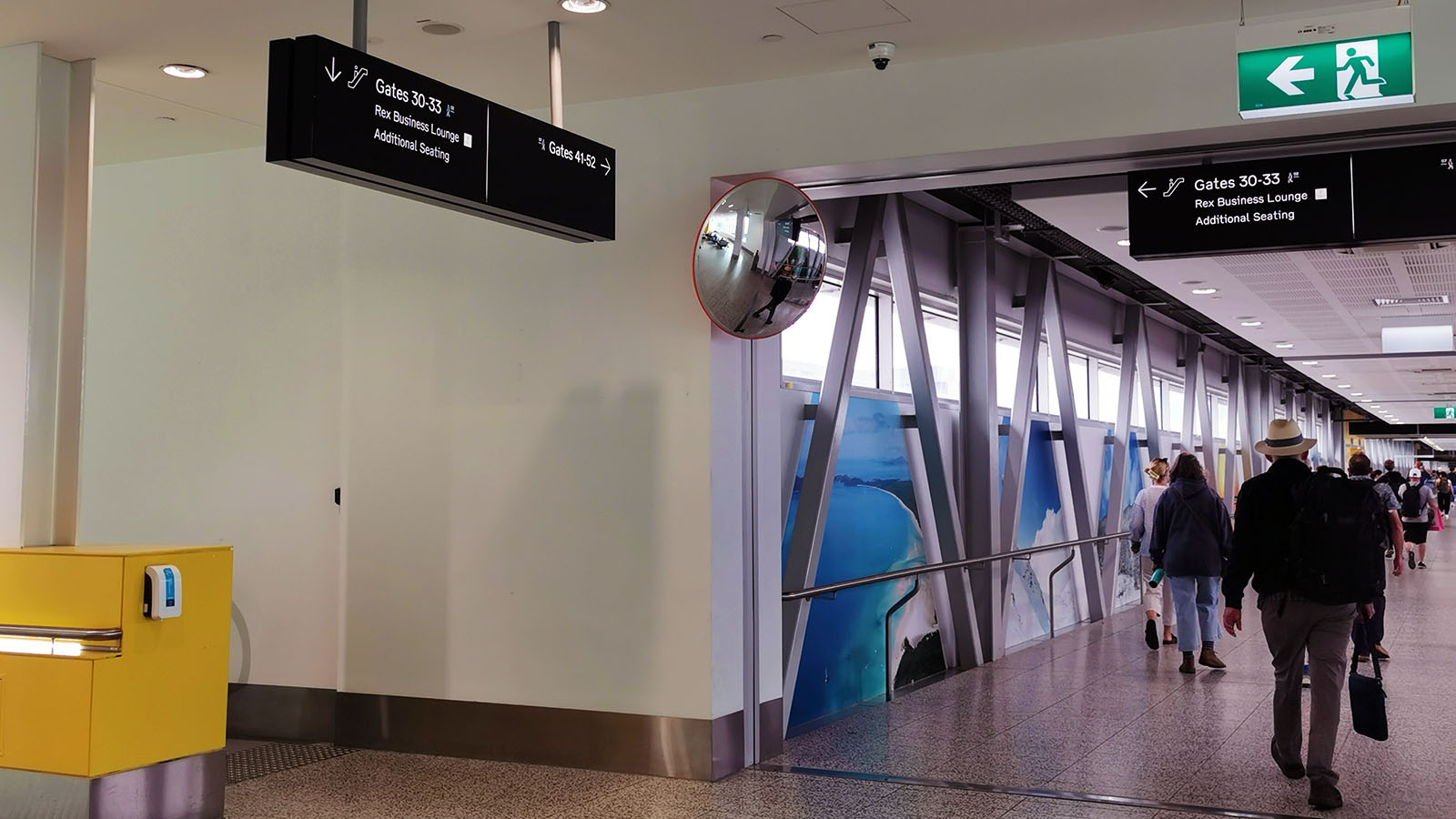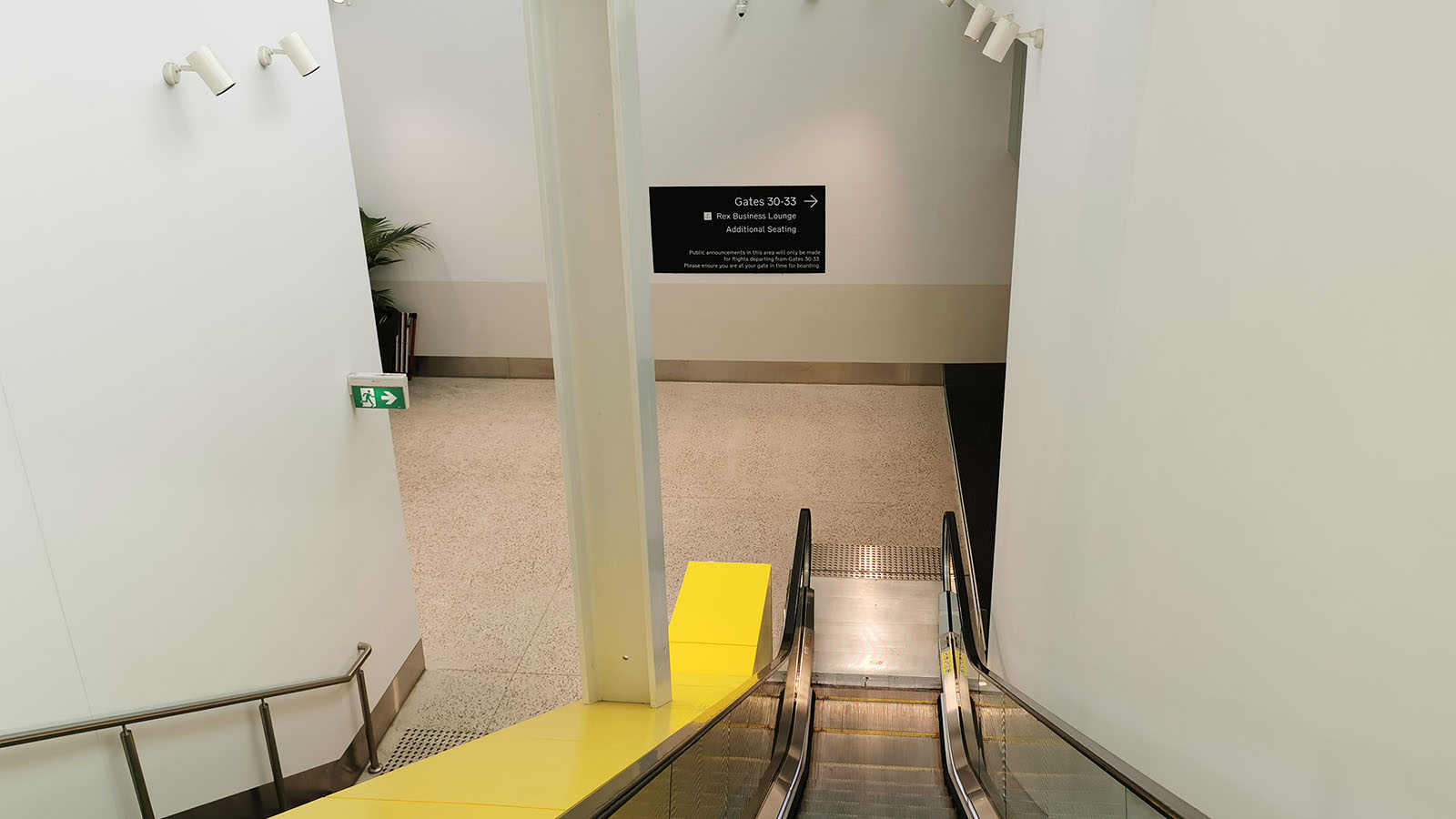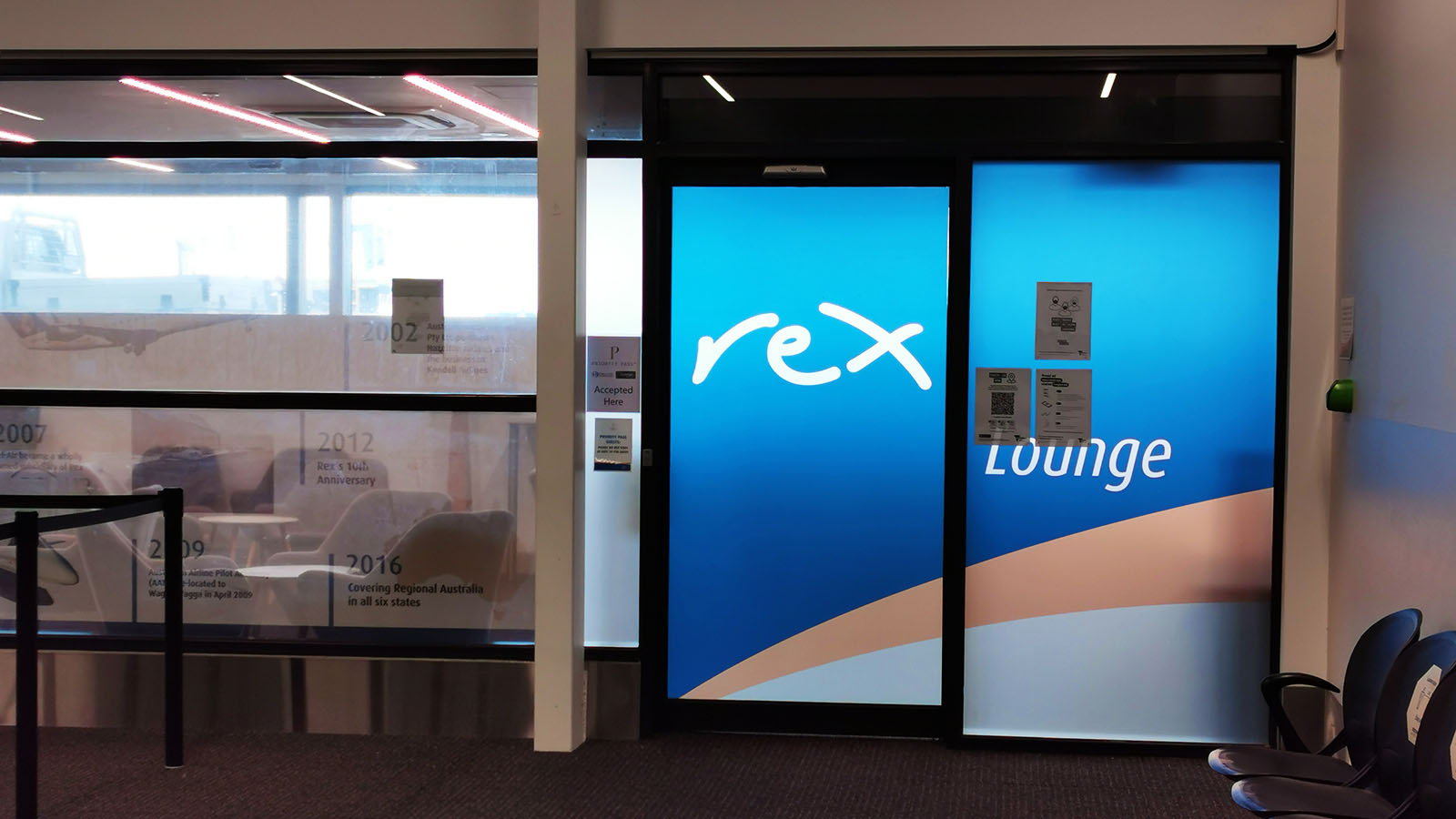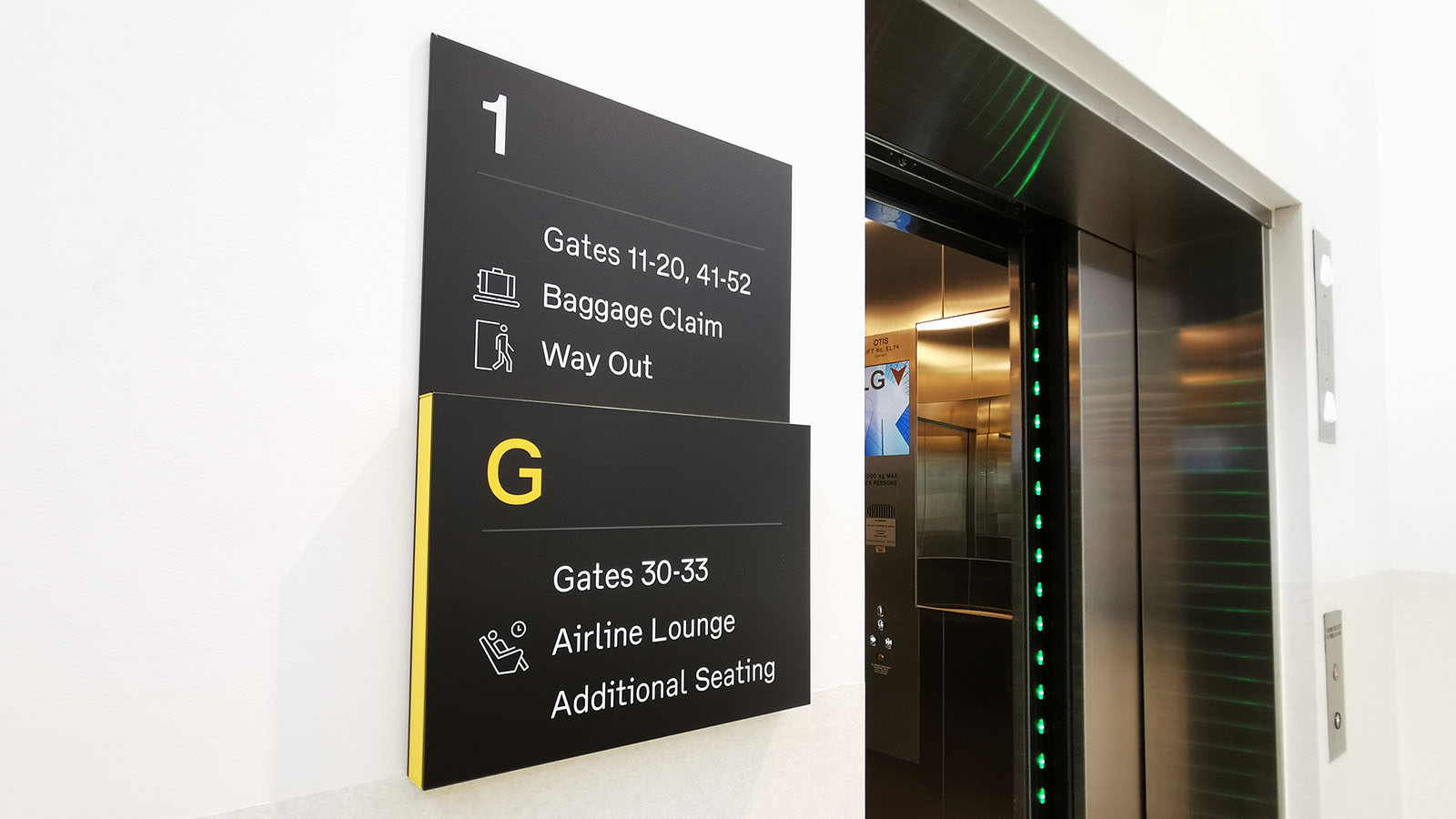 You'll spot the Rex Lounge in the far corner. The door stays locked, so just head to the Rex service counter nearby for access. Proof of full vaccination against COVID-19 is required for entry.
Melbourne's Rex Lounge opens seven days a week. On Saturdays, the hours are currently 6:30 am to 2:30 pm. On every other day, the lounge opens between 7:30 am and 7:30 pm.
Lounge layout and seating
Of the airline's trio of lounges – the others being in Sydney and Adelaide – Melbourne's Rex Lounge is pleasingly the newest.
Built during the redevelopment of Terminal 4 (previously the Domestic Express Terminal), it's a light and bright space. High-level windows along one side bring that light in, and offer a glimpse onto the tarmac.
While the lounge isn't large, it always seems big enough. Having made many visits over the years, I've never found it full.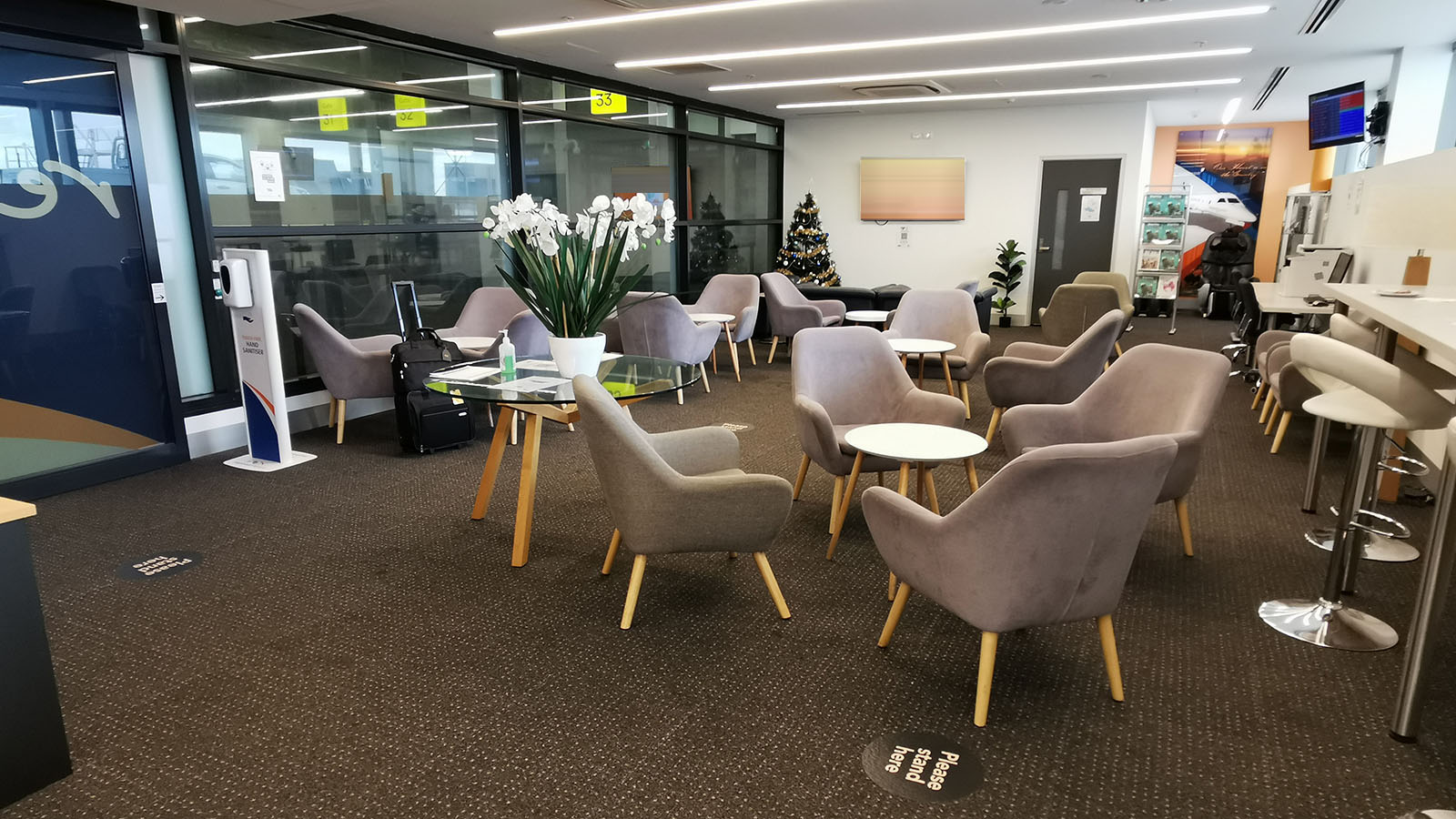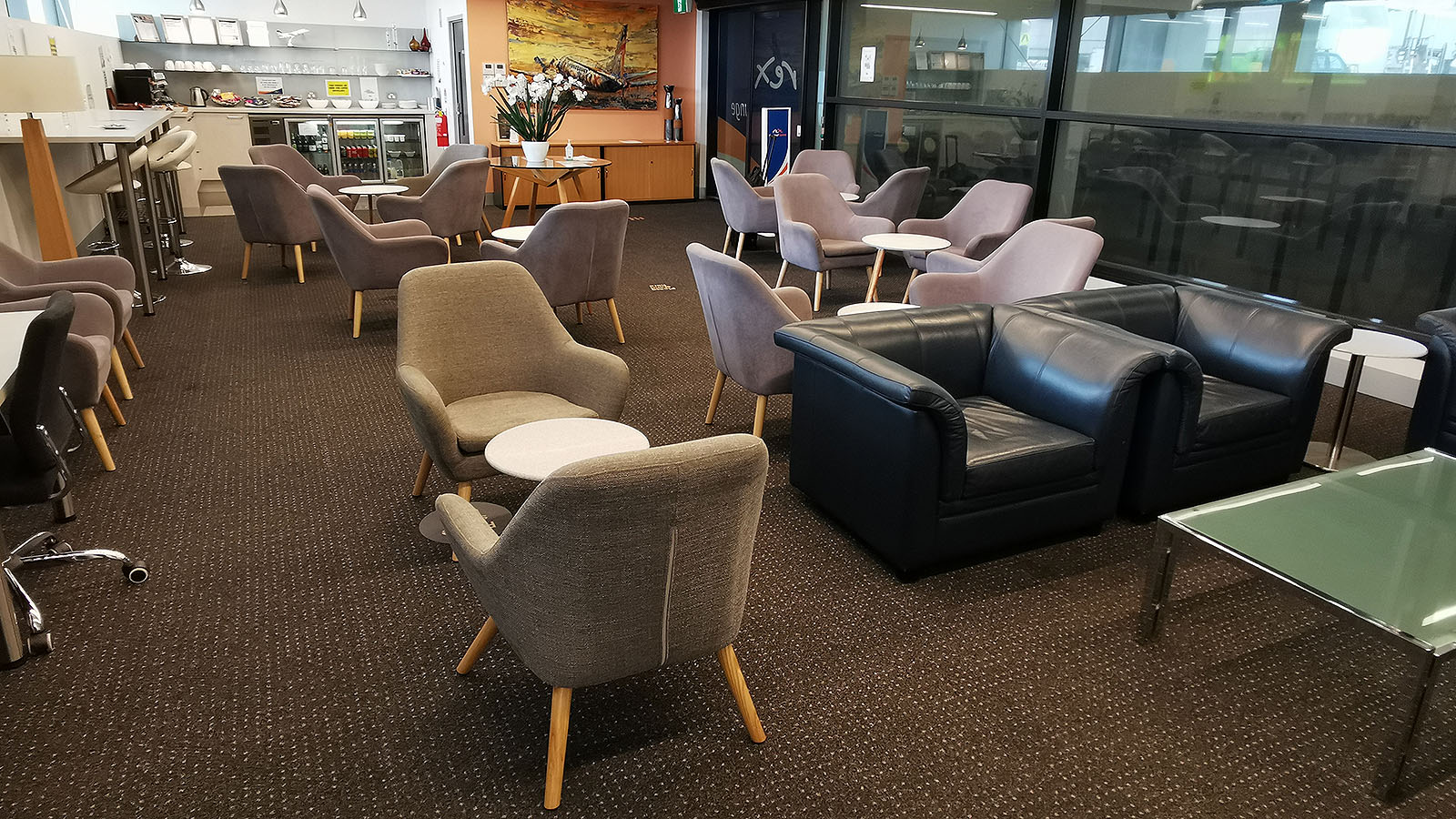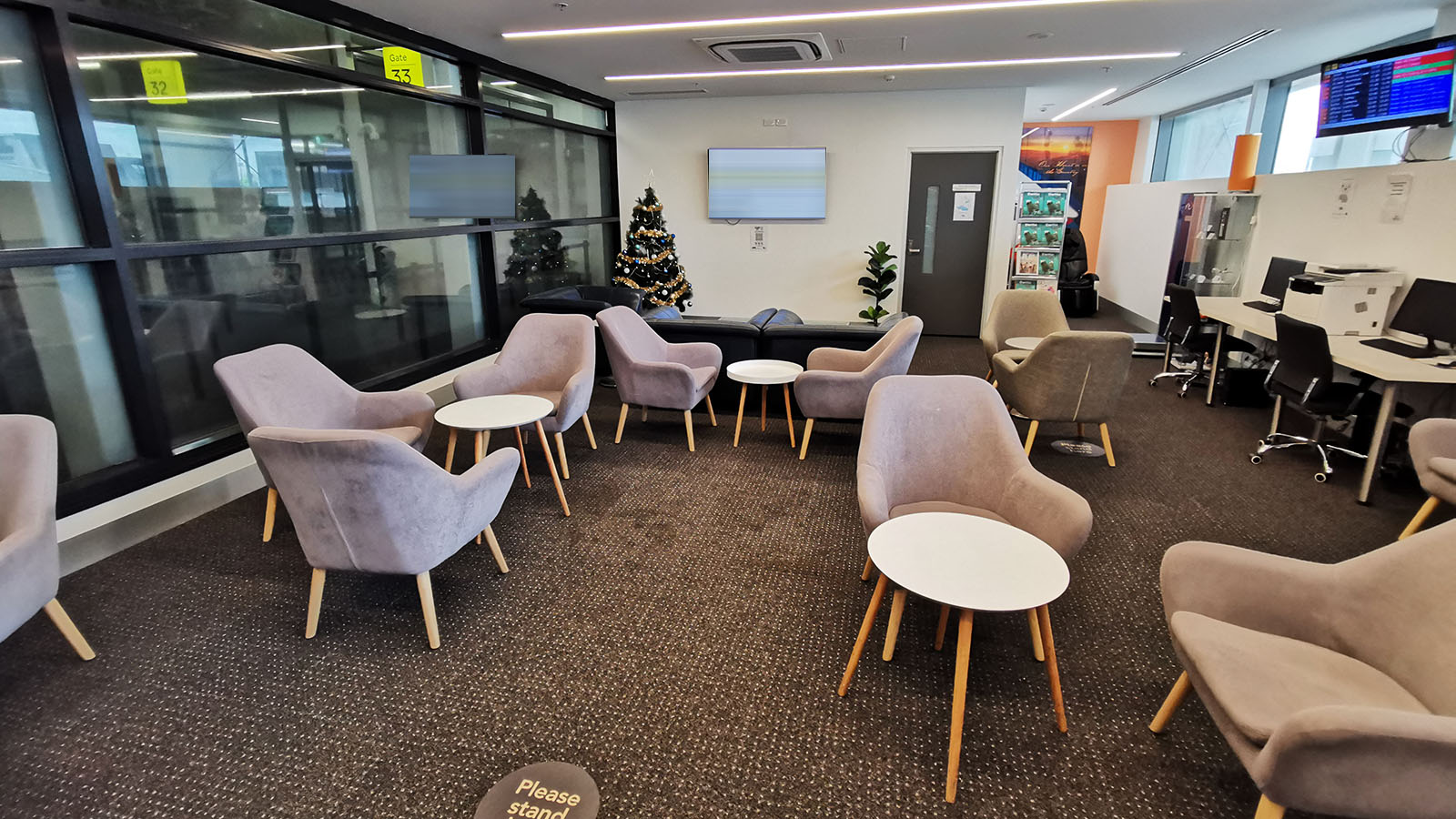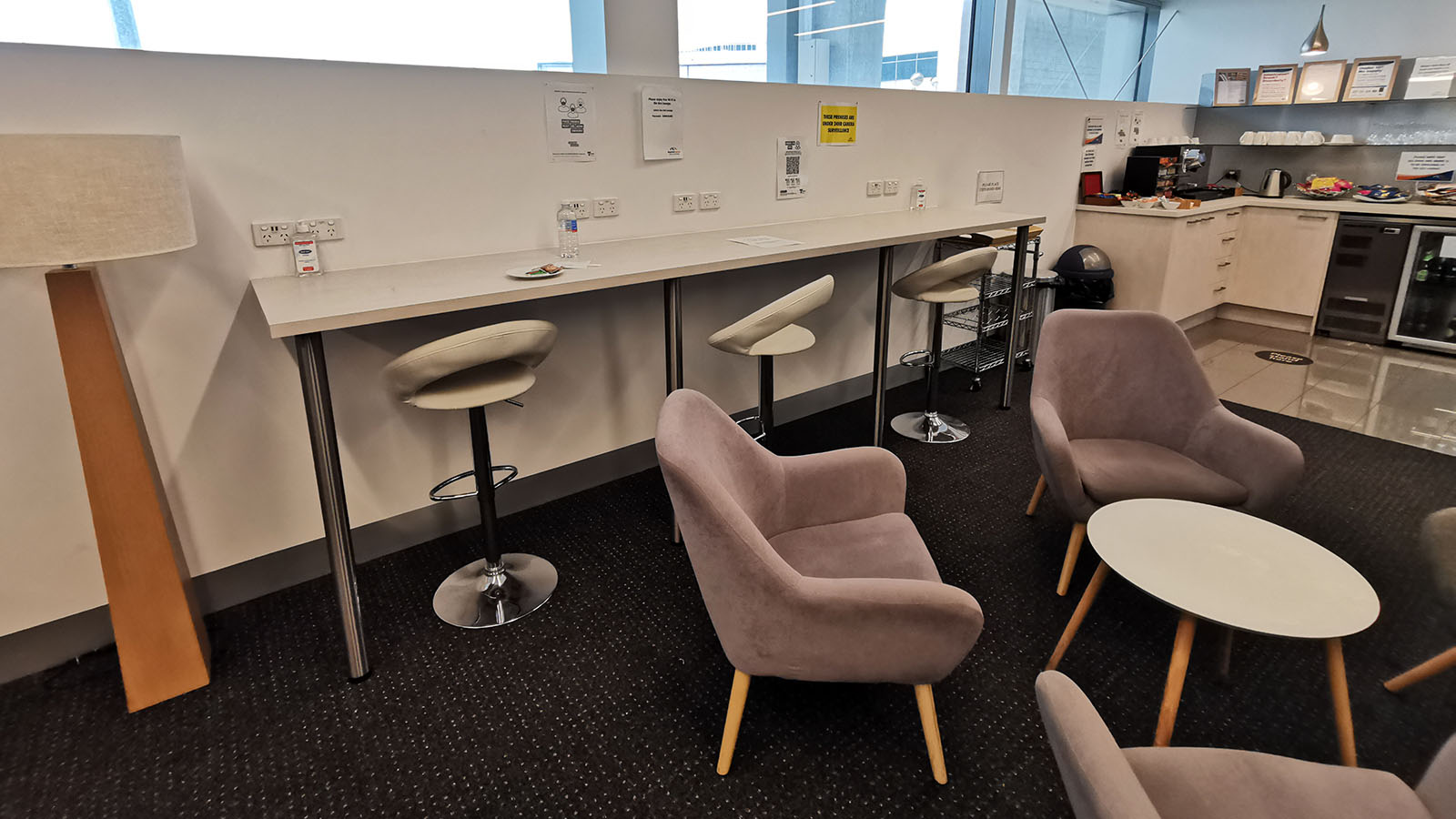 Your seating choices here boil down to three options.
An armchair aside a cocktail table – great for enjoying drinks and snacks.
A stool along the bench, where there's power and space to work.
The sofa in the corner, handiest for the TV.
Food and beverage in the Melbourne Rex Lounge
Melbourne's Rex Lounge is a simpler affair than in Sydney, with light snacks being the focus. Think cheese, crackers, chips, biscuits, yoghurts and cereal.
More substantial food options, such as sandwiches and wraps, aren't offered here.
On the beverage front, help yourself to water, juices, milk and soft drinks from the fridge. There's also a Nespresso machine with a variety of pods to choose from. Add to that, a kettle for a tea or hot chocolate.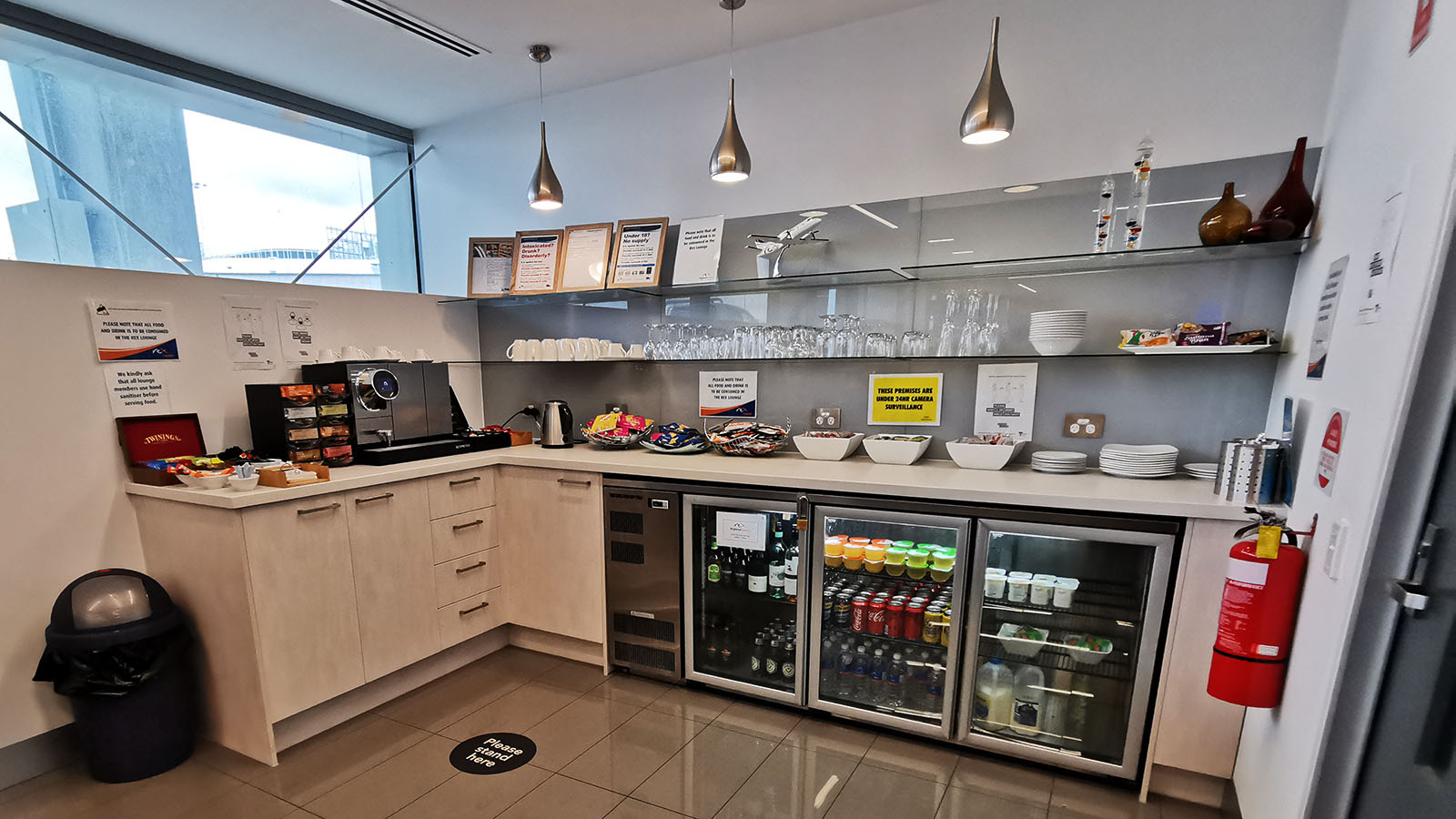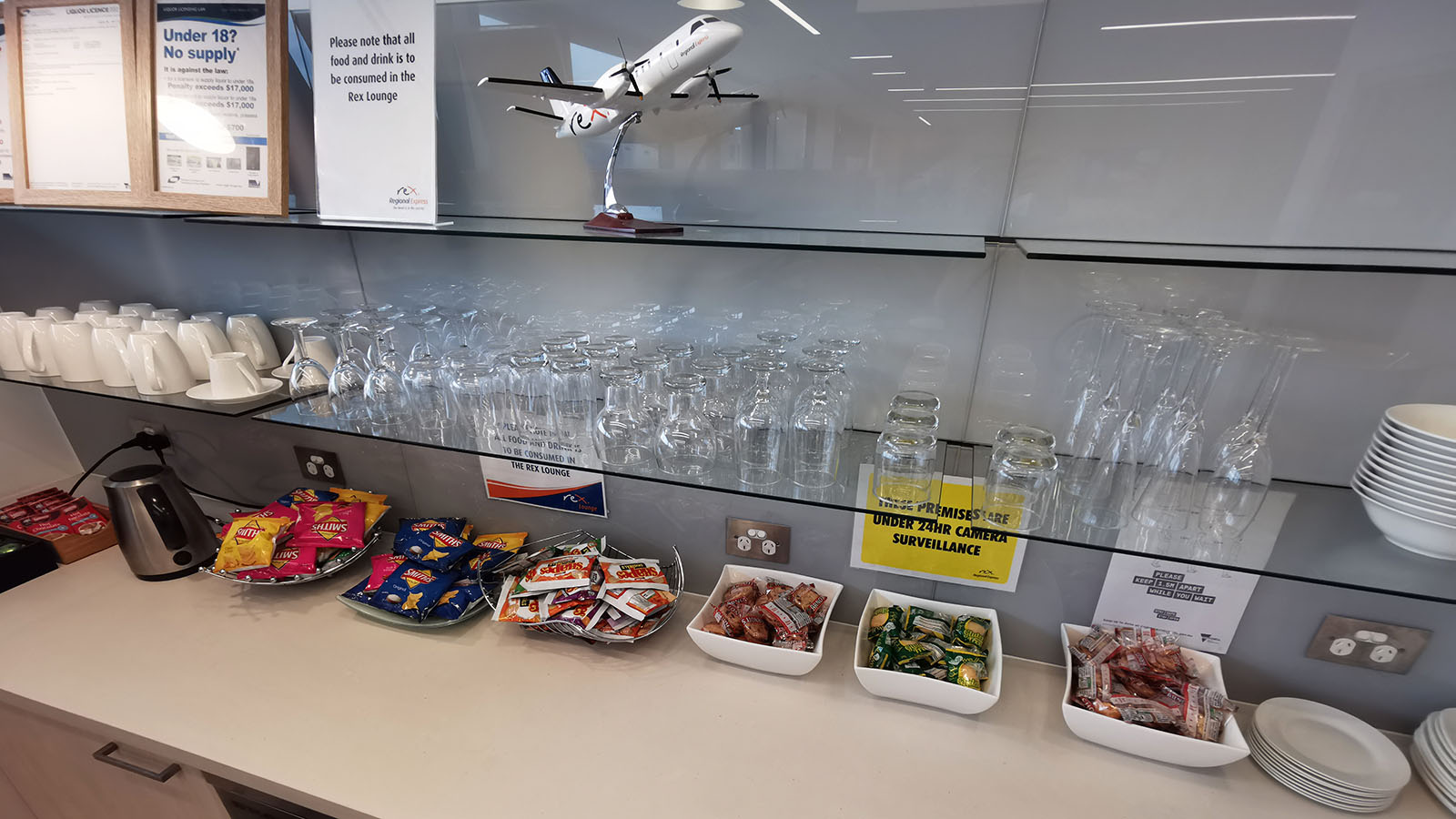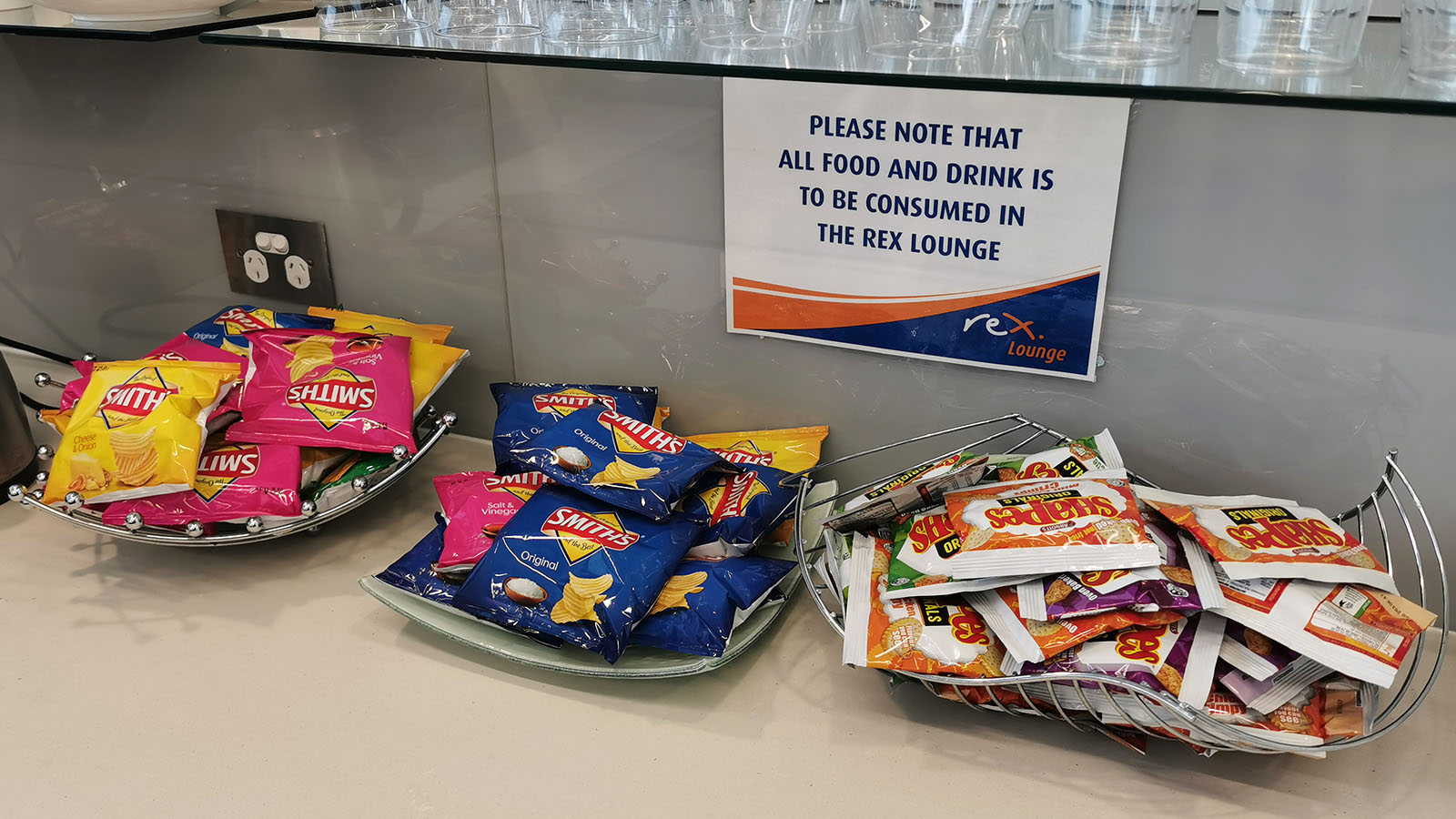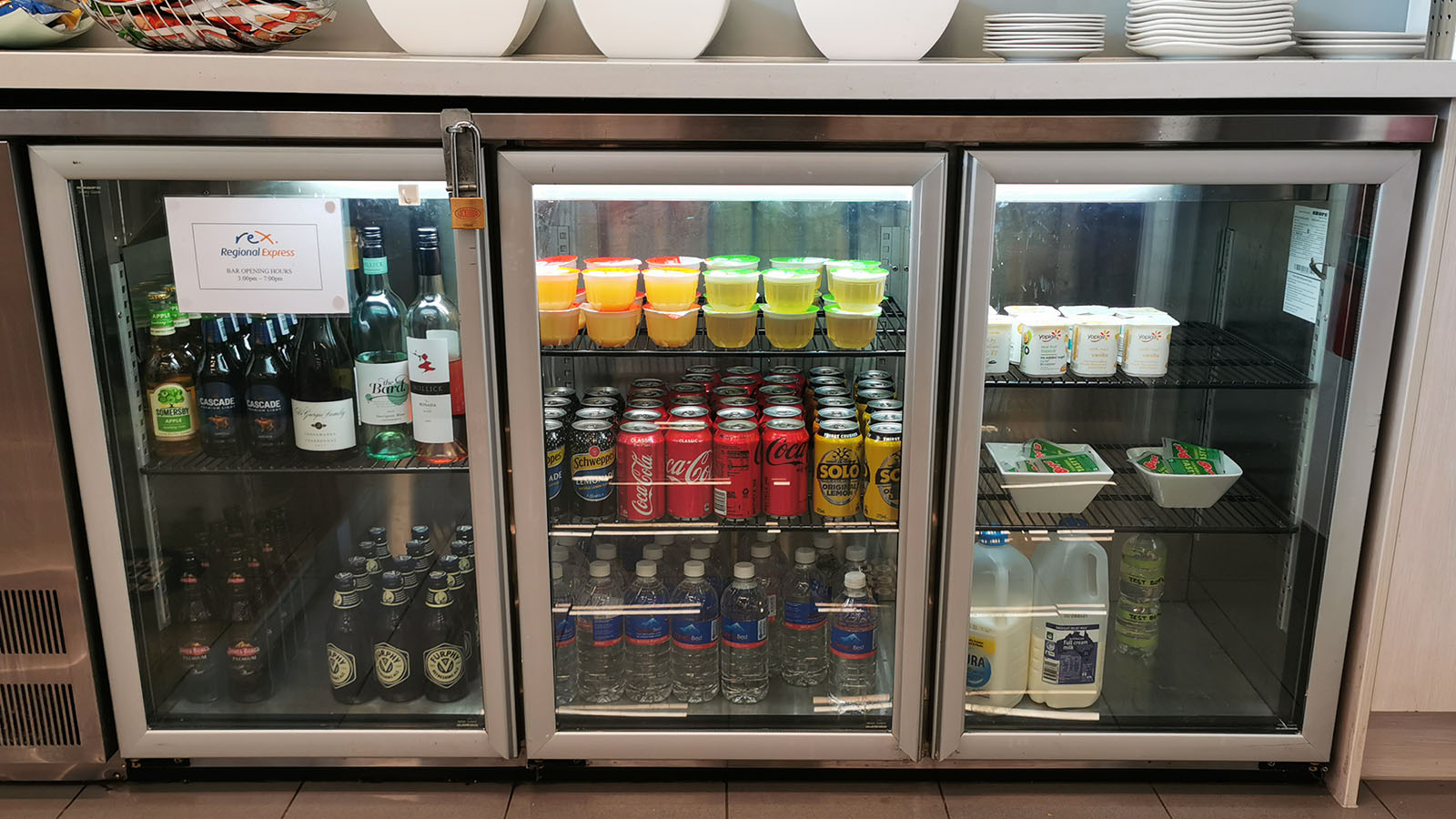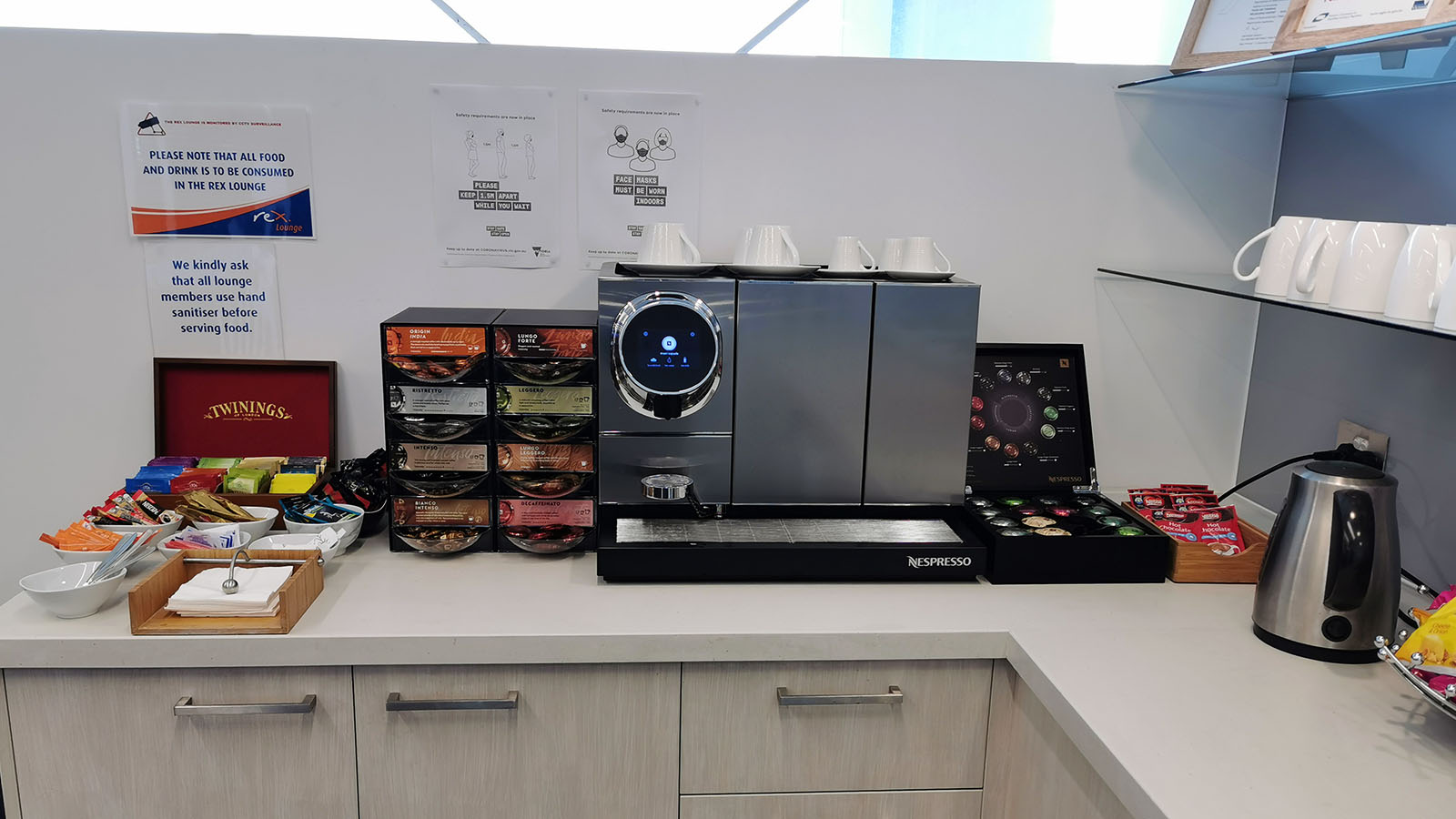 From 3 pm each day, alcohol is also complimentary. Expect white, rosé and red wine, as well as beer and cider.
Lounge amenities
If anything, the Rex Lounge in Melbourne feels more like an apartment than an airport. Beyond the cereal for breakfast and a homely kettle, artwork and objet d'art underscore that 'home away from home' vibe.
That's carried through the space with sofas and a TV corner at the far end. During this late December visit, Christmas decorations were also on display.
Just around the corner from there sit two massage chairs. I've always found the back massage feature relaxing, but the leg massage rather uncomfortable. Each to their own, of course!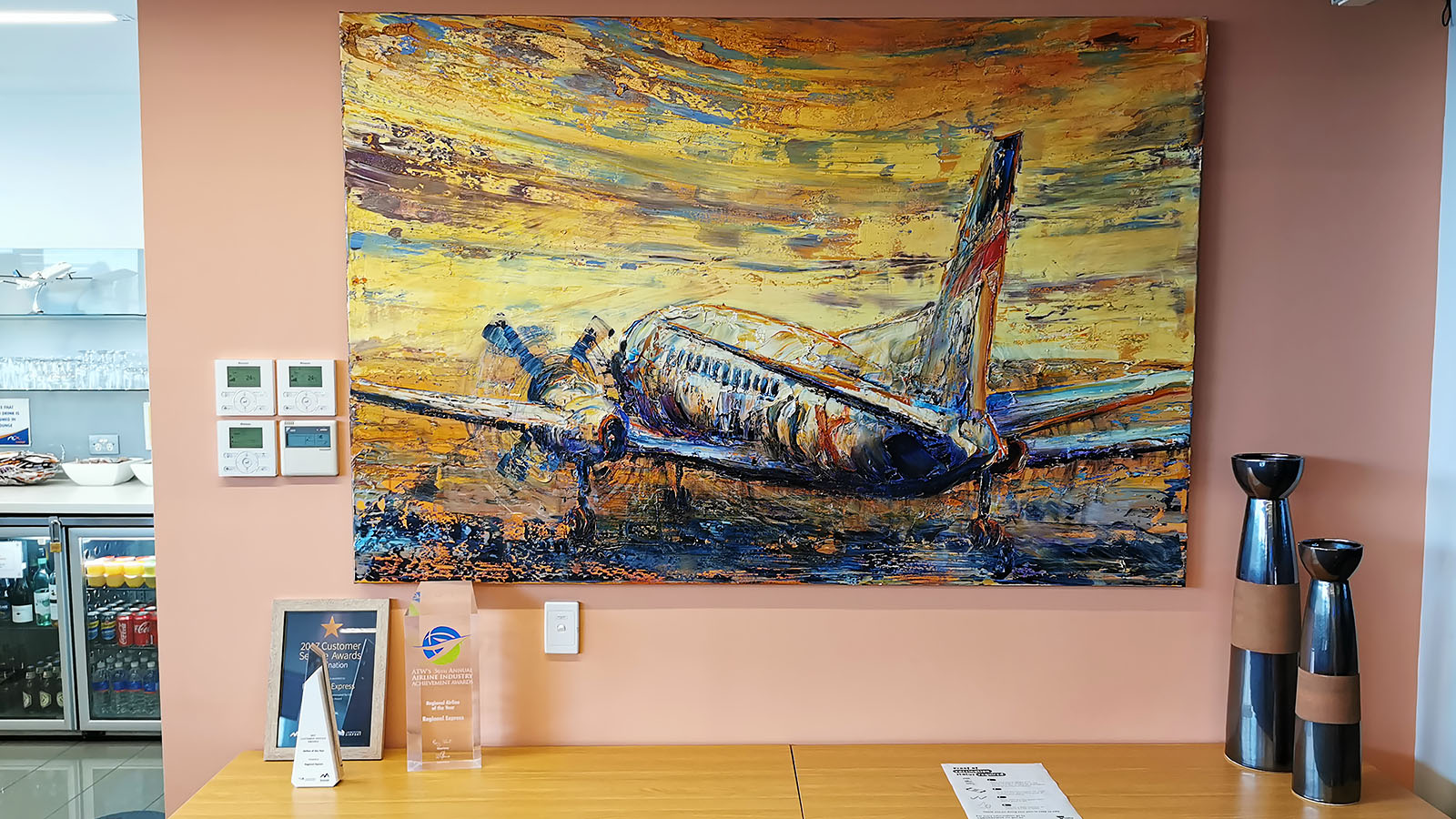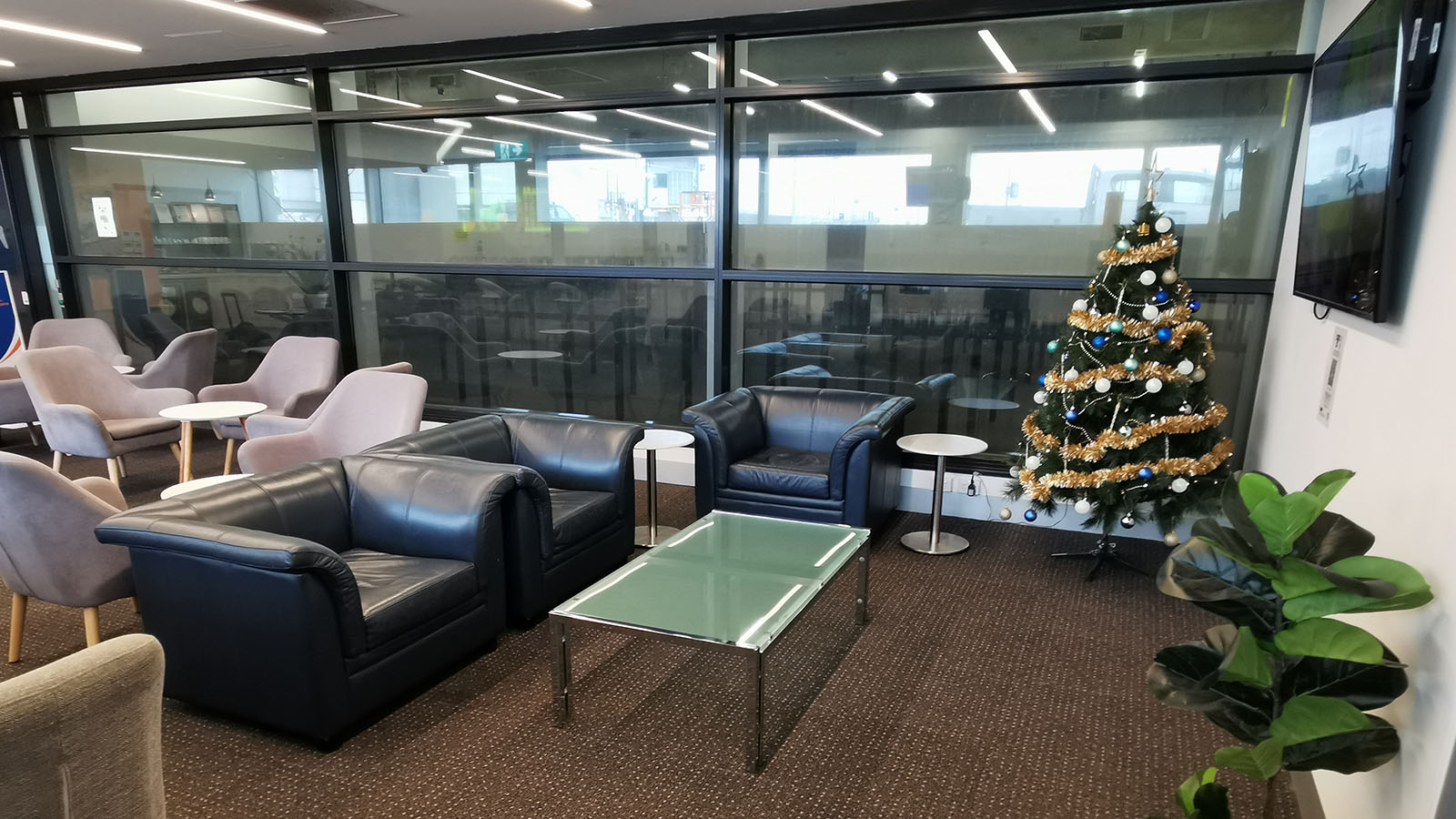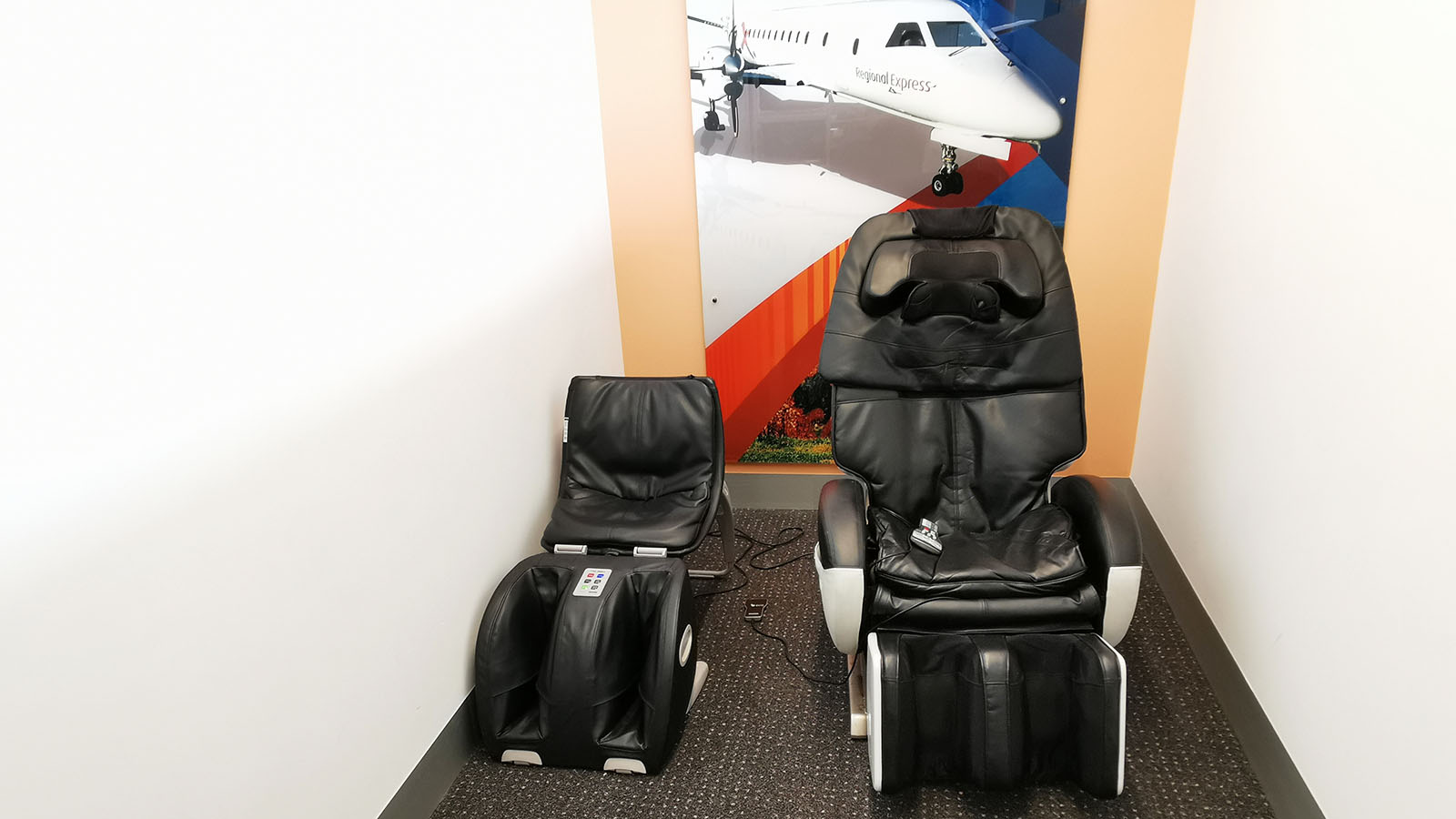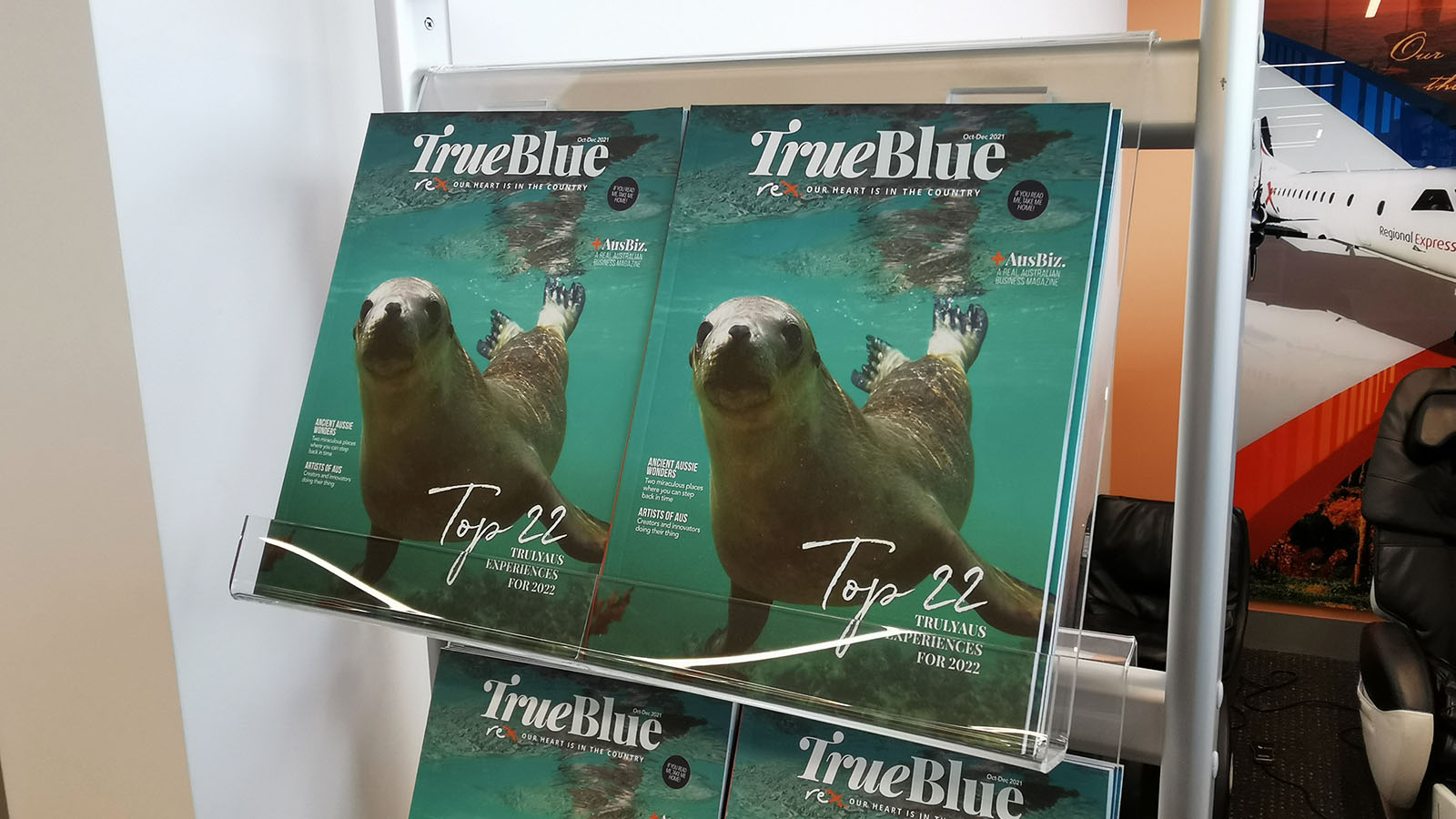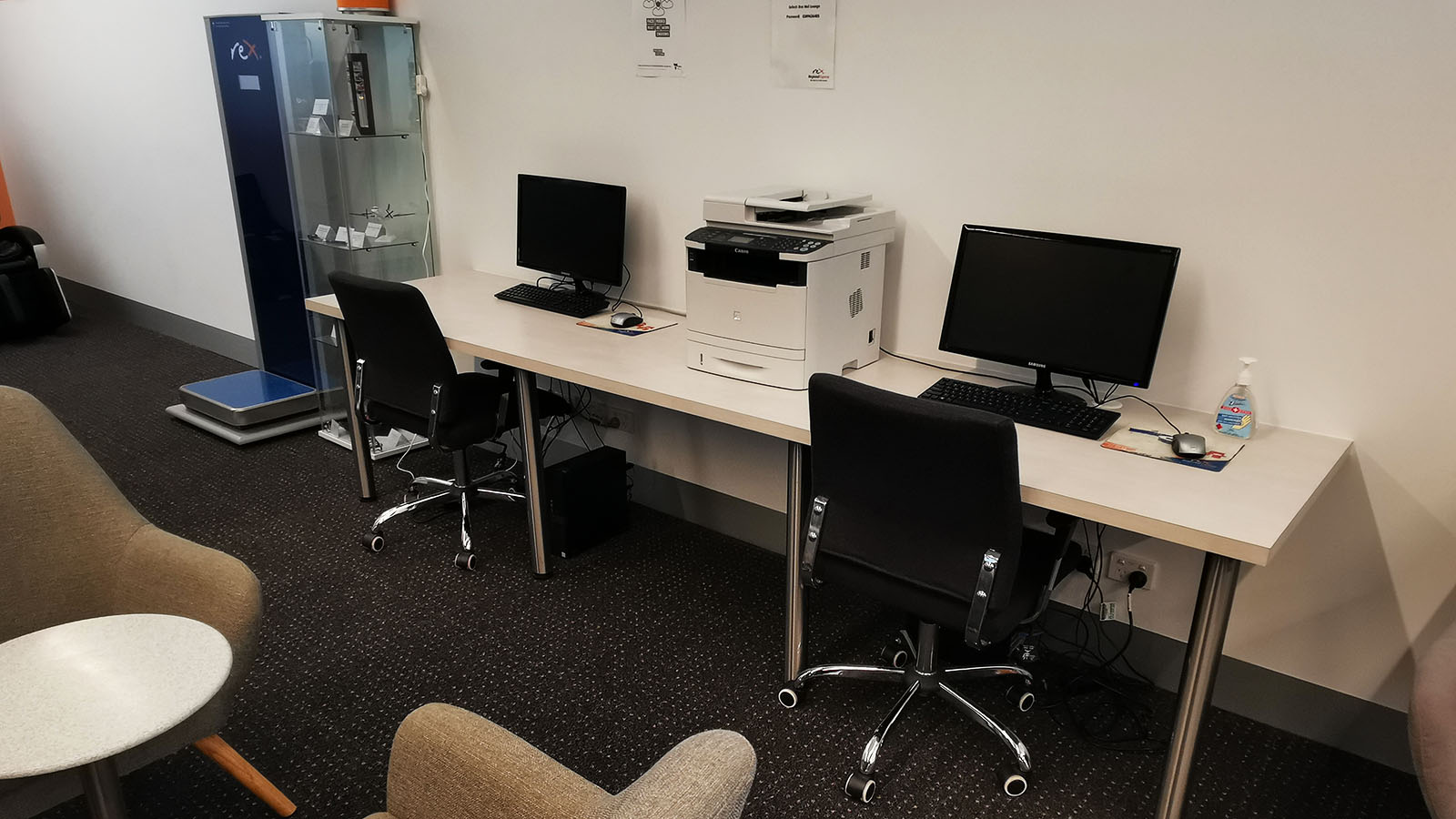 Rounding out the lounge are copies of the airline's inflight magazine, True Blue, as well as computers with printing facilities.
Most travellers would carry their own device, though. Connect that to the lounge's Wi-Fi network, and expect download speeds of about 2.5Mbps, and uploads of 0.83Mbps.
That's comparable with the speeds you might get on inflight Wi-Fi – but of course, you're on the ground at Australia's second busiest airport. Tethering to your own device's mobile data connection is generally the way to go here.
Accessing the Melbourne Rex Lounge
Of all the lounges at Melbourne Airport, the Rex Lounge is perhaps the easiest to access. In many cases, you don't even need to be flying with Regional Express to get through the door.
Here are the many ways you can enter.
Rex Lounge access when flying any airline:
The cards above are those that provide access regardless of which airline you've booked. Certainly, that could be Rex. But you could also stop by with a boarding pass on the likes of Virgin Australia or Jetstar.
Speaking of Jetstar, the Rex Lounge is a great alternative to Melbourne's Qantas Club or Qantas Business Lounge. That's because Jetstar flights depart from here in Terminal 4. While you may otherwise qualify for Qantas lounge access, those facilities are in Terminal 1, at the opposite end of the airport.
Unless you've arrived super early, a quick visit to the Rex Lounge could be all you need before a Jetstar flight. It's less of a hassle if you're booked on Virgin Australia, which uses Terminal 3 next door.
Just note, if you're planning to use a Diners Club card for entry, check first whether lounge visits are included on your account. Although many Australian cardholders get these for free, Linked Diners Club Cards issued via Citibank don't make the cut.
Rex Lounge access when flying Rex:
Passengers booked on Rex Business Class to any destination.
Rex Lounge annual members.
Casual lounge guests – available between 9 am and 2 pm on weekdays, and all day on weekends.

One-off access costs $16.50 on Rex Flex fares, or $33 on Saver tickets.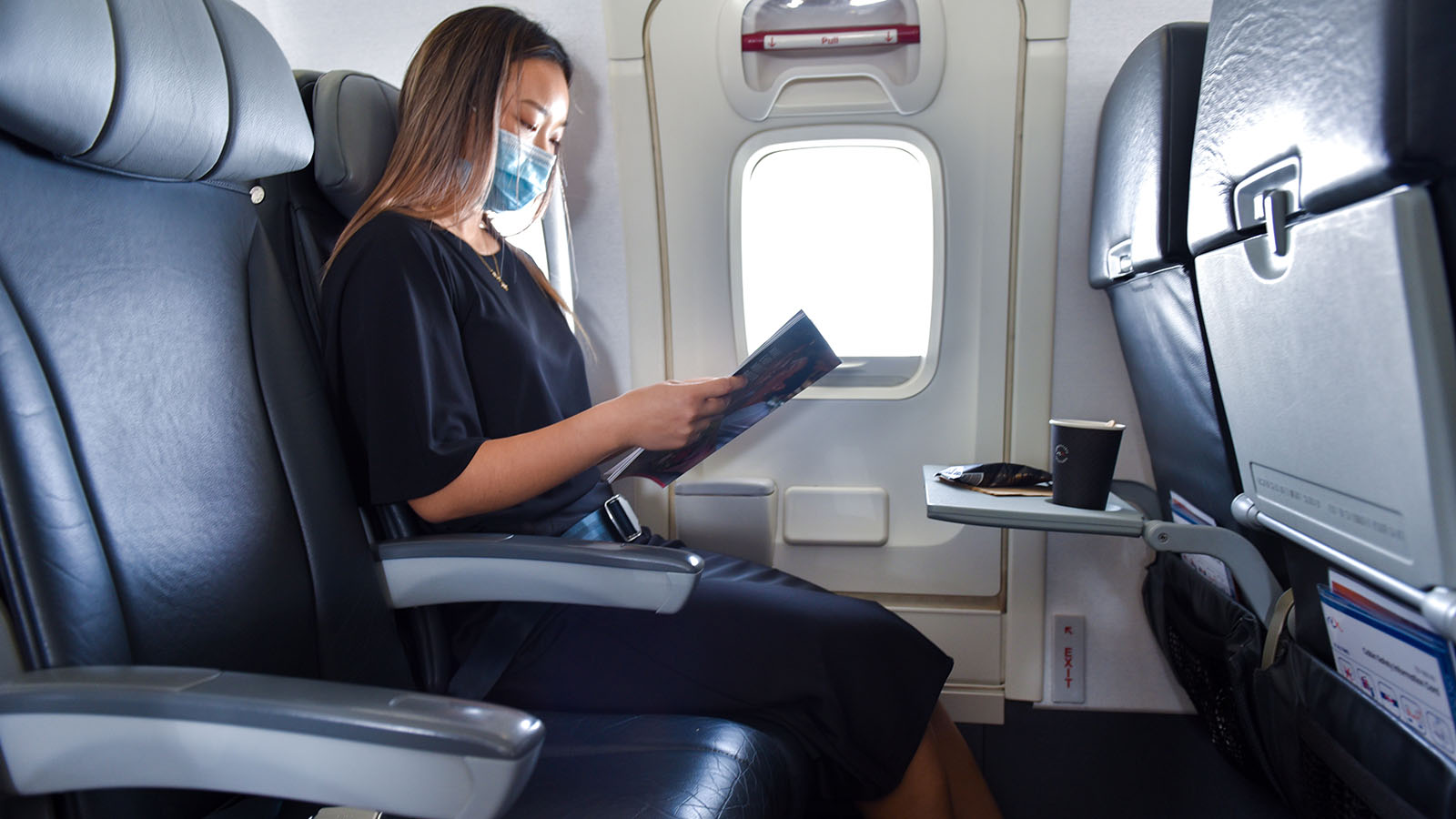 You can't pay for access when travelling on other Rex fare types, or when flying with other airlines. That's where one of the cards above, such as Priority Pass, are a great accompaniment to your journey.
Summing up
As the only lounge in Melbourne Airport's Terminal 4, the Rex Lounge is ideal when that's where you're travelling from. That's true whether you're booked aboard Rex, or another airline as a Priority Pass member.
Certainly, the Rex Lounge isn't in the same league as the airport's rival Qantas and Virgin Australia lounges. But with a location tailored to regional and lower-cost flyers, it doesn't need to be.
With enough space to work and relax, and refreshments to keep you going, it's a decent pit stop before it's time to depart.
Photography by Chris Chamberlin, who travelled to Melbourne at Point Hacks' expense.
Rex Lounge, Melbourne
was last modified:
January 14th, 2022
by