'Welcome back!' It's a term us frequent flyers often hear on every trip – but today, we're extending that same greeting to Melbourne's Qantas Club lounge.
As Australia's domestic border restrictions come down, passenger numbers are starting to pick up. So much so, that Qantas is back running three domestic lounges at Melbourne Airport. Here's a glimpse at what awaits in the city's Qantas Club.
Location
Once you're finished with the airport formalities, veer right as you exit the Terminal 1 security checkpoint. The Qantas lounge lobby then comes up quickly on the left-hand side.
Ascend the escalator, and complete the obligatory Service Victoria check-in (via Android or iOS). As with other hospitality venues in Victoria, only those fully vaccinated against COVID-19 can enter. You'll make your departure smoother – as well as your time in Victoria – by linking your vaccination status with the app.
After a quick scan of your boarding pass or frequent flyer card at Melbourne's Qantas Club reception, you'll then be good to go.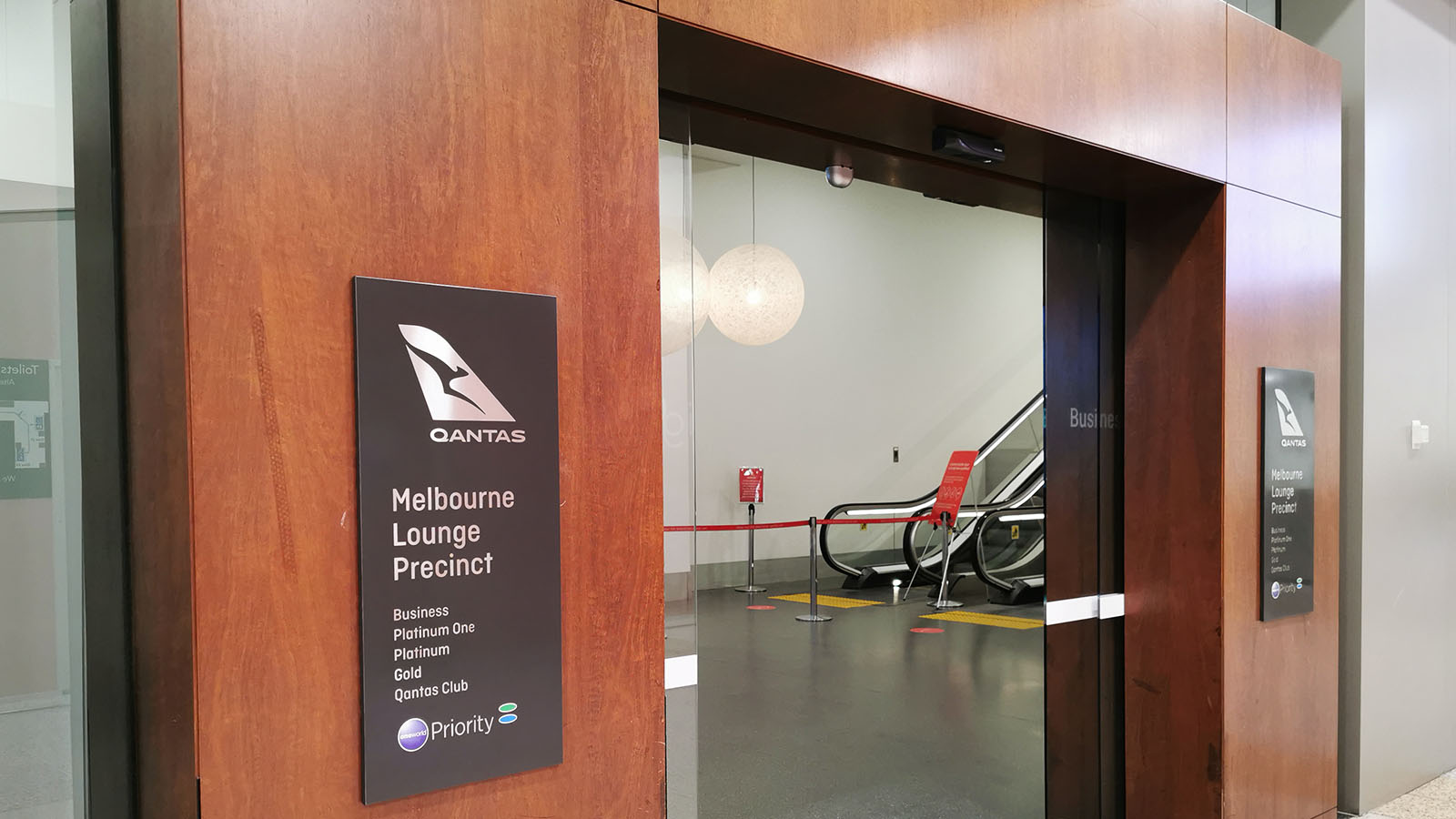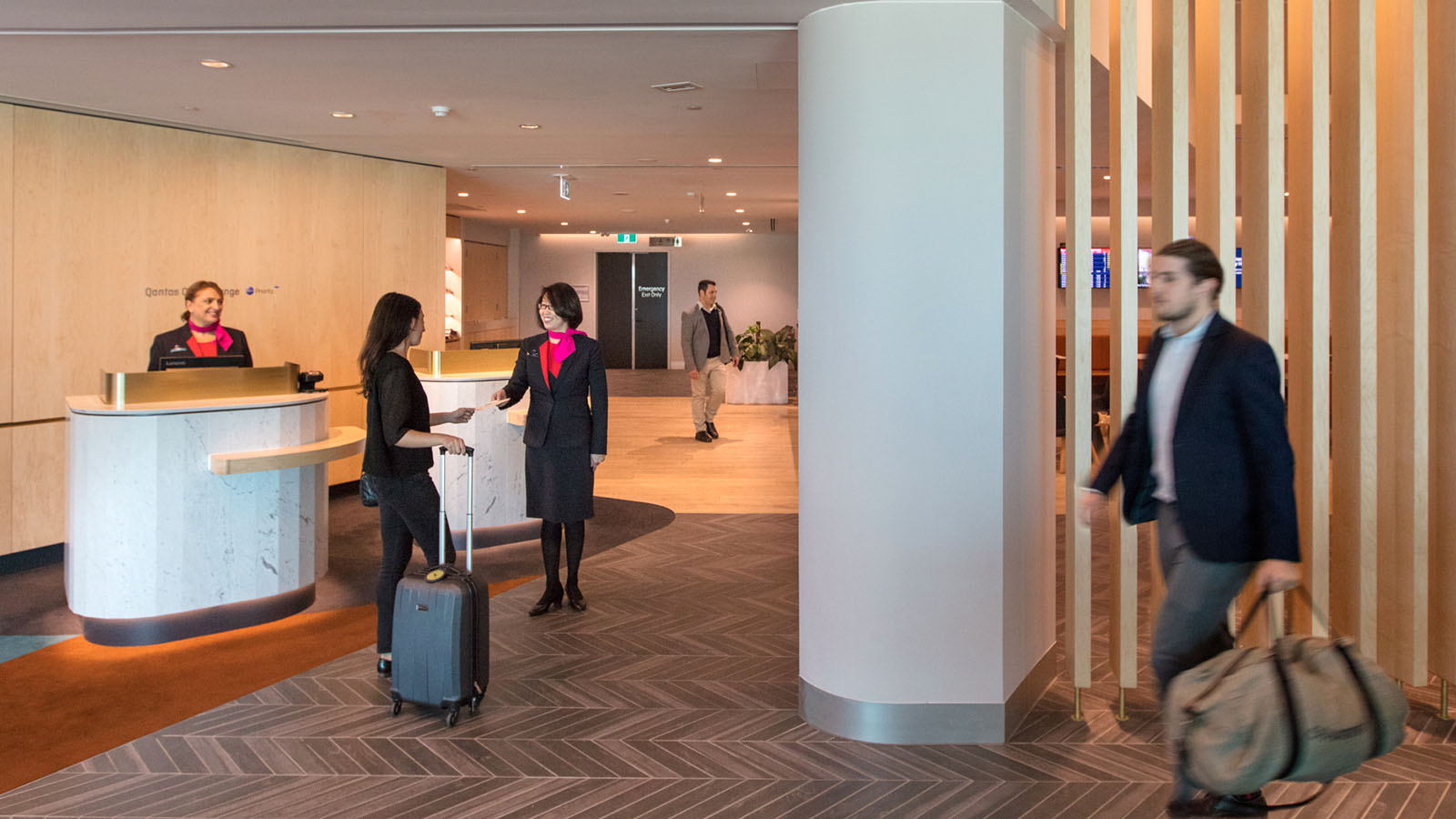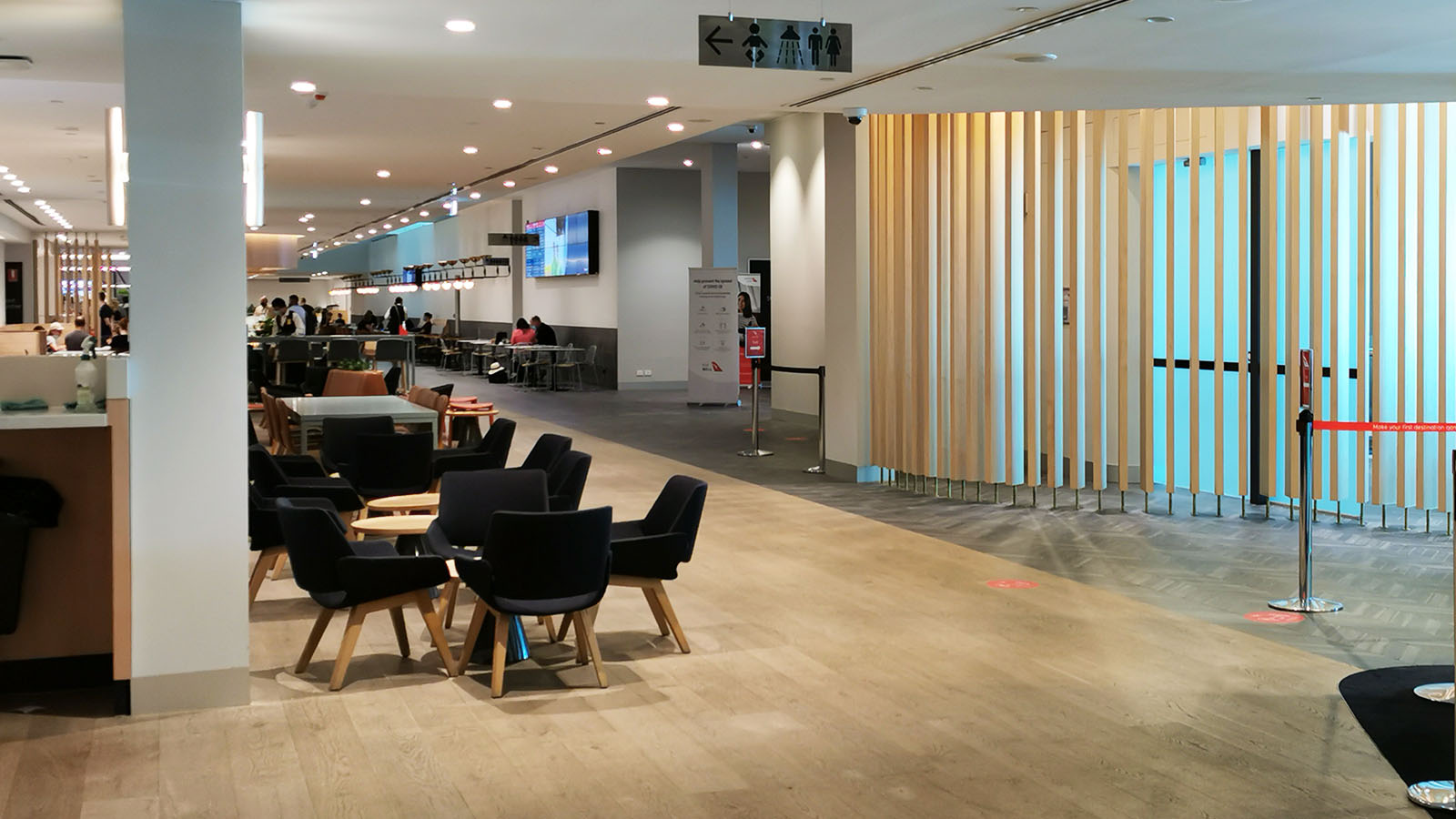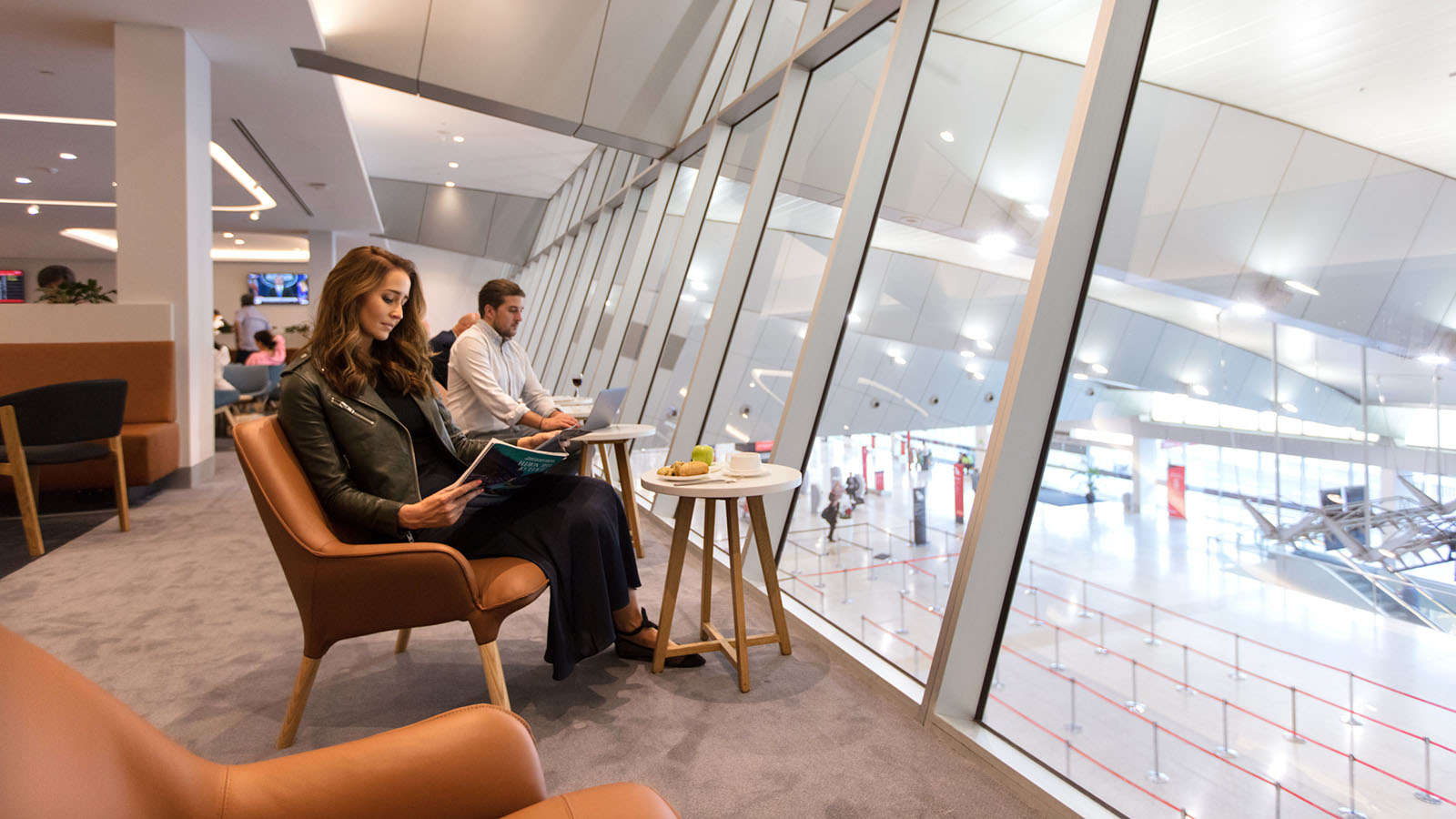 Inside, the floor plan of the redesigned lounge represents an extended rectangle. Years back, the Qantas Club had airport views – but now, you overlook check-in instead.
If you arrive and the Qantas Club is closed, you'll be welcomed in the nearby Qantas Business Lounge instead. That's true even if you'd normally only qualify for the Qantas Club. Generally, this only happens during off-peak times – after 3 pm on a Sunday afternoon, for example.
Lounge layout and seating
The shape of Melbourne's Qantas Club makes it easy to split the space into a variety of zones.
Tucked away behind reception sits a small TV and relaxation room. Nearby, a collection of 'short stay' seats – perfect if you're just waiting for staff to process a flight change and head off for boarding. Making your way through the lounge discovers a broader array of seating choices.
Set up at a table for meals or laptop work, or get comfortable at the island seats.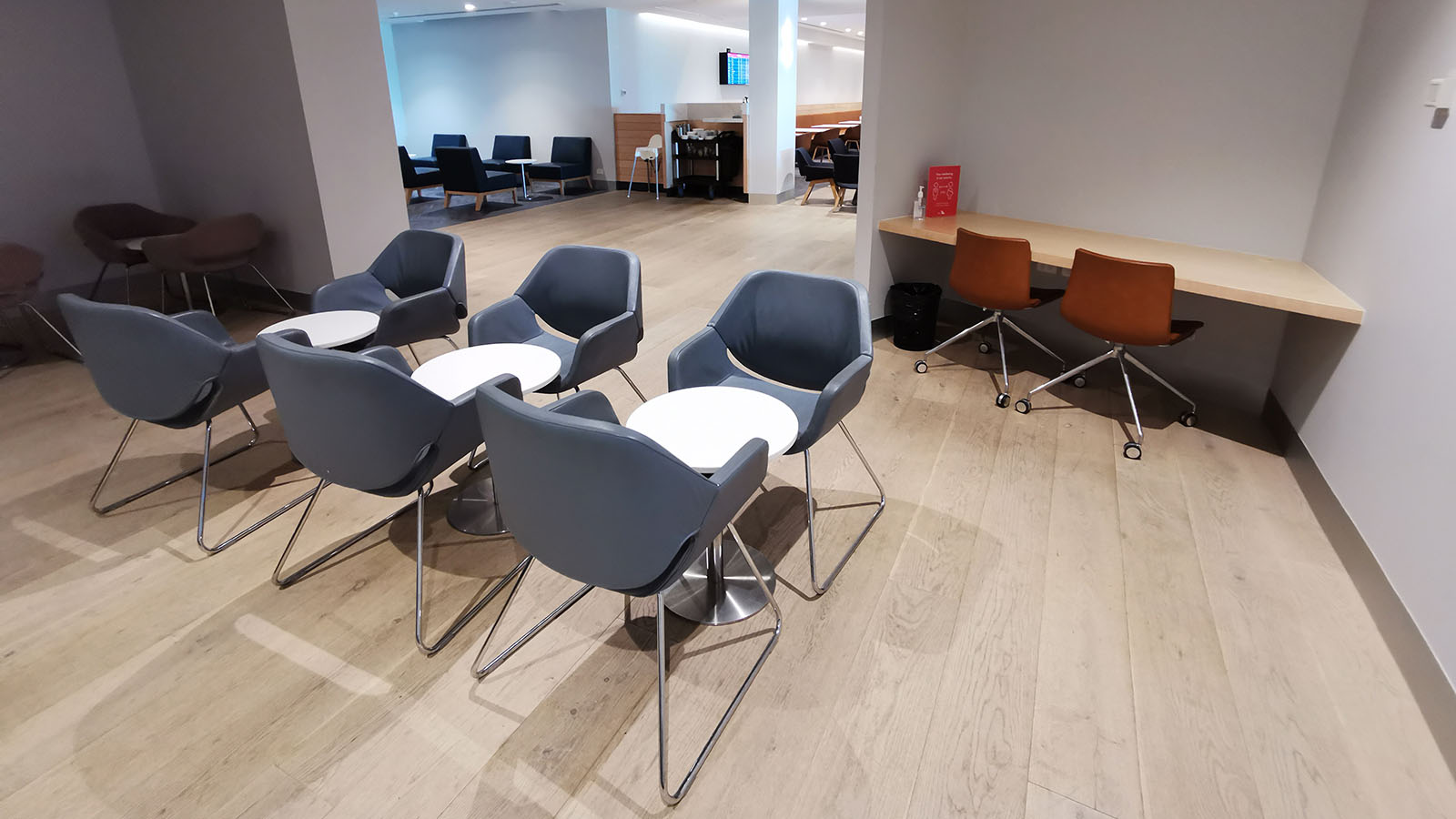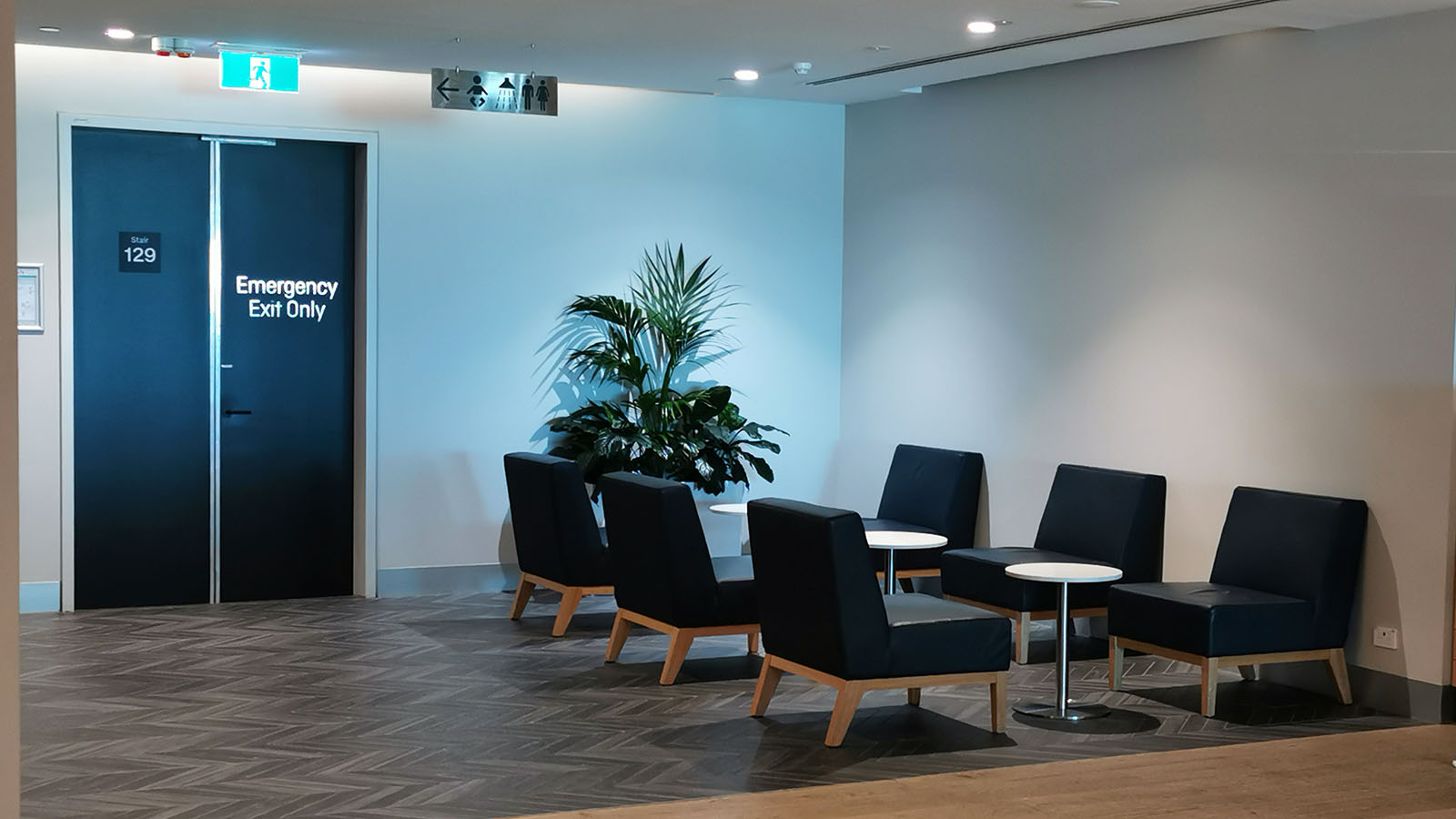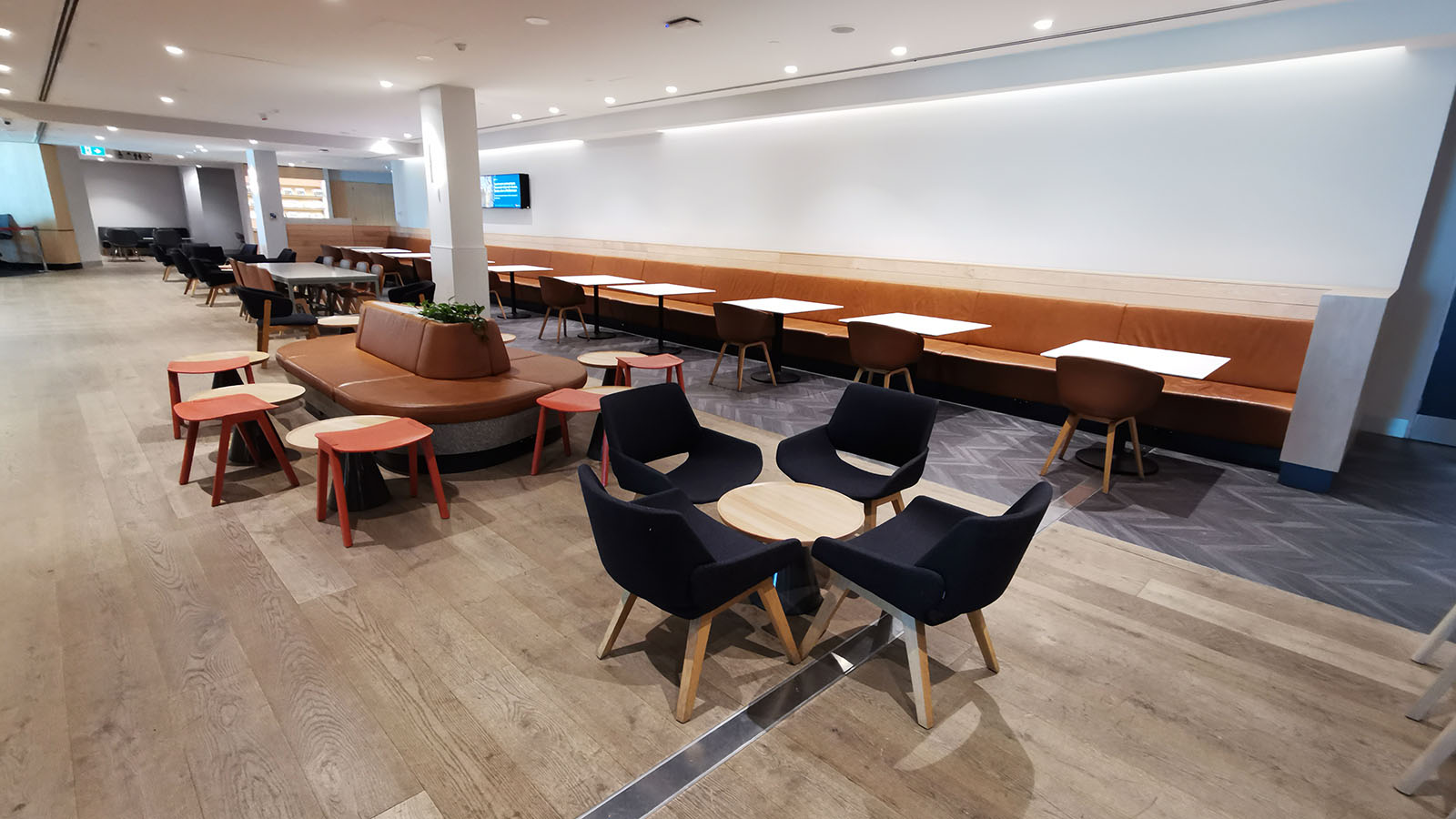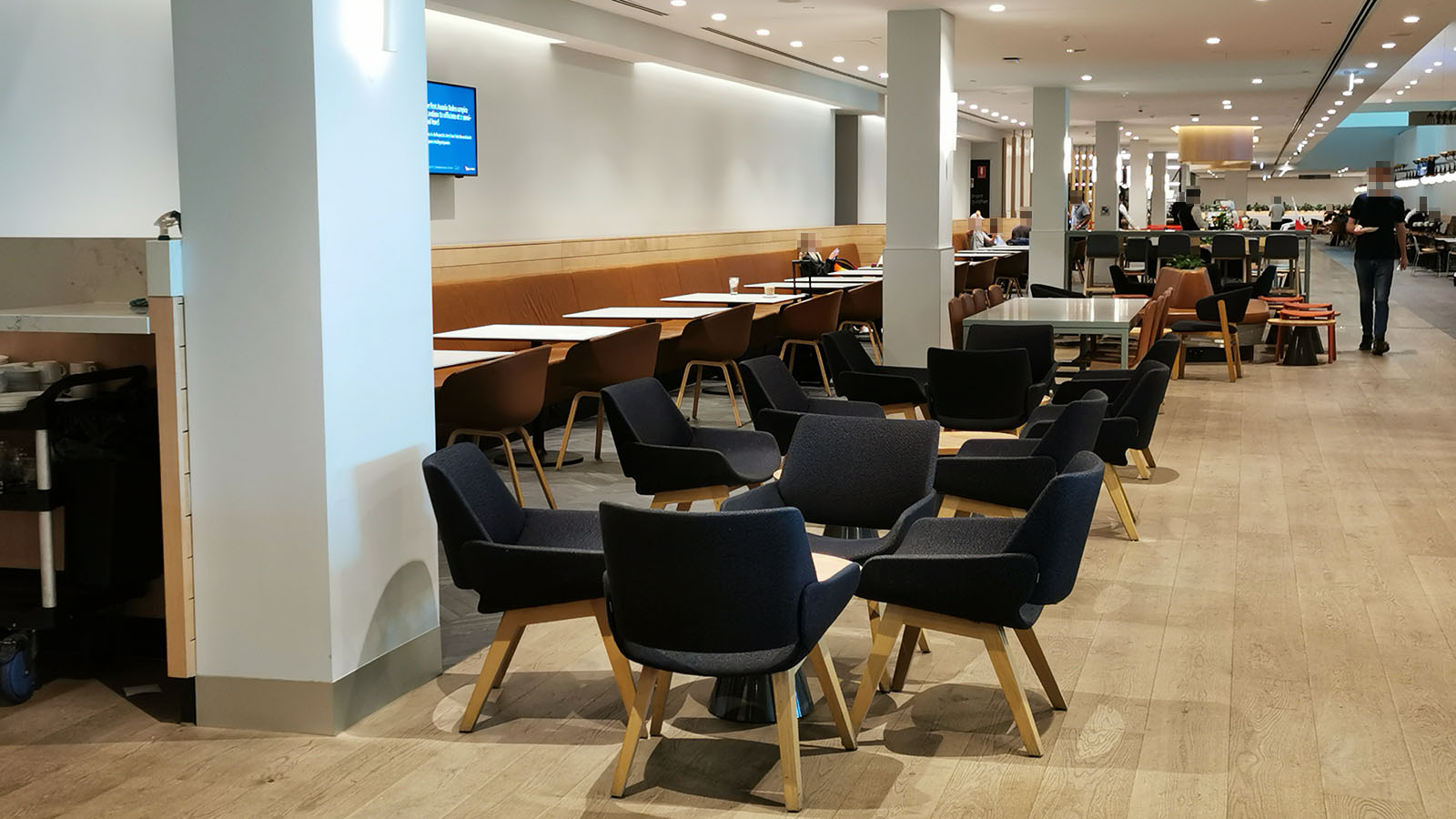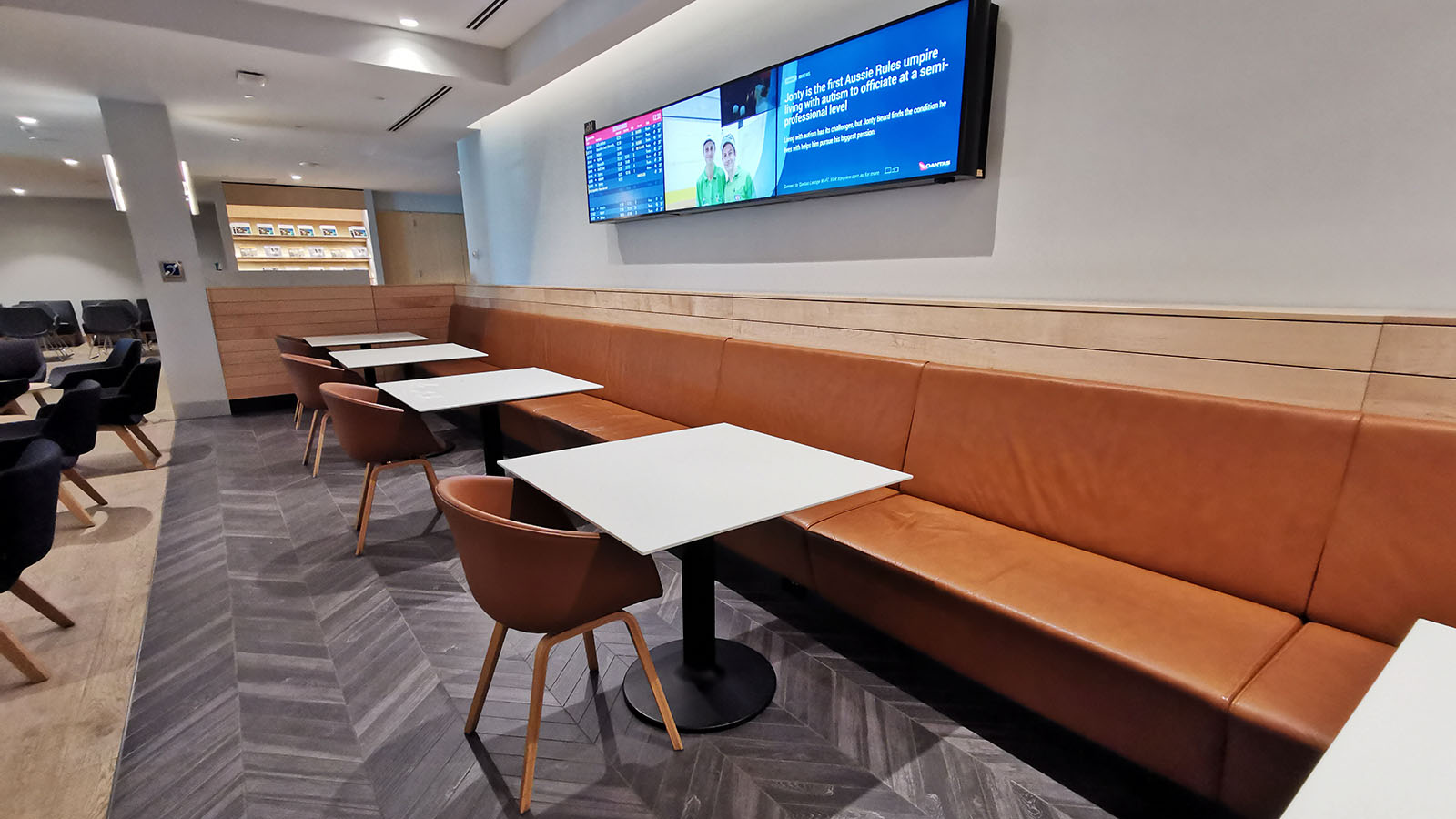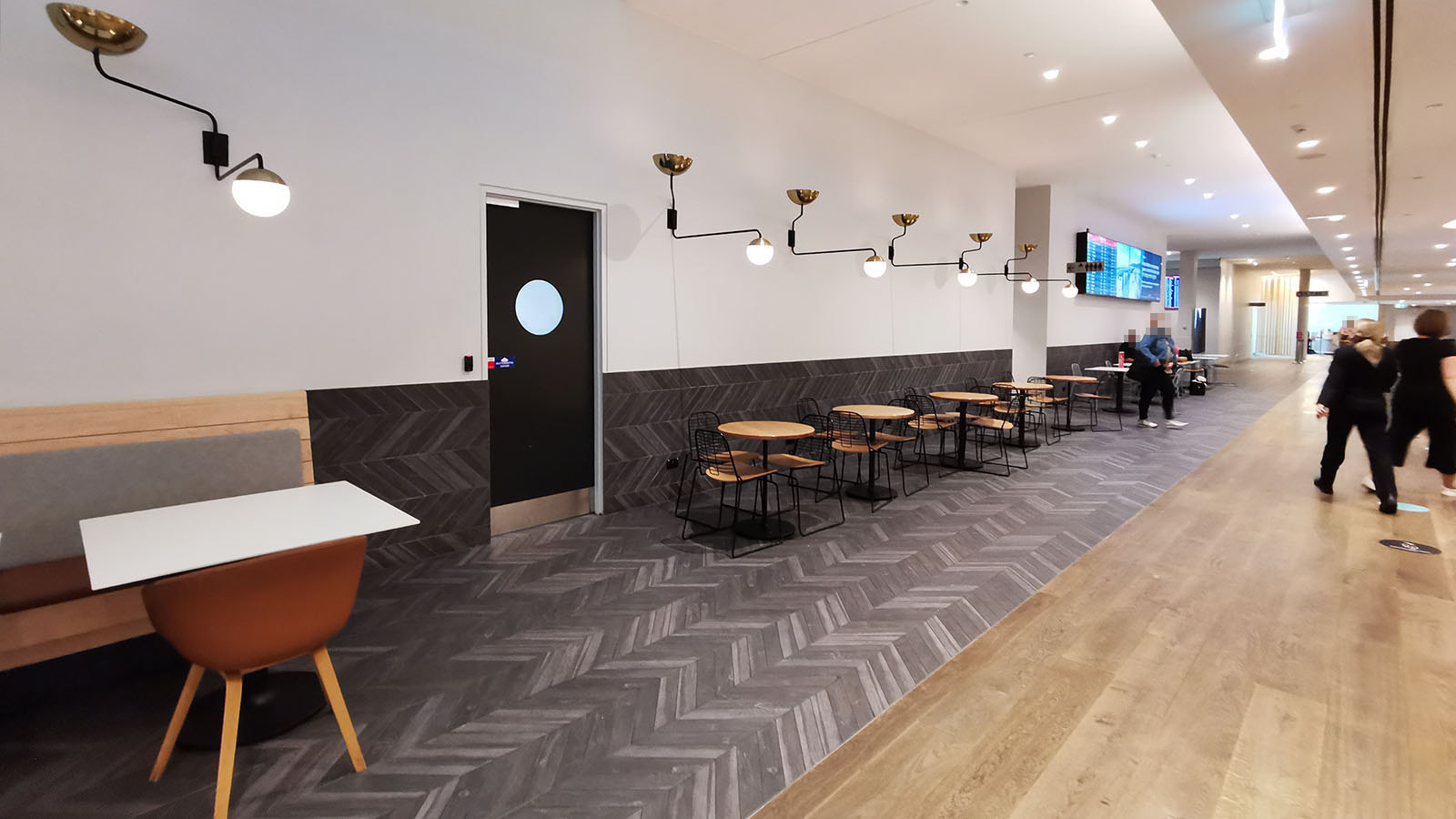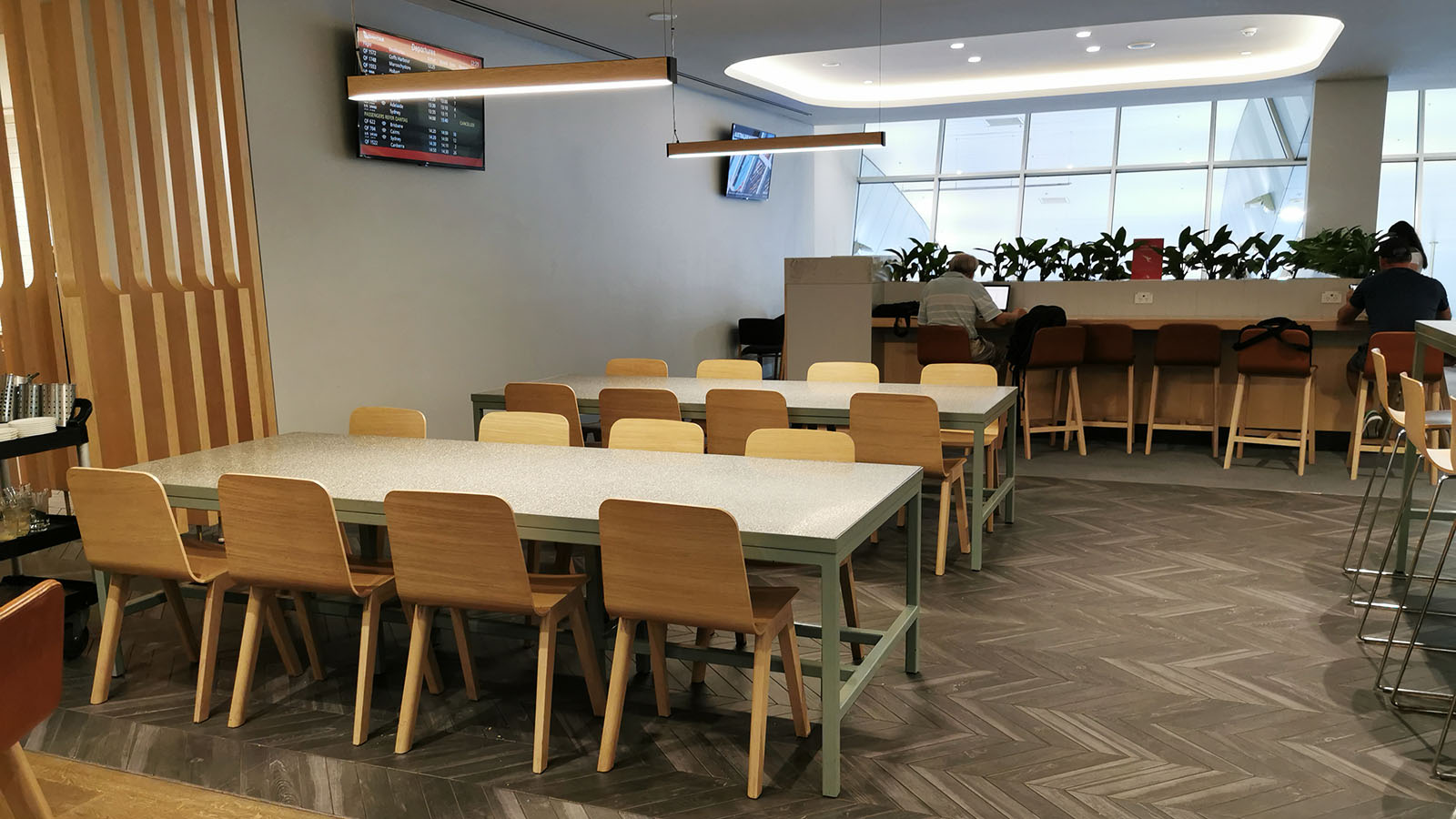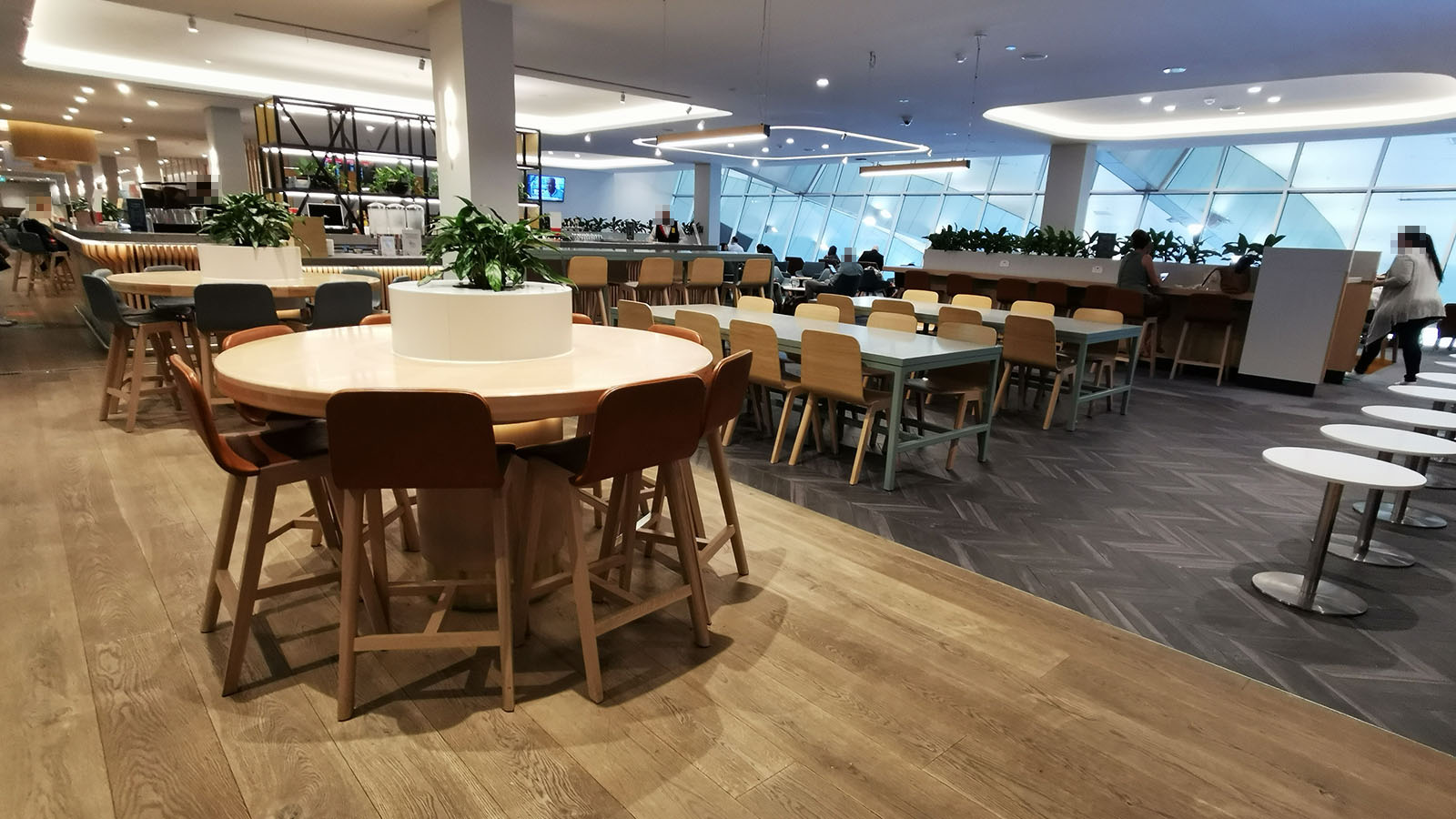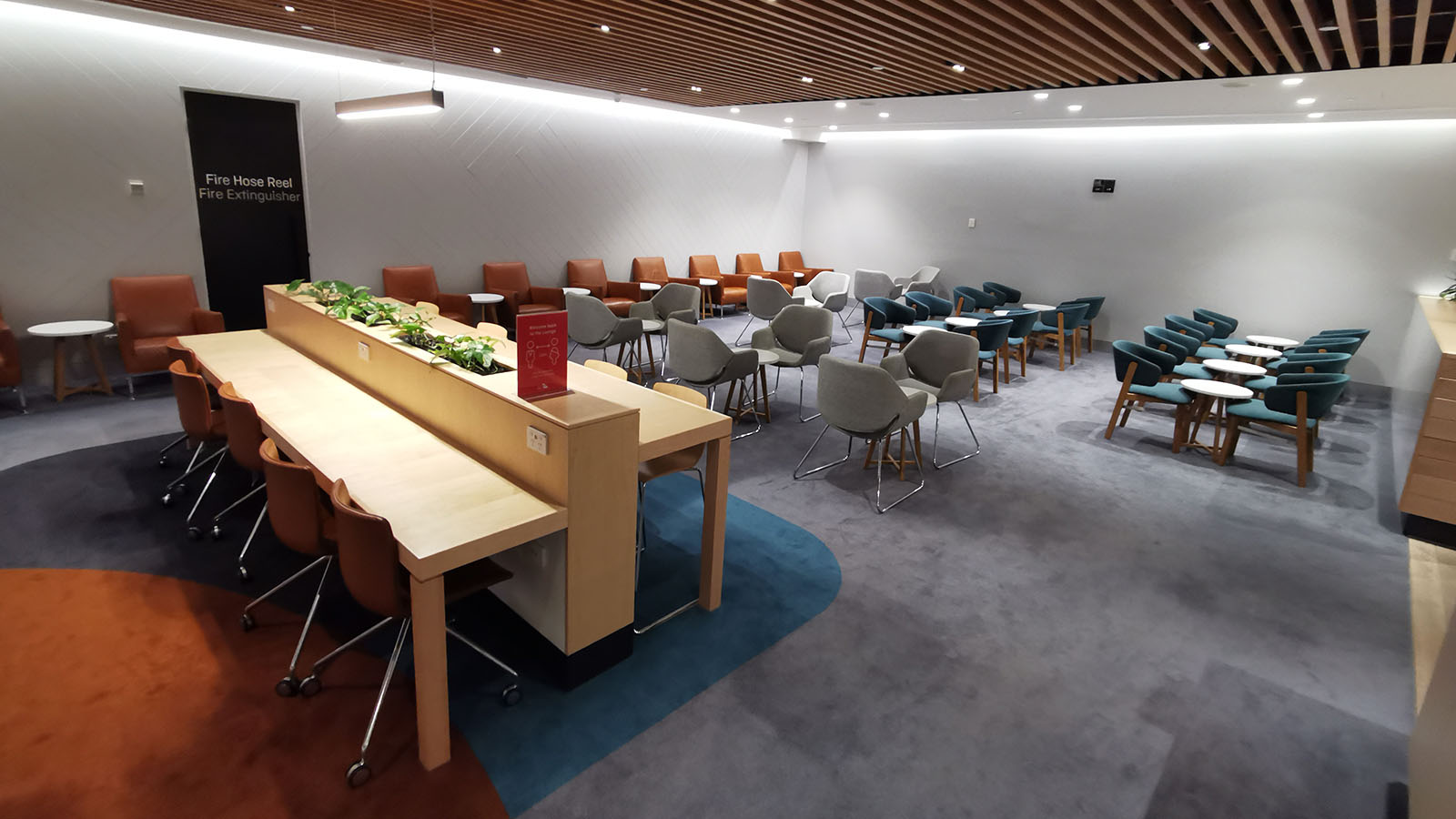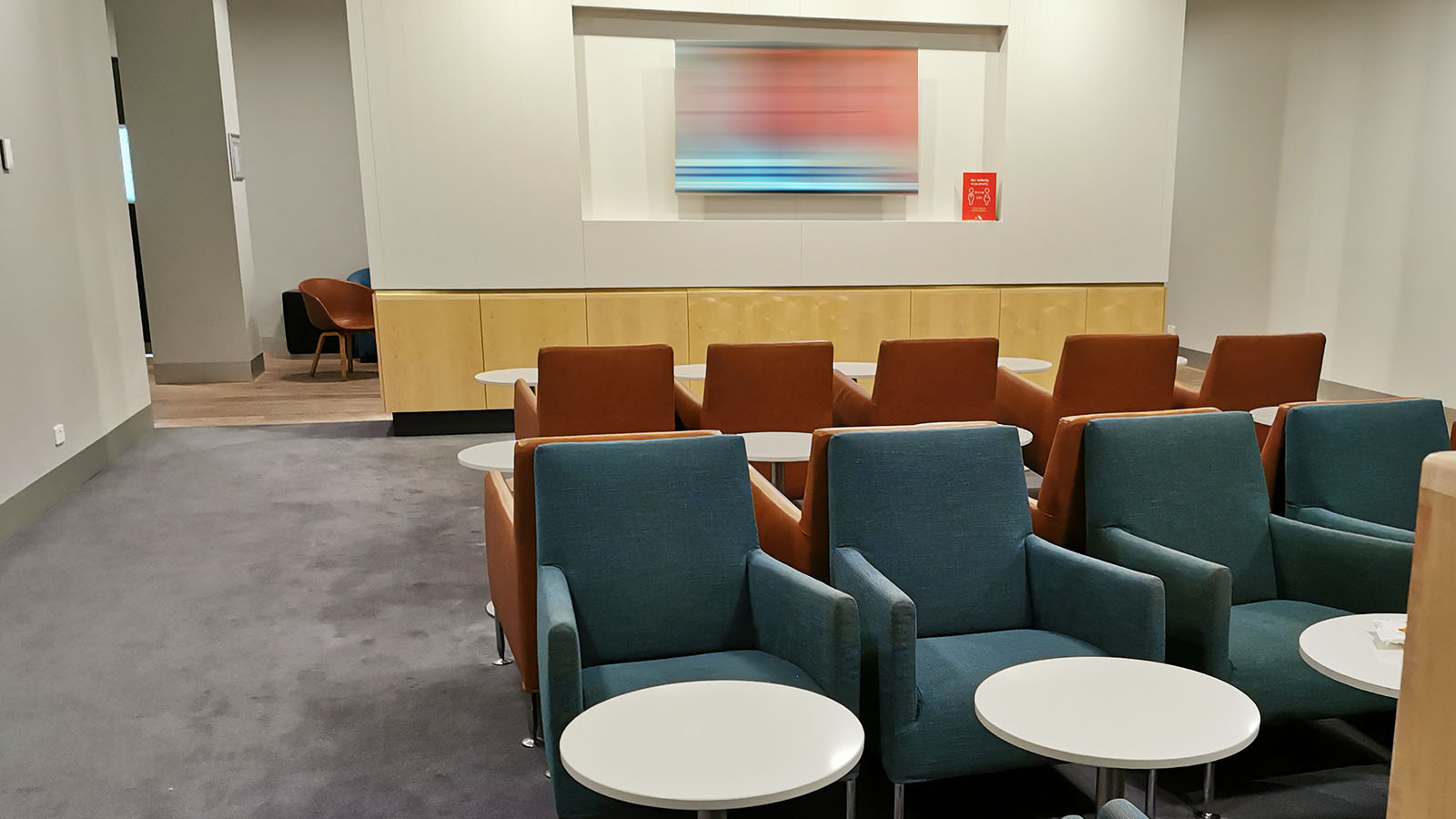 Heading 'deeper' into the lounge uncovers more dining tables, as well as laptop benches with power. Skylight-style lighting complements the natural sunlight in much of the space.
For a quiet spot, head to the very, very back of the lounge. Being the longest walk from reception, these seats only fill up when the lounge is truly busy.
Food and beverage in the Melbourne Qantas Club
Whether it's beer or a barista-made brew, a central bar has you covered. Expect coffee throughout the day, with alcohol unlocked from 12 pm.
On the dining front, the Qantas Club's usual buffet is currently running in 'assisted service' mode. Just advise the staff what you'd like, and they'll hand it over for you.
This lunchtime visit finds various snack plates ready and waiting. There's also a selection of fresh salad, hot soup and bread rolls. A tasty fried rice dish – plated to order – also pairs well with the Heineken on tap.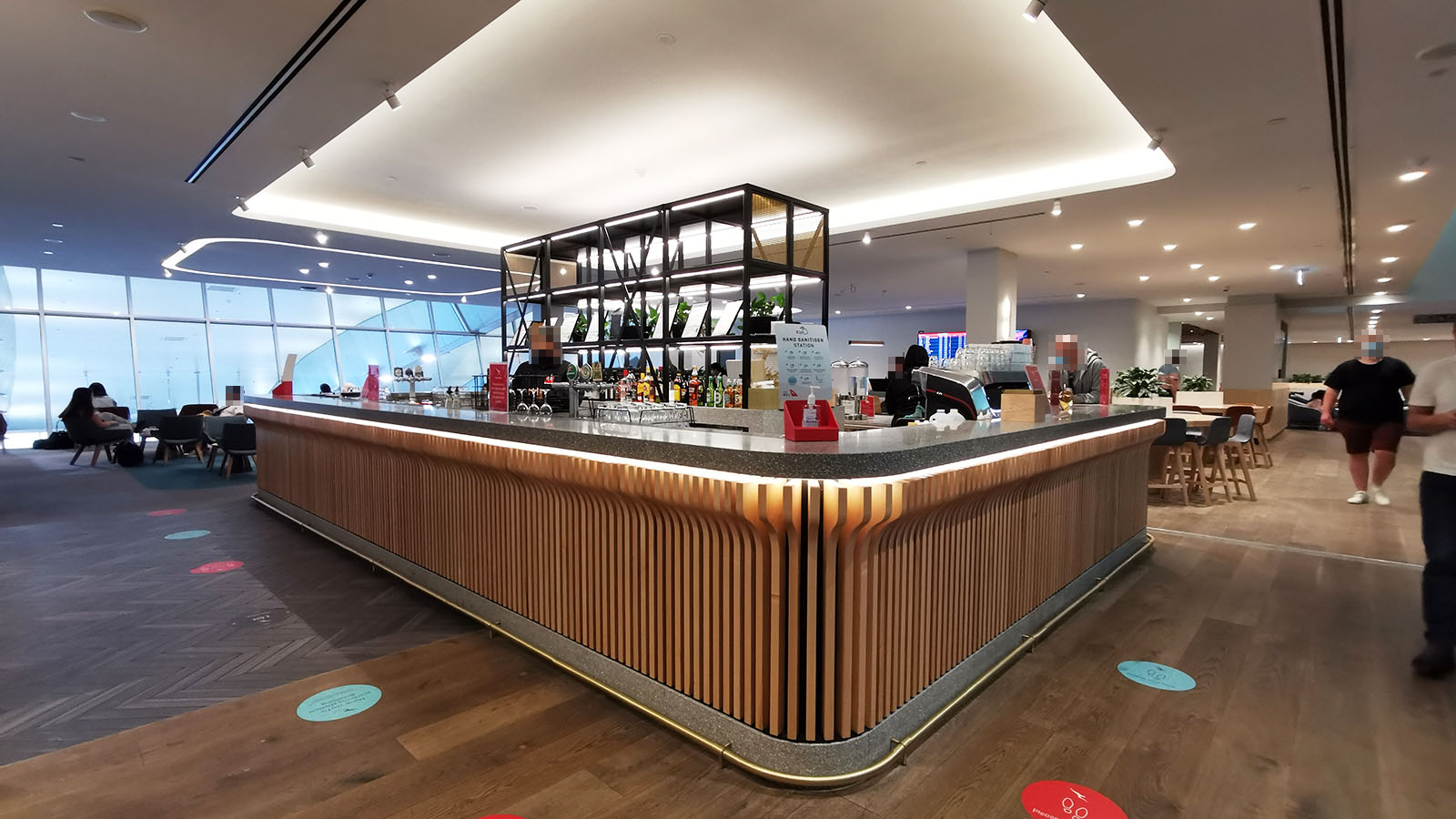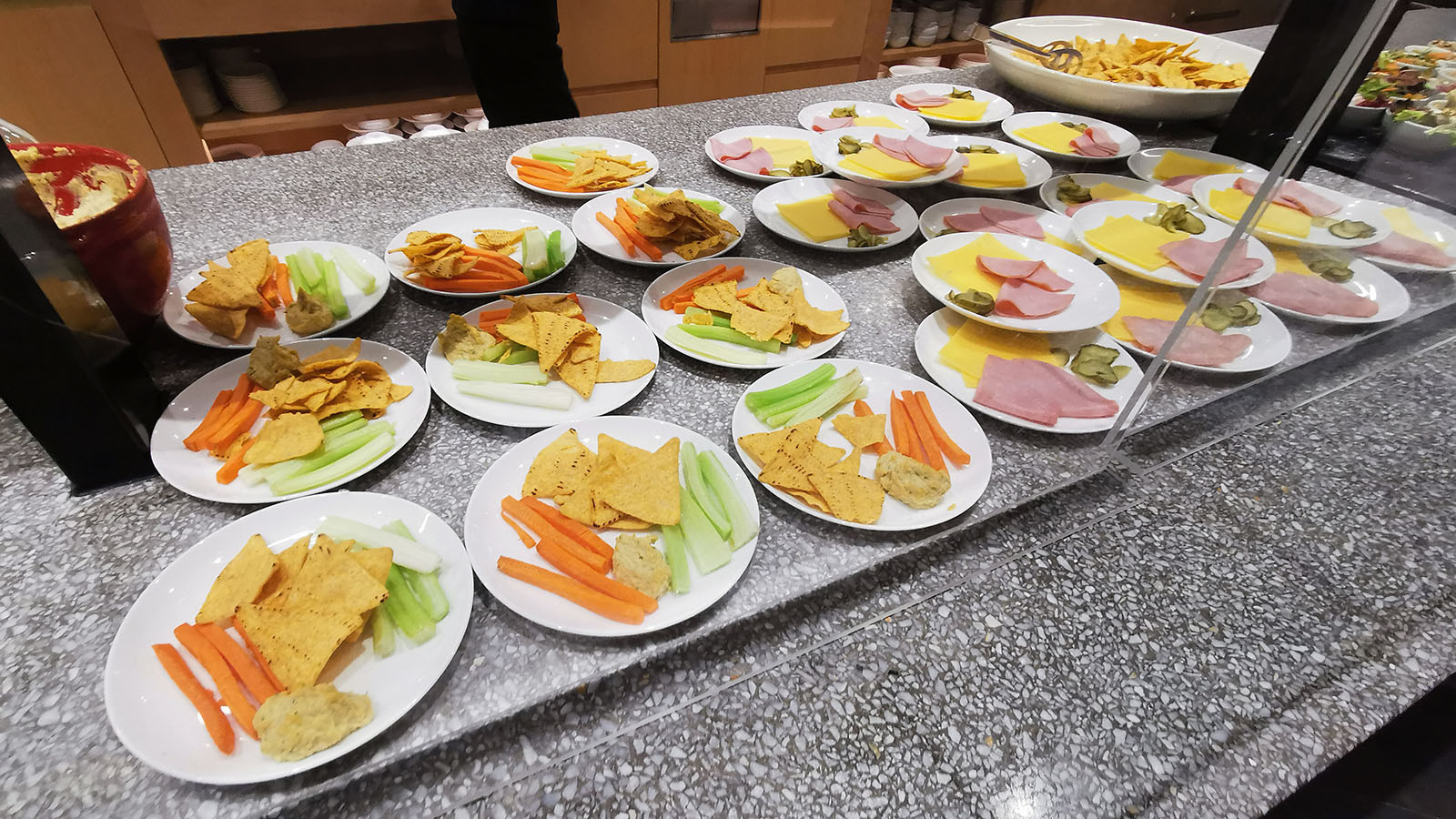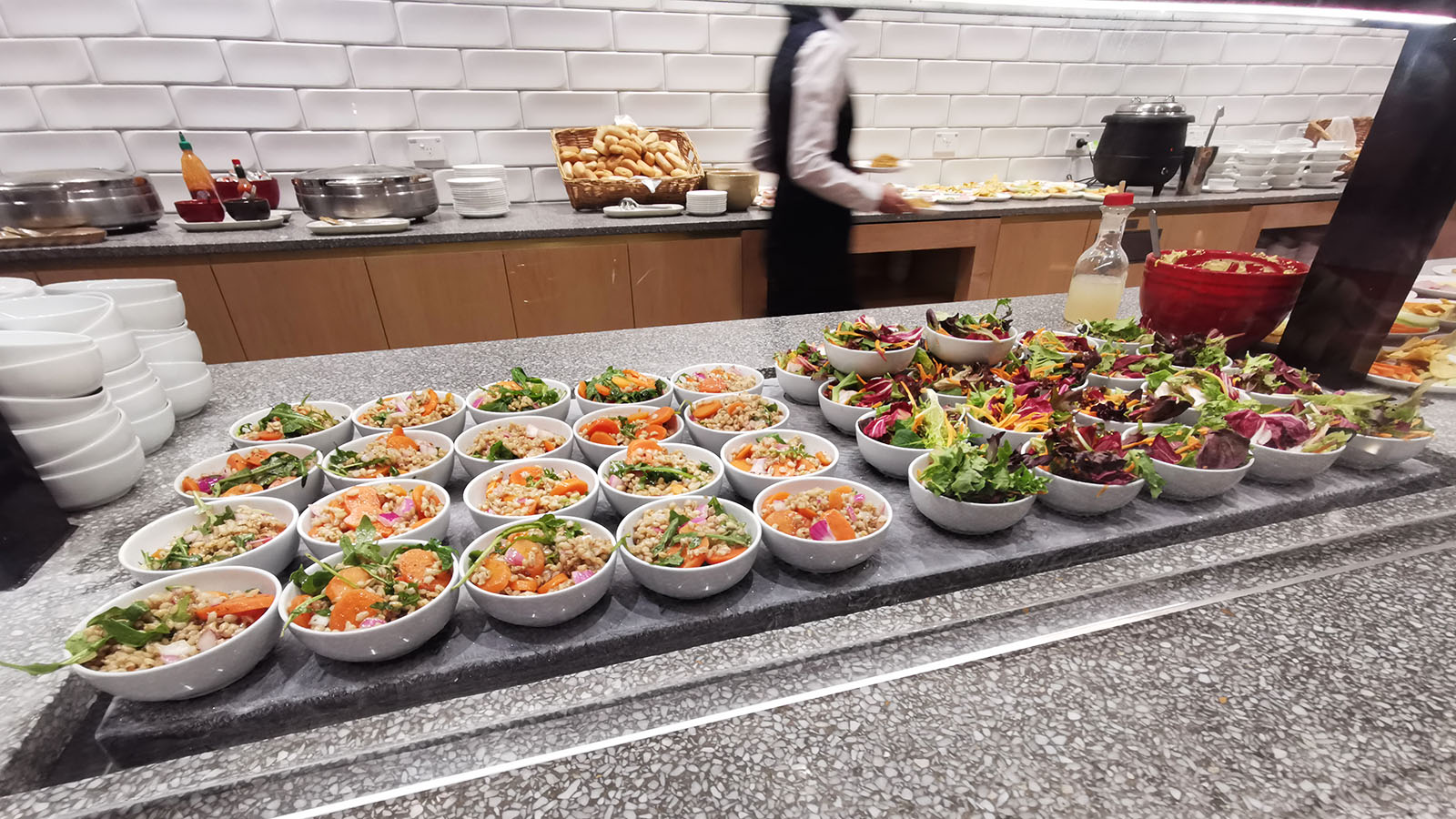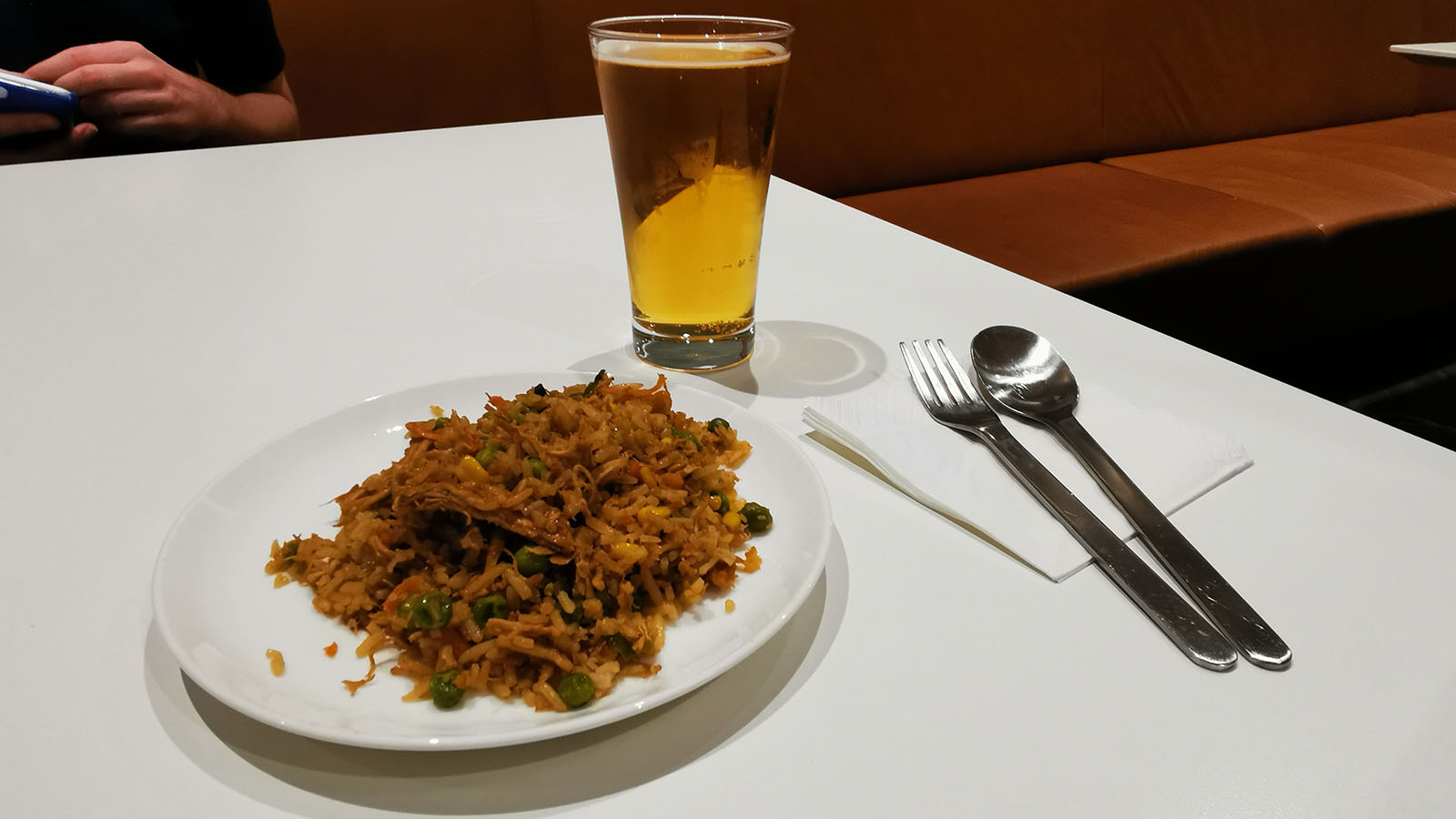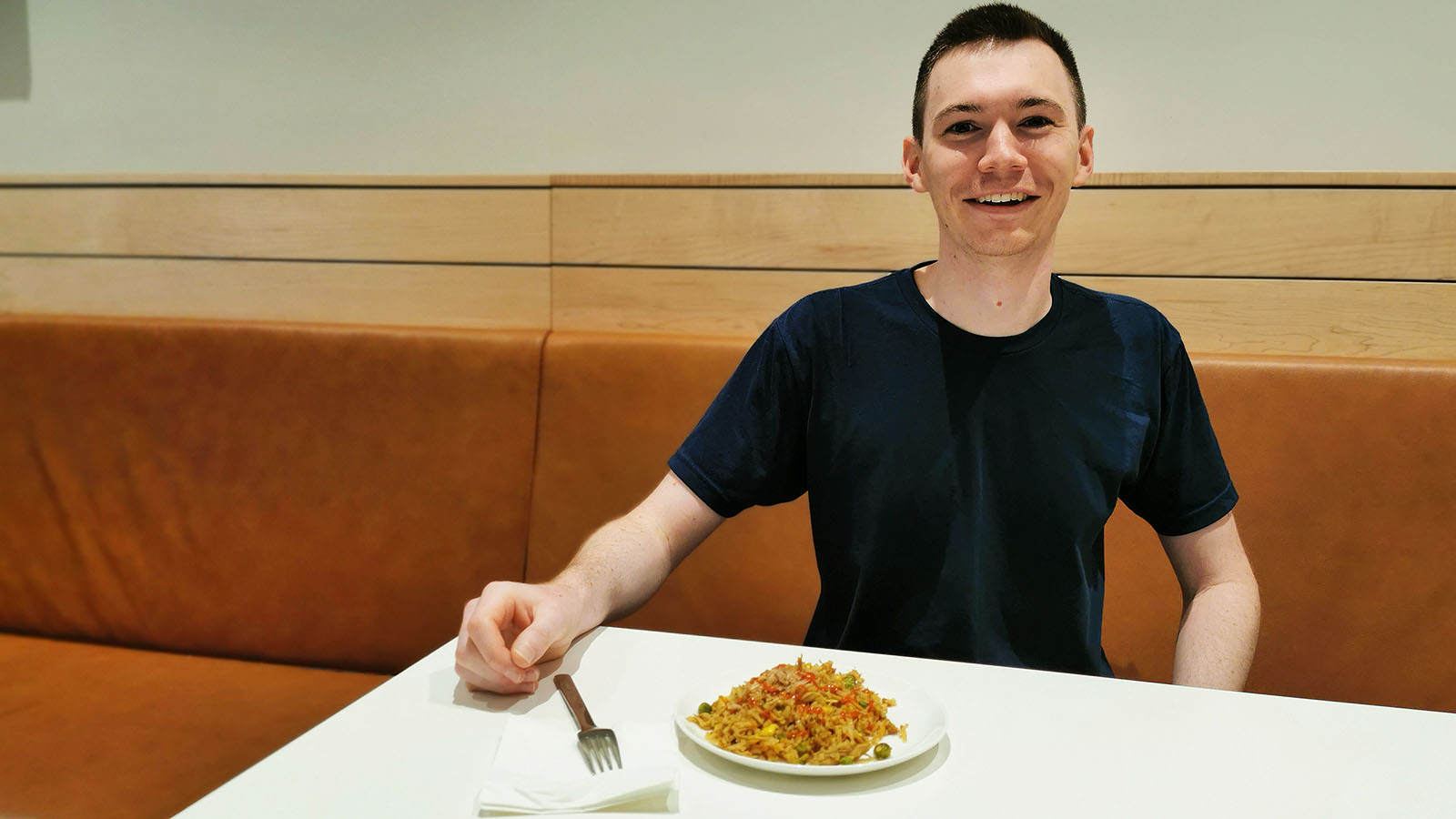 Of course, dining is more fun with company. It's great to bump into Matt Graham, Editor at Australian Frequent Flyer. Hope you had a pleasant flight to Canberra!
Lounge amenities
As part of the renovation and rebuild back in 2018, fresh restrooms and showers were introduced. These are back in full swing – just ask for assistance if you can't find a towel pack.
The in-lounge service desk isn't currently in use. For any assistance with your travels, it's back to reception.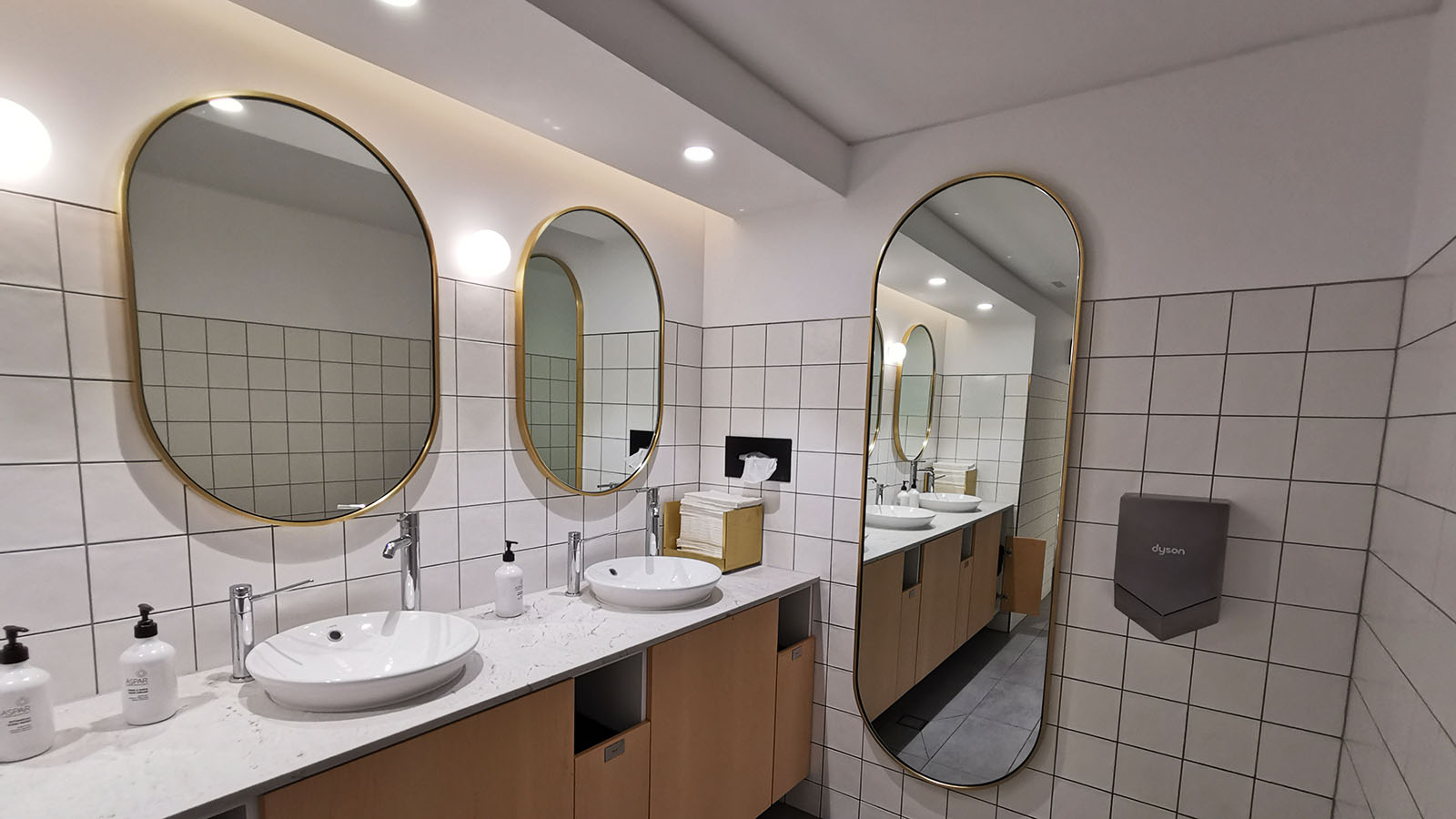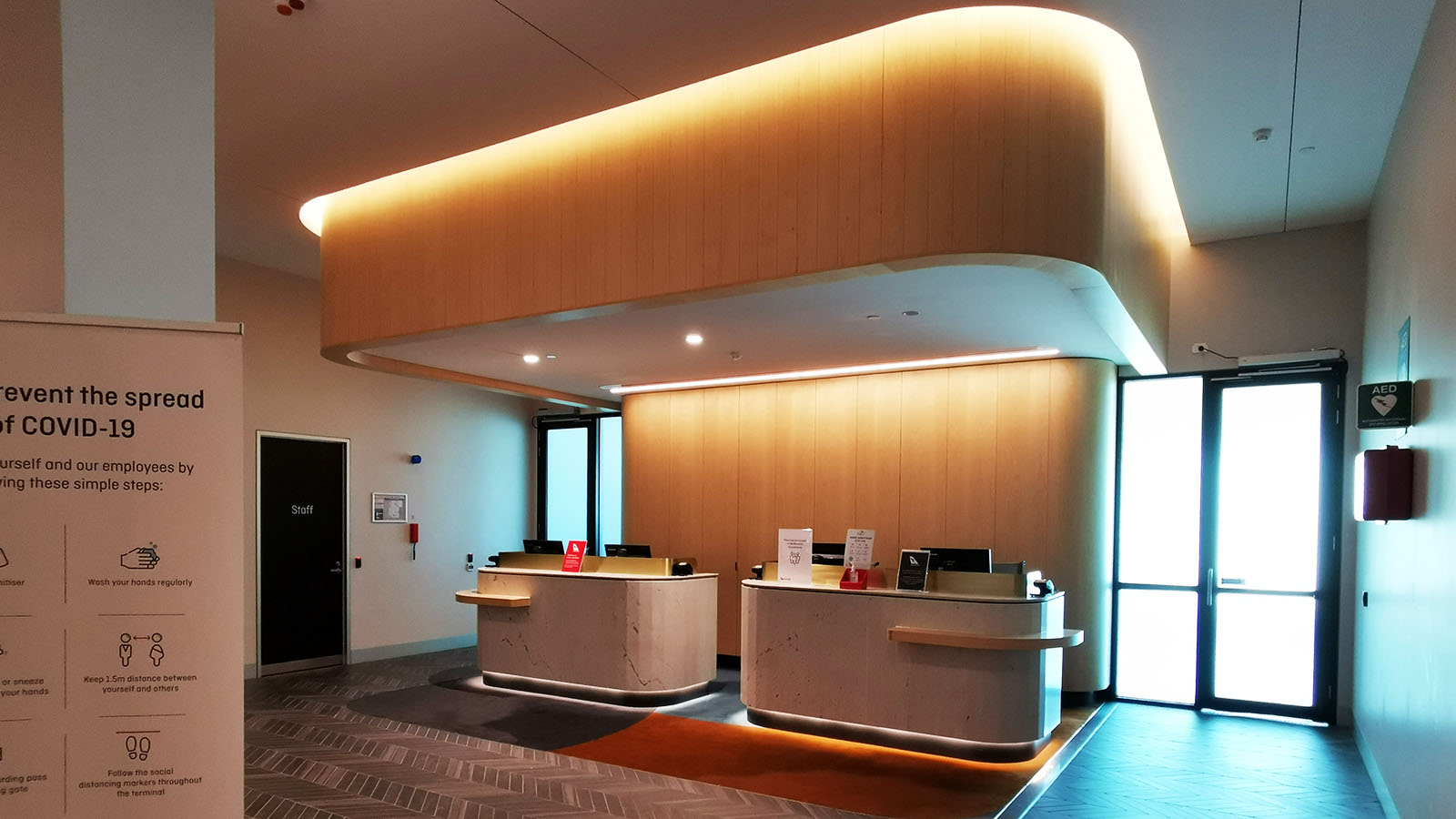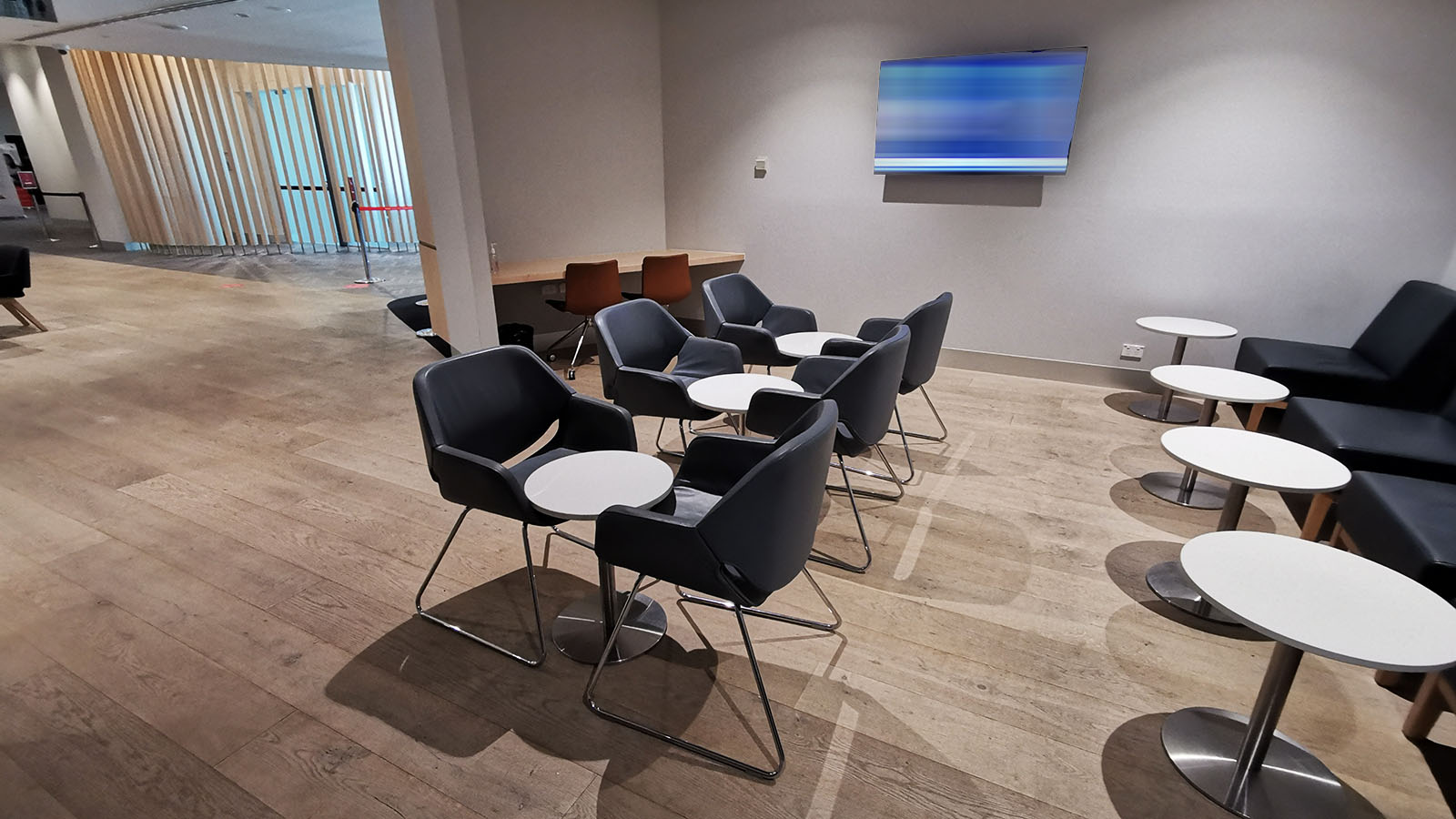 If you're planning to unwind and there's something noteworthy on TV, there are two separate viewing areas. One, just behind reception, and two, in the far back corner of the lounge.
Watching something via your own device instead? With Wi-Fi speeds exceeding 130Mbps in both directions, your stream should be crystal clear.
Accessing the Melbourne Qantas Club
With two other domestic lounges at Melbourne Airport – a Business Lounge, and a Chairman's Lounge – here's who the Qantas Club normally caters for.
Lounge membership or Qantas status, when departing on Qantas, QantasLink or Jetstar:

Qantas Gold (+1 guest).
Qantas Club (+1 guest).

Single entry passholders: as provided annually for Qantas Silver frequent flyers and with selected credit cards. You may also have the chance to purchase one-off access to the Melbourne Qantas Club for $49, by email offer before the flight.
Airline partner frequent flyer status, when departing on Qantas or QantasLink (not Jetstar):

oneworld Sapphire (+1 guest).
Emirates Skywards Gold (+1 guest).
Air New Zealand Gold and Elite (+1 guest, and must be on an NZ flight number).
China Eastern Miles Gold (+1 guest).

Airline partner lounge membership: travellers with American Airlines Admirals Club cards (+2 guests), or members of Alaska Airlines Lounge (+2 guests).
Children (under 18 years) are permitted in addition to the guest allowances indicated above. These exceptions vary by the child's age. Head to the Qantas website to check the latest arrangements.
Do note, Jetstar flights all depart from Terminal 4 at Melbourne Airport. This lounge, however, is at the very opposite end in Terminal 1, and past security. While a Jetstar boarding pass can get you through the door, it's not particularly convenient given the long walk.
If you have Priority Pass and don't have hours to spare, consider visiting the Rex Lounge in Terminal 4 instead.
Summing up
After nearly two years of lockdowns and travel restrictions, it's great to see Melbourne back in action. Ditto the airport, with passenger volumes once again allowing Qantas to operate multiple Melbourne lounges.
Prior to COVID, it was common to find the Melbourne Qantas Club rather busy. This isn't often a problem now – and if that changes, at least it'll means domestic travel is back on-track.
Still, we do miss the airport views from the former Qantas Club. They're now a perk reserved for guests of the Qantas Business Lounge and Qantas Chairman's Lounge. But with only so many windows to go around, we can't exactly say that's unfair!
Photography by Chris Chamberlin, who travelled at Point Hacks' expense. Selected images courtesy of Qantas.
Qantas Club, Melbourne
was last modified:
December 9th, 2022
by