The Qantas Club lounge at Sydney Airport is a stalwart for the airline. Being one of the carrier's busiest domestic lounges, it serves passengers taking the quickest regional hops to the longer transcontinental routes – and everything in between.
So how does the lounge stack up in 2022, now that domestic travel is booming once again? Read on to find out as we put it to the test.
Location
You'll find Sydney's domestic Qantas Club lounge after security in Terminal 3. If proceeding through the main checkpoint, make a left along the concourse, and keep your eyes peeled for a red 'Qantas Club' sign.
The entrance is separate to the Qantas Domestic Business Lounge, which is closer to security. While you can still head upstairs via the Business Lounge escalators, it means doing the 'walk of shame' past that Business Lounge and Chairman's Lounge, to the Qantas Club entrance.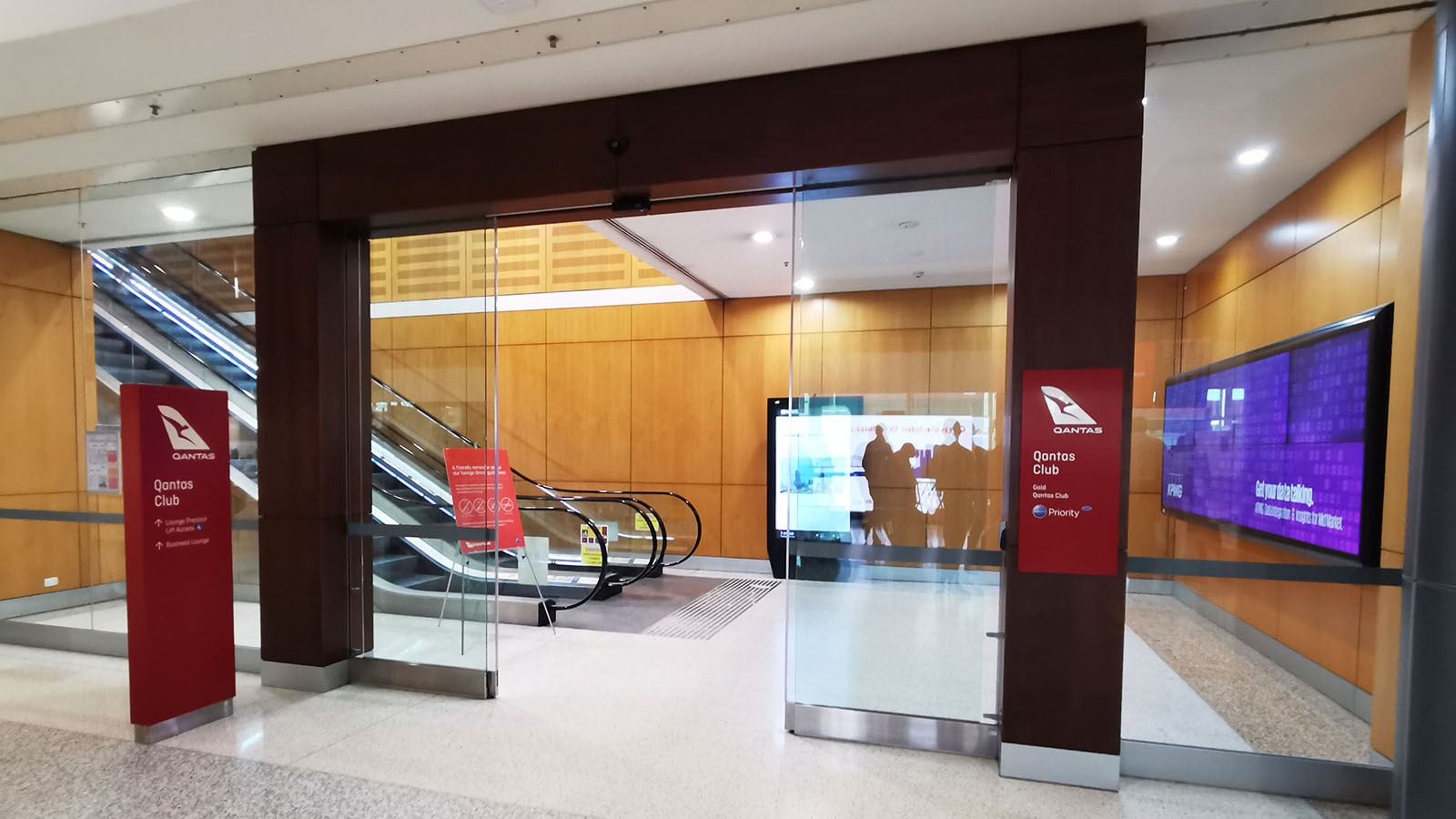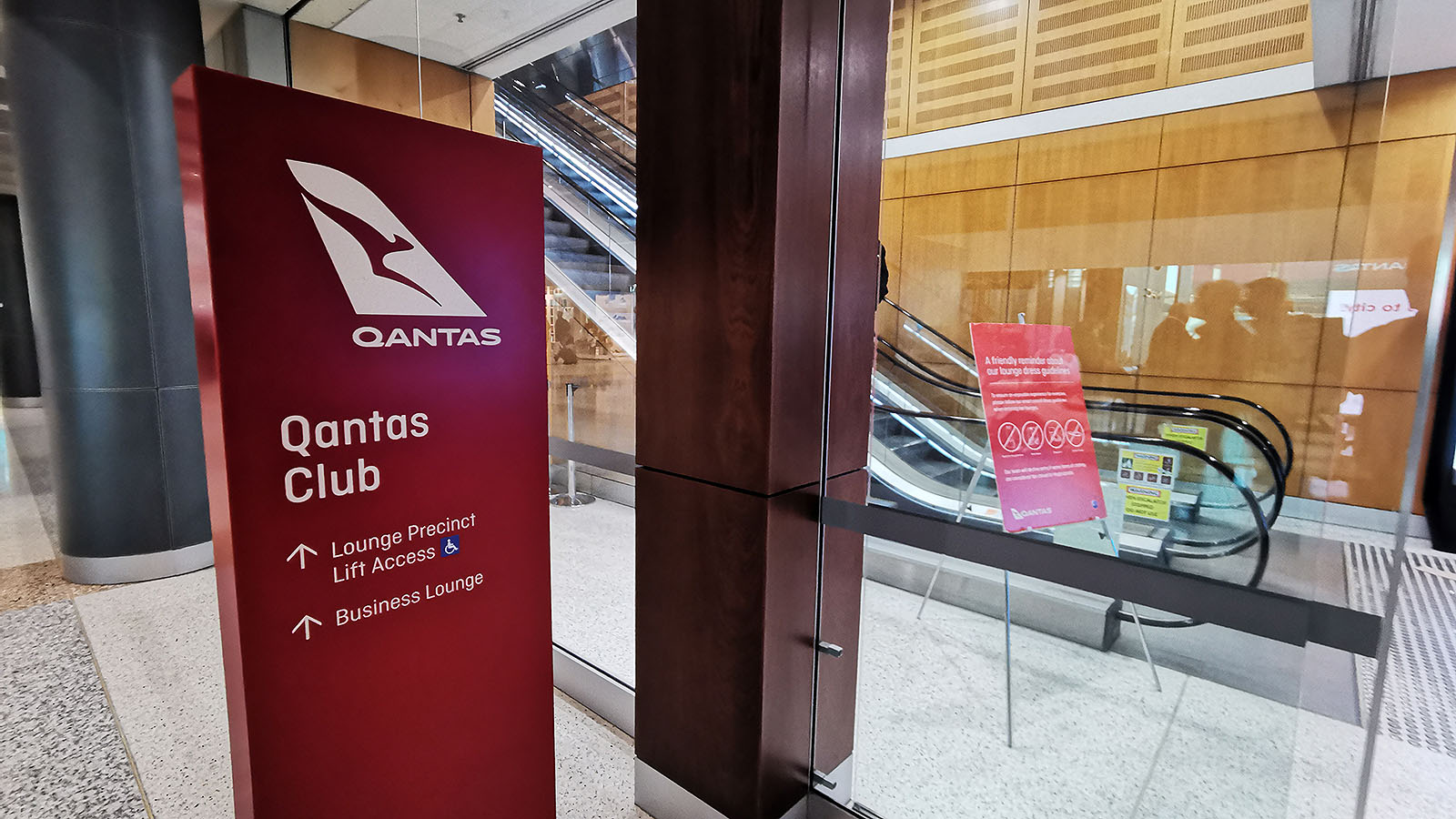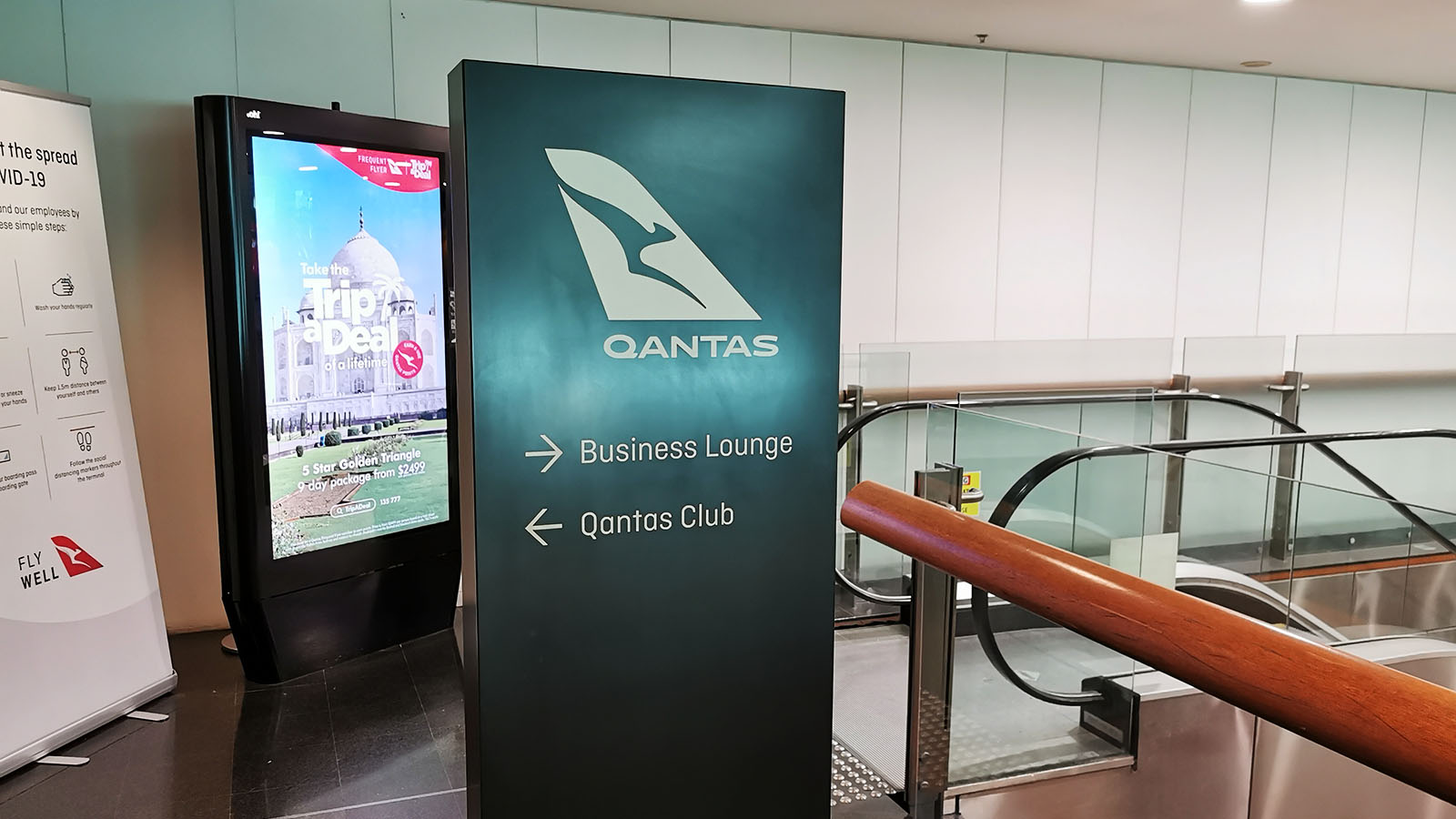 However you get up here, the Qantas Club is sizeable, occupying roughly half of the terminal's upper level. This sees plenty of natural light flowing into the space, with windows from one end of the lounge to the other.
Sydney's Qantas Club opens 60 minutes before the first Qantas or QantasLink departure of the day. It then closes when the last Qantas or QantasLink flight of the day is called for boarding.
Eligible Jetstar passengers can also access the space, but it's not particularly practical. That's because Jetstar flies from Terminal 2 in Sydney, which means clearing security once to access the Qantas Club, and again for the flight itself. Given the queues at Sydney Airport lately, allow plenty of time – or head to the Rex Lounge via Priority Pass instead.
The Sydney Qantas Club layout and seating
Travellers are spoiled for seating choices at Sydney Airport's Qantas Club lounge. As you'd expect, seats closest to the entrance tend to be busier. That's why I always head to the far left or far right of the lounge, where there's more room to move.
On a morning visit, turning right after reception reveals a sea of seats basking in that morning glow. You don't need to sit directly in its path, either – pulling up a perch a few rows back works just fine for me.
This far end of the lounge is also home to a TV corner and a second buffet – which I've never seen in use. As you meander back towards the entrance, more seating options pass you by. Benches pop up throughout, perfect for any laptop work, and there's no shortage of cosy chairs.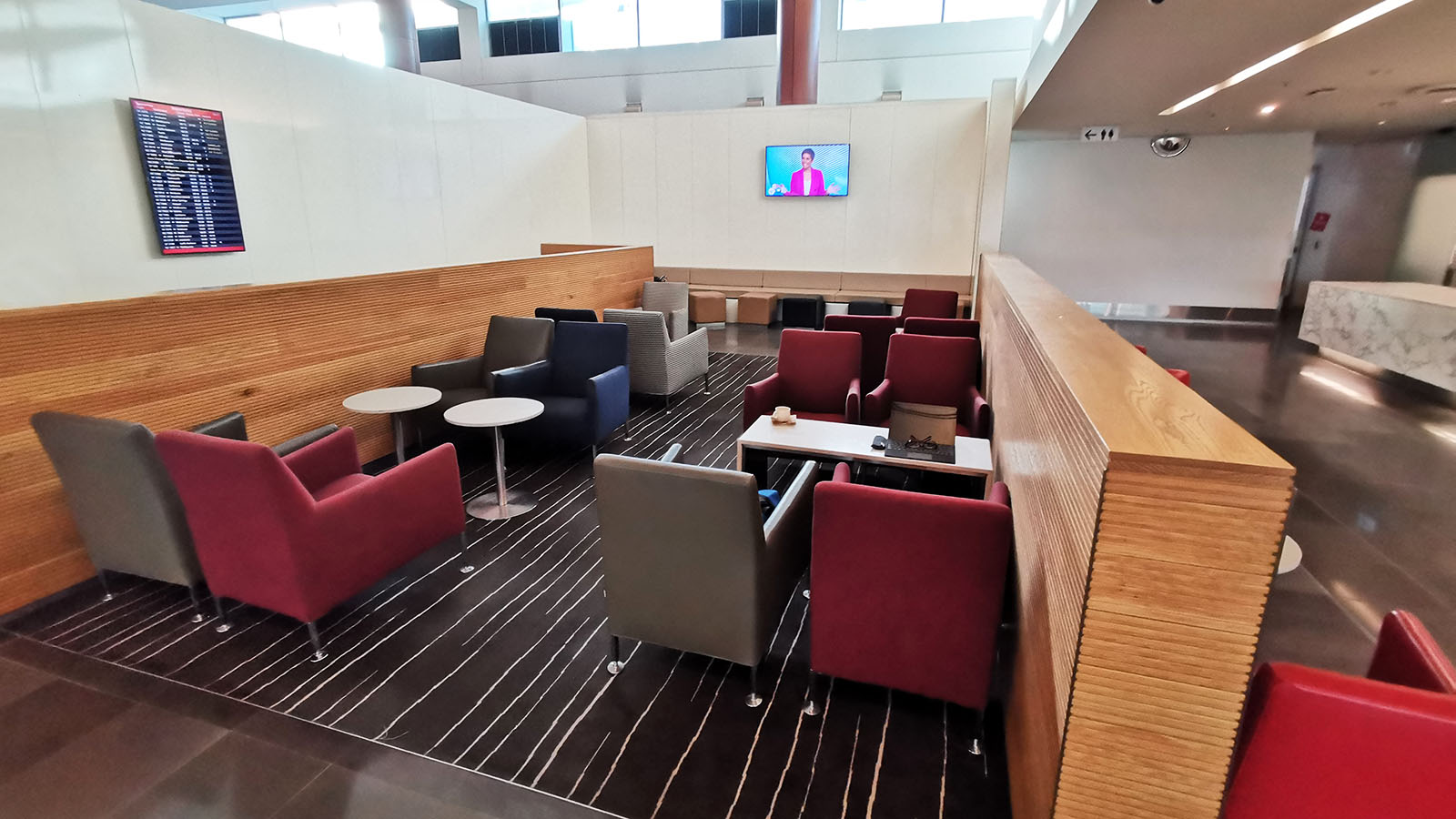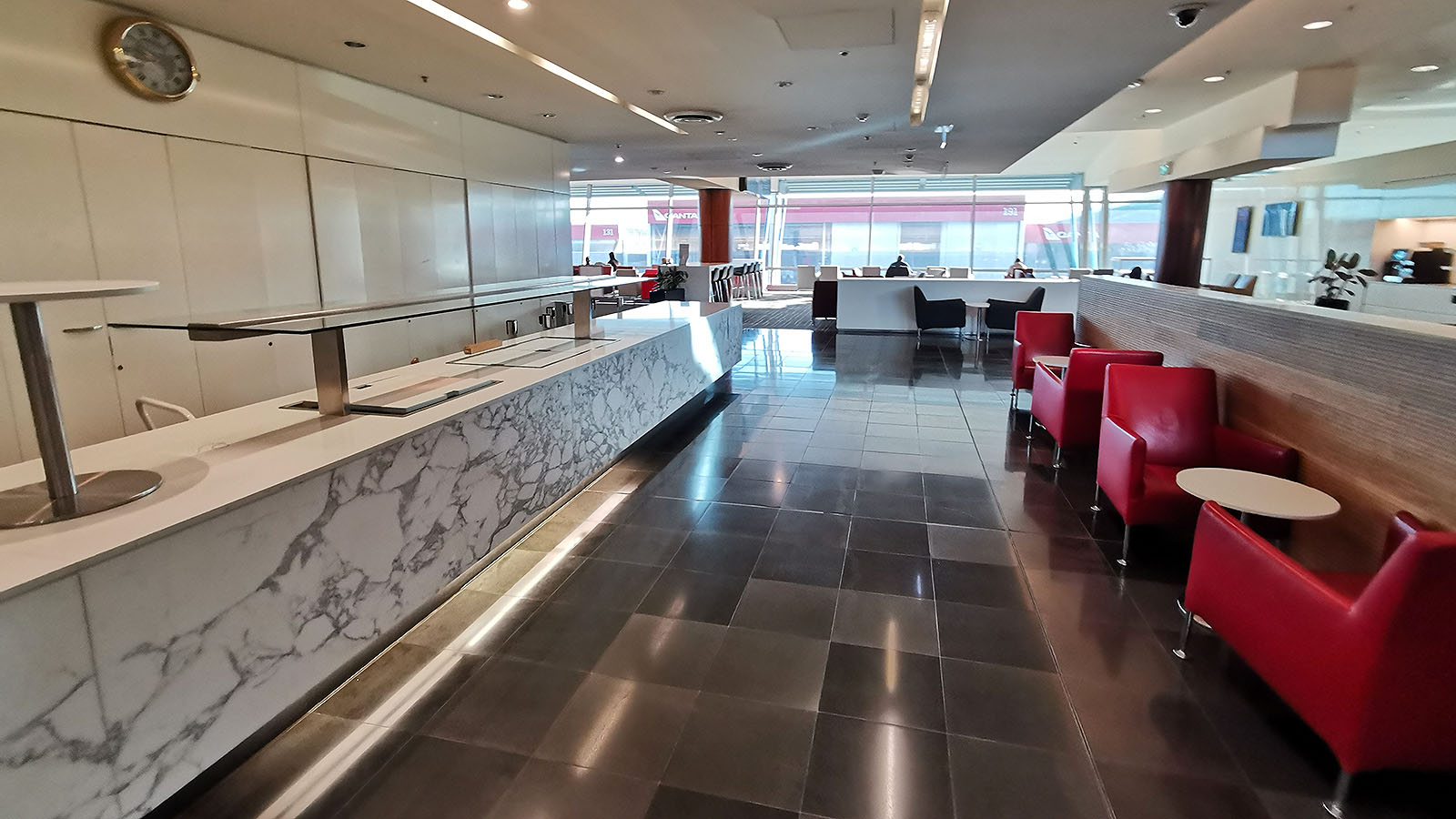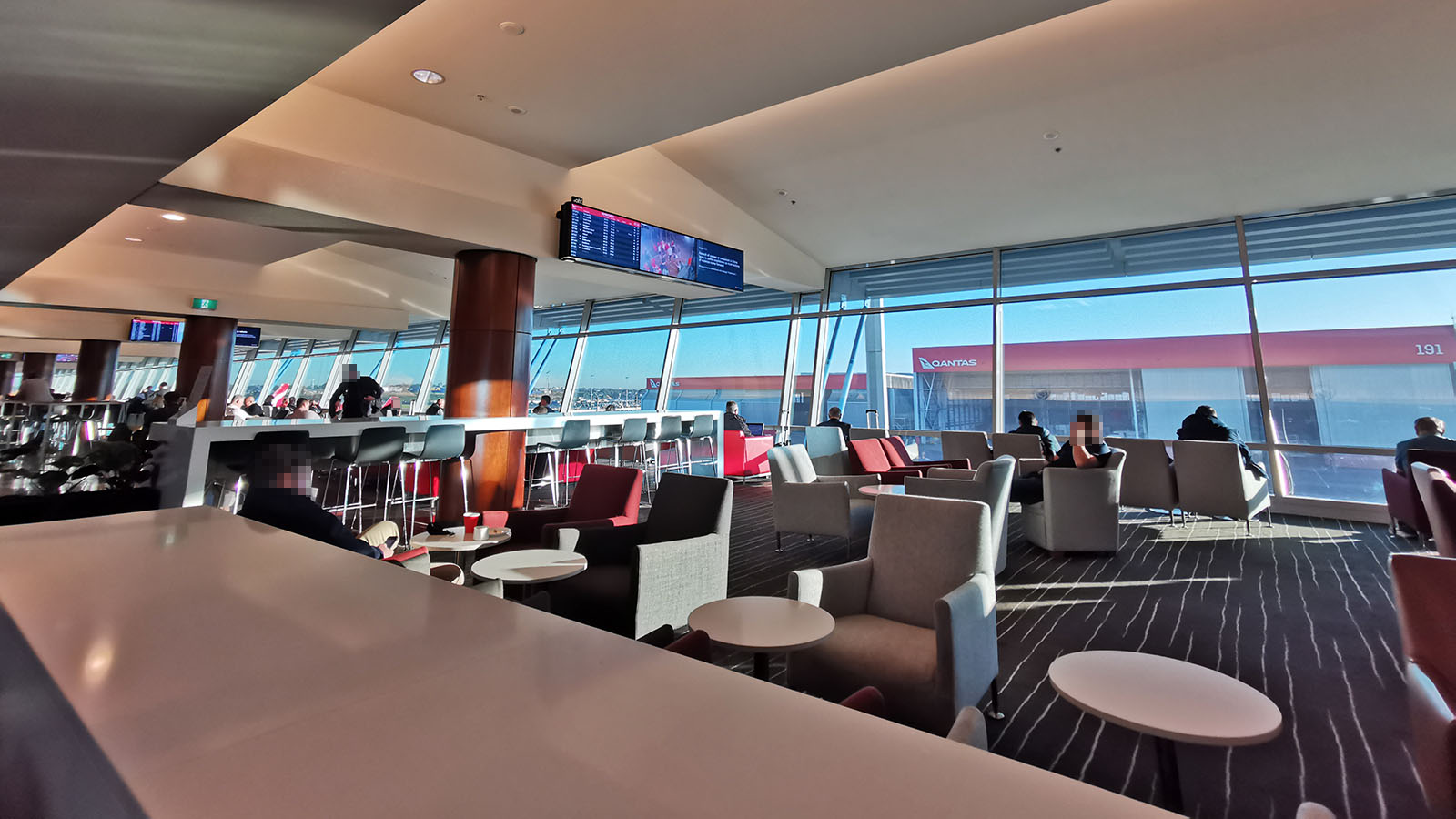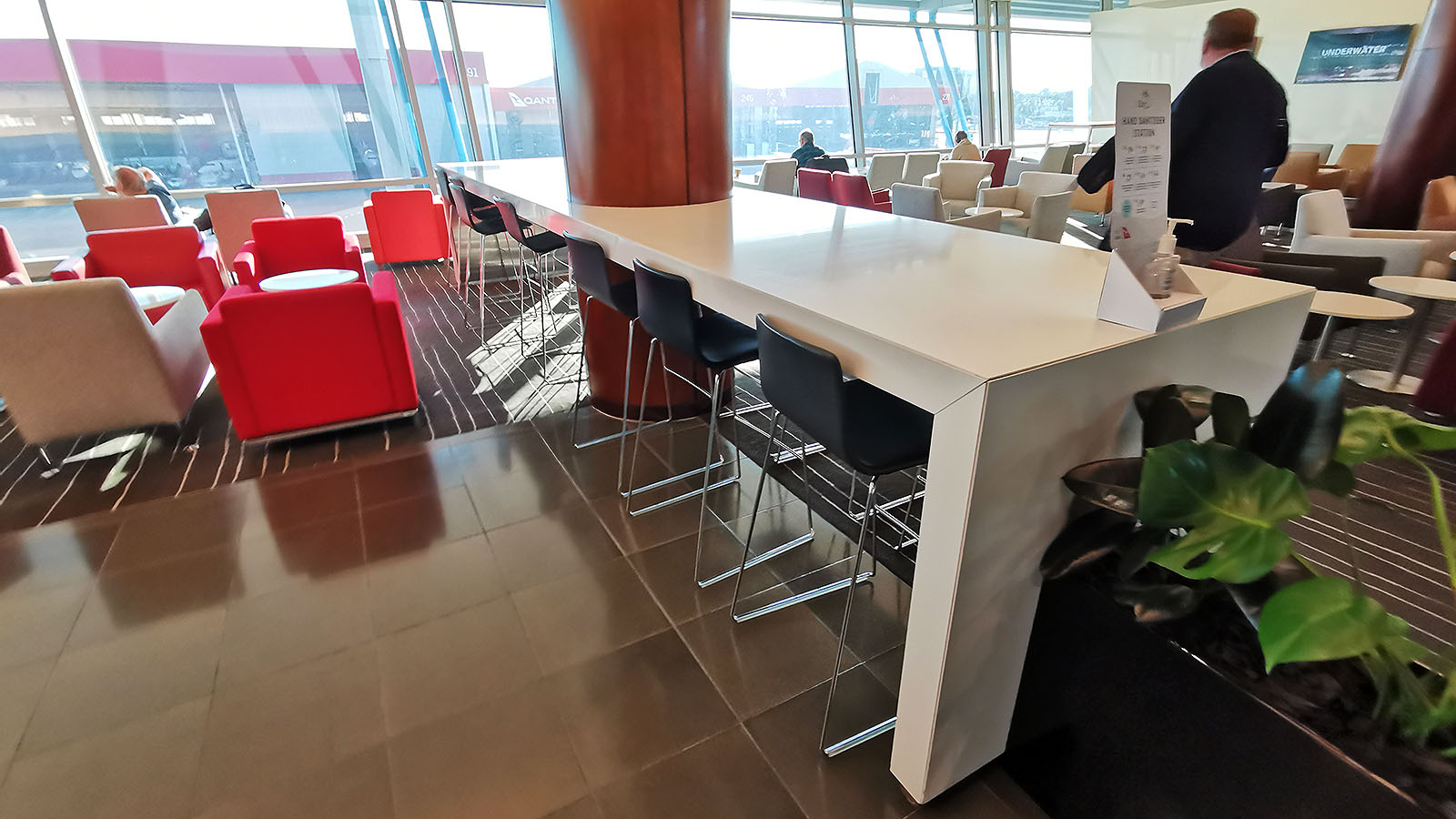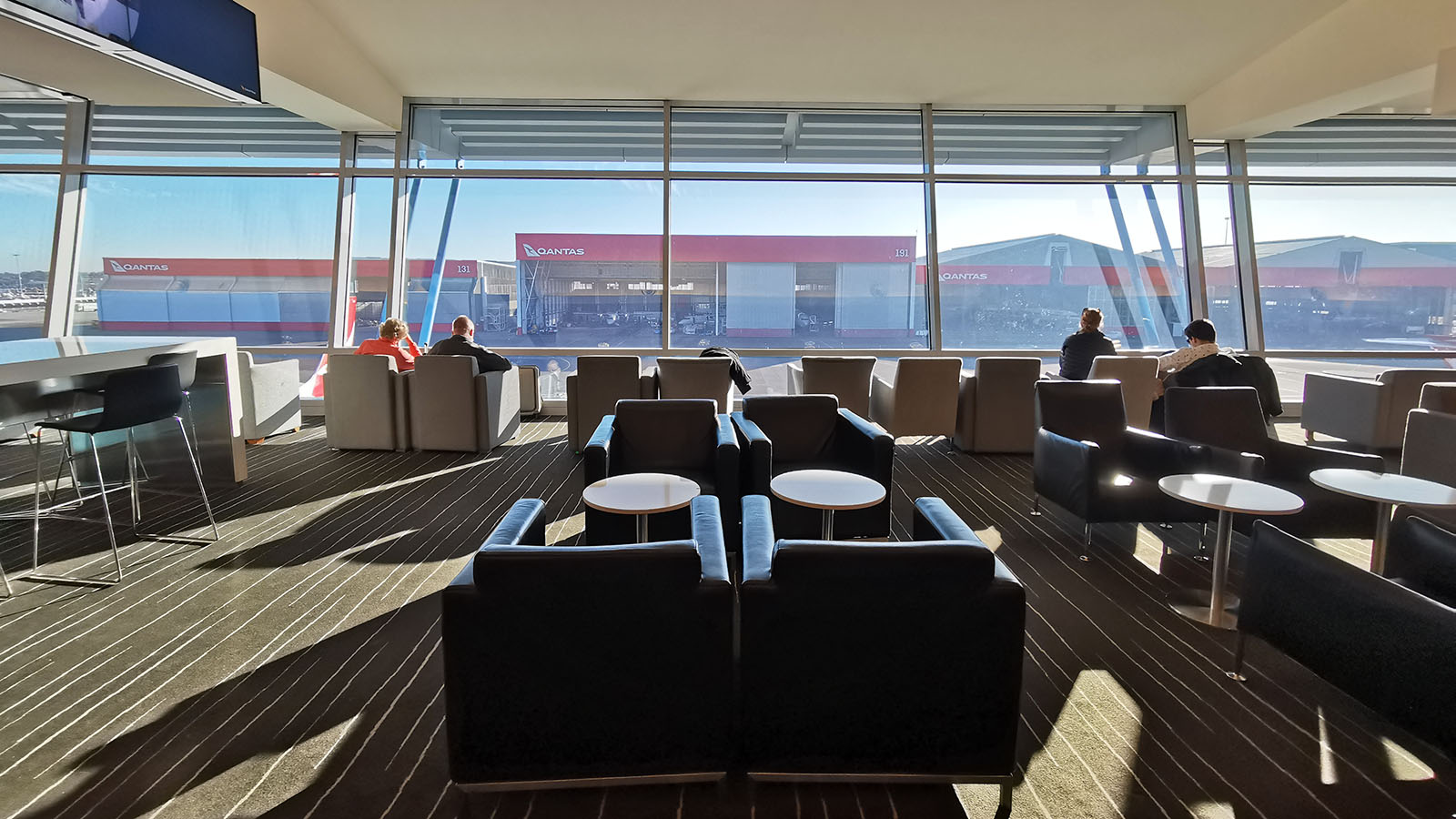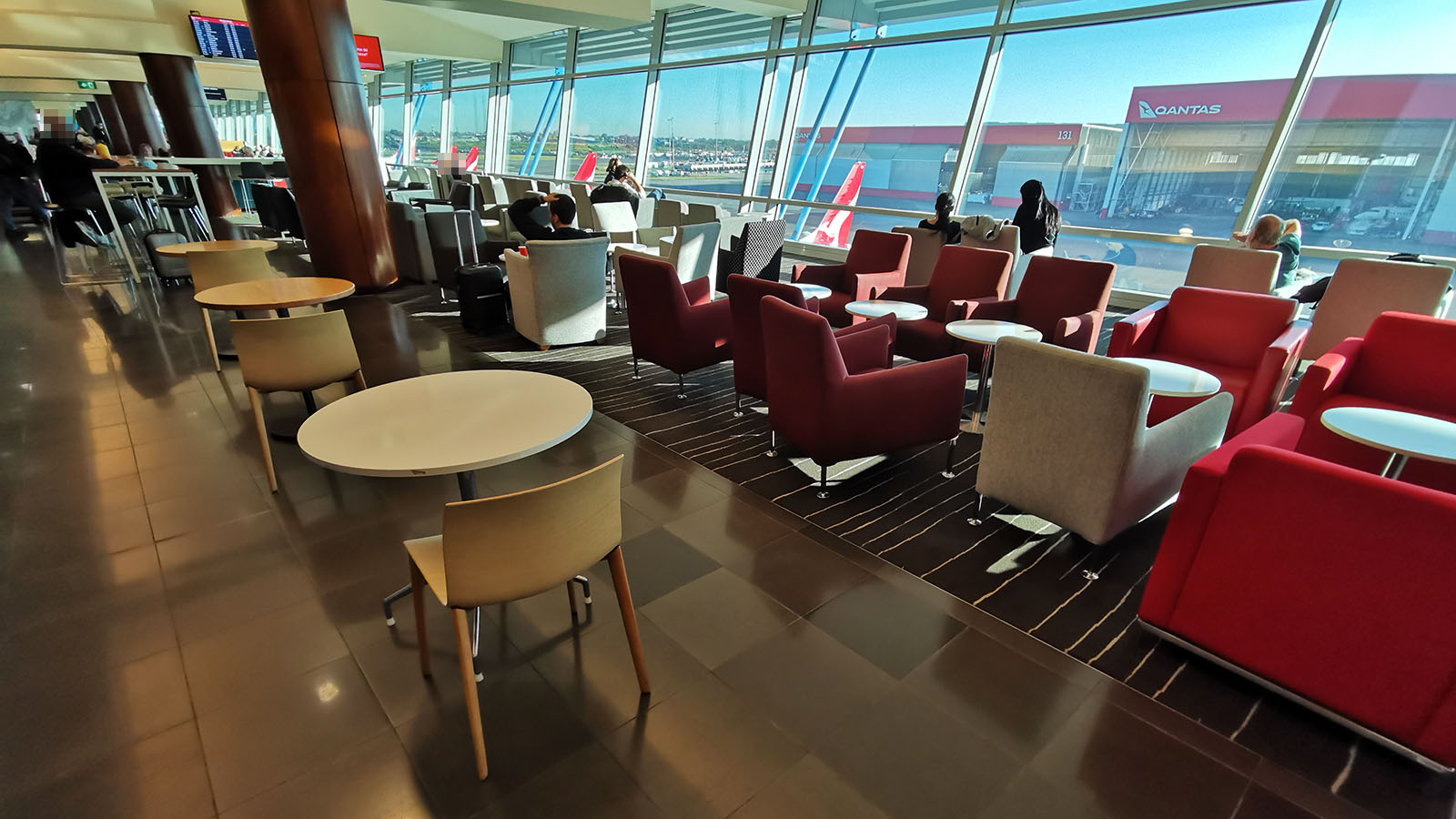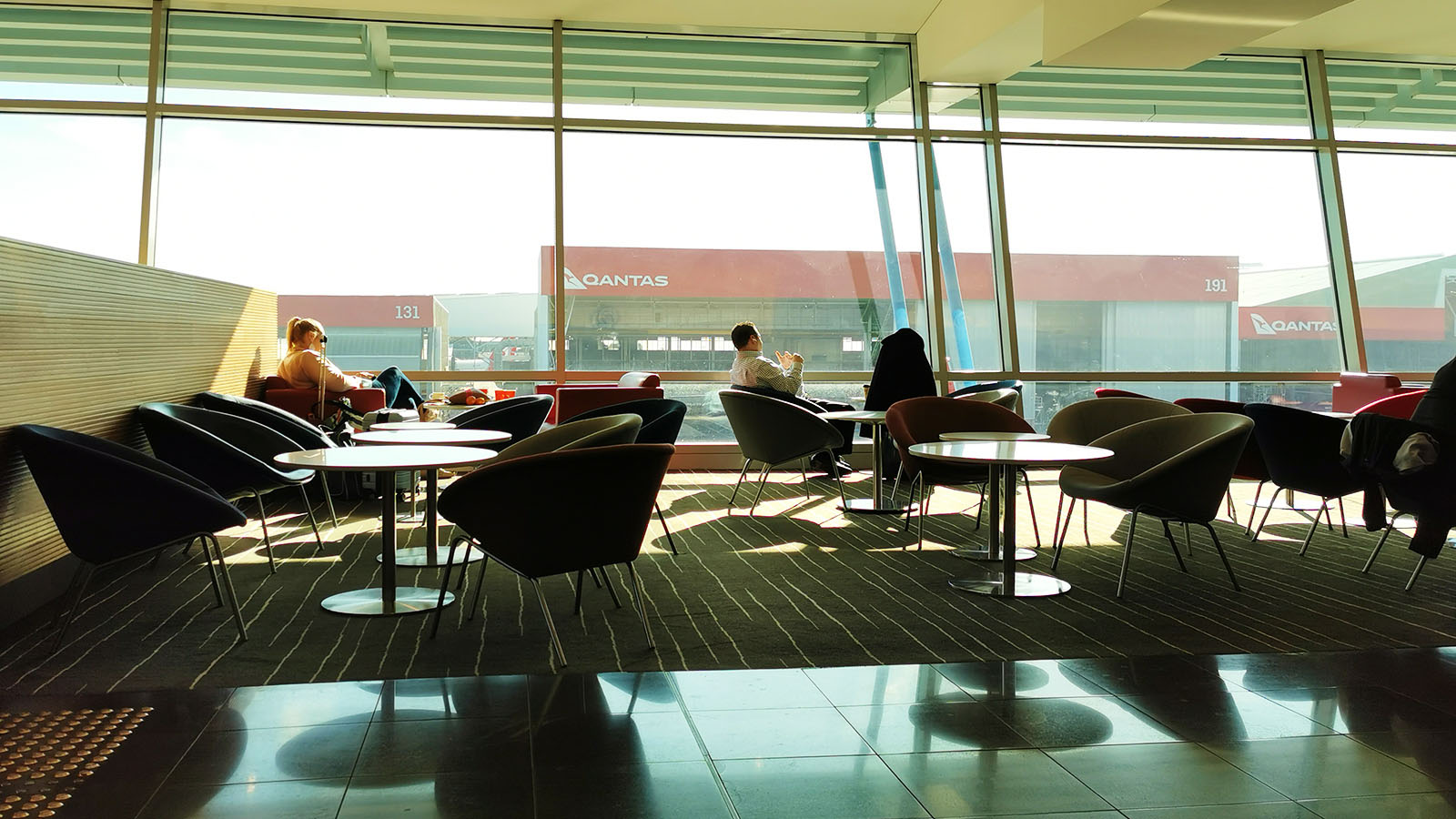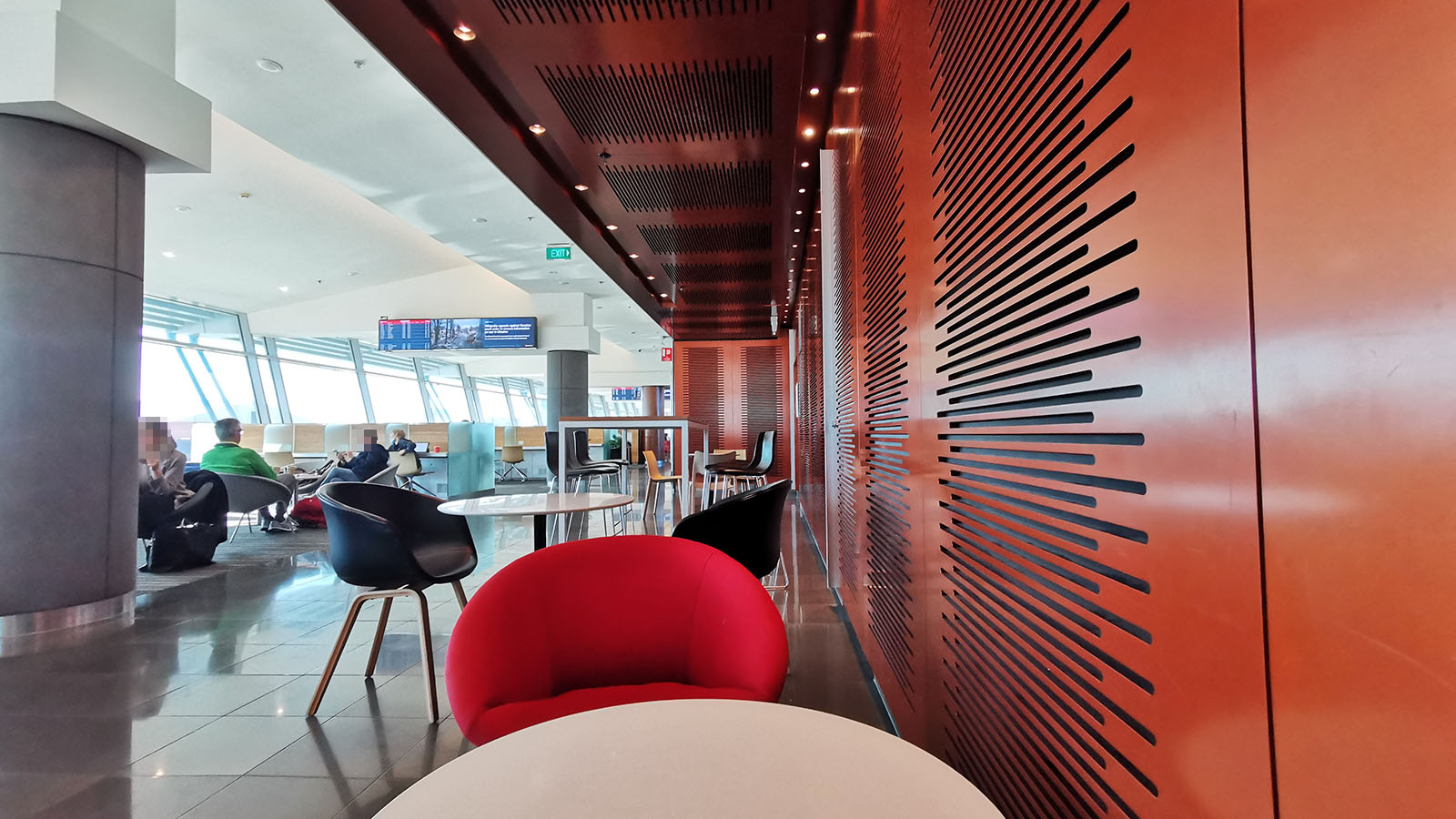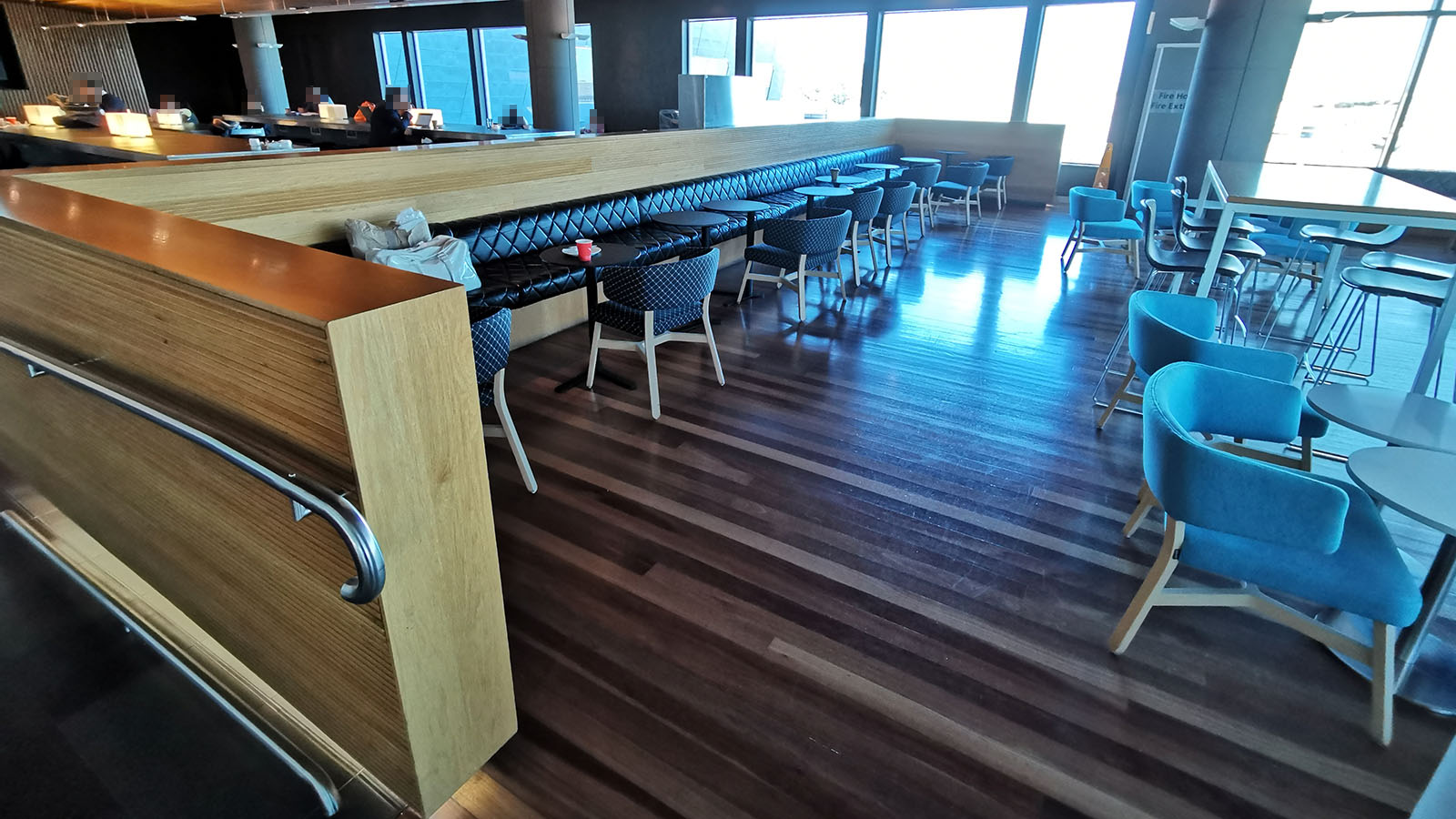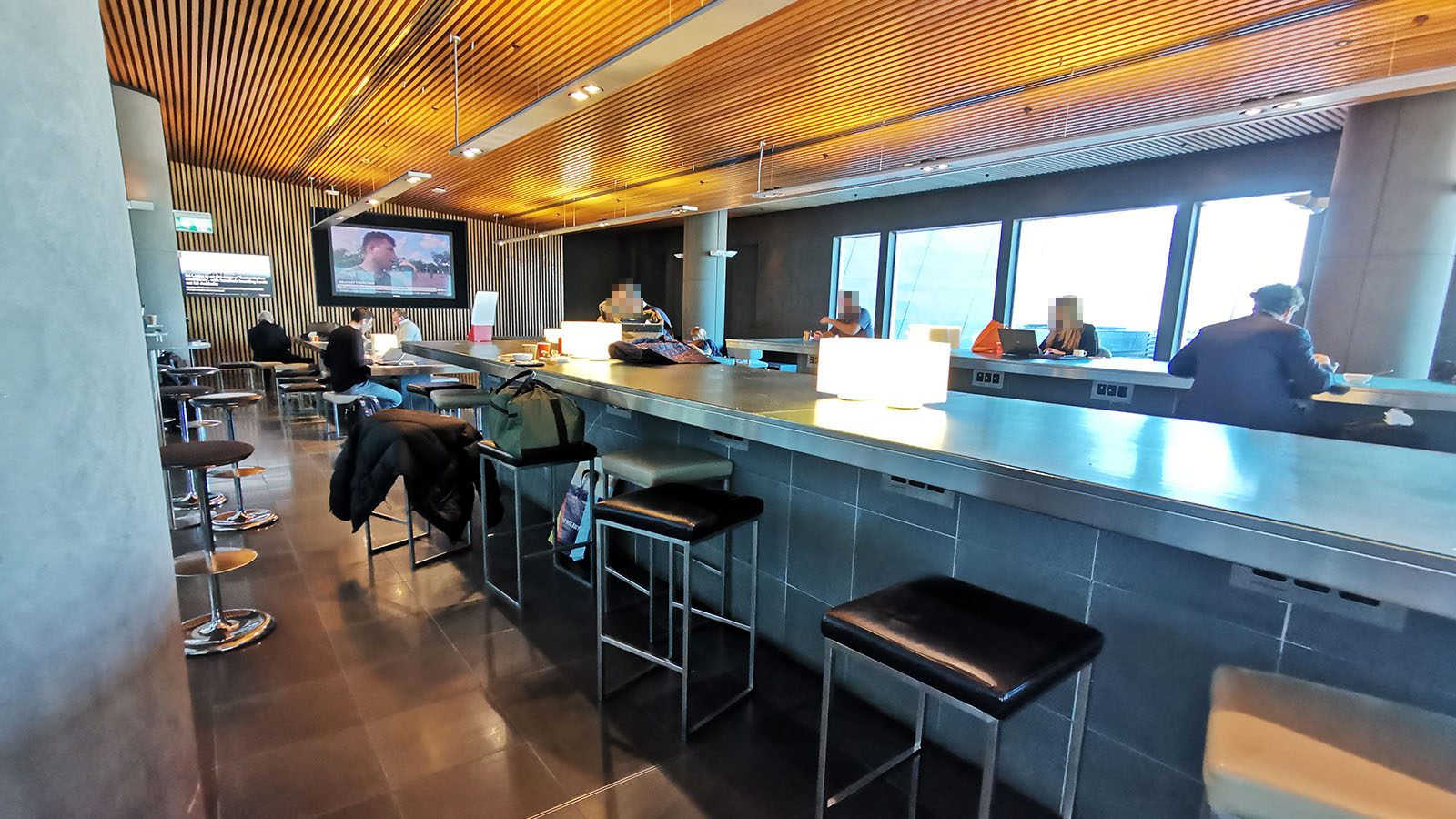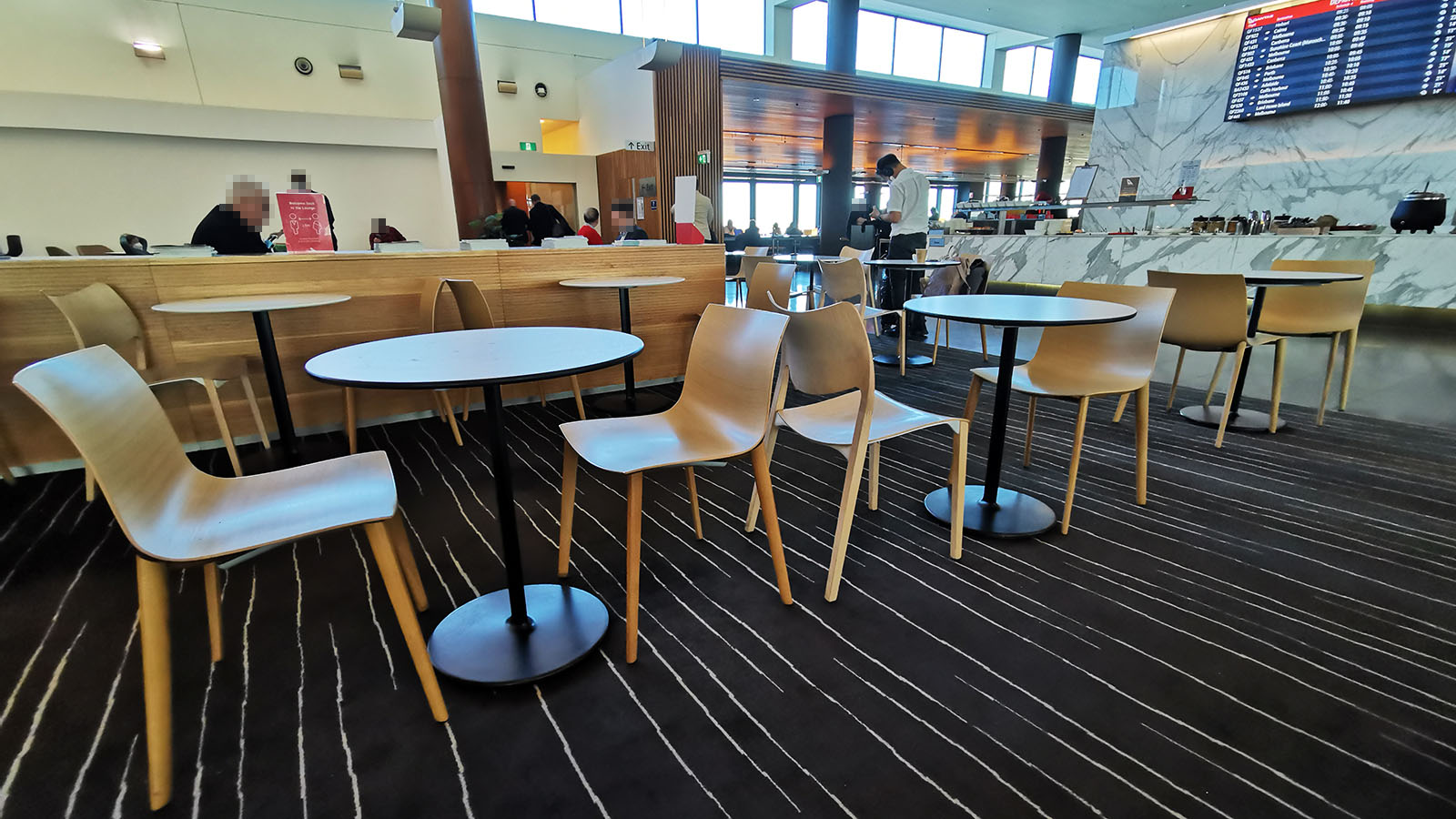 Continuing to wander reveals more individualised working stations, where the iMacs used to be. This leads around to the back of the lounge, where benches line the windows: complete with handy power points.
Looping around the back, there are even more comfy chairs for solos, pairs and groups. In the next space, long benches sit opposite the bar with warm lighting overhead – another great workspace. And finally, we're back near reception, where there's a collection of dining tables conveniently adjacent to the buffet.
Food and beverage in the Sydney Qantas Club
Sydney's Qantas Club serves up a variety of food tailored to the time of day. Being Qantas' lead-in lounge brand, set your expectations below what you'd find in the Qantas Domestic Business Lounge next door. But you certainly won't go hungry.
This mid-morning visit finds fresh fruits at the ready. They're joined by yoghurt, muesli, salad, and various ingredients to create a DIY toasted sandwich. For something other than the typical ham, cheese and tomato, allow me to suggest ham, cheese and pineapple instead. It's not quite a Hawaiian pizza, but it's close.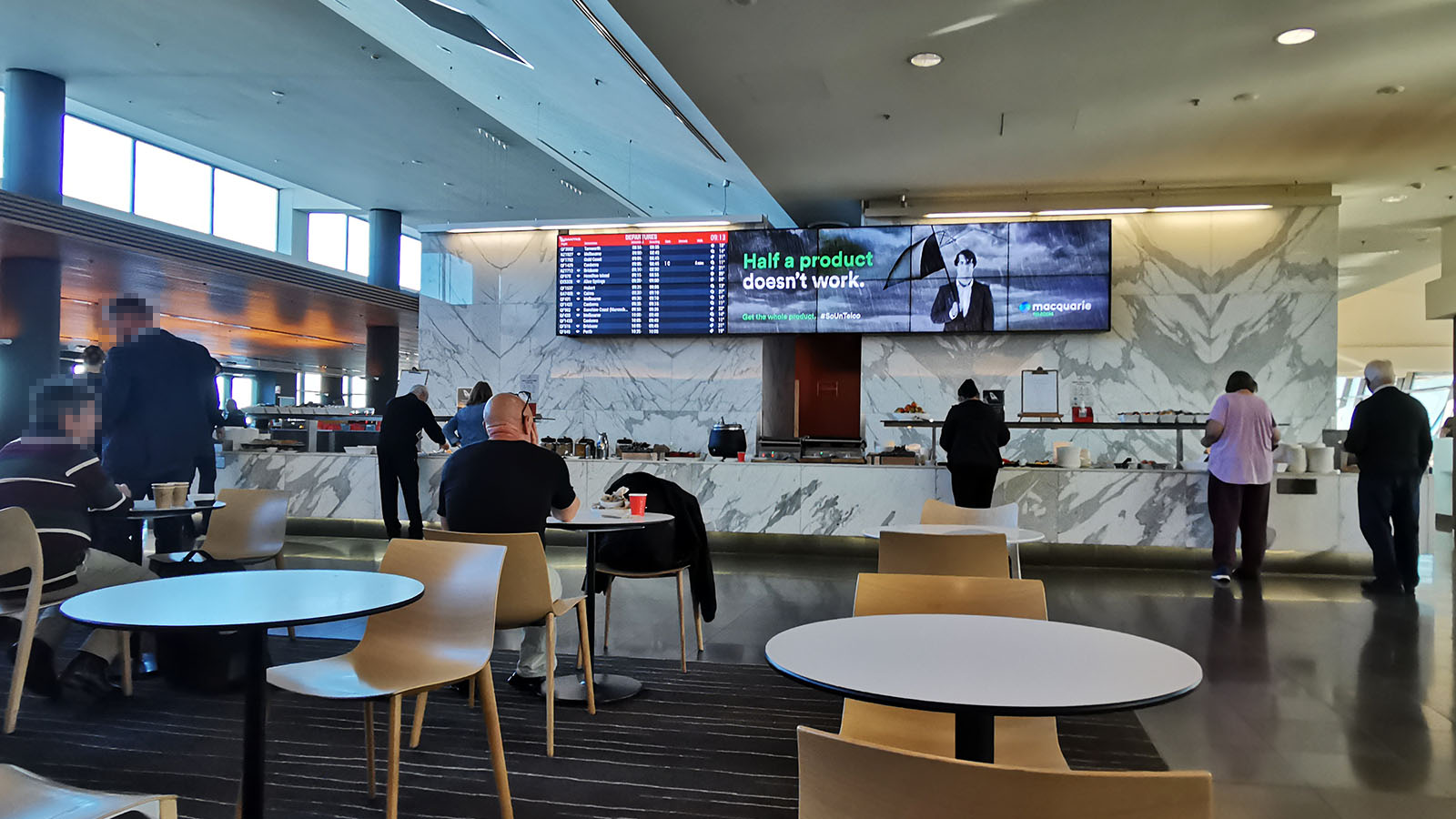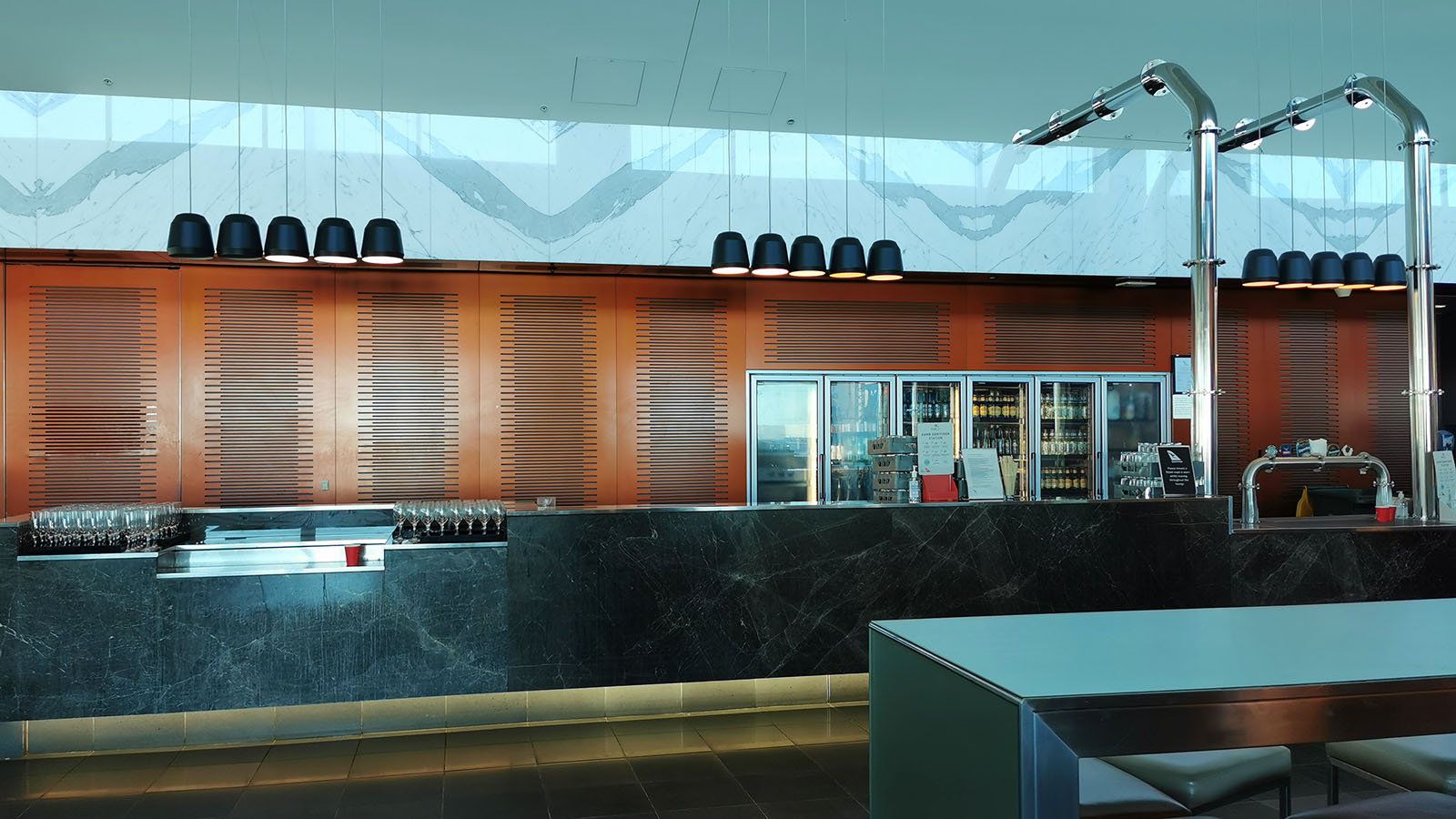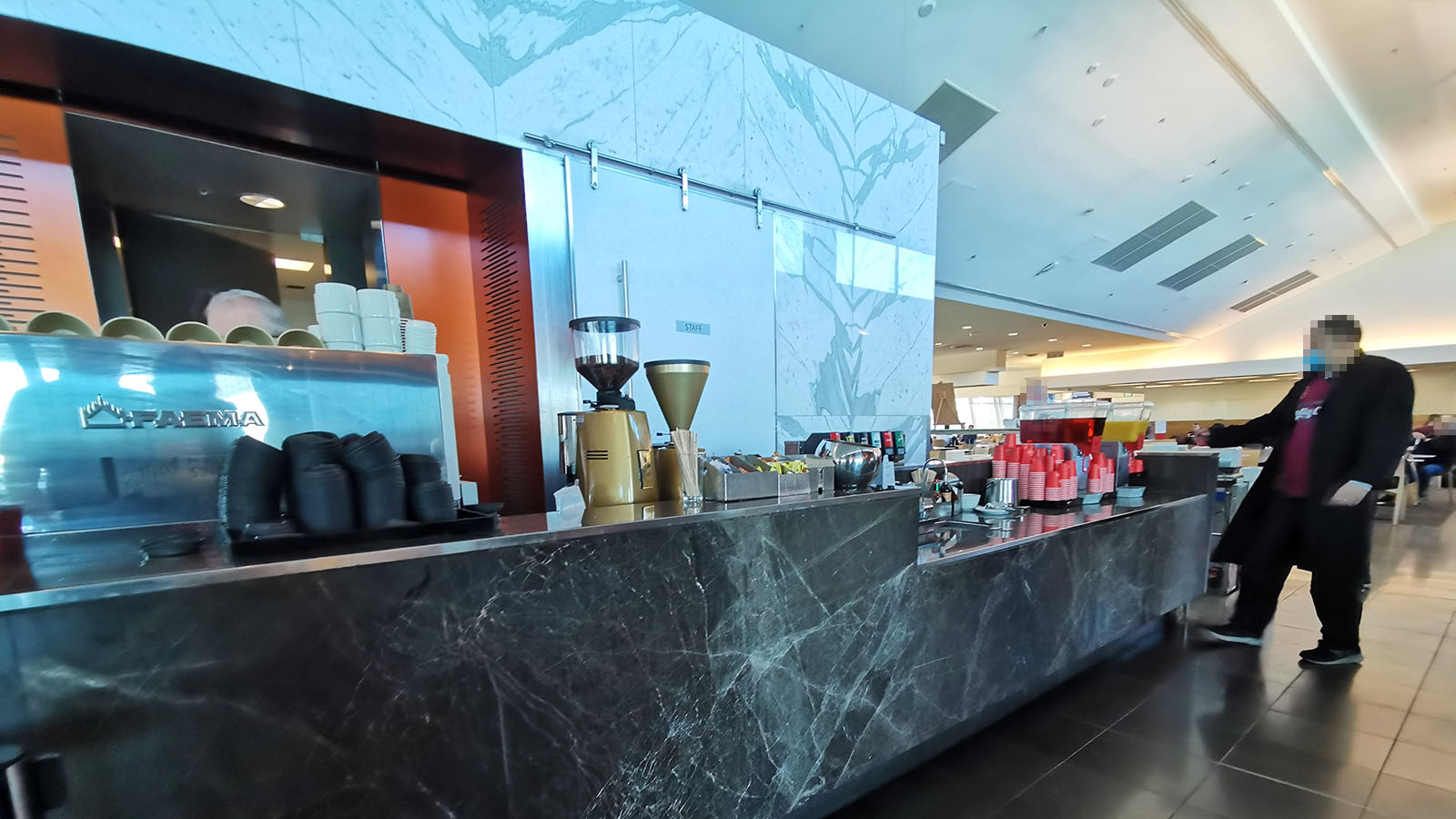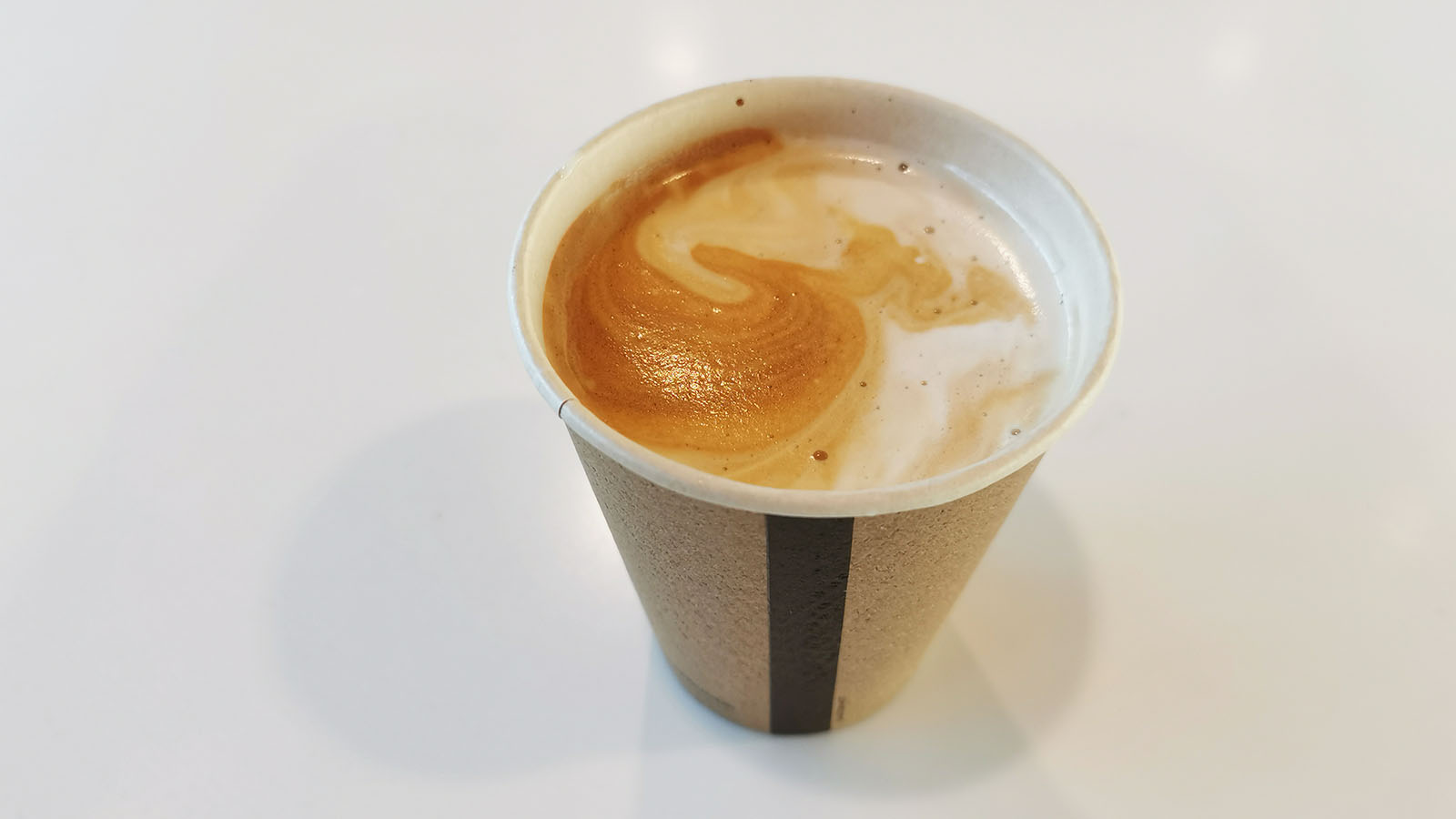 Particularly important on this morning's visit, barista-made coffee is available and served throughout the day. My skim latte is prepared promptly. But with Qantas promoting planet-friendly initiatives like Green Tier, it's a bit disappointing that disposable takeaway cups are still the norm in this lounge.
A visit to Sydney's Business Lounge on the same day finds coffee served in mugs and glassware. This really should be the default setting in the Qantas Club, too.
The bar opens at noon, with beer, wine and spirits all complimentary. And if you're looking for a non-alcoholic alternative that's not just a plain soft drink, a lemon, lime and bitters is a popular go-to.
Lounge amenities
Travelling with young kids? There's a spot just for you in Sydney's Qantas Club – a dedicated 'Joey Club' in the far left corner. There's seating that's perfect for the little ones, with a sofa nearby for the kids at heart.
Being one of Qantas' older domestic lounges, the bathrooms and showers here are adequate, but nothing flash. Compared to the Qantas Clubs in the likes of Melbourne and Brisbane, Sydney isn't quite in the same league. Hopefully in time, this changes.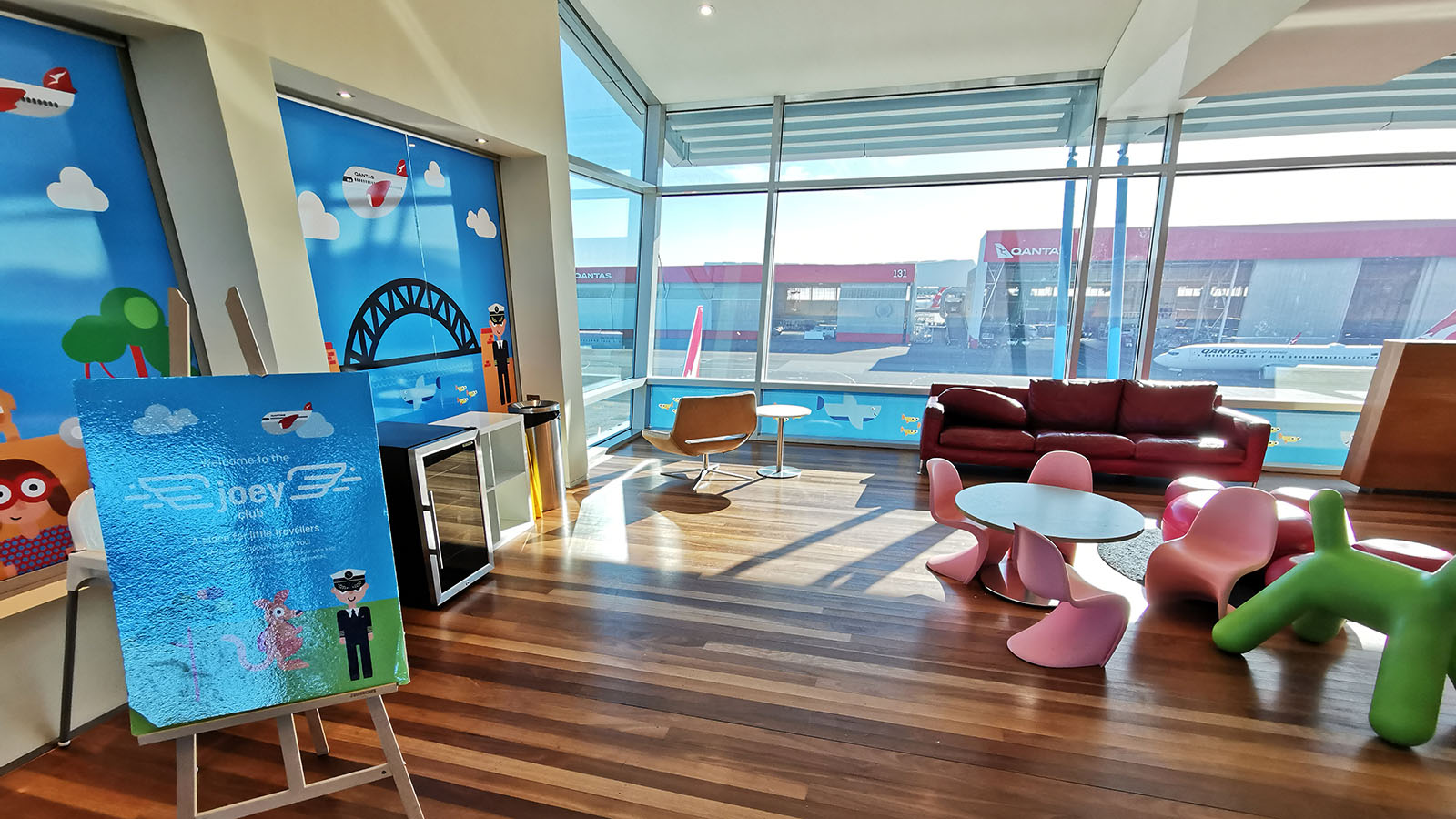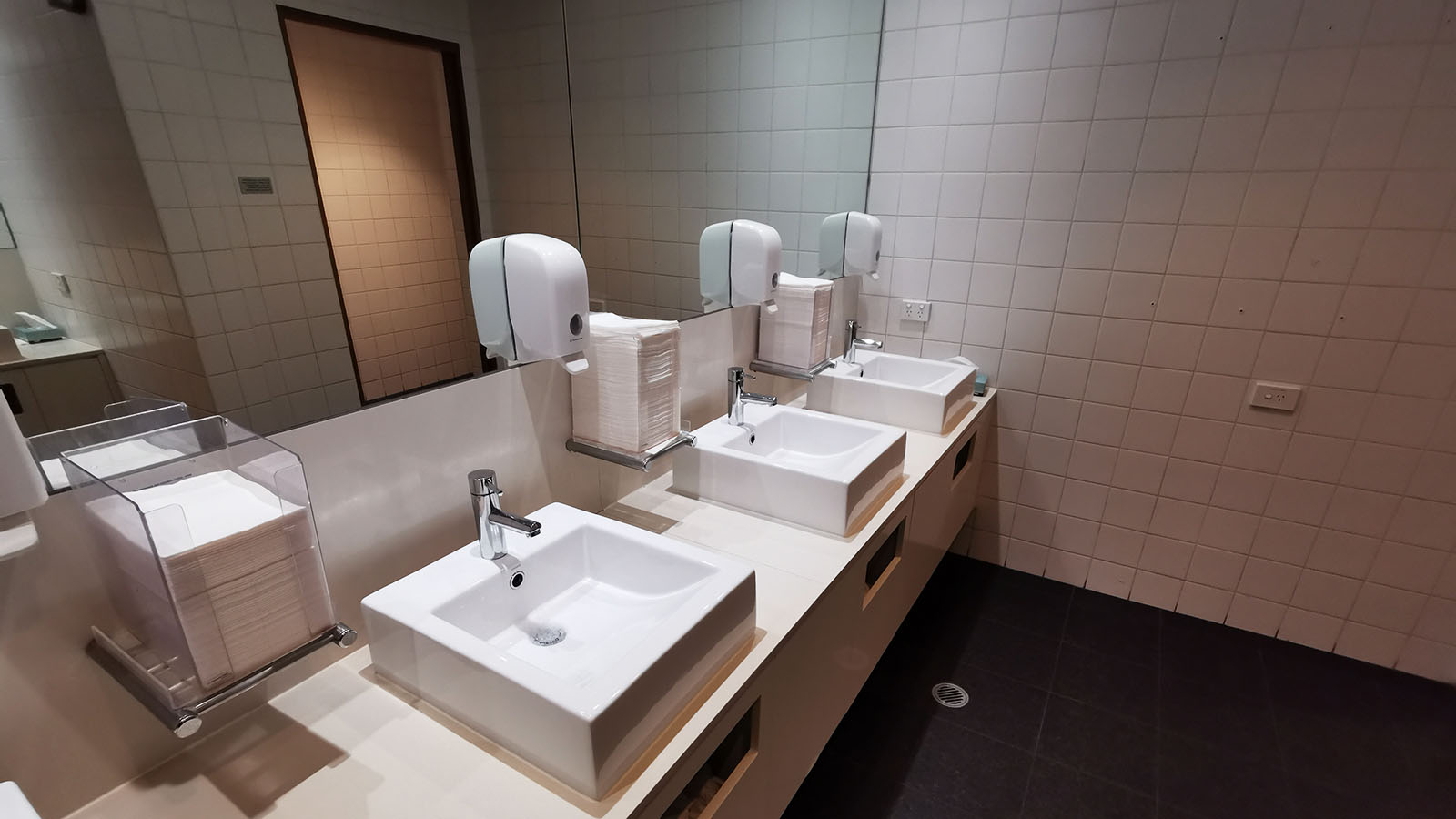 Wi-Fi speeds here are always great. Recent visits to the lounge have consistently found speeds exceeding 100Mbps for both uploads and downloads. In other words, if you're downloading some Netflix content for your flight ahead, you won't be waiting long.
Accessing the Sydney Qantas Club
Of Qantas' trio of domestic lounges at Sydney Airport, the Qantas Club is certainly the easiest to access. Here's a list of flyers that call this lounge home – excluding those who qualify for the higher-tier Domestic Business Lounge and Chairman's Lounge, who would venture there instead.
Courtesy of lounge membership or Qantas status, when departing on Qantas, QantasLink or Jetstar:
Single entry passholders: as provided each year to Qantas Silver frequent flyers and through selected credit cards. At off-peak times, you might also receive an email offering one-off paid entry for $49.
Airline partner frequent flyer status, when departing on Qantas or QantasLink (not Jetstar):

oneworld Sapphire (+1 guest).

Emirates Skywards Gold (+1 guest).

Air New Zealand Gold and Elite (+1 guest, and must be on an NZ flight number).

China Eastern Miles Gold (+1 guest).

Airline partner lounge membership, when flying Qantas or QantasLink (not Jetstar):

Alaska Airlines Lounge (+2 guests).

American Airlines Admirals Club (+2 guests).
As above, higher-tiered travellers would instead visit the Qantas Domestic Business Lounge. This includes Platinum-grade and oneworld Emerald frequent flyers, as well as passengers booked in Qantas Business.
Summing up
The Qantas Club at Sydney Airport is sure to be one of the airline's busiest domestic lounges – if not the busiest. So it'd be great to see this space upgraded to match its counterparts in the other east coast capitals.
But as it stands today, it's still a respectable facility. With plenty of room to move, I'm always able to find a seat: even at peak times. Added to that, most travellers would spend 45 minutes or less in a lounge like this. That's just enough time for a coffee (or wine), snack and a few emails before jetting off.
On each of those fronts, this lounge ticks the boxes with all-day barista coffee, bar service from noon, buffet snacks and fast Wi-Fi. So while the ambience could do with a facelift, the basics are still covered.
Chris Chamberlin accessed the Qantas Club courtesy of his Qantas Frequent Flyer status while travelling at Point Hacks' expense.
---
Stay up to date with the latest news, reviews and guides by subscribing to Point Hacks' email newsletter.
Qantas Club, Sydney
was last modified:
June 24th, 2022
by