If you want to fly across Australia in supreme comfort, Qantas' Airbus A330 Business Class is the way to go. Ever since Virgin Australia was forced to shed its widebody fleet during voluntary administration, Qantas has become the only airline with lie-flat Business Class seats on east-west routes.
With flights to Perth sometimes reaching 5 hours and 30 minutes, arriving in style is certainly an appealing option. And upgrades to Qantas Business on transcontinental flights start from just 10,900 points, depending on what fare you book. An outright Business Classic Flight Reward will set you back 41,500 points.
But has COVID-19 affected the service onboard? We take to the skies in Qantas Airbus A330 Business Class on a busy transcontinental flight from Sydney to Perth to bring you this review.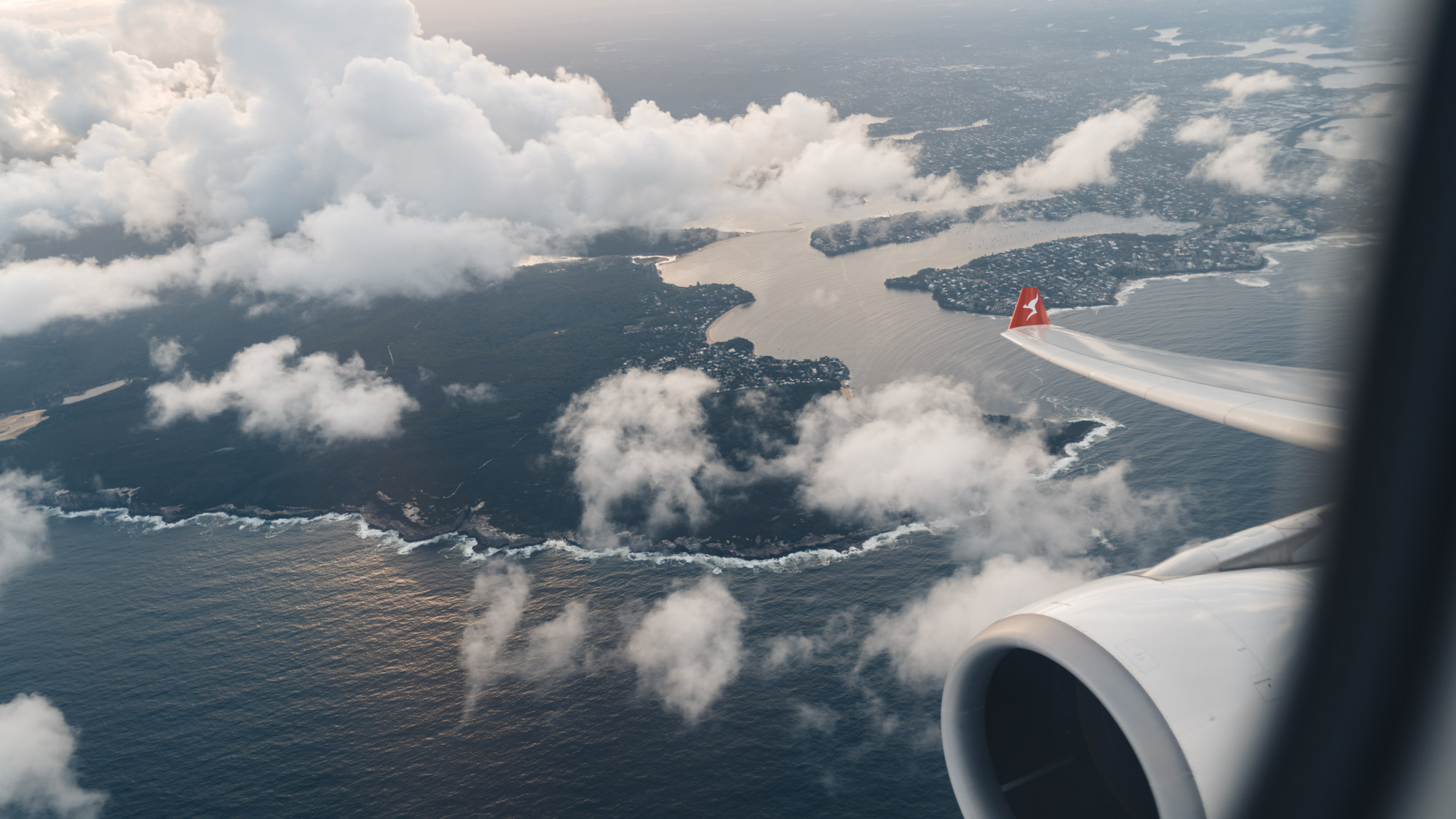 Before the flight
Qantas operates from Terminal 3 at Sydney Airport – you can't miss it. The airy check-in hall has plenty of self-check-in kiosks and a small number of staffed desks. Security screening is through the middle, with a dedicated lane for Business Class and elite status passengers off to the left.
Qantas' Sydney Domestic Business Lounge is the home for Business Class passengers. We've just updated our review of this space, which has excellent views but could do with a refresh soon.
Priority boarding is handled efficiently at the dedicated dual-aerobridge gates, with eligible passengers (including Business Class guests) invited to board first through the left.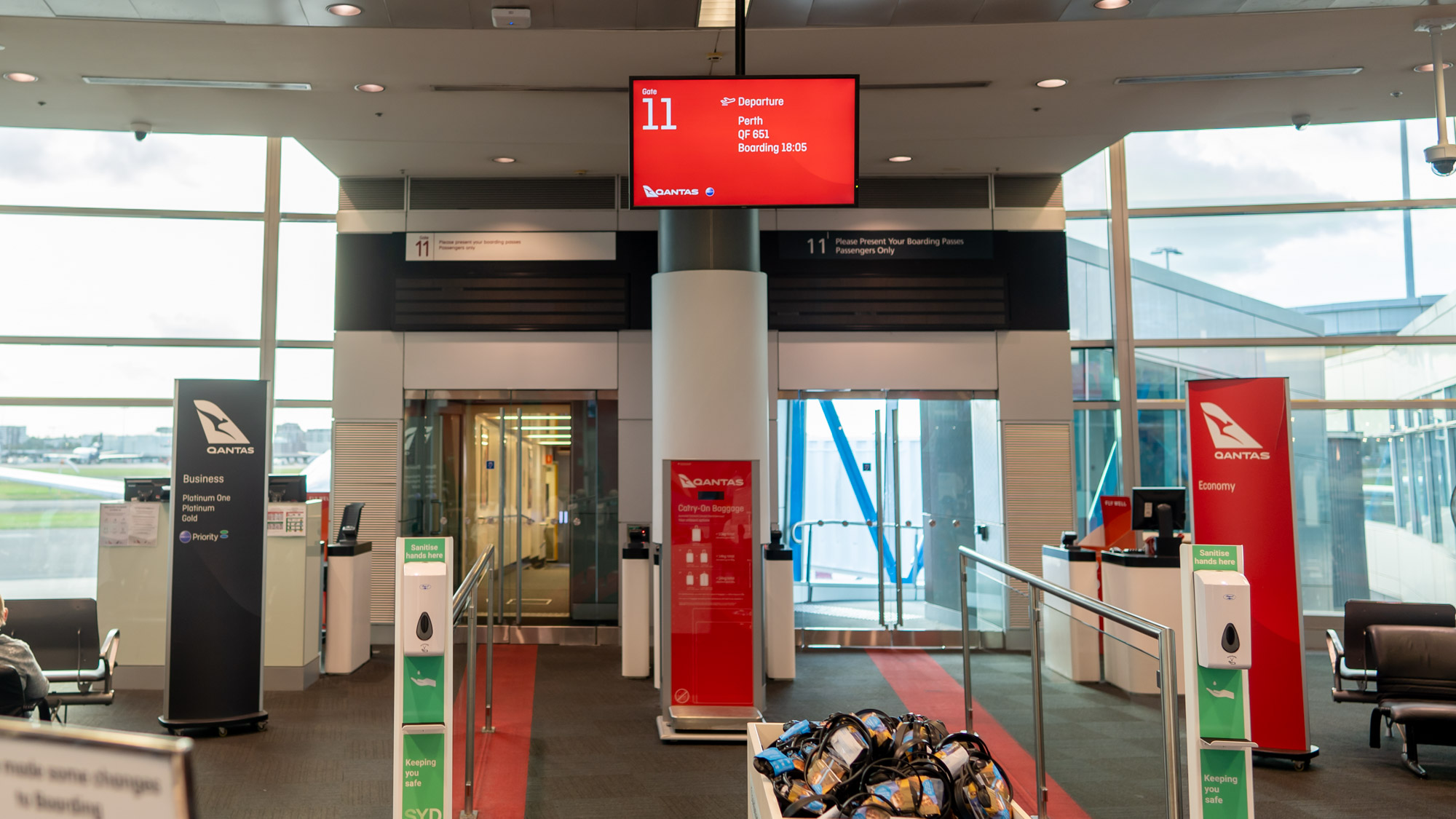 Cabin & seats
Qantas actually has a few different variations of its Airbus A330-200 jets, which you can find on its website. Ten of its fleet has the standard domestic layout – these have WiFi and 28 Business Class seats at the front.
The other eight Airbus A330-200s have a modified international layout with 27 Business Class seats. But in exchange, there's an extra toilet in Business and more galley space for meals. I happened to be flying on one of these jets from Sydney to Perth.
(After returning to Sydney, it would later go on to fly the Sydney-Adelaide-New Delhi-Melbourne route next).
Checking out the Airbus A330 Business Suite
The original Qantas Business Suite, based on the Thompson Aero VantageXL, is still a delight to look at. On these modified planes, the all-leather seat has been re-upholstered to have a fabric backing and leather headrest, which I much prefer. It's more comfortable for longer journeys.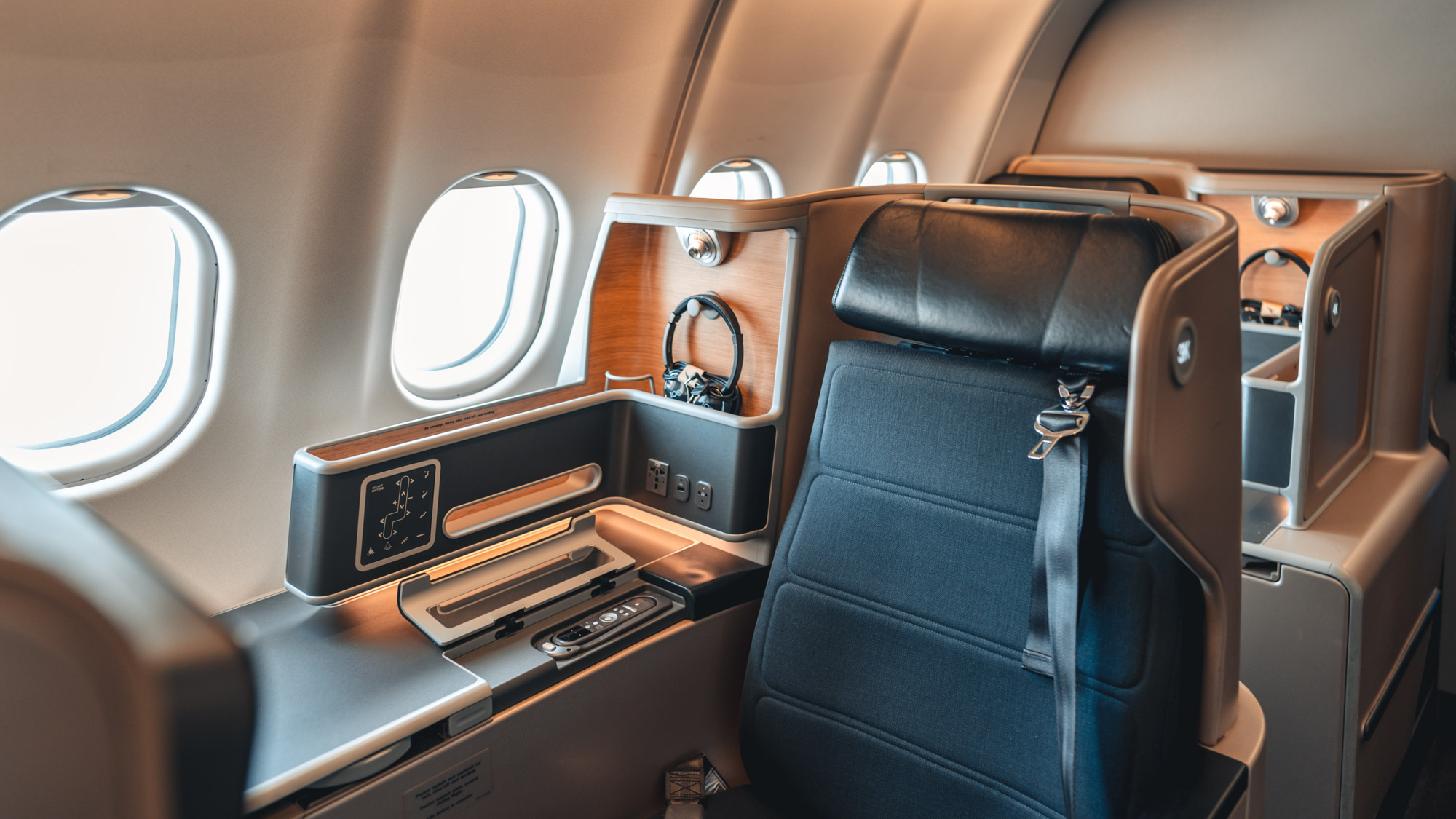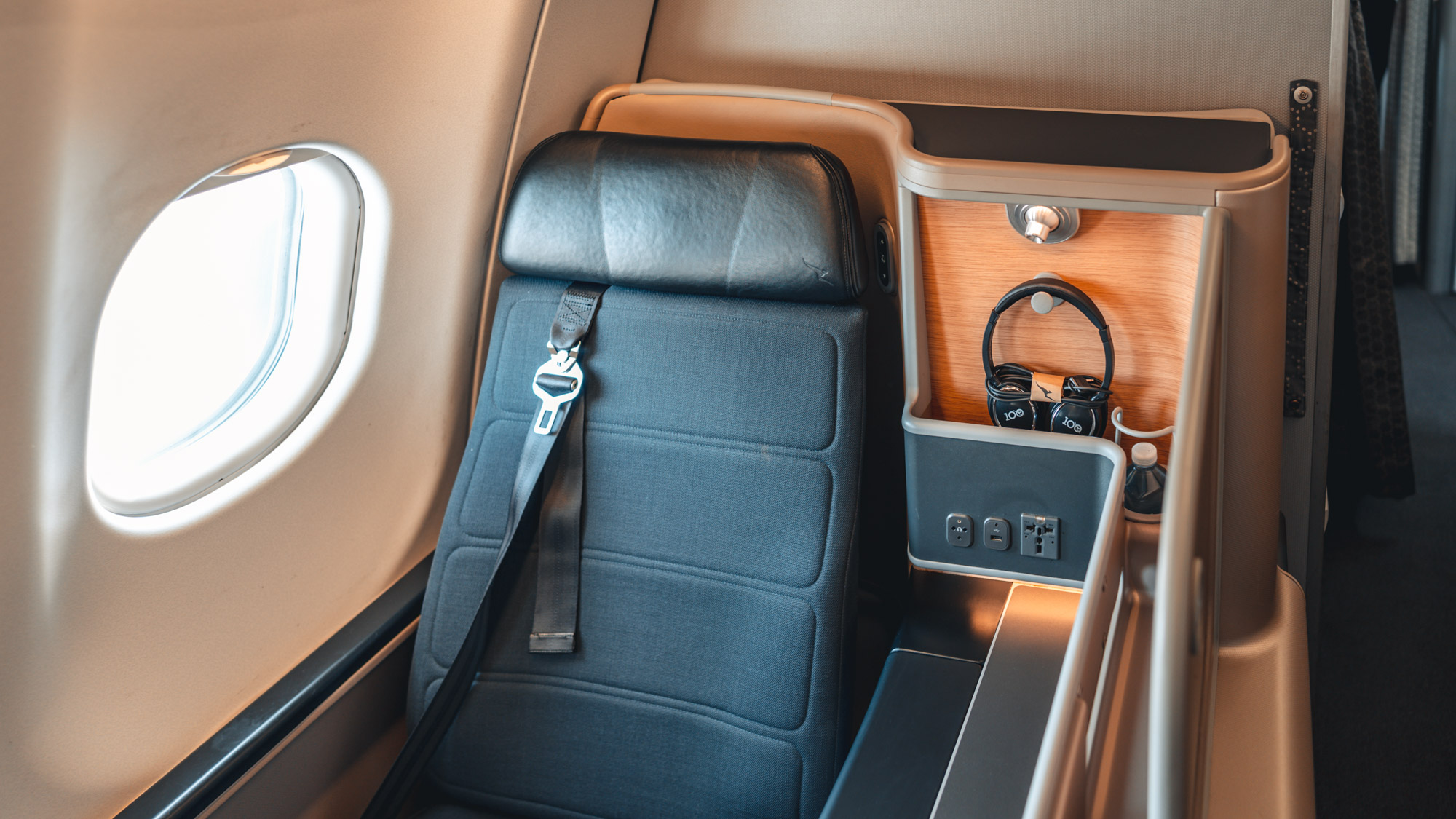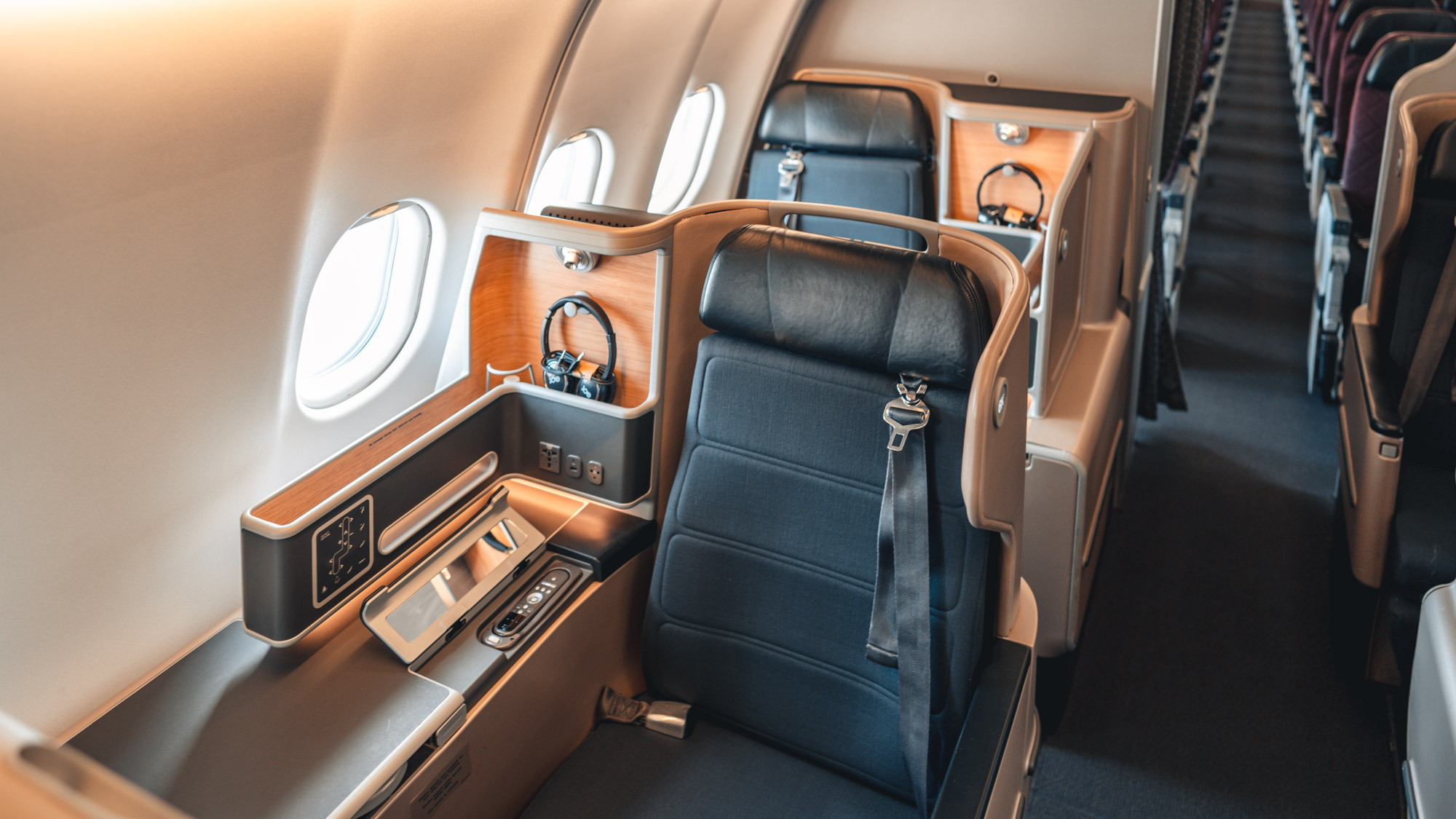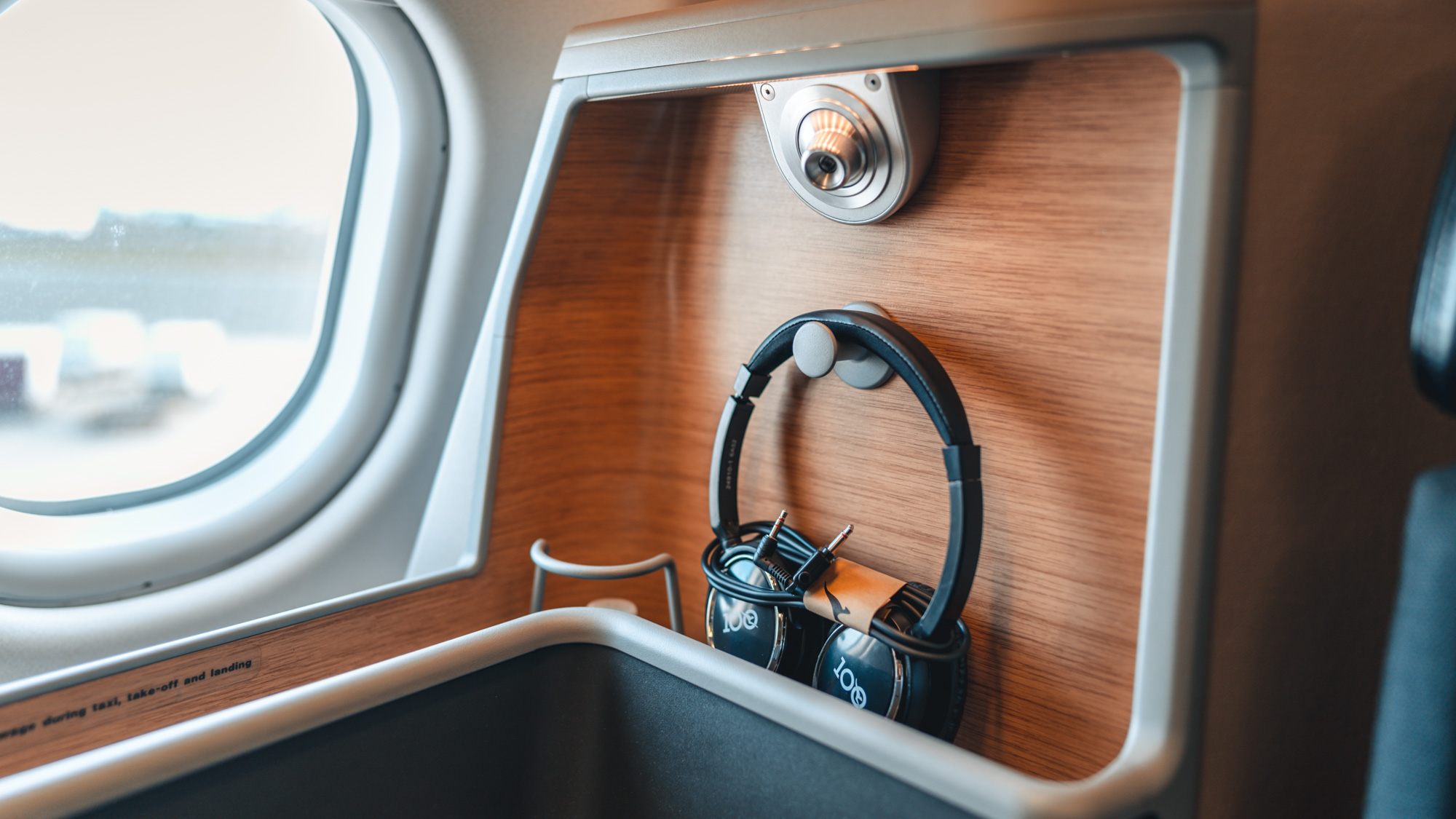 Arranged in a staggered 1-2-1 layout, each window seat alternates between being closer to the window and to the aisle. If you like privacy, choose one of the enclosed windows suites (2A/2K, 4A/4K, and on some planes, 7A/7K). But the aisle-facing suites are still comfortable and much easier to get in and out of.
Want extra space in the footwell? Consider one of the bulkhead seats (1A/1K or 6A/6K) for more room to stretch out. Row 6 even has an extra storage compartment on the side.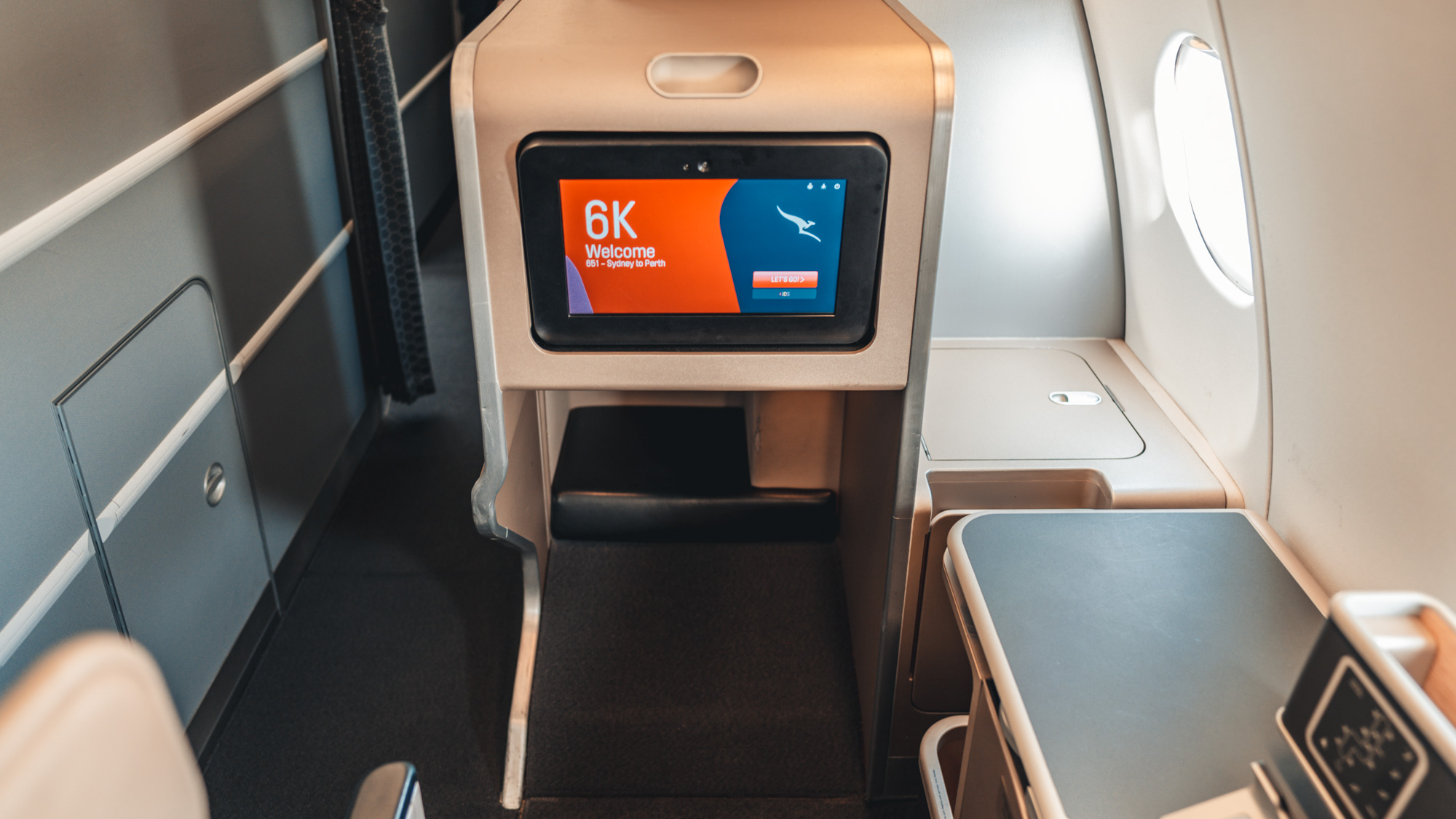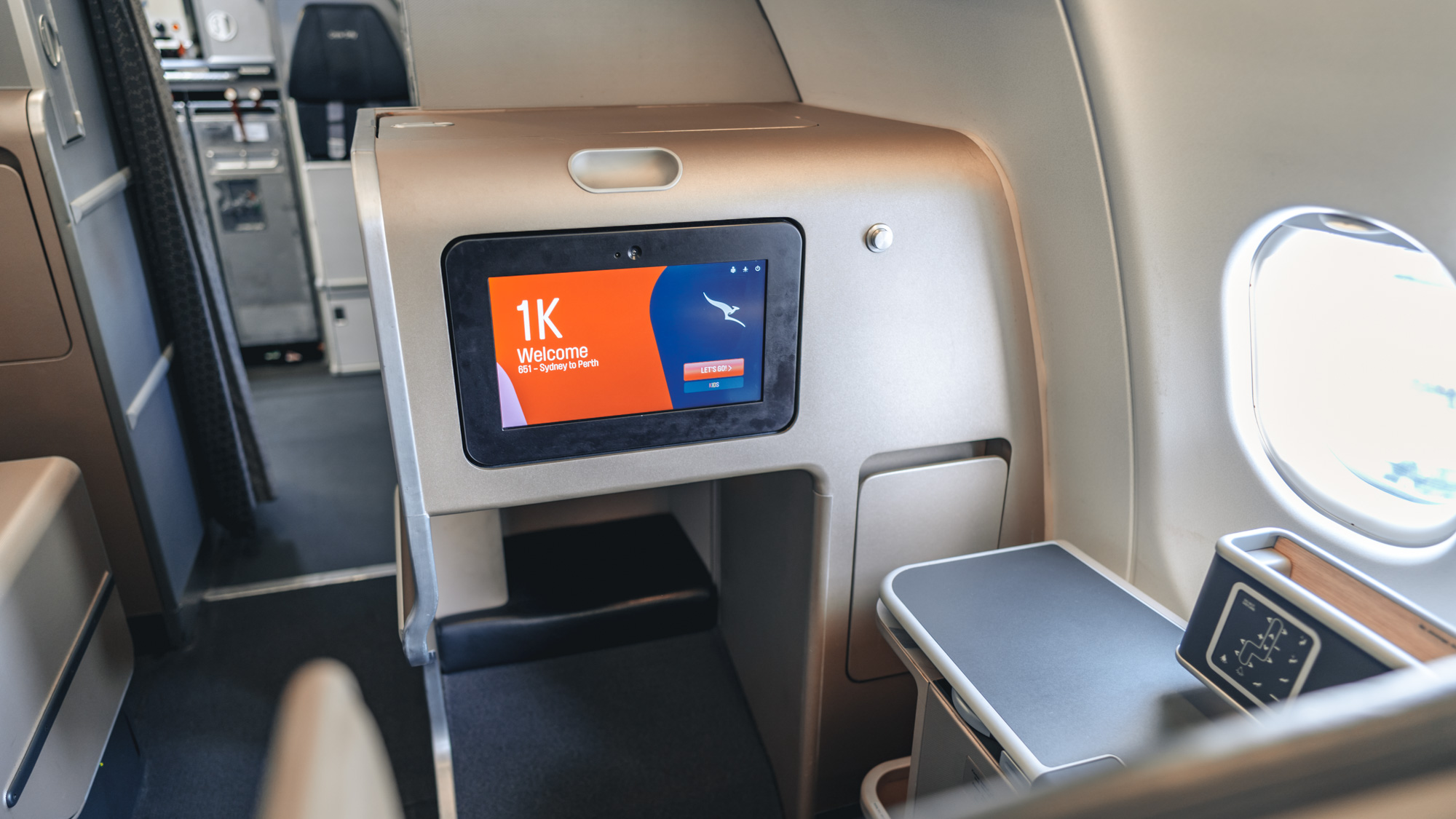 The middle paired seats (E/F) also alternate to being closer to one either or the other. It doesn't make too much difference where you choose to sit, but one suite in each pair does have a larger side console if that matters to you.
There's a fixed privacy divider that is sufficient to block your neighbour's view, but it also makes it harder for travelling duos to talk to each other. This is addressed in Qantas' Boeing 787 and Airbus A380 Business, which has retractable privacy dividers.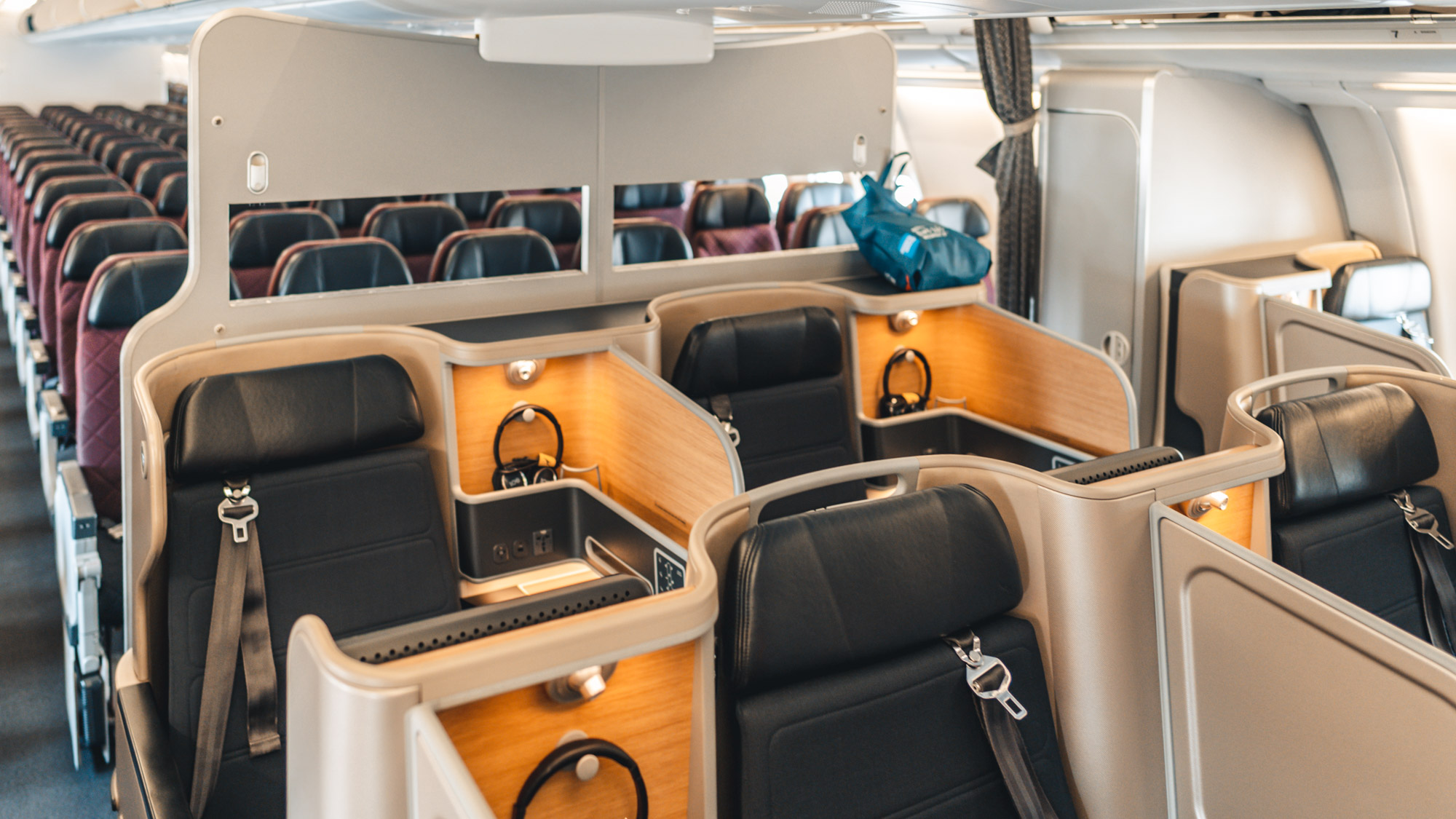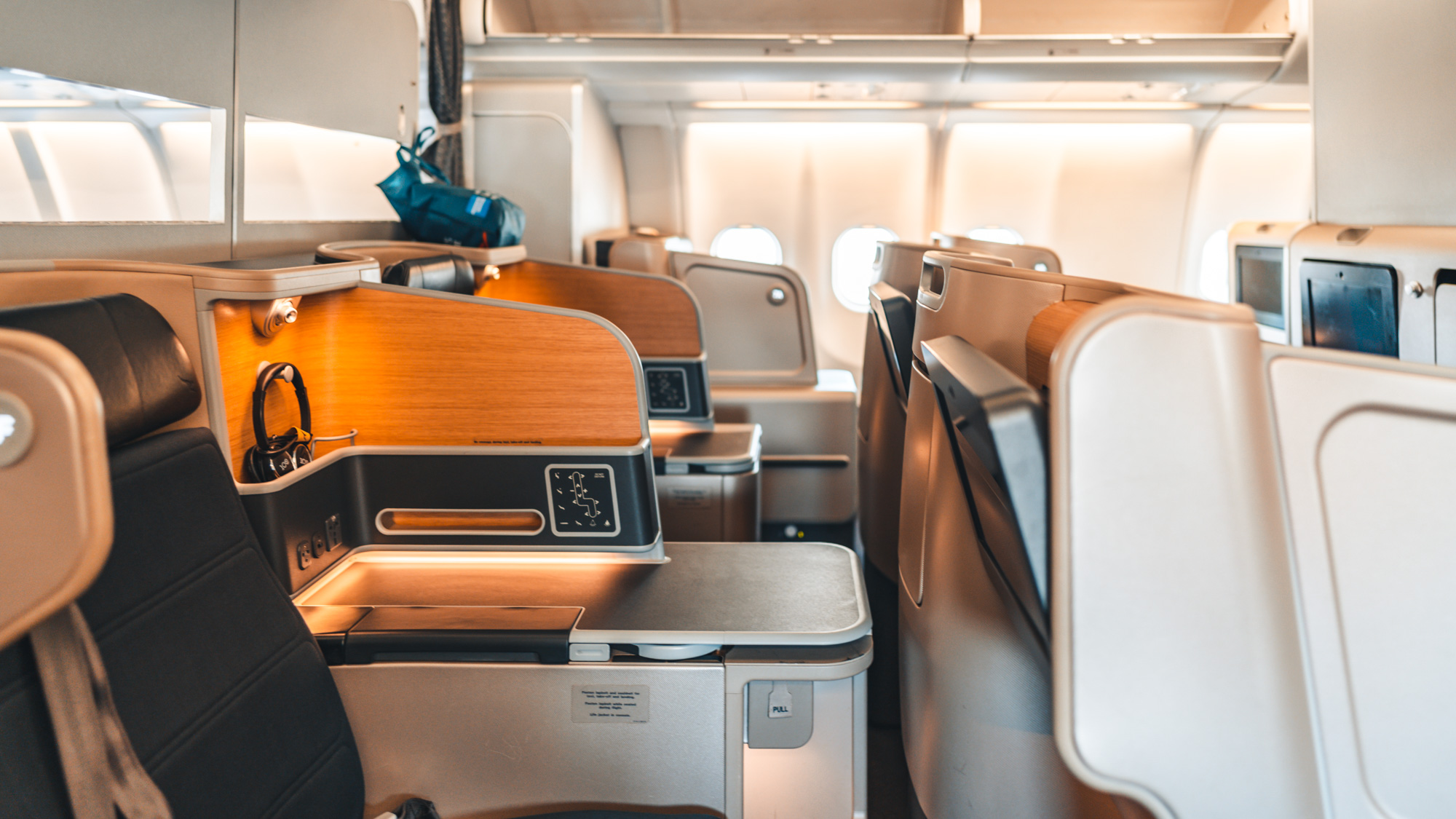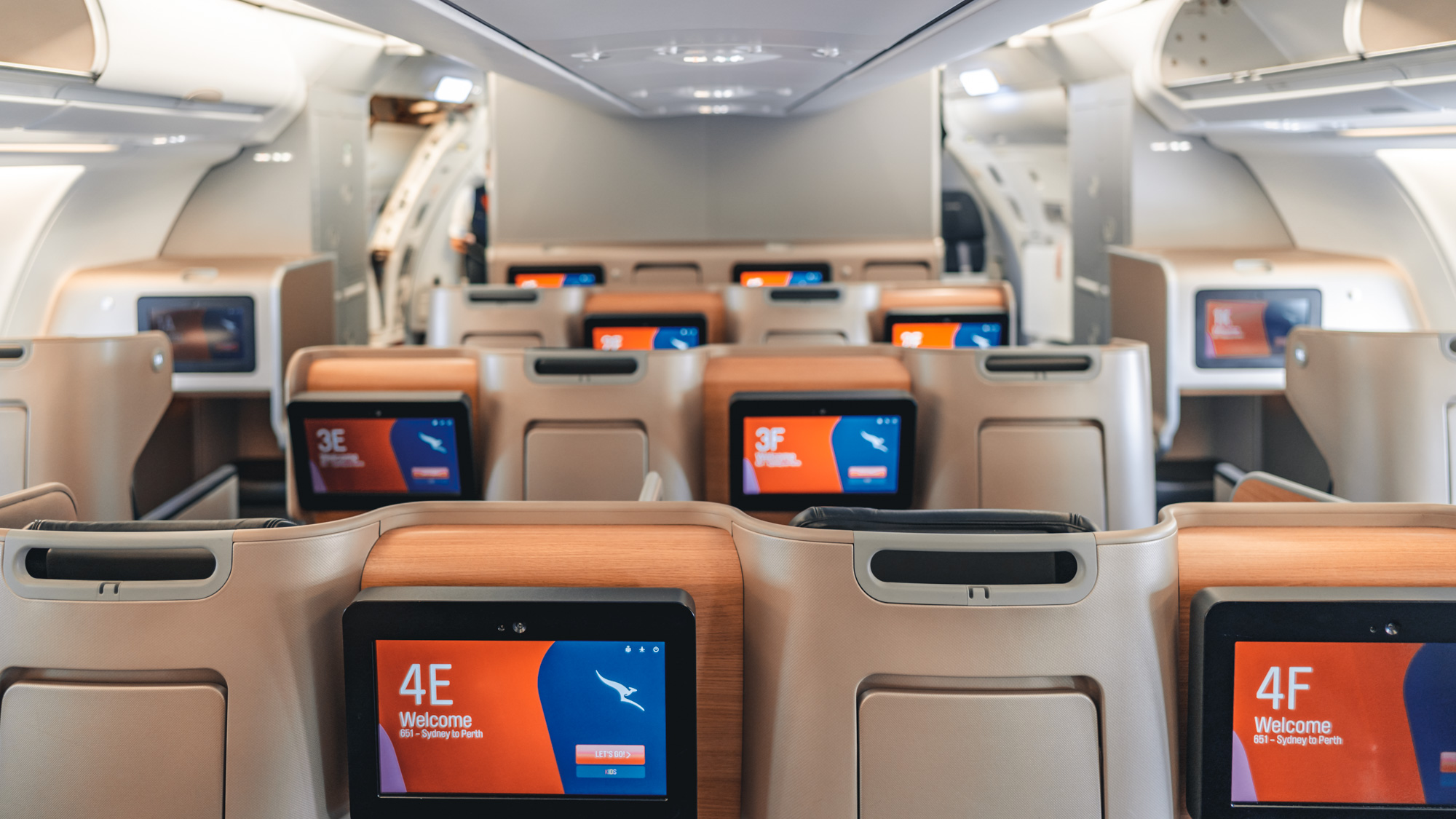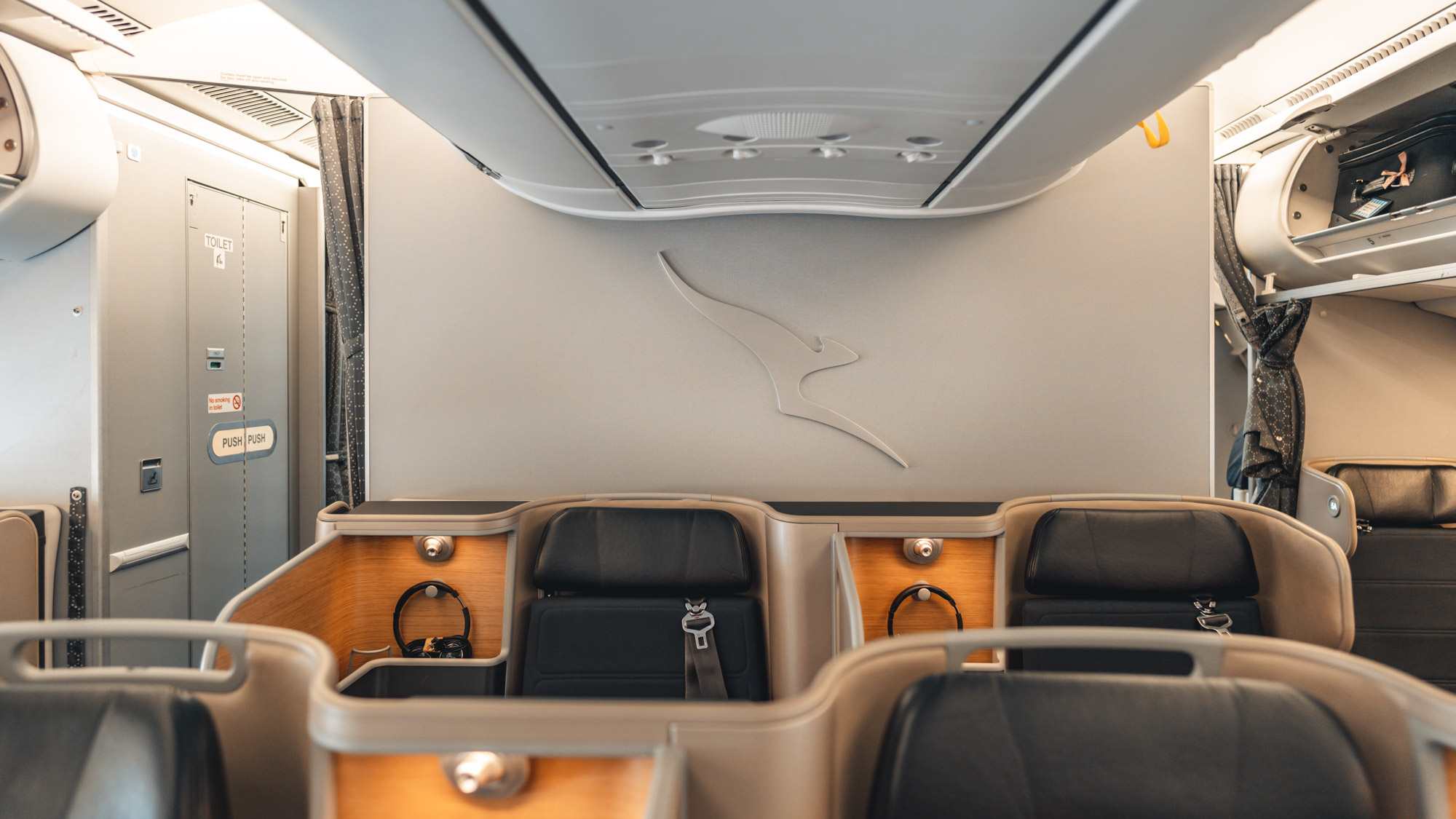 Through the intuitive controls, you can adjust your seat to a position that suits you. There's an approved recline preset for take-off and landing, which is indicated by the plane icon. And during the flight, just hold the bed icon to flatten the seat into a fully-flat bed. Don't forget to also play with the back massage and lumbar support buttons!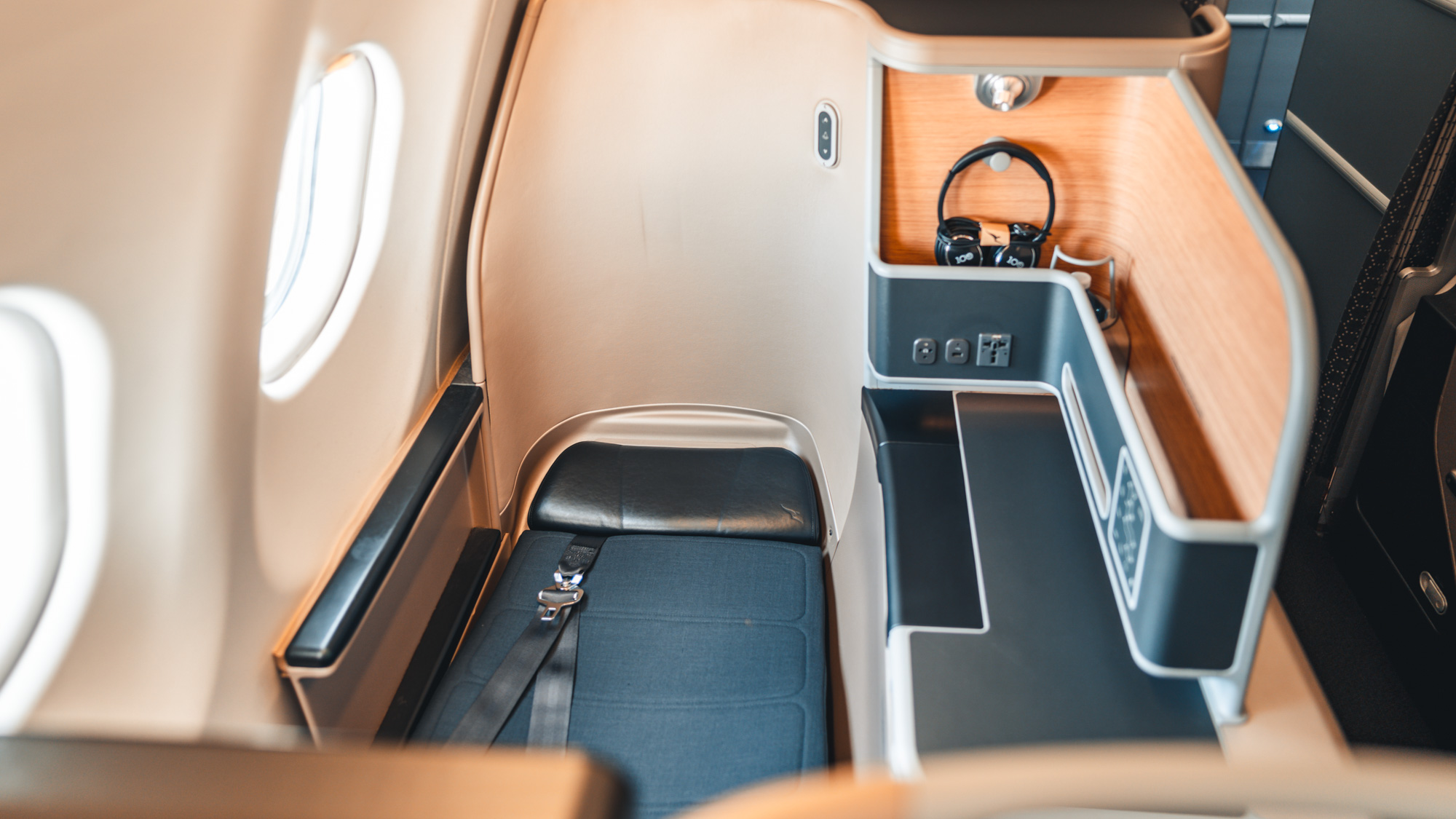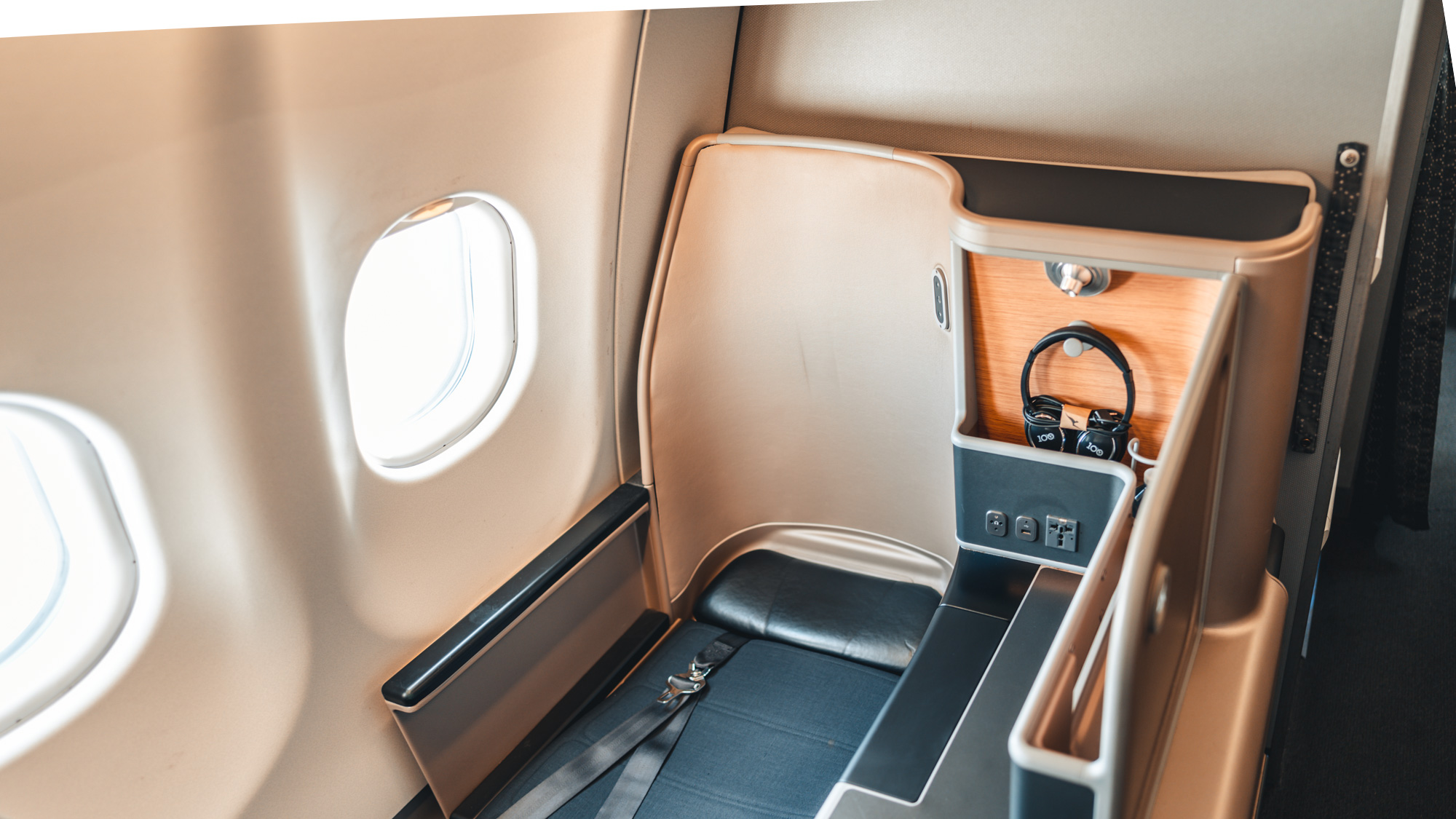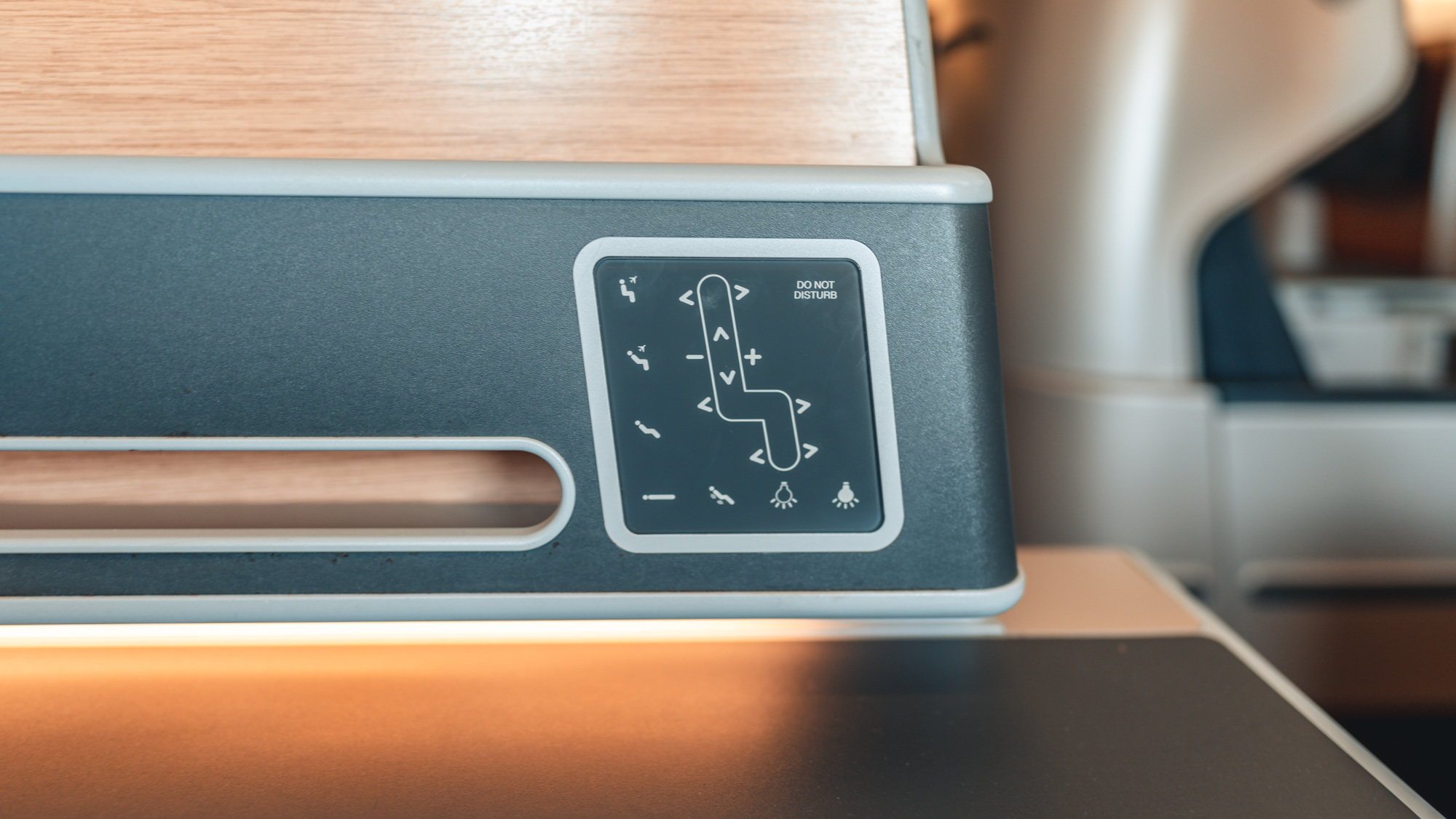 There's ample storage for smaller items inside the side console, where you could park your phone. But there aren't any cabinets for larger items, so perhaps keep those in the overhead lockers.
First impressions
This Business Suite is quite good overall. Sitting back in 4K, I can barely see anyone else around me, so full marks for privacy. I like how there are individual air nozzles to stay cool as the cabin can warm up during the flight. Finally, the tray table swings out of the console. It's large and sturdy enough to work on.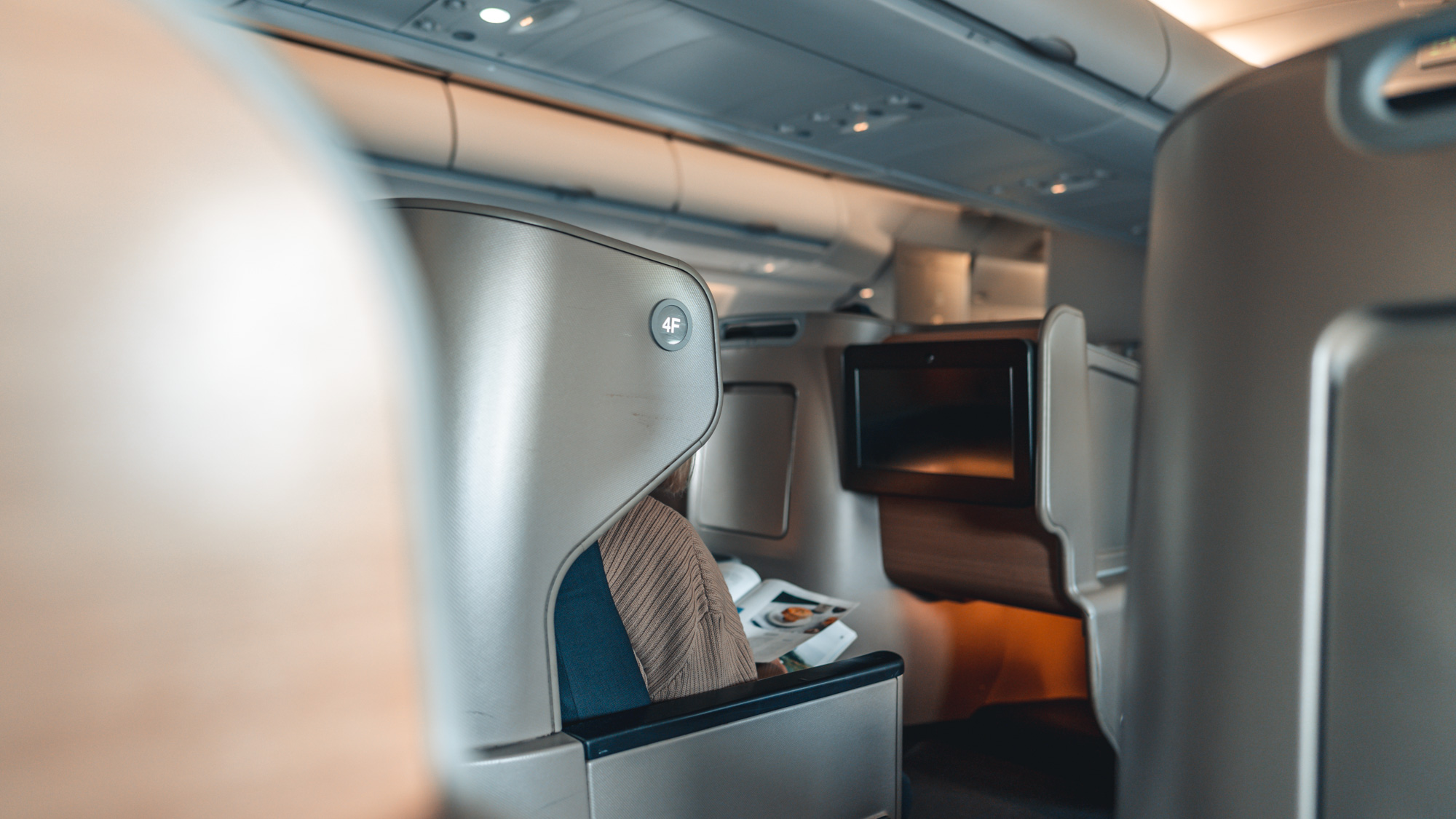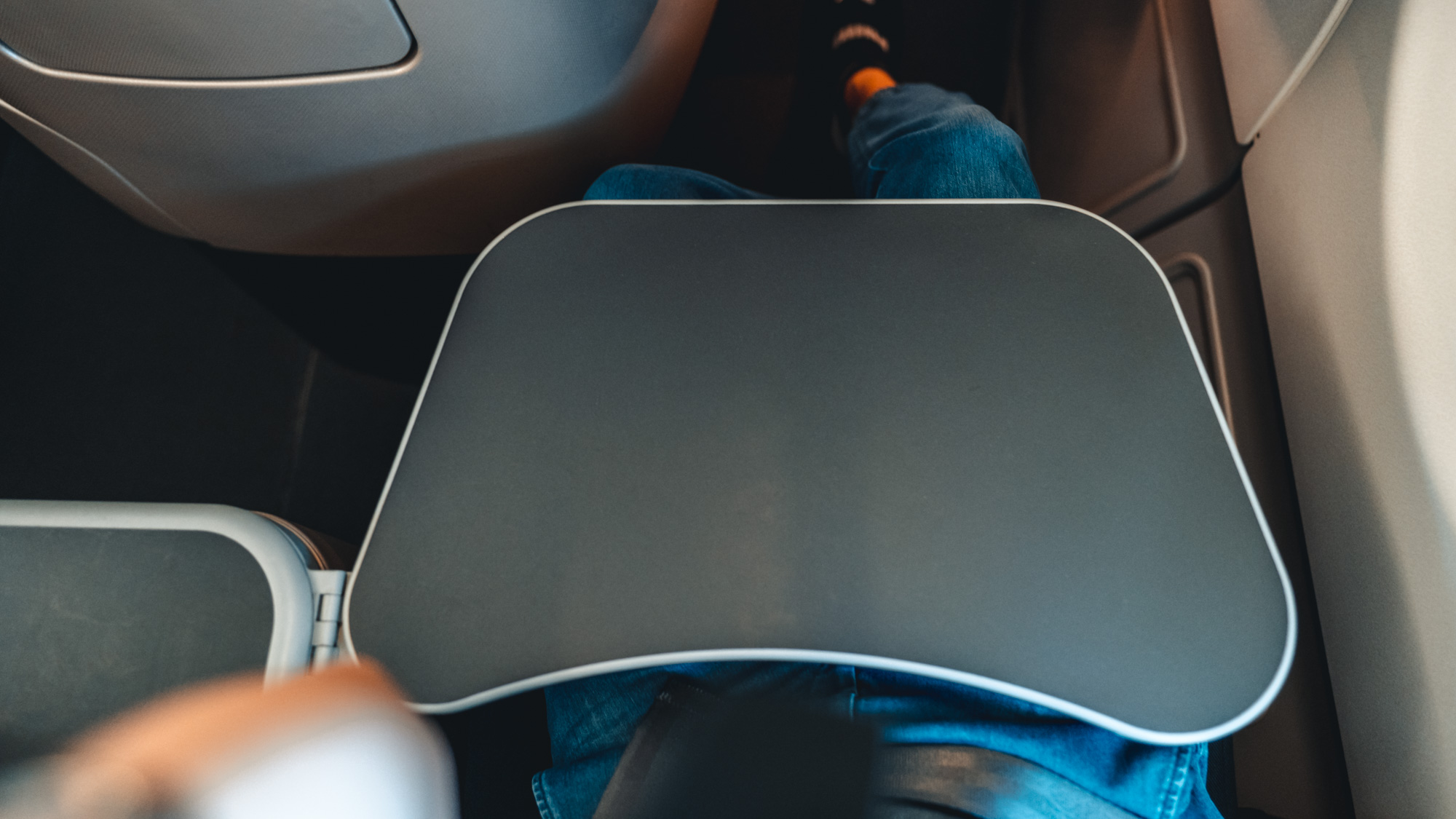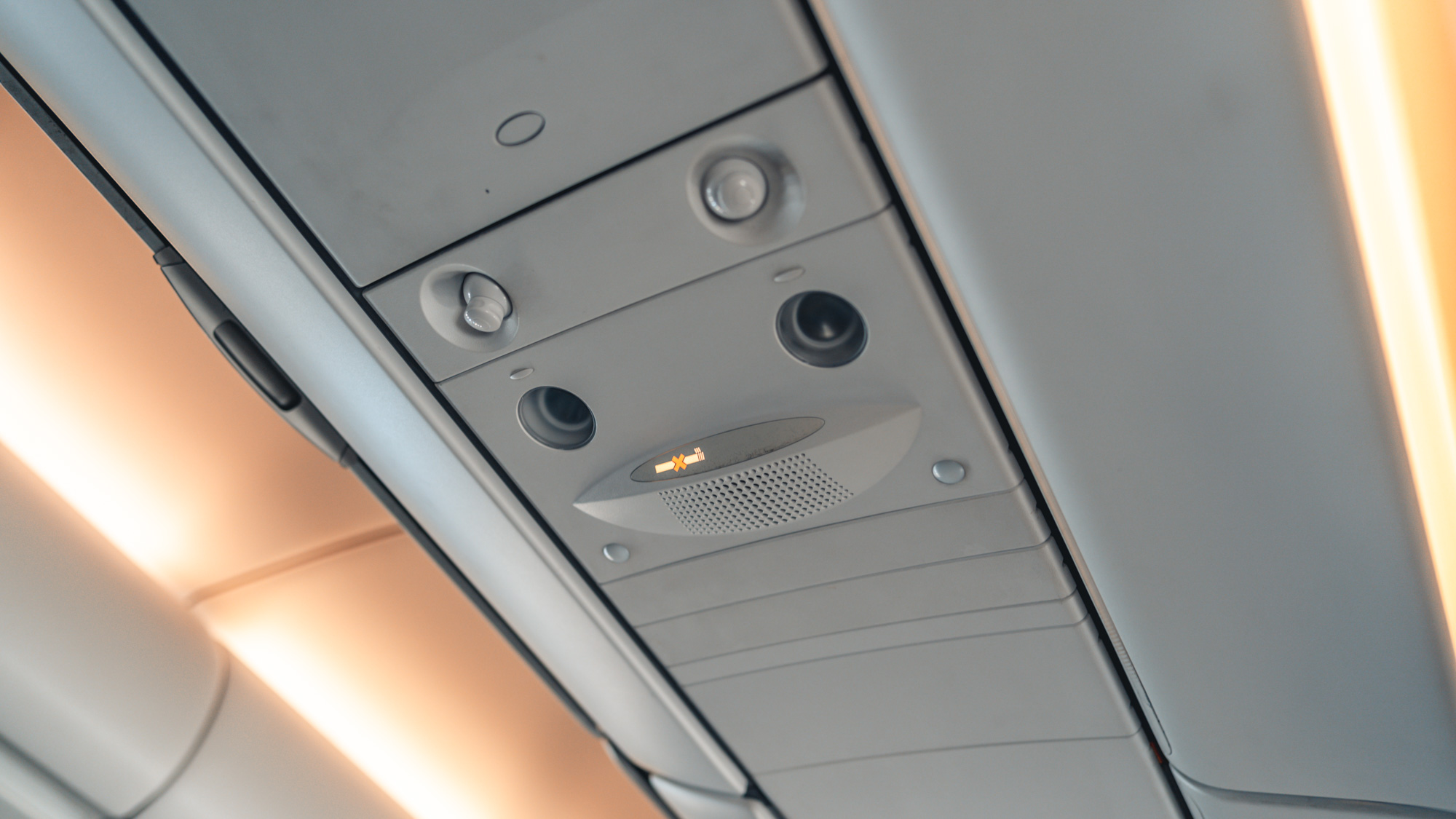 Food & drink
A sip before take-off…
Qantas cracks open the drinks before take-off, though the lineup is noticeably missing sparkling wine or anything alcoholic. Cabin crew waft through during boarding, offering a juice, or still or sparkling water. A small bottle of water is also at your seat before take-off.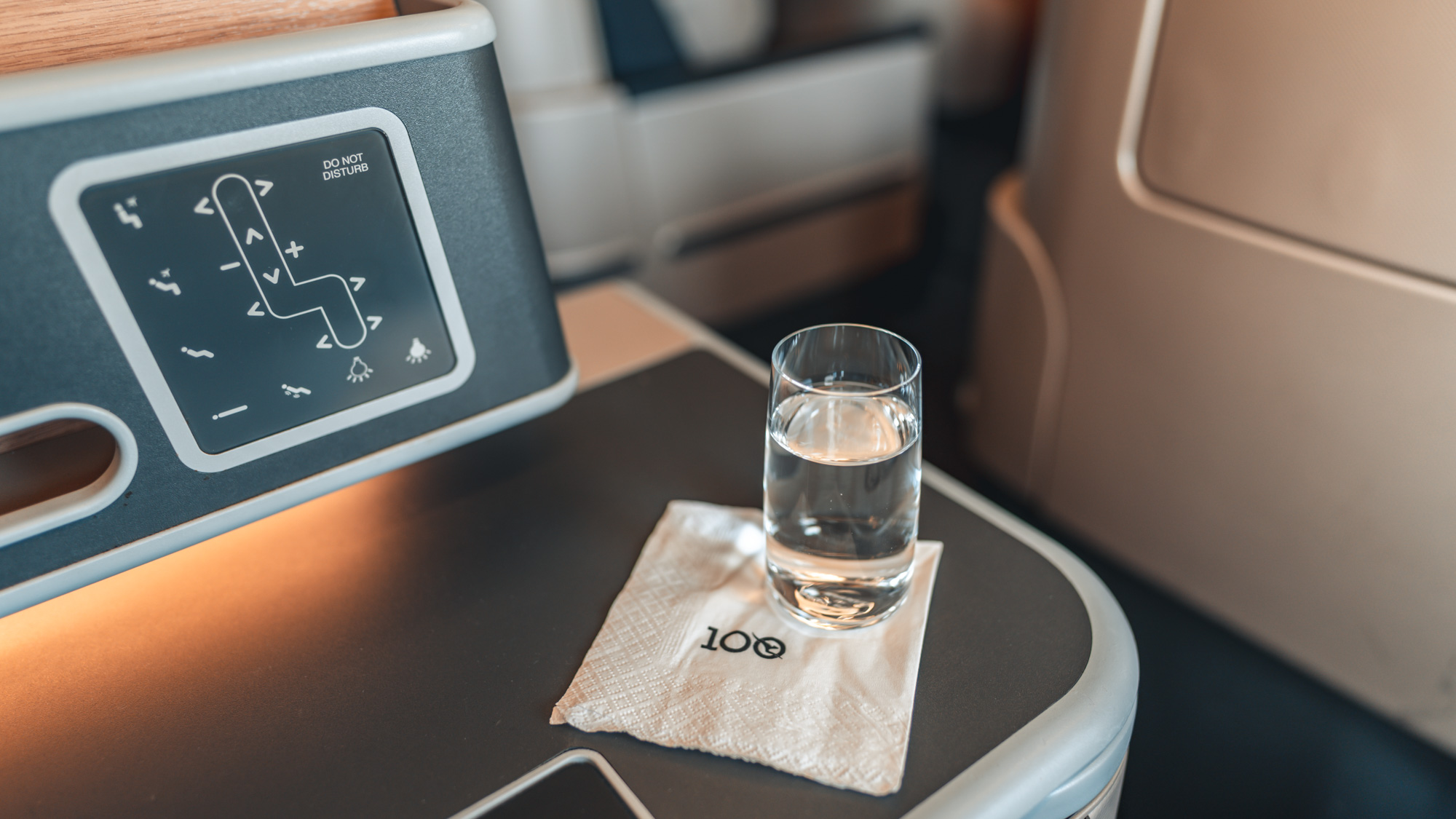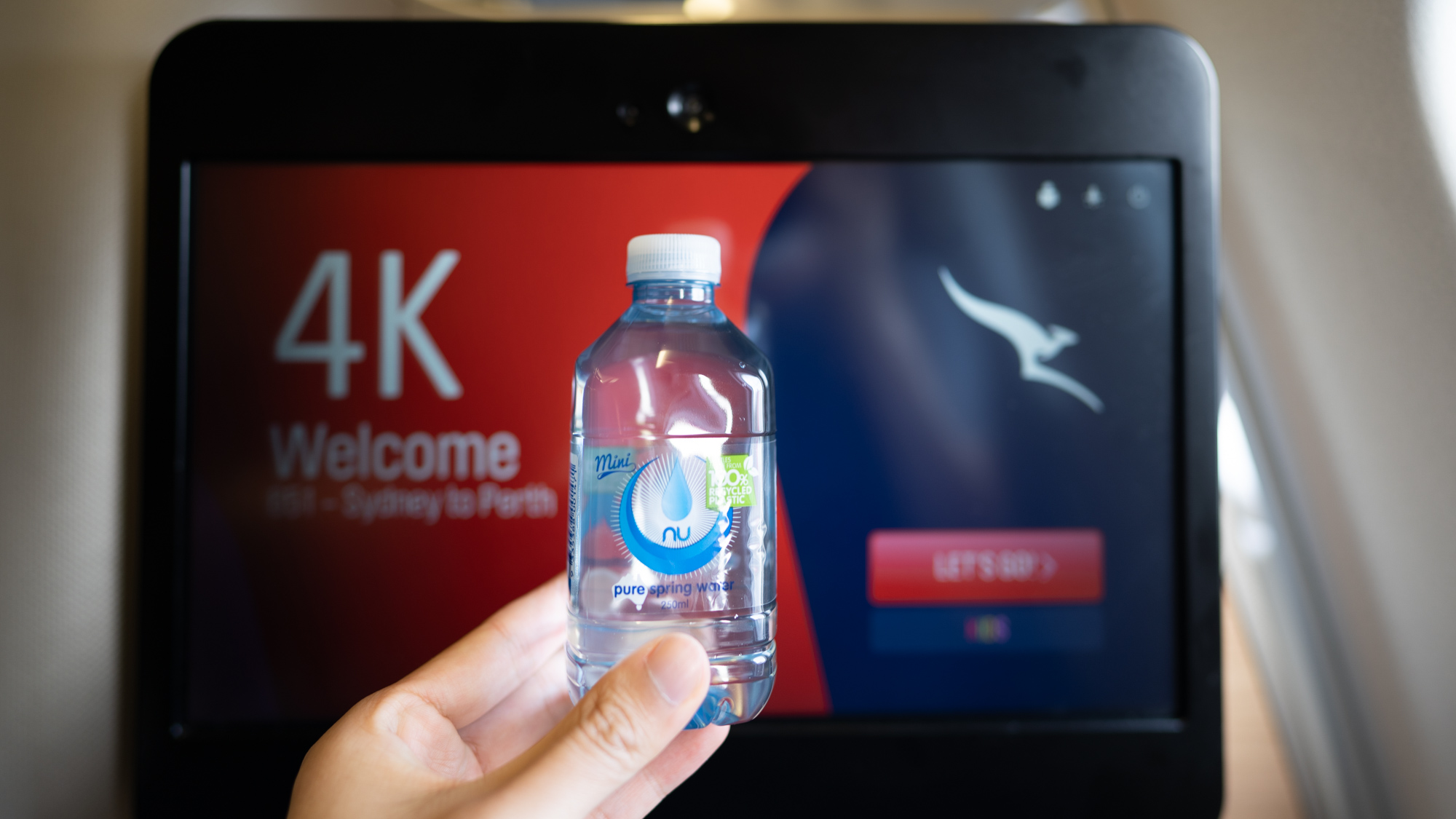 Though you can order drinks whenever you want, of course, the next main round of drinks comes before dinner. For wines, I pick a glass of the Dandelion Vineyards Shiraz, which hails from the Barossa. It goes down beautifully with dinner. The other option is a Riesling from Eden Valley, also in South Australia. If you're after some bubbles, you'll get the Grant Burge Pinot Noir Chardonnay in a cute piccolo bottle.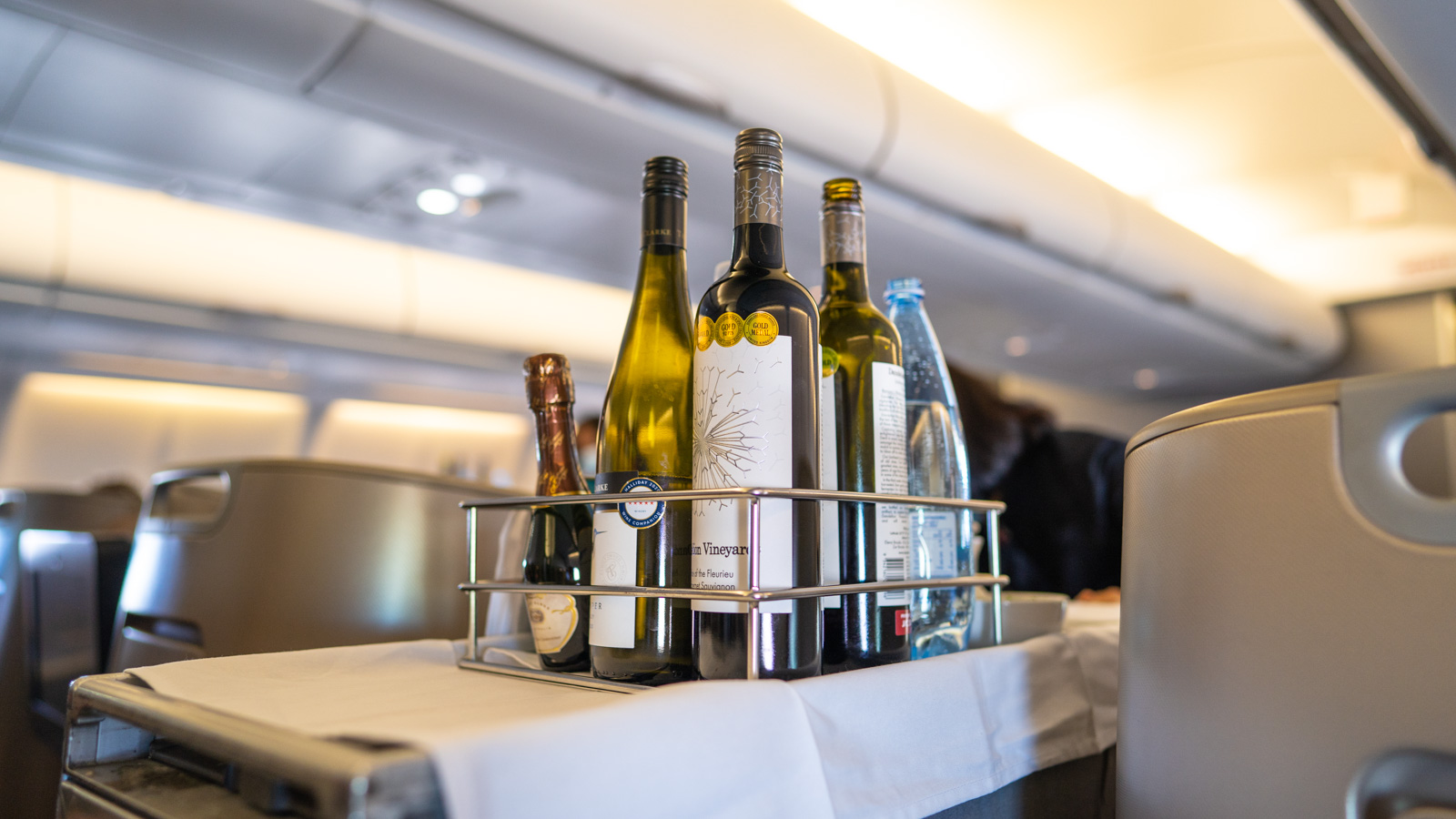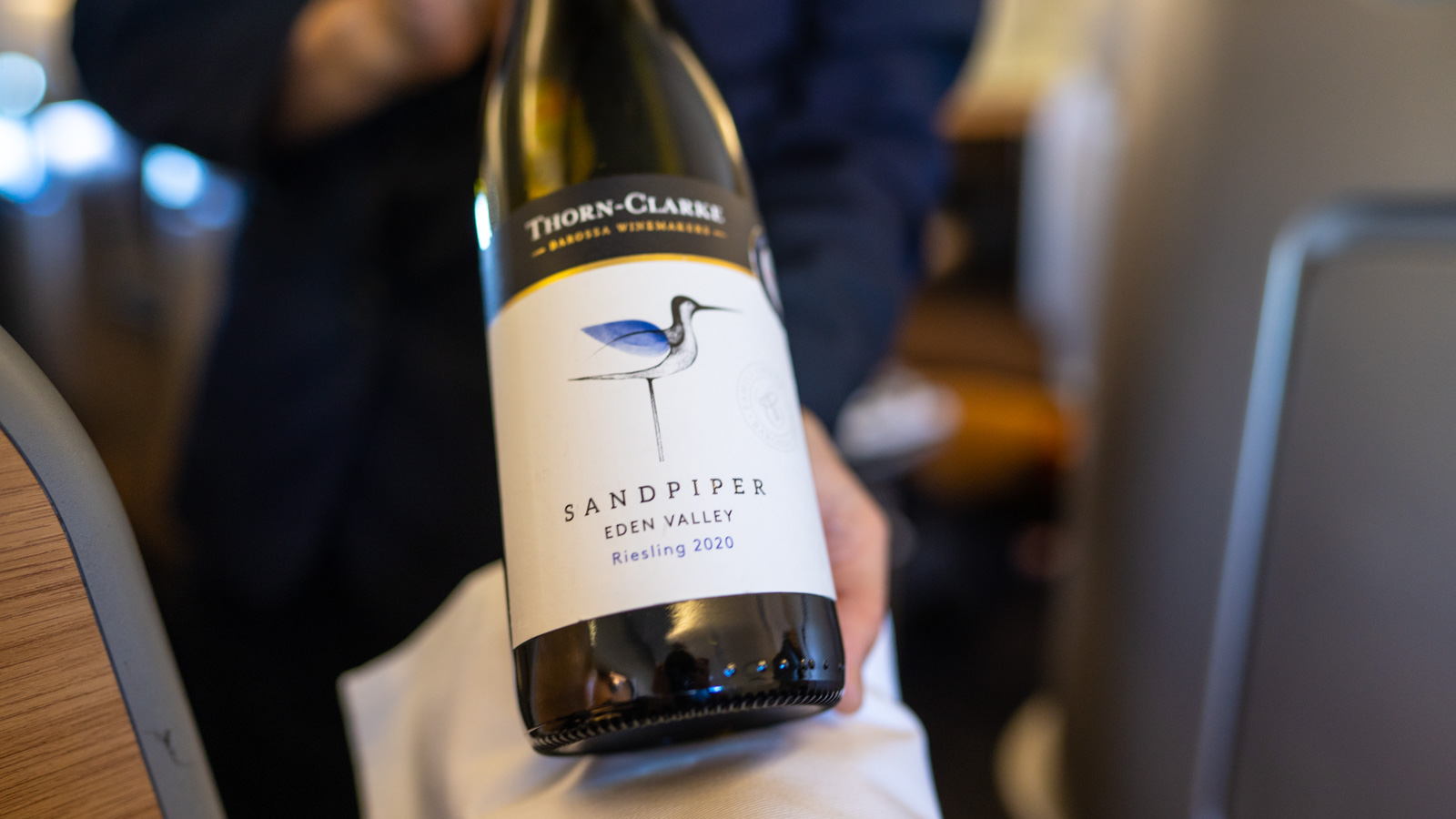 The usual range of soft drinks and hot beverages is available. But unfortunately, Qantas has yet to bring back spirits for domestic Business Class. I hope we can enjoy a refreshing G&T onboard soon!
Tucking into something filling…
Qantas also offers a hearty dinner on this flight, although the one-tray service is a far cry from the three-course international-standard dining we were so accustomed to before COVID hit.
I was offered three choices on this flight:
Pepper stir-fry beef with rice
Creamy chicken thighs with mash
A big bowl of soup (vegetarian)
I opt for the creamy chicken thighs, which come as a fairly substantial serving. It's delicious, filling and accompanied with a fabulous lamington with cream and jam.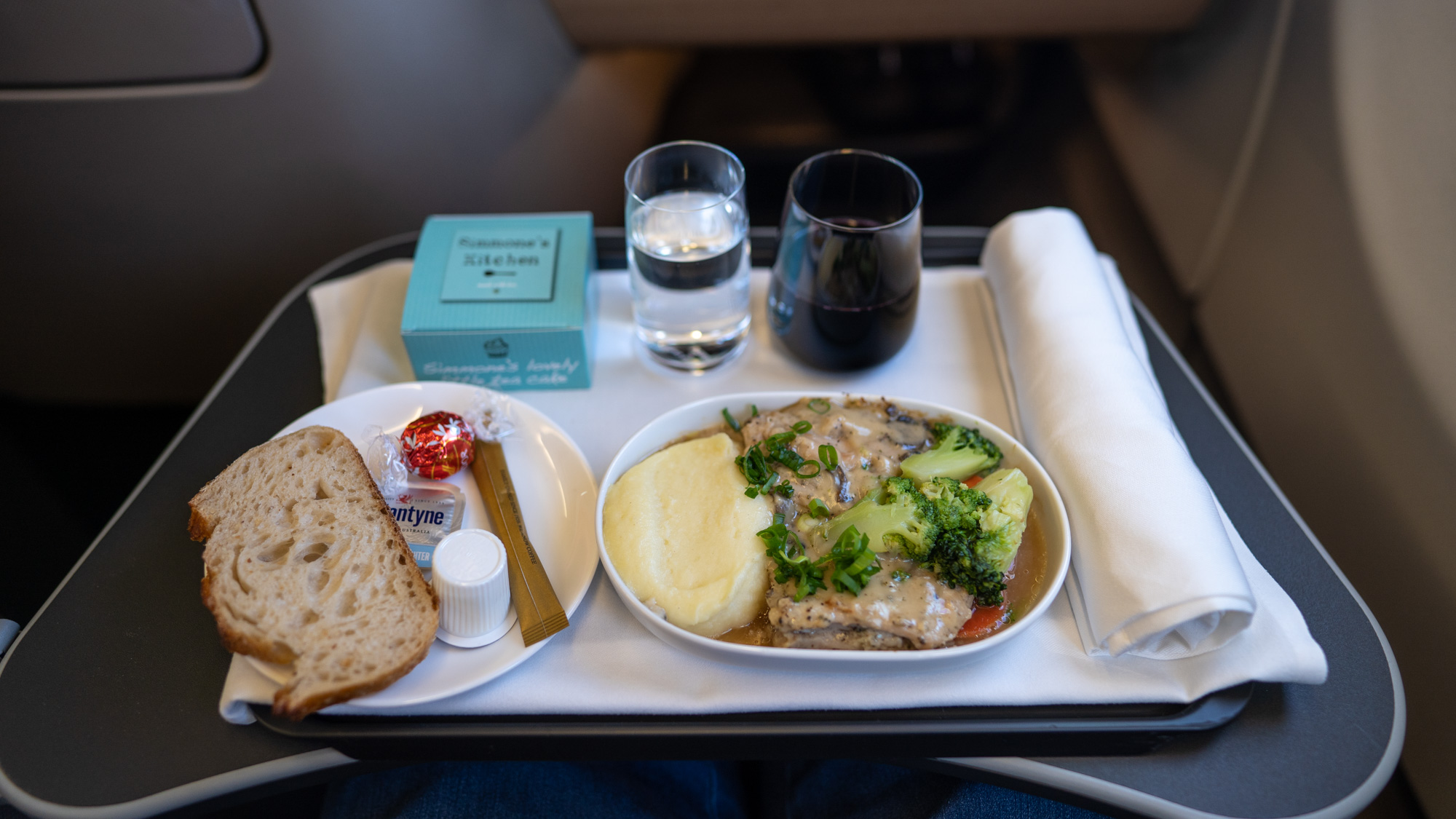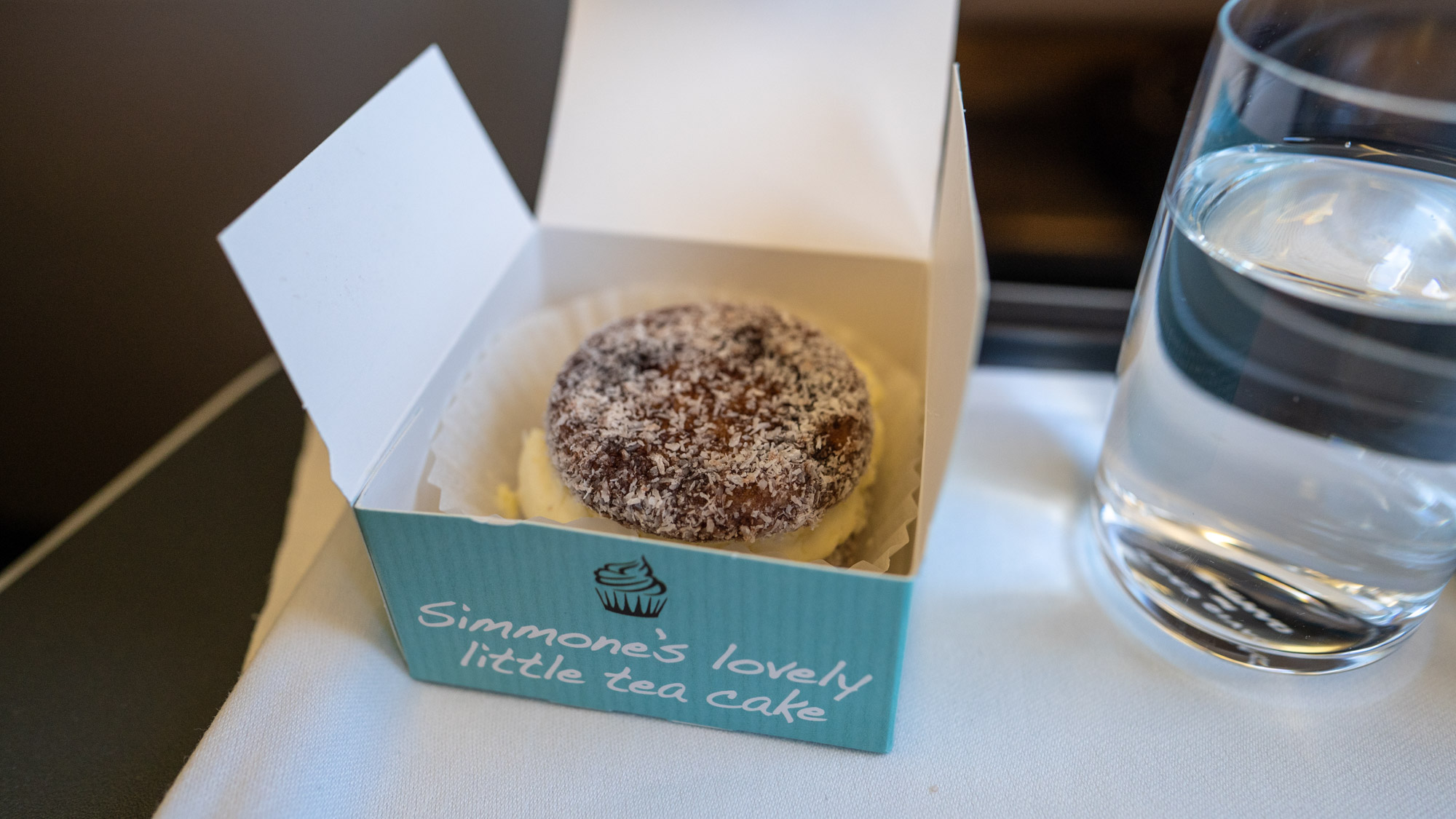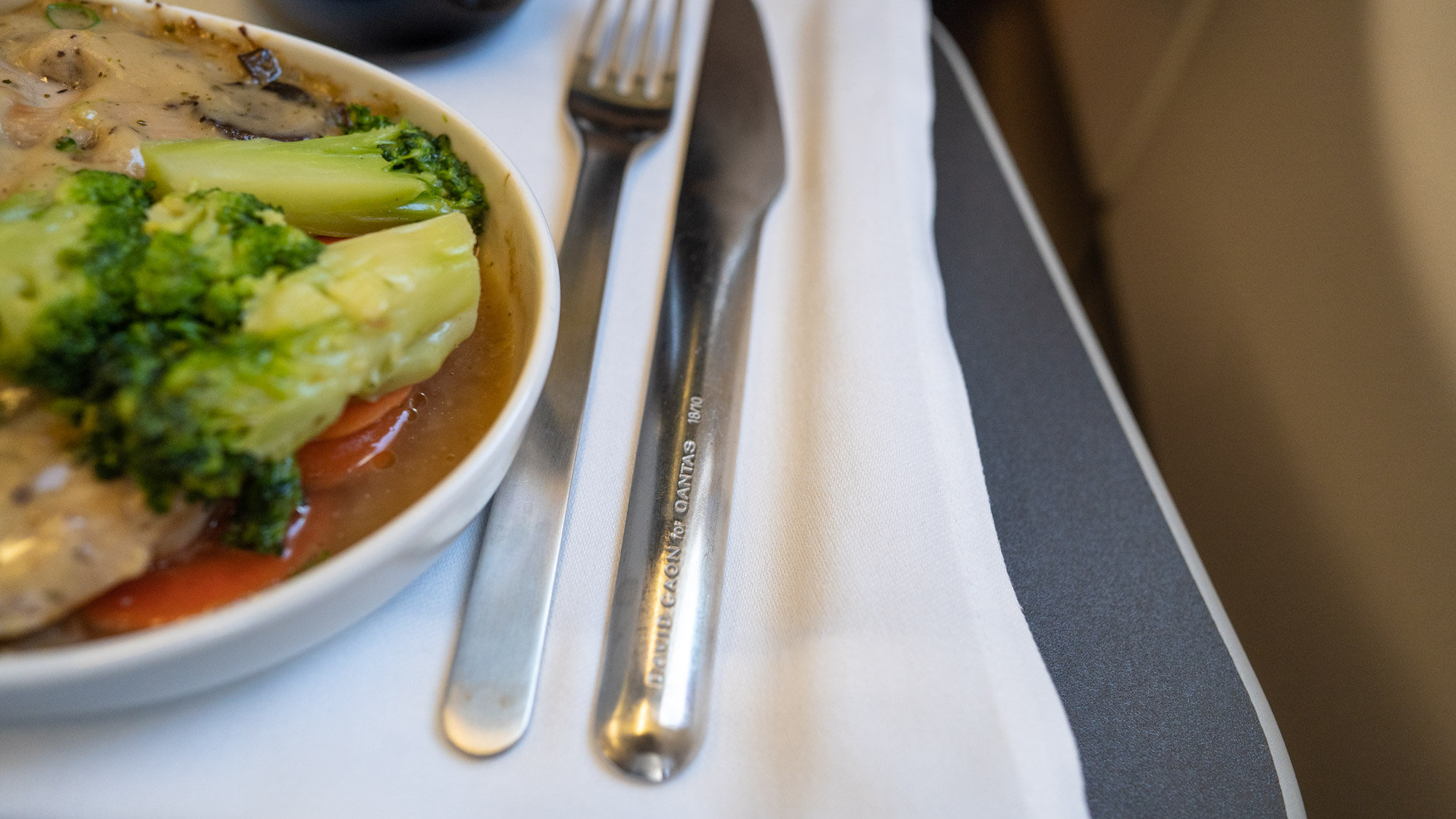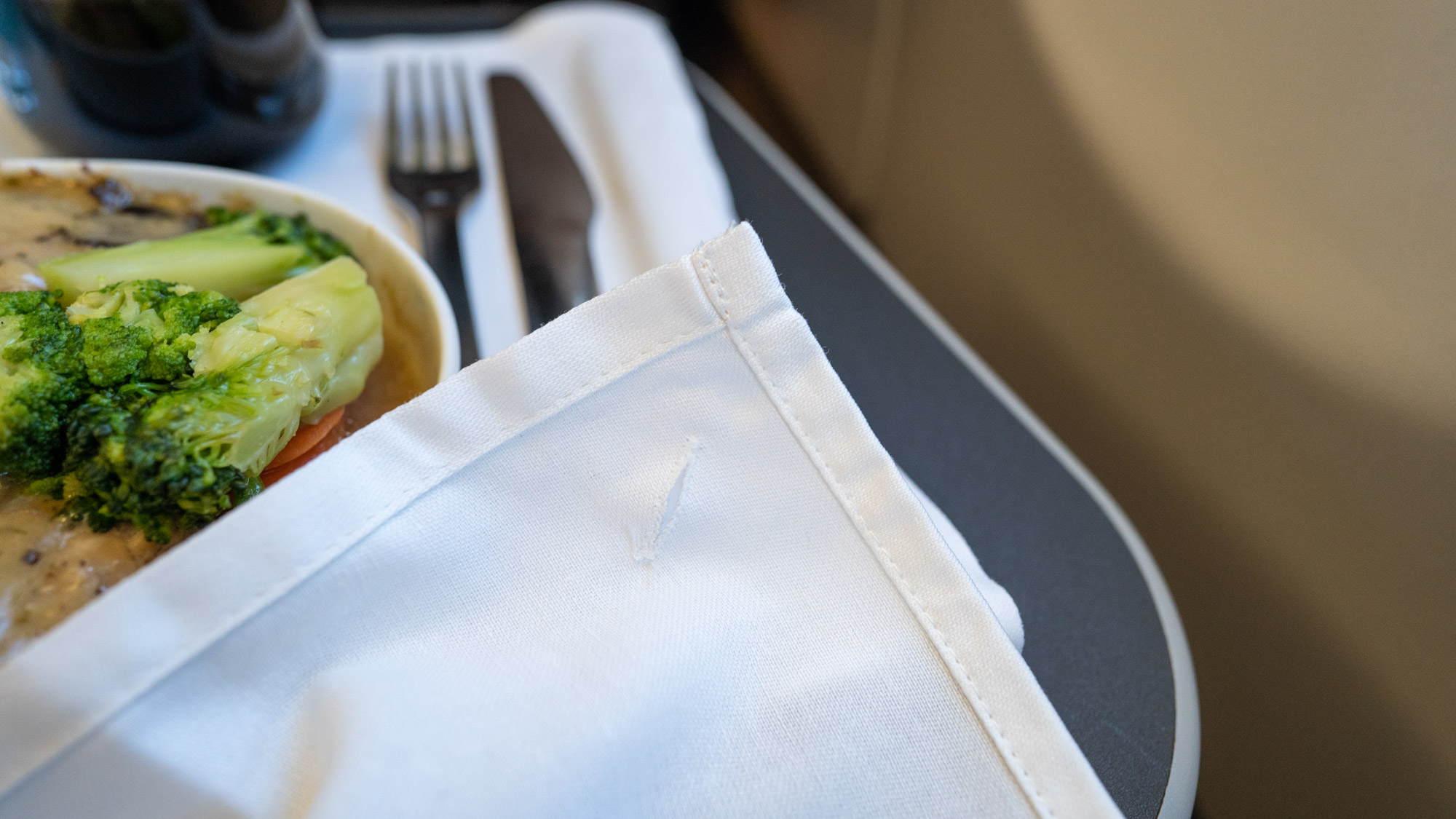 Really, this meal service is more than enough for a trans-continental flight. But I can't help miss the old restaurant-style experience, with a choice of entrée, mains and desserts. I finish off dinner with a warming cup of tea and settle back in my seat for the last 2 hours and 30 minutes of the flight.
Inflight entertainment
With the Qantas Airbus A330 Business Class, you'll always have a glorious 16-inch HD touchscreen to enjoy, even if Economy on that plane only has streaming entertainment. The latest movies are loaded, including House of Gucci and The French Dispatch, which is my whimsical choice for the flight.
Qantas' boxset TV section is awesome, as you can get stuck into enthralling series such as Mare of Easttown and Evil. Games and the inflight moving map round out your options, with music no longer available.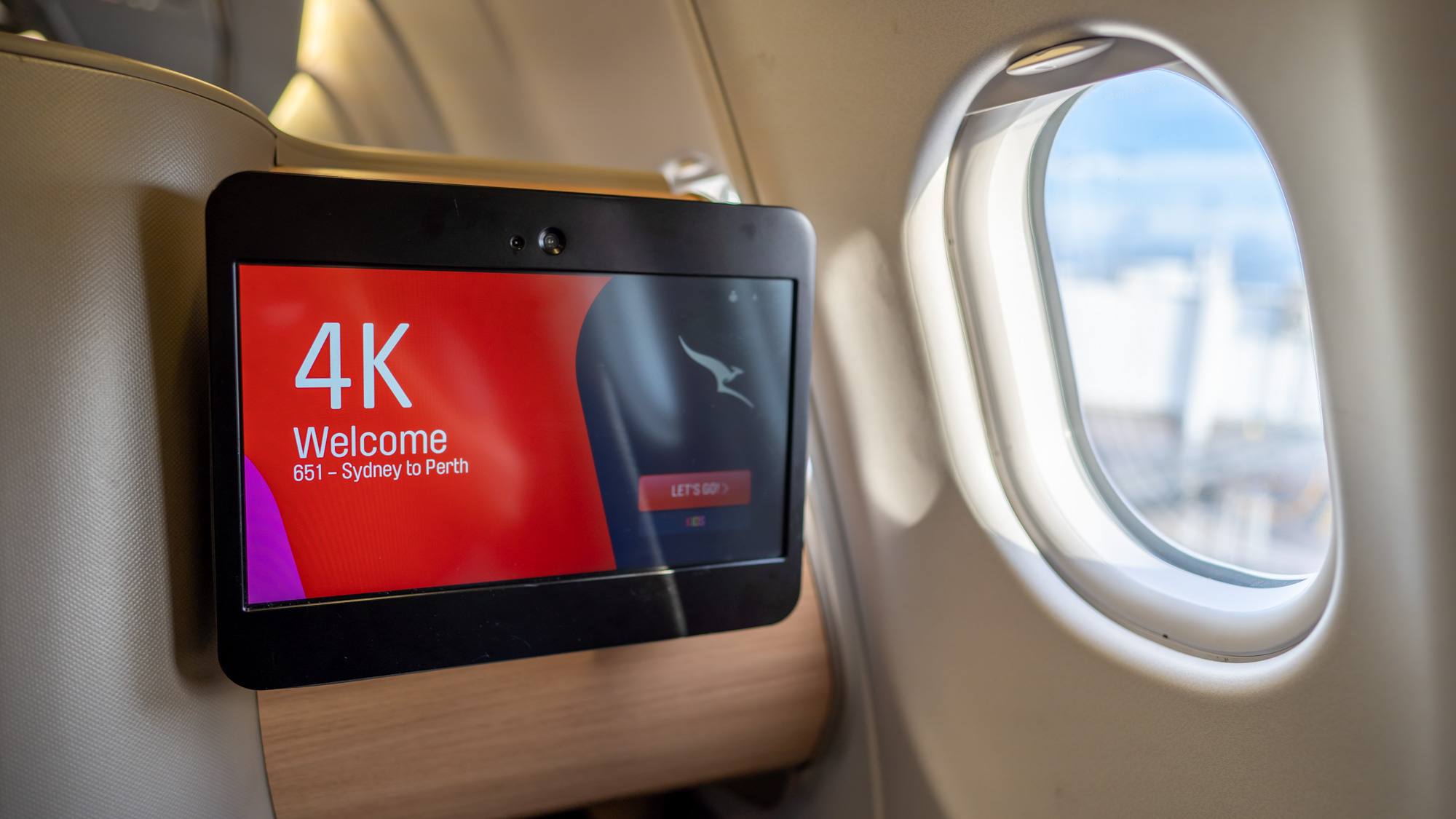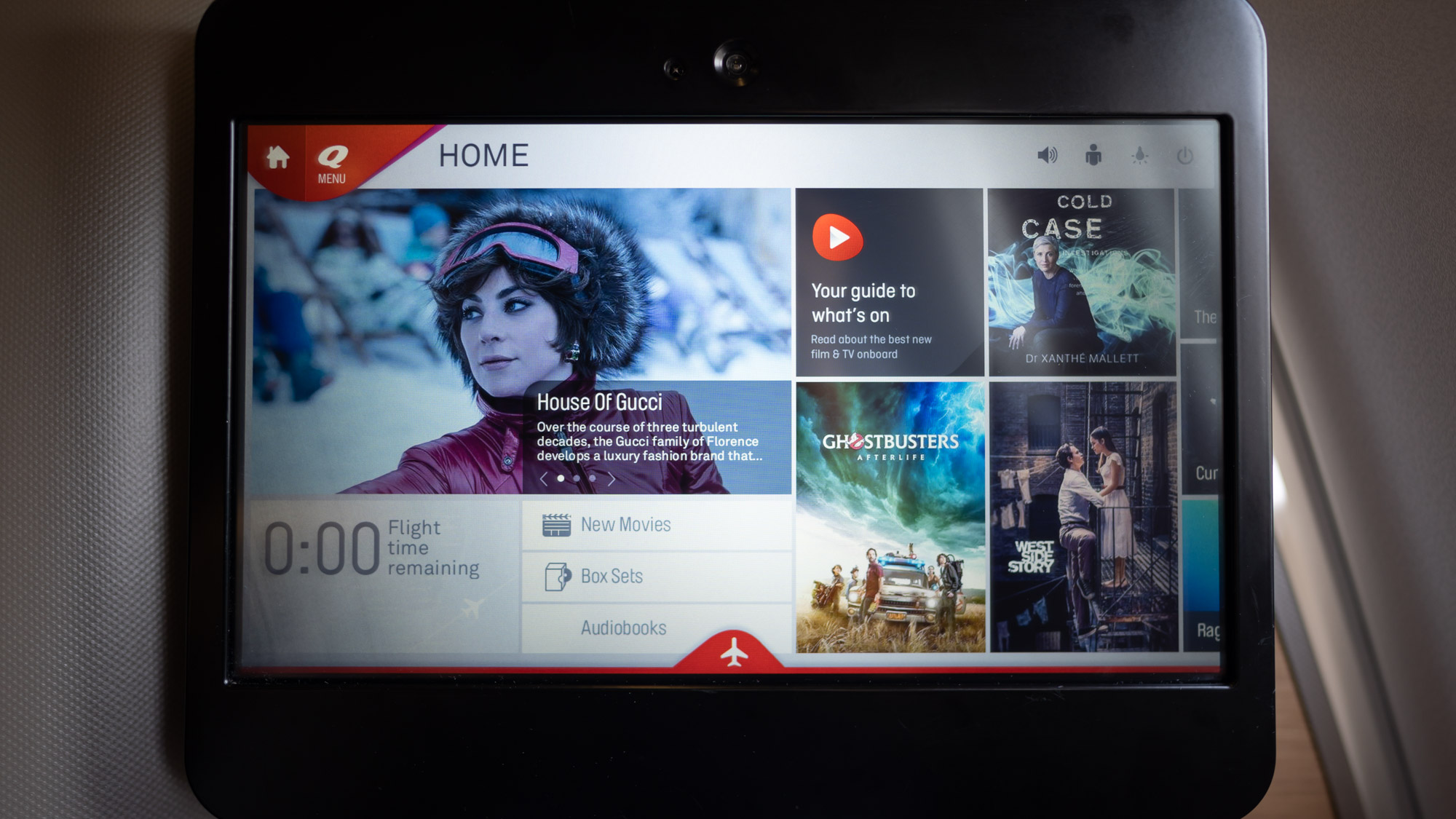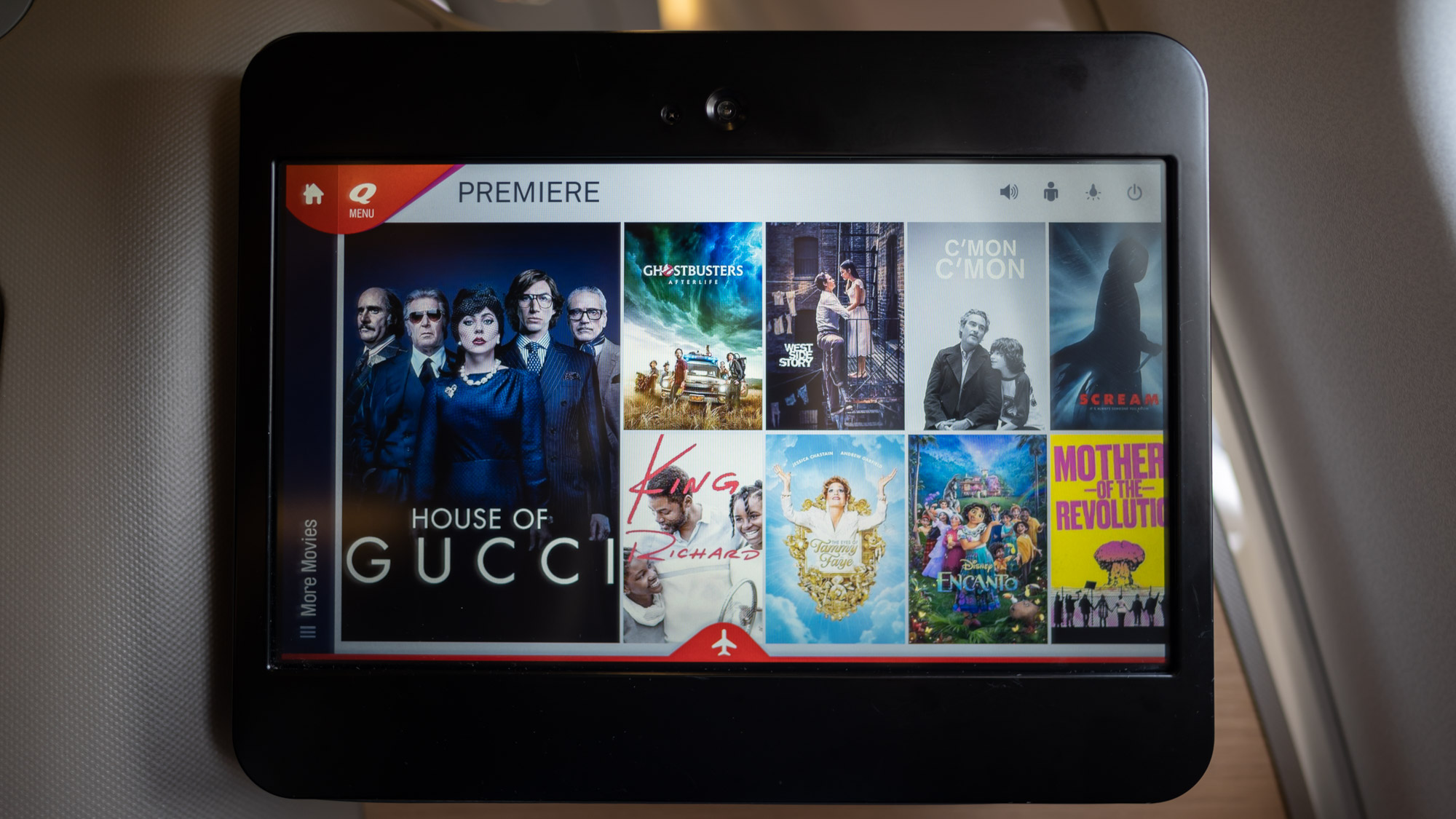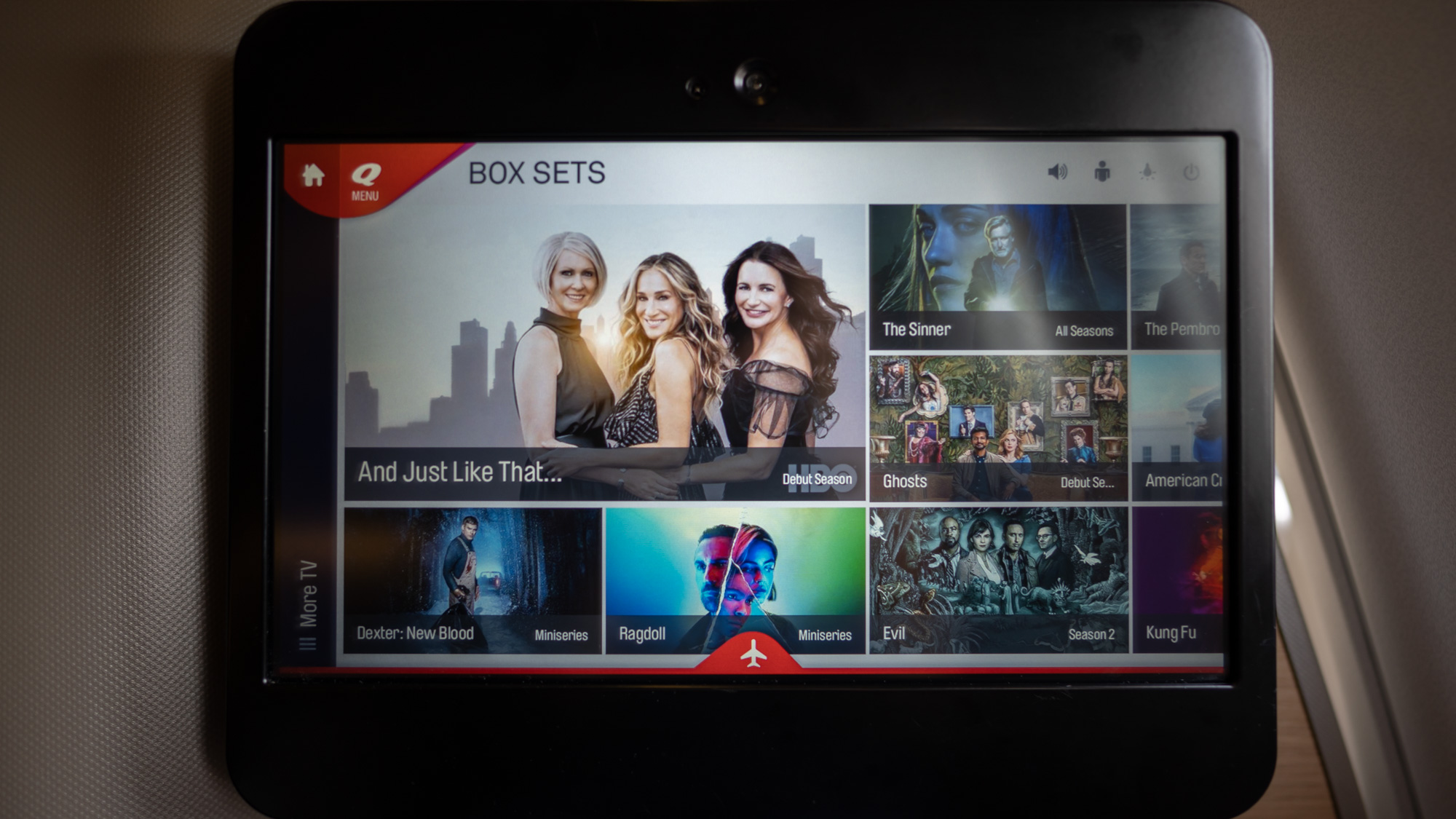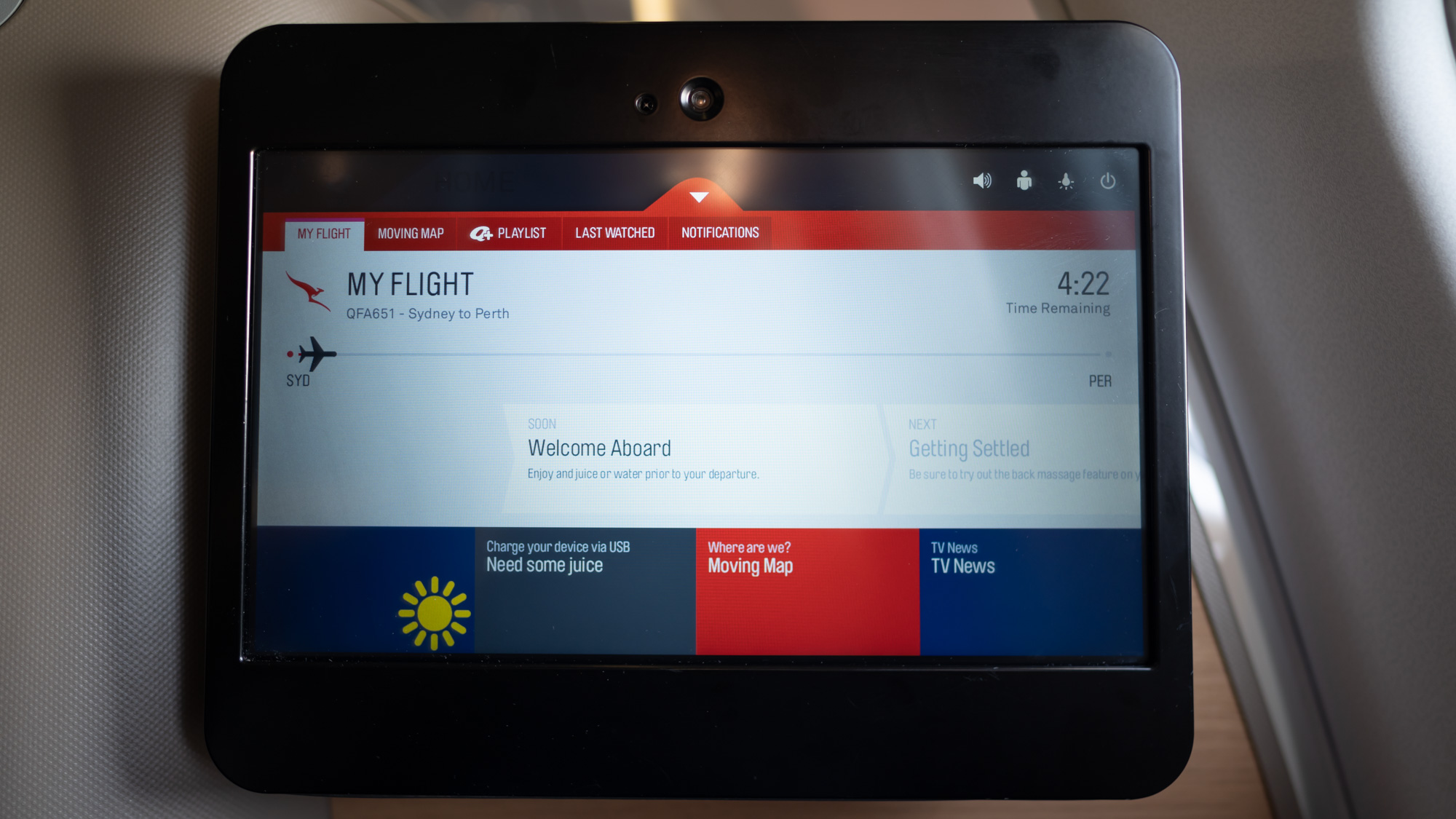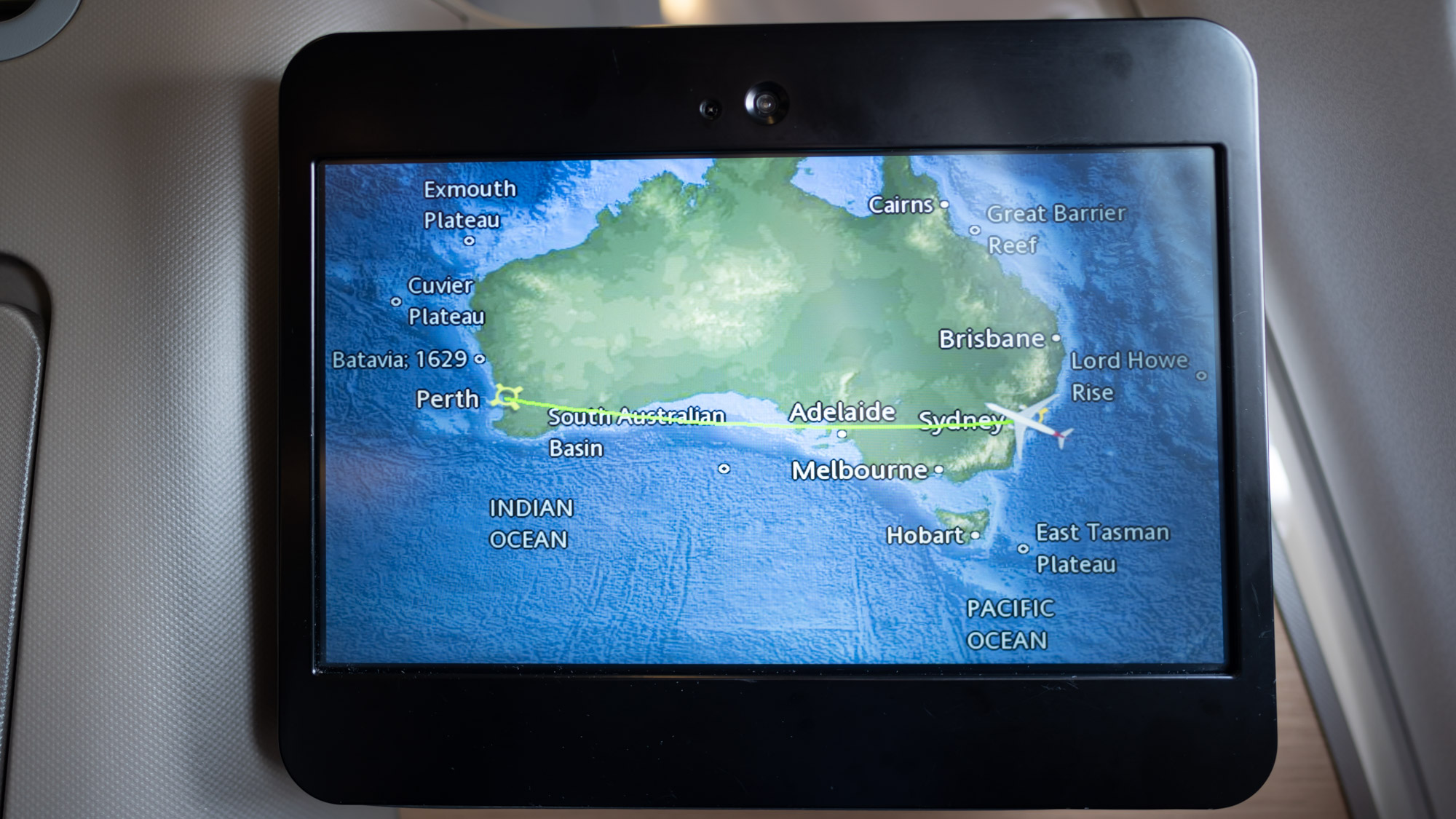 Most Qantas domestic flights have fast and free WiFi. Unfortunately, the plane I was on (VH-EBO) hasn't yet been fitted with WiFi, as it's usually deployed on longer-range international routes. But if you catch a different Airbus A330-200 across Australia, your chances of getting WiFi are good.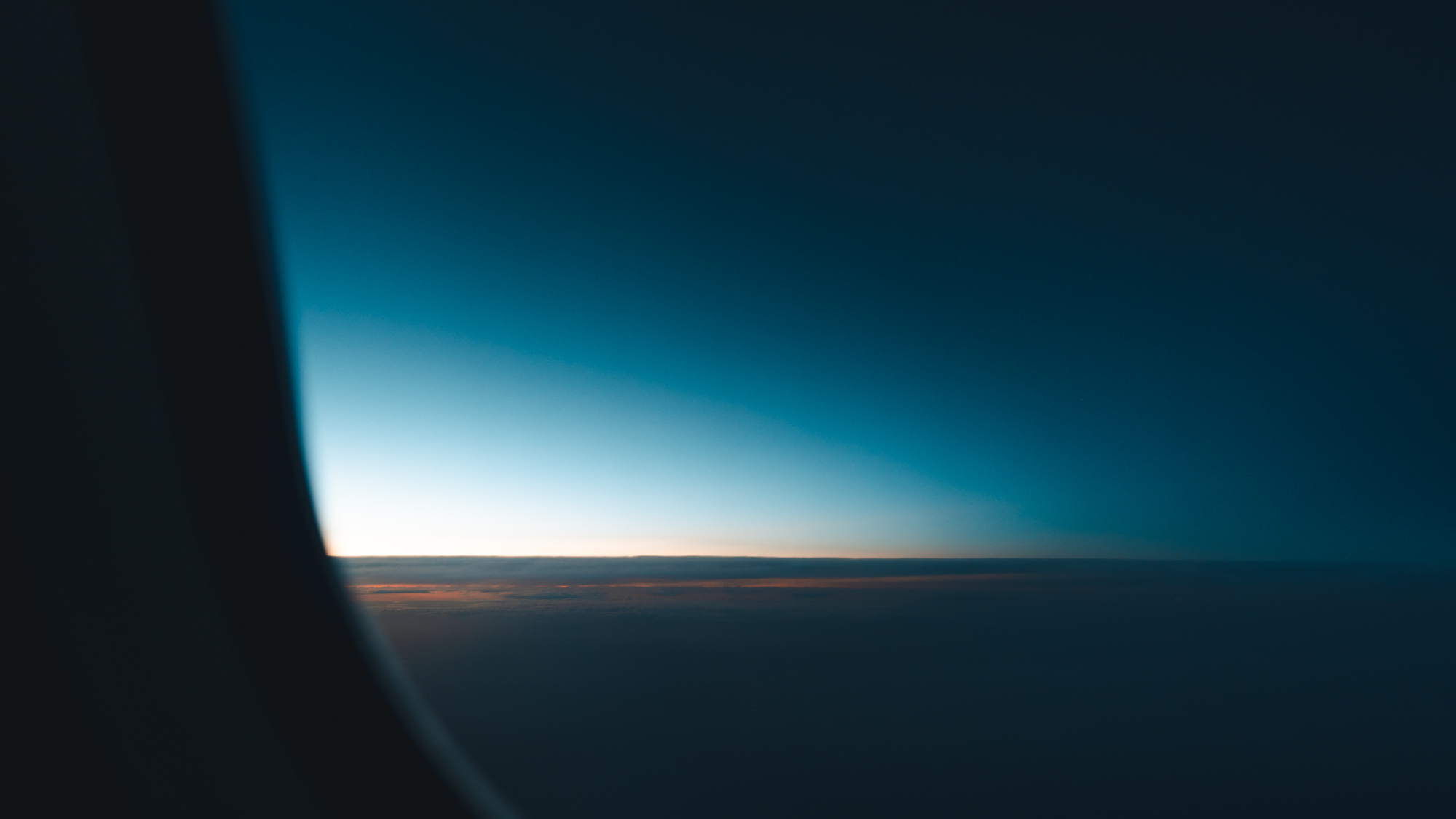 Service & amenities
Qantas' team of cabin crew, led by Yan on my flight, are as friendly and professional as ever. Jessica and Kyungmi also look after the Business Class cabin on this journey and provide impeccable service.
Amenities-wise, Qantas' current offering is admittedly still sparse on domestic flights. There are no pillows or blankets carried onboard yet, which I sorely missed while curled up after dinner on the fully-flat bed. Qantas does have excellent Business Class bedding which it should showcase.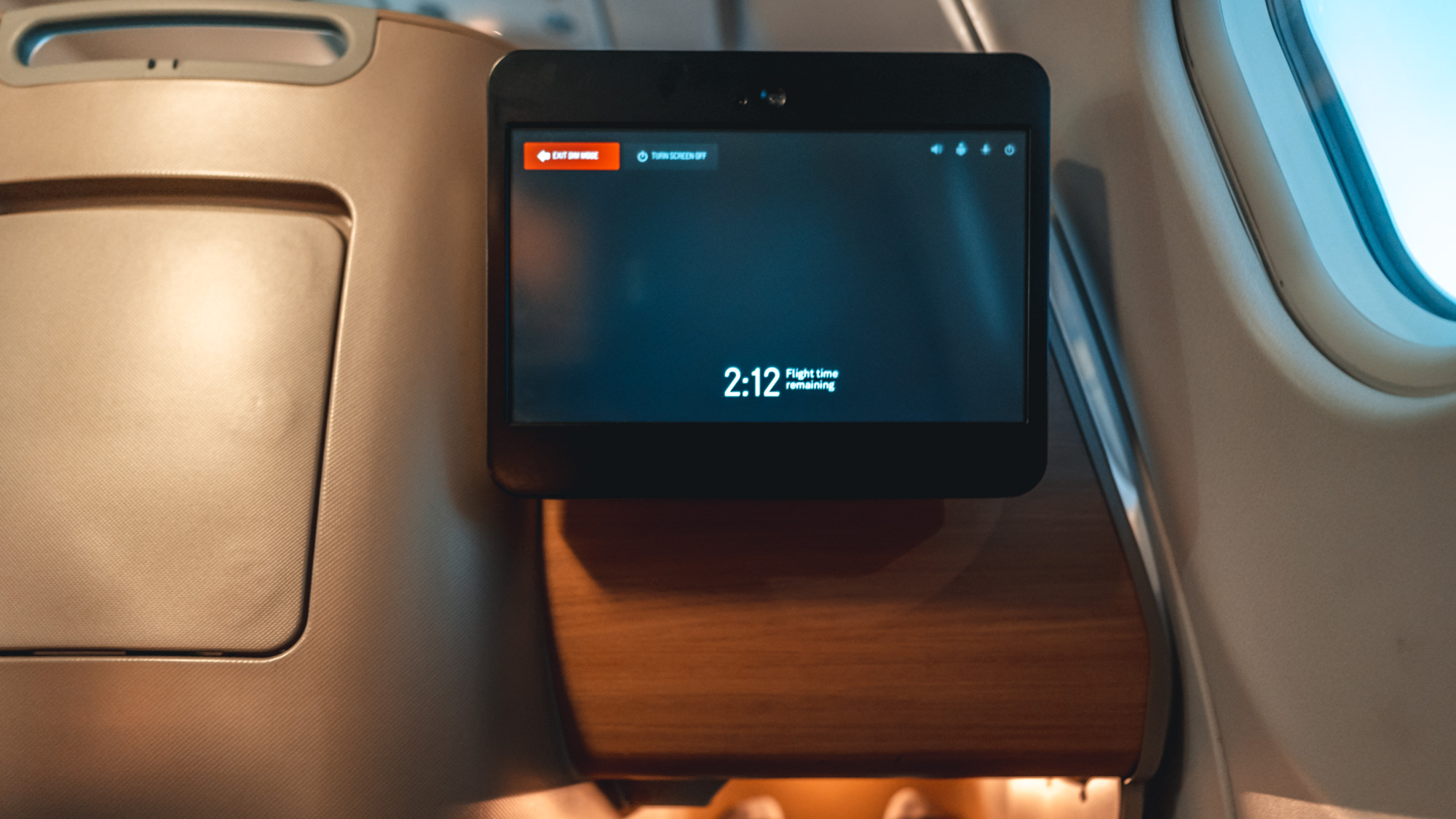 The seat has a handy AC power socket and a USB plug for charging your devices. I really like the open design, which fits all chargers with ease. Also provided is a basic pair of over-ear headphones, though I still prefer using my own Sony WH-1000XM3s for better comfort and noise cancellation.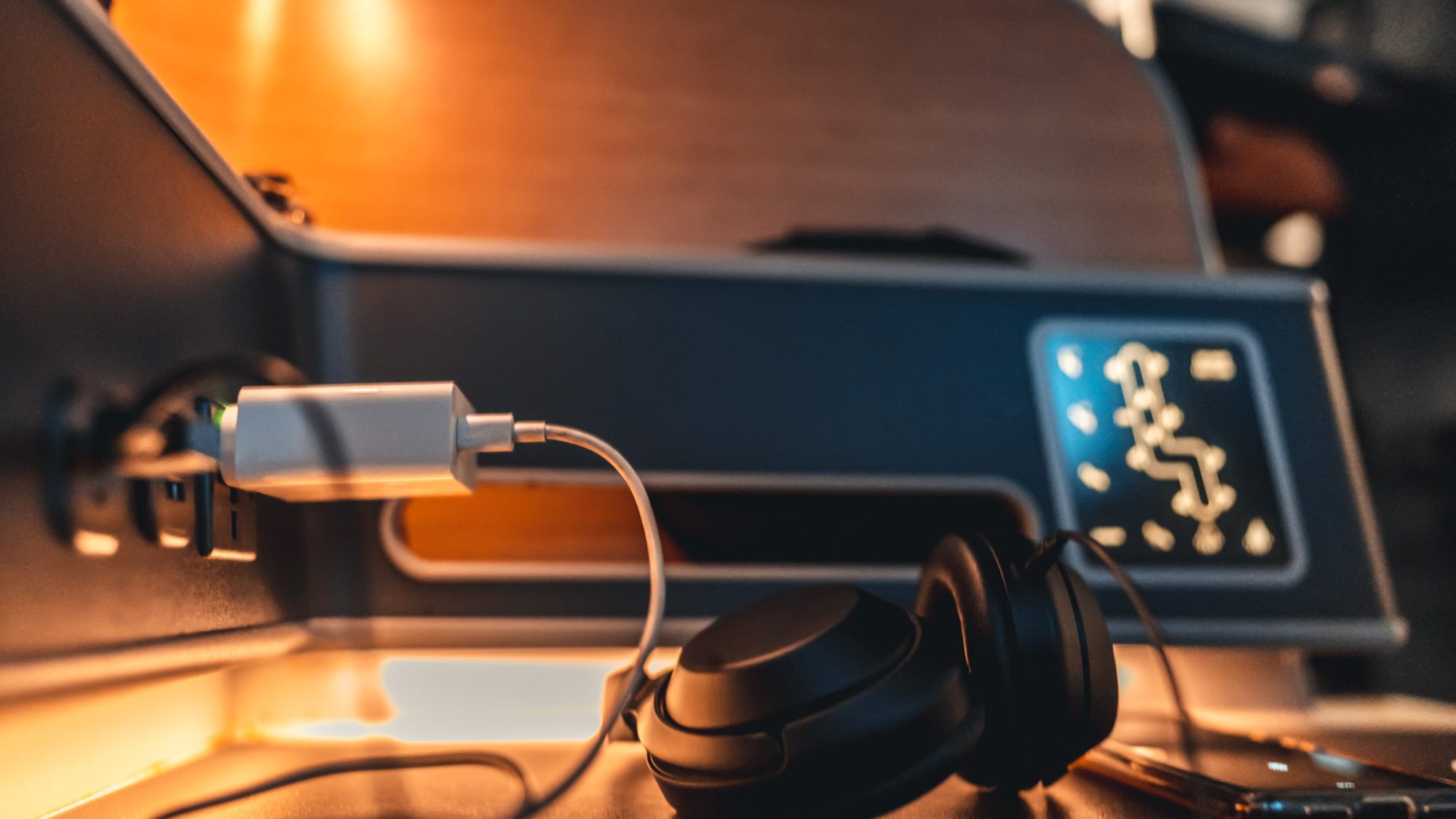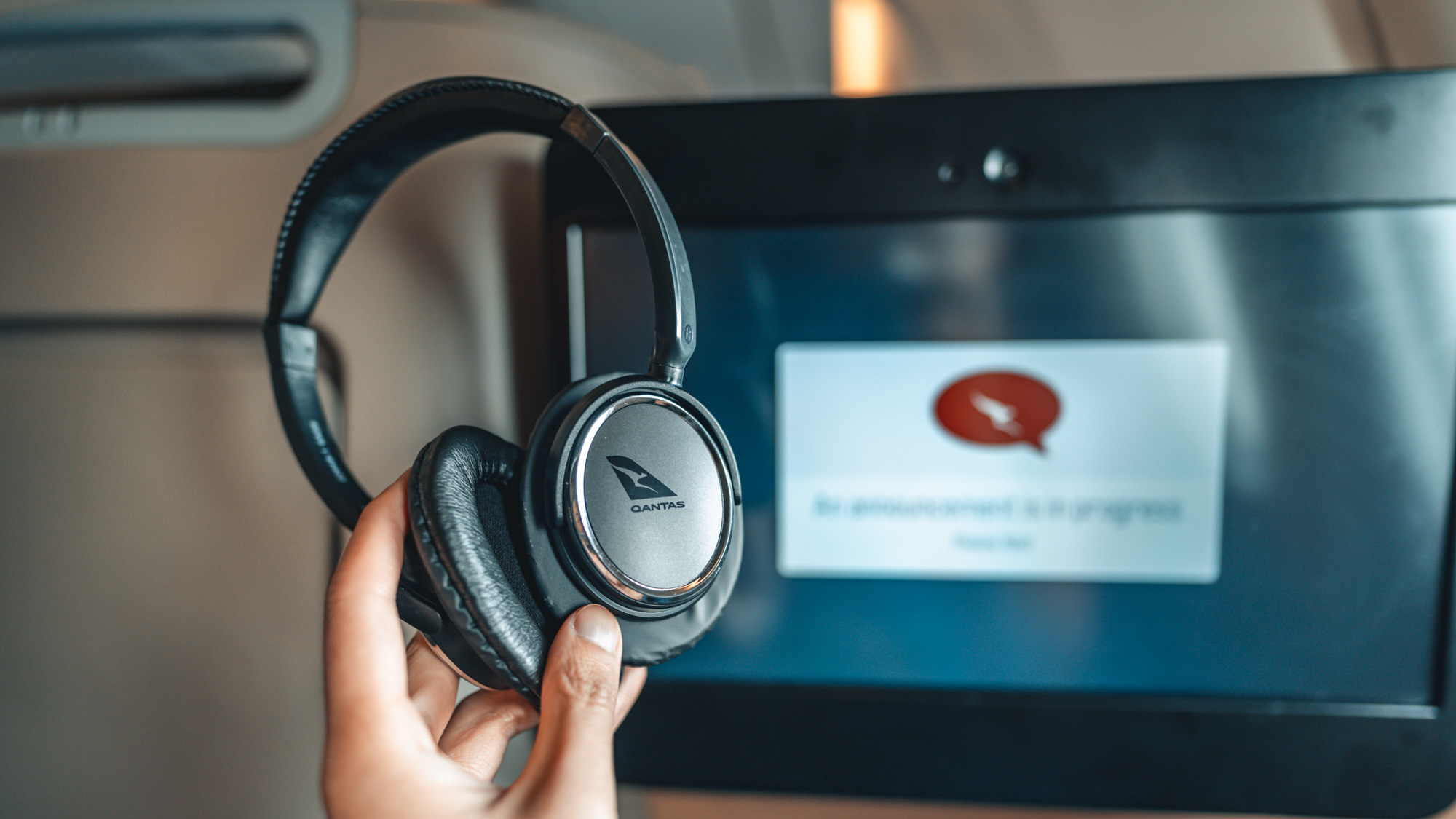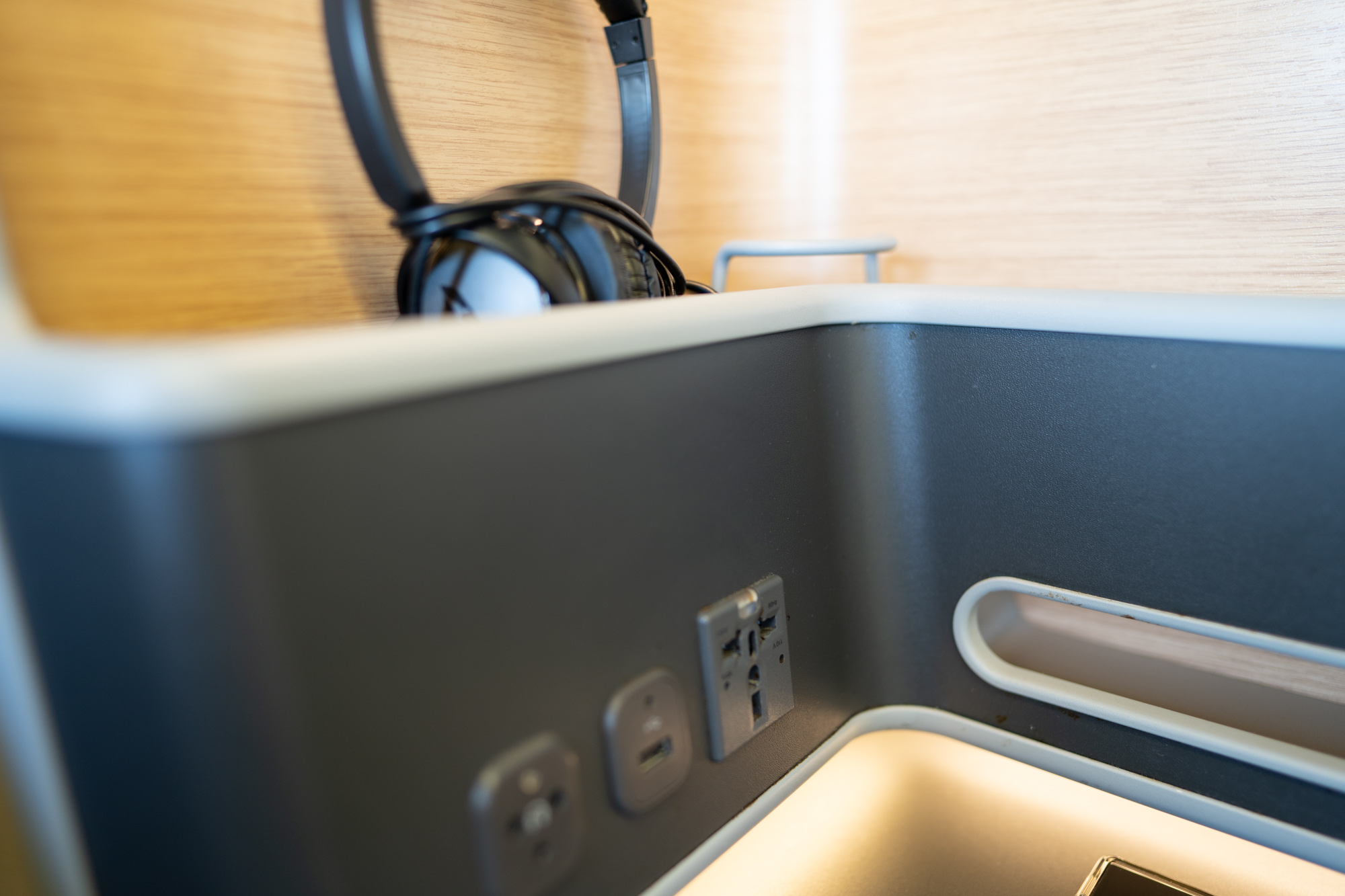 How can I use points for this flight?
Using Qantas Points
It's pretty easy to fly Qantas domestic Business Class on the Airbus A330 with points. Reward seat availability is good across the board if you book far enough in advance and avoid busy weekday periods. Just run a flight search as usual, and you'll see the A330 mentioned in the flight details. This means you'll get a lie-flat suite in Business.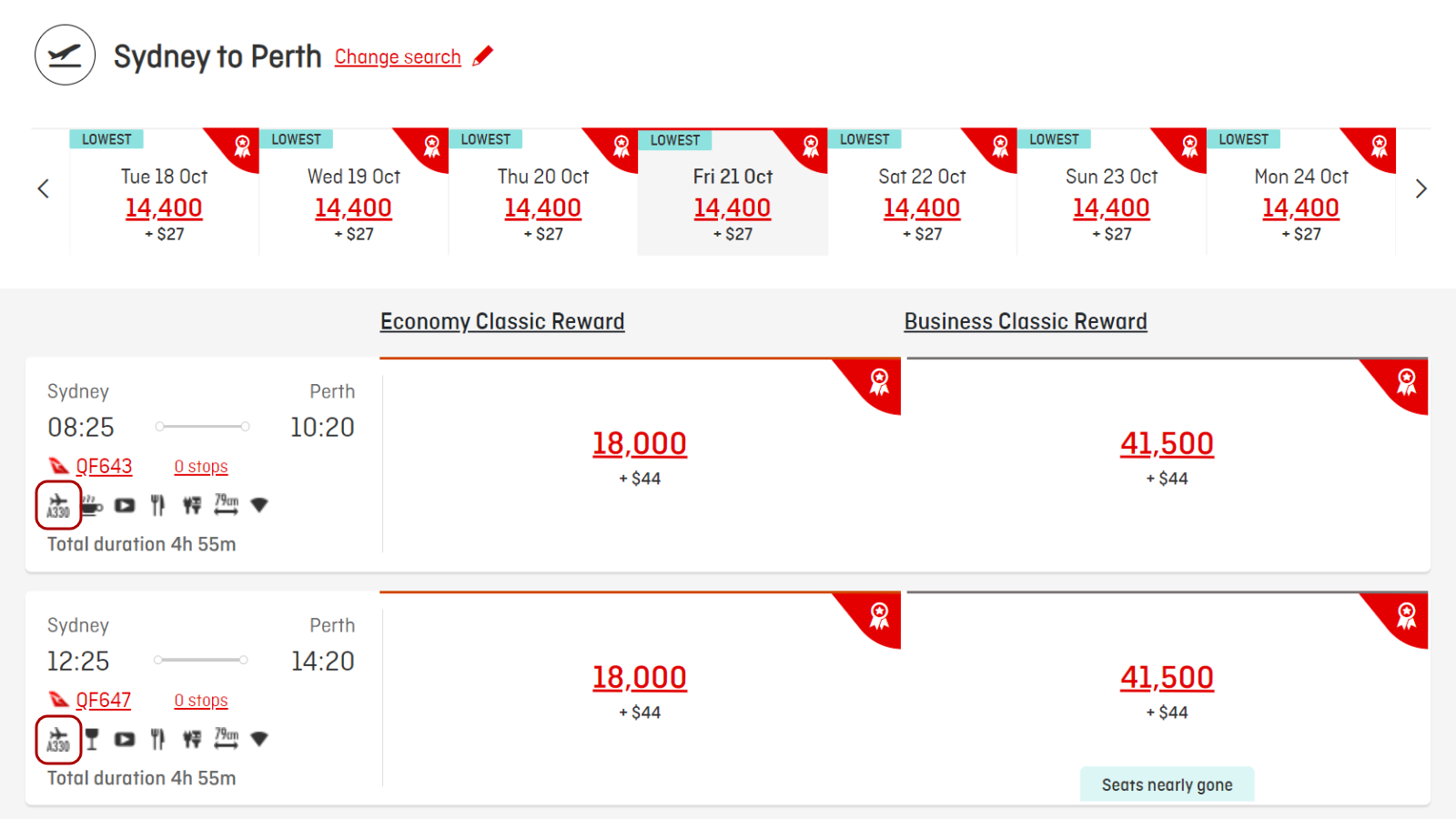 With Qantas Points, you can book a Business reward seat outright for 41,500 points on east-west routes (including Perth to Sydney, Melbourne or Brisbane). You can also upgrade from 10,900 points from a Flexible Economy fare or from 27,200 Qantas Points from a standard Red e-Deal fare.
I was already booked on this flight in Economy, so I put in a points upgrade bid for 27,200 points. As a Platinum member, my upgrade was confirmed three days out. The Business Class cabin was quite empty during the week but filled up quickly before departure, so I presume many others were also upgraded.
Using partner airlines points and miles
Qantas' A330 Business Class flights can be redeemed for using a number of different frequent flyer programs. The best ones to consider are Cathay Pacific Asia Miles, British Airways Avios, American Airlines AAdvantage and Alaska Airlines Mileage Plan.
AAdvantage and Mileage Plan have the best deal here. It costs just 20,000 miles one way in Business and you can buy miles at a discount throughout the year. (Click the links above for details on how to buy miles).
Here's a points price comparison for a one-way flight between the East Coast and Perth:
| Qantas Airbus A330 transcontinental Business Class cost | Points or miles required |
| --- | --- |
| Alaska Airlines Mileage Plan | 20,000 |
| American Airlines AAdvantage | 20,000 |
| Cathay Pacific Asia Miles | 30,000 |
| Qantas Frequent Flyer | 41,500 |
(Note that taxes and charges of roughly AU$44 each way are charged separately).
Summing up
Qantas domestic Business Class is not cheap. Cash fares between Sydney-Perth usually exceed $2,500 one-way in Business, which is very high. Using points or miles instead is the smart way to travel in the same seat for less. With Qantas Points, you can get more than 6 cents of value per point at this pricing.
But the Red Roo is certainly in no hurry to discount its Business fares, knowing it still has one of the world's best domestic Business Class products. The Qantas Airbus A330 Business Suite is comfortable and the onboard catering is decent, though not as impressive as before.
It's the small cuts that we need to take into account. If the pre-COVID experience was 5 stars (which is what we rated it), the current experience is closer to 4.5 stars. As a starting point, I'd hope to see spirits, blankets and pillows to return to transcontinental Business Class.
Perhaps that's where competition with Virgin Australia's Airbus A330s was good – it kept both airlines on their toes with both pricing and onboard offerings.
You'll still have the most complete experience with Qantas. There's free in-flight WiFi on most planes, a significantly larger lounge network, better frequency, and of course, the Airbus A330 Business Suite experience on some transcontinental flights.
Brandon travelled as a regular passenger at Point Hacks' expense. All photos are his own.
Qantas Airbus A330 Business Class (Sydney – Perth)
was last modified:
March 22nd, 2022
by