Serving a wide variety of passengers, the Rex Lounge at Sydney Airport is something of a catch-all.
It's open to eligible Rex flyers jetting to other major cities, as well as to a host of regional destinations. Passengers travelling on competing airlines may also make the cut, when holding the right lounge membership or credit card.
However you get in, here's what awaits at Sydney's domestic Rex Lounge.
Location
Being in Terminal 2, the Rex Lounge sits under the same roof as all Rex flights from Sydney. Found after security screening and near gate 2, that makes it easy to relax before any Rex flight.
But the guest list is open travellers booked on other airlines, too. This means it's also in a great spot for domestic passengers of Virgin Australia and Jetstar – more on that later.
Whichever way you qualify for entry, staff at the nearby Rex service desk can buzz you in.
This Rex Lounge opens from 5:30 am to 7 pm Sundays through Fridays, and from 5:30 am to 5 pm on Saturdays.
Lounge layout and seating
Rex's Sydney lounge is arguably the best of the airline's trio. While certainly not a colossal space, there's always room to relax – or work, if need be.
A collection of tub chairs past reception prove perfect for short stays. When travelling in a group, look instead to the sofas by the window for a more social pick.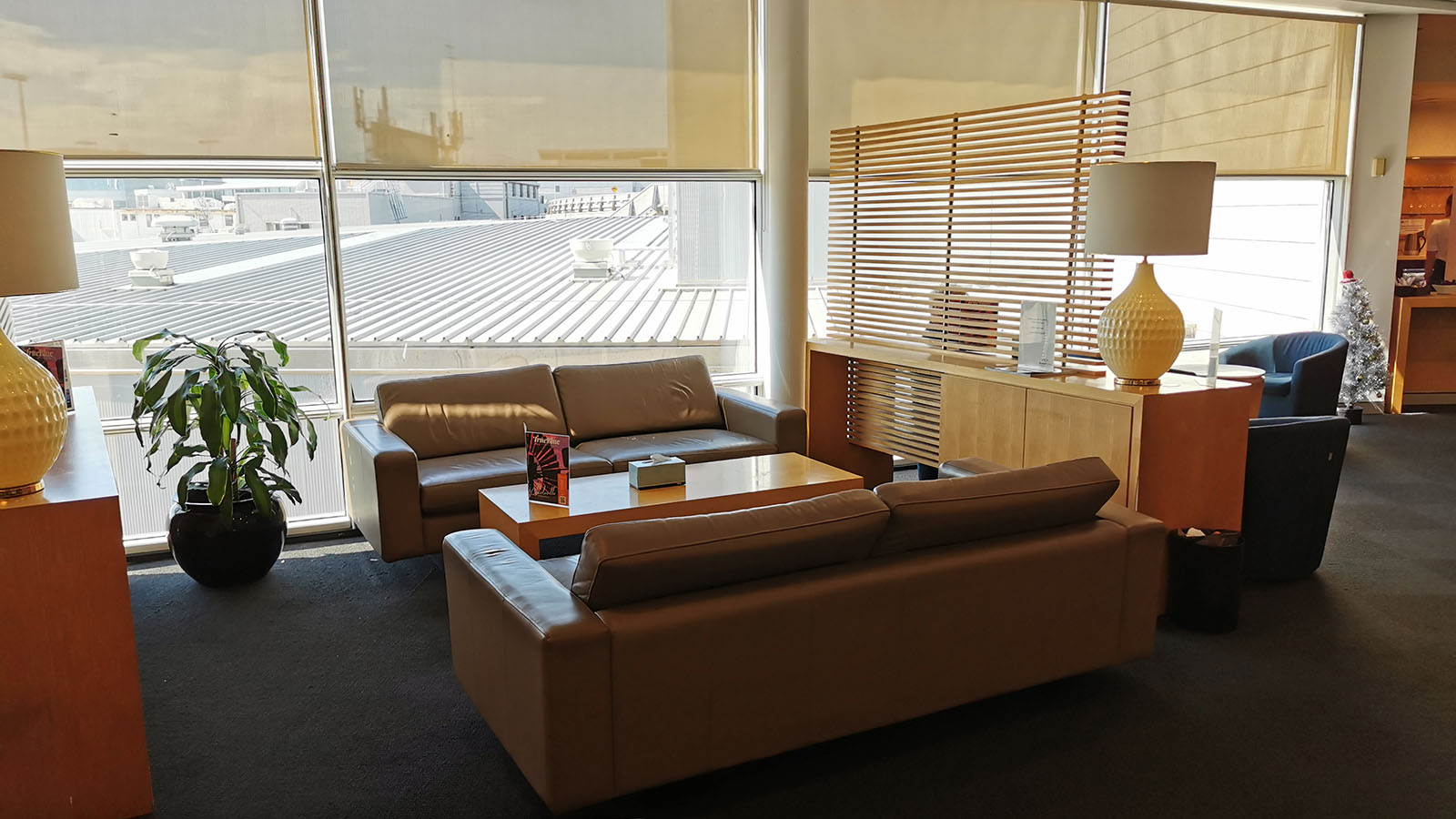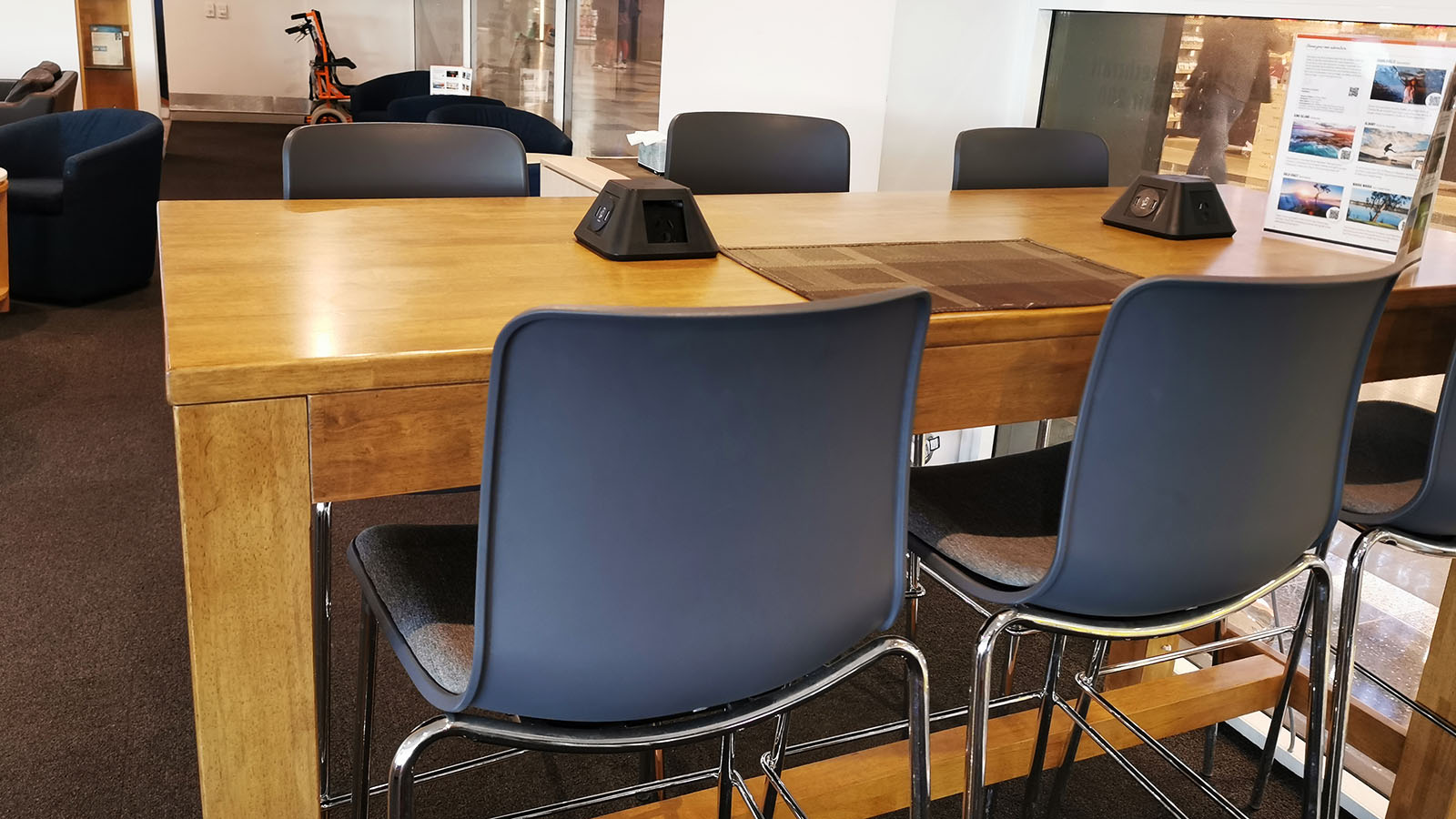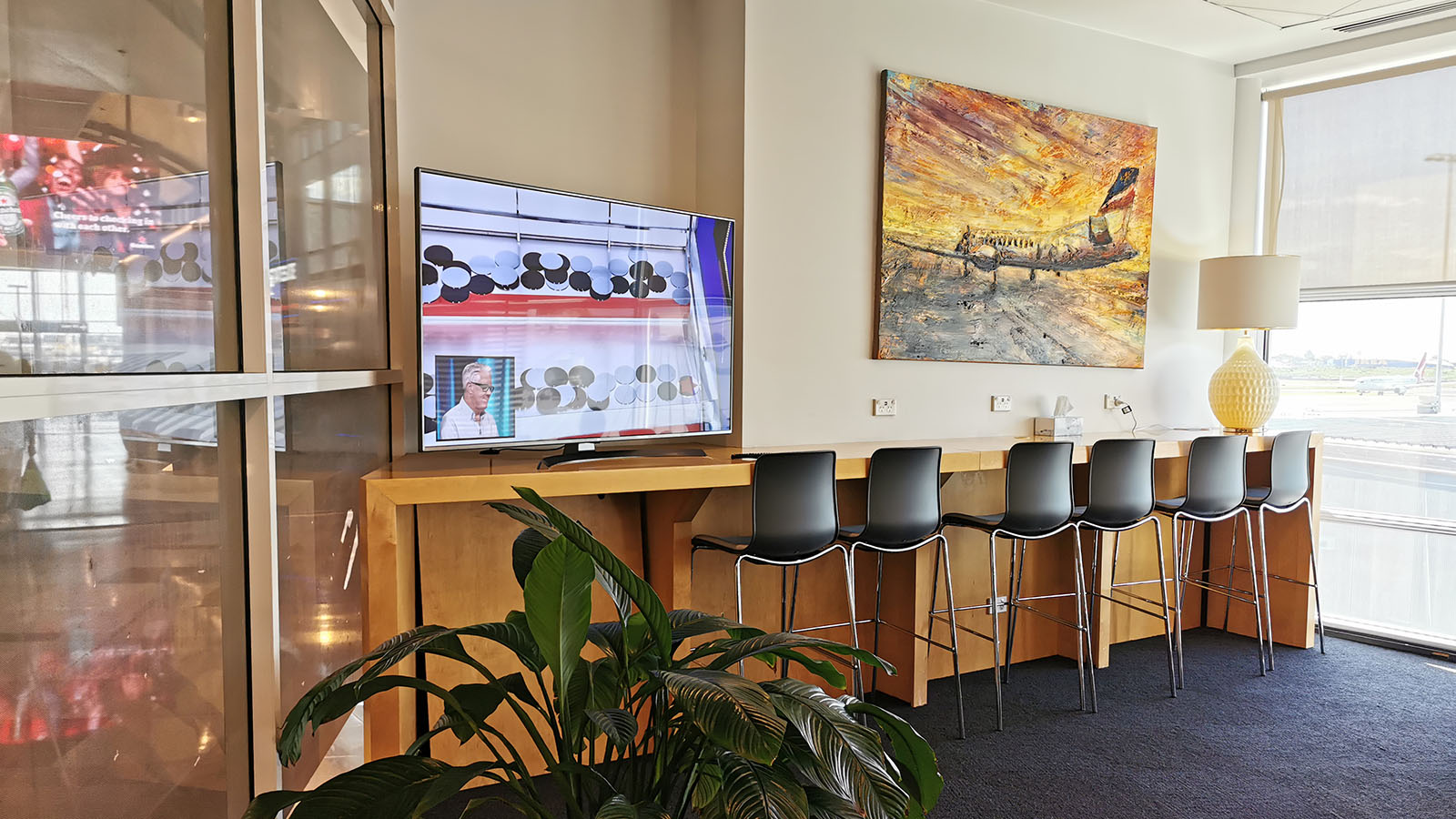 My usual perch is at the high timber tables, along the internal windows. These offer both AC and USB power, which I always find helpful on busy travel days. Similar chairs are also found near the TV, but being close to that source of noise.
Food and beverage in the Sydney Rex Lounge
For a regional and Priority Pass lounge, the food and beverage choices are respectable. Those options here also trump what's available in Rex's Melbourne and Adelaide locations.
While selections can vary, substantial options normally include sandwiches and wraps. On this most recent visit, a basil pesto chicken sandwich was the order of the day. Both egg and lettuce, and ham and salad, were alternatives.
On the snack front, graze on packets of chips, cookies and crackers. Service is assisted, with staff generally eager to please.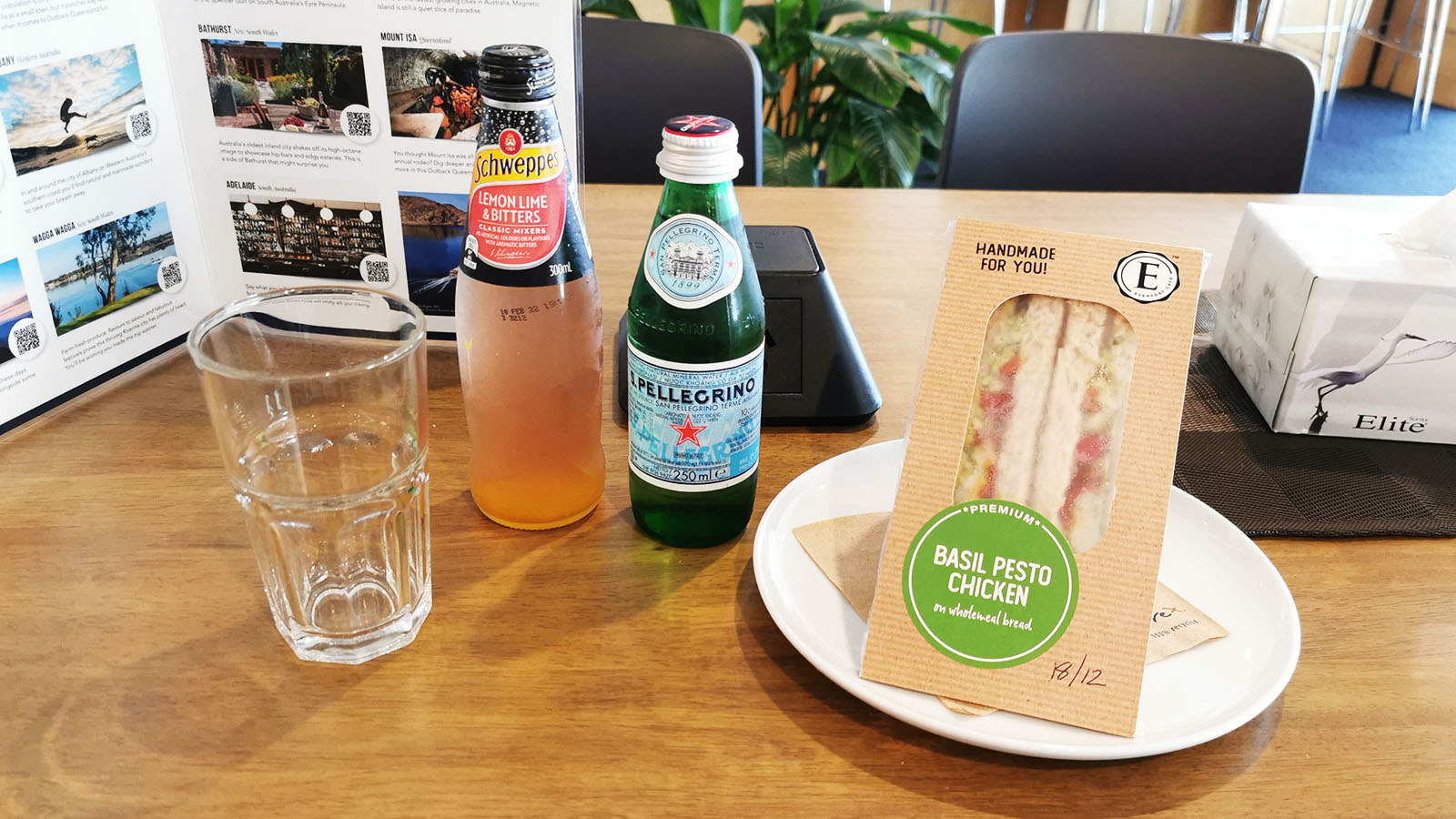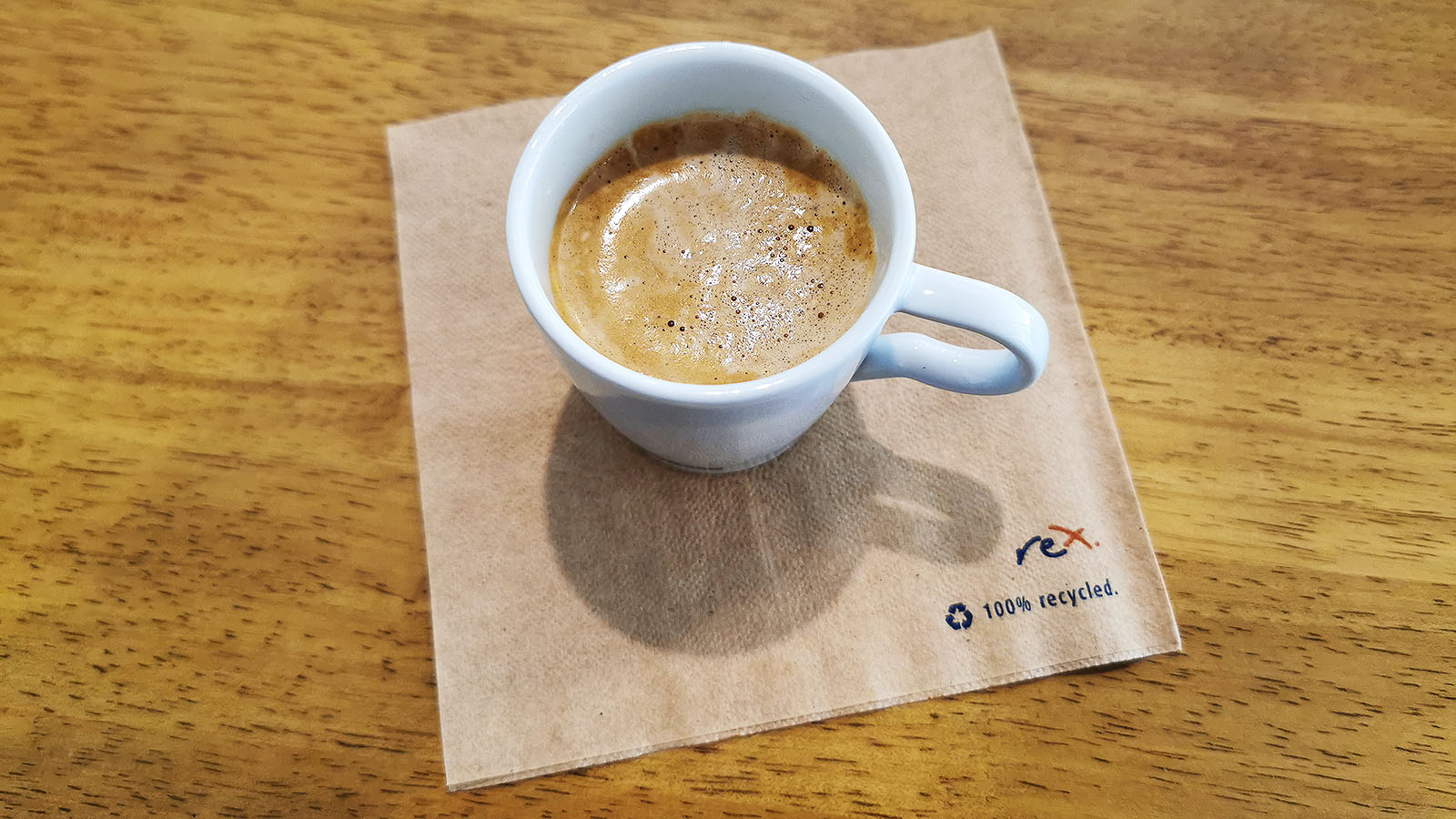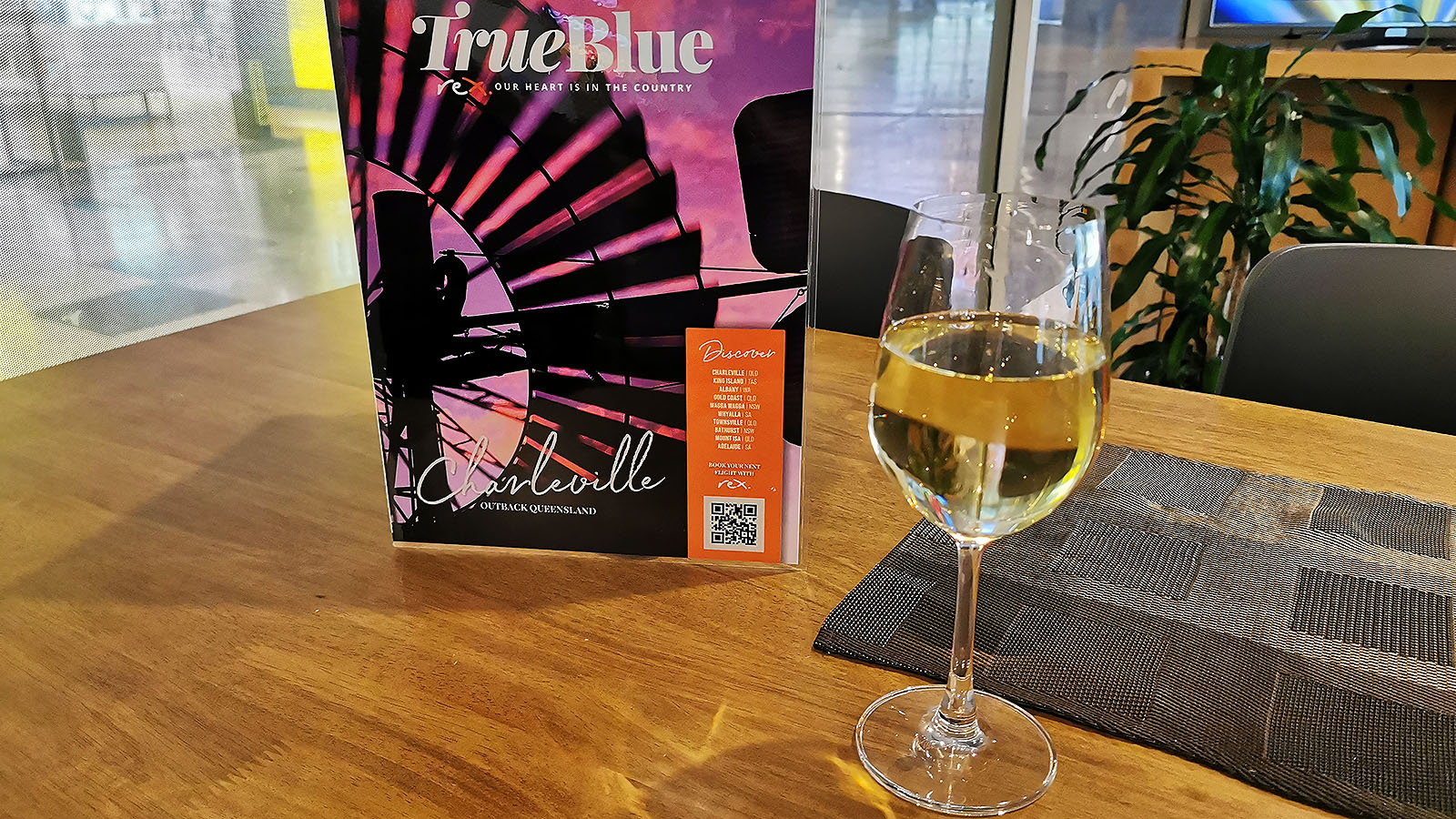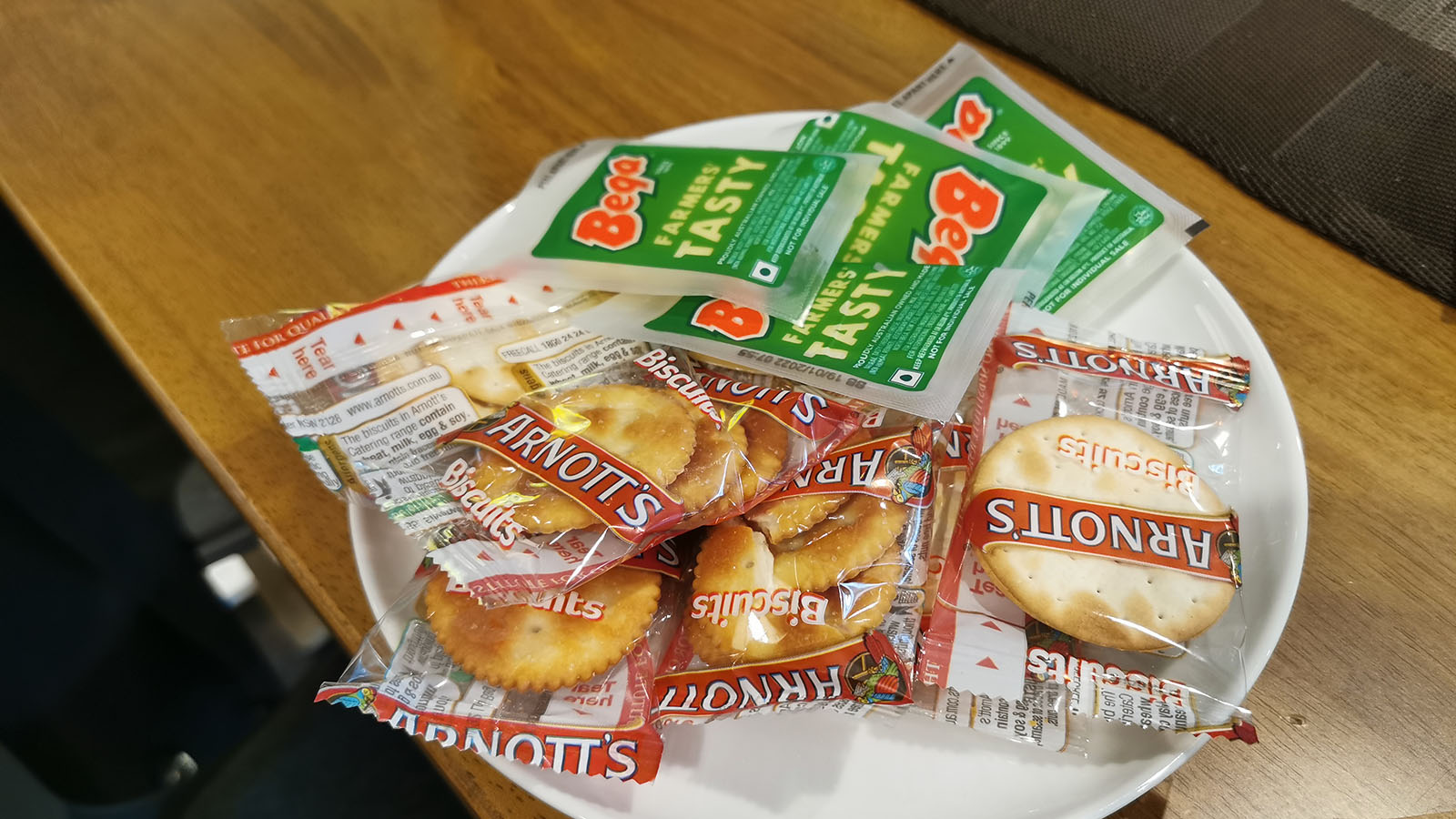 A request for some cheese and crackers to pair with my wine finds a generous portion of both speedily prepared.
Speaking of wine, it's available from 3pm daily – as is beer. Nespresso coffee comes by request at any time, with a short espresso perfectly prepared.
There's a good range of other non-alcoholic drinks, too. Among your choices: San Pellegrino sparkling water, bottled lemon lime and bitters drinks, and standard soft drinks and juices.
Lounge amenities
Here's where Sydney's Rex Lounge is a bit of a letdown.
There's free Wi-Fi, sure. But the speeds barely match those of household ADSL connections from 20 years ago. Perhaps that's the last time Rex updated its Internet – but zippier speeds are long overdue.
For a more modern comparison, even the most basic NBN connection of 12Mbps is almost 20 times faster than the 0.61Mbps download speed I recorded in the Rex Lounge.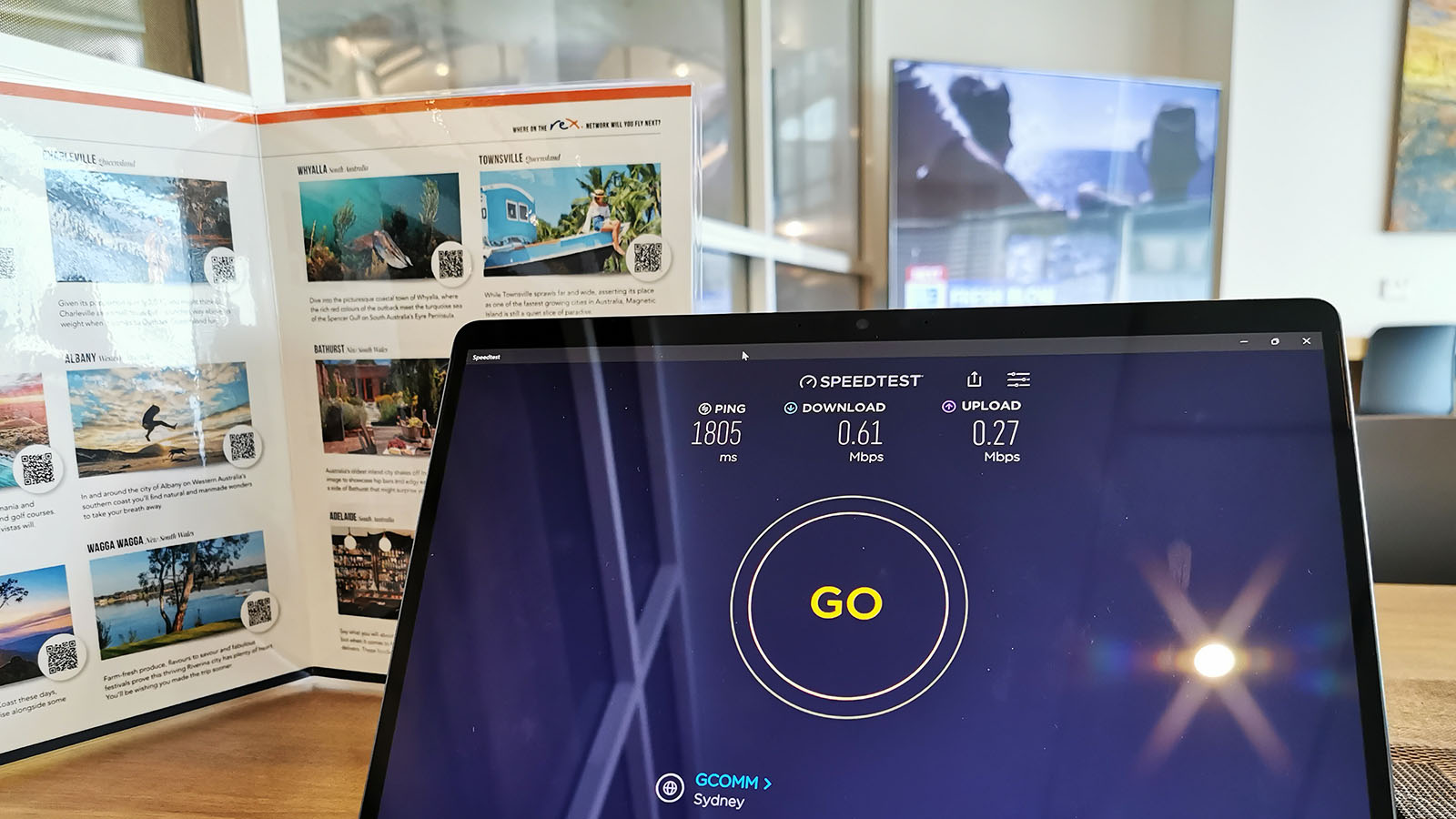 Ditching the lounge Wi-Fi and tethering through my own mobile became necessary, with Rex's connection too slow to be usable.
Beyond the Wi-Fi, the Rex Lounge in Sydney provides dedicated bathrooms. They're nothing flash, but certainly a step above Rex's Melbourne and Adelaide lounges, which have none.
Accessing the Sydney Rex Lounge
There are many ways you can access Sydney's Rex Lounge. You may not even need to be flying Regional Express for entry.
Rex Lounge access when flying any airline:
As an example, a Priority Pass card grants access here regardless of the airline you're flying. This could well be Rex, but could equally be others like Virgin Australia and Jetstar.
There's nothing stopping Qantas passengers from availing of the same benefit. But with Qantas domestic flights based in Terminal 3, and this lounge in Terminal 2, you'd want to arrive early. As there's no secure link between these terminals, it also means clearing security a second time.
If your access comes via Diners Club, do check whether visits are complimentary on your account. While gratis for many Australian cardholders, those with Linked Diners Club Cards via Citibank don't qualify for free entry.
Rex Lounge access when flying Rex:
Passengers booked in Rex Business Class.
Rex Lounge annual members.
Paying lounge guests – either on weekends or between 9 am and 2 pm on weekdays.

Casual access costs $16.50 on Rex Flex fares, or $33 on Saver tickets.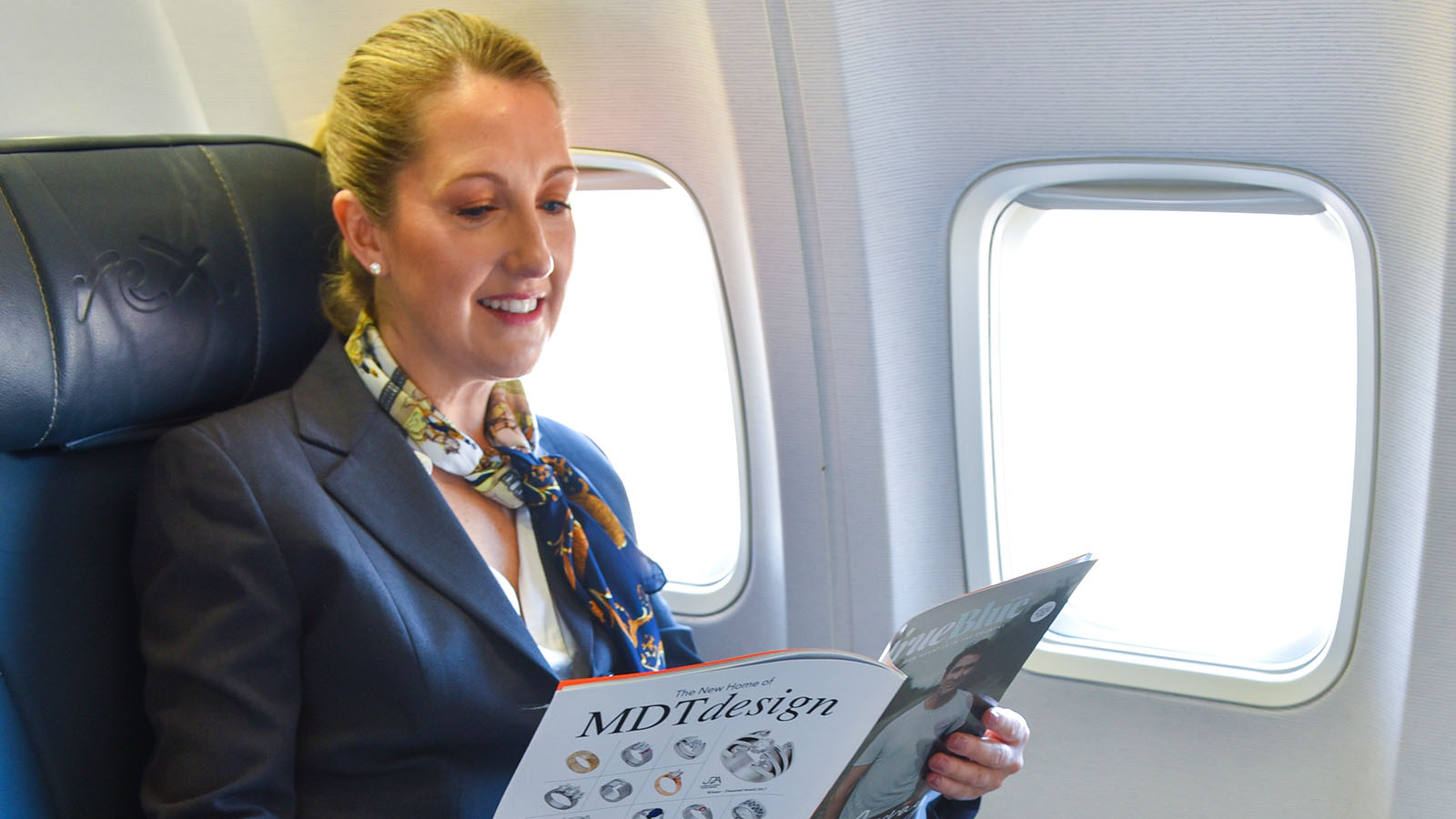 You can't pay for access when booked on other Rex fare types, or when flying with other airlines. That's where one of the cards above, such as Priority Pass, prove useful.
Summing up
Particularly for Priority Pass members, Sydney's Rex Lounge shouldn't be overlooked.
When flying from Terminal 2 – and even with access to Sydney's Virgin Australia Lounge – I'll often stop here first. With far fewer guests than Virgin's buzzing space, the Rex Lounge is usually a great (and quiet) place to work for an hour or two.
It's certainly not a replacement for the Virgin Australia Lounge, if you have access there. But it's always good to know your options: and if your wallet packs a Priority Pass card, that's your ticket to the Rex Lounge.
That's also handy to remember if you find yourself aboard Rex. With a growing domestic network, and both regional and capital city flights from Sydney, the Rex Lounge might even be your new regular spot.
Chris Chamberlin accessed the lounge using a Priority Pass membership maintained at his own expense.
Rex Lounge, Sydney
was last modified:
January 12th, 2022
by