A regular haunt for Gold frequent flyers and paid-up lounge members, Brisbane's Qantas Club is a go-to for many travellers. With all-day barista coffee paired with fast Wi-Fi and all-day buffet dining, your bases are certainly covered.
But the Brisbane lounge is a little different to the others. It's the only Qantas domestic lounge with a dedicated security screening point at the entrance. This provides a direct path between check-in and the lounge itself, avoiding the need to trot along the departures concourse until it's time to fly.
In theory, it's a terrific concept. But how is it holding up under pressure as domestic travellers return to the skies en masse? Read on!
Location
You'll find Brisbane's Qantas Club on the main departures level. Its position at the edge of the terminal building puts it between the pier gates (5-6 and 16-21) and the main concourse (gate 22 and beyond).
That's the easiest way to access the lounge if you're connecting between flights. But if you're starting your trip in Brisbane, Premium Lounge Entry may be available too. That's a dedicated security screening area for lounge guests with direct entry into the Qantas Club.
Anybody who could normally access the Qantas Club – except for single pass holders – can use Premium Lounge Entry. It's currently open:
5 am to 5 pm on weekdays
6 am to 5 pm on weekends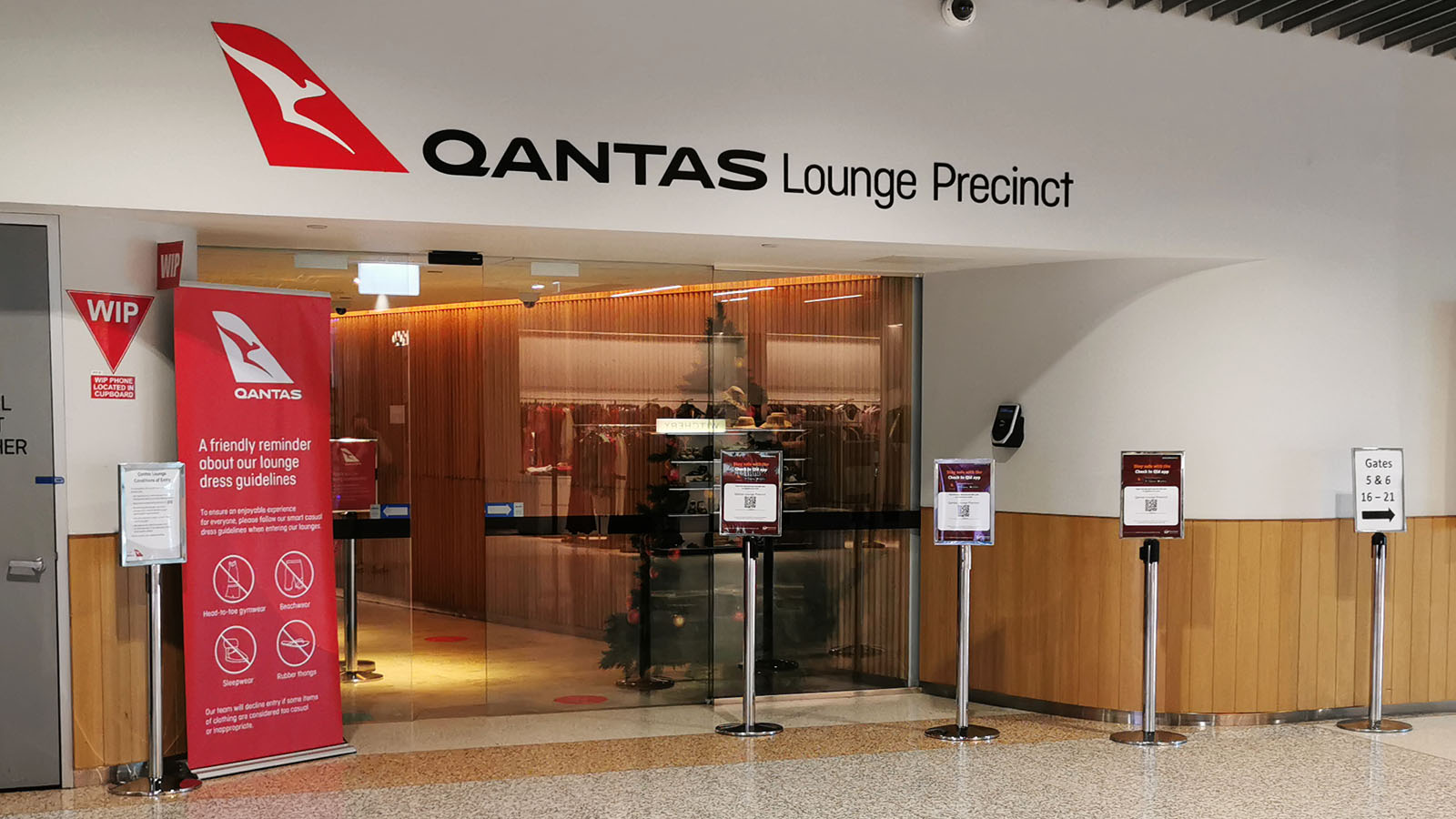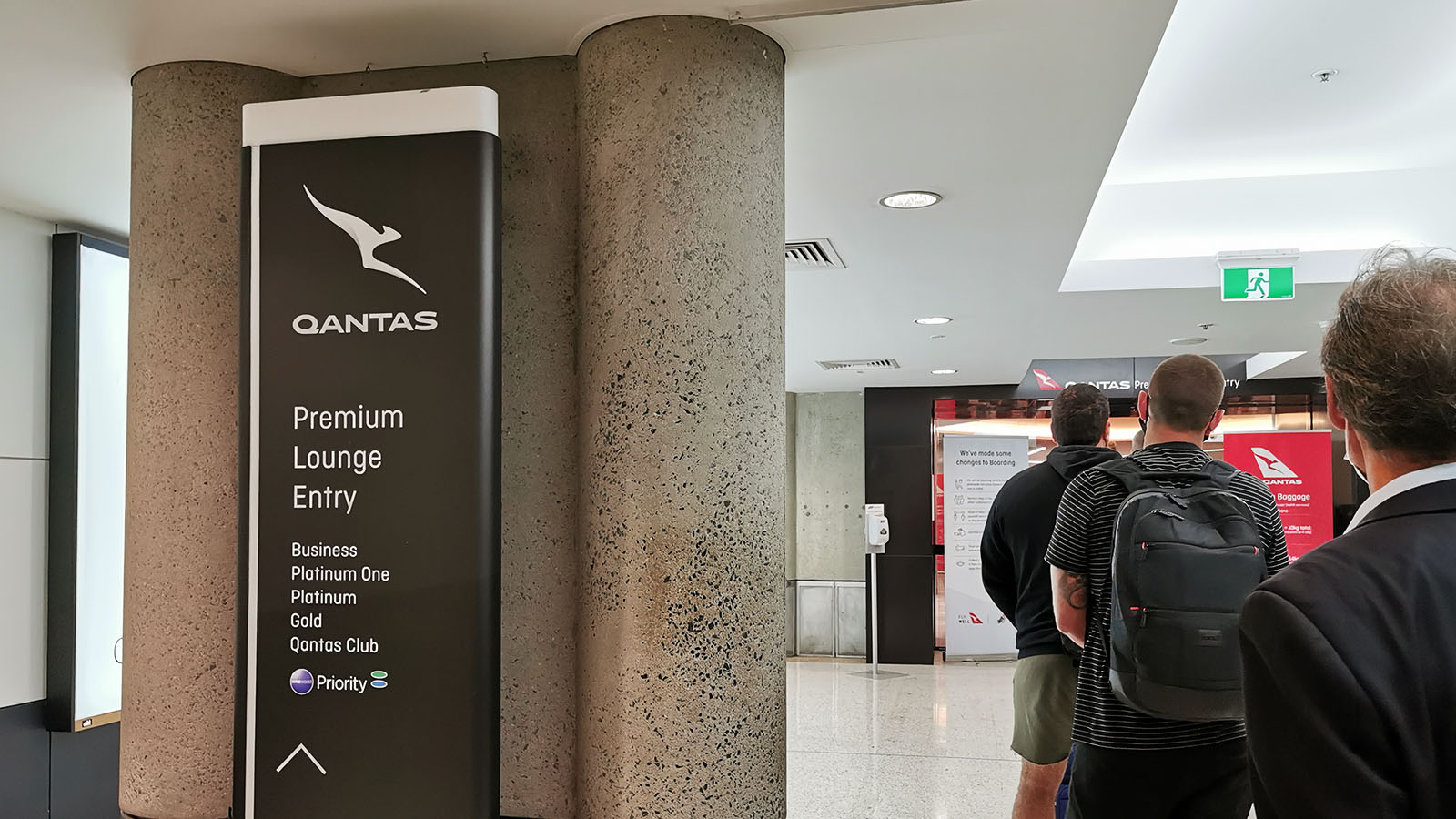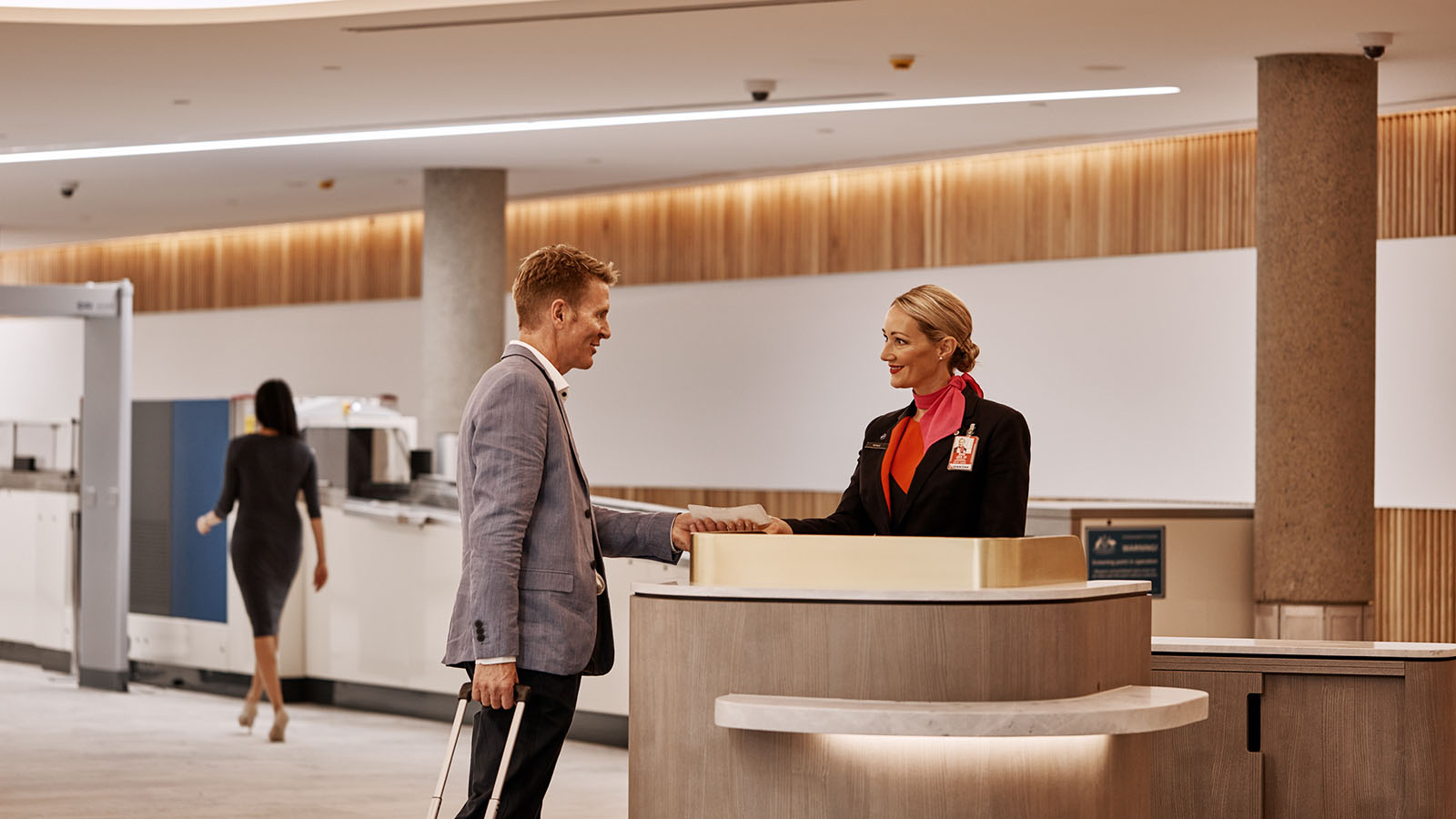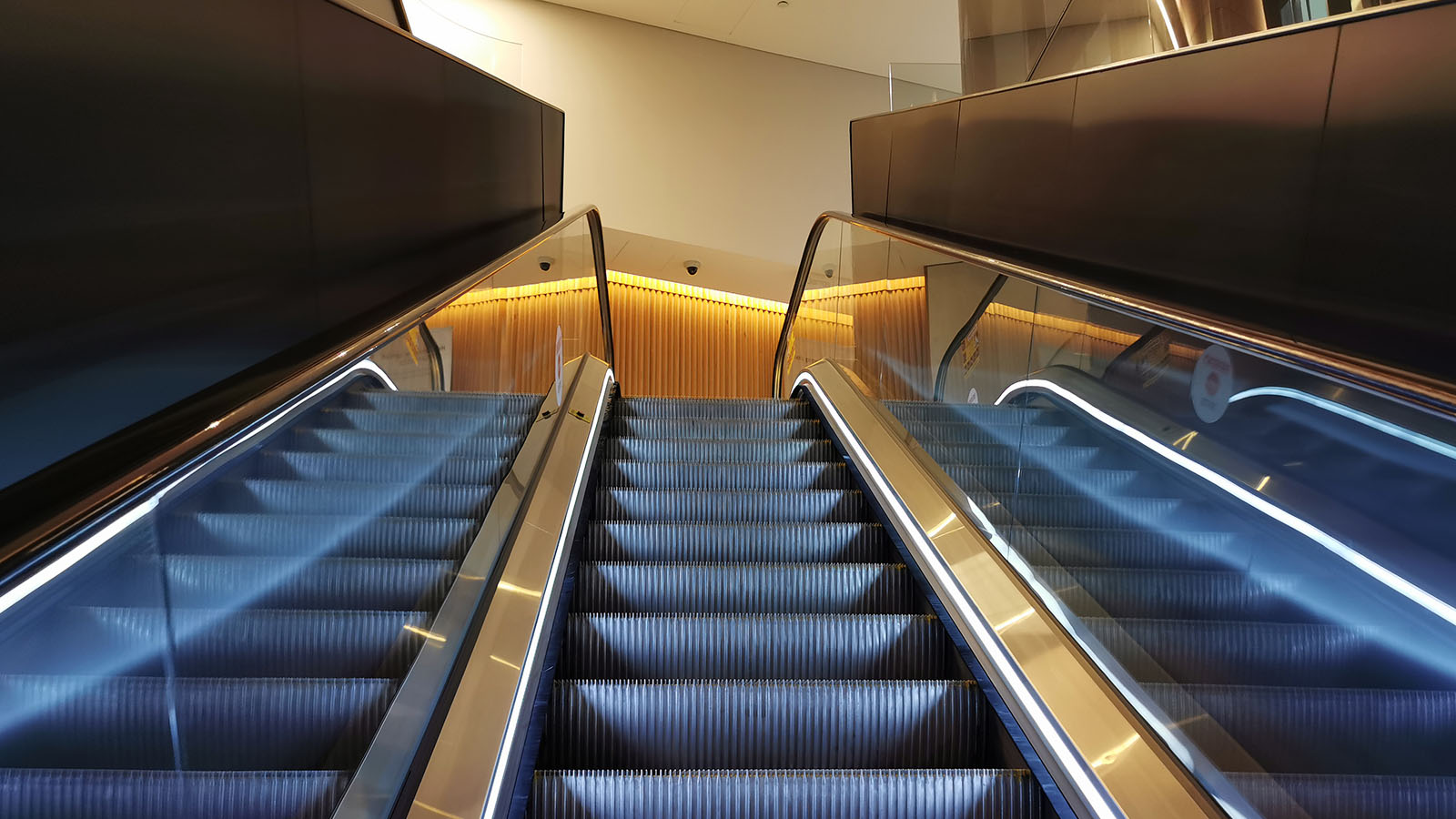 Qantas Premium Lounge Entry now a victim of its own success
When Premium Lounge Entry first debuted, it was a glorious improvement to the passenger experience at Brisbane Airport. But over the years, that's unfortunately become less so.
With the main public checkpoint no longer having a priority queue, all premium passengers are funnelled through Premium Lounge Entry. Here, the older-style baggage X-ray still requires everybody to take laptops and aerosols out of their bags, slowing things down.
And while Premium Lounge Entry opened with a walk-through metal detector, it's since been swapped to a (considerably slower) body scanner. Which has a penchant for flagging my calves for a pat-down, every single time. In fact, the staff recently joked that I must have just come from 'leg day' at the gym!
Combined with the often-lengthy queues snaking back to the public check-in area, my most recent visit clocks in at 25 minutes from lining up to being in the lounge.
So how could Premium Lounge Entry improve? The cavernous space can easily fit a second full screening lane, which would halve wait times at peak periods. That's an intentional feature of its design, opening back in 2017 with future expansion in mind. And the future is now.
We sincerely hope that Qantas and Brisbane Airport realise how out of step this experience has become. It's still a 'Lounge Entry', no doubt, but certainly not 'Premium' in its current form.
The Qantas Club layout and seating in Brisbane
Phew! Once you're through security, the worst is over. Brisbane's Qantas Club looks even better after a long wait downstairs. And following its own expansion back in 2017, there's plenty of space here even at peak times.
You'll have a wide variety of seats to choose from. I often find that those nearest the buffet fill up fast during the morning peak. But if you keep walking towards the back of the lounge, your options significantly improve. Take your pick between banquette seats, dining tables, sofas and other choices perfect for a short stay.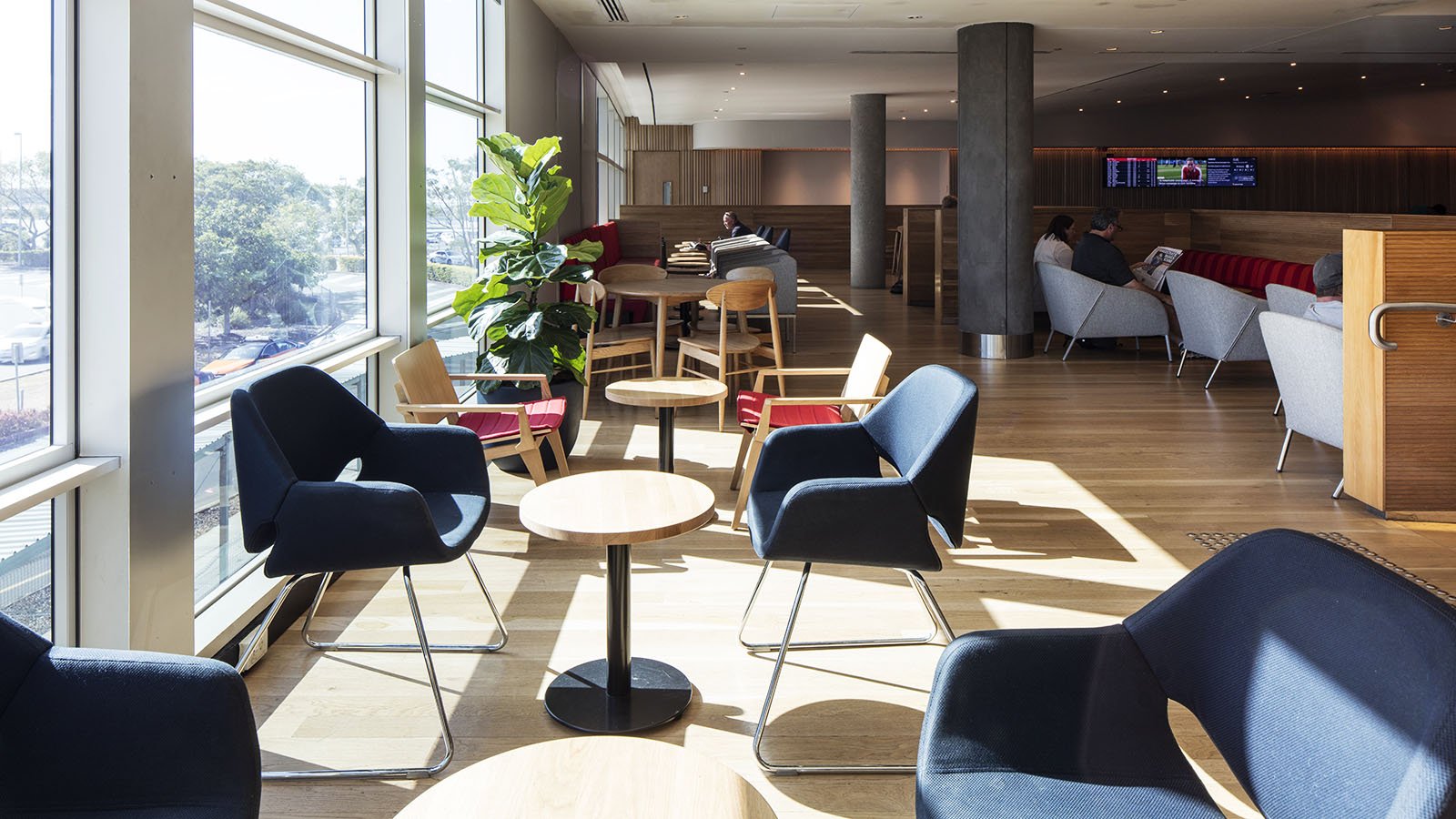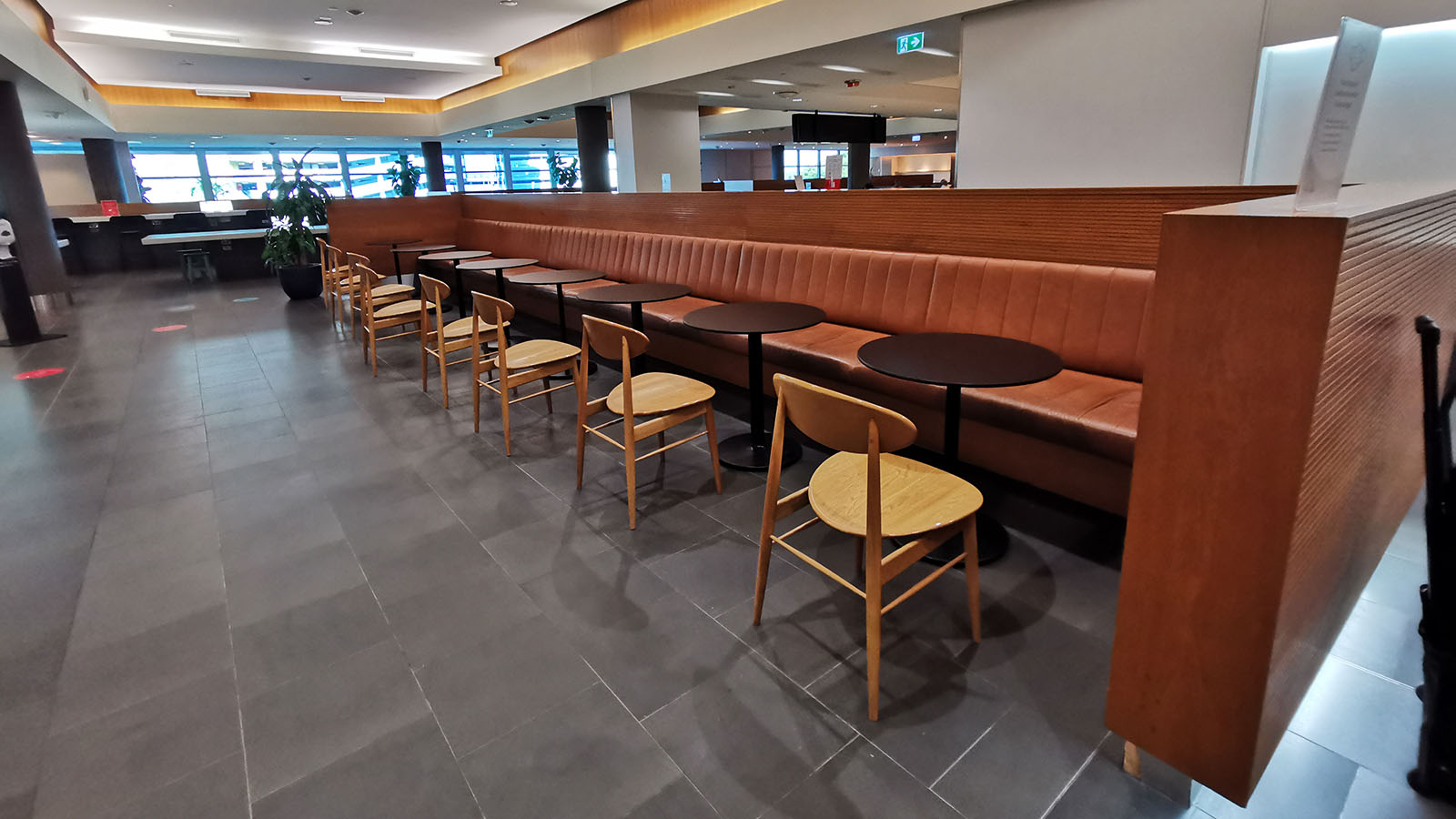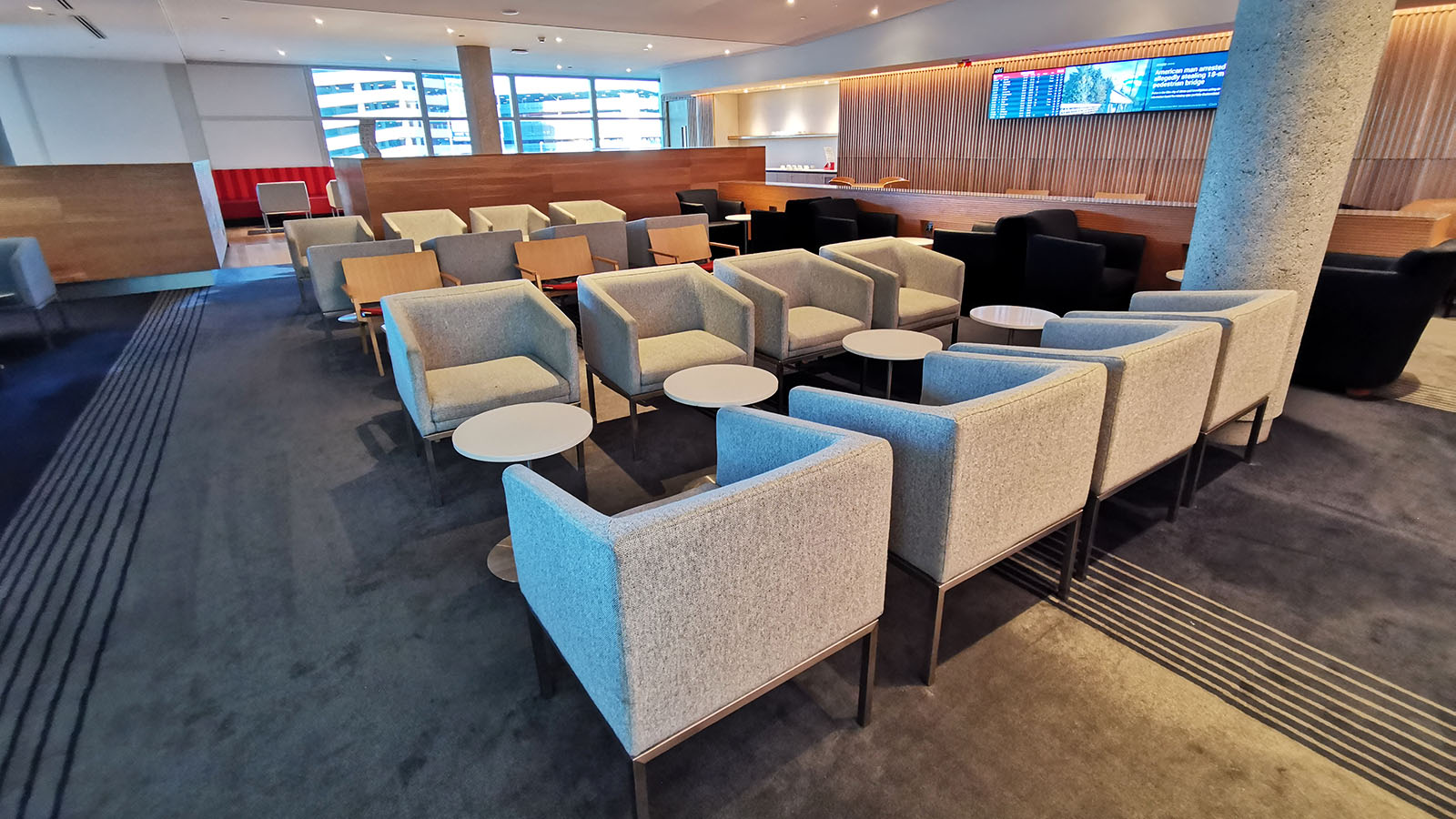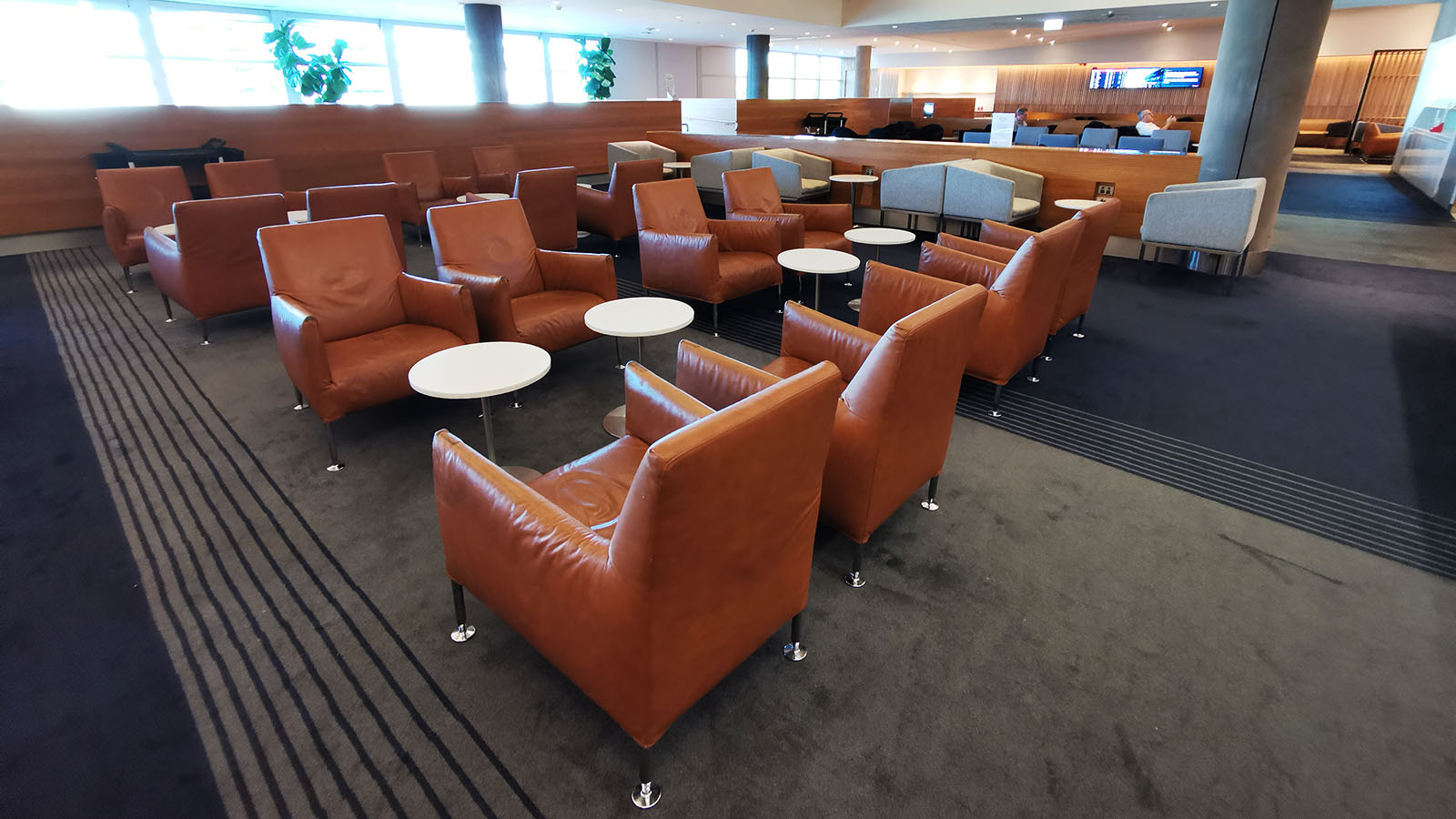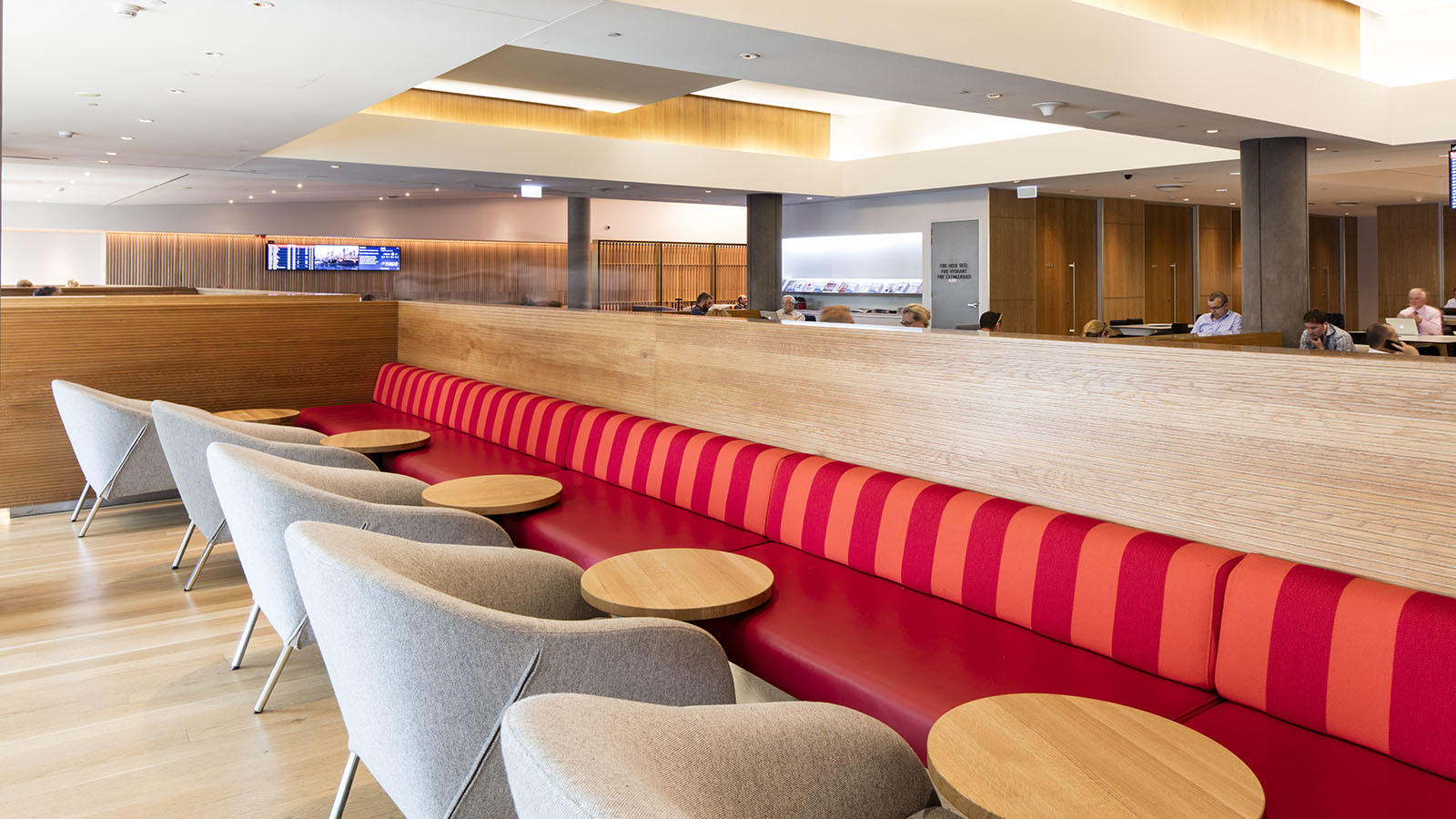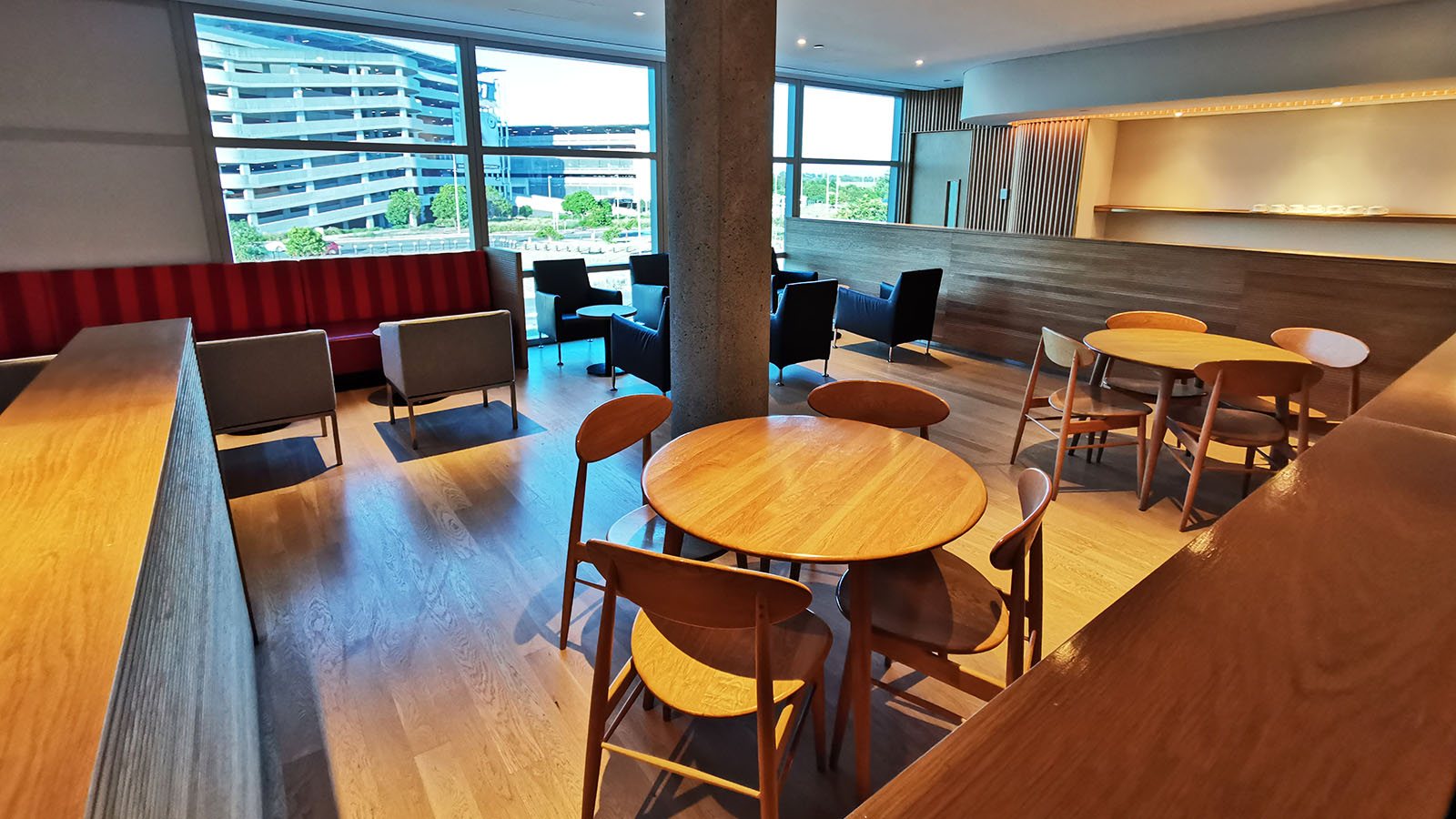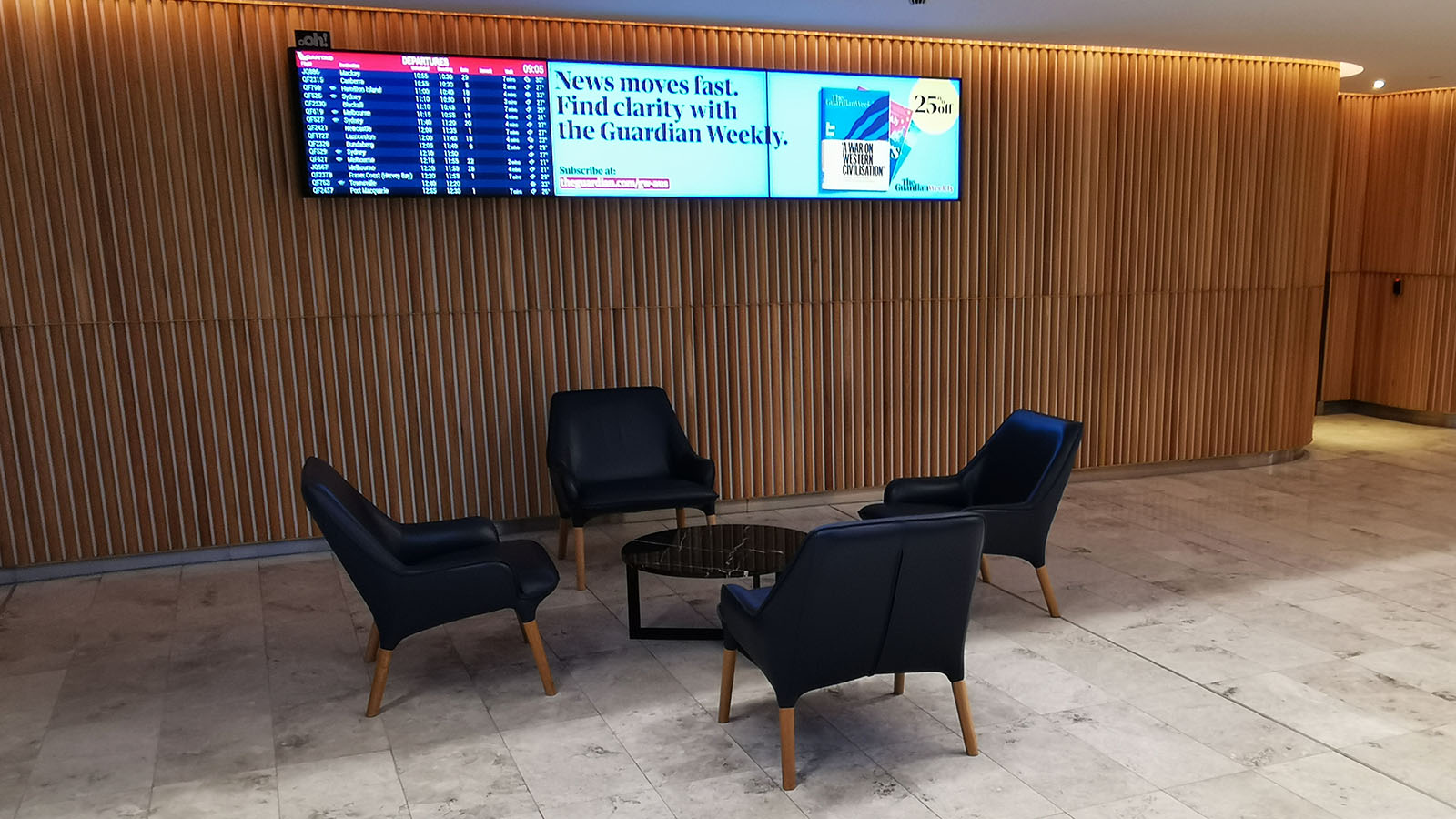 Joining the general seating, a significant portion of the lounge caters to business travellers. An office-like space in the centre offers tables with power: ideal for solo laptop work, or any impromptu meetings. You'll also find powerpoints underneath the long white tables near the entrance, and in the far corner adjacent to the buffet.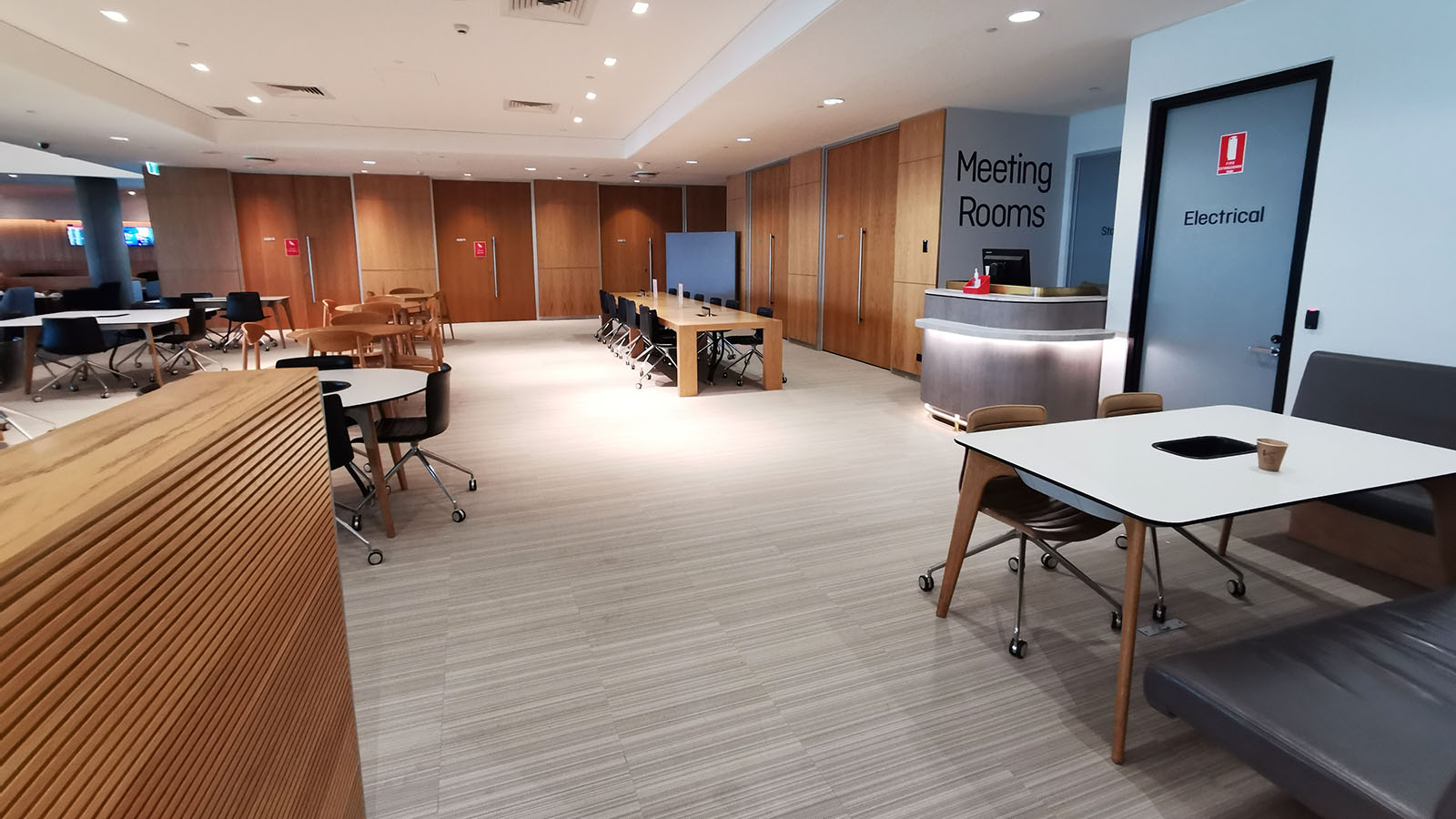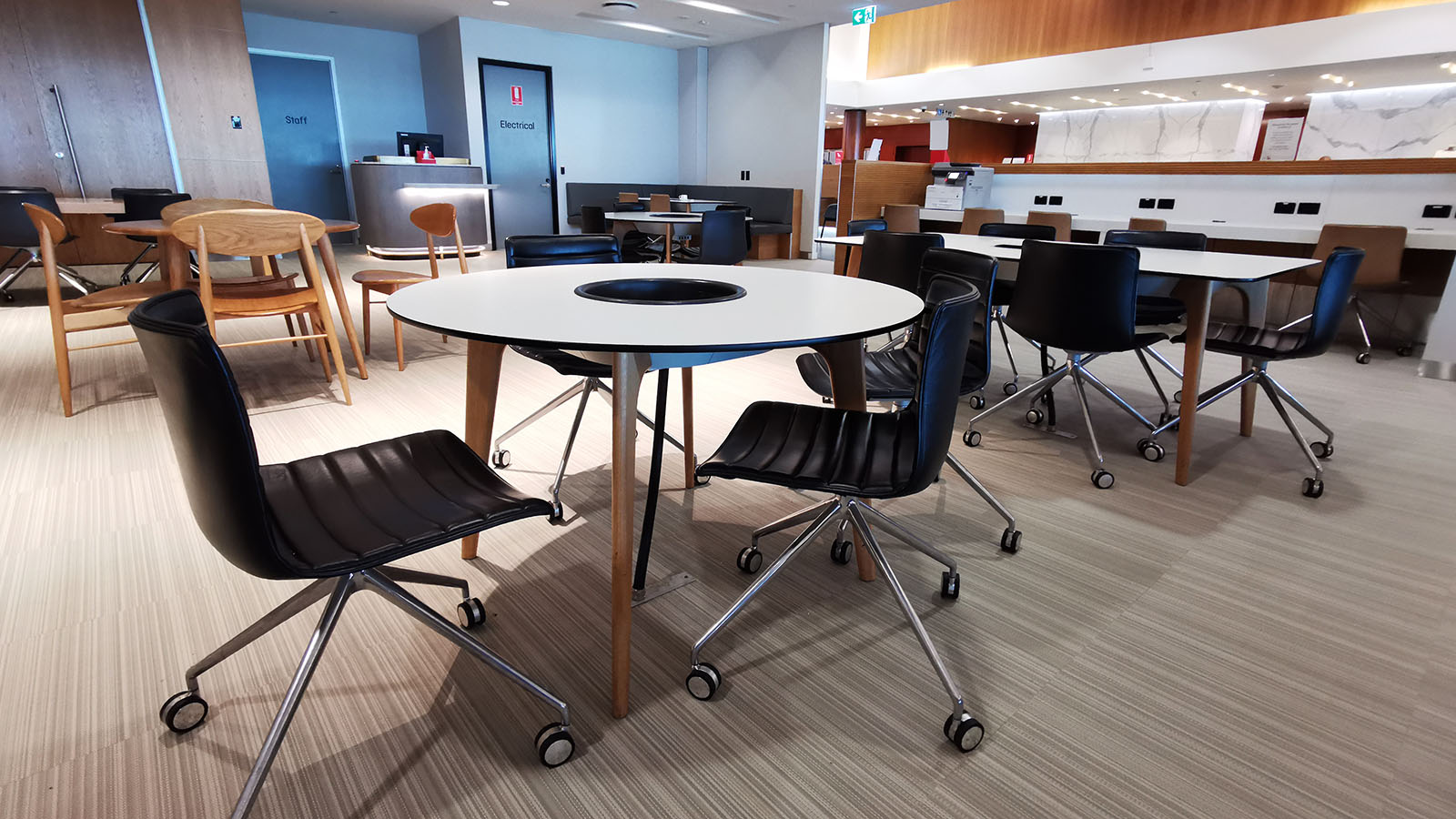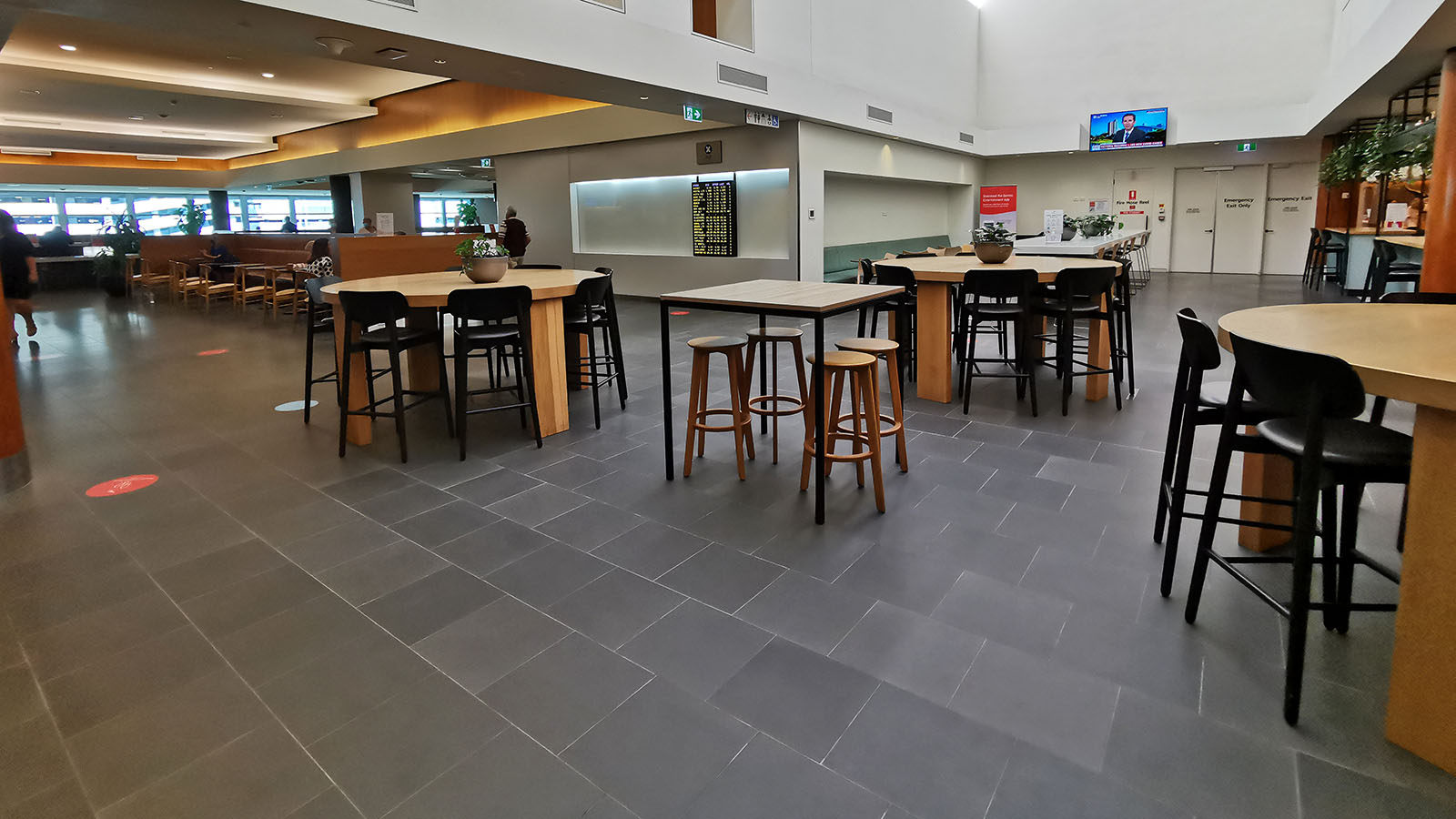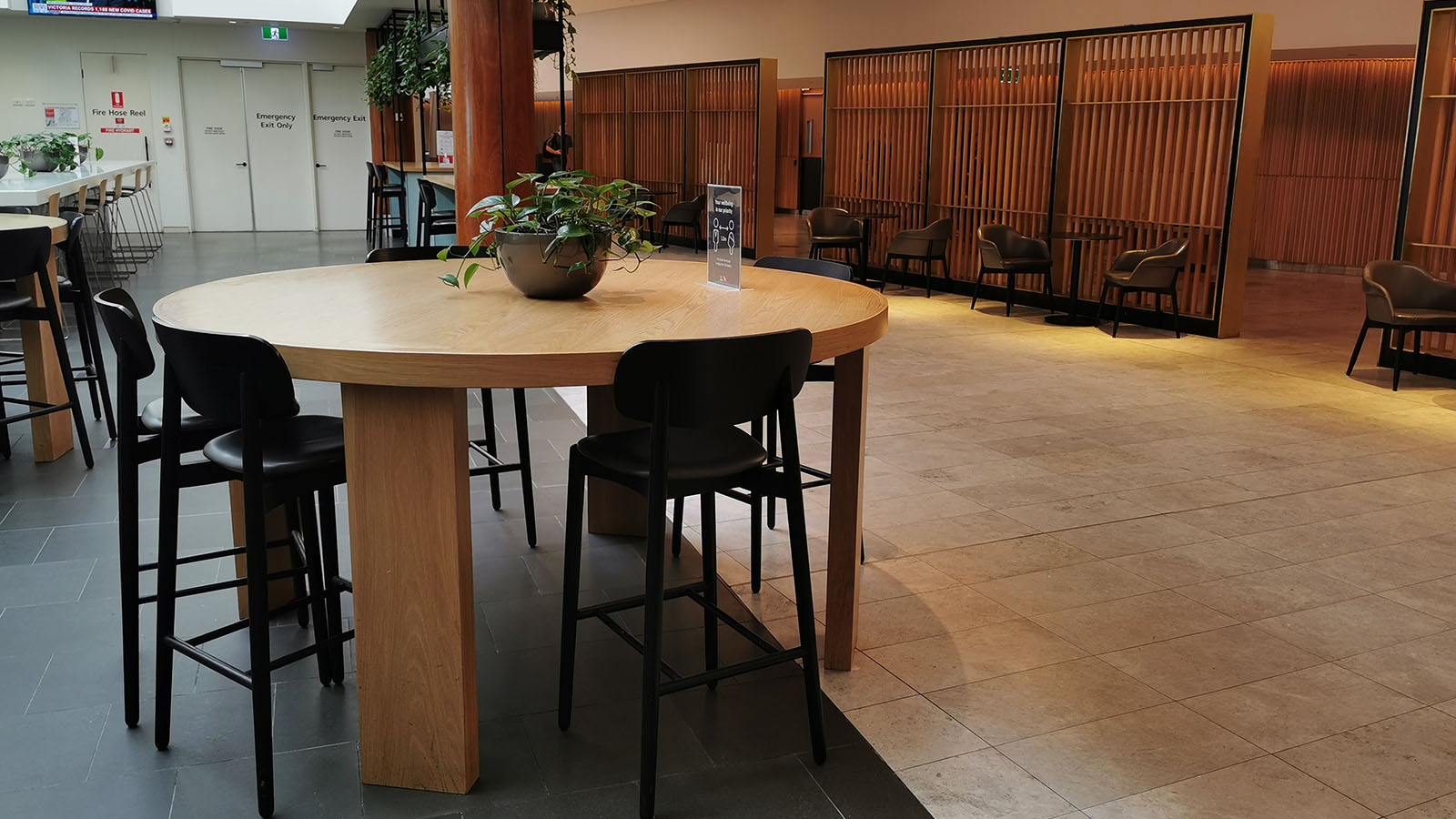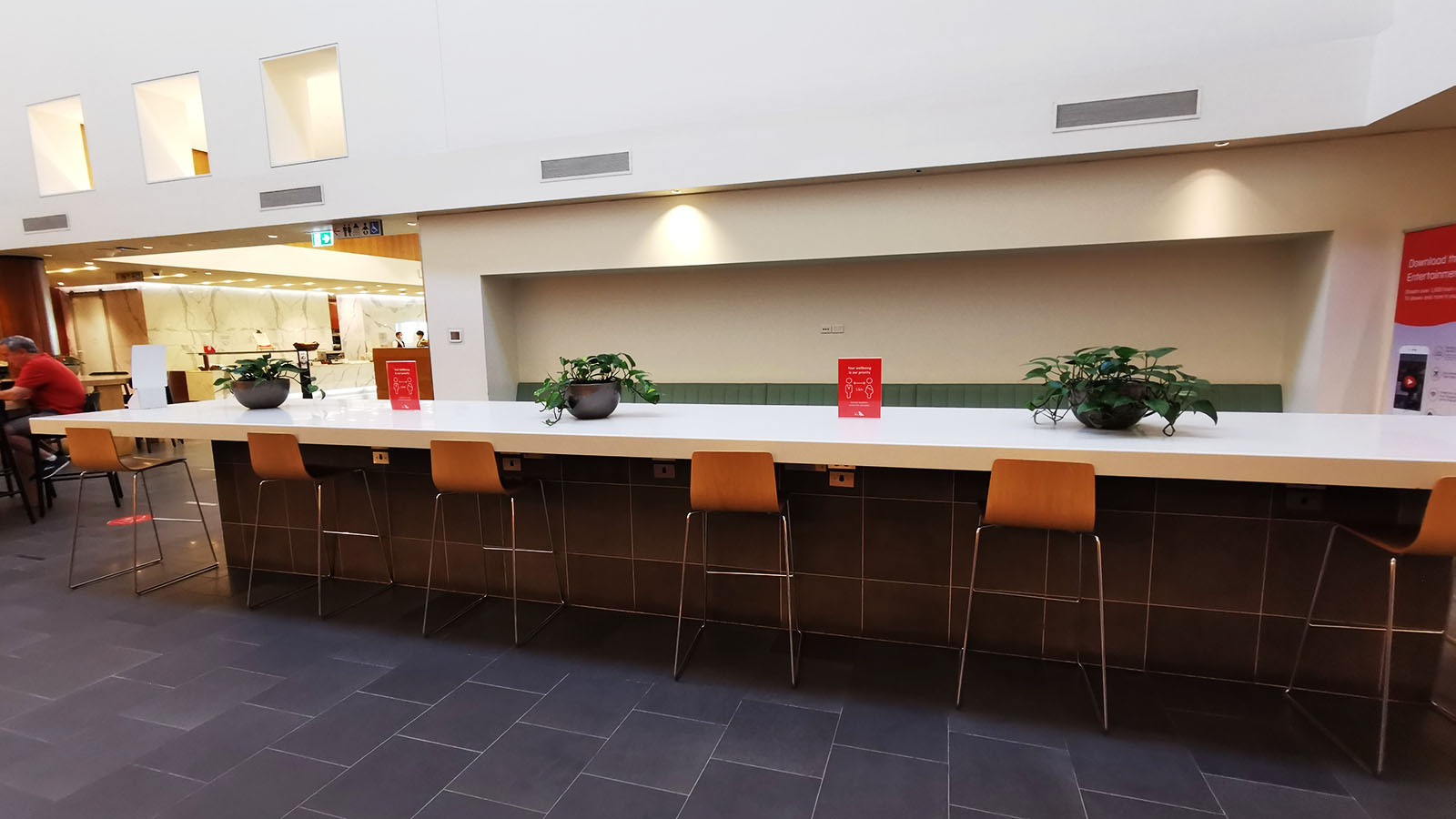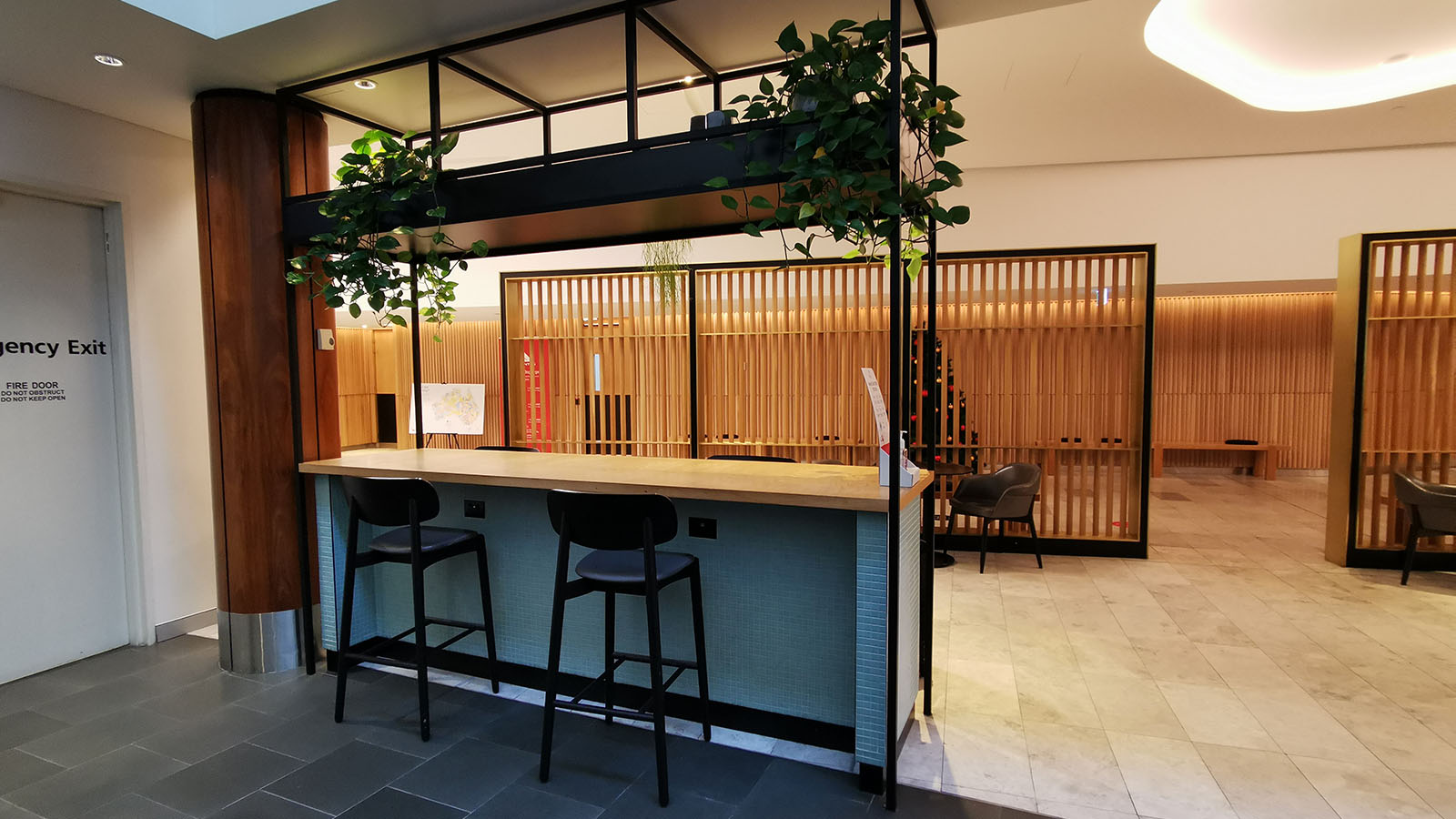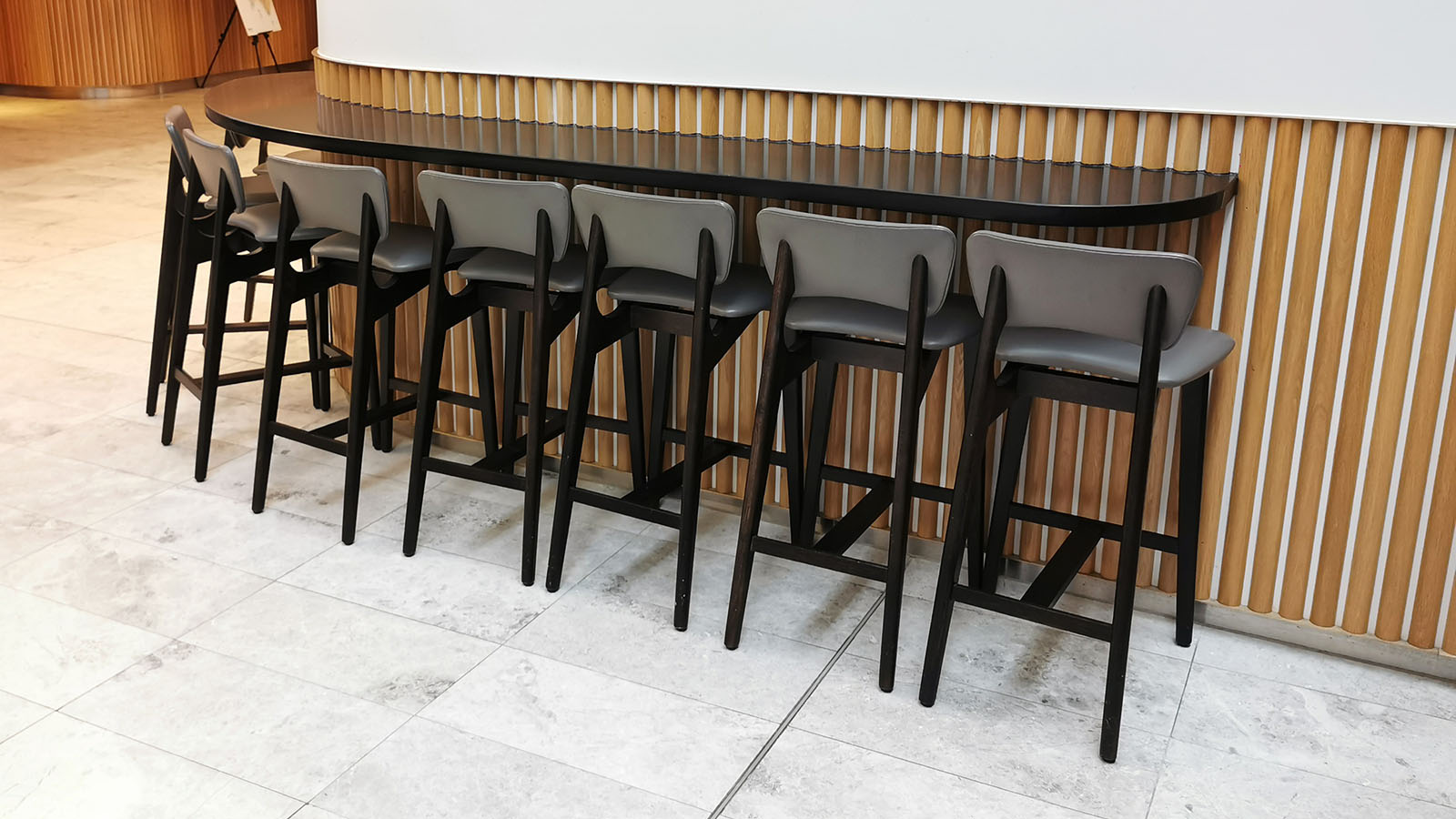 For a quick email, the bench seats close to the entrance provide a great place to set up – again with power. But if you're stuck for space, keep in mind that the Qantas Club also stretches down to the Business Lounge entrance. Seats along this walkway remain available too, including some near the Business Lounge reception.
Food and beverage in the Brisbane Qantas Club
Brisbane's Qantas Club is back with a full self-serve buffet offering.
In the mornings, expect to find the usual breads, cereals and hard-boiled eggs. Adding to that, yoghurts, muesli, fruit salad, DIY toasted sandwiches, and often a quick plate that's ready to take. A regular hit is the bread roll with ham and cheese – a deconstructed toastie, if you will.
Expect a variety of fruit throughout the day, along with salads and sweet slices. Of an evening, there's often a hot option too, such as chicken wings, pasta bake or spring rolls.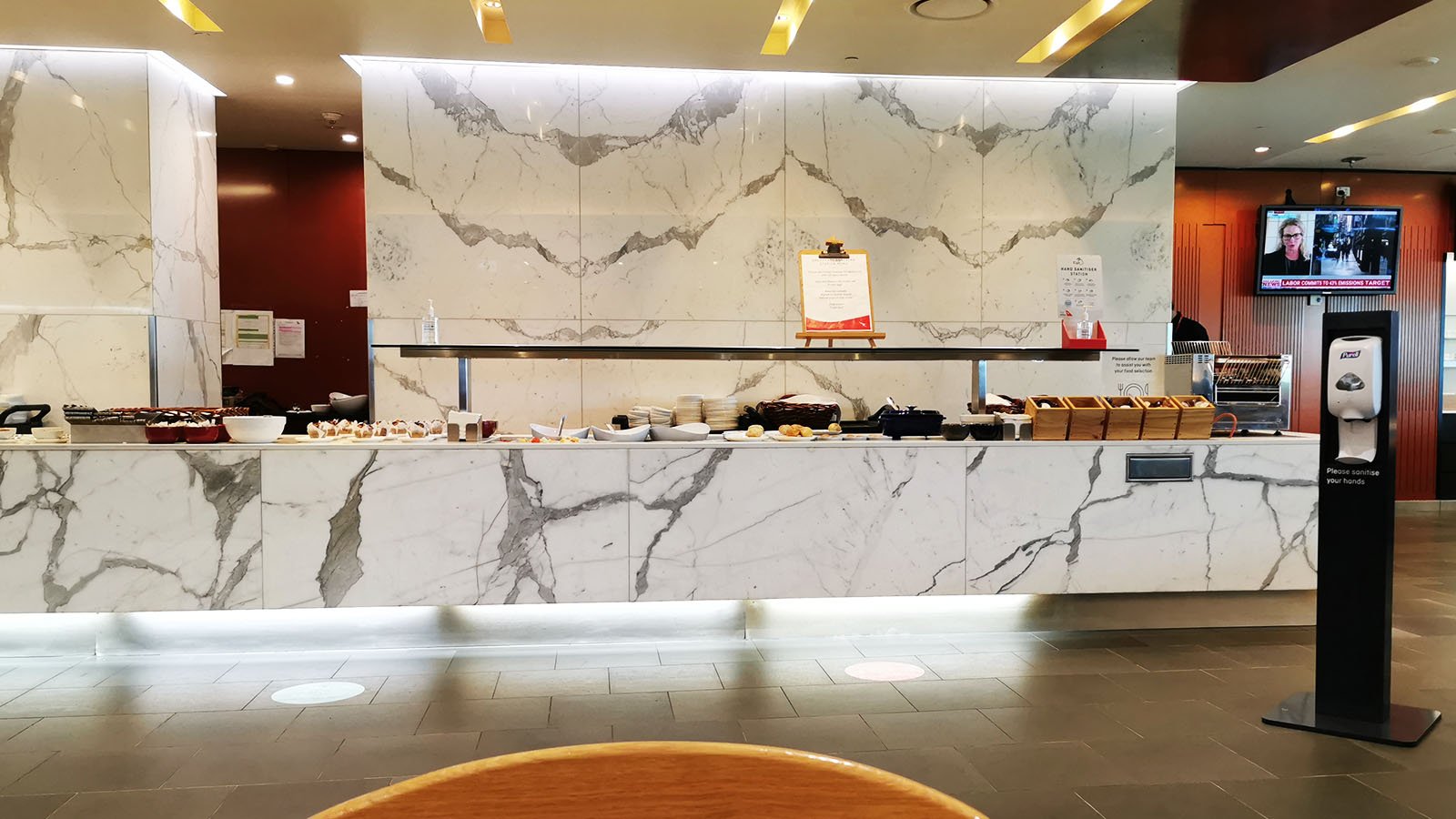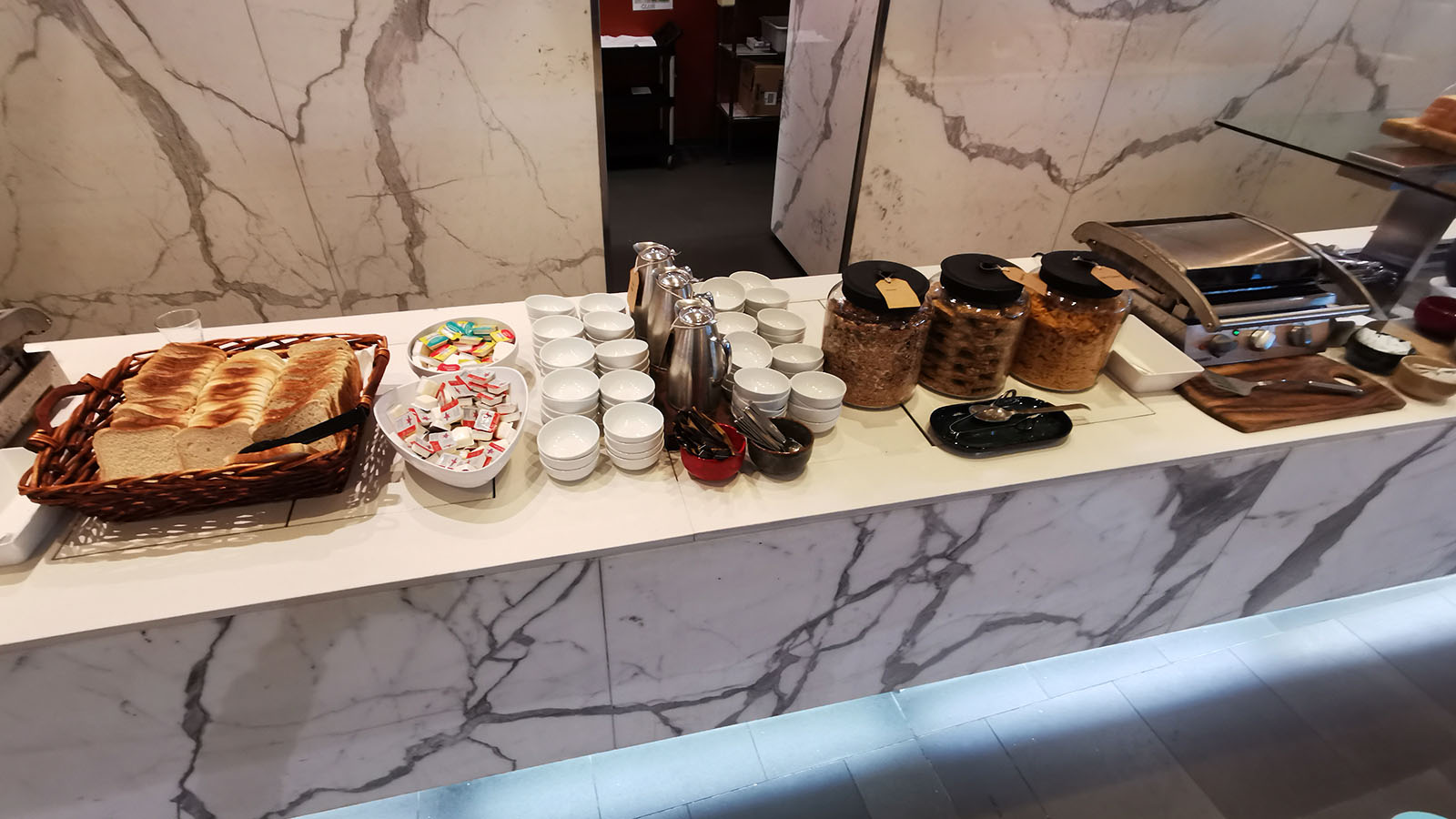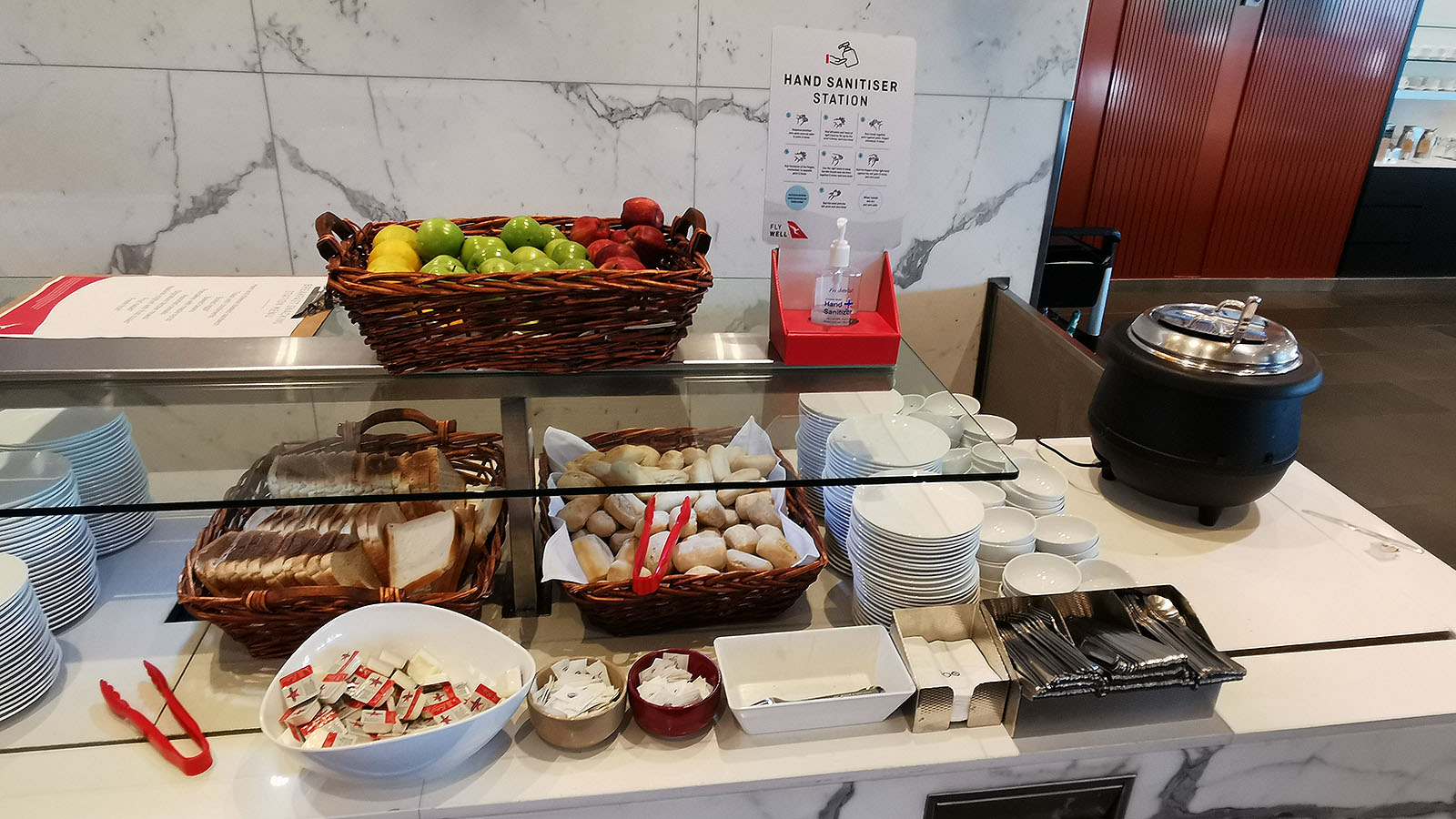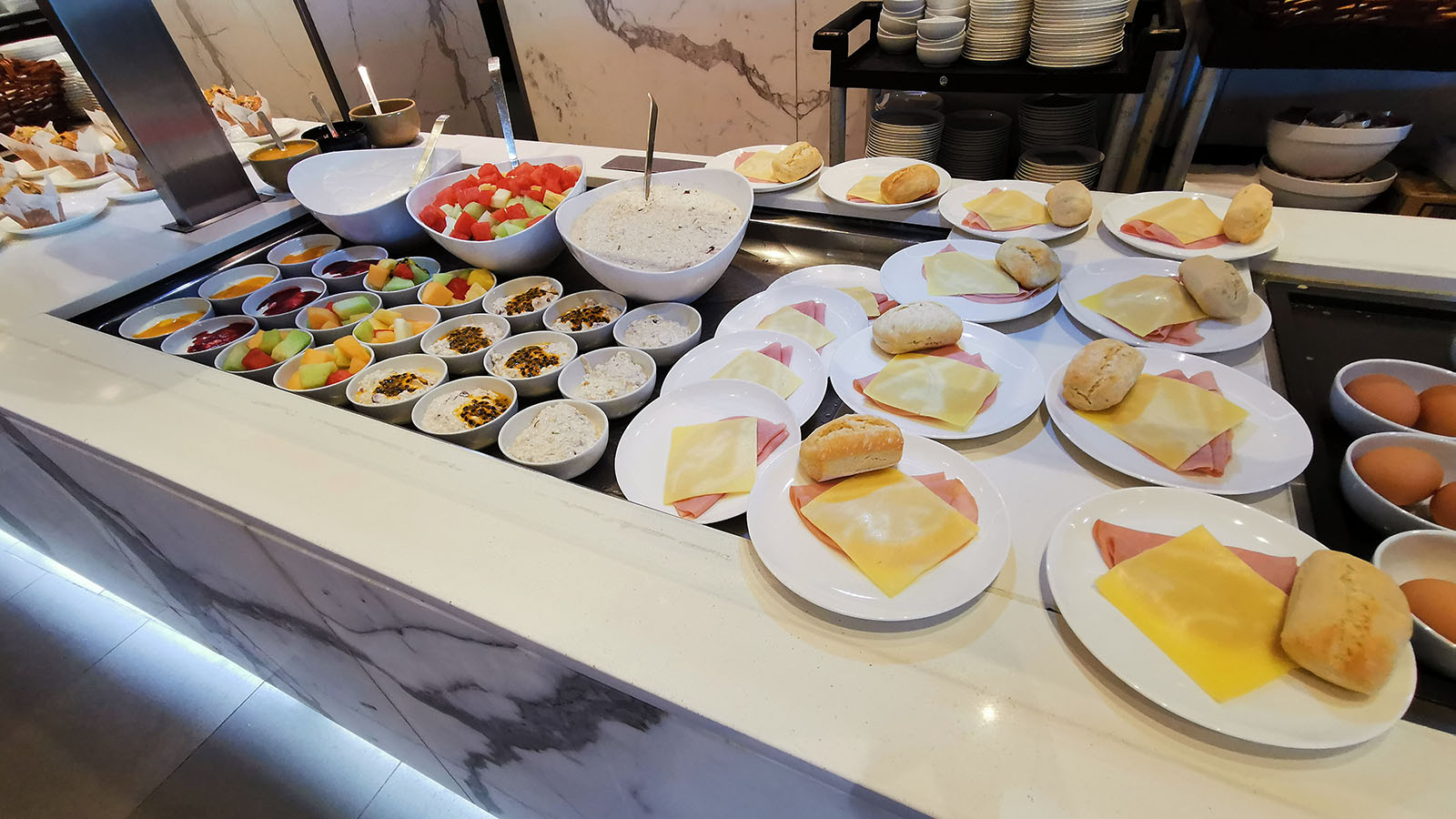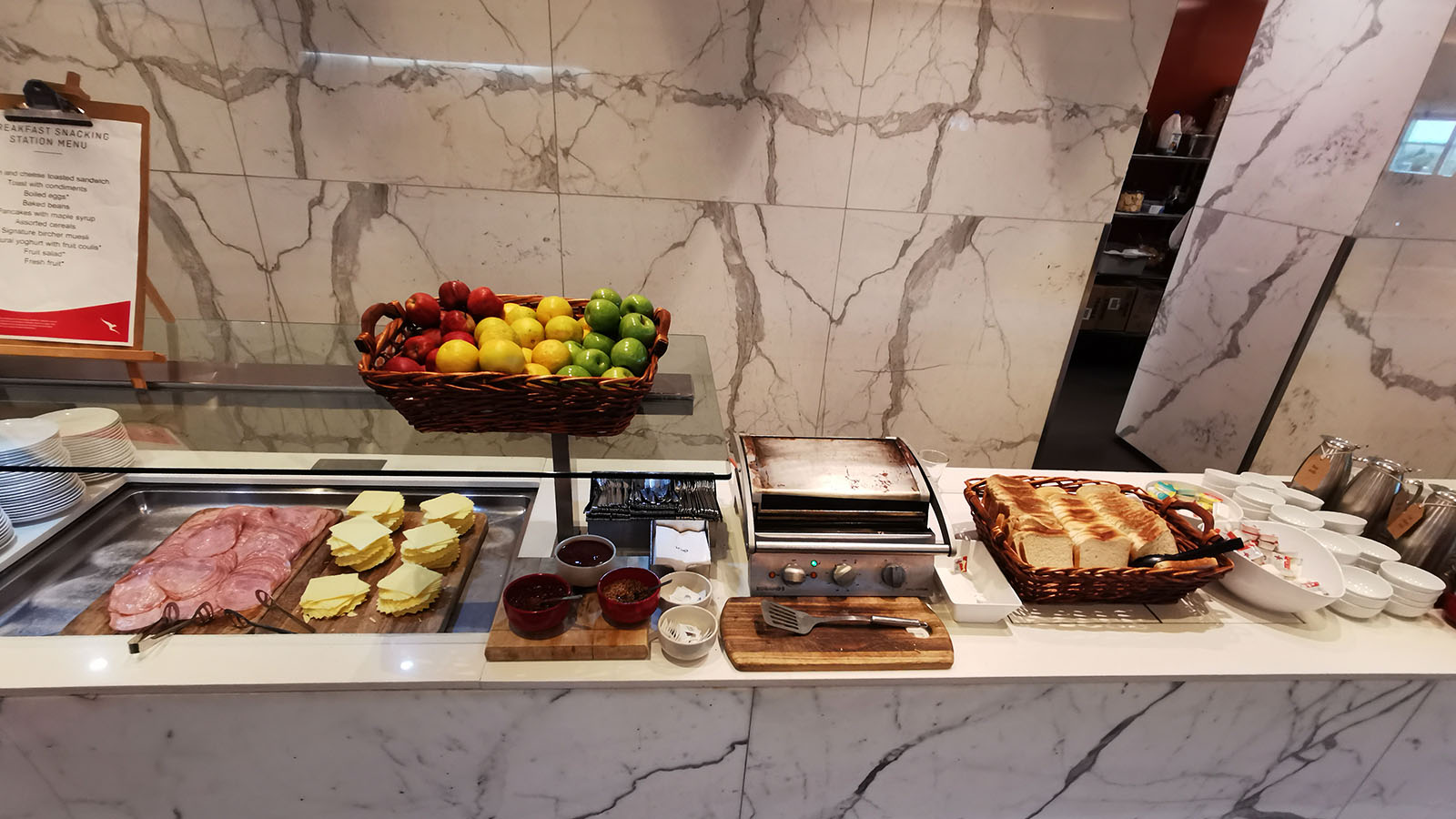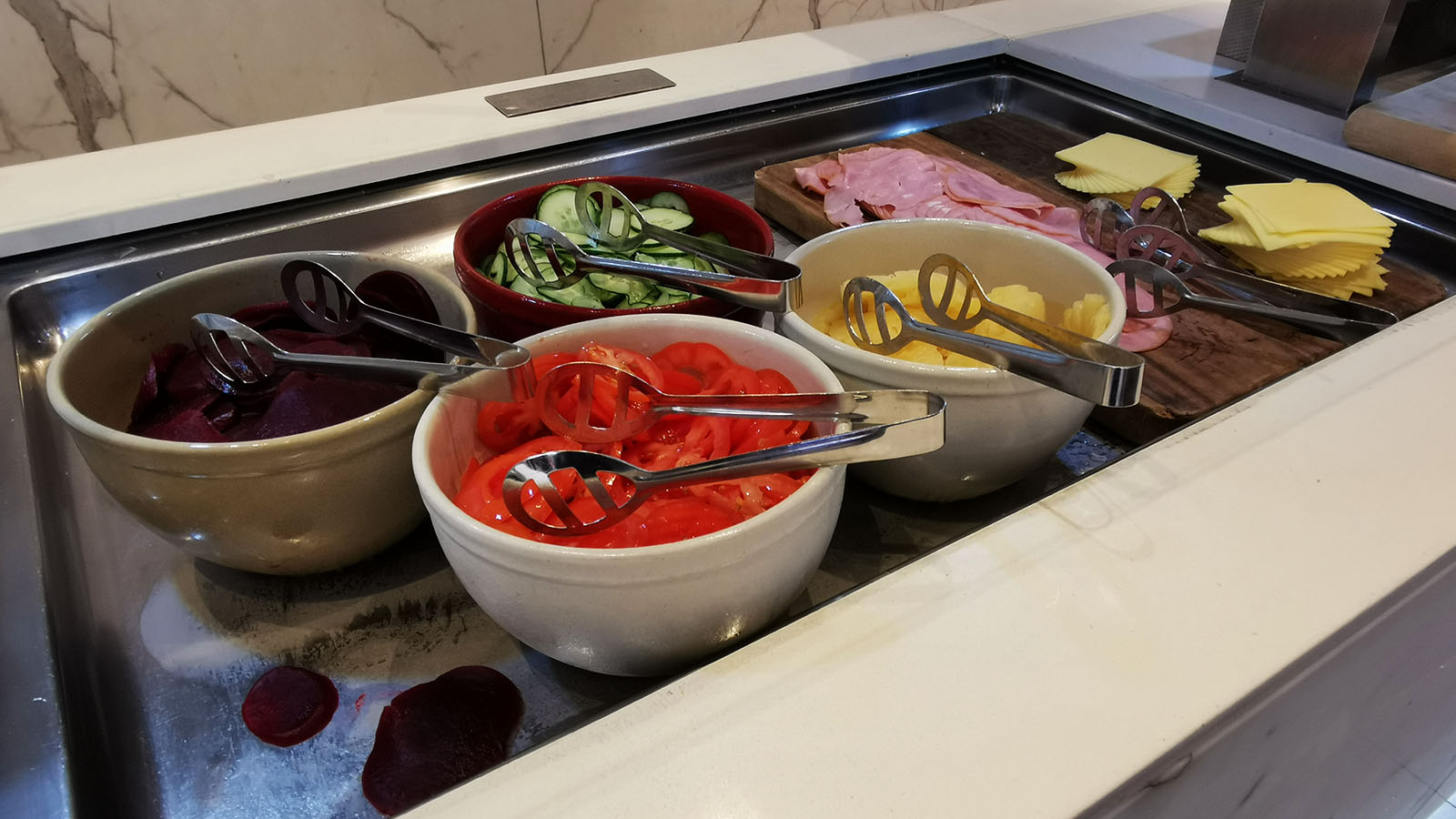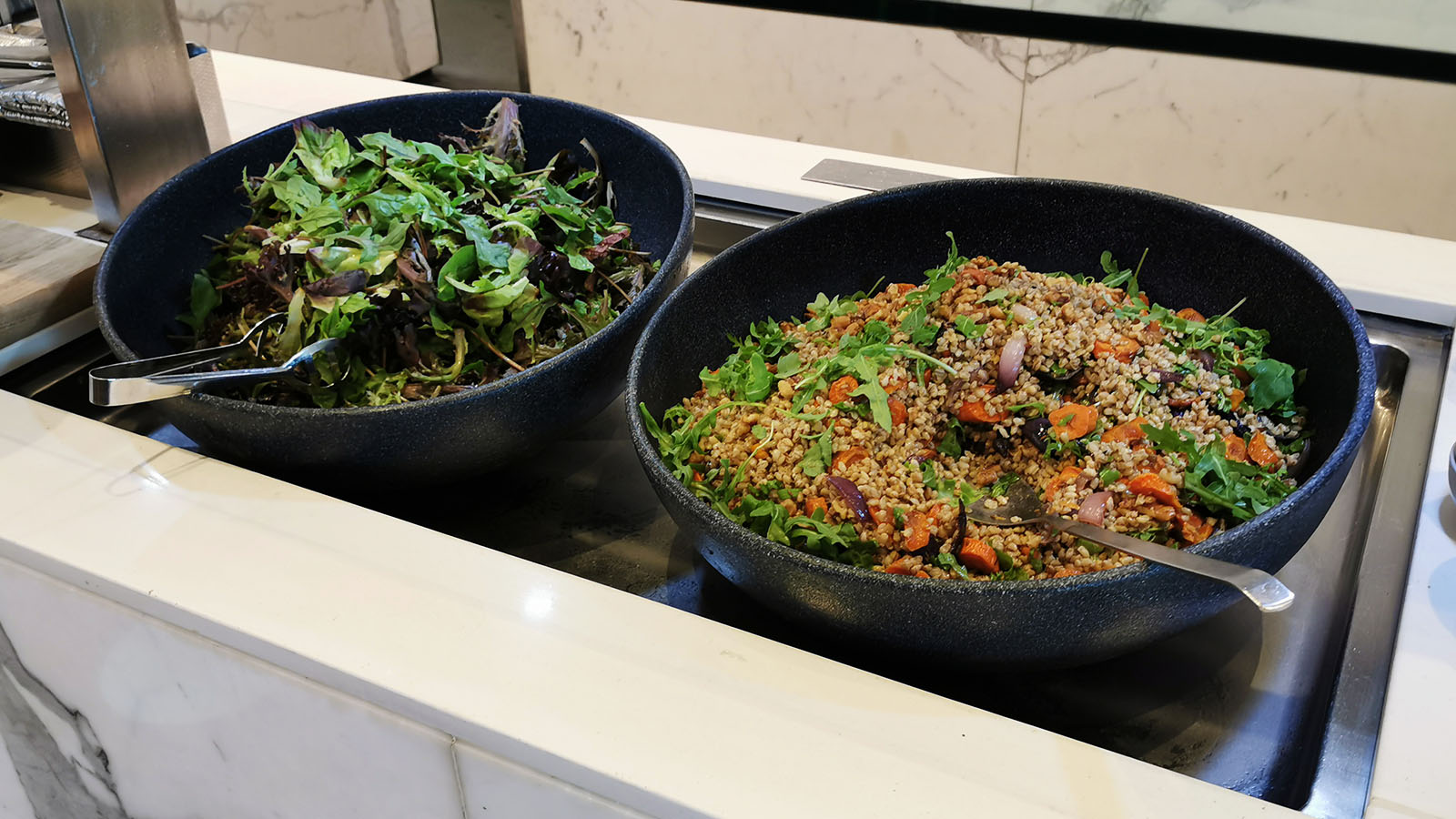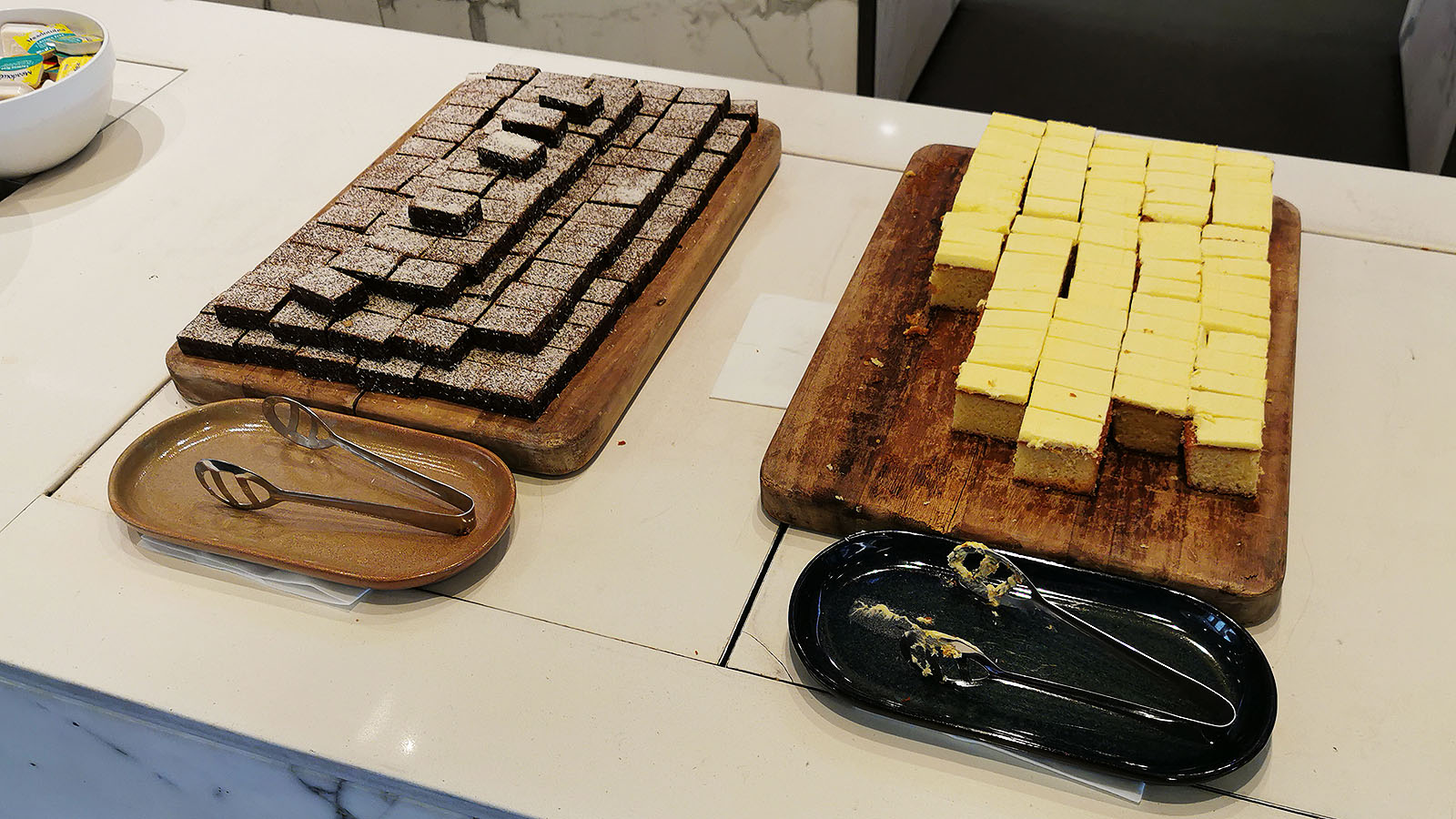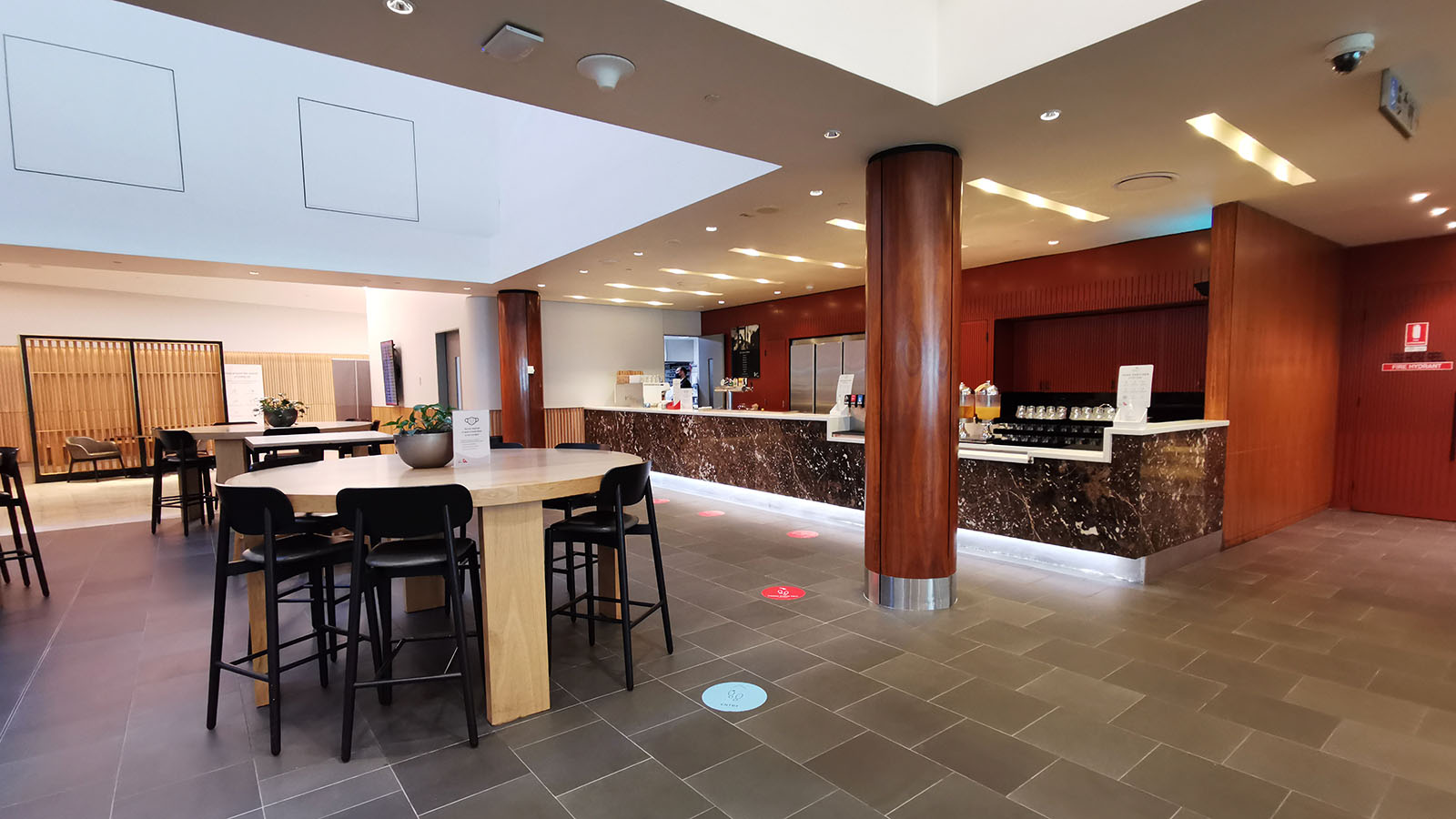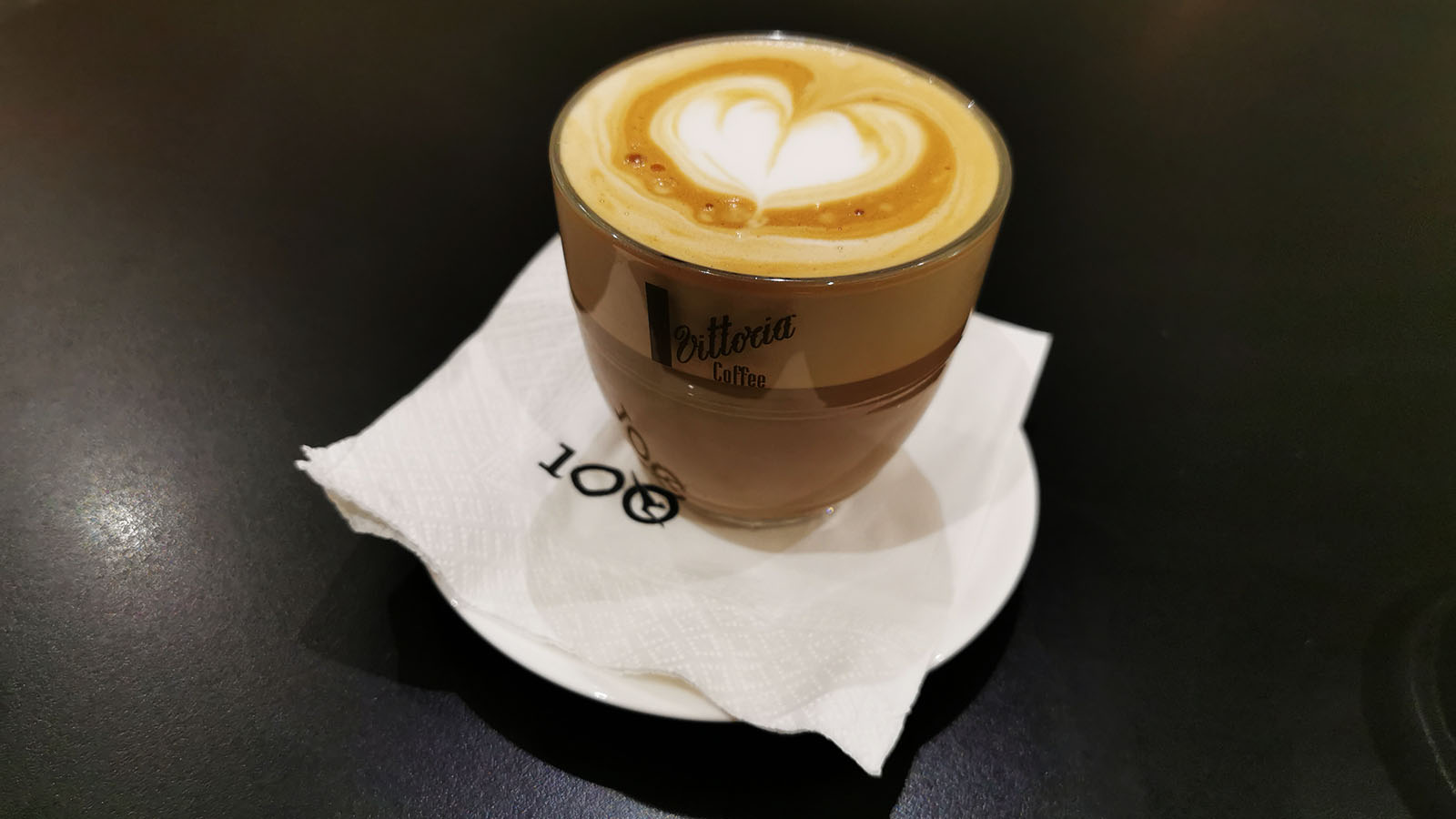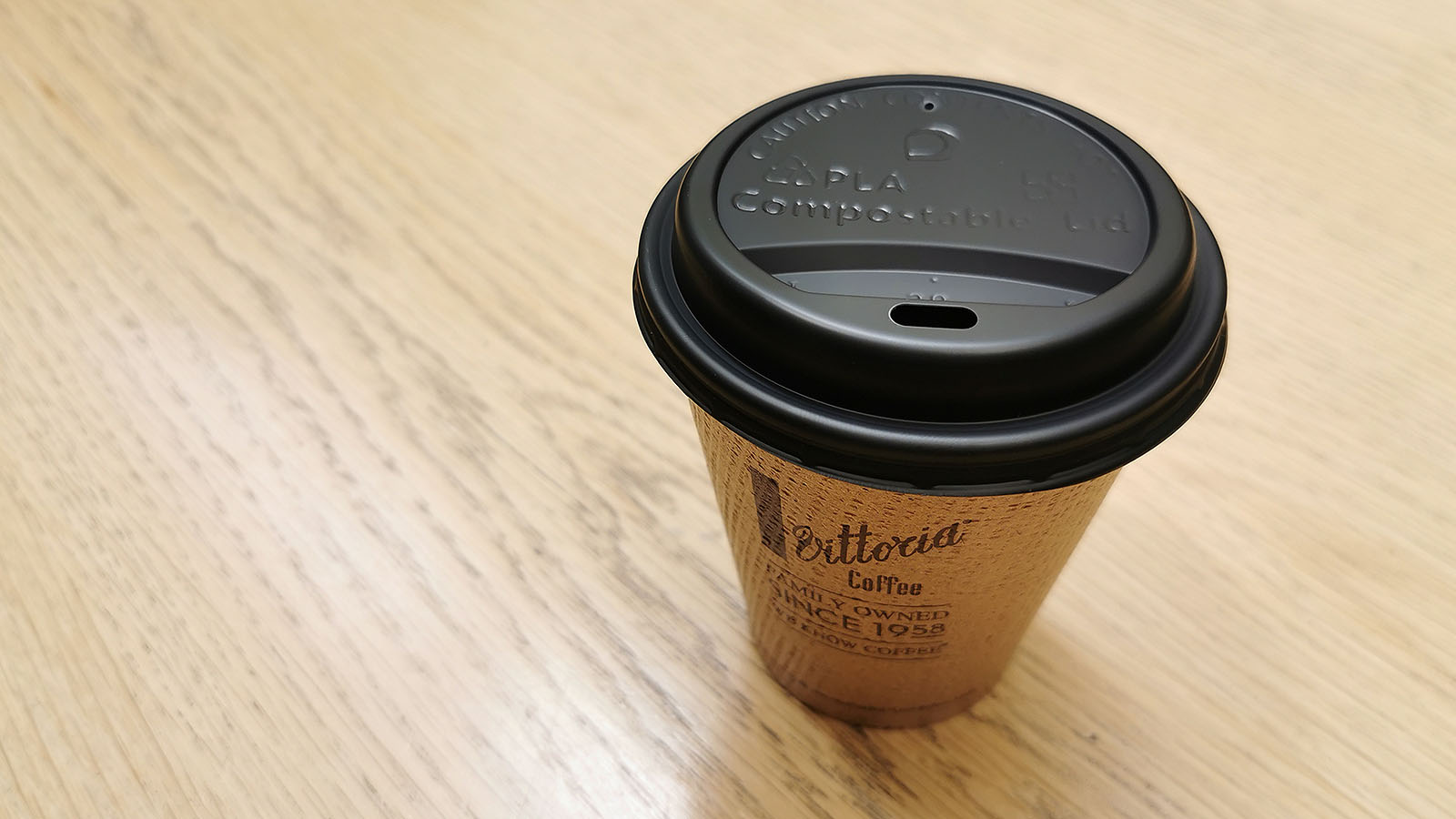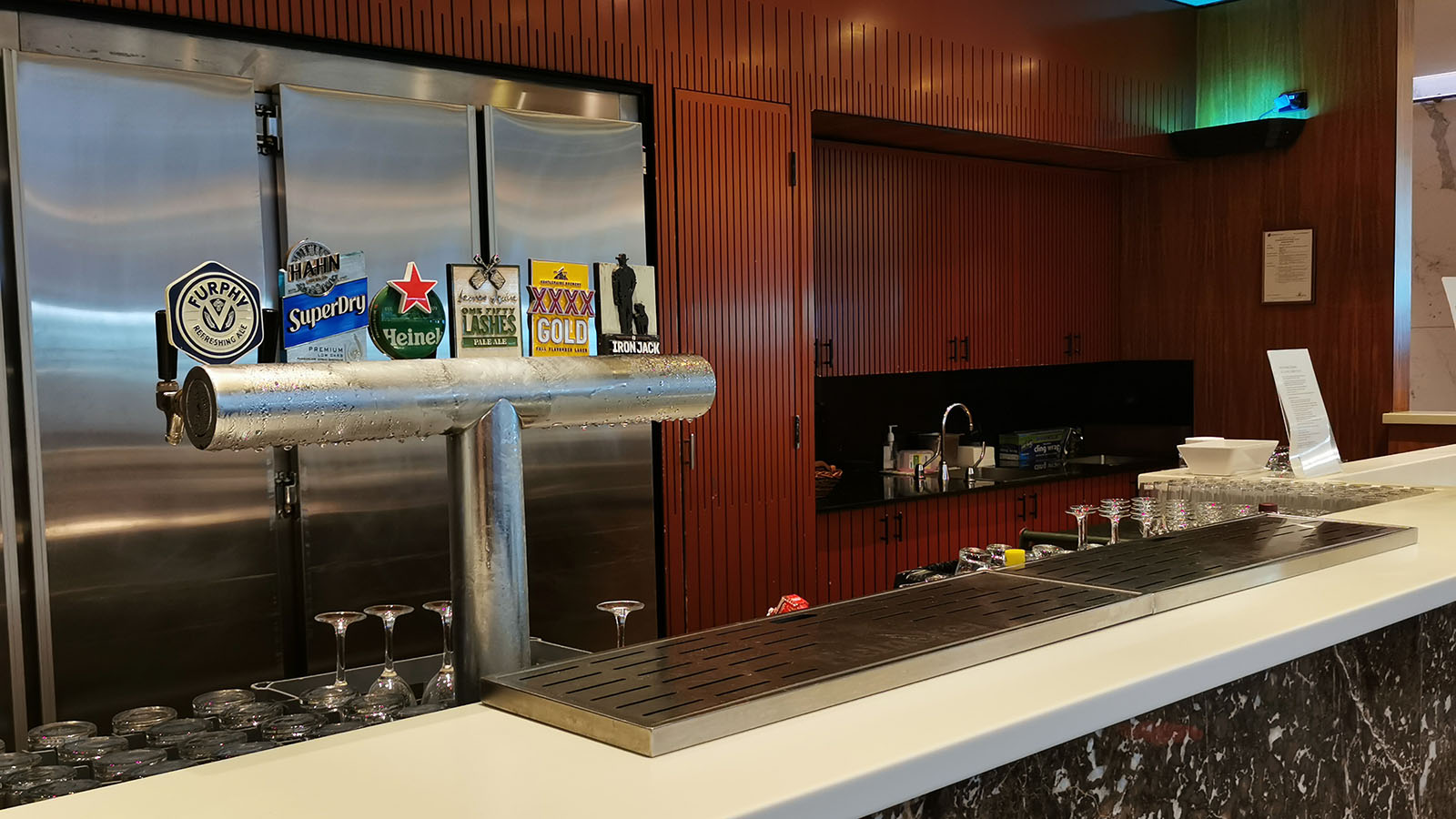 On the beverage front, there's all-day barista coffee to get your day started. Even when there's a queue at the counter, it moves quickly – and never seems to take more than a few minutes. As a regular in the lounge, it's lovely that several of the staff remember my 'usual' coffee order too.
The bar opens at noon, with beer, wine and spirits all complimentary. It'd certainly make things easier though if the bar fridge had glass doors to see what's available inside, rather than solid metal that keeps most drinks tucked away.
Lounge amenities
Beyond the usual Qantas Club amenities, the airline's Brisbane lounge offers a few nice-to-haves.
There's a dedicated nook for kids over by the windows, badged as the Joey Club. For grownups, there's an ASX board conveniently near the coffee area – and a line-up of Qantas magazines, too.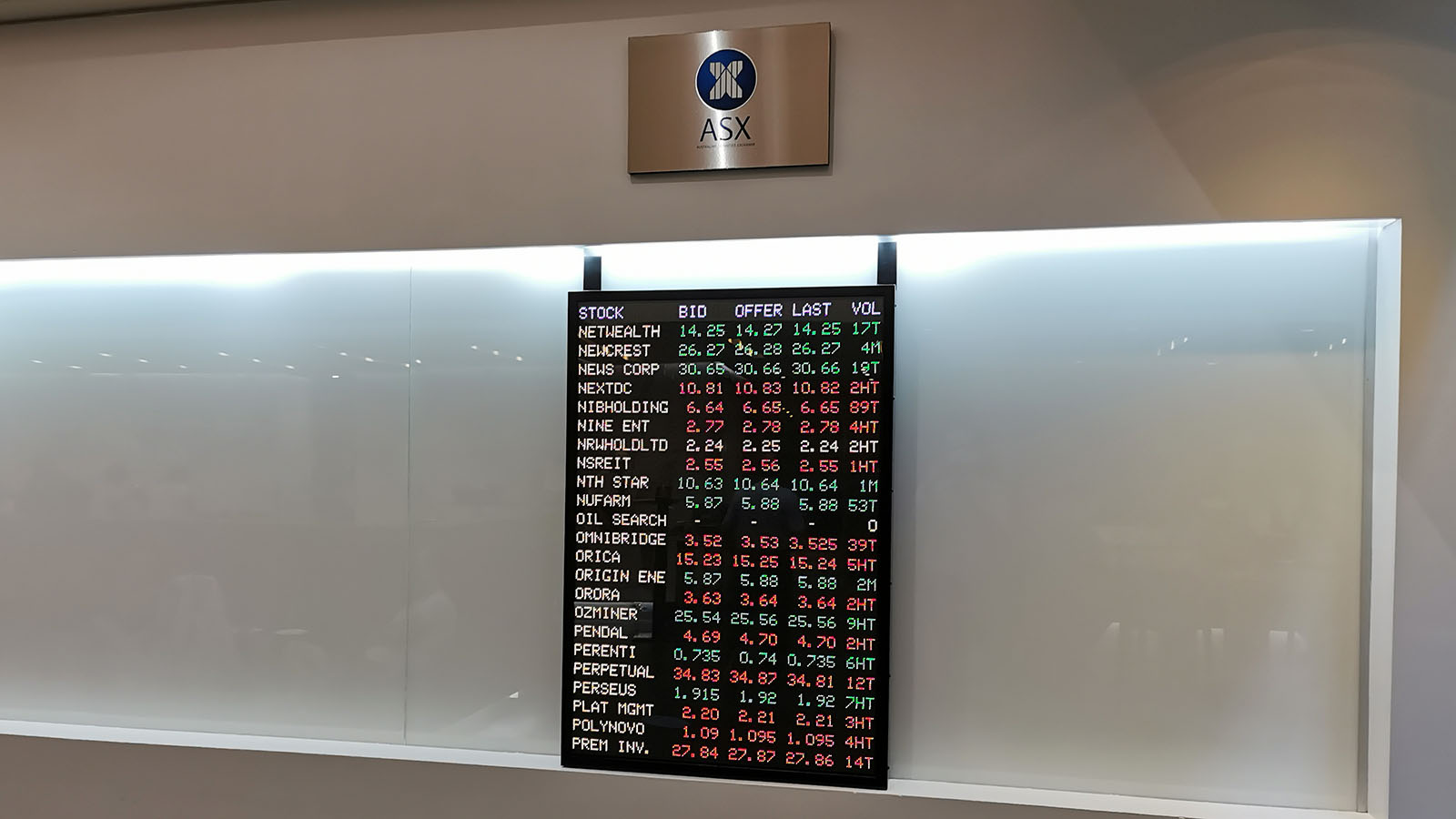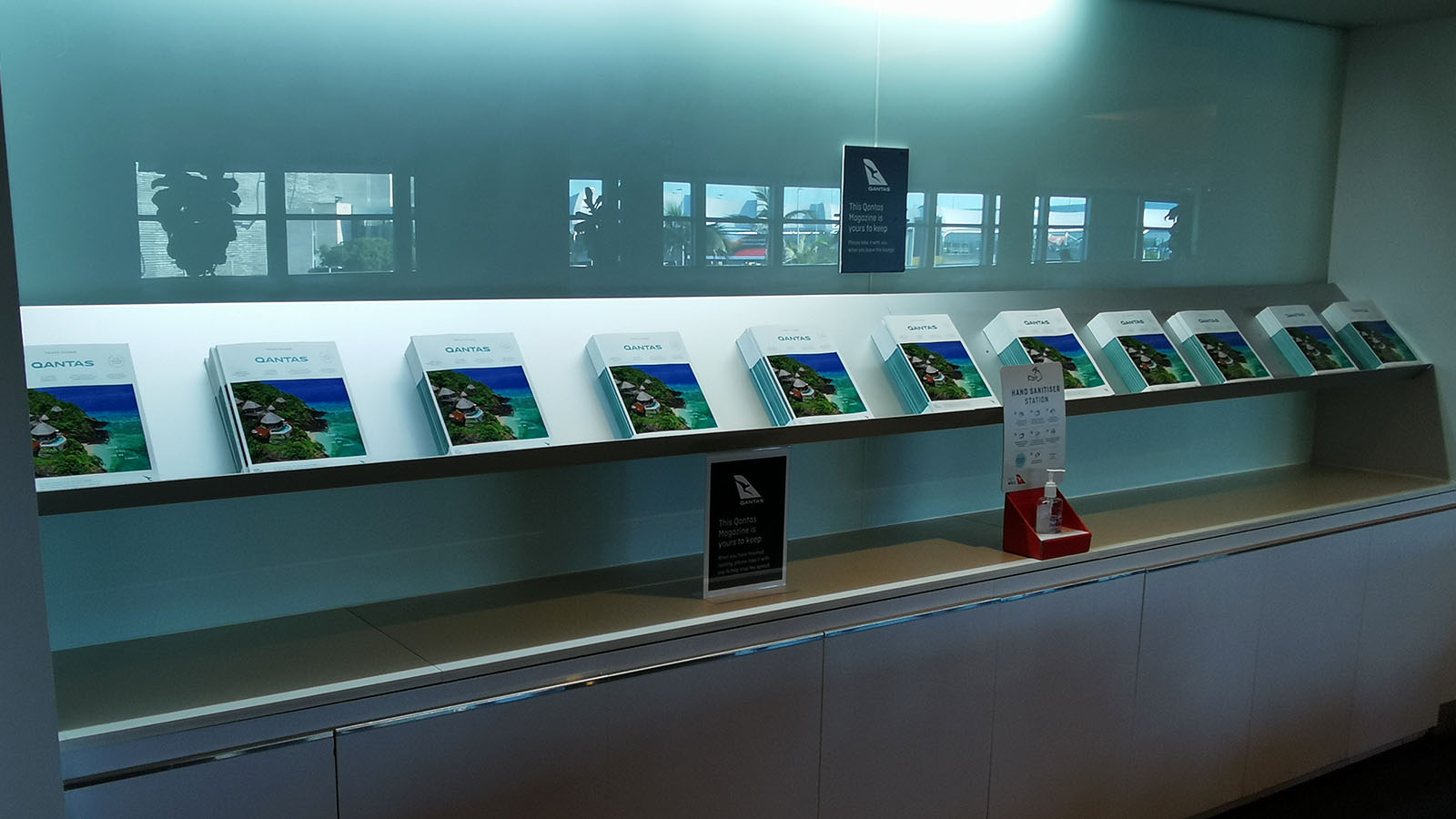 Shower suites are available with amenities supplied, and complimentary Wi-Fi blankets the lounge. My most recent visit – at 6:15 am on a busy Monday morning – finds the speeds super zippy. Tests reveal average download rates of 143Mbps, with uploads averaging 163Mbps.
In practical terms, you certainly won't need to wait long when downloading a TV show or movie to enjoy on your flight!
Accessing the Brisbane Qantas Club
The Qantas Club is one of three domestic Qantas lounges at Brisbane Airport – the others being the Domestic Business Lounge and Chairman's Lounge.
Here's who this space normally caters for.
Via lounge membership or Qantas status, when departing on Qantas, QantasLink or Jetstar:

Qantas Gold (+1 guest).
Qantas Club (+1 guest).

Single entry passholders: as awarded annually for Qantas Silver frequent flyers and from selected credit cards. You may also be able to buy one-off access to the Brisbane Qantas Club for $49, by email offer before the flight.
Airline partner frequent flyer status, when departing on Qantas or QantasLink (not Jetstar):

oneworld Sapphire (+1 guest).
Emirates Skywards Gold (+1 guest).
Air New Zealand Gold and Elite (+1 guest, and must be on an NZ flight number).
China Eastern Miles Gold (+1 guest).

Airline partner lounge membership: travellers with American Airlines Admirals Club cards (+2 guests), or members of Alaska Airlines Lounge (+2 guests).
The guest limits above apply to adults (18+). Guests under 18 are also permitted in addition to these allowances. The specifics vary depending on the age of each child. Visit the Qantas website for the latest arrangements.
Summing up
Overall, Brisbane's Qantas Club is a serviceable lounge, and its most recent expansion is proving money well spent as travel volumes continue climbing. Certainly, its food offering doesn't match the Domestic Business Lounge next door. But the offerings strike a fair balance, given the Business Lounge is a higher-tier space.
Premium Lounge Entry, on the other hand, regularly struggles to keep up with demand. Getting those issues sorted would work wonders for premium travellers, and return the airport experience to a joy from start to finish.
Photography by Chris Chamberlin, who regularly visits the lounge courtesy of his Qantas Frequent Flyer status. Feature image courtesy of Qantas.
---
Stay up to date with the latest news, reviews and guides by subscribing to Point Hacks' email newsletter.
Qantas Club, Brisbane
was last modified:
August 31st, 2022
by