It's Virgin Australia's turn to lift the lid on its VA-X & Win jackpot. But instead of offering every member a small reward – like Qantas is doing – Virgin will instead enter everyone into a massive jackpot. You could win part of $150,000 worth of prizes, including a staggering 1 million Velocity Points!
As Australia's vaccination rollout continues, airlines are getting creative in thinking up new schemes and incentives to help boost vaccine numbers. The hope? To accelerate the return of international and restriction-free domestic travel – a goal we can wholeheartedly get behind.
Virgin Australia
'VA-X and Win': that's Virgin's cleverly-named campaign to encourage Aussie residents to roll up their sleeves. Up for grabs is 1 million Velocity Points for one lucky winner, plus 'dozens of free Business Class flights'. Here's a peek at the prize pool for 251 lucky winners:
1 million Velocity Points (1 prize)
Return Business Class flights with Virgin Australia (25 prizes)
Virgin Australia lounge memberships (30 prizes)
100,000 Velocity Points (10 prizes)
Return Economy Class flights with Virgin Australia (50 prizes)
10,000 Velocity Points (50 prizes)
Virgin Australia PJs (85 prizes)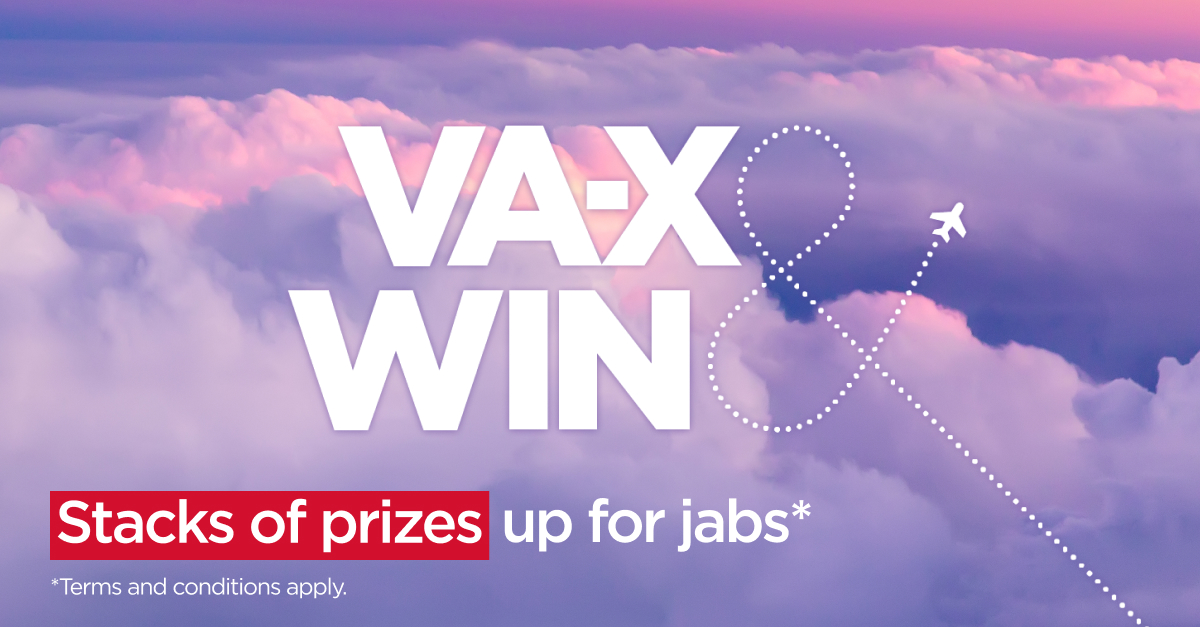 Vaccination is our way back to the things we love and the people we miss, and most importantly, it's the only way we can protect the lives and livelihoods of all Australians

We are offering an opportunity for every fully vaccinated Australian aged 18 and over to enter the Virgin Australia VA-X & Win competition, for simply rolling up their sleeve, getting vaccinated and protecting their community and the future of our country.

Winners can walk (or fly!) away with some fantastic prizes including Business Class flights, Lounge memberships, Virgin Australia pyjamas and our major prize that'll make one lucky Australian an overnight Velocity Points millionaire.

– Jayne Hrdlicka, Virgin Australia CEO, 1 Sept 2021
The airline will also provide incentives and flexible working arrangements for its own staff to receive COVID-19 vaccinations, including bonus annual leave, lounge memberships and free Business Class flights.
Simply enter the competition at virginaustralia.com/vaxandwin. At this stage, you just need to confirm that you have received both doses of a TGA-approved COVID vaccine. You'll only be required to submit proof if you actually win a prize. Entry closes 11:59pm (AEST) on 31 December 2021, with the winners notified by 13 January 2022.
Ad – Scroll down to continue reading.Minimum spend, terms & conditions apply.
Qantas & Jetstar
Earlier in June 2021, Qantas CEO Alan Joyce unveiled an ambitious plan on Nine's Today show, promising vaccine incentives and massive prizes for lucky vaccinated travellers. Fully-vaccinated frequent flyers can opt for one of 3 incentives, as part of the 'Team Australia' culture Qantas is aiming to foster.
What are Qantas' vaccine rewards?
1,000 Qantas Points, or
15 Status Credits, or
$20 flight discount with Qantas or Jetstar
These will be available from Tuesday 24 August 2021. Once you've picked an option, you'll also be entered into the mega prize draw, where 10 lucky winners from all states and territories will be lavished with:
One year worth of flights to any Qantas or Jetstar domestic or international destination, as available
Free accommodation across the Accor Hotels portfolio
One year worth of free fuel at BP service stations
Getting vaccinated is an important step that every Australian can take that brings us that little bit closer to life as we knew it. This is one of the biggest giveaways we've ever done. The impact of the pandemic on the travel industry and our own Qantas Group team members means we have a clear vested interest in the success of the vaccine rollout.

Our crews can't wait to get back to reuniting family and friends, taking people on holiday and putting some energy back into the whole tourism industry. For us, getting the vaccine rate up to 70 and 80 per cent means thousands of people can go back to work.

– Alan Joyce, Qantas Group CEO, 23 August 2021
In late 2020, Alan Joyce also revealed that Qantas would be looking to only allow vaccinated individuals onboard its international services, but 'probably not' for countries which have a travel bubble with Australia, such as New Zealand. Qantas will also require its staff to be fully vaccinated by certain dates.
Which vaccine incentive should I choose?
In general, we would suggest you choose the 1,000 Qantas Points due to their flexibility in being used for reward seats, upgrades, or with other partners. Otherwise, the 15 Status Credits could be useful for anyone who is close to upgrading their tier status. Note that the bonus 15 Status Credits do not count towards your Lifetime Status Credit tally.
The $20 flight voucher is slightly less flexible, though it's a good option if you want to discount your next cash booking. These vouchers have a 12-month expiry.
The Qantas rewards will credit within 3 days, while the Jetstar flight voucher will hit your inbox within 7 days. Note that the passenger listed on the Jetstar voucher must be one of the passengers travelling.
Finally, we leave you with Qantas' latest ad, which tugs at the heartstrings with an exclusive rendition of 'Fly Away' by Australian signer Tones and I. It's a hopeful glimpse of what life could be like once we've hit our vaccination targets.
Rex
Rex was unavailable for comment at the time of publication. Rest assured, we'll update this piece with any new developments in future.
Summing up
Bribe or incentive? It should be no surprise that airlines are interested in getting more travellers immunised. It reduces the risk of serious illness from COVID-19, and encourages governments to gradually re-open their borders. Indeed, Qantas' 2021-2022 international schedule relies on an 80% vaccination rate.
In other countries, incentives are working to increase vaccination rates. For example, the US carrier United is offering 5 grand prizes of unlimited travel over a year in any class. Meanwhile, Uber is paying up to USD$100 for riders in the US to travel to vaccinations. Finally, Hong Kong's Airport Authority is raffling away 60,000 free tickets to residents and staff who receive a COVID-19 vaccination.
Time will tell whether these vaccine incentives will work in Australia. But if overseas evidence is any guide, then they stand a great shot at being successful.
Gift of the jab: Virgin opens VA-X & Win competition
was last modified:
September 1st, 2021
by