Status credits (SCs for short) are at the crux of most frequent flyer programs. Collect enough of them within a 12-month period, and you'll be elevated in status, earning new benefits and privileges that make life in the air (and on the ground) a lot more enjoyable.
Virgin Australia's Velocity Frequent Flyer is a great program to get into for the not-so-frequent flyer, as there are a few tricks you can use to climb the status ladder faster.

Velocity status tiers at a glance
Ultimately, you have to spend money to earn SCs, as they are a measure of how valuable you are to the airline. Therefore, the goal of most travellers is to maximise the number of SCs they can earn while trying to minimise the cost.
By simply dividing the fare with the number of SCs earned, we can have a simple comparison of the cost per Status Credit across a range of different fares, which we'll use in this article.
Fly international
A short domestic flight on the cheapest 'Getaway' fares would net you 5 SCs, while paying for a fully flexible 'Freedom' fare would earn you 25 SCs.
VA Sydney to Melbourne (one-way) Status Credit Comparison

Fare Type
Ticket Price (avg)
Status Credits
Cost per SC
Getaway
$99
5
$19.80
Elevate
$206
15
$13.73
Freedom
$422
25
$16.88
As you can see from the table, this is quite an uneconomical way to rack up SCs, costing over $13 per SC for all fares. Domestic flights are much more profitable than international flights for airlines, thus you'll find the ticket prices are higher, whilst earning less SCs.
With an international trip, like Melbourne to Hong Kong return, the value improves a bit. In fact, the best value fare for SCs is the cheapest one at $599 return, earning 60 SCs.

VA Melbourne to Hong Kong (return) Status Credit Comparison
Fare Type
Ticket Price (avg)
Status Credits
Cost per SC
Getaway
$599
60
$9.98
Elevate
$950
60
$15.83
Freedom
$1349
120
$11.24
Note: Getaway and Elevate fares earn the same SCs on VA international flights
Flying with a connection
'Why fly direct when you can connect' is a phrase often quoted within the frequent flyer community. This refers to the practice of flying via a secondary city instead of flying direct. That way, you'll earn SCs for two flights, instead of one.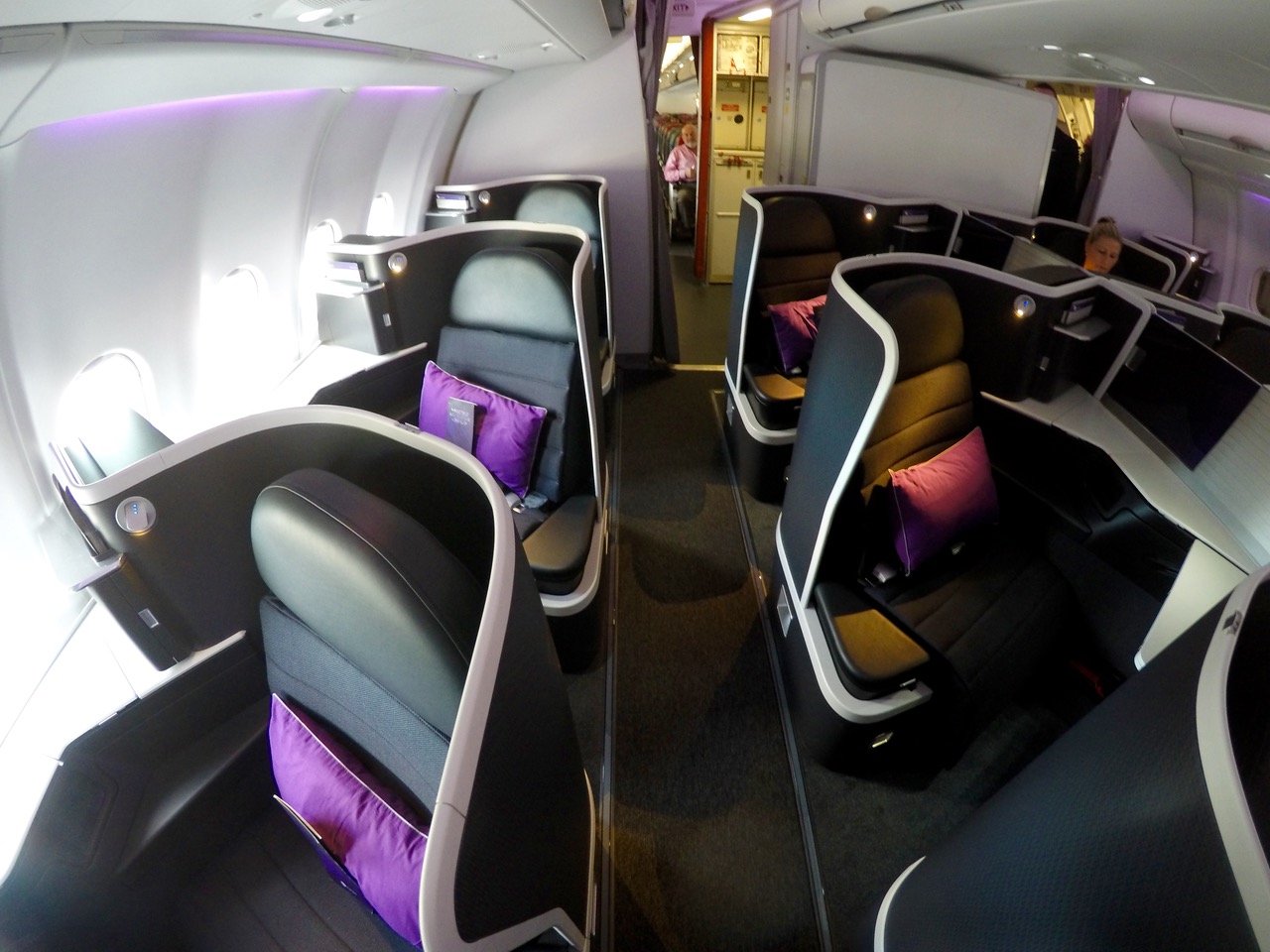 Virgin Australia fly the A330 'The Business' cabin between Perth and Sydney/Melbourne, so try routing through one or the other
For example, let's consider Perth to Sydney on a direct flight:
VA Perth to Sydney (one-way) Status Credit Comparison
Fare Type
Ticket Price (avg)
Status Credits
Cost per SC
Getaway
$199
15
$13.27
Elevate
$362
30
$12.07
Freedom
$642
45
$14.27
Now consider flying indirect, Perth to Sydney connecting via Melbourne:
VA Perth to Melbourne to Sydney (one-way) Status Credit Comparison
Fare Type
Ticket Price (avg)
Status Credits
Cost per SC
Getaway
$292
20
$14.60
Elevate
$362
45
$8.04
Freedom
$642
70
$9.17
Elevate and Freedom fares remain the same price, thus for $362 you can earn 30 SCs on a direct flight or an extra 15 SCs connecting via Melbourne.
Status runs
These aren't for the faint-hearted, and it takes a lot of effort to find one that suits you. Essentially, savvy travellers will book a string of connecting flights for the sole purpose of collecting SCs, often doing a return trip in one day for no other reason.
However, with these runs, you can often pick up a lot of SCs for a low cost.
One example is to fly to the Cook Islands, transiting Sydney – Melbourne – Auckland – Rarotonga, all on Virgin Australia. Of course, it's better if you make a holiday out of it, rather than flying just for the sake of collecting SCs.

VA SYD-MEL-AKL-RAR (one-way) Status Credit Comparison

Fare Type
Ticket Price (avg)
Status Credits
Cost per SC
Getaway
$477
50
$9.54
Freedom
$646
100
$6.46
Business
$898
200
$4.49
Business Class offers the best bang for your buck here, getting you there in relative comfort while picking up 200 SCs and three eligible sectors each way.
While status runs can be useful for maintaining your membership, I would discourage anyone from spending a day or two flying around just to rack up SCs. It's not great for the environment and it probably means you're not travelling enough to make use of that status anyway.
But if you can integrate it into a holiday, and get some meaning out of your travel, then you'll definitely find the whole experience a lot more enjoyable, rather than a chore.
Ad – Scroll down to continue reading.Minimum spend, terms & conditions apply.
Eligible sectors
In order to reach or maintain status, you'll also need to fly a number of eligible sectors – flights that begin with a VA number – which are paid for in cash (so it excludes reward seats). These can't be pooled, so the person collecting SCs must fly these eligible sectors themselves.
This is easily done on Virgin Australia domestically through indirect connections, e.g. Perth – Melbourne – Sydney return will collect four eligible sectors.
You can also travel on partner airline codeshare flights booked with a VA flight number, which is possible through Virgin Australia's website.

These codeshare Singapore Airlines flights would count as eligible sectors as you are booking flights that begin with the VA code
Other methods
Family Pooling
Family Pooling is where you and eligible family members can pool points and SCs into a single account. It is perfect for family holidays (although there is a limit of two adults per family pool including the beneficiary, and everyone must live at the same address).
Grocery shopping
You'll earn 1 SC for every $100 you spend at Coles, Coles Online, Liquorland and First Choice Liquor through flybuys. Just make sure you've linked your Velocity and flybuys accounts.
While this doesn't seem like a lot, a few months of buying groceries could give you just enough SCs to cross the line and achieve the next status level.
Flying with partner airlines
Read our full guide to maximising Velocity SCs by flying on partner airlines.
My case
Personally, as a full-time university student, I can only travel during my semester breaks. However, I have already achieved Velocity Gold status and will be on track to reach Platinum by the end of 2017, simply with a combination of the following:
Family Pooling
Flying between Perth and the East Coast through secondary cities
Buying Economy Flexi Saver tickets on Singapore Airlines
Topping up with shopping at Coles via flybuys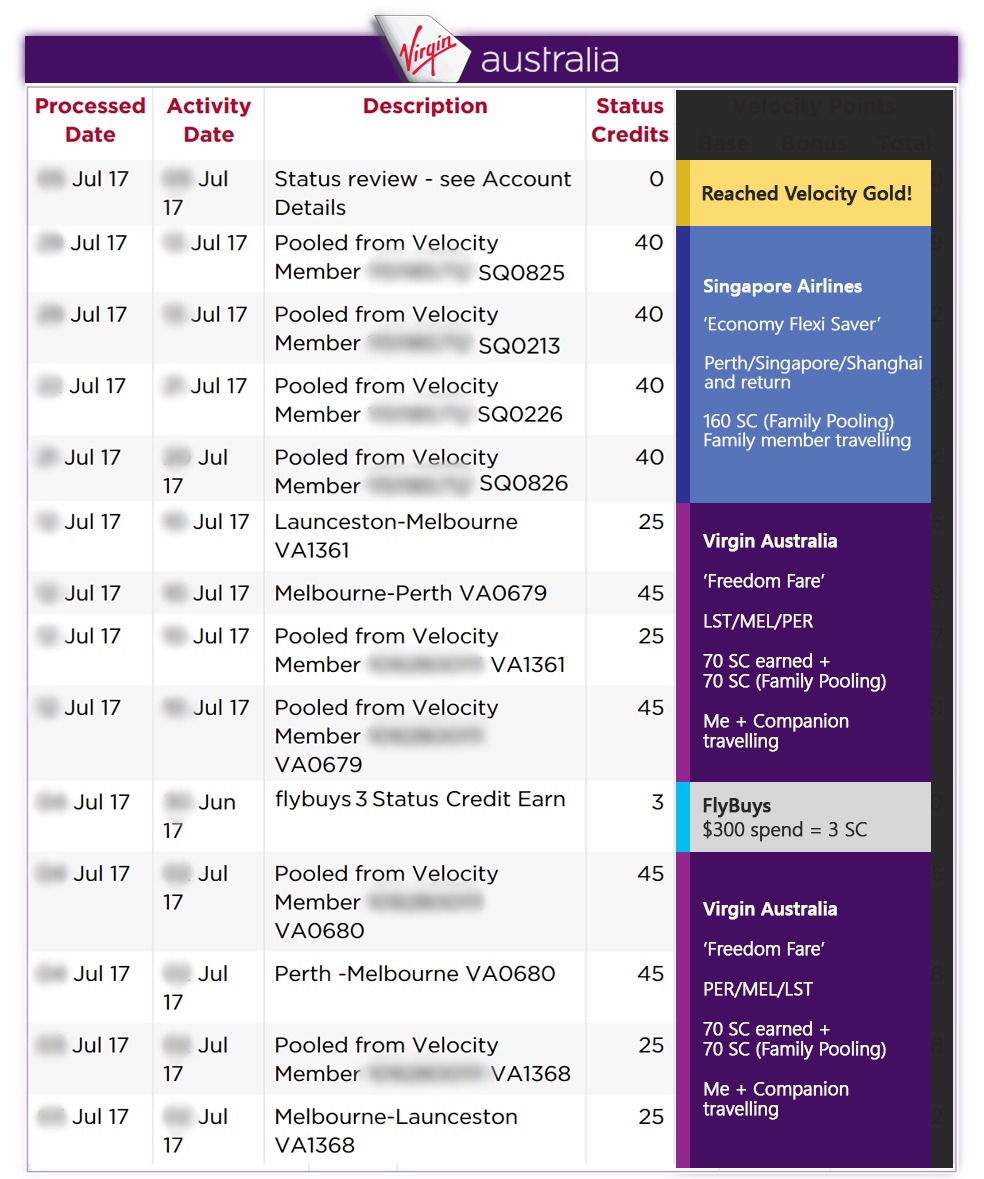 Making the most of the semester break: 443 SCs earned in July 2017
Summing up
Frequent flyer programs can be difficult to get your head around, especially for more advanced concepts such as maximising your Status Credits earn.
But it just takes some practice and research, and soon you could be turning your annual family holiday into an adventure, with a sparkling new Velocity Gold or Platinum membership awaiting you on your return.
If you have any questions, feel free to post them in the comments below and I'll try my best to help you out!
How to maximise Velocity Status Credits by flying on Virgin Australia
was last modified:
January 19th, 2022
by