Velocity Frequent Flyer has an excellent and very useful Family Points Pooling feature. It can offer huge benefits to couples and families trying to build their Velocity Points and Status Credits balances.
Neither is complex to set up and both are fairly easy to use. This guide runs through how to do both, plus examples of how you and your family can benefit from Family Pooling.
What is Velocity Family Pooling?
In a nutshell, Family Pooling is a nifty feature of Velocity where up to two adults and four children (under 18 years age) from a single household can participate to share Velocity Points and Status Credits or just Velocity Points. The former is where the status benefits are gained, so the remainder of this guide will focus on this option. There are two roles:
The beneficiary: receives the pooled points and Status Credits. This is usually the person who does the most travelling in the family, as they'll benefit the most and be able to share elite travel perks with the family.
The contributors: sends any earned points and Status Credits to the beneficiary. Usually involves the partner of the beneficiary, plus any children. However, it could also involve parents or other direct relatives, depending on the living situation.
Imagine the possibilities: one person, receiving multiples of Velocity Points and Status Credits when travelling as a family. It's no exaggeration when I say that Family Pooling is your fast-track ticket to Velocity Gold and Platinum status!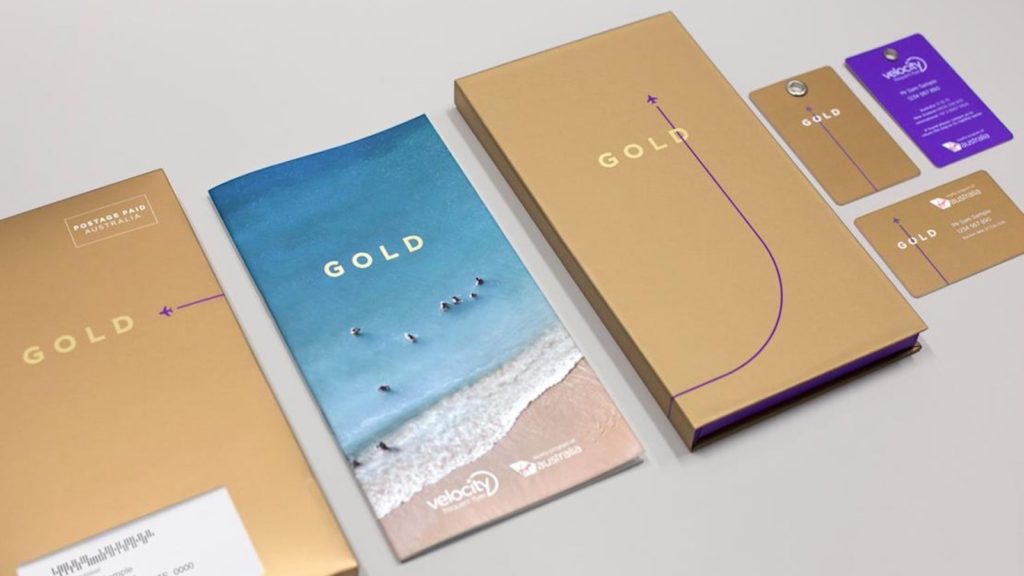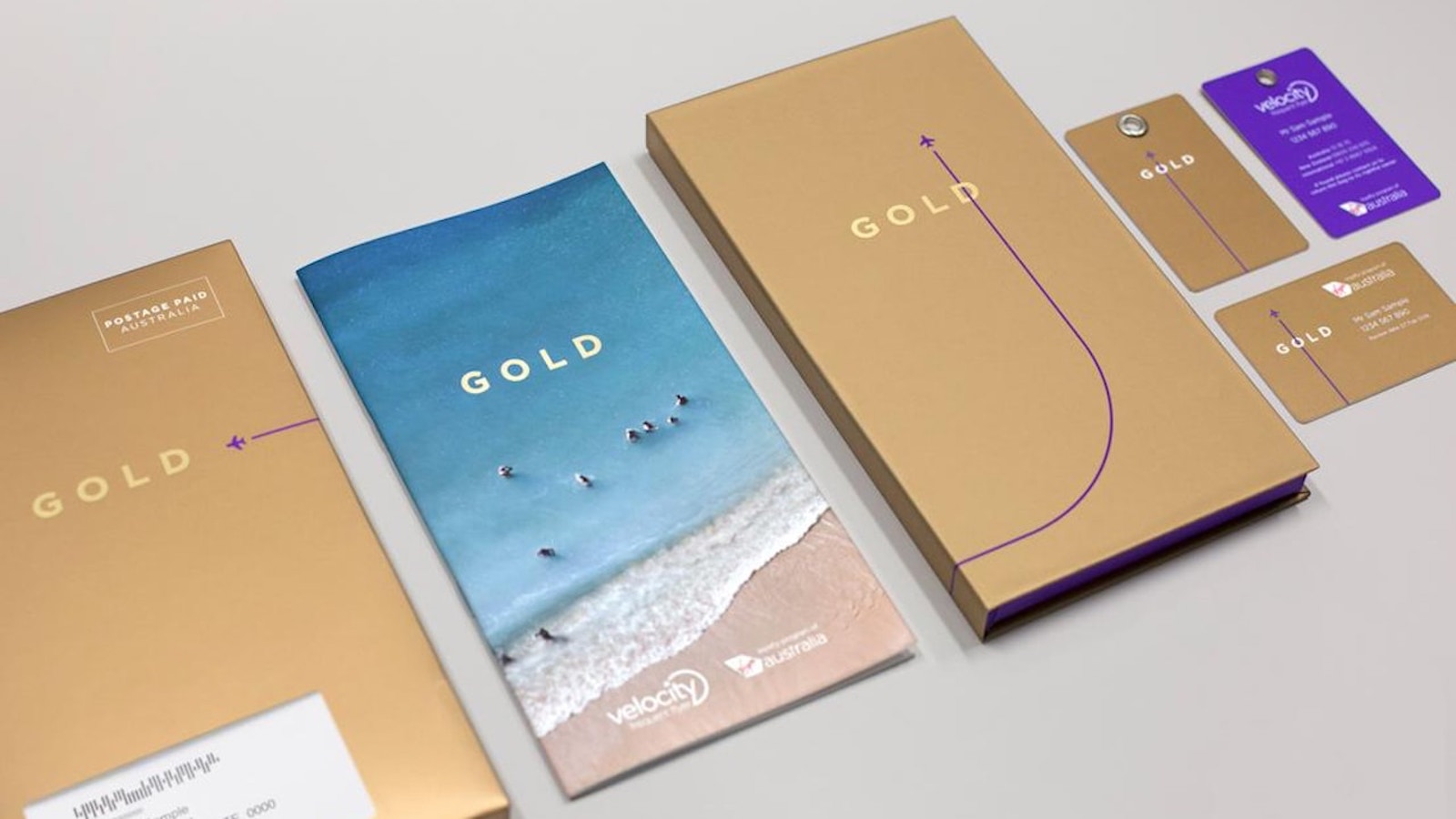 Apart from Velocity, other key programs for Australia-based travellers that allow family points pooling include Emirates Skywards and Etihad Guest. However, those only you to pool spendable miles or points, not the status-based elite miles.
How does Virgin Family Points Pooling work?
Using Family Pooling means that every time participating family members earn Velocity Points and Status Credits, those will be automatically credited to the beneficiary. By collecting everyone's points and Status Credits, the beneficiary could earn Velocity elite status much faster.
All points earned into all household member's Velocity accounts are pooled automatically on an ongoing basis. That includes those from credit card sign-up bonuses and flights. This is especially powerful for anyone paying for flights for a full family on Virgin Australia or one of its airline partners where you would otherwise earn Status Credits into individual accounts.
As an extreme example, this screenshot shows the result of Family Points Pooling for a paid Business Class trip from Sydney to London with Etihad involving one beneficiary and three contributors: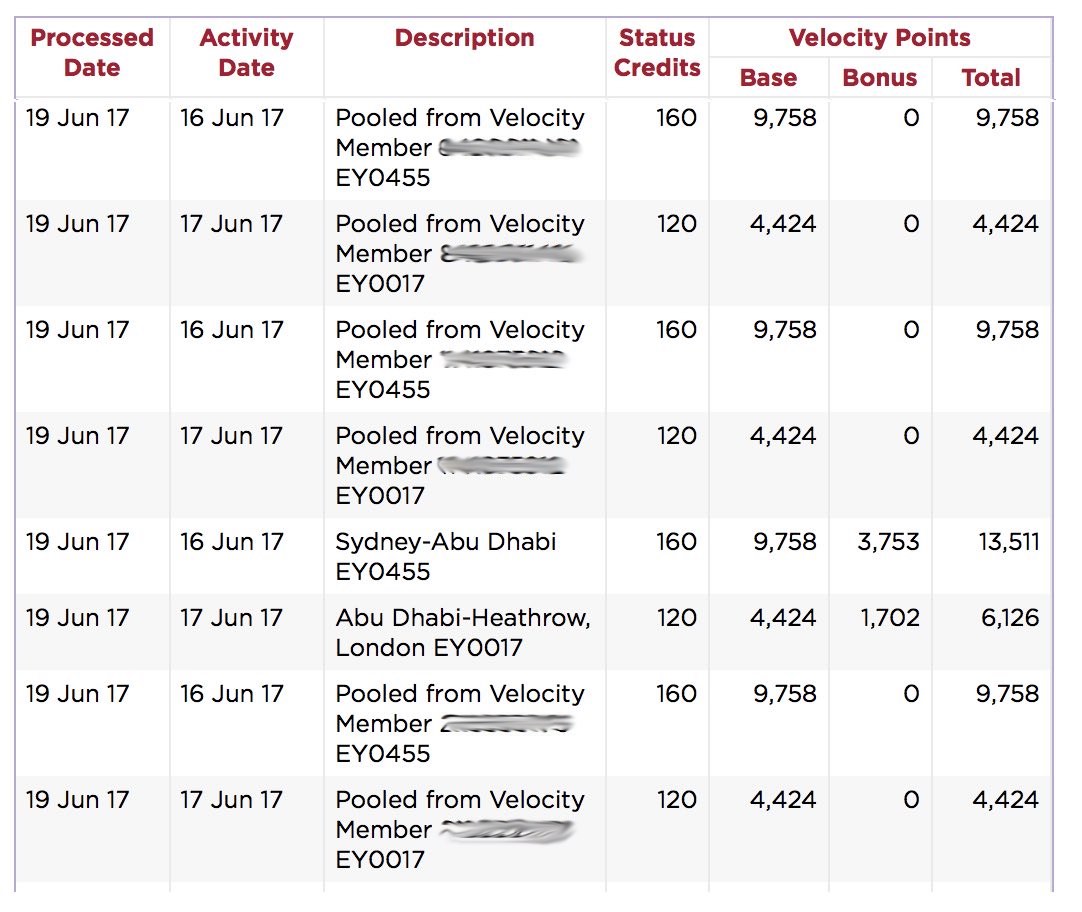 How to set up Velocity Family Points Pooling
Decide who will be the beneficiary of Family Pooling (collecting everyone else's points and Status Credits). Also decide who will be the contributors.
Each contributor must log into their Velocity account and navigate to Family Pooling in 'My Velocity' (or just click the link directly and log-in through there)
Choose whether each contributor will send 'points only' or 'points and Status Credits' to the beneficiary.
Enter in the details of the beneficiary including their name, Velocity number and relationship to the contributor.
Confirm all the details before starting the Family Pool.
Points and Status Credits will be transferred from 12:01am the next day. Keep this in mind when planning, as anything earned on the same day as setting up the pool won't be transferred.
Ad – Scroll down to continue reading.Minimum spend, terms & conditions apply.
How to maximise elite Velocity status with Family Pooling
As we've highlighted before, Status Credits from everyone's travel across the pool can be combined to the beneficiary's account. That lucky person can earn status much faster. This unlocks guesting of other family members into lounges and sharing other status benefits if travelling together — including priority check-in, boarding and free Economy X extra-legroom seats for Platinum members.
Updates to the pool can be made at any time. This means you can reorganise who the beneficiary or the contributors are if you are looking to improve another member's status once you've hit your own status target. That way, they can enjoy some of the perks that come along with achieving Velocity Silver, Gold or Platinum status.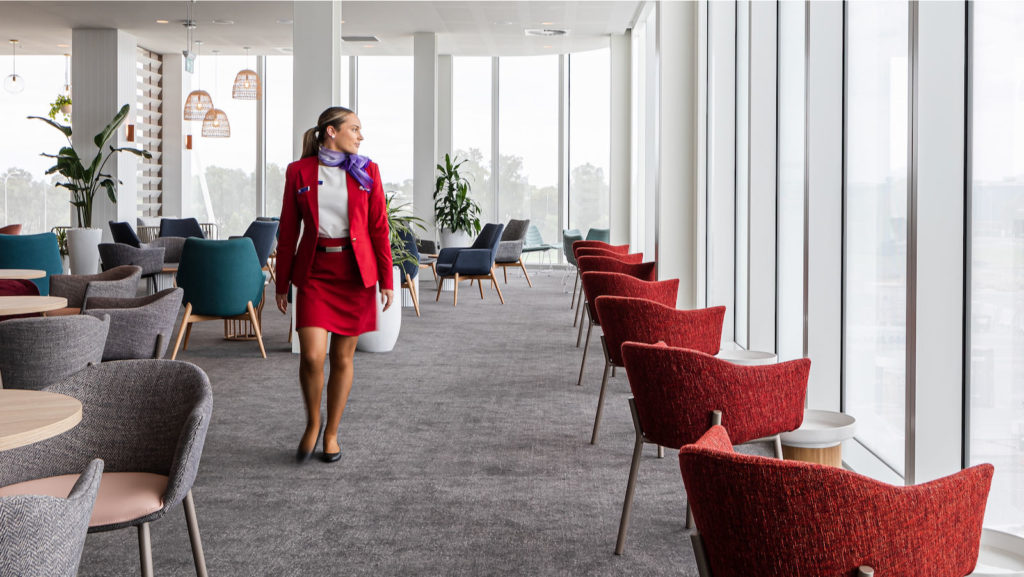 Remember that if your family member is close to a status upgrade, you may want to delay setting up Family Pooling. That's because if their Status Credits end up with you, they won't be able to reach the next status level themselves! Alternatively, you could pool to them to speed up the process.
How to use Velocity Family Points Transfers
Velocity Family Points Transfers are a little different to Family Points Pooling. It doesn't require you to link your Velocity accounts on an ongoing basis to consolidate points and Status Credits.
Instead, you can make up to four one-off transfers per membership year, which are free when performed online. There's a minimum transfer of 5,000 points, and a maximum of 125,000 points, per transfer.
The transfer is initiated from Link & Transfer > Family Points Transfer once you are logged into your Velocity account. You'll perform the process from the account of the member who is transferring the points out. You are required to input the recipient's details and confirm they are an eligible family member before making the transfer.

---
Should you use Family Points Pooling or Transfers?
The definition of family in both cases is the same across either system. An eligible family member may be any of the following:
husband/wife/domestic partner/de facto
parent/child
brother/sister
grandparent/grandchild
son-/daughter-in-law
brother-/sister-in-law
father-/mother-in-law
uncle/aunt
nephew/niece
first cousin
any foster, step or adopted relationship in any of these categories
For Family Pooling specifically, all members must reside at the same home address. Proof of this may be requested if Velocity suspects any wrongdoing. In any case, the address in all participant accounts should match up. For Family Points Transfers, there is no such requirement.
Advantages of Family Points Pooling
Family Points Pooling is much simpler to deal with on an ongoing basis. It requires little admin work to keep on top of and is ideal for families in which there is a primary travelling family member who wants to benefit from elite Velocity status.
The downside is that everyone must live at the same address. Also, once points and Status Credits are pooled, those transactions can't be reversed (though you can still transfer points around through Family Points Transfers if needed). If that's not a concern, go for Family Pooling.
Advantages of Family Transfers
The upside of Family Points Transfers is the additional flexibility for points balance management. Family Transfers allow you to combine a wider range of family members' balances, including those not at the same address.
However, note the restrictions on the minimum and maximum transfer amounts and that you can only do this four times per membership year. Furthermore, Status Credits cannot be transferred between family members through this facility.
Summing up
Velocity Frequent Flyer's Family Points Pooling feature rewards households for shifting their full loyalty to Virgin Australia and partners, including points earned from credit cards. Family Points Transfers allow more flexibility, but you need to note the restrictions on transfer amounts and limits.
The program's other family-friendly benefits include membership pause for parental leave, plus Gold and Platinum member perks such as lounge access guesting, guaranteed Economy Reward seats for a family trip, and companion Gold or Platinum members for high-status earners.
Frequently asked questions
Does Qantas Frequent Flyer have family pooling?
Qantas doesn't allow household accounts or pooling like Velocity, but it does offer the ability to transfer points to another nominated family member. Note that Qantas may do spot checks on transfers and accounts to ensure you are actually transferring to an eligible family member.
Velocity Family Pooling is your shortcut to earning elite travel perks and reward flights
was last modified:
March 22nd, 2021
by