I originally posted about the David Jones iTunes sale deal back in May, and it's either back (or still running) so I thought I'd give it another shout – it's an easy way to bump up your points balances by bringing forward purchases you may be making anyway.
David Jones American Express cardholders are also being targeted with up to 4,000 bonus David Jones Membership Rewards points for a number of easily achievable transactions on the card between now and the end of the year.
I actually use my David Jones American Express more than I used to – originally for it's Qantas Point earn rates at Supermarkets and Fuel, but now for excellent transfer rates to Starwood Preferred Guest. Offers like this continue to grow it's utility for me alongside the Platinum Edge as a couple of 'go to' cards in my wallet.
Ad – Scroll down to continue reading.Minimum spend, terms & conditions apply.
Bonus American Express David Jones Membership Rewards points offer
I received this email from American Express, offering up to 4,000 bonus points for making 20 or more transactions on the card by the end of this year.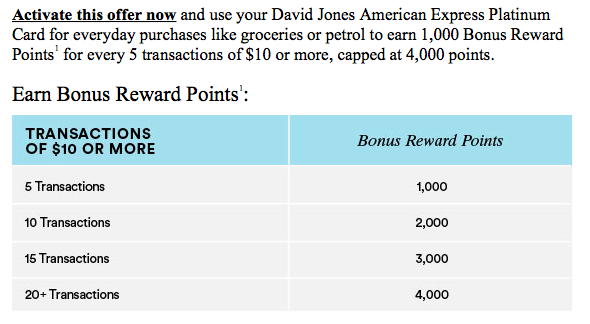 The offer is targeted – so check your email to see it you also received it.
What's intriguing to me is that I use the card at least two or three times per week, so I'm not sure why they would feel the need to incentivise me to use it even more – I will meet the bonus threshold quite quickly without issue.
But I'm not complaining, and any strategies or initiatives to keep cardholders engaged in the cards they already have are welcome, as it shows there's the potential for ongoing benefit of holding a card, not just to acquire for a signup bonus.
iTunes Voucher Discount, stacked with Qantas Online Mall points
This deal is a good example of how to stack offers and discounts and earn points. Firstly, David Jones are offering $100 iTunes gift cards for $85, and $50 discount cards for $42.50.
Then, anyone can use the Qantas Online Mall to earn an additional 5 Qantas Points per $ on David Jones transactions.
These iTunes cards can be applied to your own iTunes account, so consider it a discount for buying the content or apps you would have bought anyway, in advance. This beats the 2 Qantas Points per $ available when buying iTunes credit directly through Qantas.
Since Netflix is available through AppleTV now too, it's also an easy way to earn points and get a discount on your Netflix subscription.
Add a credit card for more bonus points
If you have a David Jones American Express you'll earn another 2 Qantas Points per $, or a Platinum David Jones American Express at 4 Qantas Points per $.
Alternatively, if you have either of these cards set to earn David Jones Membership Rewards points, the best partner have the earn at 1 Starpoint per dollar for the David Jones card, or 2 Starpoints per $ for the David Jones Platinum.
Shop through the Qantas Online Mall or Velocity eStore with iTunes for more points
You can then make any of your iTunes purchases in future through either of the airlines 'online malls' (full guide to earning points from these here) for an additional 3 points per $.
All up, buying $250 worth of credit comes out like this, in a best case scenario:
2 x $100 cards for $85 each, plus 1 x $50 card for $42.50 = $212.50 (saves $38.50)
Bonus points earn from Qantas Online Mall = 1062 Qantas Points
Points earn from David Jones Platinum American Express = 850 Qantas Points or 425 Starpoints
Points earned for shopping at iTunes through the Online Malls if you choose – 750 points
In conclusion: using Qantas Points as your currency of choice and a David Jones Platinum American Express, this $212.50 spend would earn you $250 of iTunes credit and 2,662 Qantas Points – in my book worth around $30.
It's a nice way to demonstrate how to stack discounts and offers and earn some decent points.
As an aside: You can often get decent discounts, often better than 15% on iTunes cards elsewhere. I usually jump on them and use my Platinum Edge if they come from Coles or Woolworths. I recommend keeping an eye on Gift Cards on Sale for offers.

[adrotate banner="105″]
David Jones offering bonus points for cardholders & iTunes cards (still) on sale
was last modified:
September 4th, 2018
by