Virgin Money is offering up to 80,000 bonus Velocity Points for new cardholders of the Virgin Money High Flyer Visa until 31 January 2024.
New cardholders will receive 40,000 Velocity Points for each month you spend $3,500 or more on eligible transactions within the first 2 months from card approval, which equates to a total of $7,000 to receive the entire bonus points.
The High Flyer Visa Card comes with a $129 Virgin Australia flight credit each year, lounge passes and earns 1 Velocity Point per $ across all eligible spend up to $8,000 per month.
The Virgin Money Flyer and High Flyer Visa Cards are the semi-official credit cards of the Virgin Australia Velocity program, and each year offer a $129 Virgin Australia flight credit with both cards, along with two Virgin Australia lounge passes with the High Flyer.
Key benefits of the Virgin High Flyer Visa:
$129 Virgin Australia flight credit
Two Virgin Australia lounge passes each cardholder year
1 Velocity Point per $ spent up to $8,000 each month
The flight credit is eligible for use on all Virgin Australia bookings, not just domestic saver fares. For those who tend to fly with Virgin Australia often, this substantially offsets the fee on both the Flyer and High Flyer Visa.
---
Digging into the details of the Virgin Money High Flyer Visa
The High Flyer Visa earns 1 Velocity Point per $ spent up to $8,000 per month (or 8,000 Velocity Points, of course). After spending that much each month, the earn rate goes down to 0.5 points per $.
For many people, they won't get close to the monthly points cap. However, for those who have a high amount of spend on the card, this may be a blocker. At least the cap is to 0.5 points per $, rather than no points, after the threshold is reached.
Card Details
| | |
| --- | --- |
| Card | Virgin Money High Flyer Visa |
| Loyalty program | Velocity Frequent Flyer |
| Points earned from spend | 1 Velocity point earned per $ spent , 0.5 points per $ after points cap |
| Points cap | $8,000 per month on regular spend |
| Included insurances | International travel insurance, interstate flight inconvenience insurance and purchase cover insurance (PDS) |
| Travel benefits | $129 Virgin Australia credit |
| Overseas transaction fee | 3.30% of the converted amount |
| Minimum income requirement | $75,000 |
| Mobile wallet | Apple Pay, Google Pay and Samsung Pay |
| Annual fee | $289 |
The card also exclude some 'government-related transactions' from earning points, which includes 'transactions with government or semi-government entities, or relating to services provided by or in connection with government (for example but not limited to transactions made at Australia Post, payments to the Australian Taxation Office, council rates, motor registries, tolls, parking stations and meters, fares on public transport, fines and court-related costs).
This is not ideal, as many larger transactions which would otherwise be good points-earners are ineligible. Bear this in mind if it will impact your ability to earn points from the card or being able to meet the minimum spend target for a bonus points offer. Do note, however, that there are other third-party payment providers that will allow you to earn the full points on these types of charges for a fee, such as B2Bpay and RewardPay.
Virgin Australia lounge passes
The High Flyer Visa also comes with two Virgin Australia lounge passes each cardholder year. These are added to your Velocity account and can be viewed when logged into the Velocity website.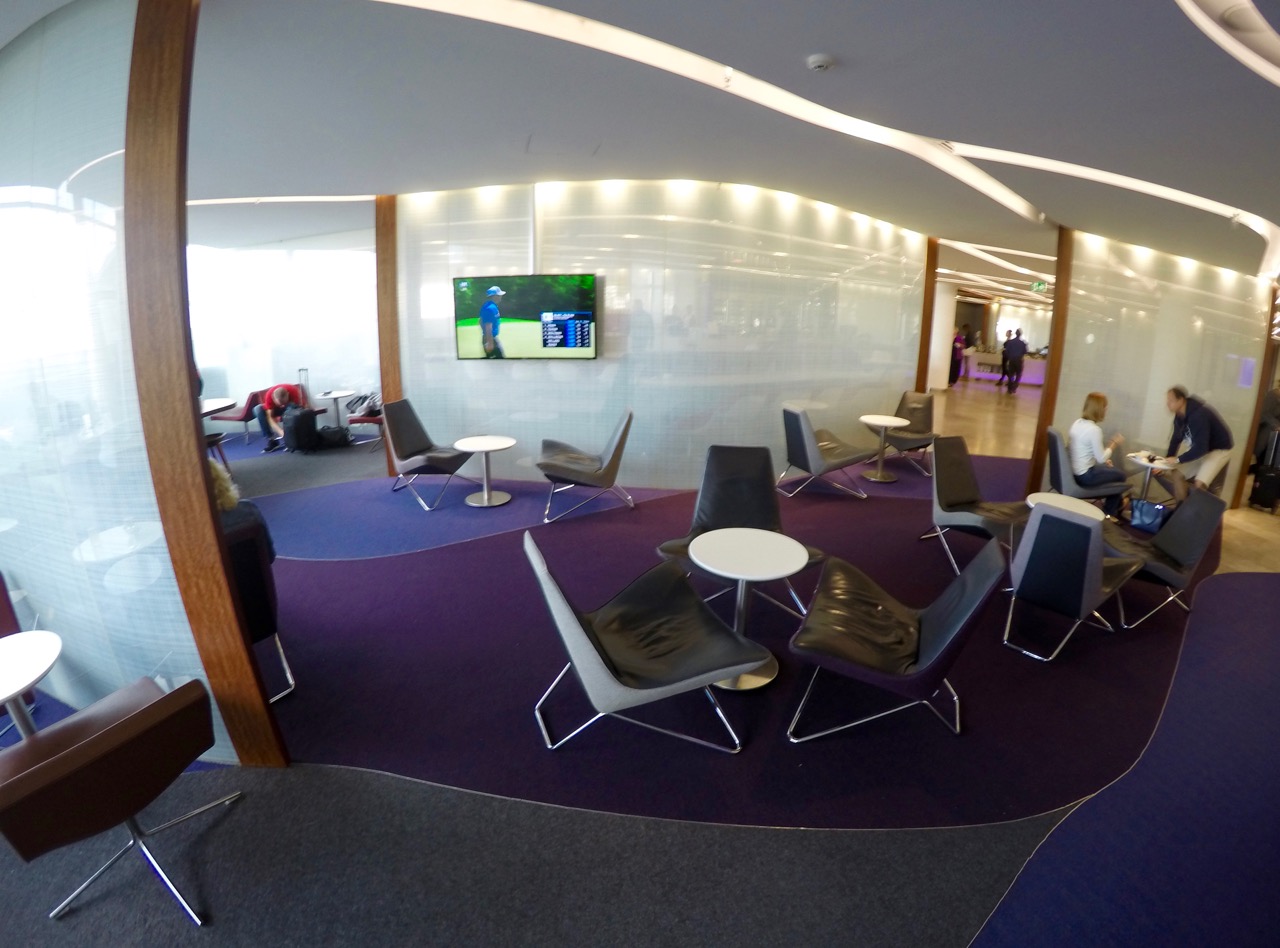 Travel & Purchase Insurances
For the annual fee you'll also receive a range of travel and purchase protection insurances:
Complimentary International Travel Insurance
Interstate Flight Inconvenience Insurance
Complimentary Purchase Cover Insurance
Guaranteed Pricing Scheme
Transit Accident Insurance
The full PDS of the insurances available with the Virgin Money High Flyer Visa is here.
This guide references some of the benefits of insurance policies provided with this card. You should read the PDS and obtain independent professional advice before obtaining this product.
Virgin Money High Flyer Visa Signature benefits
The Virgin High Flyer Visa is also a Visa Signature card, which gives access to the 'Visa Luxury Hotels Collection' booking channel. Thankfully the website is open to the general public when it comes to researching the value of this, so it's easy to get a good idea of which hotels participate – there are around 900 in the program.
The standard benefits of booking through Visa Luxury Hotels are:
Guaranteed best available rate
Automatic room upgrade on check in
Free continental breakfast
Free internet
3pm checkout
VIP Guest status
$25 US food or beverage voucher per stay
The clearest benefits are the breakfast, free internet and $25 credit, which could add up to $75+ value on a one night stay if they were otherwise chargeable. The guaranteed best rate is an intangible benefit that's not well defined, and the room upgrade and 3pm checkout are at the Hotel's discretion, so may not yield anything either.
For example, in Sydney, Melbourne and Hong Kong, the following hotels participate:
In Sydney:
Shangri-La
The Langham
The Darling
In Melbourne:
Park Hyatt
Grand Hyatt
The Lyall Hotel & Spa
In Hong Kong:
The Mira and Mira Moon
The Peninsula
The Landmark
Conrad Hong Kong
The Upper House
Helpfully, these are all generally fairly unique hotels where it is likely hard to achieve any kind of hotel program status, so the additional benefits are very handy.
There's also a range of special offers with specific hotels available which are worth keeping an eye on.
The Virgin Australia $129 flight credit with the Virgin Money Visas
The key takeaways are that:
You'll be able to use the credit on any booking made through the Virgin Australia website or over the phone, including all cabins and sale fares
The credit is delivered via an email voucher in PDF form, on-request and is valid for six months. The on-request system is useful, as it allows you to pick when you start your six-month period from which the voucher will expire
You can access this benefit after you have made a retail purchase in the two months prior to requesting your voucher
You can use your voucher for purchasing Virgin Australia flights on any fare type (including sale fares) either through the Virgin Australia website or by calling them on 13 67 89, or selected Virgin Australia Holidays packages only by calling Virgin Australia Holidays on 13 15 16
More details about the flight benefit are available on the Virgin Money website.
The Virgin Money & Citibank connection
Both the Virgin Money Flyer and High Flyer Visa cards are issued/administered by Citibank.
If you have recently taken up a Citibank offer, you may not be approved for the card. If you've ever used Citibank's online account management system or experienced their customer service, you'll be right at home with this account as it is a co-branded offering.
Citibank-issued cards also exclude earning points for payments at the ATO. As a result, despite the High Flyer Visa having a high points cap, you won't be able to take advantage of this with BAS payments.
Apple Pay, Google Pay & Samsung Pay Support
Virgin Money cards support Apple Pay & Google Pay & Samsung Pay, meaning you can use this card on your smartphone for easier payments. Find out more in our guides for each of the compatible services.
Summing up: Virgin Money High Flyer Visa
The Virgin High Flyer Visa continues to be one of the best Velocity Points-earning Visa/Mastercard options, which along with the flight credit and lounge passes, has its place in the wallet of the committed Velocity Points collector.
Up to 80,000 bonus Velocity Points with the Virgin Money High Flyer Visa Guide
was last modified:
November 6th, 2023
by