Upgrades on Virgin Australia are almost always a handy use of Velocity Points if travelling in Business Class is on your wish list. It is harder to get an upgrade these days, but it's also possible to confirm a points upgrade immediately if certain seats are available.
Going after upgrades from paid fares — rather than outright redemptions using your points — might make sense as a strategy if you fly for work or don't have enough points for a full reward seat redemption.
This guide runs through the ins and outs of getting into Virgin Australia Business Class using your Velocity points. Be sure to check out our general guide to Virgin Australia upgrades as well, for other ways of upgrading.
Is it worth using Velocity Points to upgrade?
Like any purchase decision, you'll need to personally value the experience you are 'buying' using your Velocity points to decide if the upgrade is worthwhile for you. Virgin Australia now only has its simple Boeing 737 Business Class product for domestic and international flights, including the upcoming service to Tokyo.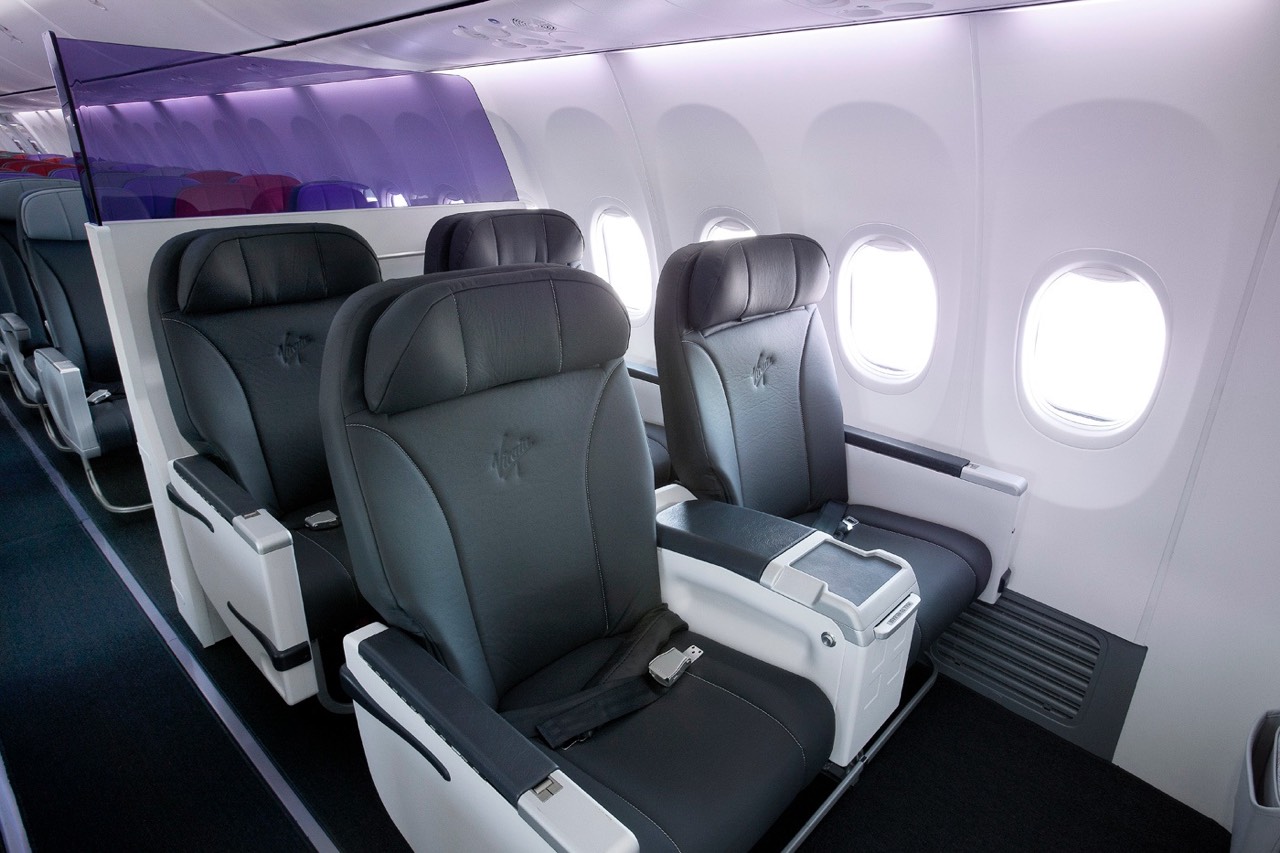 Recliner seats are nothing flashy, but long-legged travellers will still appreciate the extra space afforded in Business Class. If you earn points faster from travel or your credit cards than you can redeem them, then burning up your Velocity Points for upgrades is a great way to get value out of your growing balance.
For domestic and short-haul international flights, upgrades can be confirmed immediately by any Velocity member if Business reward seats on a particular flight are available.
If not, members can go on a waitlist which will clear in the order of Velocity status, starting with Platinum members up to 5 days before the flight. You can also place a cash bid to upgrade through the UpgradeMe Premium Bid system.
How much do domestic Virgin Australia upgrades cost?
You can upgrade to domestic Business Class on Virgin Australia from most paid Economy fares, branded 'Choice' and 'Flex'. Read our companion guide on which Virgin Australia fare classes to book for upgrades if you need more detailed info on that.
The current upgrade costs in Velocity Points are as follows:
Zone
One-way miles flown
From 'Choice'
From 'Flex'
1
0-600 miles
(e.g. Sydney to Melbourne)
10,000
4,900
2
601-1,200 miles
(e.g. Brisbane to Cairns)
17,500
7,400
3
1,201-2,400 miles
(e.g. Perth to Sydney)
30,000
9,900
4
2,401-3,600 miles
35,000
14,900
In general, upgrades from Choice fares are not such great value overall, as you can often book a Business reward seat outright for a fairly similar cost overall.
For example, Perth to Sydney in Business usually costs 35,500 points + taxes outright, but an upgrade is still 30,000 points from the Choice Economy fare.
However, it may still be worth it if someone else purchased your ticket, you don't quite have enough points to redeem a Business Reward seat outright, or no reward seats are available and that's the only flight you can take.
The most expensive flexible Economy ticket, Freedom, allows for much cheaper upgrades, which caps out at 9,900 points for trans-continental routes, usually to and from Perth.
How much do international Virgin Australia upgrades cost?
International upgrades work in a similar way to Domestic upgrades — this is for travel to destinations such as Fiji, Samoa, Bali, New Zealand and Tokyo.
Here are the current upgrade prices in Velocity Points:
Zone
One-way miles flown
From Choice
From Flex
1
0-600 miles
8,000
4,900
2
601-1,200 miles
12,000
7,400
3
1,201-2,400 miles
(e.g. Melbourne to Queenstown)
16,000
9,900
4
2,401-3,600 miles
(e.g. Sydney to Bali)
24,000
14,900
5
3,601-4,800 miles
(e.g. Cairns to Tokyo Haneda)
40,000
24,900
Upgrades from cheaper Economy fares are surprisingly much cheaper for these short-haul international flights than for Virgin's domestic flights of the same length, so it's definitely great value if you can get one.
Ad – Scroll down to continue reading.Minimum spend, terms & conditions apply.
How do I request my upgrade with Velocity Points?
To request a domestic or short-haul international upgrade, log in to 'Manage My Booking' on the Virgin Australia website, find the 'Upgrade with Velocity Points' button and initiate the request there.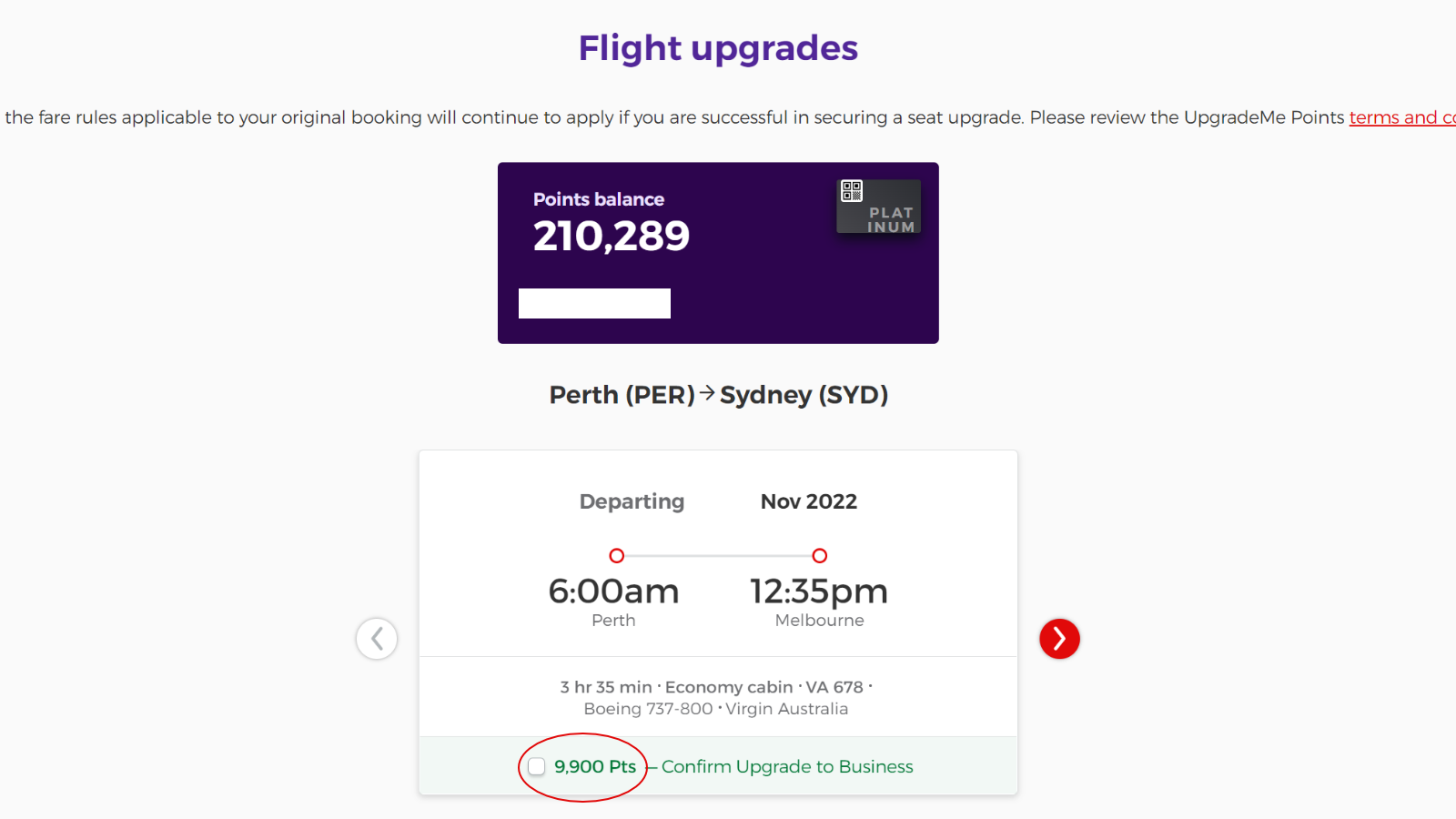 Upgrades are confirmed immediately if there are business reward seats available, including for international flights — this is a win compared to Qantas Frequent Flyer, which does not do so.
You can also call up to upgrade, particularly if there are issues doing so online. Alternatively, you may be able to request a points upgrade on the day of travel, either from the service desk or at the Virgin Australia lounge reception, if you have access.
What other benefits come with a Virgin Australia upgrade?
Beyond the Business Class seat, there are a few other benefits (or reasons) you might want to go for an upgrade using your points.
Additional baggage allowance from travelling in Business Class: You can bring 2x 32kg bags on domestic flights, or 3x bags if you also hold elite Velocity status. Your hand-carry allowance is also boosted to 14kg across two bags.
Access to Virgin Australia lounges before your flight, where available and open. Unfortunately, international Business Class fares do not currently include lounge access.
Priority check-in, boarding and baggage claim to expedite your journey through the airport.
What else do I need to know about Virgin Australia upgrades?
Fees apply to cancel a confirmed points upgrade up to 24 hours before the flight. You'll need to pay 4,500 points or $35 to do so, though this fee is waived for Velocity Platinum members
Points used for upgrades are forfeited if you cancel within 24 hours of the flight. Be sure to cancel the upgrade earlier if needed
Upgrade costs apply to each sector of a multi-trip itinerary. For example, if you're flying from Launceston to Perth via Melbourne, you'd need to upgrade both flights separately
Make your upgrade request at least 2 hrs before the flight when doing so online or over the phone. For upgrades made at the airport, you usually need to allow 45 minutes before the flight
All flights must be marketed and operated by Virgin Australia on your ticket to be eligible for upgrades, meaning that your flight number has to begin with 'VA' and not a codeshare
Summing up
Velocity Points are a great way to upgrade your Virgin Australia flights, although the carrier is limited to only domestic and a handful of international flights for the foreseeable future.
Any Velocity member, regardless of status, can snag an immediate confirmed upgrade on domestic and short-haul international flights if Business reward seats are available.
Finally, don't forget to check out our general guide to Virgin Australia upgrades for other ways to get yourself into the pointy end, such as bidding a cash amount of your choice to try your luck.
This article was originally written by Daniel Scibberas.
How to upgrade Virgin Australia flights with Velocity Points
was last modified:
May 12th, 2023
by