UPDATE 15 APR 2021 | Frequent flyers rejoice – Qantas will reopen some of its international lounges next week, ahead of the first Trans-Tasman bubble flights from 19 April 2021.
That's the flagship International First Lounges in Sydney and Melbourne, which will take in all lounge-worthy passengers in the interim as the separate International Business Lounges remain shut. The combined Brisbane International Lounge will also be open.
Passengers who can rest their laurels in the lounges include:
Business Class passengers
Qantas Platinum One, Platinum and Gold frequent flyers
Equivalent oneworld and partner airline elites
Qantas Club members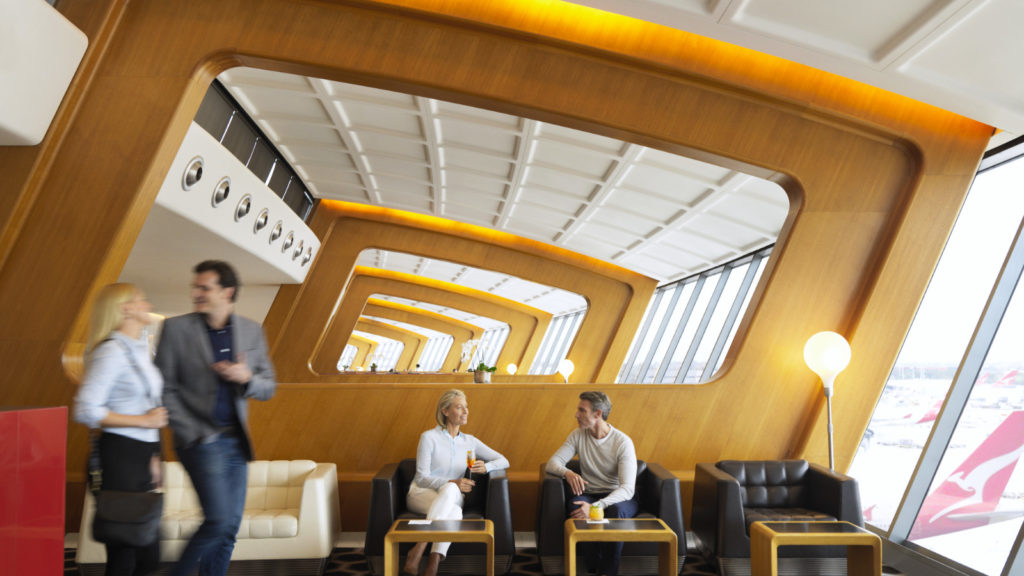 While Qantas lounges in Auckland won't reopen yet, Qantas will temporarily direct its own elite frequent flyers (Gold, Platinum and Platinum One), Qantas Club members and Business Class guests to the Air New Zealand International lounges in Auckland, Queenstown, Christchurch and Wellington.
A-la-carte dining to remain
Despite the Sydney and Melbourne First lounges opening their doors to a larger range of clientele, the popular a-la-carte dining will remain. Hungry passengers can look forward to tucking into a range of dishes curated by Rockpool chef Neil Perry.
Breakfast
Seasonal fruit salad
Croissants, house-made muffins
Neil's healthy Bircher muesli with apple, cranberry and hazelnuts
Buttermilk pancakes with cinnamon yoghurt, berries and maple syrup
Brunch bowl with goats' cheese, avocado, cherry tomato bulgur and green tahini
Brioche, leg ham and Gruyere toasted sandwich
Scrambled eggs with bacon, pork chipolata, spinach, tomato braised beans
All-day dining
Brioche, leg ham and Gruyere toasted sandwich, rocket and lemon
Salt and pepper squid with cabbage salad, green chilli dipping sauce and aioli
Roast cauliflower with carrot and almond hummus, zucchini, preserved lemon and hazelnuts
Tamarind chicken with eggplant, jasmine rice and lime pickle yoghurt
Red braised lamb shoulder with chilli paste and noodles
Signature pavlova with seasonal fruit, mascarpone and Persian fairy floss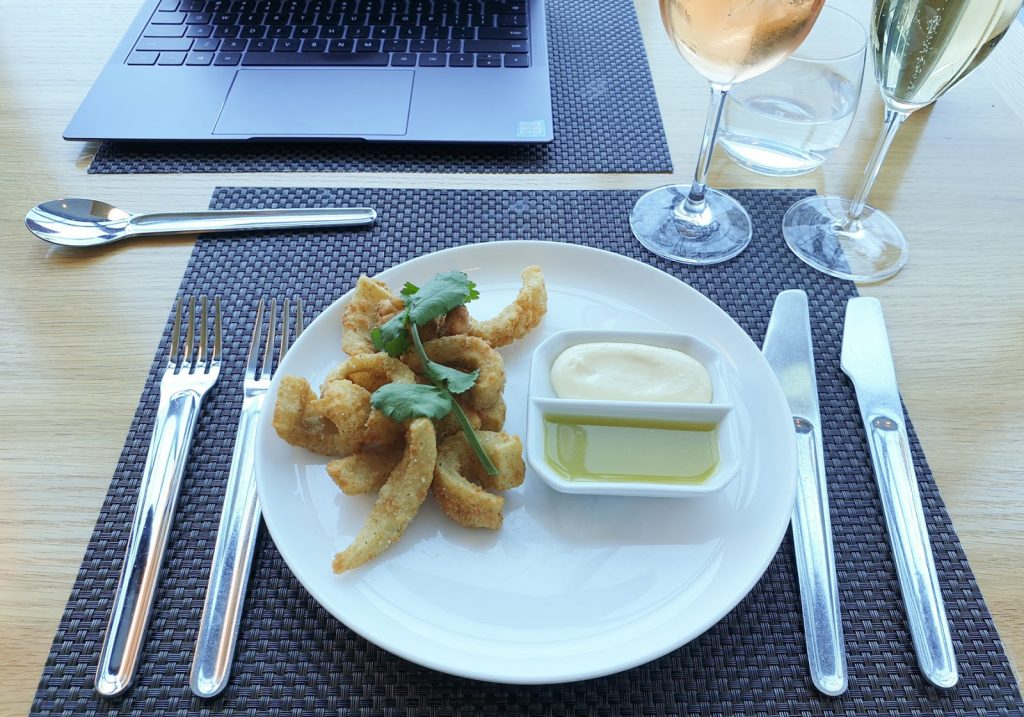 Don't forget that if you register for Qantas' limited-time Gold Status Fast Track offer, you'll get lounge access included during your 90-day challenge period – and New Zealand residents are now included.
---
Treat yourself to a trans-Tasman getaway with Qantas Points.
Our definitive Point Hacks guide to Qantas lounges follows:
---
With the largest lounge network in Australia and a respectable offering overseas, Qantas lounge access is a valuable perk to passengers travelling in Business or First Class, higher-tier frequent flyers, Qantas Club members and those lucky enough to have one of the credit cards that offer complimentary access.
In this guide, we outline the six different types of Qantas lounges, where they are located, which ones are the most basic and which are the best, our experiences of select lounges, and the methods to gain access.
The six lounge types in Qantas' lounge network
Qantas has six different types of lounges, which we have ranked in order of service quality and facilities:
Domestic Qantas Club: the most common type and lowest-tiered Qantas lounge, with 24 across the network, in all capital cities as well as far afield as Karratha, Devonport and Mackay
Domestic Business Lounge: a step up from a Qantas Club, it has better food and drink offerings, and is quieter and smaller. There are five Domestic Business Lounges, in Sydney, Melbourne, Brisbane, Perth and Canberra
International Business Lounge: for departing international flights from Sydney, Melbourne and Perth, plus a number of overseas locations in Auckland, Hong Kong, Honolulu, Los Angeles, Singapore, Tokyo Narita and Wellington
International (Premium) Lounge: there are currently three of these combined Business and First Class Lounges, in Brisbane, Hong Kong and London Heathrow
International First Lounge: for First Class passengers and elite frequent flyers in Sydney, Melbourne, Auckland, Los Angeles and Singapore
Chairman's Lounge: invitation-only domestic lounges in major Qantas hubs such as Sydney, Canberra and Brisbane, for members including politicians, High Court judges, CEOs and celebrities. The number of members is said to be ~7,000
You can see a full list of Qantas lounges here.
Eligible Qantas customers also have access to associated lounges run by partner airlines (such as Emirates, American Airlines and British Airways) in key airports where Qantas does not operate its own lounges, such as New York, Dubai, San Francisco, Dallas/Fort Worth, Johannesburg and Bangkok.
Key lounges which the Point Hacks team has reviewed
Note that these reviews and comments are based on the lounges being open pre-COVID-19. At the time of writing, international lounges remain closed and domestic lounges may have reduced service for the time being.

Qantas to open International First lounges for New Zealand flights
was last modified:
April 15th, 2021
by
Qantas Sydney lounges
Consistently ranked as one of the world's top ten airport lounges, we give the International First Class lounge a five-star rating.
This lounge goes above and beyond by allowing you to tailor your experience, with table service either in the restaurant area or at your lounge seats, a good menu, spa offerings and a full bar.
The Sydney International Business Lounge is disappointing and was due for an upgrade by late 2020, although COVID-19 has scuppered those plans indefinitely.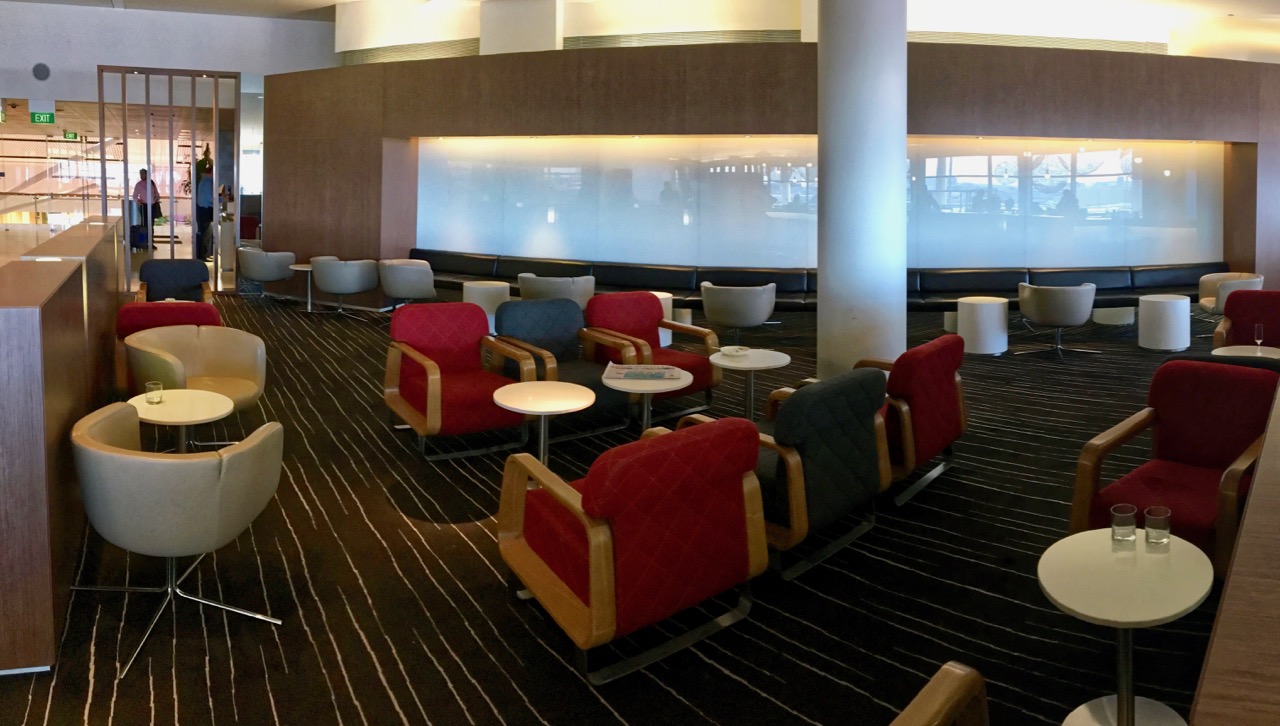 Sydney's Domestic Business Lounge is well-regarded for its food, drink and comfort but is a little behind the curve when it comes to Qantas' latest lounge design ethos.
Qantas Melbourne Lounges
The International First Lounge is like a mini clone of the Sydney lounge but has a bit less of a 'wow' factor.
Having said that, the Melbourne lounge is more intimate than Sydney's and we find it a more relaxing, personal experience, with staff members really willing to interact and give decent personal service.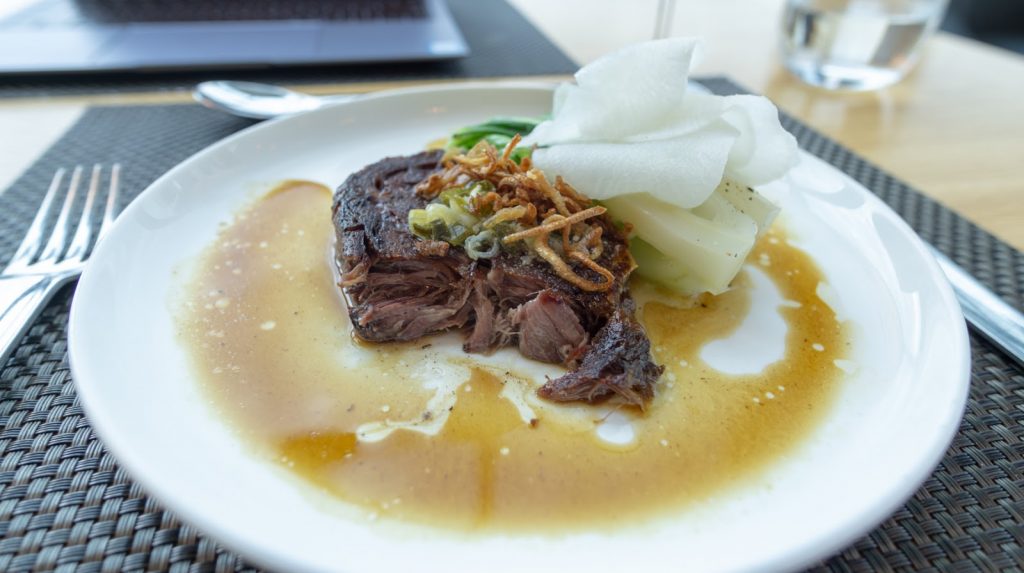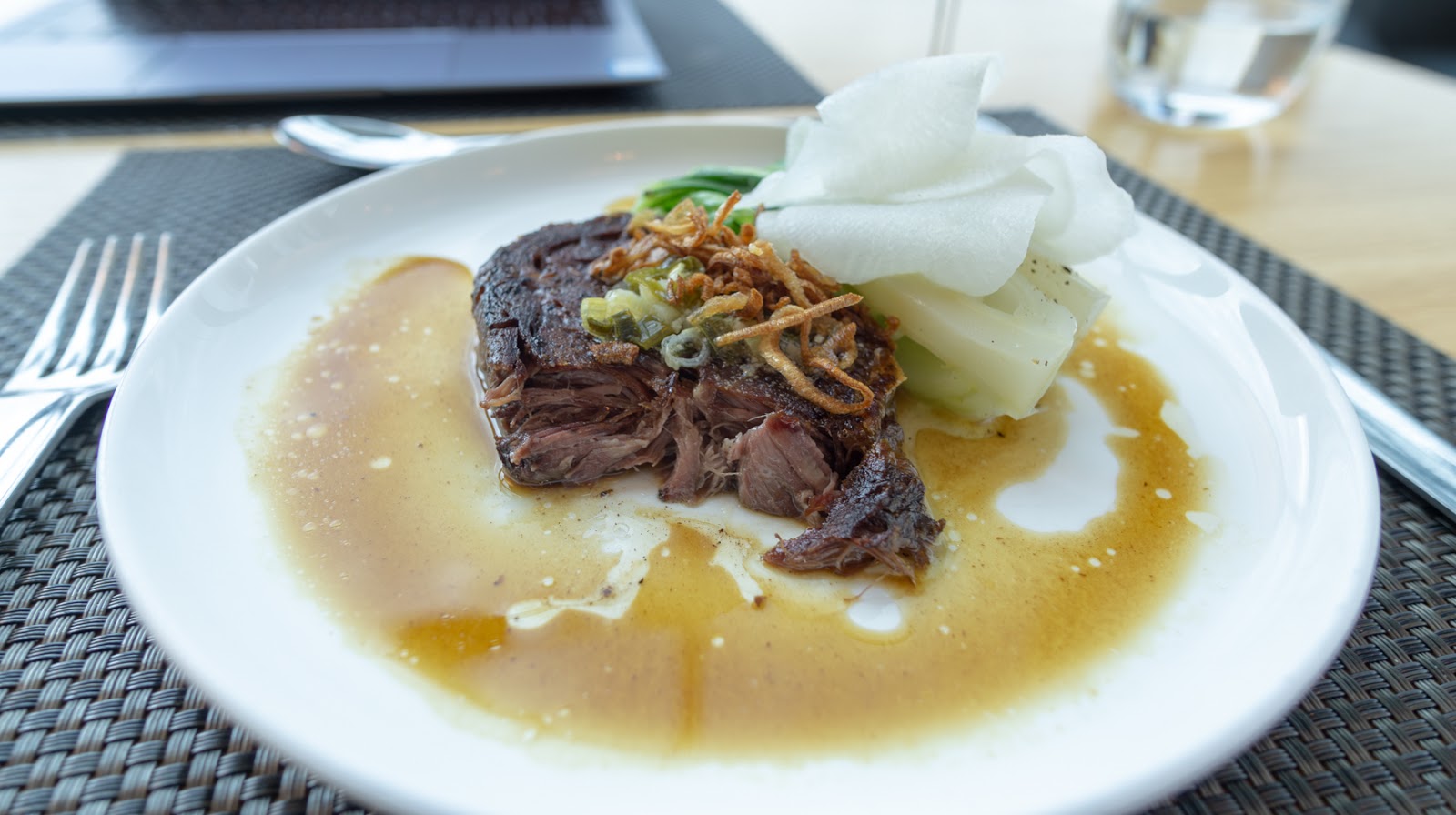 There is also a Qantas International Business Lounge in Melbourne. It's a big workhorse lounge that caters for guests flying on Qantas, oneworld partner airlines (many Cathay Pacific guests prefer this lounge over the Cathay Pacific one) and non-alliance partners like China Eastern.
Both the Domestic Business Lounge and Qantas Club were renovated in 2018. The Qantas Club is the go-to lounge for many of Qantas' frequent flyers and lounge members plus their guests, with well-utilised spaces, good distinct zones for relaxing and working/eating.
While the food options are certainly nothing to write home about, there is absolutely nothing to complain about either.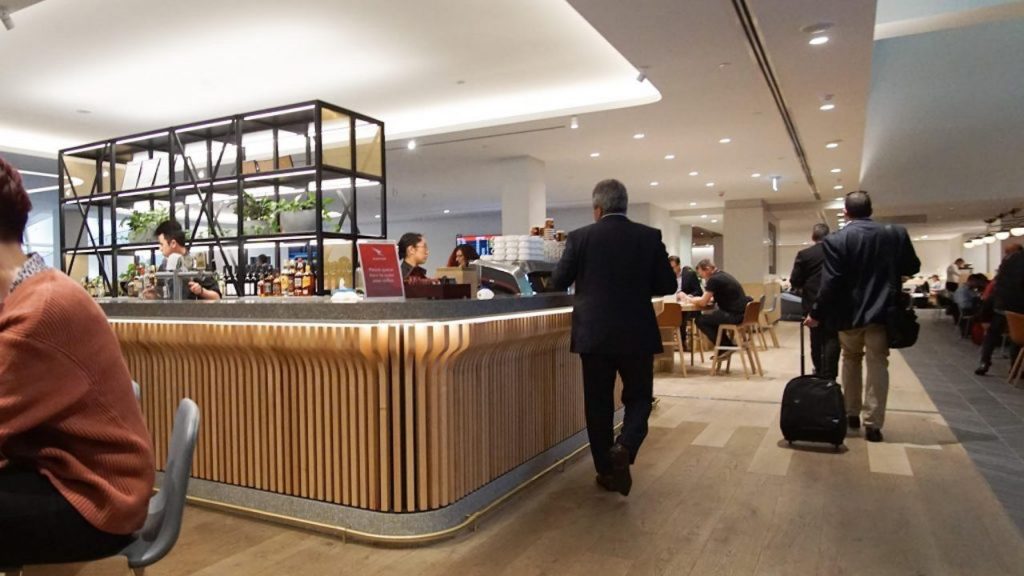 The Domestic Business Lounge is an exclusive area which caters to Business Class guests, Platinum Frequent Flyers and higher. It boasts an Asian Noodle Bar which is a welcome break from the typical buffet fare.
Qantas Brisbane Lounges
The Domestic Business Lounge might just be one of the best in Qantas' entire portfolio. It carries a common theme of promoting health and wellness in its spaces, lighting, and food and beverage offerings.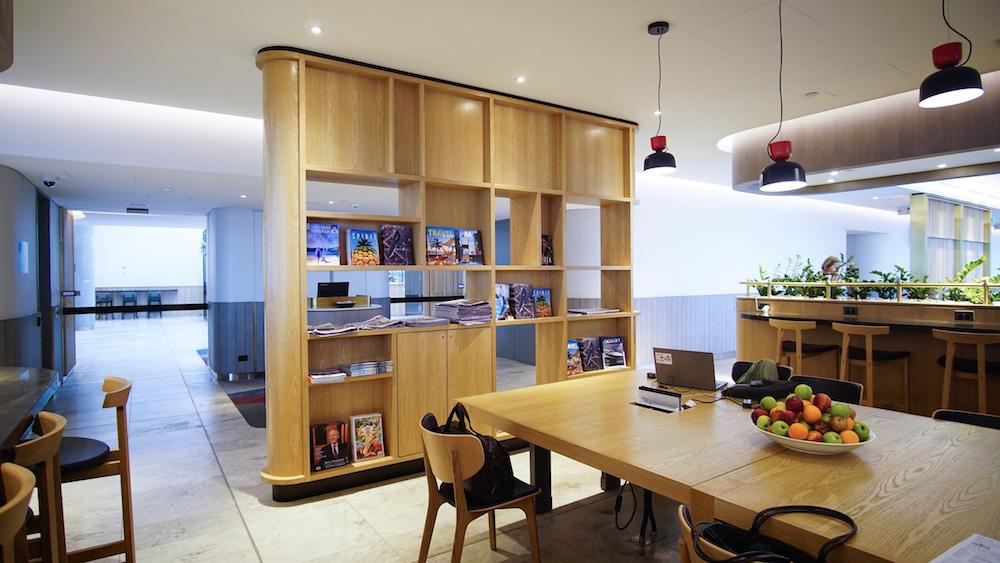 The Qantas Club offers a welcome escape from the main terminal but, like the other Qantas Clubs, can get crowded.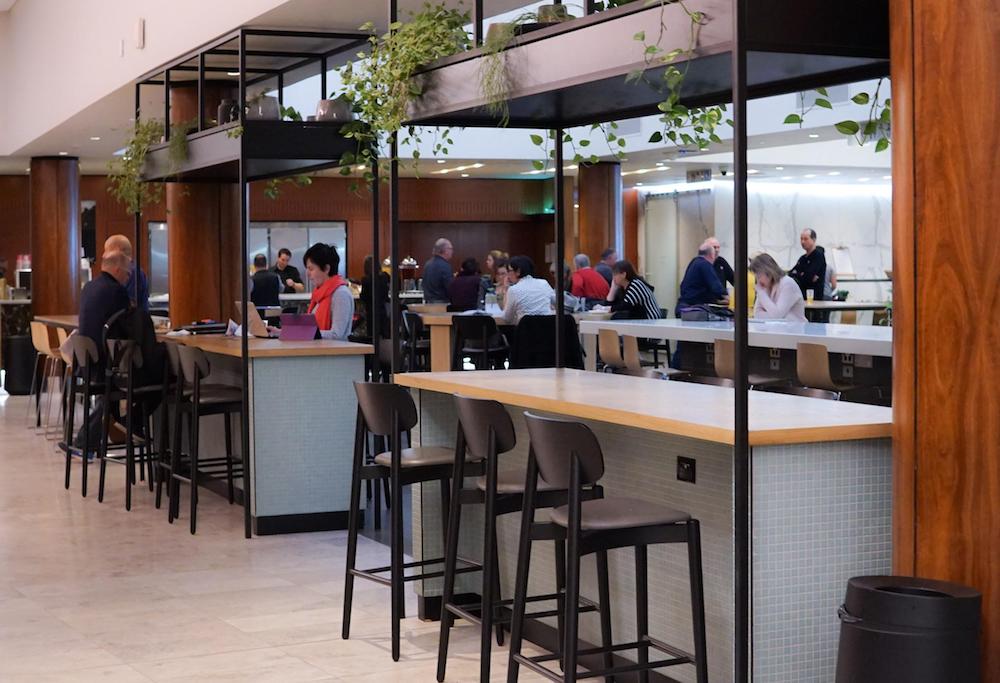 Qantas Perth Lounges
The Qantas Club is the main lounge for the majority of Qantas' frequent flyers and lounge members flying interstate from Western Australia, which means it can get quite full at times.
The combined Domestic/International Business Lounge has a relaxing ambience and 'premium' feel to it and is complete with high-quality furnishings and amenities.
If you are flying nonstop to London, then you may prefer the International Transit Lounge instead. Access to that lounge is granted both to those departing from Perth and those arriving in Perth from other cities and connecting onto the London flight.
Qantas Los Angeles Lounges
The airline runs an International First Lounge at LAX for its First Class and Platinum/Platinum One passengers flying to Sydney, Melbourne and Brisbane.
It's a great place to spend 1-2 hours enjoying fantastic food and drinks and freshening up with a hot shower before your long overnight flight back to Australia.
We give the International Business Lounge a solid four-star rating for its spaciousness, fast wifi and well-stocked bar, but it is let down by dark lighting, some disappointing food and no tarmac views.
It's run by Qantas in partnership with oneworld partners British Airways and Cathay Pacific. As such, single-use complimentary passes cannot be used at this lounge, nor can Emirates Skywards frequent flyers gain access.
Passengers eligible for access include those travelling in Qantas Business Class, higher-tier Qantas and oneworld Frequent Flyers, and Qantas Club members.
Qantas Auckland Lounge
Whilst functional and conveniently-located, the Auckland Business lounge is old and tired and one of the more disappointing in the Qantas network.
Partner airline Emirates' lounge is a good alternative in Auckland if you can gain access.
Qantas Hong Kong Lounge
Qantas operates this mixed lounge to service their daily flights to Sydney, Melbourne and Brisbane, with some table-service dining options and a full-service bar. During the evenings, Hong Kong-style BBQ pork with rice is a popular a-la-carte dish.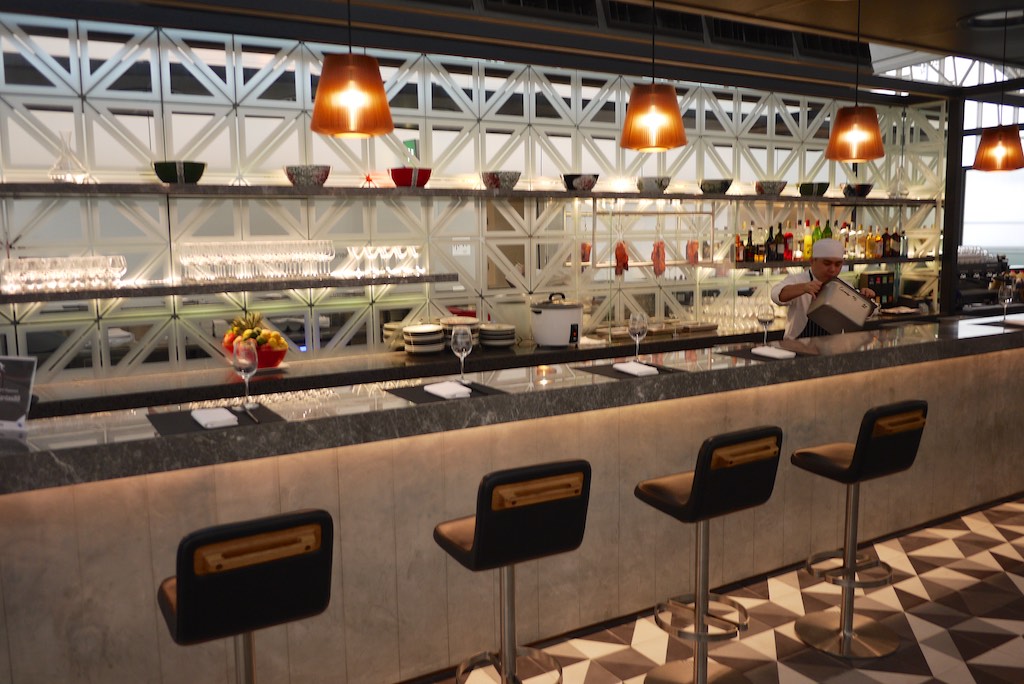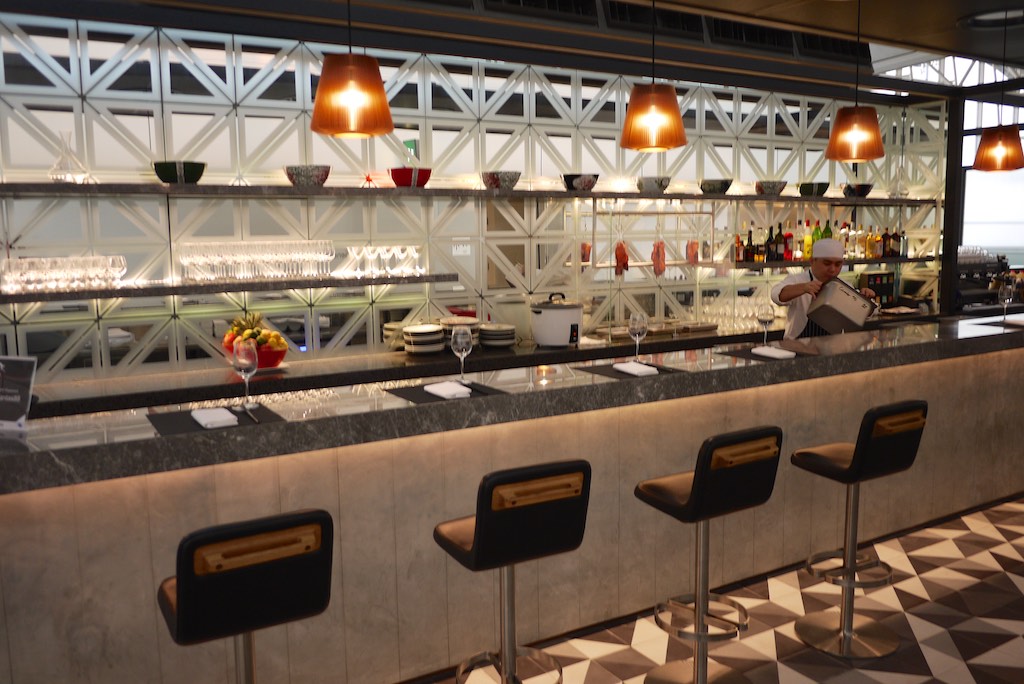 This lounge is a massive improvement over the International Business Lounges in Sydney and Melbourne.
Qantas Singapore Lounges
The Qantas Singapore International Business Lounge is once again one of the airline's best spaces. It's large with an industrial-like feel to it. There is plenty of seating and the food options are usually excellent.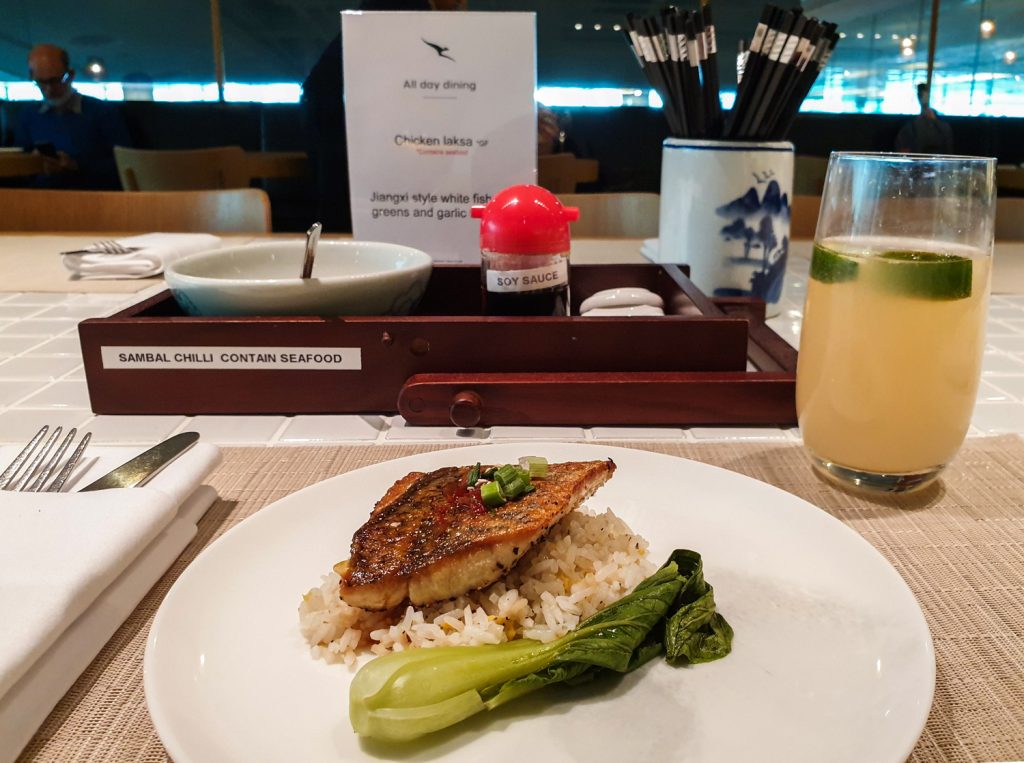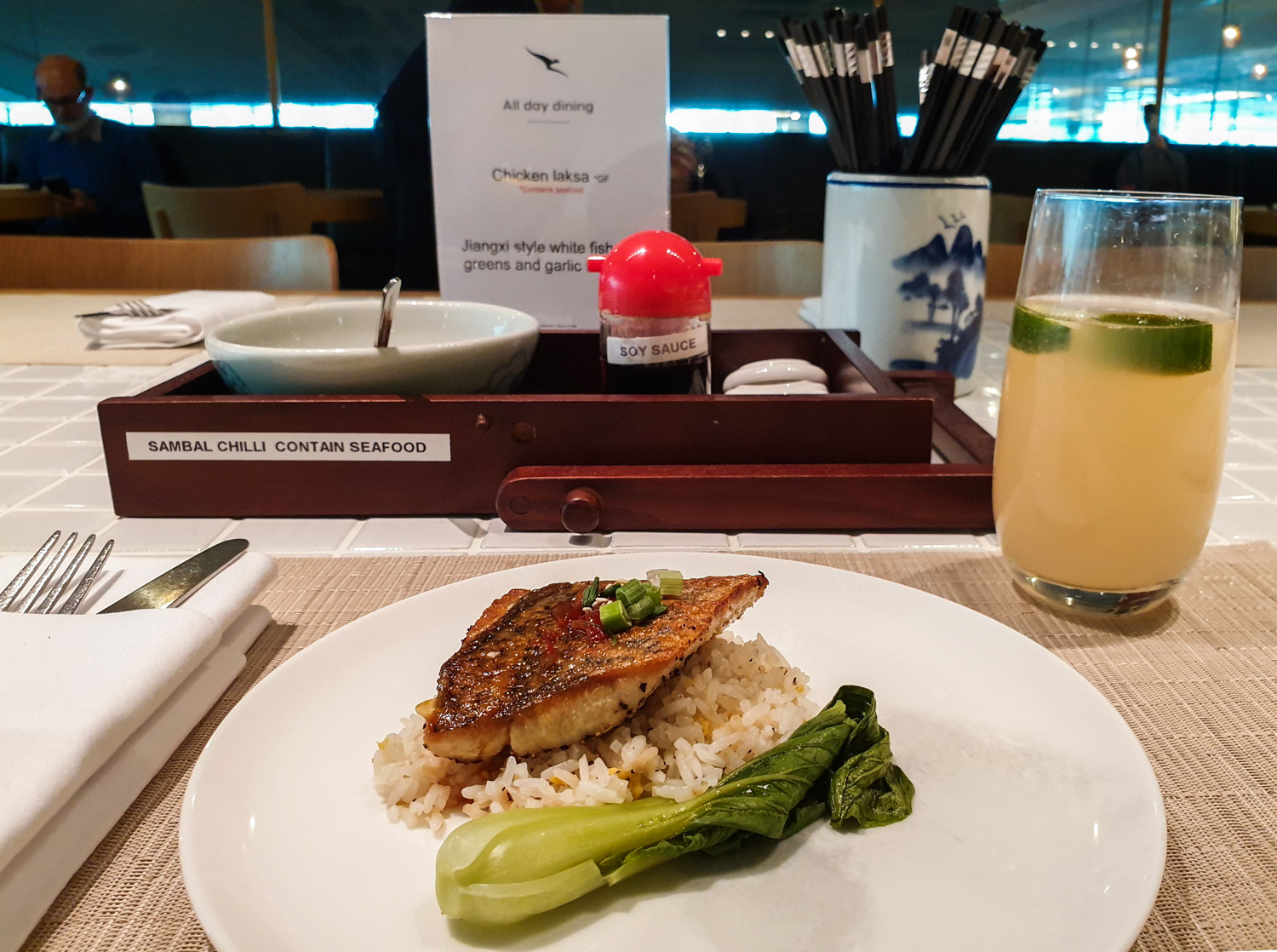 Meanwhile, the airline's newest First lounge in Singapore also ranks very highly in our books. The signature Neil Perry dining menu carries over from Australia, but not the spa treatments, unfortunately.
Qantas London Lounge
The Red Roo's two-storey lounge in London Heathrow is another top pick. Featuring an unmatched selection of gins and a quaint afternoon tea service before the flight home, it's not hard to see why this lounge is a favourite of travellers heading home from Europe.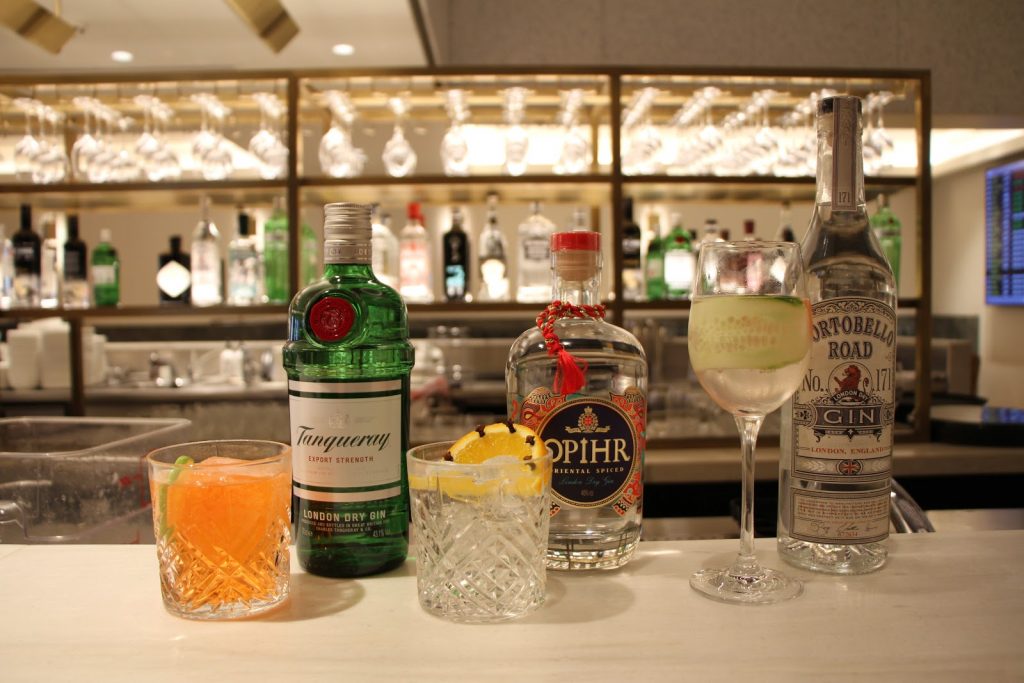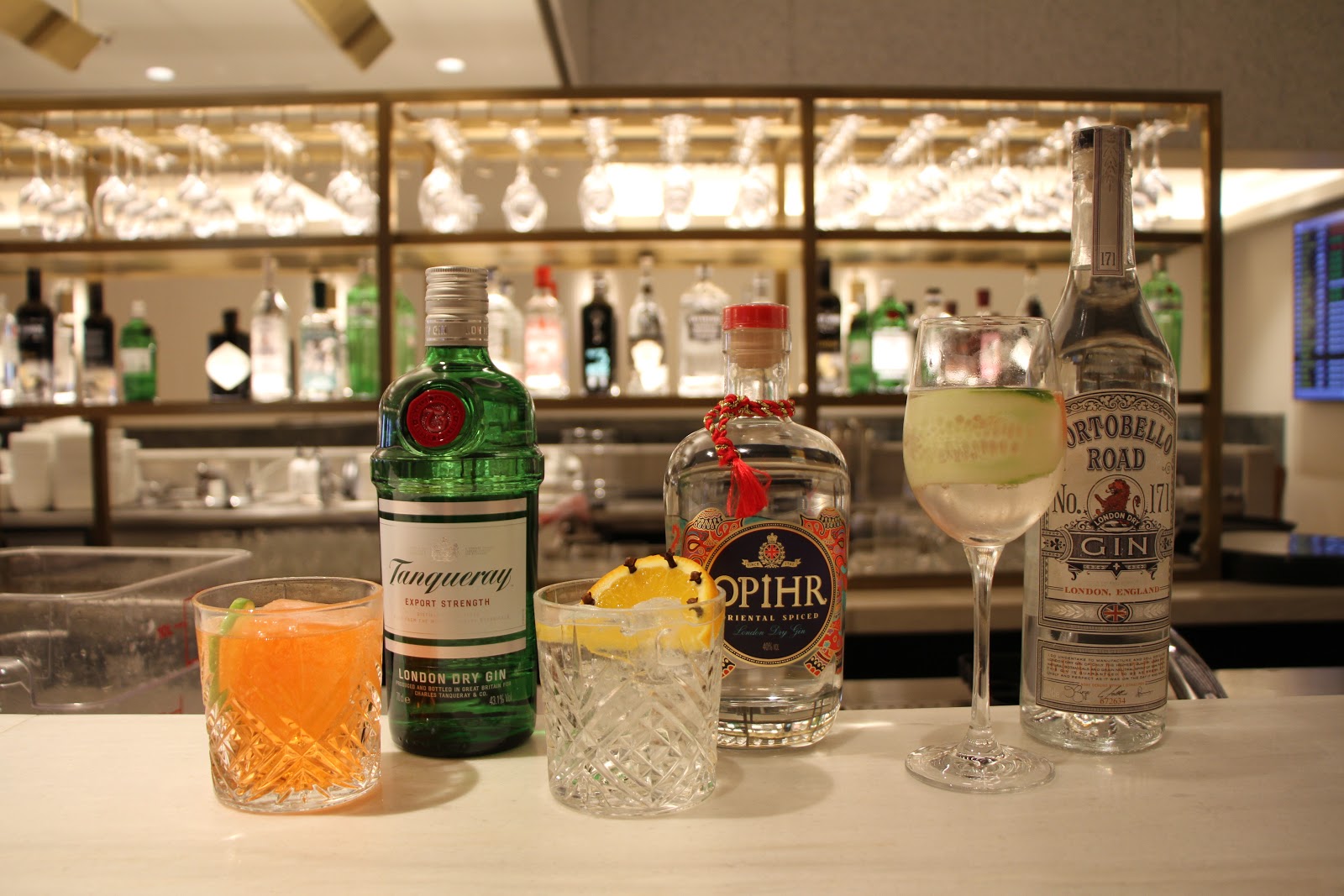 What to expect when you use the Qantas lounges
Obviously, with six different types of lounges, you'll receive quite a different experience in each.
Starting at the bottom, at most Qantas Clubs, you can expect:
Snacks, tea, machine-brewed coffee and alcoholic beverages
Barista-made coffee at major regional airports and capital cities
Toilets and shower facilities at most locations
WiFi and computers
Newspapers and magazines
Family zone for children
However, note that smaller regional lounges such as the Qantas Club Launceston will lack shower facilities, computer access, barista-made coffee and more.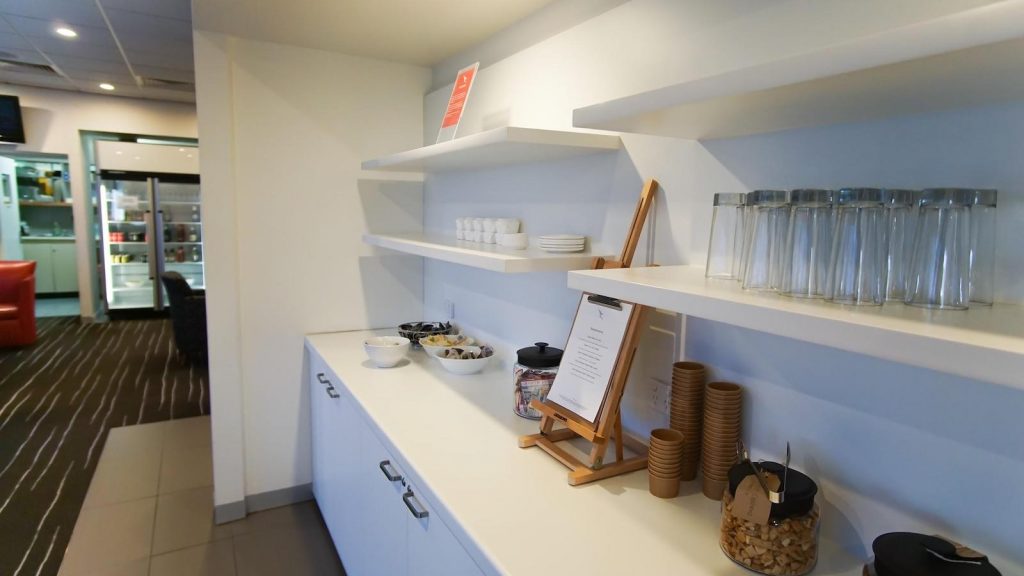 On the next step, Domestic and International Business Lounges will also tend to offer:
Lounge dining including rotating a-la-carte menus
Better bar options
Better shower facilities
Moving up, the International, International First and Chairman's Lounges will have more a more 'boutique' interior design, enhanced personal service from staff, as well as wider food and drink offerings.
Also read: How to choose the best lounge before your flight
Credit cards that offer Qantas lounge access
There is currently a small selection of credit cards that each offer two entries per calendar year to Qantas Clubs or International Business Lounges as a perk.
All credit cards have transitioned to digital lounge passes. Existing paper passes with a valid expiry are still, of course, able to be used until they expire (we don't expect many to be around anymore).
You can view and transfer your digital invitations to any other Qantas Frequent Flyer member on the Qantas Complimentary Lounge Invitations website.
Note that you cannot use these passes for shared lounges (such as the one in Los Angeles) or associated partner lounges (such as Emirates lounges).
Whilst the annual fees differ, other perks such as sign-up bonuses, ongoing points earning through spending and trip protection do also, so it is worth clicking through to decide which offers the best value to your circumstances.
*Note that with these cards, you will receive your passes after your first spend with Qantas
For more information on how to link these digital lounge passes to your next Qantas or Jetstar flight, read this guide.
Accessing Qantas lounges through other methods
Your cabin class of travel and frequent flyer status dictates which lounges you have entry to. Obviously, Business and First Class Qantas and partner airline passengers have access to Qantas lounges before eligible flights.
Members with Qantas Gold or oneworld Sapphire status and higher also get automatic access to Qantas Clubs and International Business Lounges. So does buying a Qantas Club membership.
Qantas Platinum and oneworld Emerald members get upgraded access to Domestic Business Lounges and International First Lounges, where available.
In addition to this, Qantas also offers some lower-tier frequent flyers the opportunity to buy a day pass for some other Qantas lounges in Australia and overseas from $49. However, this is currently suspended due to COVID-19 travel restrictions.
Summing up
With an extensive network across Australia and its overseas destinations, Qantas' lounge offering vastly outshines Virgin Australia and Rex in this area. It is worth knowing the difference between the types of Qantas lounges as you can set your expectations before your upcoming flights.
Holding a credit card that gives you access each year that you are a cardholder, having Qantas or elite oneworld status and/or being a Qantas Club member means that you can enjoy a moment of respite away from busy terminals before departing on your trip.
This article was previously written by Matt Moffitt.
Qantas to open International First lounges for New Zealand flights
was last modified:
April 15th, 2021
by