As one of five Domestic Business lounges in the Qantas network, the airline's Brisbane facility recently marked its fifth birthday. It's hard to believe this lounge opened half a decade ago. It's certainly not showing its age, and remains leaps and bounds better than the Business Lounge it replaced.
But how does the full travel experience stack up in 2022? Read on to find out!
Location
Brisbane's Qantas Domestic Business Lounge sits upstairs in the airport's departures area. It doesn't have a dedicated direct entrance from the concourse, so keep your eyes peeled for the Qantas Lounge Precinct instead. Once inside, you'll find the entrance at the back of the Qantas Club.
This means you first need to show your boarding pass to enter the Qantas Club, and again for the Business Lounge. But that's easily done, with a clear walkway from front to back.
Another way to enter is via Qantas' Premium Lounge Entry facility downstairs. With its own check-in and private security screening area, you'll emerge upstairs inside the Lounge Precinct. In this case, the Business Lounge entrance is immediately to your left.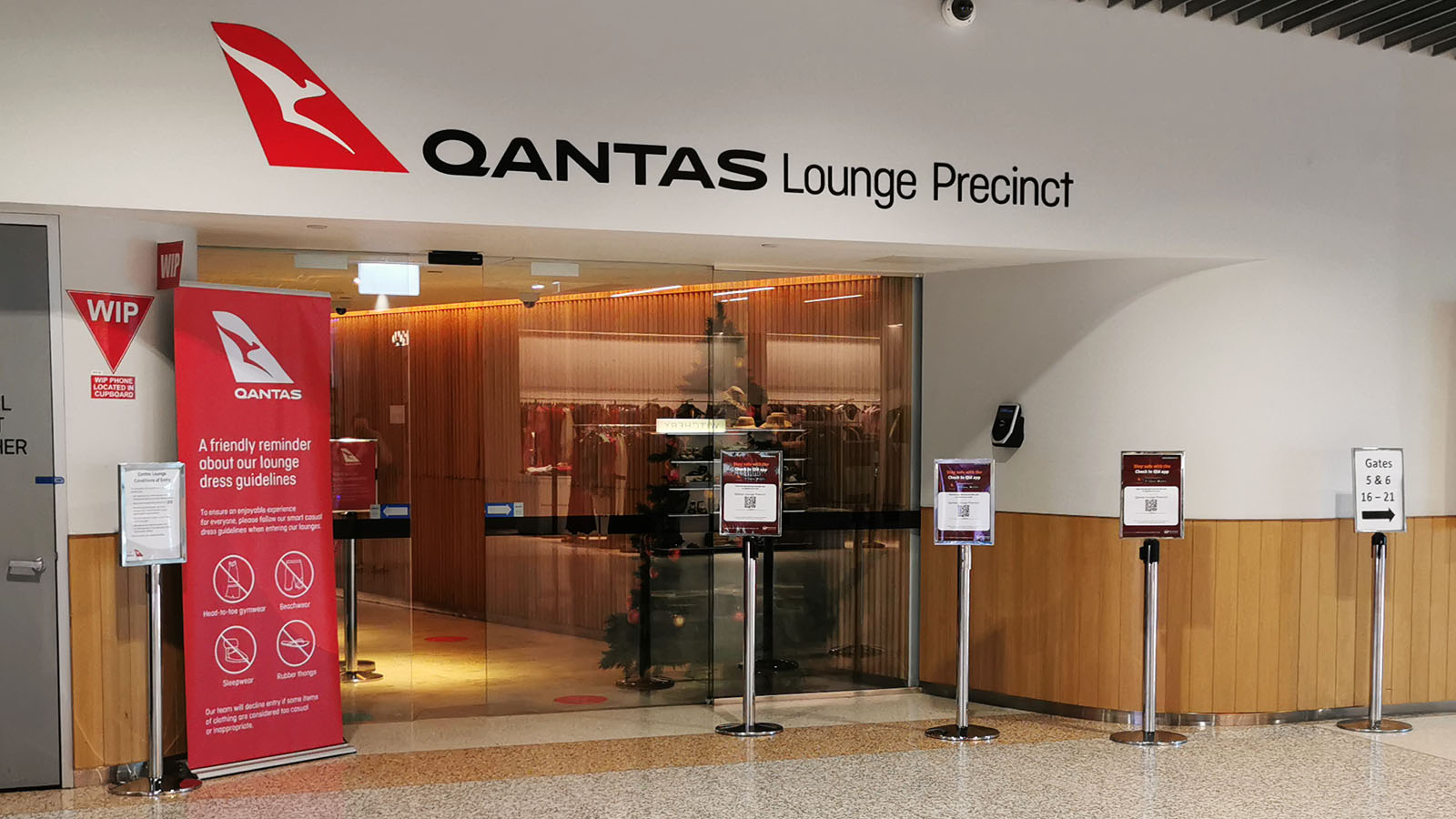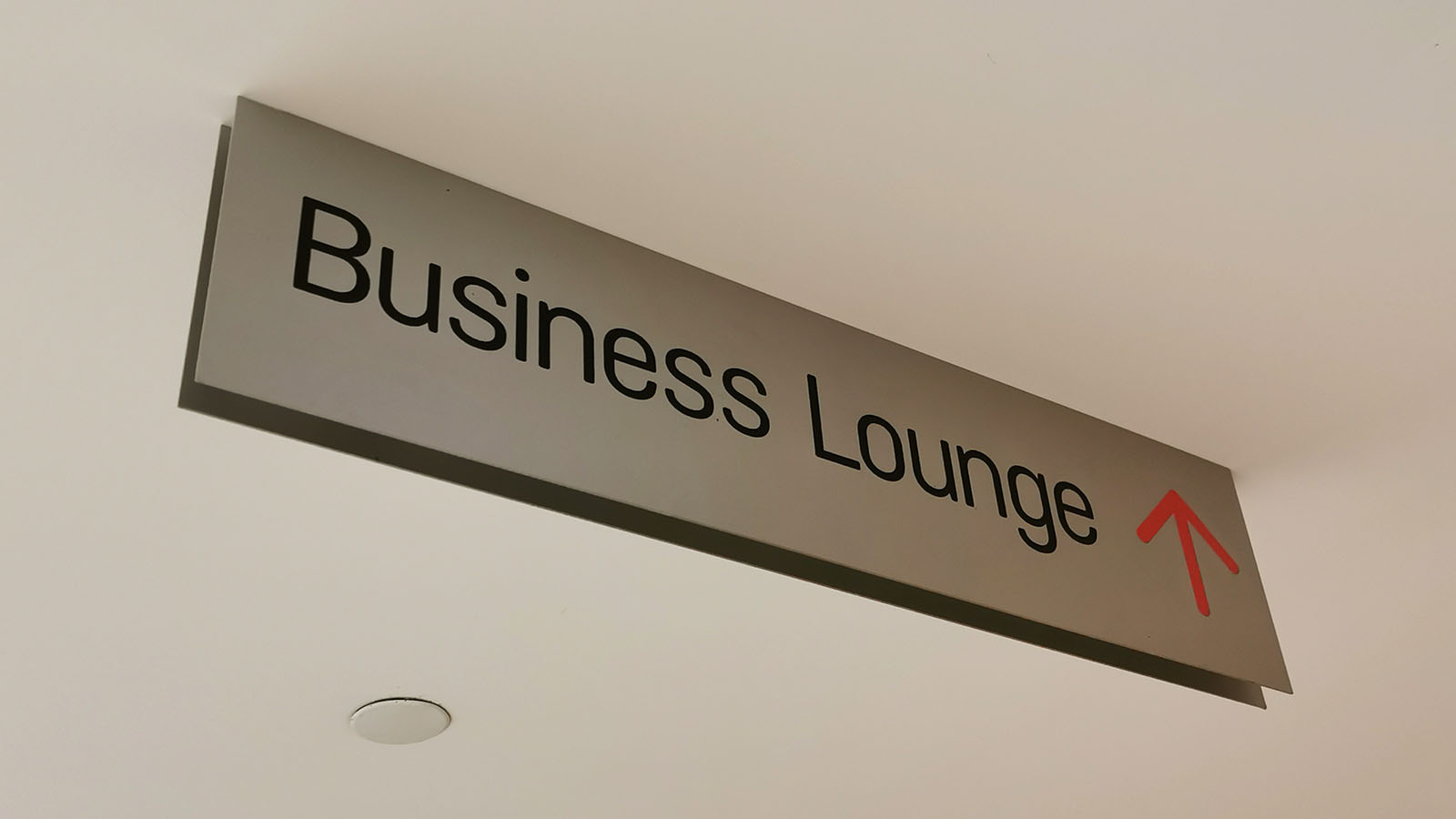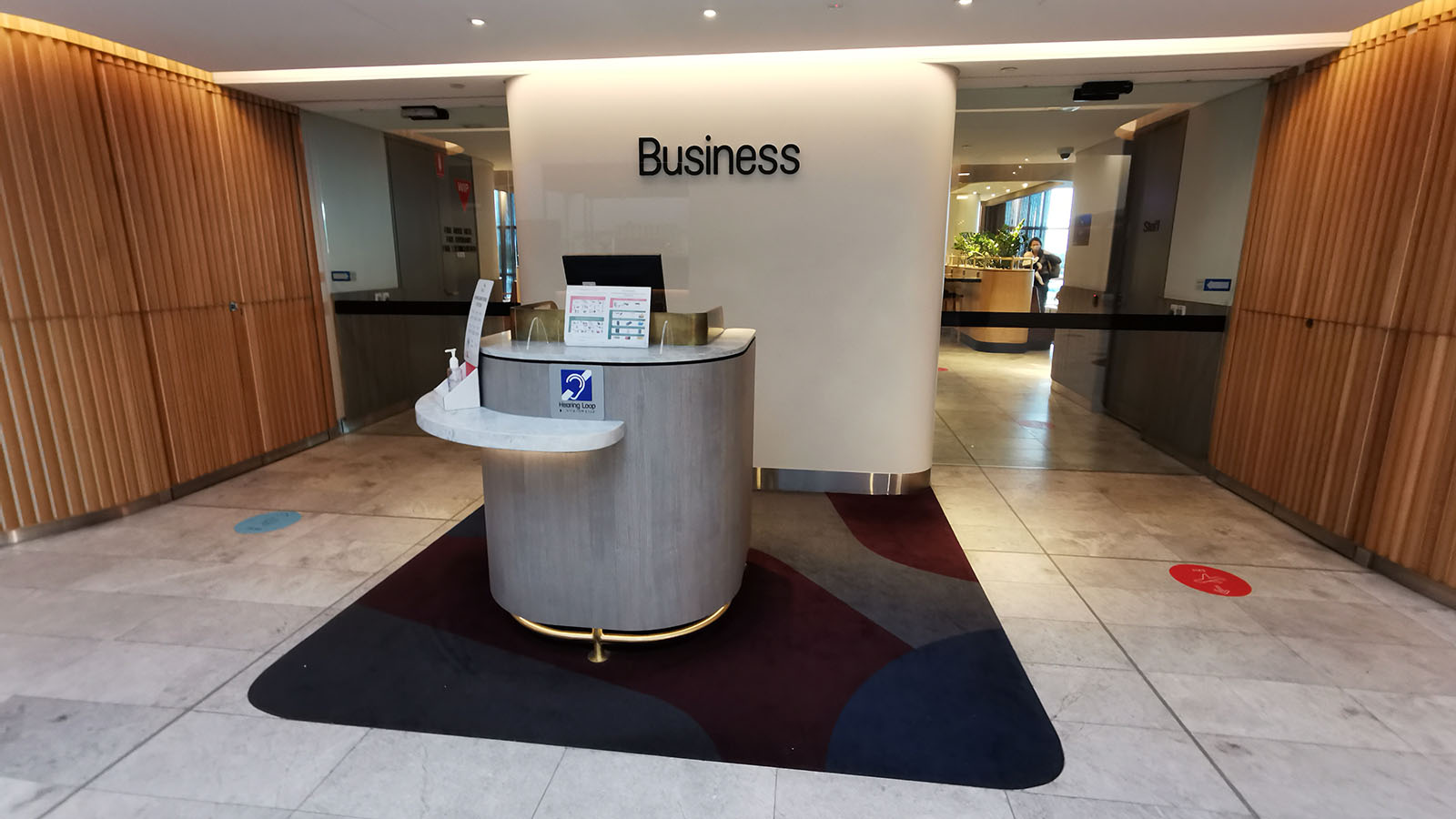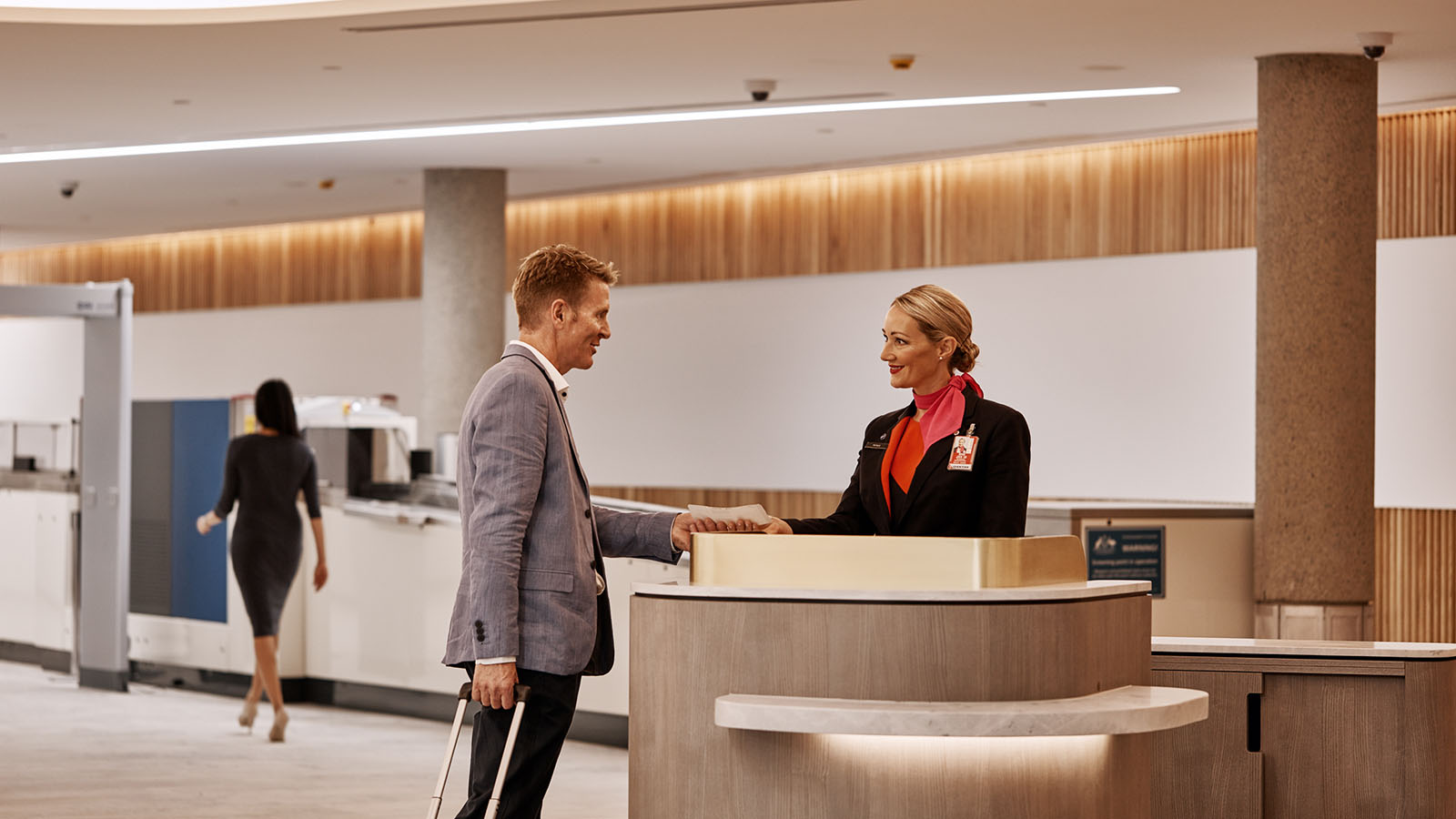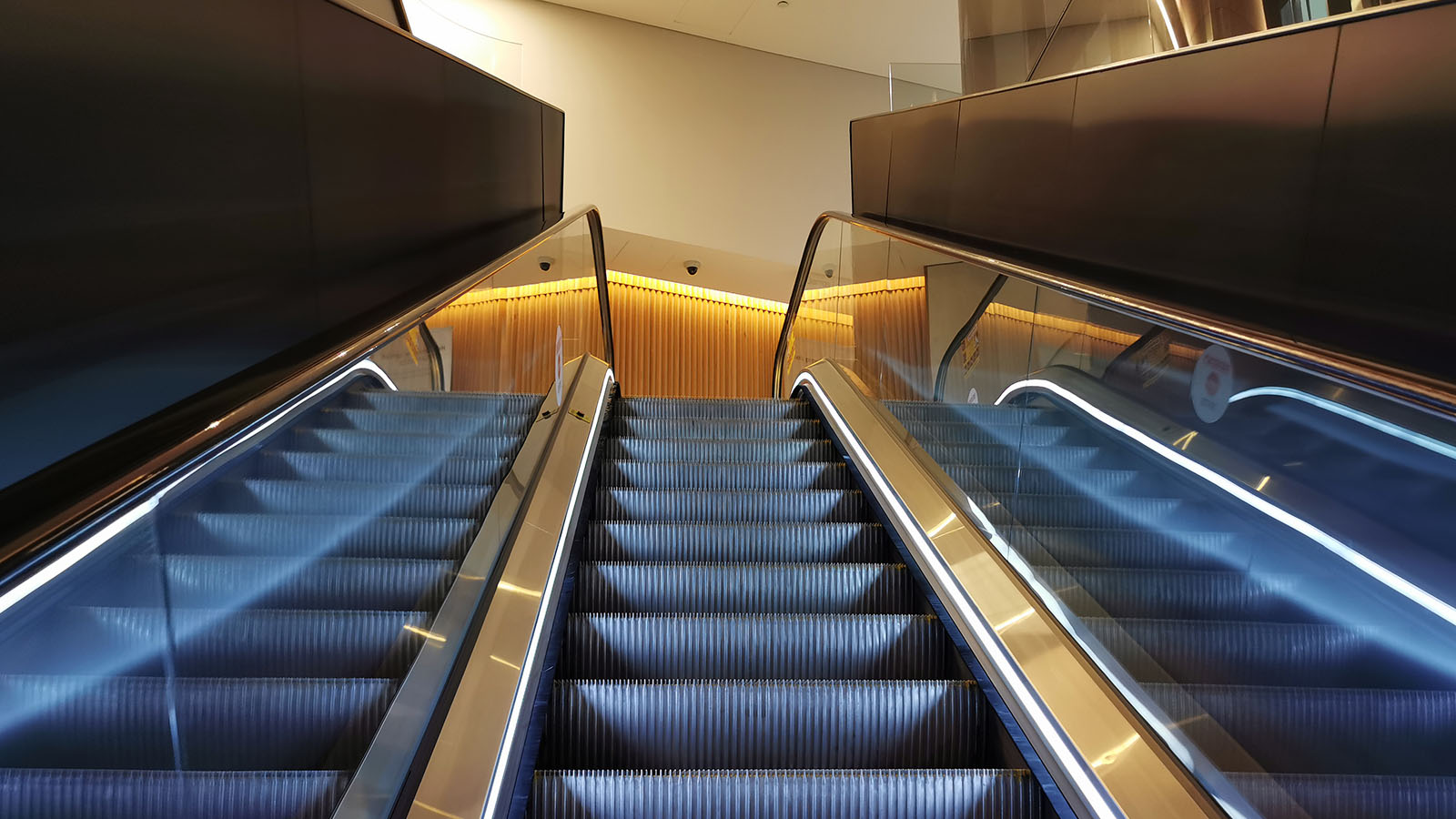 Premium Lounge Entry opens between 5 am and 5 pm on weekdays, and between 6 am and 5 pm on weekends. Sometimes, the journey is smooth sailing, with a very quick passage. Yet at other times, the queue to get through can take 25 minutes or longer, and stretch back out to the public check-in area.
There are a few factors at play with regards to those long lines, and we've covered them in more detail in our review of Brisbane's Qantas Club.
Lounge layout and seating
The footprint of Qantas' Domestic Business Lounge largely adopts an 'L' shape in Brisbane. This sees it divided into many different nooks and zones, suited to various needs.
Whether it's a place to work, a comfy seat to kick back in or anything in between, the lounge has you covered. But here's a tip: most travellers turn right after entering the Business Lounge, because that's where you'll find the coffee, drinks and food. But if you venture left, you'll often find those spaces much quieter than the rest.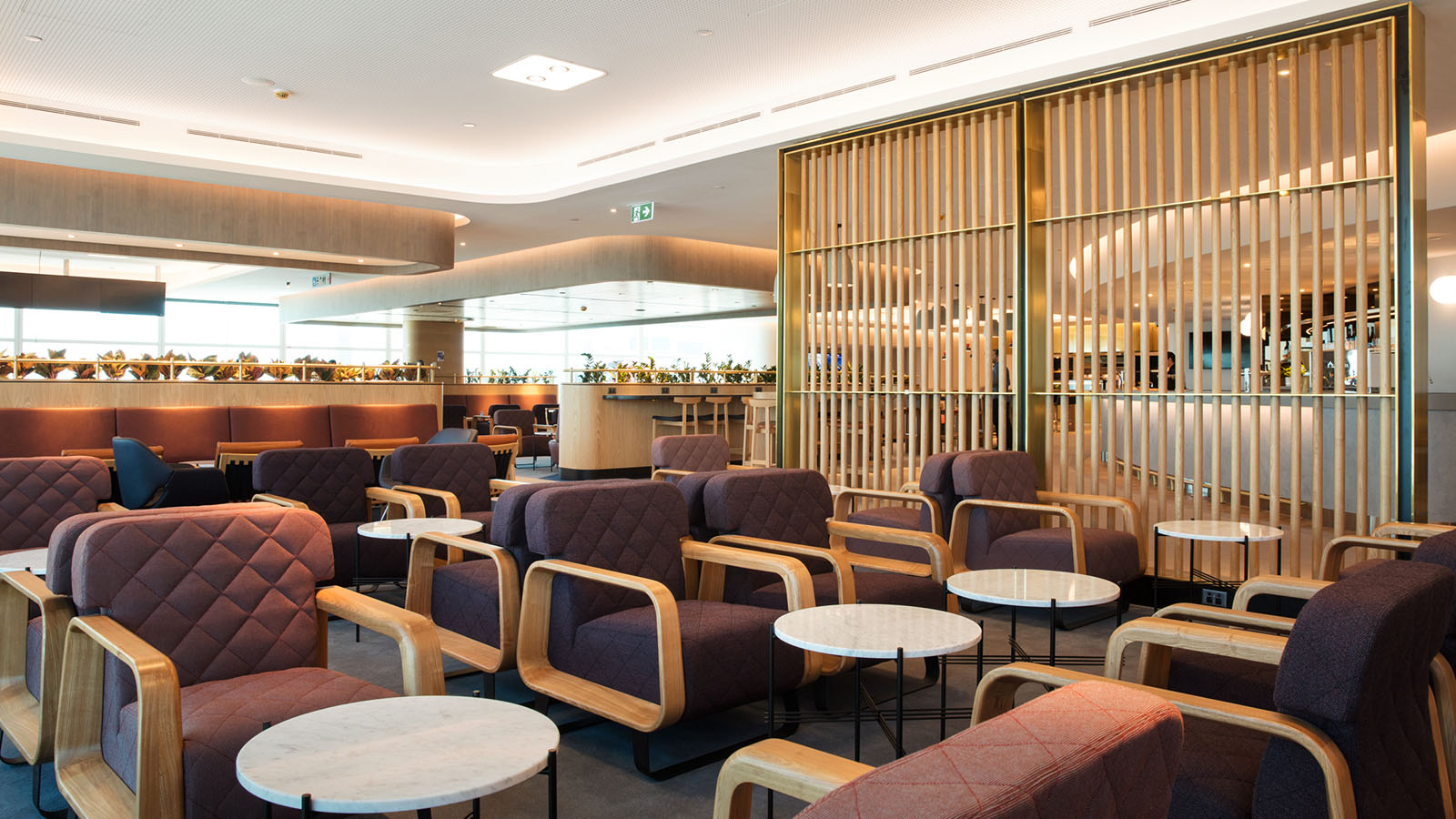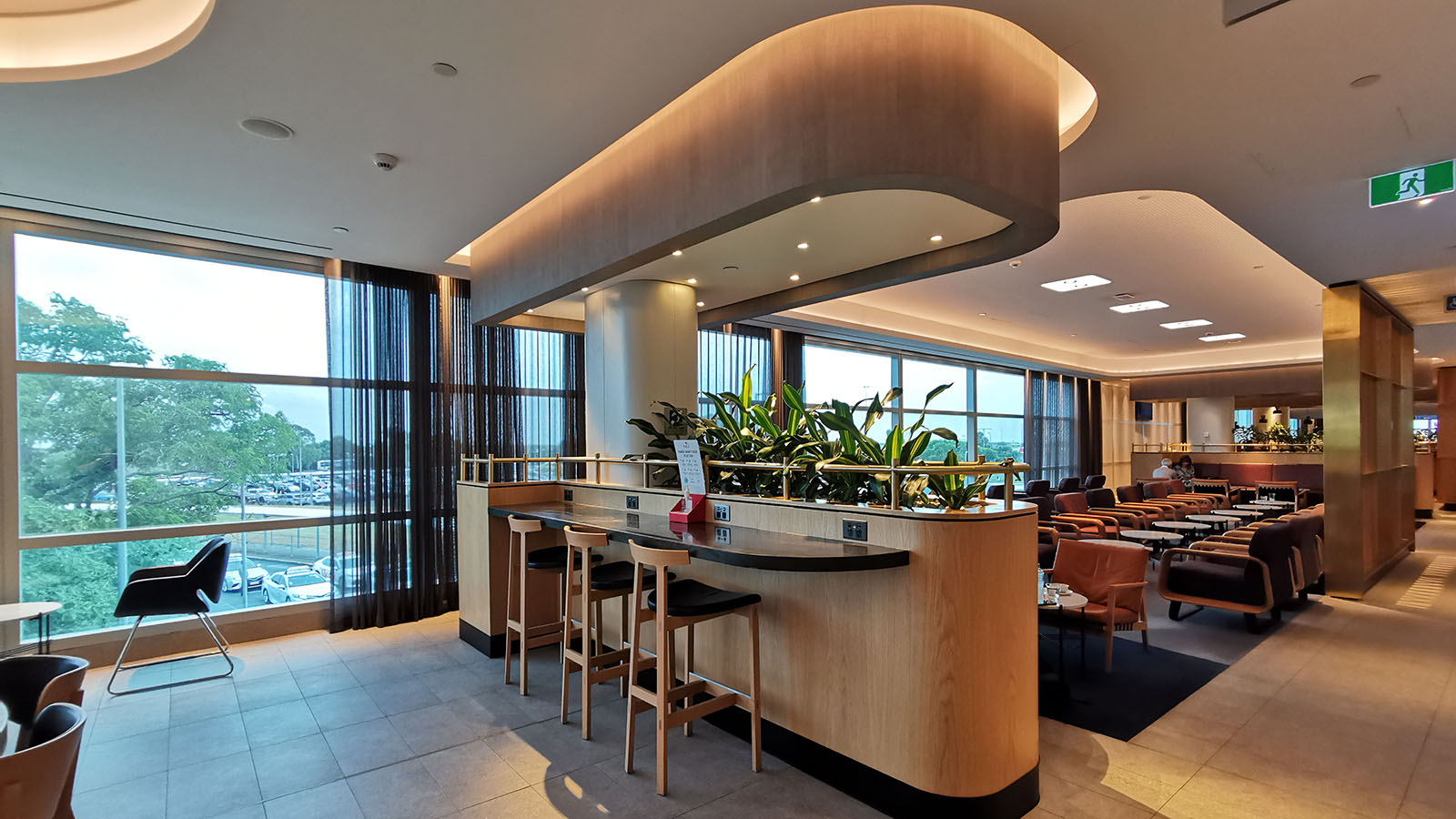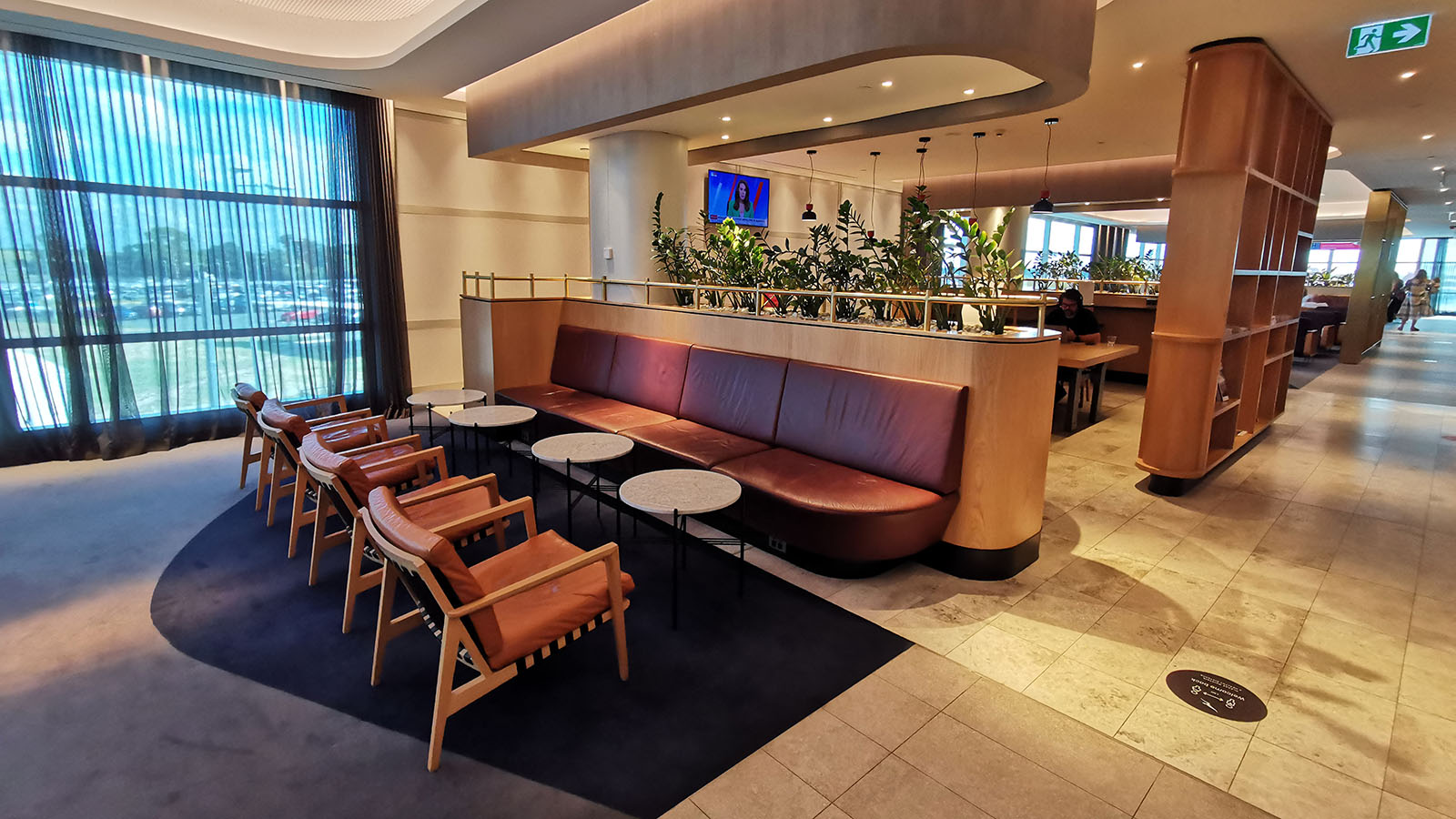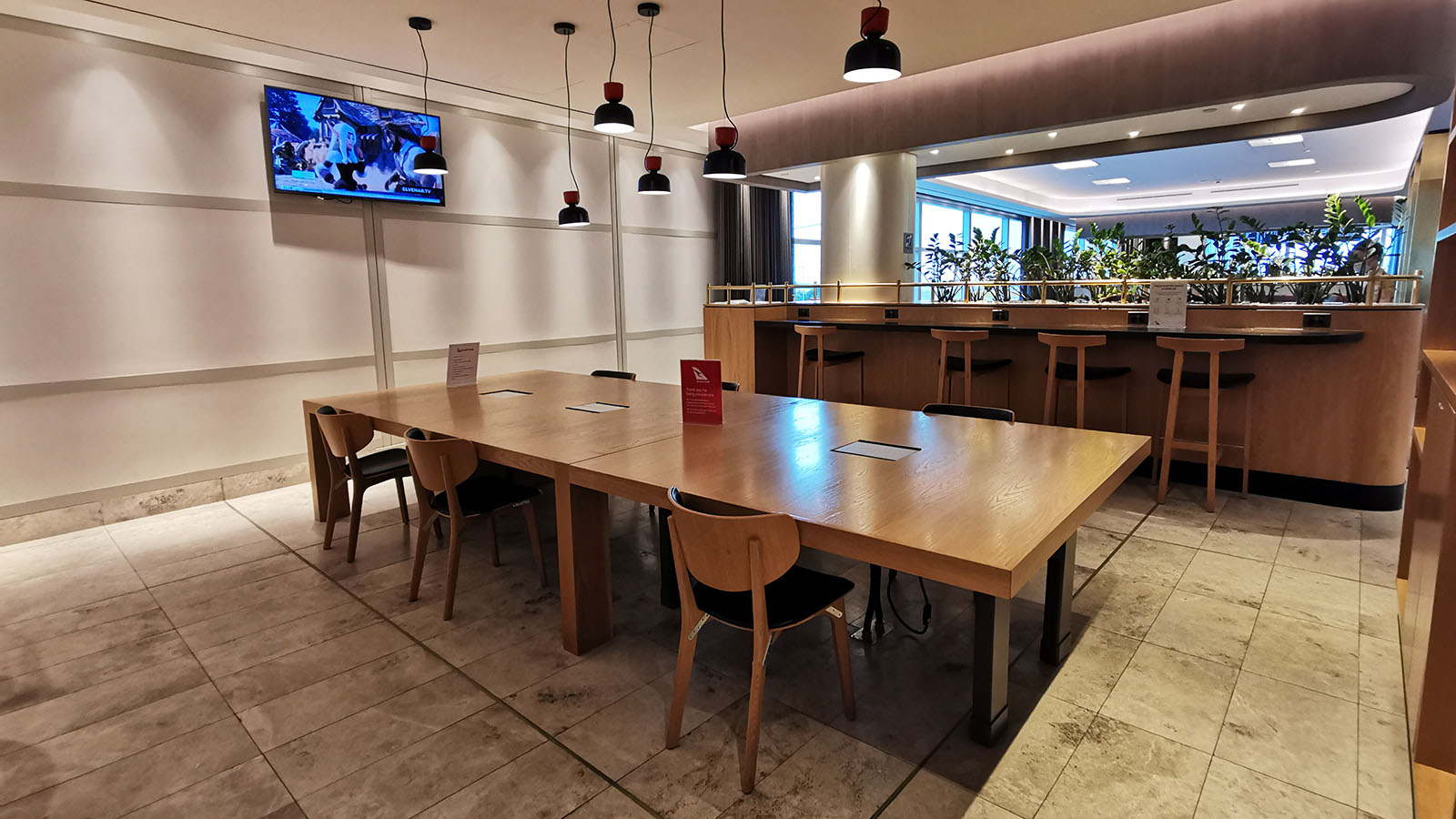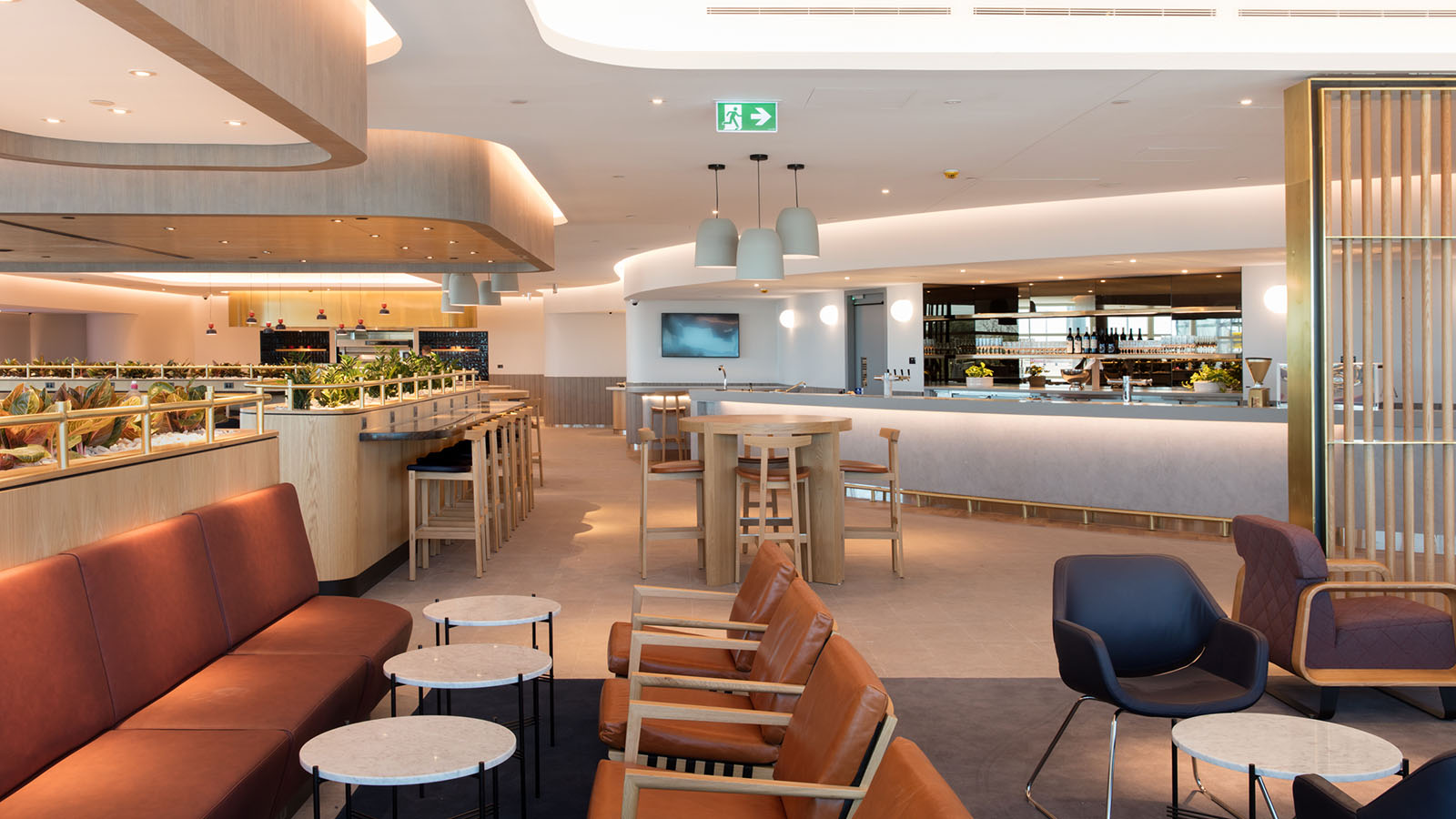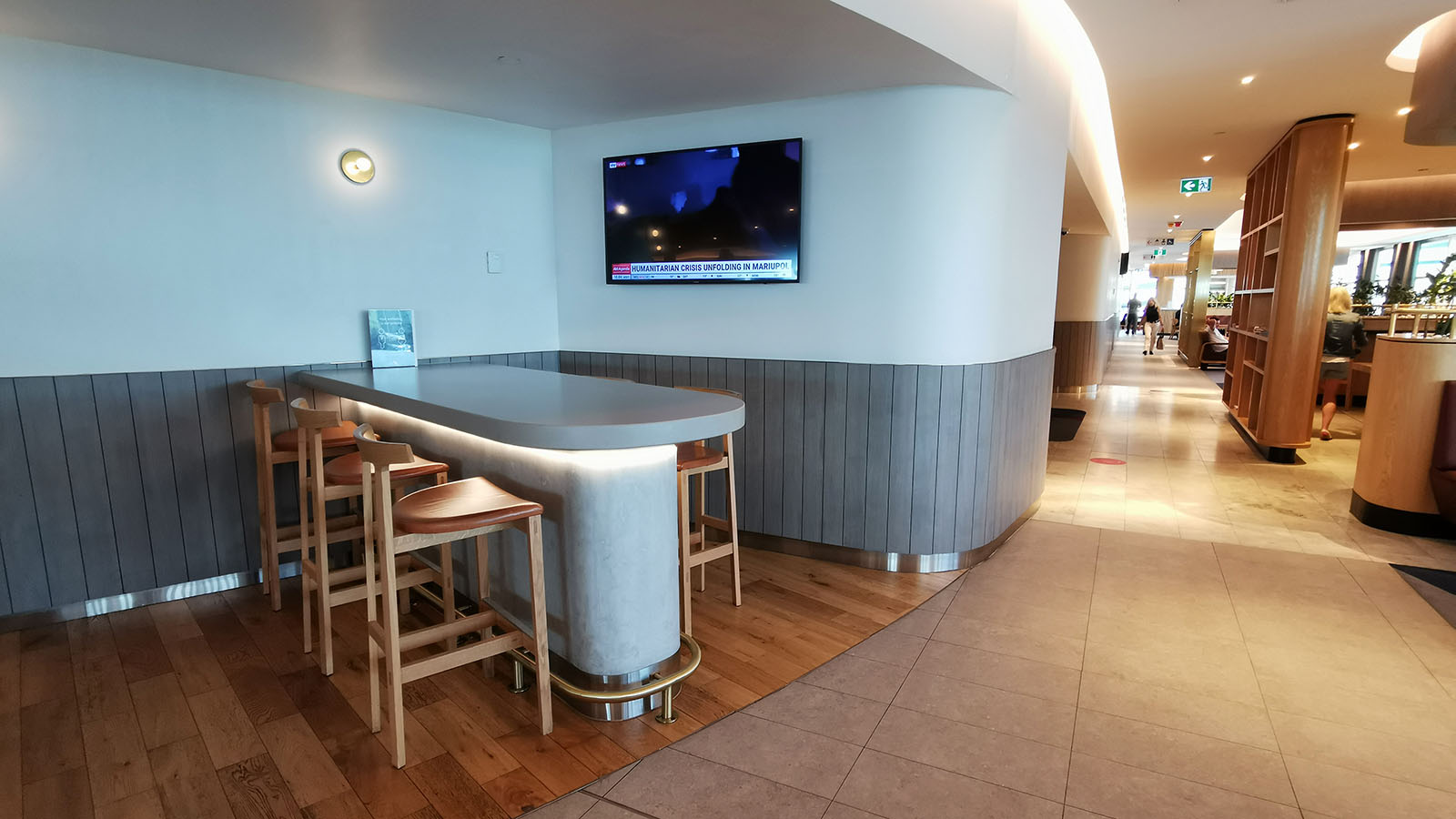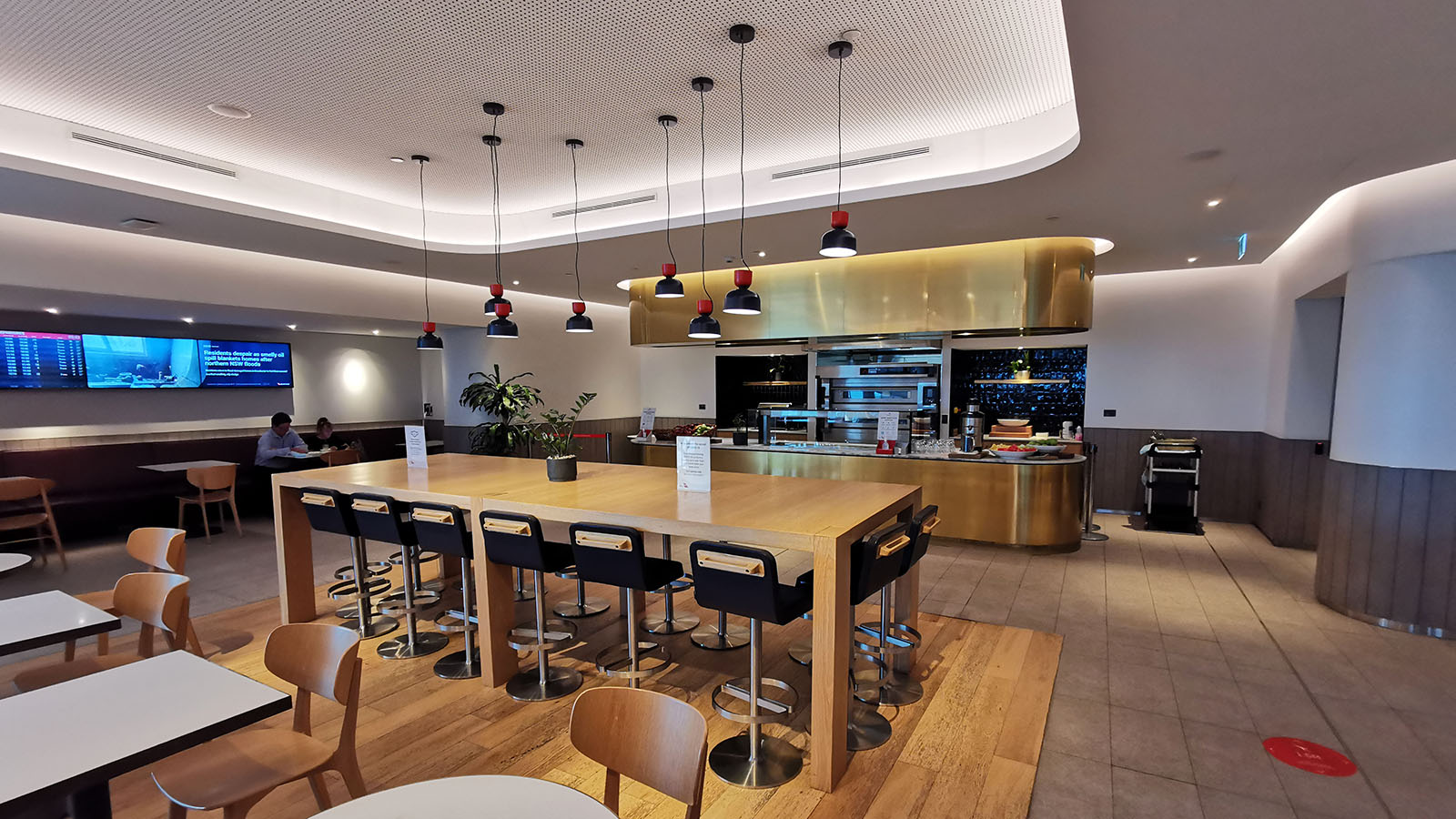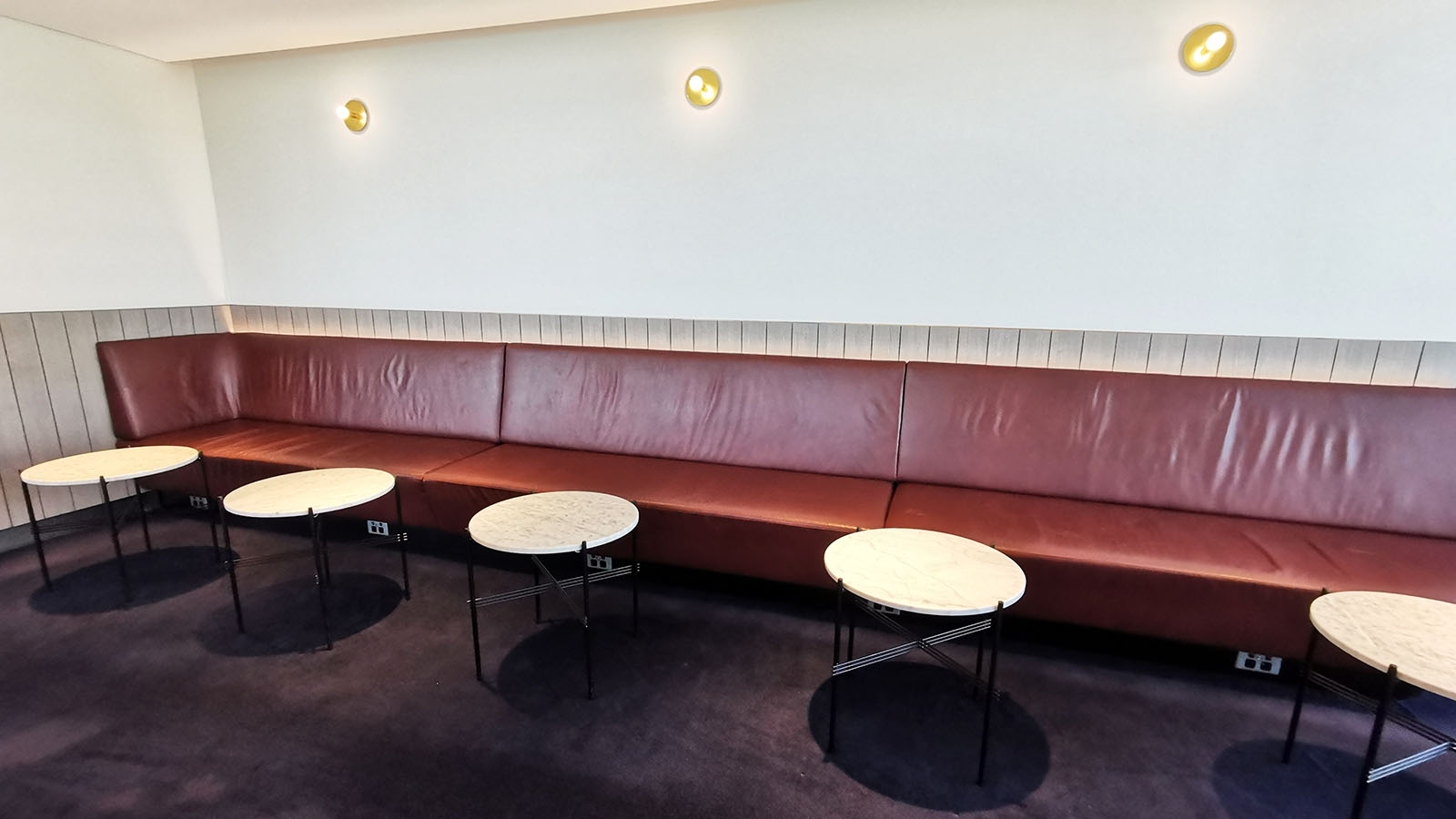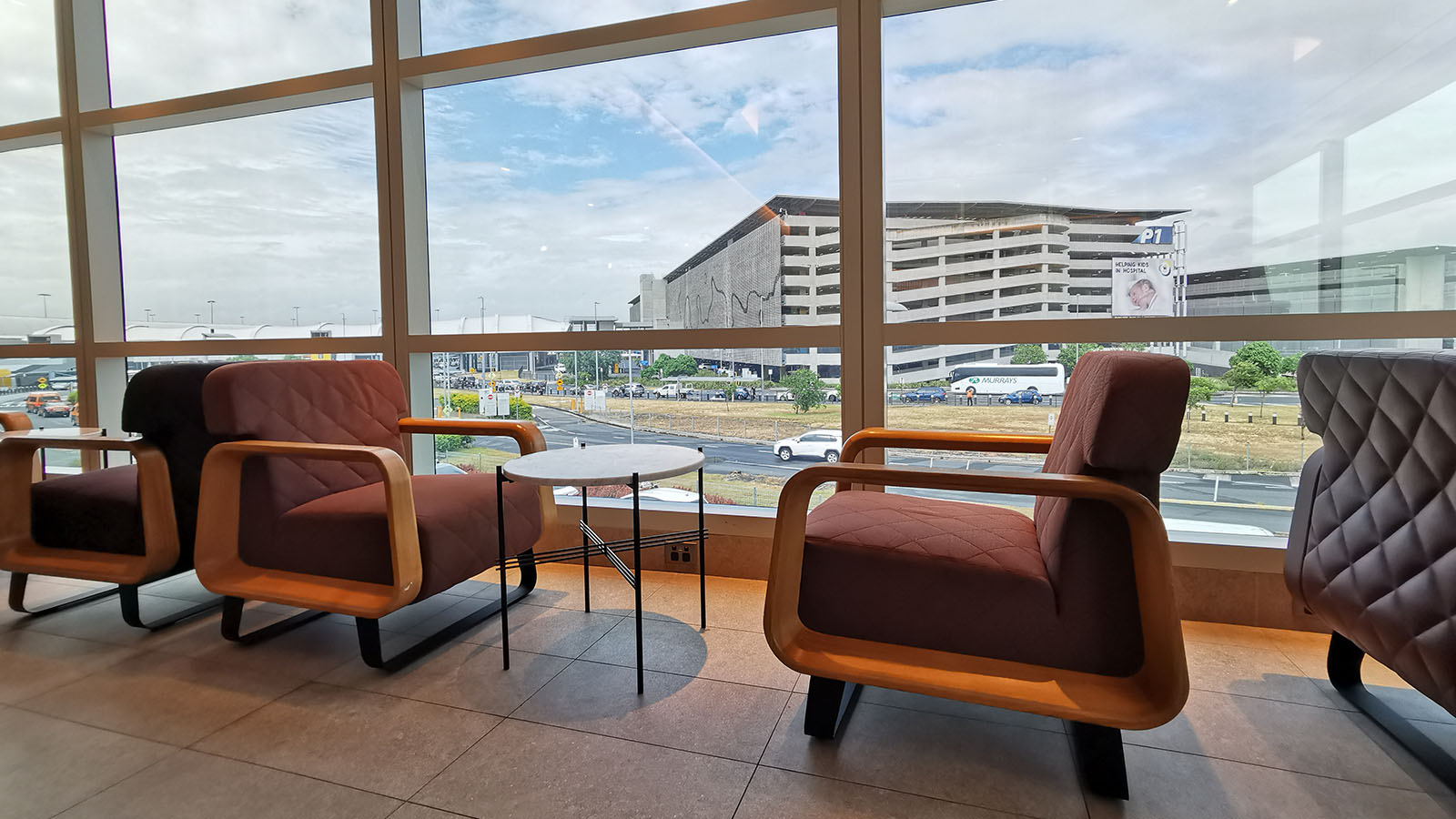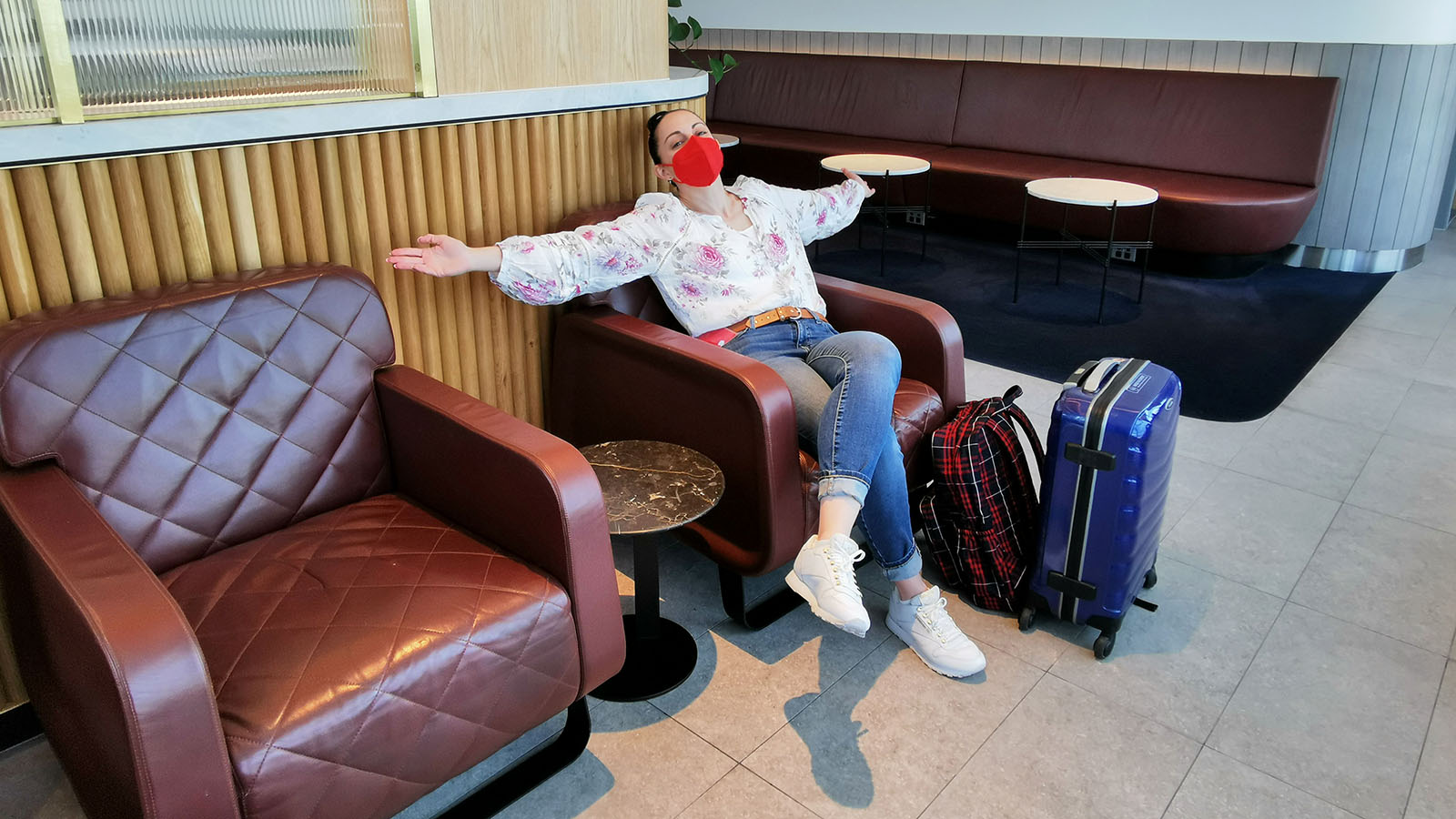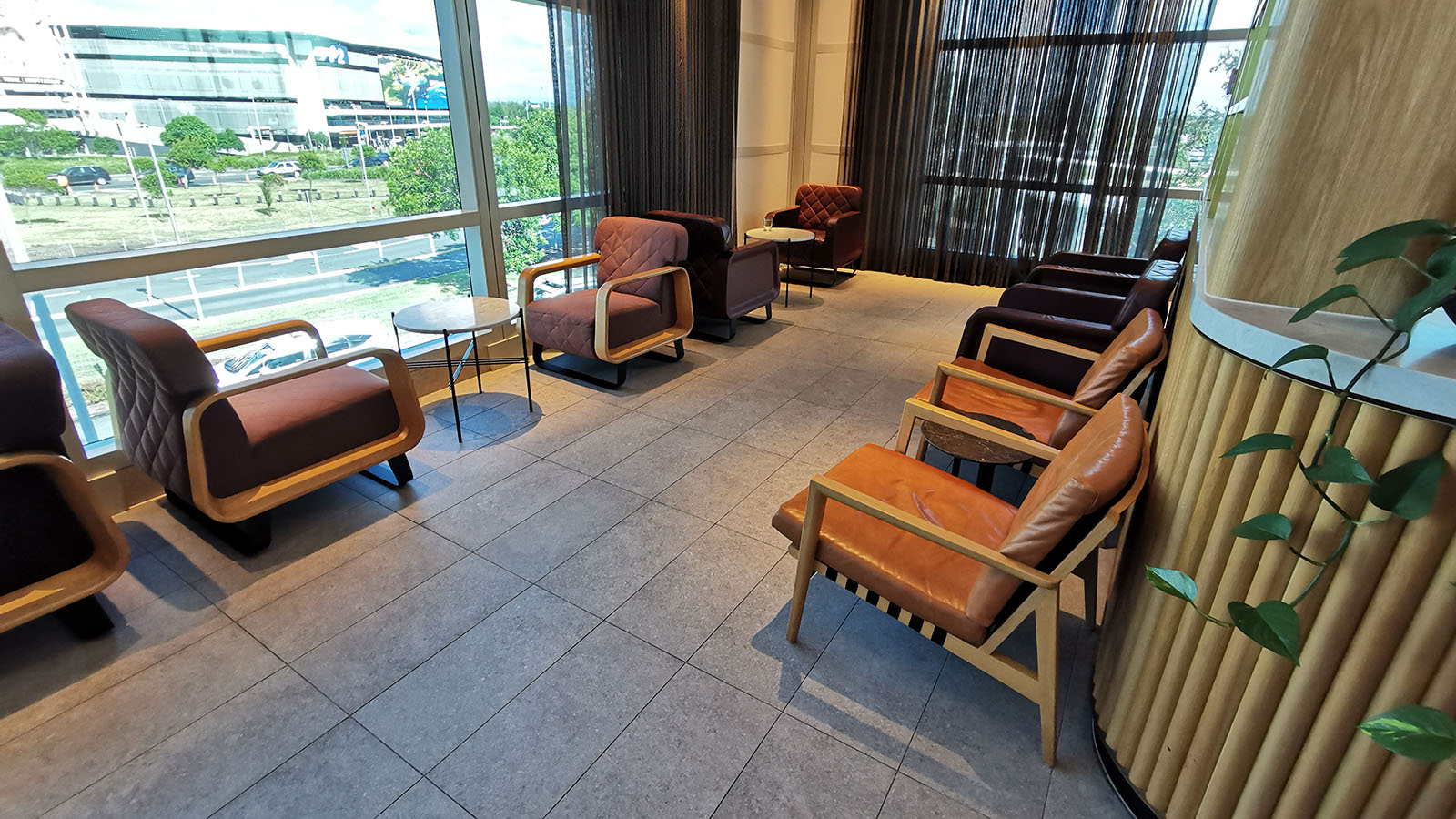 Travellers with a keen eye will observe that the style of this lounge resembles some of Qantas' international facilities, such as the Singapore Business Lounge. It's a noticeable step above the Qantas Club next door, and that's certainly what you want from a higher-tier lounge.
Food and beverage in Qantas' Brisbane Domestic Business Lounge
At the Qantas Domestic Business Lounge, food and beverage starts with a similar baseline as Brisbane's Qantas Club. There's all-day barista coffee, bar service from noon and self-serve hot and cold food from the buffet.
But as with its design, the Business Lounge takes things up a notch here too. There's a Quench station for non-alcoholic refreshments, as well as a broader selection of hot food. For instance, on a day where the Qantas Club had baked beans and hard-boiled eggs, the Business Lounge offered chipolatas and scrambled eggs.
Yoghurts and mueslis are also prepared in ready-to-take serves, and there's a juicer on standby for your own custom creations.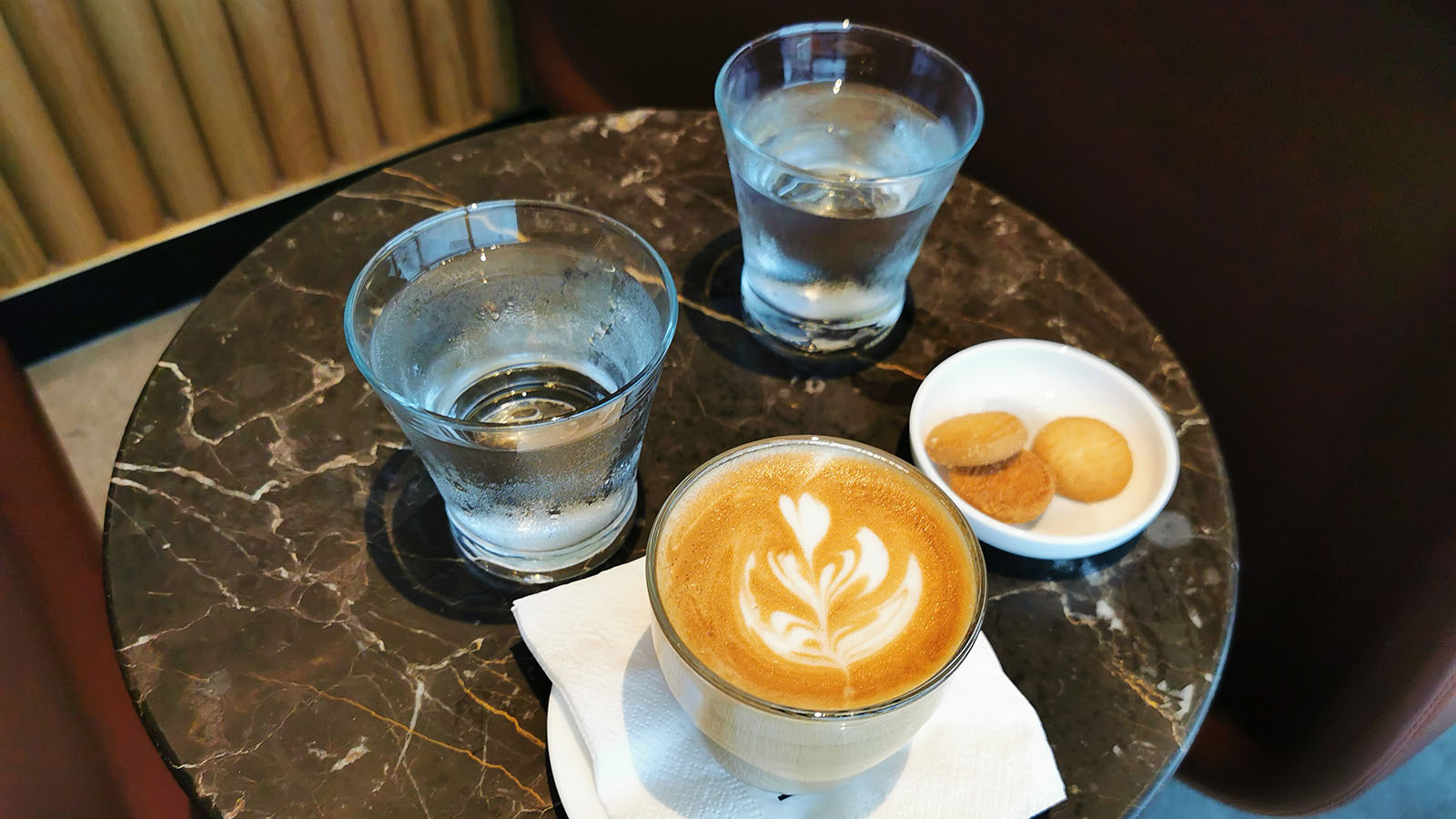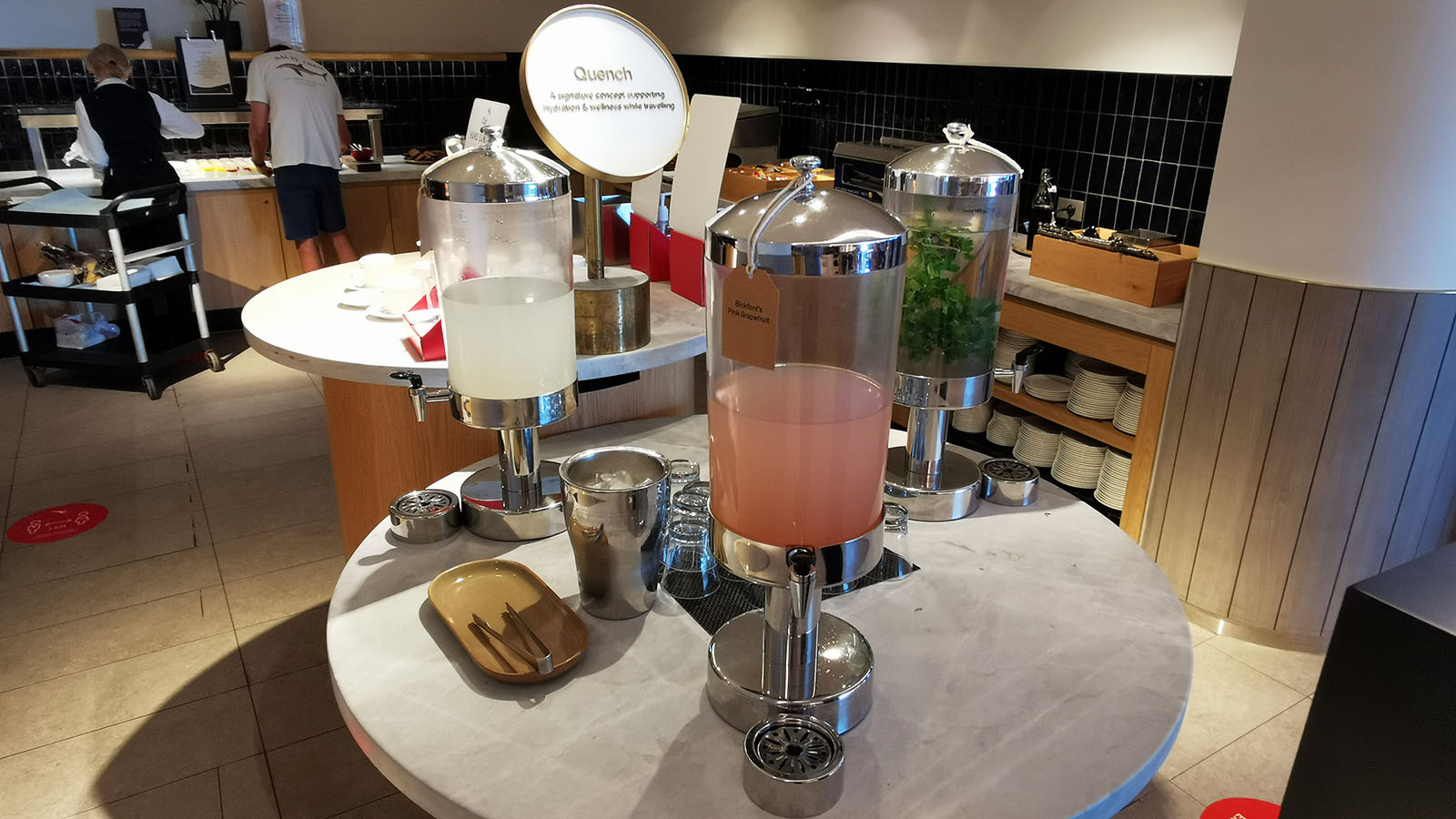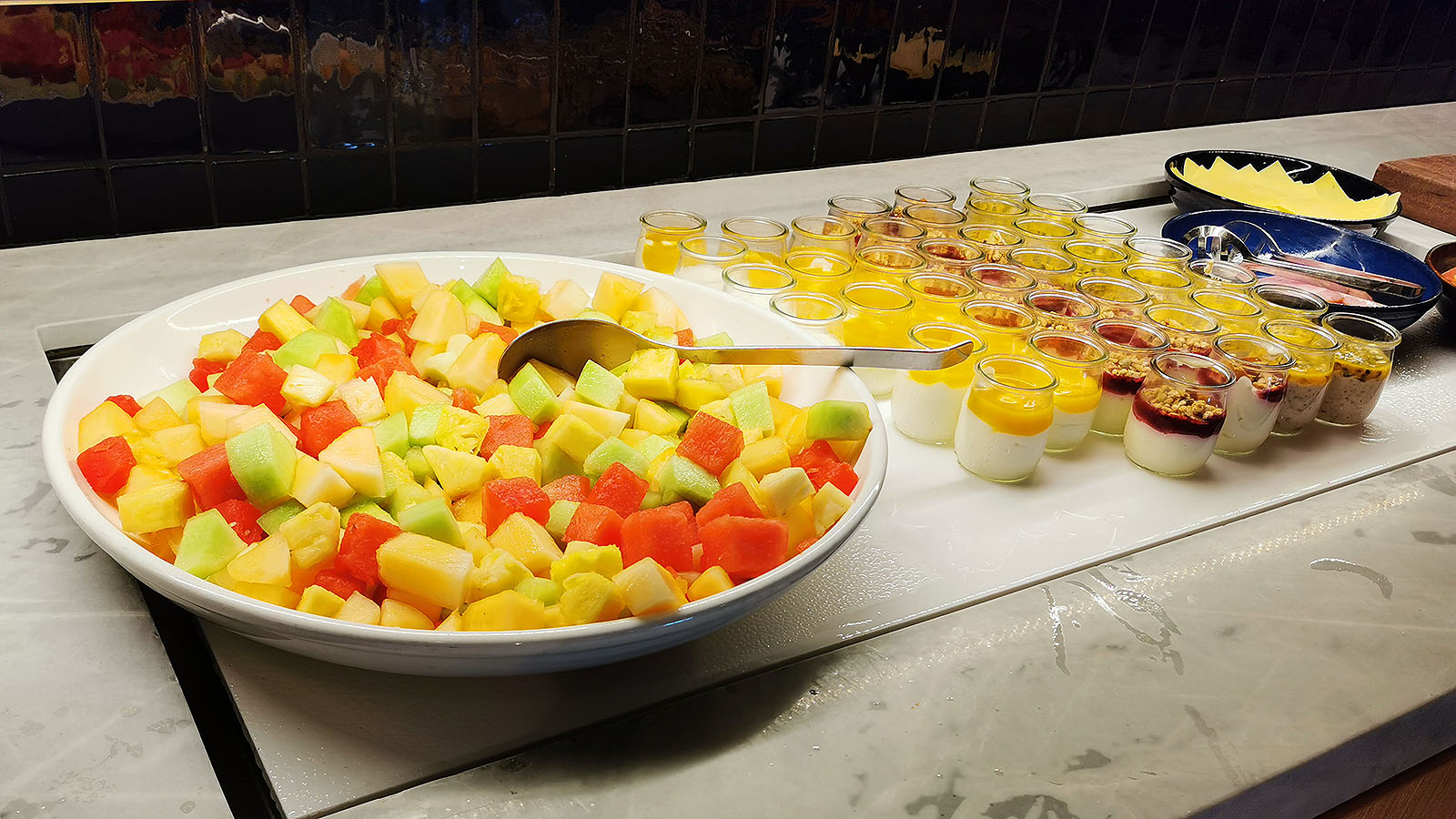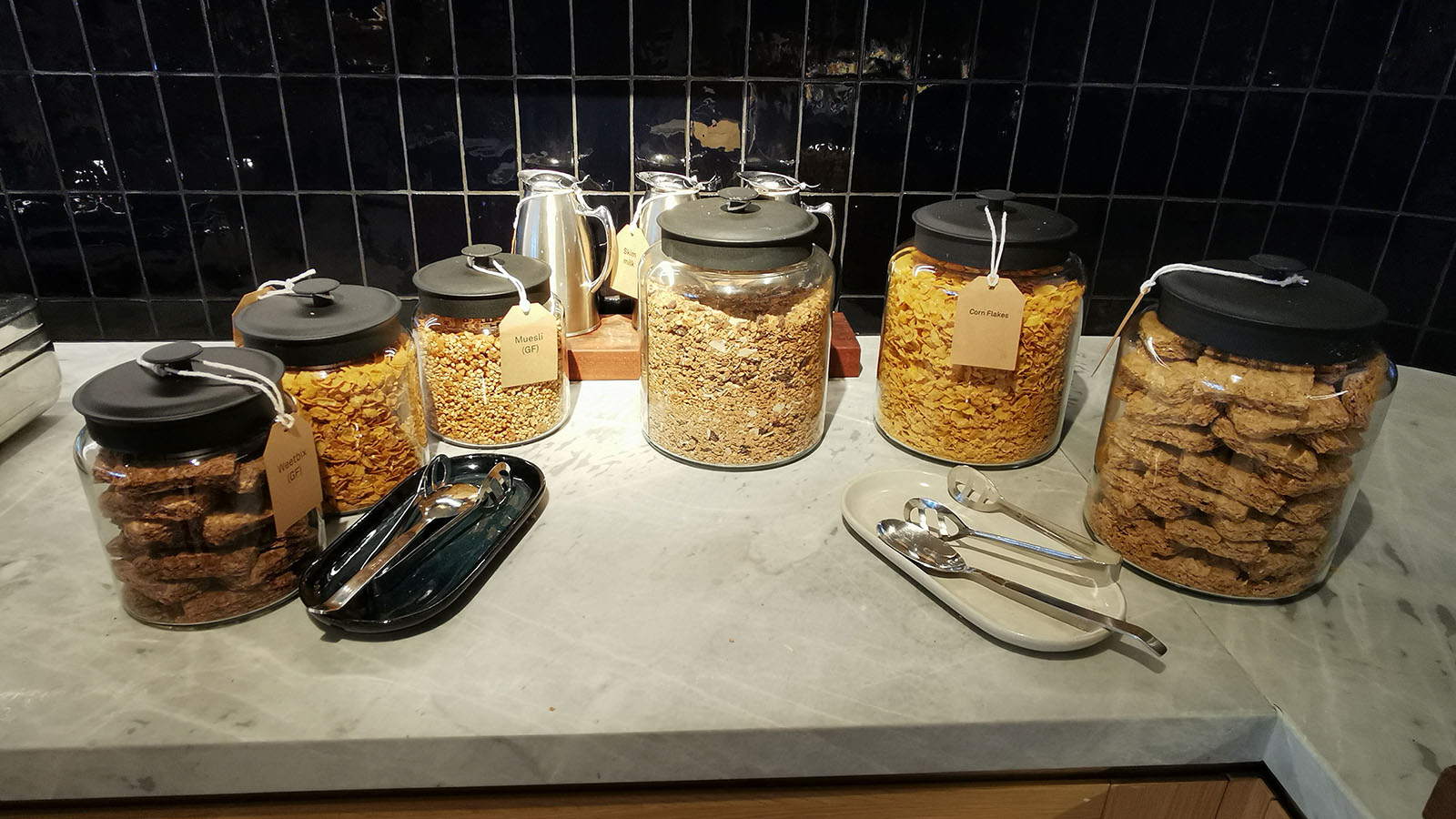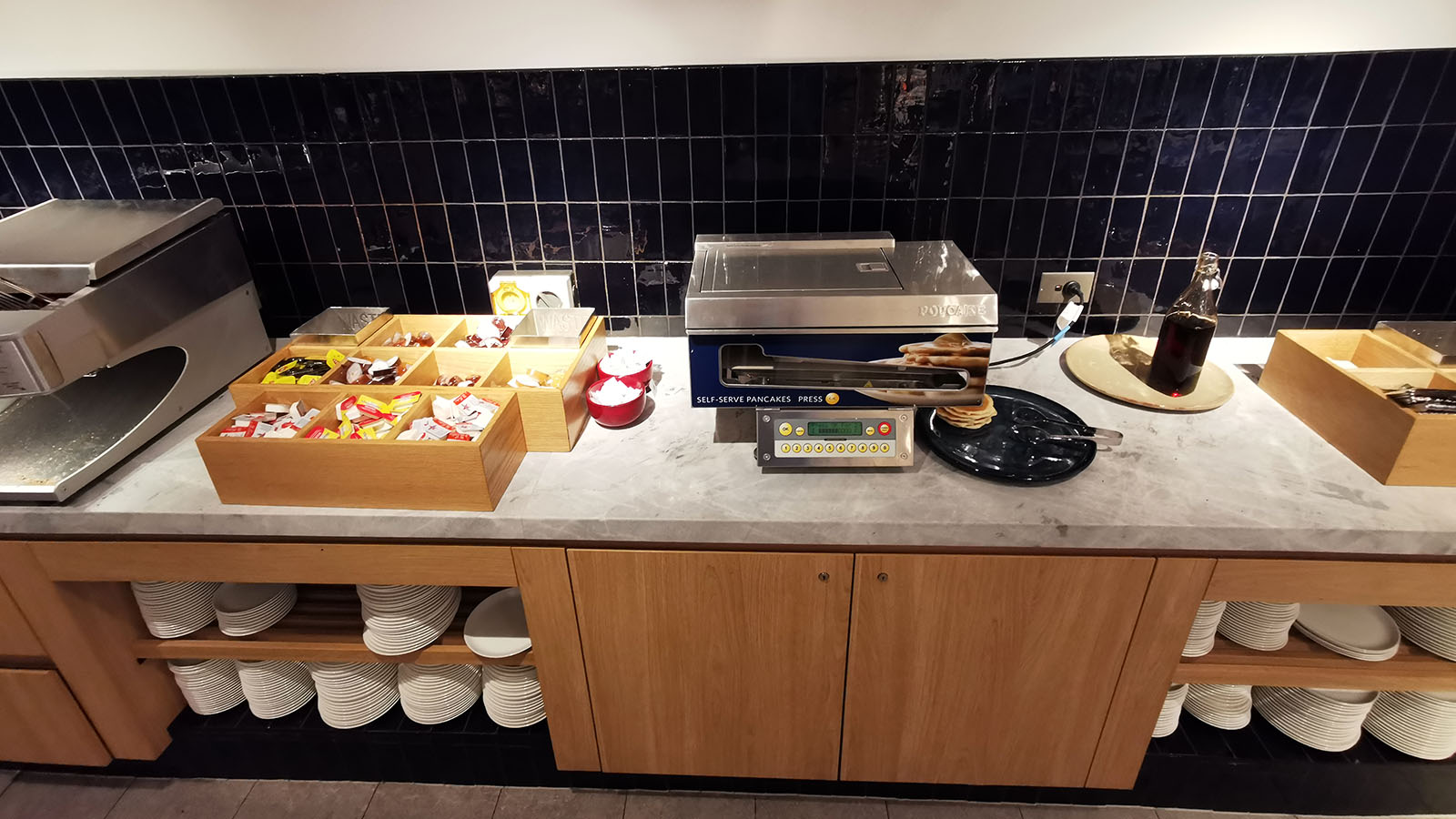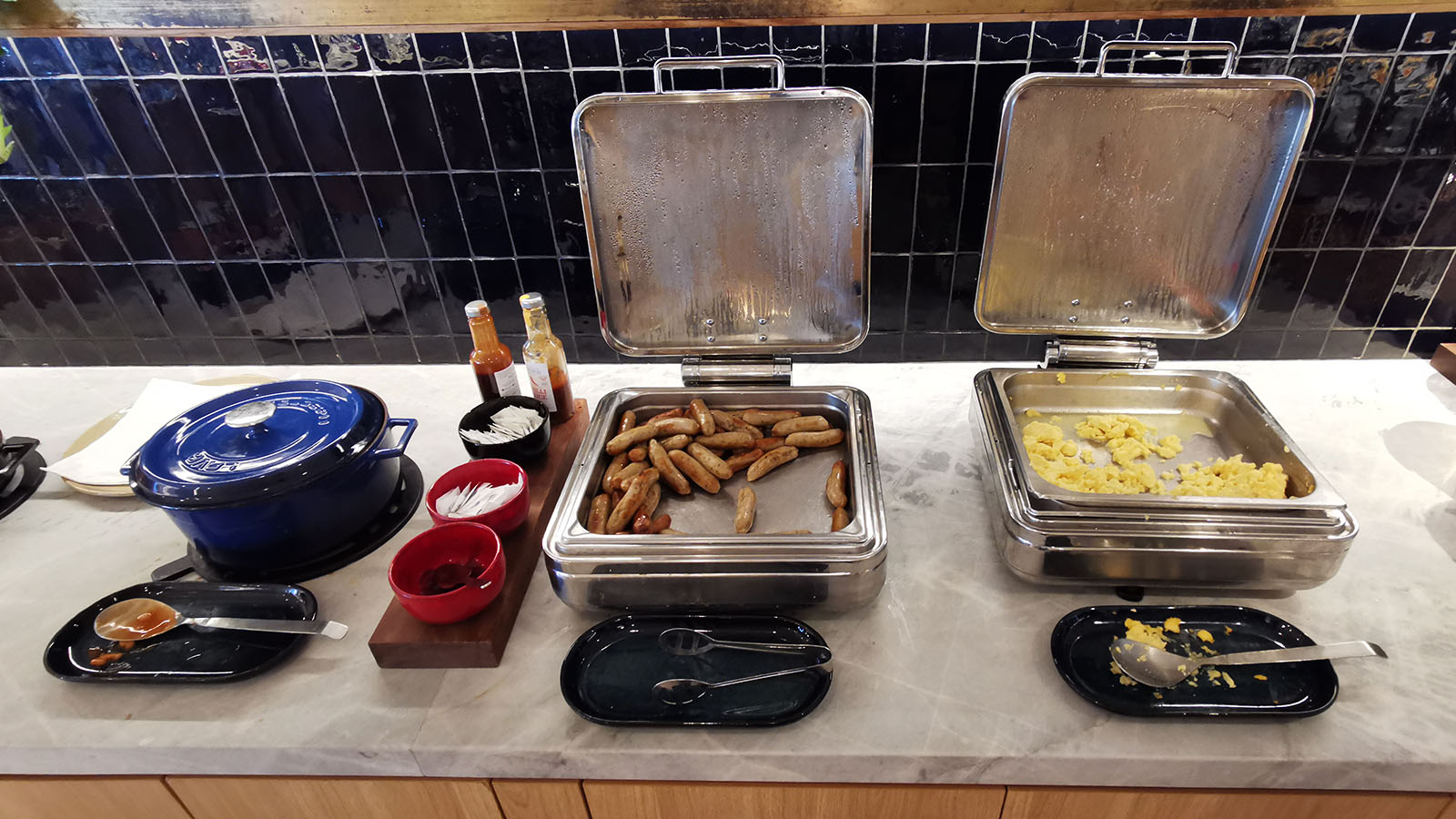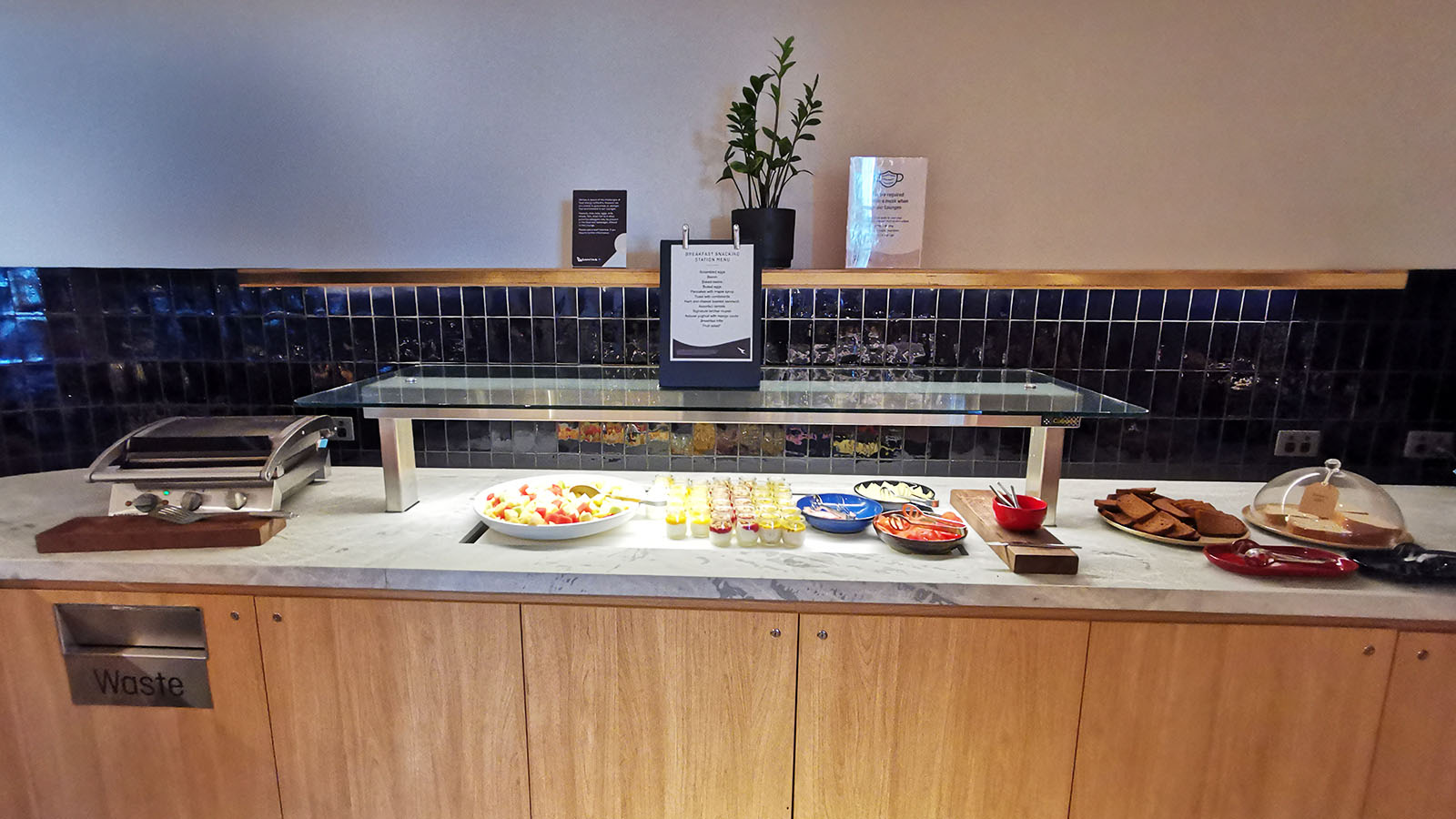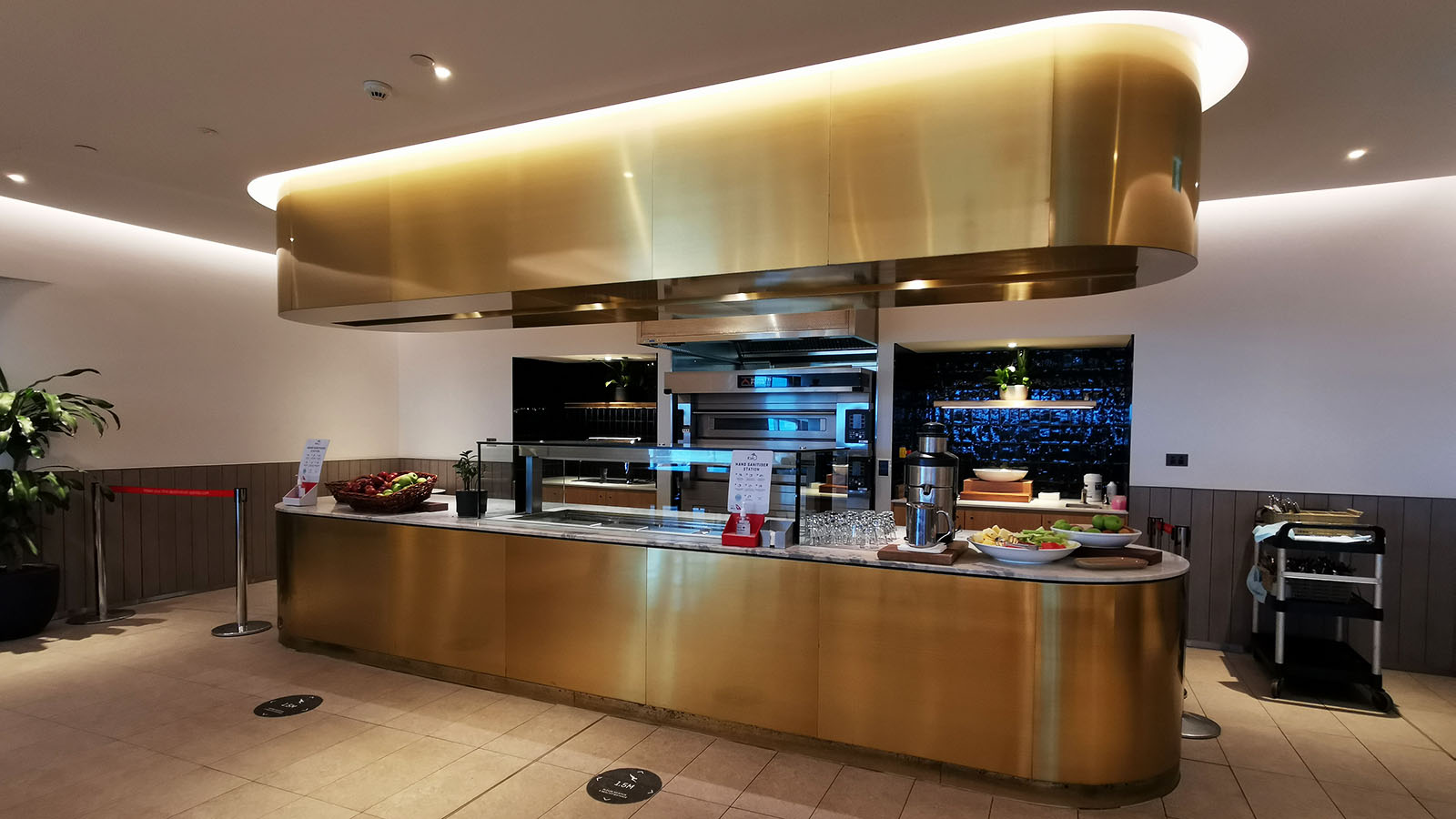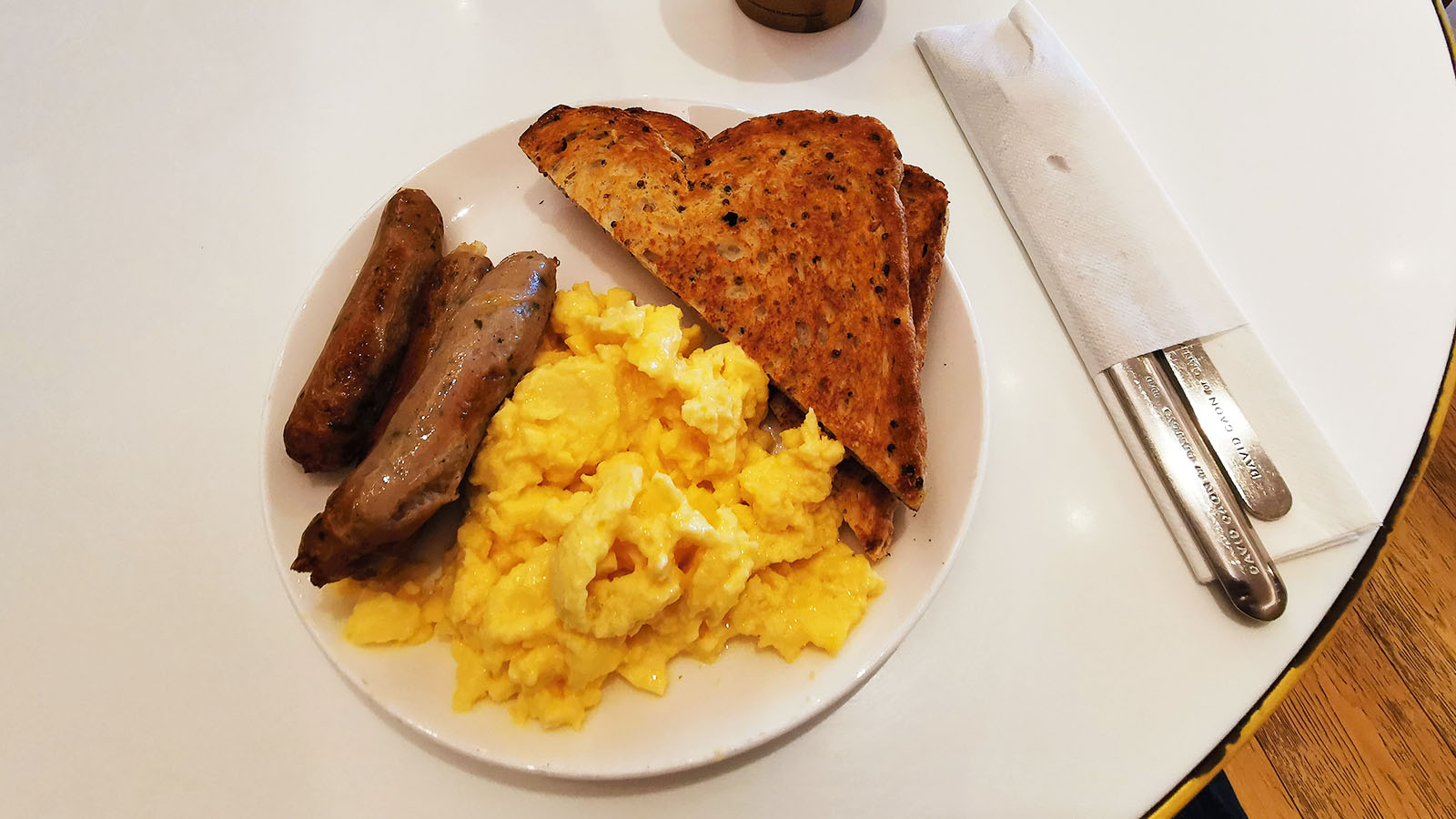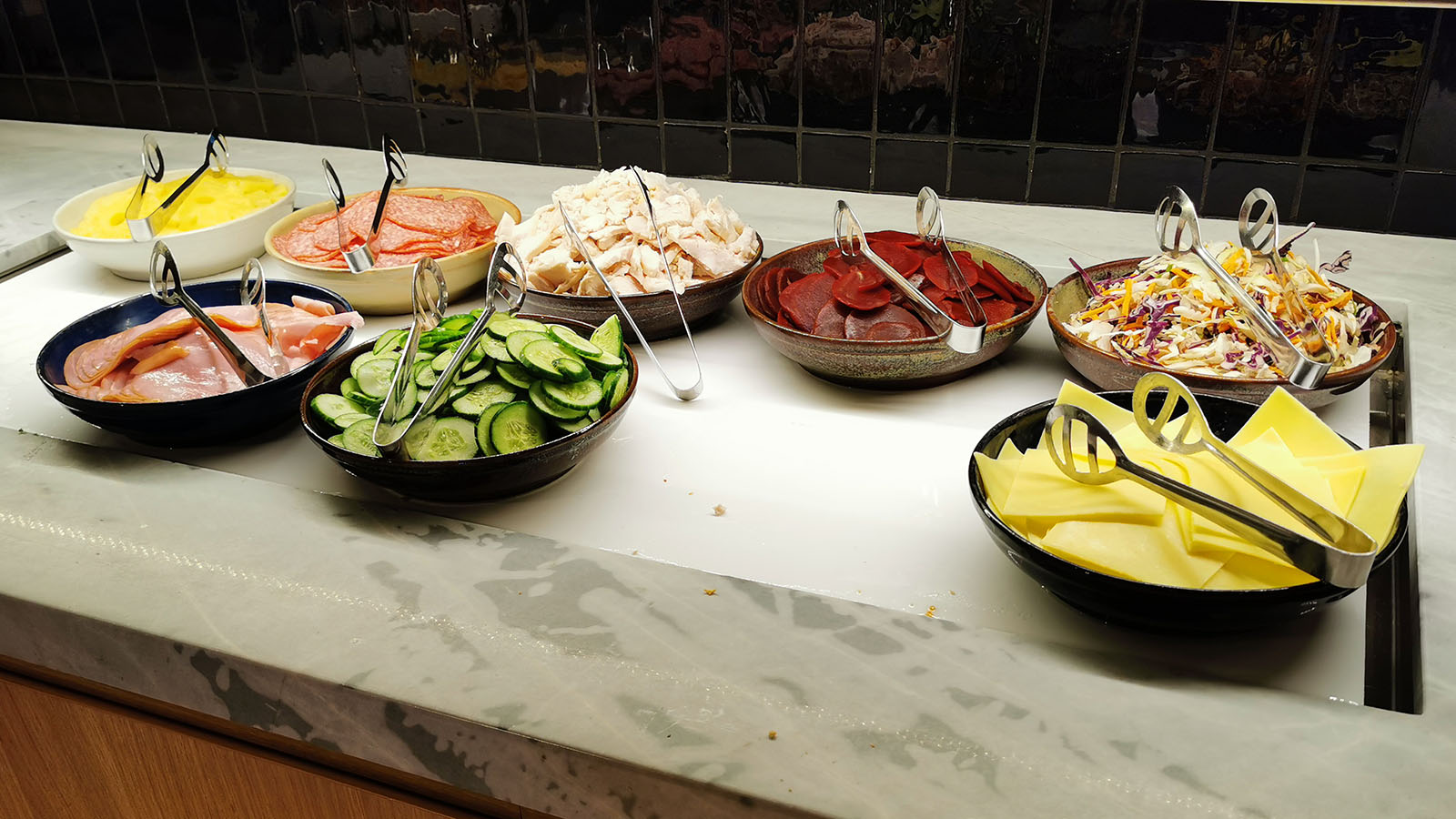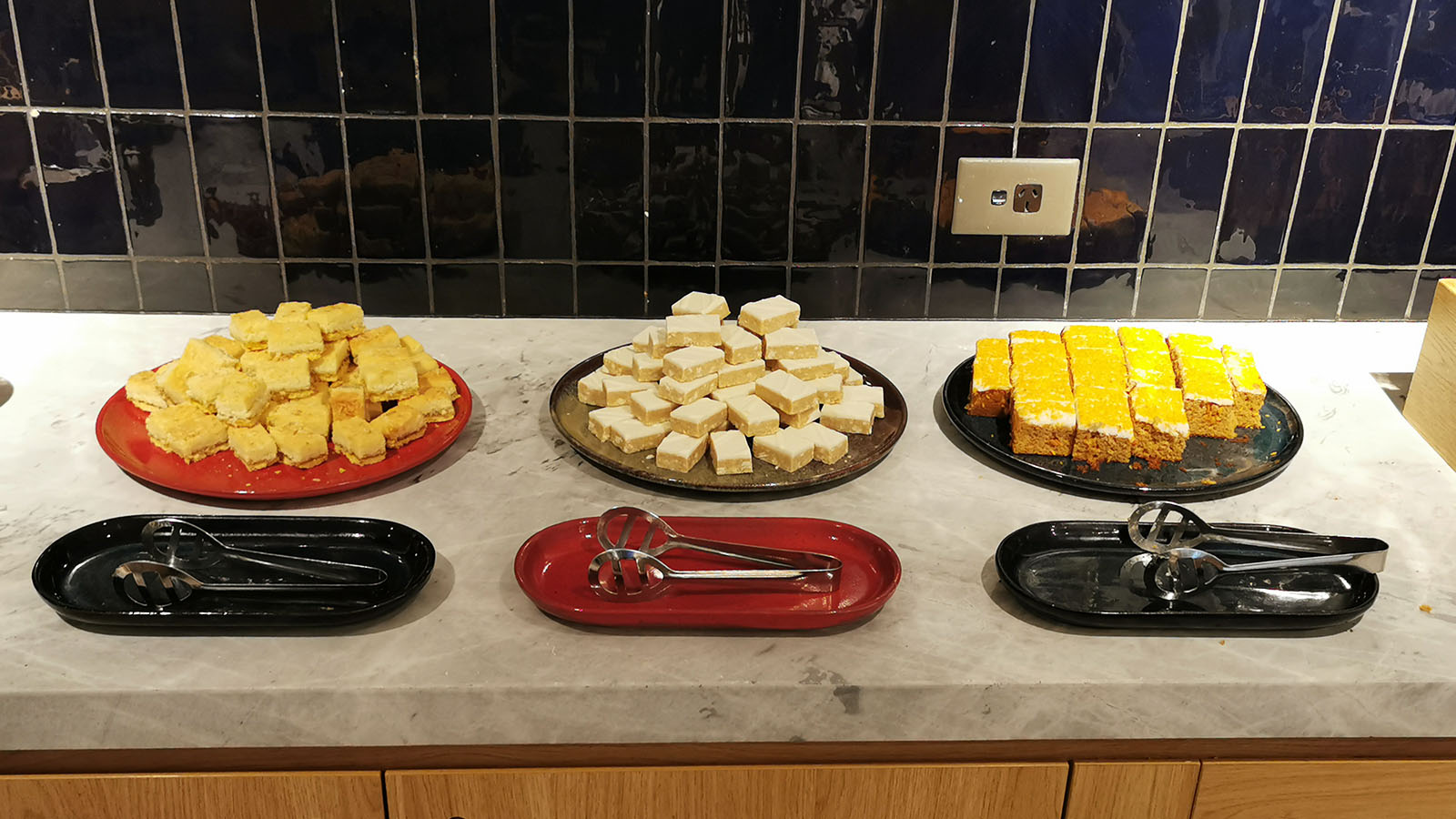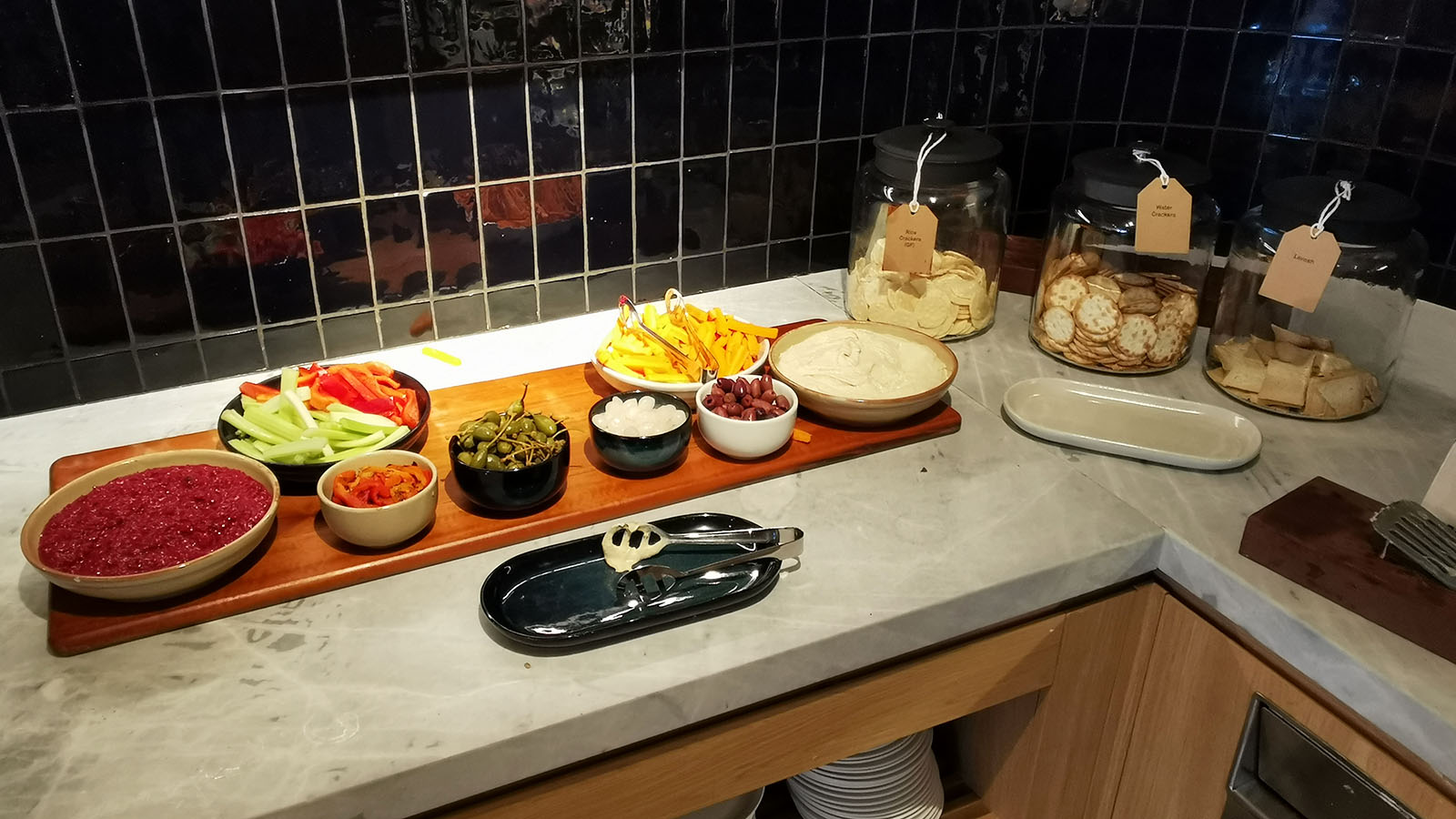 Throughout the day, you'll find a variety of salads and sweets, as well as snacks, dips and crackers. If you can find them, the pineapple lollies are always a hit, and very 'Queensland'.
A broader range of hot food often appears at dinnertime. But as luck would have it, all my visits lately have been during breakfast and lunch. On the rare occasion that I'm flying through of an evening, I look forward to seeing what's on offer.
Lounge amenities
Whether you've had a long day or have a lengthy flight ahead, the showers are open again in Qantas' Brisbane Domestic Business Lounge. You'll find them towards the 'quiet end' of the space.
If you have time to spare, you'll appreciate that the choices of reading material have also now expanded beyond the Qantas inflight magazine. This most recent visit finds several other travel-themed titles to pass the time.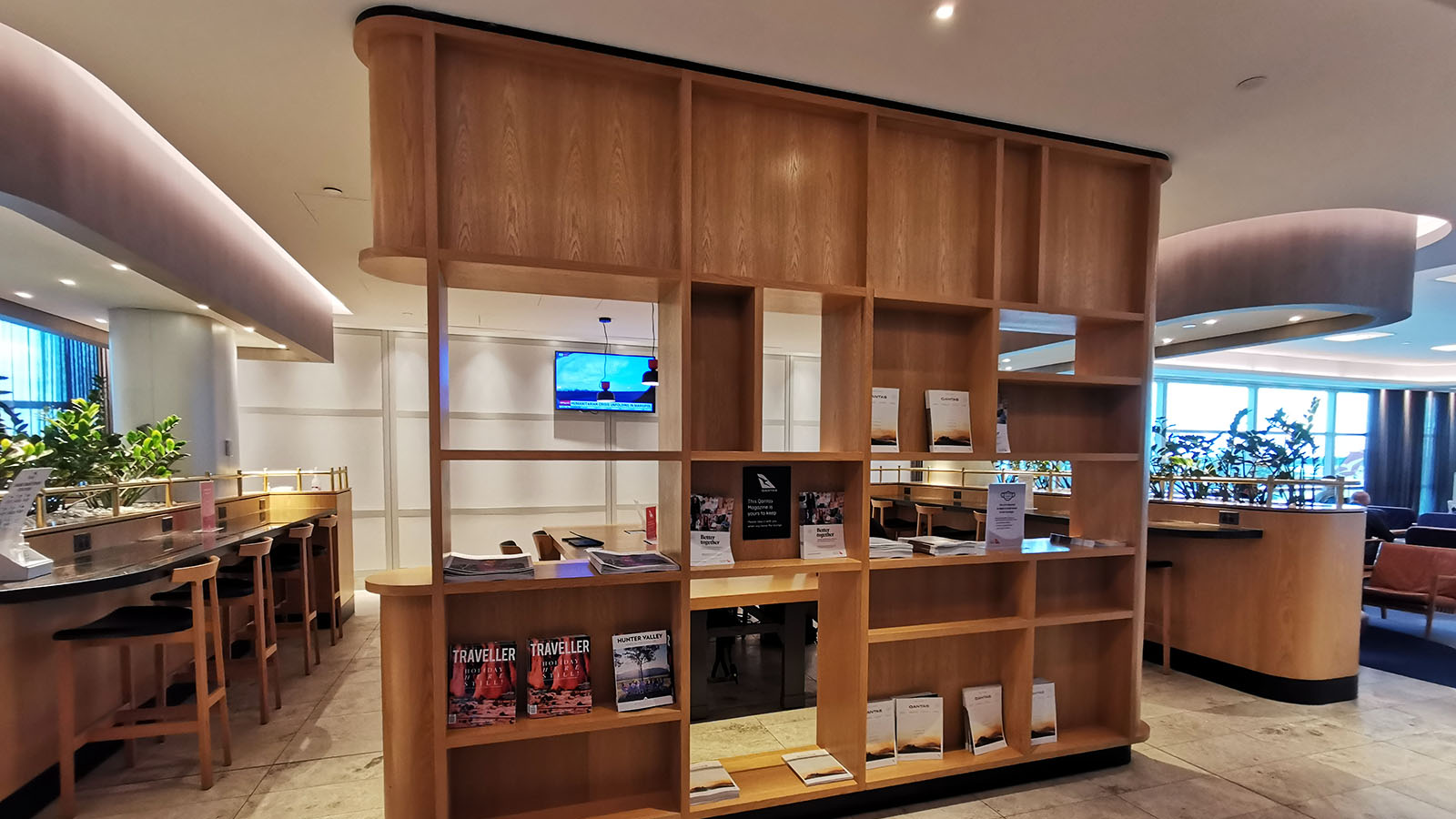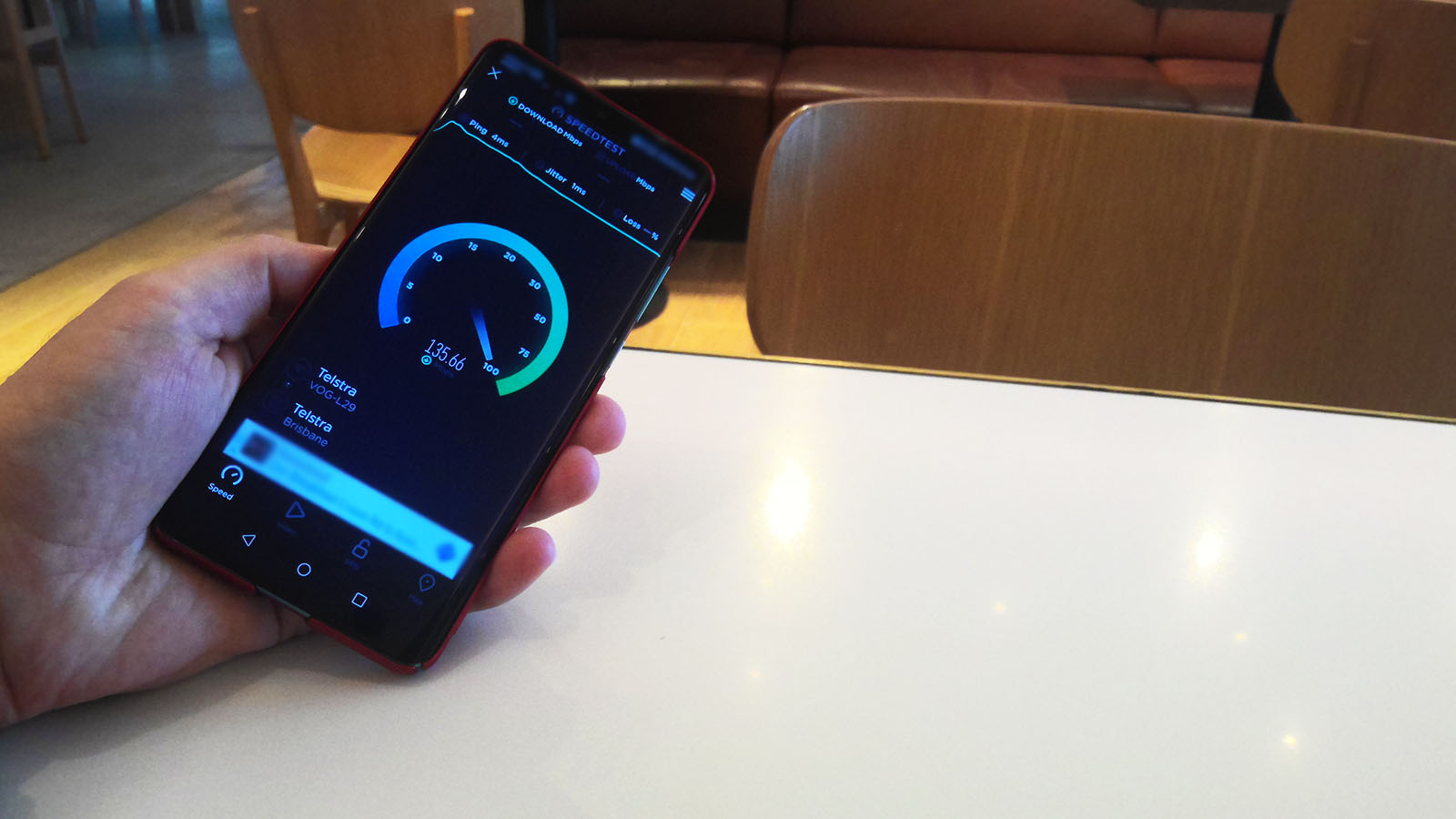 Of course, Wi-Fi is fast and free. And when I say fast, that's download speeds of about 136Mbps. In practical terms, that's fast enough to stream multiple movies in 4K ultra-HD at the same time. Or more realistically, if you're downloading something to watch on your flight ahead, it won't take long.
Accessing Qantas' Brisbane Domestic Business Lounge
Brisbane Airport is home to three Qantas domestic lounges: there's this Business Lounge, the Qantas Club and the secret Chairman's Lounge.
Each caters to a different crowd, so here's a list of those who'd normally call the Domestic Business Lounge home.
Class of travel: those with an onward Qantas or QantasLink flight in Business.
Connecting flights: passengers with a same-day international flight in Business or First on Qantas, Emirates or any oneworld Alliance airline. This grants entry into the Domestic Business Lounge even if the domestic flight is in Economy. However, this doesn't apply if you're flying Jetstar.
Elite Qantas Frequent Flyer status when travelling on Qantas, QantasLink or Jetstar:

Qantas Platinum (+2 guests).
Qantas Platinum One (+2 guests).

Airline partner frequent flyer status, when departing on Qantas or QantasLink (not Jetstar):

oneworld Emerald (+1 guest).
Emirates Skywards Platinum and above (+1 guest).
China Eastern Miles Platinum (+1 guest).
If you're travelling with kids, head to the Qantas website to review the latest policies on lounge entry. Usually, children under 18 don't count as your 'guest' above, although limits apply and vary based on age.
Summing up
As one of Qantas' newer-style Domestic Business lounges, the airline's facility in Brisbane remains a great place to begin any journey. It may have debuted five years ago now, but it still stands as one of the better Business lounges in the domestic network.
The X-factor facility of Premium Lounge Entry also sets it apart from other Qantas lounges across the country. But as noted in our Qantas Club review, the 'premium' queues here can be exceptionally long at peak times.
We'd love to see Premium Lounge Entry expanded, as it was initially designed to do, to keep up with demand as travellers surge back to the domestic skies.
Photography by Chris Chamberlin, who regularly visits the lounge when travelling in Qantas Business. Feature image courtesy of Qantas.
---
Stay up to date with the latest news, reviews and guides by subscribing to Point Hacks' email newsletter.
Qantas Domestic Business Lounge, Brisbane
was last modified:
December 9th, 2022
by