Apart from maximising Velocity Status Credits by flying on Virgin Australia themselves, you can also earn Status Credits (SCs) on Virgin Australia's partner airlines, including Singapore Airlines, Etihad, SilkAir, Alitalia, Hong Kong Airlines and South African Airways.
Singapore Airlines and Delta are especially unique in the way they price their fares. In some cases, it is possible to pay a little bit more, but then double or triple your haul of these valuable SCs.
Singapore Airlines
For example, check out the different fares for a flight from Sydney to Seoul return on Singapore Airlines:

SQ Sydney to Singapore to Seoul (return) Status Credit Comparison
Fare Type
Ticket Price (avg)
Status Credits
Cost per SC
Economy Saver
$1158
100
$11.58
Economy Flexi Saver
$1213
200
$6.06
Economy Flexi
$1753
200
$8.77
Premium Economy
$2413
300
$8.04
Business
$4736
400
$11.84
The 'Economy Flexi Saver' is the obvious standout here. It earns double the SCs (200) of the cheapest ticket (100) for just a $55 increase in price, plus you also get the added perks of a more flexible fare.
If a family of two adults and one child booked the 'Economy Flexi Saver' fare, with Family Pooling the nominated beneficiary would receive 600 SCs, enough to achieve Velocity Gold with room to spare.
Delta
Delta's Comfort+ product earns at the Premium Economy rate, leading to a massive 300% increase in the SCs you'll get with Velocity:
DL Sydney to Los Angeles to San Francisco (return) Status Credit Comparison
Fare Type
Ticket Price (avg)
Status Credits
Cost per SC
Main Cabin
$1242
100
$12.42
Delta Comfort+
$1795
300
$5.98
Delta One
$7285
400
$18.21
By paying $553 more over the discount economy Main Cabin (read: Economy) fare, you'll triple your SC earn and also get an extra legroom seat for the 17- to 19-hour journey each way, which you may consider a fair upgrade price.
A couple travelling together and using Family Pooling could get one of themselves to Velocity Gold, whereas in Main Cabin they wouldn't even reach Silver.
Two parents and two children could get one person straight to Platinum, or two people to Gold if they switched their Family Pooling beneficiary midway through the trip.
Ad – Scroll down to continue reading.Minimum spend, terms & conditions apply.
Status runs
The US has lots of opportunities for status runs, meaning Delta also comes into play as Velocity's main partner here.
One possible routing visits five cities with some indirect connections, earning different SCs depending on the fare booked:
| US status run with Delta (in quickest possible time) | Main Cabin | Delta Comfort+ |
| --- | --- | --- |
| Day 1: LA - San Francisco via Portland and Seattle | 15 + 10 + 10 | 45 + 30 + 30 |
| Day 2: San Francisco to Las Vegas via LA | 10 + 10 | 30 + 30 |
| Day 2: Las Vegas to Denver via Salt Lake City | 10 + 10 | 30 + 30 |
| Total SCs | 75 | 225 |
| Total ticket price in AUD | $459 | $616 |
| Cost per SC | $6.12 | $2.73 |
For $157 more, you'll get an extra 150 SCs, fly in extra legroom seats and have complimentary beverages, which is excellent value, especially if you can space the flights out apart more and turn it into a holiday, rather than a meaningless overnight trip.
It takes time and patience to play around with booking engines and finding a routing that suits you!
Google Flights is easy enough to use to string different destinations together and come up with an estimated price before you head to the actual airline's website to book.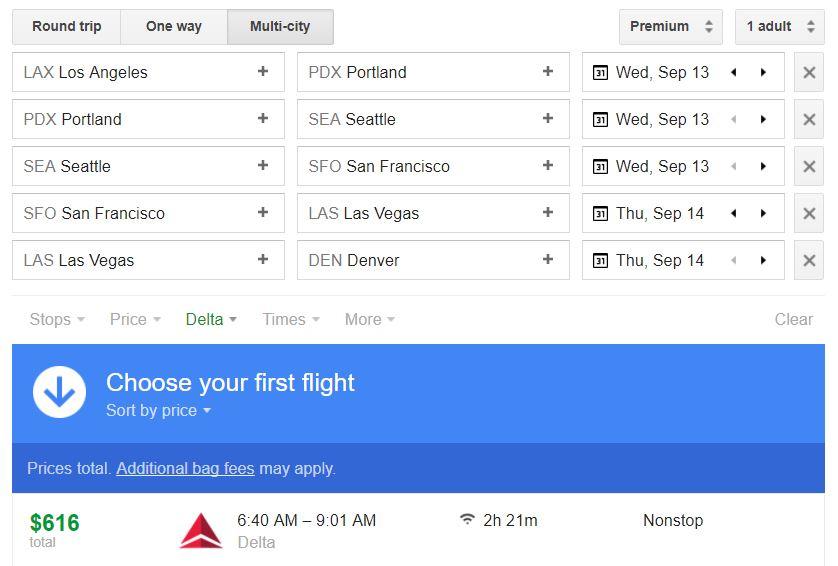 Using Google Flights to piece together the Delta status run
Tools to help you work out your Velocity SCs earn
This requires a bit of manual work, and there are a few links you'll need:
This mileage calculator will work out the distance travelled between two cities
This page shows what the fare class on your ticket is classified as for the purposes of SCs
These tables put everything together and shows you how many SCs you'll earn based on distance travelled and class of travel
Note that you may need to be logged into your Velocity account for these links to work properly.
A step-by-step guide
This example is based on the previously mentioned Singapore Airlines Sydney to Seoul via Singapore 'Flexi Economy Saver' ticket: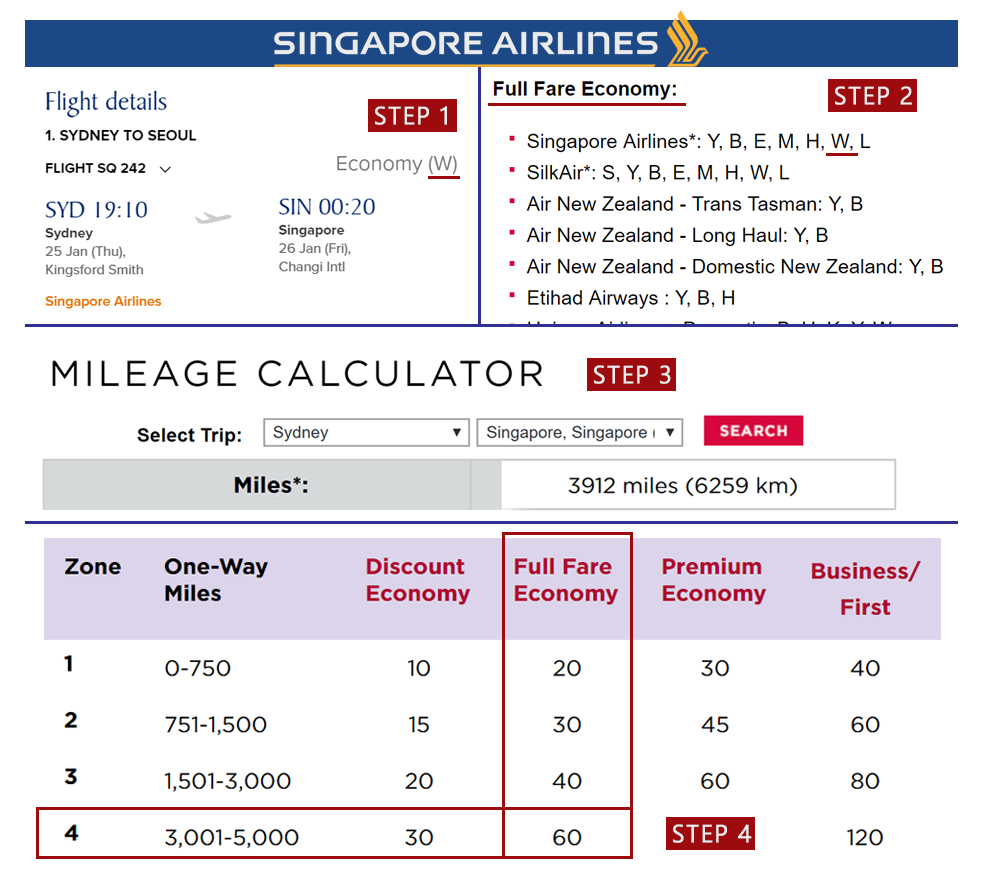 Step 1: Find out what letter fare class your ticket is. On Singapore Airlines, when choosing your flights go Booking Summary → Flights → More Details (for this flight, it is 'W')
Step 2: Go to the fare classes earning table and check what Singapore Airlines classifies it as (for this flight, it is Full Fare Economy)
Step 3: Go to the mileage calculator to work out which distance bracket your flight falls into – you'll need to calculate this for each individual flight (Sydney to Singapore in this case)
Step 4: Go to the earning tables and match up the airline, distance and class to see how many SCs you'll earn per flight (this flight earns 60 SCs)
Repeat again for the Singapore to Seoul leg (it earns 40 SCs). Then, since it's a return trip, simply double it.
So, Sydney to Seoul return on Singapore Airlines on the 'Flexi Economy Saver' ticket earns 60 + 40 + 40 + 60 = 200 SCs per person!
Finding the fare classes on other airlines
Virgin Australia
The fare class correlates to the name of your ticket: Getaway, Elevate, Freedom, Premium and Business/Saver. It's different for domestic and international flights, so check the tables carefully.
Delta
You'll see the fare class above the price when selecting flights. Main Cabin (X) counts as Discount Economy, while Delta Comfort+ (W) counts as Premium Economy.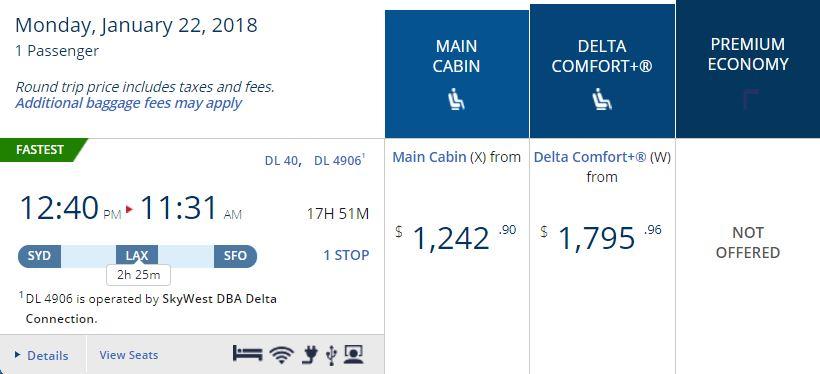 Other partner airlines
There are too many to go over in this guide, but just try to look around for that single letter next to your flight selection.
Etihad shows it under the fare rules while choosing flights. Sometimes you have to go through checkout to see it just before you pay, such as on Hong Kong Airlines
Summing up
Simply considering how many more SCs you'll earn by purchasing a more expensive/flexible fare and being open to flying through connecting airports can really accelerate the rate at which you can bump up to the next level of Velocity status!
Have you had any Velocity status wins by flying on partner airlines? Share your experience in the comments below!
How to maximise Velocity Status Credits by flying on partner airlines
was last modified:
January 19th, 2022
by