Every parent who has travelled with an infant is well aware of the challenges. Solid planning and preparation are essential to a parent's ability to not only retain their sanity during air travel but maybe even to enjoy the experience.
A little bundle of joy doesn't have to mean the end of your dreams to use your points for premium class travel, though. The difficulty, however, is deciding which airline, flight, or even type of aircraft is best for infants – and subsequently finding the right seats for the best price.
What do we mean by infants?
Infants have a specific definition in the world of airline tickets – in short, they are children under two years old. Kids under two don't get their own seat but do get to travel with their parents with priority access to bassinet seating.
Child tickets are then issued and required for kids over two – where they will get their own seat. Infants can travel on a child ticket with their own seat too, but you'll pay for the seat (whether that's using points or cash).
Some ambiguity can occur where the child is less than two when their trip starts but turns two while they are away. That scenario is treated differently by different airlines as, in theory, the child should have a seat on their return flight.
Finally, it's worth noting that the rules around infants and using points have two sources: there are rules applied in how you can book a ticket using your points which are applied by the frequent flyer program – this defines the pricing of your ticket – and then there are policies from the airline that you'll actually be travelling with – these define how you'll be seated.
Domestic travel
Both Qantas and Virgin Australia have similar domestic policies when it comes to traveling with an infant.
For domestic travel with both Qantas and Virgin, your infant will be seated on your lap secured with an infant seatbelt attached to your own seatbelt.
The exception to this rule is with both Qantas and Virgin's A330s that fly between Perth and the East Coast, where the baby can be transferred to a special bassinet while at cruising altitude.
Qantas' wide body jets provide specific bassinet seats in both Economy and Business Class, while Virgin provide bassinets in Economy only. Whilst none of Virgin's new 'The Business' suites contain their own bassinet, the added room and flat-bed seat should more than make up for that.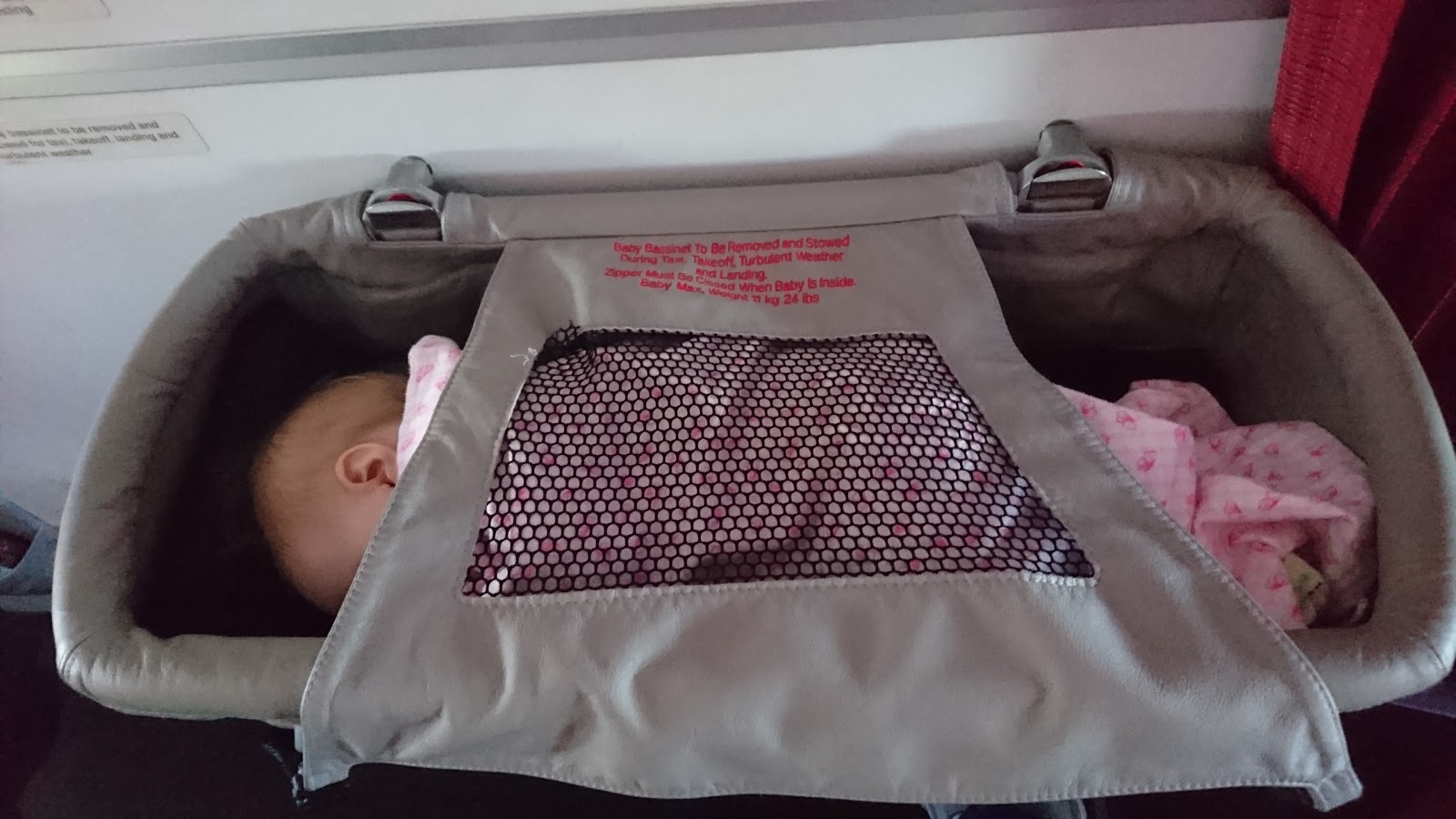 The infant bassinet on board Virgin Australia's coast to coast A330 in Economy. This seat/bassinet can be redeemed for no extra charge by contacting Velocity's call centre.
The good news when it comes to redeeming domestic flights for you and your infant is that both Virgin and Qantas do not charge any further points on their base redemption rate, nor do they add any taxes for adding an infant to your booking. Of course, if you'd prefer to have a full seat for your infant you will need to make a separate award redemption at the full rate.
For coast-to-coast flights when looking to utilise a bassinet seat, you can make your booking online as usual but you will need to call the airline after making the booking in order to reserve a bassinet seat as these seats are usually blocked from being secured online.
It's worth noting that there are no guarantees of getting the bassinet seats – and you are fighting against status-holders who want the extra legroom – but the chances are still good.
International travel
Travelling abroad with an infant is often where the challenge can become greater due to longer flight times.
Booking can also become more challenging with a greater range of redemption choices, different rules and taxes and also different classes to consider.
If you aspire to take that once-in-a-lifetime First Class flight with kids, it might be best to do it before they turn two for a couple of reasons.
Firstly, it can be very difficult if not impossible to redeem more than two award seats in First Class. So if you're planning on travelling with a partner and your child, it's best to do it when you can do it on two awards.
Secondly, First Class travel once your child has turned two is not the most practical option. Consider the amount of room available in and between First Class suites. For this reason, it may prove very difficult to tend to and control your child from a different suite.
Factoring in that once they turn two children are charged at the full redemption rate I'd suggest your window for First Class travel with your child might be closed for a few years – Business Class should be more appropriate.
Most loyalty programs have different rules when it comes to redeeming flights with an infant.
The table below represents a comparison of some of the more popular redemption options available to travellers in Australia with access to American Express Membership Rewards or with points in either Qantas or Virgin's loyalty programs. All examples are based on a one-way award booking between Melbourne and Singapore.
The final column in the chart assumes you value all your Qantas, Velocity, Krisflyer & Asia Miles at 1 cent per point and is for ease of comparison. Of course, most would value their KrisFlyer and Asia Miles more highly than others.
| Airline | Currency | Points required for adult | Taxes | Infant fees | Total | Total (if points = 1 cent per point) |
| --- | --- | --- | --- | --- | --- | --- |
| Business Class | | | | | | |
| Singapore Airlines | KrisFlyer | 58,000* | $81 | $255** | $336 | $916 |
| Singapore Airlines | Velocity | 65,000 | $81 | $0 | $81 | $731 |
| Qantas | Asia Miles | 45,000 | $327 | $243** | $570 | $1020 |
| Qantas | Qantas | 60,000 | $326 | $0 | $326 | $926 |
| Emirates | Qantas | 60,000 | $326 | $0 | $326 | $926 |
| | | | | | | |
| First Class | | | | | | |
| Singapore Airlines | KrisFlyer | 80,000* | $81 | $381** | $462 | $1,262 |
| Singapore Airlines | Velocity | 95,000 | $81 | $0 | $81 | $1031 |
| Emirates | Qantas | 90,000 | $326 | $0 | $326 | $1226 |
* Updated with KrisFlyer's pricing changes effective 23 March 2017
** KrisFlyer & Asia Miles charge 10% of the cost of a revenue ticket for an infant
*** Velocity members are unable to use their Velocity points to access Singapore Airlines A380 First Class Suites but can access First Class on other aircraft
As you can see from the above chart, both Qantas and Velocity become better value than Asia Miles and KrisFlyer when you factor in the latter's infant fees, which equate to 10% of the cost of a revenue ticket. Keep in mind these fees are based on revenue fares, therefore seasonal and may change somewhat from those quoted.
Velocity bookings, in particular, are excellent value with great seats on a world-renowned airline, especially for those who would prefer to spend points rather than pay taxes.
Despite costing a little more, if a trip on Emirates A380 First Class Suites is on your bucket list, perhaps the added value of a free infant ticket can help you justify spending a few thousand more points.
Your choice, however, will likely be influenced by the amount of points at your disposal, the program you are invested in and, finally, the amount you are prepared to spend on taxes and infant fees. These factors are usually different for everyone so consider your options carefully during the planning stage of your trip.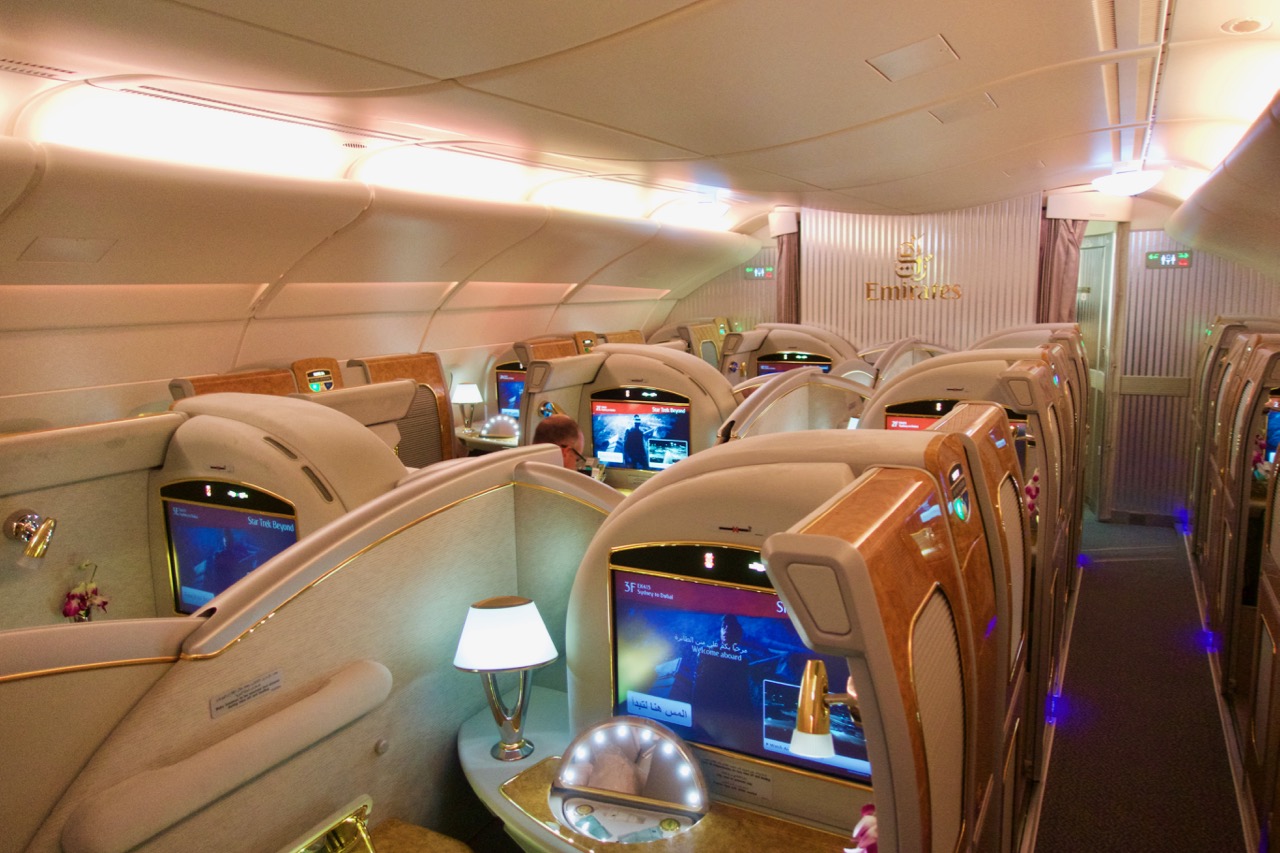 Emirates A380 First Class Suites provide plenty of space for parent and child, not to mention plenty of privacy when needed
Booking your flights
Both Qantas and Virgin allow you to book for yourself and bub online quickly and simply for both domestic and international flights.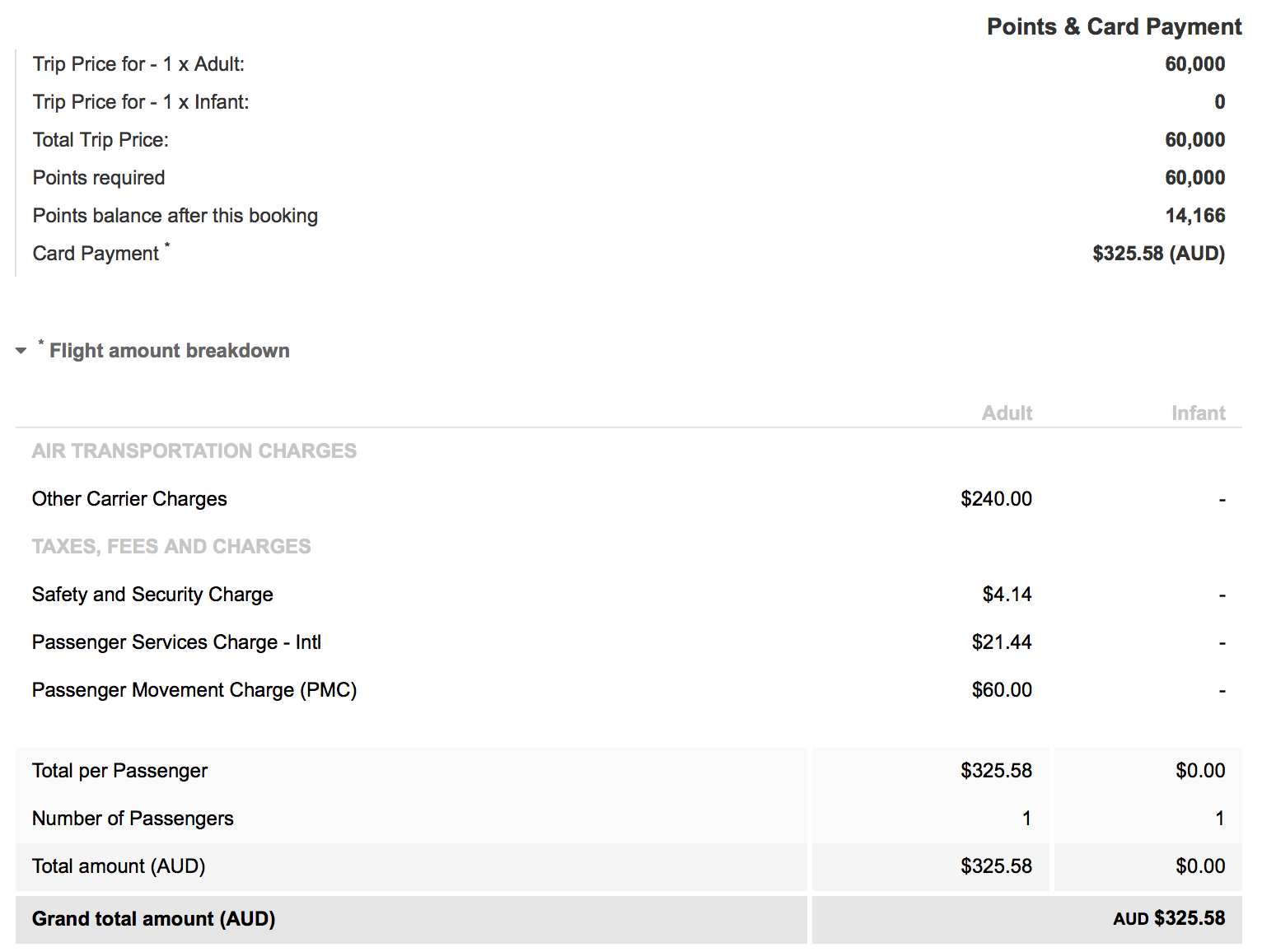 Qantas' online booking engine comfortably handles bookings for infants and even better – they're free
If you wish to book First Class on Singapore Airlines using Velocity points you will need to contact Velocity's call centre as Virgin's website is not capable of booking First Class fares.
If booking through Asia Miles and KrisFlyer, you will need to either book for the adult first online and then contact their call centres to add your infant to booking; or, alternatively, you could complete the whole booking by contacting the call centre initially.
Singapore Airlines has eliminated their 15% online booking discount starting on 23 March 2017 so you should be able to book the same price when booking via their website or call centre.
Summing up: some final tips
Whether travelling domestically or abroad, taking your infant in a premium cabin will help both you and your child be more comfortable for the duration of your flight. From the larger seats or bassinets to the superior in-flight entertainment, you should both have the ability to enjoy your flight more than you would from within the tight confines of an Economy seat.
Speaking from experience, I would suggest you pack plenty of your child's favourite snacks as these can buy you a few minutes of valuable peace and quiet when you need it most. They are also helpful when taking off and landing as little ears can be particularly sensitive. You don't want bub screaming the house down in First Class if you can avoid it.
You should also try and make some room in your carry-on luggage for plenty of small toys to keep them occupied during your flight. If all else fails the in-flight entertainment system or a trusty iPad will also buy you some time.
With a bit of luck, if all goes well and your little one settles down for a sleep you may even be able to enjoy a sneaky glass of champagne. More likely than not, though, you'll be just as happy to stretch out yourself and enjoy a well-earned rest.
All you need to know about using points to travel with infants
was last modified:
June 21st, 2019
by