Jetstar is currently Australia's only major low-cost carrier remaining after TigerAir shut down in late 2020. Although domestic and international travel is nowhere back to its pre-COVID-19 levels, many Australians are still able to fly Jetstar to limited destinations around the country.
If you're relatively new to booking Jetstar fares, it may be daunting to understand all the different options out there, as you'll usually need to pay for extras such as seating assignments, meals and baggage.
This quick guide will explain how to Jetstar fare bundles work, and more importantly, how to earn Qantas Frequent Flyer Points on bookings.
What are the different Jetstar fares?
Jetstar Domestic flights
There are four distinct Jetstar fares on Australian domestic flights:
Starter (base fare)
Flex (tailored to business travellers)
Plus (tailored to general travellers)
Max (for those who want an all-inclusive fare)
Generally, you can only add on bundles at the time of booking, and through the Jetstar website. Here's a quick summary of fare inclusions, though bundle costs are indicative only and will vary.
| | | | | |
| --- | --- | --- | --- | --- |
| | Starter | Flex | Plus | Max |
| Add-on cost | – | ~A$40+ | ~A$40+ | ~A$85+ |
| Carry-on baggage | 7kg | 14kg | 7kg | 7kg |
| Checked baggage | – | – | 20kg | 30kg |
| Seat Selection | – | Standard or Upfront | Standard | Extra legroom |
| Food and Drink | – | – | Snack | Snack |
| Qantas Points + Status Credits | – | – | Yes (Economy level) | Yes (Flexible Economy level) |
| Fare Flexibility | – | Same-day changes | – | Yes |
| No Change Fees | – | Yes | Yes | Yes |
| Flight Cancellation | – | Credit Voucher | – | Credit Voucher |
Note that COVID-19 may result in slightly different fare policies, such as waived change fees on bookings. Check with Jetstar to see if this applies to you.
Jetstar International flights
While most Jetstar International flights follow the same table as above (albeit with higher bundle pricing), flights on the Boeing 787 feature Business Class. You can purchase a standard Business fare, or add on a Business Max bundle for greater perks:
Flight cancellation
Lounge access
Earn Qantas Points and Status Credits at the Business Class level
Usually A$220 extra for most destinations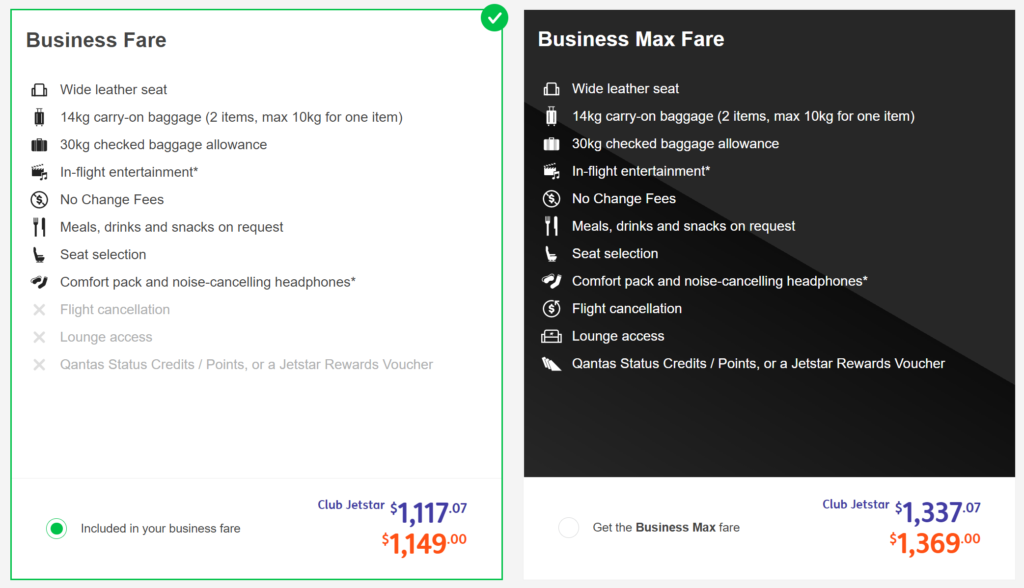 Booking Jetstar flights through Qantas
If you book a Jetstar flight through Qantas' website, you can only choose from a Starter fare with 20kg baggage (including Jetstar Classic Flight Rewards with Qantas Points) or a Max cash fare with all the trimmings.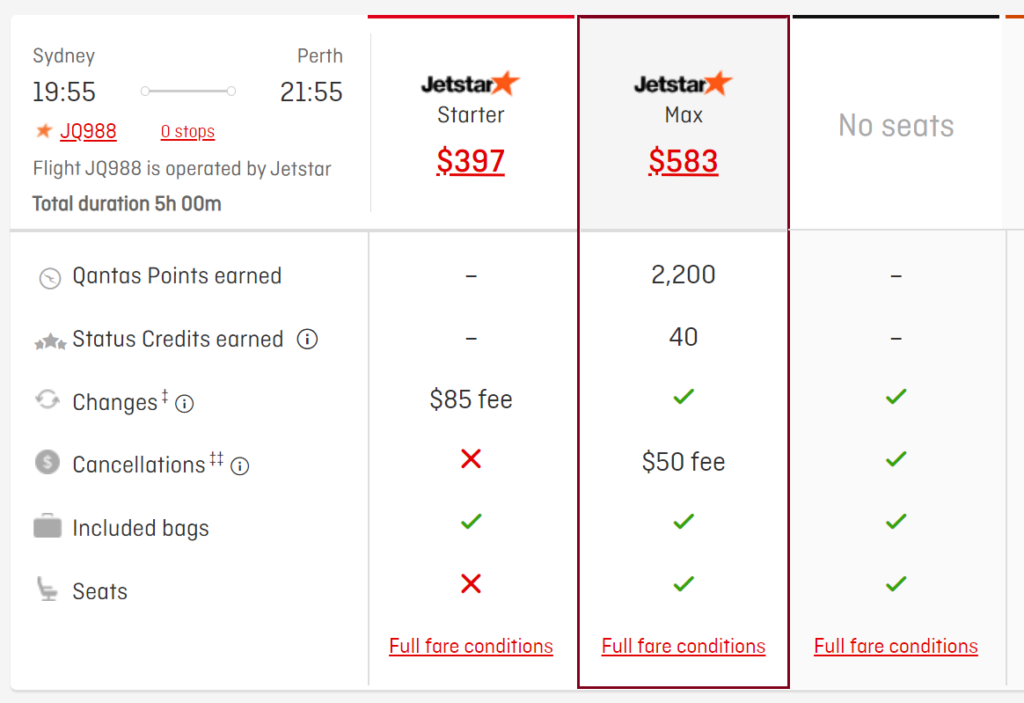 Starter fares booked this way are typically more expensive than going directly through Jetstar's website, even with the bonus luggage included. Max fares are considerably pricier with Qantas compared to booking the same fare + bundle on Jetstar's website, so take that into consideration.
Ad – Scroll down to continue reading.Minimum spend, terms & conditions apply.
How do I earn Qantas Points with Jetstar?
As noted above, the only way to earn Qantas Points and Status Credits on Jetstar fares is by purchasing an appropriate bundle:
Starter Plus (Standard Economy earn)
Starter Max (Flexible Economy earn)
Business Max (Standard Business earn)
You'll earn points and Status Credits according to the Qantas Points Calculator. The earn rates are surprisingly generous. For example, on a Melbourne-Honolulu Jetstar flight, you could earn:
| | | |
| --- | --- | --- |
| Melbourne-Honolulu | Qantas Points | Status Credits |
| Starter Plus bundle | 4,500 | 45 |
| Starter Max bundle | 6,000 | 70 |
| Business Max bundle | 9,750 | 150 |
However, take into account that points from Jetstar flights may take a few weeks to show up. This is a big contrast to Qantas flights, which often credits to your account before you've even landed at the destination.
Summing up
On a per-dollar basis, you'll usually find that Jetstar bundles offer Qantas Points and Status Credits more cheaply than Qantas' own fares, even after taking into account the extra costs of the bundles.
If you go for the Starter Max bundle, you'll not only earn lots of points but also can relax in an extra-legroom seat, check-in 30kg of baggage, and have some catering included.
Overall, Jetstar's fare structures and bundles are a good way to approach the predominantly leisure market which is cost-driven, while offering value add-ons for those more discerning or savvy customers.
Frequently asked questions
What is a Jetstar Starter Plus Bundle?
Starter Plus is Jetstar's entry-level bundle for mainstream travellers. It includes seat selection, baggage allowances, snacks, waived change fees and the ability to earn Qantas Points and Status Credits.
Are Jetstar bundles worth it?
Jetstar bundles can be worth it if its inclusions are of value to you. If you were going to purchase baggage, meals and seat selection anyway, it could be worth getting a bundle instead.
What does the Jetstar Starter fare include?
Jetstar's basic Starter fare includes 7kg baggage allowance and a ticket to your destination. You will have to pay extra for anything else, from seat selection to meals. It also has limited flexibility and does not earn Qantas Points without a bundle attached.
Your guide to understanding Jetstar fare bundles
was last modified:
October 19th, 2023
by