For anyone with growing Velocity or Etihad Guest points balances, and looking for a extra space and service on domestic flights, the experience of flying on Virgin's 737 fleet is very good.
Many people understandably wouldn't choose to redeem points for domestic business travel on shorter flights – but if your travel preferences see you wanting the Business Class experience then you shouldn't be disappointed. I've redeemed hundreds of thousands of points across tens of flights and have generally always come away impressed.
As a comparison, you may also be interested in our Qantas 737 Domestic Business Class overview.
Virgin Australia 737 Domestic & Trans-Tasman Fleet & Routes
If you're flying Virgin Australia within Australia or across to New Zealand, there's an over 80% chance you'll be on one of these Boeing 737s.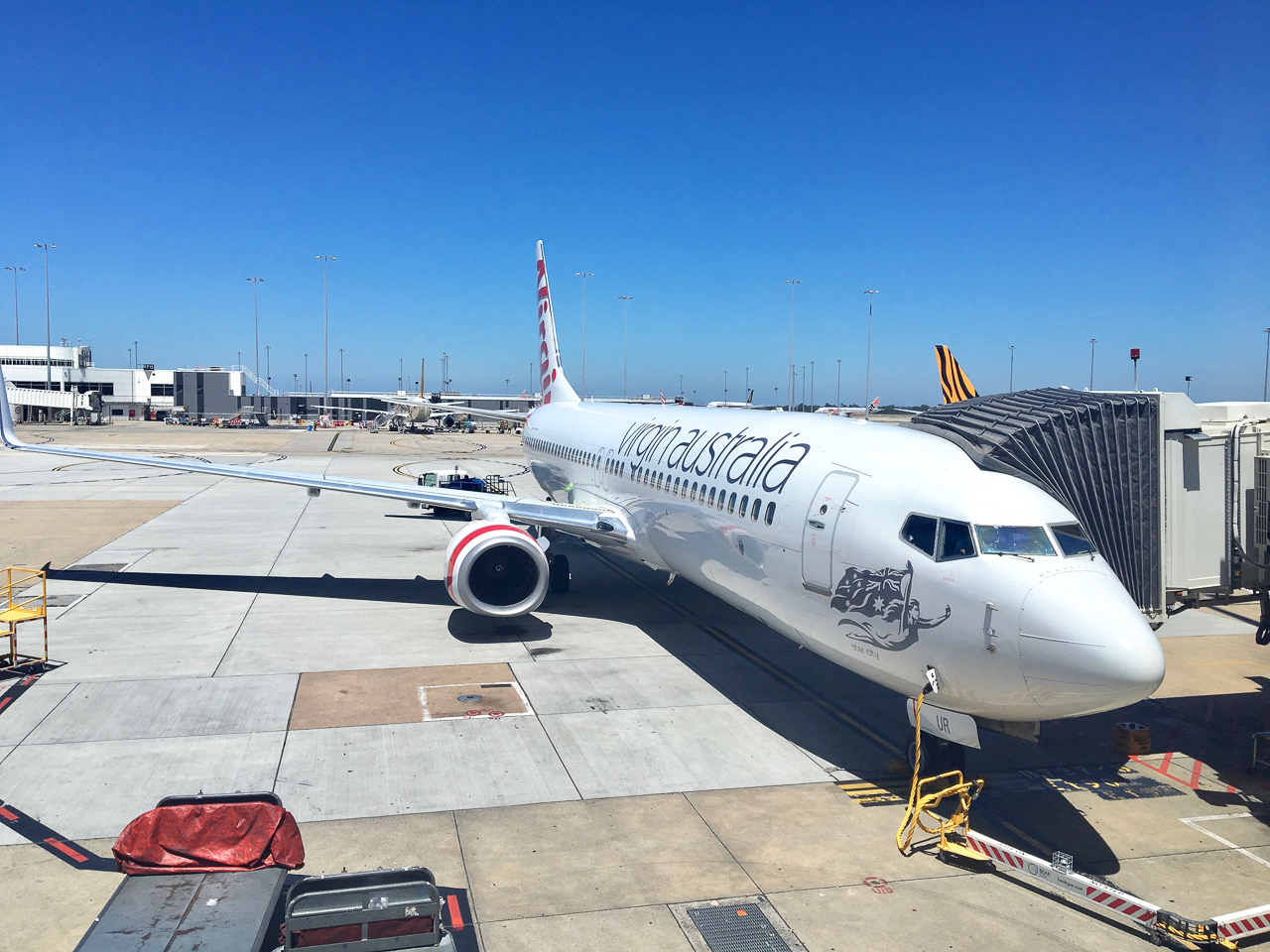 On many flights between the East and West Coasts of Australia, and now to Hong Kong, you're likely to be on an Airbus A330, and if you're going to the US, you'll get the same 'The Business' seat but on a larger Boeing 777. Both are in a 1-2-1 configuration.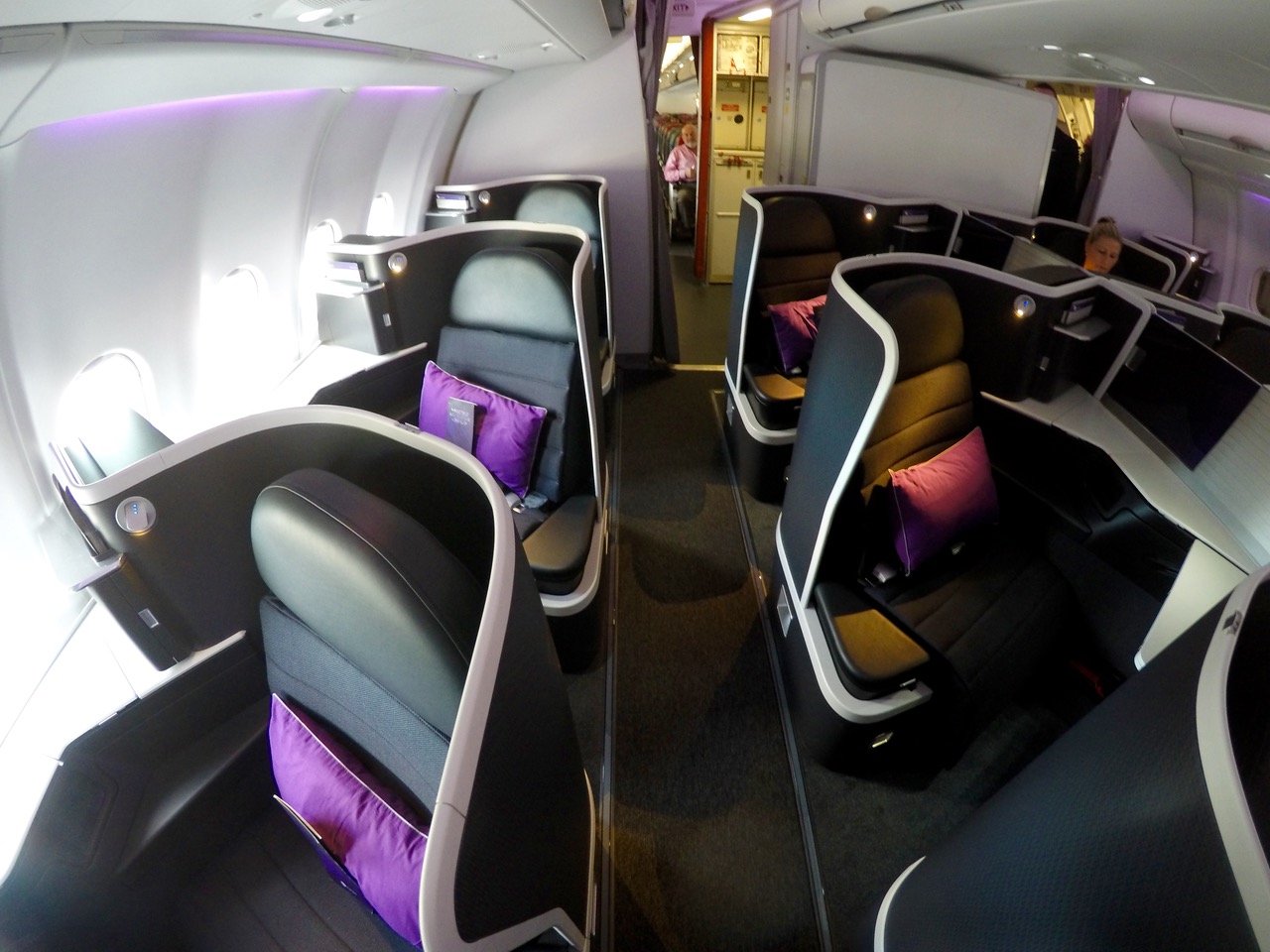 'The Business' cabin on A330s and 777s
Finally, if you're travelling to a smaller airport in Australia, you may be on an Embraer 190, which is essentially the same seat as on a 737 but in a narrower 1-2 configuration.
Here's the route map for Virgin Australia and Air New Zealand codeshare services: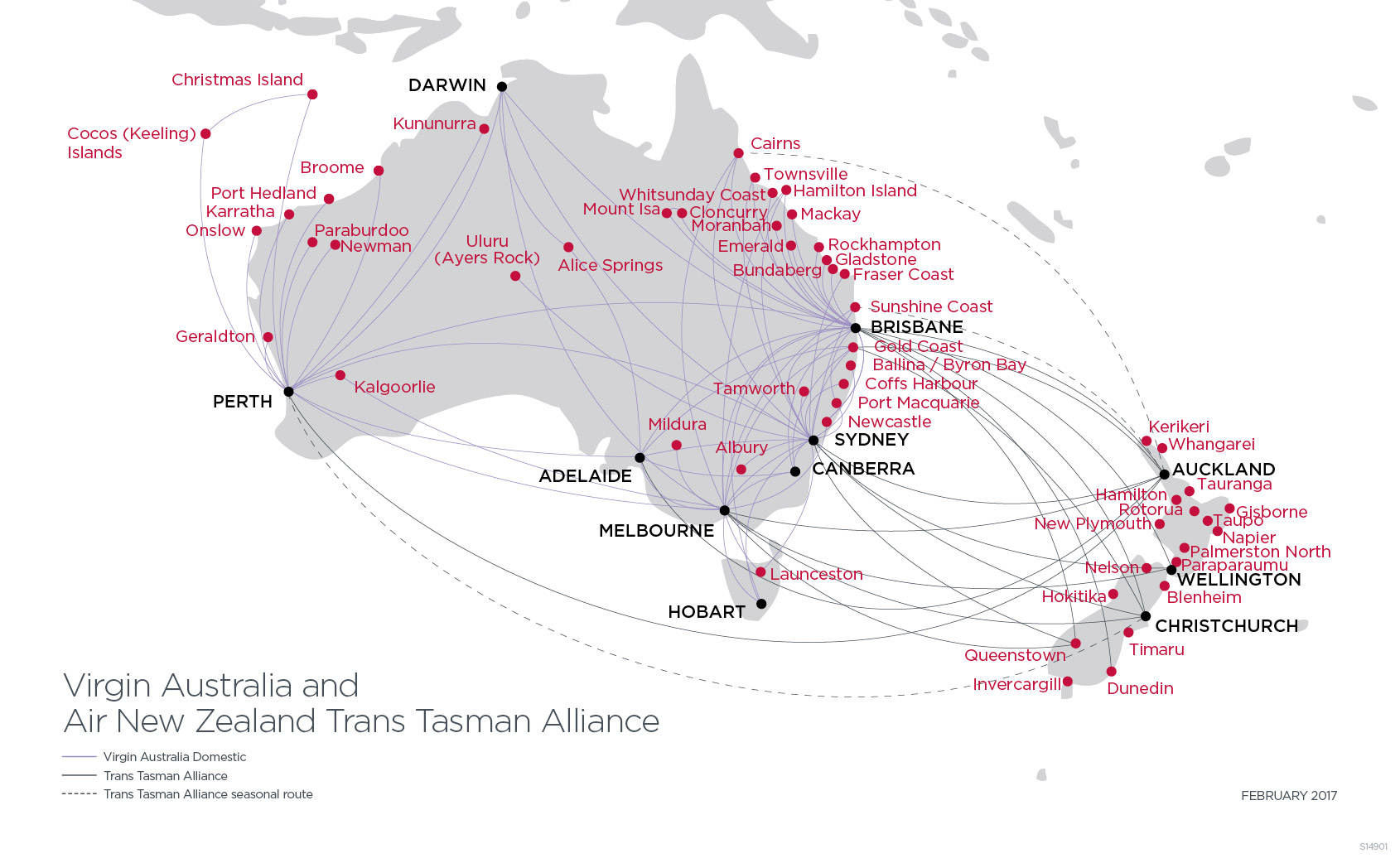 Business Class passengers can check two 32kg bags and Velocity Platinum status holders can add an extra one.
The Virgin Australia 737 Cabin: Seats & Seatmap
There are just eight recliner seats in the Business Class cabin, arranged in a 2-2 configuration: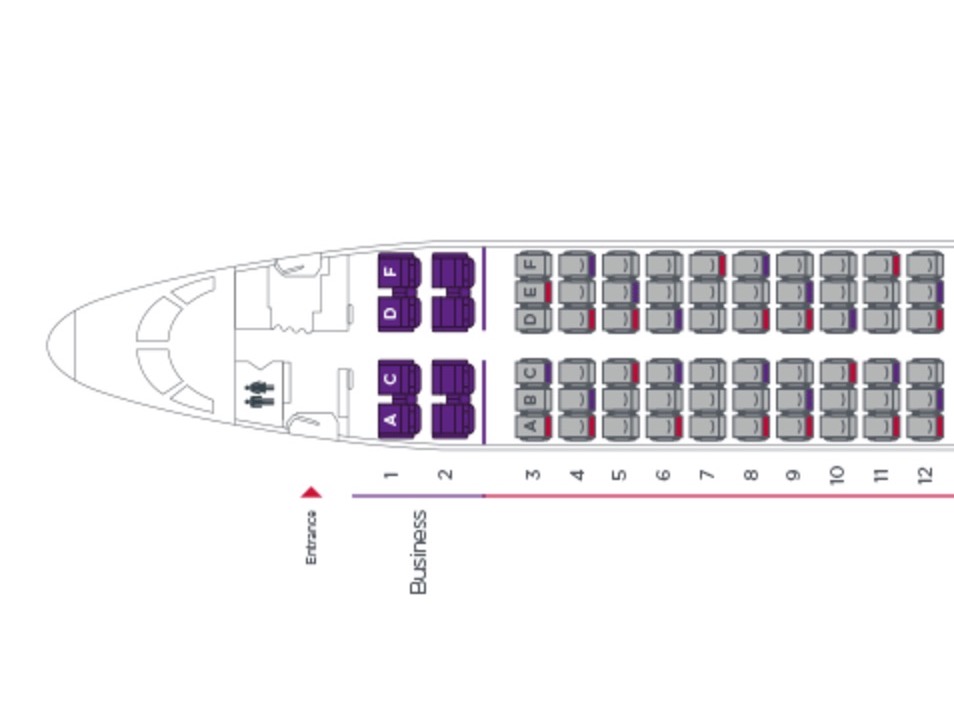 The small eight-seat cabin is one of the reasons the Virgin Australia domestic Business Class experience is usually pretty good – with only two rows you should receive good and prompt service from a dedicated crew member or two.
In comparison, Qantas has an extra row with 12 Business Class seats in total, meaning there is less attentive service but more cash and award seats to go around.
Some aircraft in Virgin's fleet are now starting to show their age though – I am yet to have a non-functioning seat, but a few loose hinges and components here and there have given away that these have been in the sky for several years now.
I'd suggest avoiding seats 1D and 1F to stay away from the galley in front of you, and row 1 generally if you want maximum legroom as row 2 allows you to slot your feet under the seat in front of you, versus the solid bulkhead in row 1.
If you want to sleep on your flight, go for a seat in Row 2 as the wall behind you will prevent the back of your seat being moved by the passenger behind you.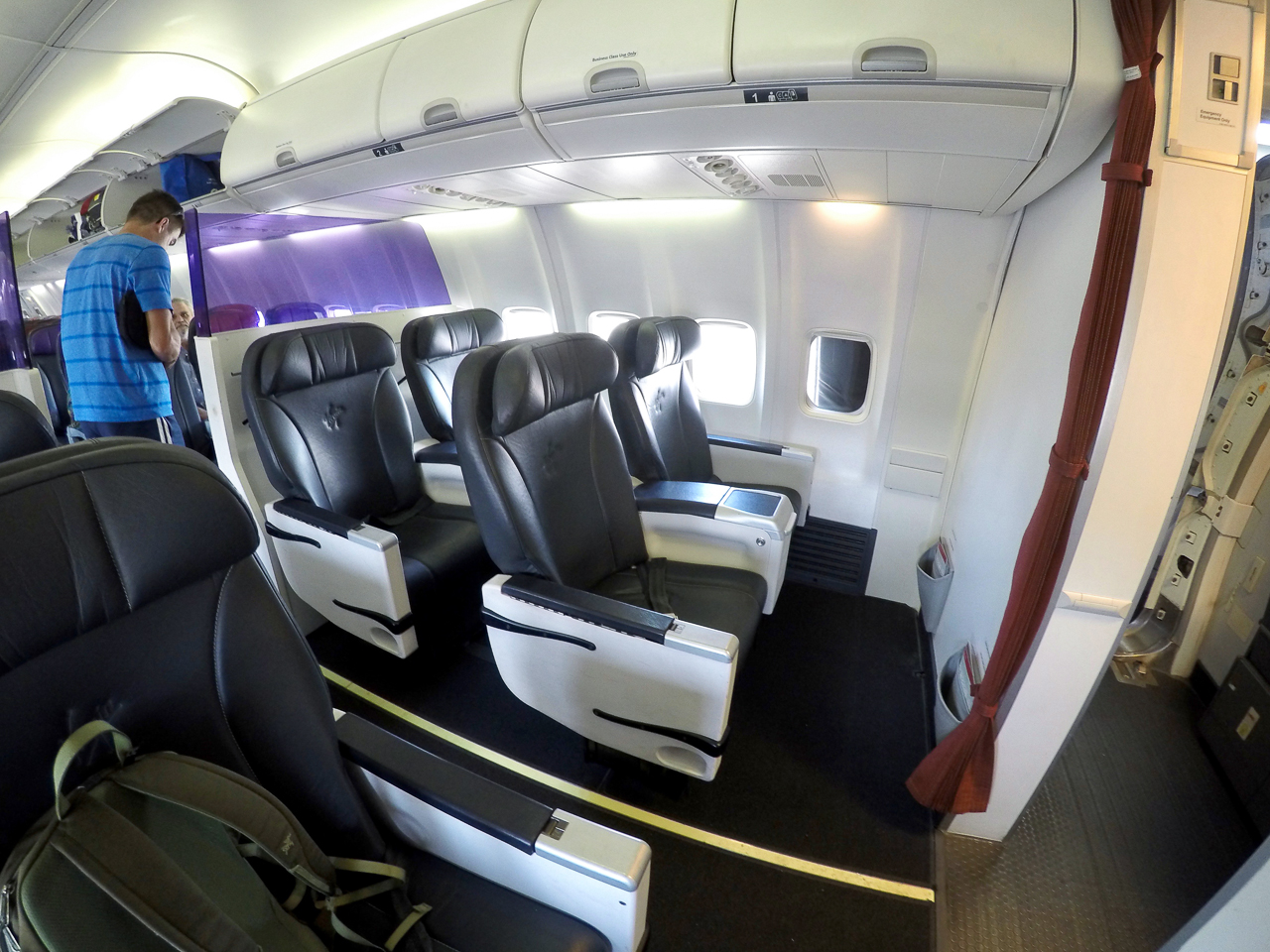 View from 1F
The seats are made of leather and are wide enough to feel comfortable with a stranger next door: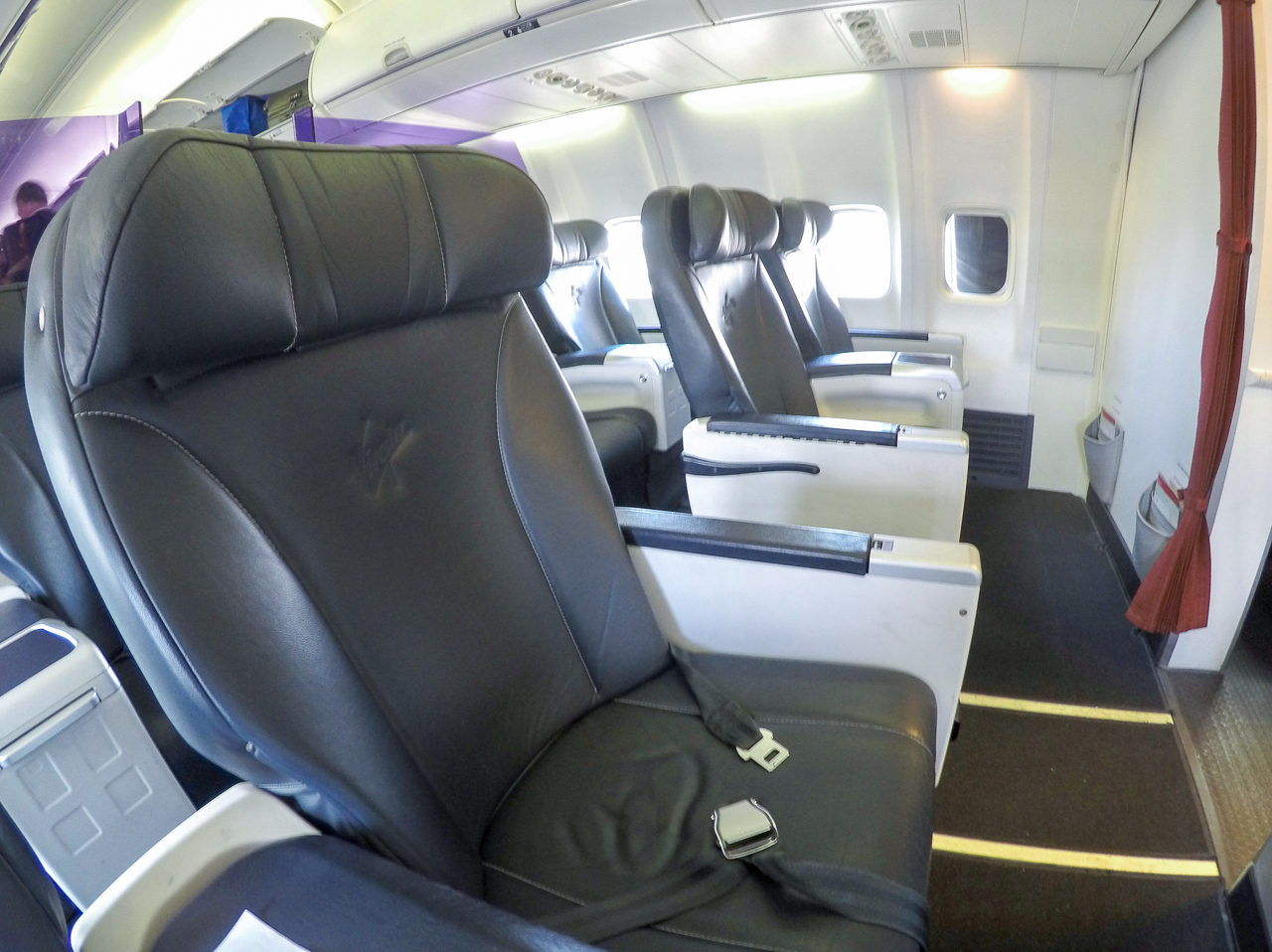 View from 1F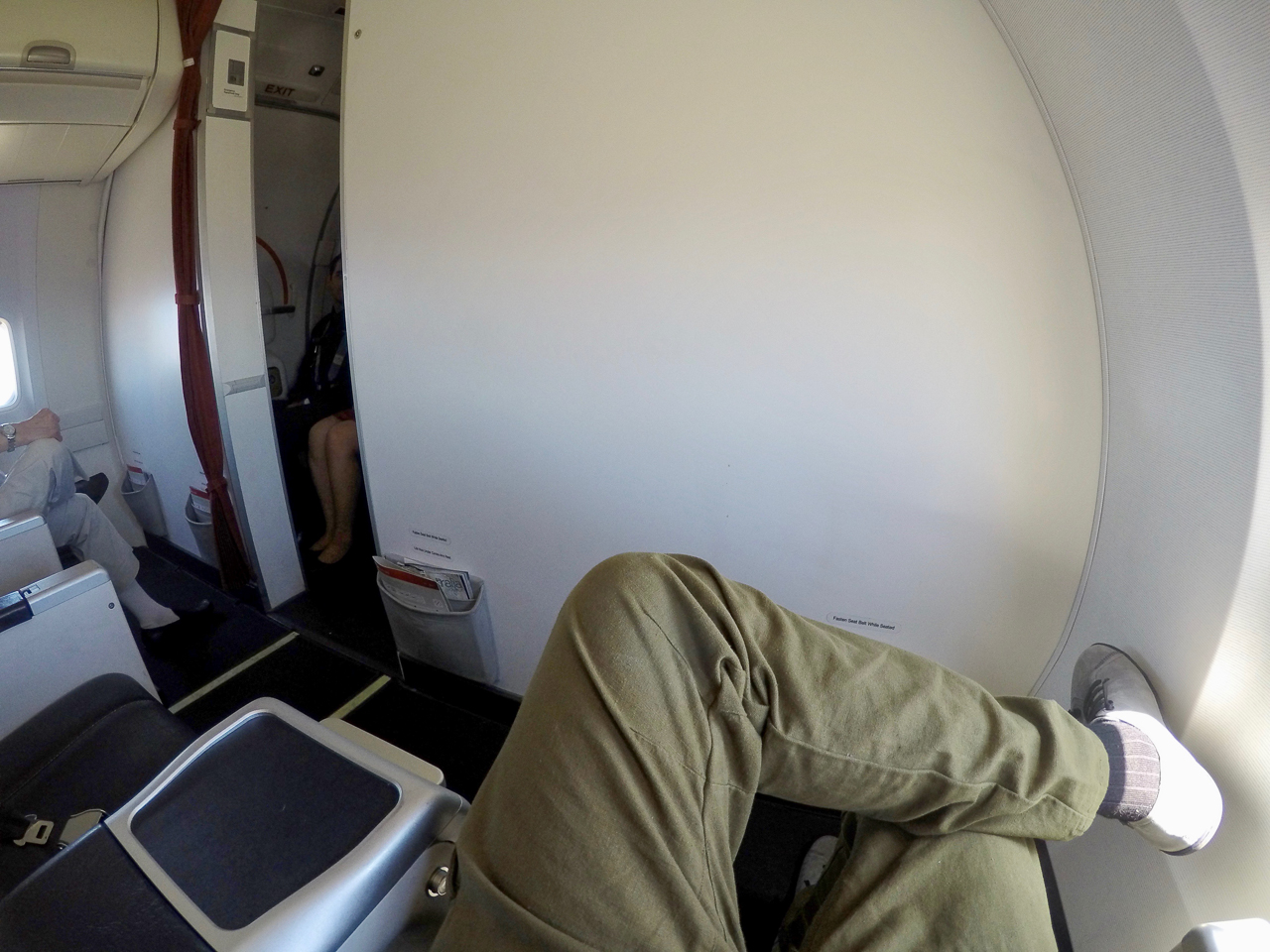 Legroom at 1F
As there is no place to hang a tablet (supplied on request), it can be hard to watch something whilst you have food on your tray table: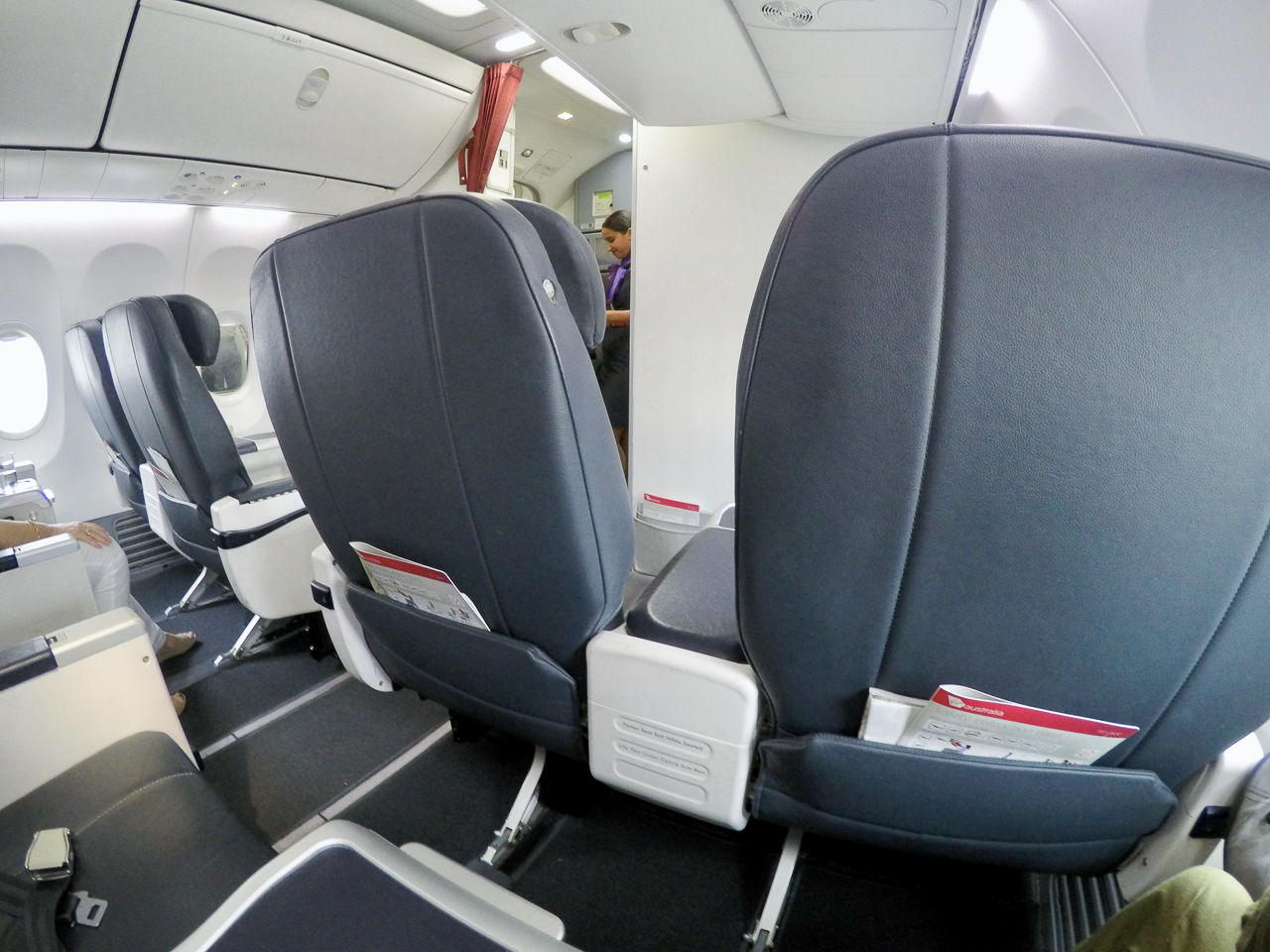 View from 2F
You'll get a 38-inch seat pitch (distance between your seat and the seat in front):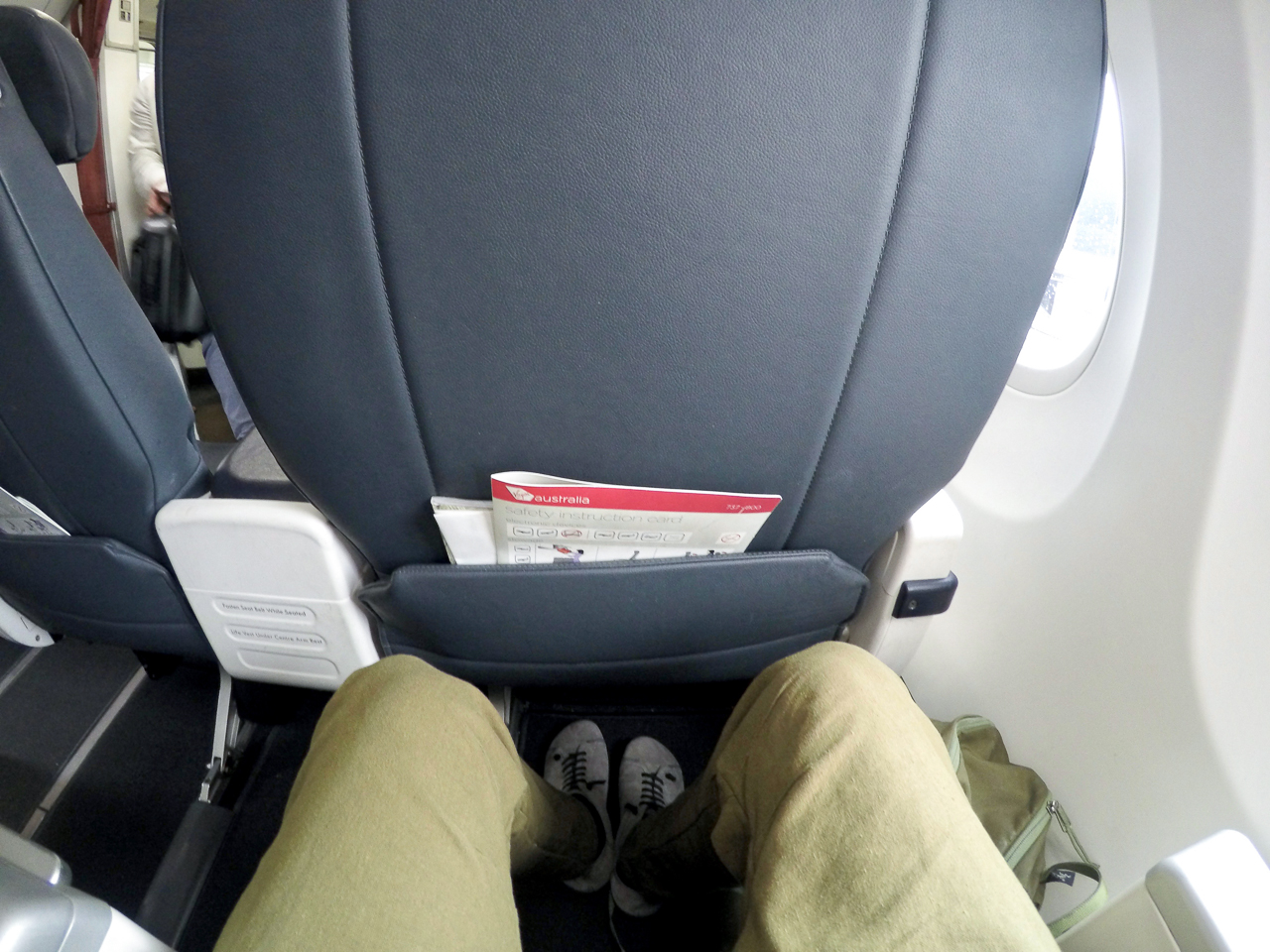 Legroom at 2F
Service – Food & Drink
You'll get a full meal on every Virgin Australia flight, regardless of the duration or distance.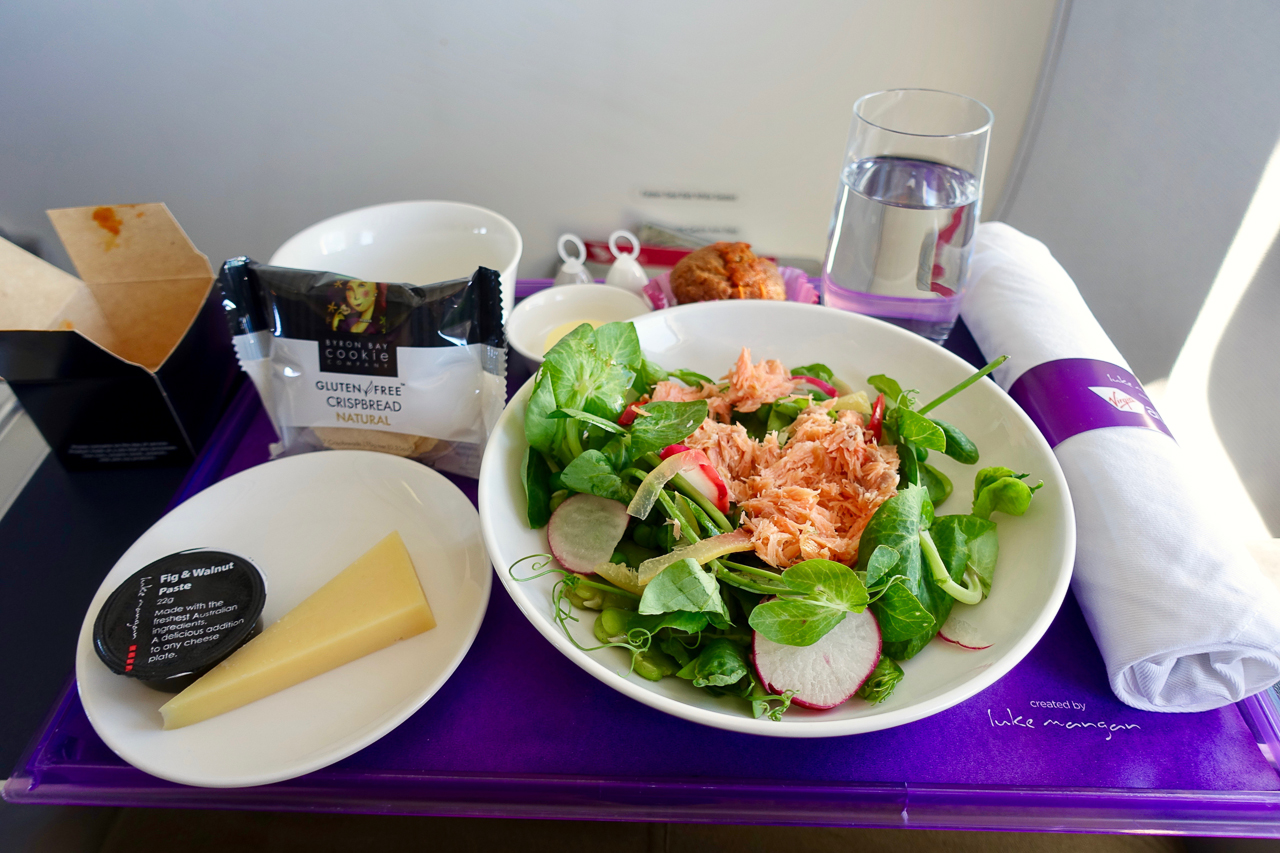 Salad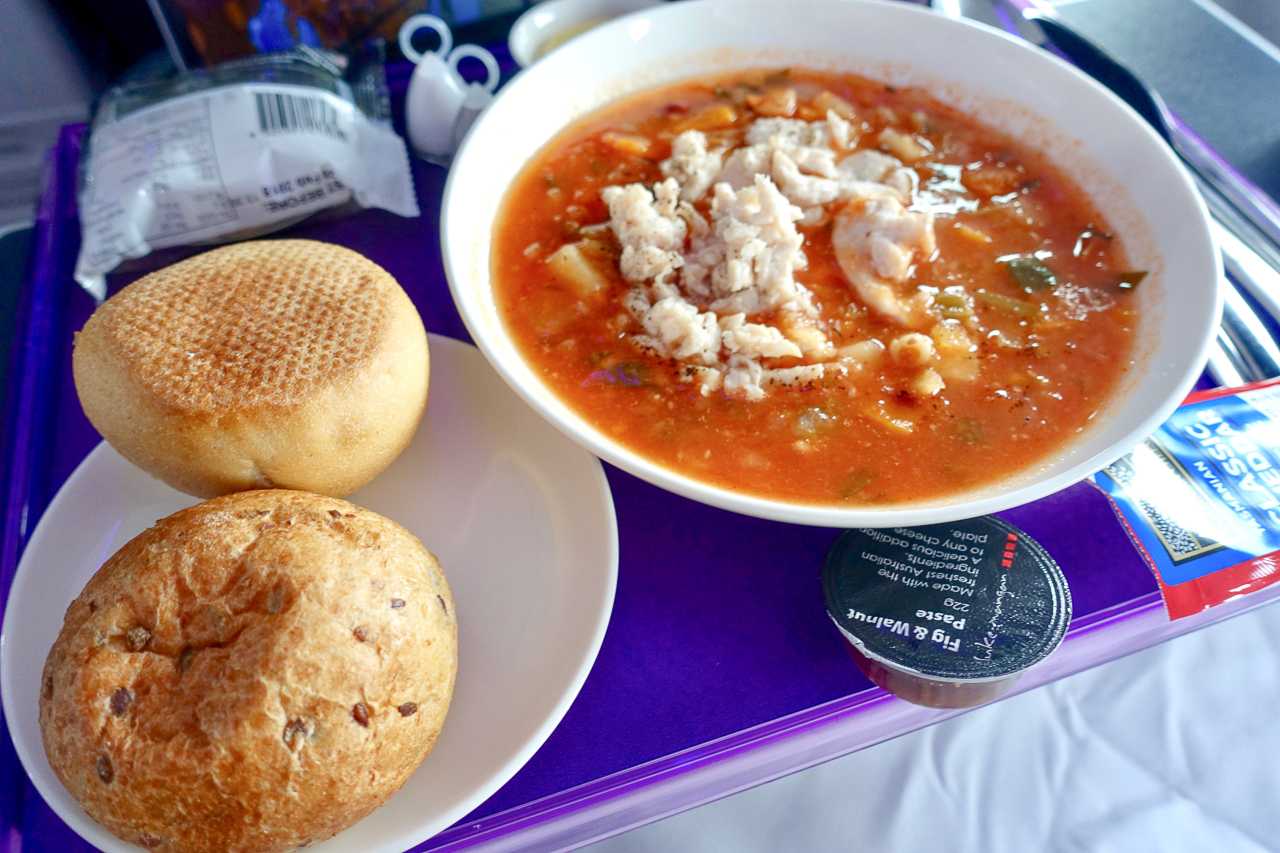 Soup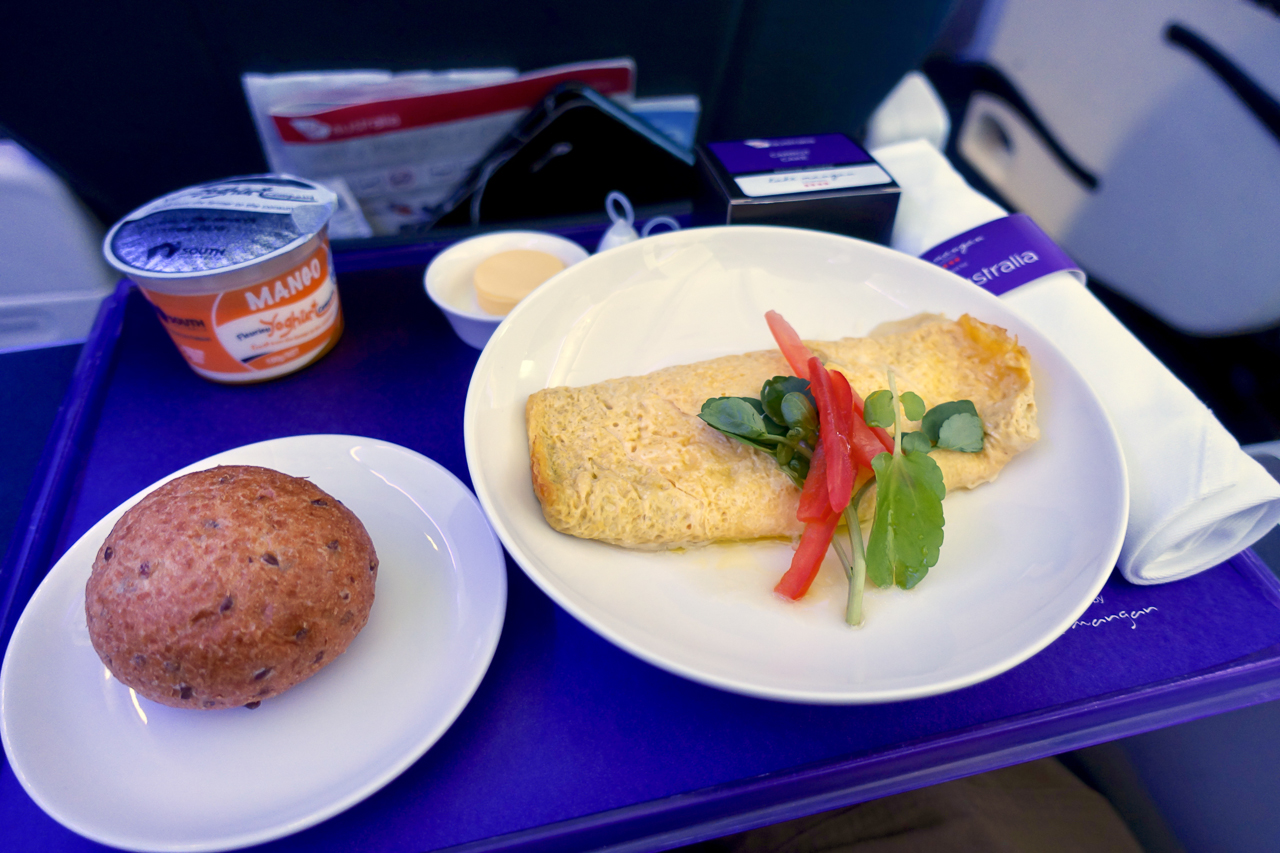 Breakfast
You'll get a three-course meal on flights over 2 hours 45 minutes.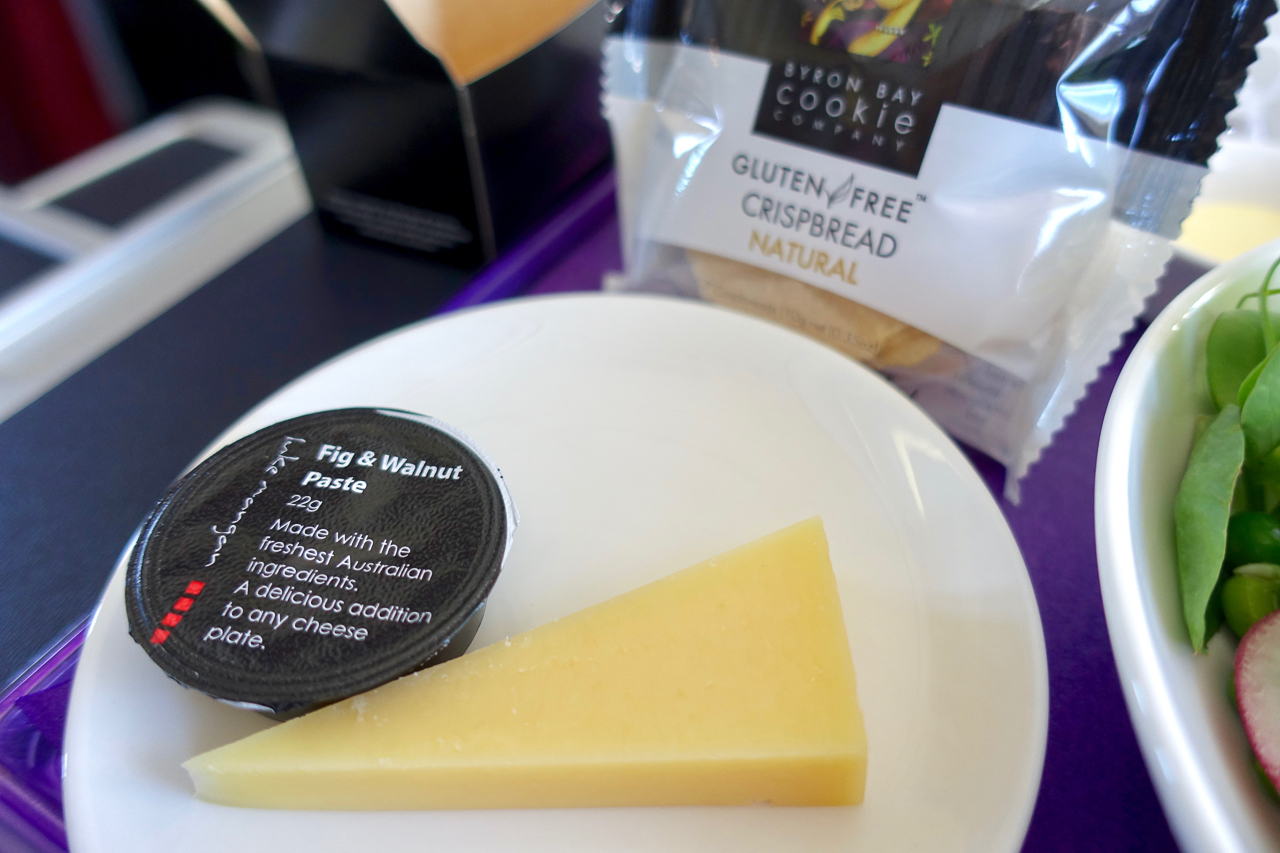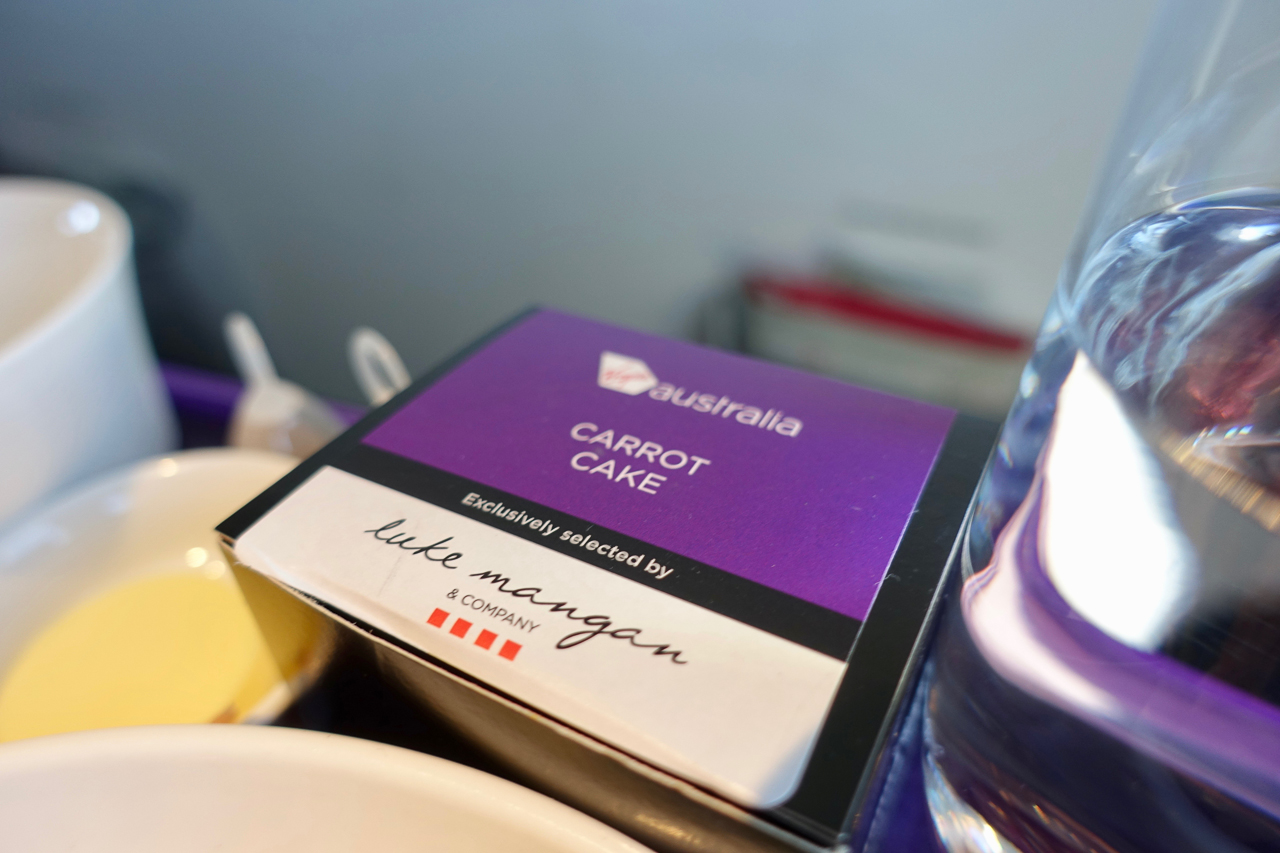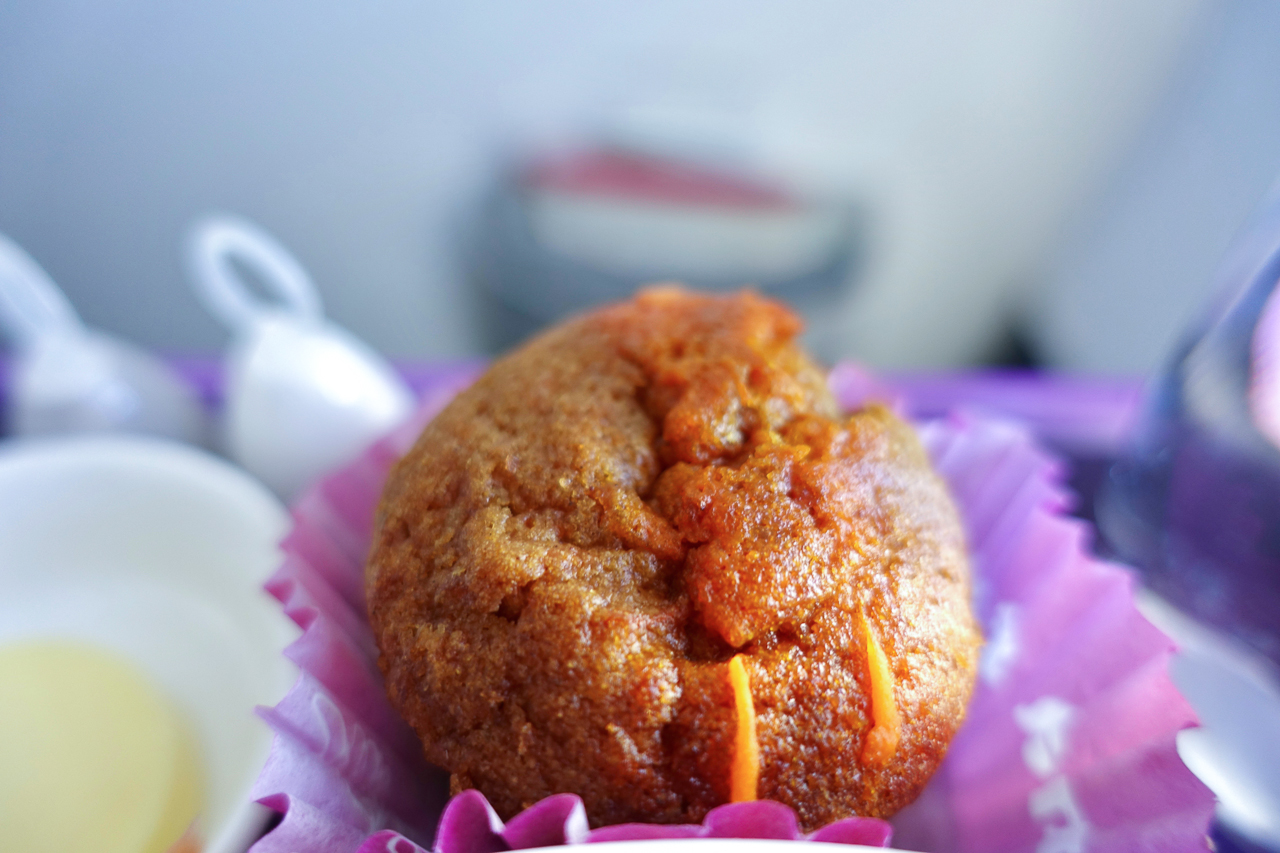 Barista-style coffee is only available on Airbus A330 aircraft.
I have found Virgin's domestic crew and the quality of the Luke Mangan menus to be generally excellent, with tasty main meals on offer plus proactive drink top-ups and offers of snacks to keep me going throughout recent flights from Sydney to Darwin, Cairns, Perth and Melbourne.
Inflight Entertainment
Virgin has rolled out complimentary Samsung Galaxy tablets and wifi on selected routes.
Amenities
On flights of over three hours, you'll get an amenities kit, blanket and pillow.
How to redeem points for this flight
The main points currencies Australia-based travellers can use on Virgin Australia flights, and which are transferable from a range of credit card rewards programs, are:
Here is a comparison of pricing on common routes, with Etihad Guest winning on all routes on a point-by-point basis:
| Route | Velocity | KrisFlyer | Etihad Guest |
| --- | --- | --- | --- |
| Sydney - Melbourne | 15,500 | 21,000 | 13,800 |
| Adelaide - Canberra | 23,500 | 21,000 | 13,800 |
| Melbourne - Brisbane | 23,500 | 21,000 | 13,800 |
| Hobart - Brisbane | 23,500 | 21,000 | 13,800 |
| Sydney - Queenstown | 35,500 | 35,000 | 13,800 |
| Melbourne - Auckland | 35,500 | 35,000 | 21,800 |
| Darwin - Perth | 35,500 | 40,000 | 21,800 |
| Perth - Brisbane | 35,500 | 40,000 | 33,800 |
Sydney to Queenstown is a particularly good sweet spot, requiring only 13,800 Etihad Guest miles.
To get the ball rolling, check out our guide on how to make a Velocity Points booking.
Velocity Points are going to be more commonly held for most readers though with so many points-earning partners in the country – and thankfully accompanying taxes are low whether you use Etihad Guest or Velocity to make your booking.
You may also be interested in using your Velocity Points to upgrade an Economy Class ticket bought with cash.
Lounge Access
Virgin has been investing heavily in new lounge experiences over the last couple of years, and there are new lounges in almost all the major capitals along with some at regional airports.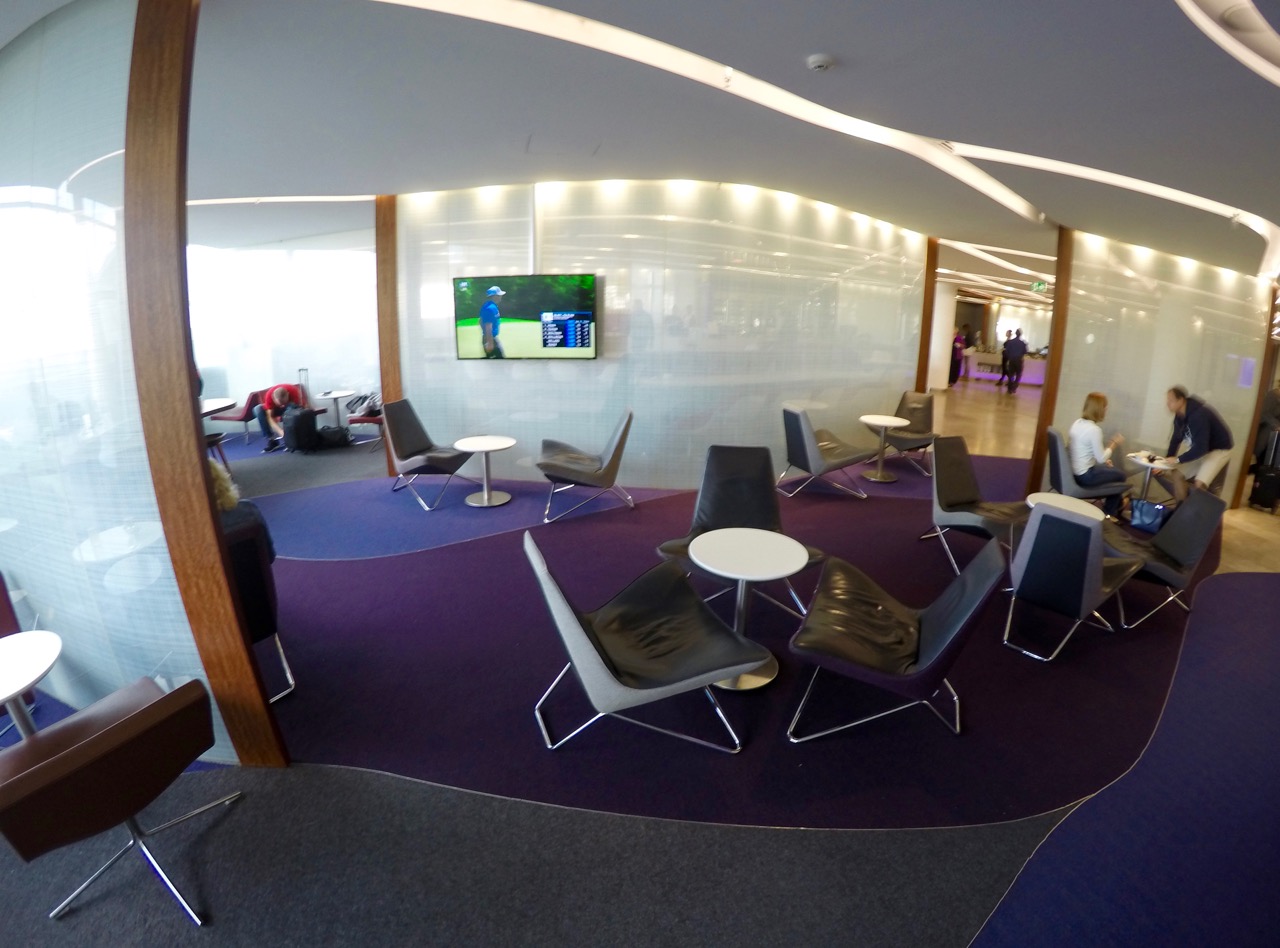 Virgin Australia Sydney Domestic Business Class Lounge overview
Most lounges are visually engaging and a nice space to spend some time before your flight, and in my visits, have all offered a very consistently good experience.
In Sydney, you'll also get access to Premium Entry, where you will have priority check-in and security screening, direct lounge access and optional valet.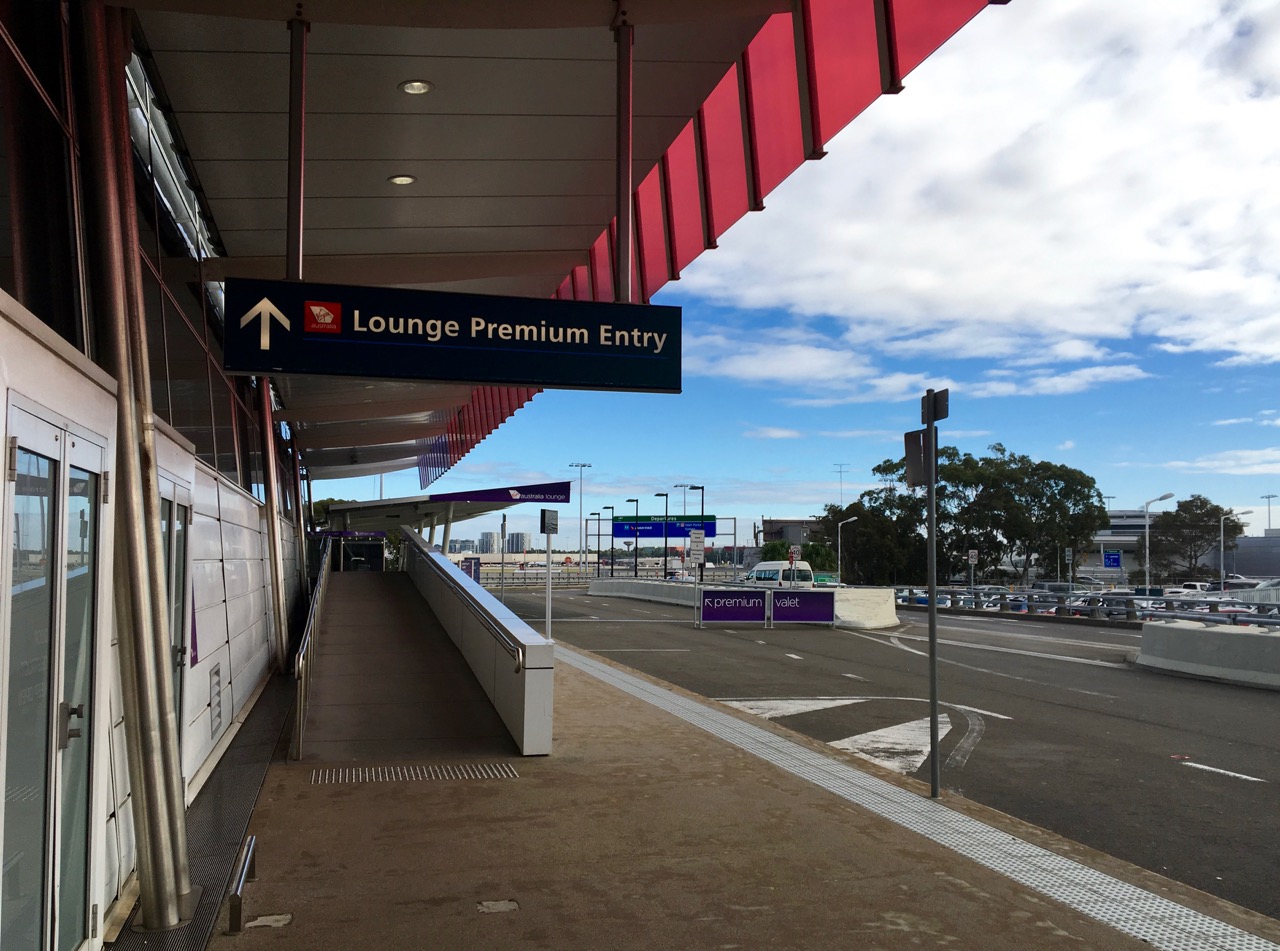 Our Other Reviews
Summing up: why choose this flight?
Virgin Australia domestic Business Class is my go-to points-redemption for domestic travel – if I have enough points, and the flight is long enough to justify it.
Personally, being around 185cm tall, my point at which I would strongly consider using points are for flight above two hours, or for which Economy pricing is particularly expensive and a Business Class award seat is available.
And that is another key reason why it is my preferred points redemption for domestic travel – domestic award availability with Virgin is usually very good. With a little planning, it's relatively straightforward to find pairs of seats in Business Class, and often three or even four available.
Given Velocity Points and Etihad Guest Miles are easily earned from a wide range of transfer partners, plus good award availability good and low taxes, for those who value the space, service, and food on offer, this all makes it an appealing way to use points.
The key times I wouldn't choose to use my points for Virgin domestic Business Class would be for shorter flights, when Economy flight options are cheap, and for when I am saving my points for longer-haul travel where the incremental benefits of using points for premium cabins become more marked.
Related articles
Virgin Australia 737 Domestic and Trans-Tasman Business Class overview
was last modified:
March 16th, 2022
by