After a rocky 2020 marred by cup noodles and snack boxes, Virgin Australia's Business Class is back with a flourish. But as a newly-positioned mid-market carrier, some compromises have to be made: a simplified offering in Business, and a move to buy-on-board snacks for Economy.
We flew Virgin Australia Boeing 737 Business Class from Brisbane to Perth – one of Australia's longest domestic flights, clocking in at 5.5 hrs – to bring you this comprehensive review. At 35,500 Velocity Points + taxes for a one-way Business Class ticket, this is certainly a good flight to book with points.
---
If you're looking to earn Velocity Points, why not take a look at the American Express Velocity Platinum?
---
Before the flight
Virgin Australia operates from the far end of the Brisbane Domestic Terminal on the right-hand side – you can't miss it. There are plenty of kiosks and check-in counters, with three purple priority lanes for Business Class and other premium guests on the far right.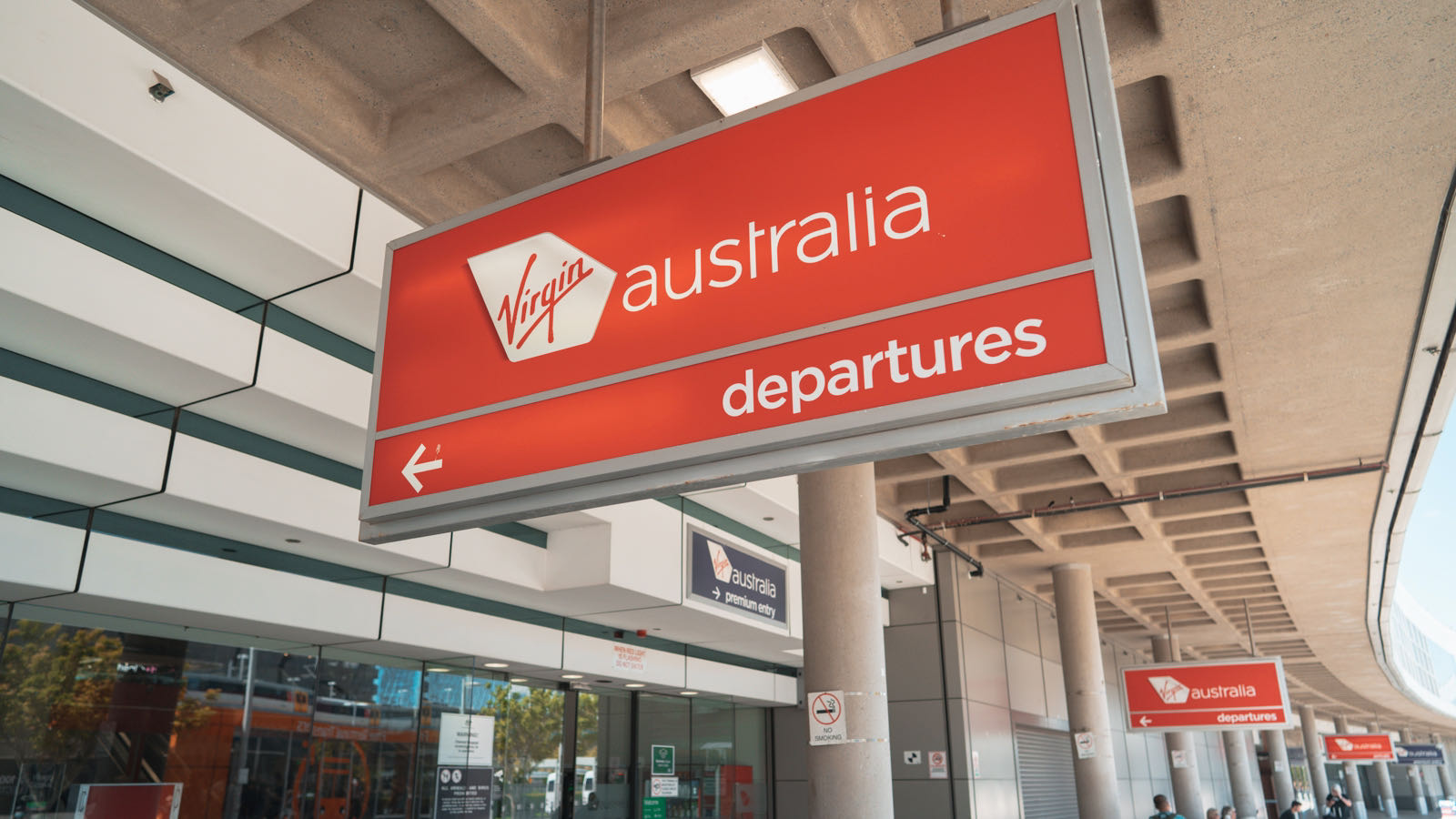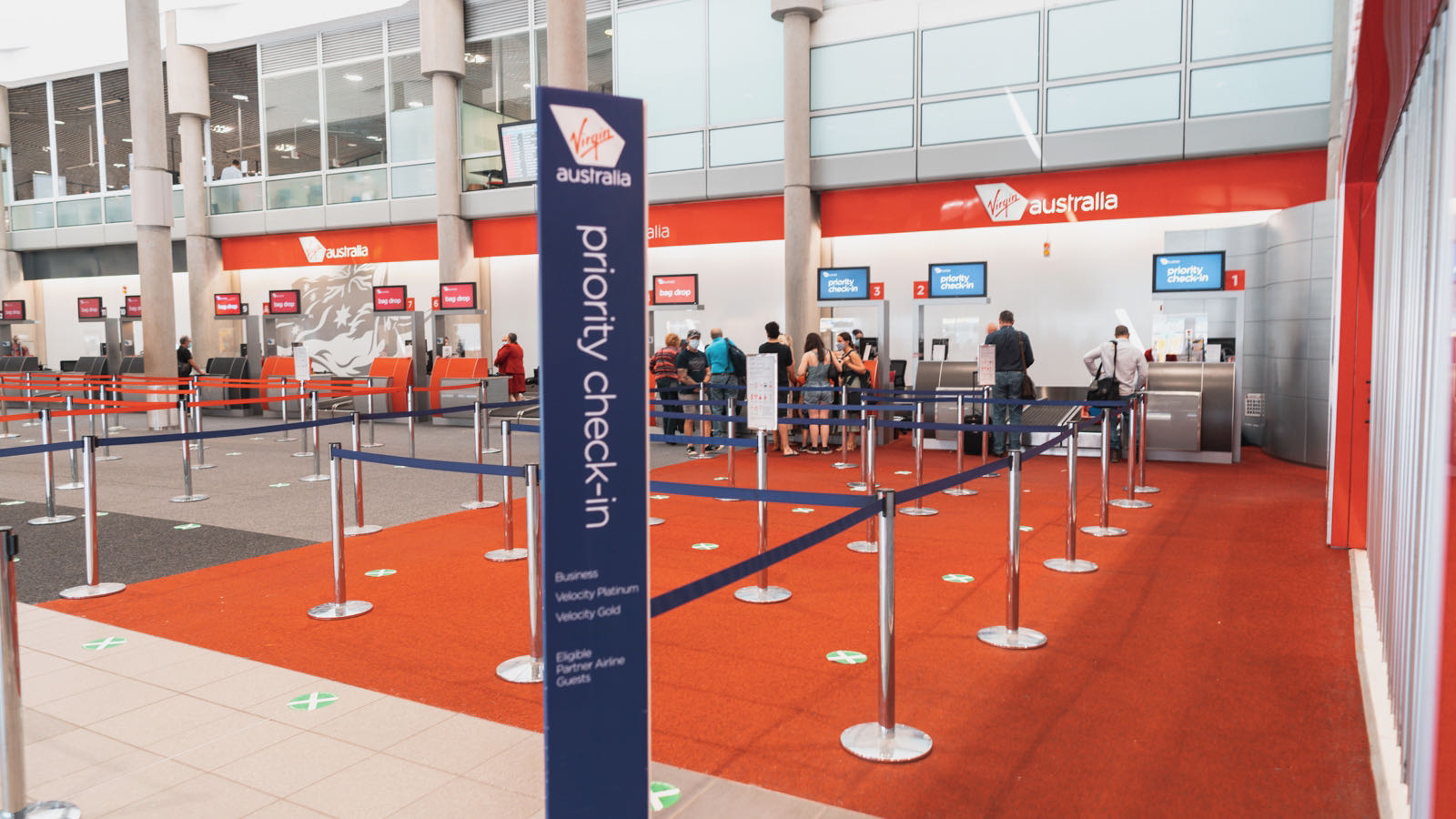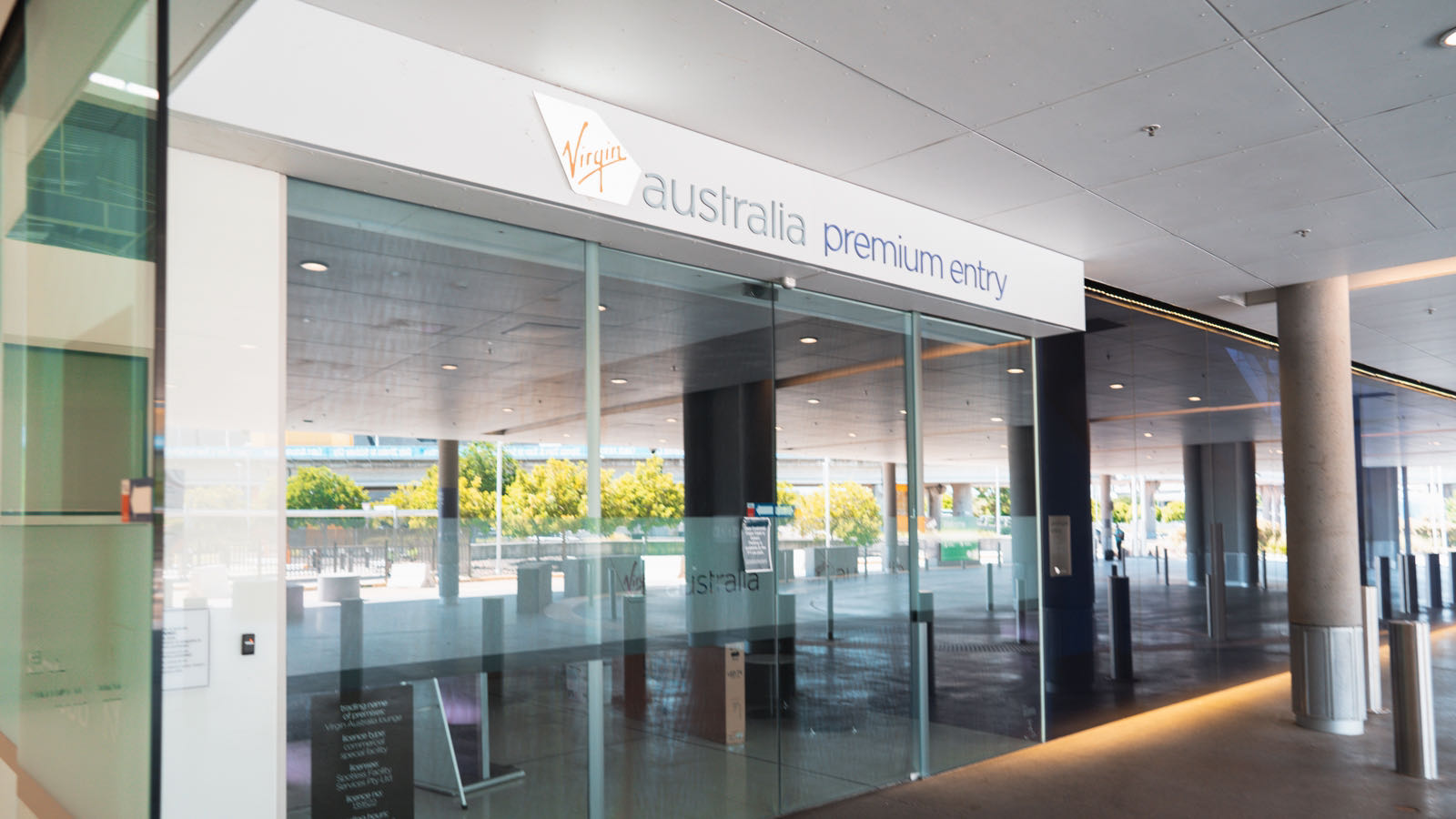 Unfortunately, Virgin's Premium Lounge Entry is still closed at the time of writing. Located on the far end of the terminal, where the valet parking drop-off is, Premium Entry is a dedicated security screening point and direct entrance into the lounge.
In its absence, all flyers will need to go through security via the general lanes, which can get quite busy during peak periods. You can also use the Jetstar (central) and Qantas (far left) screening checkpoints if desired.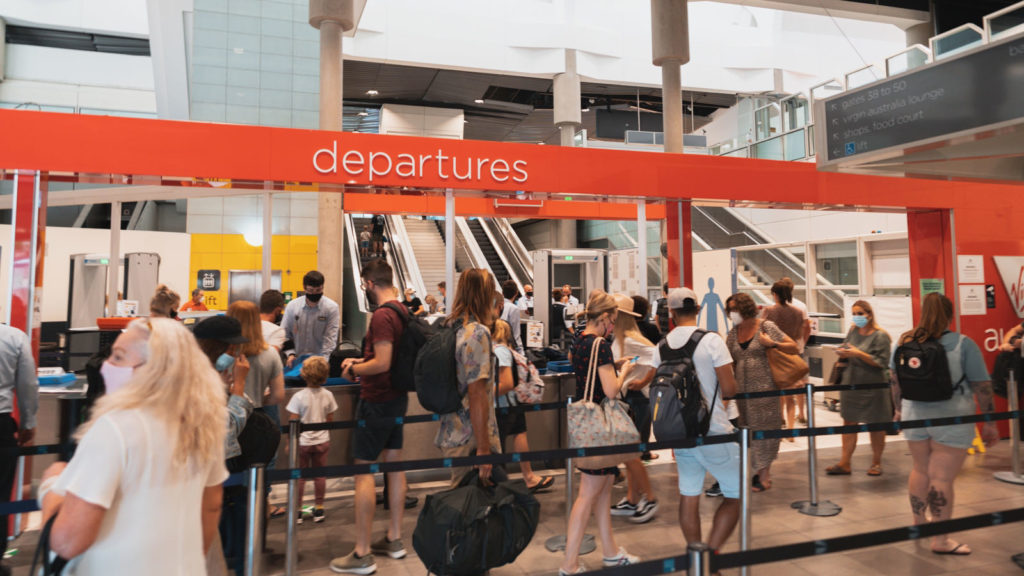 For Business Class guests, Velocity Gold and Platinum frequent flyers, elite partner airline passengers and lounge membership or single-use pass holders, the Virgin Australia Brisbane Lounge awaits opposite Gate 41.
The lounge has a temporarily reduced menu offering, with pre-packed sandwiches being the main option available during the day. Point Hacks understands that an enhanced lounge menu, which debuted in the Adelaide lounge, is due to roll out nationally 'in the coming weeks'.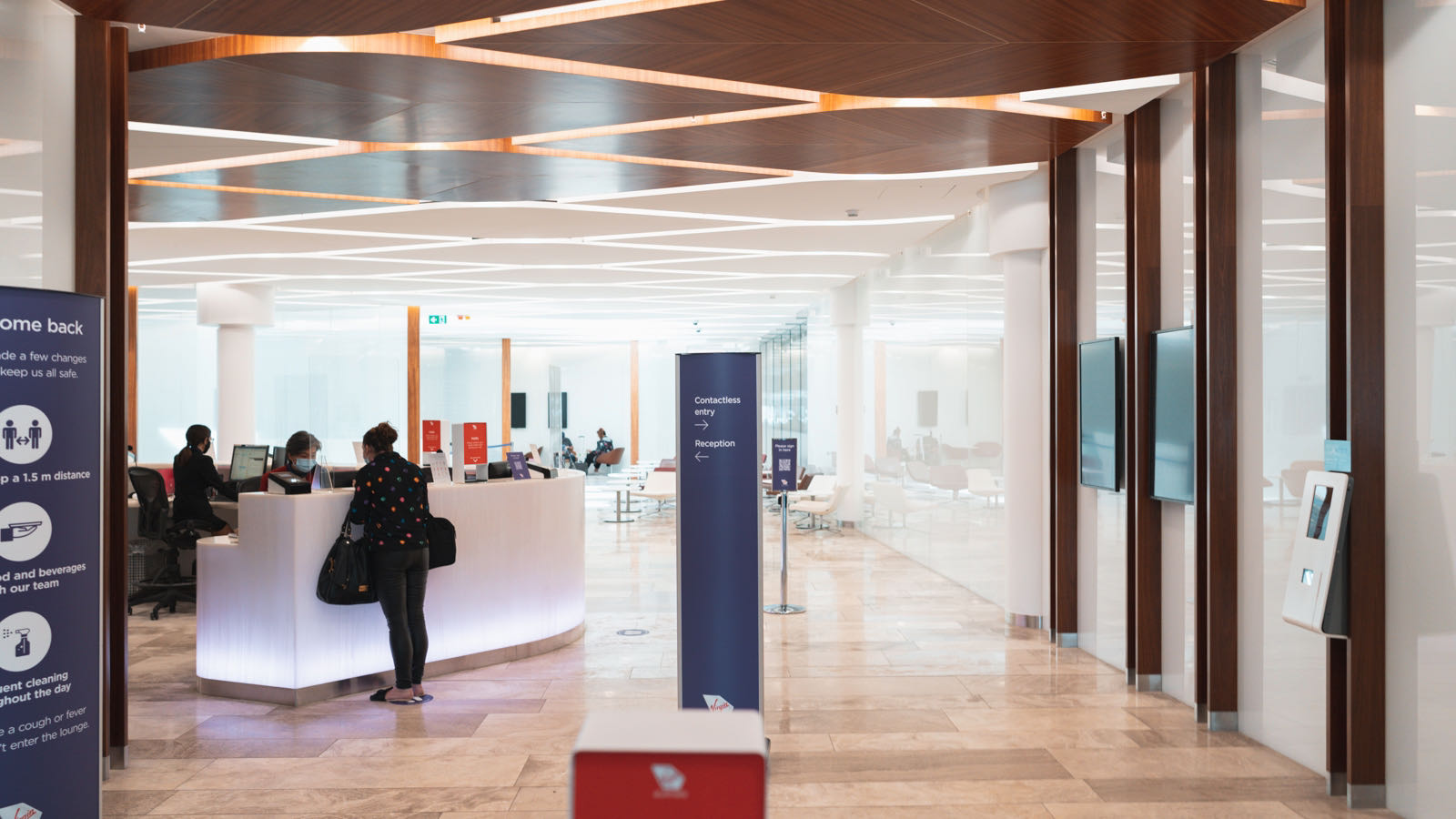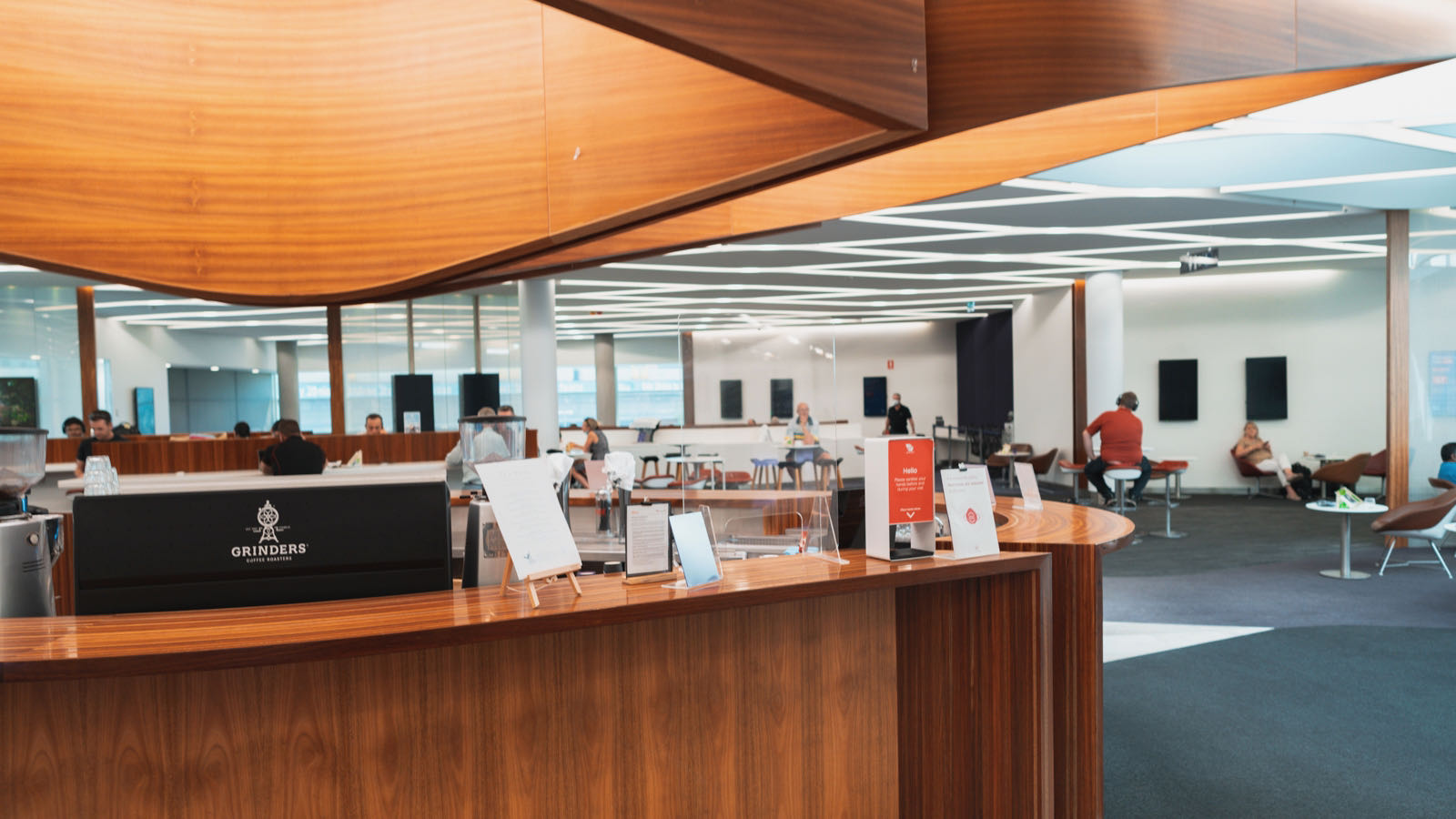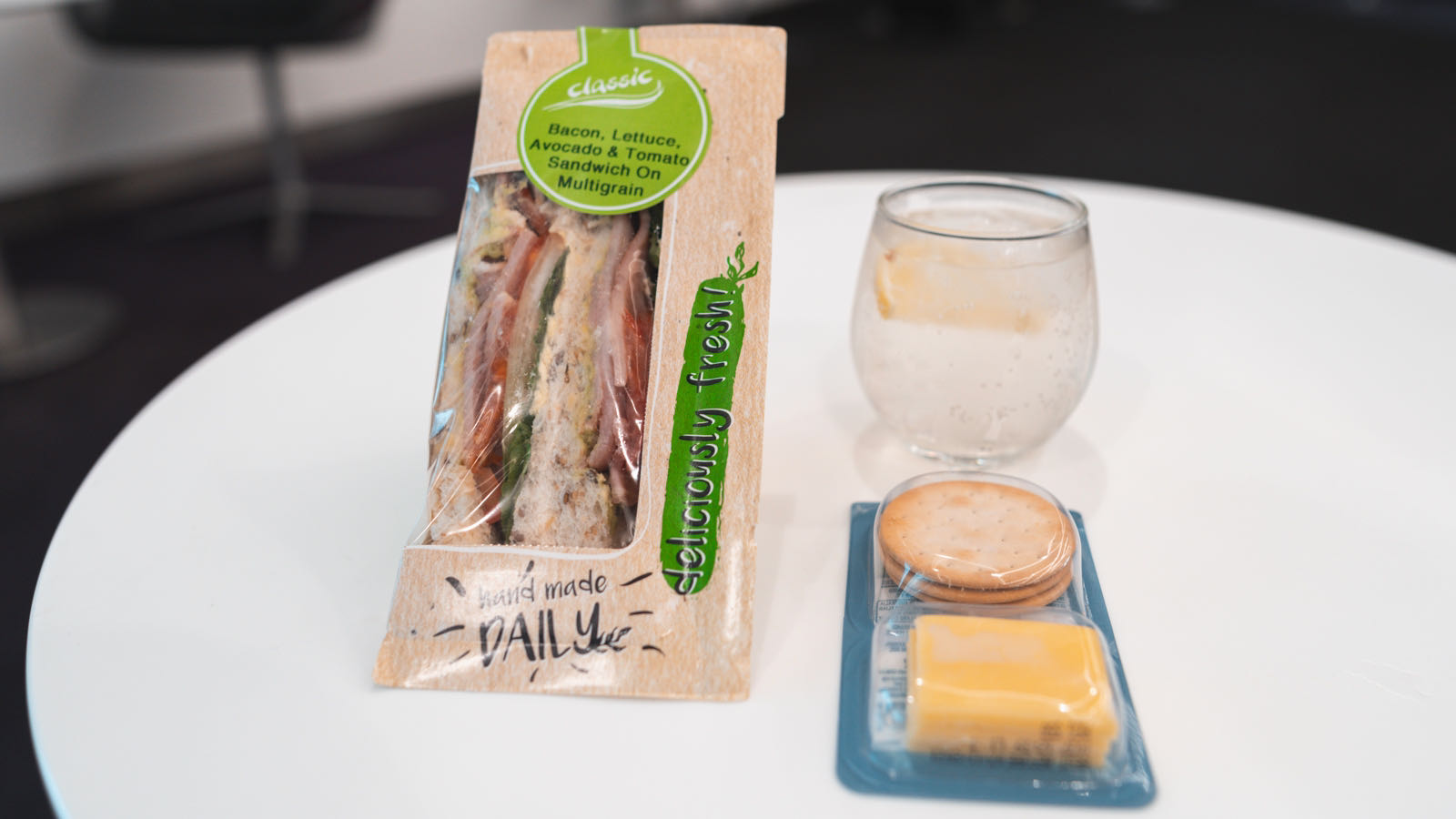 Finally, priority boarding is handled efficiently at the gate, with eligible passengers (including those who purchase the Economy X add-on) invited to board first through a dedicated lane.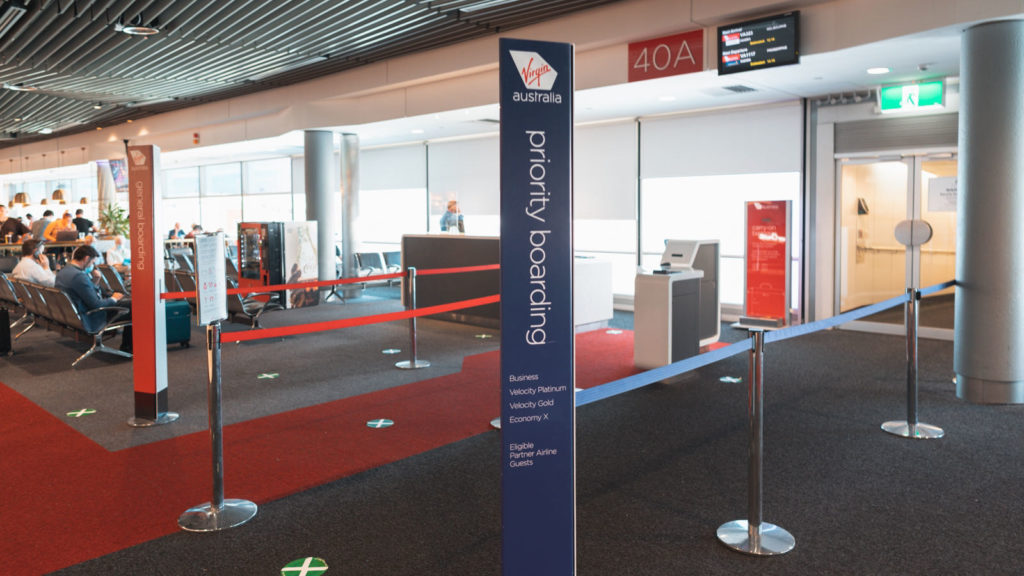 Cabin & seats
Virgin Australia's Boeing 737s feature eight leather-appointed recliner seats in Business Class, in a standard 2-2 layout across two rows. The seats are roomy at 49.5cm (19.5 in) across, and there's a pleasing (though not chart-topping) 94cm (37 in) of pitch between the two rows.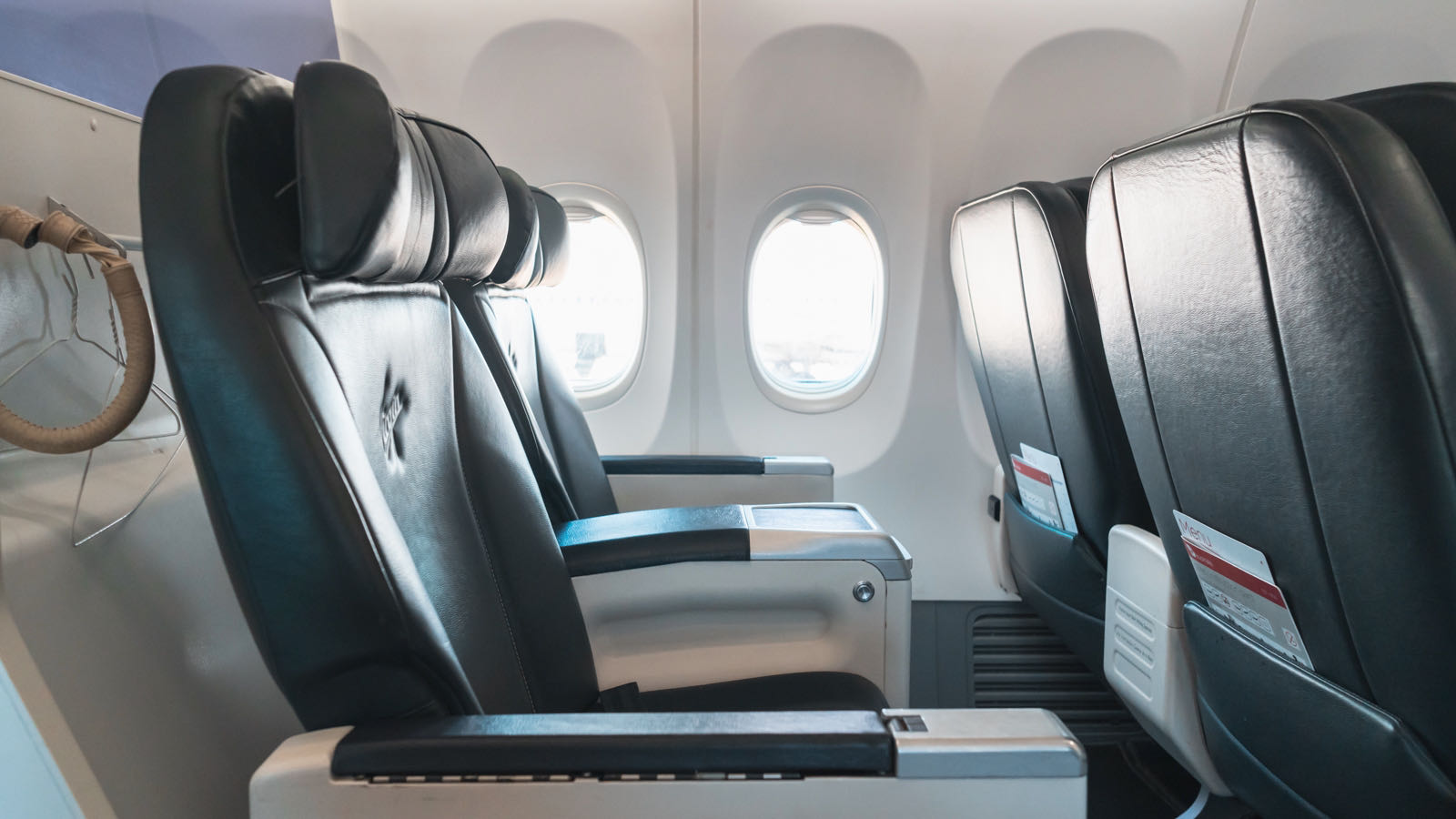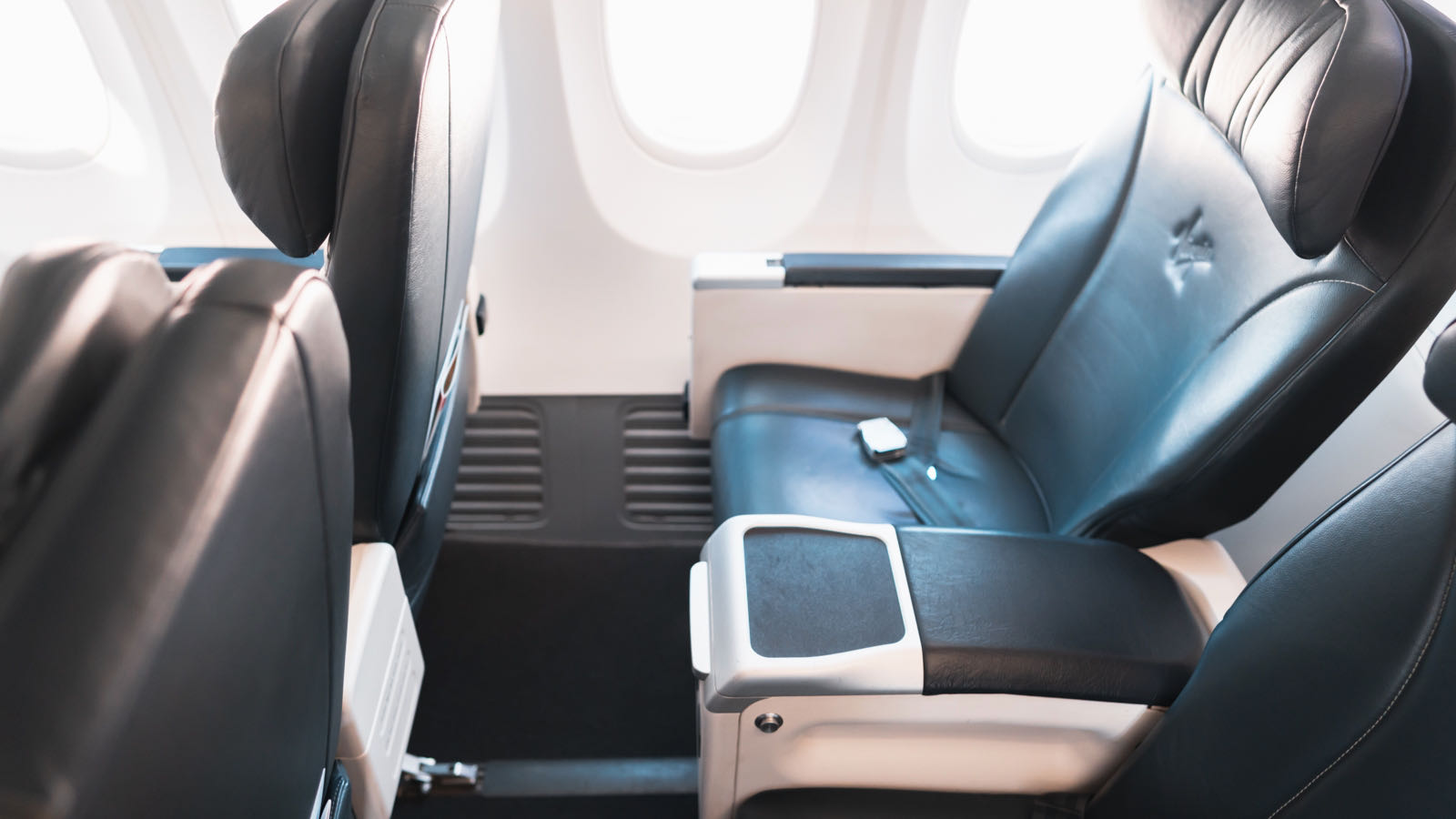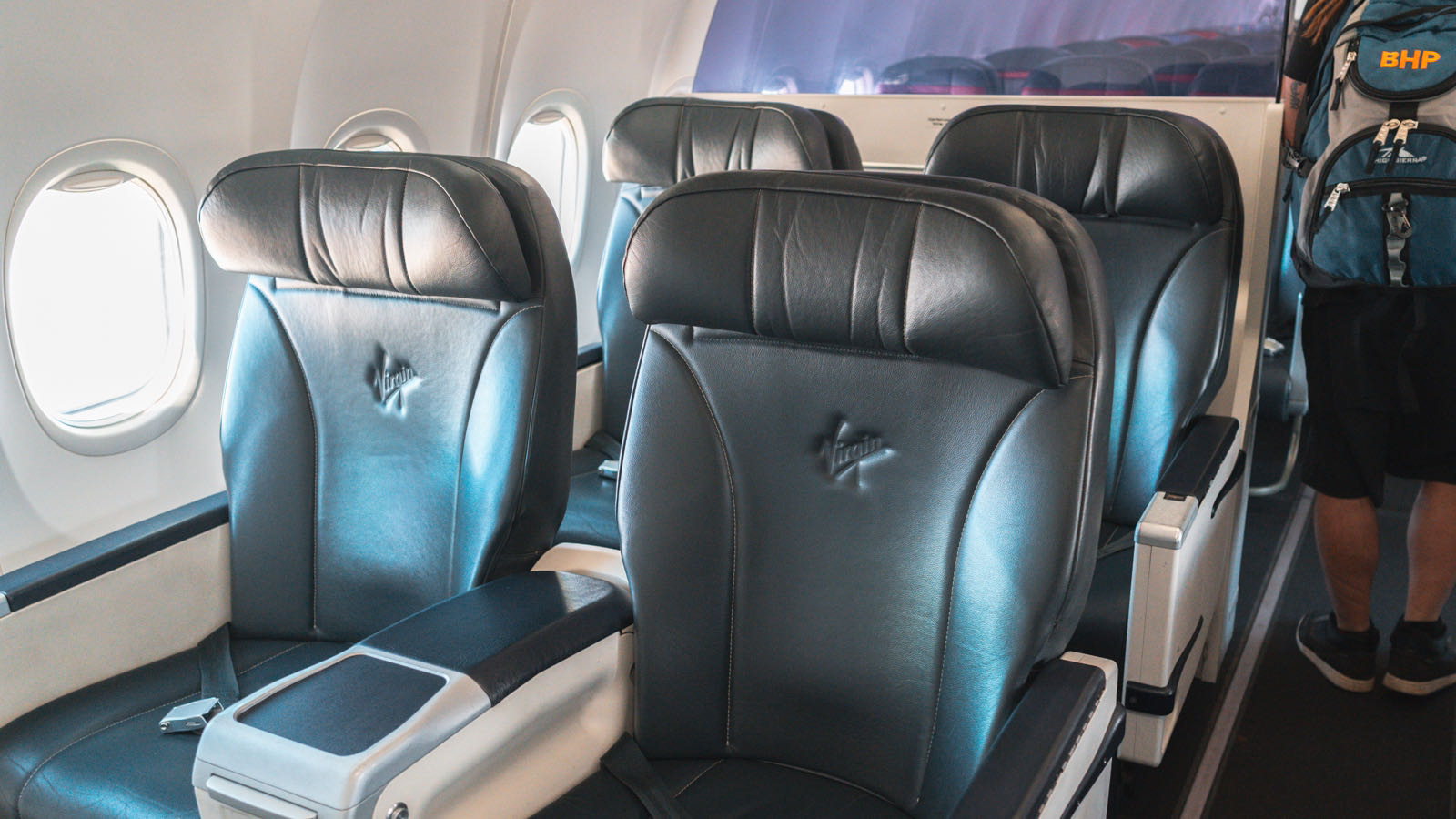 Behind Row 2 is space for passengers to store their suits or jackets during the flight, with hangers provided. The seats recline moderately through a simple button mechanism, and there's still space to move in Row 2 if the seat in front is reclined.
On that note, taller passengers might want to consider perching themselves in Row 2 for these longer flights, as Row 1 doesn't have a cut-out for you to stretch out your legs fully.
Row 2 also has the benefit of allowing you to store bags under the seat in front, but be mindful of a small black box under 2C and 2D which may impede legroom slightly.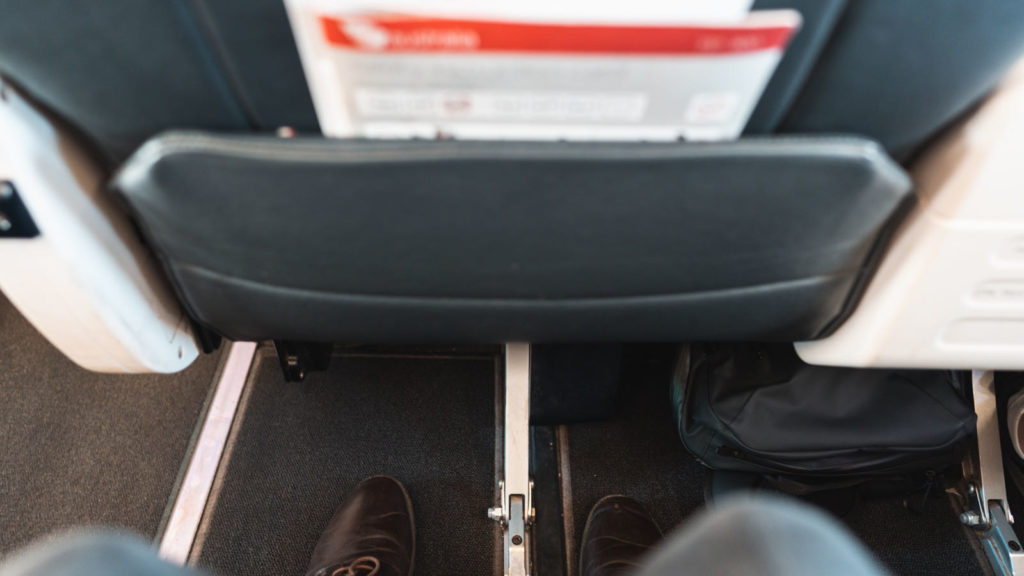 Food & drink
A tipple before take-off…
Virgin tops the competition when it comes to the service flow in domestic Business Class. Passengers are again offered a choice of beverage before take-off, which includes sparkling wine, juice and still or sparkling water.
Shortly after take-off, yet another round of beverages is offered before the main meal service, this time with the full bar available. (Note that this may not be offered on shorter flights).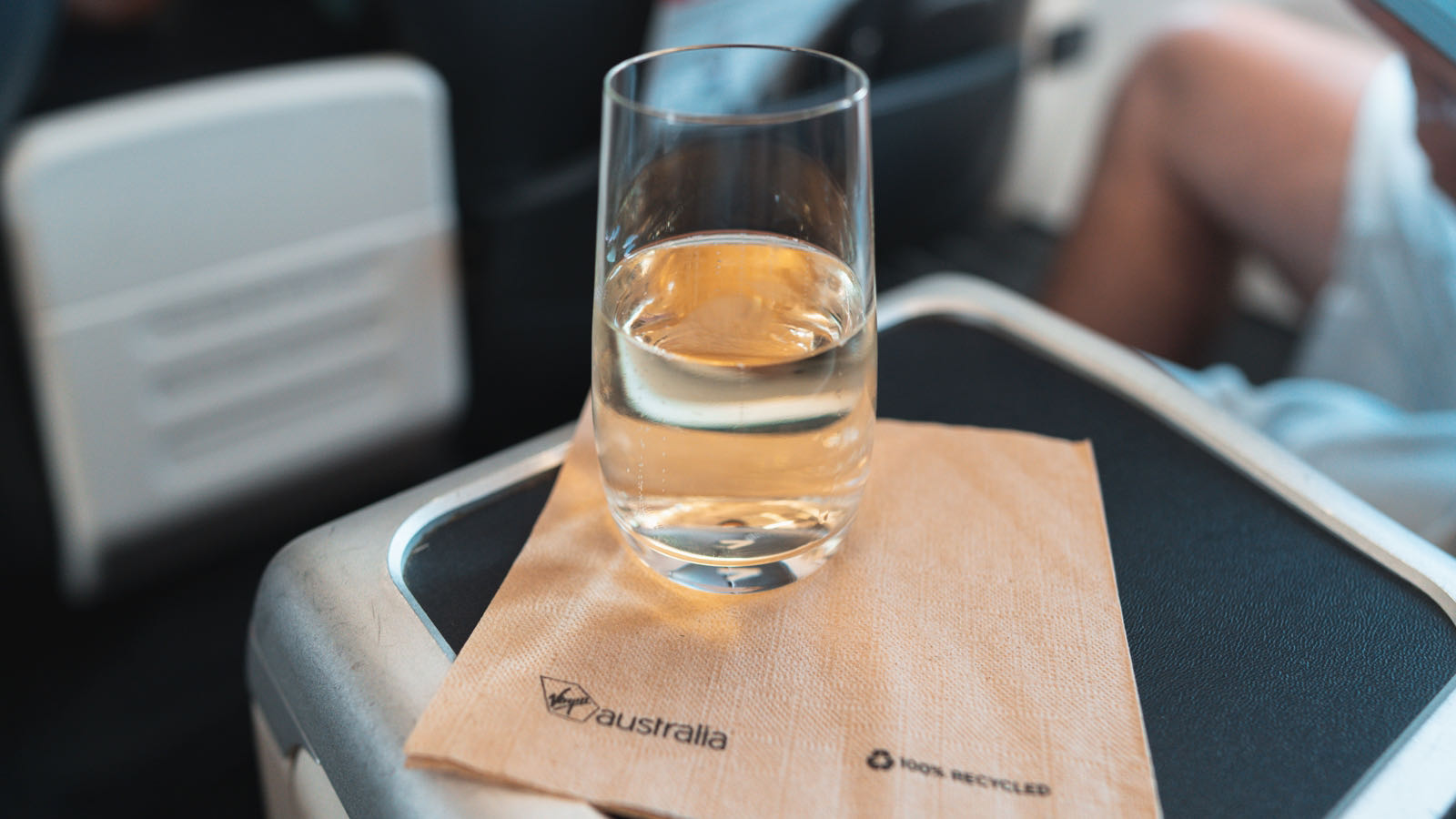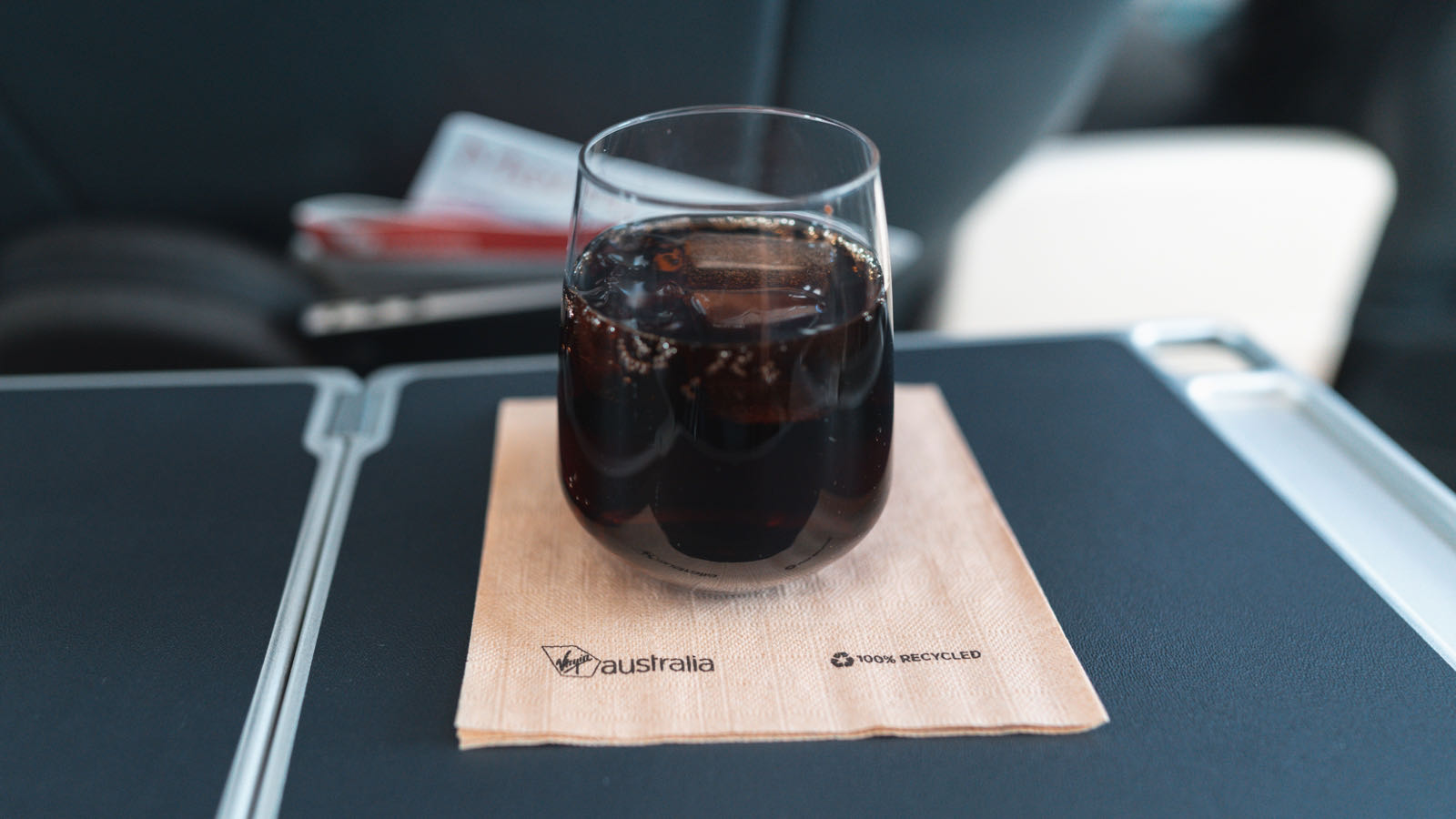 Speaking of the bar, here are the full range of beverages available on this particular flight (keep in mind that selections will vary over time):
Beer: Green Beacon Wayfarer Tropical Pale Ale, Pure Blonde Low Carb
White wine: Founders Block Chardonnay 2018, Tatachilla Admiral Pinot Grigio 2020
Red wine: Ta Ku Pinor Noir 2018, St Hallett Gamekeeper's Shiraz 2020
Sparkling wine: Grant Burge Pinot Noir Chardonnay NV
Spirits: Johnnie Walker Black, Bundaberg Rum, Gordon's Gin, Jim Beam Bourbon, Smirnoff Vodka
Soft drinks: Coca-Cola varieties, juices, and Cascade mixers
The wines are all in the $10-$20/bottle range and by all accounts, the choices are all easy-drinking pleasers from Australia and New Zealand. I'd say it's the right fit for Virgin's 'back to basics' positioning too.
Tucking into something filling…
Moving onto the main event: Virgin's revamped Business Class meal service. It's great to see hot and fresh dishes back on the menu again, although travellers spoiled by the airline's pre-COVID three-course transcontinental service will notice a definite reduction in the offering.
As a 12:50pm departure, this flight is catered to with a lunch/dinner hybrid. The two choices are:
Lamb pie with tomato relish and a pumpkin feta smash
Haloumi and quinoa salad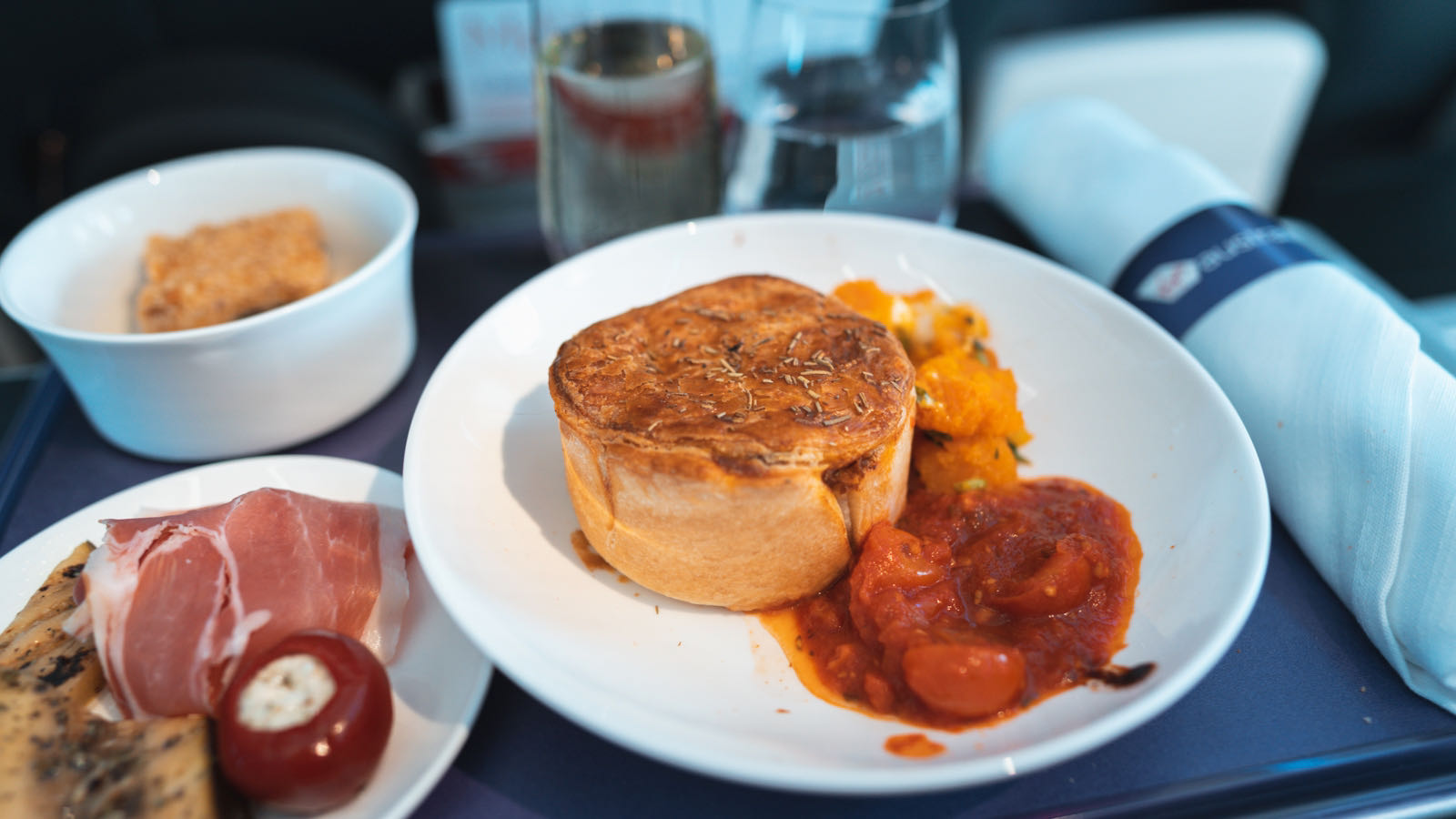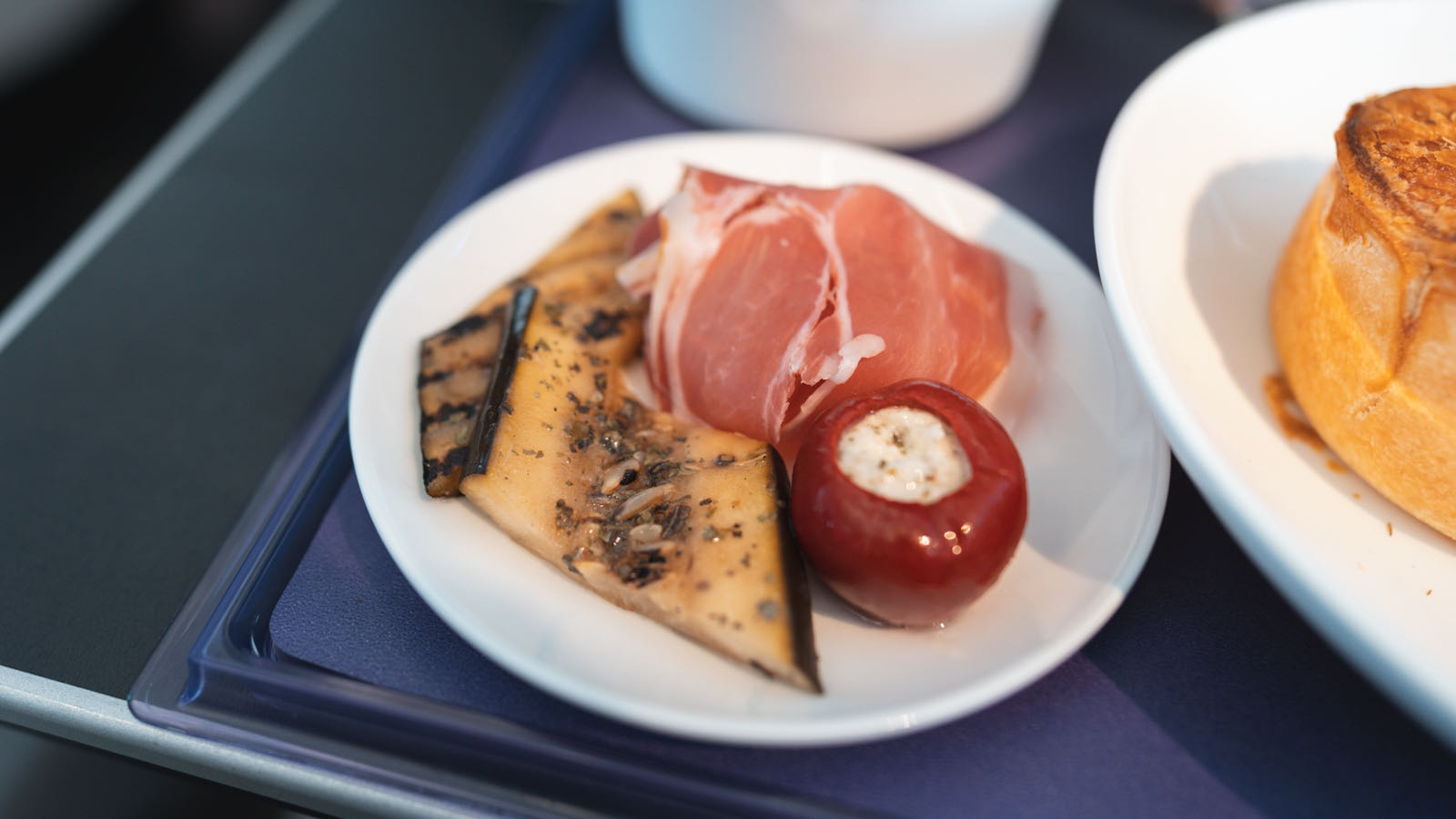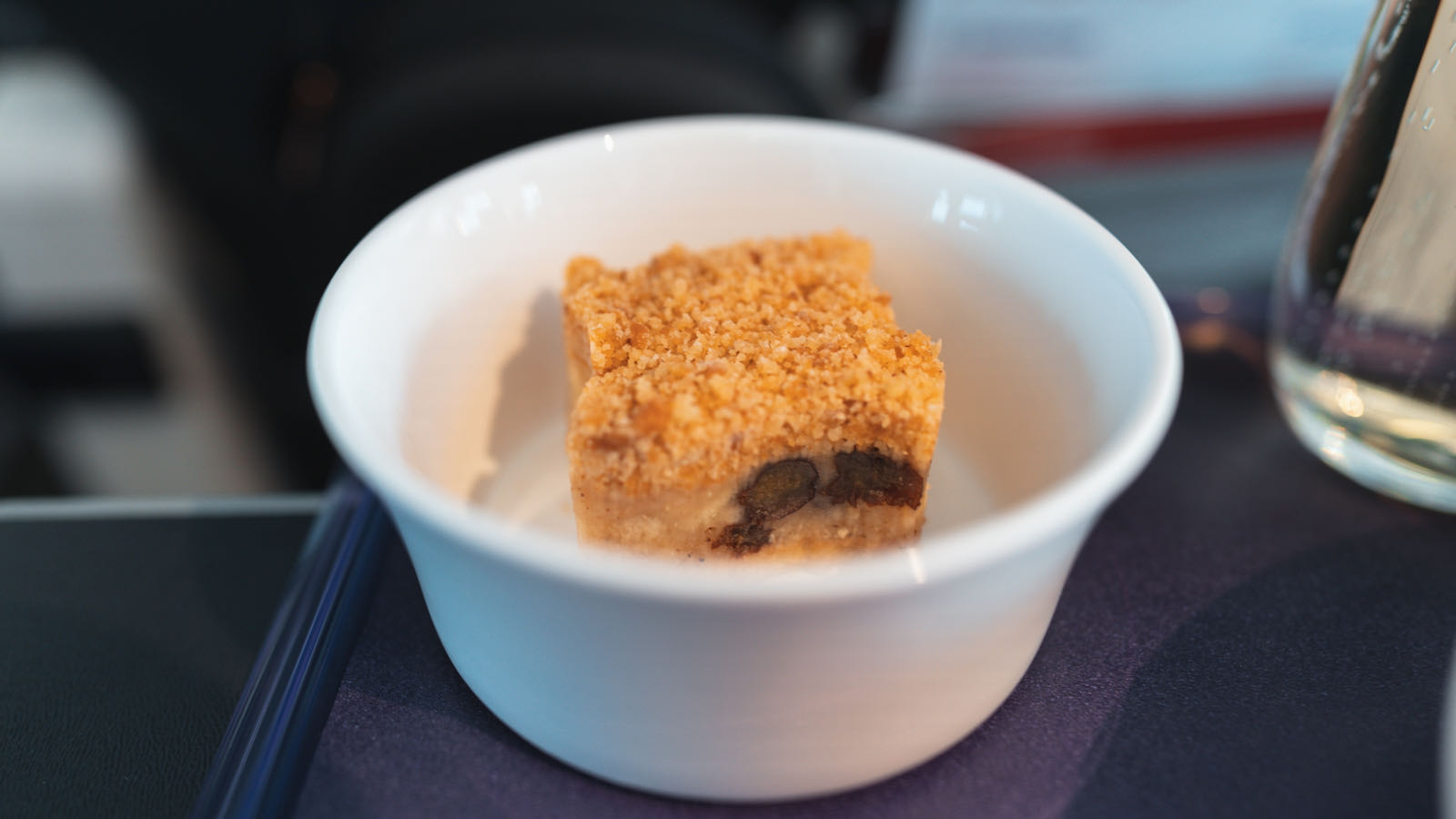 Despite being served sixth out of seven passengers, I was still able to nab one of the remaining lamb pies. It came out piping hot and crispy and was paired well with the pumpkin feta smash and tomato relish. Served on the side is an antipasto plate and an apple crumble dessert.
If you like numbers, I was pleasantly surprised to discover there were six lamb pies and four haloumi salads loaded on this flight for seven passengers, ensuring there was plenty of choice for everyone.
Still peckish later? While 'The Pantry' menu is gone, unfortunately, the cabin crew are still able to provide snacks such as Natural Chip Co. sea salt crisps, Kit Kats, Tim Tams and pretzel crisps.
Inflight entertainment
Virgin's Boeing 737s don't have any screens, either seatback or shared. However, the carrier does offer streaming inflight entertainment which can be accessed through the dedicated Virgin Australia Entertainment app or through a web browser.
Using your own compatible device, you're able to stream a range of movies, TV shows, e-books and more, although music isn't present. The latest movie release is Birds of Prey from 2020, so hopefully, the catalogue gets a refresh at some point.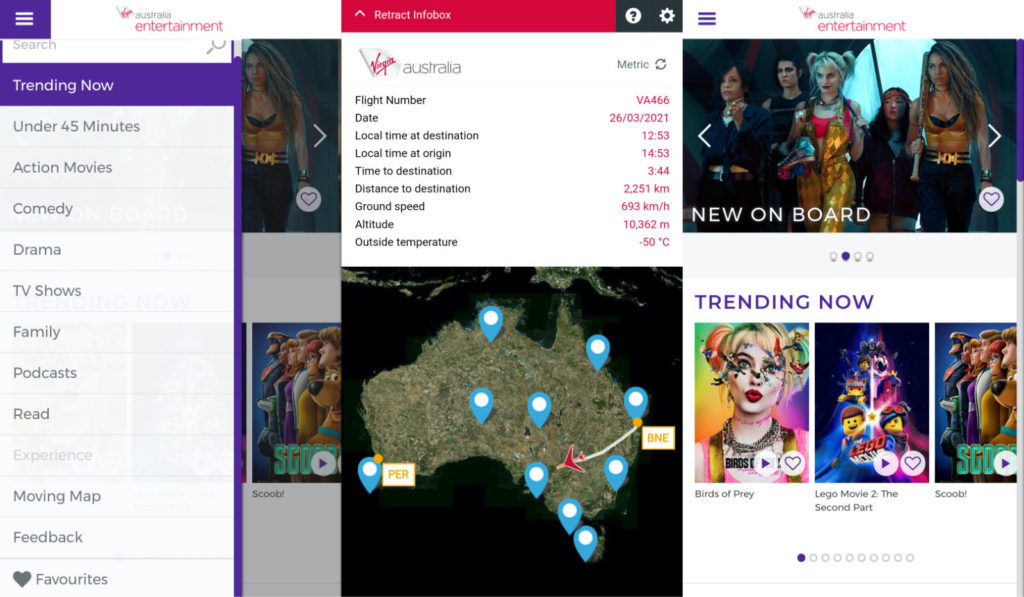 At the time of writing, Virgin has still flicked off its inflight WiFi, which previously offered decent speeds at a free and paid tier. For a 5.5 hr transcontinental flight, having WiFi would be a great convenience for a business traveller.
However, the newer Boeing 737s in Virgin's fleet feature in-seat AC power in Business Class, which is always handy to have. There's no way to predict in advance whether your plane will have power or not, so be prepared either way.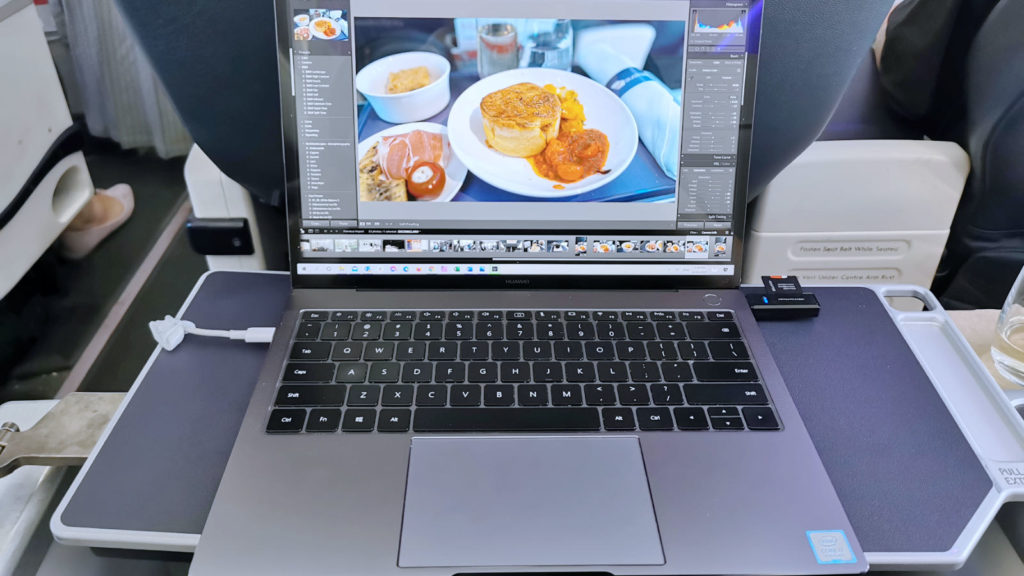 Service & amenities
The stars of Virgin Australia are its cabin crew, all of whom were as friendly and professional as ever. It's the simple things that count, such as proactively offering drink top-ups and snacks.
Amenities-wise, the current offering is admittedly a bit sparse, with no pillows, blankets or other comfort amenities on offer. In the small lavatory at the front, there are no Business Class-specific products.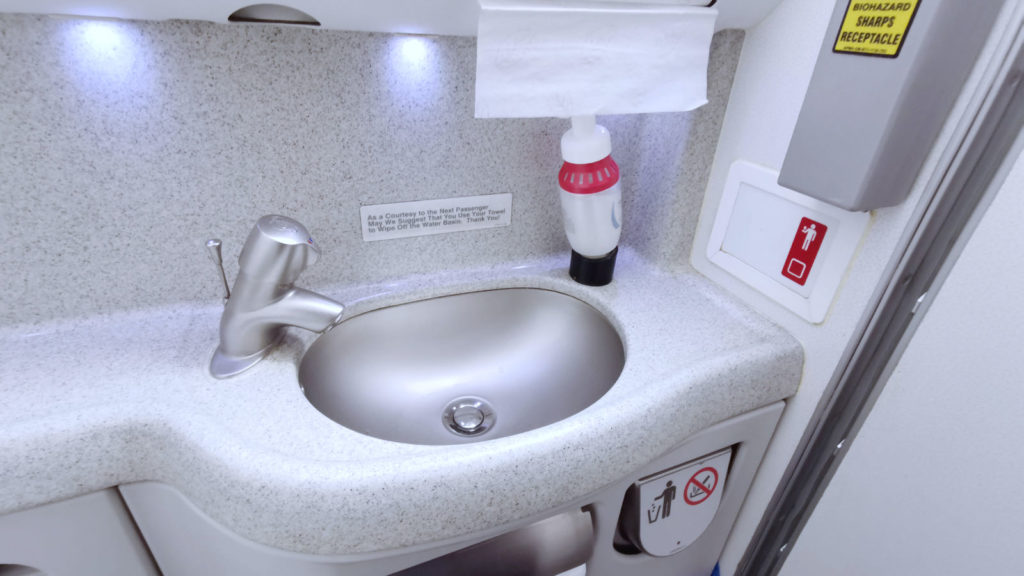 Summing up
Virgin's revamped Business Class is fairly good across the board. Its meals are fresh and are definitely plated up very well. The airline's playful flair and relaxed service are still as cheerful as ever. But the food offerings on transcontinental flights does need to be beefed up, given the one-tray model is better suited to shorter flights.
It's always been hard to compare Virgin and Qantas, but now there is even more of a striking difference between the product offerings and market placement, which does provide customers with greater choice.
Qantas does currently have the edge in-flight WiFi, a significantly larger lounge network, better frequency, more comprehensive dining options, and the presence of Airbus A330s with superior lie-flat seating on some transcontinental routes.
(But to be fair, Qantas also doesn't roster Airbus A330s on the Brisbane-Perth route most of the time, so there's no difference for passengers who will end up on a Boeing 737 regardless).
A battle of the bean counters…
Pricing-wise, Virgin Australia is a lot sharper now, and perhaps that's where its power lies. After all, if passengers are going to get a similar experience on Virgin for hundreds of dollars (or a few thousand points) less, then that's where the mid-market fares will shine.
Here is a snapshot of sample fares taken for travel in June 2021:
| Sample Business Class pricing | Qantas | Virgin Australia |
| --- | --- | --- |
| Sale Business fare | $1,633 | $999 |
| Flexible Economy fare + points upgrade | $818 + 10,900 pts | $495 + 9,900 pts |
| Business Reward redemption | 41,500 pts + $43 | 35,500 pts + $37 |
| Flights per day | Usually 3-5 | Usually 2-3 |
In short, Virgin Australia Boeing 737 Business Class is a great value proposition given its lower pricing. Once the airline improves its lounge catering, turns inflight WiFi back on, and add some variety to its rotating menu, then it will be an even stronger competitor indeed.
Finally, just keep in mind our rating of 3.5 stars (7/10) is specific to a transcontinental flight. If we had the same experience for a shorter journey (say, Sydney-Melbourne), then we'd peg the rating closer to 4 stars (8/10), since having a larger meal and WiFi onboard becomes less important.
---
Brandon travelled as a guest of Virgin Australia. All opinions and photos are the author's own.
Virgin Australia 737 Business Class (Brisbane – Perth)
was last modified:
April 27th, 2021
by