Qatar Airways feature the new Qsuite on their flight from Canberra and Sydney to Doha and then onto a variety of destinations. It is a Business Class product that sets a new standard in the industry and is a game changer for the airline.
I flew as a guest of Qatar Airways between the two Australian cities of Sydney and Canberra to test out the new product and see what all the hype was about (spoiler alert: it was amazing).
Fleet & routes
Qatar Airways currently offers their Qsuite product on some Australian routes. However, aircraft change frequently, so you'll want to check the guide below to get the most up-to-date information.
You can also find the QSuite on destinations like Bangkok, Hong Kong and Shanghai (Asia-Pacific), Frankfurt, London and Paris (Europe), and Chicago, New York and Washington DC (US).
You can check current Qsuite destinations on the Qatar Airways website.
Note that this product can be found on four aircraft types:
Boeing 777-300ER (this overview)
Boeing 777-200LR
Airbus A350-900
Airbus A350-1000
How can you check the flight you are interested in has the Qsuite? Use SeatGuru or ExpertFlyer to see if the seat map matches the ones in the next section.
The cabin & seats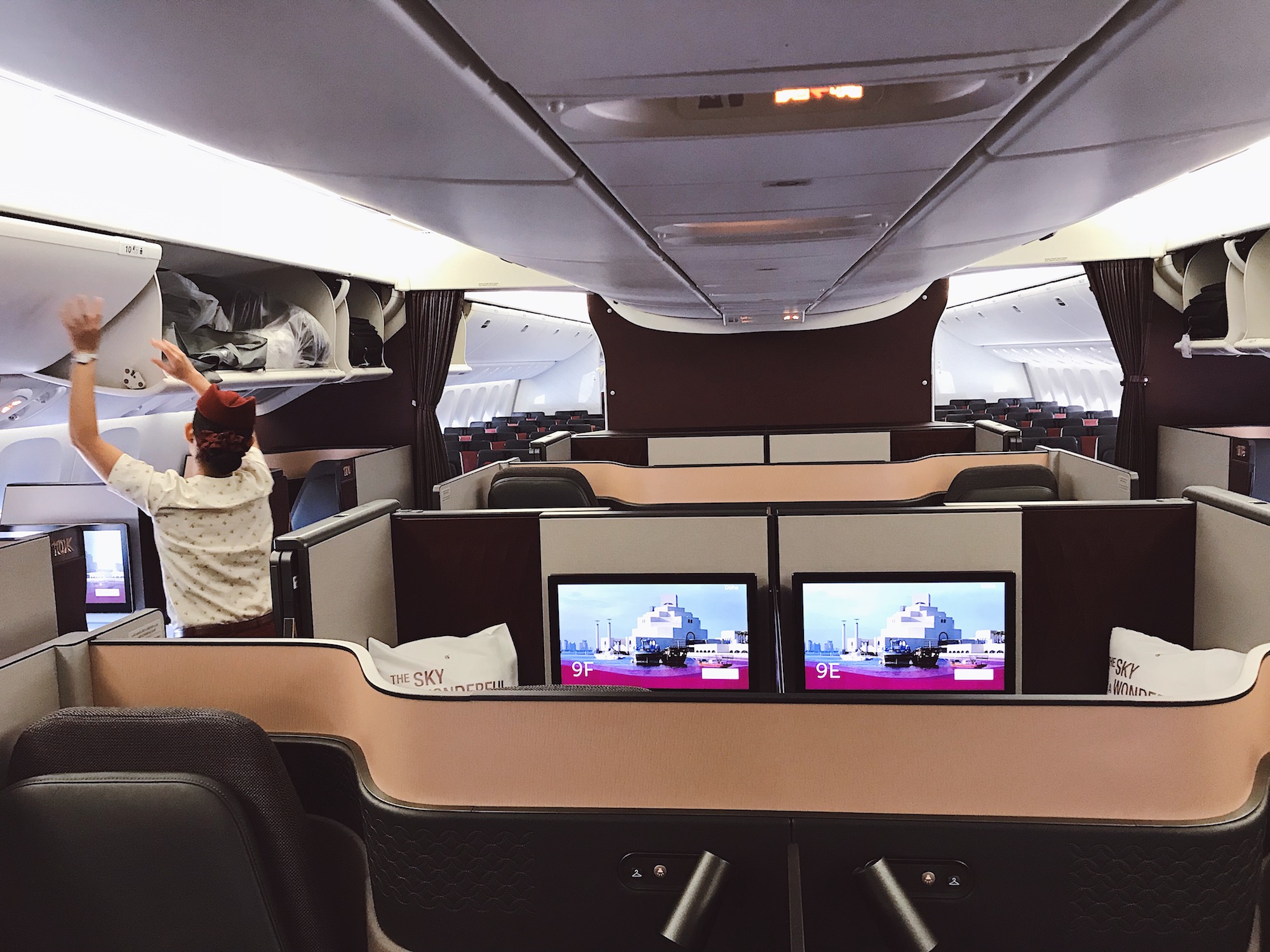 The Business Class cabin is located in the front two sections of the plane, which take up Rows 1-6 in the very front section and Rows 7-11 in the second section. The configuration of the suites is in a staggered 1-2-1 layout but it is not as simple as that (see seat choice below).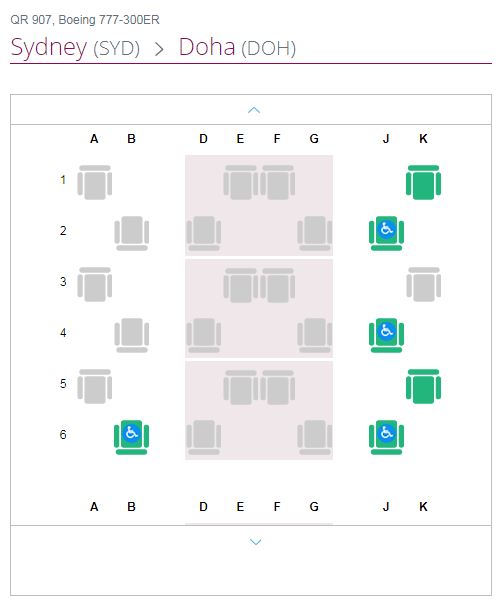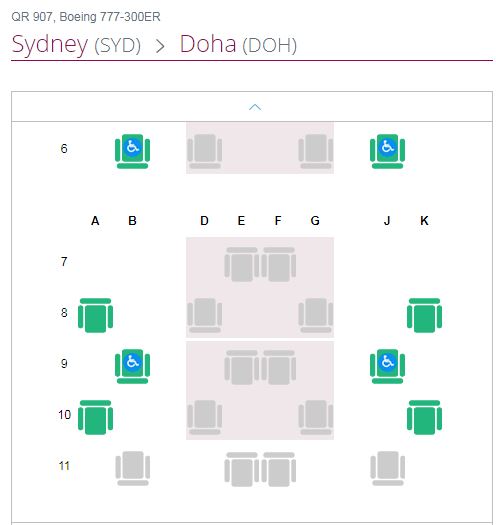 Qatar Airways have completely revolutionised seats for the Qsuite and, in my opinion, offer the world's best Business Class seats and an absolutely amazing experience.
The motto of 'First in Business' includes the introduction of 135cm high sliding doors to the suite, making it a private bedroom. There is also the addition of mood lighting, extra storage space for all of your belongings and a do-not-disturb button if you would like complete privacy.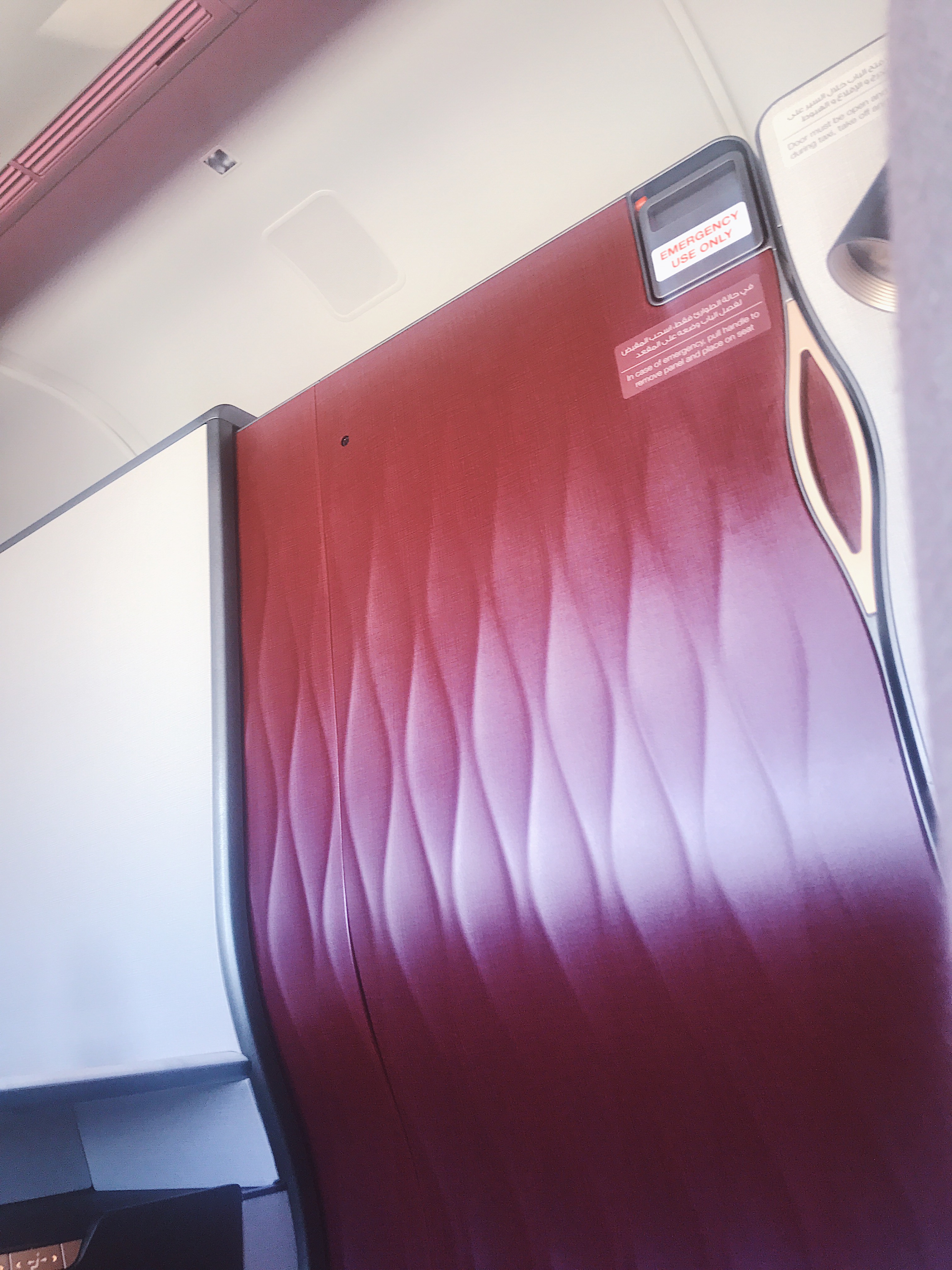 The suite itself is extremely spacious, with the seat coming in at 21.5 inches wide and converting into a lie-flat bed measuring 79 inches long.
Even though I was only flying on a short journey to test the new seats out, the crew offered the full turn down service, which includes a quilted mattress, soft duvet, and also two pillows to make it extra comfortable. One of the pillow cases had the writing 'The sky is a wonderful place to be', which I found very fitting.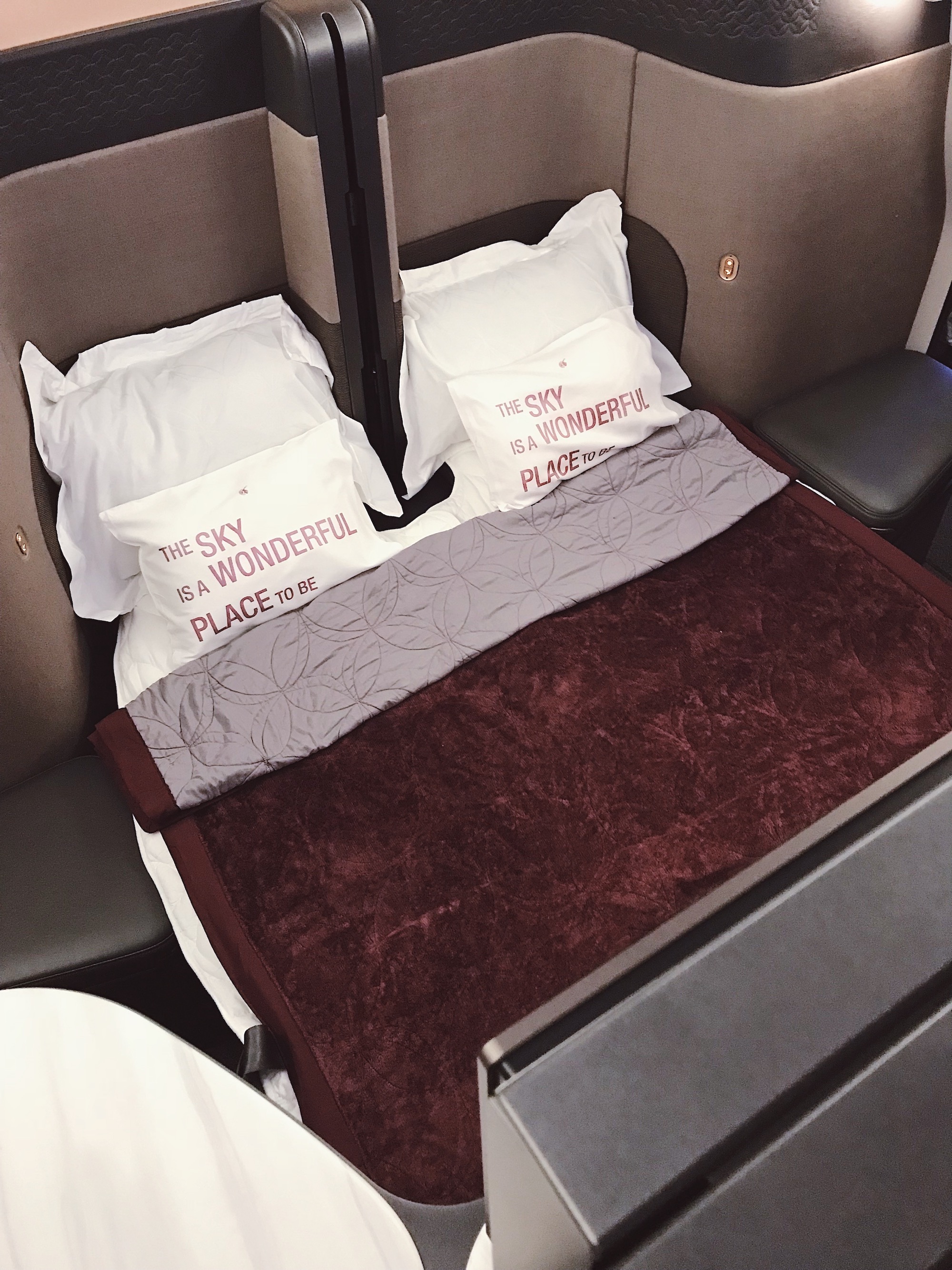 Seat choice
This is where the interesting (but slightly confusing) part comes in as there are a lot of variables—bear with me:
Rows with seats A & K: all of these seats will be rear-facing but unlike other airlines that offer this configuration (where you can look deeply into your neighbours' eyes), the Qsuites are completely private, so you will not see any other passengers. Flying while seated backwards is not for everyone but apart from take-off and landing, you will not notice that much of a difference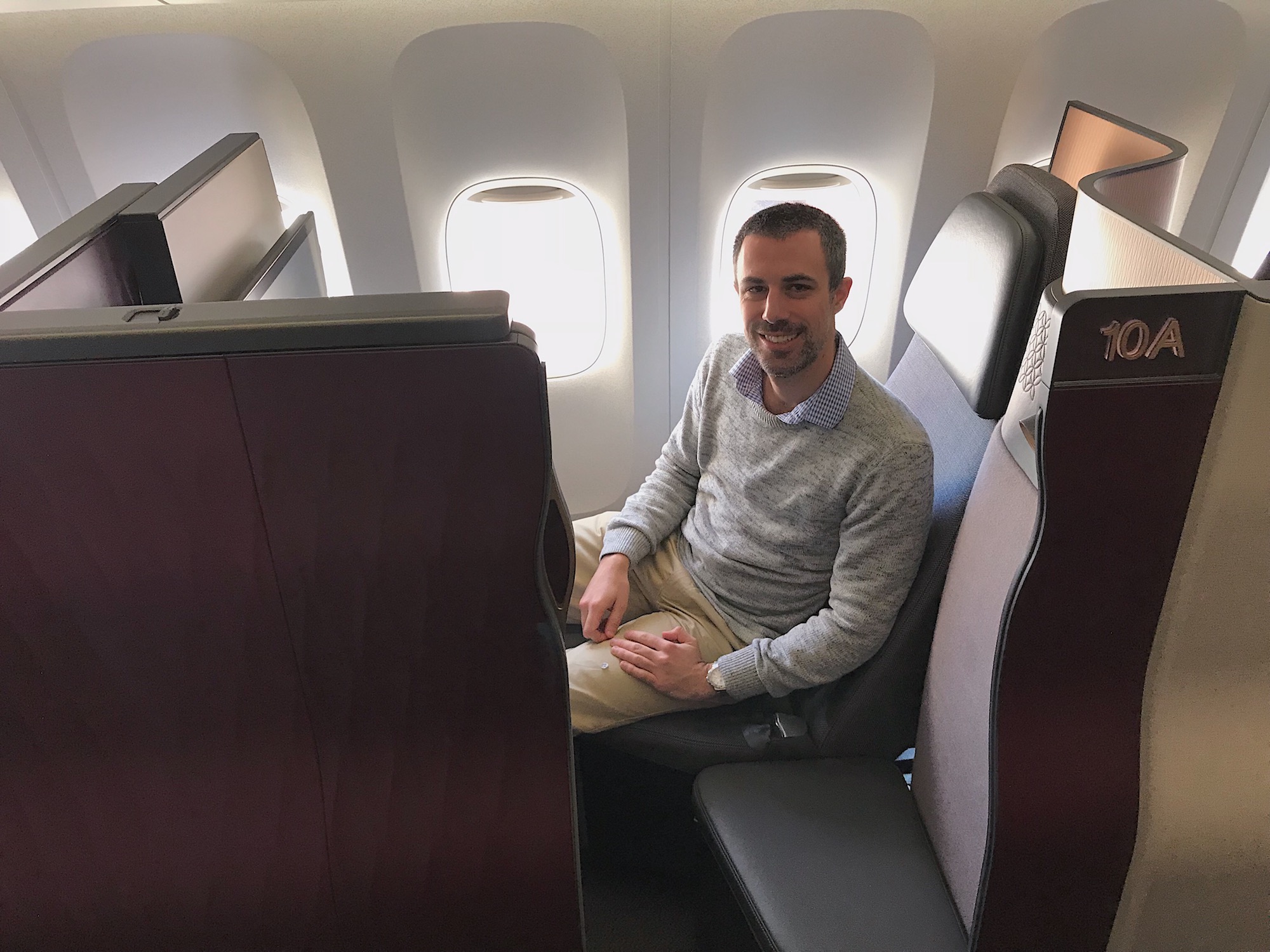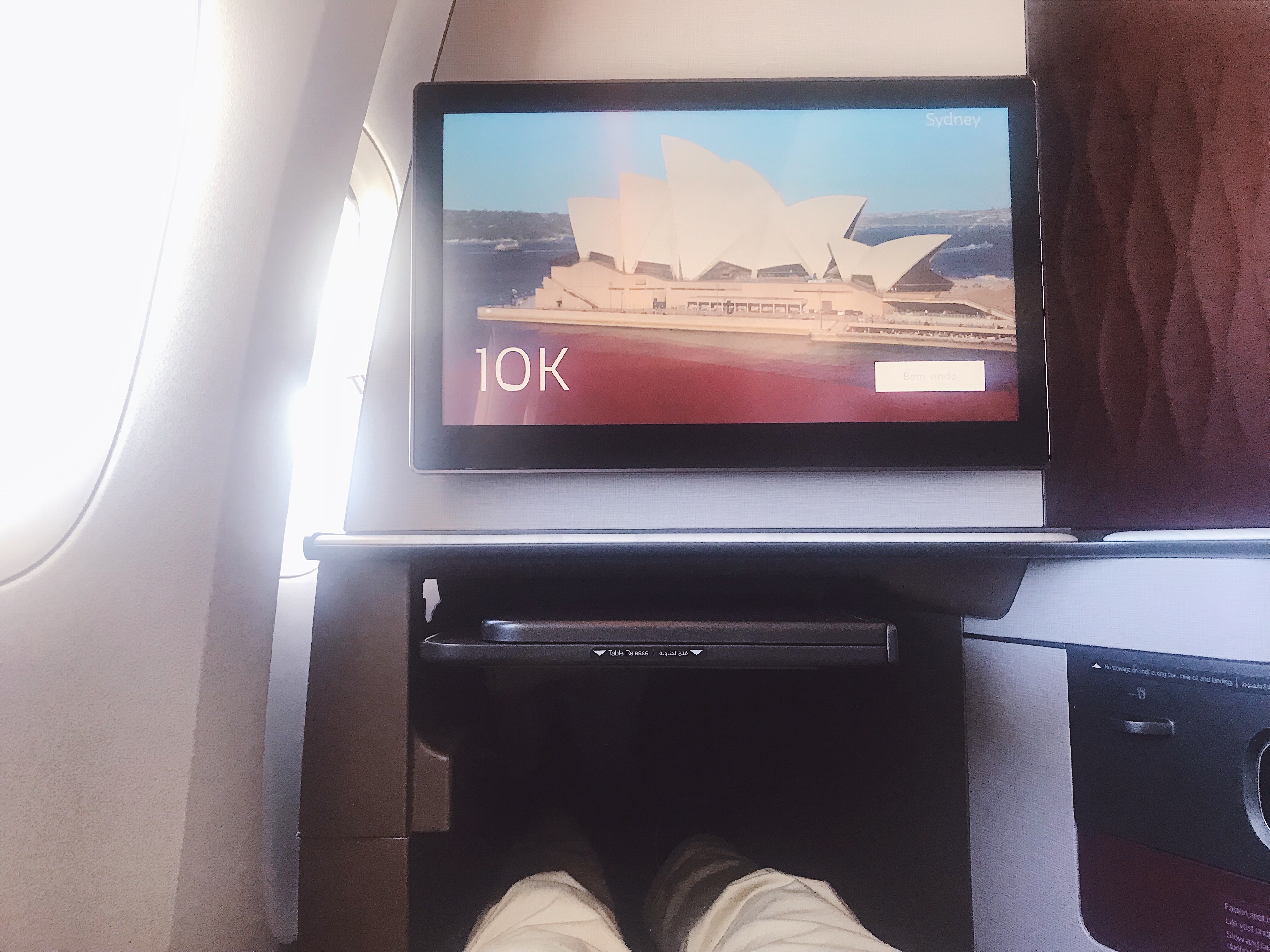 Rows with seats B & J: Even though I find sitting in the rear-facing seats a non-issue, if you really want to be facing forward, then make sure you select one of these seats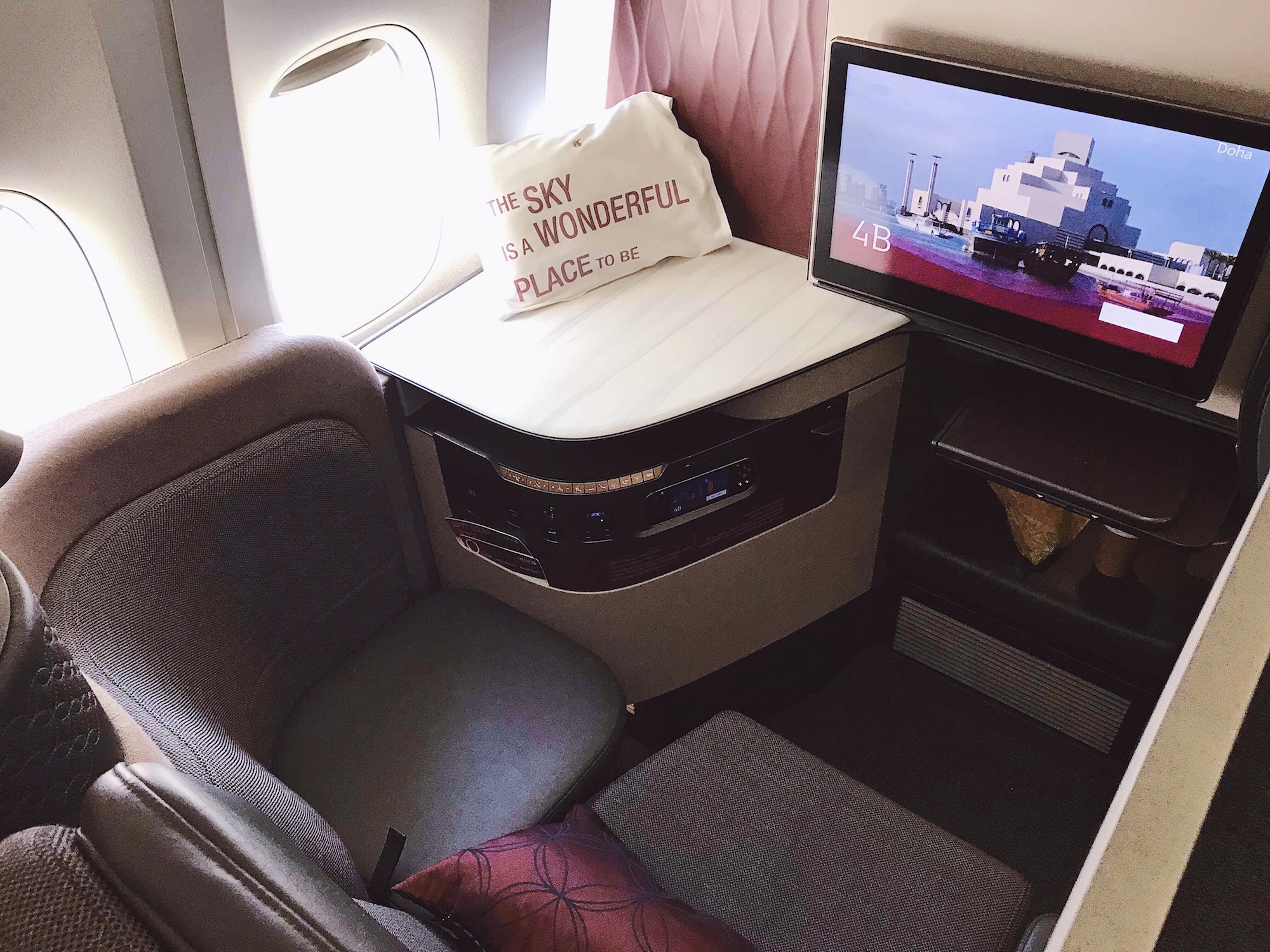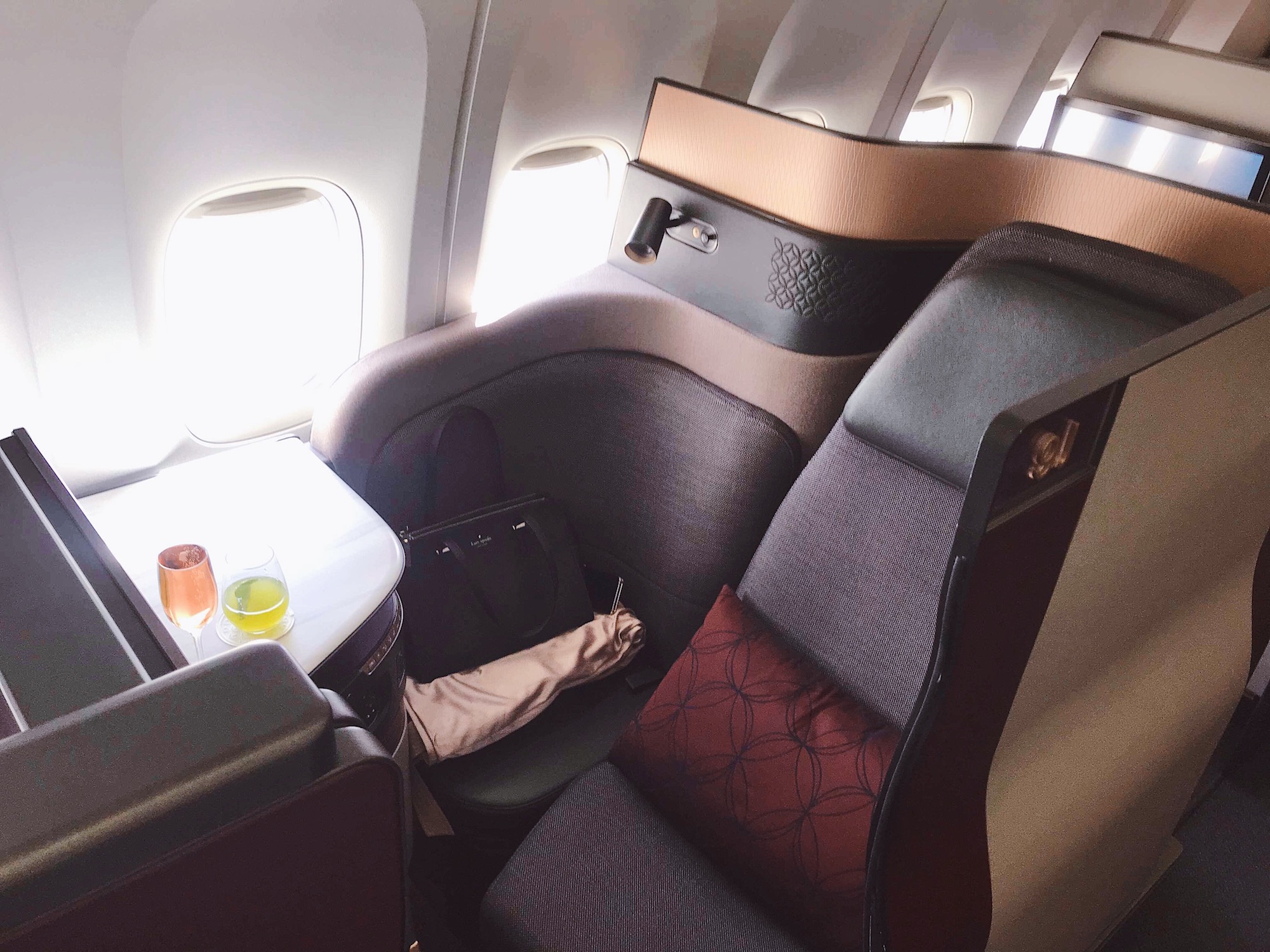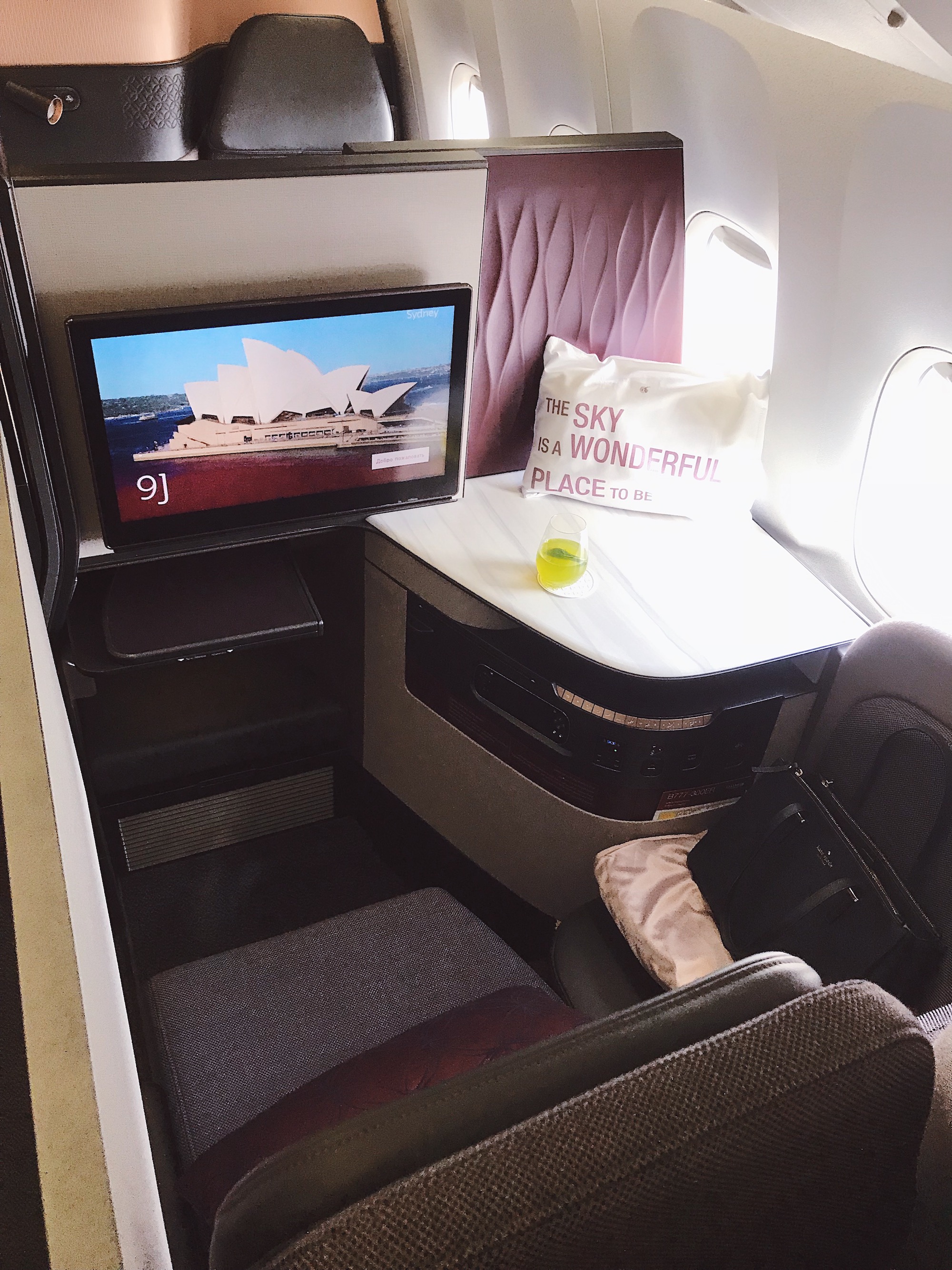 Rows with seats E & F: the middle section of the plane is what makes the Qsuite one-of-a-kind. In my opinion, this is where the world's best Business Class seat shines. These are all rear-facing seats but they are close together, which means if you are travelling as a couple, it is the perfect choice as it turns into a double bed in the sky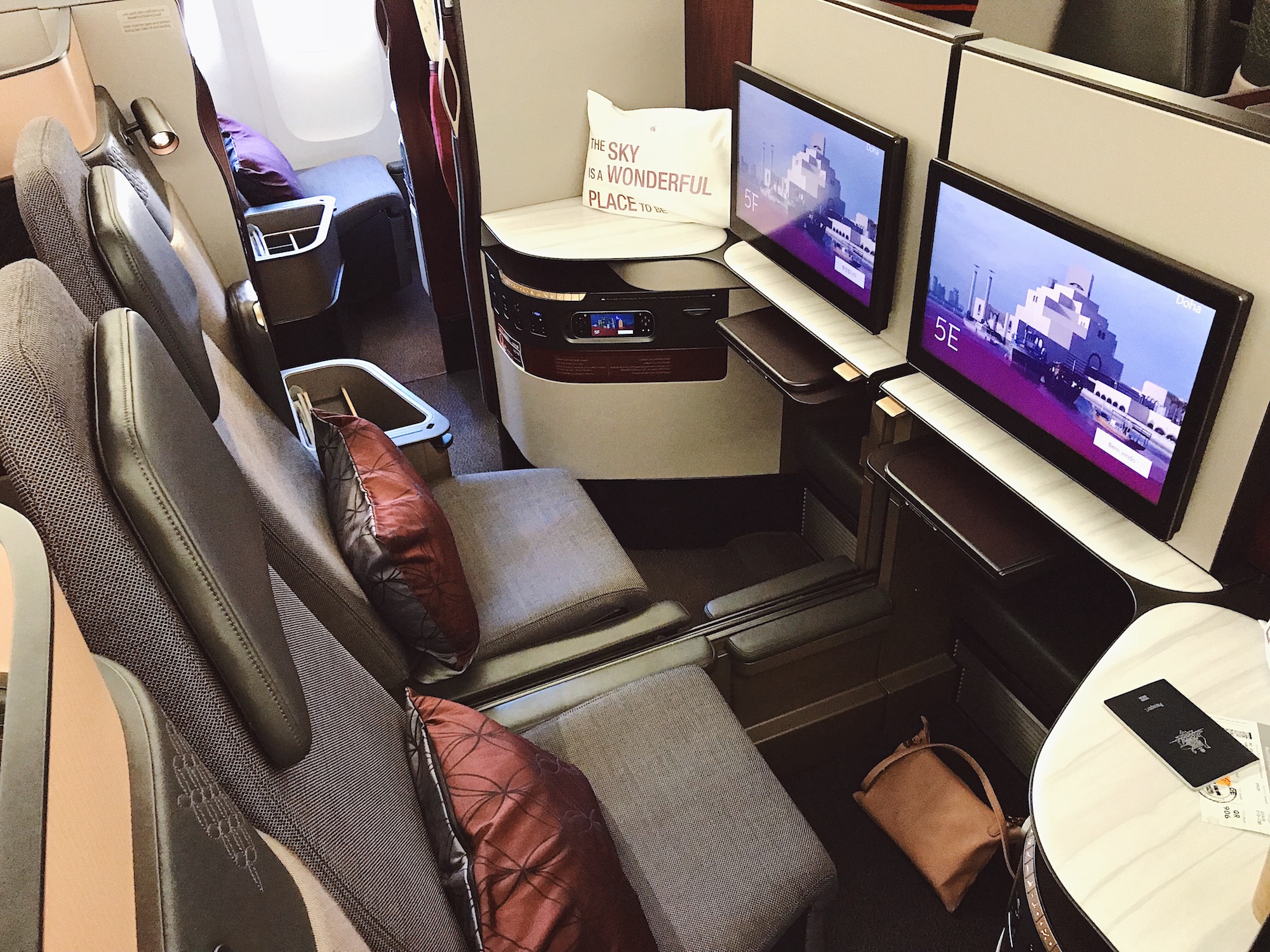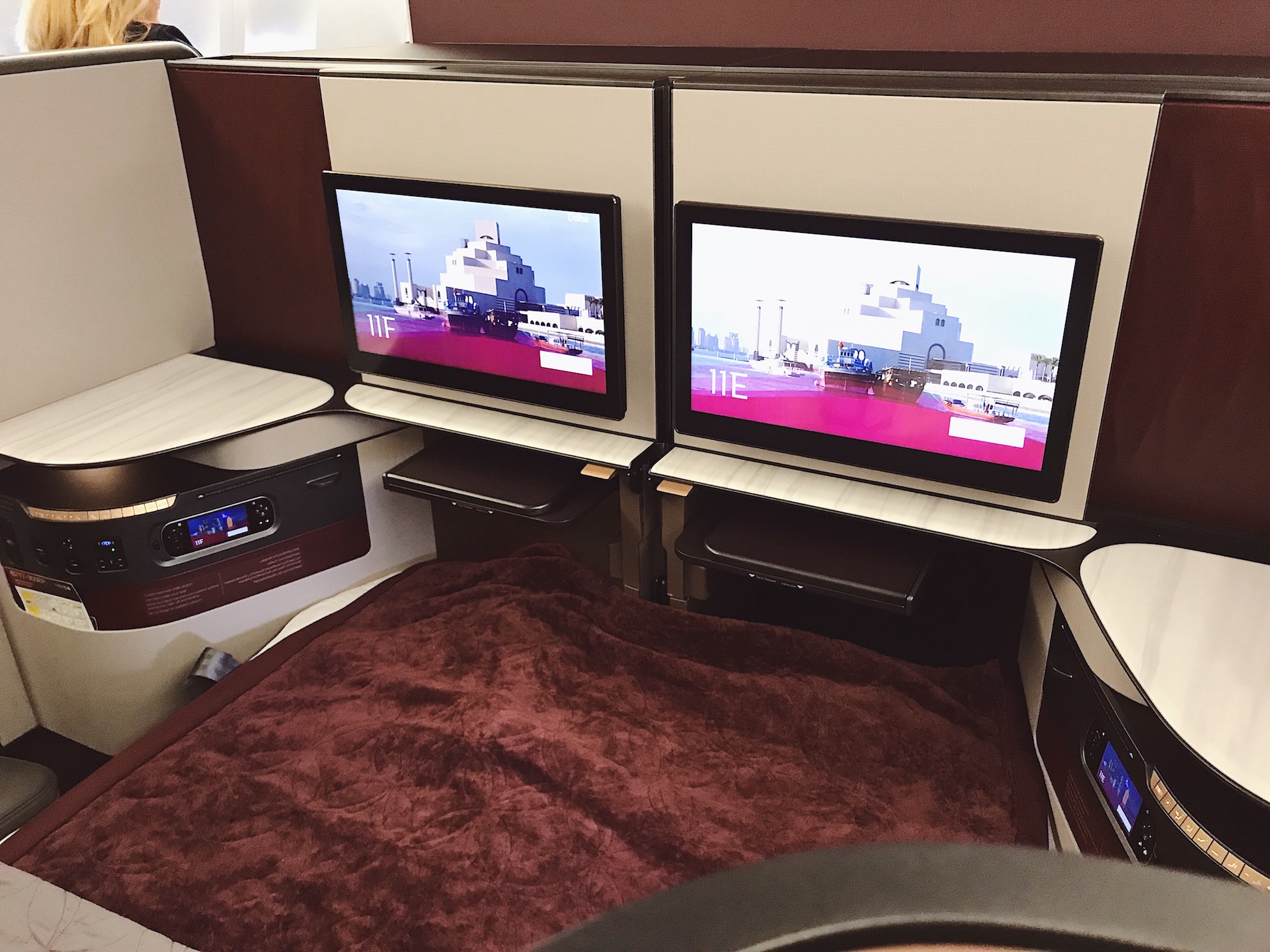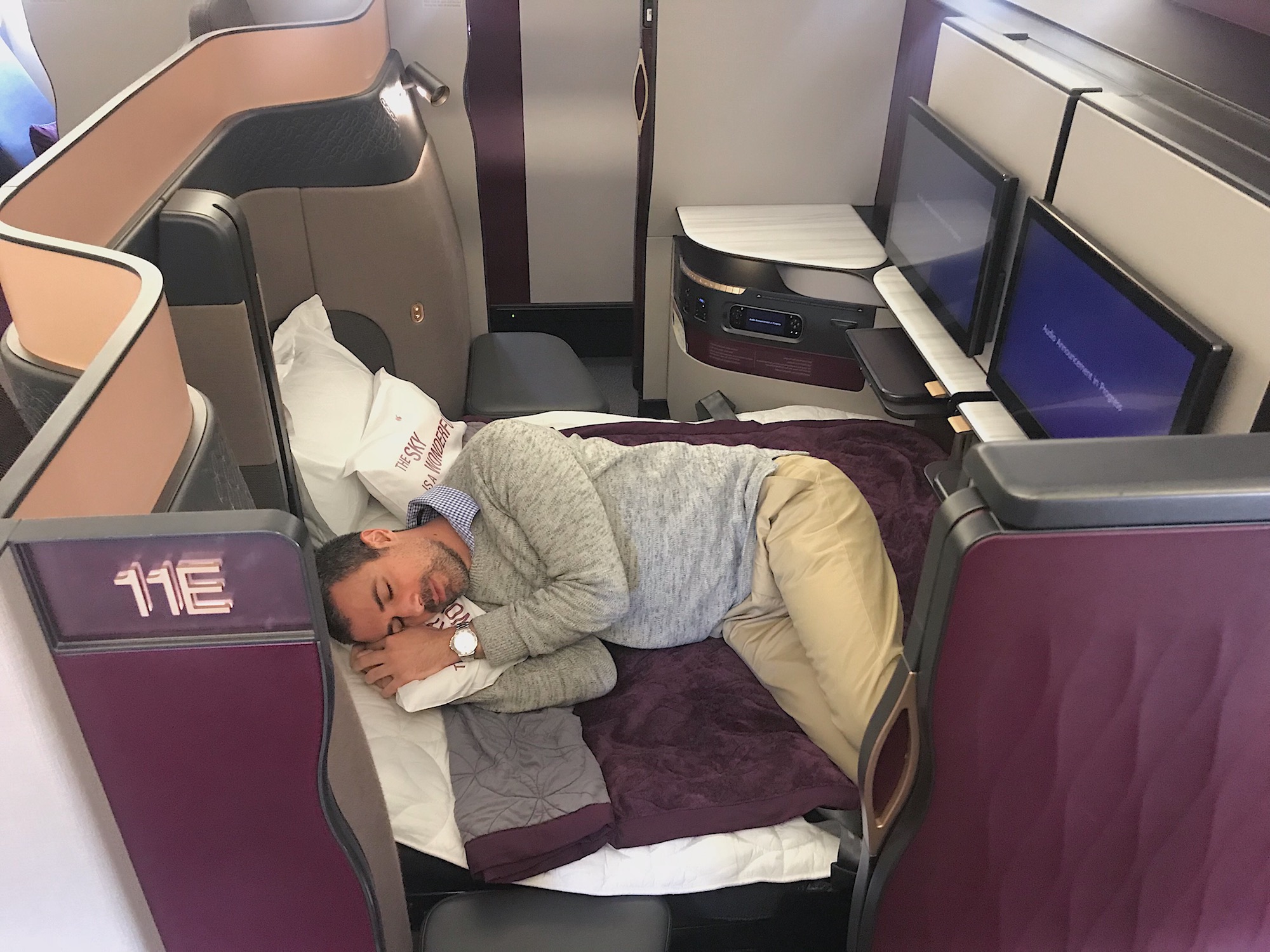 Rows with D & G: these seats are all facing forwards and are great for either single travellers, couples or friends. Unlike seats E & F, these seats have space between them and are configured right next to the aisle and are separated by a divider
If you are a travelling party of four, the centre seats (with the exception of Row 11) are laid out into quad blocks where the panels between the forward and rear-facing rows are adjustable and the TV monitors can be moved to the side. This allows families or business travellers alike to socialise or dine together.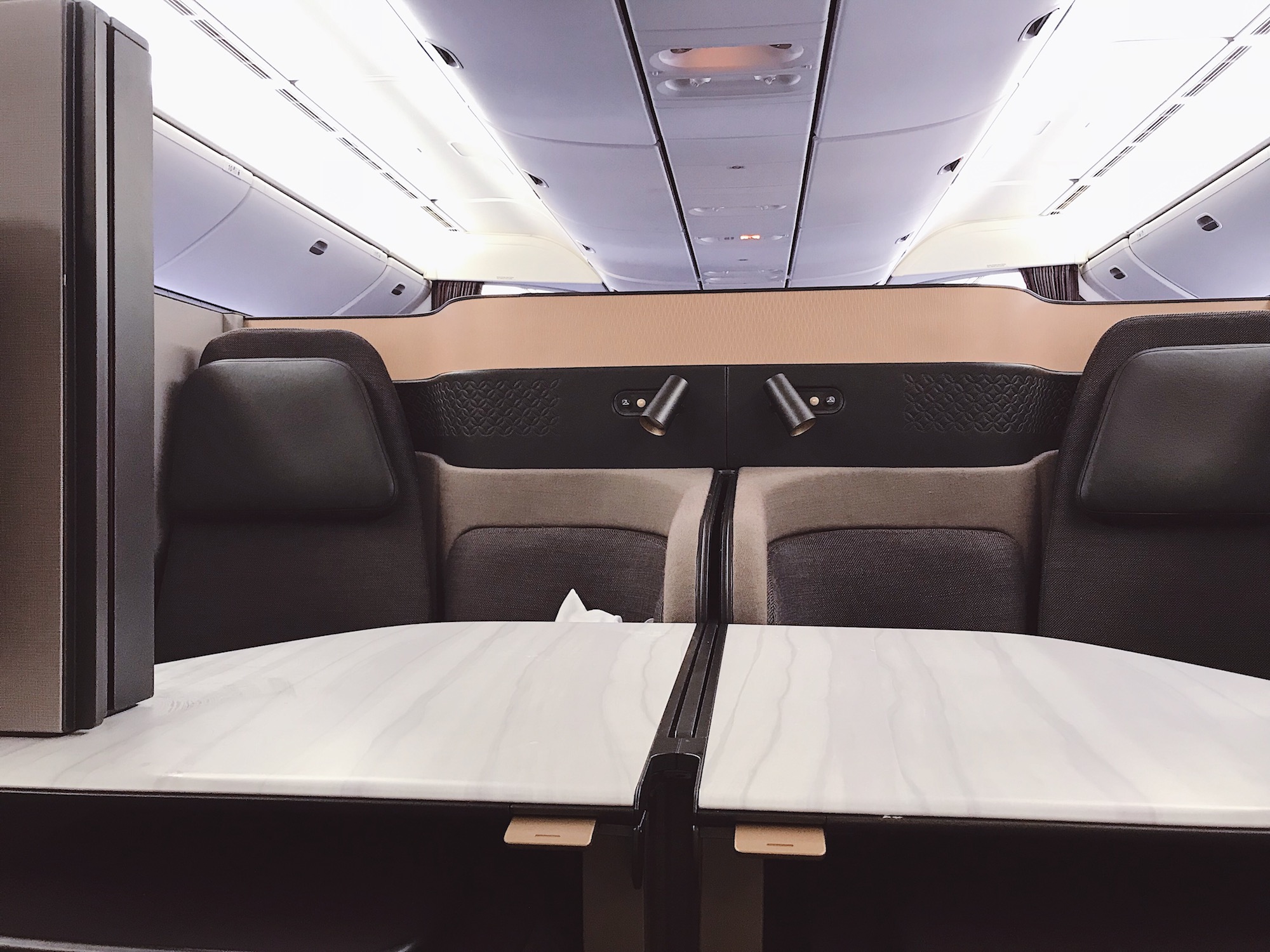 As the cabin was empty for my flight, I was lucky enough to test nearly all of the seats and play with all the buttons to see what was new. Normally, I would say my personal preference is to sit on the side of the plane so I can have the window, but if the flight is not full or you are travelling as a couple, try to grab one of the middle rear-facing seats as the double bed suite is one of a kind.
Food & drink
As this was somewhat of a unique flight opportunity for me and, due to the short duration of the flight, I did not get a chance to test out any of the food or beverages onboard. You can get a better idea of what to expect from our Qatar Airways A350 Business Class overview.
Customer service
This was my first time flying on one of the Middle Eastern airlines and I was certainly impressed. I normally fly Singapore Airlines where possible using my Velocity Points mainly due to their quality of service but I have to say that Qatar Airways is definitely up there as one of the best.
The staff come from a range of different countries and are all extremely friendly from the moment they meet and greet you on board. After being shown to my seat, I was immediately offered a drink and then also shown how the seat buttons operate.
Travelling in Business Class, the staff were relaxed yet very professional and offered a level of service that I would expect, without it being over-the-top like some other airlines. Throughout the flight, the staff always had a smile on their face and were chatty, which I think makes a huge difference as you feel like a valued customer and not just a number in a seat.
Inflight entertainment
One of the super impressive upgrades of the Qsuite is the huge 21½-inch entertainment screen. Housing up to 4,000 video, audio and gaming options, this entertainment system is excellent.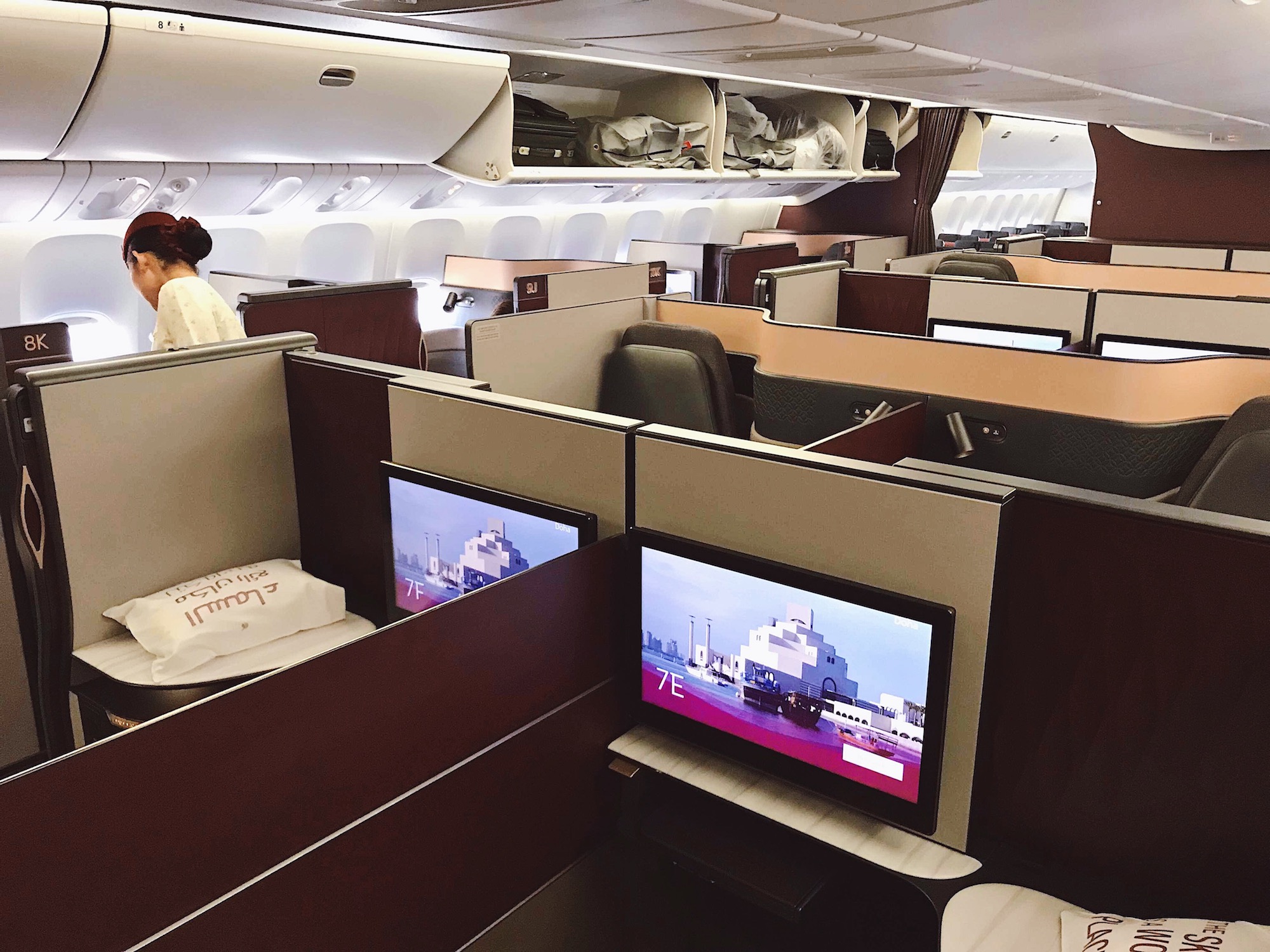 Although I was not in the air long enough to experience everything, I was able to see the quality options offered by browsing through the different movies and TV shows.
The screen itself is at the front of the suite, making it a bit hard to reach, so Qatar, like a lot of the premium airlines, offer the more convenient touchscreen remote, which is next to the seat. They also offer noise-cancelling headphones.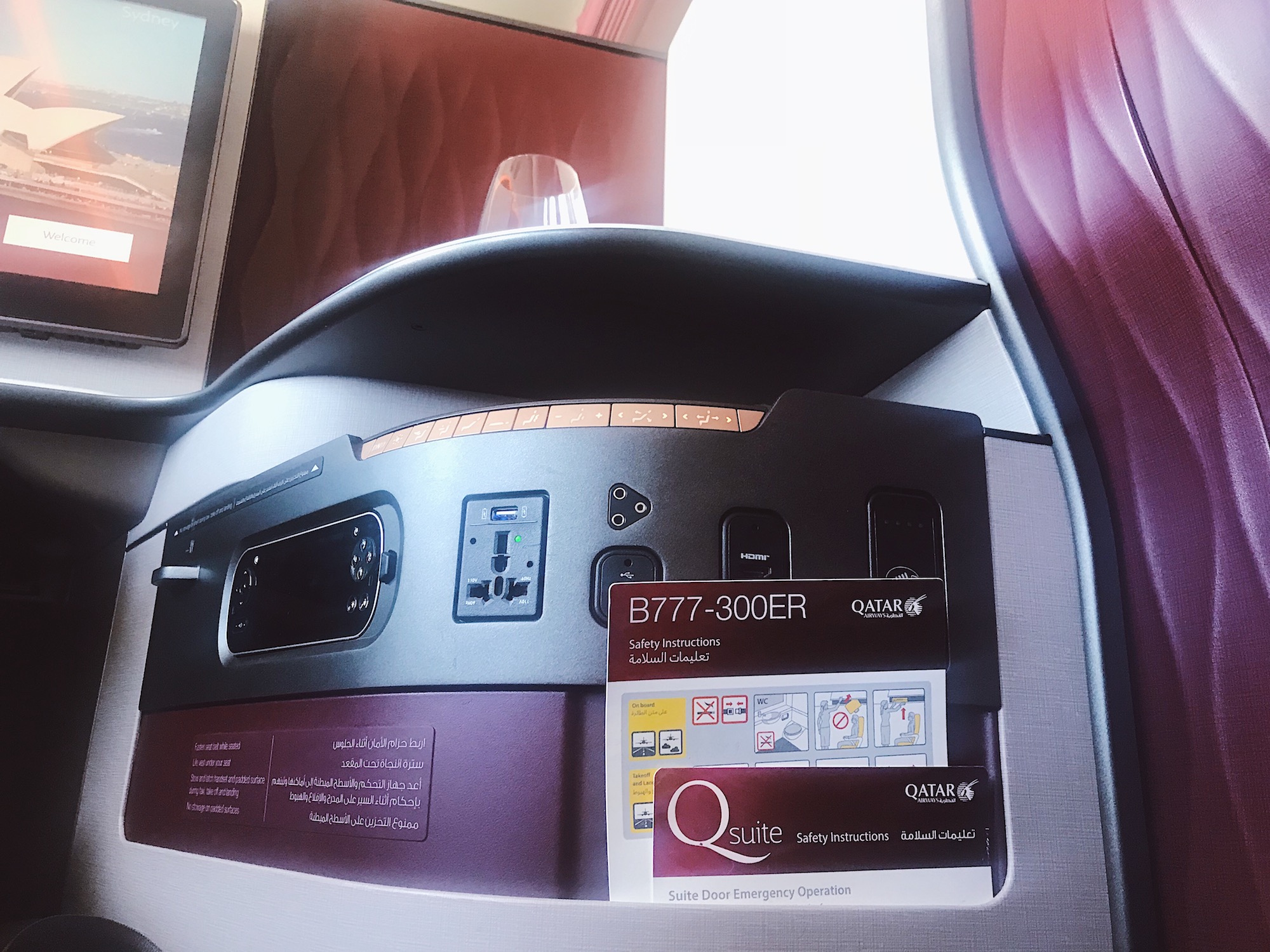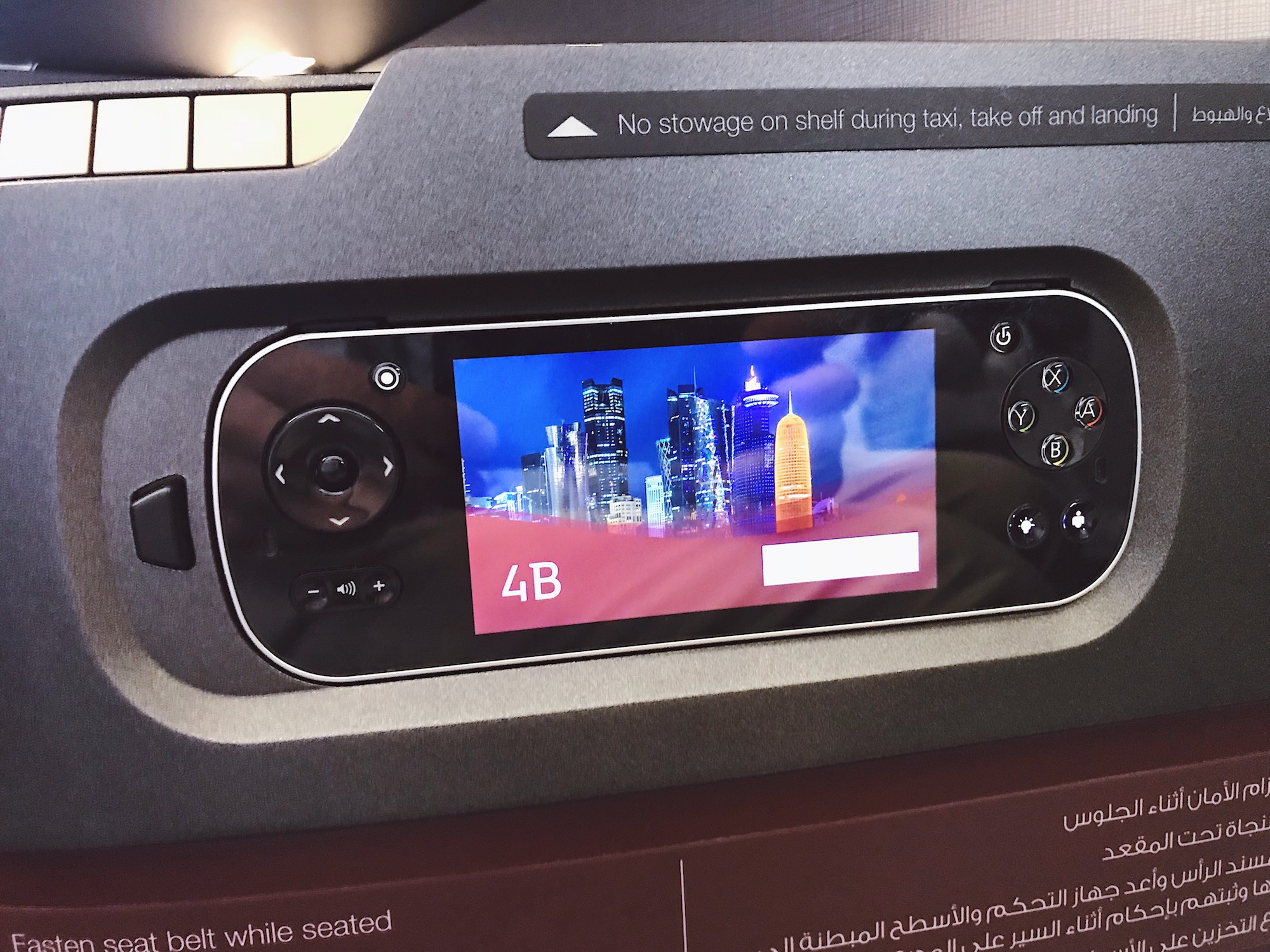 How to redeem points for this flight
For Australia-based travellers, the most common way to redeem points for this flight is by using your Qantas Points.
As an example, a Sydney – Doha flight will set you back 104,000 Qantas Points (jumping to 119,200 from 18 September 2019) + $465 in taxes one-way, which in my opinion is 100% worth it for the quality of this product. From Doha you have many options as to where you can travel on to, unless Doha is your final destination of course.
Comparing the mileage redemption to a paid flight, a one-way flight from Sydney to Doha during low-season dates start at $6,000+, so if you do not have the points, here are a few guides to help you earn them.
Other popular options for redeeming Qatar Airways flights are Asia Miles, American Airlines AAdvantage and British Airways Avios.
Lounge access
Guests who are travelling from Sydney will have access to the Qantas International Business Lounge, whilst those in Canberra will have access to the Qantas Domestic Business Lounge before immigration.
If you are flying from or connecting in Doha, Qatar Airways have their own amazing Al Mourjan Business Lounge that you will get to experience. The airline is set to open an improved Business Class lounge in 2020.
Summing up: why choose this flight?
OK, so I now have a new airline that I want to fly again. Singapore Airlines has not lost my business if comparing the Business Class products but I would have to say it is going to be hard not to say no to Qatar Airways if flying to the Middle East or through to Europe.
Qatar Airways are drawing a fine line between what is First Class and what is Business Class, in my opinion. The features such as the sliding doors ensure a level of privacy that you will not find any many other airlines and in most instances, you would need to be flying in a First Class apartment- or suite-style product to enjoy this luxury.
We even asked 1,400 of our Facebook fans whether they would prefer flying the QSuite over Qantas First Class and almost 2 in 3 preferred this product:
Once the bed is made, the level of comfort is taken to a whole new level and if you are lucky enough to be travelling with your partner and get the rear-facing seats in the middle, the double bed will make you ask yourself if you are actually on a plane at all.
Qatar Airways Qsuite Business Class overview
was last modified:
February 17th, 2022
by