In an unexpected twist of fate, seven Qatar Airways Airbus A380s are gracing our skies once more. Resplendently outfitted with the airline's signature onboard bar and lounge for Business and First Class passengers, you'll find these jets darting from Doha to London, Paris, Bangkok and Sydney.
Perth will also join that roster from 6 December 2022. Ironically, this comes at the expense of Paris, which switches back to the Boeing 777 with Qsuites from the same date.
Back in March 2022, I redeemed 139,000 Qantas Points and paid AU$1,040 per person to fly Qatar Airways Business Class from Paris to Perth, as part of my two trips to Europe in 2022/2023 with Qantas and Velocity Points. It's a pricey redemption for sure, but I don't regret it for a second.
Here's my first-hand taste of the high life onboard Qatar Airways' Airbus A380 from Paris to Doha. And you can book this particular flight too, starting from just 53,000 Velocity Points + around AU$484. More on that later!
Check-in, lounge and boarding
Paris Charles de Gaulle Airport's Terminal 1 – Qatar Airways' usual base, and where its Premium Lounge is located – is still closed for refurbishments at the time of flying. Qatar Airways is currently housed in Terminal 2C instead.
Check-in is a painless experience thanks to empty priority lines for Business Class passengers. Within minutes, our bags are tagged all the way to Perth with priority tags, and we're directed to the American Airlines Admirals Club lounge.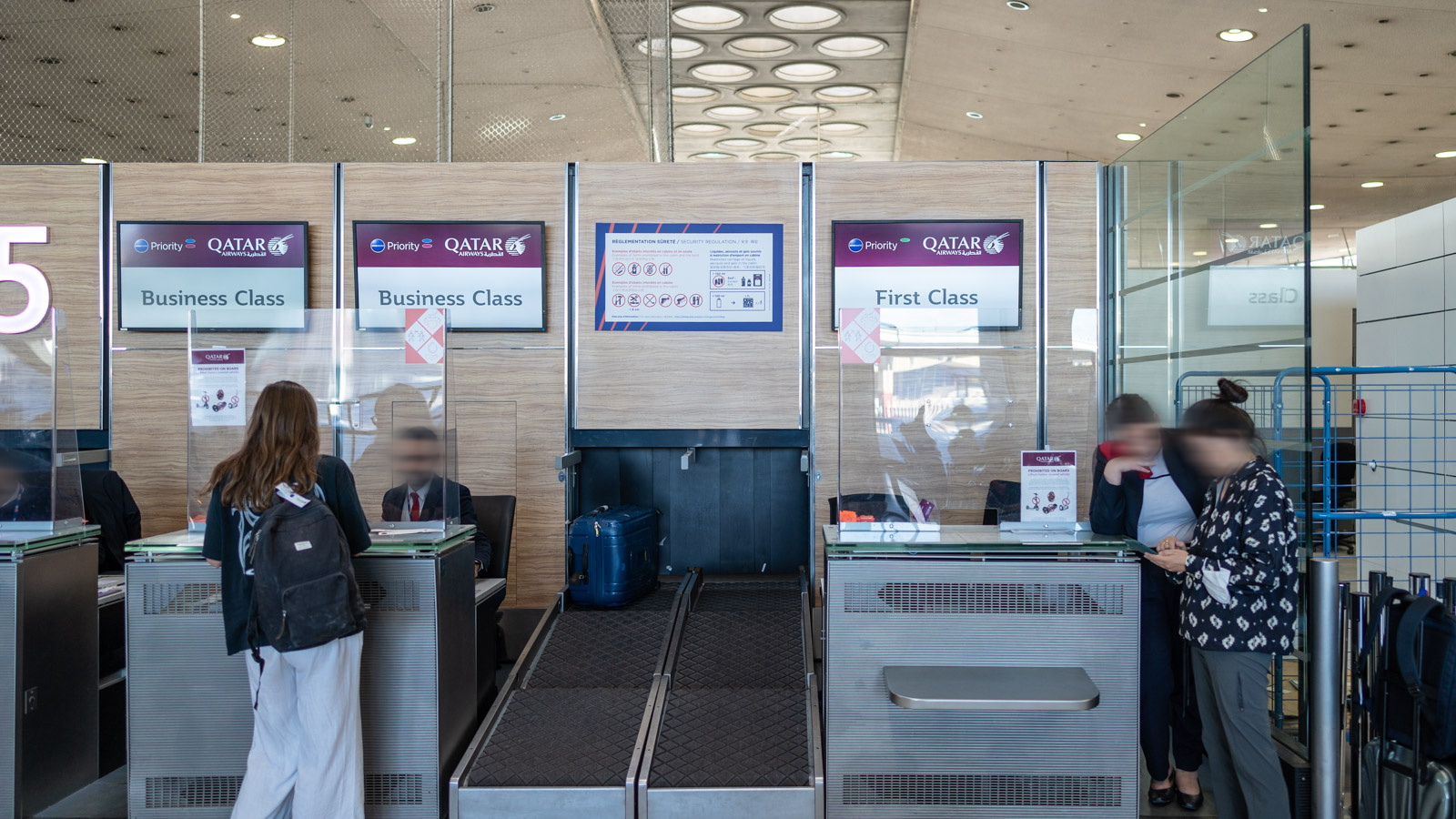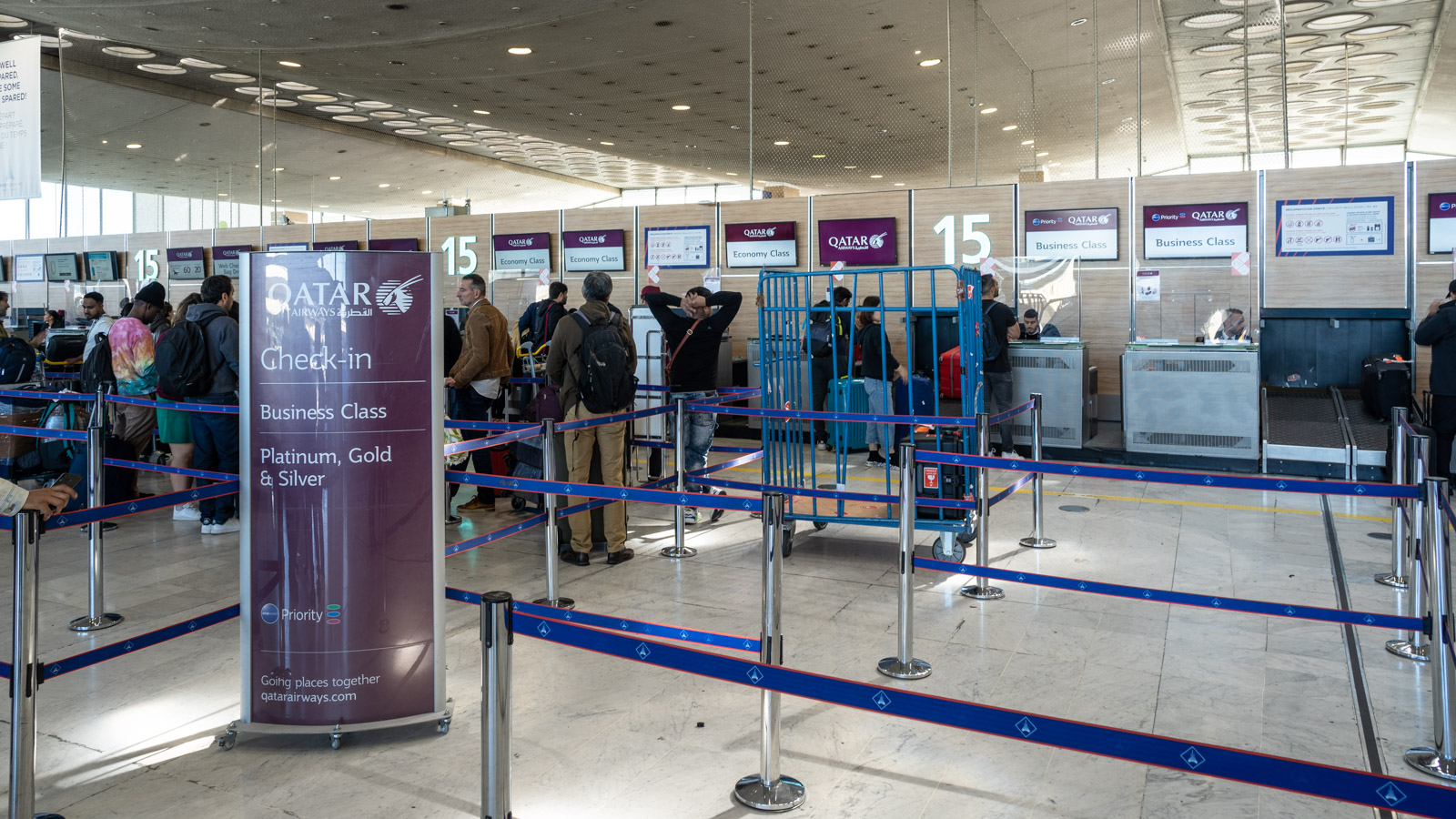 Our boarding passes are tagged with 'Access N1' which lets us whizz through the airport's purple priority lanes at immigration and security. But this perk turns out to be redundant at immigration, as we can swipe our Australian passports at the e-Gates. Through security, it saves us around 10 minutes of waiting. That's more time to browse duty-free and relax in the lounge!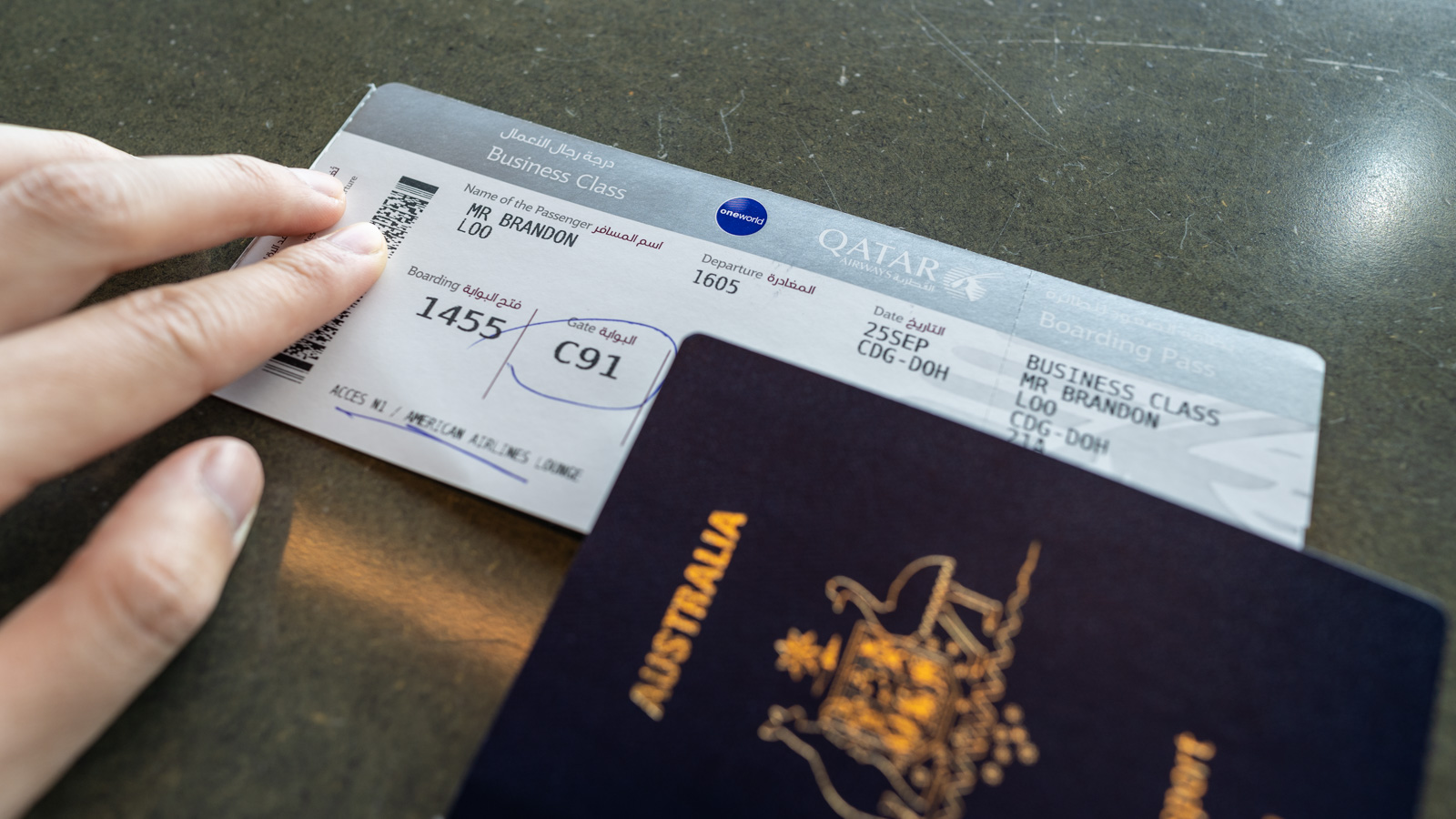 I'll cover the American Airlines Admirals Club in a separate review. But compared to the salubrious Qatar Airways Premium Lounge, which features a la carte dining, the Admirals Club is just 'so-so'. It's a compact rectangular room with great views and decent seating, but an average buffet offering.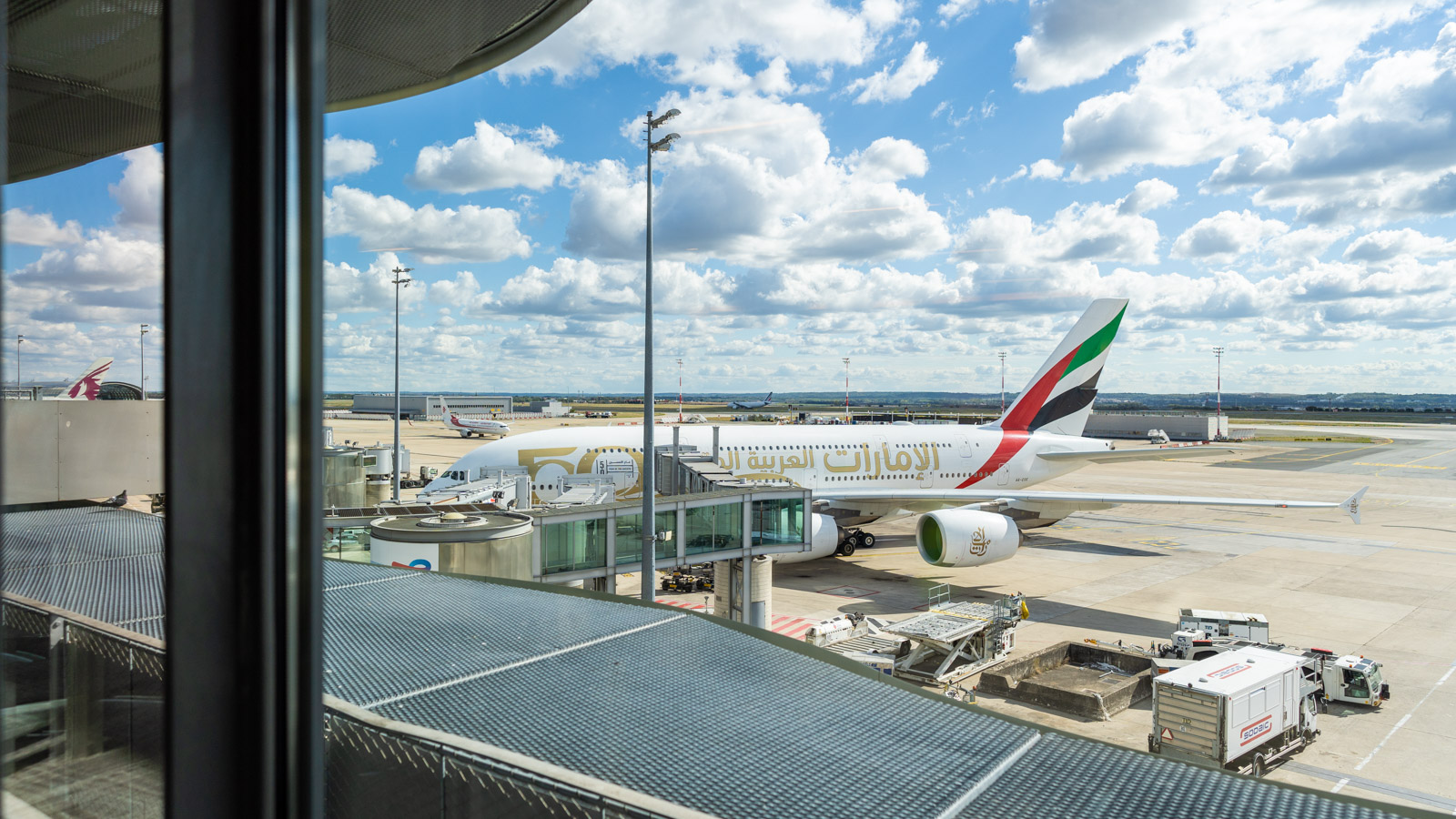 At the gate, there's a separate door for Business and First Class passengers. After all, we're seated on the upper deck of the Airbus A380, which necessitates a separate aerobridge.
Bizarrely, Economy is called to board first through the left door (perhaps due to a large number of passengers on the lower deck). But soon, the upper deck passengers are also invited to board through the right-side door. It's time to head home.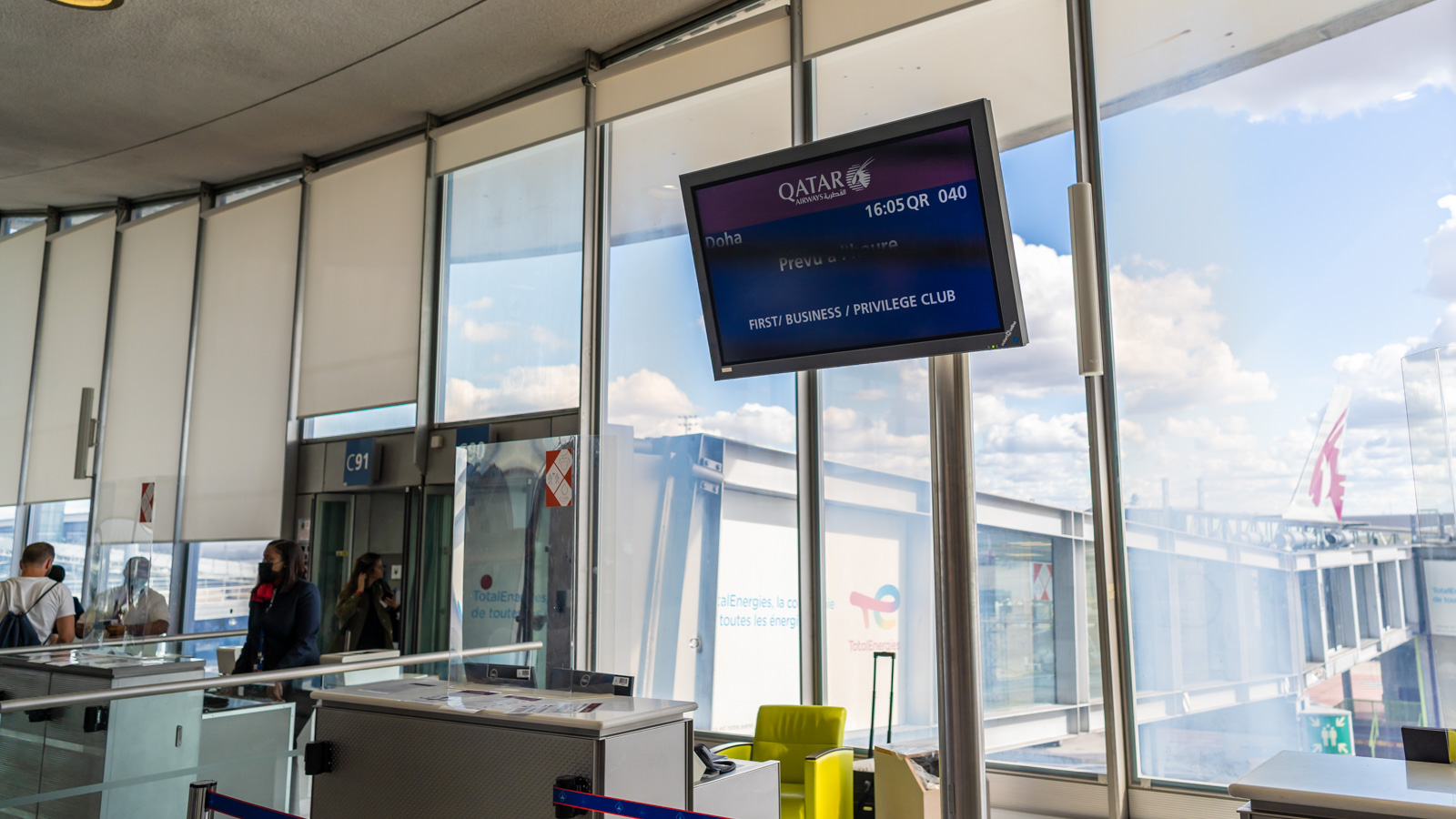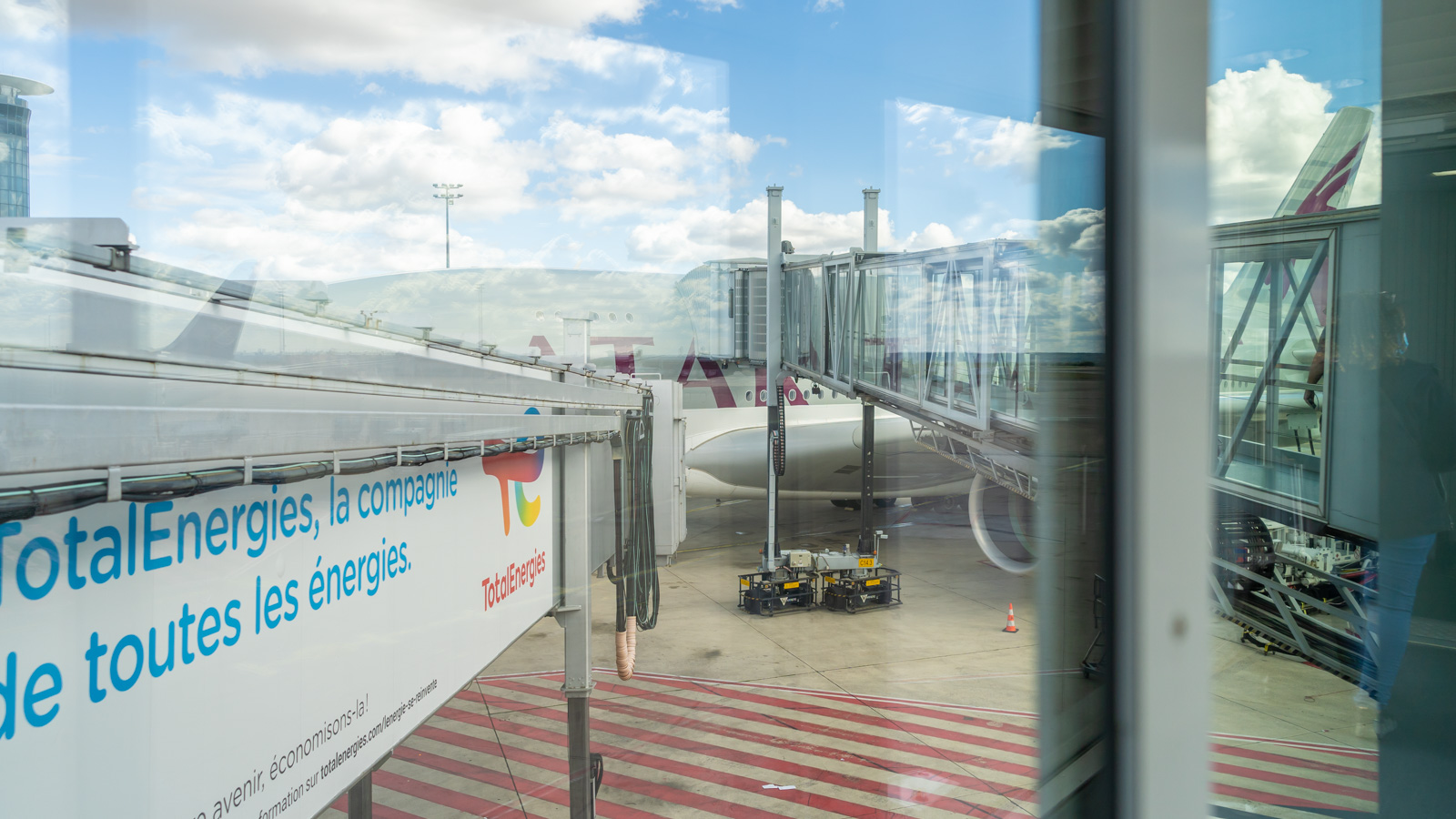 Qatar Airways A380 Business Class seating
If there's one 'downside' to flying Qatar Airways' A380 in Business Class, it's that you won't find the airline's latest Qsuites here. Instead, Business Class is filled with 48 Business Class seats, arranged across 12 rows in a 1-2-1 layout.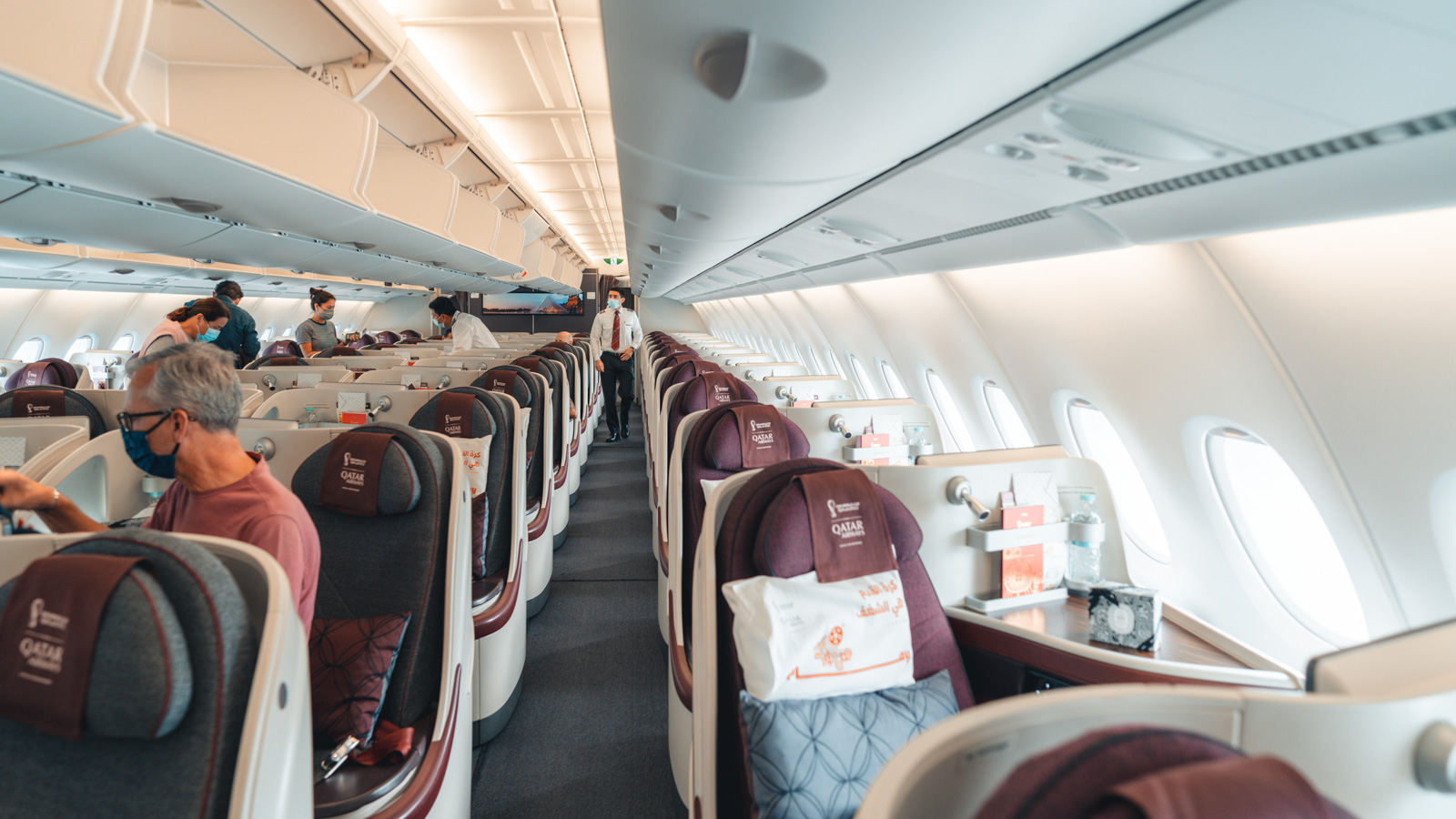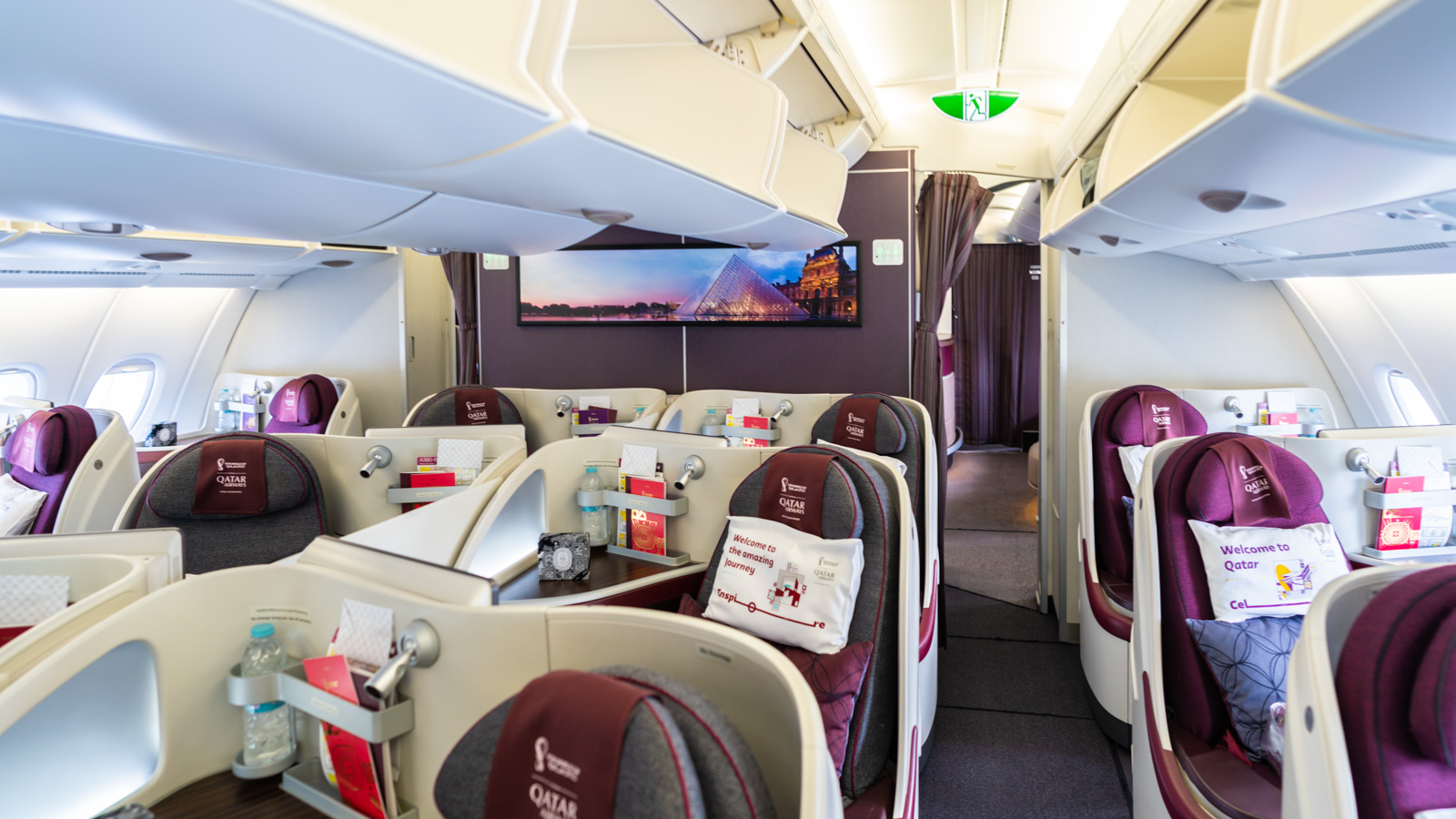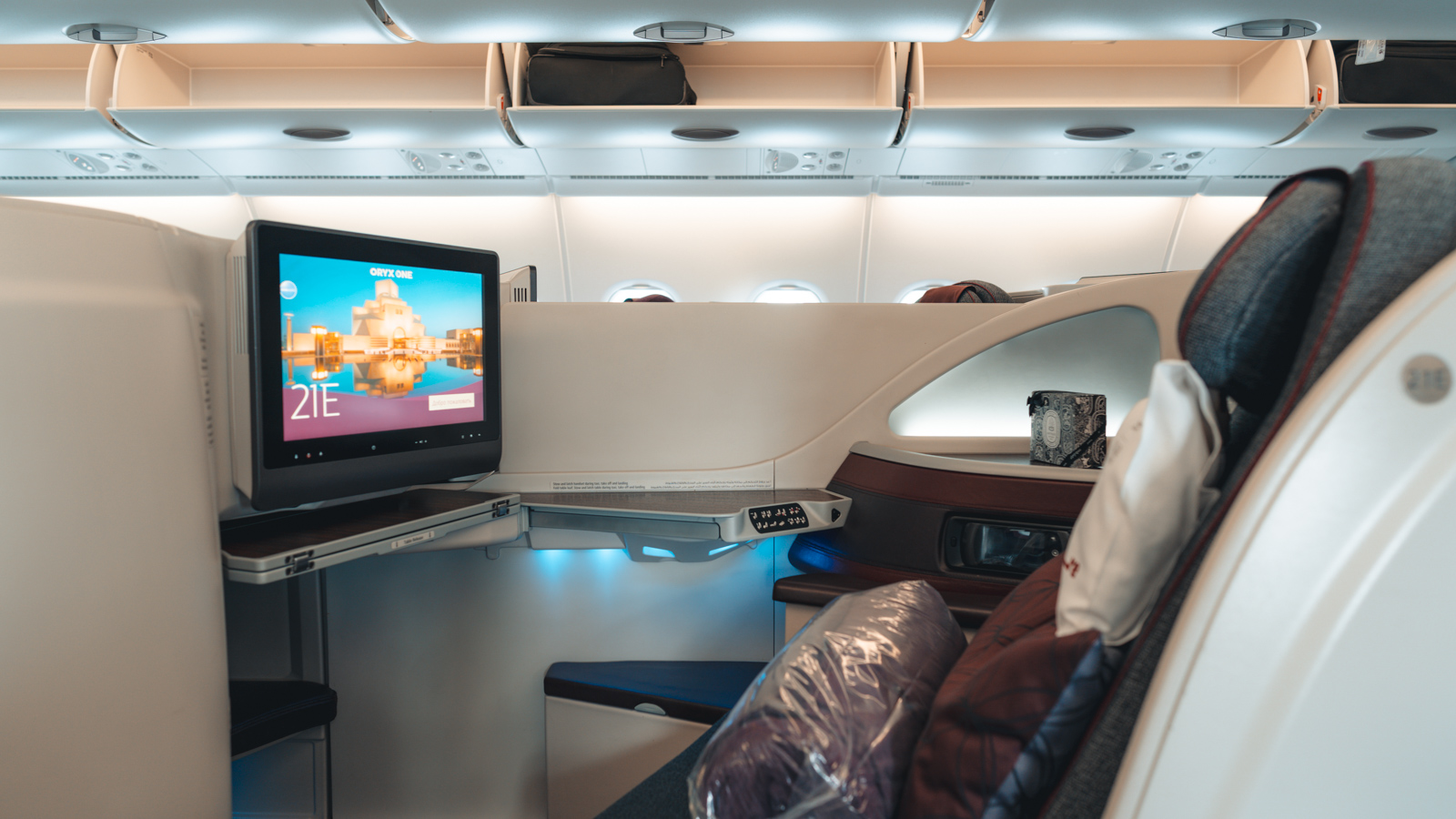 These seats are the popular Collins Aerospace Super Diamond variety that many other airlines – such as American Airlines, British Airways and Air Canada – crown as their flagship Business Class seat. So there's certainly nothing to turn our noses up at here!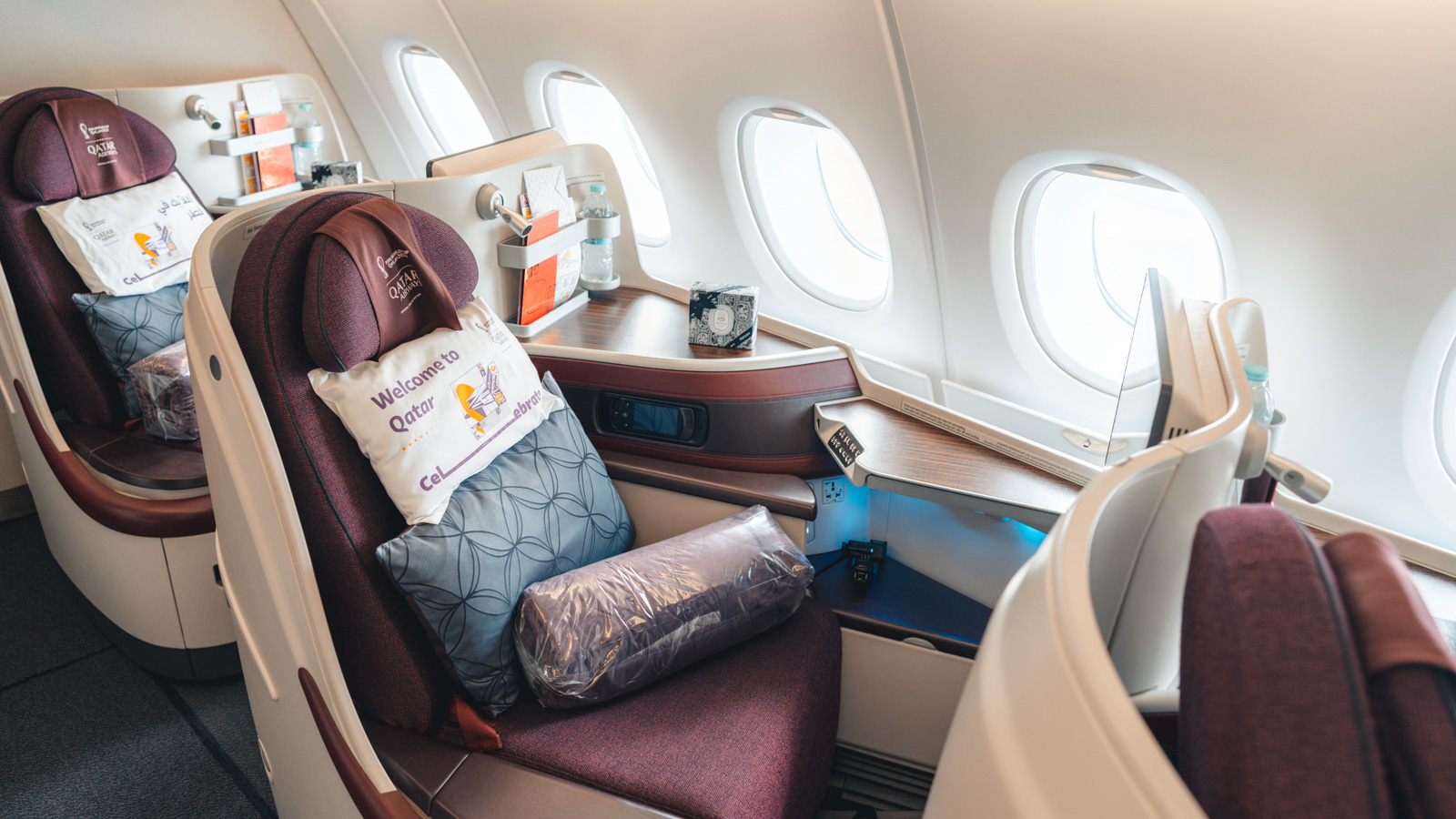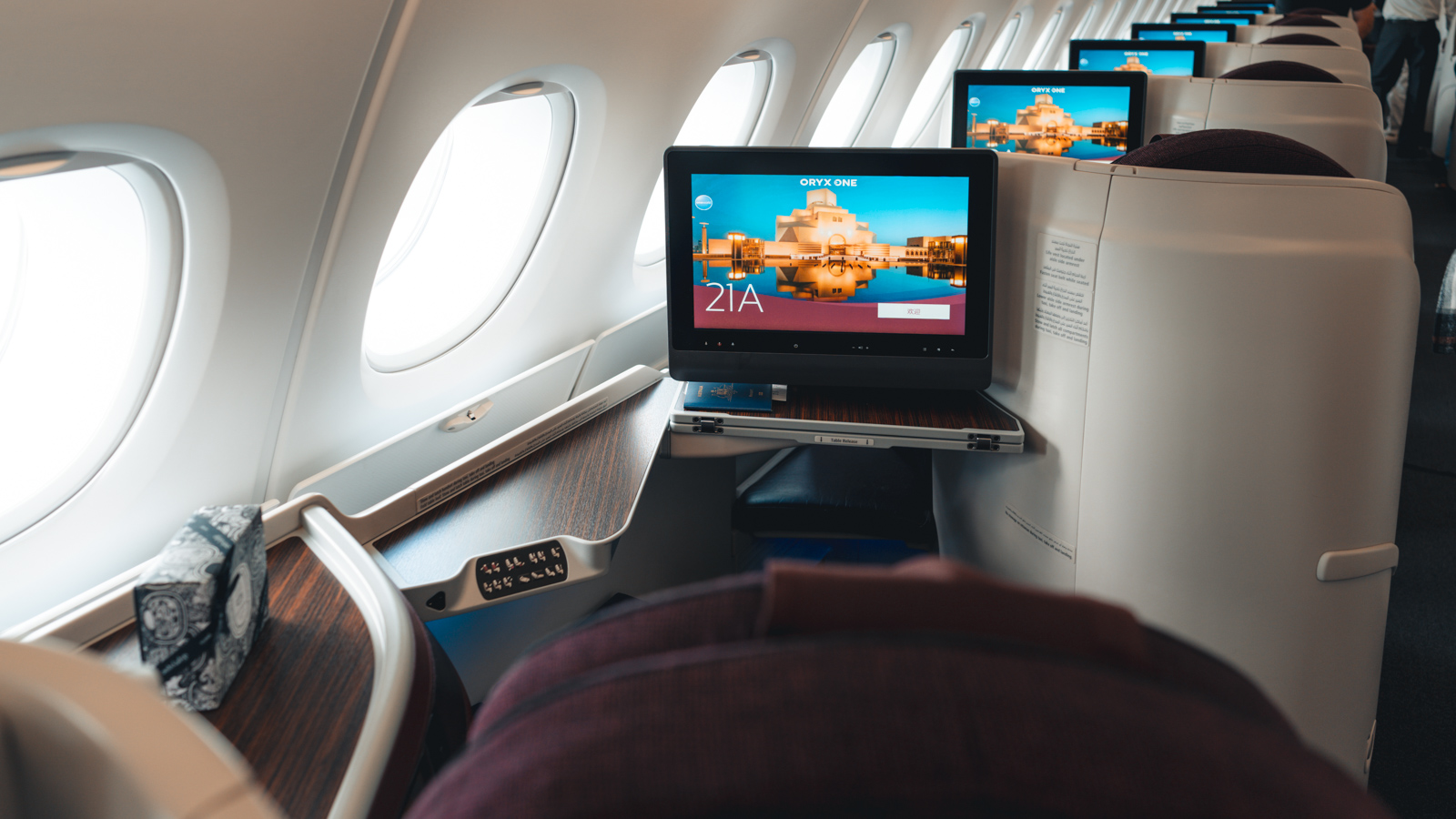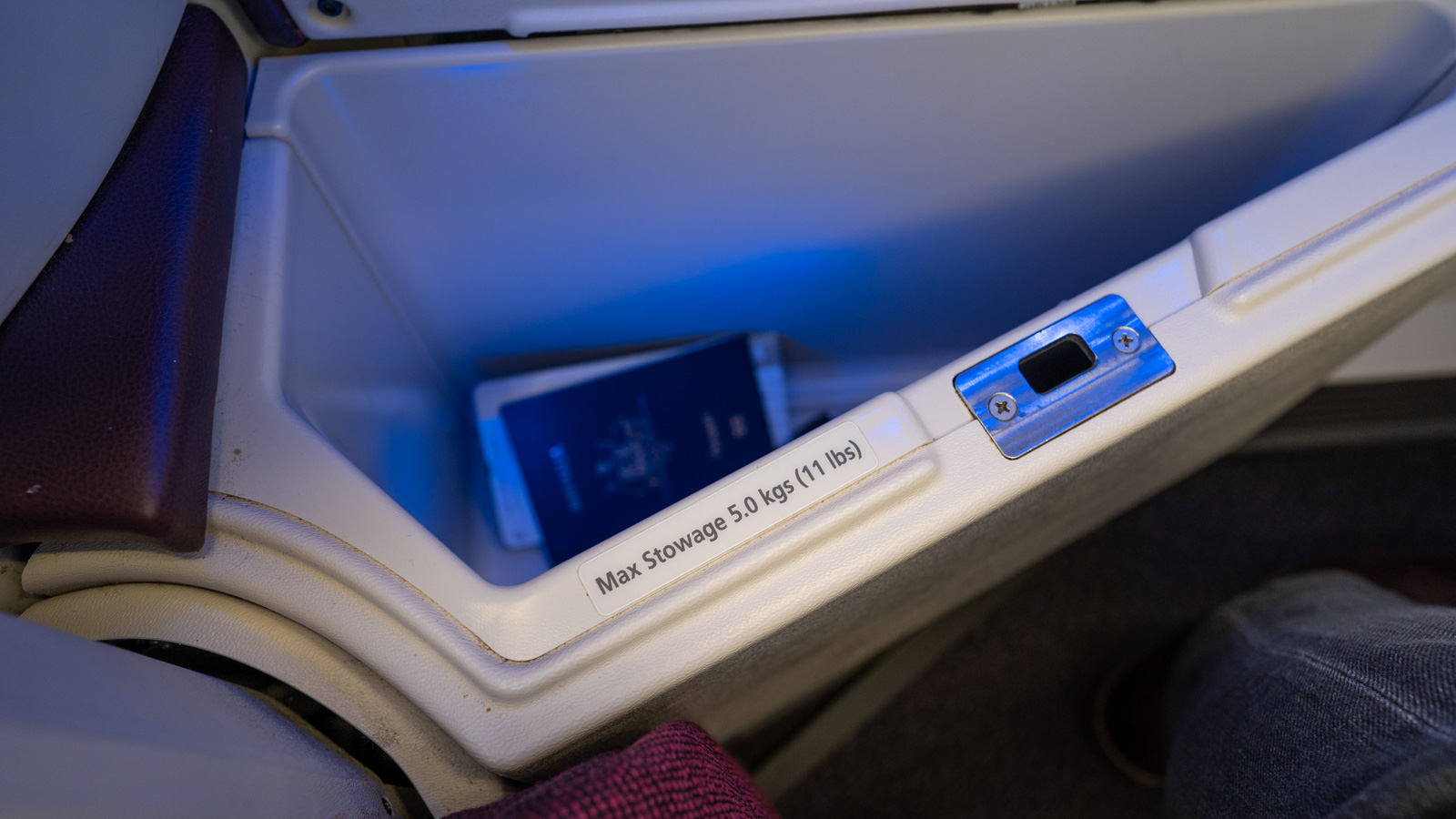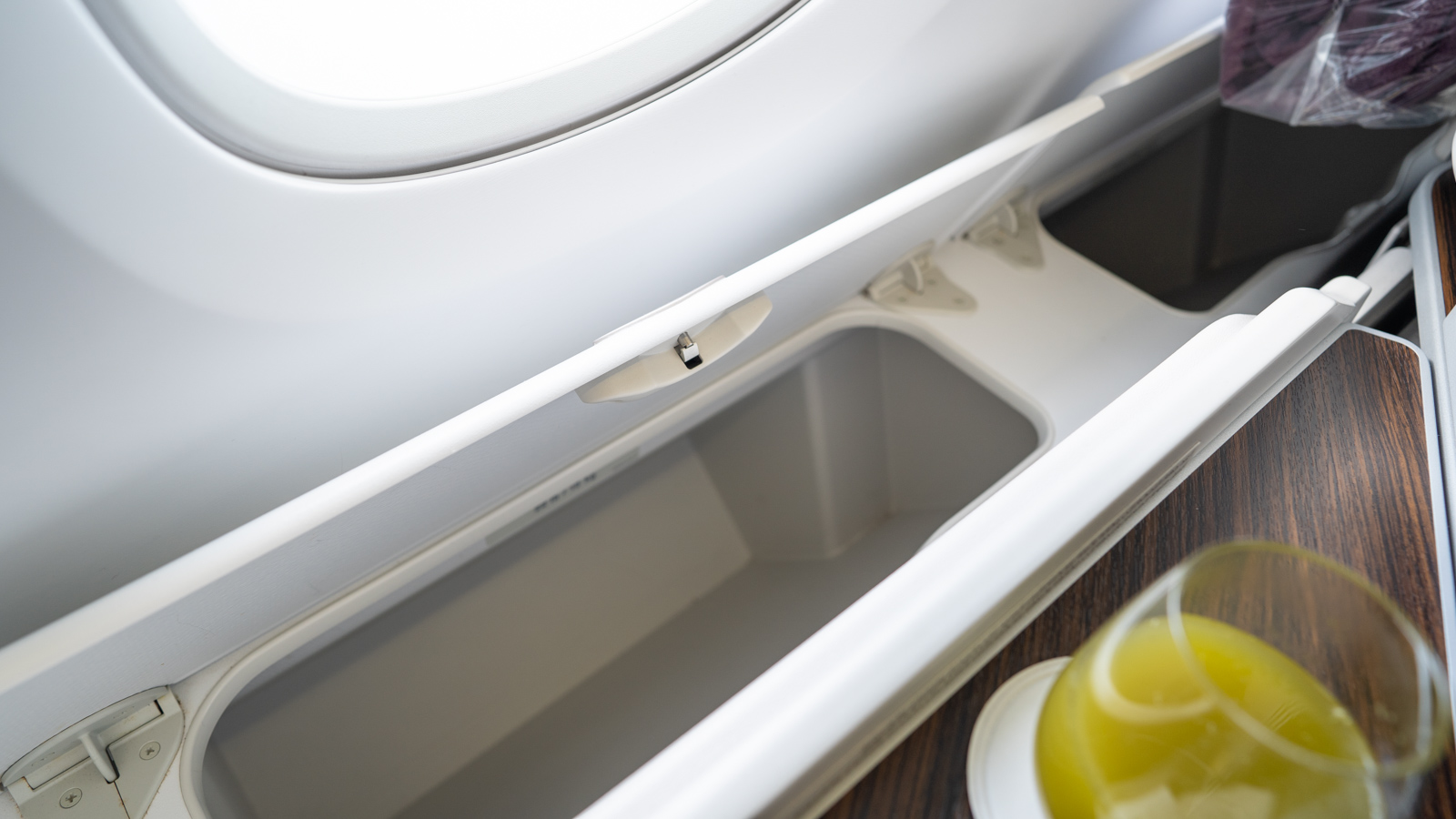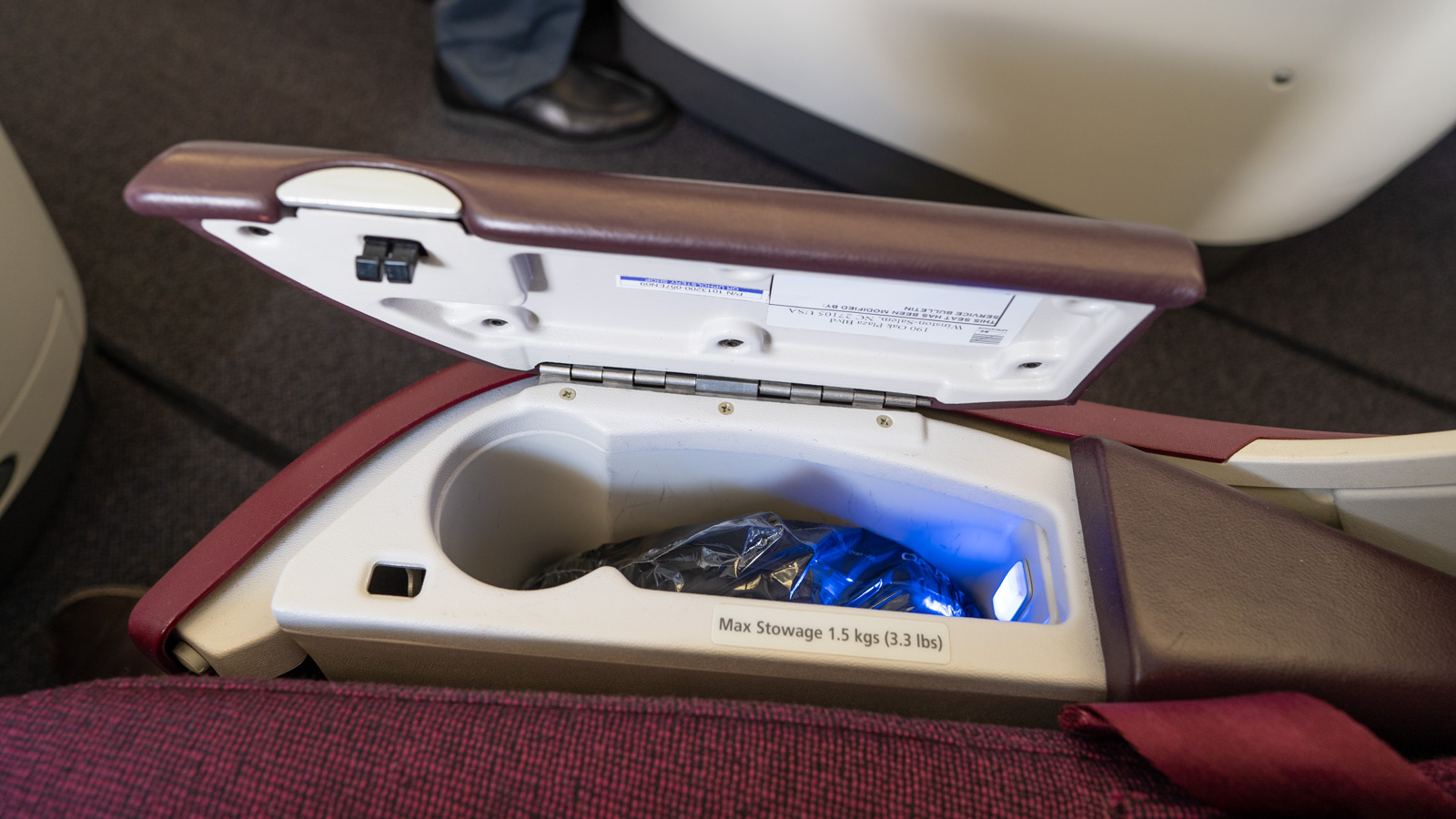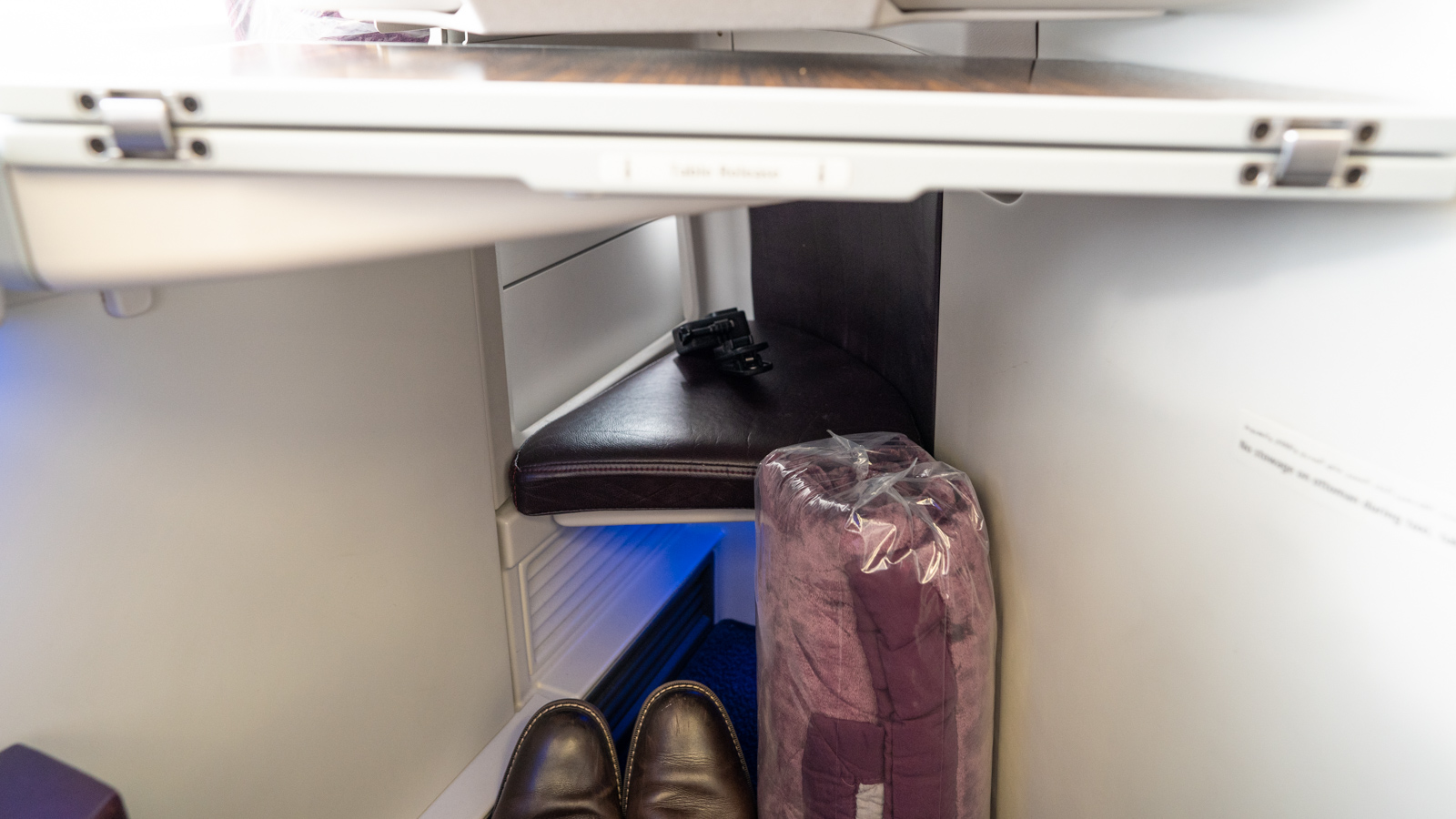 Each seat is 22″ (56 cm) wide and reclines into an 80″ (203 cm) long fully-flat bed. There's more than enough storage for my needs. The under-console cupboard is so big, everything I need for the flight fits in there. Window seat passengers can also use the side bins, as the overhead lockers are a bit smaller.
In fact, the only thing I'd wish for is more privacy, as the seats are quite exposed to the aisle. After later flying the Qsuites, I'm a firm believer in sliding doors on seats.
Qatar Airways A380 onboard bar & lounge
This is my first flight where I've experienced a staffed bar and lounge, and the experience certainly doesn't disappoint. In fact, I spend at least half the flight here, and the hours fly by. Described by Qatar Airways as a 'sanctuary in the sky', the curves of the wooden bar and the detail in the feature lighting combine to create an exceptional onboard ambience.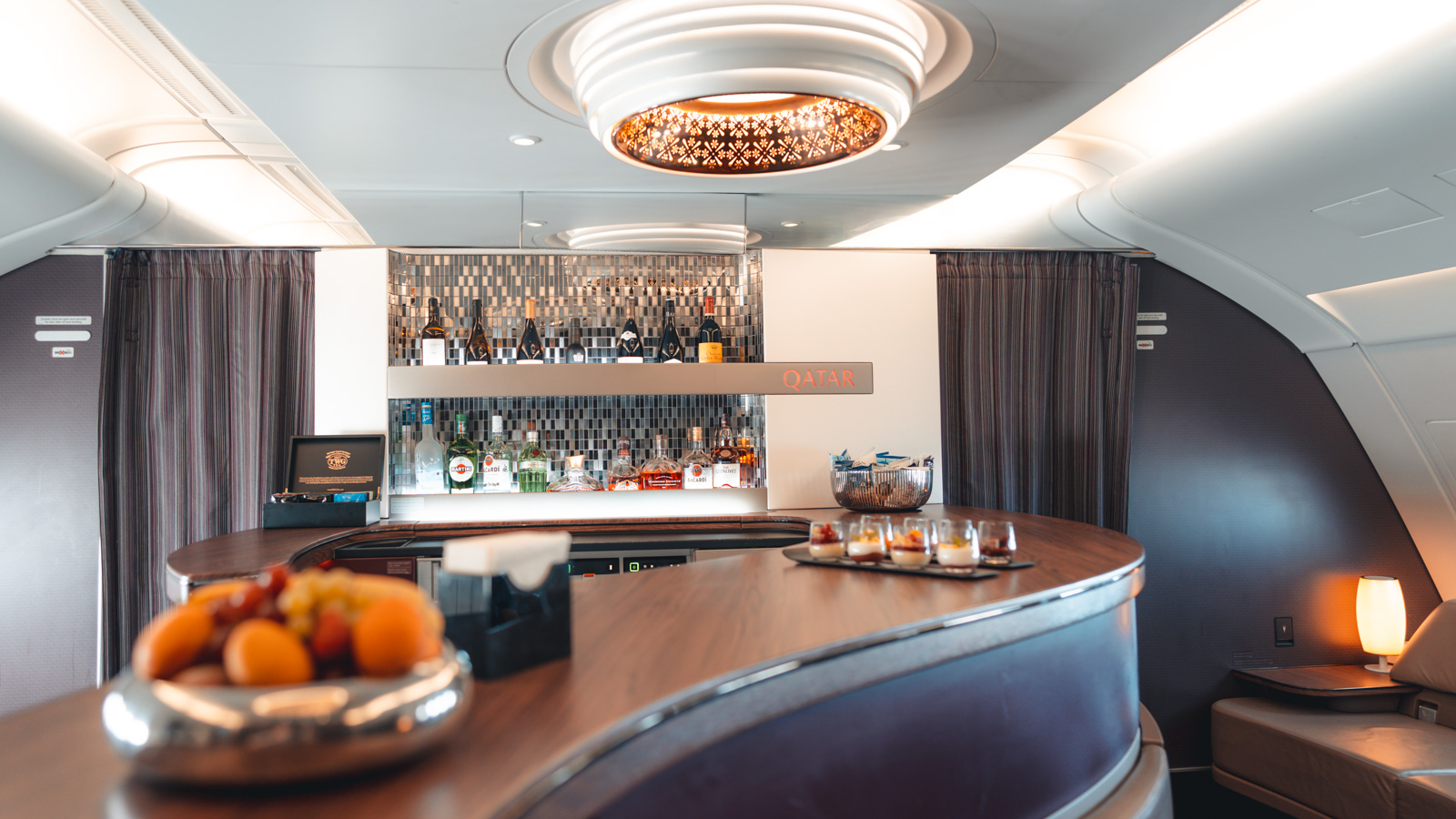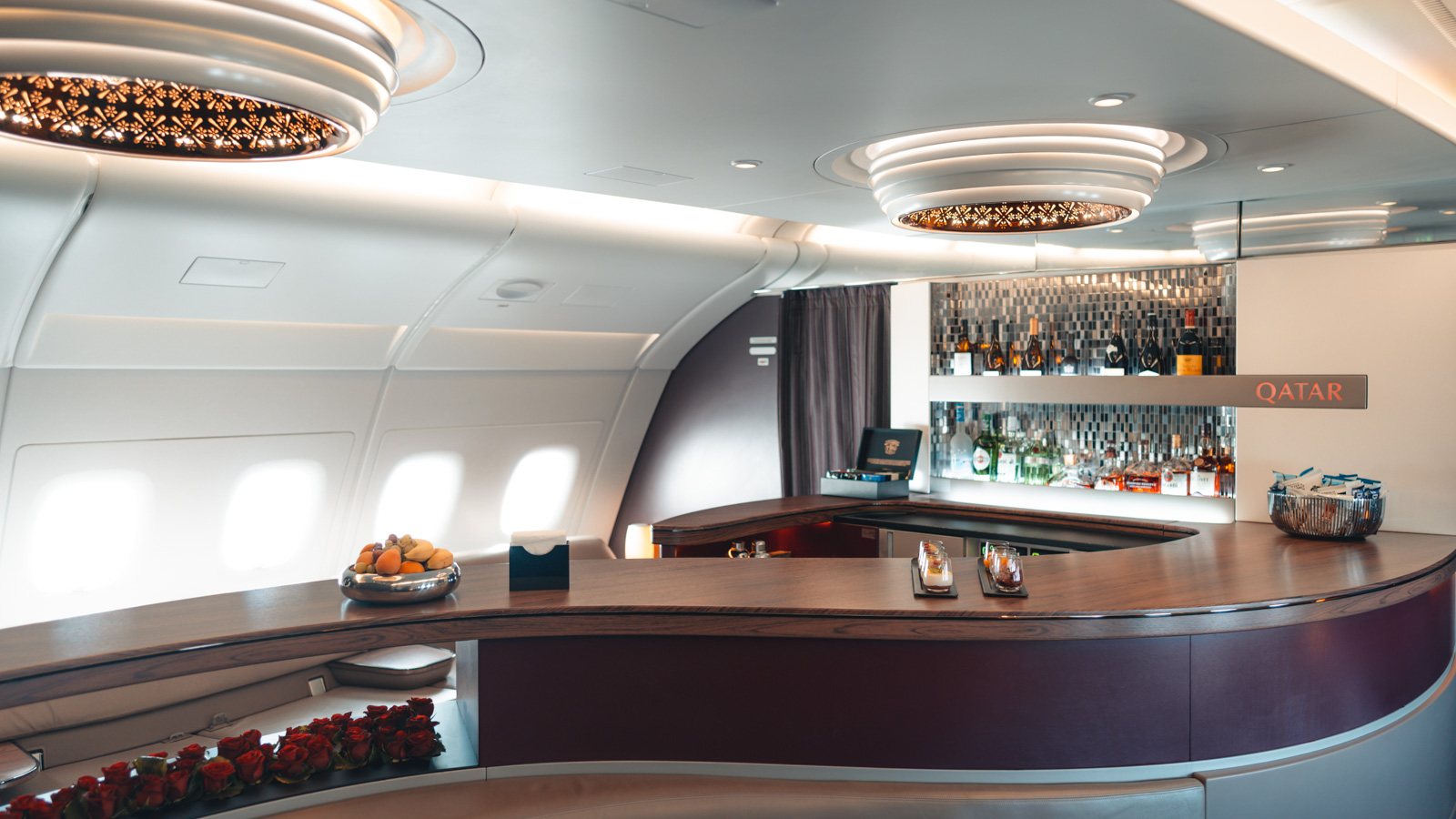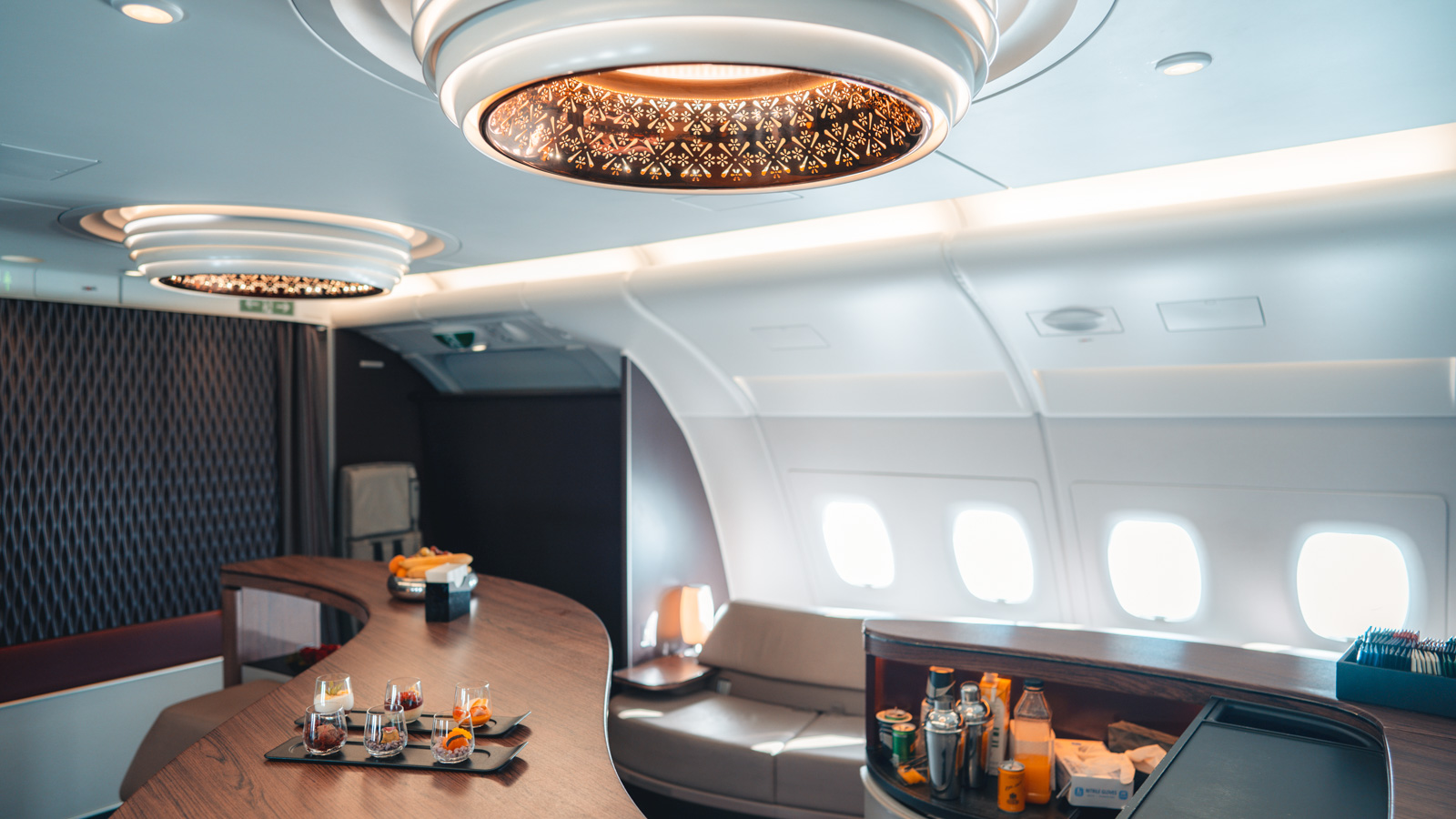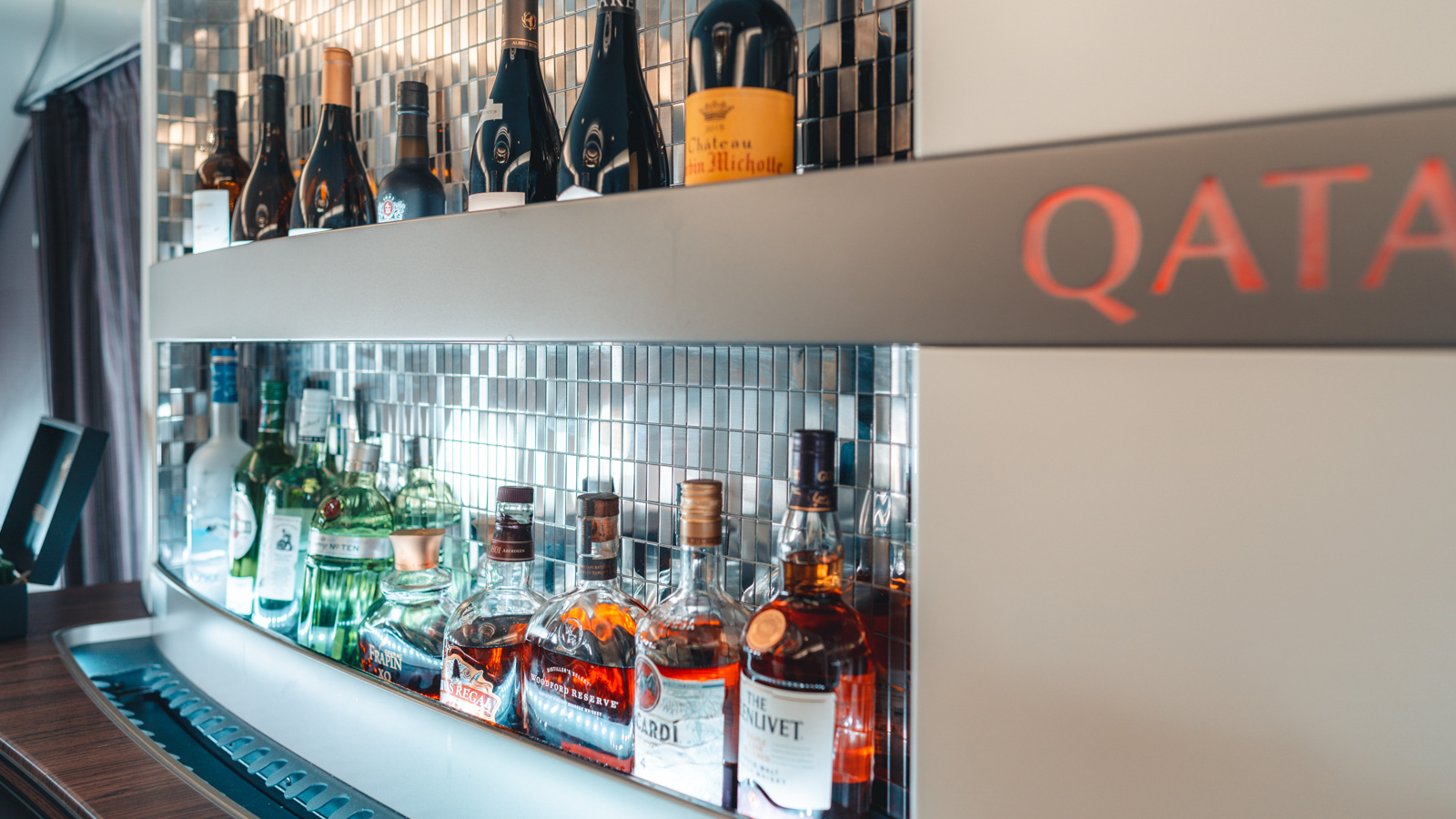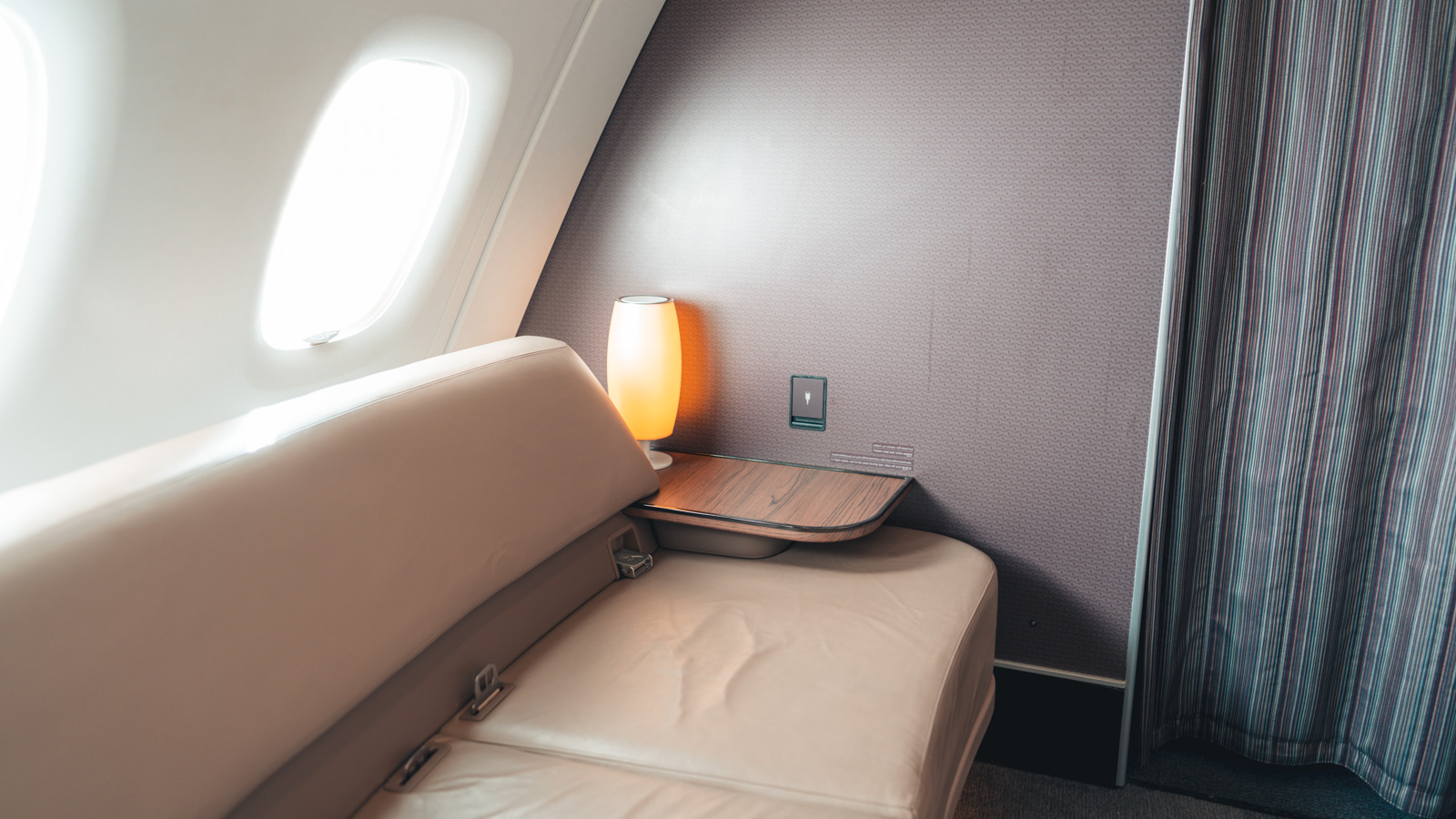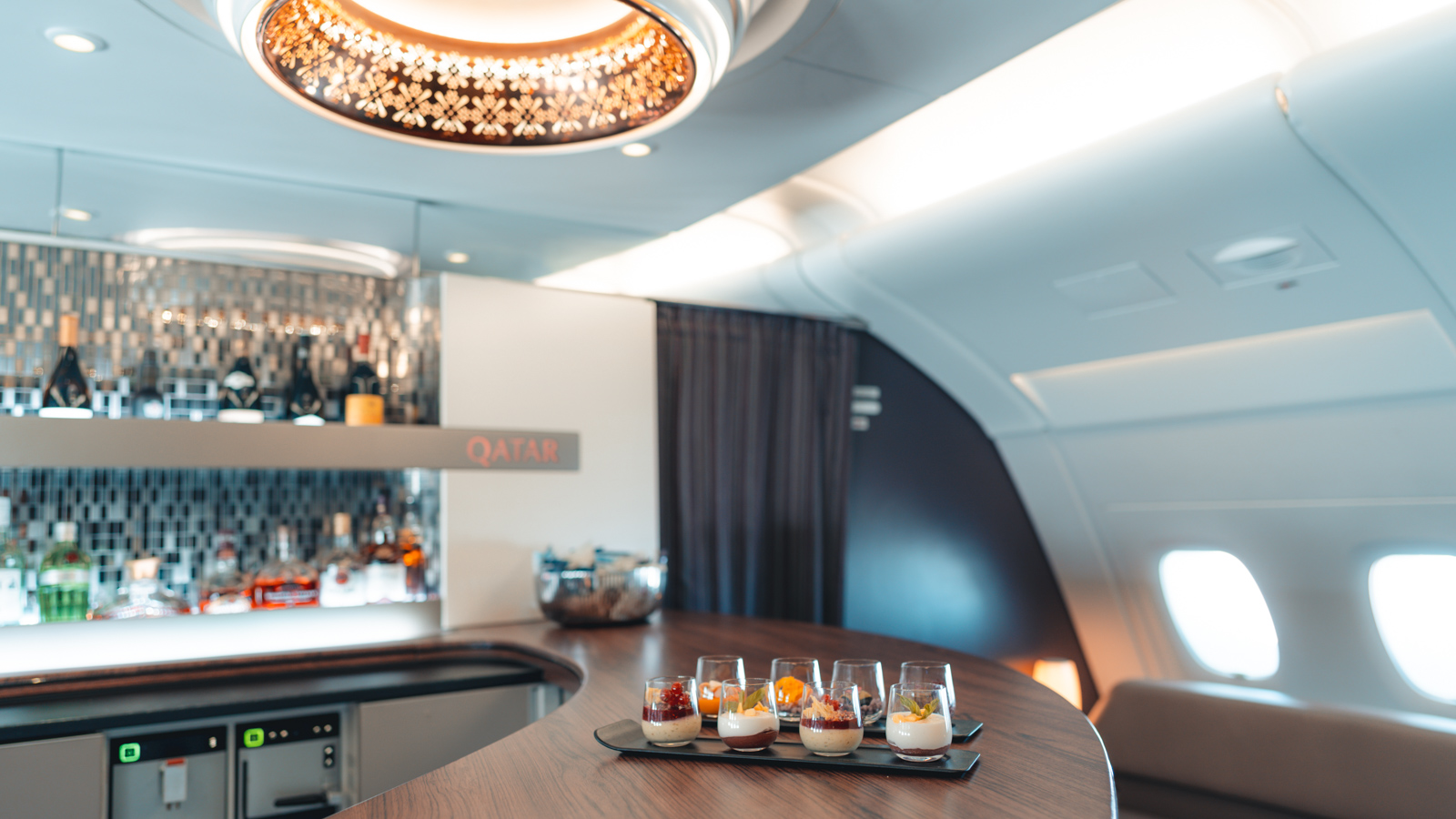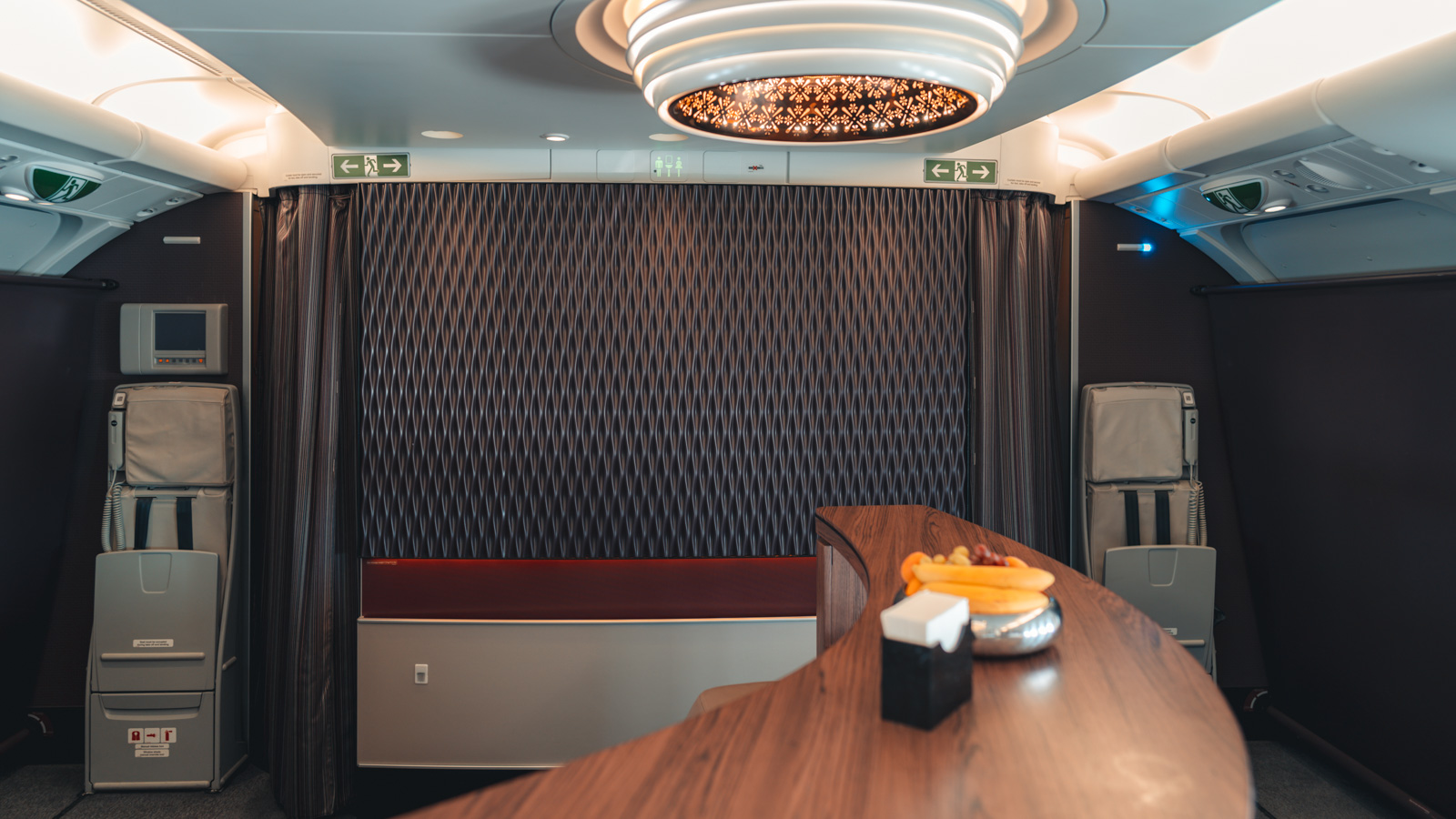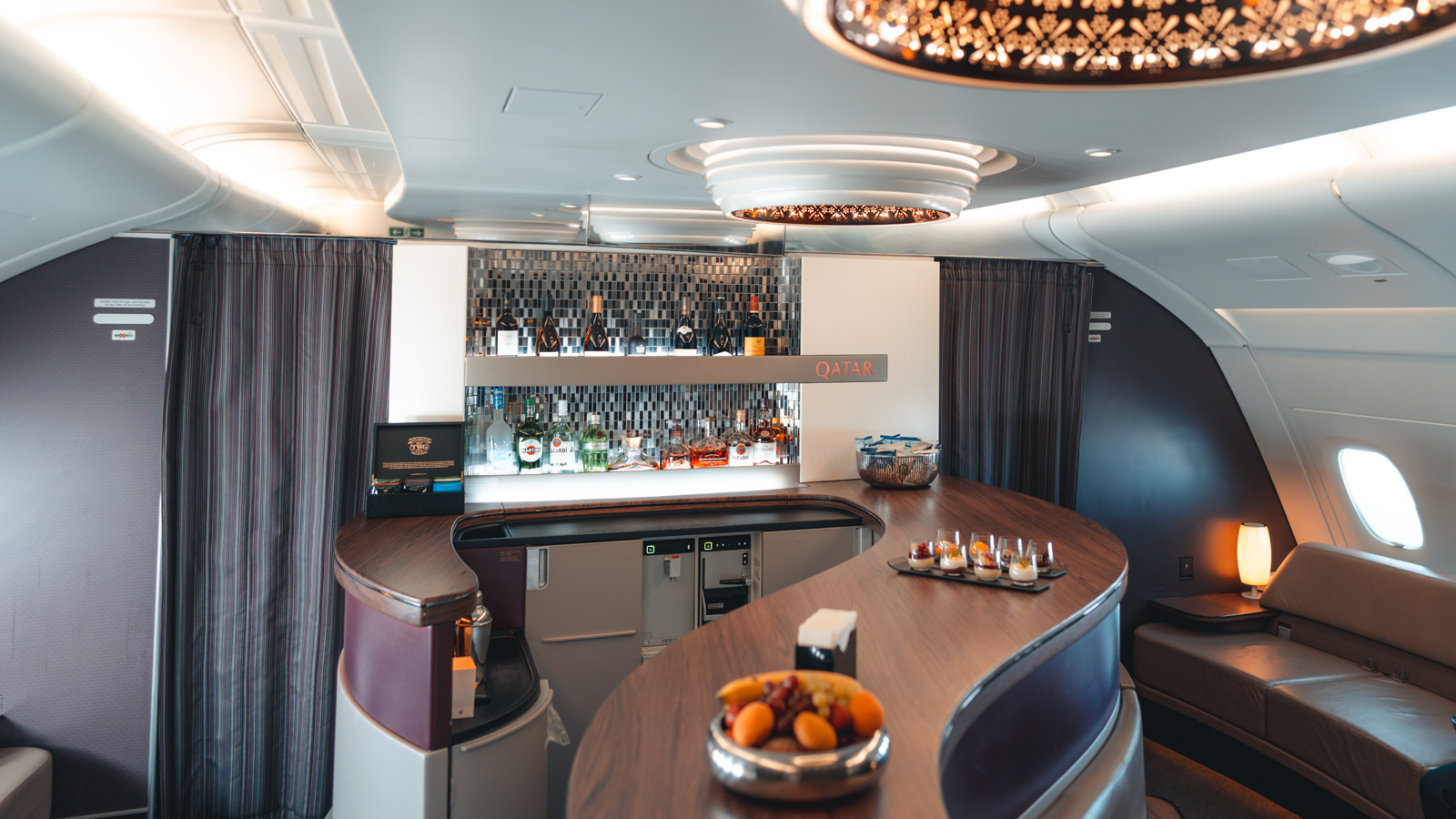 There's plenty of seating on either side, and lots of table space as well to relax at. The lounge manager is excellent and is clearly proud to be looking after this space. He's always offering guests another drink or nibble, or making light conversation.
And when he sees us taking a shine to the rambutan in the fruit bowl – a tropical fruit neither my partner nor I have eaten for a few years – he proactively scours the galley to deliver us another whole plate of the fruit!
'No one else is going to eat it anyway,' he says with a cheeky smile.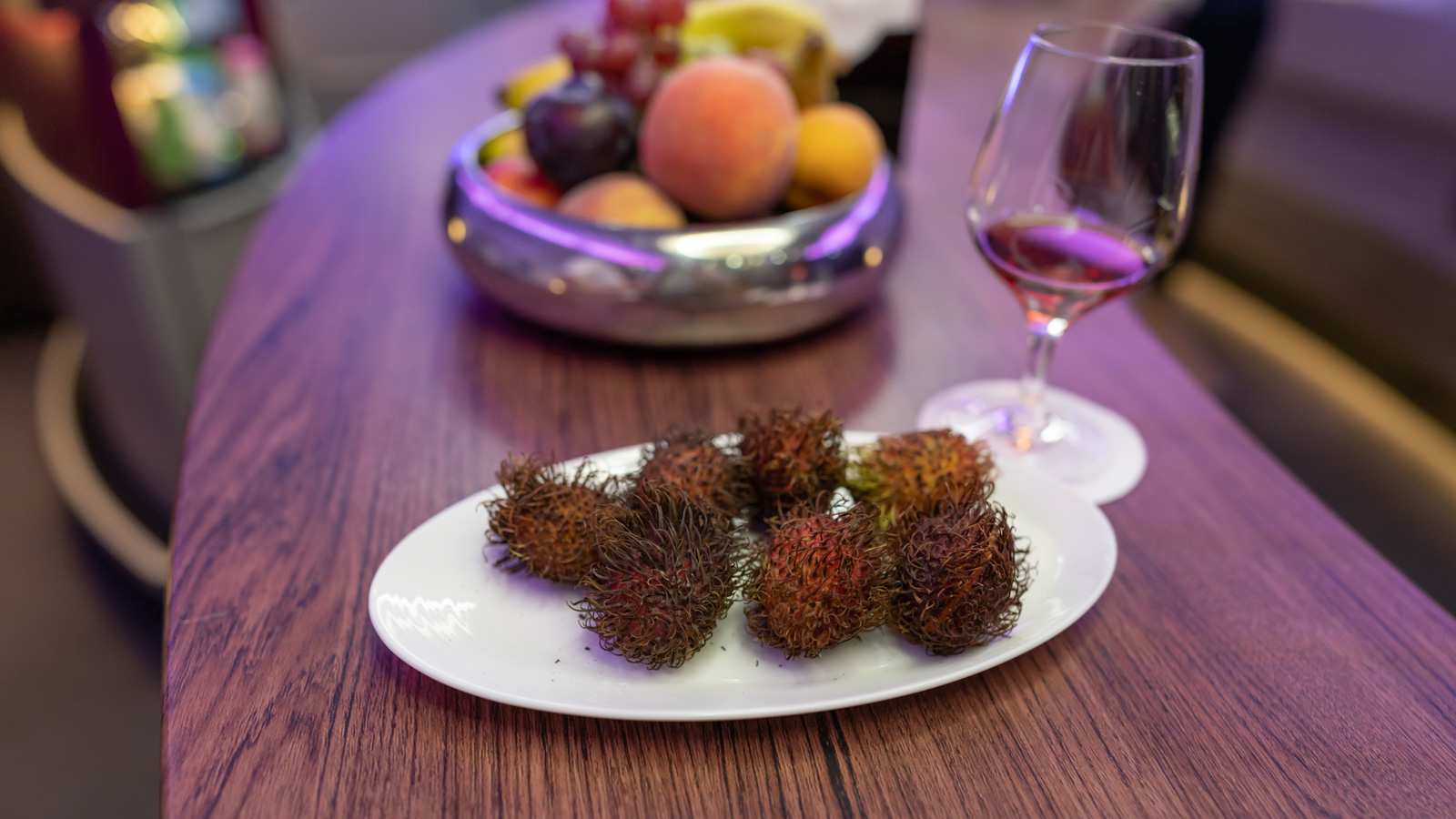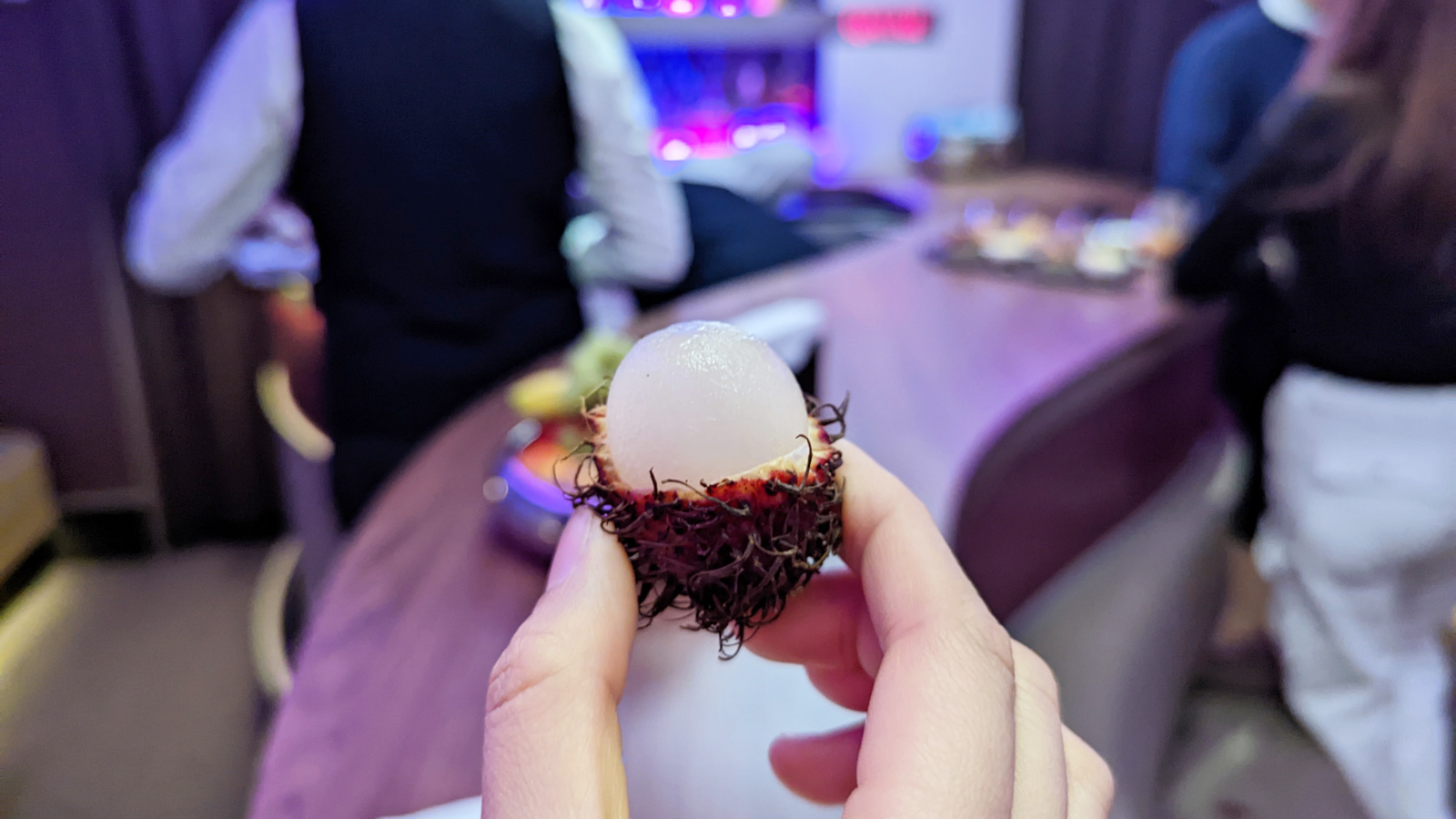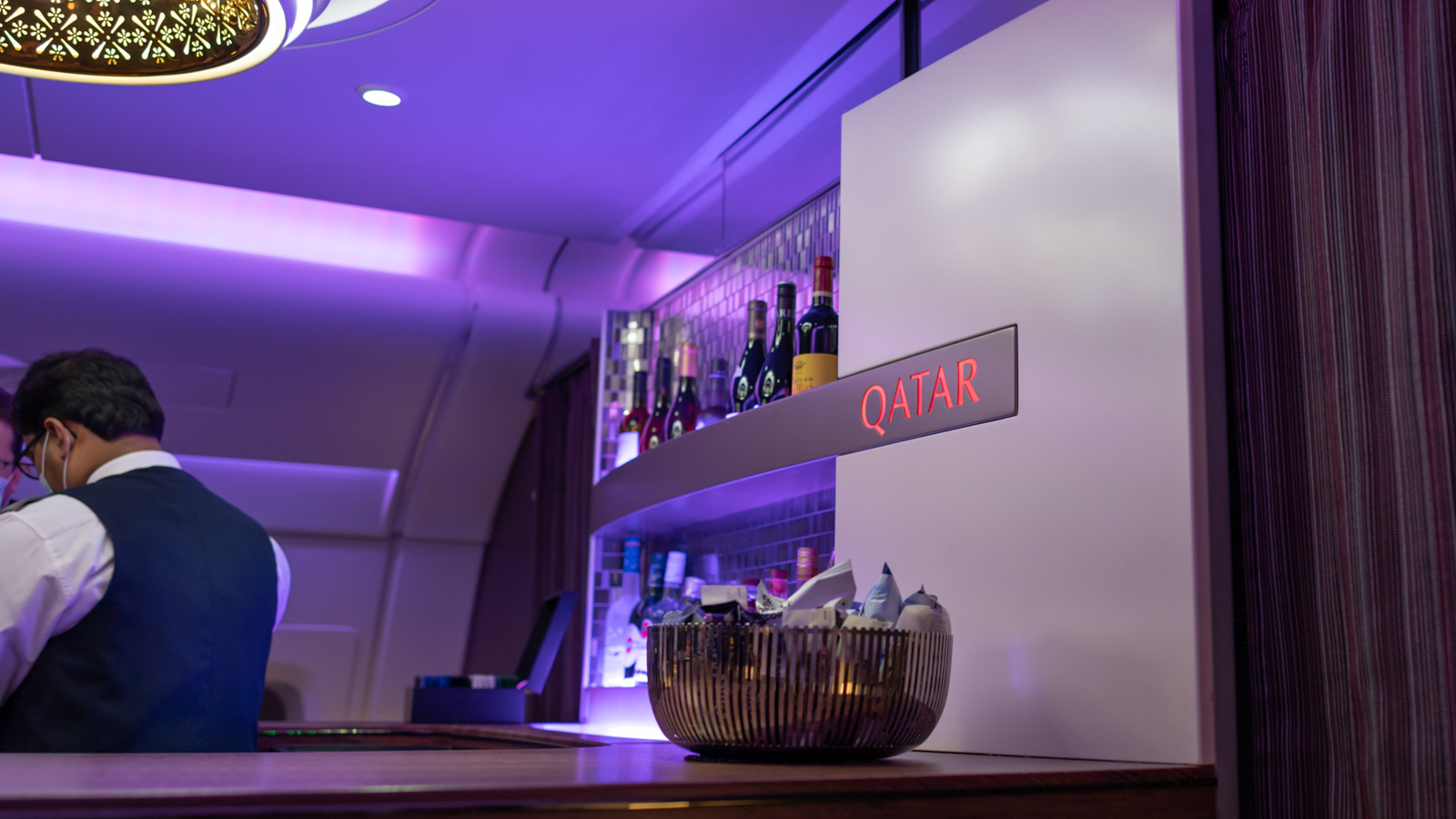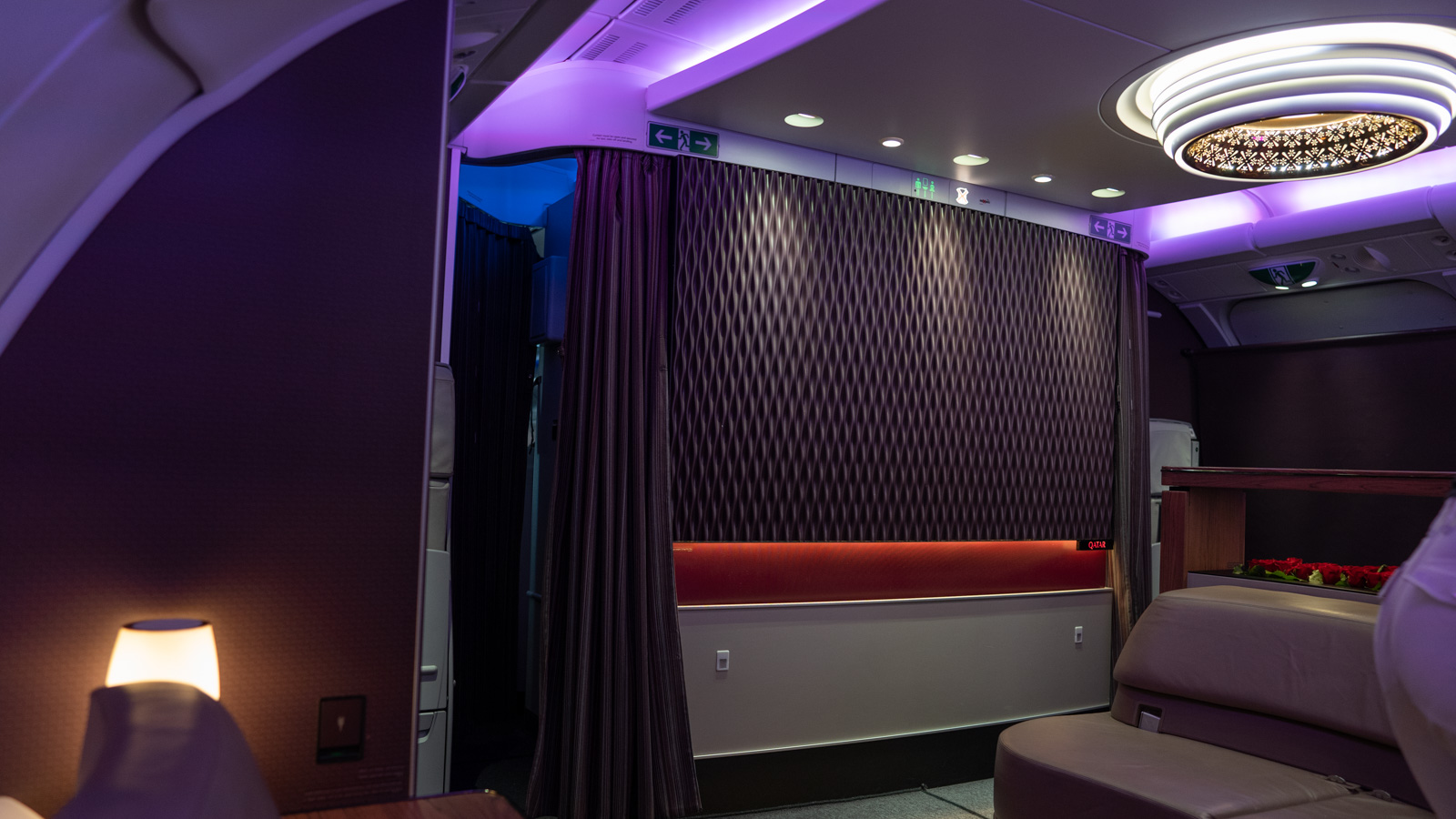 Qatar Airways A380 Business Class food and beverage
Dining
Unusually for Business Class, Qatar Airways offers a complete 'dine on demand' service. This means I can order anything from the menu at any time, rather than having to follow the airline's own schedule. I take full advantage of this perk and enjoy a leisurely dinner a few hours into the flight. Here's the full menu and wine list below.
Pleasingly, Qatar Airways has restored full-service dining in Business Class on select routes, including Paris-Doha and Doha-Perth. Tray service is out, and instead, each course is plated and delivered separately. Tables are dressed in crisp linen and a flickering LED candle, which adds to the experience.
First up is a surprise amuse bouche – a sumptuous and beautifully-presented bite of beef wrapped in nori. Next is the soup of the day (a seafood bisque), which is tasty, but otherwise a bit too salty.
I can never go past a lobster course, but the poached lobster and seared scallop plate is a tad dry, with the small dollop of sweet chilli sauce being the saving grace. Likewise, the beef osso bucco also suffers from not having enough sauce. I finish up with the cheese plate, which comes with four varieties, plenty of crackers and some fruit.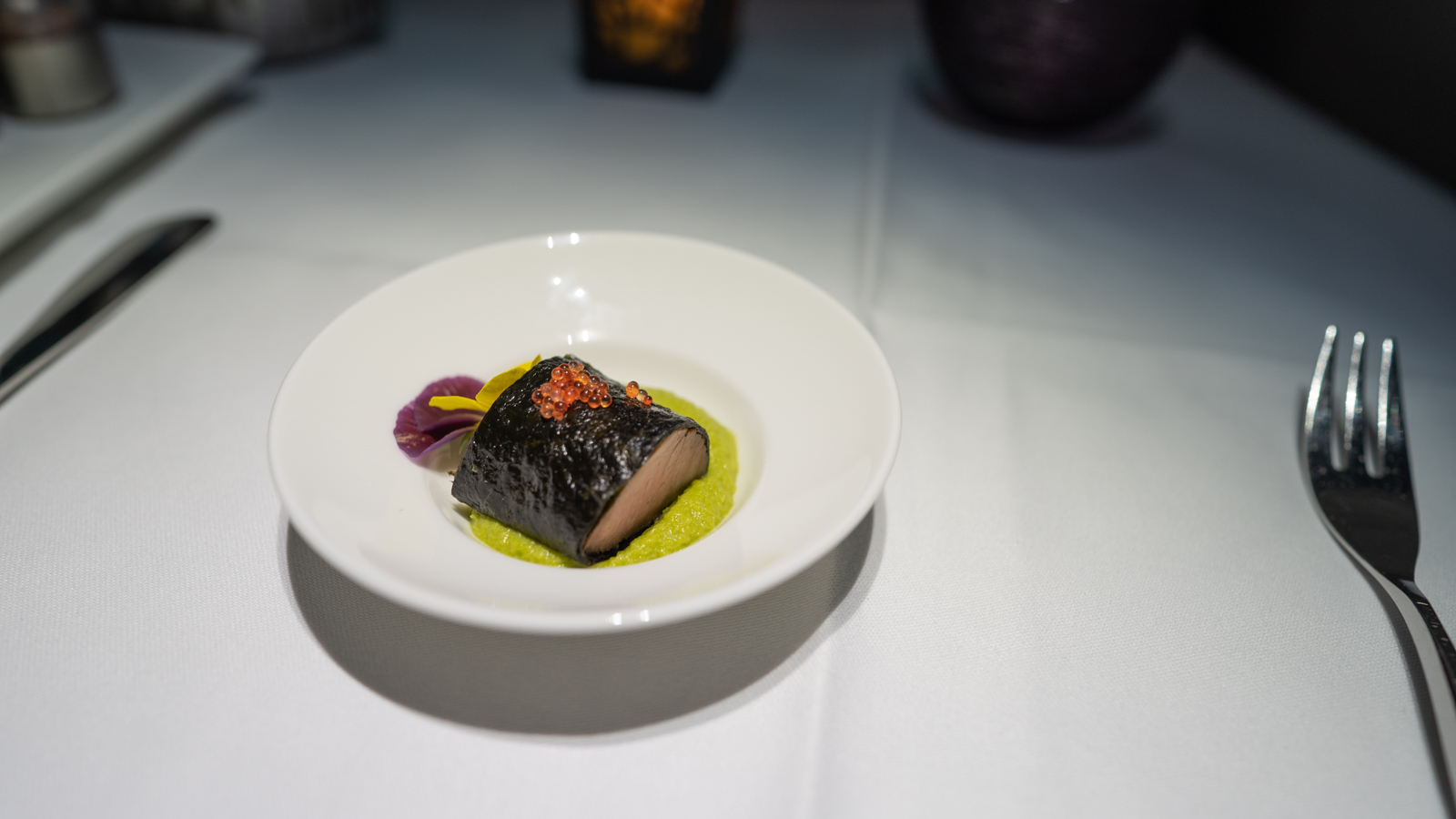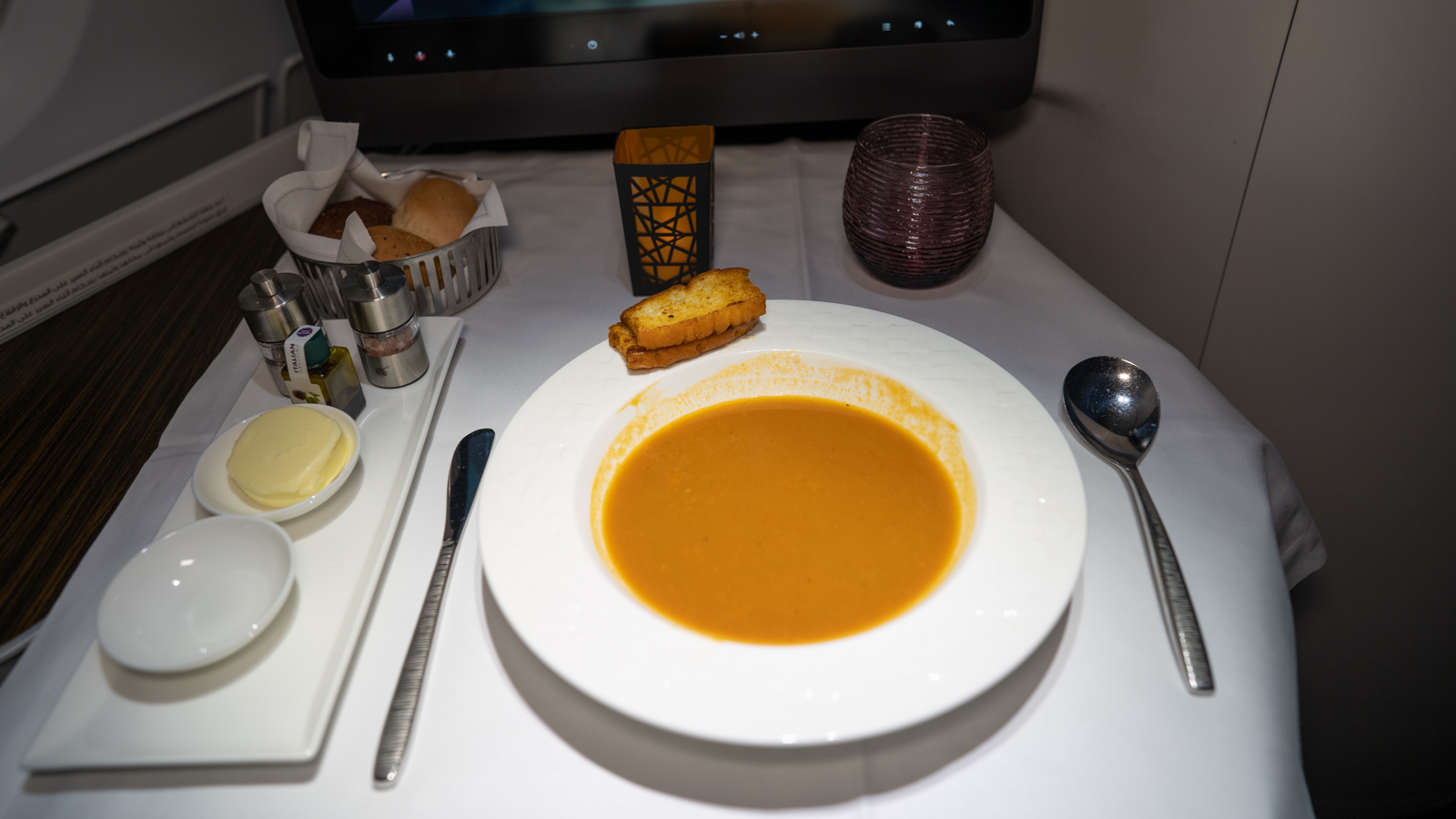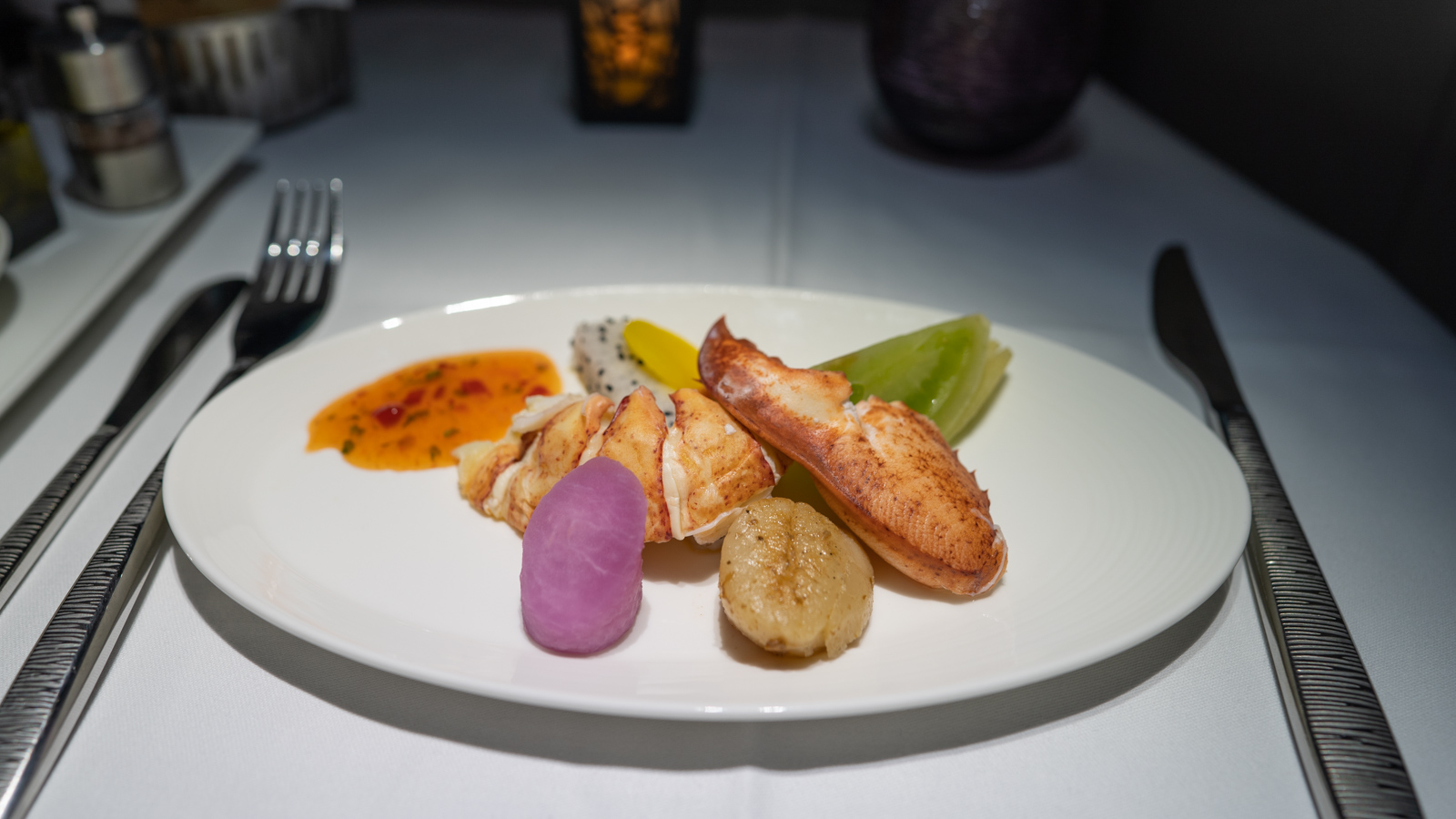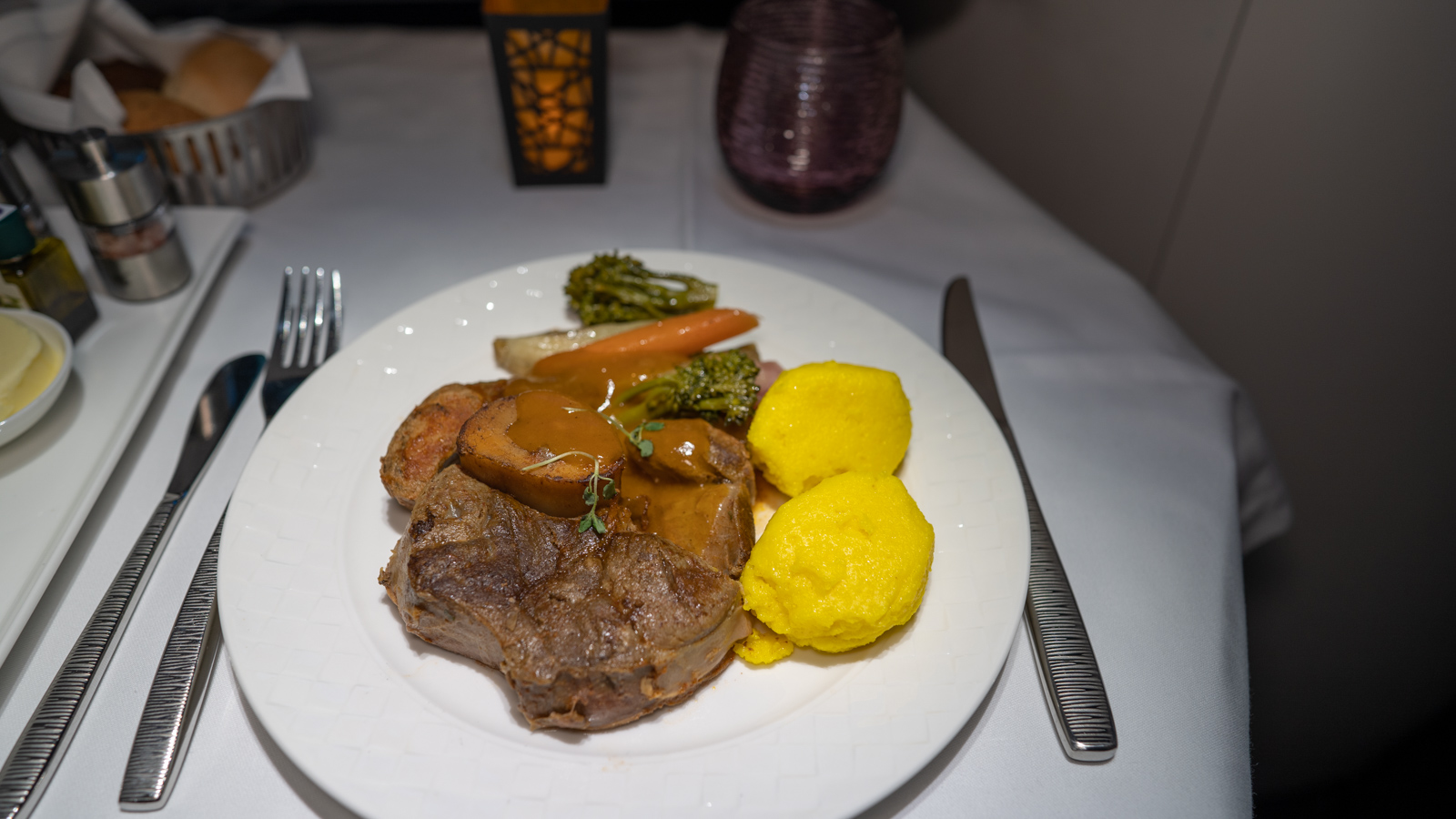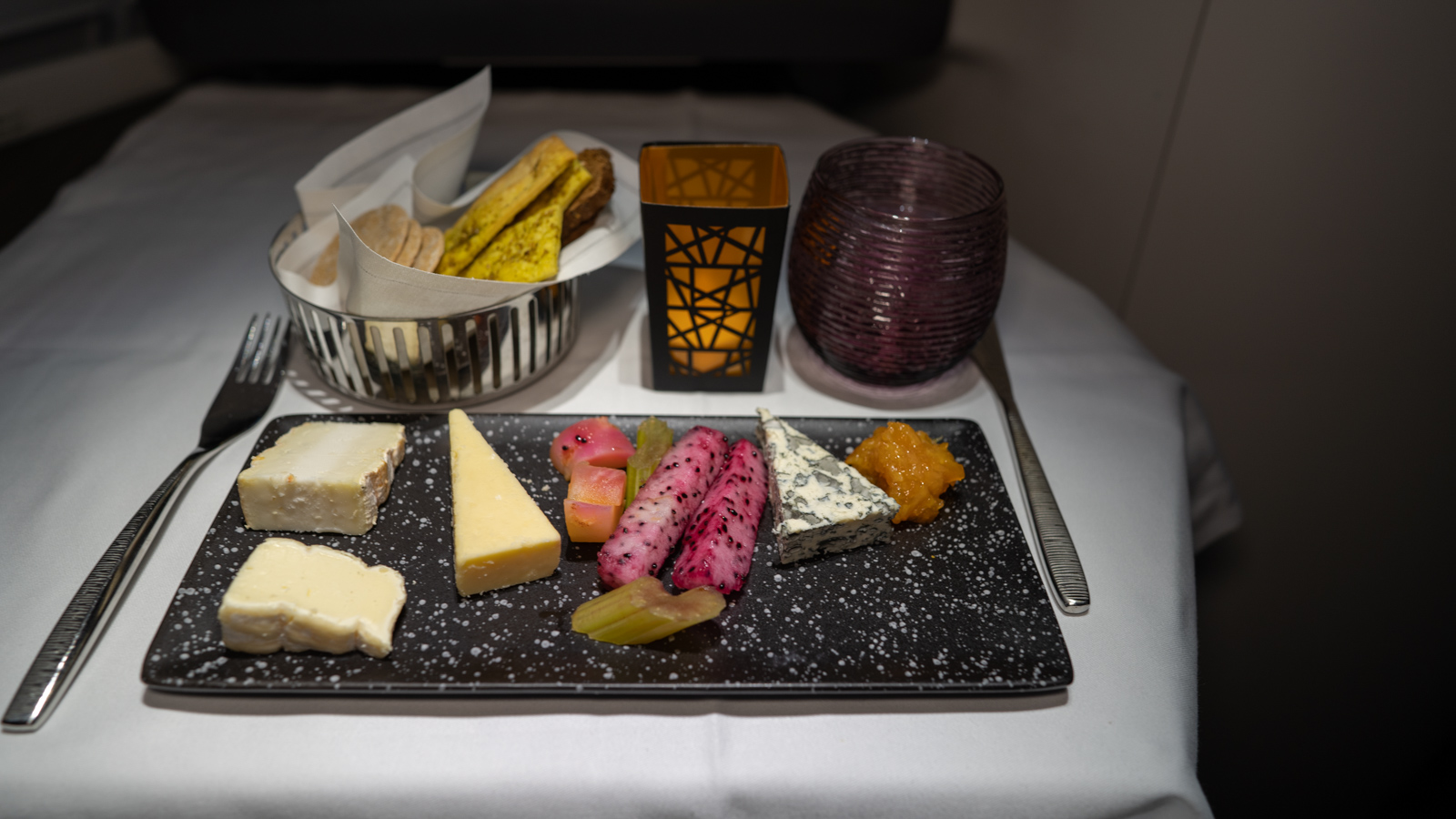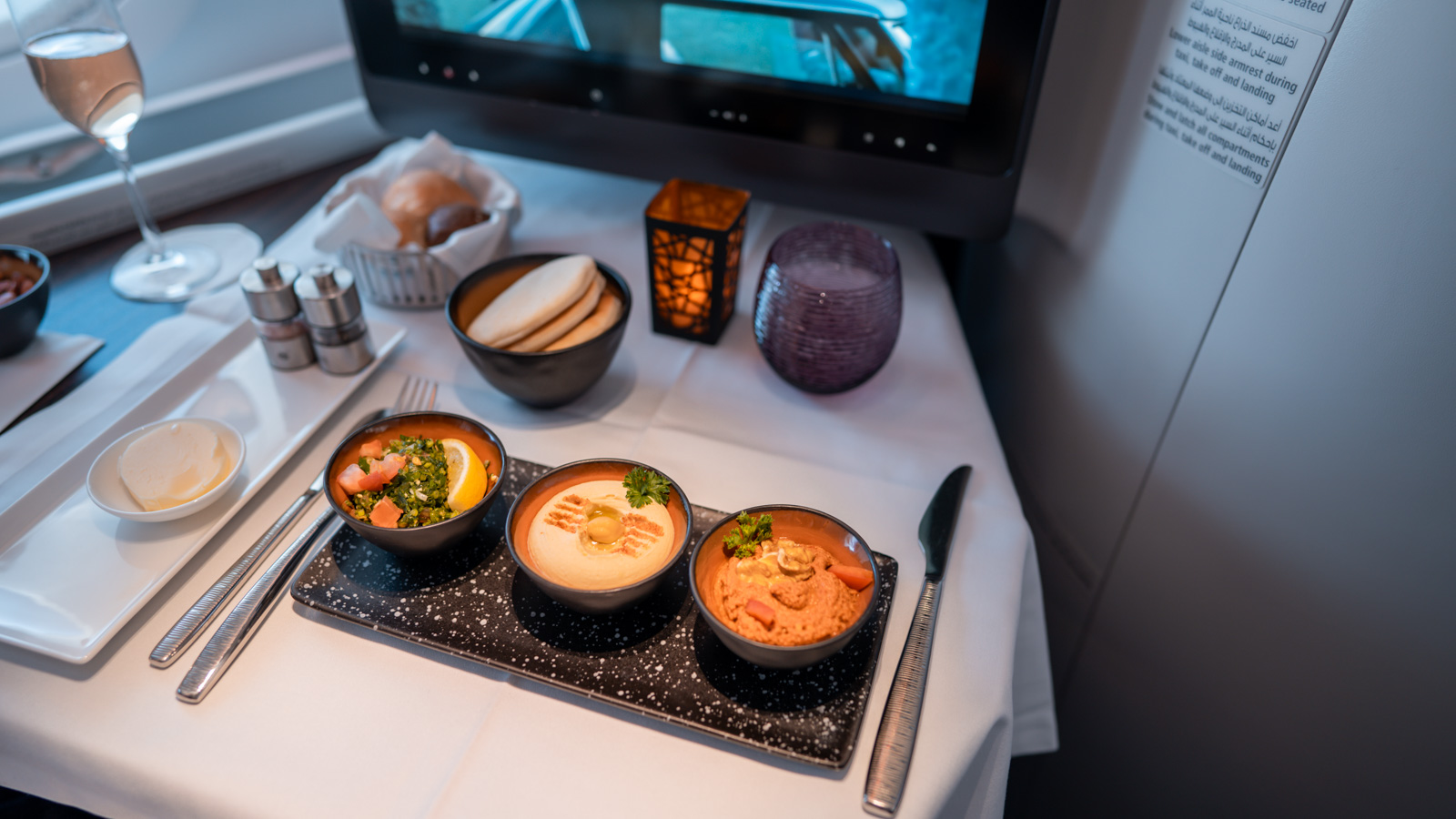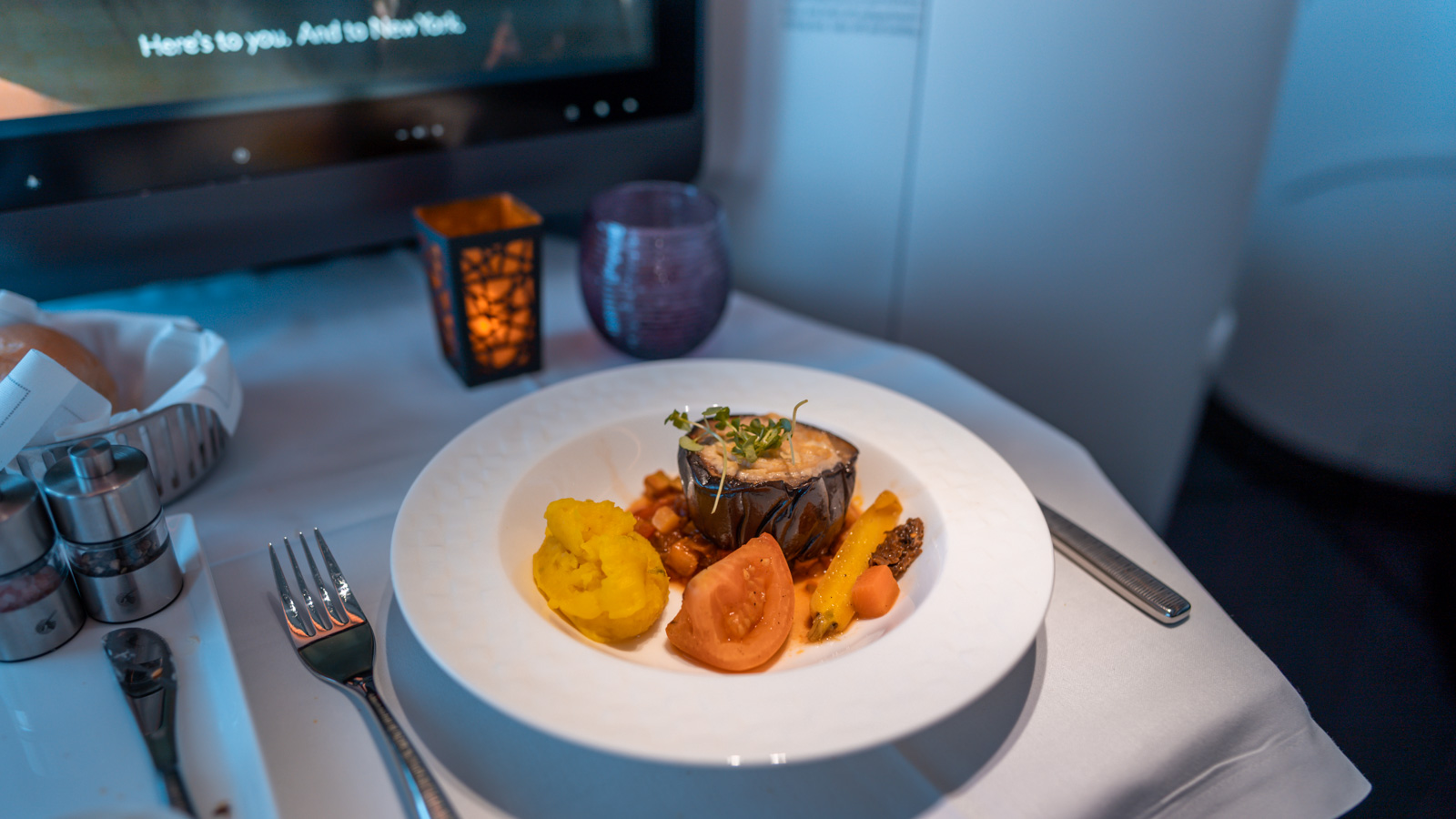 My partner opts for the simple-yet-delicious Arabic mezze. But she's not a fan of the smoked eggplant vegan dish, which just isn't to her taste.
While the overall meal wasn't as perfect as I'd hoped it would be, Qatar Airways still sets the standard for inflight dining quite high. Some minor changes to the cooking – such as adding less salt to the soup and adding more sauce to the poached and braised dishes – would certainly go a long way.
Beverages
Qatar Airways' drink list is sure to impress. Business Class passengers have two excellent Champagnes: Charles Heidsieck Brut Réserve NV and Taittinger Prestige Rosé NV. I stay with the Charles Heidsieck throughout the flight and it goes down a treat.
Upon boarding, we're offered a pre-departure beverage including Champagne, water, or Qatar Airways' signature lemon and mint mocktail. Other standouts include TWG teas and the velvety Taylor's 20 Years Old Tawny Port, which I enjoy at the onboard bar with our fruit plate.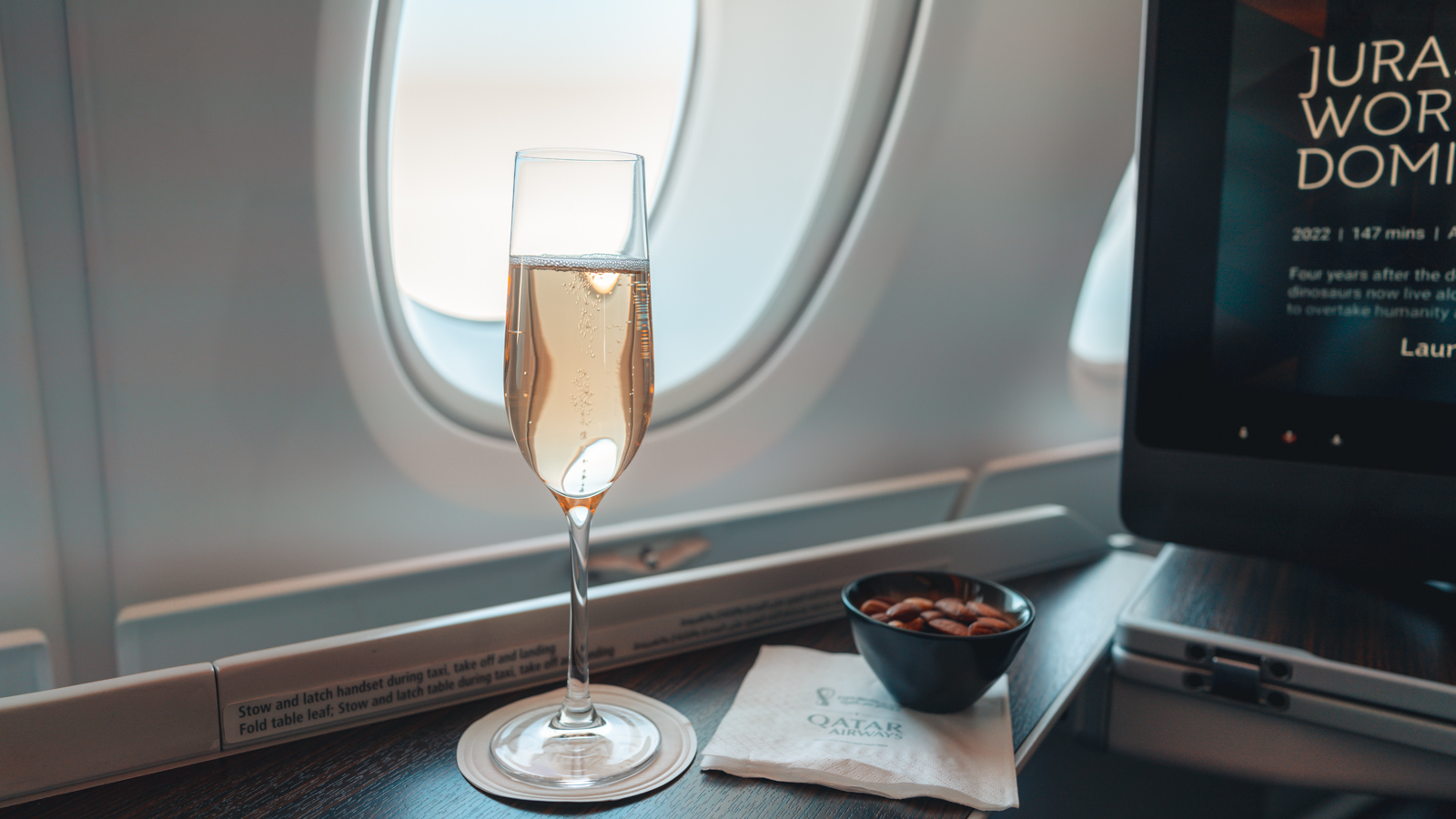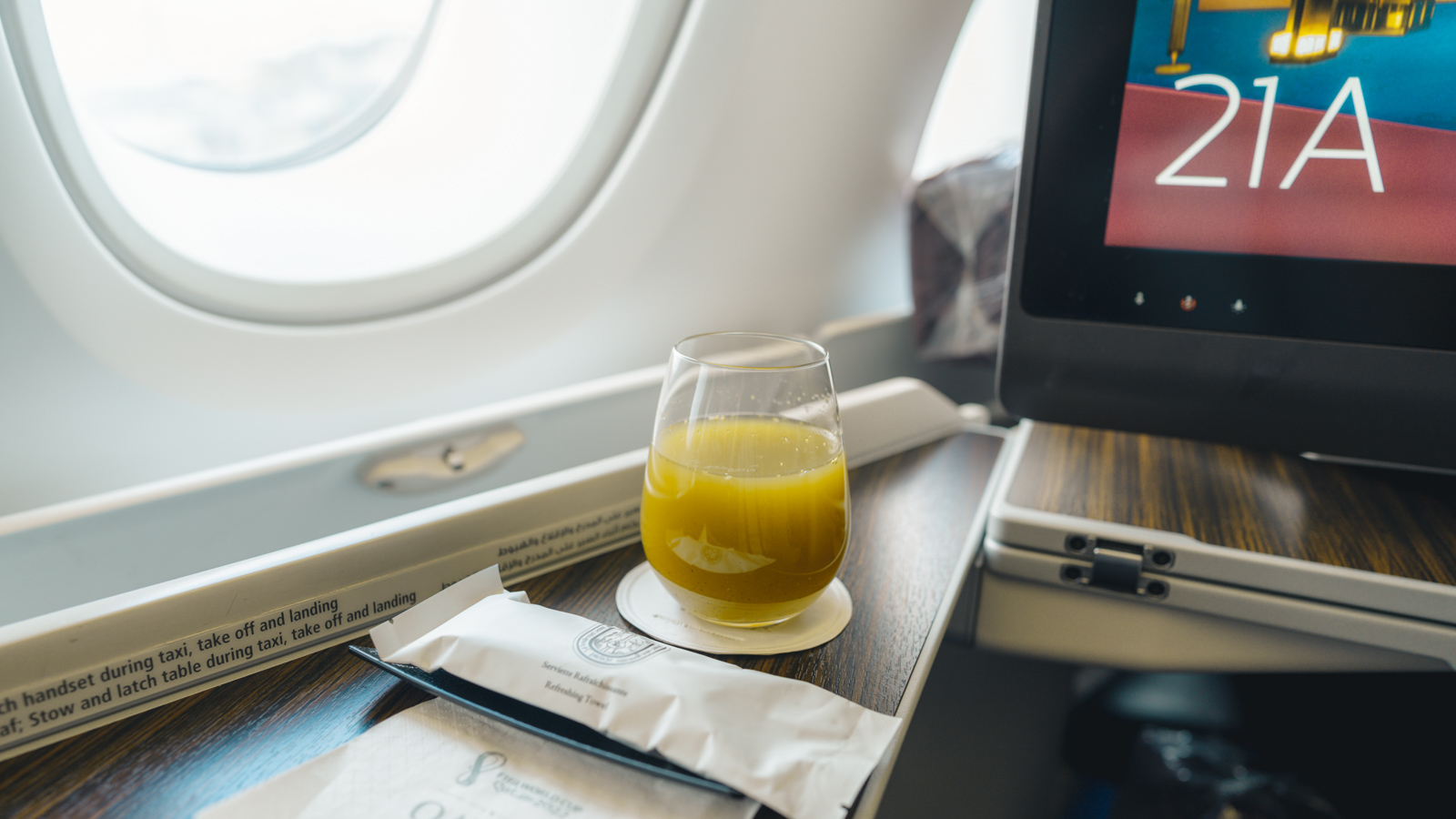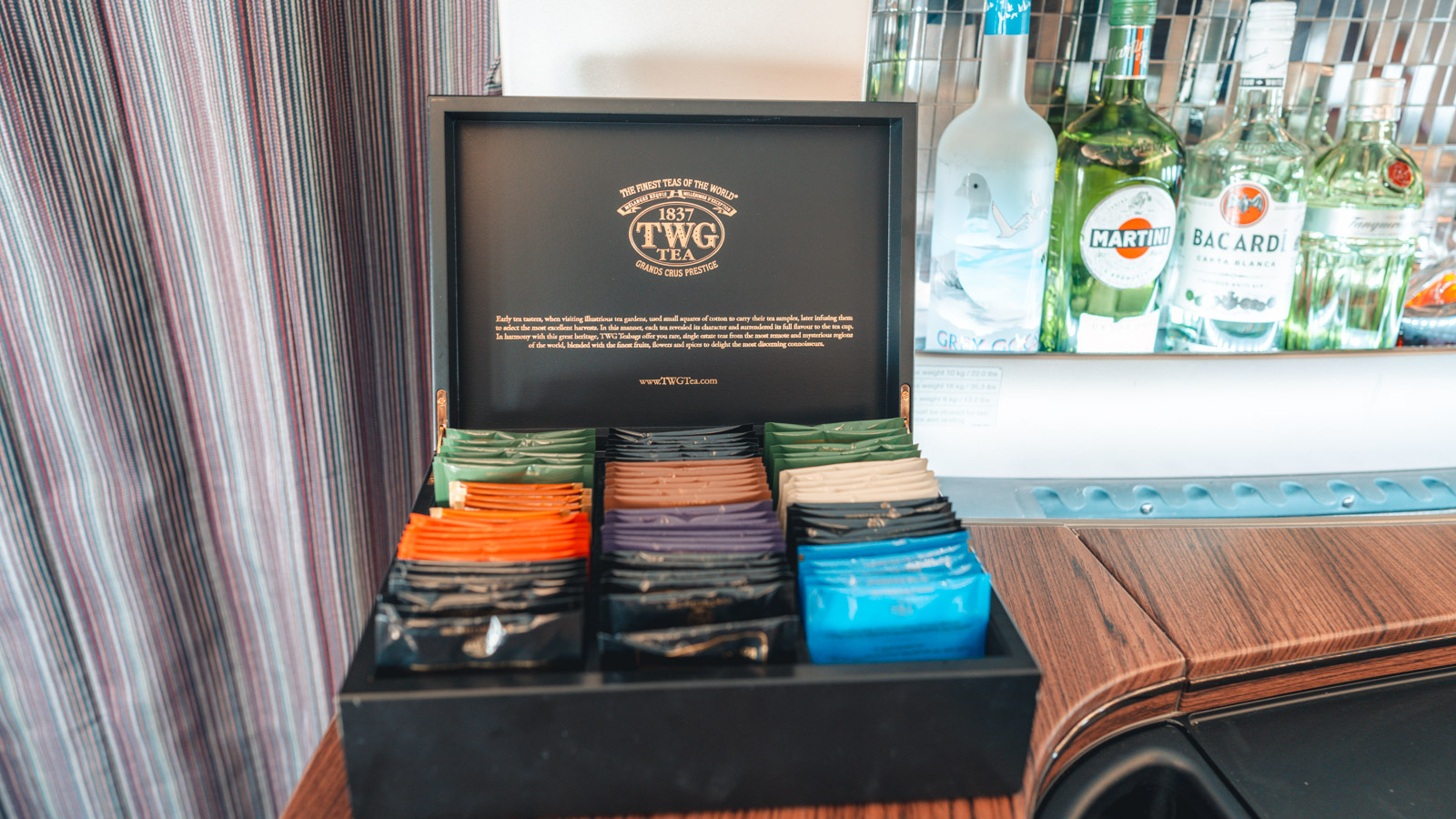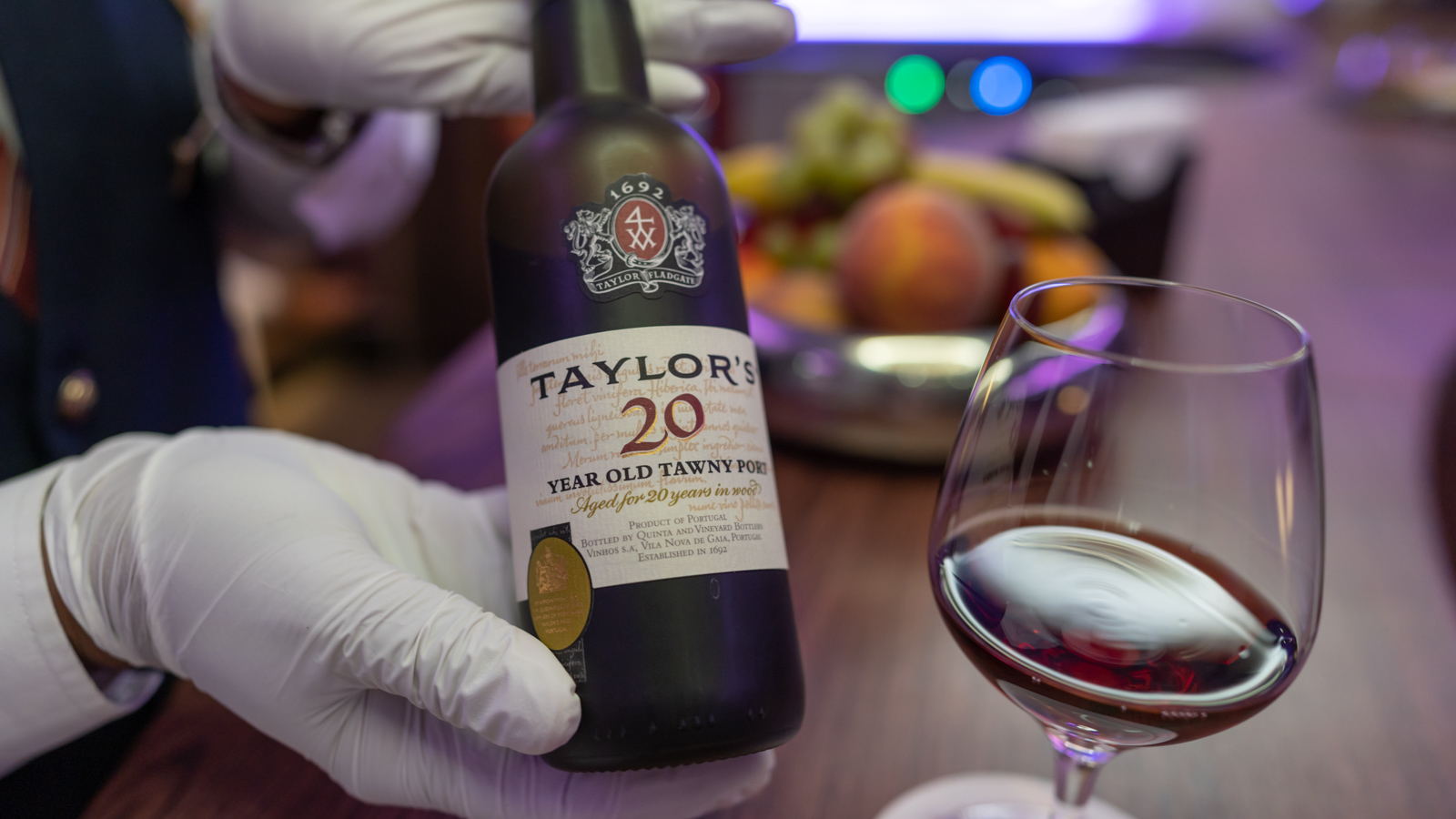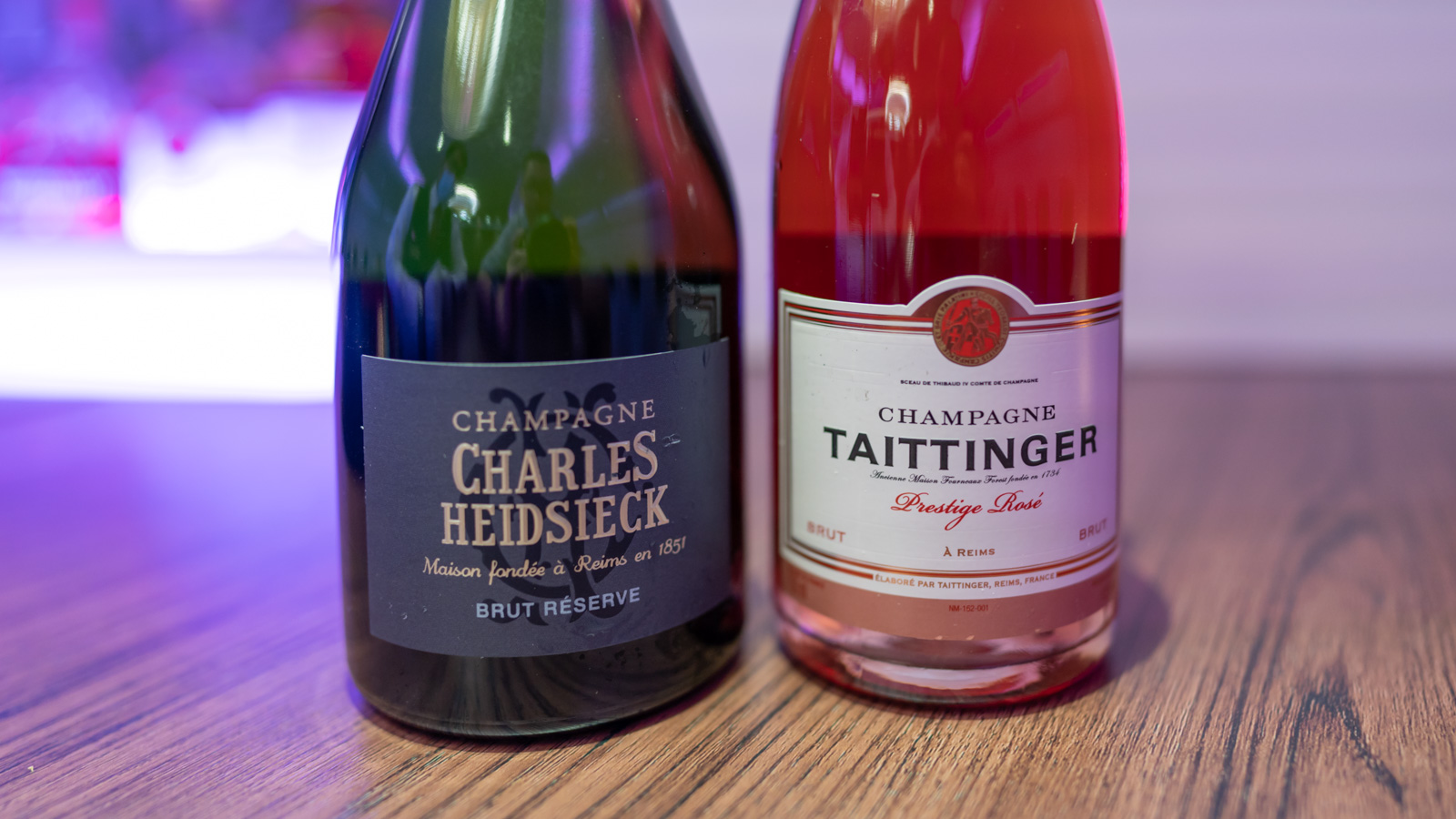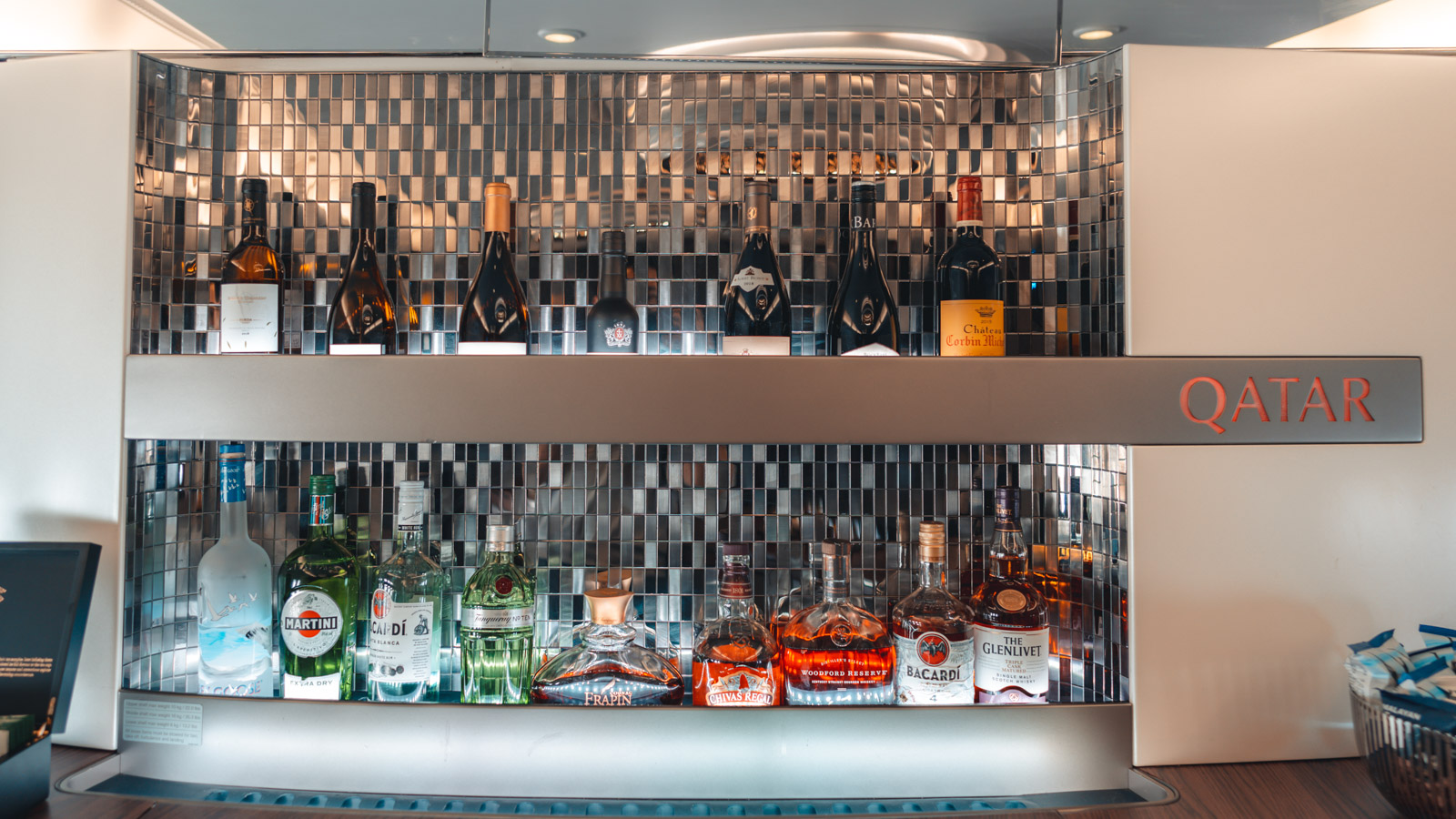 Speaking of which, the onboard bar and lounge stocks nine spirits and liqueurs, including The Glenlivet single malt whisky. You certainly won't leave a Qatar Airways flight thirsty!
Qatar Airways A380 Business Class service, amenities and entertainment
Service
Service is exquisite on this flight. The cabin manager welcomes us on the flight, and both the lounge manager and the cabin crew assigned to my area are flawless in their roles.
Amenities
A fancy Diptyque gift box amenity kit is already waiting at the seat when we board. Inside is a pair of inflight socks and a variety of skin care products and creams. Other amenities such as dental kits may be available on request or stocked in the lavatories.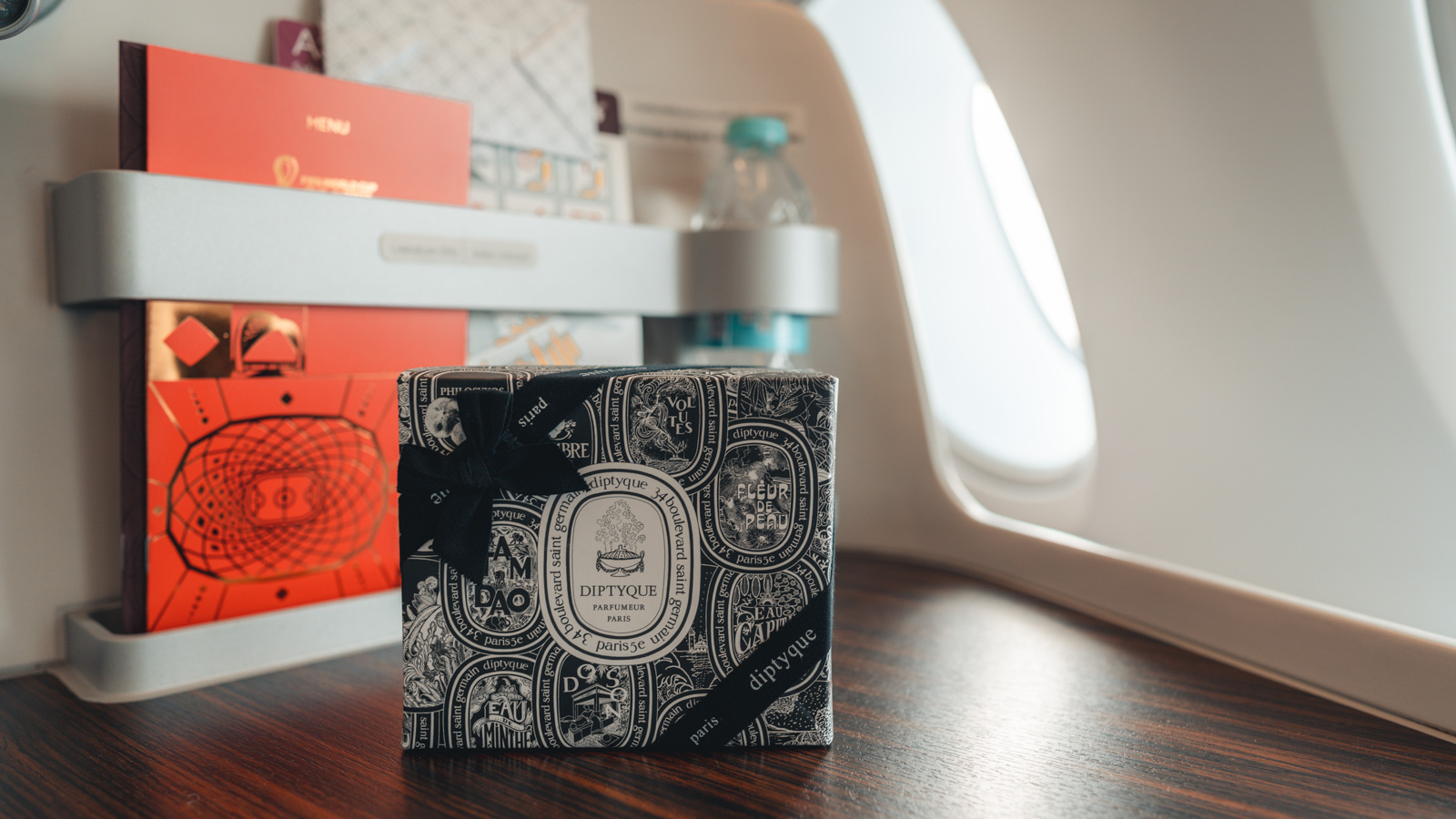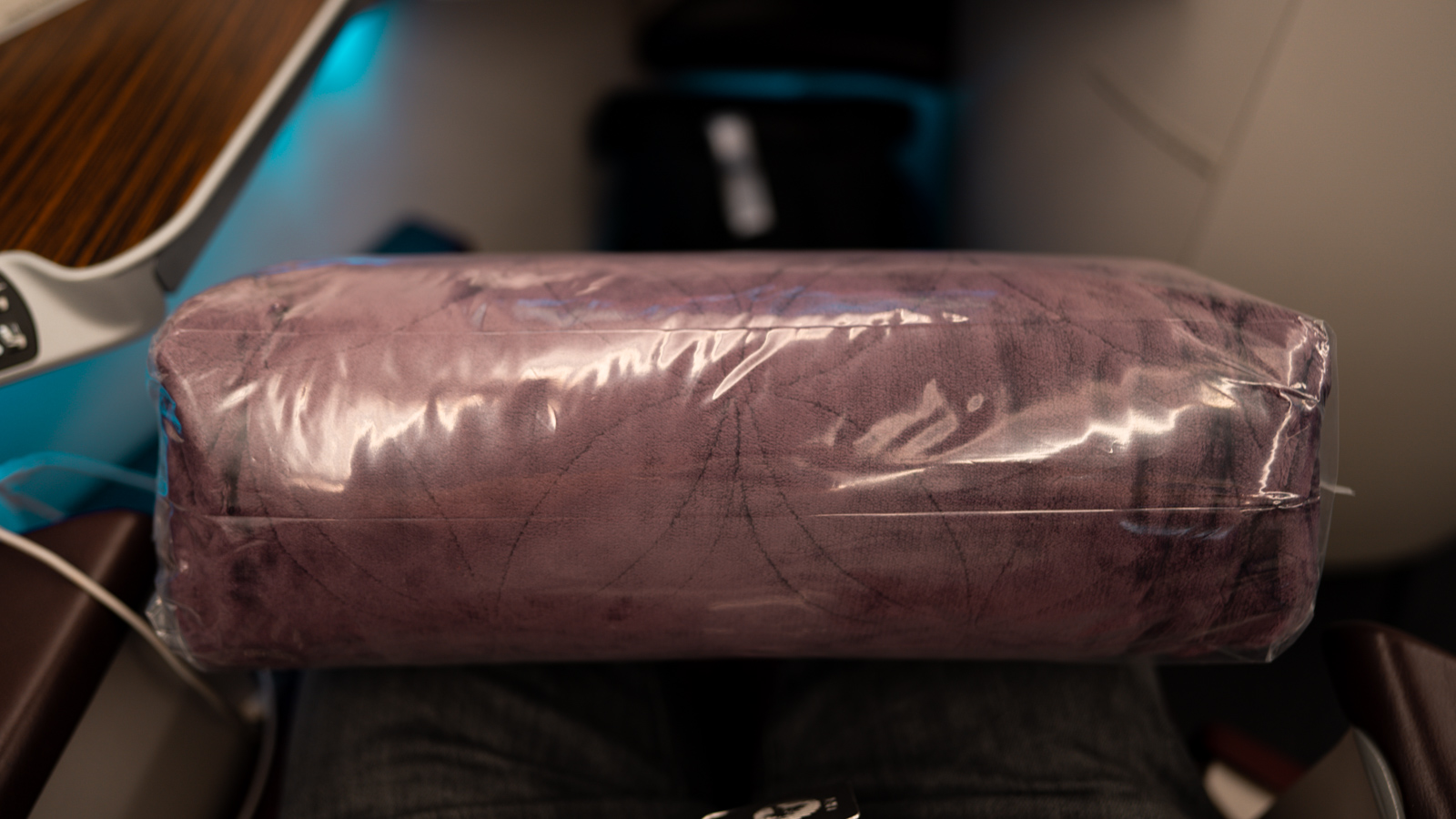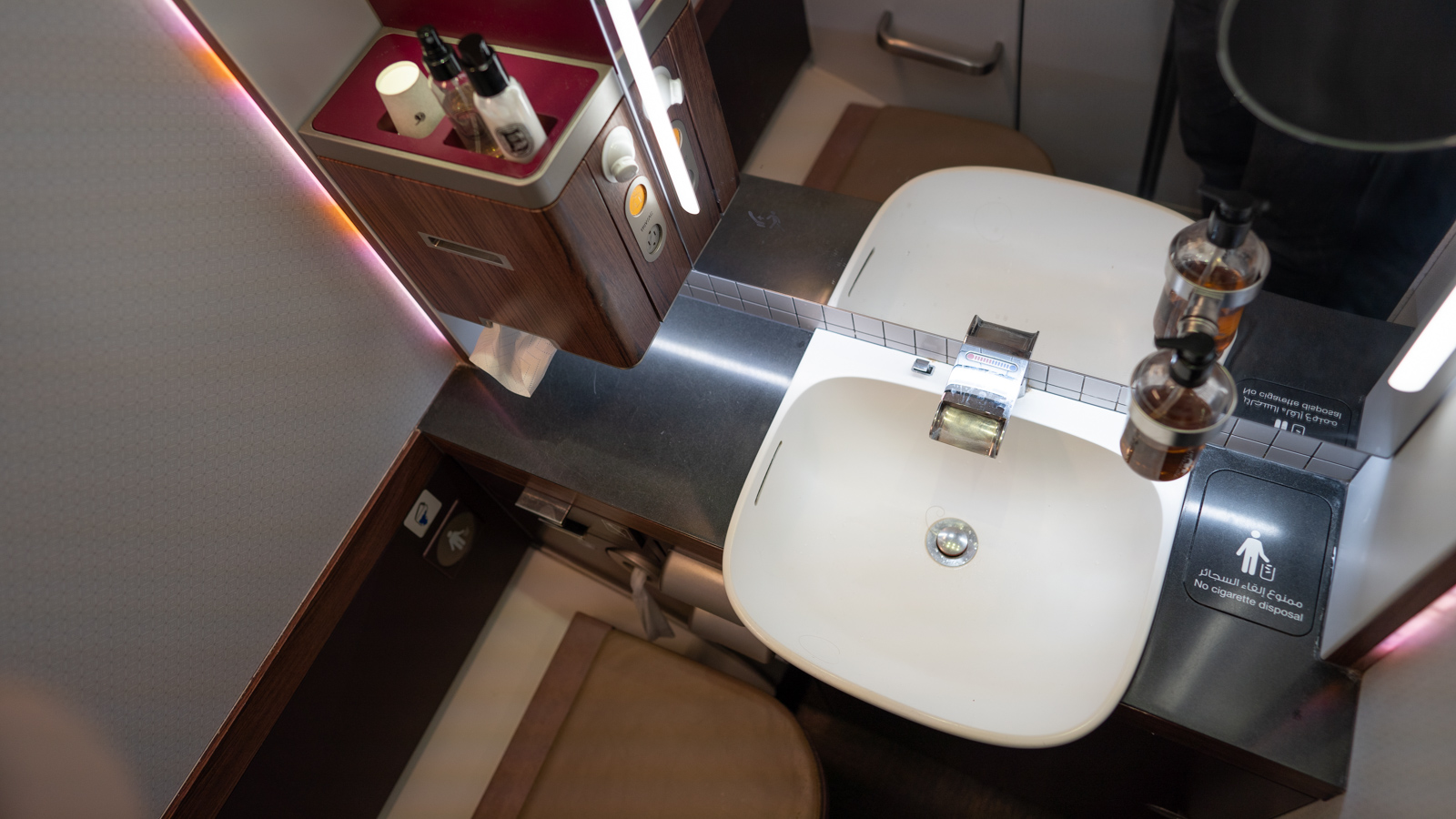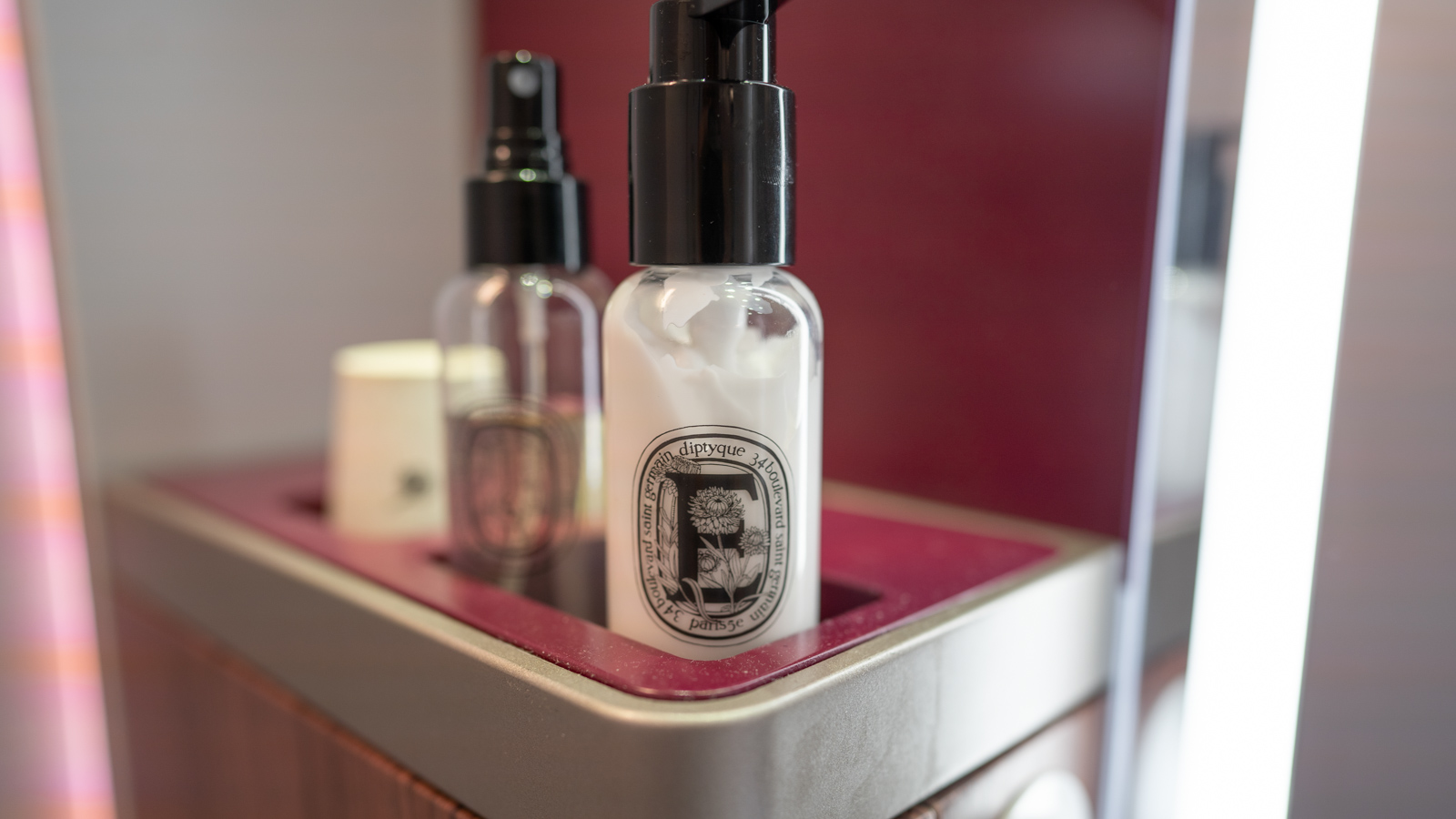 Also on the seat is a comfortable blanket, though bedding and pyjamas aren't offered on this daytime flight. The lavatories are slightly larger than usual and come stocked with Diptyque products.
Entertainment
The 17″ (43 cm) entertainment touchscreen is a breeze to use and shows the latest movies and TV shows in high definition. There's plenty of content to choose from on Qatar Airways' Oryx One system. For take-off and landing, the (low-res) tail camera is a good pick, while the moving map can be customised.
New release movies include Top Gun: Maverick, which is towards the end of its theatrical run in Australia. The Blu-Ray isn't even out, yet! TV box sets cover many genres from drama to reality and even talent shows. There's no shortage of audio or games either.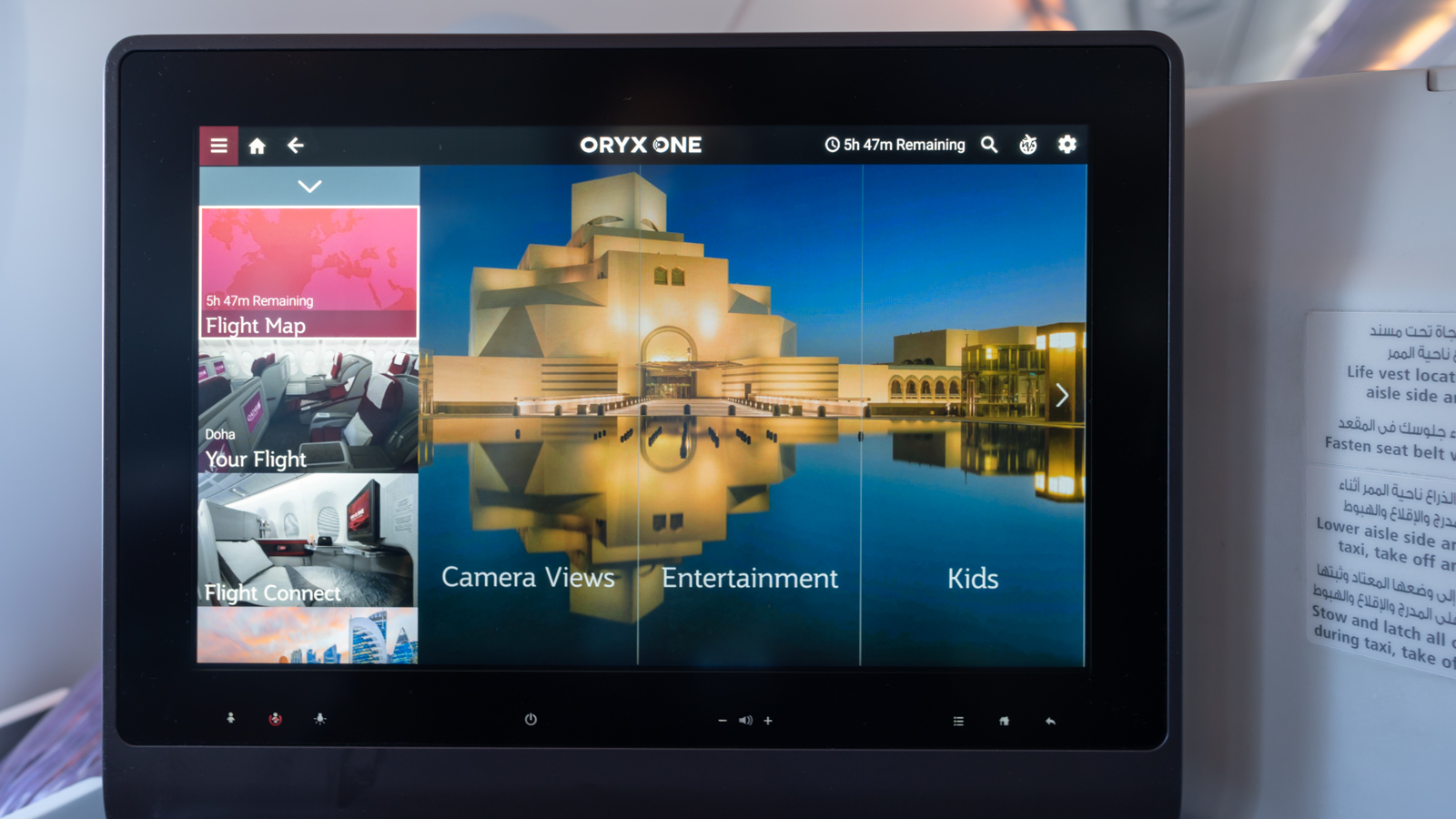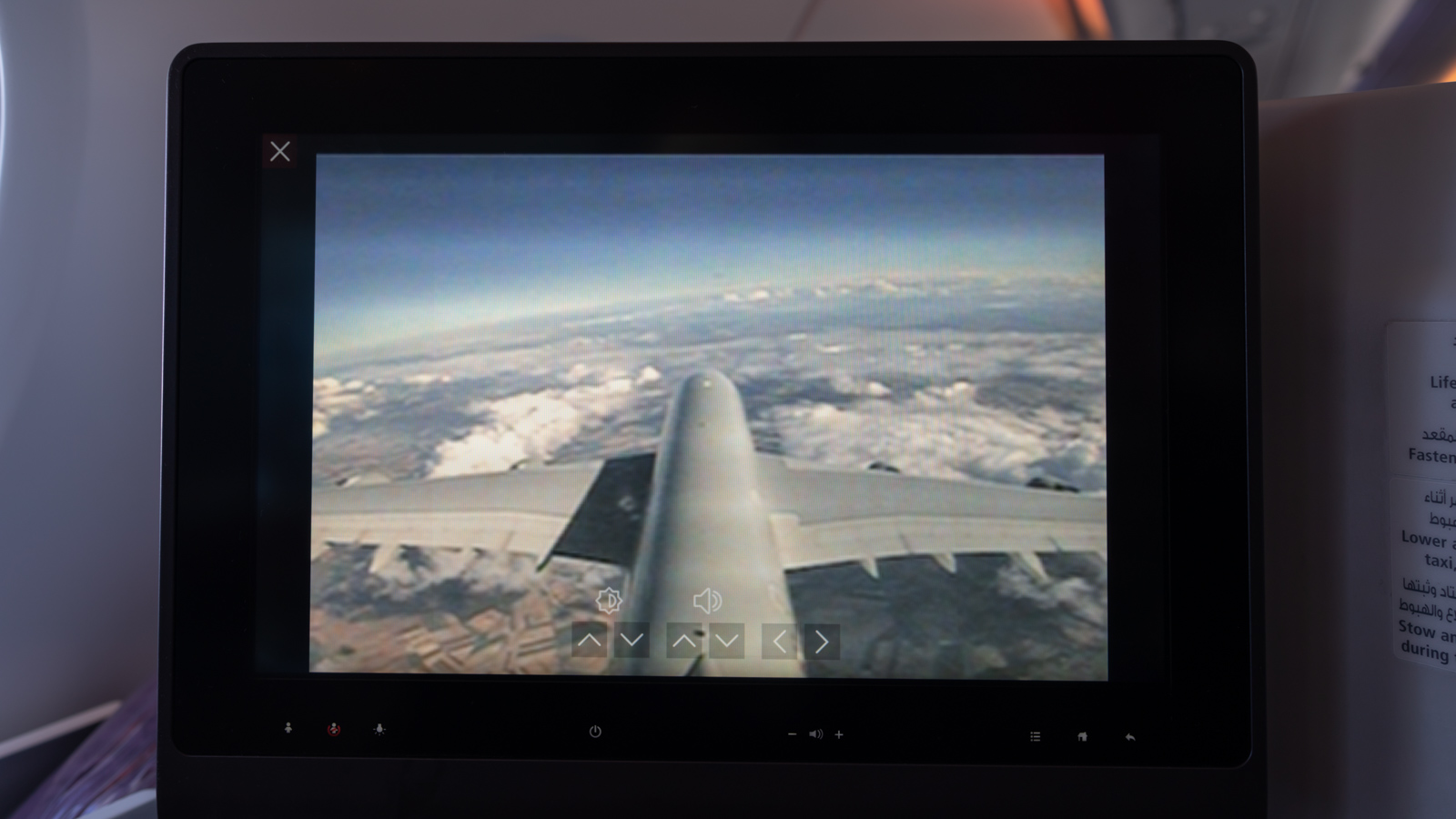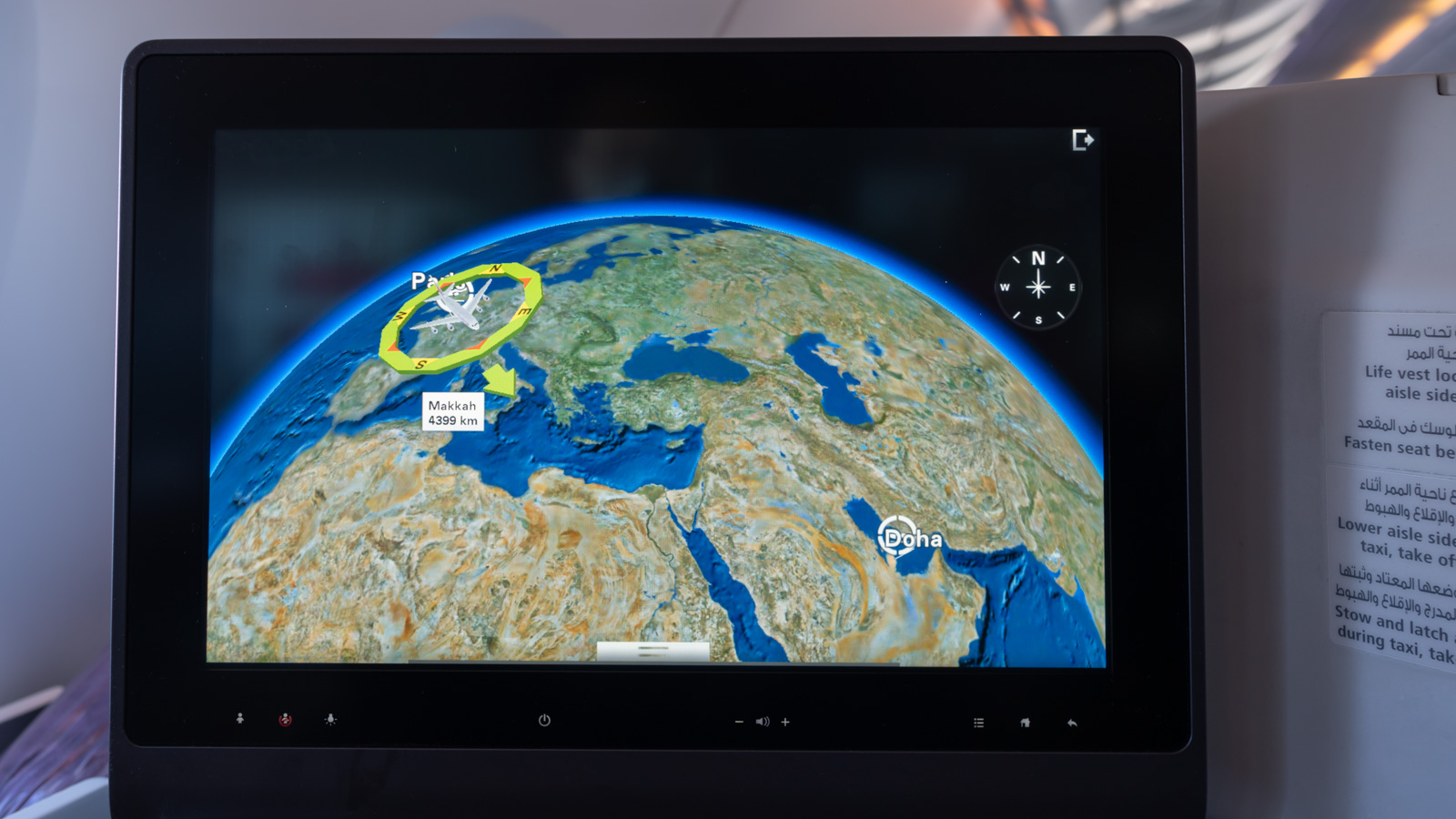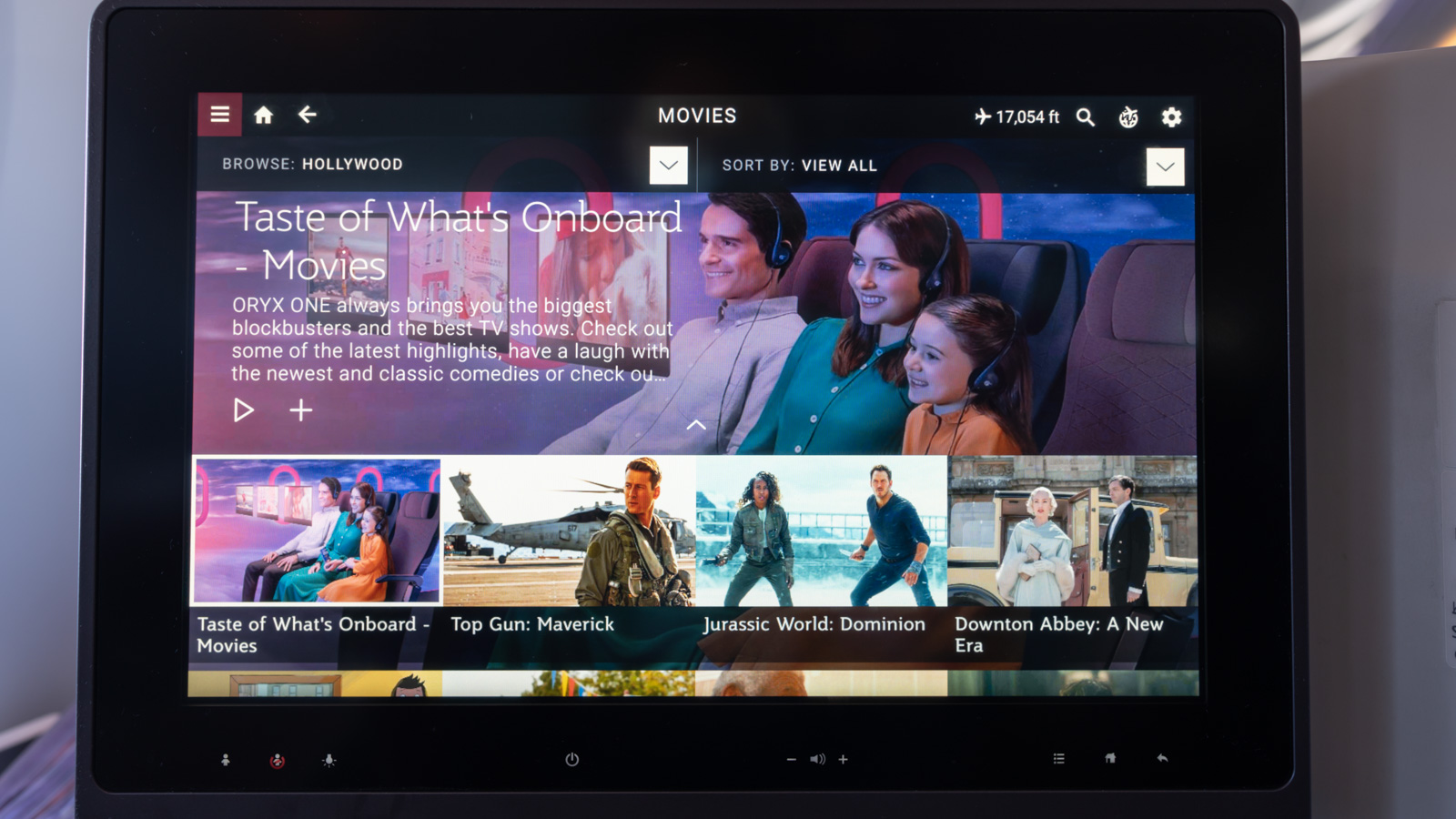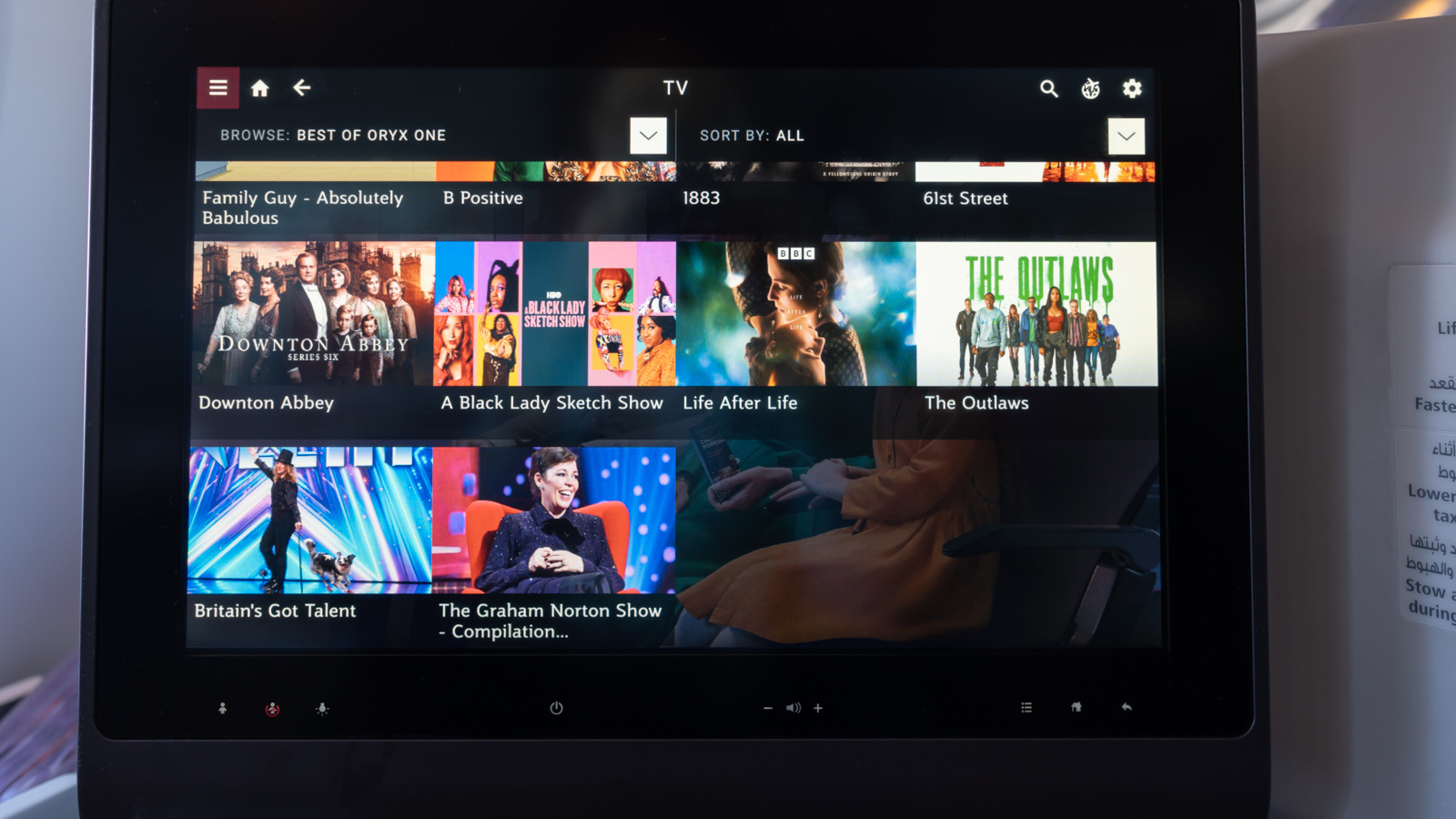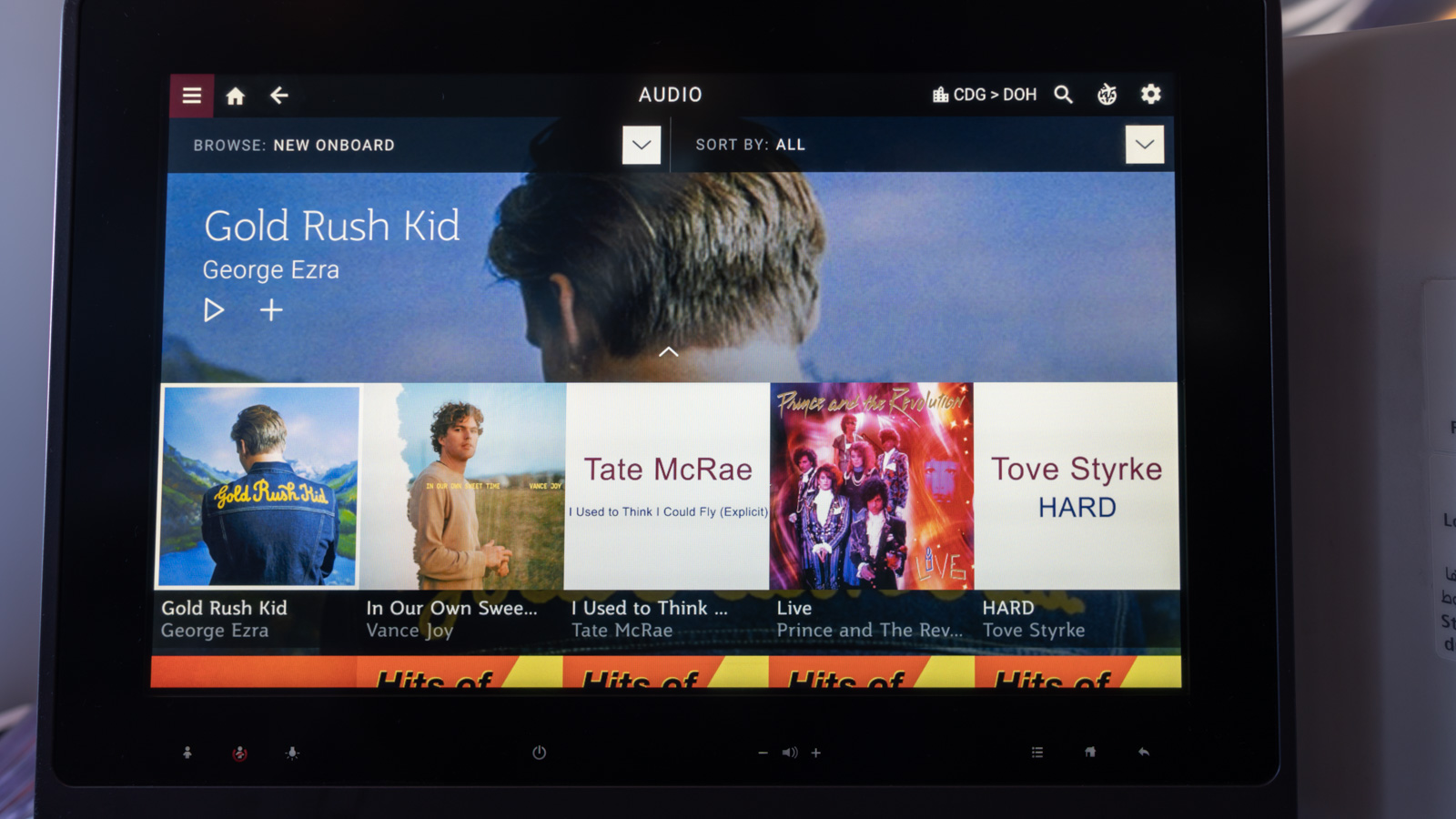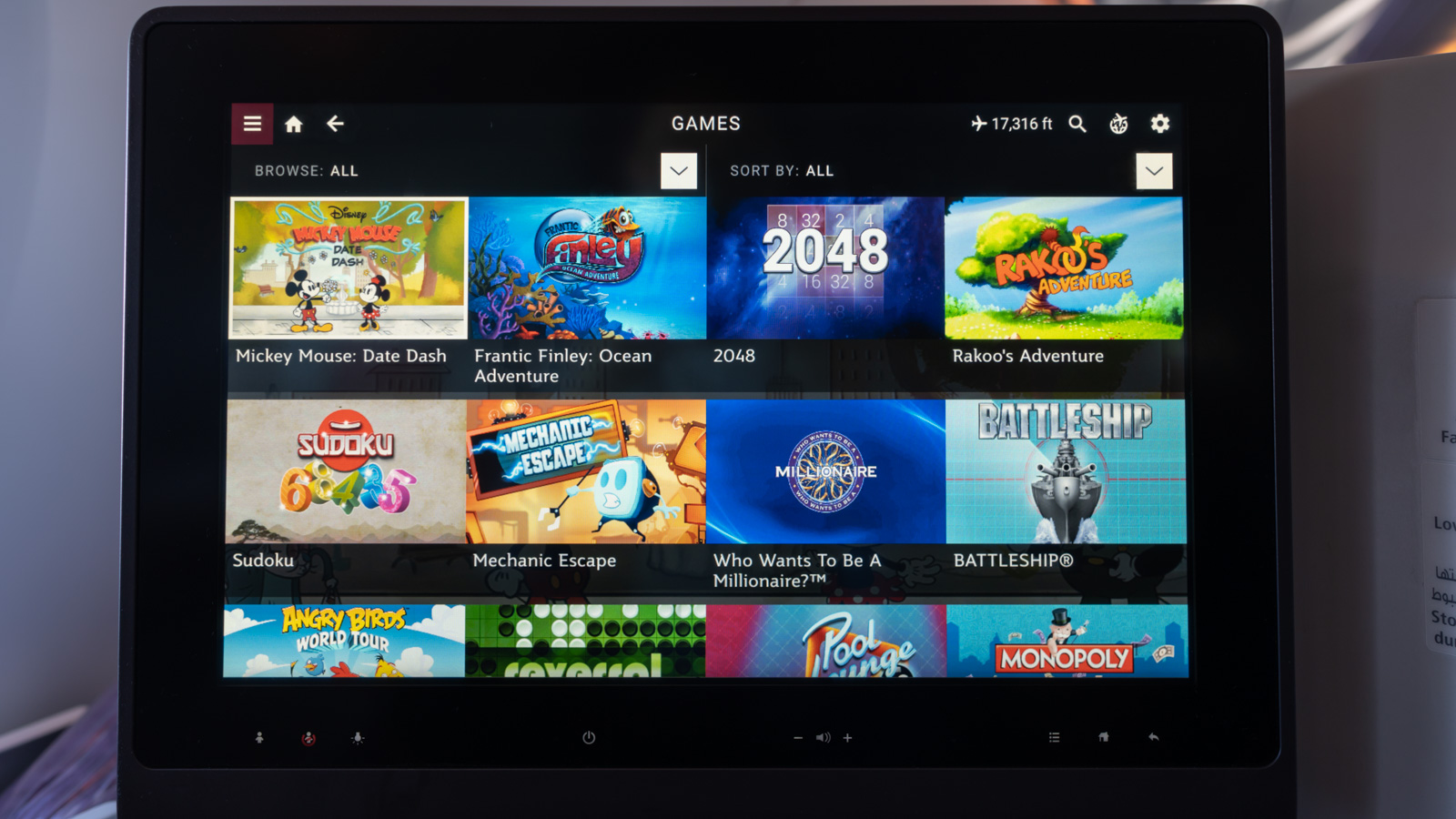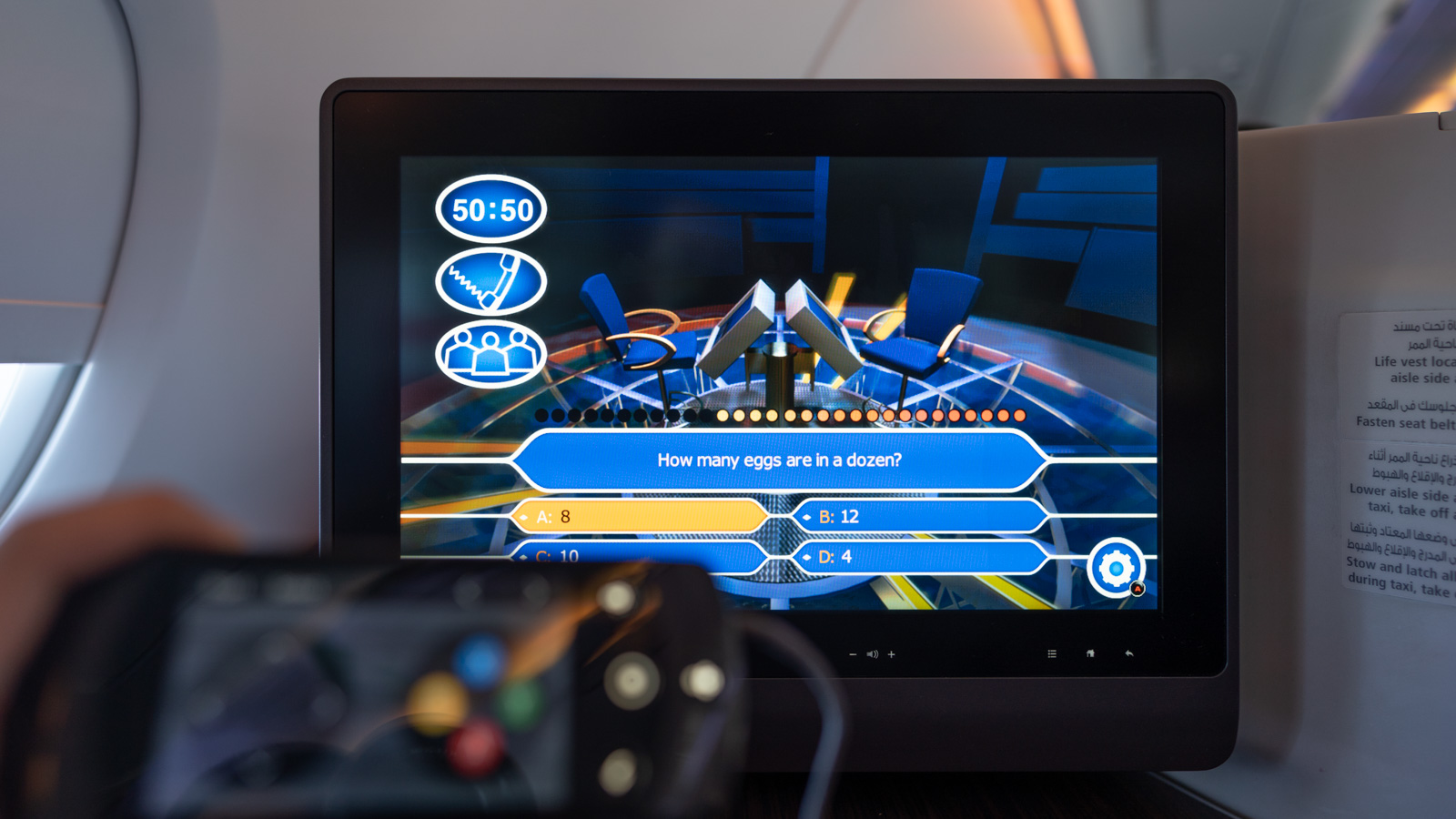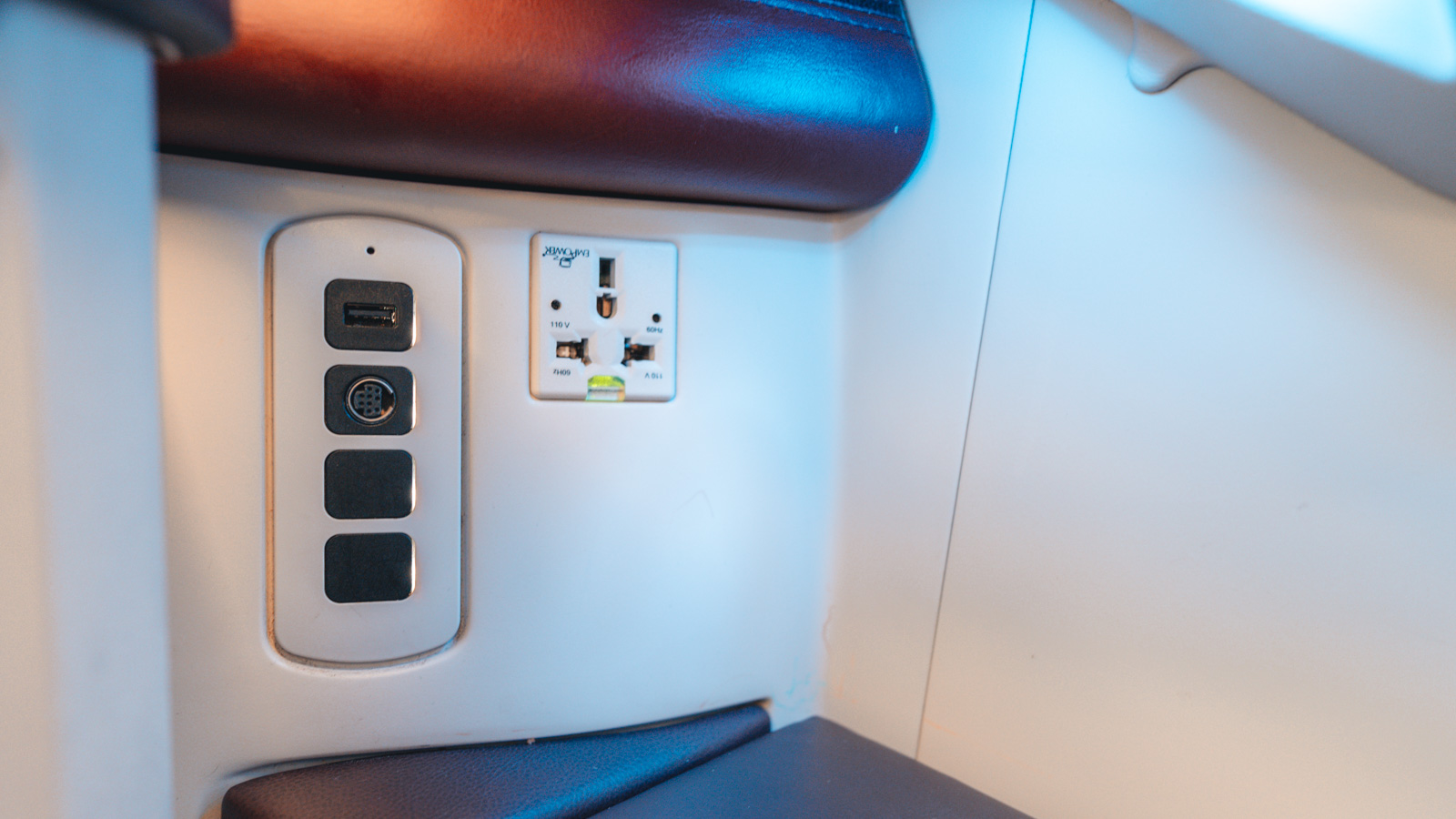 I take a few shots at 'Who Wants to be a Millionaire', playing on the accompanying touch-screen remote. While it lacks the atmosphere of the actual game show, the app is still reasonably responsive and I have a great time playing along.
Good quality noise-cancelling headphones are located on the aisle armrest. These cans provide reasonable audio quality and comfort. The AC power port is handily located on the inside armrest and provides plenty of power to keep my phone topped up.
The Airbus A380 does have inflight Wi-Fi, but this jet doesn't offer a free access plan. It costs around US$20 for a full flight pass, which I pass on.
Booking this flight with points
You can book the Paris-Doha (or vice versa) flight in Business Class with many frequent flyer programs. Here are the points needed for various popular programs: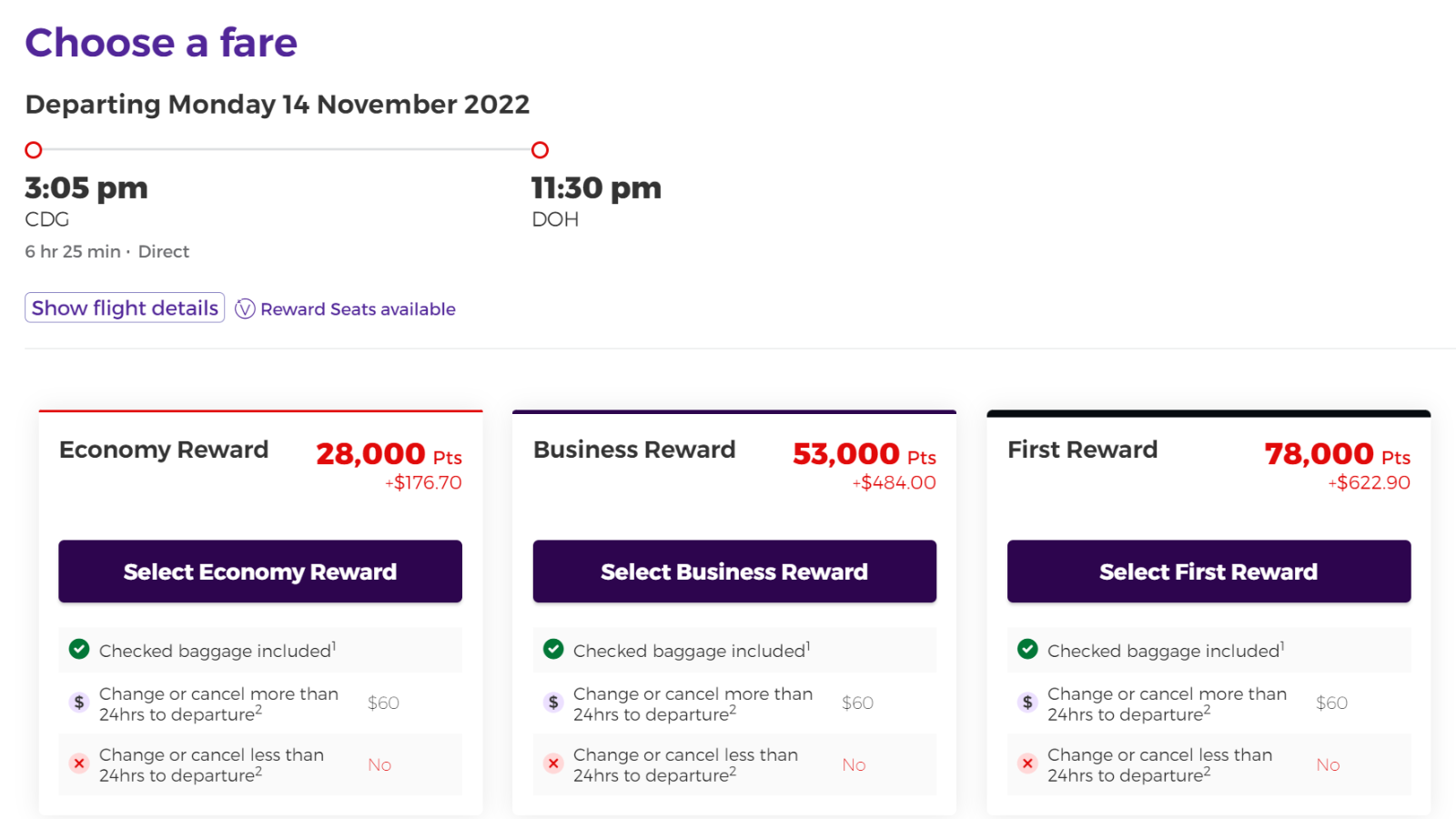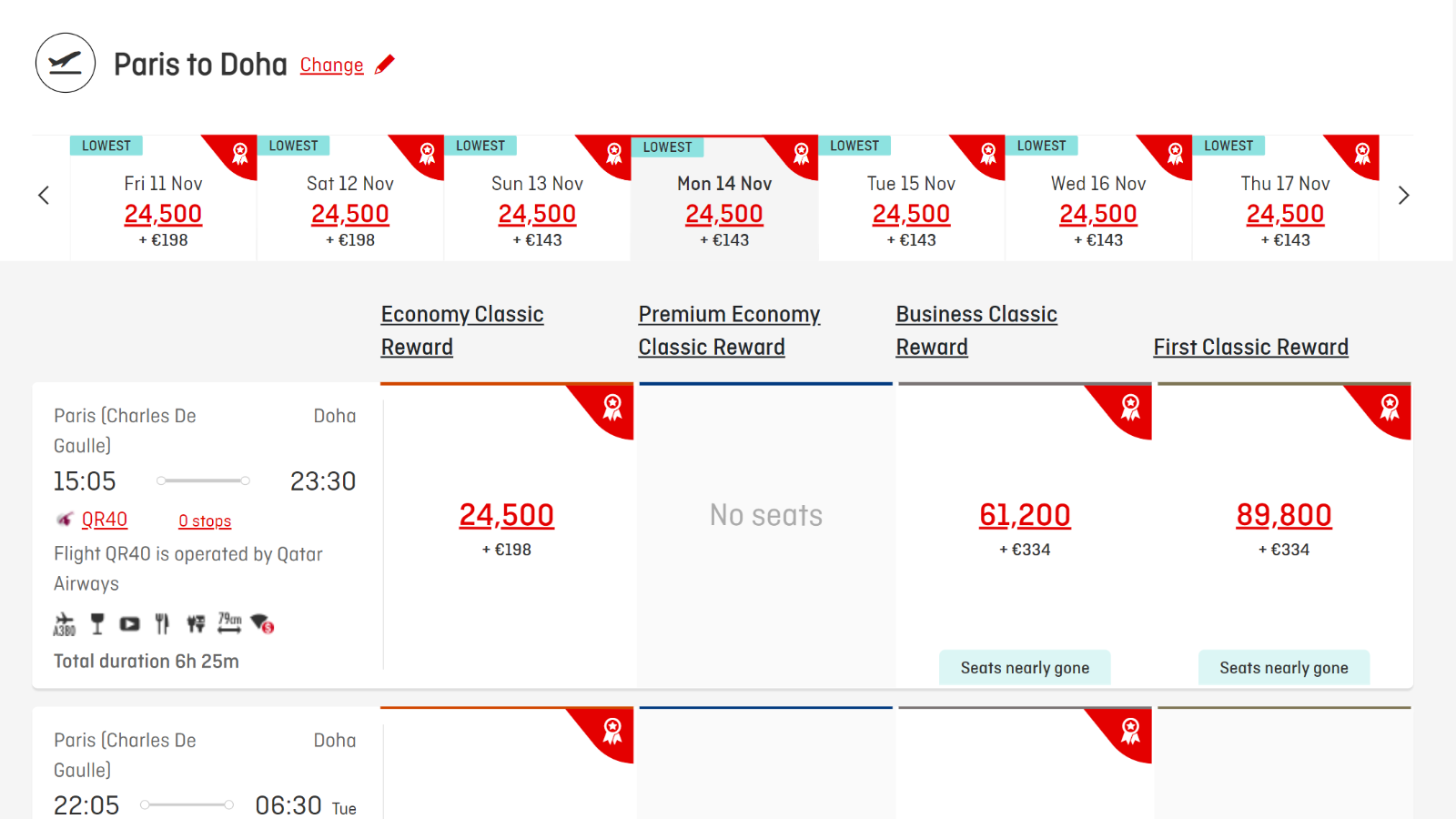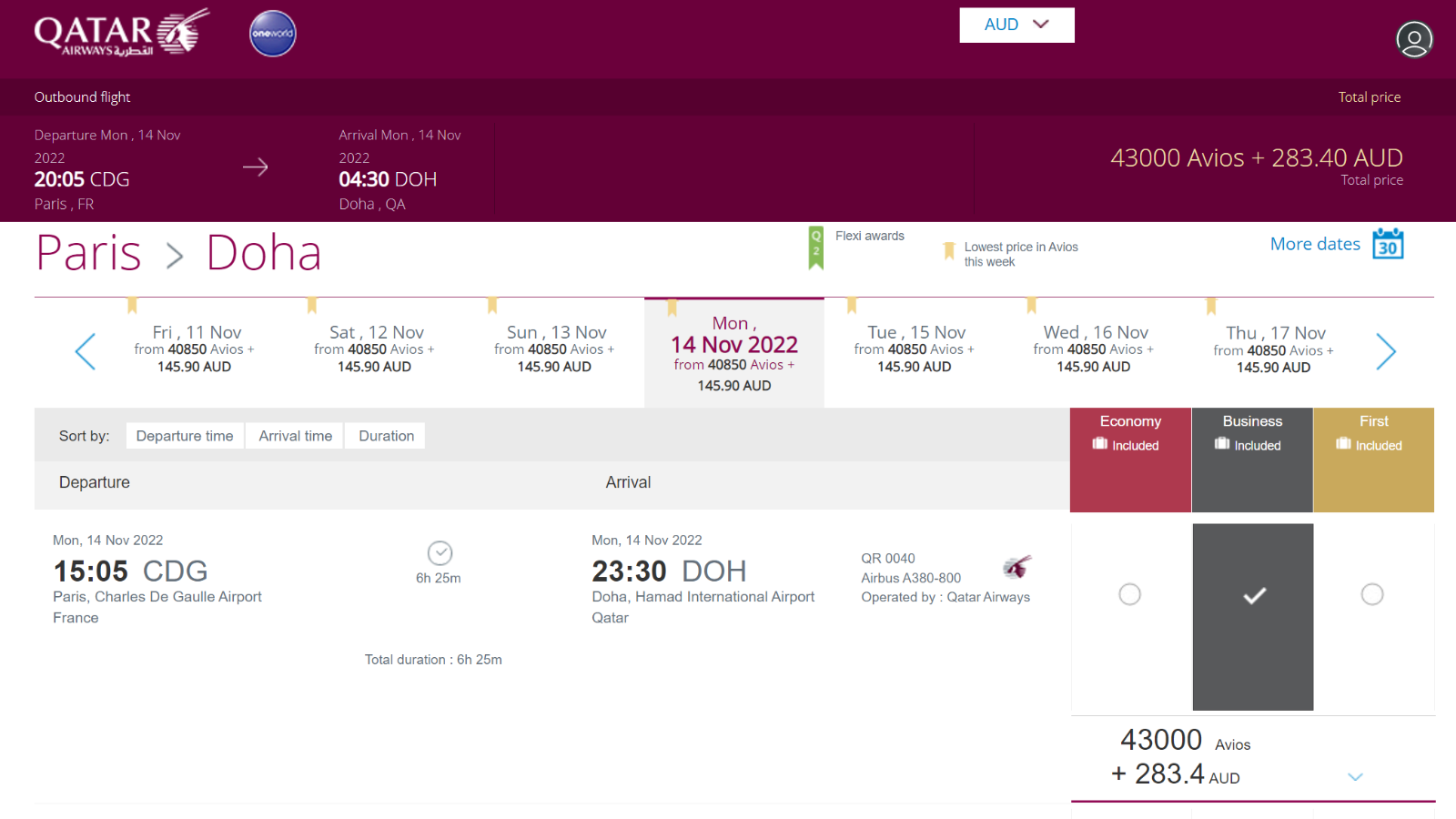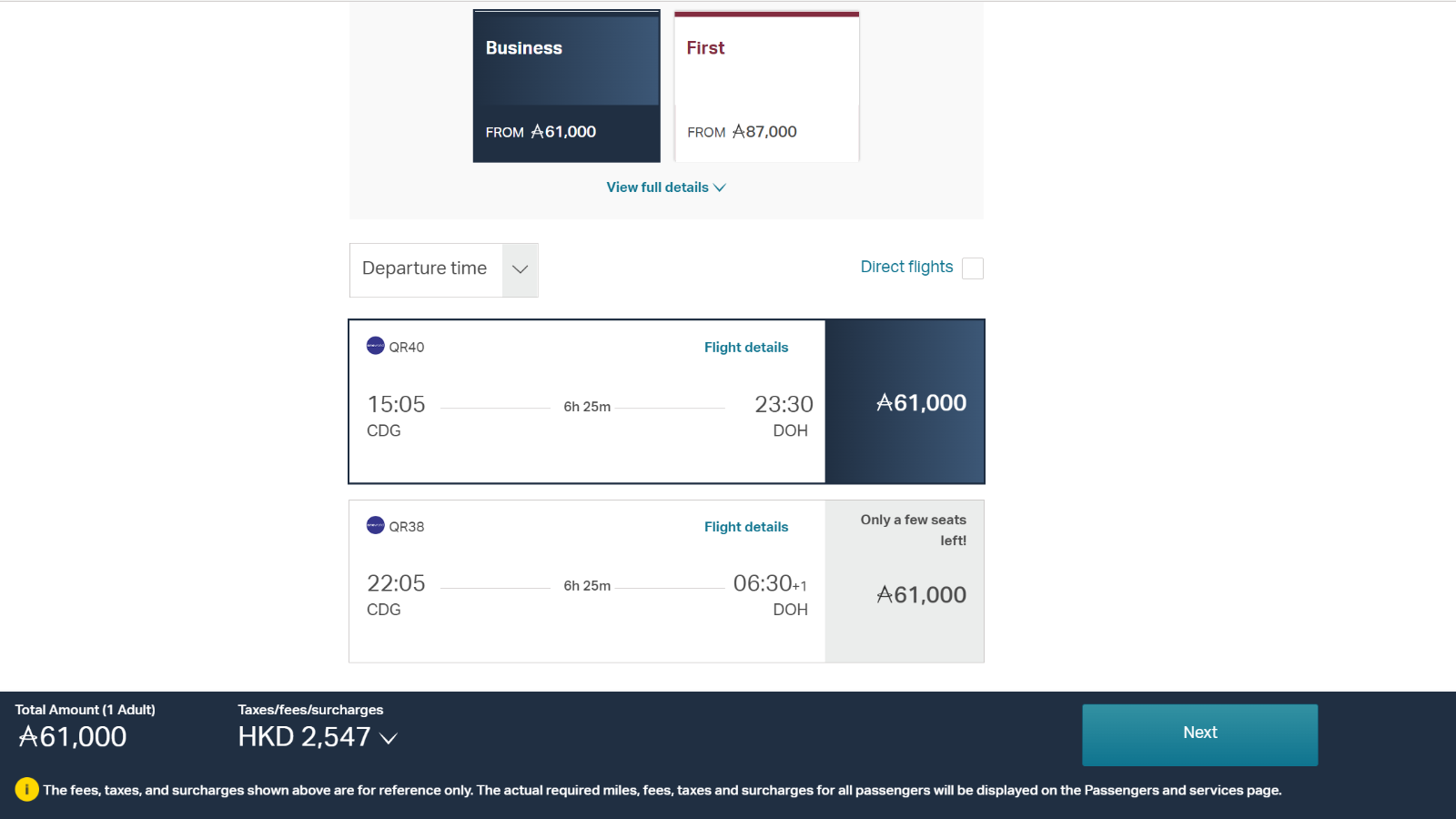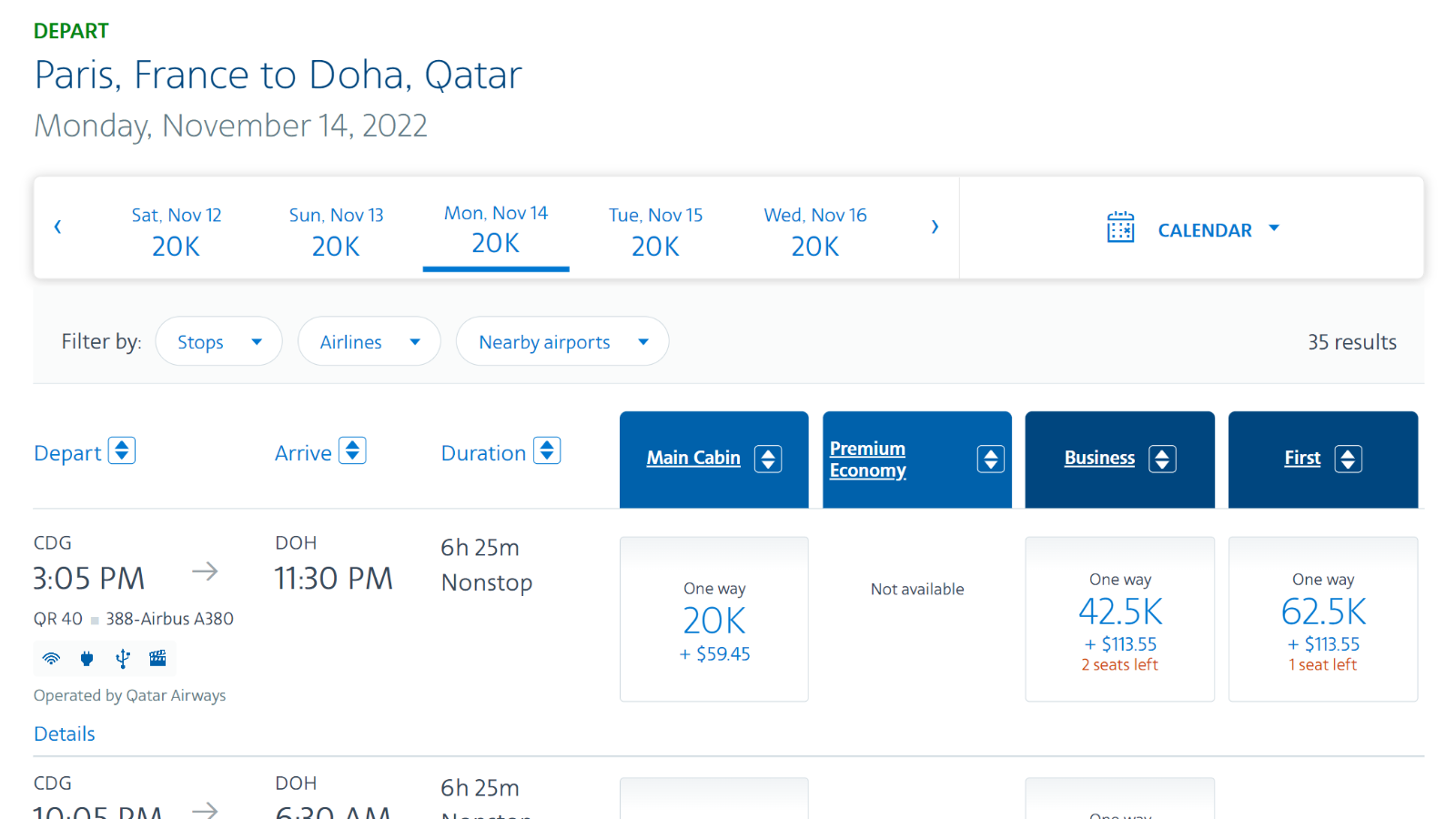 Using AAdvantage miles gives you the best deal overall, as you pay fewer miles and no fuel surcharges. But it's hard to acquire AAdvantage miles in Australia. For Aussie readers, Velocity Points are likely the best way to book this flight.
Velocity members can use fewer points than Qantas (53,000 Velocity Points vs 61,200 Qantas Points), pay slightly less in carrier charges, and crucially, have better access to availability.
---
Soar high in Qatar Airways Business Class from Paris to Doha with bonus Velocity Points.
---
Summing up
My flight onboard the Qatar Airways Airbus A380 from Paris to Doha is one of those rare journeys that seem to pass by in a flash. The onboard bar and lounge are the catalyst for interesting chats with fellow passengers (including a pilot deadheading home).
In this instance, some of the actual dishes served inflight could be improved. But the overall dine-on-demand concept and menu are executed well. It's touches like these that make Qatar Airways stand out from the competition.
Even though it's not the Qsuites fitout, I thoroughly enjoyed my flight onboard Qatar Airways' Airbus A380 Business Class and wouldn't hesitate to book it again.
In fact, I have an Economy, Business and First Class flight lined up in early 2023 – all on the Qatar Airways Airbus A380 and booked with points – so it'll be interesting to see how all three classes compare.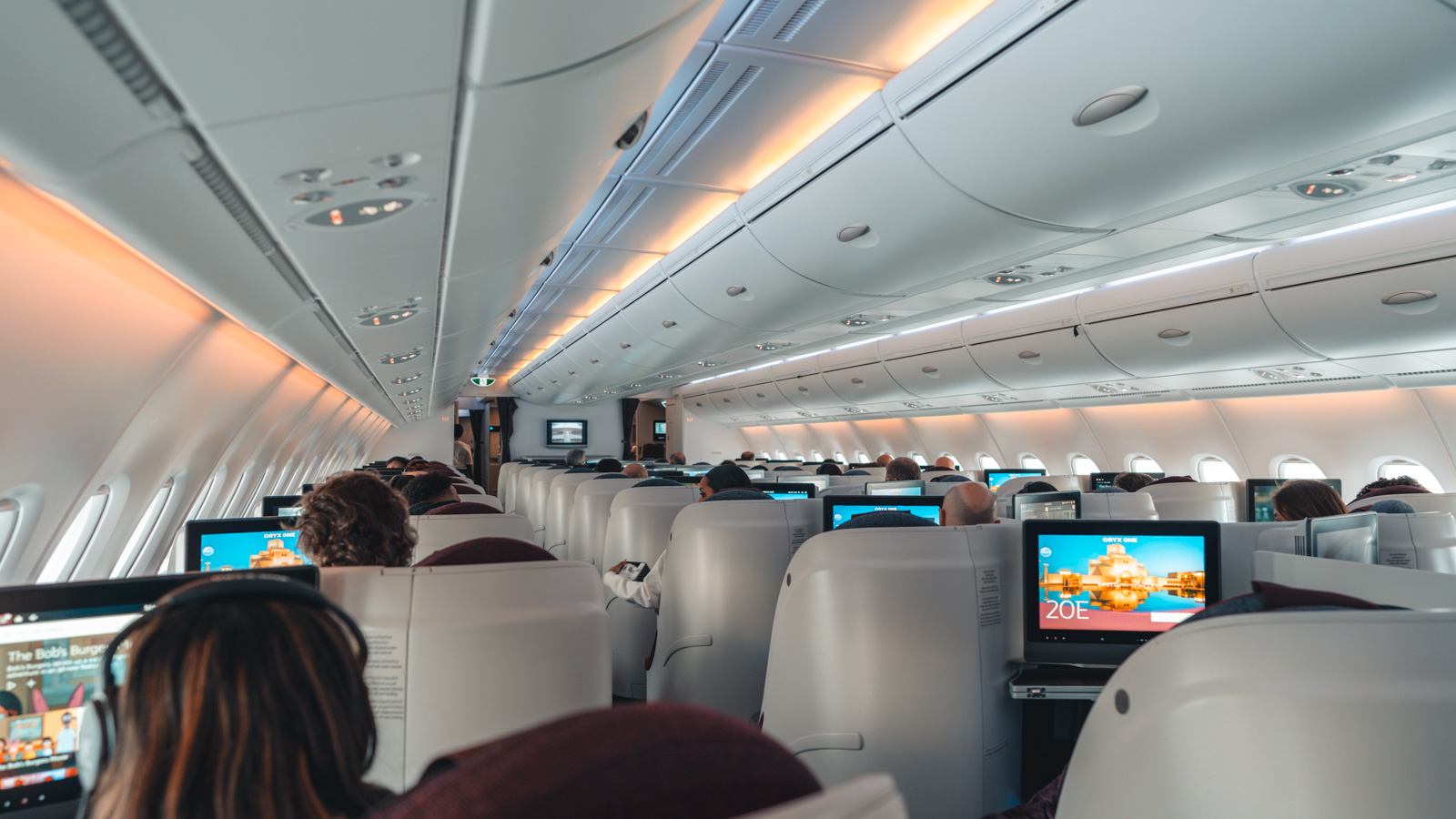 All photography by Brandon Loo, who booked this flight with his own points.
Qatar Airways Airbus A380 Business Class (Paris – Doha)
was last modified:
November 3rd, 2022
by