If you're flying out of Melbourne International Airport, you may well have access to the spacious Marhaba Lounge. This 200-seat lounge services a range of airlines, with access granted by status, cabin class or day pass.
I stop by before my Qatar Qsuite flight to Doha – the first leg of my oneworld Business Class journey to Marrakech. I'm a first-time visitor, but I'm told the offering is less impressive than it was pre-COVID (gone or MIA are the massage chairs and popular Hudson's coffee station). But then many airport lounges pared things back during the pandemic, so no great surprise there.
Nevertheless, I find the lounge a reasonable space to spend time in. I'm impressed by the range of seating options, the cushy leather armchairs and the expansive windows. The food and beverage offering, on the other hand, leaves me wanting. In fact, I'm downright disappointed by the bland hot food. It seems you can't win 'em all.
Without further ado, here's what you can expect in the Marhaba Lounge Melbourne.
Lounge location and details
Once you clear the duty-free maze and avenue of designer shops, you'll find the Melbourne Marhaba Lounge located near Gates 9 and 10. Turn right at the sign and take the elevator or escalator up to Level 3. It's prime lounge real estate up here, with its sunny aspect and fantastic apron views.
Upstairs, turn right rather than left (where you would end up at the world-class Qantas First Lounge), and voila – you've arrived at the bold entrance to the Marhaba Lounge.
Inside, the host will scan your boarding pass. I'm tickled by the row of fun miniature planes behind reception. If you're an eligible passenger flying on one of these airlines, you can look forward to lounge access at Marhaba before your onward international flight.
At the time of writing, the lounge opens from 5 am to 11 pm daily.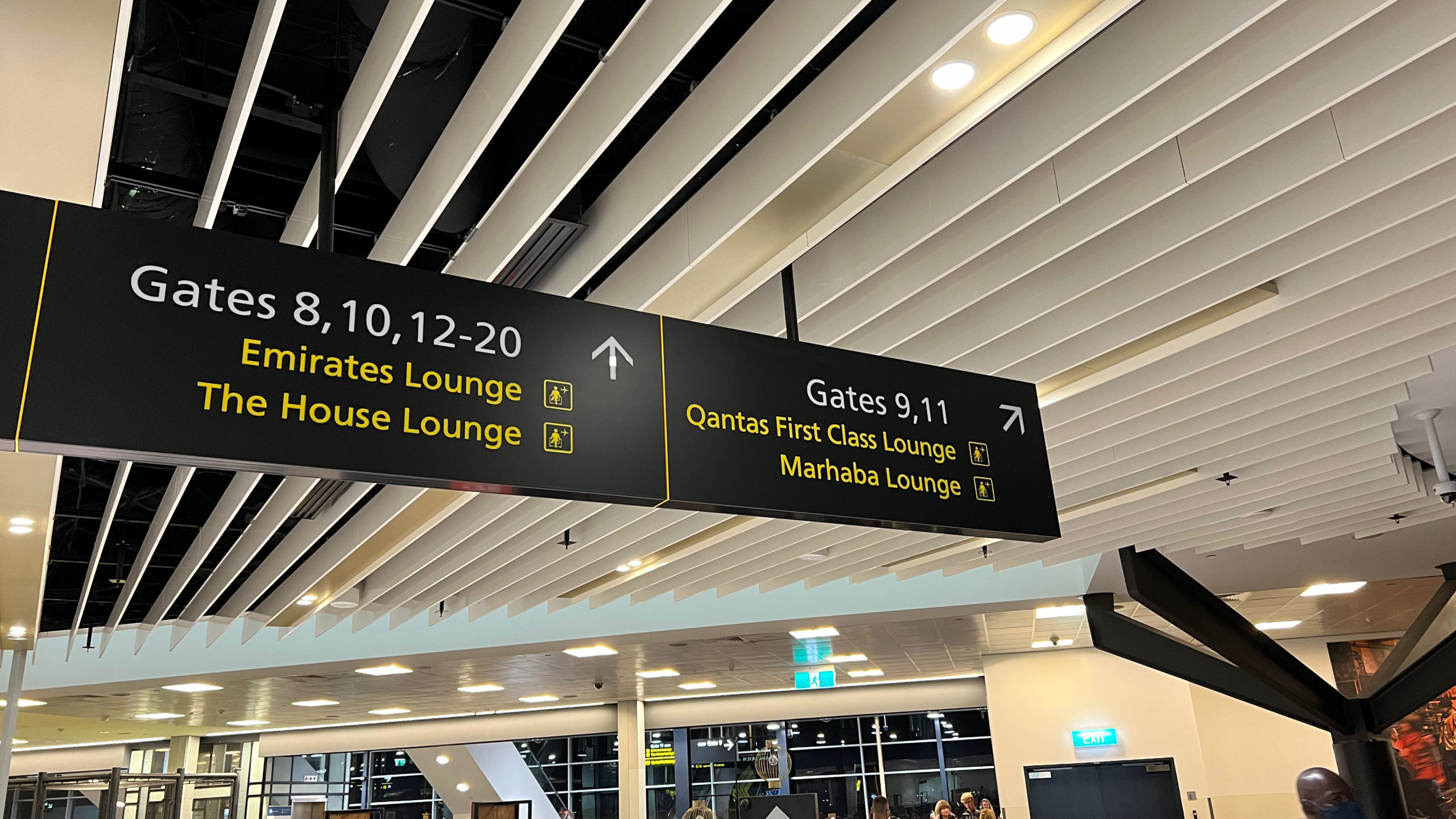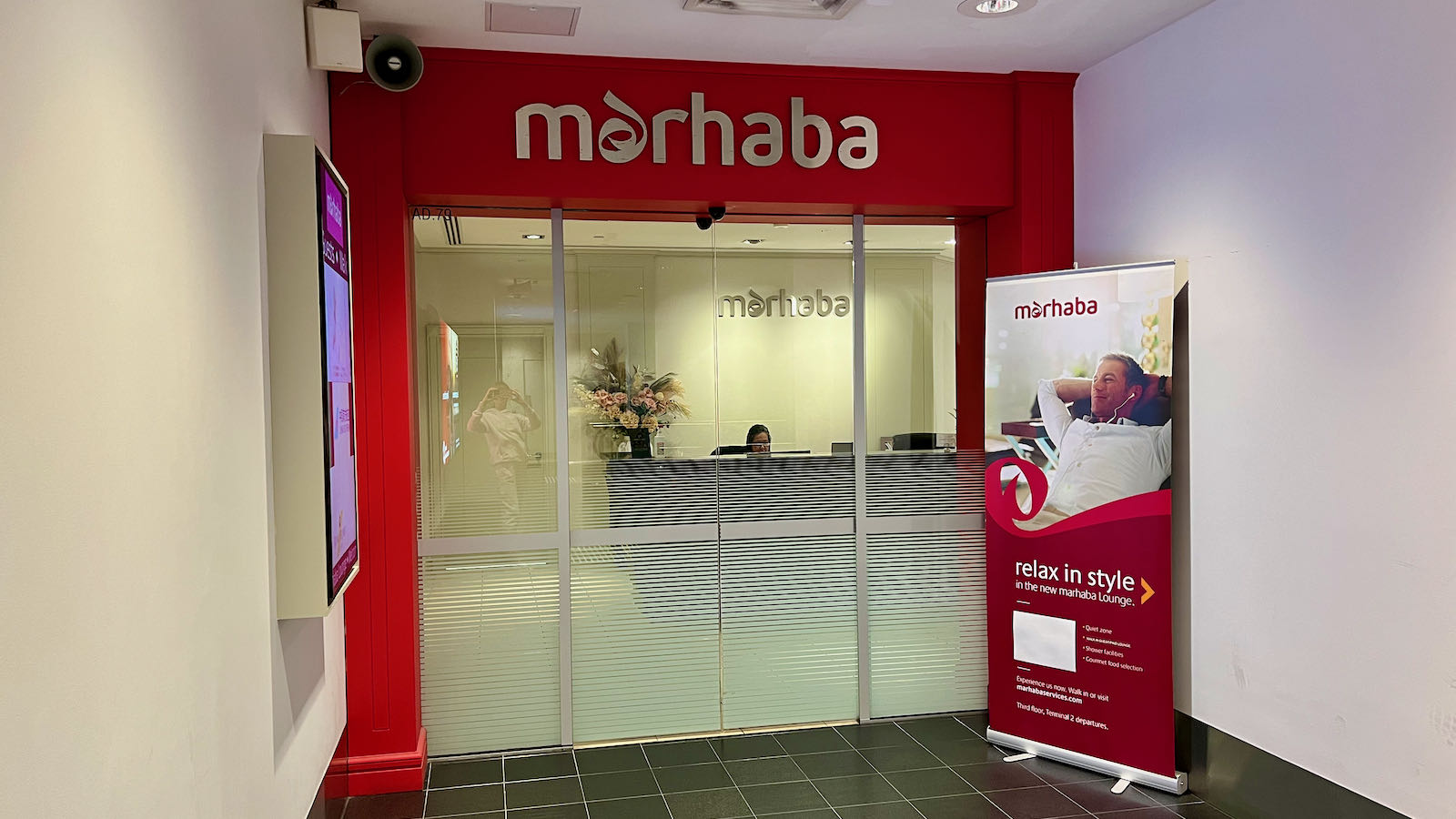 Marhaba Lounge Melbourne layout and seating
It's in the layout and seating department that the Melbourne Marhaba Lounge shines. Unlike the windowless lounges located in the basement – Qantas International Business, Amex, Singapore Airlines, Plaza Premium and Air New Zealand – Marhaba has excellent tarmac views from the wide walls of windows. Natural light's always a plus before an international flight, so if you're visiting during the day I'd suggest pulling up a pew at a leather armchair along the windows.
Stopping by at night? It's still a good place to be, with the sight of brightly-lit jets and neon ground lights a tantalising prelude to your onward travels. Solo armchairs lining the window face each other with a table in between – perfect for a duo. Further inland, pairs of armchairs sit side by side.
Pops of red, chocolate and cream punctuate the space, offset by greenery. Sure, the colour palette may be a tad dated, but the overall effect is airy and pleasant. There are certainly worse places to while away an hour or two.
In the direction of the buffet, the seating options continue. Comfy banquette seating services a row of wooden tables – great for both dining and work – while a few round solo tables set up for pairs are a good option if you prefer more intimacy. There's even a separate room with high bench tables lined with stools.
The bottom line? Whether you're dining, relaxing or looking to pump out some work, you'll find a seating option at the Marhaba Lounge to suit you.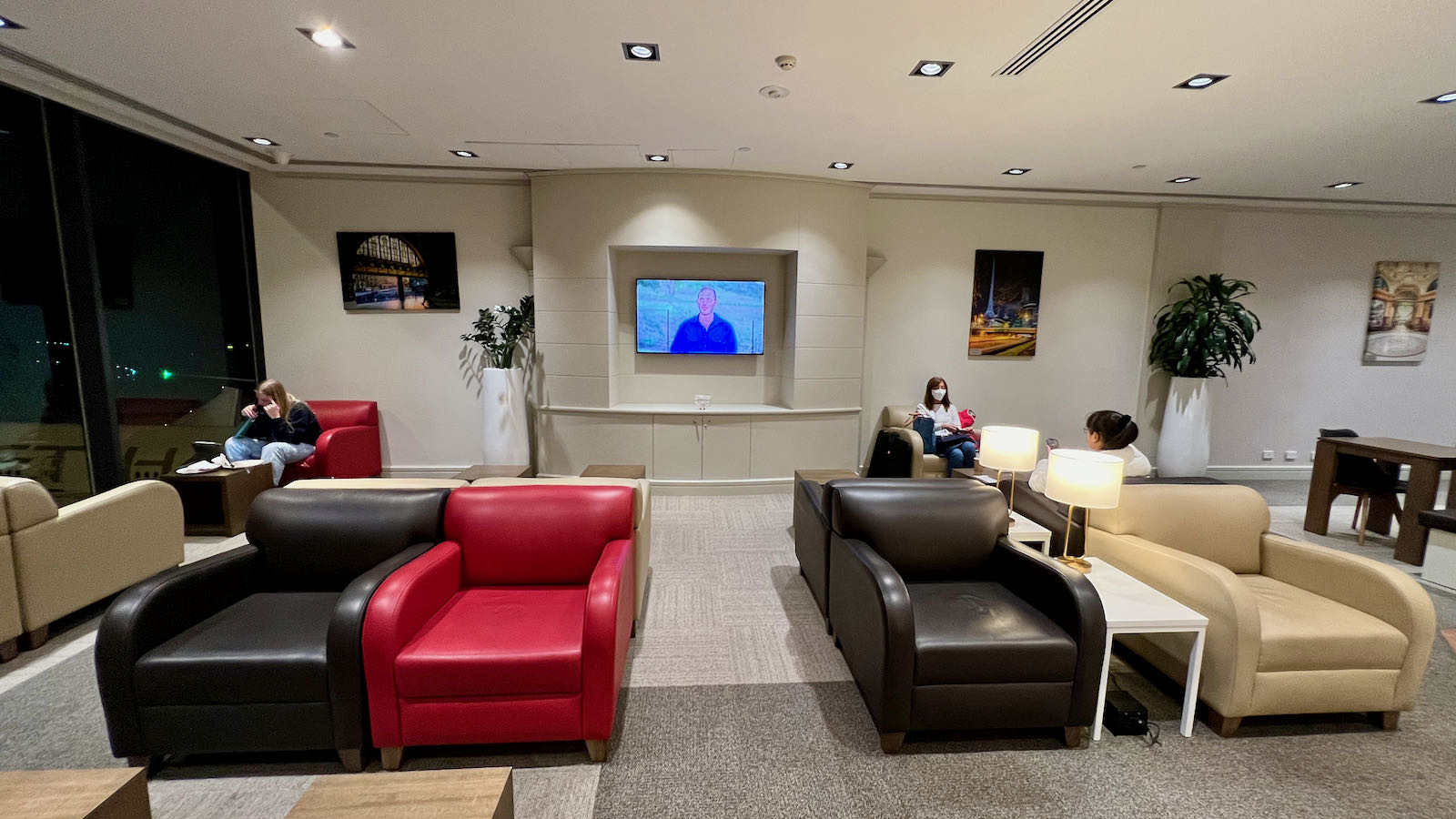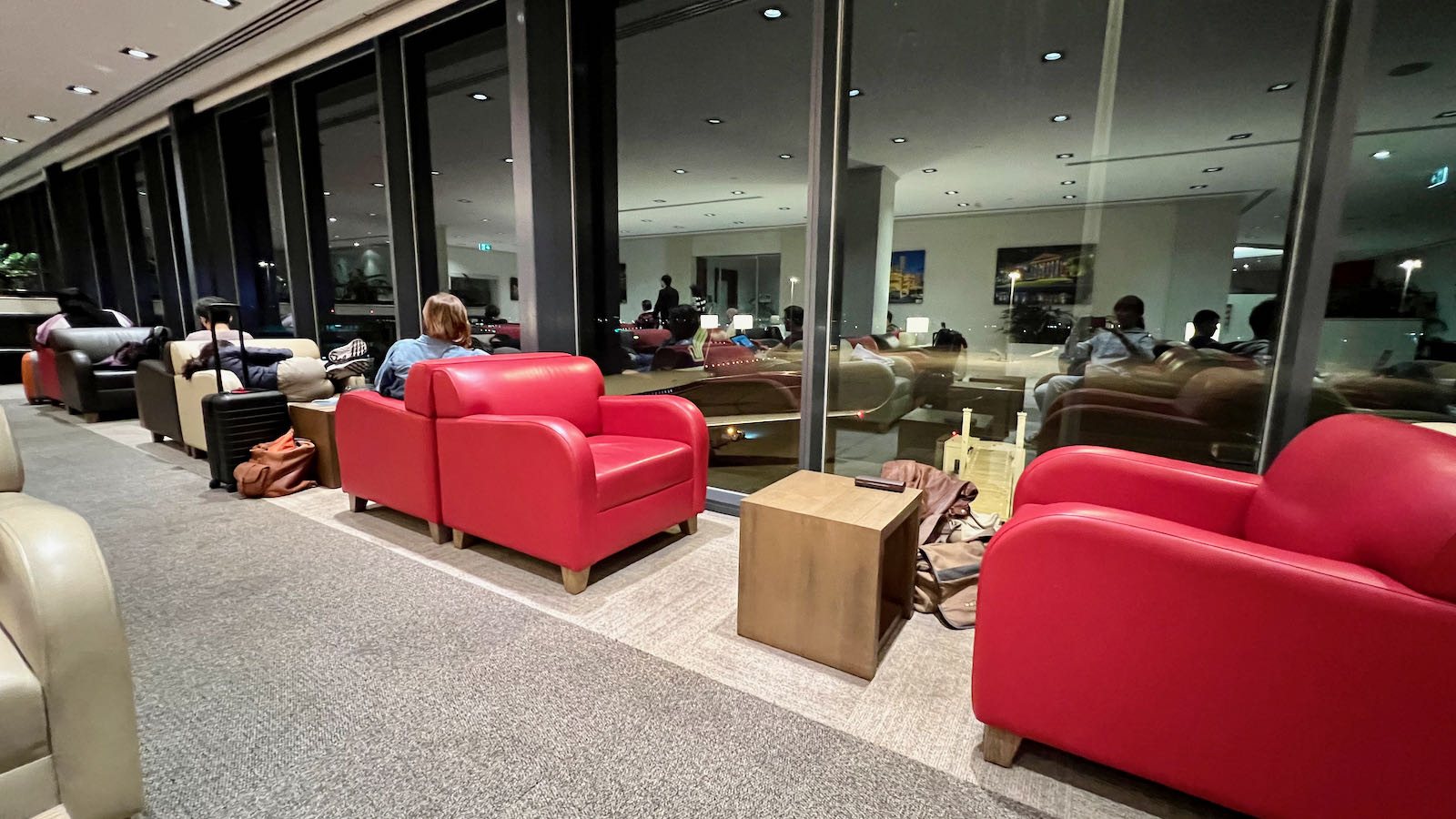 Marhaba Lounge Melbourne food & beverage
Unfortunately, the dining and drinking situation here lowers the tone. Banish thoughts of free-flow Champagne or memorable food, such as you'll find in the Qatar Al Mourjan Business Lounge in Doha. What follows is average at best.
Beverages
Let's begin, as I do, with a cheeky glass of wine.
The beverage selection is passable, with two white wines plus a sparkling chilling in the ice bucket. Wolfblass Bilyara sauvignon blanc and sparkling brut won't set the tastebuds ablaze.
I'm also baffled by the inclusion of the Penfolds Koonunga Hill chardonnay from South Australia. Victoria's cool climate produces renowned chardonnay and pinot noir, so including a Victorian chardonnay here is surely a no-brainer. Blithely I give it a go, but it's as I feared: awash with stonefruit and floral notes.
Meanwhile, red wine fans have a choice between the Penfolds Koonunga Hill shiraz and The Stag pinot noir (fortunately the latter is a Victorian drop).
There are also five spirits on offer, plus Bailey's liquor and St Remy VSOP brandy. Angostura bitters, Worcestershire sauce and tabasco invite the whipping up of a wee cocktail should you be so inclined.
Food
Beside the alcohol sits the snack and cereal area and the automatic coffee machine. On the right you'll find the cold buffet, with a selection of juices, cakes, yoghurt, fruit salad, green salad and a basic cheese plate. (Though in my opinion, Jatz crackers should have been banned from cheese plates long ago). Still, you'll find fresh options if you're looking for a light bite.
Moving towards the hot buffet finds a row of dishes in bain maries. And it's these dishes that really underwhelm. Moroccan lentil casserole, lamb rosemary ragu, stir-fried minced beef – these mushy sauce-heavy mains meld into one. I certainly don't detect any of the fragrance or spice that awaits me in Morocco. The tasty roasted vegetables provide a much-needed burst of colour and saucelessness (if this isn't a word, I've decided it should be).
With the benefit of hindsight, I wish I'd saved my appetite for the inspired on-demand dining aboard Qatar Qsuite. But alas, I can't see into the future.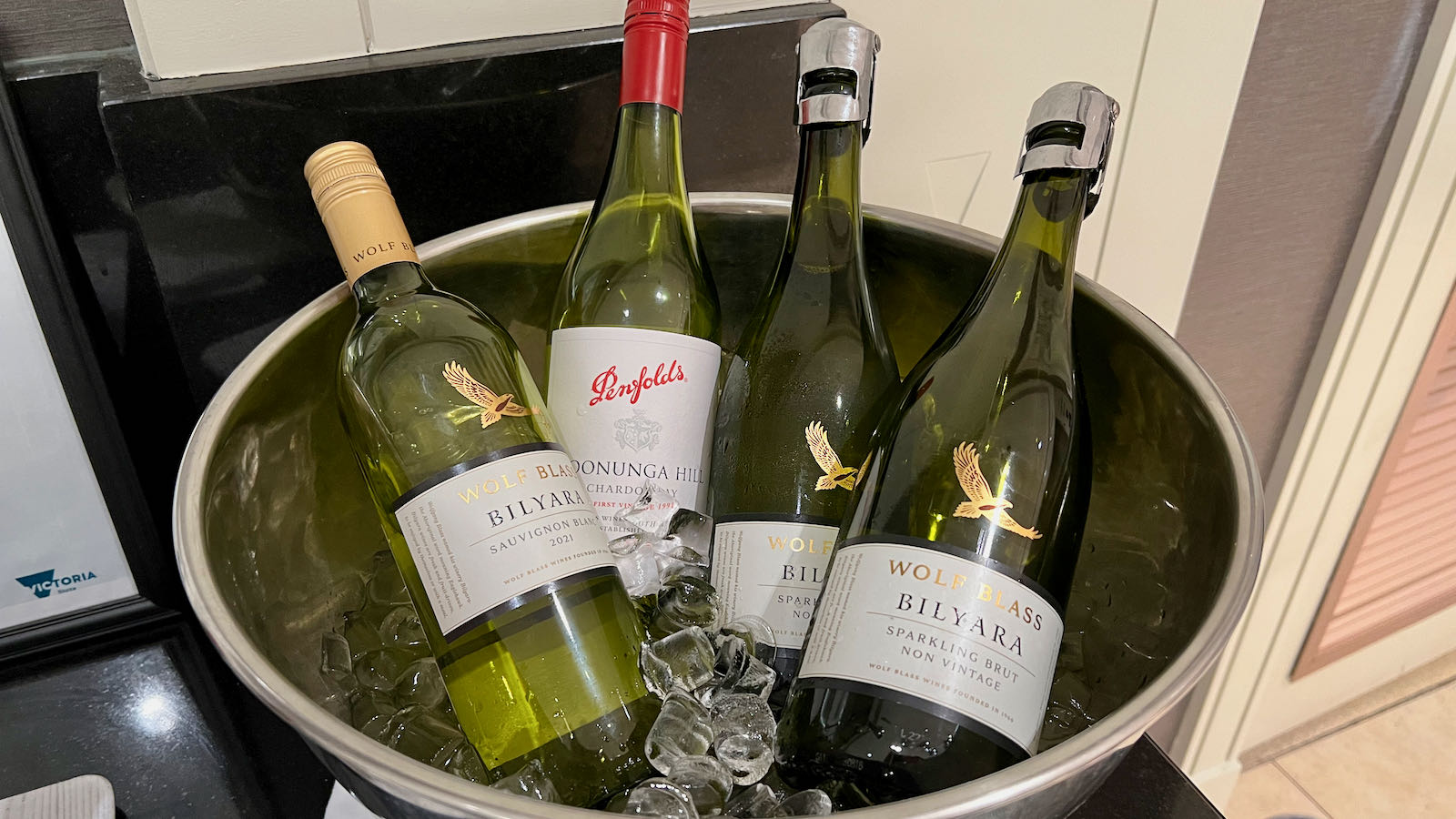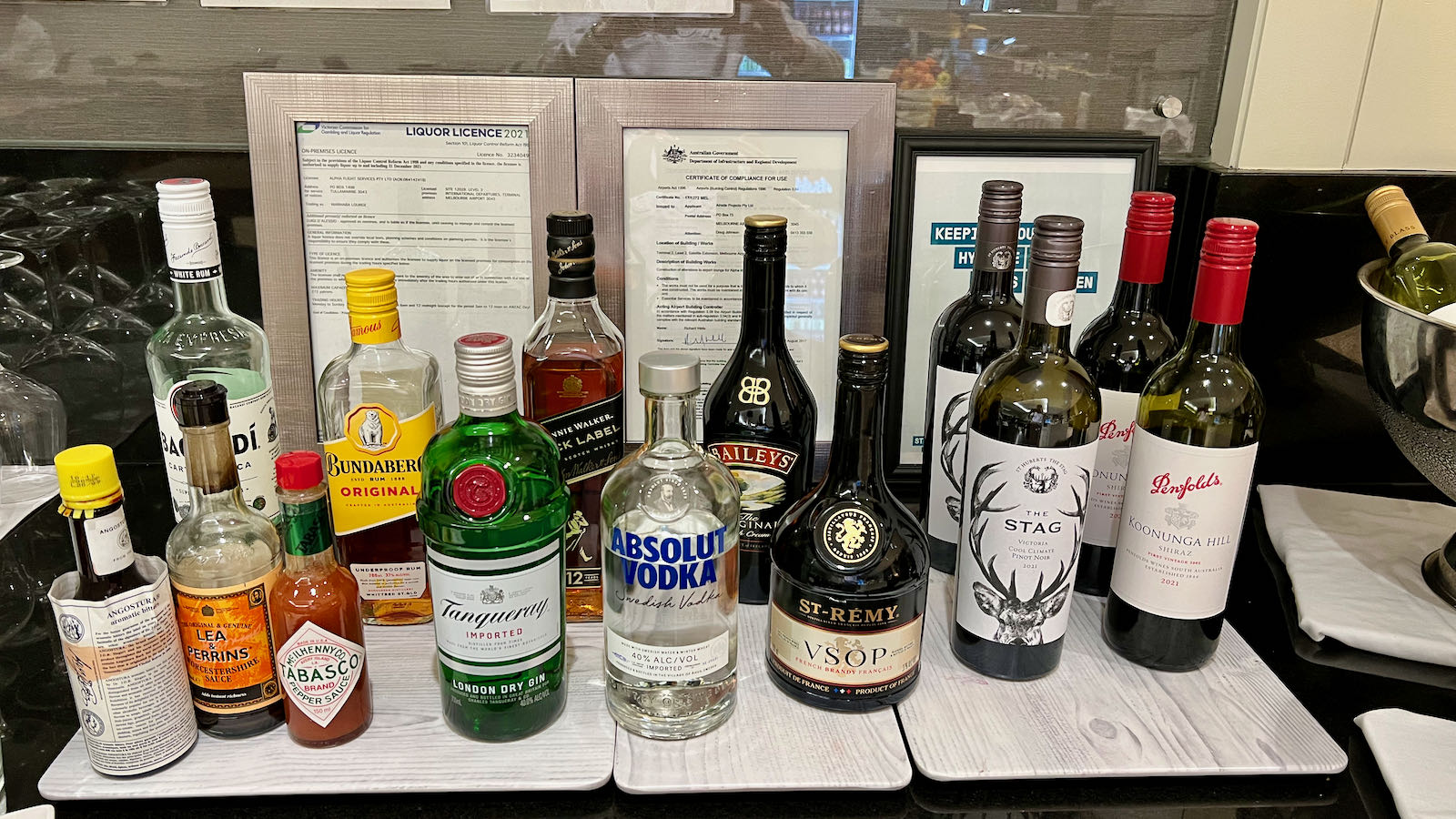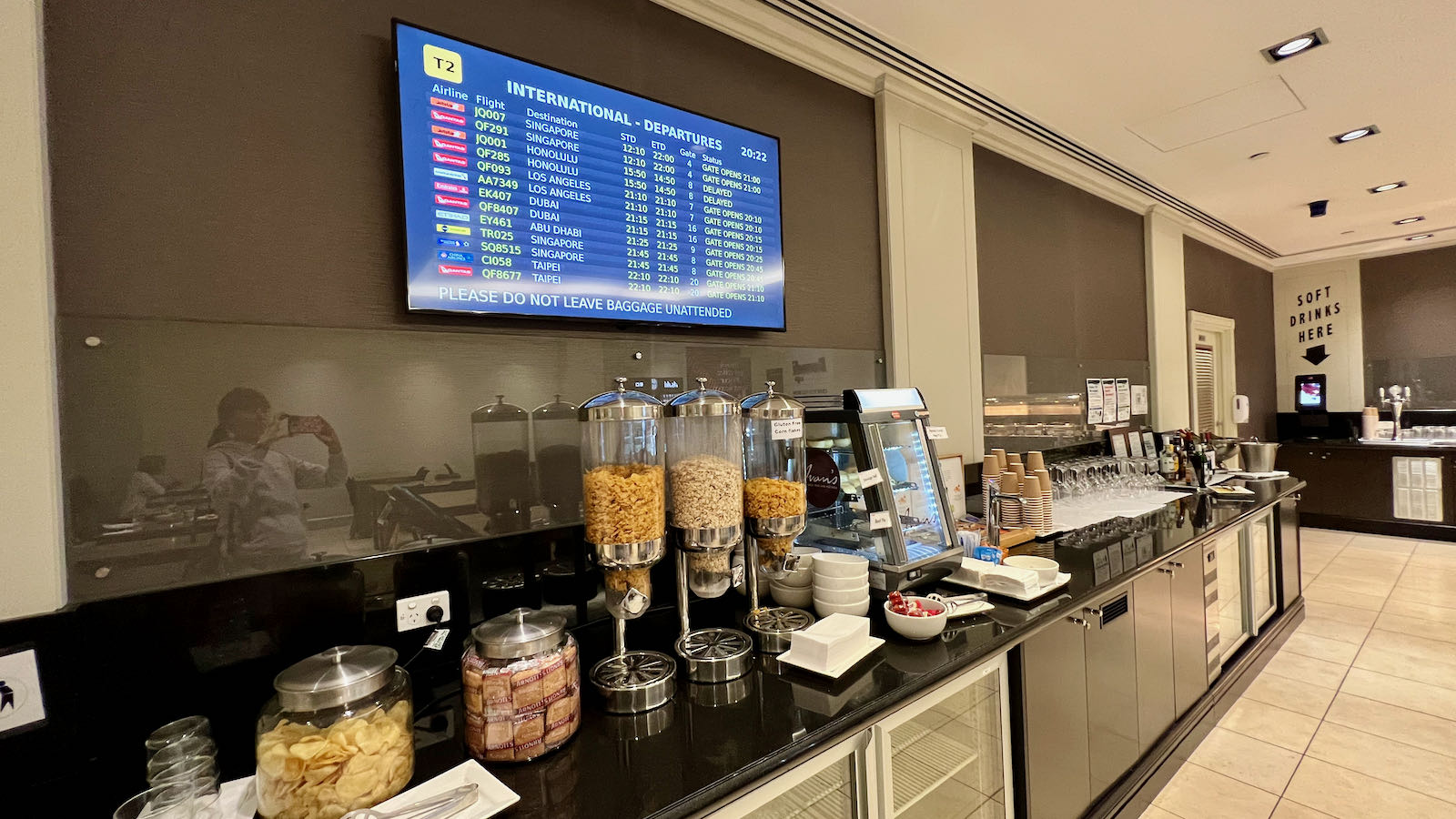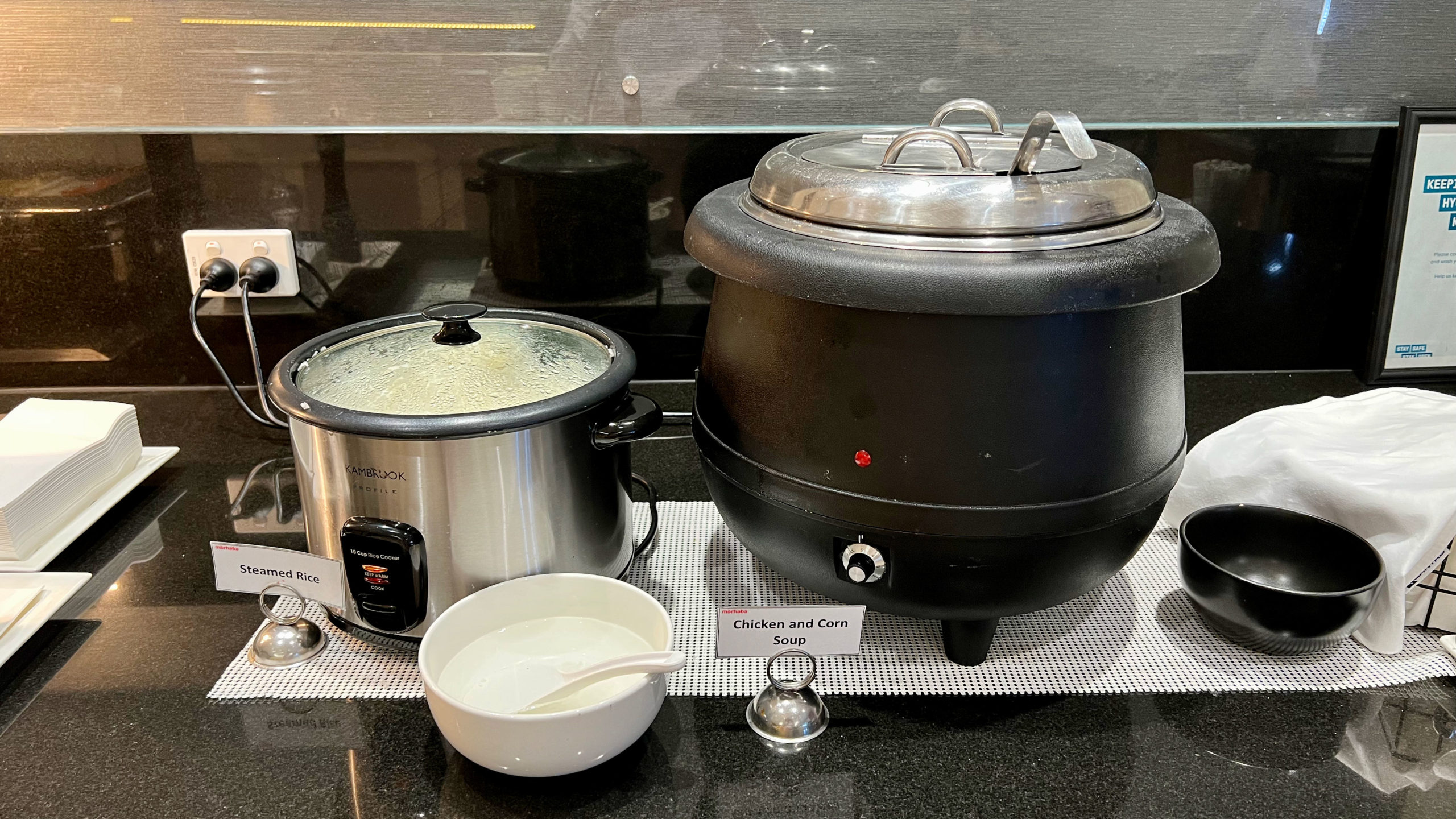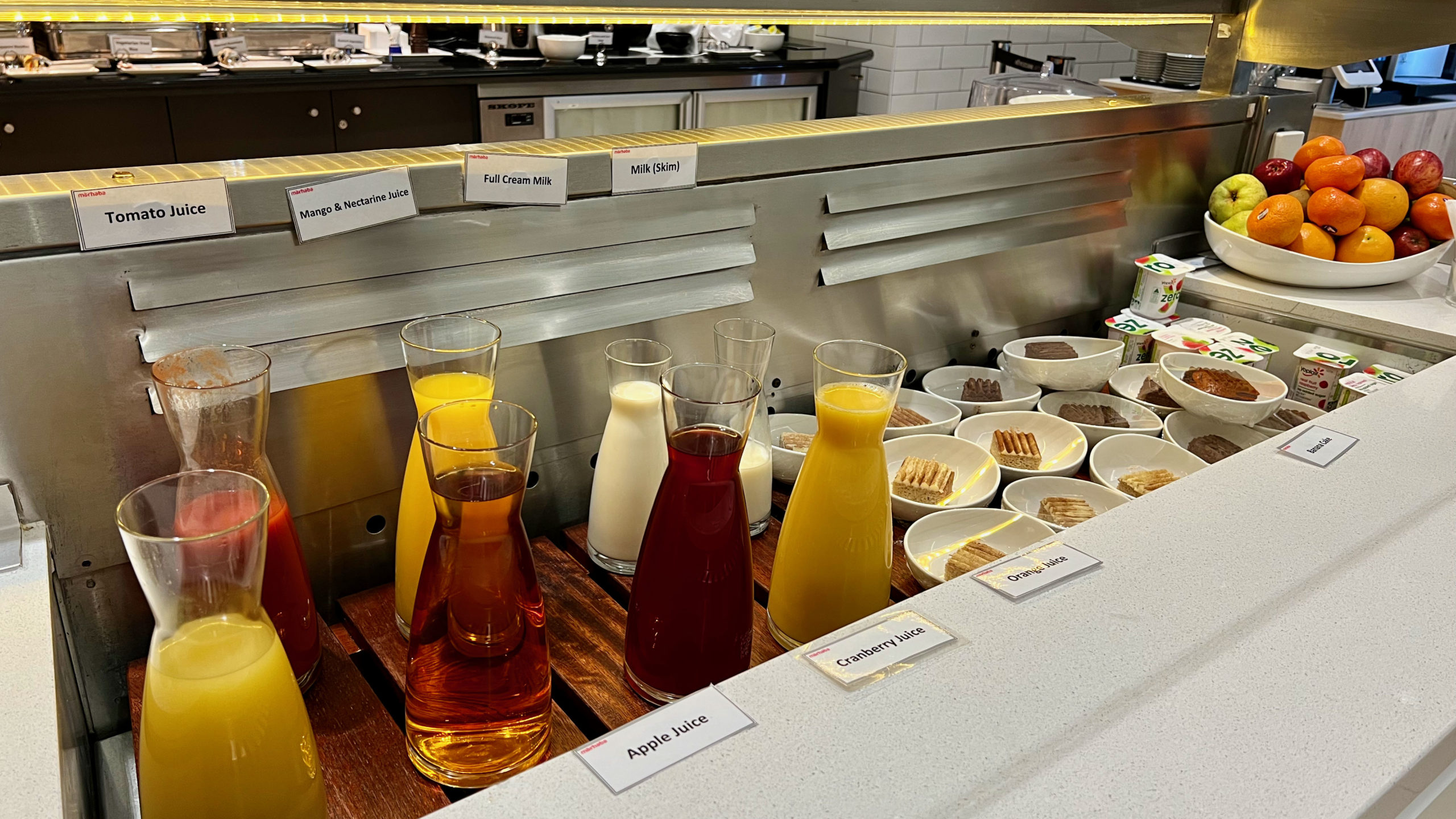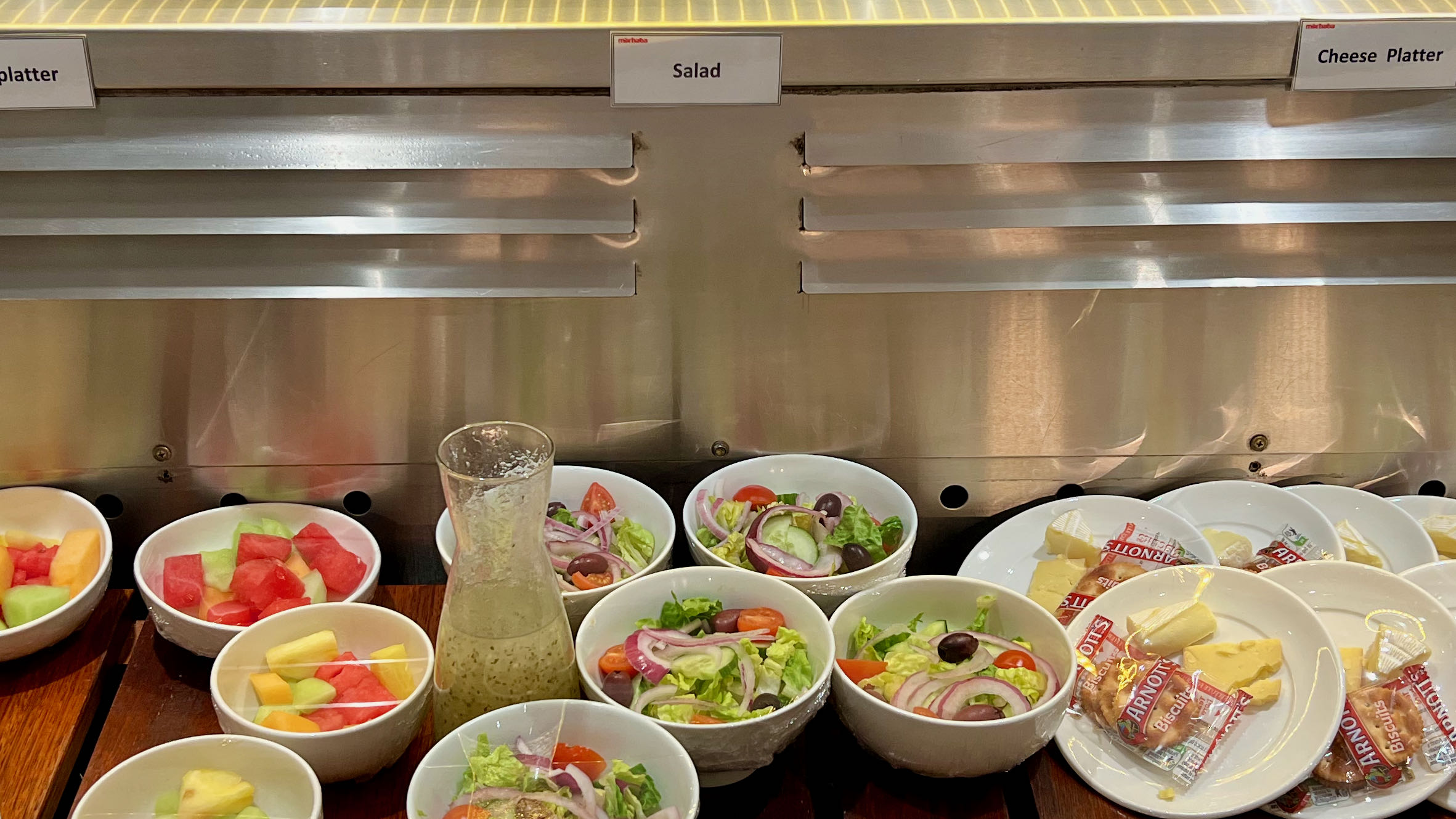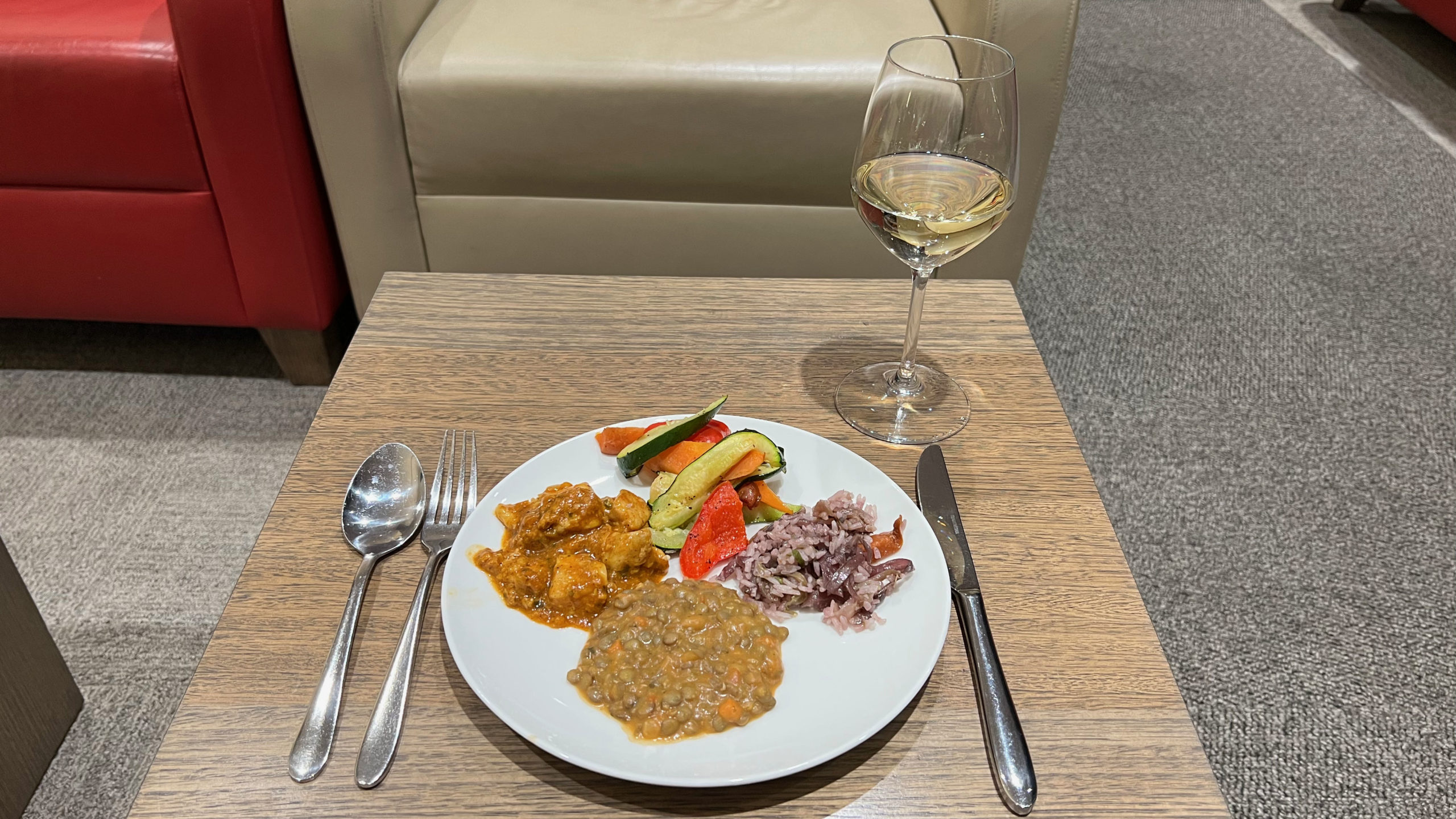 Marhaba Lounge Melbourne amenities
The lounge has a decent selection of amenities. Free Wi-Fi is a welcome touch, as are male and female showers. There's also a TV near the entrance, with a few of those comfortable leather armchairs pointed in its direction. Pre-COVID there was also a pair of lauded massage chairs, but these were either well hidden on my visit or retired entirely.
In terms of powerpoints, you'll find them scattered about (though unfortunately the same can't be said of lounge staff). Before plonking yourself down in an armchair, I'd suggest you check whether it's serviced by a powerpoint. Mine wasn't, leading me to charge my phone at my neighbours' table. Awkward.
Parents won't find a kids' room in the Marhaba Lounge, though in fairness the 200-seat lounge will likely offer a suitable nook or cranny to set up.
Getting into the Marhaba Lounge Melbourne
Class of travel: Ticketed Business Class passengers on Qatar Airways (excludes Business Lite 'P' fares and upgrades). Business and First Class passengers on other contracted airlines (such as Philippine Airlines).
Frequent flyer status: Privilege Club Gold or higher, Velocity Gold or higher, or Oneworld Sapphire or higher on Qatar Airways. Gold-level status or higher with other contracted airlines that use the lounge (such as Philippine Airlines).
Lounge membership: With Priority Pass or DragonPass membership.
Day pass: The general public can purchase paid access to the Marhaba Lounge. Four hours costs AU$77, while six hours can be purchased for AU$134. There's a maximum 8-hour stay.
Summing up
The Marhaba Lounge Melbourne is a decent place to relax before your international flight. Abundant seating and tarmac views lend an airy feel – much appreciated during the day especially. Business and leisure travellers are also equally well catered for, which isn't always a given in airport lounges. Pops of greenery, departure screens and free Wi-Fi are also a boon.
But let's be honest here: there's nothing 'premium' about the cuisine or Australian wine selection, no matter what the Marhaba Services website may claim. I was highly disappointed by the food on offer at dinner, and less than impressed by the wine.
It all comes down to what you value in an airport lounge. Looking to fire off some emails or escape the hustle and bustle outside? Great – you'll be happy. But if you're at all picky about your food and wine, then I'd recommend you look elsewhere.
Photography by Antonia Strakosch, who travelled at Point Hacks' expense. Featured image courtesy of Marhaba Services.
Marhaba Lounge, Melbourne
was last modified:
May 31st, 2023
by