When I was 12, I was flying to Germany when I spotted Morocco on the moving map. The exoticism of the words 'Marrakech' and 'Casablanca' thrilled me. But there was a deeper, almost spiritual connection I couldn't explain. I vowed to visit the country one day, and it's a vow I've waited many years to fulfil.
So to find myself at Melbourne Airport in September 2022 en route to Marrakech is quite literally a dream come true. Of course, travelling for Point Hacks, I'm not schlepping it. Far from it. In fact, I'm flying oneworld Business Class all the way, on a ticket that retails for $4866 in cash.
Our outlay? 180,000 Qantas Points plus approximately $909 in fees and taxes one-way, rocketing my Moroccan sojourn into the realm of affordable luxury. The very best sort of luxury in my book, and something you can absolutely achieve too.
Jetting around the world up the pointy end, I've discovered the cliche is actually true. It's not just the destination that counts. The journey itself can also be a thing of joy, a memorable kickoff to a longed-for holiday rather than something to be suffered through.
So let's jump aboard Qatar's fabled Qsuites for the Melbourne-Doha leg, the first of three flights to reach Marrakech that I'll cover in this article. Up next, Royal Air Maroc Business Class from Doha to Casablanca – one of the newest members of the oneworld alliance and a great option for using Qantas Points. Finally, a short hop from Casablanca to Marrakech in the endearingly old-school RAM Express Business, also bookable with Qantas Points.
I should mention that when I booked this itinerary in April 2022, it was still possible to redeem Qantas Points for Business Class seats on Qatar. But this has since changed, with reward seats in premium cabins disappearing from the Qantas site. Of course, the situation is evolving all the time, and we expect Qatar reward seats to return to the Qantas site in future. Keen to be notified when they do? Then pop your email address on our exclusive mailing list and we'll shoot you through an alert when they're back online.
In the meantime, there are other options for booking Qatar Business Class seats on points. Have a stash of Velocity Points? Then you're in luck, with all classes bookable on the Virgin Australia site. Other options for Qatar reward bookings include Qatar Airways Privilege Club Avios, British Airways Avios, American Airlines AAdvantage and Cathay Pacific Asia Miles.
But let's return to the task at hand – jetting to Marrakech in the lap of luxury. And trust me, we're in for one hell of a ride.
Also read: Majestic Marrakech is calling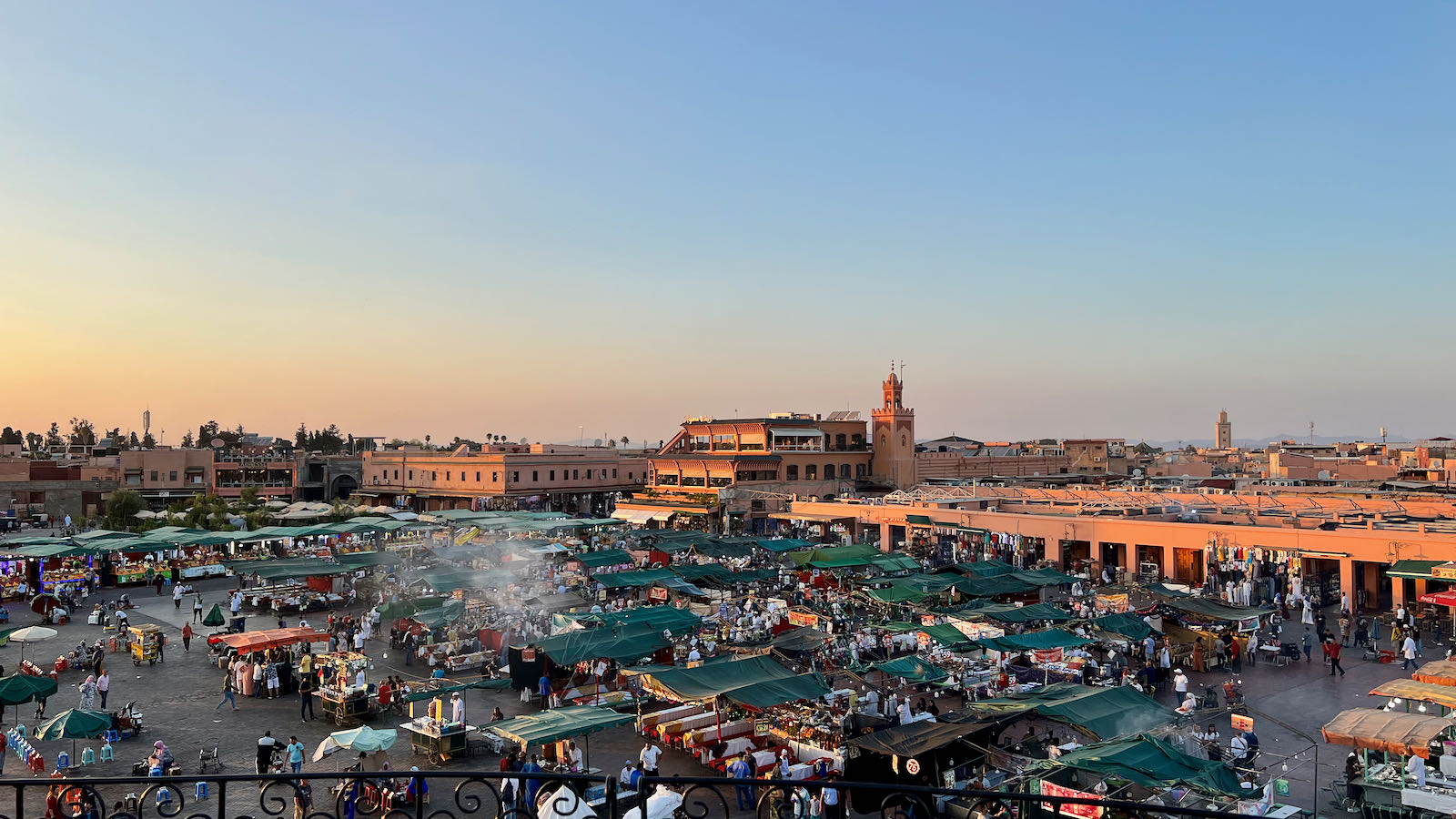 Flight 1: Melbourne to Doha in Qatar Qsuites
I have a 10:20 pm departure from Melbourne, but I arrive at the international airport four hours early to soak up every ounce of luxe. Fellow travel lovers will recognise that familiar tug of excitement: the vast check-in counters, the currency exchanges and luggage shops, the brightly-lit departures gate that holds a swathe of happy travel memories.
Speaking of check-in counters, the Qatar Economy queue is already heaving. But the priority Business lane is blissfully quiet. With just a single person ahead of me, I receive my silver-tipped boarding pass in minutes. Before bidding farewell to my mammoth suitcase (the souks of Marrakech beckon!), I can't resist snapping a photo of my Business Class bag tag. This stuff never gets old.
Qatar uses partner lounges in Australia, so the Marhaba Lounge is my next port of call. Of course, I enjoy a leisurely swan through duty-free first, where I try on sunglasses and imagine I'm in the market for the $40,000 bottle of cognac displayed like a shrine. Best park that daydream back in its hangar.
With great tarmac views lining the floor-to-ceiling windows, the Marhaba Lounge is a comfy spot to await my flight's departure. I settle into one of the deep armchairs with a plate of food from the buffet and a glass of Penfold's chardonnay. I'm actually saving myself for Qatar's feted on-demand menu and bottomless Champagne, but free food and drink have always been a weakness of mine. When in Rome.
My excitement peaks when I arrive at the gate. I stand expectantly at the front of the short Business Class queue, hungry to experience Qsuites for the very first time. The 14.5 hours that follow are simply perfection.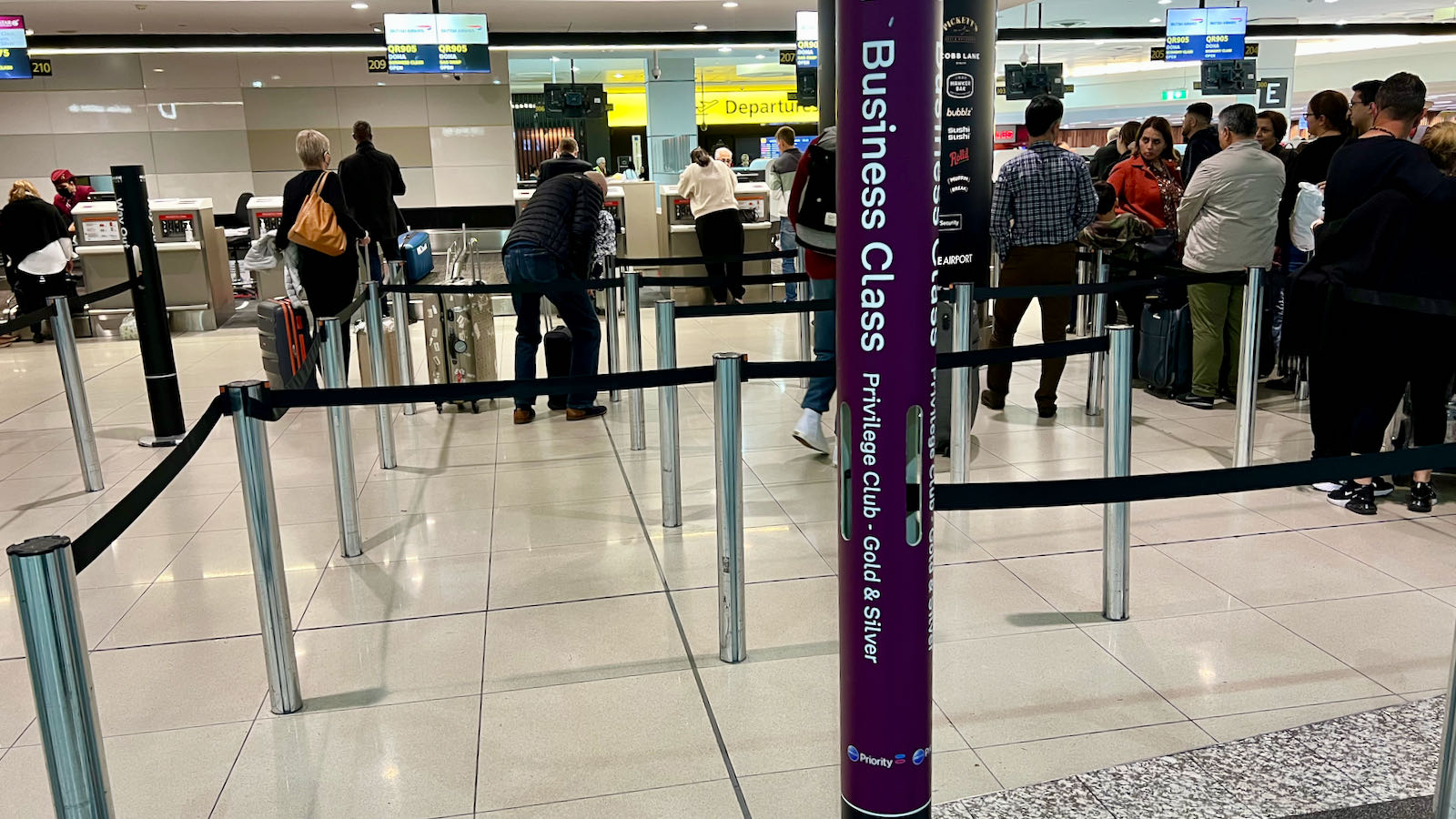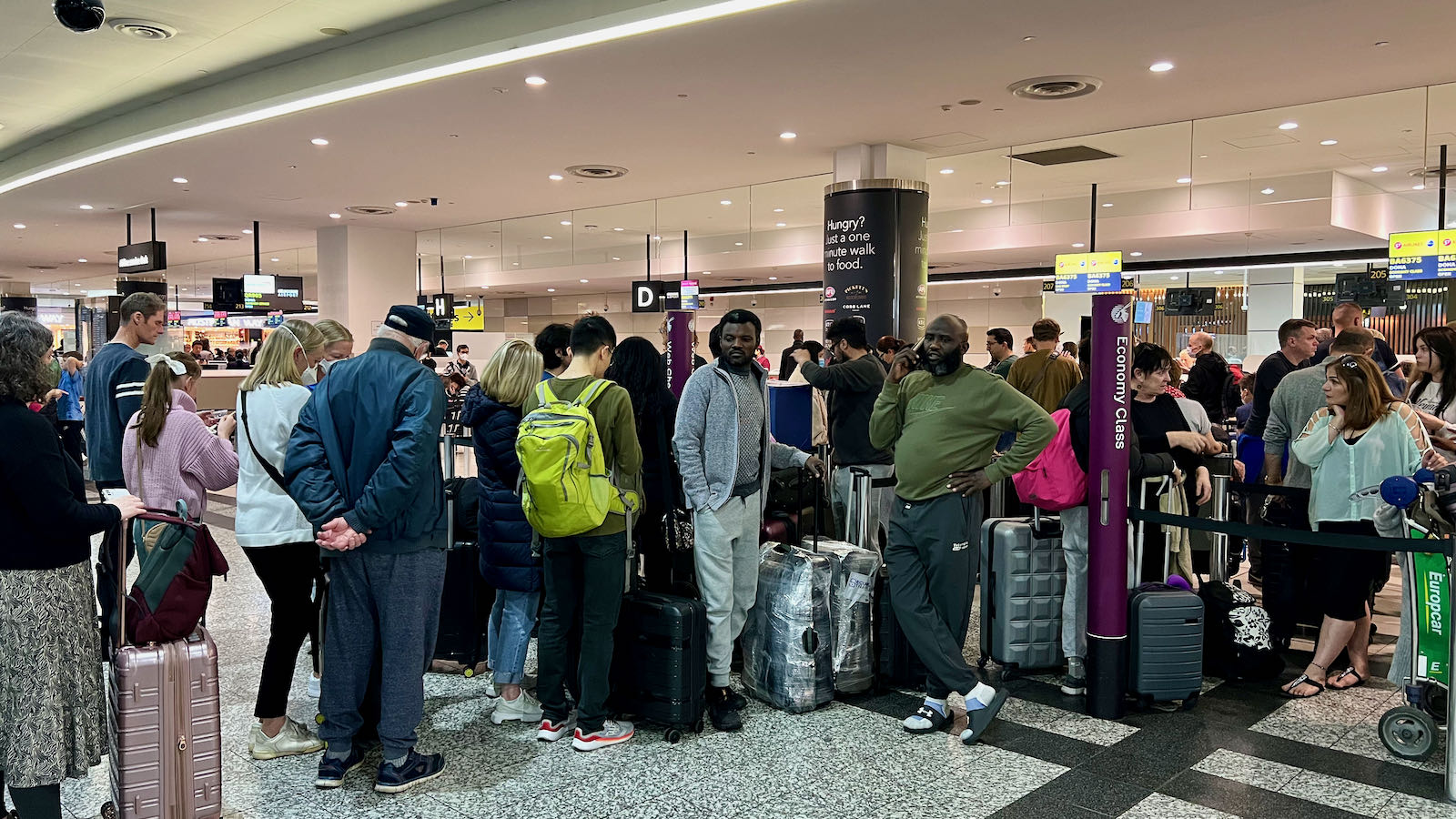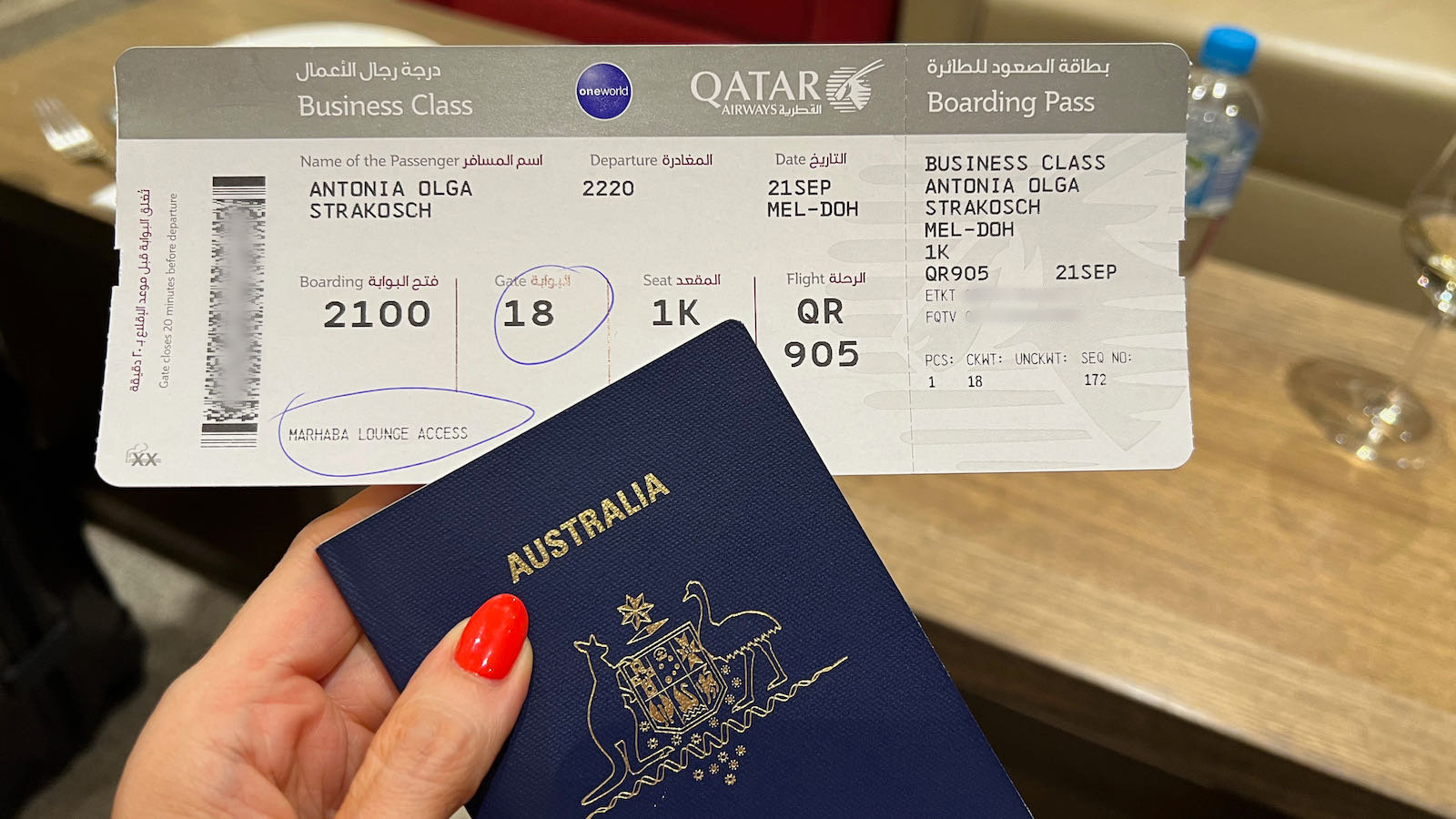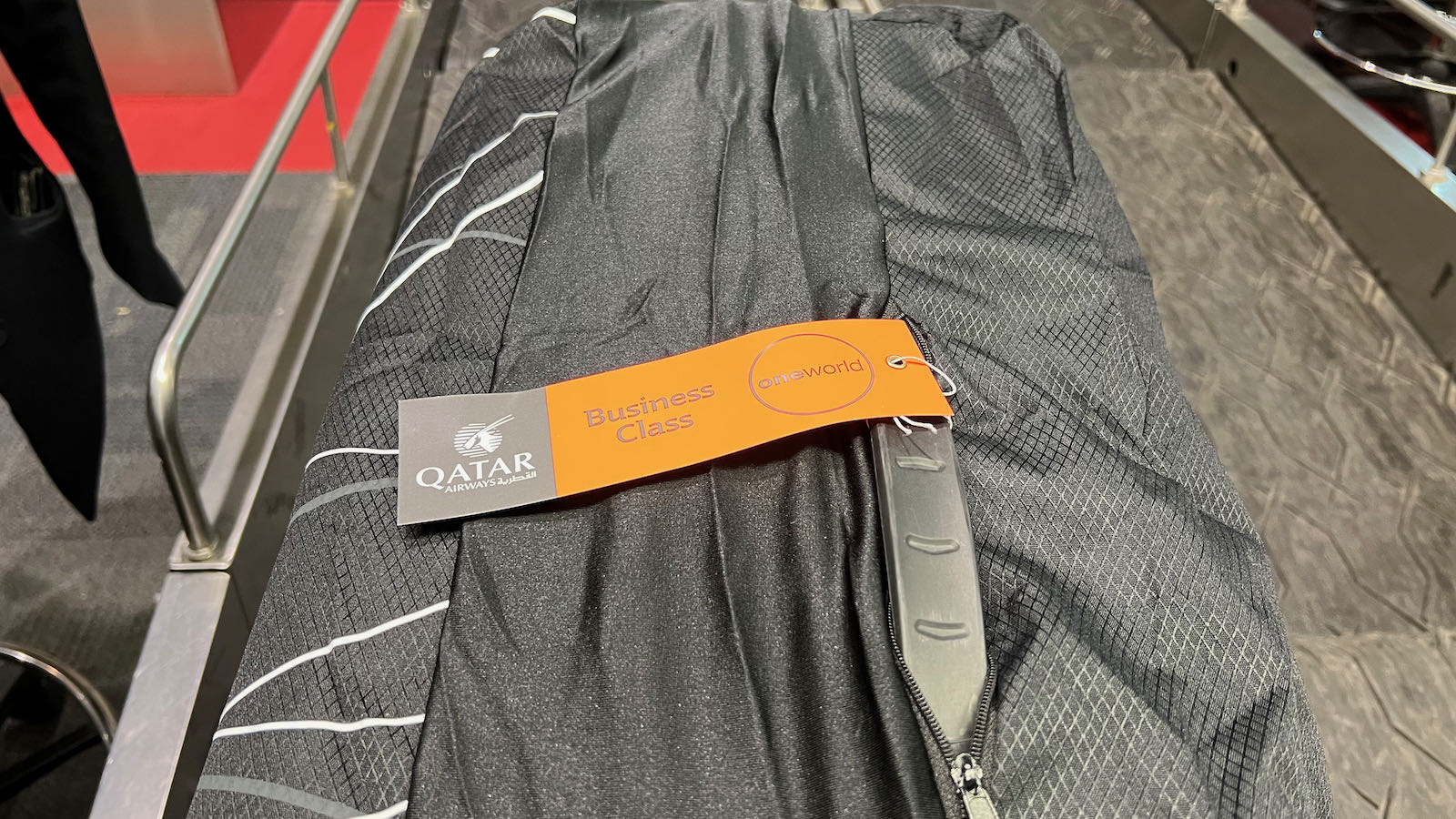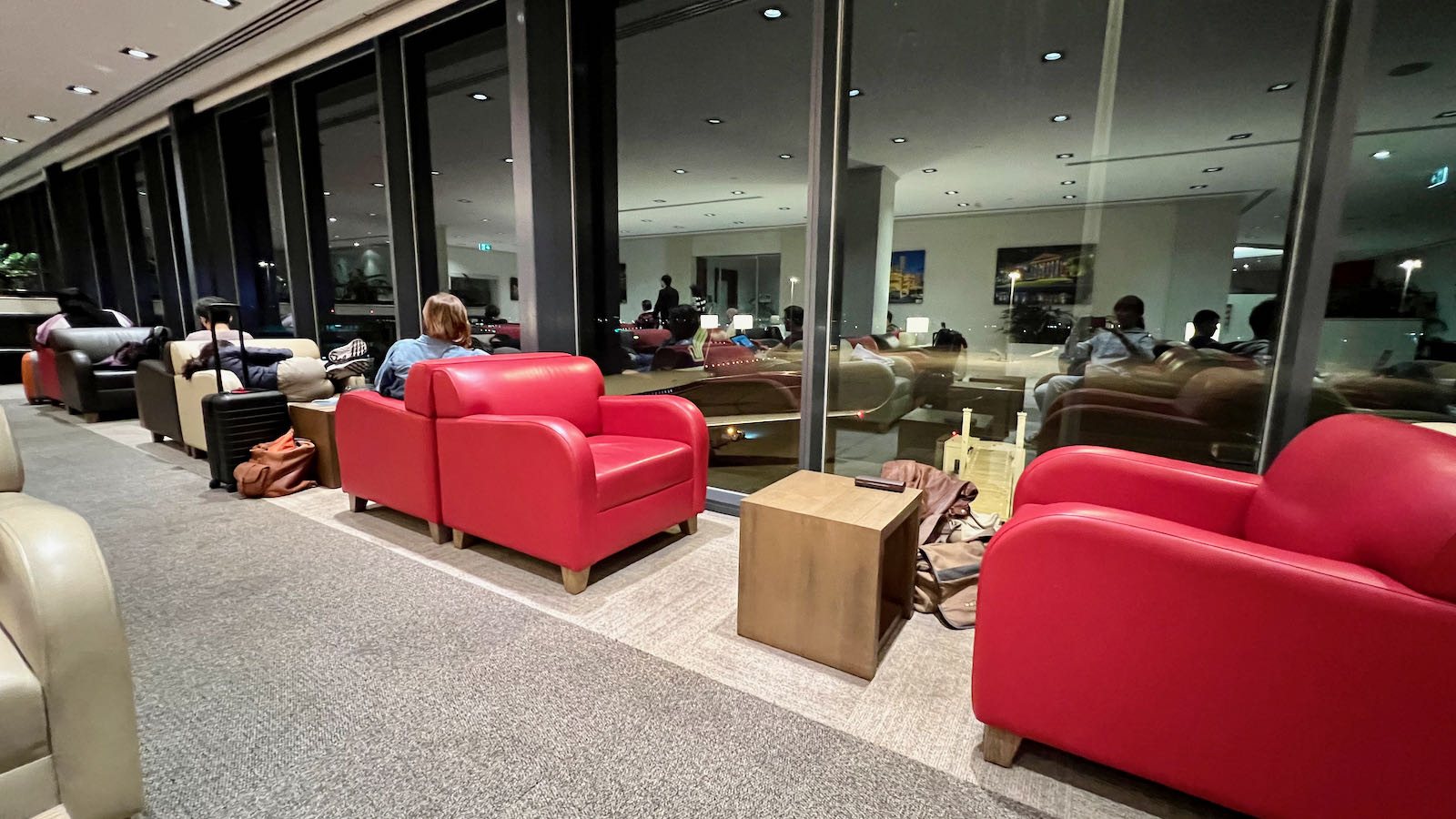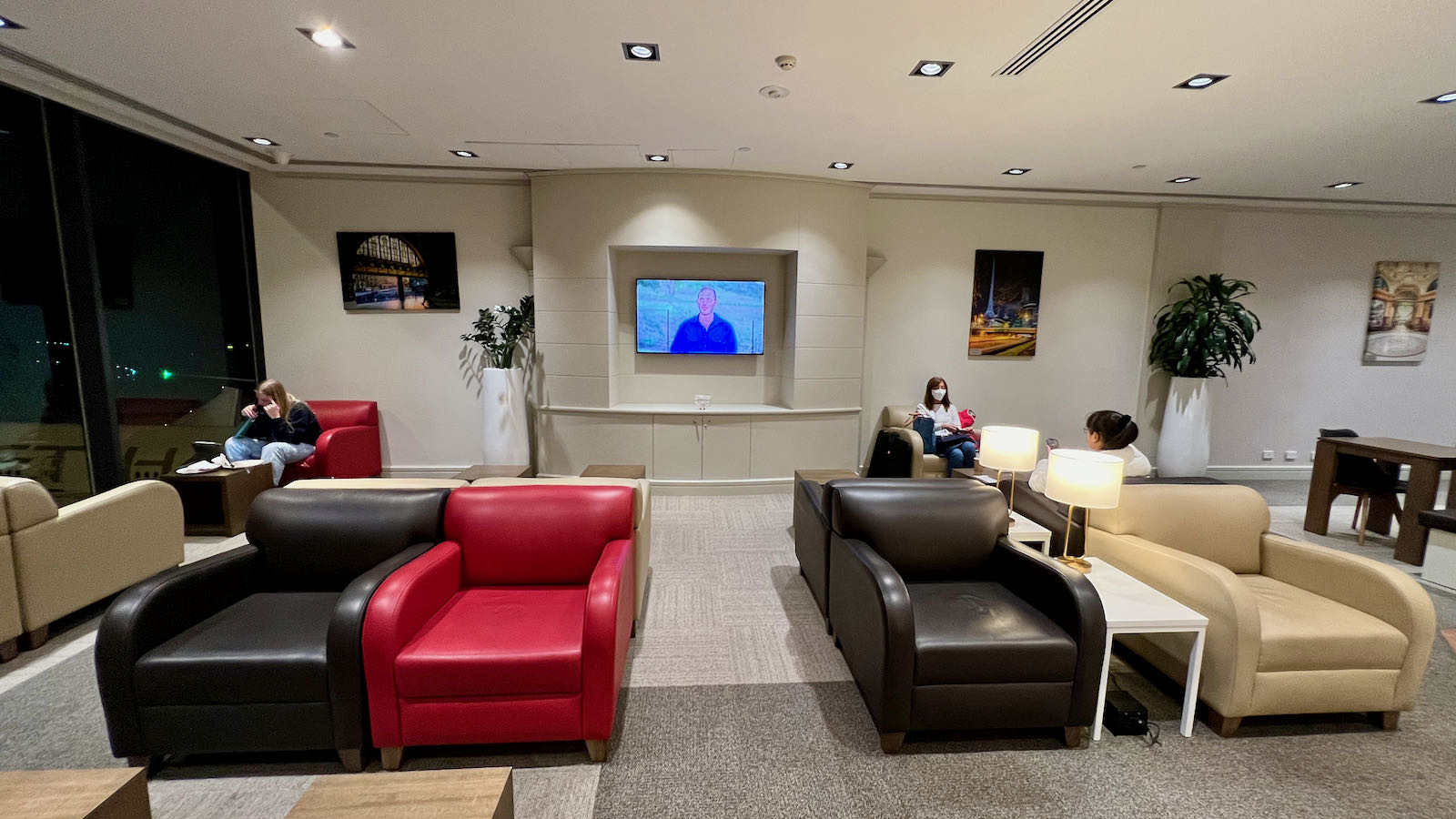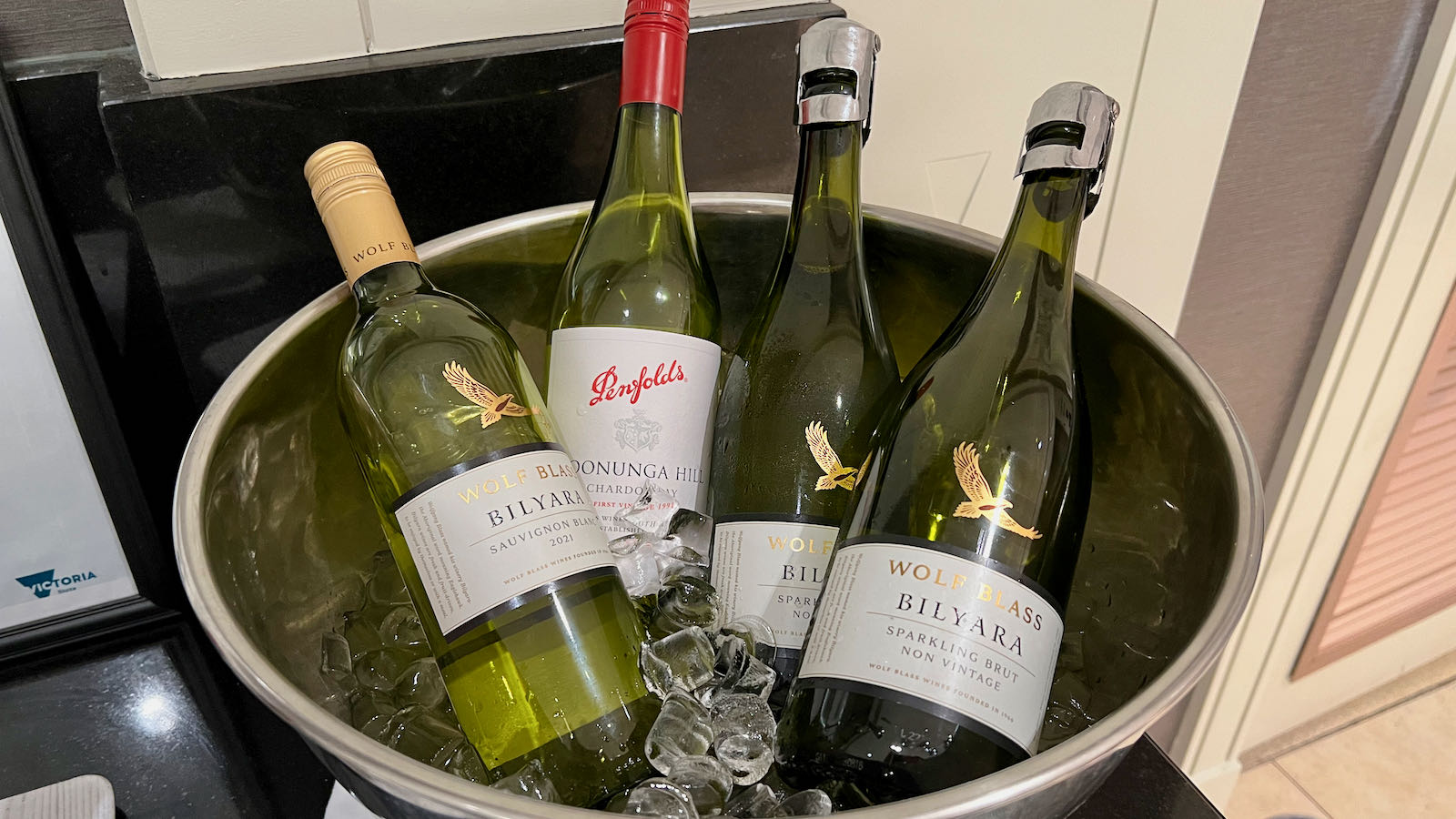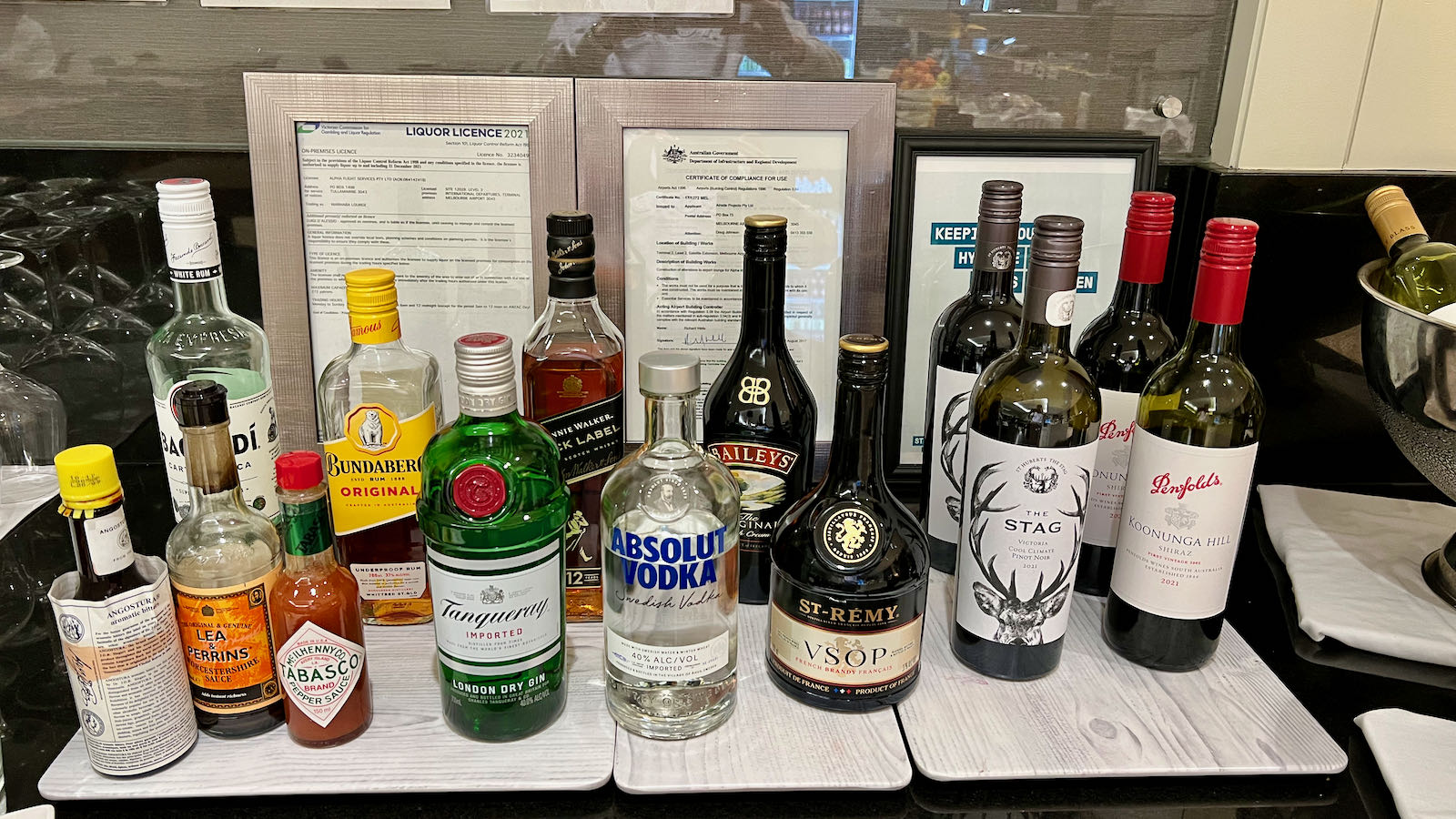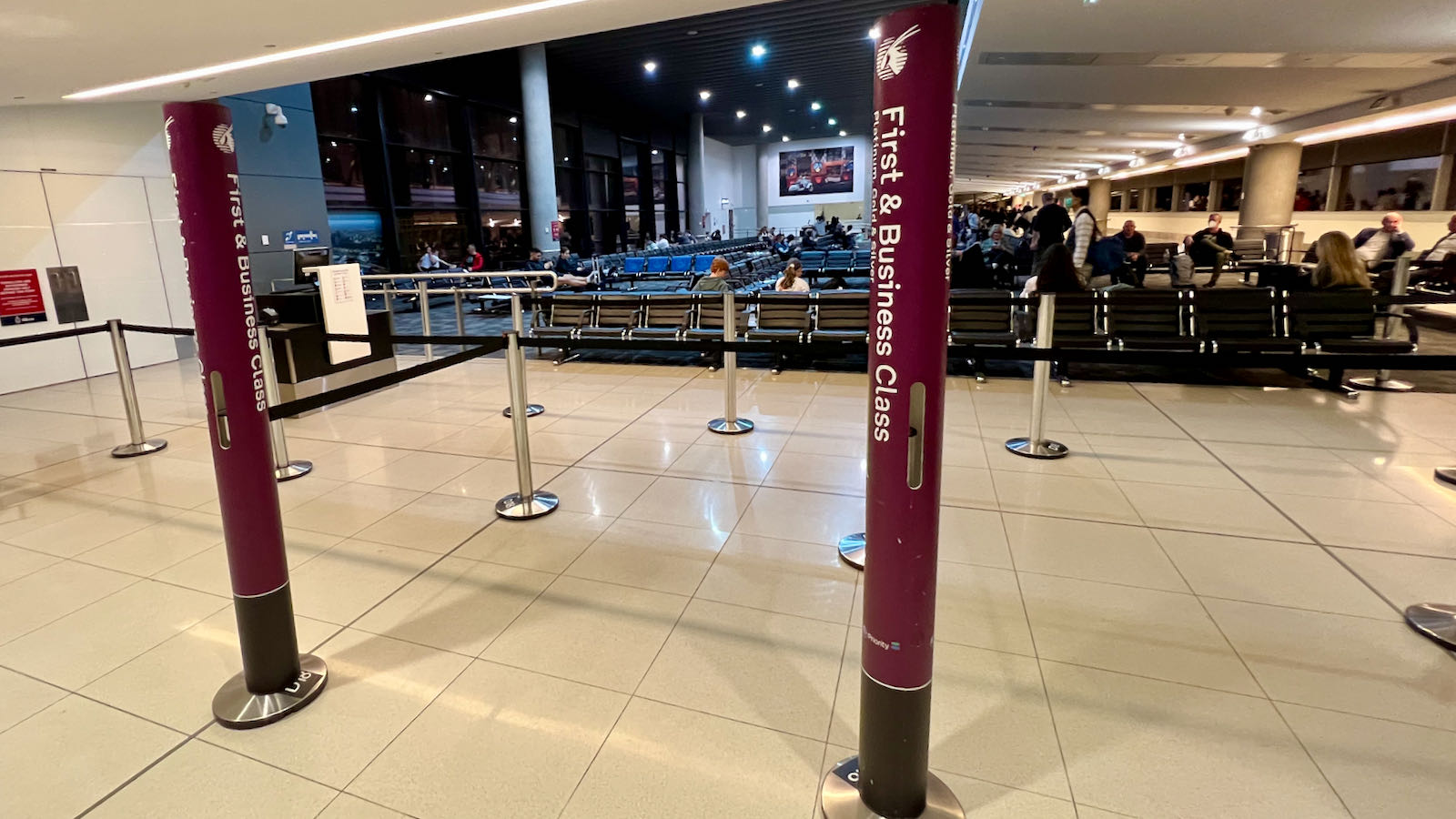 The suite life
Back in March 2022, I enjoyed my first ever international Business Class flight, flying the Qantas Dreamliner to London. After a lifetime of turning 'right' into the Economy Cabin, turning 'left' for the first time was a huge pinch-me moment. But with Qatar Airways voted the world's best Business Class in the 2022 Skytrax Awards, turning left on the Qatar 777 is even more exciting.
I take a moment to savour the elegant Qsuites Business cabin, with its signature burgundy and rose gold accents. A crew member leads me to Suite 1K at the very front. The first things I notice are the three windows and the sense of privacy. But my senses are soon overloaded. The ginormous crystal-clear touchscreen, the plush doona and Diptyque amenity kit, the inviting seat with its resplendent burgundy pillow… Every detail reeks of quality.
My crew member interrupts my reverie. Would I perhaps like her to snap a photo of me? She's already popped my carry-on in the overhead bin – a taste of the seamless efficiency I'll witness many times throughout the flight – so my answer is a resounding yes. I drop into my seat with a dopey grin.
What follows is a masterclass in in-flight photography. Without prompting she begins dancing around the cabin, capturing photos of me from every angle in both portrait and landscape. She strains and stretches – at one point, she even drops to her knees. Colour me impressed.
Unruffled, she hands my phone back with a smile and offers me a choice of welcome drink. I select Taittinger Prestige Rosé, a pinot noir-heavy Champagne with impressive zest and length. Settling into my Suite, I stretch my legs into the ample footwell.
There's still ample time before take-off, so I peruse the on-demand menu, a thrilling multi-page read. My crew member pops over to take my order, and before I know it it's wheels up.
Doha, here we come.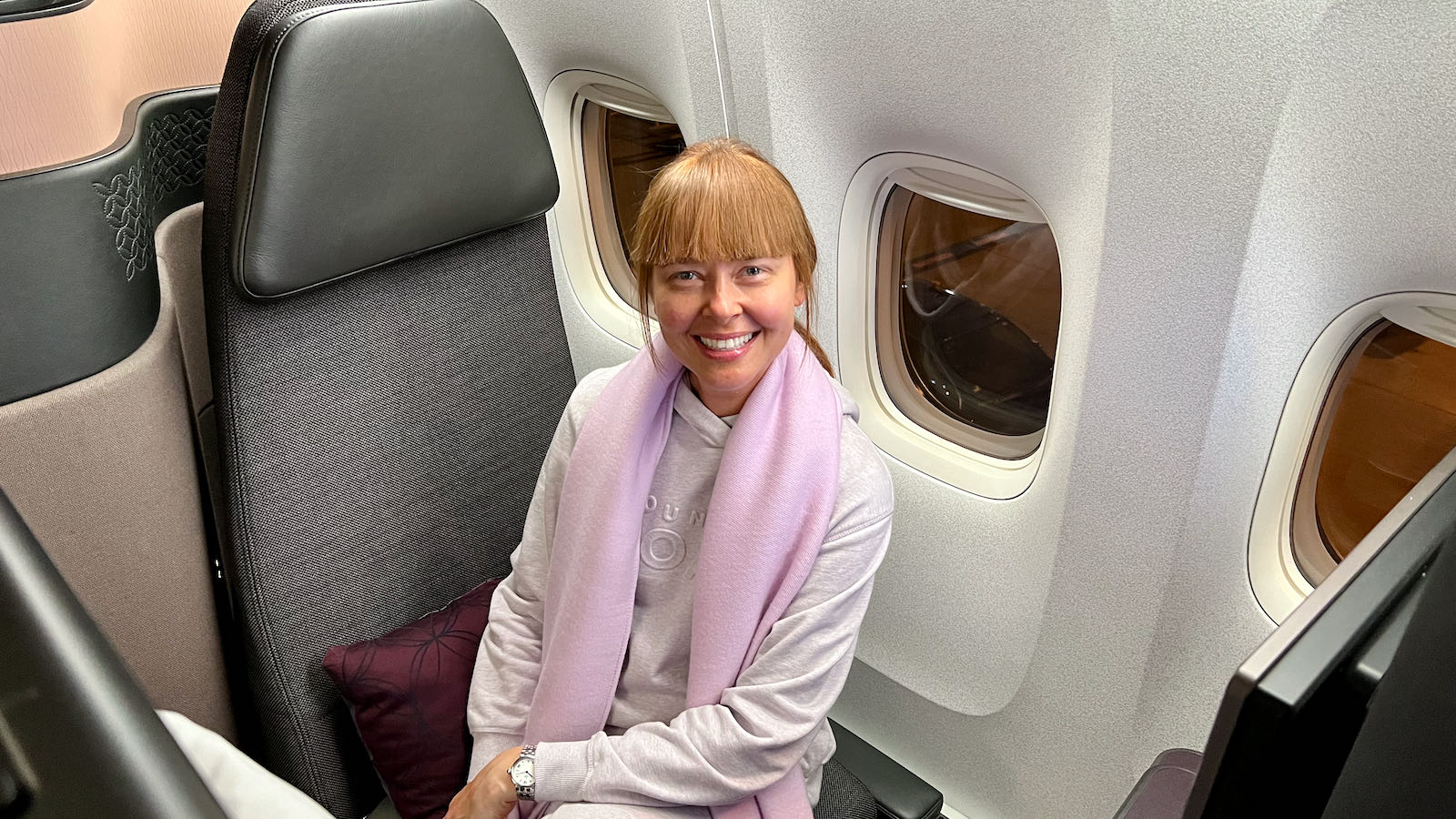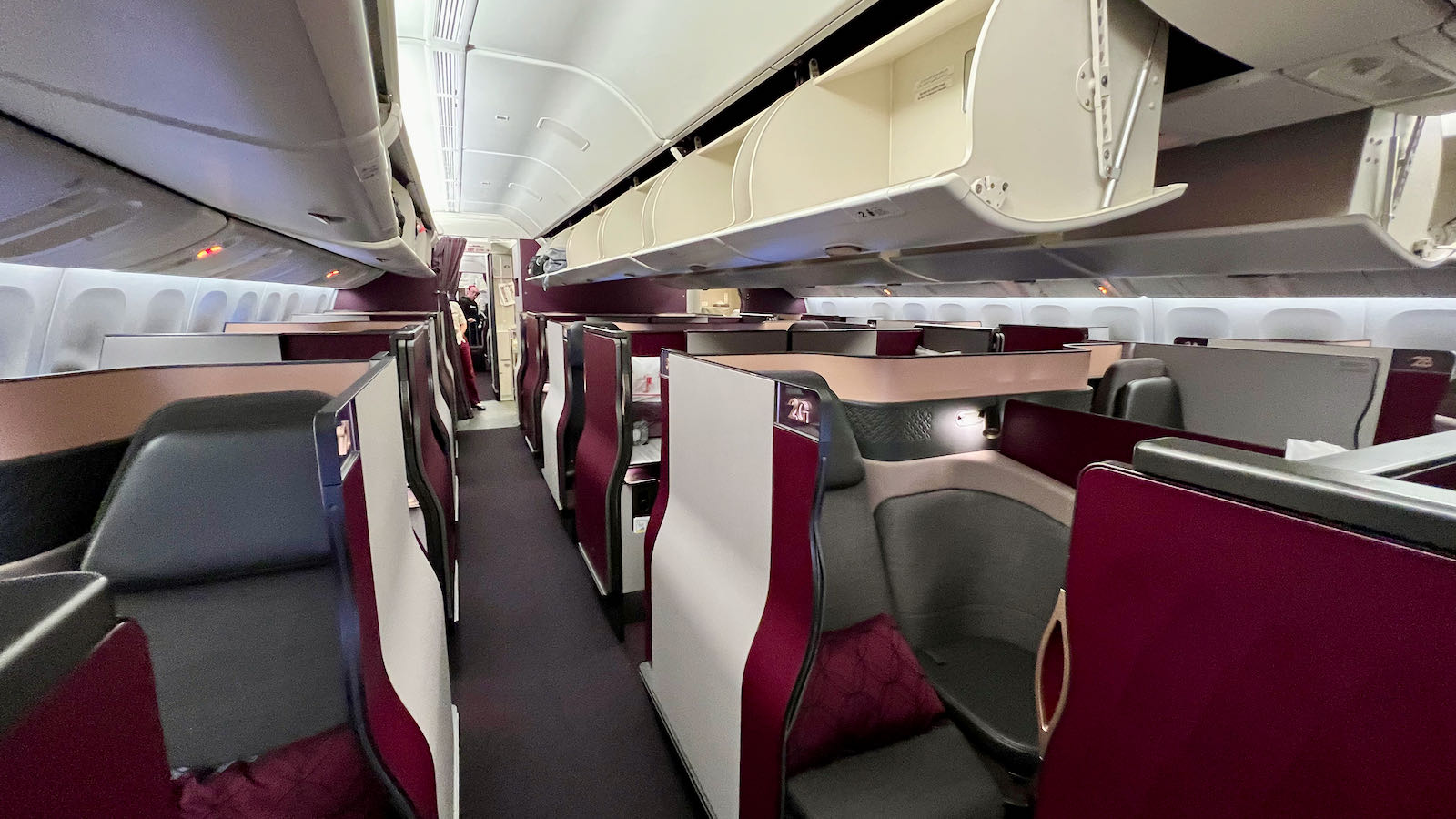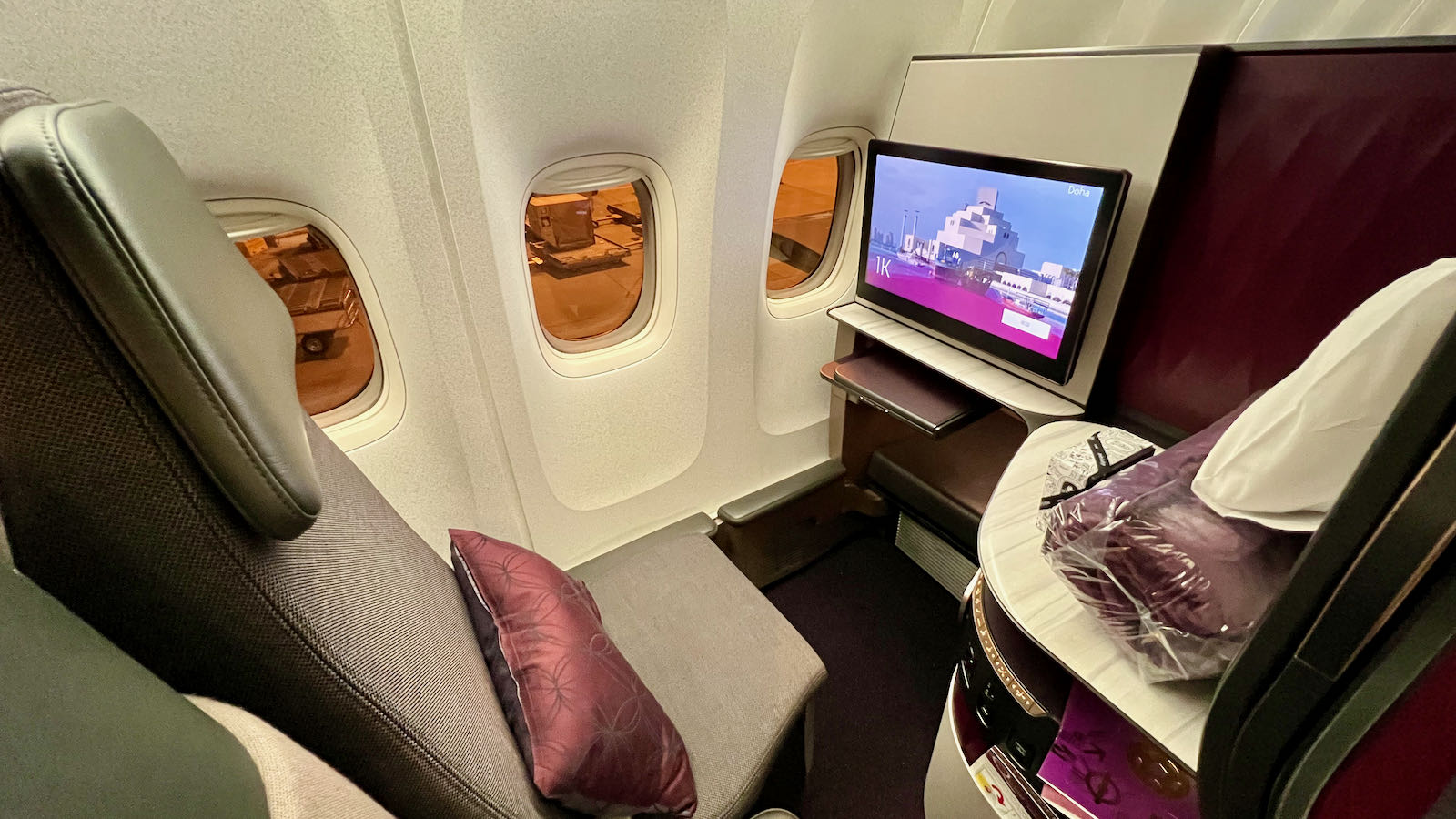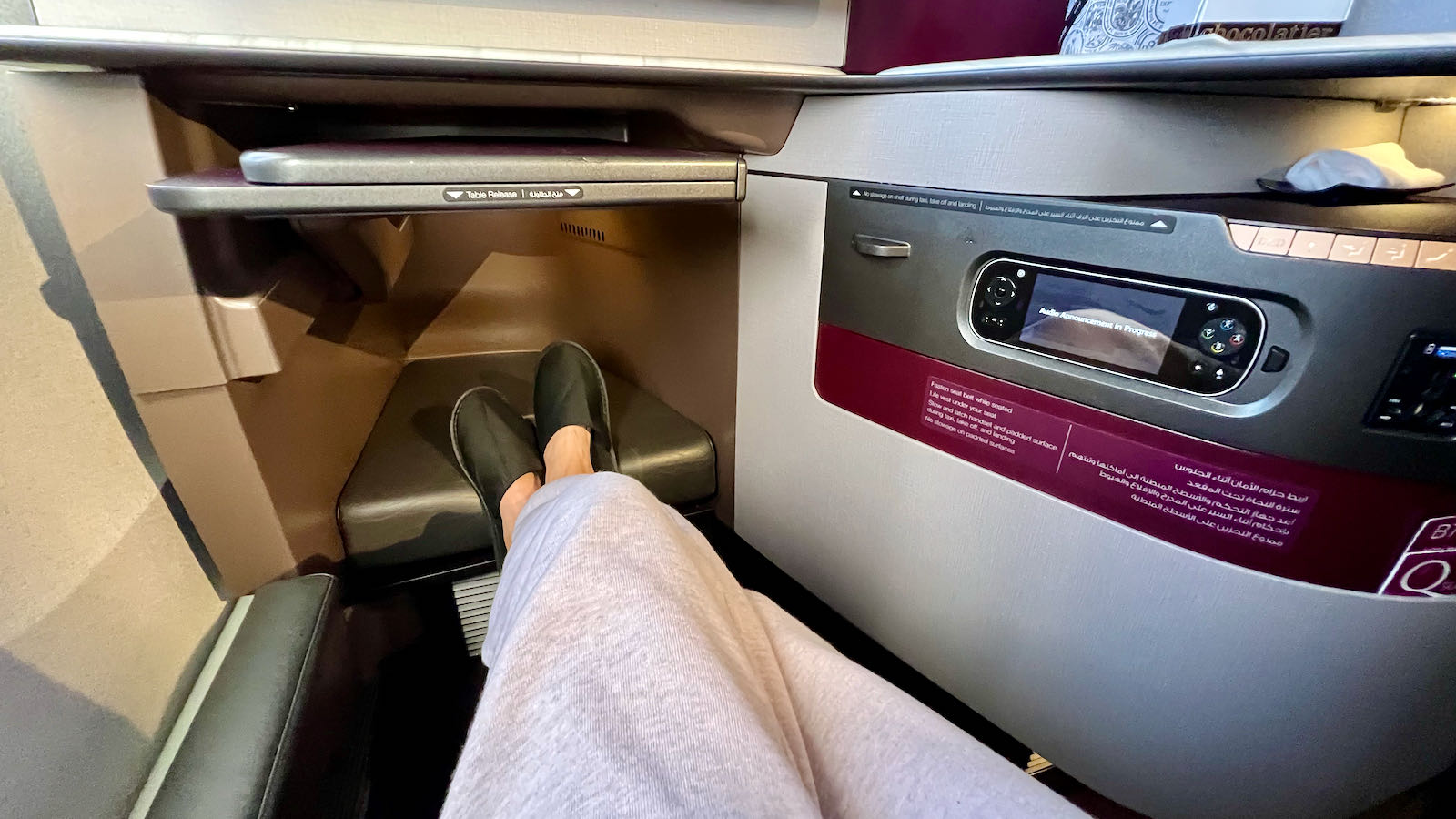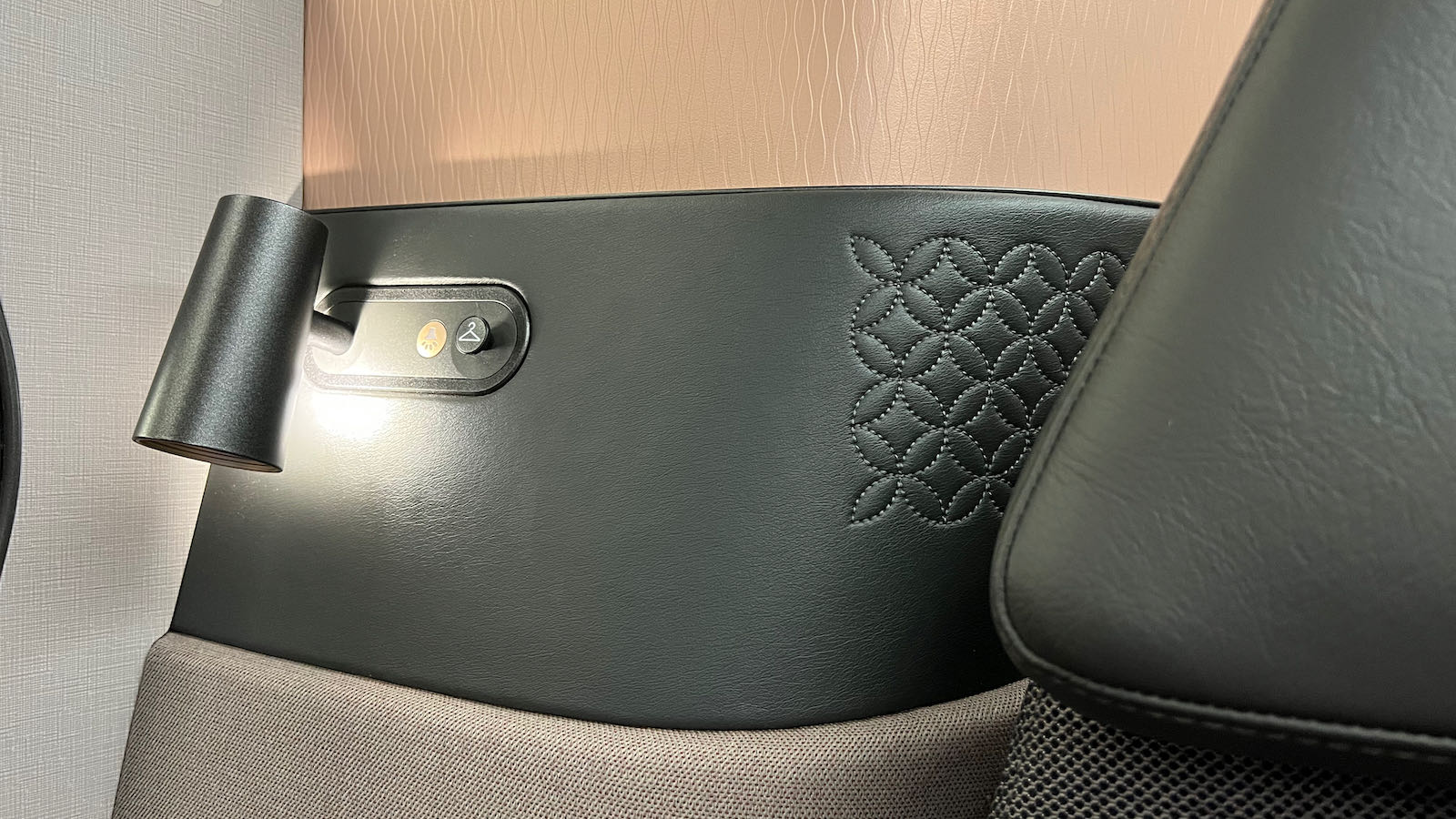 A restaurant in the clouds
It's after 11:30 pm Melbourne time when my first course arrives. My crew member has dressed my large tray table with a starched linen tablecloth, metal salt and pepper grinders and a flickering LED candle. As an ex-food critic and someone who appreciates (obsesses over?) perfect restaurant lighting, I find the candle's warm glow as soothing as a lullaby.
I've already enjoyed a glass of buttery Californian chardonnay by J Vineyards served with toasted almonds and cashews. But it's the tuna tartare appetiser that really gobsmacks me. Coated with black sesame seeds, coriander and a verdant herb-infused oil, it's the ideal way to get those digestive juices flowing.
Next up is the velvety sweet potato, coconut and ginger soup – quite honestly one of the best soups I've ever eaten. And the hits continue. The signature Arabic mezze is so flavourful my eyes bulge at first bite. Each dip is better than the last, with the baba ganoush so smokey and aerated it leaves other versions in the dust.
As with everything in Qsuites, it's the attention to detail that really sets this food apart. My tarragon-spiked crayfish main is served with a chargrilled lemon wedge, and the berries for dessert are plump and bursting with flavour.
After an excellent sleep (more on that in a moment!), I wake to a sunlit breakfast. From the coconut chia porridge with sweet mango to the chevre omelette and proper latte, I'm utterly refreshed and ready to land in Doha.
The Qsuites dining experience puts the doubters firmly in their place. You absolutely can enjoy a great meal at 40,000 feet. Hallelujah.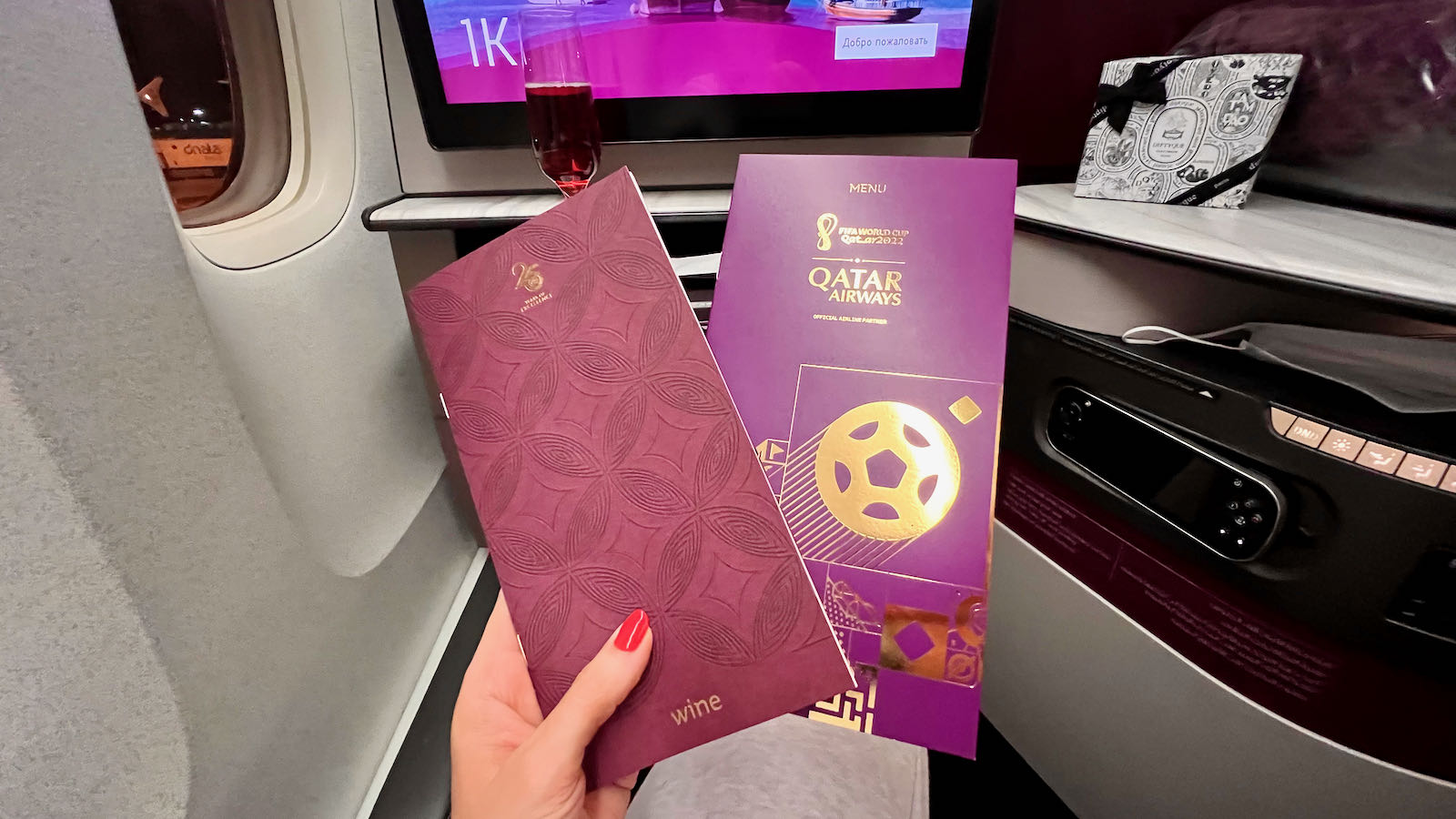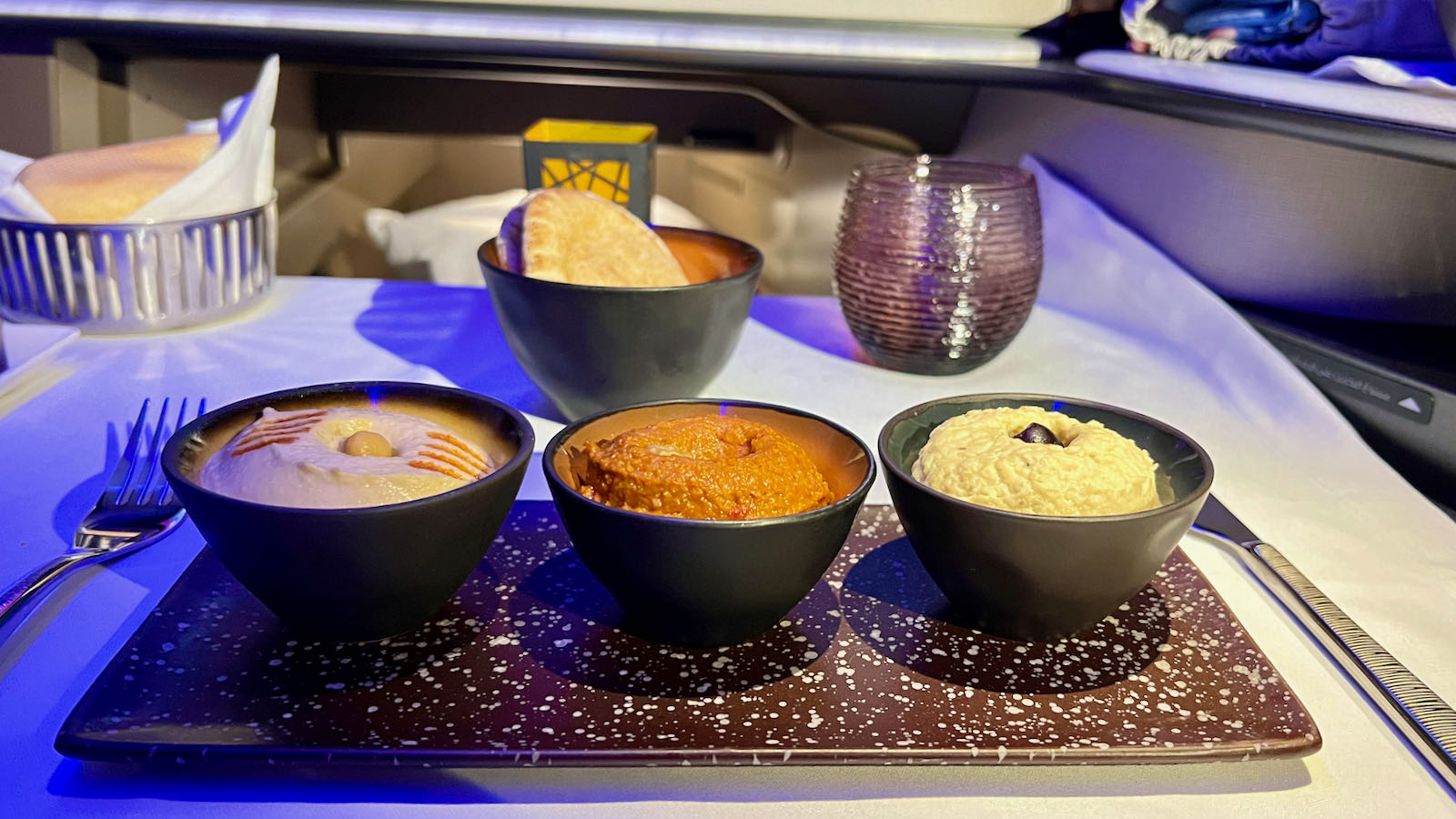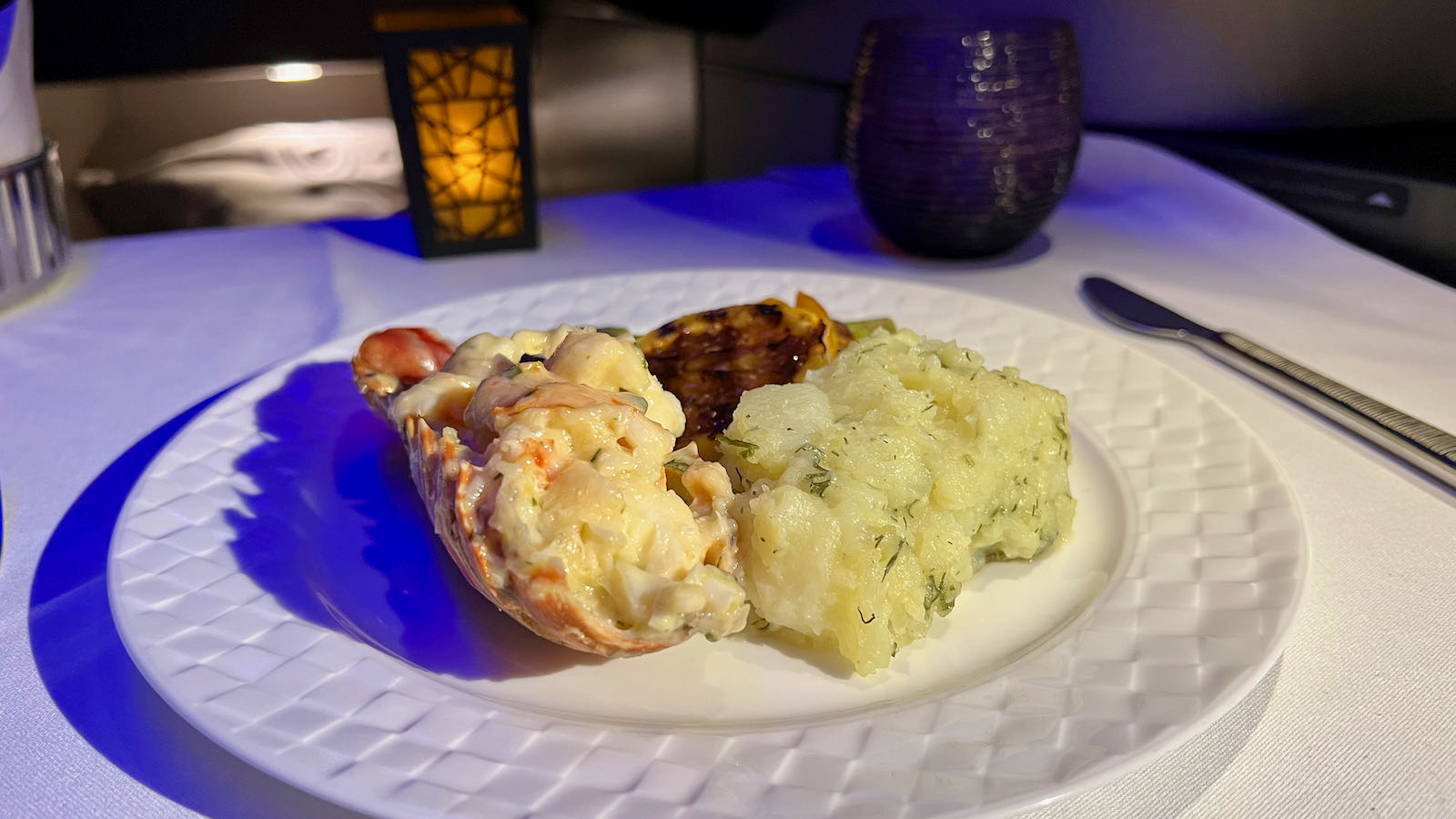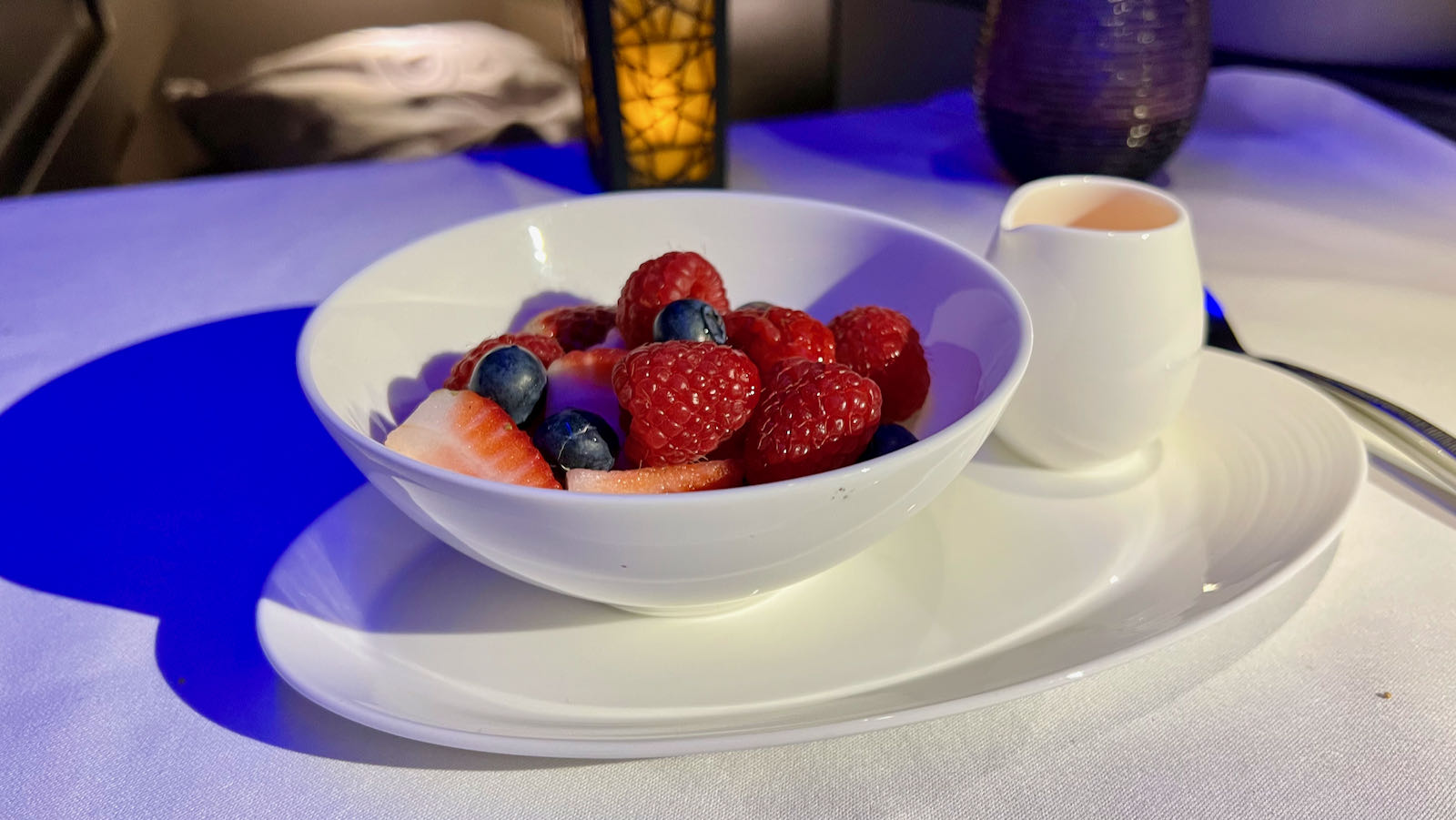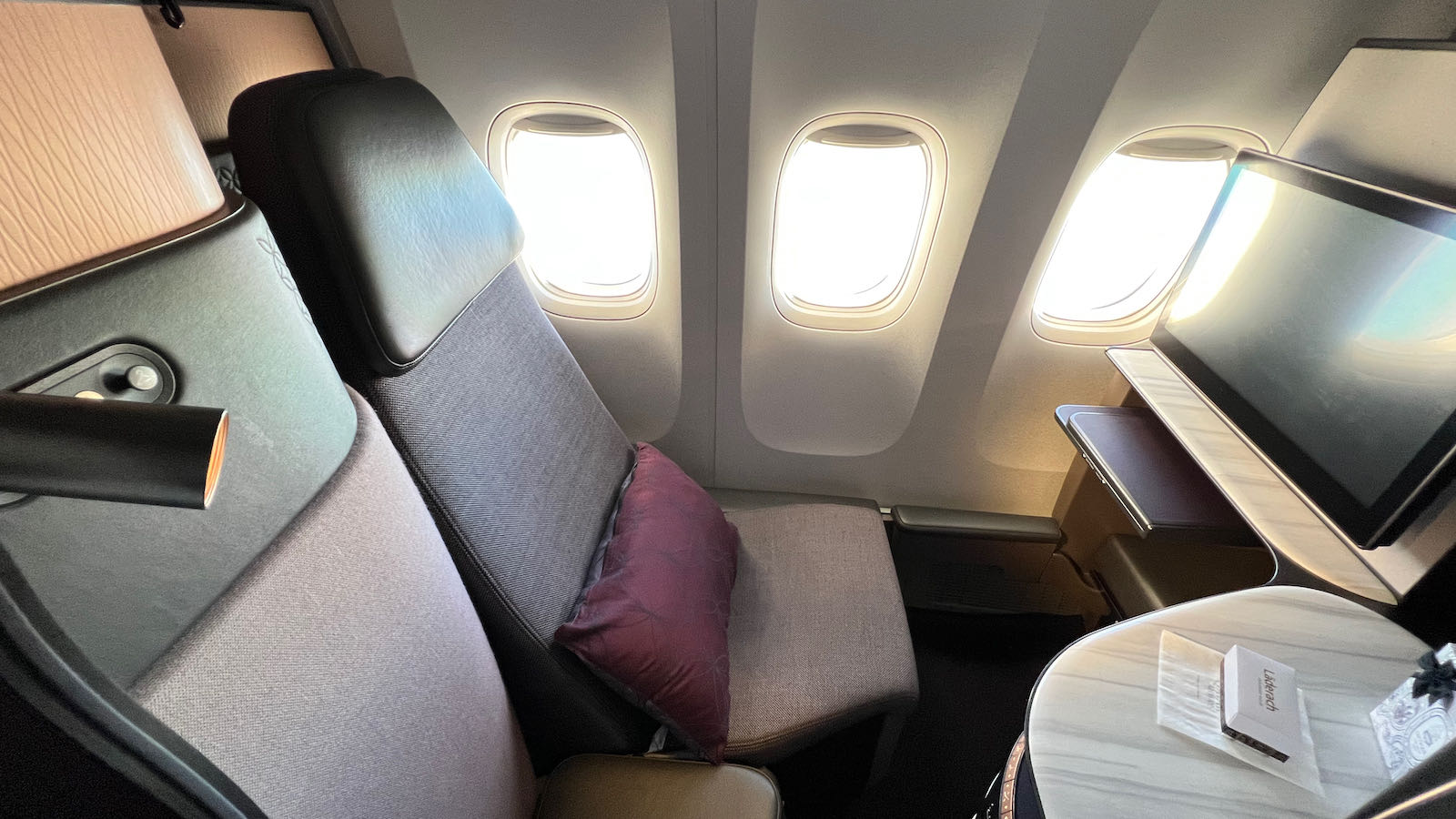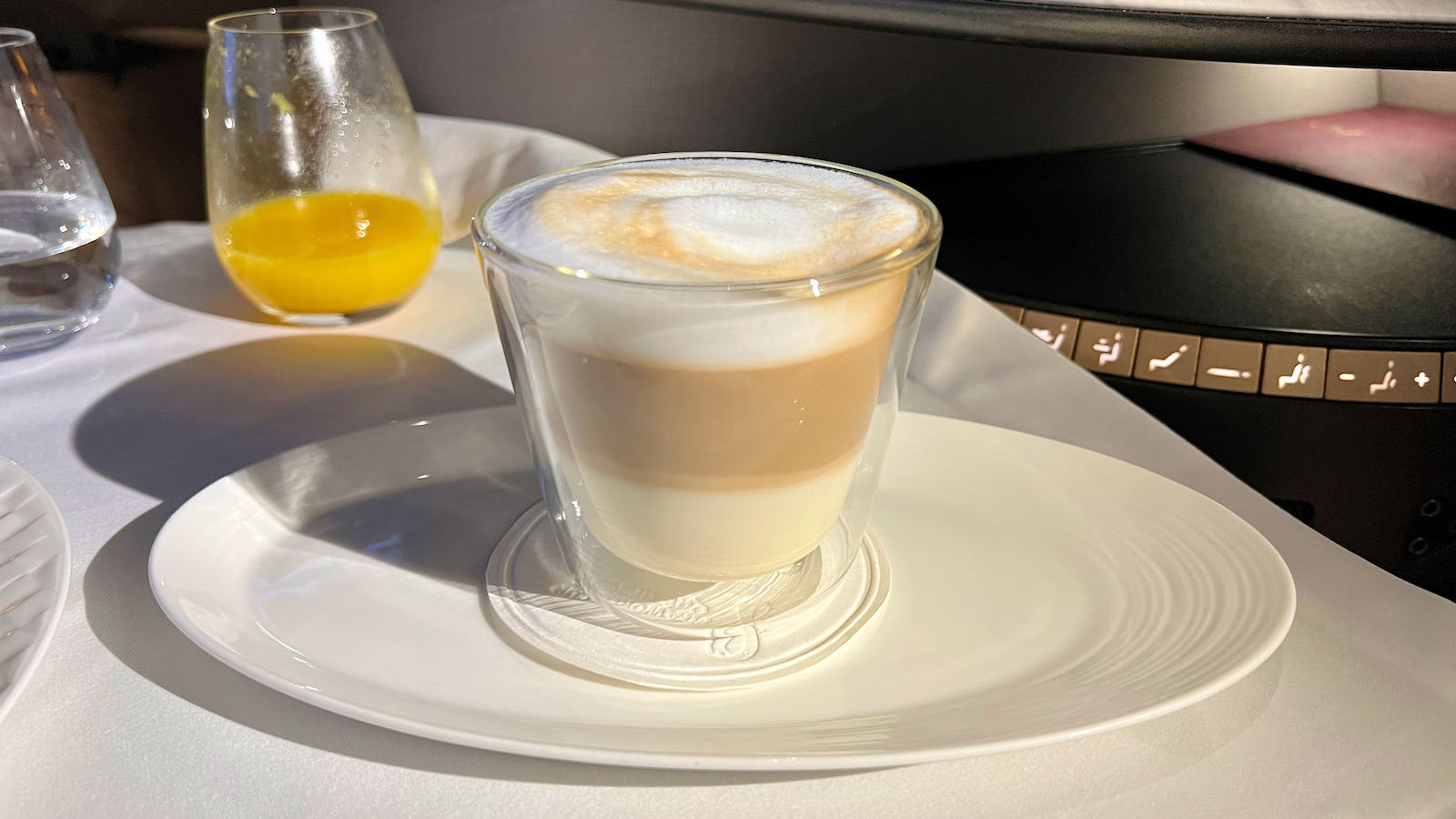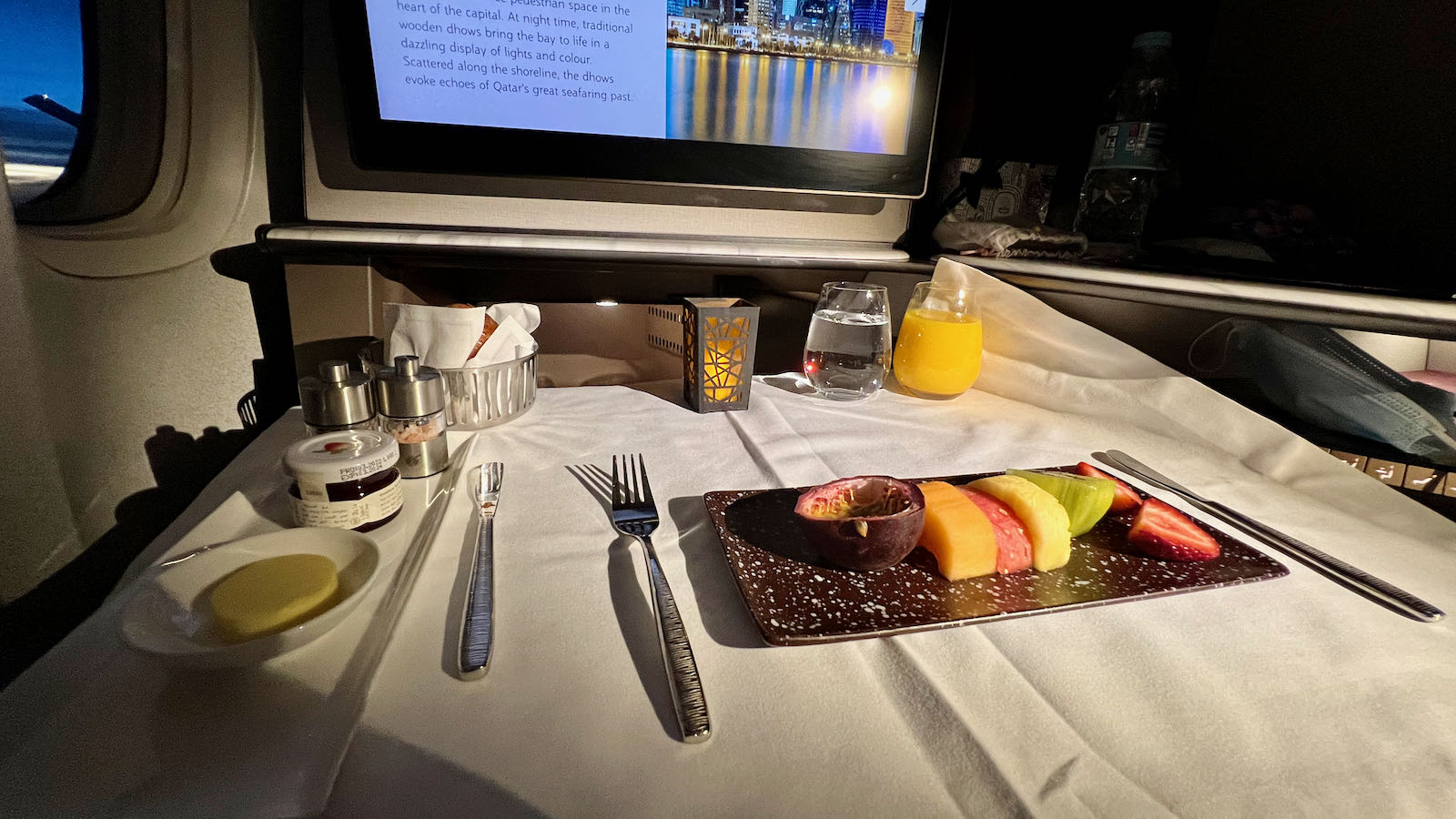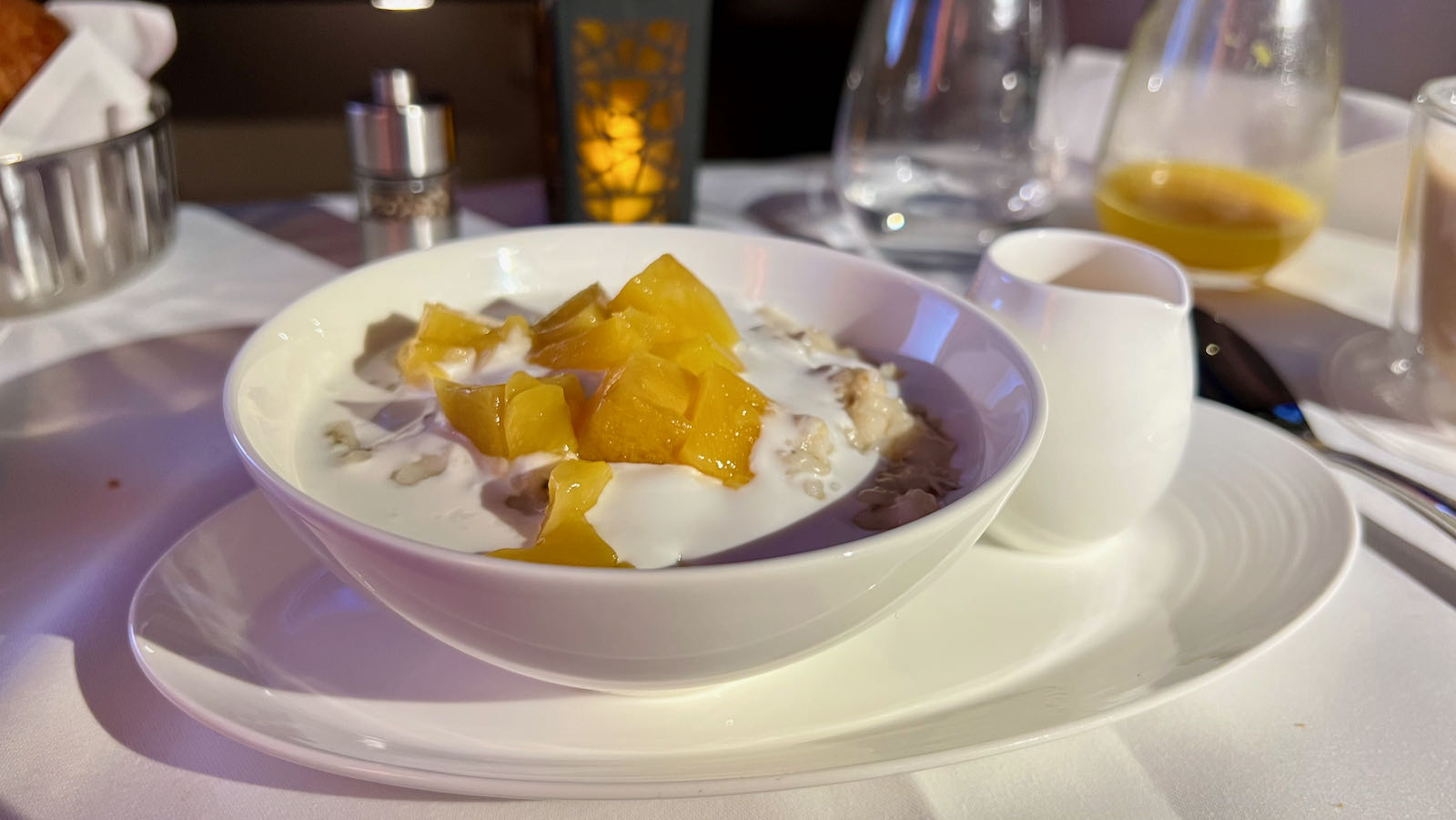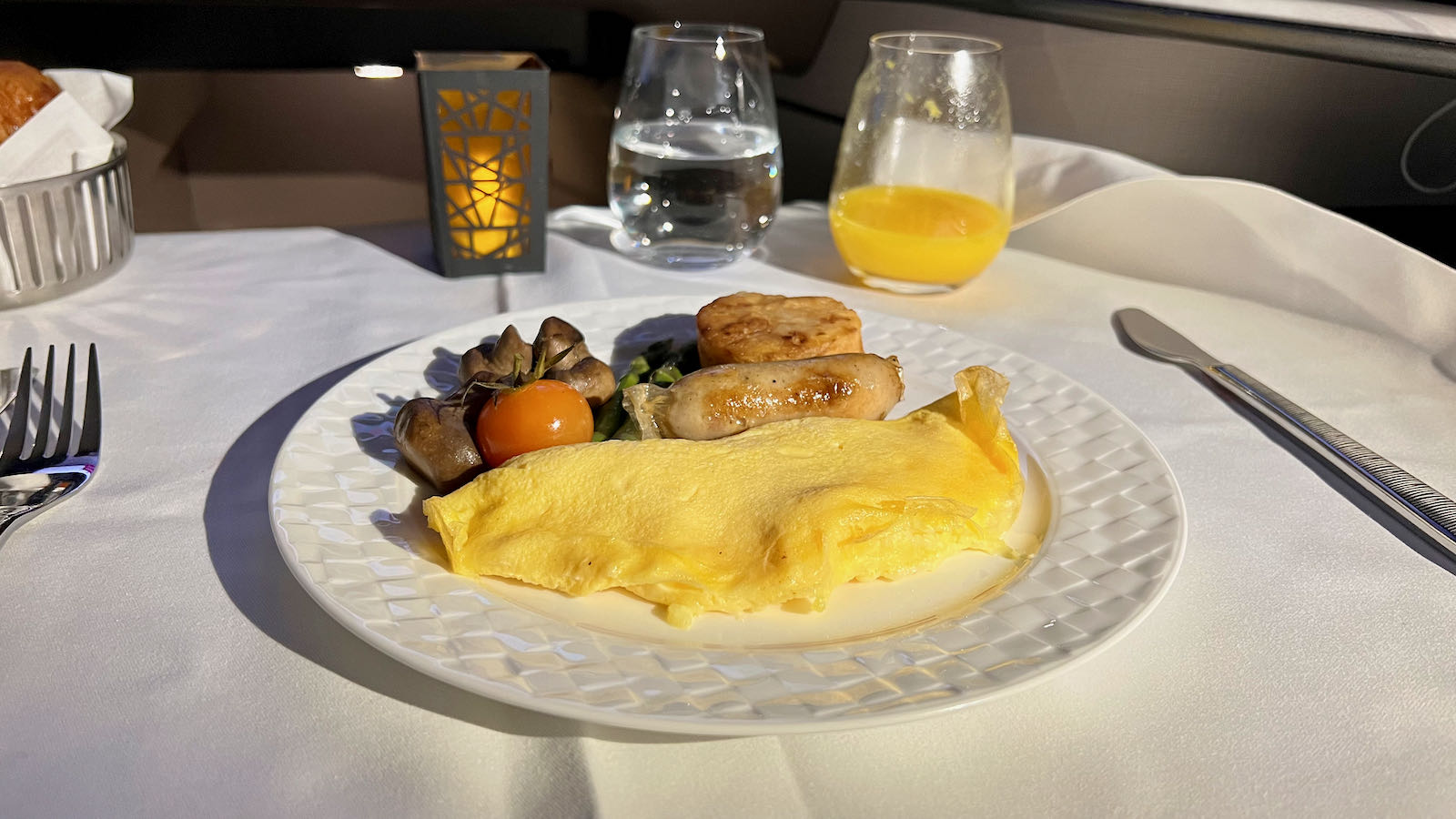 Space to dream
After my multi-course dinner, sleep beckons. While I change into my Qatar FIFA World Cup-themed pyjamas (the cause of great envy among certain soccer-mad colleagues on my return), my crew member makes up my bed.
I return from the bathroom to my mood-lit Suite. The made bed is a thing of beauty. I snuggle beneath the doona on the two pillows and slide my privacy door shut. When I wake eight hours later, I'm tangibly refreshed. And the rose-scented Diptyque refresher towel only helps matters.
I love every second of this incredible flight. But it's time for my Doha-Casablanca leg on Royal Air Maroc. The adventure continues.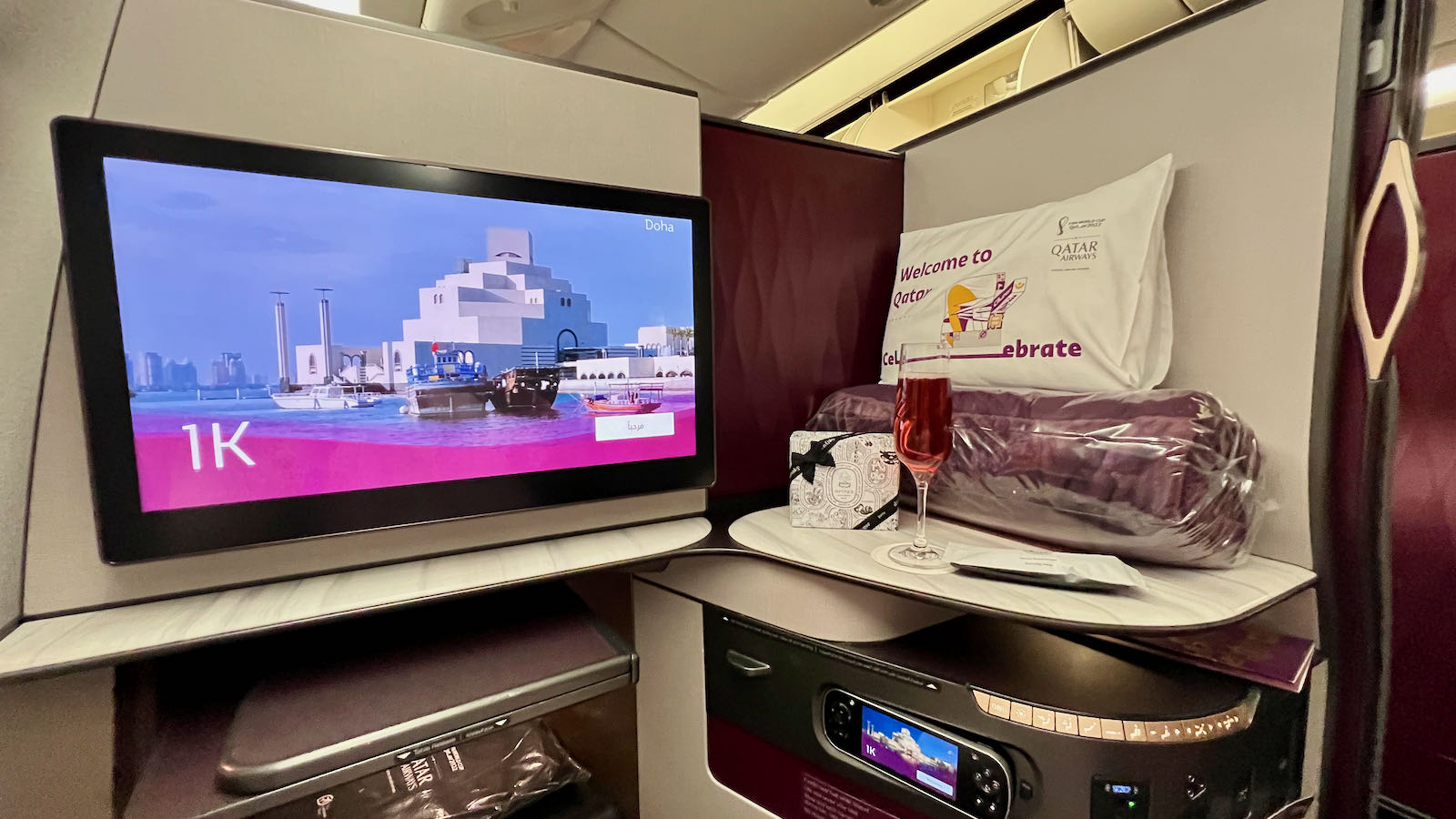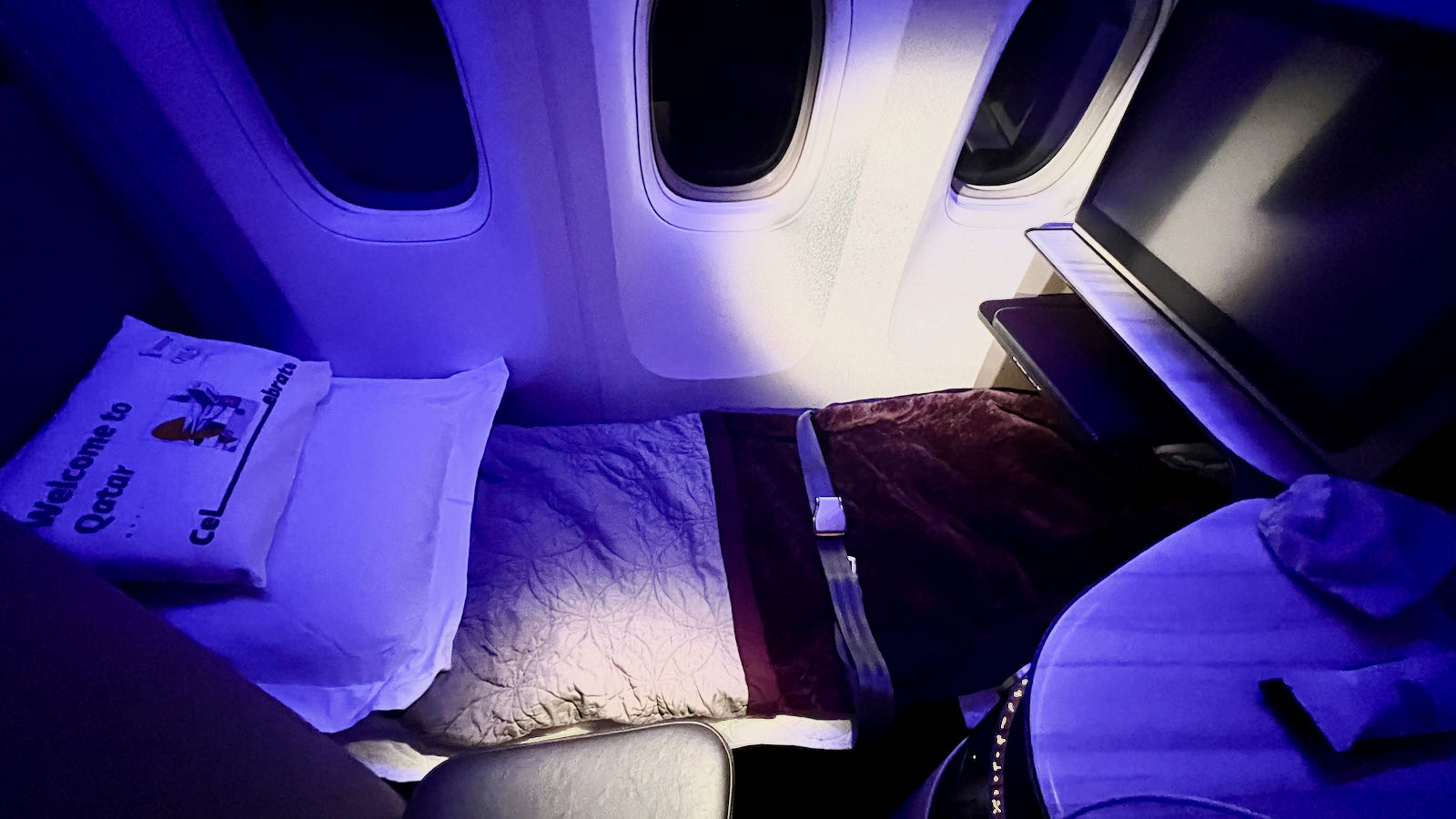 Ad – Scroll down to continue reading.Minimum spend, terms & conditions apply.
Flight 2: Doha to Casablanca in Royal Air Maroc Business Class
Qatar Airways Al Mourjan Business Lounge in Doha
After landing in Doha, I take up residence in the sublime Qatar Al Mourjan Business Lounge. Happily, Royal Air Maroc Business Class passengers can access this lounge thanks to the oneworld partnership. To give you a sense of just how great it is, I meet an American woman en route to Nepal who chose a 20-hour transit over a 2-hour one simply so she could spend time here.
The proportions of this two-storey lounge are epic, with lofty ceilings, a shimmering water feature (more of an indoor lake) and seemingly endless places to dine, work and relax. With a lengthy transit, I enjoy breakfast, lunch and dinner here. Once they stamp your boarding pass at reception you're free to come and go as you please. Each time I arrive I'm greeted with a hearty 'welcome back!' Qatar's world-class service strikes again.
At one end you'll find the casual cafe, with small buffet plates and a selection of sandwiches and salads from the menu. Whatever you do, don't forget to try the signature Qatar lemon mint juice. This beautifully refreshing drink is worthy of its renown. If only I'd ordered it on my Qsuites flight.
But if you're pressed for time, I'd make a beeline for the second-level restaurant instead. With a vast Champagne bar, a varied buffet and a scannable à la carte menu, you'll certainly find something to satisfy.
After dinner, I'm leaving the lounge for the last time when I spy a poem by Elizabeth Bishop projected on a huge screen above Louis Vuitton. There's something wonderfully incongruous about poetry in such a setting. In fact, Doha's ultra-modern Hamad International Aiport is full of such playful contradictions.
But Morocco is calling, and my Royal Air Maroc flight awaits. It's time to bid Doha adieu.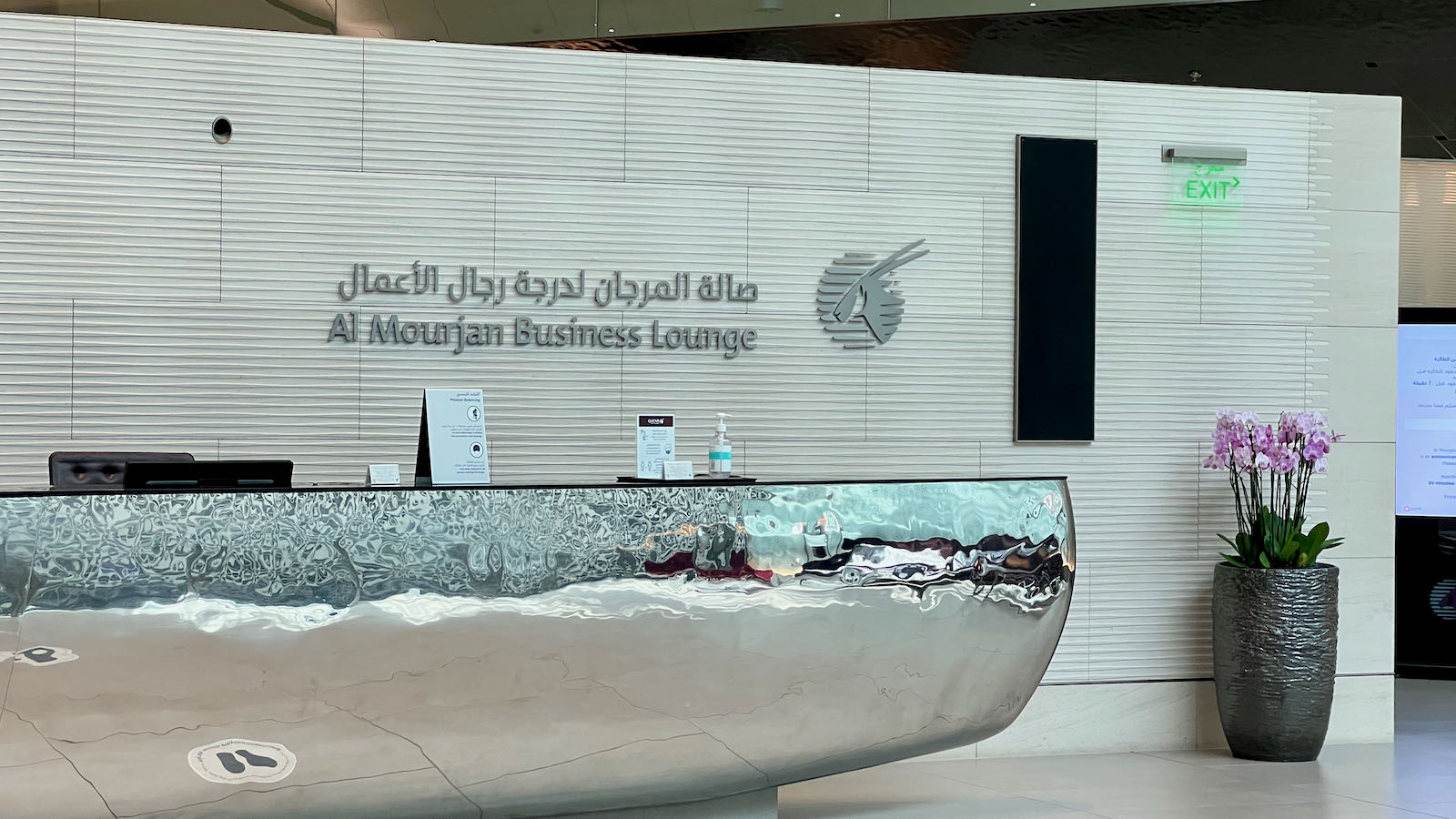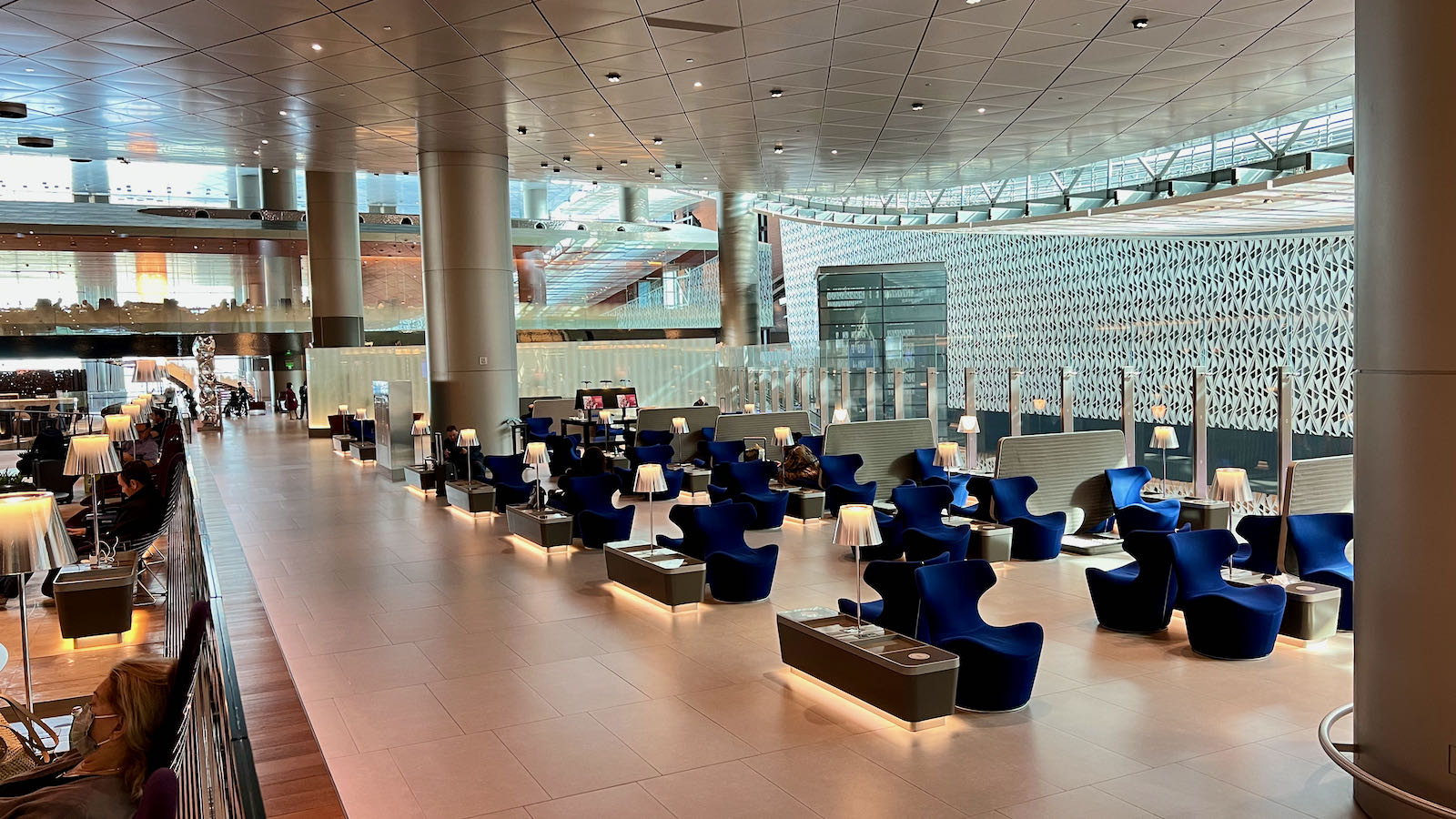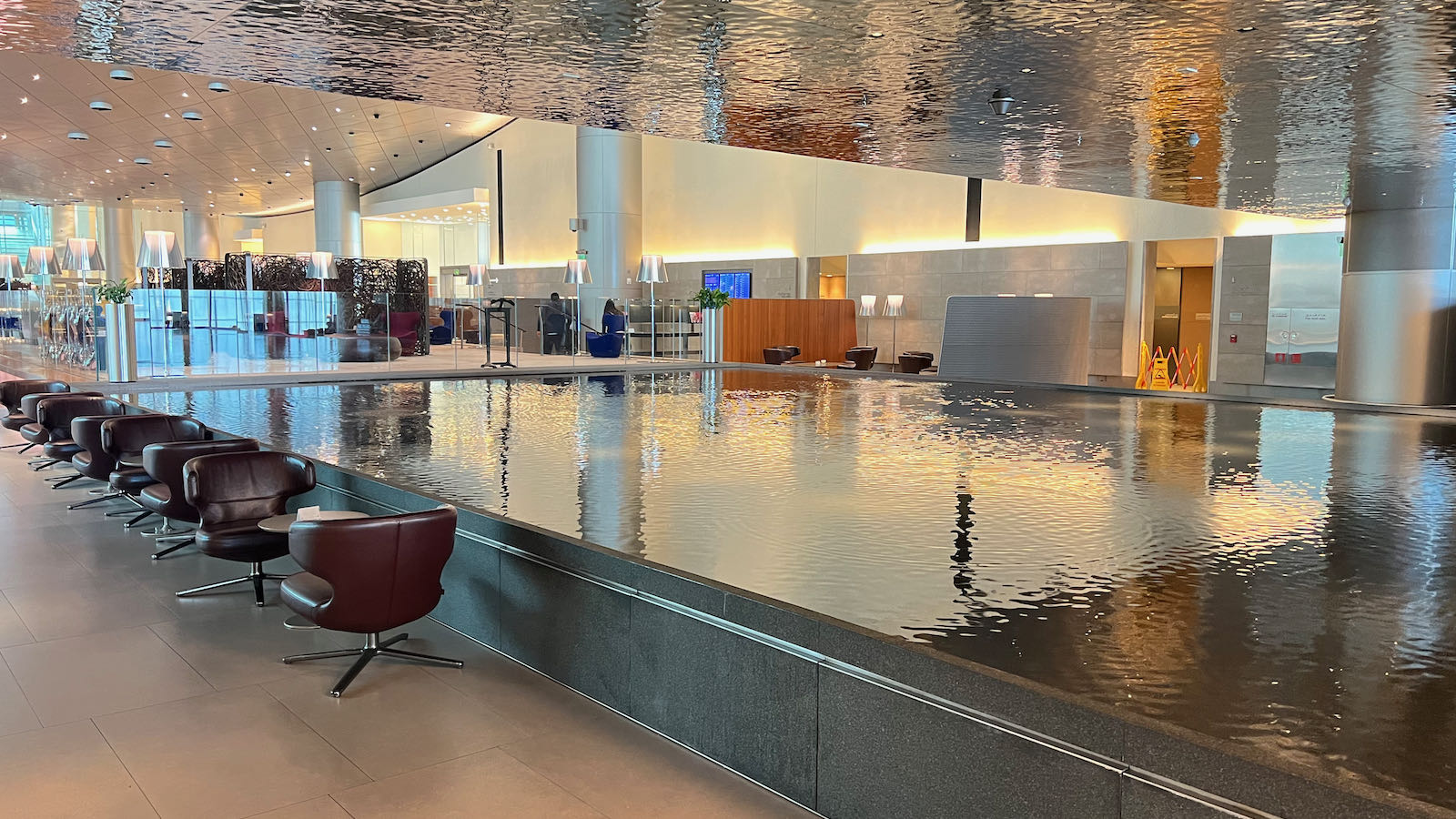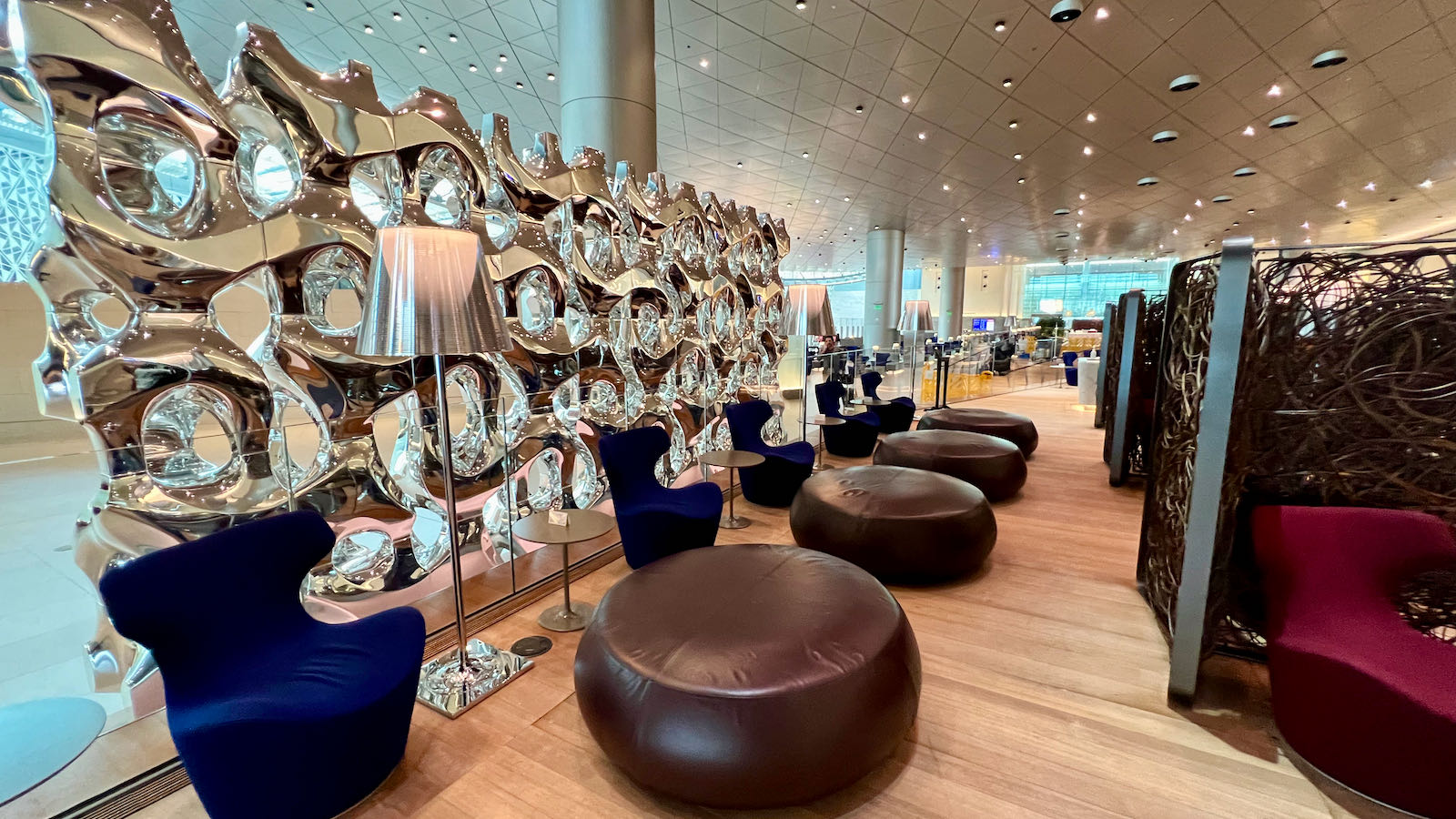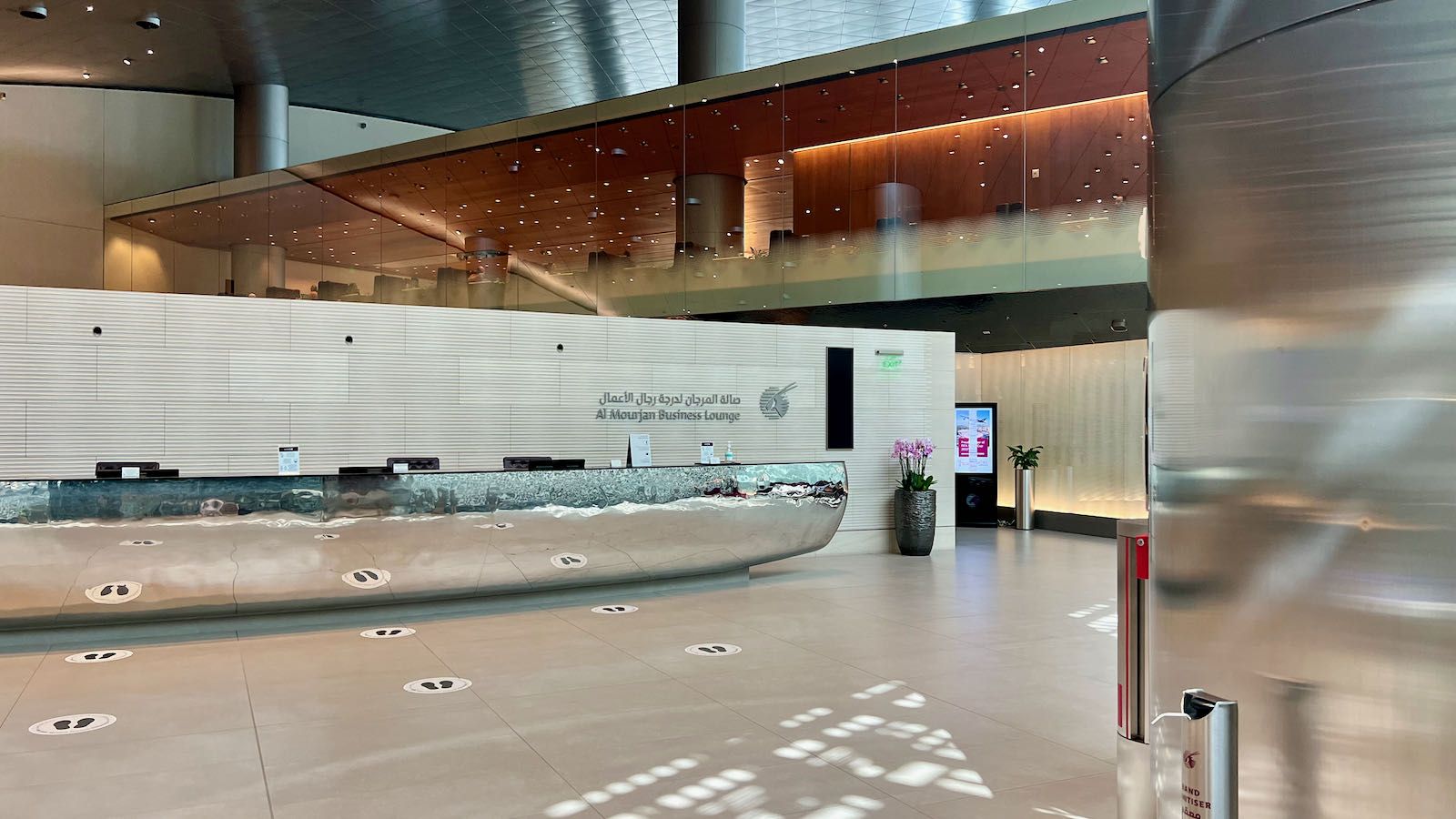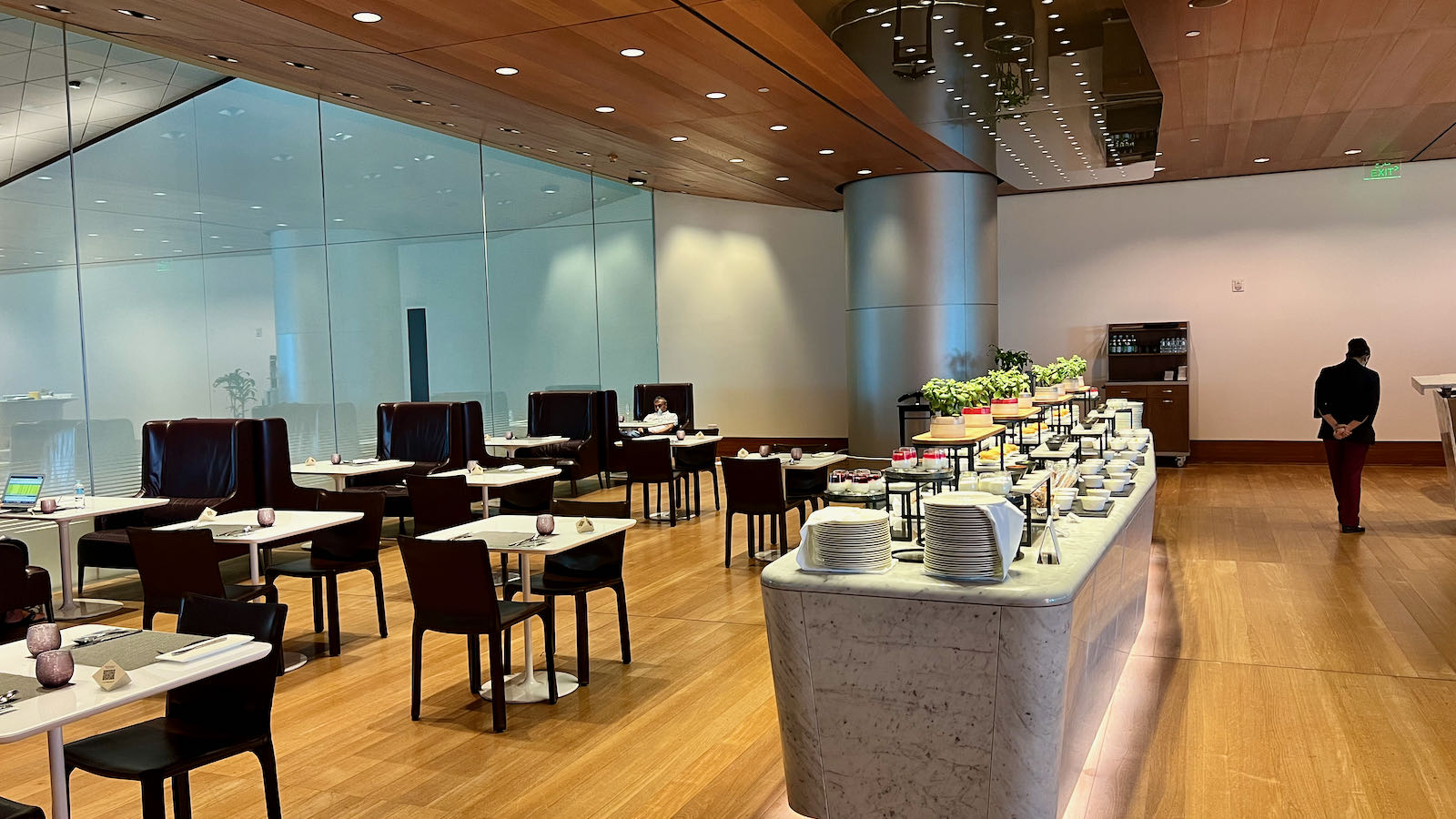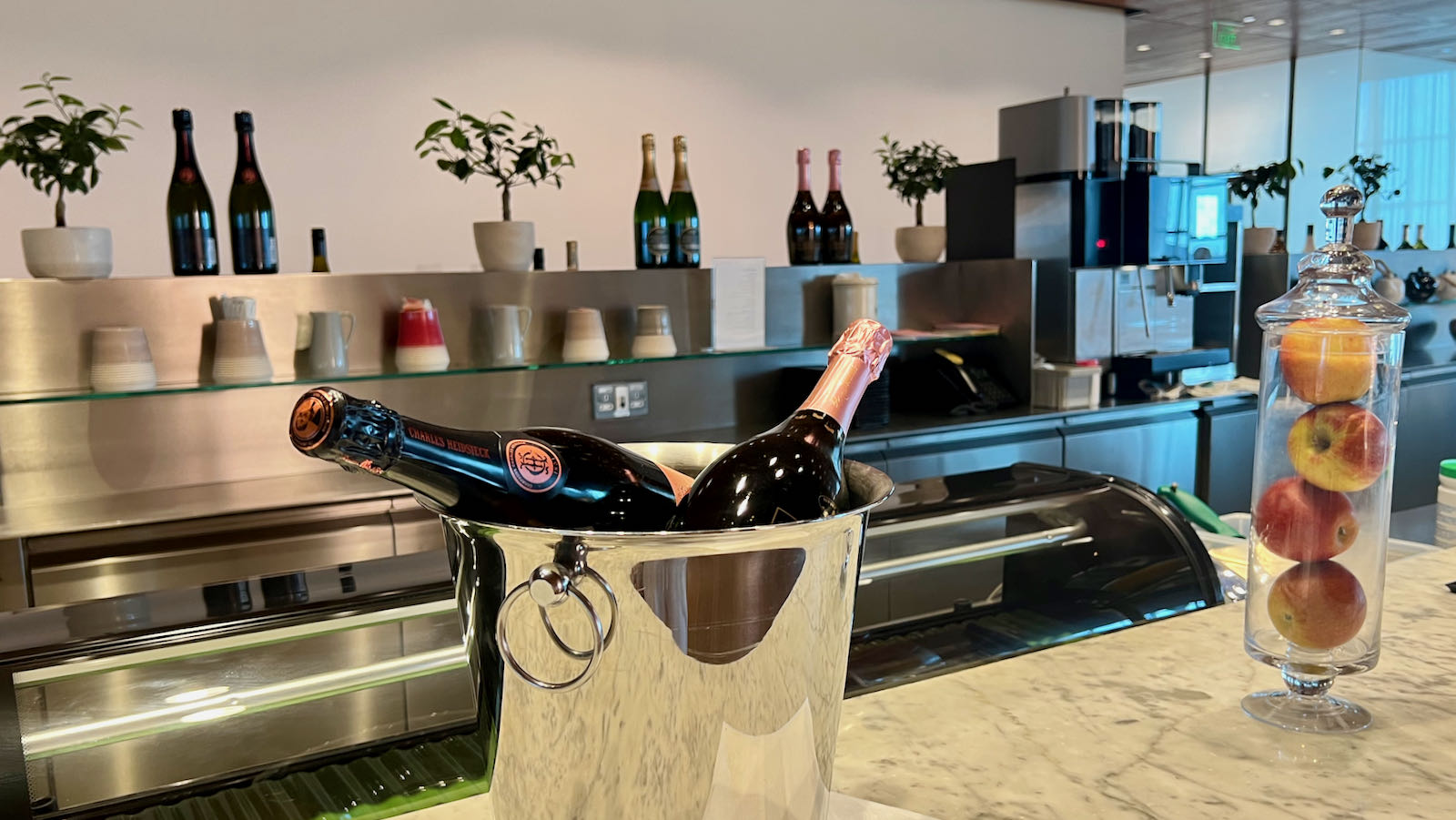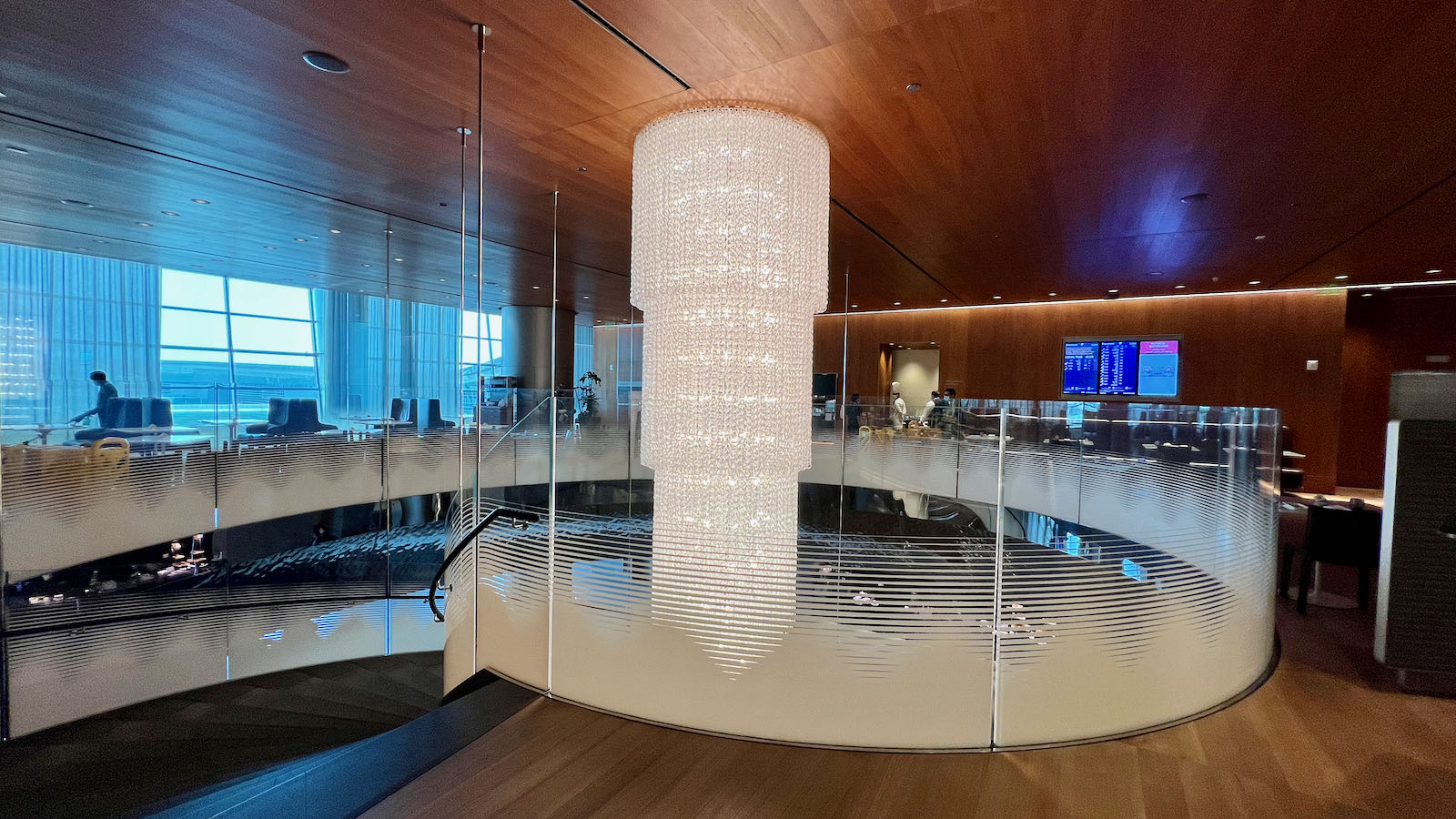 Royal Air Maroc 787-9 Business Class
When I fly in September '22, Royal Air Maroc has just returned to Doha after a pandemic-sized pause. There's an air of anticipation as I board the Dreamliner that will whisk me to Casablanca. Staff are visibly excited, and I share their excitement.
Suitably for Morocco's national carrier, the RAM Business cabin is awash with bold red and gold accents offset by a deep mauve. My suite on the bulkhead continues the theme, with two large and lovely windows (Dreamliner windows are my absolute favourite), a spacious seat and oodles of legroom.
Dressed in a jaunty uniform with Moroccan flair, the cabin crew are warm and relaxed. My penchant for Champagne has kicked into overdrive the past 24 hours, so I'm mildly shocked to be offered just water or sweet lemon juice before take-off. Naturally, once we're in the air I waste no time in requesting a glass of Laurent Perrier, which always goes down a treat.
Speaking of drinks, there are Moroccan wines and beer on offer, as well as traditional mint tea. If mint tea sounds like a bit of a snooze, it absolutely isn't. This beloved Moroccan ritual involves great skill and an element of danger. Indeed, I wouldn't be surprised if Moroccans undertake training from a young age to perfect it.
My crew member presents an ornate silver teapot with a curved spout and delicate etched glasses on a tray. She pours the scalding hot tea from a great height without spilling a drop, stopping the flow with a dramatic flick of her wrist. Folks, don't try this at home.
For dinner, I'm a little disappointed to find no Moroccan items on the menu (flying out of Morocco on RAM is a different story). But then, it's not as if I'm hungry. Business Class is all about indulgence, so I've been eating and drinking non-stop. I order the healthy baked salmon fillet, then convert my seat into a fully-flat bed for a wee nap.
With a flight time of just 7.5 hours from Doha to Casablanca, it's breakfast time before I know it. Outside my window, a magnificent sunrise is unfolding. I select the moving map on the large touchscreen. And there it is on the far left: magical Morocco!
Over the next hour, we fly over Naples, Sardinia and the Mediterranean, and then finally across Spain. I relish every minute. For an avid traveller, there's nothing better than seeing the world unfold beneath you. My cheese and mushroom omelette is delicious, but I can hardly steal myself away from the view.
We land in Casablanca. My 12-year-old self rejoices – and so do I.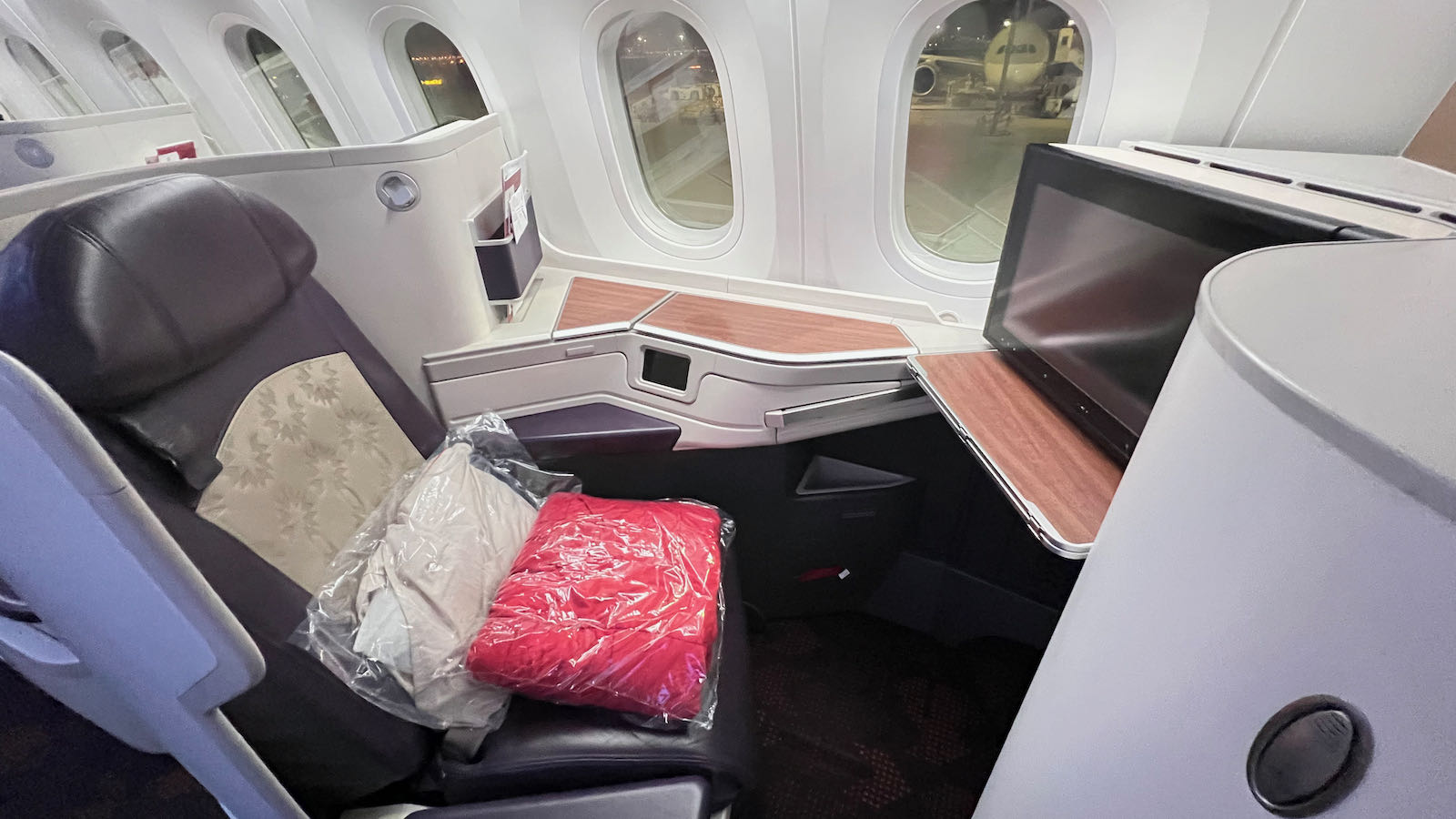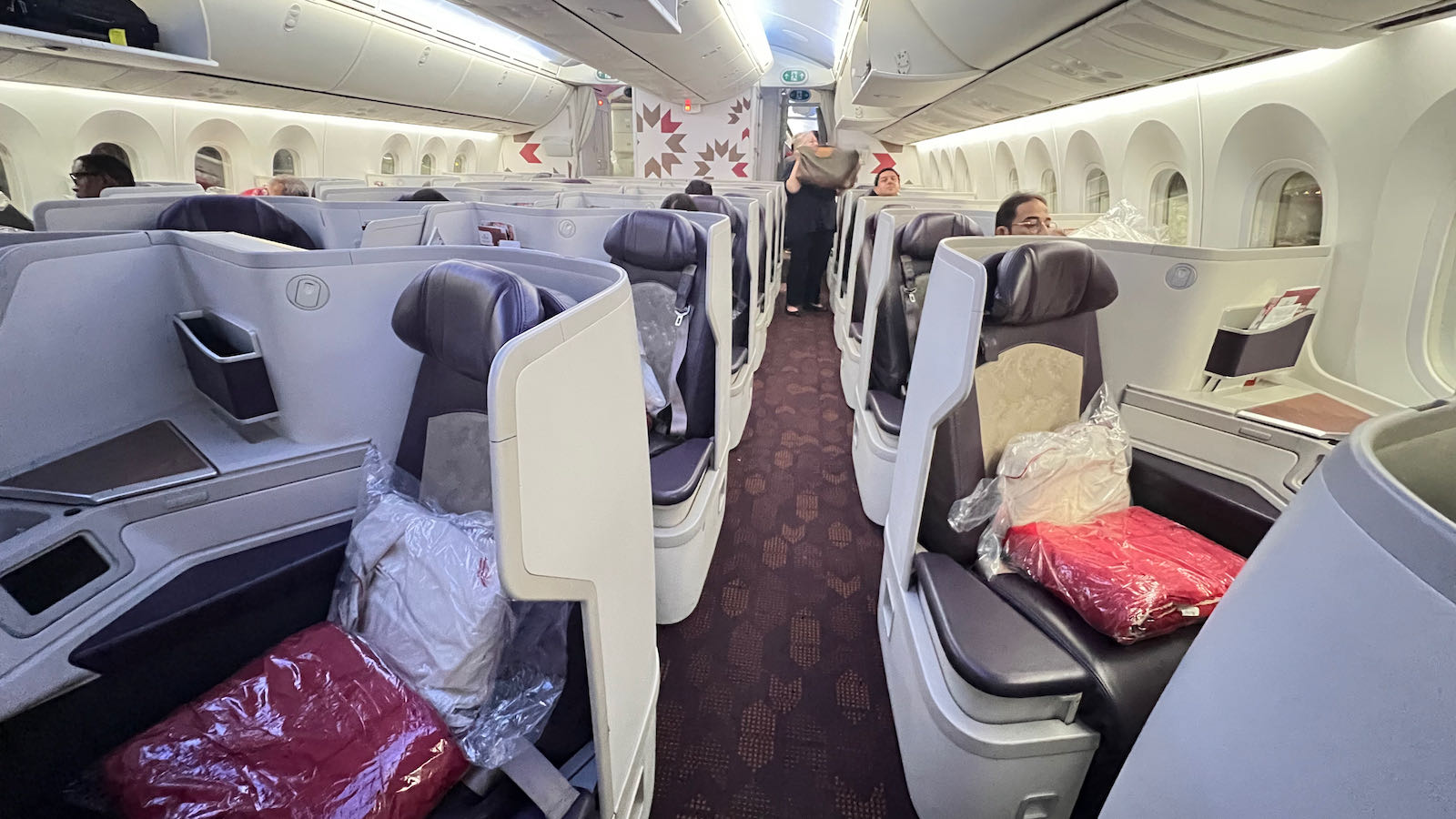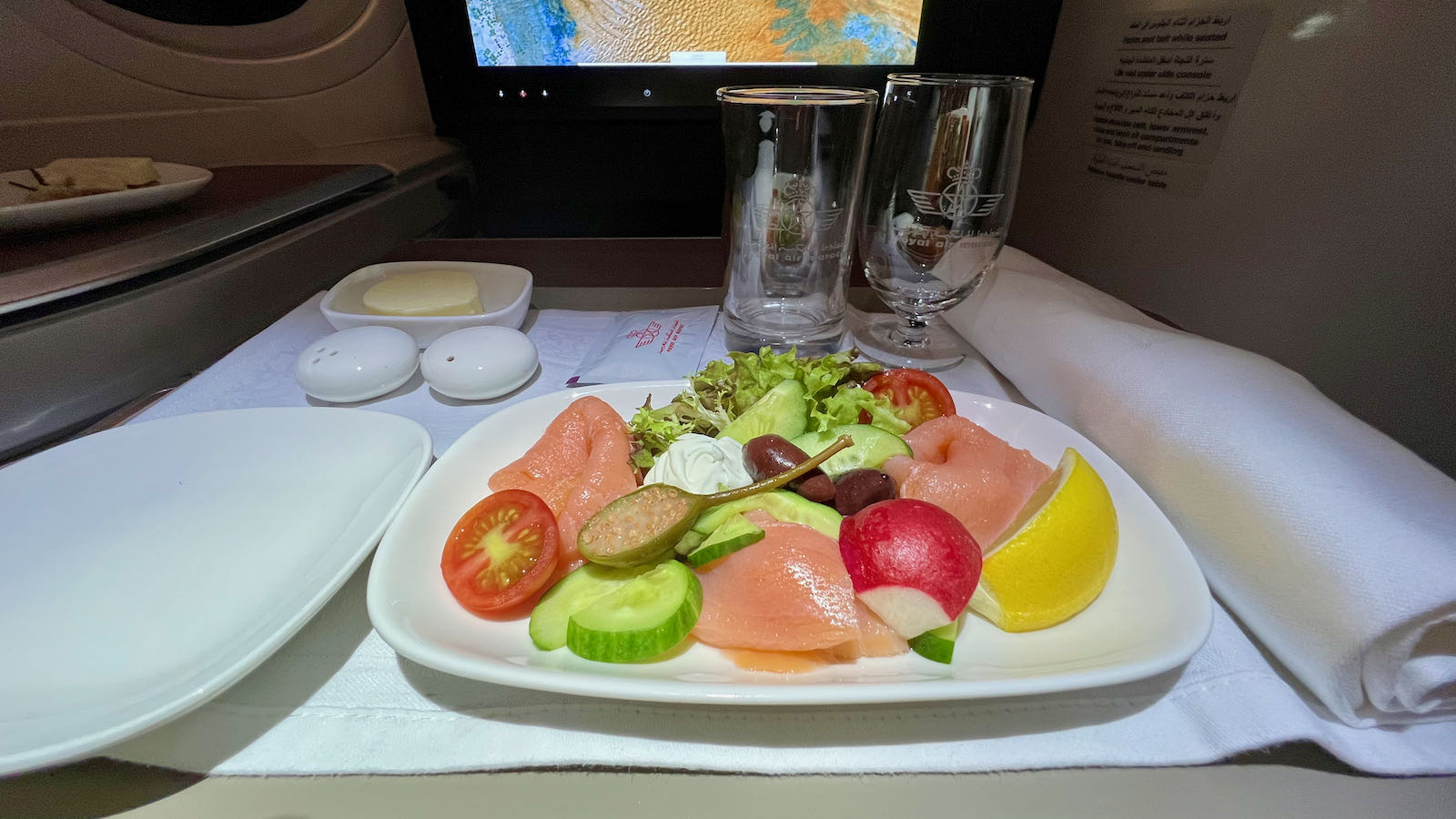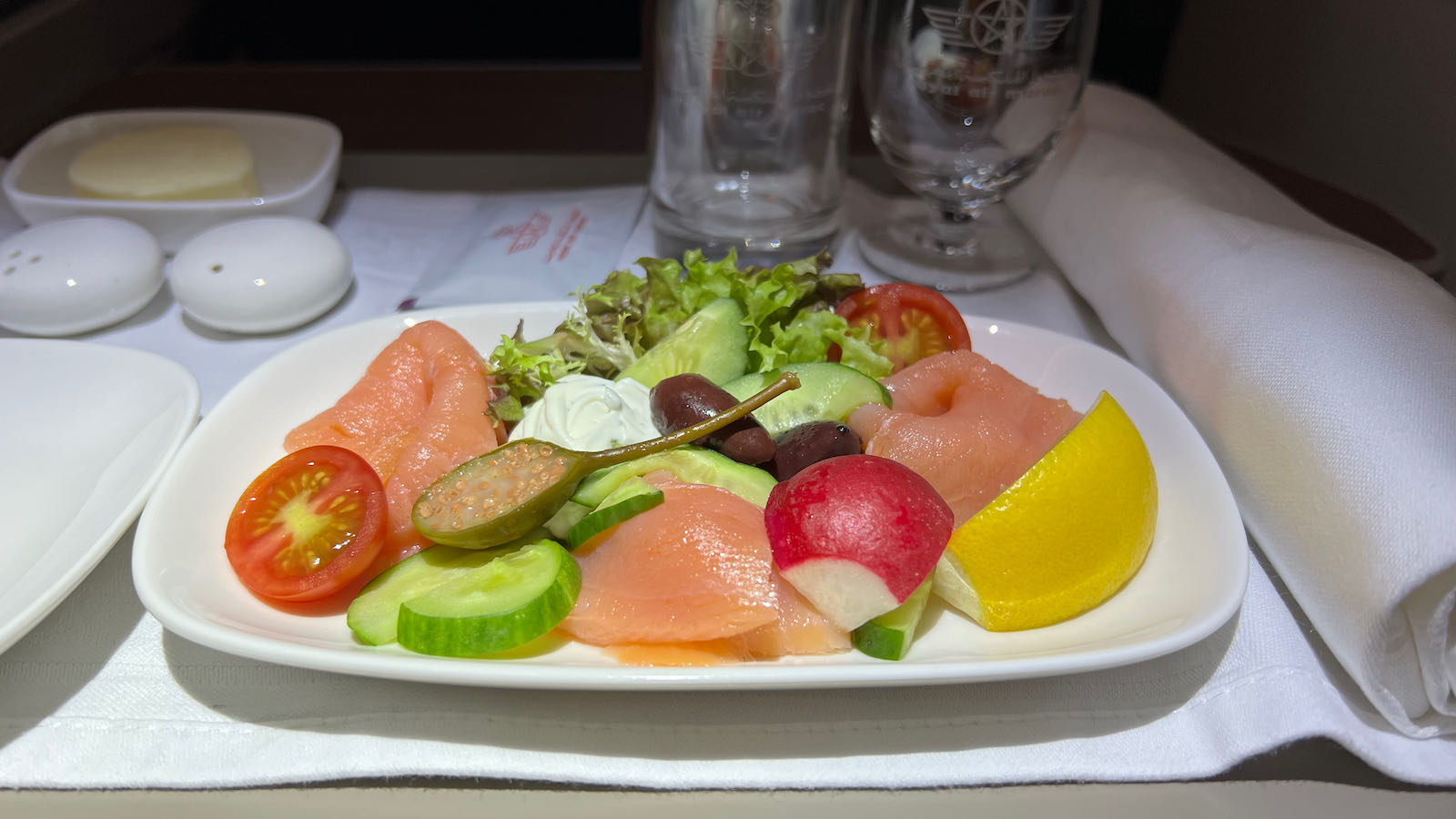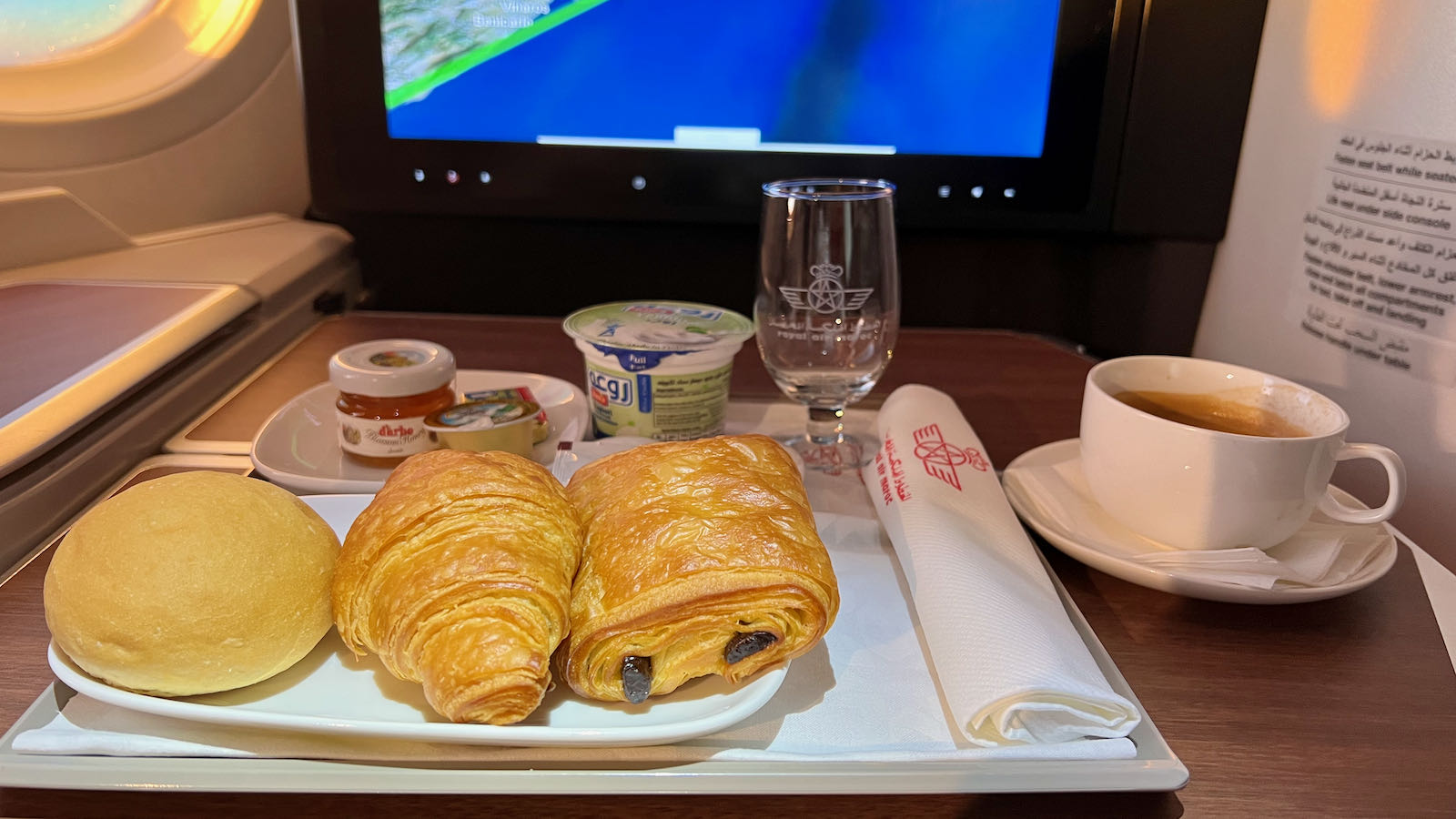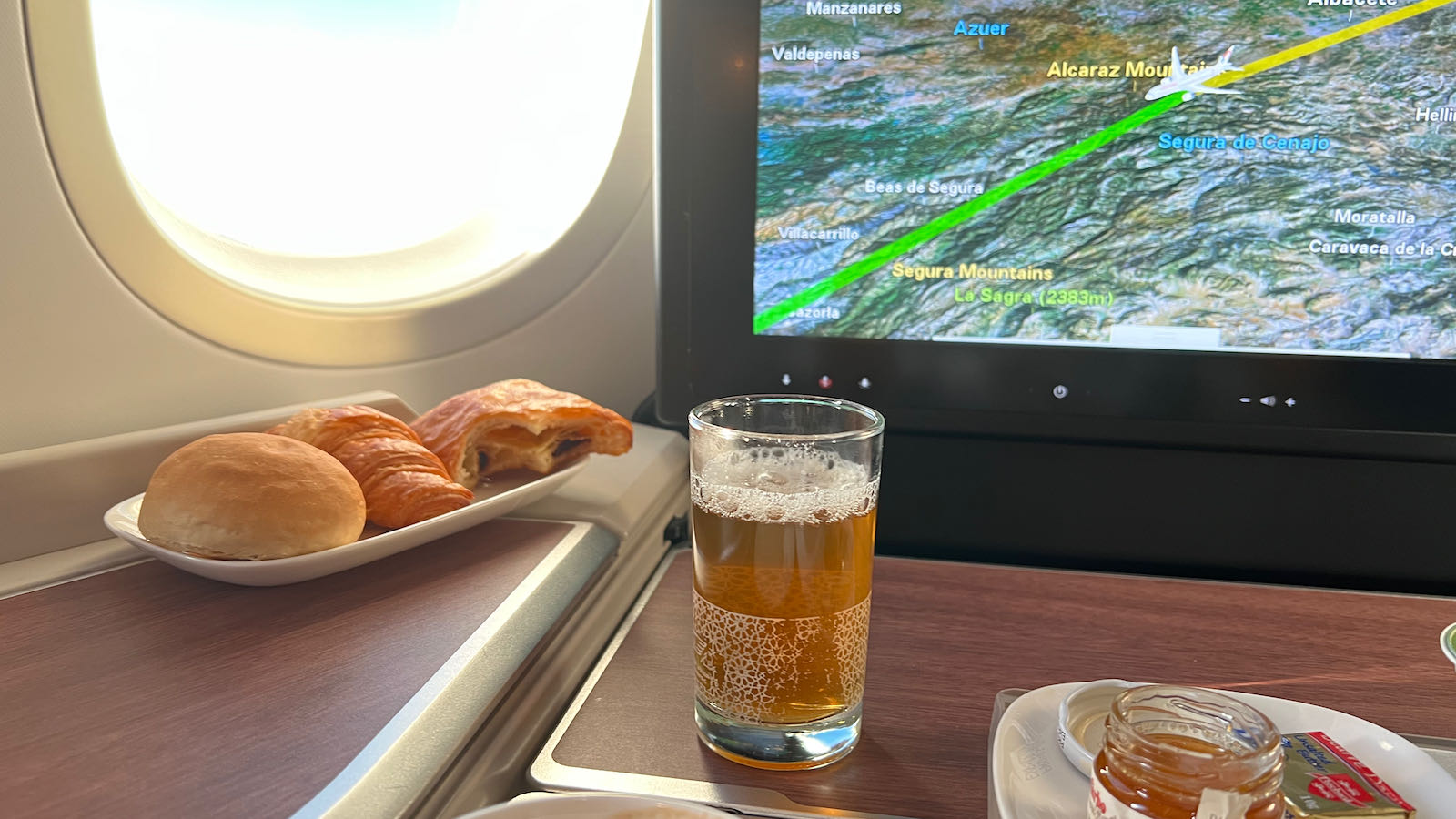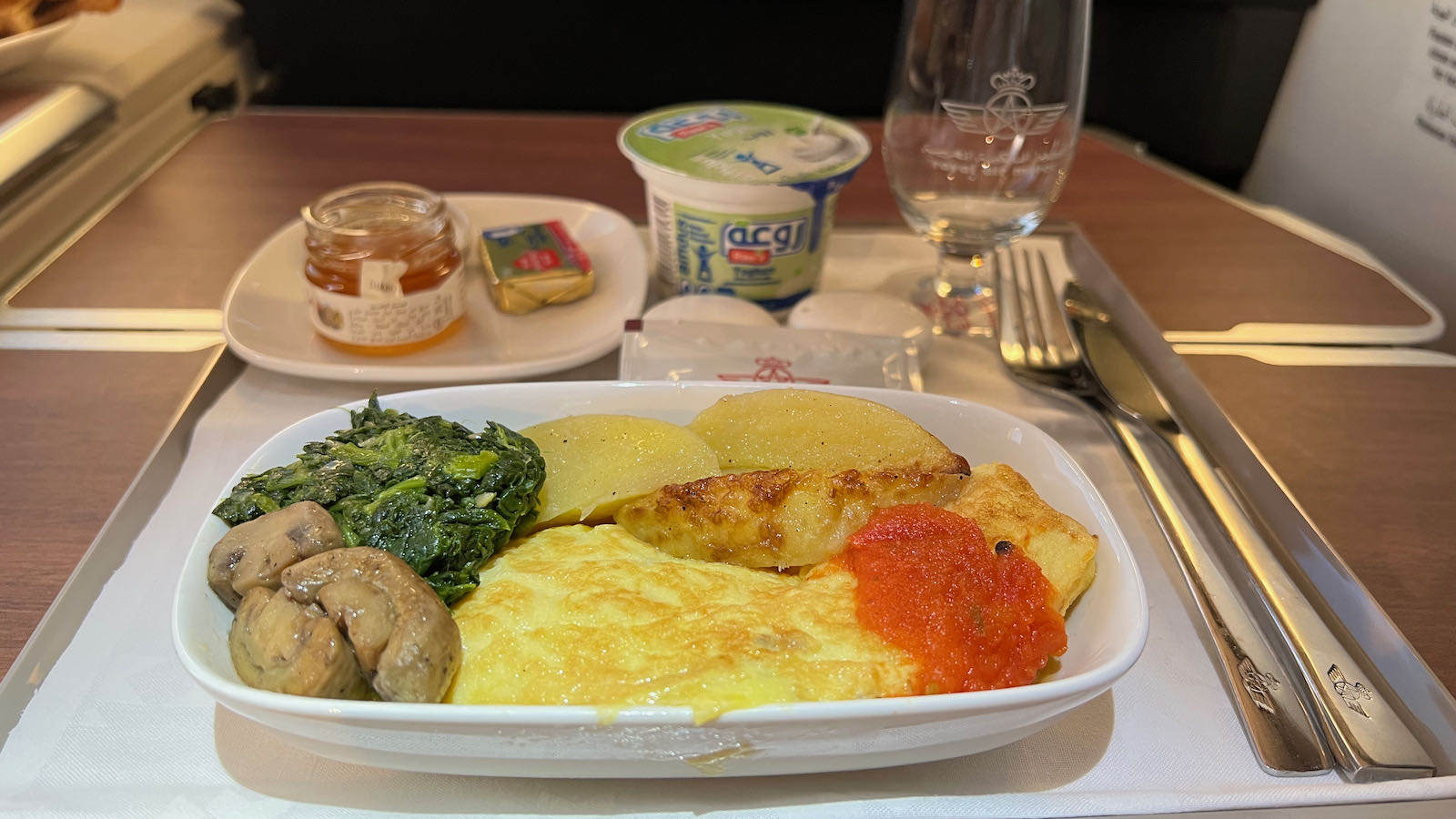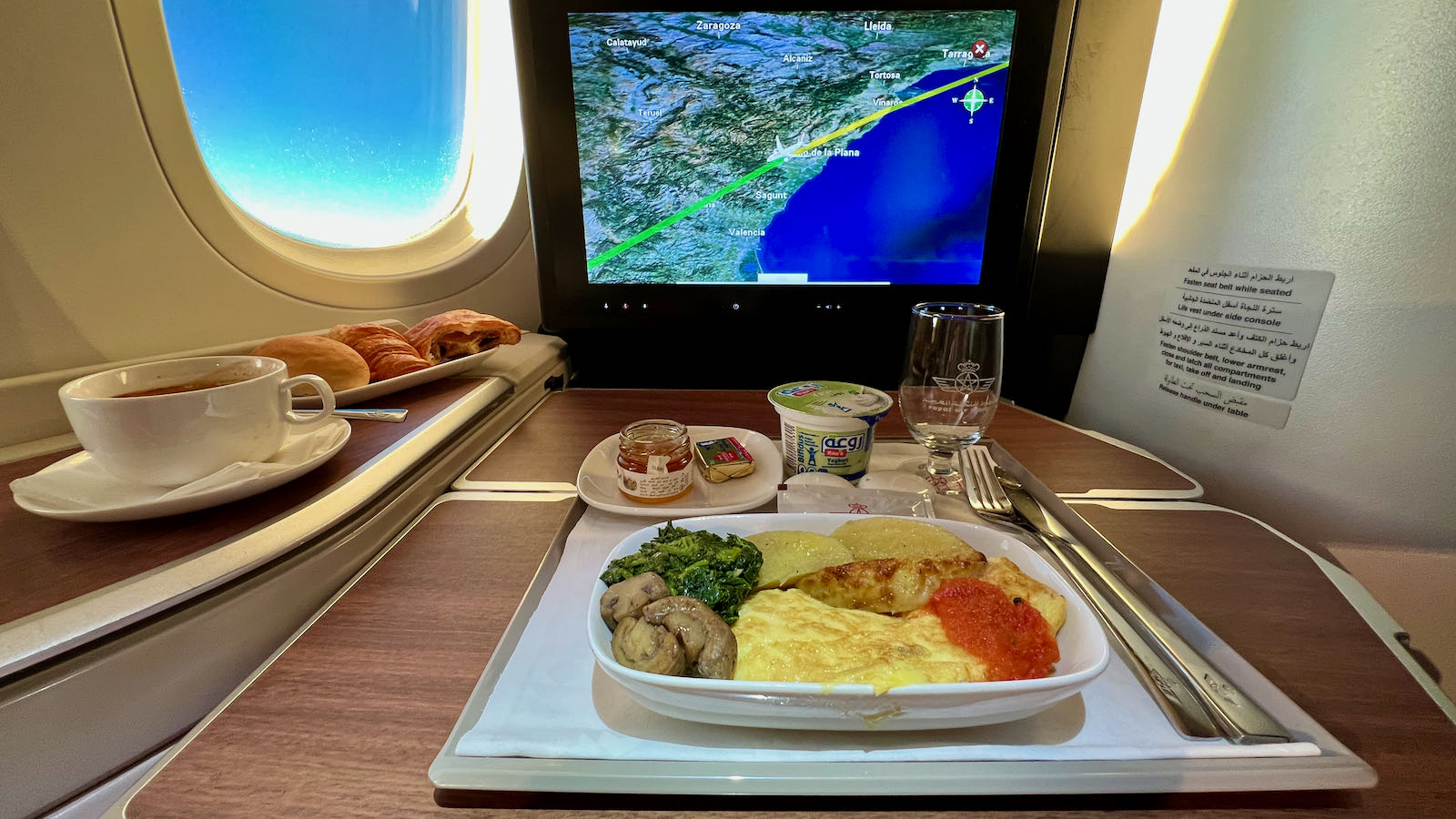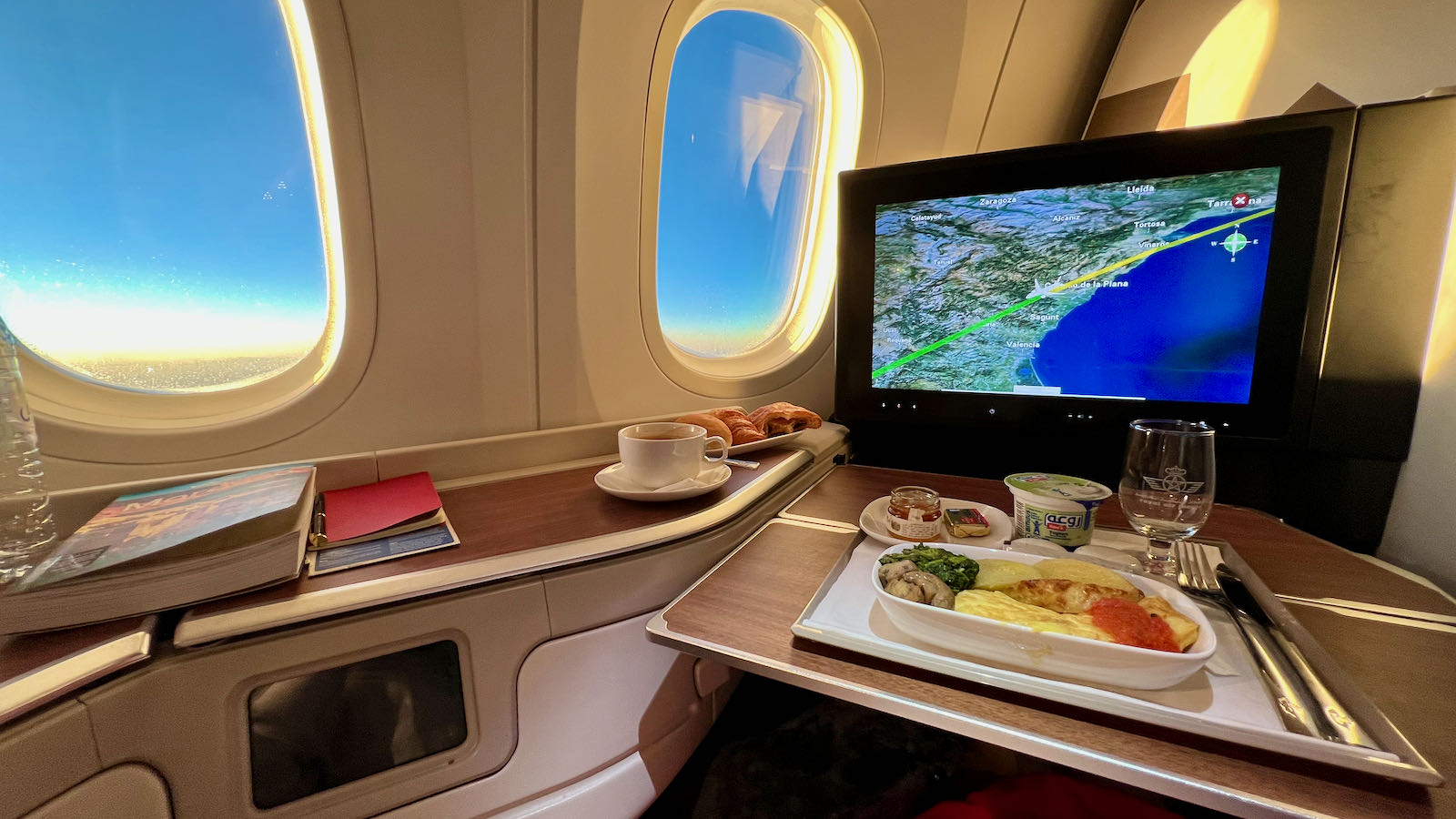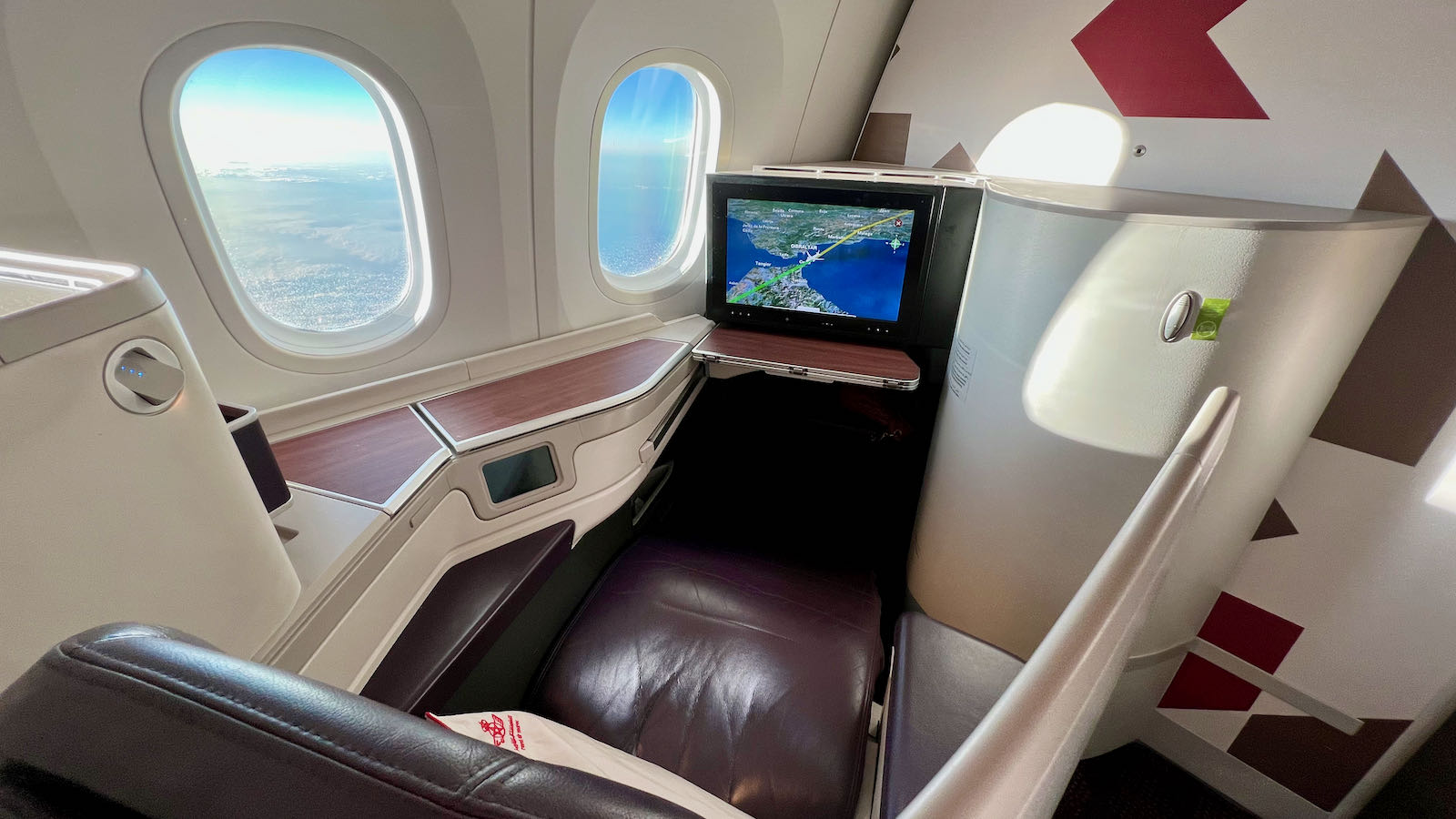 Flight 3: Casablanca to Marrakech in RAM Express Business Class
Marrakech is so close now I can practically smell the ras el hanout wafting in the air. The final leg of my journey is a short domestic hop on RAM Express' petite Atr 72. The plane is decidedly old-school, and the small Business Class cabin continues the theme.
With a flight time of just 26 minutes, it's the shortest flight I've ever taken. It's also the most spectacular. The scenery outside my window is jaw-droppingly exotic. Palm trees, vast brown desert, verdant oases with azure swimming pools… My lemon mint welcome drink and sweet Moroccan biscuits hardly get a look-in.
Landing in the Red City is everything I'd hoped for and more. Points have got me here, and points will take me home. In between, three days in glorious Marrakech.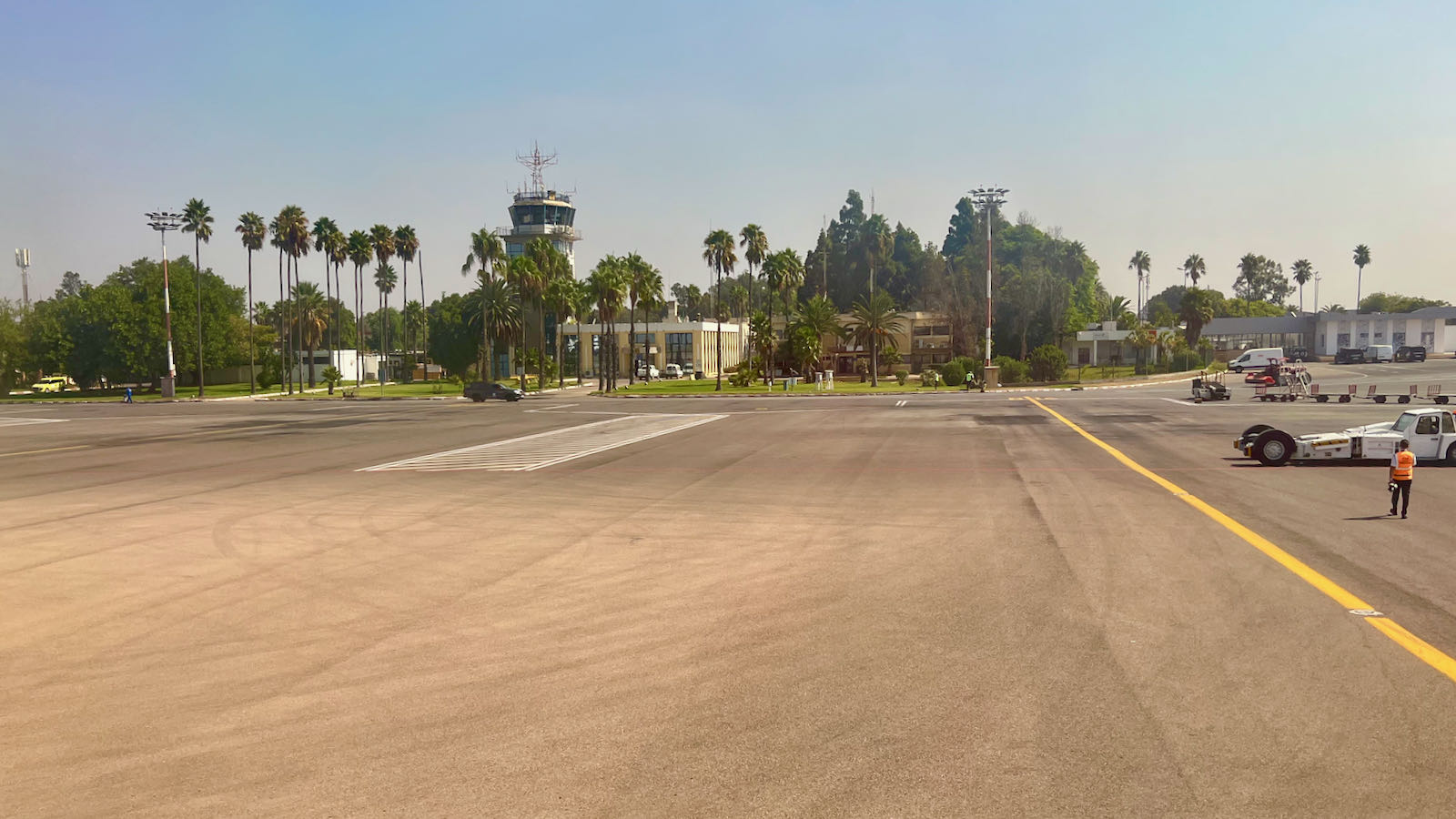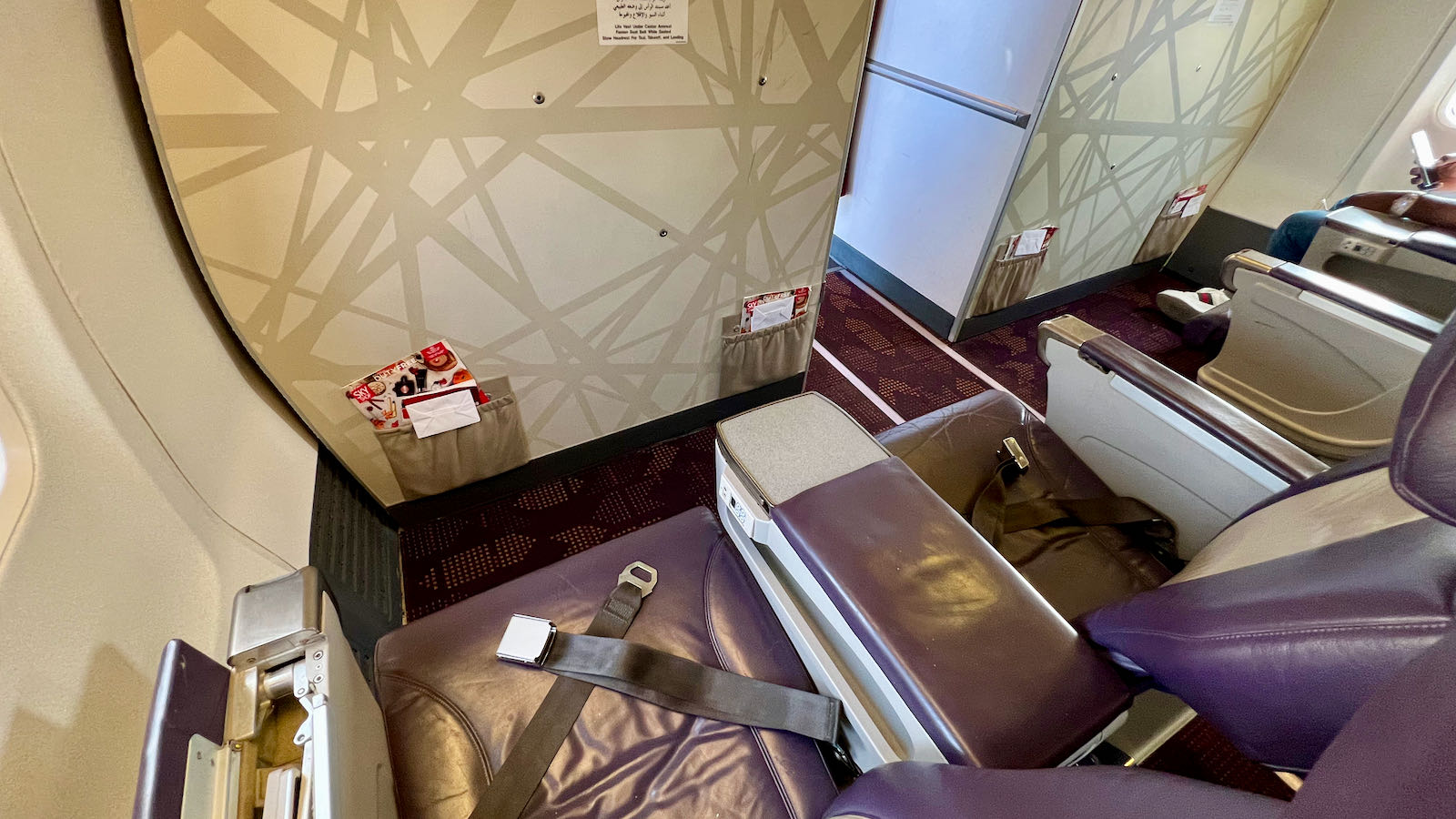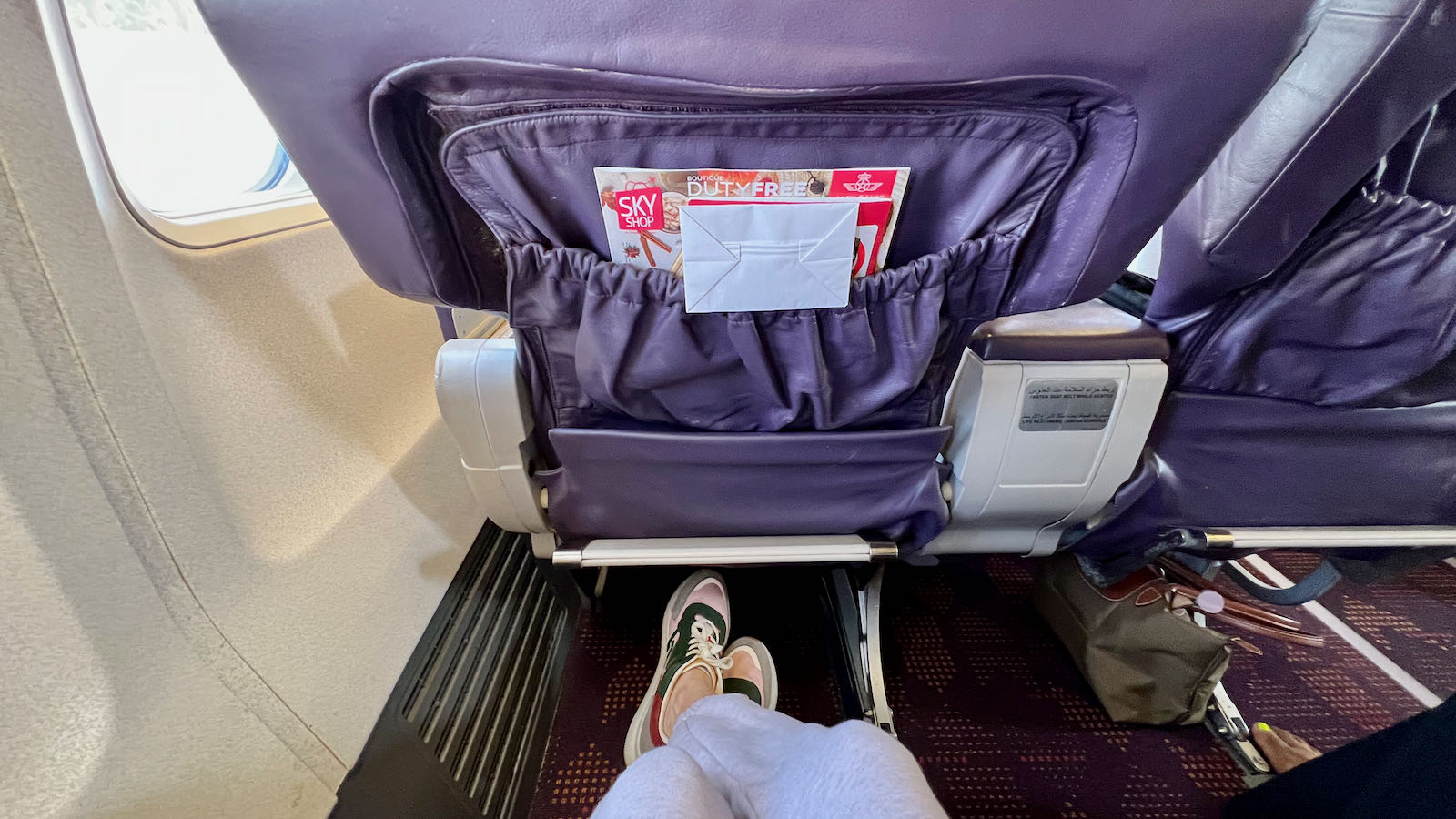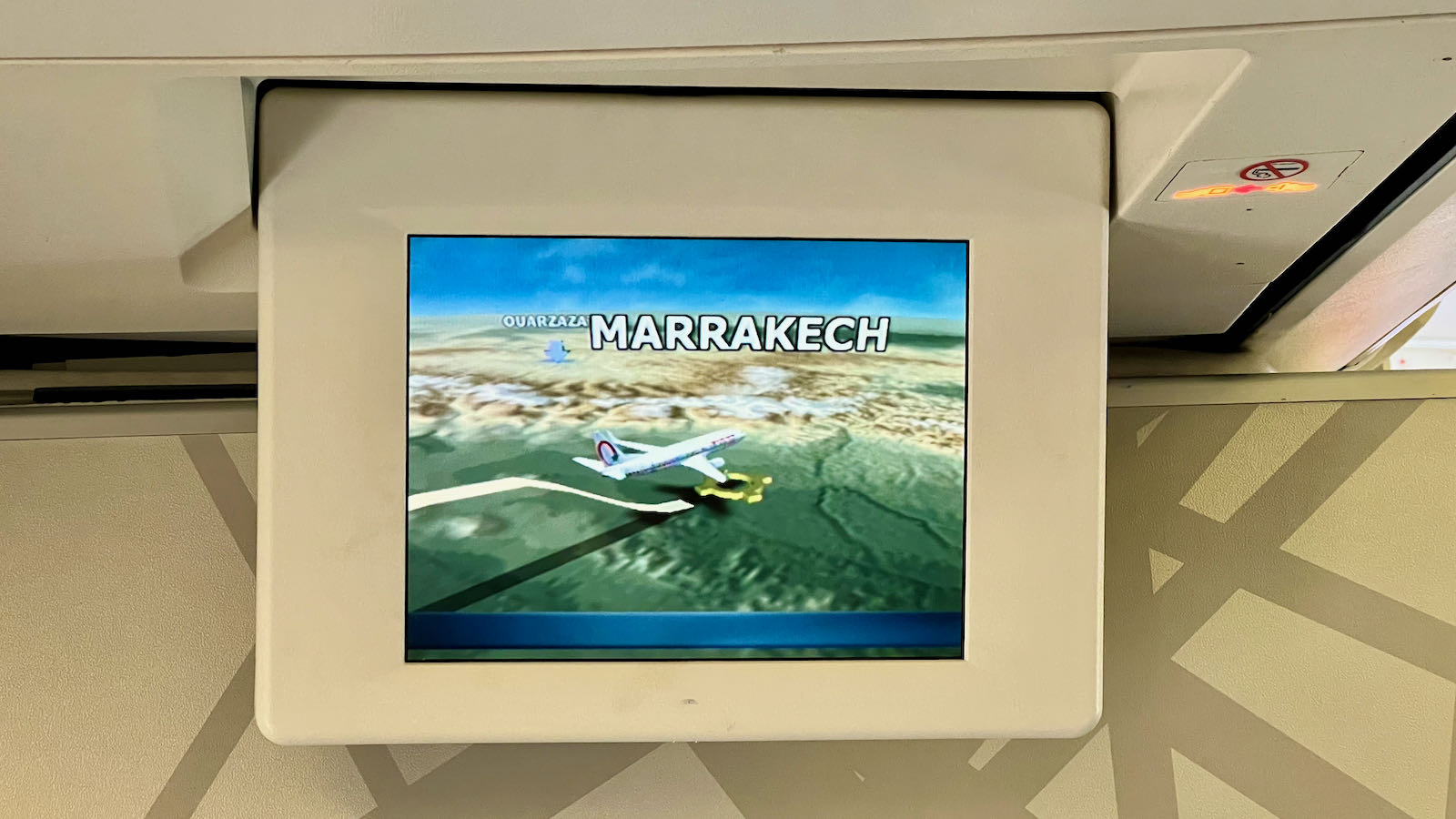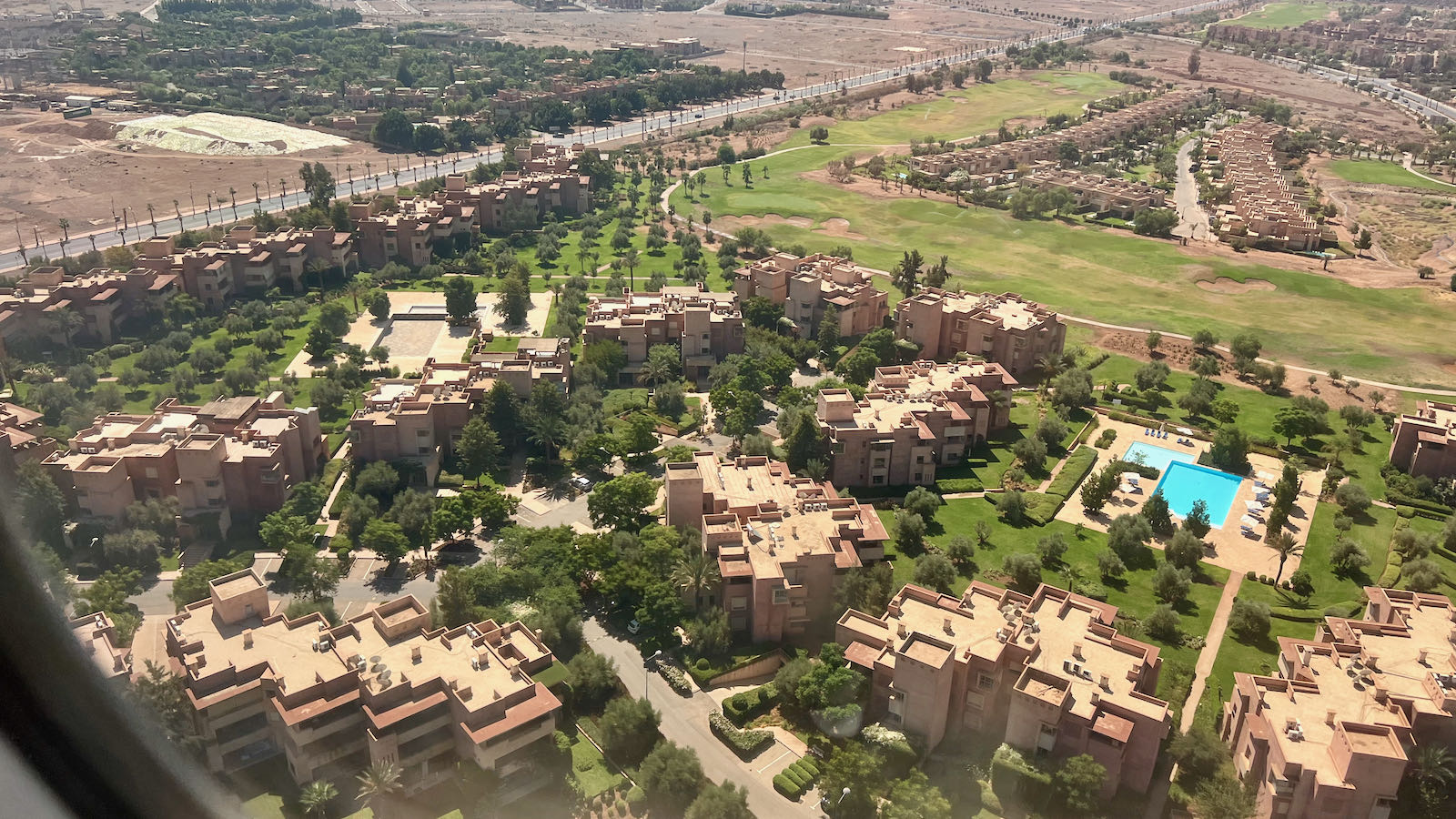 How to book
180,000 Qantas Points will jet you from Australia to Morocco in Business Class one-way, or 318,000 points return. (Flying return is relatively better value as the points are capped at the price of a oneworld round the world reward). Qatar Airways has higher carrier charges than some other airlines, so the fees and taxes for my trip total approximately $909 each way. But when you compare that to the eye-watering price of a cash ticket – $4866 one-way – flying on points is an absolute bargain. Which is why it's such excellent fun.
When I booked on the Qantas site in April 2022, there was decent reward availability in Qatar Business Class to Doha and then onwards to Casablanca. But as I mention above, Qatar premium reward seats are currently unavailable on the Qantas site. Though we hope the situation will improve in future.
Flying Royal Air Maroc from Doha to Casablanca was a late airline change. While Qatar Qsuites is certainly more luxurious, the authentic Moroccan flavour on RAM is hard to beat.
So, how do you earn 180,000 Qantas Points? Taking out a frequent flyer credit card with a stash of bonus points is the quickest way. Check out our featured deals below for some great offers.
And let's not forget Qantas Wine. I'm as passionate about fine wine as I am about fine food, so this app on my phone gets a (sometimes boozy) workout. You can earn up to 20,000 bonus Qantas Points on certain cases. And Points Club members like yours truly score three points per dollar spent plus free delivery.
There's really no downside to flying up the pointy end on points. And once you've tried it, it's very hard to go back.
Morocco, Mexico, the Maldives – the world awaits. So where will you venture next?
Also read: The Point Hacker's pocket guide to Morocco
Photography by Antonia Strakosch, who travelled, stayed and adventured at Point Hacks' expense.
Featured deals
Fly to exotic Marrakech on points
was last modified:
July 24th, 2023
by