Whether you are a relative newcomer to the travel scene or an experienced jetsetter, one thing we all have in common is that we want to get the best deal.
Whilst Point Hacks is generally focussed on getting the most out of frequent flyer points, sometimes award tickets are just not available or perhaps you want to save some of your points for a specific dream trip.
So when is the best time to book a flight? Skyscanner and KAYAK have both released their findings on how to get the best deal on flights, so we've dug through both to draw some more conclusions.
Why when you book your flight matters
With the cost of a return flight from Australia to the United States averaging $2032 this year, booking seven months ahead instead of closer to the date in order to save 23%, or $465, is no small change.
Airlines dynamically change their prices for the same flight on a given date based on how close you are to the date of travel and how well their forward bookings are doing.
Hard and fast rules are hard to articulate from your own personal travel, so the data from Kayak and Skyscanner is useful to understand general trends across many millions of flight prices to see when and how pricing changes based on a range of factors.
That example of a $465 saving is enough for a helicopter ride for two over the Grand Canyon, a family of four's entry to Disney World or 18 bottles of Absolut vodka at duty-free… and then some! So it's worth trying to figure out how to work with the system, instead of against it.
The rules to follow
According to these two websites, you can save the most money by following these general guidelines:
For international travel: 4 months before* (note that bold asterisk because it is highly dependent on the destination)
For travel to/from the East Coast & South Australia: 1 month before
For travel to/from Western Australia & Tasmania: 3-4 months before
The cheapest months to travel (in order): November, January and February
The most expensive months (in order): December, July and June


International travel
When to book
Whilst the prime time to book average four months ahead, here comes that bold asterisk with a breakdown for each destination (from the closest to travel date to furthest):
New Zealand: 6 weeks
Malaysia, Indonesia and Singapore: 2-3 months
United Kingdom and Europe: 2-4 months
India: 3-4 months
Japan and Thailand: 5-6 months
United States, China and Hong Kong: 6-7 months
If you are booking domestic flights within the US, Cheapoair says that 54 days is the magic number. They do note, however, that:
"If you are going somewhere incredibly popular at an incredibly popular time – like spring break in Florida, for example – you should book well before the 'prime booking window' (112 to 21 days prior to trip) even begins."
When to travel
Tuesday and Wednesday are the cheapest days to depart Australia on an international trip, with the best day to fly home being Monday, unless you are coming back from Europe, when Tuesday is the best day.
You can also save money by making the most of the low season, which is generally February to May and September to November (excluding school holidays and depending on the destination).
Domestic travel
When to book
You have got a bit more time up your sleeve for interstate travel within Australia.
The general rule is one month ahead for the East Coast and South Australia, with the exception of the Sydney-Brisbane route which is cheaper three months out.
With less competition on routes to and from Western Australia and Tasmania, three to four months is ideal for these destinations.
When to travel
KAYAK says in general it is cheapest to depart on a Friday and return on a Monday, but I find that hard to believe with business travellers creating a lot of demand on those days. You can see a lot of Tuesdays, Thursdays and Sundays popping up in the table below.


f
Use fare alerts
If you know you have a trip coming up to, say, New Zealand in October, but it is outside the ideal booking window of six weeks ahead, you can always have a look at the prices for flights in six weeks from now, then for set up a fare alert tickets for when you actually want to travel.
So, if we are in March now, Skyscanner's logic says a flight from Sydney to Christchurch should be cheapest towards the end of April or start of May. A search on Google Flights showed a return ticket at its lowest in the first week of May at $390, whilst the cheapest I found for October was $430.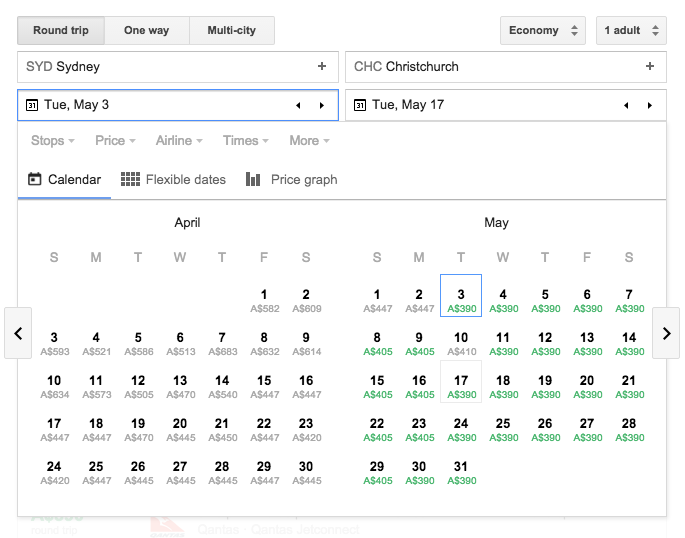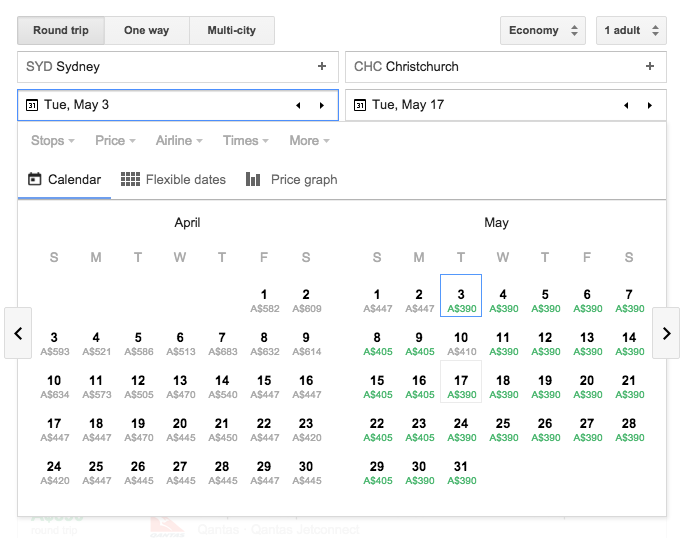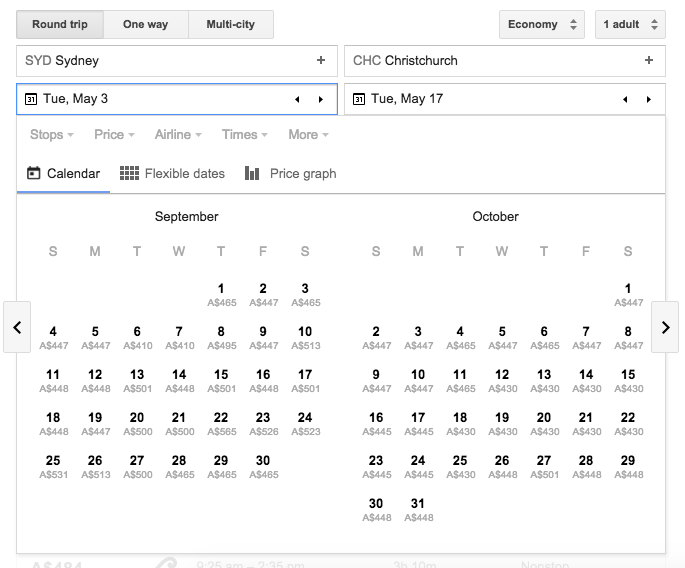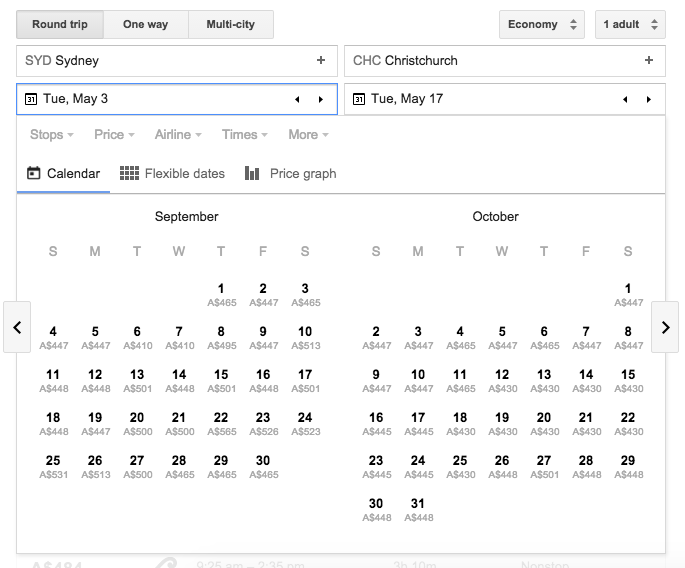 Skyscanner says the ideal time for me to book this trip would be in August or September (depending on my departure date as well as school holidays in October), so I could set up a fare alert for when prices drop under $400 for my desired dates. Then I am more certain I will not miss out on a cheap ticket being released prior to that six-week ideal booking window.
But maybe the cheapest ticket is not the best ticket
Choosing the best ticket needs to take into account the total journey time, number of stops, frequent flyer points earning potential and the airlines you prefer to fly with. In fact, Google Flights says 85% of their users select a suggested 'best flight' option over a cheaper one.
For example, one traveller going from Adelaide to Stockholm may choose the cheapest flight with Cathay Pacific and Lufthansa at $1438 with two stops and a total journey time of 37 hours.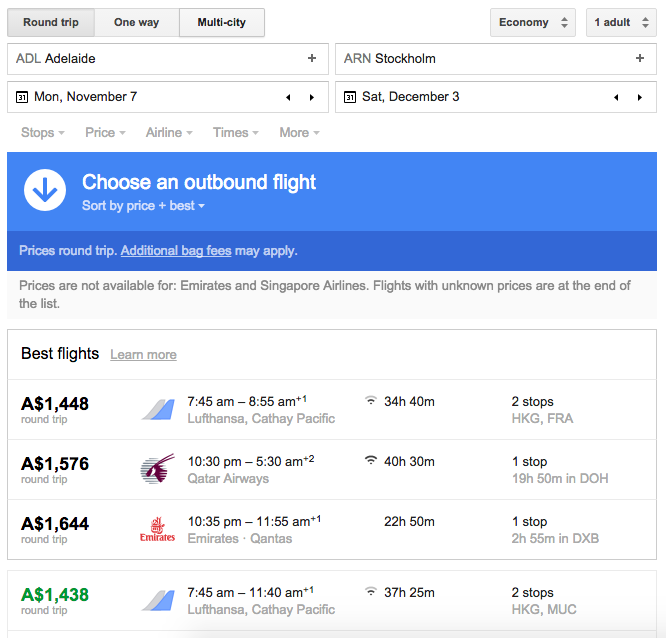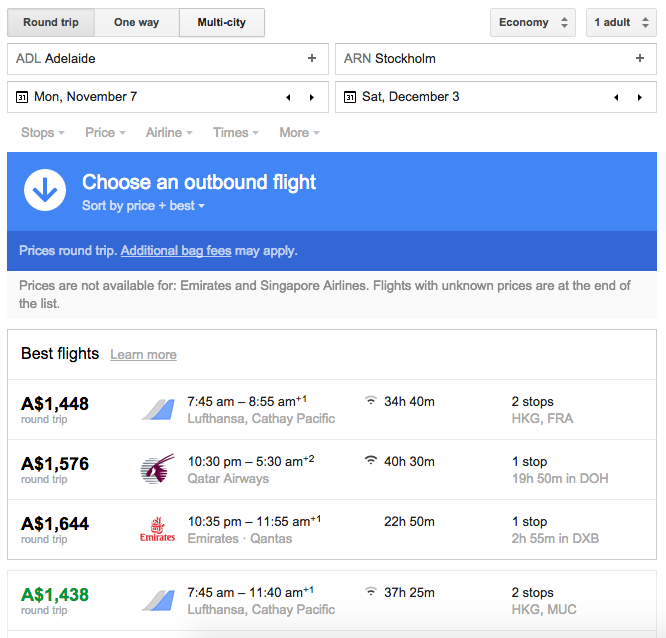 Another may pay $138 more to fly through Doha to take advantage of a 20-hour stopover (just like I will be doing on my way back from Austin to Sydney via South Africa in December).
Or a time-conscious traveller may pay $206 more to get there the quickest with a three-hour stopover in Dubai.
Summing up
Basically, it literally pays to do your research. Know when is the ideal booking period for your destination, set up a fare alert, and choose the flight that best suits your financial and time needs.
When Australians should book for cheapest flights
was last modified:
March 27th, 2017
by