Virgin Australia is offering a 20% bonus when buying Velocity Points until 29 June. This equates to around 1.95c per point at the top tier if purchasing the maximum 250,000 points.
The last time Velocity Points were on sale was in February 2019. 20% tends to be the largest bonus offered.
Buying Velocity Points might make sense when topping up your balance for a specific award redemption on Virgin Australia, or a partner like Singapore Airlines, Delta or Hawaiian Airlines.
This guide covers the latest Velocity buy points promotions, plus an example redemption. We also have a dedicated guide on how to buy Velocity Points here.
The essential info
If you are short of the required Velocity Points for a redemption, you can buy the remaining points needed online.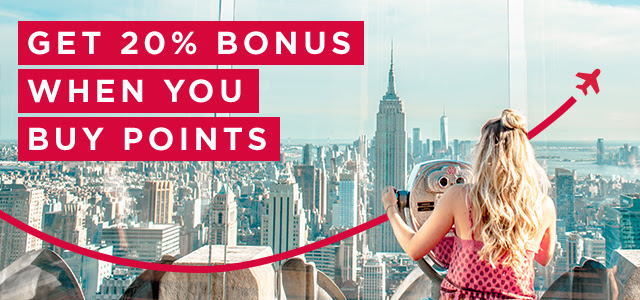 These are the key caveats:
Each purchase must be a minimum of 500 points
The bonus kicks in at 1,000 points
250,000-point maximum purchase per calendar year
The price per point varies according to the level
No limit to the frequency of points purchases up to the maximum
While you must tell Velocity how you think you'll be using the points that you buy, there is nothing that appears to hold you to this choice
With this promotion, if you purchase, say, of 10,000 points, you'll get a bonus of 2,000 points, meaning that each point is costing you 2.7c each. That is above what we value Velocity Points at (1.9c each), so I wouldn't recommend buying points at this level specutatively.
However, if you buy the maximum of 250,000 points with a 50,000-point bonus, then that drops the per-point price down to 1.95c each, which is much more reasonable.
Note: Velocity Points expire after 24 months of inactivity in your account, so make sure to keep your account active by earning/redeeming points regularly.
An example redemption
One of the best uses of Velocity Points is for flying Business Class between the East and West Coasts of Australia for 35,500 Velocity Points one-way.
Virgin Australia A330 Business Class
If you had, say, 20,000 Velocity Points already in your account, you could top up with 15,600 points for $399 under the current promotion. Note that you'll need to pay taxes and charges on any award redemption.
Offer history
Sometimes Velocity offers a bonus and sometimes a discount.
| Month | Bonus | Discount |
| --- | --- | --- |
| May-June 2019 | 20% | |
| February 2019 | 20% | |
| August 2018 | | 15% |
| April 2018 | | 15% |
Summing up
Make sure there is award availability for the redemption you are eyeing off. Then you can purchase the points needed to top up your balance.
We aim to get at least 1.9c per-point value from Velocity Points. Therefore, I would suggest you only buy points for a specific redemption rather than speculatively.
For other ways to earn Velocity Points, check out this guide.
Buy Velocity Points with 20% bonus: does it make sense to buy?
was last modified:
August 6th, 2019
by