Virgin Australia launched this route in mid-2017 with award seat availability difficult to find. Fortunately, the airline released last-minute seats to get me home after my holiday was cut short.
Overall, this is a good Business Class product that gives Qantas and Cathay Pacific a run for their money.
Update: Virgin Australia will cease all flights to Hong Kong from Melbourne from 9 February and Sydney from 2 March 2020. This review has been left up for informational purposes. It will be the same product that is flown between Brisbane and Tokyo from 29 March 2020.
Research & booking
The cost for this trip was 59,500 Velocity points + ~$78 in taxes one-way. At the time of writing this review, the retail cost of this ticket was around $4,200-4,800, giving me at least 6.9c per-point value, which is more than triple the value we put on Velocity Points.
For this particular redemption, a Carrier Charge of $50 is added one-way.
As an American Express cardholder, I transferred 59,500 Membership Rewards points to Velocity for this one-way trip. You can also book it for 64,000 Singapore Airlines KrisFlyer miles.
Boarding Experience
My flight was on New Year's Day, so it was busy with 19 of the 20 seats occupied. The cabin crew were in a festive mood, wearing fluffy ears and warmly welcoming the passengers. Announcements were made in English, Cantonese and Mandarin.
The flight attendants went to each passenger, crouched to eye level—very Singapore Airlines—and introduced themselves, swapping stories about New Year's Eve celebrations, and handing out amenity kits and pyjamas.
Virgin Australia's 'The Business' seat & cabin
The cabin was spotlessly clean but there were some signs of wear and tear—I guess being a workhorse for East Coast – West Coast routes had taken a toll. However, the purple and dark mood lightning was great.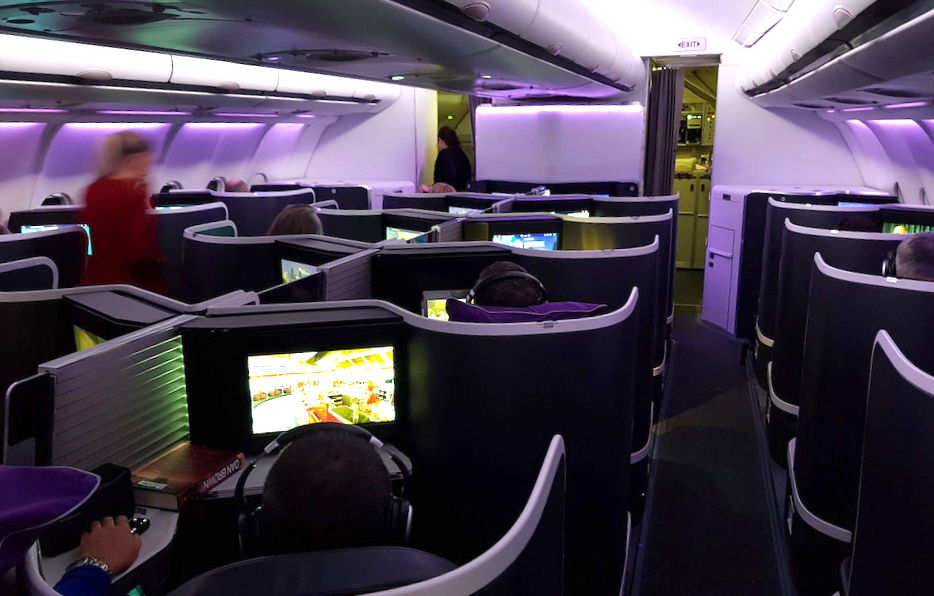 Although the layout is similar to Cathay Pacific's Business Class, Virgin Australia's The Business seat felt much tighter and the cubby hole smaller.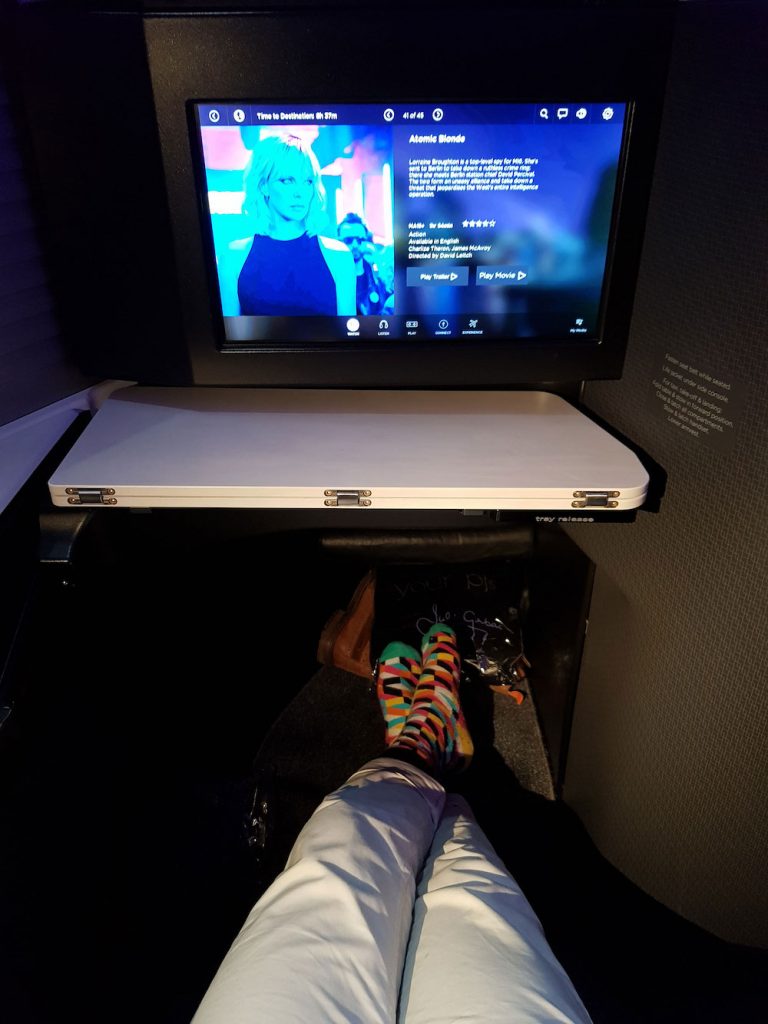 The seats were comfortable and I had one of the middle seats, sharing my space with a stranger, however, the privacy screen worked well, so there was no awkward eye contact.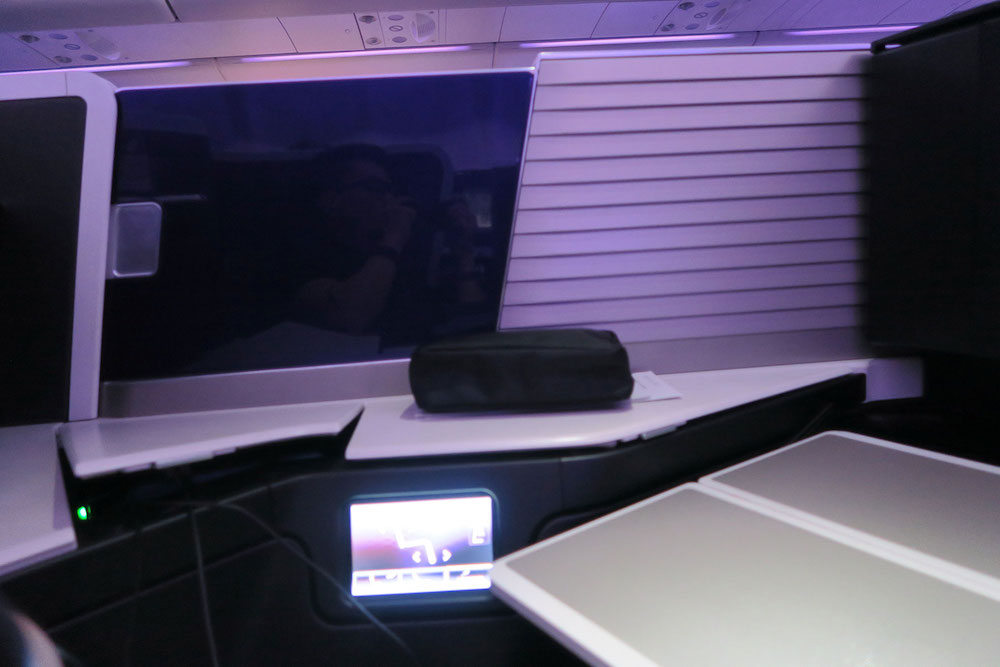 There was storage for my phone, wallet and charger. The armrest opened up and tucked inside were a bottle of water and headphones.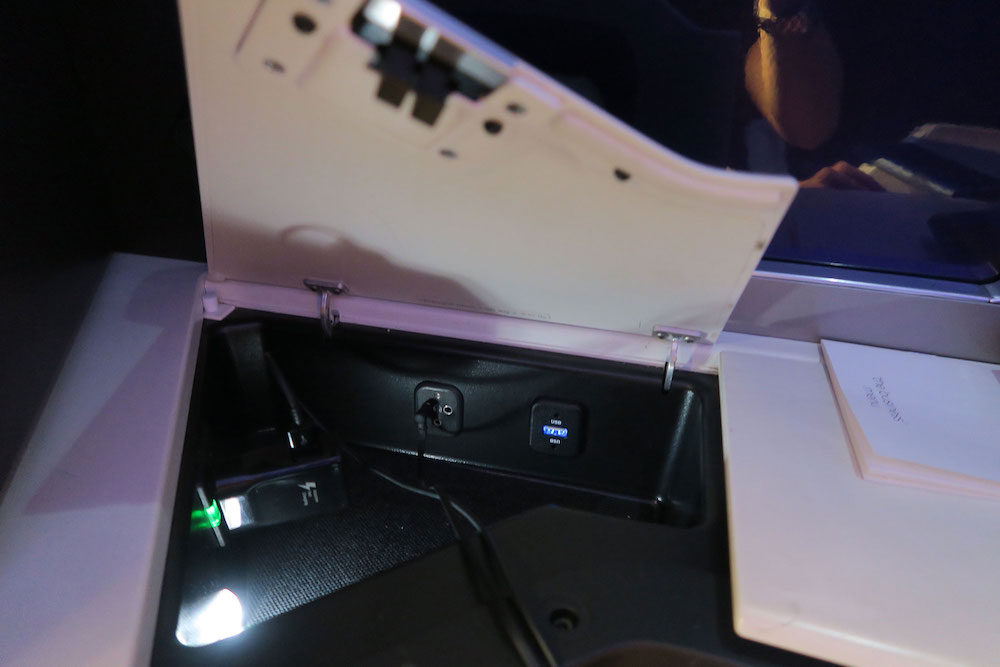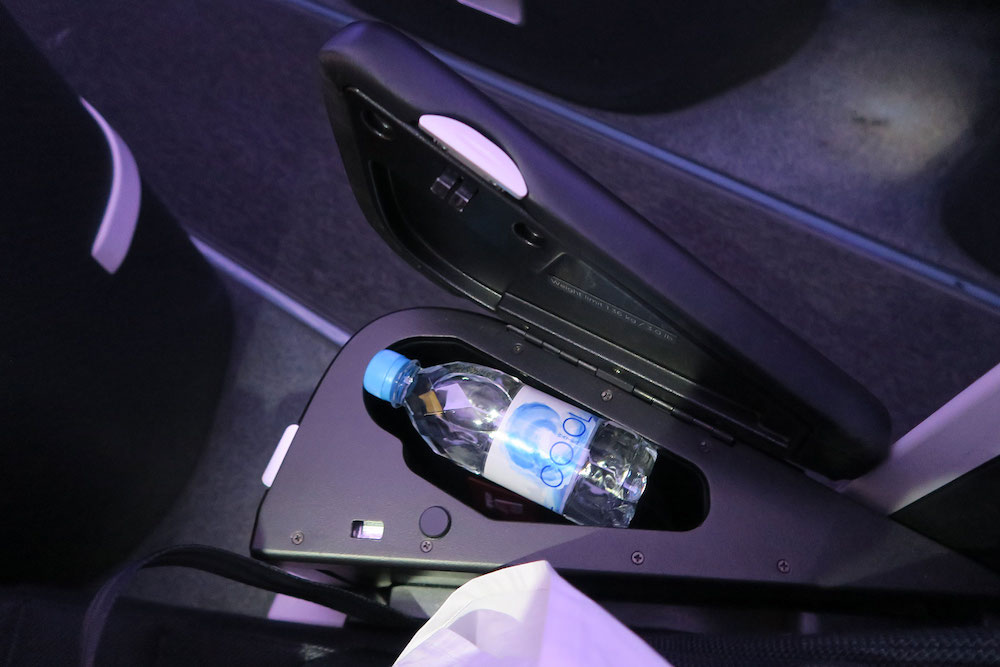 The seat control on the LCD screen is intuitive and easily adjustable.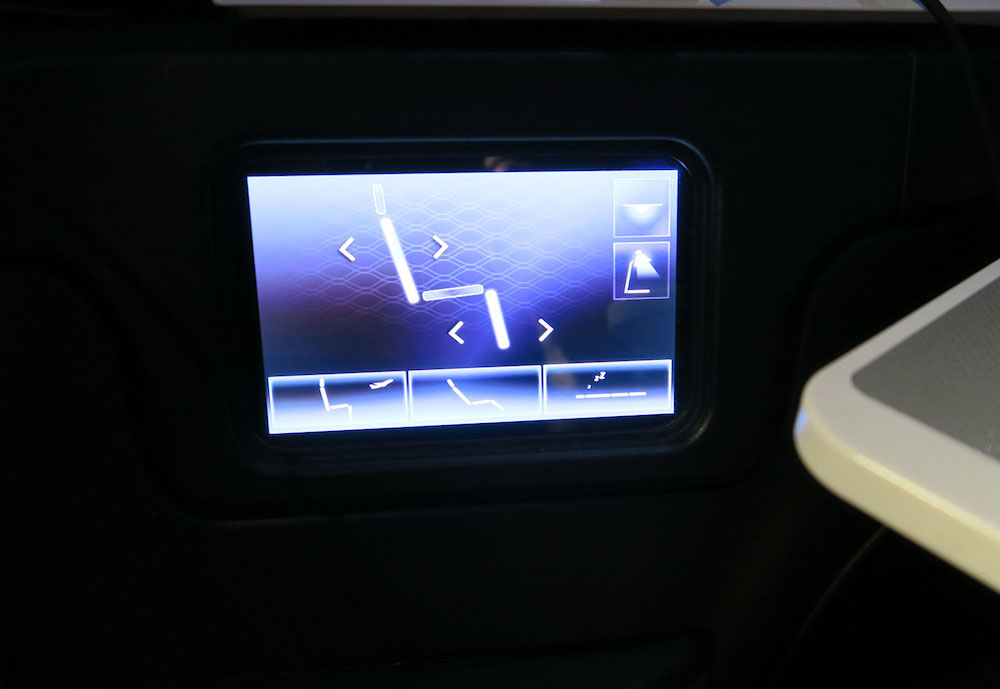 After dinner, I asked the flight attendant to make up my bed—it did feel a bit tight and I am not a big or tall person.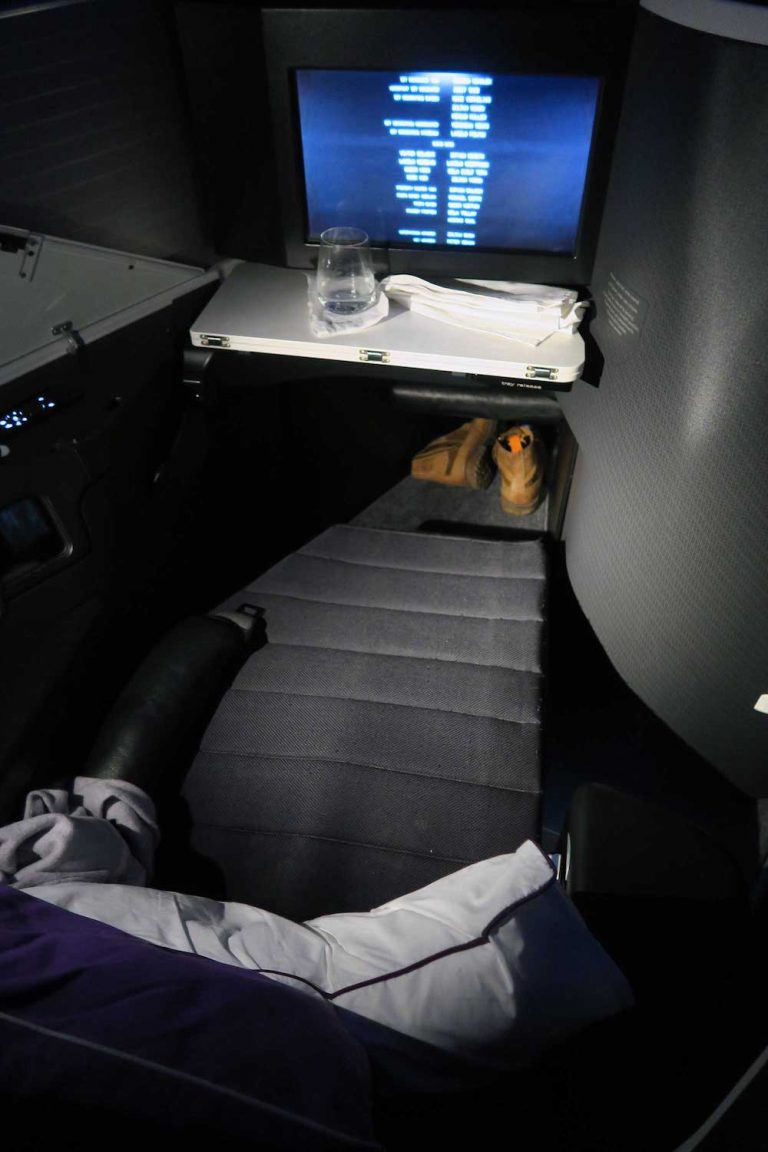 The bedding and duvet made the bed comfortable, however, the cabin temperature was set for a sauna and made it impossible to have uninterrupted sleep because I constantly woke up with sweat around my neck and chest.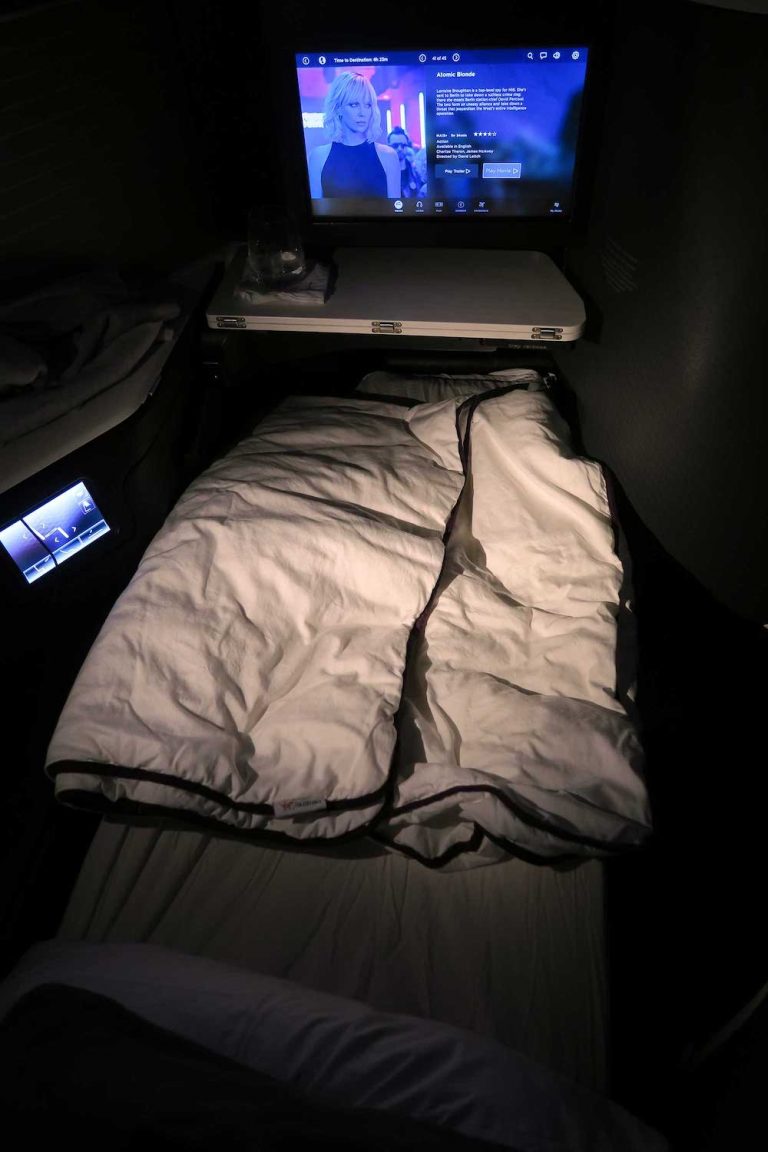 Inflight entertainment
The monitor screen was slightly small—maybe I've flown First Class too often, ha!—and featured a small selection of current Hollywood releases and TV shows. For comparison purposes, I did not find it as extensive as Singapore Airlines' entertainment system.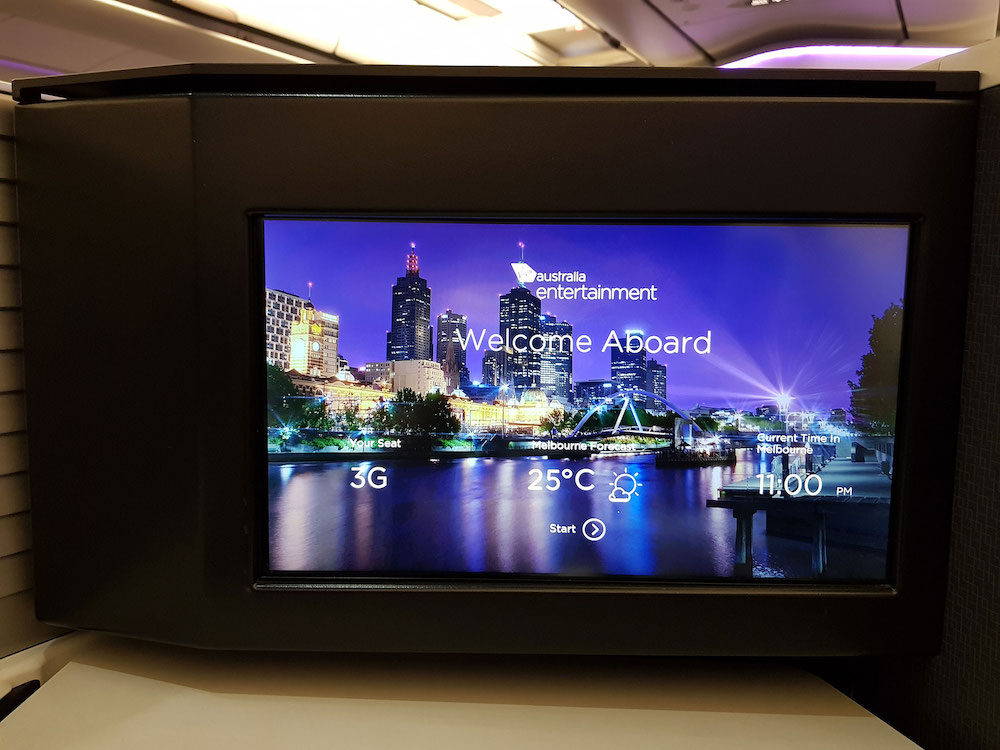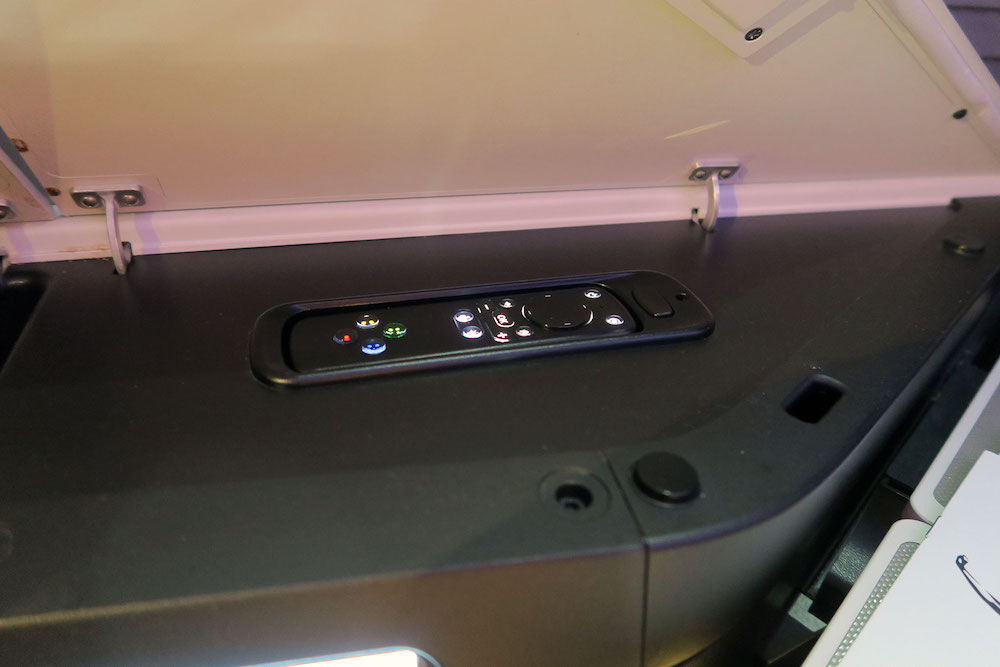 Service: Food & Drink
The menu looked great and two meals were served on this eight-hour flight—dinner and breakfast. There were both western and Asian options and, considering this was Business Class, it surprised me to see three starter and four main courses options.
For passengers who wanted to go to sleep early, there was an express dining option.
At the back is a small snack menu, in case you get hungry during the flight.
For starter, I ordered the salted pork soup with silken tofu, bamboo shoots and ginger, which was delicious.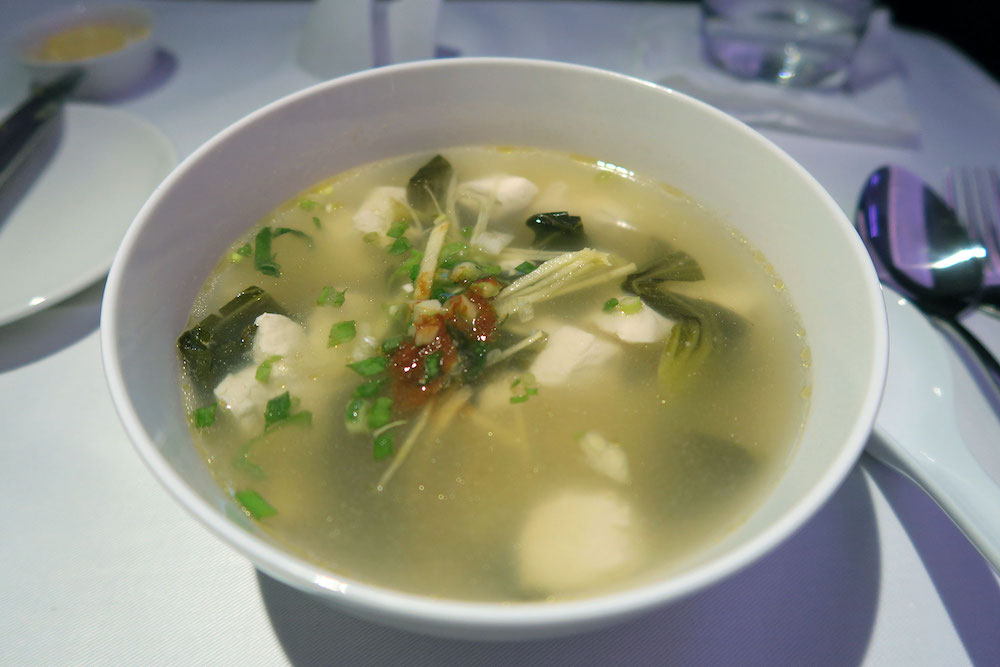 For my main, I ordered the BBQ roast duck with vermicelli noodles and mustard greens. The chilli was not spicy—it just added colour to the dish. The duck meat was succulent, which you would expect flying out of Hong Kong.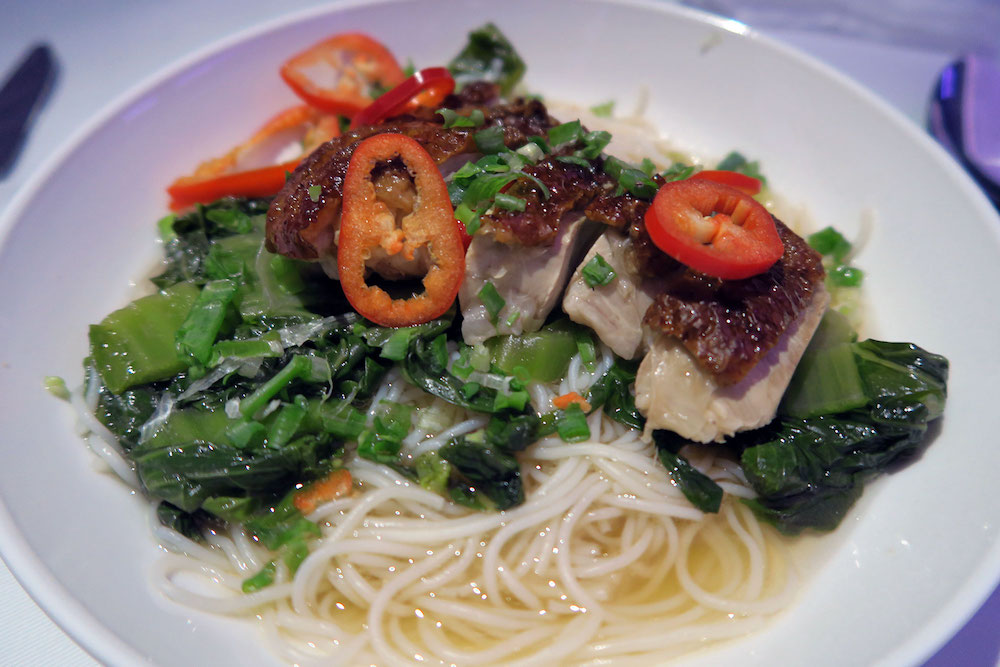 It was not a heavy dish, which was great when you consider that in an hour or so, I wanted to sleep given there were only five or six hours of flight time remaining.
Finally, I skipped the cheese board and opted for plain vanilla ice cream.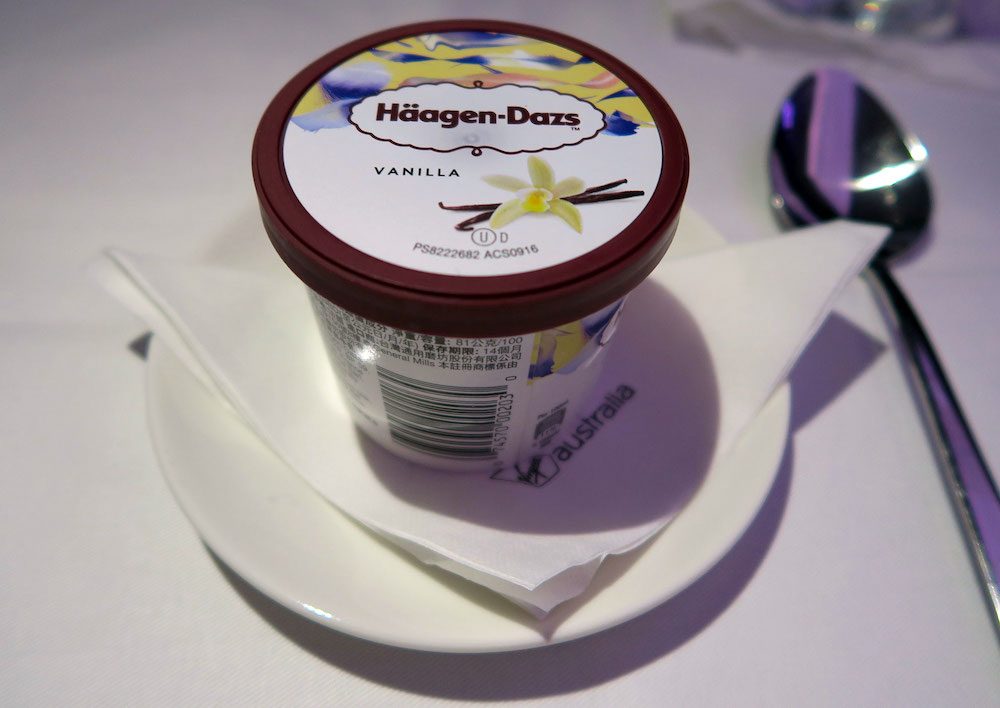 After about five hours of on-and-off sleeping, I woke up for breakfast. The flight lands in the early morning and I was still full from dinner only a few hours ago but I had to focus on the task at hand—eat up!
I ordered scrambled eggs with smoked salmon and spinach, which came with a buttery croissant.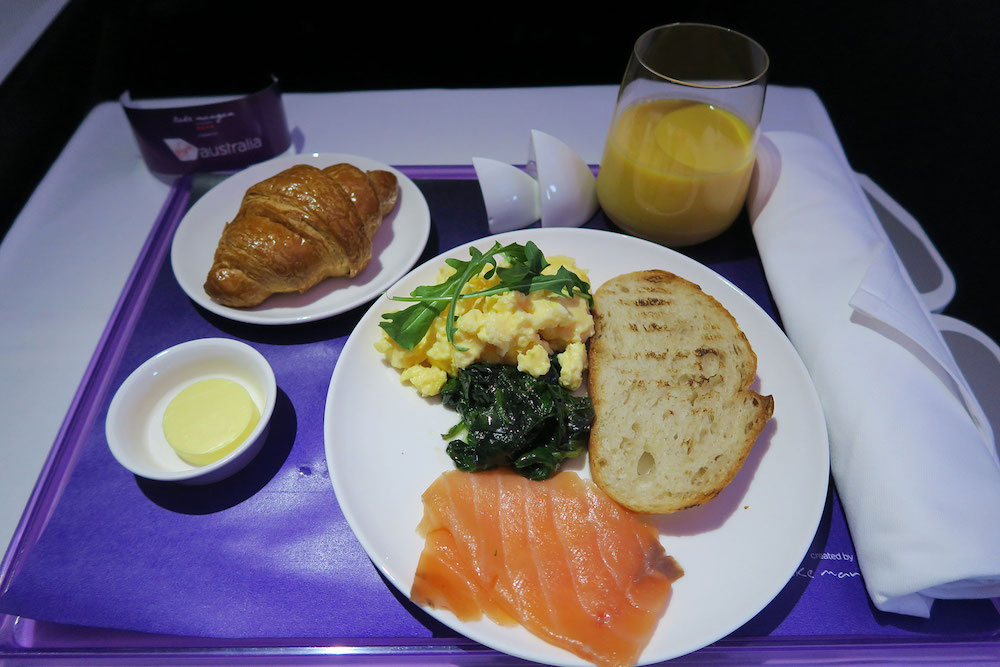 This was a nice light breakfast and was much better than the stodgy powdered eggs, wilted bacon and chicken sausages I have had on other airlines.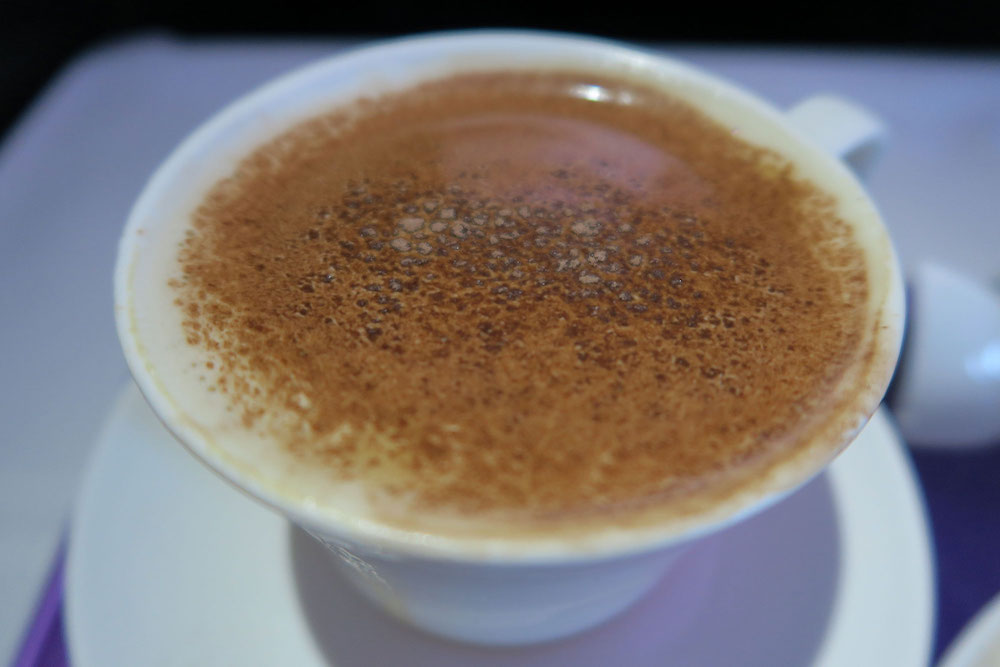 Lounge access
When departing Hong Kong, Business Class passengers are invited to use The Hong Kong Airlines Club Autus Lounge.
Alternatively, as an American Express Centurion cardholder, I decided to test out the 'Centurion only' room in the American Express Centurion Lounge.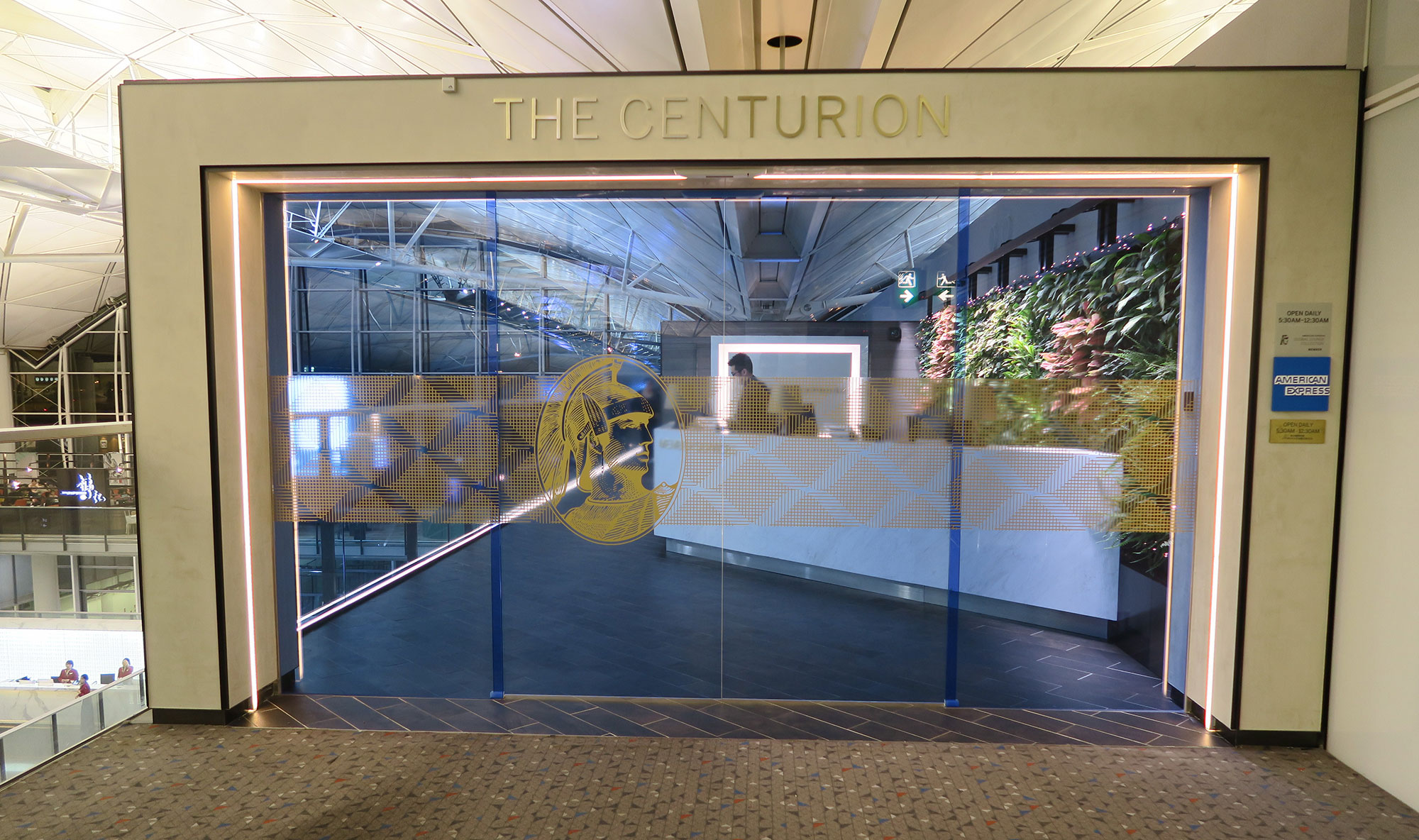 Departing Melbourne, you get access to the Etihad First & Business Class Lounge; similarly, if you have an American Express card, you might also choose to enter the American Express Lounge.
Summing up
From the moment I boarded to the end of the flight, the cabin crew were great and really warm. The crew remembered some of the passengers who flew up from Melbourne with Virgin Australia and were returning home.
I have flown Qantas and Cathay Pacific on this route and the meals and presentation for Virgin Australia were better. However, I think that Cathay Pacific's Business Class seat is superior.
Having said that, I would fly Virgin Australia again and I am excited that they are launching a service between Sydney and Hong Kong too, giving us more options.
Virgin Australia A330 Business Class review – Hong Kong to Melbourne
was last modified:
October 13th, 2021
by