Half the battle with frequent flyer points is finding the seats you want for your trip and using your points for your ideal travel goal.
In this introductory guide, updated for 2020, we look at how to search for Virgin Australia 'award' availability (awards are the seats made available to frequent flyer members to book using their points).
We also explore what's worth knowing when trying to redeem points for awards for travel on Virgin Australia – fees, policies and some other tips.

How to search an award seat with Velocity points
was last modified:
September 14th, 2020
by
Searching and redeeming Velocity points through the Virgin Australia website
Velocity Points are one of the few points currencies you can use on Virgin Australia flights, and as a result there aren't too many ways to search for availability other than looking at the Virgin Australia website.
You'll need to select the "Use Points + Pay" checkbox on the site, and helpfully, you can search without being logged into your Velocity account.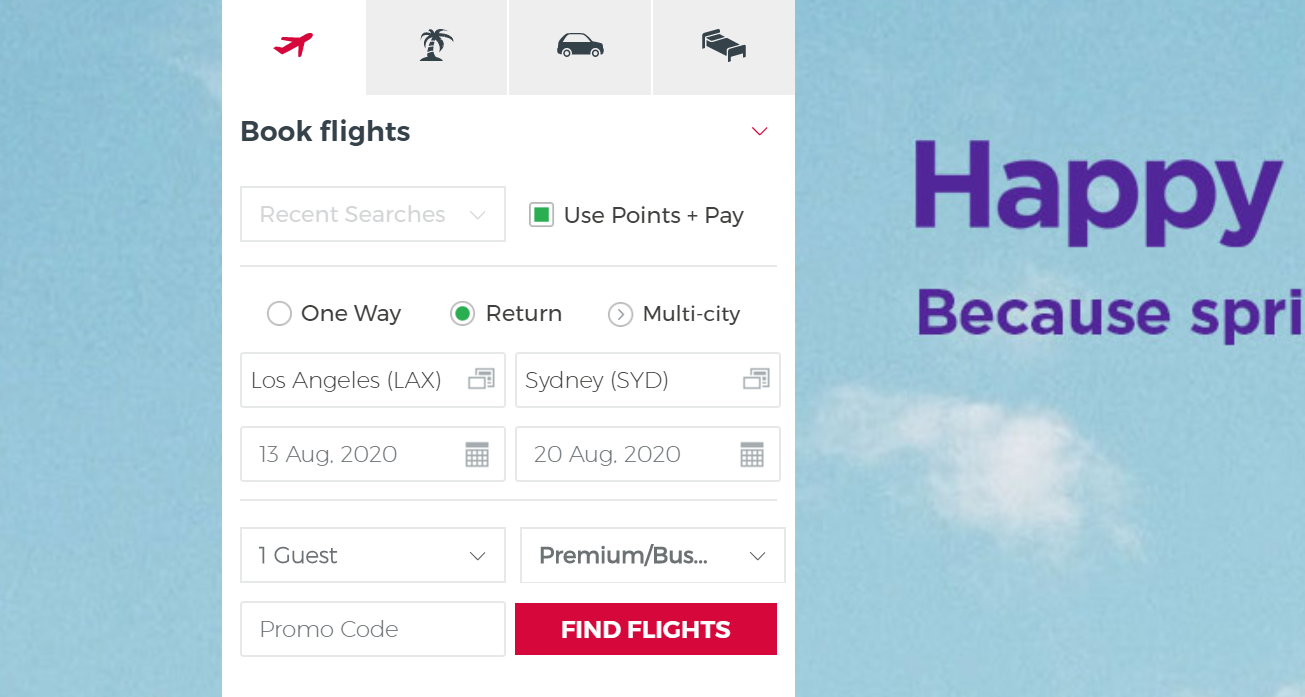 From here, you'll then get a day by day view of availability for a week around your chosen date, and it's easy to flick through different days to see what's available.
You want to ensure you are looking for the lower cost 'Premium Reward' (for Premium Economy) or 'Business Reward' (for Business Class):

The 'Any Seat' prices to the right is essentially exchanging your points at a fixed rate for a paid airfare, which, unless you have millions of points, is not going to be a usable option for most people.
Using Delta as a more flexible search alternative
You can also search for Virgin Australia award availability on Delta.com. Select "Shop with Miles" and "My dates are flexible" (if that suits) for maximum results.

On the results that show, you can then tweak to a five-week view. As of November 2019, I couldn't find many Virgin Australia international Business Class award seats through Delta, but there are plenty of domestic reward seats (below).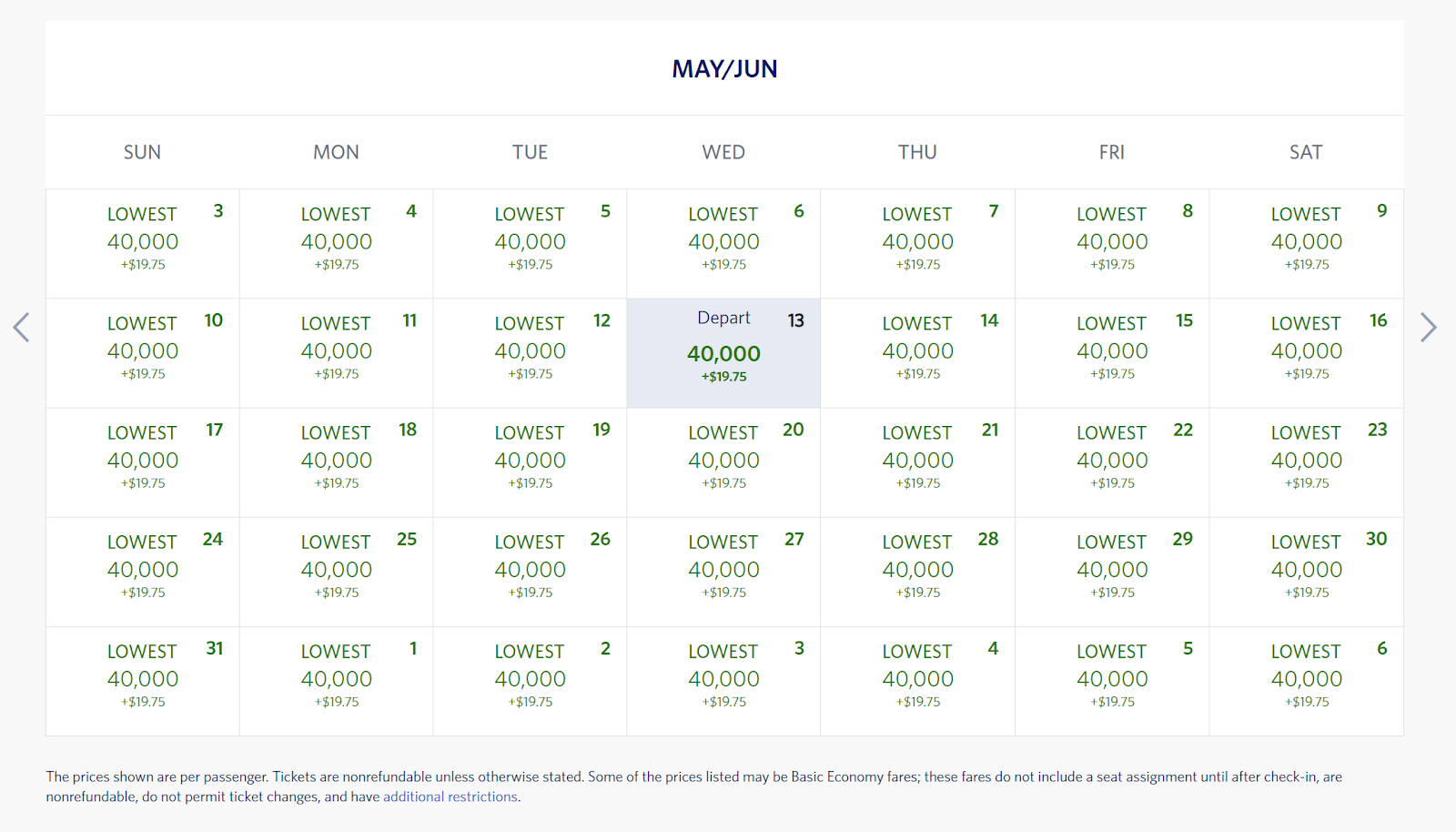 What's the earliest you can search for award seats on Virgin Australia flights?
The Virgin Australia booking calendar 'opens' 330 days from the current date – I believe either at midnight or in the early hours of the morning AEST.
With Virgin's historical issues around international award availability, there's no guarantee that award seats will be made available on long-haul international flights at 330 days, but domestically and for short haul, you will usually find them at this time.
Of course, seats can be made available at any time prior to departure, not just from 330 days away – so it's worth checking back on award availability every so often in case you didn't find seats for the first time around.
As a tip, if your travel plans are flexible or last minute, Virgin Australia often releases reward seats in the last week leading up to the flight, even on long-haul international flights in Business Class.
For example, searching for Brisbane to Los Angeles on 1 December 2019 shows Premium Economy and Business Class availability on 3, 4 and 5 December.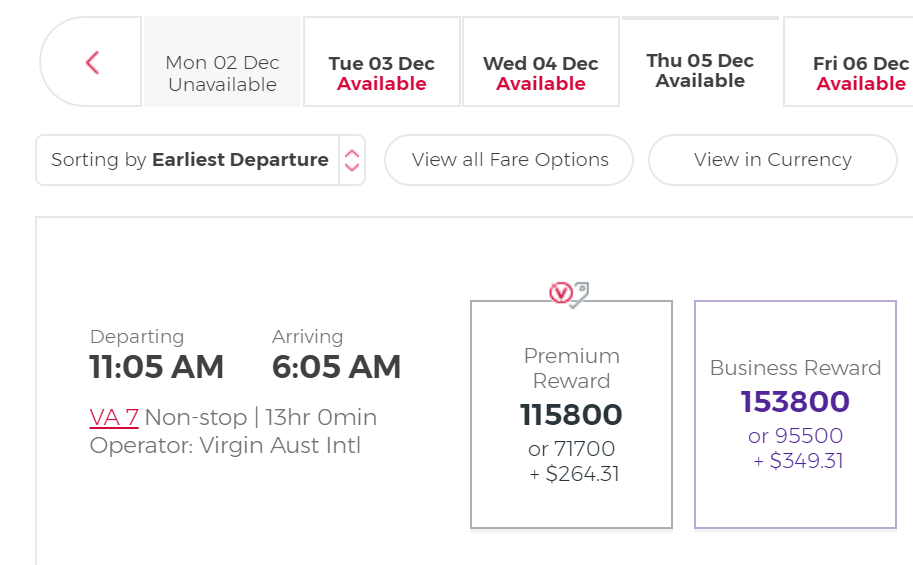 Guaranteed award seats for Gold and Platinum members
A unique feature of Velocity is their ability to open up Economy award seats for Gold and Platinum members, upon request. This is called the "Economy Reward Seats Guarantee for an Annual Family Trip".
If you're booking anytime up to six months before a trip, just call up Velocity and ask them to look into this for you.

Taxes and fees for booking Velocity award tickets
Velocity charges you taxes on top of the points you'll pay, and these are usually pretty reasonable, especially compared to the competition.
You are offered the chance of paying the fees using cash or even more points. Using points to offset taxes is always a bad deal – you'll be getting less than 1c per point value. If you are points-rich then you might prefer to do it, but otherwise, I wouldn't.
If you decide to use a card to pay the accompanying fees, a fee applies regardless of what the amount is. These fees are capped at $11 for domestic journeys and $70 for international journeys.
| | Percentage |
| --- | --- |
| Debit card | 0.410% |
| Credit card | 1.024% |
For all Virgin Australia, Etihad and some Delta redemptions, a Carrier Charge will be applied, based on the length of the flight and the class of service.
Etihad redemptions using Velocity points have carrier charges set at $50 USD in Economy, $205 USD in Business and $300 USD in First Class, per person and per flight.
All Virgin Australia flights have a carrier charge ranging from $3.50 for a domestic economy flight (increasing to $10 from 8 January 2020) to $230 for a Business Class flight to Los Angeles. Similar rates apply to Delta's Australia-Los Angeles flights. These are all charged per person and per flight.
If you make your booking over the phone for Virgin Australia-operated flights, you'll be charged an extra $35, or 4,500 points per person for domestic and international short-haul, and $60 or 7,500 points per person for international long-haul and partner bookings. These fees can be waived if your itinerary can't be booked online for whatever reason.

Cancellation and change policies and fees for Velocity award bookings
If you find availability that might work for you, my advice is always to lock it in when you see it in case someone else snags the seats you were after.
Points redemption bookings are much more flexible than most paid tickets, and Velocity is no different – it will cost you $35 or 4,500 points per person to cancel a domestic booking, or 7,500 points or $60 per person to cancel an international booking.
Furthermore, if your booking is to/from or includes the US in any way, you can cancel your award booking up to 24 hours after you made it without any penalties applied – call the call centre to do this. That's in the terms here.
The full list of fees and policies for Velocity award bookings are here.
If you do decide to cancel a ticket booked using Velocity points, you'll need to do that no later than 24 hours before your departure time.
If you want to change anything more than the date or time of your flights, then you will be charged the same fee as a cancellation. Essentially you are cancelling your existing flight, and booking a new one.
Other useful information
Using the call centre to make your booking
The Velocity call centre are generally staffed by a helpful, well-informed team who can do all the research you need over the phone with them. You can get a hold of them at 13 18 75 in Australia.
My preference is to do my own research online so I know I have exhausted as many options as possible to find the seats I want on the dates that will work for me.
However, you could equally call them and brief them on your requirements, and see what they come back with. If you go through and make the booking with them, you'll, of course, be charged the fees outlined above.
Making a Velocity points booking with an infant under 2 years old
Velocity only charge you for the additional taxes and fees for a lap infant (with no seat) on international flights, and no additional points. For domestic flights, there's no additional charge at all.
Children are charged at a full adult rate (in terms of the cost of the ticket in points). If you want to book a seat for a child under 2 years old, you'll be charged the adult rate (in points) too, but this can't be booked online.
You'll need to call the call centre (other Point Hacks contributors have done this a few times and it's never as simple as you'd hope) and have them do this for you, and they should waive the call centre booking fee as it can't be done online.
Read our guides on travelling with infants and children below for more information:
Will I be able to upgrade a Velocity points redemption ticket?
Put simply, no, you can't upgrade any points redemption tickets using more points.

Do you earn points or status credits on Velocity redemptions?
Again, no – not unless there's a specific promotion running that offers this and you book within the terms of that promotion.
What luggage allowances do you receive with Velocity points bookings domestically?
When booking domestic Economy flights, you'll get a minimum of a single piece of 23kg luggage included as a Velocity 'red' member with no status. For silver and above, your status benefits for luggage will be respected on award seats.
For flights to the US, you'll get 2 pieces of luggage at 23kg, and to Abu Dhabi, one piece at 30kg.
In case this changes, the current checked baggage policies are here.
Summing up – making Velocity points redemptions
I find that searching availability through the Virgin Australia website is simple enough that I don't often need to turn to Delta, but it's useful to know it's there in case you do need to more wider-ranging date searches.
I think Velocity's cancellation fees and policies are very reasonable, and I much prefer being able to pay cancellation fees in cash, instead of points (unlike Qantas). I hope this helps to get you started with using your Velocity points!
Related articles
How to search an award seat with Velocity points
was last modified:
September 14th, 2020
by