Following from my previous review of using Qantas to get to New Zealand, we decided to use Virgin Australia to get back to Perth. We definitely didn't have enough Velocity Frequent Flyer points to fly everyone back, so some creativity was required.
The backstory first: I was fortunate to have $500 in travel credit with Virgin Australia after a previous overnight Business Class flight from Perth to Melbourne was downgraded from an Airbus A330 with the new seats to a Boeing 737 with recliner chairs.
This was just after they had launched 'The Business' in 2015, so I don't think they are that generous now. My initial compensation was 30,000 Velocity points + $250 travel credit, but after difficulties with my Velocity account, they just gave me $500 instead.
My dad and I would be flying back to Perth first, so armed with this, I decided to buy full-price, flexible Economy Class tickets from Wellington to Perth via Brisbane and take advantage of the reduced upgrade rate of 9,900 points to Business Class per leg.
Knowing that upgrades book into reward seat inventory, I first made sure there was availability for our upgrades, then booked the flexi-Economy tickets for about $770 per person. We then immediately spent four lots of 9,900 points to upgrade both flights to Business Class for two people, at a final cost of 39,600 points.
Read the Point Hacks guide to booking Virgin award flights using Velocity points here.
The aircraft: Airbus A330
Virgin Australia has six A330s, each fitted with 20 'The Business' seats. These planes are most commonly seen on the Perth to Sydney/Melbourne/Brisbane routes, although that will decrease later in 2017 when some of them are redirected to Perth – Abu Dhabi and possibly Australia – Hong Kong/China routes.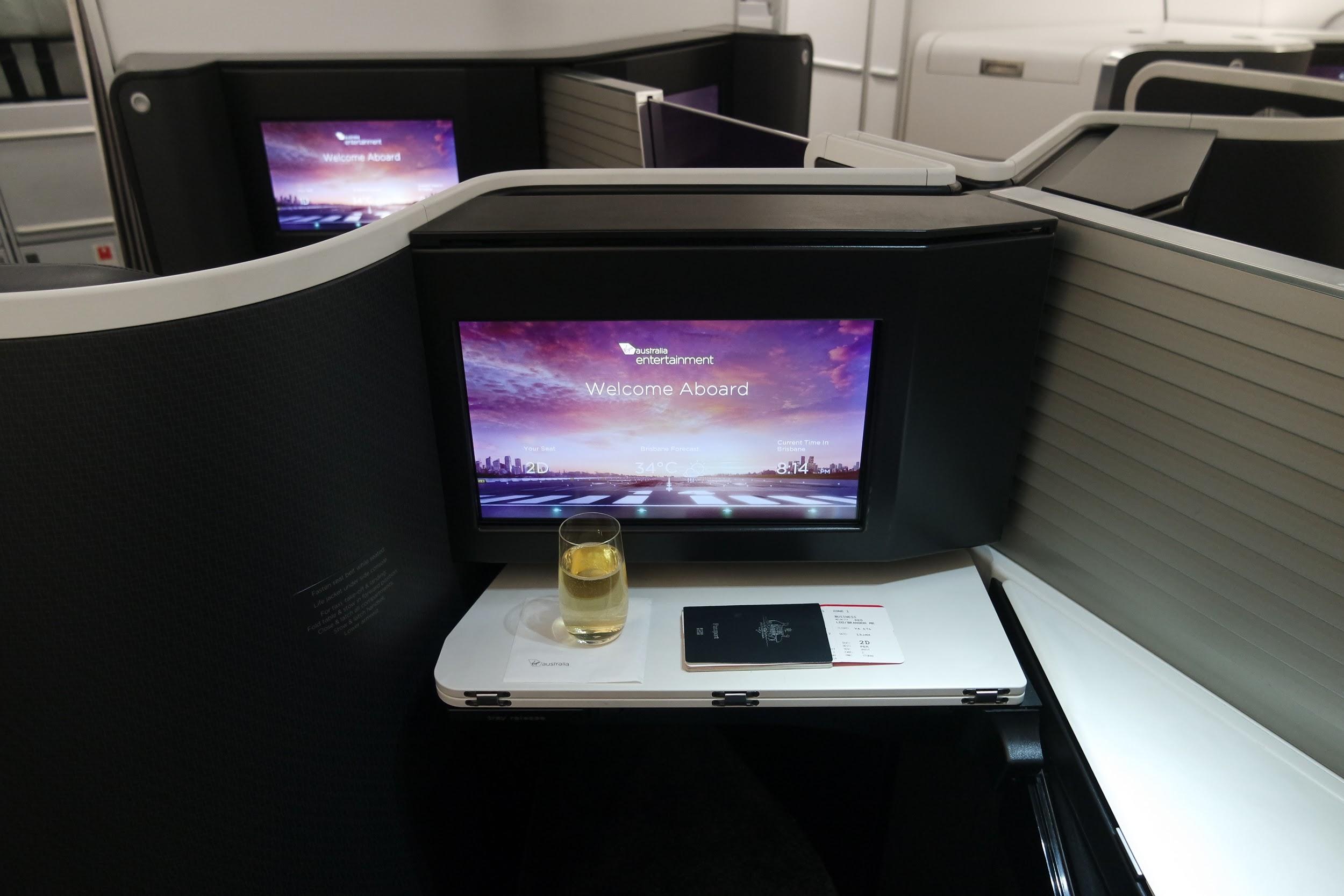 The seats themselves are in the popular reverse herringbone layout over five rows. Middle seats have a retractable privacy divider. For the nitty gritty on the rest of the seat features, see our Virgin Australia A330 Business Class overview.
Pre-flight in Wellington
Our journey began at Wellington International Airport, where the friendly Air New Zealand agent checked in my family with great humour.
We were given Express Path passes and directed to the Air New Zealand Lounge. There was a reasonable buffet spread and I fixed myself a light lunch.
Our first flight, VA107 from Wellington to Brisbane on a Boeing 737, was uneventful. The main meal was a chicken satay which was very delicious; I could have easily devoured another.
Upon arrival in Brisbane, we couldn't use our Express Path passes because we were declaring food at Customs. But we promptly retrieved our bags and re-checked them at the Domestic Transfer counter before catching the transfer bus to the Domestic Terminal.
Pre-flight in Brisbane
Unburdened by our check-in bags, we headed straight for the Premium Entry.
Directly to the right was a private security lane, and within minutes we were up the escalator into the VA Brisbane Lounge.
Like most of VA's other lounges, this is light and airy.
It wasn't too busy on a Friday night. Being a weeknight, they did have some hot supper out, which was a welcome break from the usual salads.
Onboard
I took the middle seat 2D, with my dad adjacent in 2G. We were promptly served drinks by the charismatic cabin crew.
Since we boarded early, I asked for (and received) a cheeky ramekin of crisps from 'The Pantry' menu to munch on before takeoff.
The Business cabin was quite empty on this flight, with only about six seats taken out of twenty. We lucked out with our upgrade!
Read the Point Hacks guide on how to choose the best seat for your flight here.
Dining
Hot towels were passed out just before the starters were served. Here was the menu for the flight:
Starters commenced with the king prawns and corn salsa. I'd had this dish on a previous flight, but this time the chipotle sauce was very hot!
While I don't normally like the taste of salmon or trout, I decided to try this since it sounded more interesting than the chicken. And I was right – the quality and presentation of that dish beat anything I've ever had on Qantas (or Cathay Pacific), in my opinion.
Unfortunately, my dad was not expecting this level of dining and had eaten too much in the lounge. He passed me his main of the corn-fed chicken breast, which I took a few bites of.
We finished off the meal with a rich flourless chocolate cake. The crème fraîche tasted a bit sour to me, but it was still a yummy dessert.
You might be able to tell from my previous reviews that I love to focus on food. Once again, Virgin Australia blew me away with their catering on the Perth – East Coast flights.
Now full to the brim and with three hours still left to kill (the Brisbane – Perth route is one of the longest domestic ones, topping out at 5½ hrs), I reclined my seat into a bed, snuggled into the comfortable doona, and had a lazy nap the rest of the way to Perth.
Summing up
As this was my fifth Virgin Australia flight in 'The Business', I've become very familiar with the service flow and dining. However, each time, I'm constantly reminded by just how good everything is.
I really feel they pull out all the stops for their Airbus A330 routes. It is an exceptionally enjoyable and great value experience, either by upgrading or redeeming points outright.
The cabin crew on all the flights have been really good as well, so no complaints there.
I will be sad to see the frequency of these services decrease on domestic routes this year, so it is definitely worth it to try and book on the remaining available Airbus A330 flights.
Here are the things to expect on your first Business Class flight.
Supplementary images courtesy Virgin Australia.
Virgin Australia A330 Business Class Review – Brisbane to Perth
was last modified:
March 9th, 2022
by