Most travellers are content with earning Gold frequent flyer status – or perhaps, making it to Platinum. But for those who travel more than most, Qantas has a level above that: Platinum One. You could say it's on par with tiers like British Airways' Gold Guest List, Cathay Pacific Diamond Plus and Singapore Airlines' Solitaire PPS Club. Getting there means a lot of flying.
It's a small club – and that's no surprise. After all, it's arguably one of the hardest status levels to earn in any international frequent flyer program. Lifetime tiers excluded, of course. But if you'll already reach Qantas Platinum, is it worth the push to attain Qantas Platinum One?
How to get Qantas Platinum One status
Firstly, let's look at how Qantas Platinum One is earned. Members need to notch up 3,600 Status Credits within one membership year. Of which, at least 2,700 must come from Qantas-marketed flights. That is, flights booked and taken on a QF code. The same amount of flying is needed to retain Qantas' top tier, too.
In comparison, Qantas Platinum requires 1,400 Status Credits and four eligible flights to earn within the same period. To retain it in future years, travellers only need 1,200 Status Credits – but still four eligible flights. In both cases, an 'eligible flight' is one on Qantas or Jetstar flight numbers where rewards are earned. For Qantas Points Club members, this includes Classic Reward flights on Qantas flight numbers – although not Jetstar flight numbers.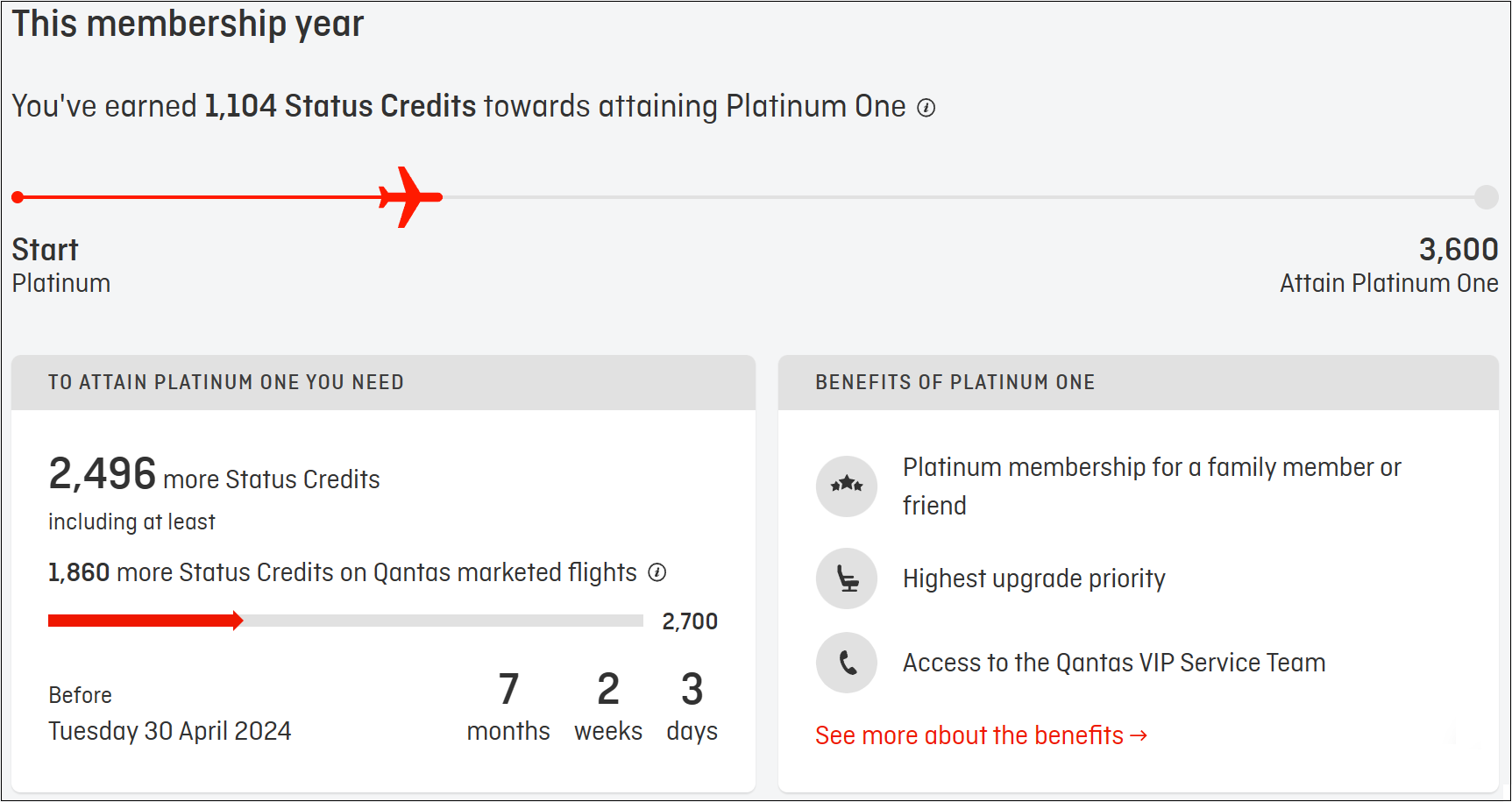 Also, for every 500 Status Credits that members earn with Qantas or Jetstar, there's the option of receiving a bonus 50 Status Credits. These count towards reaching and retaining Gold and Platinum – but not Platinum One.
In effect, getting Qantas Platinum One status is the same as retaining regular Qantas Platinum three times over, but in a single membership year. Given the extra restrictions above though, such as the Qantas flight requirement, it's fair to say that attaining Qantas Platinum One status is actually more than three times harder than Platinum.
As we say, it's a small club.
Ad – Scroll down to continue reading.Minimum spend, terms & conditions apply.
What perks do you get with Qantas Platinum One?
Travellers with Qantas Platinum One status enjoy all the regular perks of Qantas Platinum. For instance, access to Qantas Domestic Business lounges, and to the First Class lounges of Qantas, Emirates and oneworld Alliance carriers. But Platinum One pushes things further.
The main benefits of Qantas' top-tier status status are:
One complimentary Platinum membership for a family member or friend.
Two single-entry lounge invitations for the Qantas First Lounge. These can be used to bring in an additional guest. Or they can be shared with friends and family to use independently.
Access to the Qantas VIP Service Team to assist with any issues.
Free domestic same-day flight changes on eligible fares, and fee waivers when making bookings over the phone.
Complimentary extra legroom seat selection on domestic and international flights.
The ability to select any available seat within every cabin from the time of booking. On domestic Boeing 737 flights, this includes the coveted front row – row four.
Highest priority for flight upgrades. This includes when requesting upgrades for family members.
Complimentary use of the Ambassador Lounge at the Museum of Contemporary Art (MCA) in Sydney.
For a full list of benefits, refer to the Qantas website.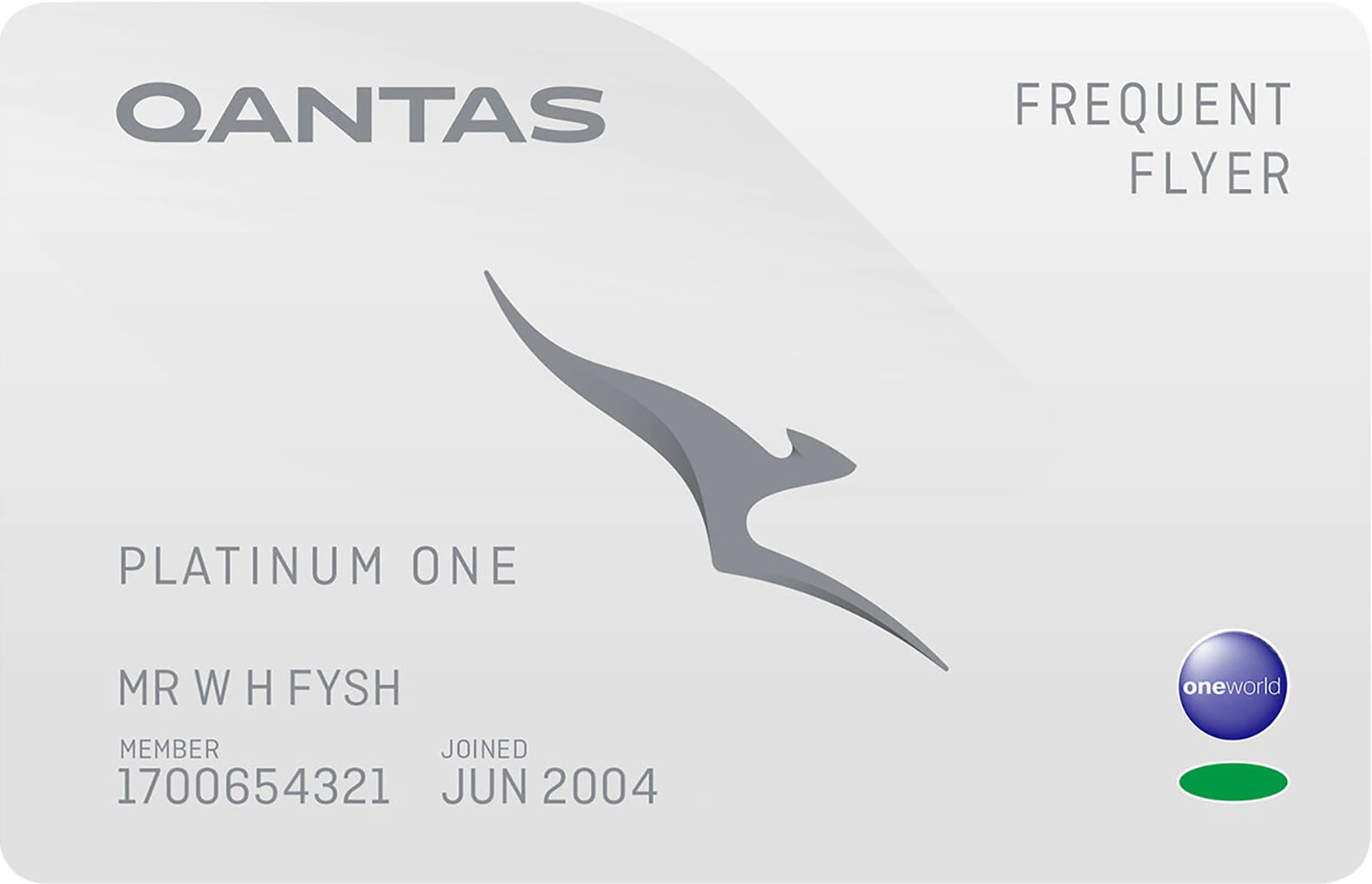 So then, is it worth attaining Qantas Platinum One status?
Given the high target of reaching Qantas Platinum One, not everybody is in a position to get there. If you might travel that much – or if you're on the fence about it – here are a few things to consider.
Can I fly Qantas that much in one year? It's a lot of flying to reach 3,600 Status Credits. And as a reminder, 2,700 of those Status Credits must come from Qantas flights. That's why there's no rule around taking four 'eligible flights' with Platinum One. You simply can't reach it without flying Qantas, a lot. If many of your Status Credits come from partner airline flights, Platinum One may be out of reach.
How far am I into my Qantas membership year? All Qantas Frequent Flyer members have a fixed anniversary date. That's the date by which you'll need to reach or retain status, before those annual targets are reset. If you're already very close to that anniversary date and Platinum One remains a distant goal, you might have missed the boat this year. Time your flights more carefully in your next membership year to be in with a greater chance.
Who would get that complimentary Qantas Platinum membership? Would you choose your partner? A close friend? The other person who travels the most within your friendship or business circle? This is, after all, a chance for you to earn some serious brownie points.
Do the extra perks of Platinum One provide any real value to me? At the end of the day, Platinum One status isn't overly different to regular Platinum. The lounge perks are equal – and it's not like Platinum One gets you into the Chairman's Lounge. The experience had when flying on partner airlines is almost always the same too. But when travelling on Qantas, being at the top of the pecking order (well, after those in the Chairman's Lounge) can have its advantages when it comes to flight upgrades and disruptions.
Summing up
Qantas Platinum One is undoubtedly targeted at the 1% who are constantly on the go. The extra benefits over and above Platinum are nice, sure. But they're mainly useful only for those who often fly with Qantas itself. Of course, only those who regularly book with the Flying Kangaroo can really earn Platinum One, so that makes a lot of sense.
For travellers who earn status mainly from self-funded flying, Platinum One is a tough goal. But for those who often travel for work – particularly, at the pointy end – it could be worth aiming for. But then again, Qantas Platinum provides many of the same benefits – and they're given from just a third of the flying, compared to this level above.
The way we look at it, the jump from Gold to Platinum is significant. Many new and practical benefits are unlocked when making that step. But the move up from Platinum to Platinum One doesn't add as much in practical terms.
Platinum One is more about the softer treatment – the quieter perks. Unwritten privileges like getting your first meal preference on most Qantas flights keep many travellers happy. But for some, hitting regular Qantas Platinum and then chasing status in a different frequent flyer program can provide greater rewards overall.
At the end of the day, it's your call. There's no 'wrong' decision. And if you're beginning every trip by kicking back in a lounge, it's fair to say, you're doing well.
Also read: Strategies for high flyers earning 3,600+ Status Credits each year
Additional reporting by Evin Tan Khiew. Feature image courtesy of Qantas.
---
Stay up to date with the latest news, reviews and guides by subscribing to Point Hacks' email newsletter.
Is it worth going the extra mile from Qantas Platinum to Platinum One status?
was last modified:
September 18th, 2023
by